Styling your bedrooms for each changing season doesn't to be overwhelming! Build a bedding collection of gorgeous white, neutral pieces that serve as a base for each bedroom in your house. With each season change, add a pop of color or pattern by switching out your accent pillows and throws. Purchase the highest quality pieces your budget allows and remember collections are meant to be curated over time- not over night! Add bedding one piece at a time until you've created a gorgeous bedding collection that will last a lifetime.
I am sharing the exact bedding pieces I have in my collection, plus some budget friendly options. Please let me know if you have any questions. You can type them at the end of this post. I tried to give as much detail about each piece to help you decide which pieces will work best for your home.
This post contains affiliate links for your convenience. Read my disclosure policy here.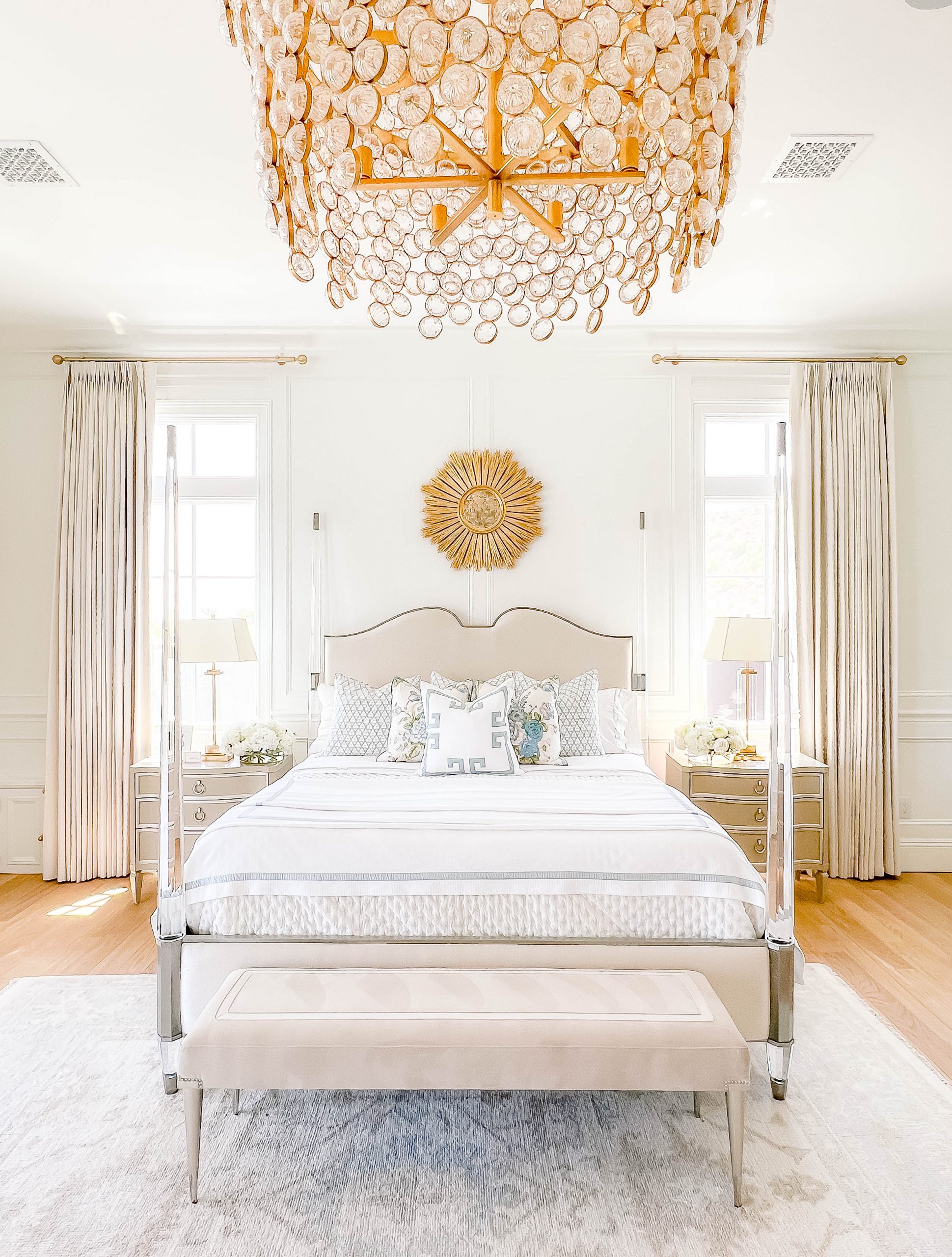 Rumi Quilt | Mayfield Quilt | Rumi Shams (euro x 3) | Blue and White Block Print Sham (22 inch x 3) | Floral Sham (22 inch x 2) | Fretwork Sham (22 inch x 1) | Sateen Sheets | Bed |Nightstand | Lamp | Sunburst Mirror |Rug |Intaglio Art | Bench |Chandelier
What's in My Collection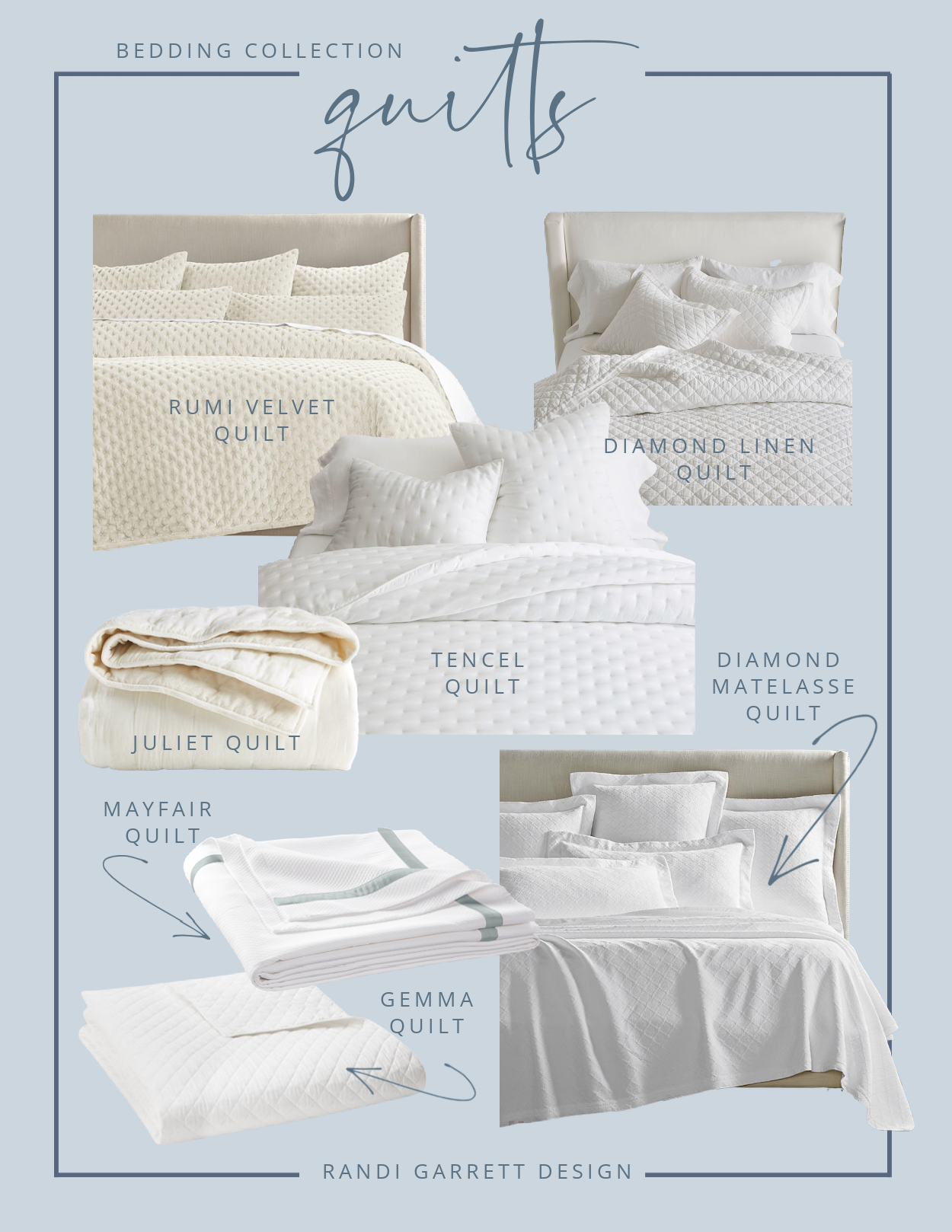 Quilts – These are all the neutral quilts I have for the beds in our home. I have a mix of whites and creams and a mix of material to accommodate the changing temperatures throughout the year. I would start your collection with either the Rumi Velvet quilt or the Belgian Flax Linen Diamond Quilt. They are so versatile and can be used year round.
Rumi Velvet Quilt (color ivory) – This is probably my favorite quilt! It washes up in the washing machine so nicely and can be tossed in the dryer. I use in on our bed for every season except summer. It's a little heavier in weight. I love how cozy and luxurious it feels. We have one on our bed and one at the foot of the bed in our guest room. The ivory is such a neutral, lovely color.
Belgian Flax Linen Diamond Quilt (color white) – Love this basic quilt for the warmer months of the year, because it is a lighter weight quilt. It is a beautiful base for any color combination you want to add. It too washes up lovely and is a great staple for your bedding collection. The linen gets softer every time you wash it. For cooler winter months, layer another blanket below it.
Juliet Velvet Quilt (color birch) – We have this quilt on our guest bed ruffled at the end of the bed. It is super soft and lighter weight making it perfect for year round use. I have it paired with a bright white quilt and some gorgeous accent pillows.
Tencel Quilt (color white) – This quilt will make you feel like you're sleeping with a cloud! It's super soft and light weight. It's great for the base layer of your bed or ruffled at the foot of the bed. The silk like fabric give it a little more formal feeling. It too washes up beautifully.
Gemma Cotton Quilt (color white) – Honestly this is my least favorite quilt in my collection, but I still like it as a base layer. It is very light weight, making it the perfect base layer for warm summer months. The coordinating shams however, are my absolute favorite! They have this thick flange border that looks so amazing when propped up on the bed. So for those reasons, I keep it as a staple in my bedding collection.
Diamond Matelasse Quilt (color white) – Love this quilt as a base layer or for a lovely under layer for colder months. It's really versatile and great quality.
Mayfair Quilt (color white and pool) – I consider blue, especially this spa like blue, a neutral! It is lovely paired with so many colors. This quilt is absolutely divine! It is lighter in weight, super soft and washes up so well in the wash. Use it at the foot of your bed as a beautiful accent or drape it over your bed as the base layer. I don't have the coordinating shams yet, but they are on my wishlist!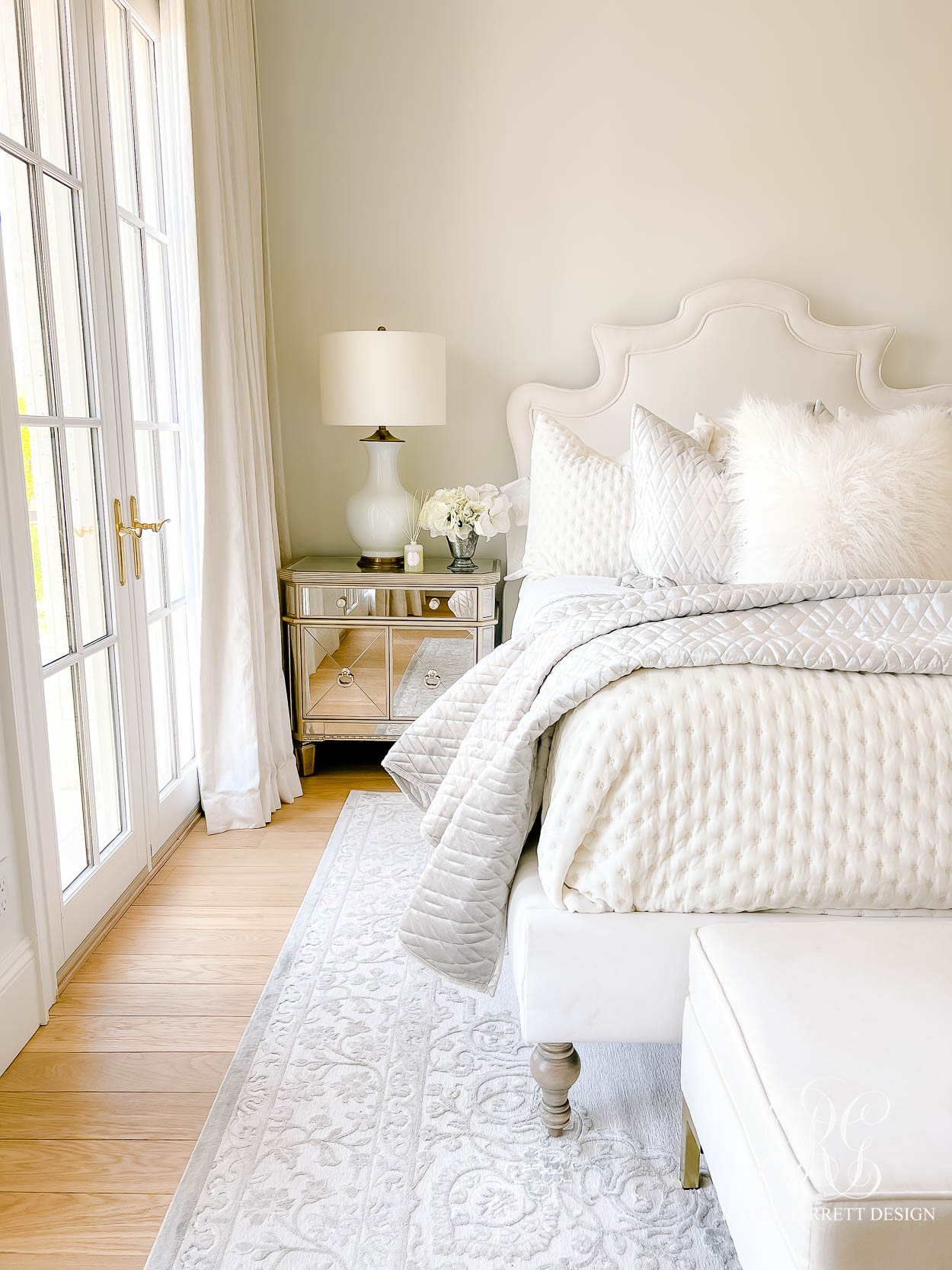 Rumi Quilt | Rumi Shams | Marquette Velvet Quilt | Marquette Velvet Shams |Ruffle Sheets | Mongolian Fur Sham | Rug | Bed | Mirrored Nightstand | White Gold Lamp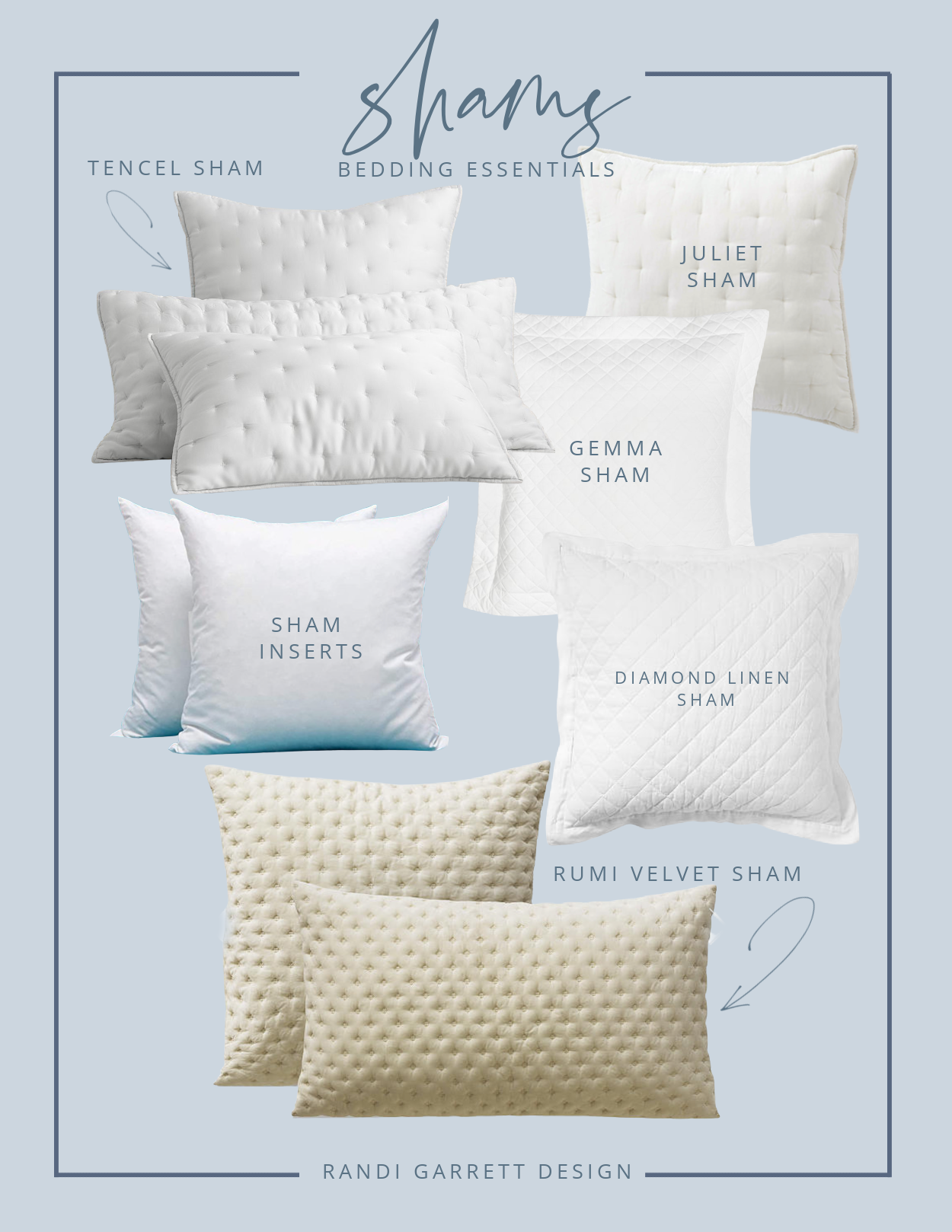 Shams – These are the shams I have in our bedding collection. They coordinate with the quilts in my collection. If you would like to know more about the fabric, please see the details under the quilt section.
All of my shams are Euro shams. They are my favorite to style. I use inserts that are 2 inches LARGER than the sham. Most Euro shams are 26″, so most of my inserts are 28″. This size gives your pillows a nice full, designer look. These are my favorite inserts. Typically I buy 3 shams for our king and queen sized beds. I like to stack 3 across the head board.
All of the shams in my collection can be machine washed and dried and wash up so nicely.
Belgian Flax Linen Diamond Sham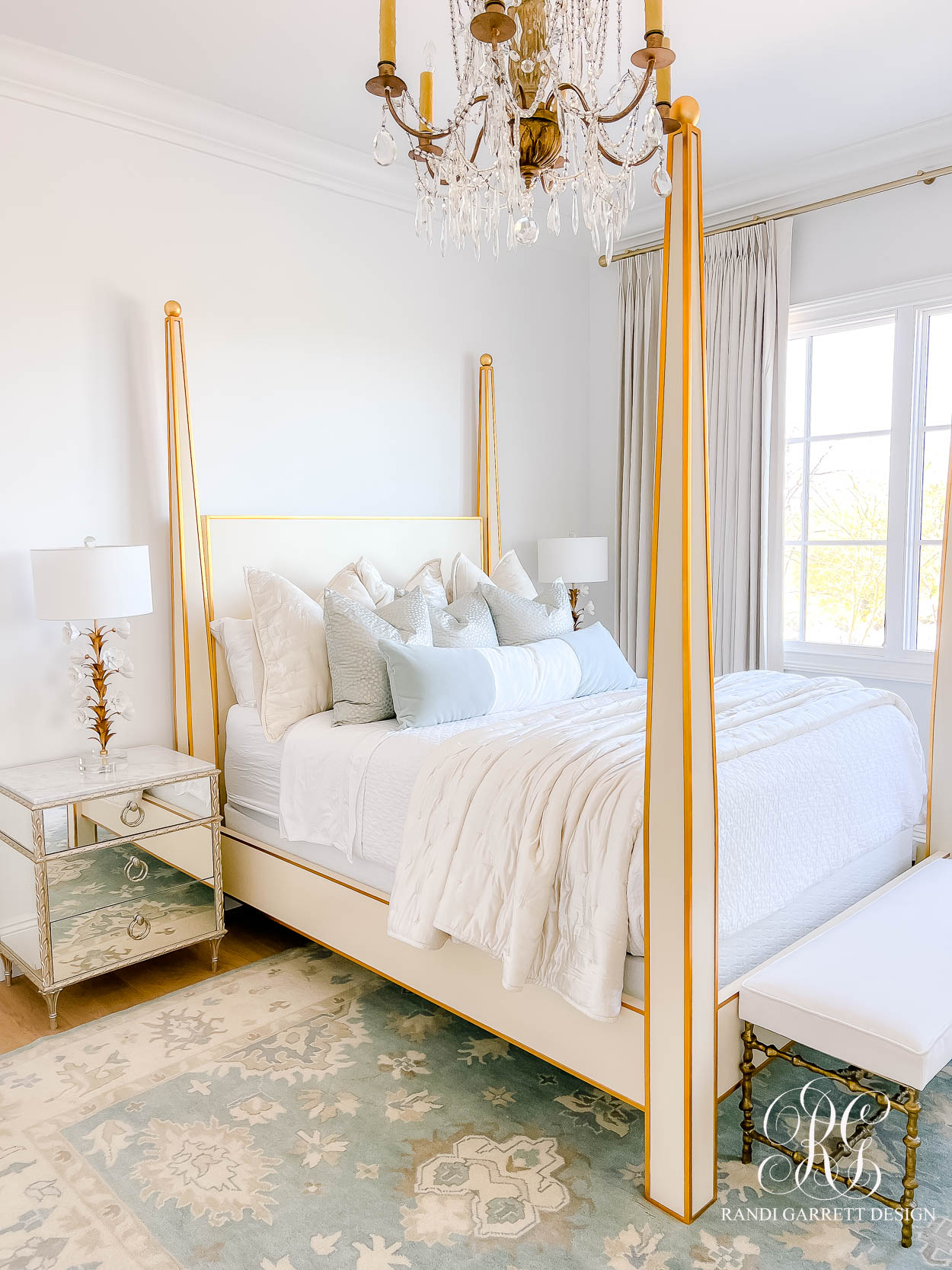 Belgian Linen Diamond Quilt | Juliet Quilt |Juliet Shams | Silk Pillowcases |Spa Blue Throw Pillows |Stripped Lumbar Pillow | Bed |Nightstand | Lamp | Bench | Similar Rug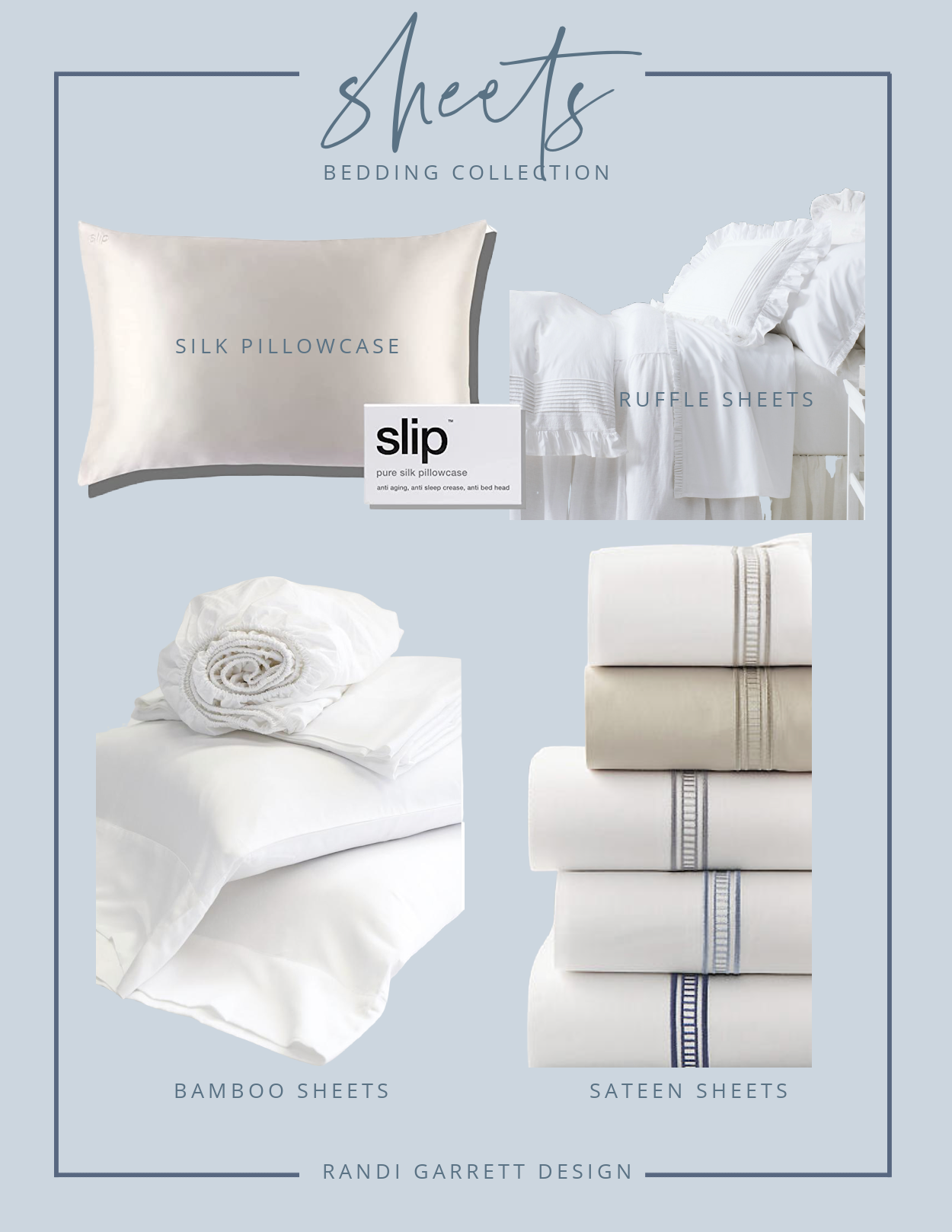 Sheets – It's taken me years to find sheets that I absolutely love. Sateen and Bamboo are my favorite to sleep on. They are both soft, warm in the winter and cool in the summer. Sateen has more structure to it giving it a more sophisticated feeling. The bamboo is so silky soft, it drapes more and gives a more relaxed feeling. You can certainly dress them up, which is what I usually do.
I have the ivory colored bamboo sheets, on accident. I meant to order white, but got the ivory. They look fabulous with my Rumi quilt, so it was a happy mistake. You can't go wrong with the white or ivory.
The Ladder Stitch Sheets come from Frontgate's Resort Collection. We have several patterns from this collection because we love them so much. I like to pull them from the dryer when they are still slightly damp. This helps keep them from wrinkling. We have the white set in our Casita and our bedroom. Several other styles we have have sold out. You will love any of the Sateen style they carry.
The ruffle sheets I have in our collection are a bit stiffer, but a lovely staple sheet to have in your bedding collection. We have these in our guest bedroom.
A silk pillowcase is a must for your bedding collection! If you have never slept on one, let me tell you what you are missing! You hair will hold it's curl better with a silk pillowcase. They are supposed to be better for your skin and they are so soft and silky, you will sleep like a dream! Matt sleeps on a normal pillowcase, I use the silk. I even travel with one, they are that good!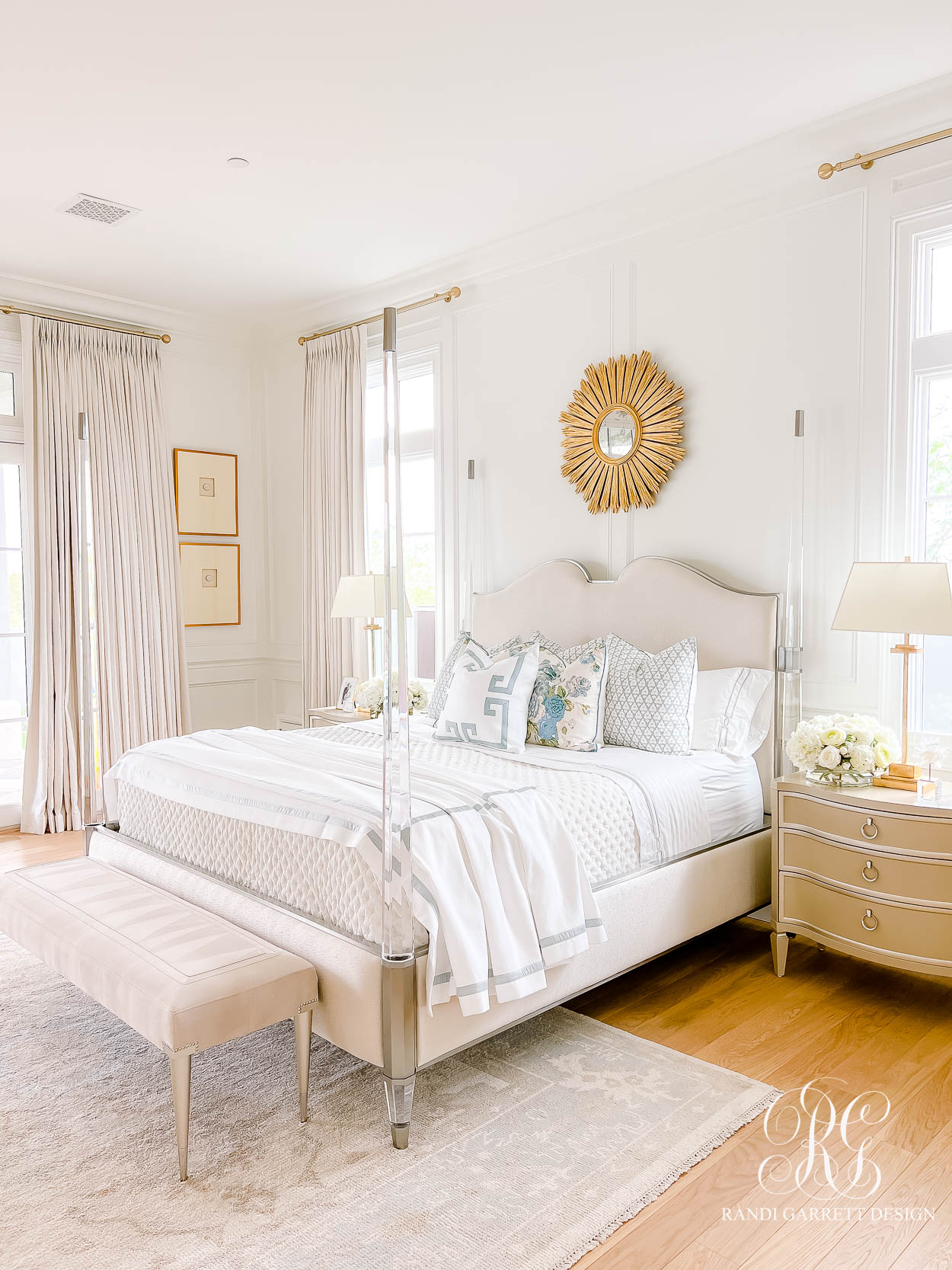 Rumi Quilt | Mayfield Quilt | Rumi Shams (euro x 3) | Blue and White Block Print Sham (22 inch x 3) | Floral Sham (22 inch x 2) | Fretwork Sham (22 inch x 1) | Sateen Sheets | Bed |Nightstand | Lamp | Sunburst Mirror |Rug |Intaglio Art | Bench |Chandelier
Bedding Basics
Sleeping Pillow – I have tried so many pillows, I've lost track! We stayed at the Wynn in Las Vegas and I fell in love with their pillows. I ordered them for our bed. I also love these pillows and these.
Pillow Covers – These will save the life of your pillow! Wash them often!
Mattress Cover – This is the best mattress cover! It has deep pockets and is super cozy. You can toss it in the washer and dryer too.
Mattress – We love our mattress but they don't carry it anymore. The kids and our guests love this one we have in all the other rooms of our home.
Blanket – These are my favorite blankets to layer under your quilt during the colder months.
Throw Blankets – These are my two favorite throws for at the end of the bed Fur Throw | Tula Throw
Accent Pillows
These are my favorite pillows / pillow combos for any room in your home. I always get 22″ with a 24″ insert.





My Look for Less
Here is a round up of bedding collection items just like mine, for less! Happy shopping!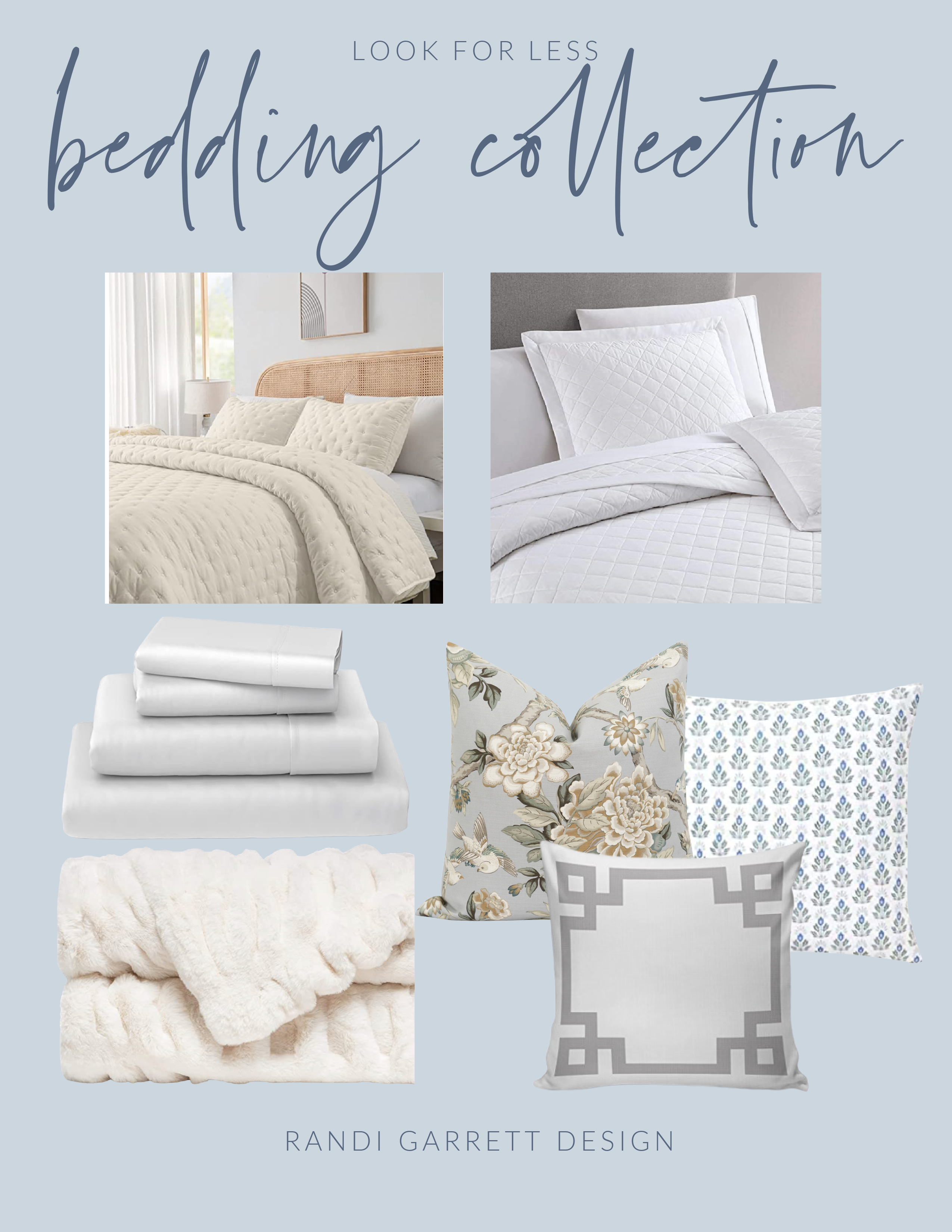 Throw Pillows for Less