This post contains affiliate links for your convenience. Read my disclosure policy here.
The yummy smells of Thanksgiving and the joyous chatter of company fade to the background every year as sit at our table and ponder on the many reasons to be thankful. I love this holiday of Thanksgiving and the chance it gives us to slow down and really reflect on our blessings. Family is everything. Not being able to be together for the past few years has really made me realize even deeper just how important gathering and fostering those relationships are to our souls.
An outward expression of the love we feel for those close to us can be shown in the little things we do for them. Setting a beautifully styled table is one of the ways I like show my loved ones they are worth the extra effort and care.
As many of you know, this Thanksgiving will be our last in our home. It will be a bittersweet gathering with extended family as we gather one last time together in this special home. I wanted to create a table that reflects the love we feel for this magical place. I chose a magical, white pomegranate Thanksgiving themed table with lots of gorgeous texture. The low profile centerpiece allows guests to visit with unobstructed views of everyone at the table. Votives give the table a whimsical, cozy glow enticing them to linger longer.
I hope this magical Thanksgiving table inspires you to create a memorable Thanksgiving for your loved ones.
Magical Table Details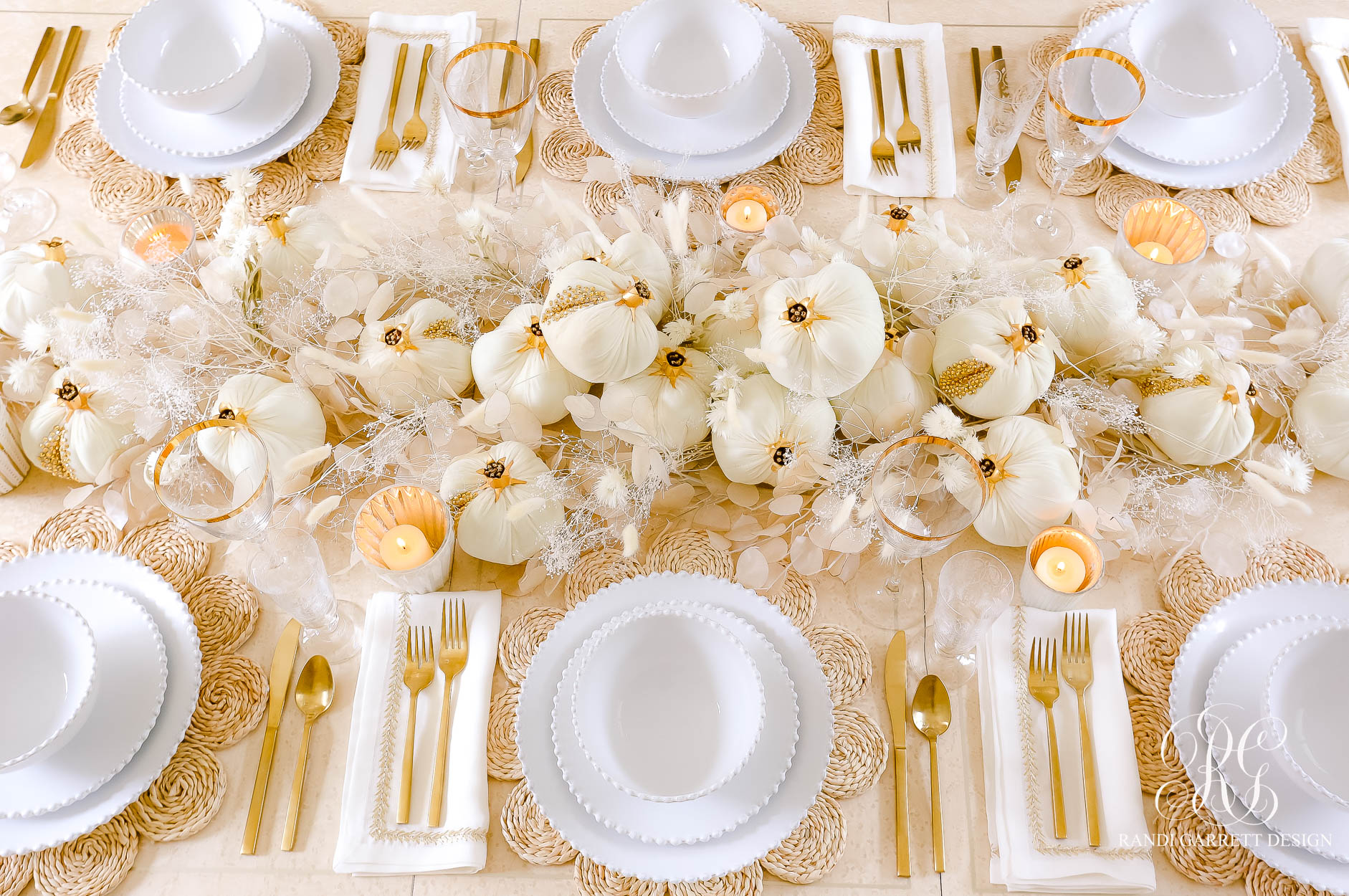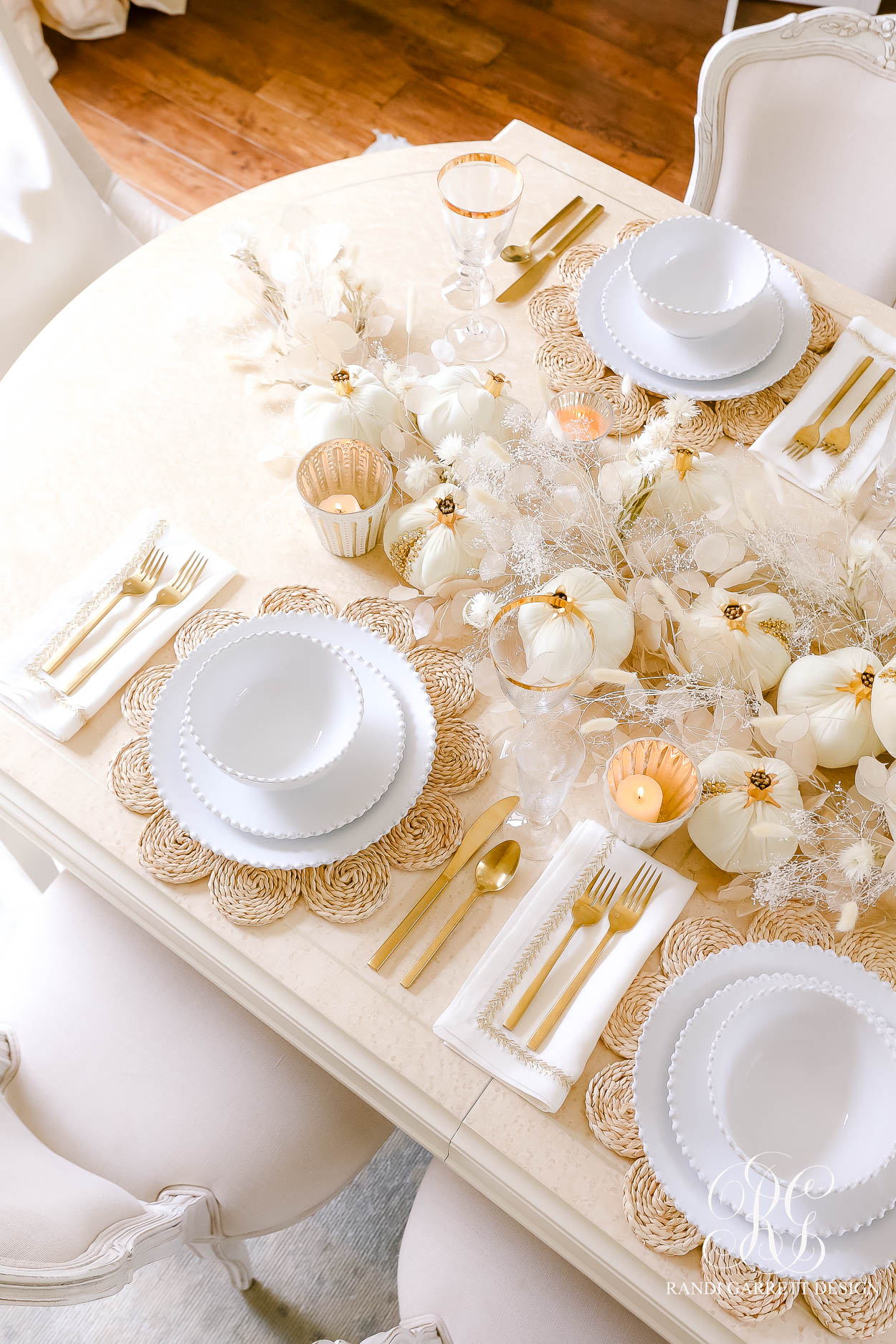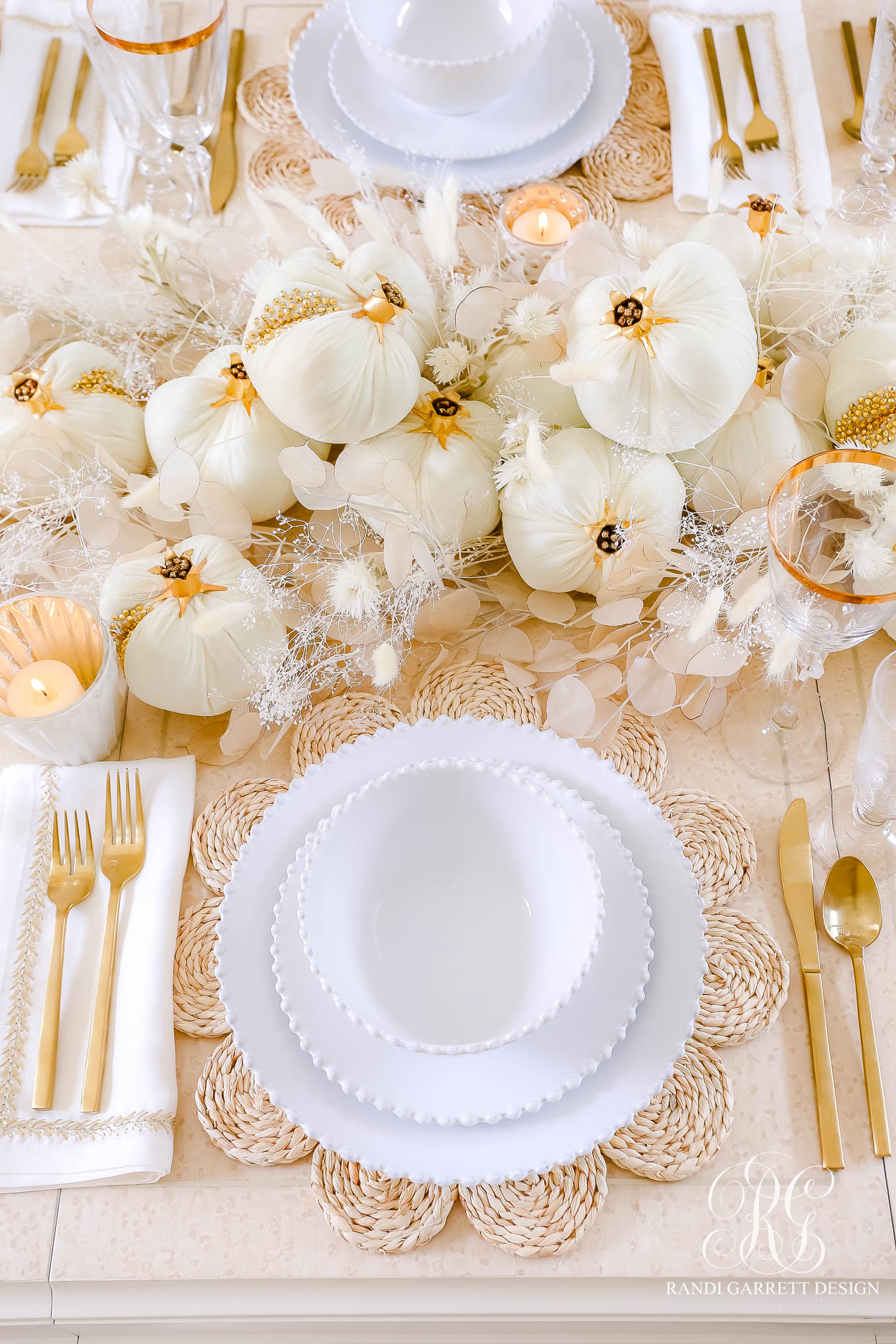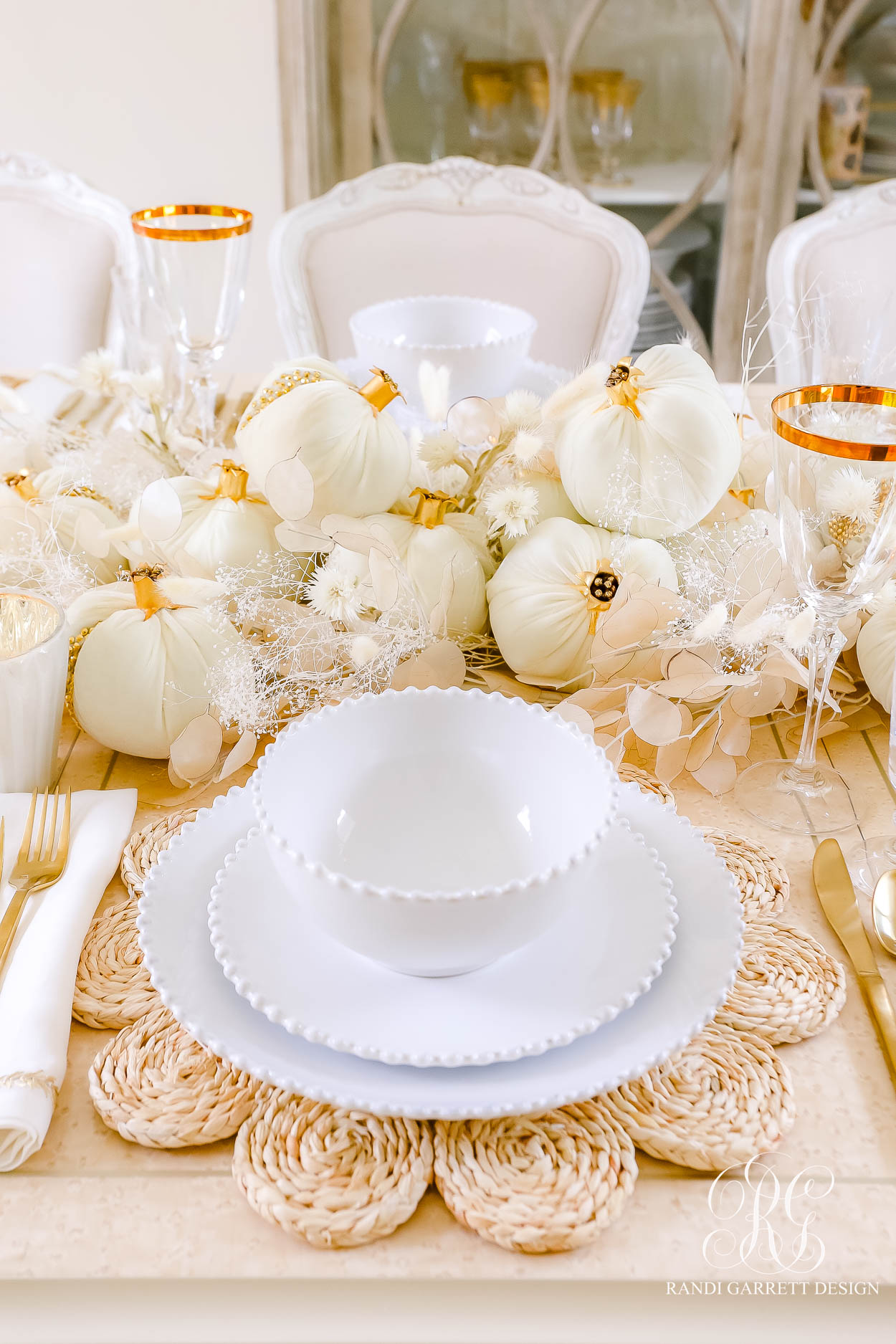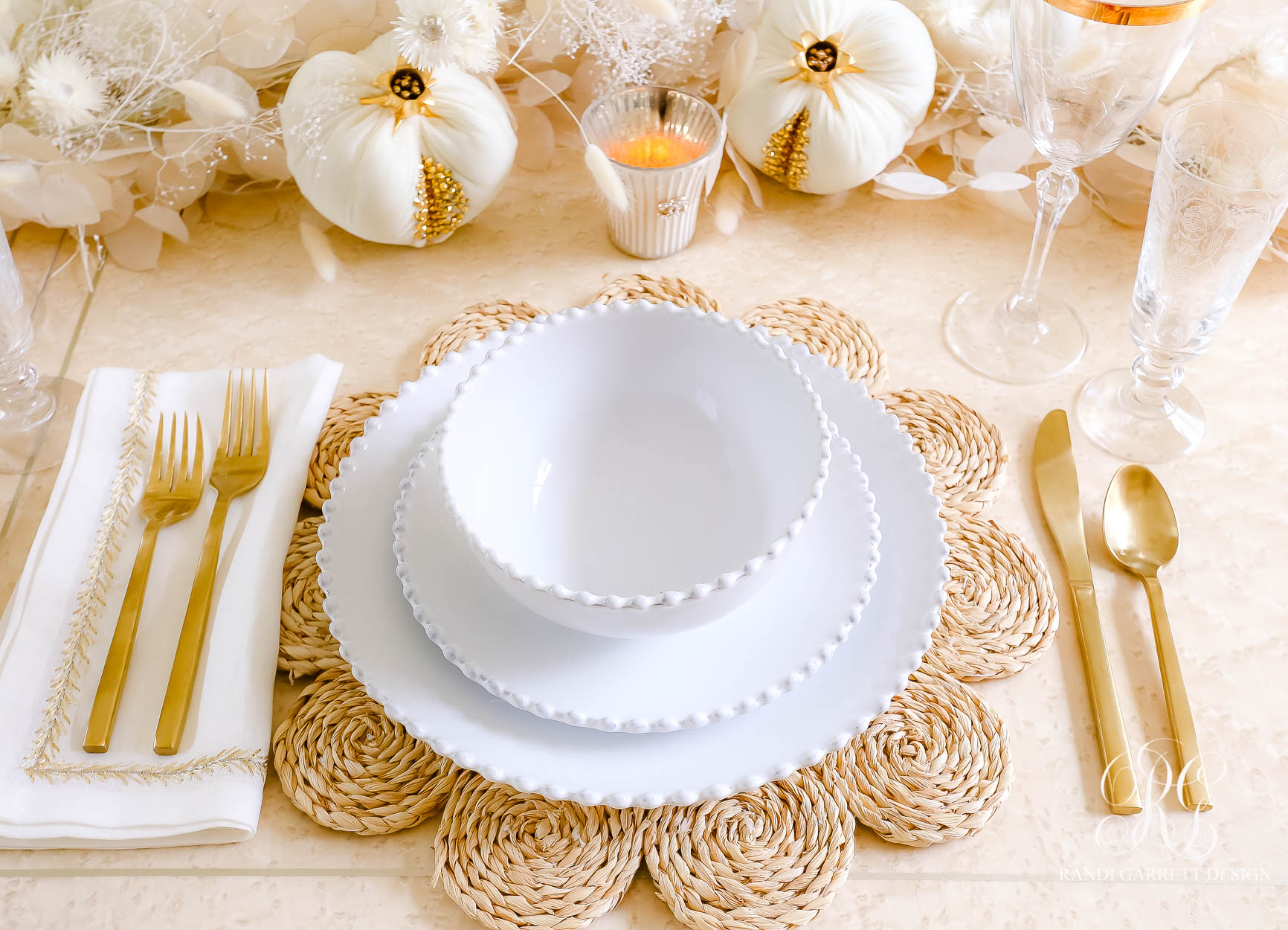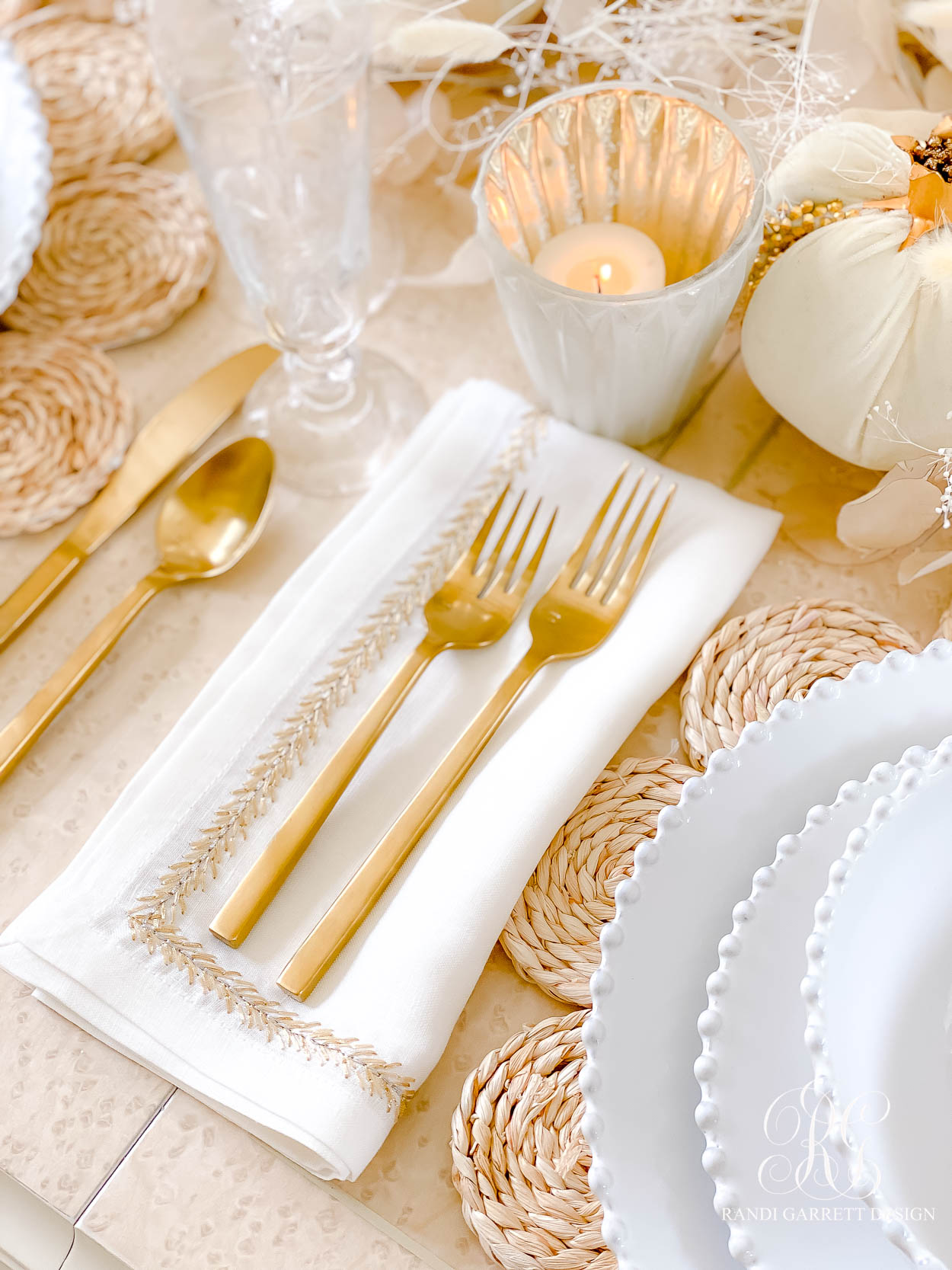 Beautiful, white beaded dishes (that can be dressed up or down, used daily or for special occasions), were used as a stunning white backdrop for this Thanksgiving table.
This gold flatware is my favorite essentials flatware! It can be tossed in the dishwasher and doesn't tarnish.
The silver and gold embroidered napkins are absolutely exquisite. To keep them looking their best, I slip a paper napkin inside for guest to use for lipstick and extra messy finger wipes. I always take my best linens to the cleaners to remove spots and to keep them pressed and fresh.
My placemats are several years old, but I was able to find some similar place mats here.
I like to set a water glass and a drink glass for my guests. Usually, I will use a goblet and some sort of petit style glass. I used some gold goblets and a pretty french champagne glass on this table.
White Pomegranate Centerpiece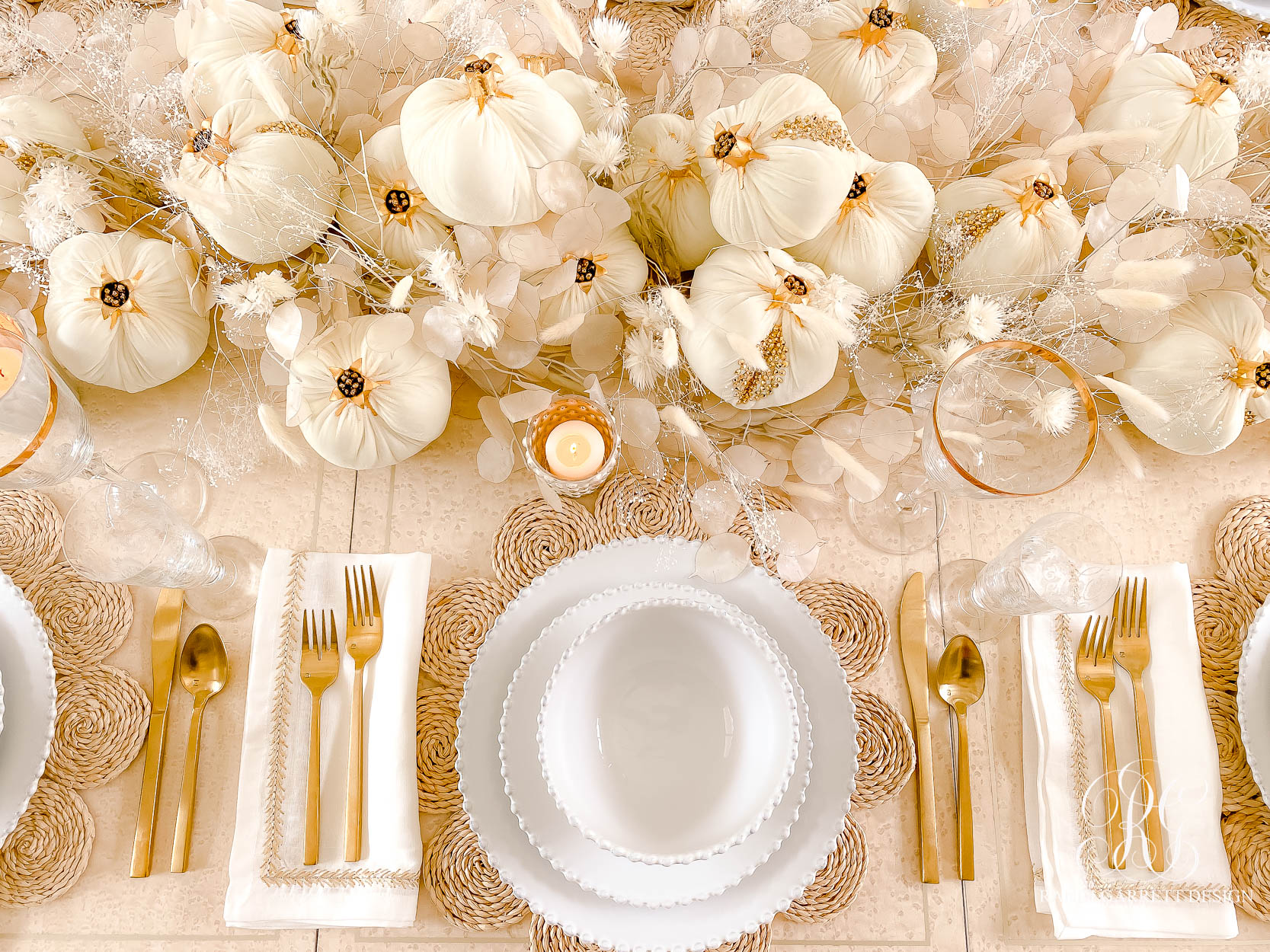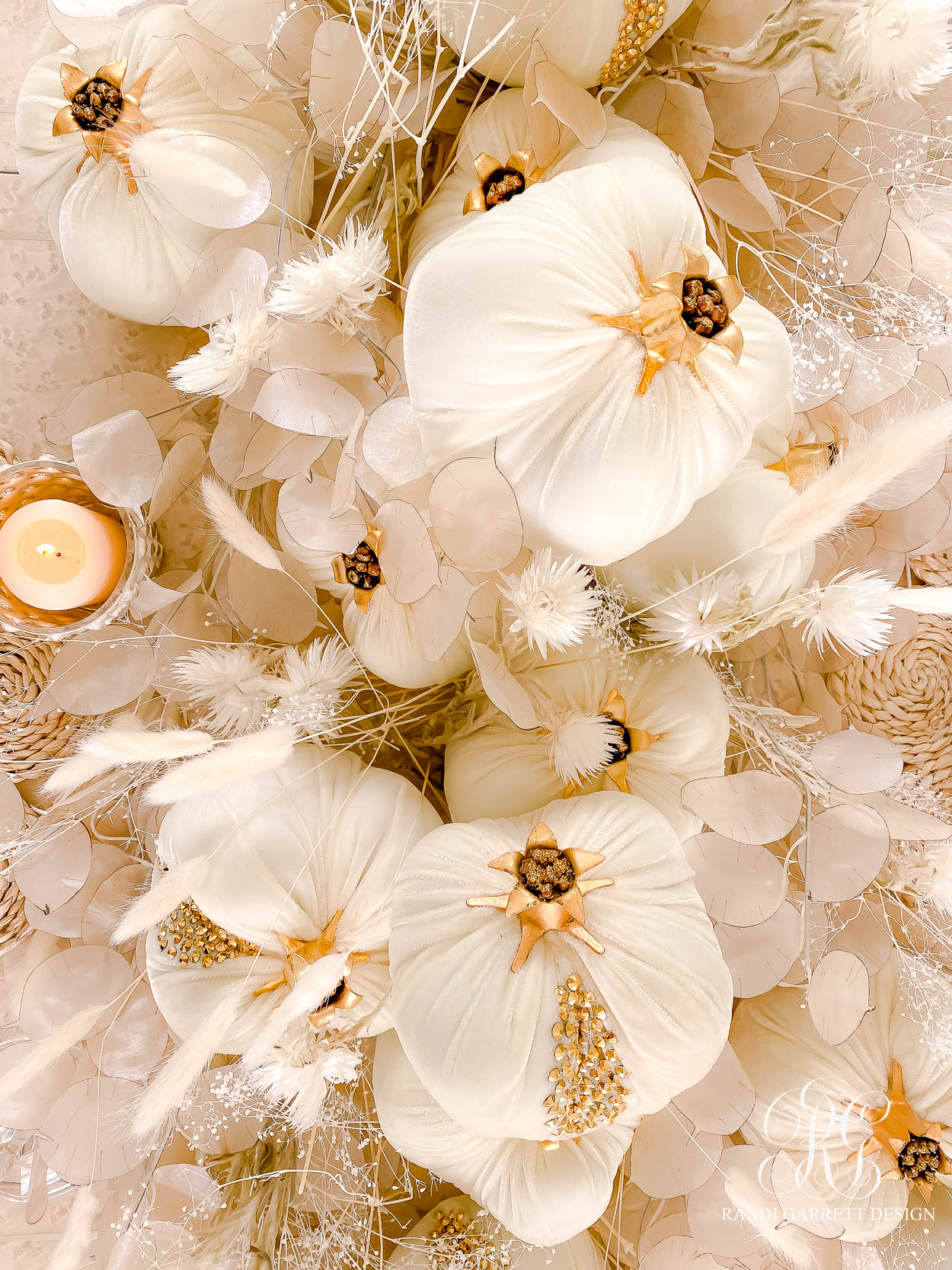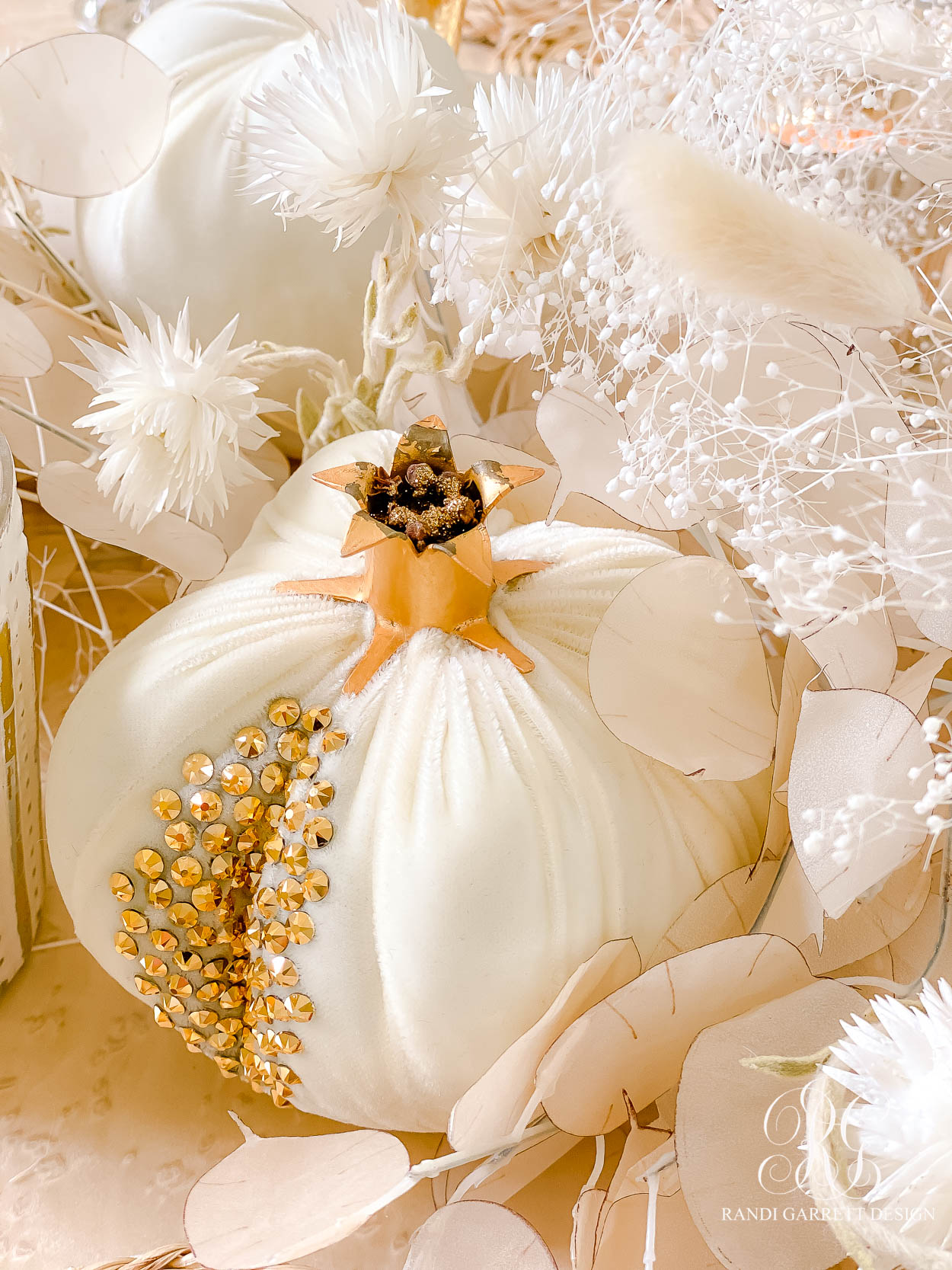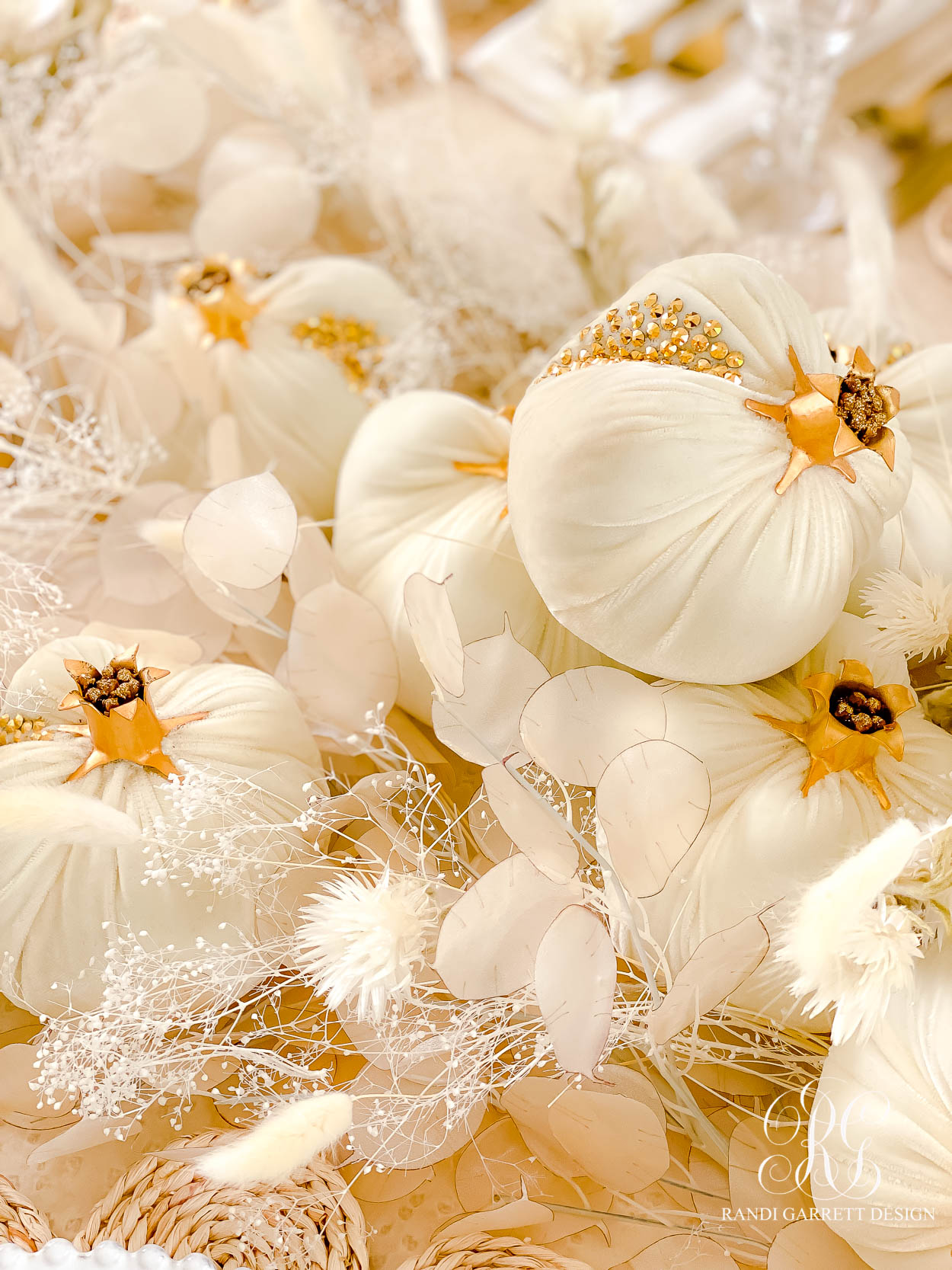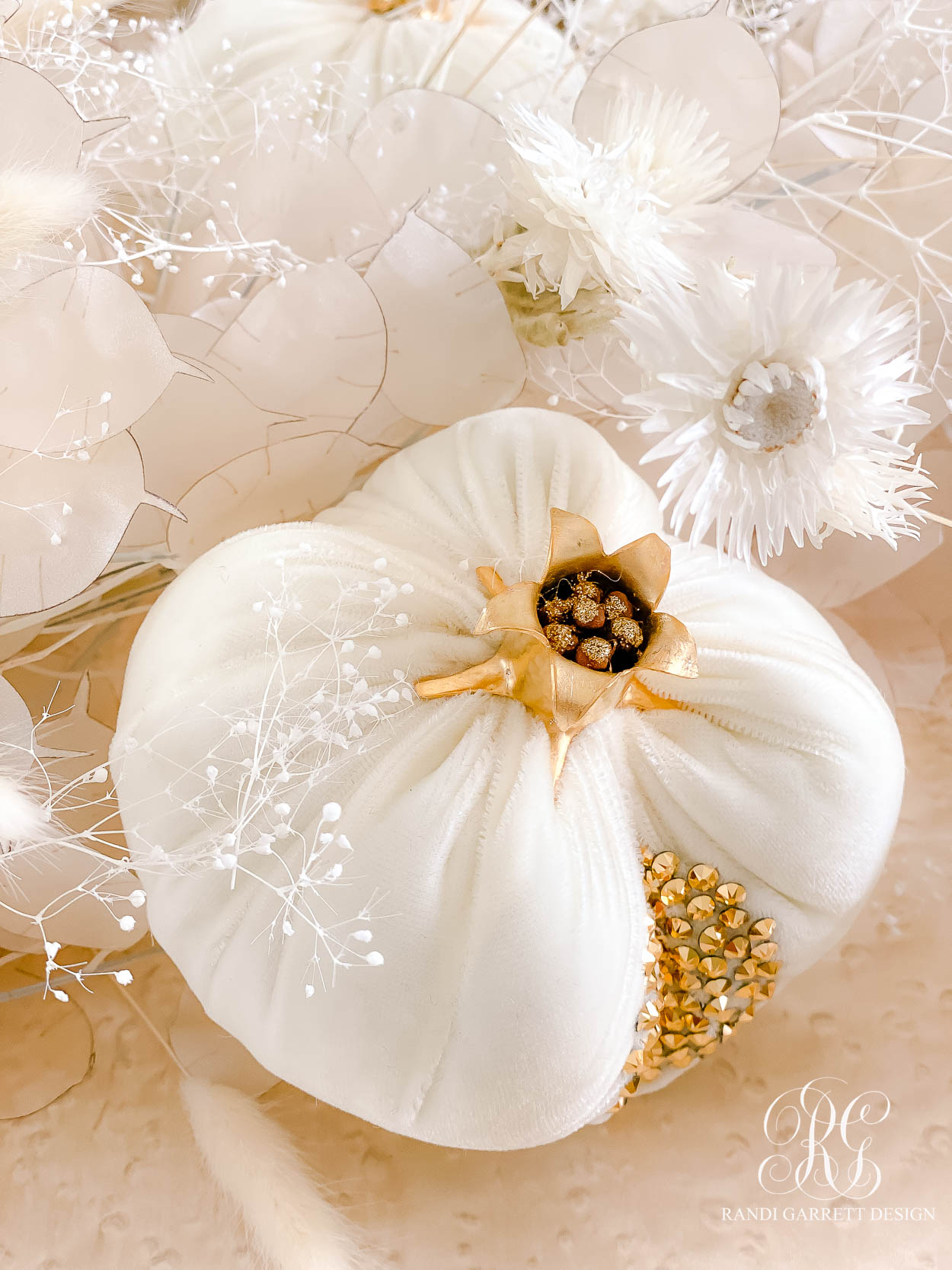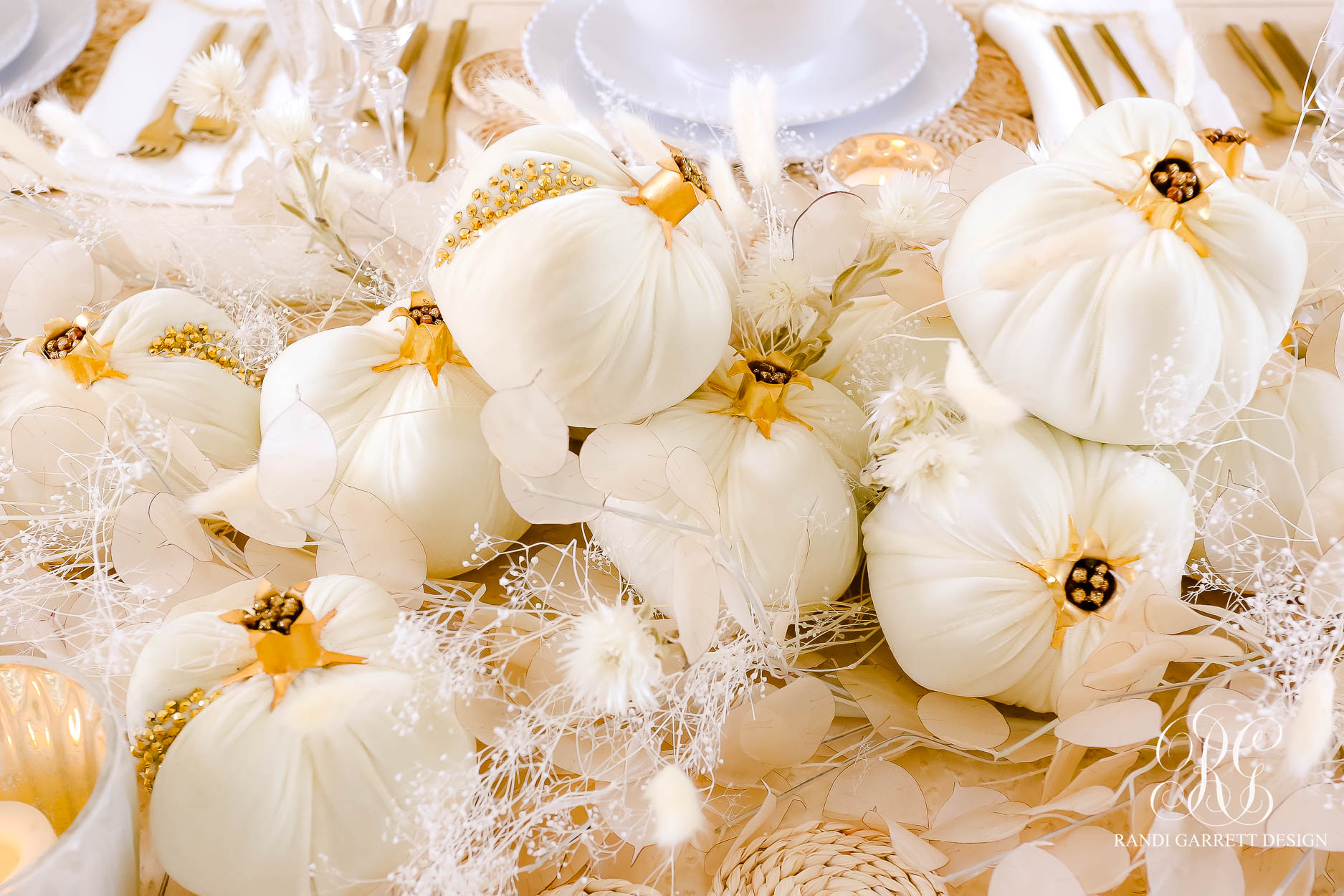 Velvet white and gold, crystal pomegranates are the magical star of this Thanksgiving table! They are nestled on a stunning textural bed of lunaria garlands (I used 2 garlands) and dried florals ( I used one bunch of stardust gyp and one bunch of everlasting daisies ). You could also use baby pumpkins for a similar look.
Frosted white votives, tucked here and there give the table a magical glow.