Refreshing your backyard for summer is as simple as 1, 2 , 3!!! Today, I'm sharing simple tips to help you refresh your outdoor spaces so you can get the most enjoyment out of them all summer long! After giving all the hard surfaces a good wipe down, make sure you vacuum all of your outdoor furniture cushions. Starting with a nice clean slate will help your backyard or any outdoor space feel nice and fresh!
Bring the indoors, outdoors when you refresh our yard for summer. Think about comfy seating, comfortable throw pillows and accessories that are useful and beautiful. Be sure to select pieces for your outdoor spaces that coordinate with your interior spaces. This will give your home a designer, pulled together look.
This post is done in partnership with Frontgate and contains affiliate links for your convenience. Read my disclosure policy here.
Frontgate is a fabulous place to shop for unique, high quality pieces for your home. I especially love their collection of outdoor pieces to help refresh your home for summer. Frontgate has a stunning variety of outdoor pieces that look like they belong inside! Their pieces seamlessly blend your interior space with your exterior spaces. Now is such a great time to purchase any of the pieces you need for your outdoor spaces, since they are having their Memorial Day Sale. You can save up to 70% off site wide and save an extra 20% off clearance! Their outdoor umbrellas and chaises are 25% and all outdoor decor is 30% off as well!
Frontgate's 9′ Market Umbrellas and Hana Cane Stool helped us refresh our backyard for summer with ease! The classic cabana stripe umbrella fabric in Air Blue was the springboard for our refresh. They are such a dramatic, fun statement for the summer! Their Hana Cane Stool pulls the refreshing blue color into the rest of the yard and serve as a fun seating option.
Here are a few simple tips to help you refresh your backyard for summer! I hope you feel inspired to refresh your backyard and outdoor spaces too!
Grab a Seat
Make sure you have enough comfortable seating that enticing your family and friends to linger longer. Invest in the best quality your budget will allow. Frontgate pieces are durable and gorgeous. They will last you for years. I recommend purchasing a solid, neutral color base cushion. Then add some personality with your throw pillows. This will allow you to switch things up anytime you want. Here are a few of the seating arrangements we have in our backyard.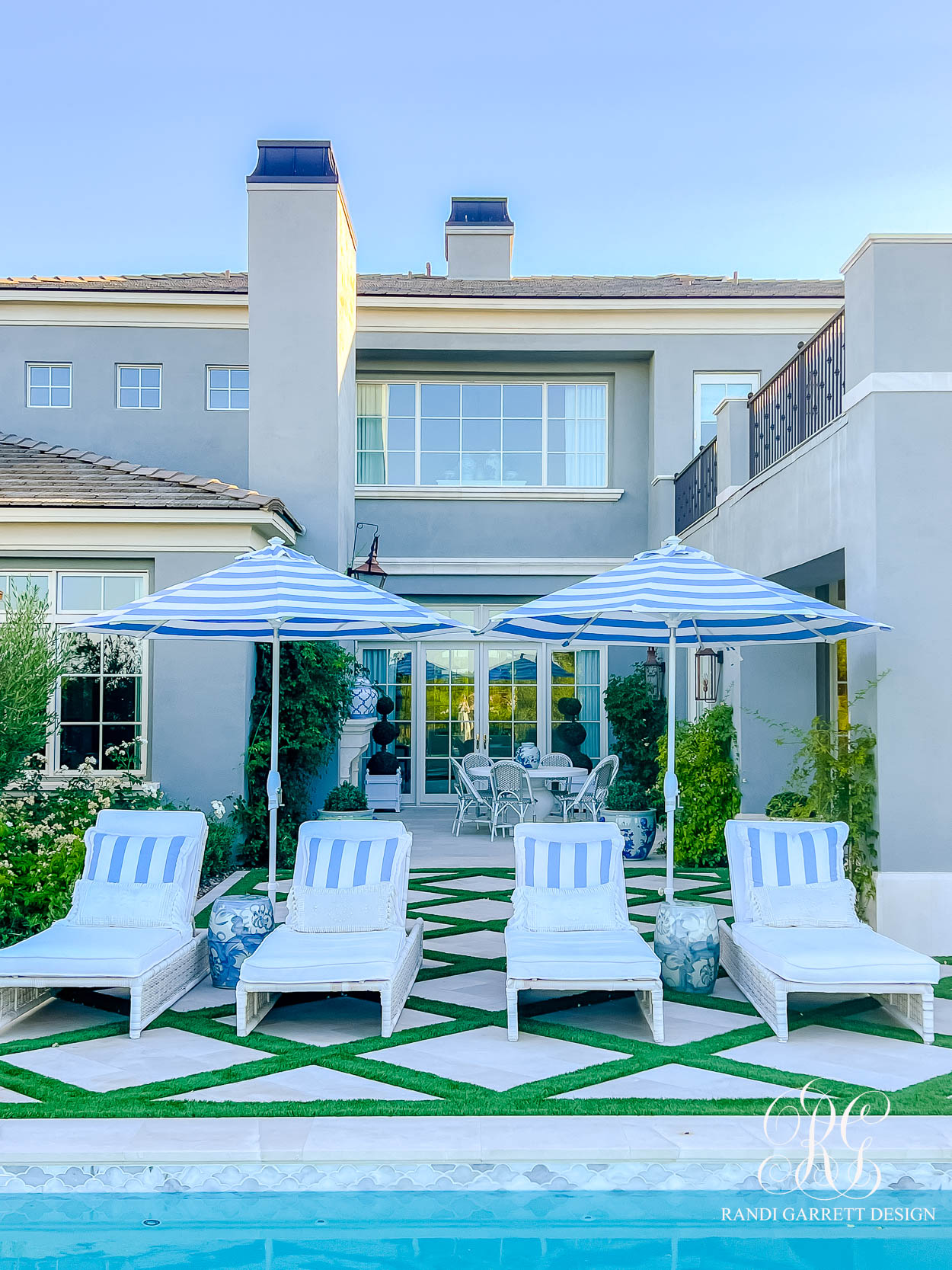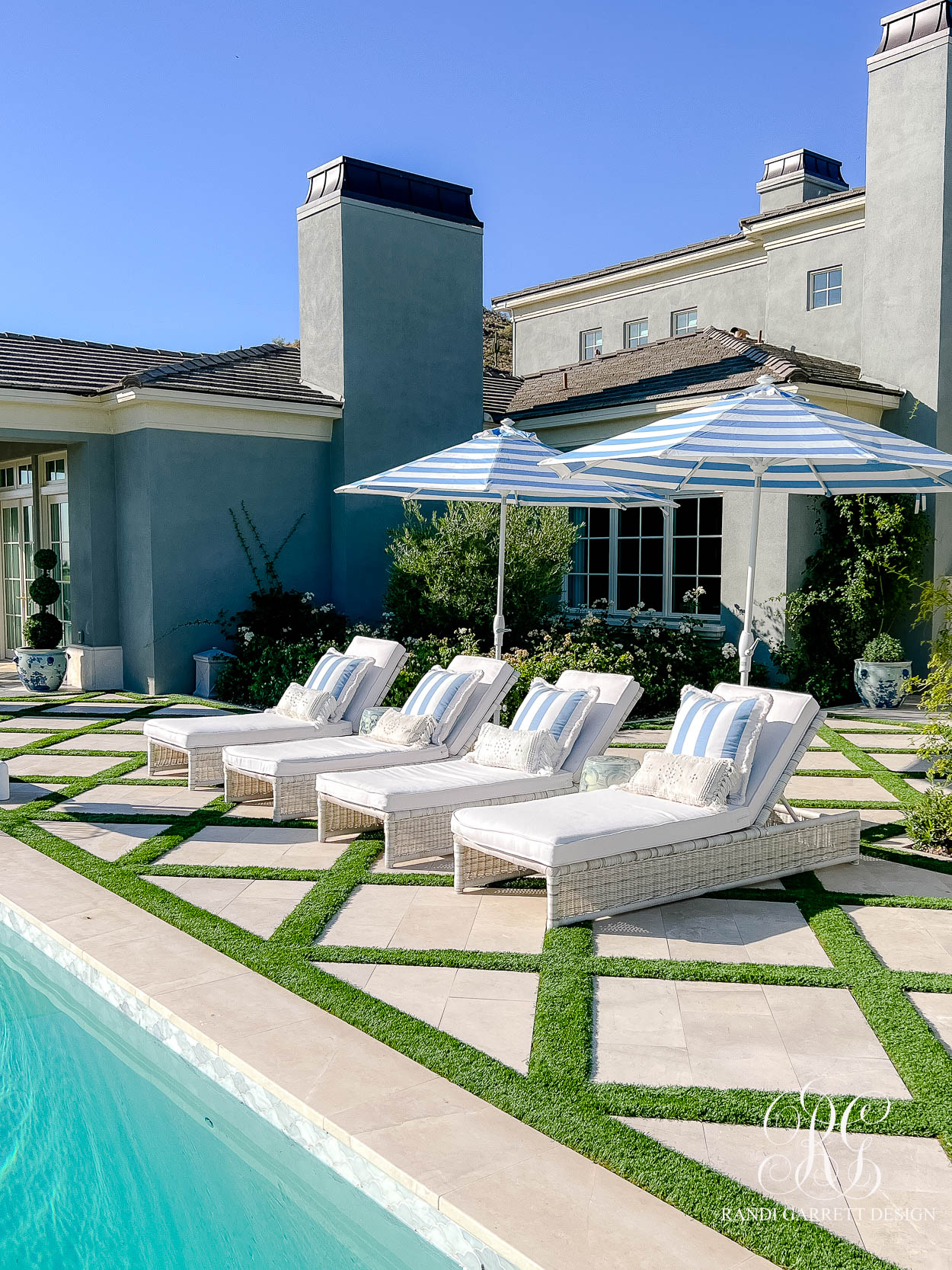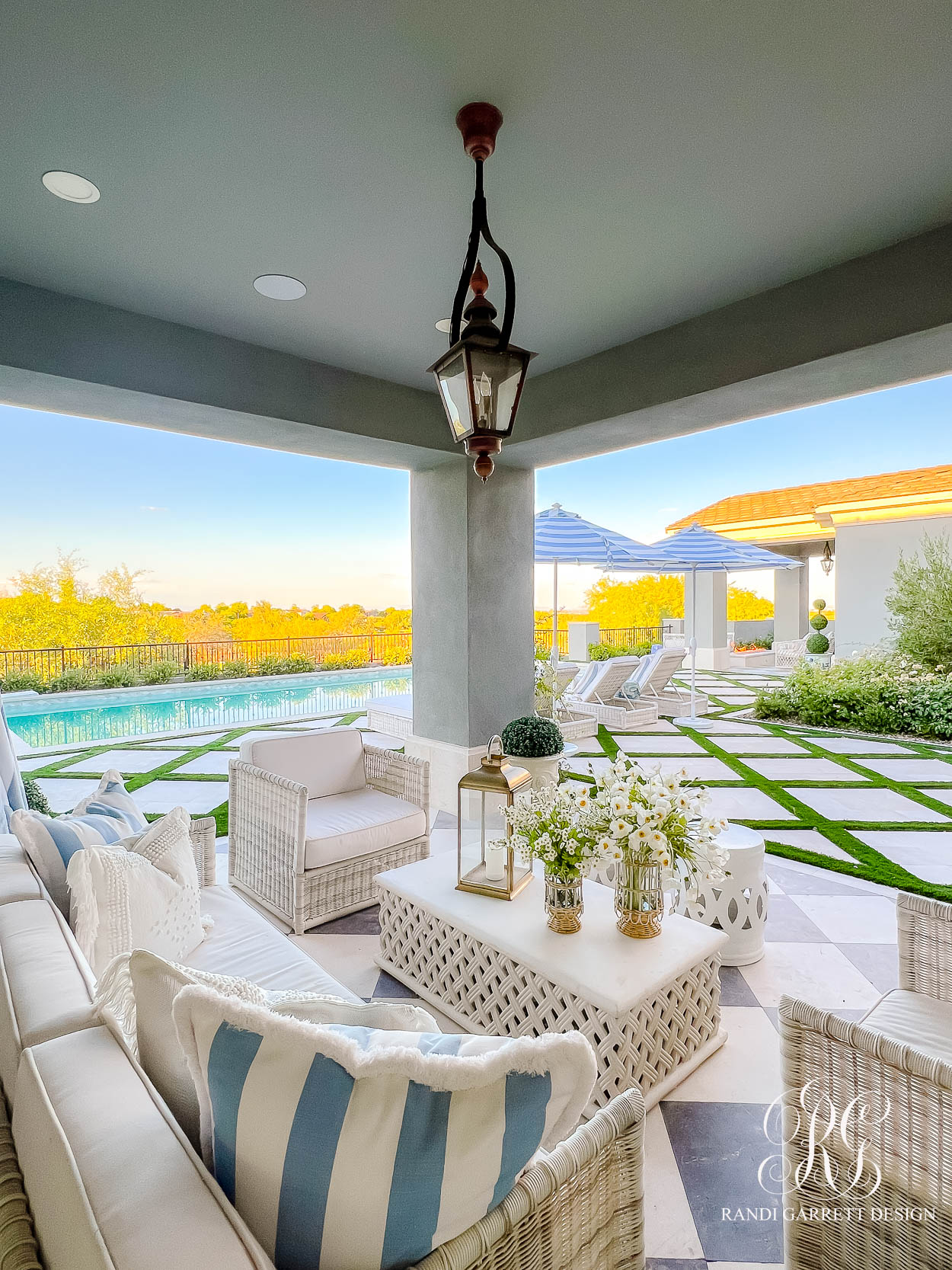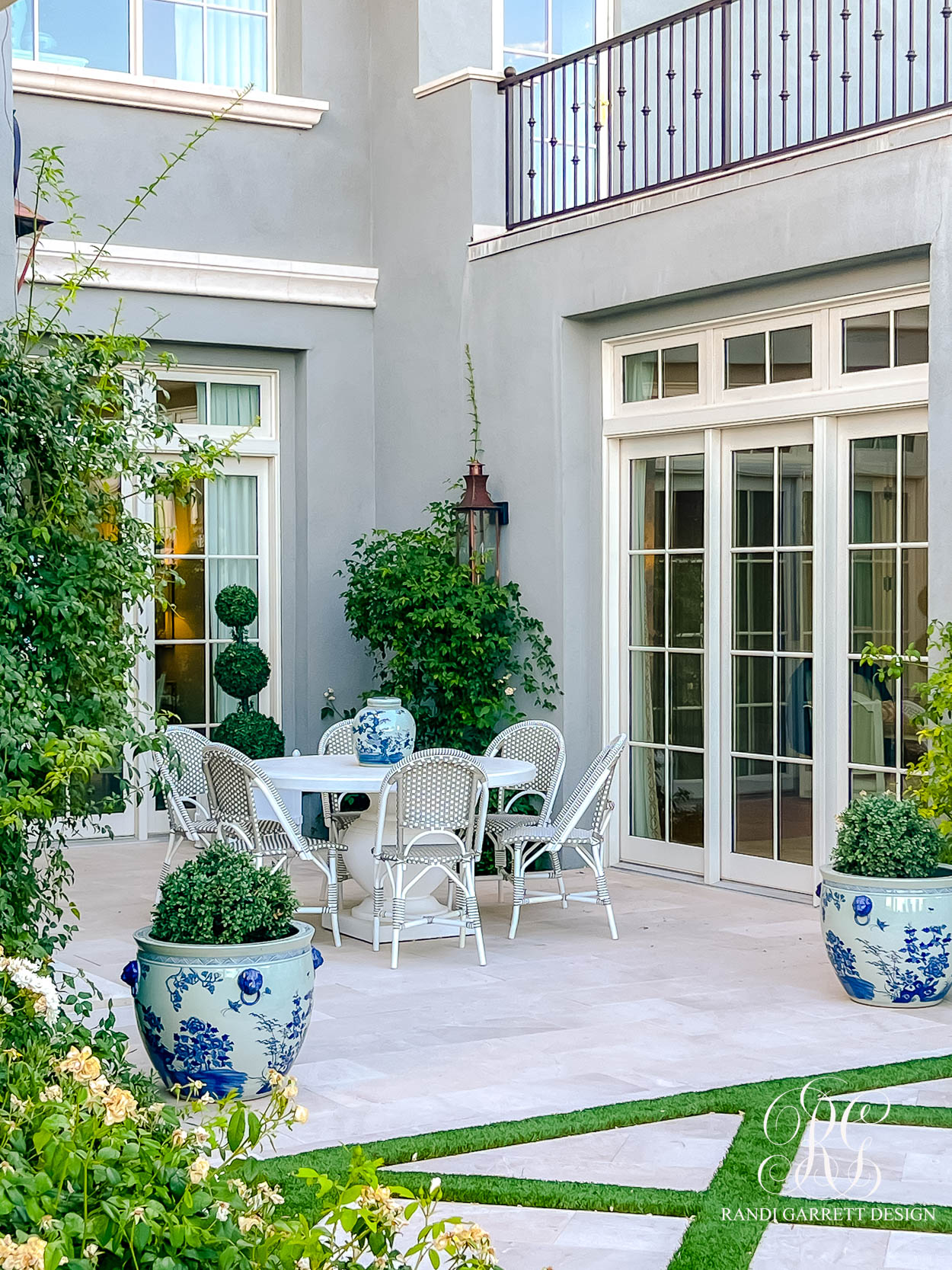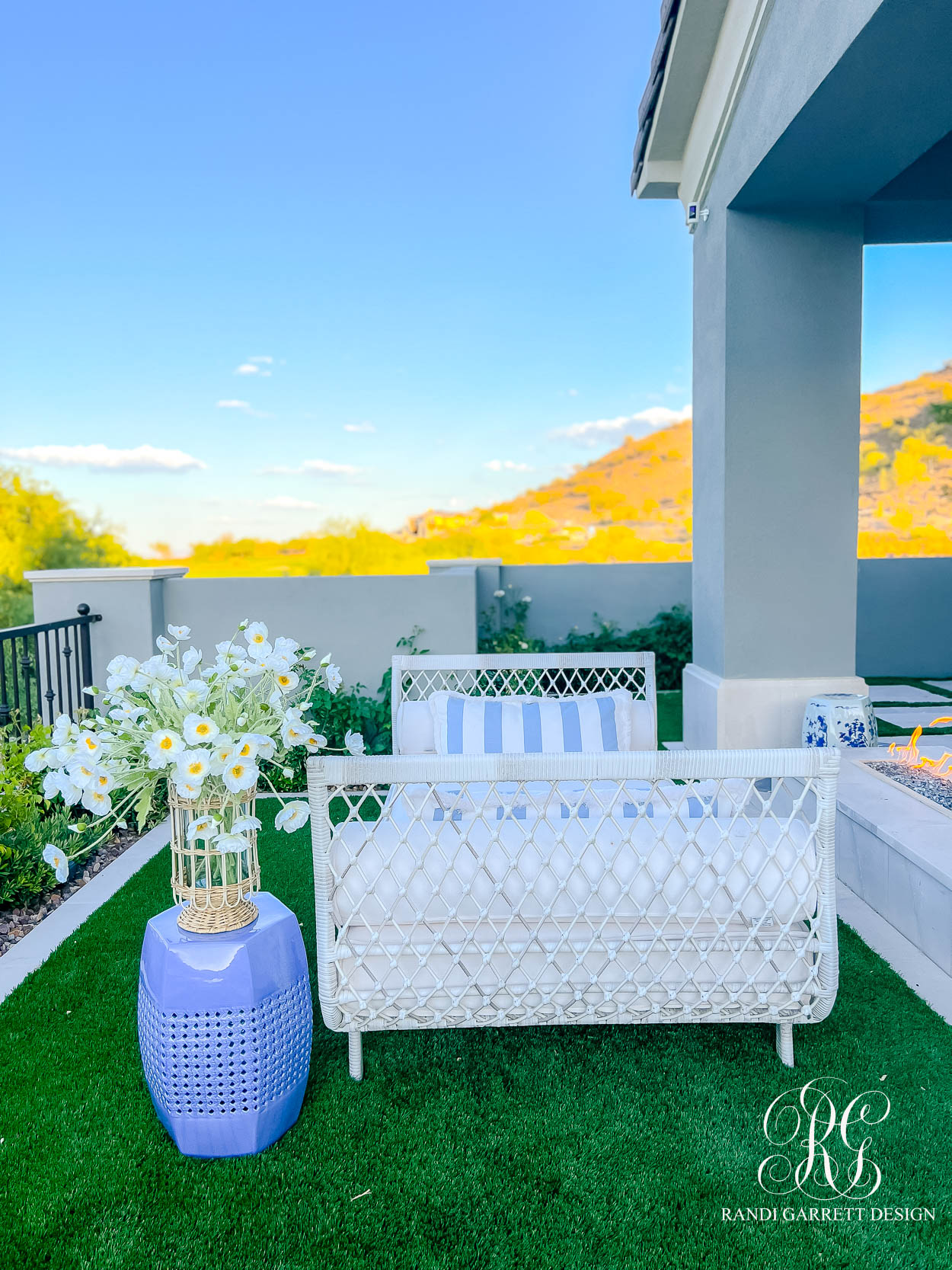 If you have the space, try to create several seating vignettes for people to gather.



Use Umbrellas for Shade
Charming outdoor umbrellas will add comfort and pizzaz to your outdoor space! Since I am featuring a lot of blue and white in our home this summer, I wanted to continue that look outside. I chose these darling 9′ Market Umbrellas with the Air Blue and White Striped covers for our backyard. I selected the white frame to coordinate with our white umbrella bases. These removable, umbrella covers are made out of durable outdoor fabric that can be easily removed for washing or storage. Choose from tons of different colors and patterns! They are also 25% off right now. I rounded up a few more of my favorite below.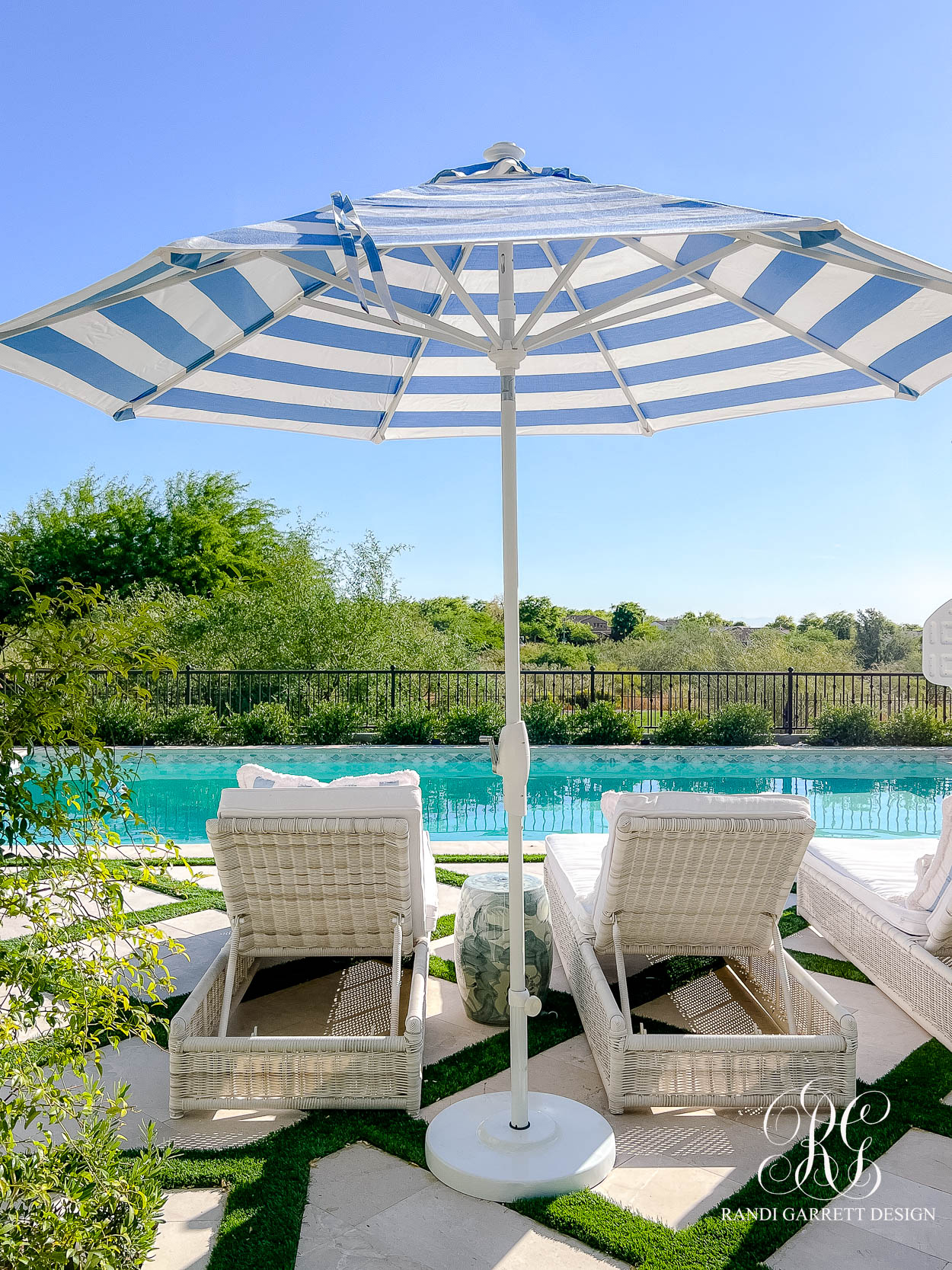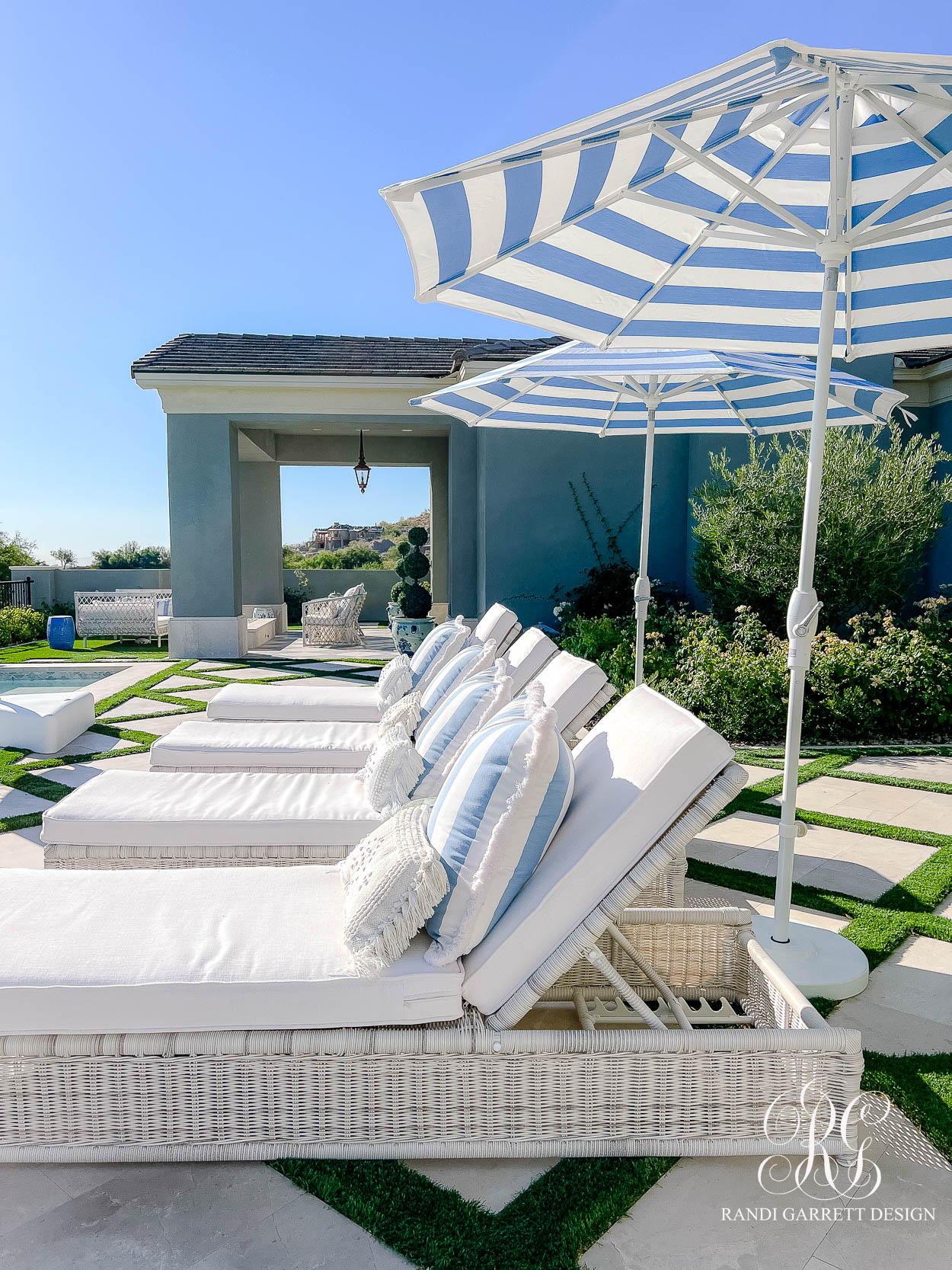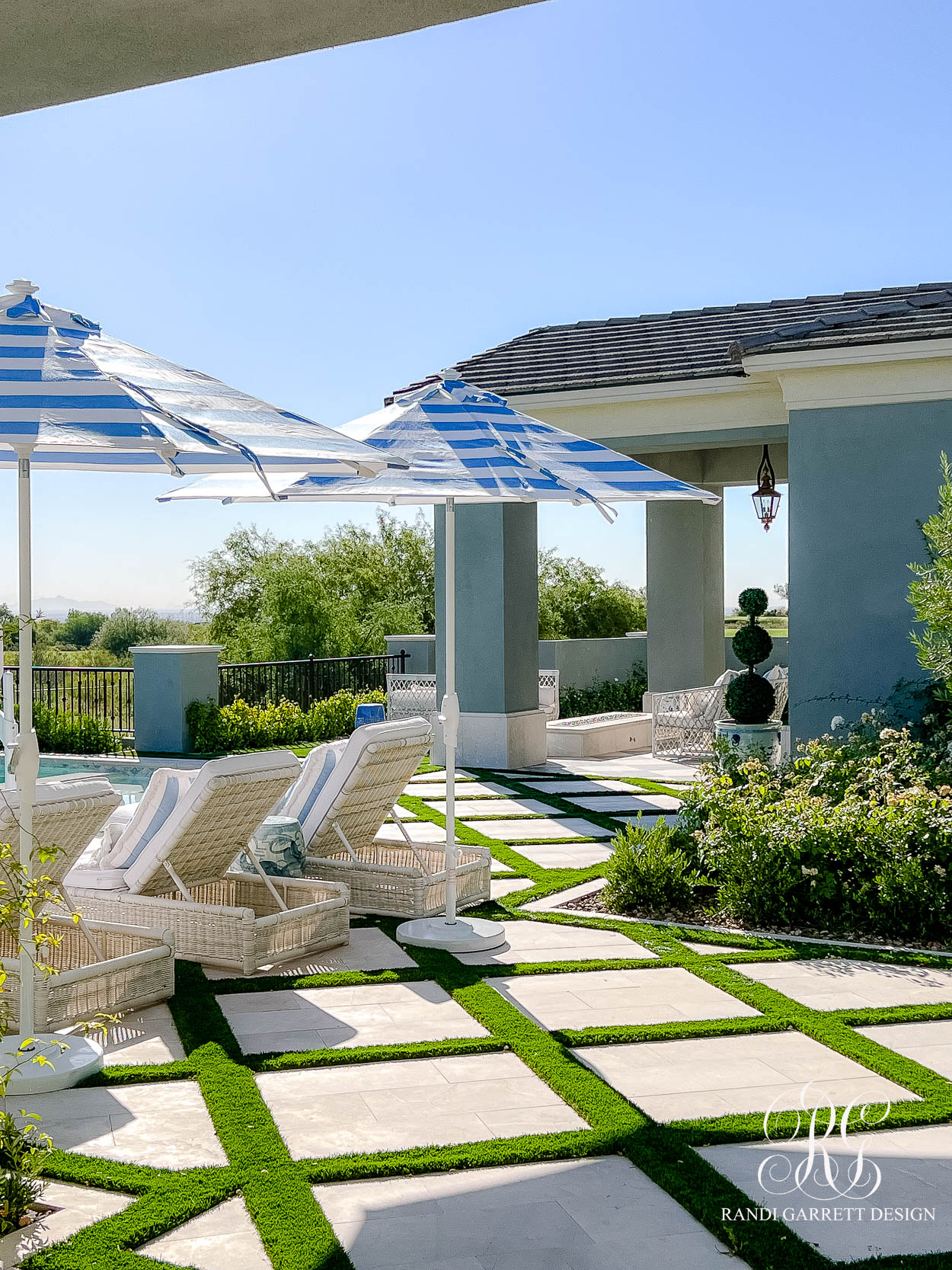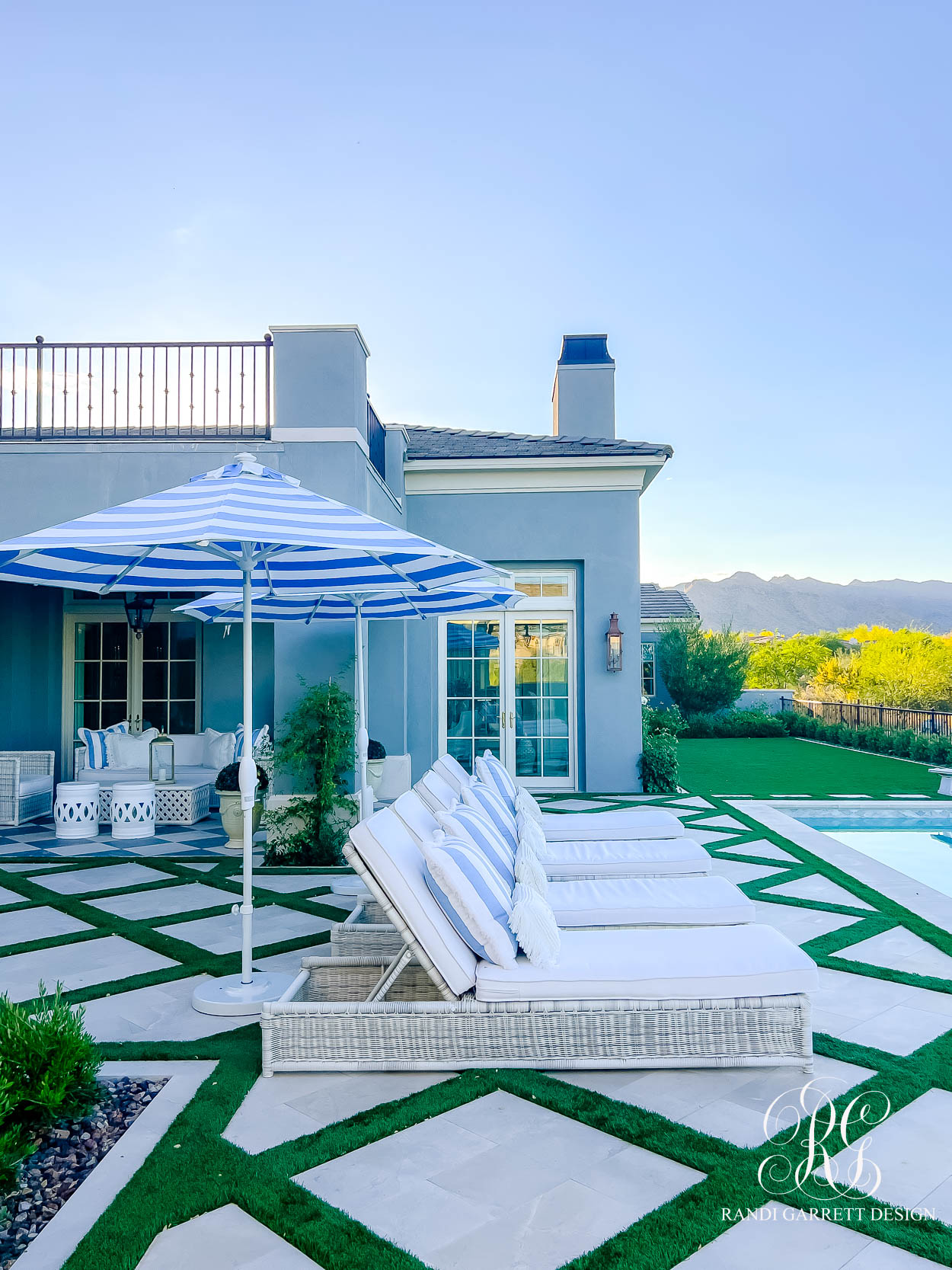 Add Throw Pillows to Soften the Outdoors
Just like indoors, outdoor pillows really add comfort and personality. We refreshed out backyard with these blue and white striped throw pillows ( mine are 24″). I love how bright and cheerful they make the yard feel! You can get some for your yard here! They have lots of patterns and colors to choose from too and they are all on sale!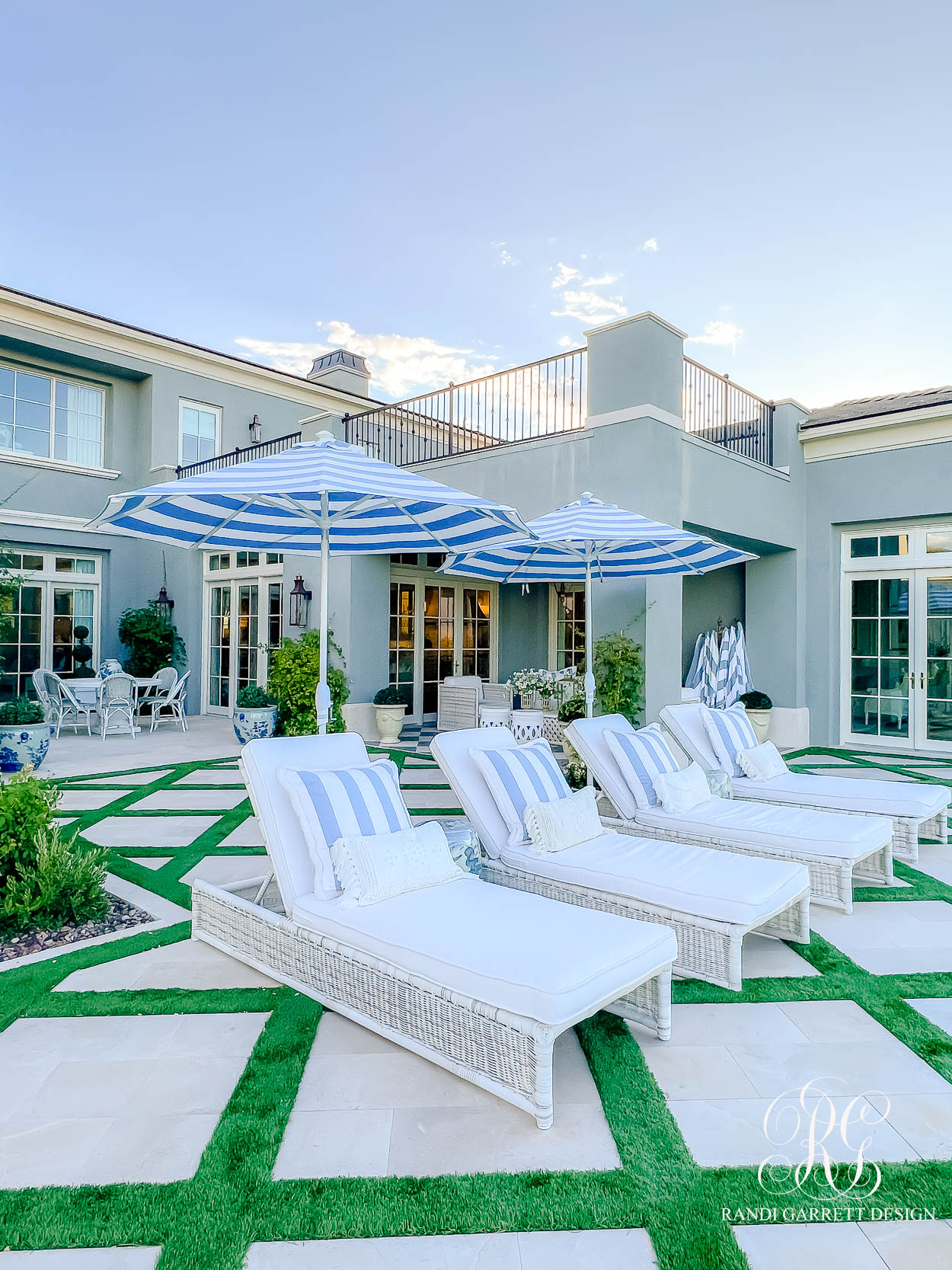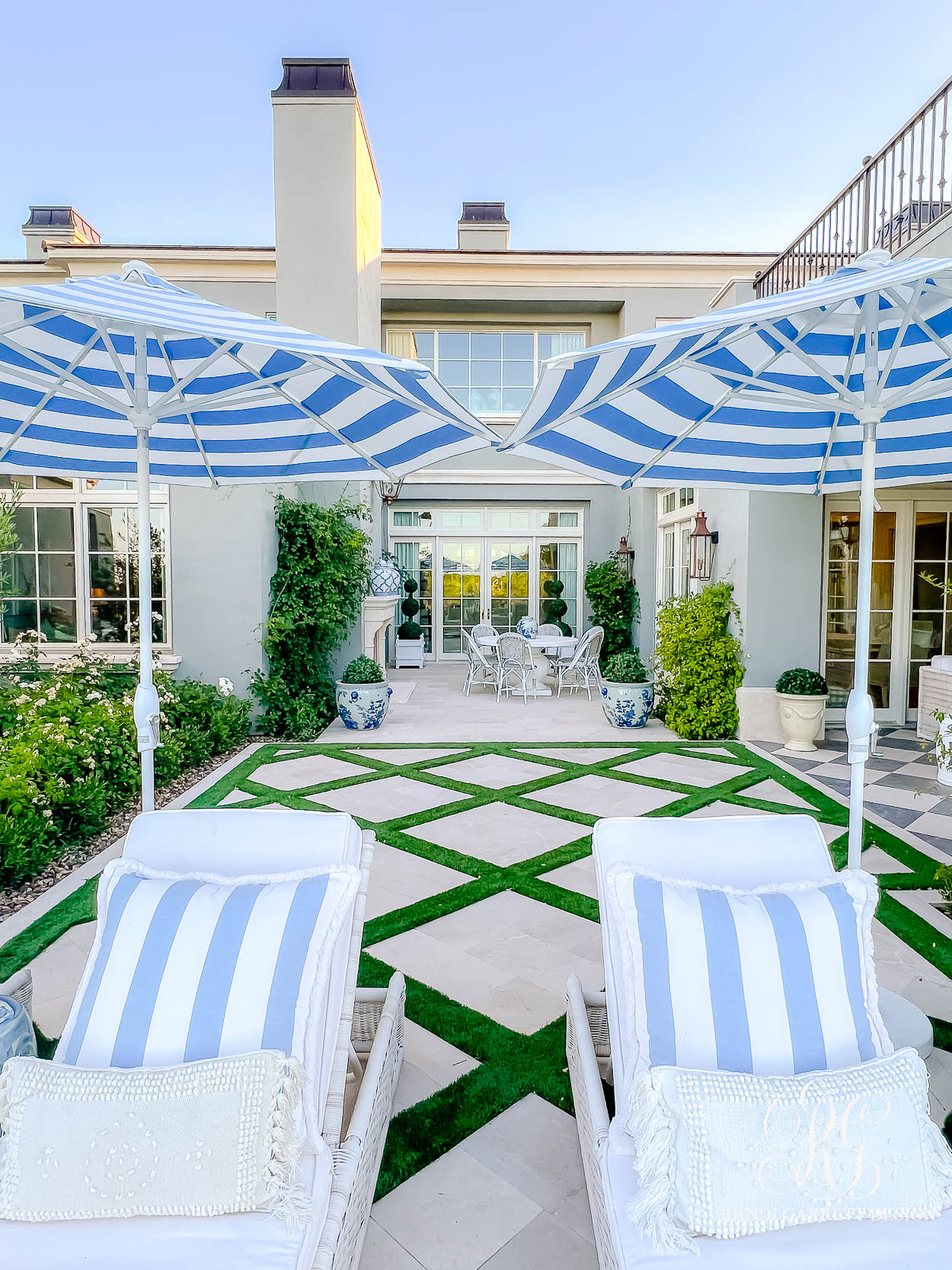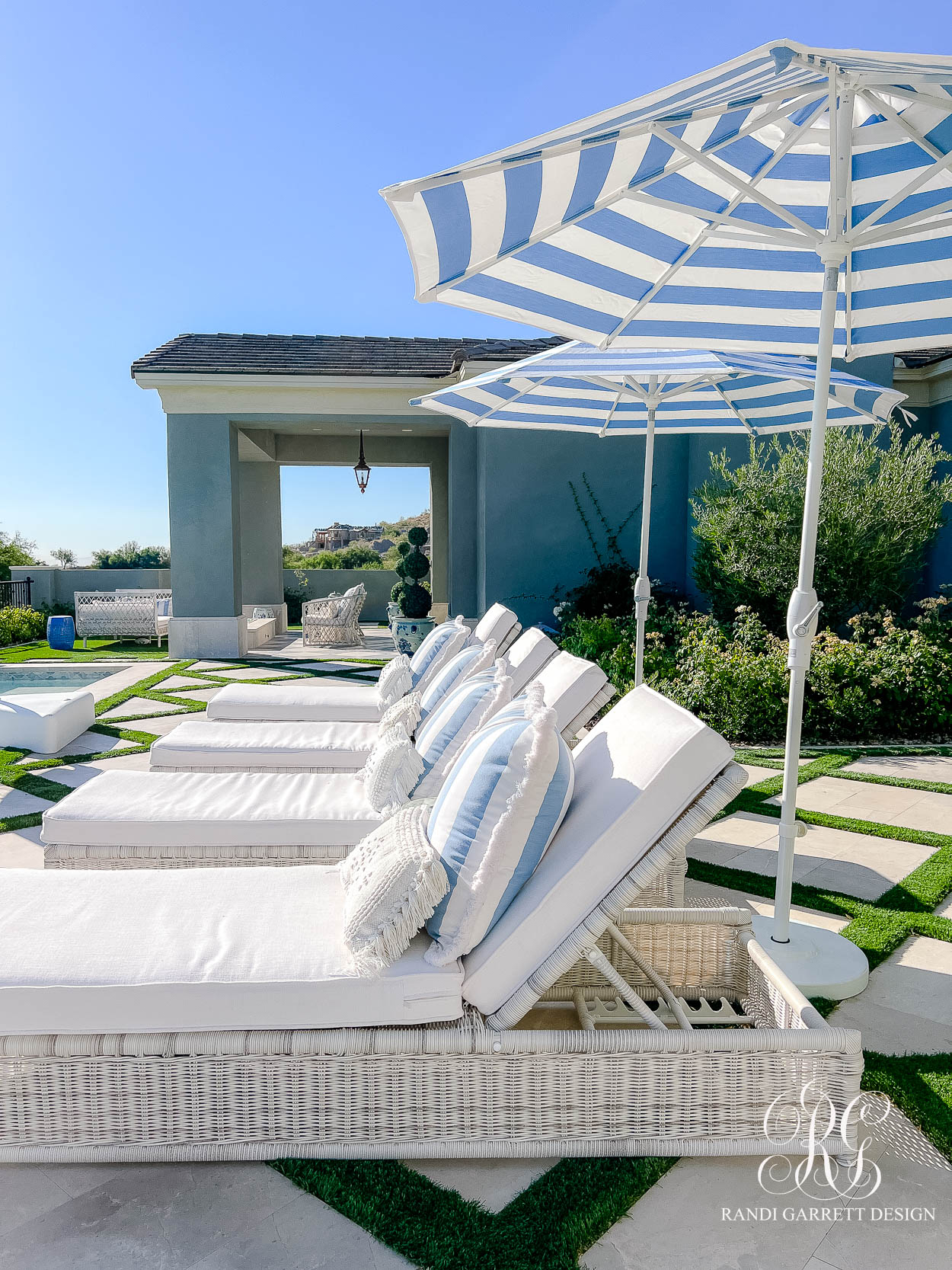 Add Charming Planters to Brighten up your Outdoor Spaces
Planters are my favorite way to add some character to your backyard. Have fun with them! We have 3 different types of planters in our backyard, all from Frontgate! They seriously have the best pieces!!! Since half of our year is so hot (in Arizona), we have high quality faux boxwood in our planters. The heat kills any reals plants. I LOVE the Frontgate boxwood topiaries! They are stunning, no maintenance and have a UV coating to help prevent fading.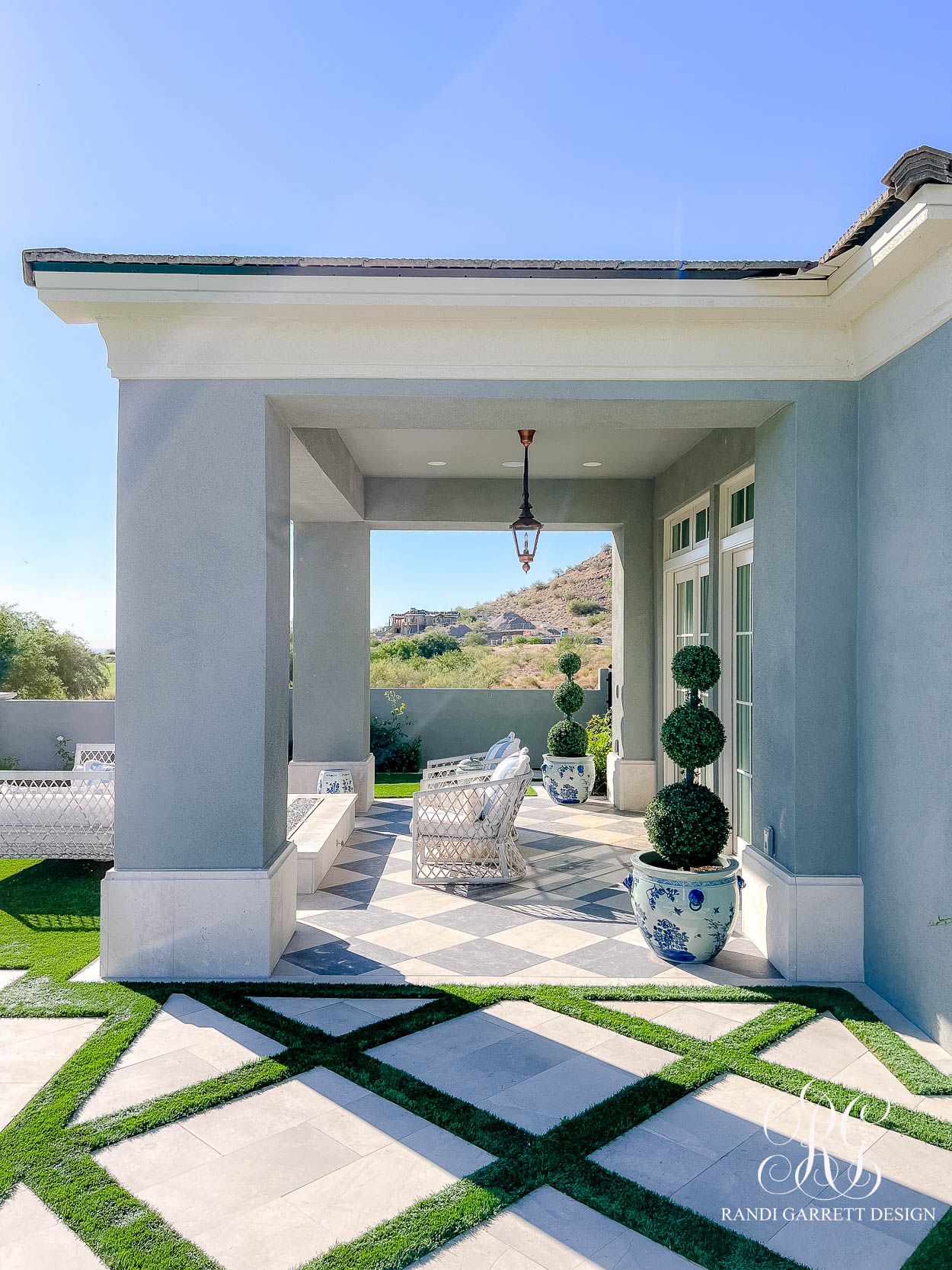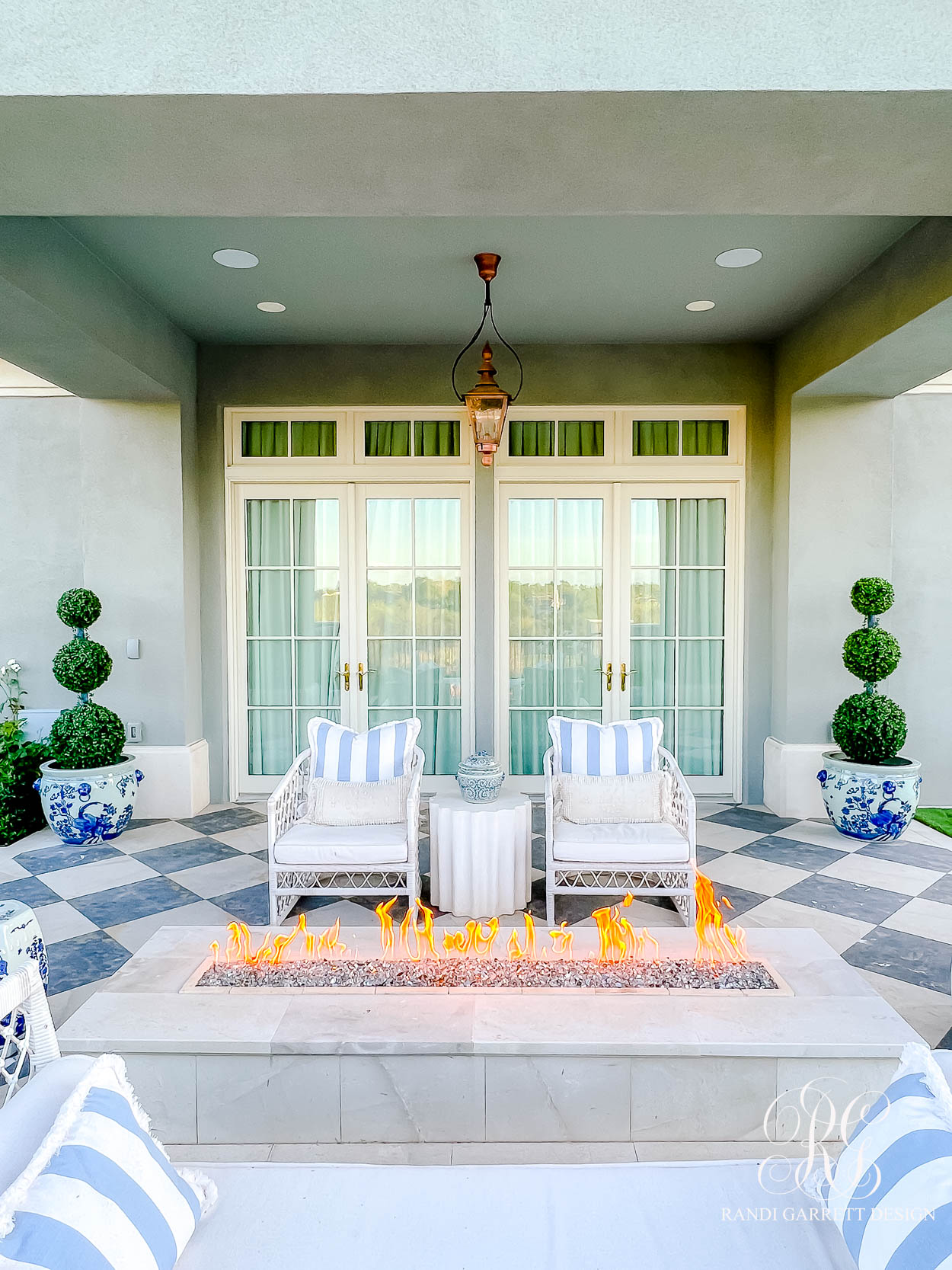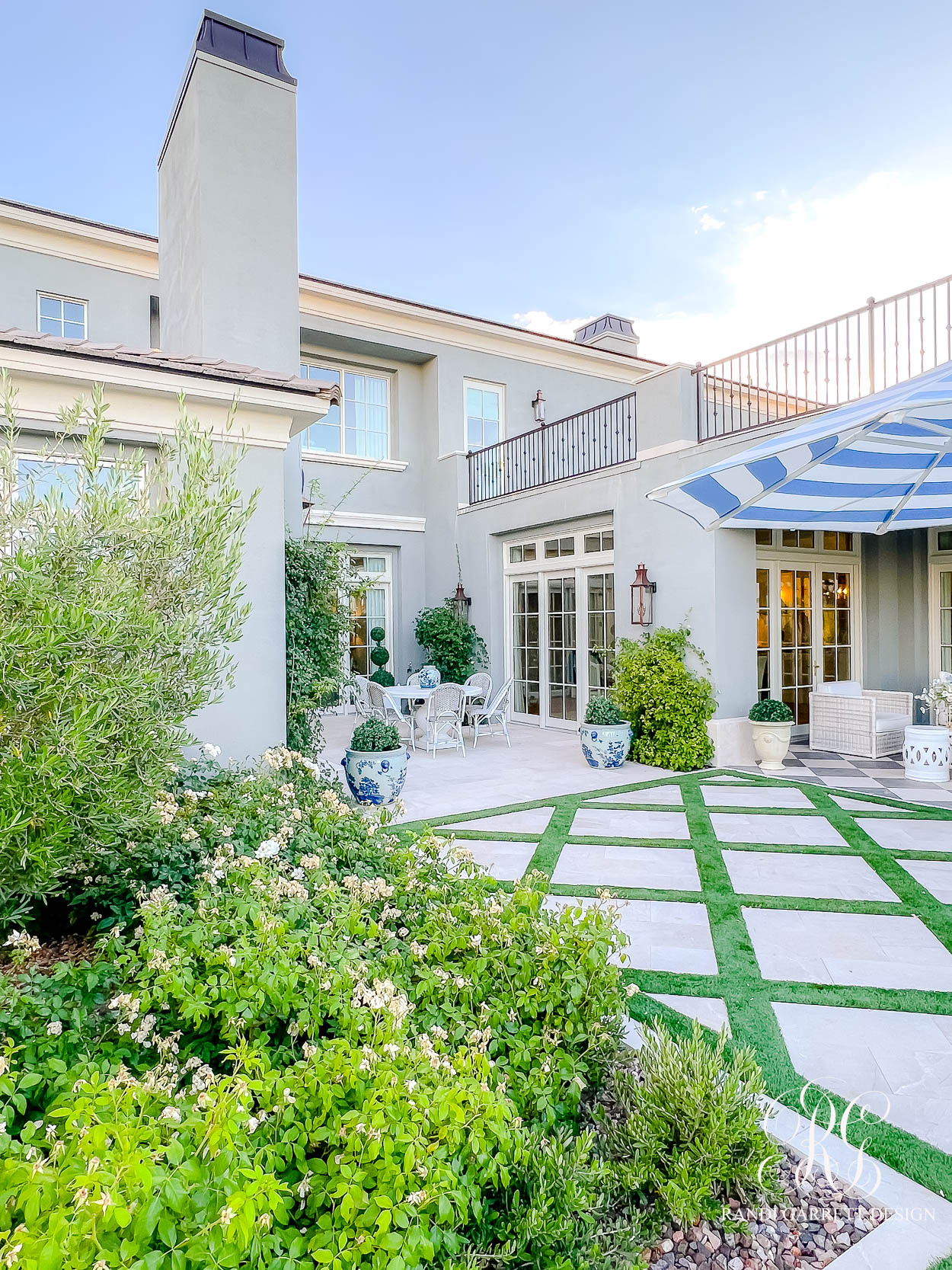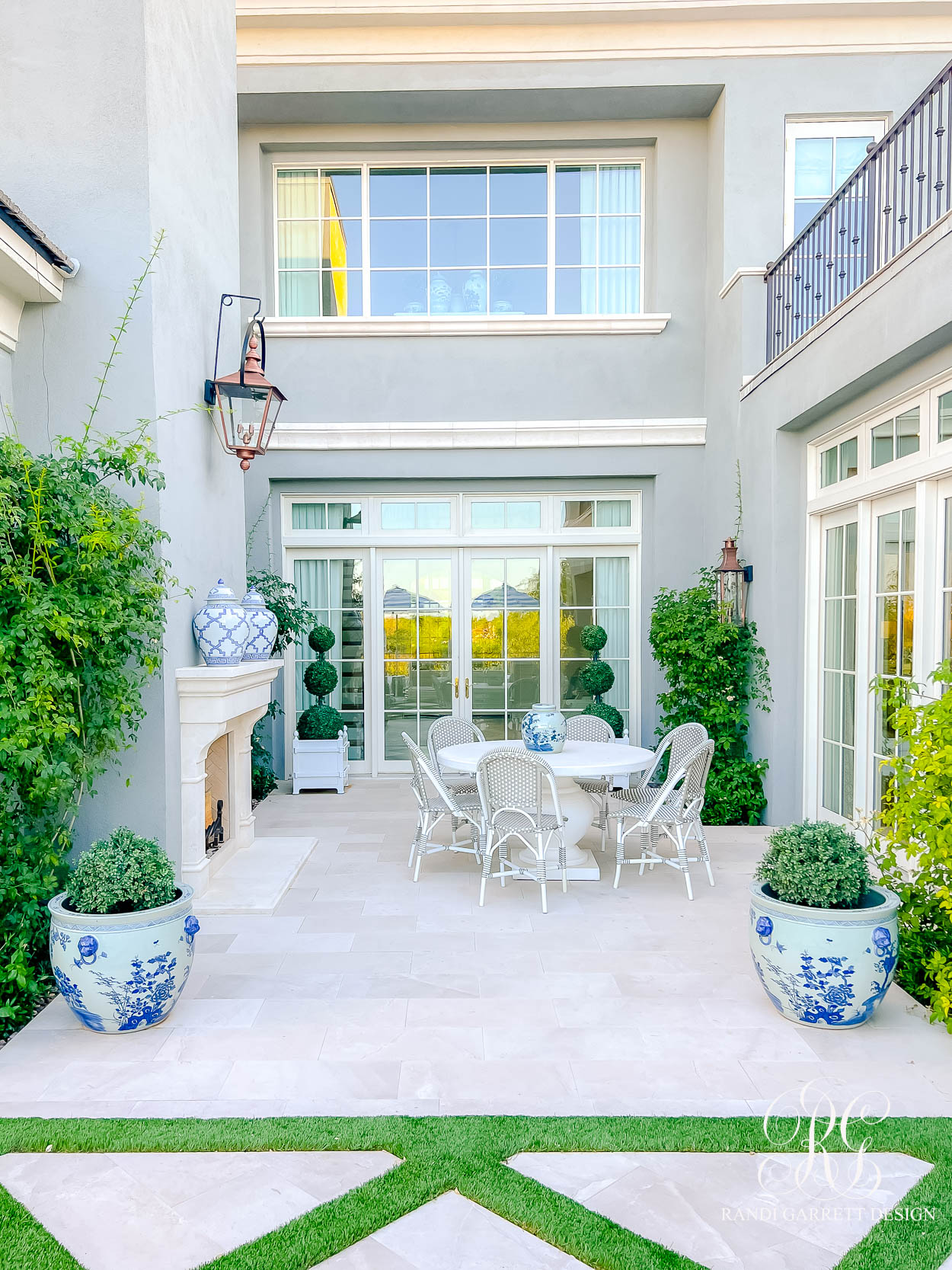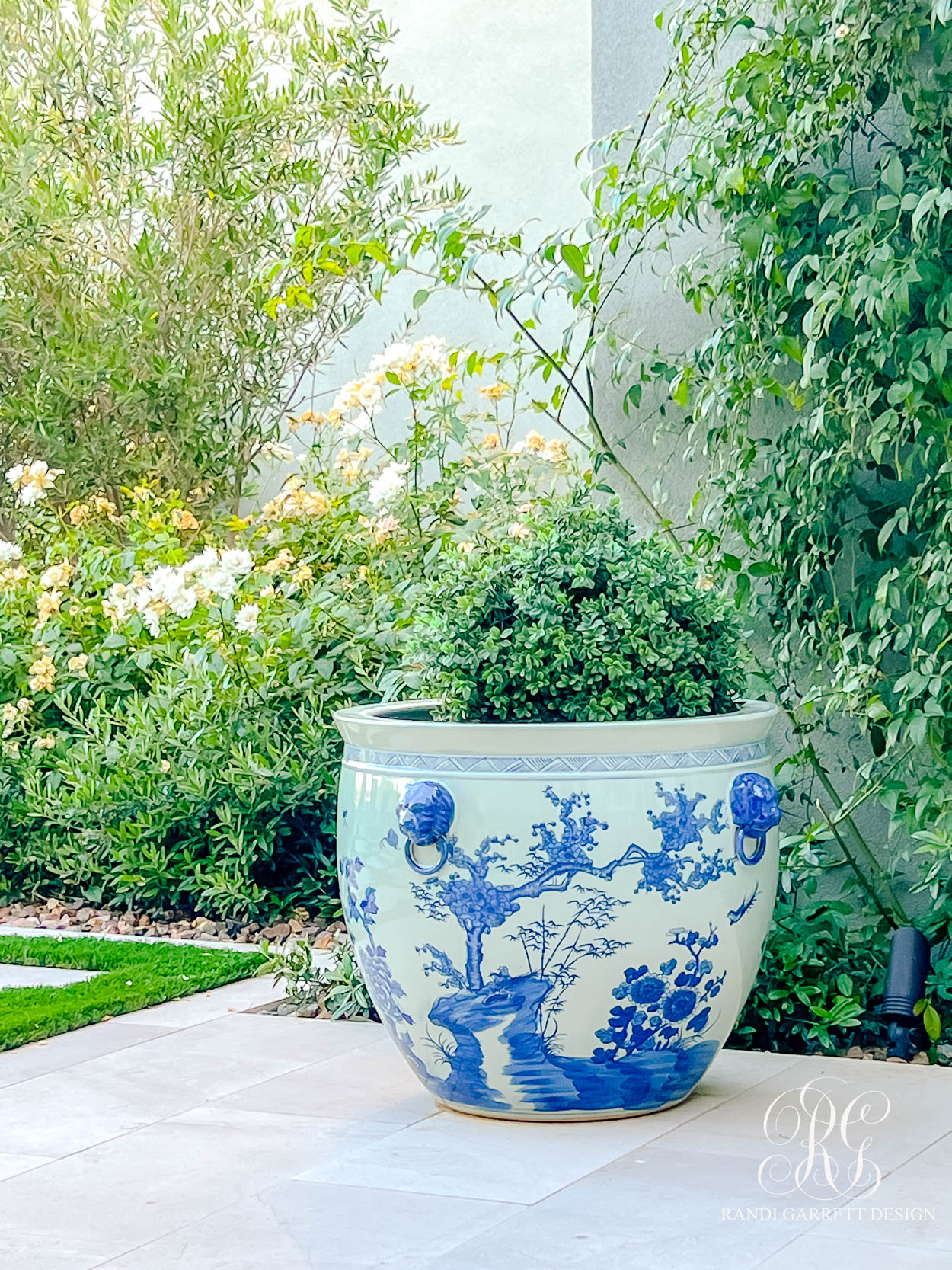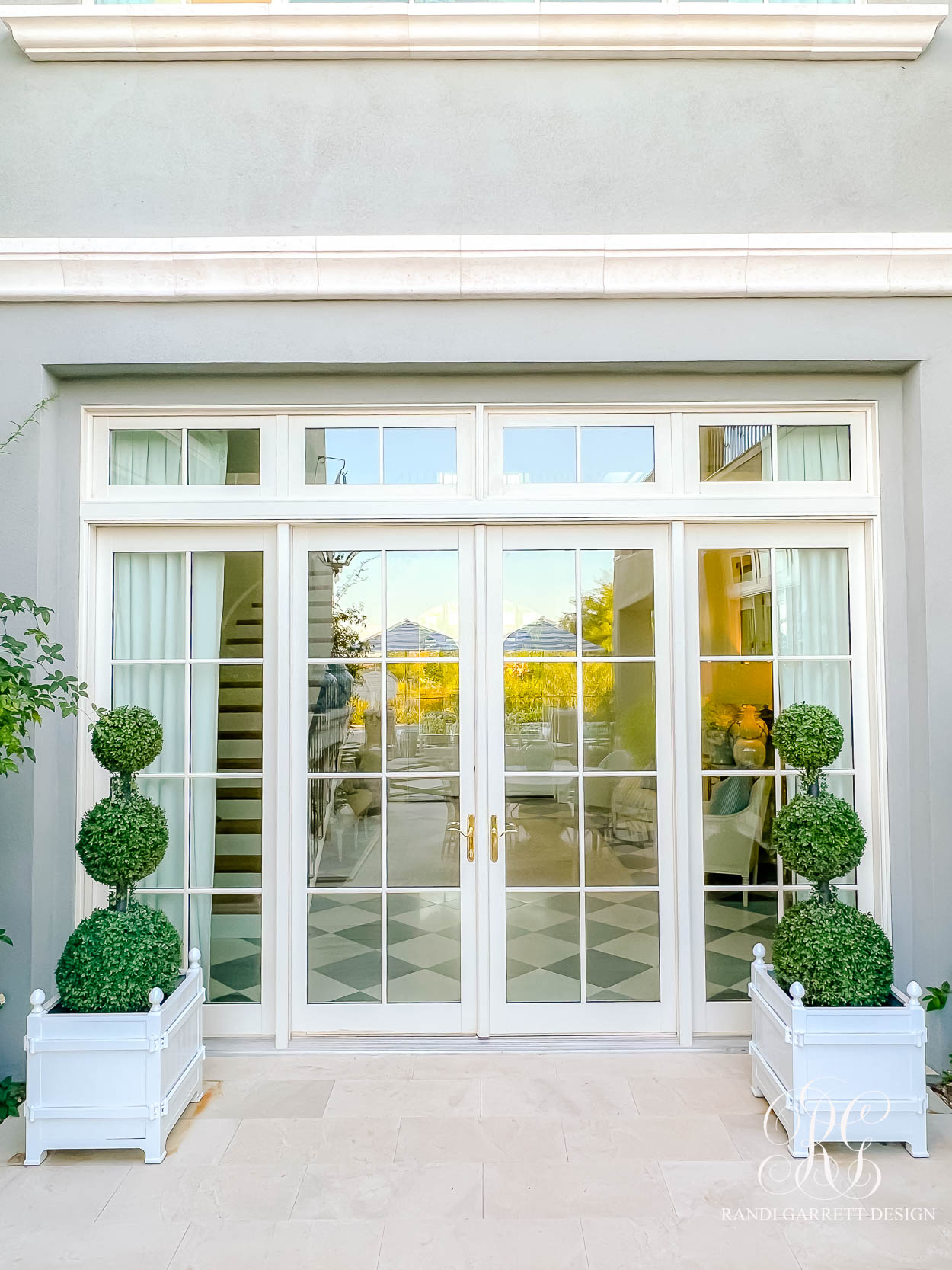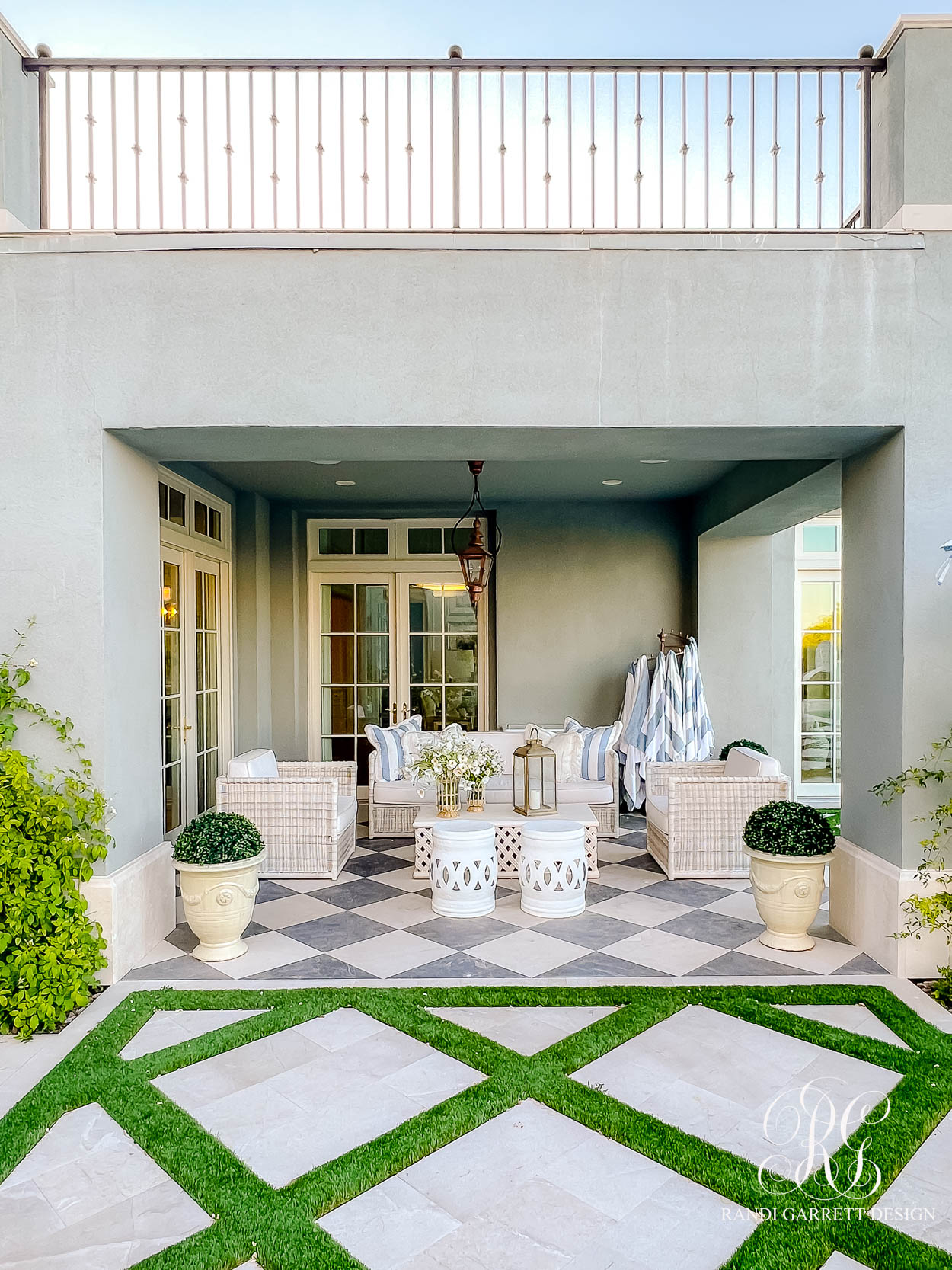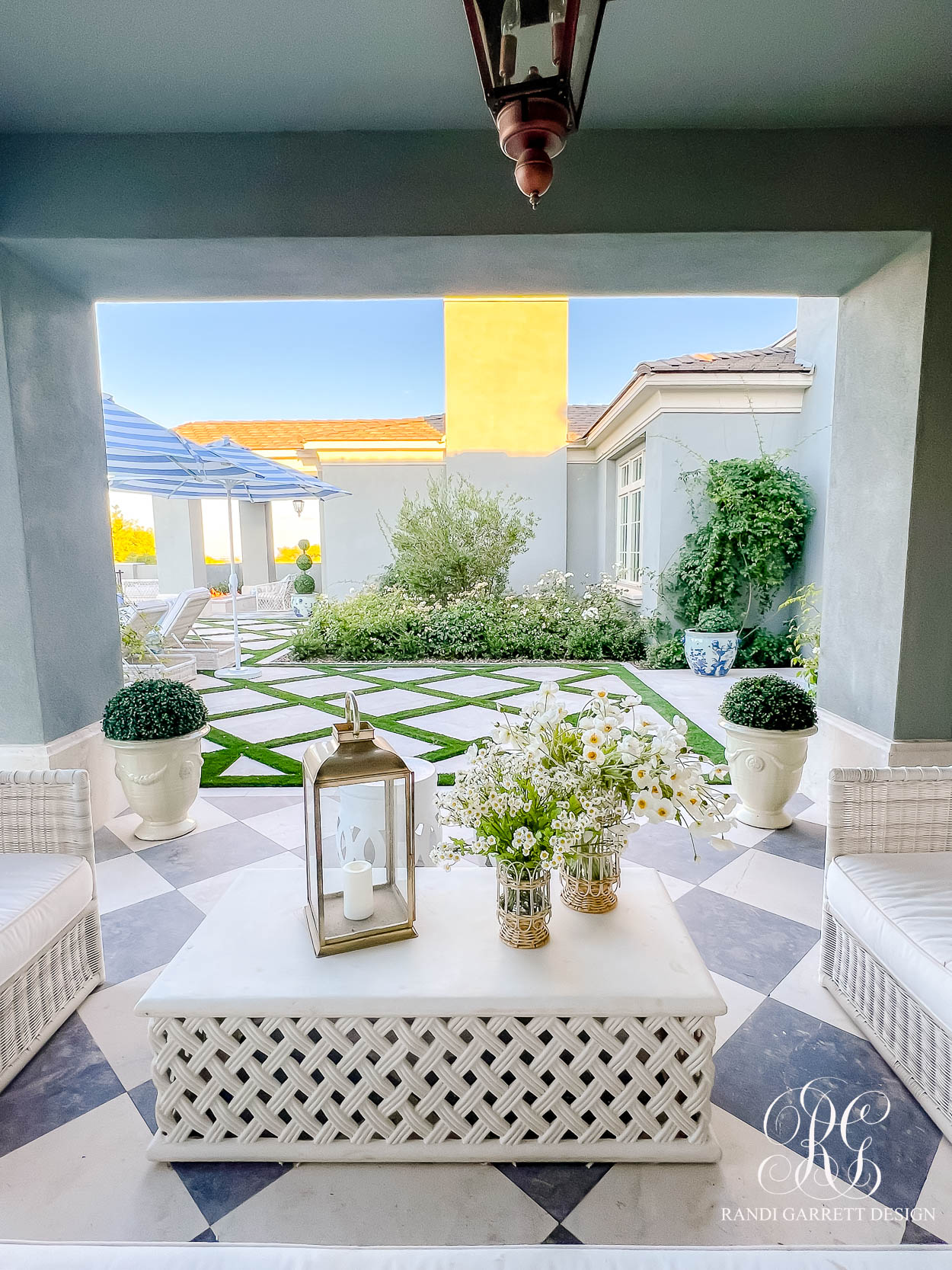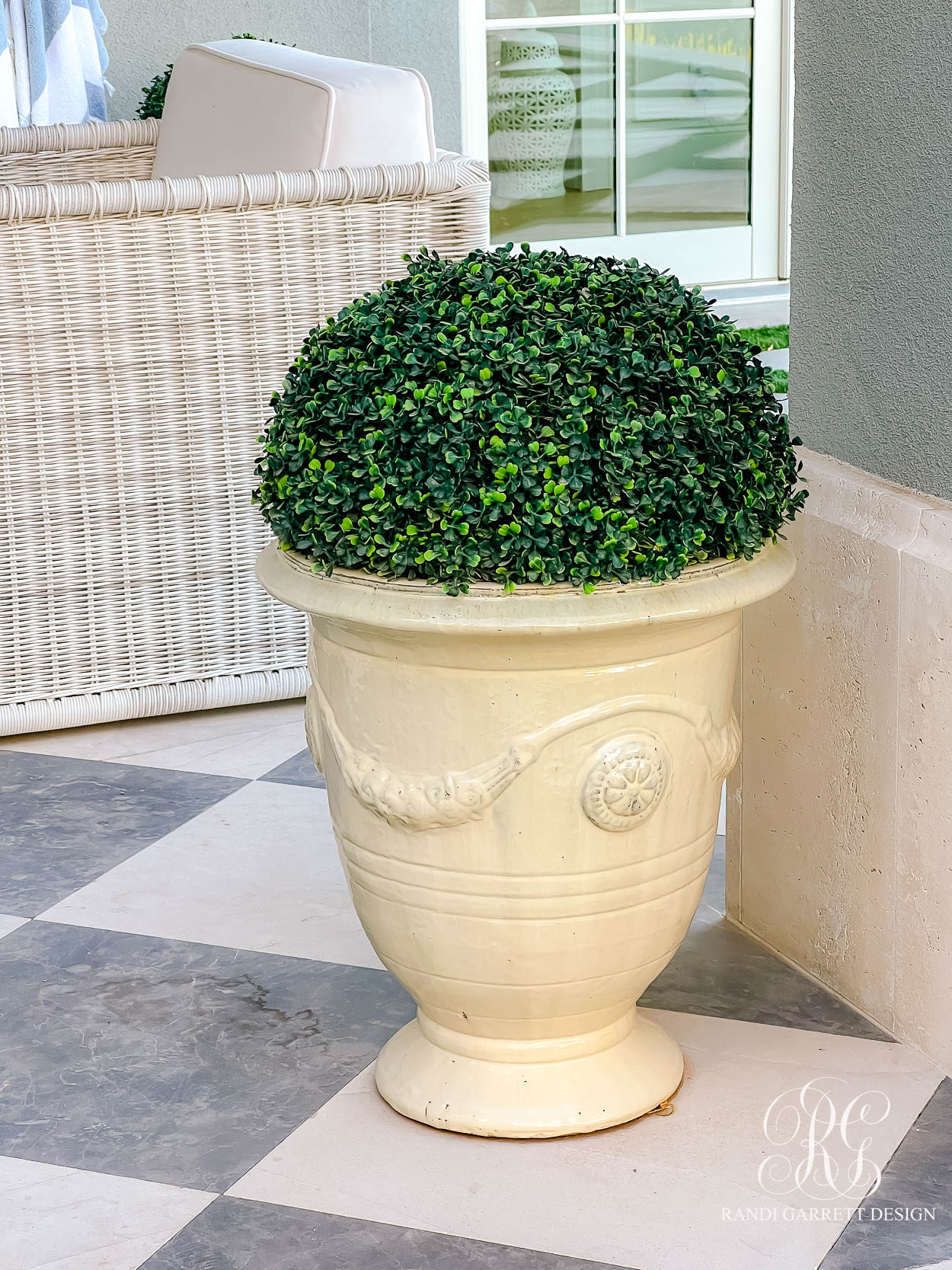 Towels and pool accessories I love below…