Part of living a beautiful life is taking good care of yourself. As women, we tend to put our yourselves at the bottom of our priority lists. I love this saying – you can't fill someone else's glass if your's is empty. A simple truth we so often forget! Over the next month or so, I am going to be sharing some simple ways you can take better care of yourself without feeling guilty or taking valuable time away from your family and other responsibilities. Simple things you can do to fill your glass, so you can in turn fill those around you. Today let's start by talking about caring for your skin and hair. I'm sharing some of my favorite beauty must haves that help me feel more beautiful which in turn helps to "fill my cup".
When you feel good in your skin, you feel like you can conquer the world, or at least the laundry – wink, wink! Over the past few years, I have really looked to find good beauty products for my aging skin and hair. I've found some fabulous products that I love, that I have introduced into my skin routine. These products and simple routine tweaks have given my skin a youthful glow and have made me more comfortable in my skin.
*This post is done in partnership with Colleen Rothschild and contains affiliate links. Read my disclosure policy here.
Some of my Favorite Beauty Must Haves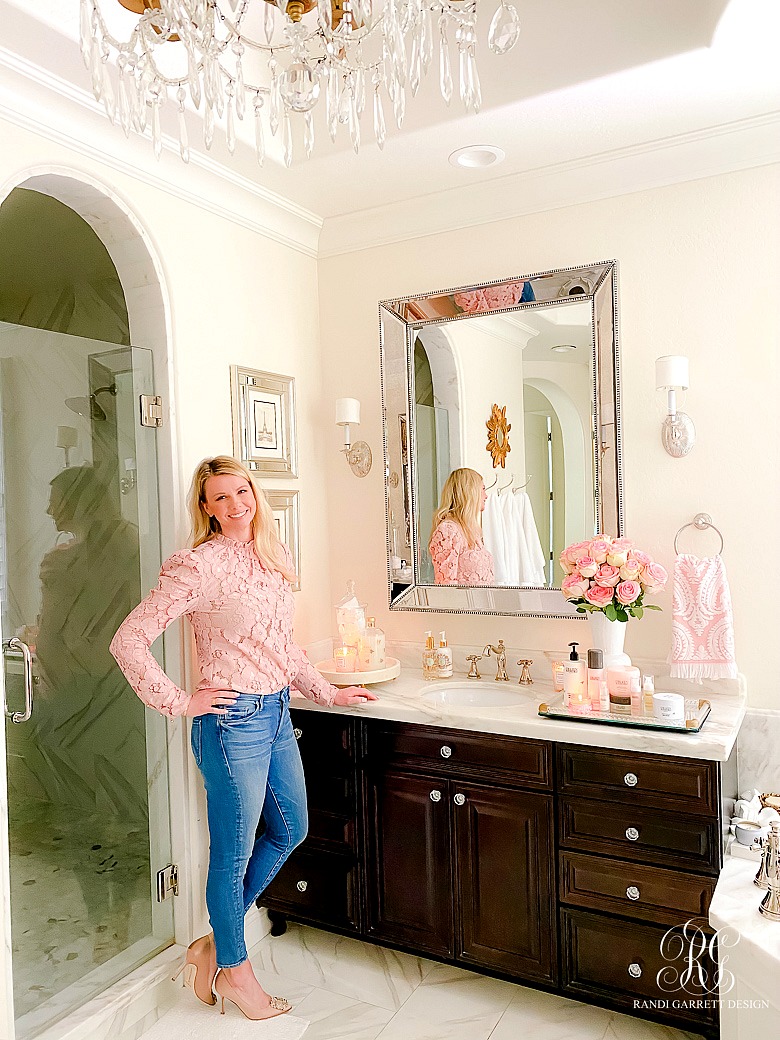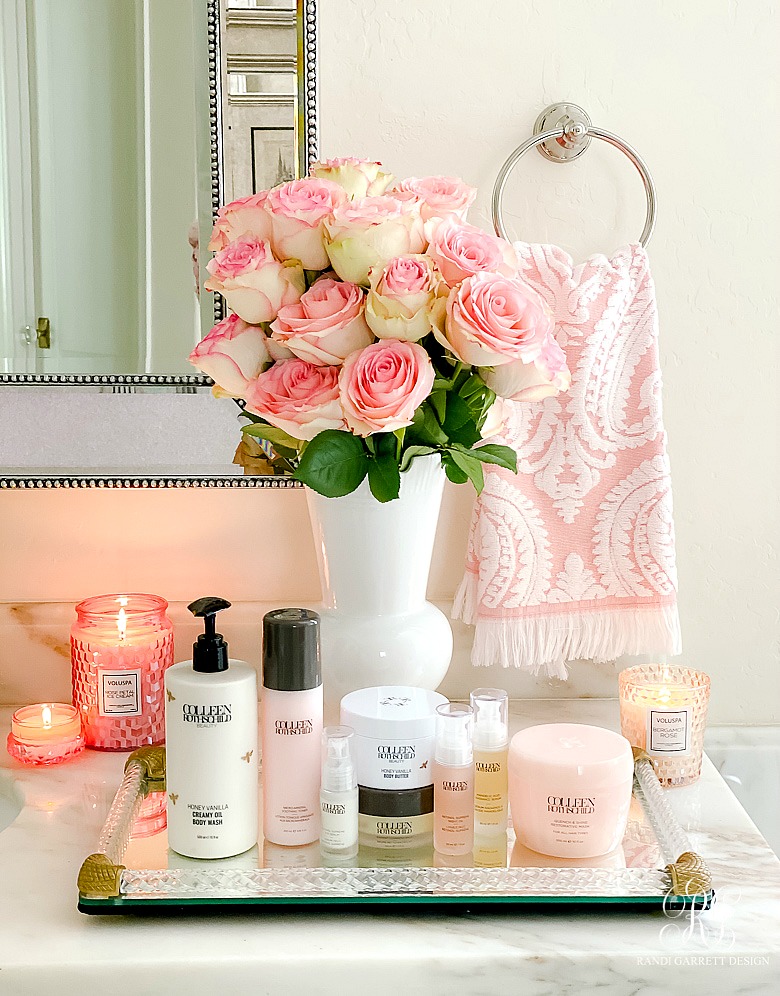 Pink Lace Top | Jeans | Buckle Heels





All of the products I'm sharing today are from Colleen Rothschild. I actually got to met Colleen in Dallas last year at a work conference. I past her and did a double take. She was absolutely glowing with the most radiant, striking skin! When I glanced back, she and I exchanged glances. She introduced herself to me as Colleen as in The Colleen of Colleen Rothschild!
She is the cofounder of this amazing skin care company. After chatting about her products, I knew I had to try them. I went home with her hair mask, toner, body butter, retinol eye serum, and cleansing balm. You guys, I became hooked on all of the everything! Their products are amazing! They do everything they say they do – my hair and skin looked and feels better than it has in years! Not only do I love the products, I love their beautiful packaging too! The products look gorgeous sitting out on my counter top and in my shower.
Let me tell you about a few of my favorite products, and before I forget, Colleen Rothschild's is having their anniversary sale and their entire site is 25% off now through the 26th with code 6YEARS!!!
My Favs
Quench and Shine Hair Mask – I noticed this is out of stock, it's for a reason you guys! This stuff is insane! I have never tried something that protects and hydrates my hair like this mask! Don't worry, I will remind you when it is back in stock to grab one. The pink packaging is also my fav. The hair serum is also fantastic for taming fly aways and leaving your hair silky smooth. I love it! Look how pretty the blush container looks in the shower too!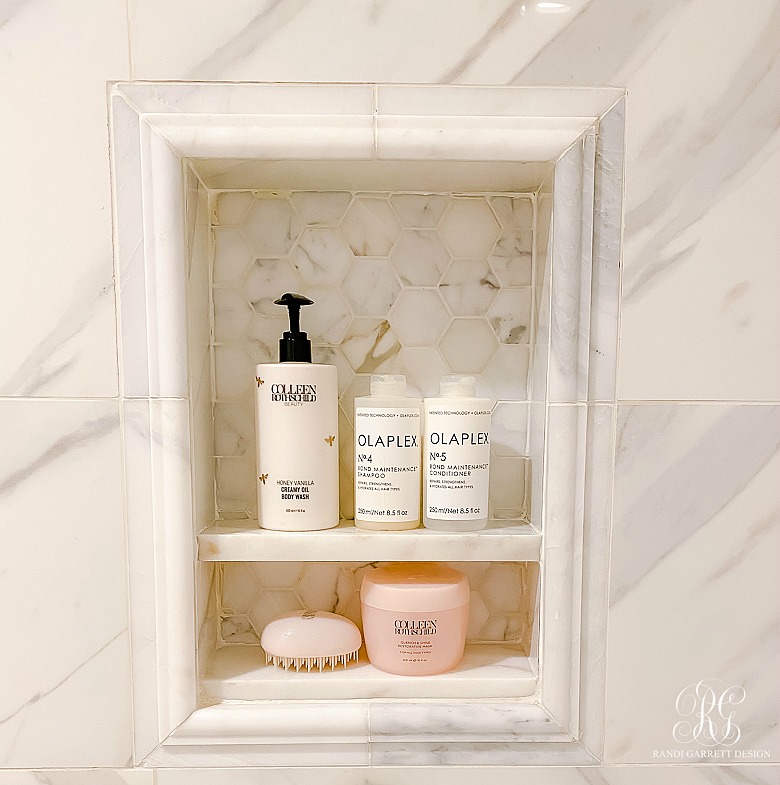 Creamy Oil Body Wash – Honey Vanilla – This body wash is lovely any time of the year, but I especially love it in the winter when my skin my more dry. The light vanilla scent is amazing! Love the bee detail on the packaging so much!
Honey Vanilla Body Butter – Right after I dry off from the shower, I smooth this hydrating body butter on my arms and legs. It contains Arabica Coffee Seed helps energize and Polynesian Mother of Pearl which give the skin a soft, radiant glow. This smells amazing you guys. I find myself smelling my hands all day!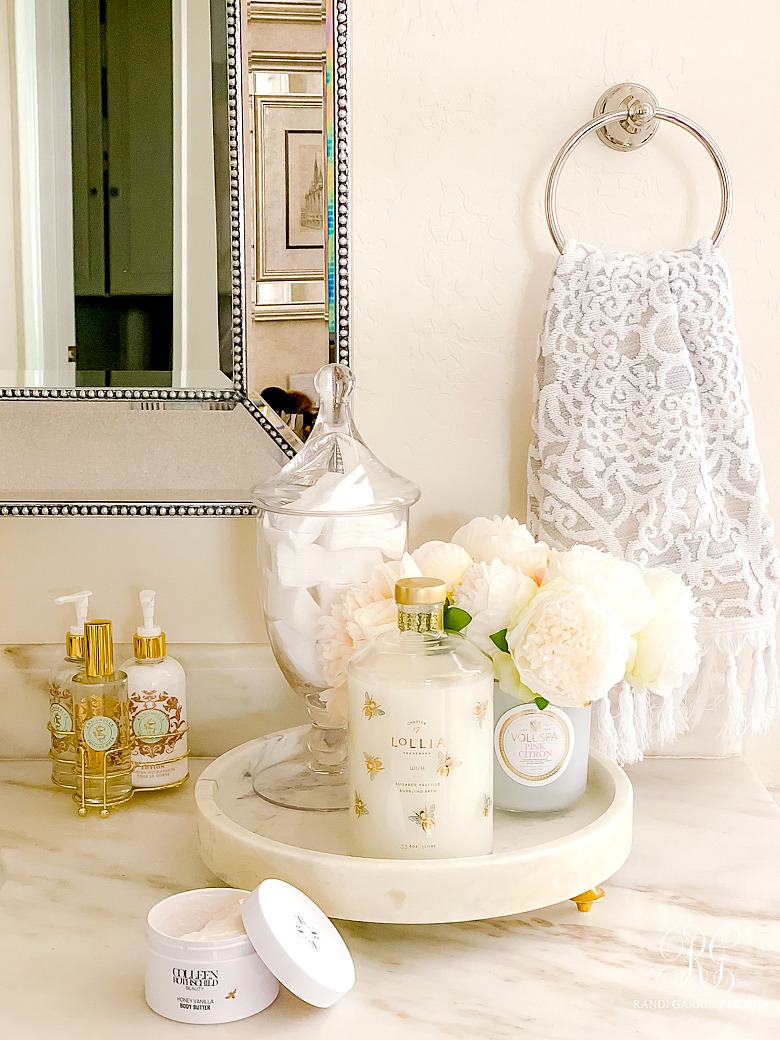 Micro – Mineral Soothing Toner – This is what I start my skin morning routine with. Toner in general balances your skin tone, evening the color out. This toner does that and more! It's the loveliest shade of pink and is made with Rose Quartz, Rhodolite Garnet and Malachite Extracts which all help to protect your skin. I love using these soft cotton squares to gently apply it to my face.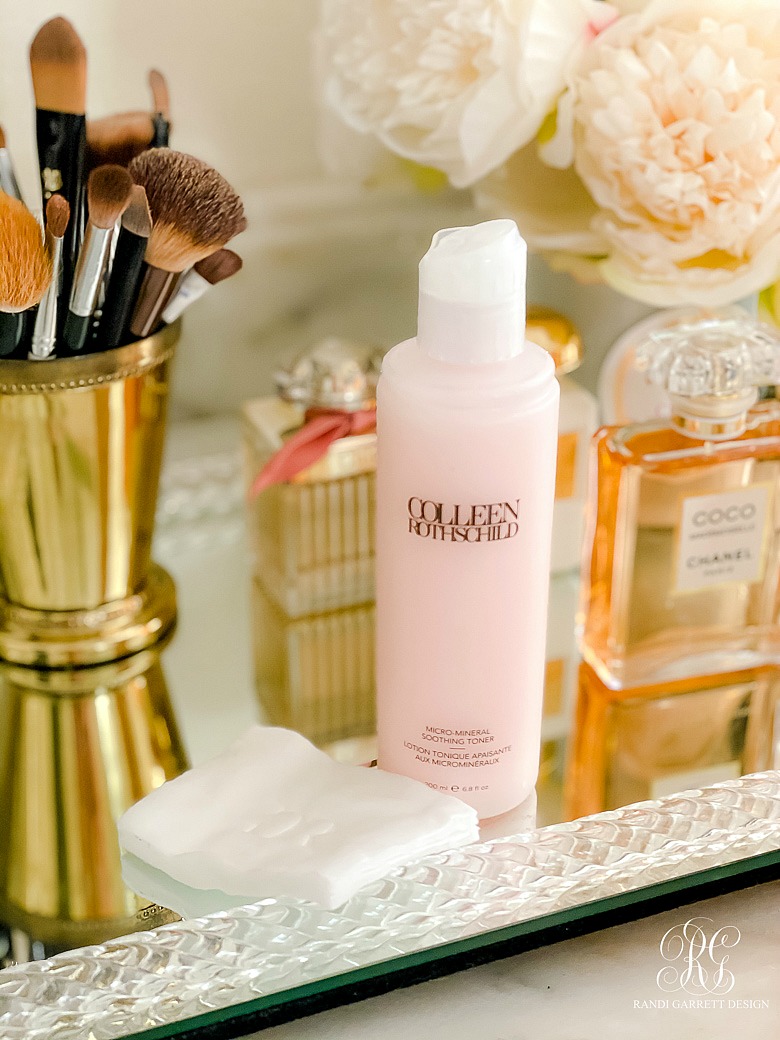 Cleansing Balm – I can not even tell you how much I love this product! This is how I take my makeup off at the end of the day. You just take a small amount in your hand. Let it sort of melt, then gently rub and message it over your skin. You will feel your makeup melting off. Gently rinse your face with the linen cloth it comes with. I love love love it!!!! It comes in 3 sizes. I started with the regular size, then loved it so much, I bought the jumbo and mini size for traveling!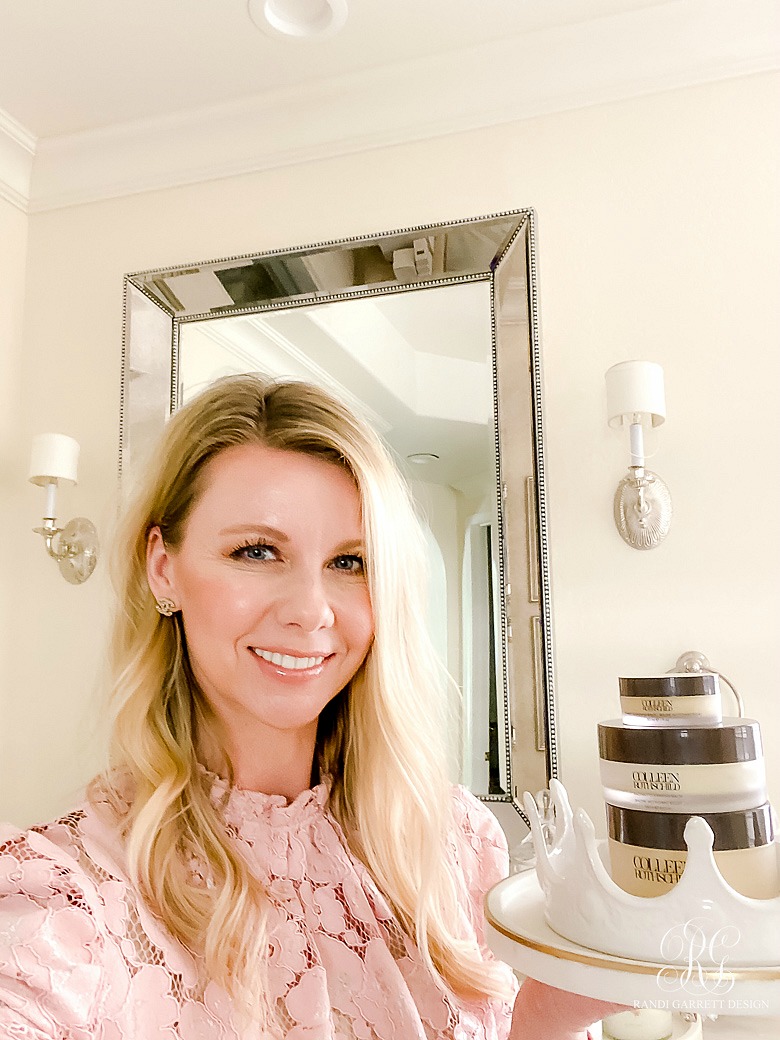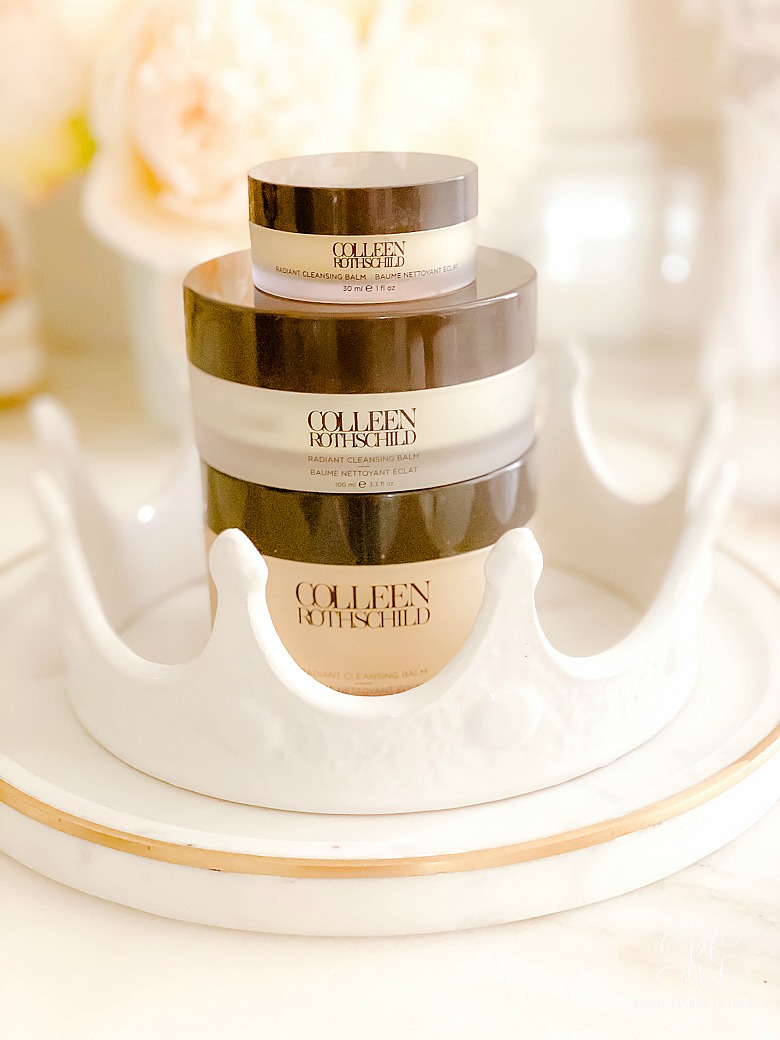 Retinol Eye Serum – This serum is the real deal!!! I have been using it for about 6 months. I was using it only 2-3 times a week because I was nervous it would be too much for my skin. Recently, I switched to using it every night. My skin has loved it! I have seen amazing results in the lack dryness and fines lines fading under my eyes! You seriously have to try this! You only need a tiny dot under each eye, so this bottle lasts quit a long time! I wish I would have taken a before and after photo! Dang it!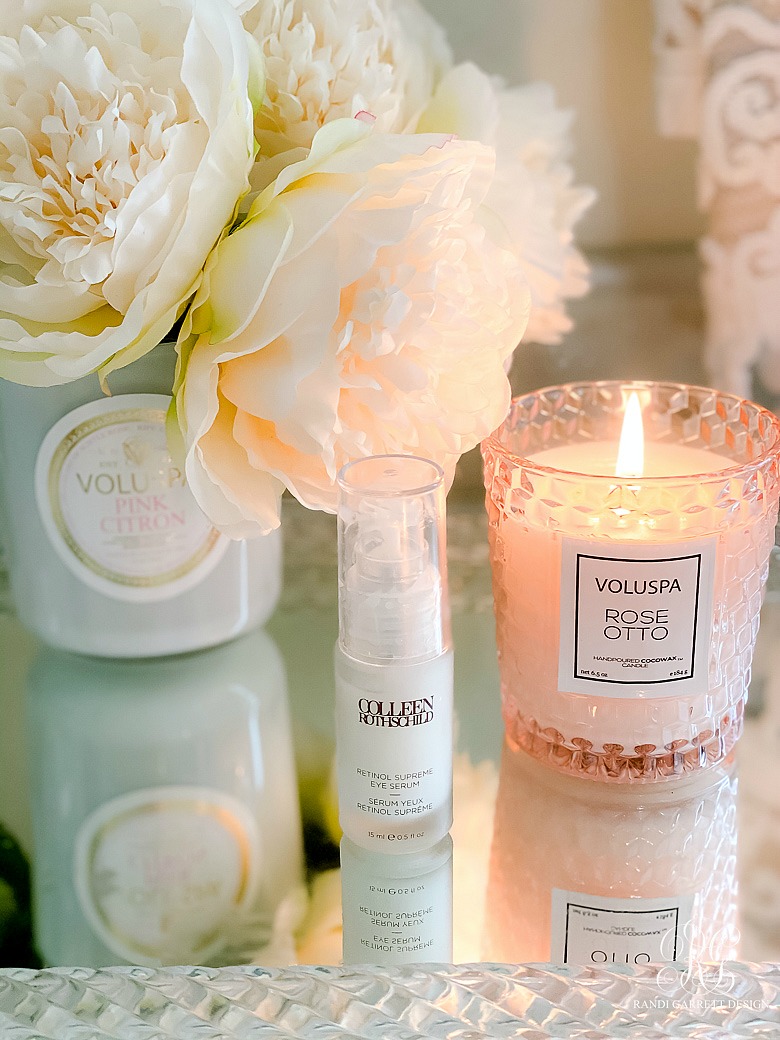 Here are my skin care routines for the morning and evenings…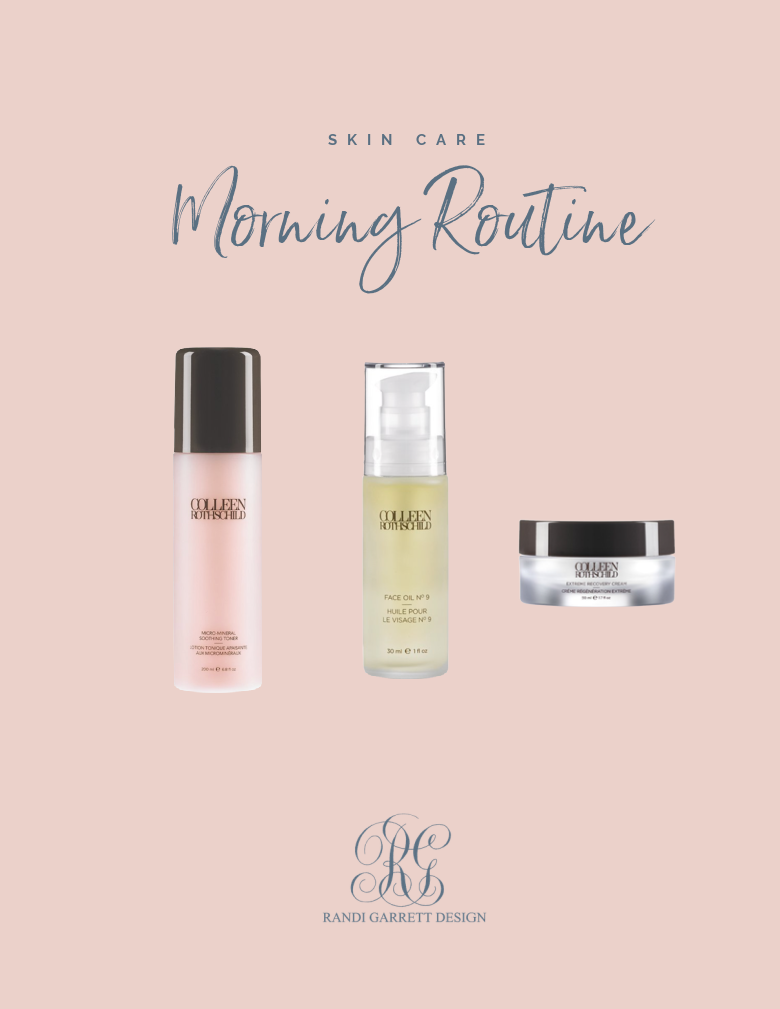 Cleansing Balm |Retinol Serum | Mandelic Acid | Age Renewal Serum | Retinol Eye Serum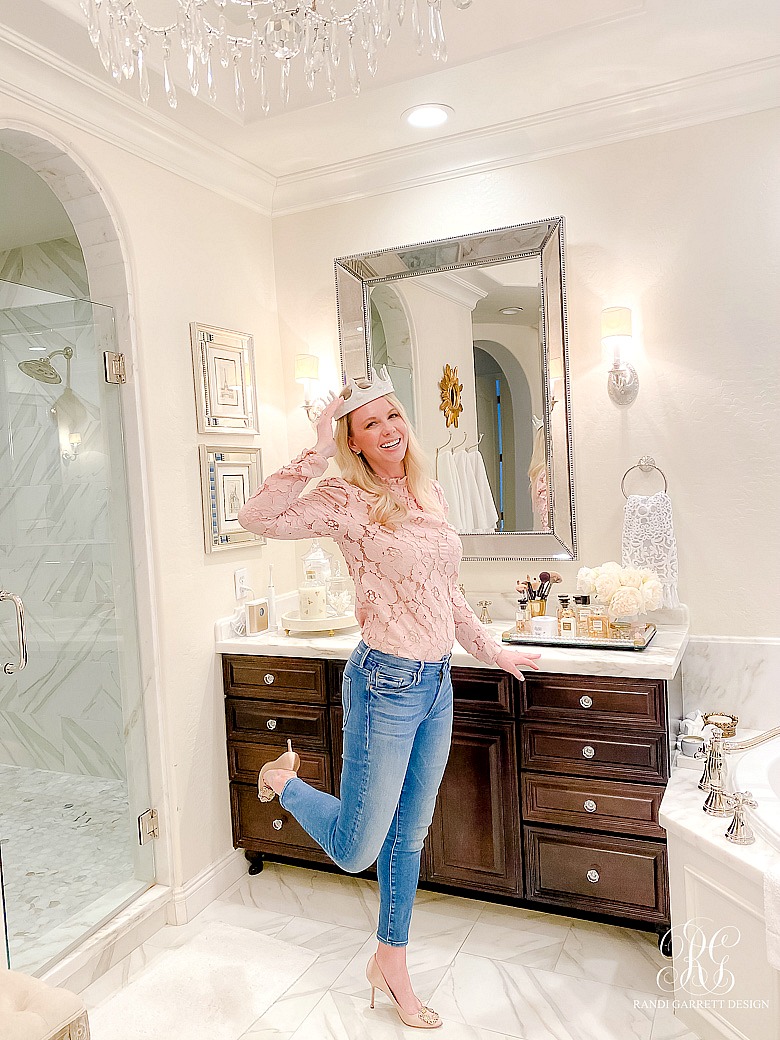 These products really make me feel like a queen and I know they will do the same for you! I hope you try a few and hope they help you love your skin and fill your glass so you can fill other's!