Some of the MOST asked questions I get on my Instagram account aren't home decor questions! They are, "What is your skin care routine?" "How do you get your skin to glow?" Haha! I am beyond flattered, especially since until a few years ago, I had no idea what to do to "feed" my skin and keep it looking it's best.
Over the past few years, I have studied and researched what I should be doing to help my skin stay hydrated and youthful. Through a lot of trial and error and reading, I have found a skin care routine that has truly transformed my skin! My morning and nightly routines take about 5 minutes and have made all the difference in the world for my skin.
First, let me rewind and give you a little back story to my skin. I grew up in sunny southern California. I wore sunscreen and sunglasses only when I went to the beach. Horrible!!!! My pediatrician dad, always warned me to wear sunscreen, but I wanted to be tan! So, to care for my skin, I wore very little make up and washed my face at night with a bar of Dove soap!
As the years past, and we moved to even more sunny, Arizona. I realized I had to change my ways! The intensity of the sun blew the sunny California days out of the water! I invested in some good sunglasses and makeup with sunscreen in it! Being a busy young mom, I didn't take the time to learn about how to take care of my skin. I was too busy burping, feeding and playing with my 5 kids!
When I turned 35 I noticed my skin changing for the worse. Lines in my forehead and lines from years of squinting from the sun appeared between my eyes. The youthful glow in my skin was gone and I began to fight under eye dryness. Not knowing what else to do, I purchased some creams that claimed to hydrate and rid fine lines. None seemed to work, in fact my skin reacted adversely to most of them! I thought I just had sensitive skin and couldn't use products with retina or retinol in them.
After trying what seemed like a thousand products, I read that vitamin A, B, C and E are the key to protecting and rejuvenating your skin. I began to find products that worked for my skin and the issues I was having. One of the most impactful thing that changed my skin was finding a beautiful lady named Jamie O'Banion. She is the founder of Beauty Bio, an amazing skin care line. This post is not paid or collaborated in anyway, I just love what Jamie's products have done for my skin and I know they can help you with your's!
I began using her R45 treatment a few years ago after seeing it on her Instagram feed. It has peptides and retinol (all the things you hear are good for your skin). But what caught my attention was that it was a gradual increase in the intensity, safe and gentle on any type of skin. So, I thought I would give it a try! I was blown away by the results! My skin did not itch, or get red, in fact it did the opposite! My skin tone evened out and became more hydrated and soft. You only do the treatment 2 times a year.
After falling in love with this product I decided to try to learn and study a little more to find more ways to improve the look of my skin. In my morning and nightly routines, you will find the products I have found after lots of research and study.
This post contains affiliate links. Read my disclosure policy here.
Morning Skin Care Routine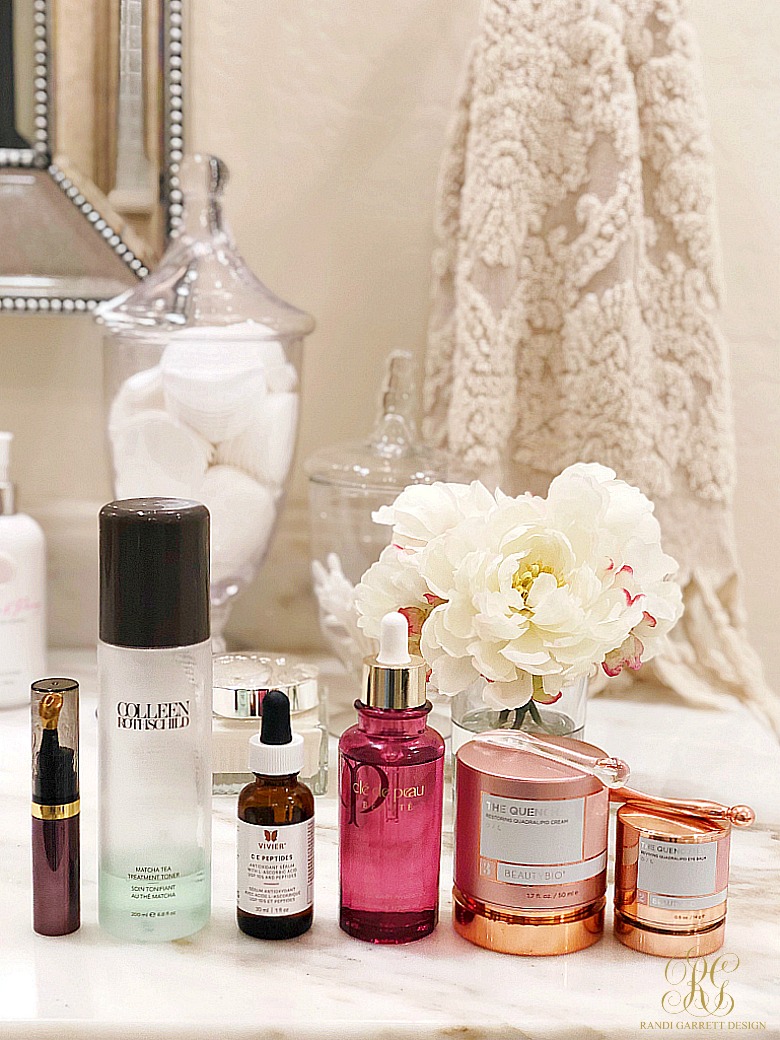 Wash Face with this face cleanser – I use it morning and night.
Tone with this toner – Helps to remove excess dirt, traces of oil and makeup, correct and balance the pH of your skin, and helps control acne.
Fight signs of aging with this Serum – It contains ascorbic acid, vitamin E, peptides and grapefruit extract. It has lightened my age spots and has helped with fine lines. I can't tell you the difference I have seen in my skin since using this!
Brighten with this Repair Oil – Multipurpose oil that leaves your skin dewy, plump and firm while reducing dullness and the appearance of wrinkles. It leaves your skin so smooth and smells amazing!!! You can use it on your body and feet too.
Hydrate your face with this Moisturizer – This is THE BEST moisturizer I have every used! It hydrates my skin like nothing else I've used. I am in love with it!
Hydrate your eyes with this Eye Cream– Again, the very best moisturizer I have found!!! My under eye were the most dry part of my body. Nothing I used worked to hydrate them. My makeup would settle in the creases making the lines look even deeper! This cream is a game changer!
Protect with this Radiance Primer with Sunscreen -This not only protect your skin from the sun, it also helps brighten the skin giving it that youthful glow!
Finish with this Tinted Moisturizer (coverup) – Two in one! This moisturizer acts as a sheer coverup setting the foundation for my makeup. I love how natural and light it feels on my face.
Set your face with this light weight Refining Powder – An ultrafine pressed powder that spreads delicately over skin for an instantly beautiful finish. Now your ready for the day or to add your makeup!



Nightly Skin Care Routine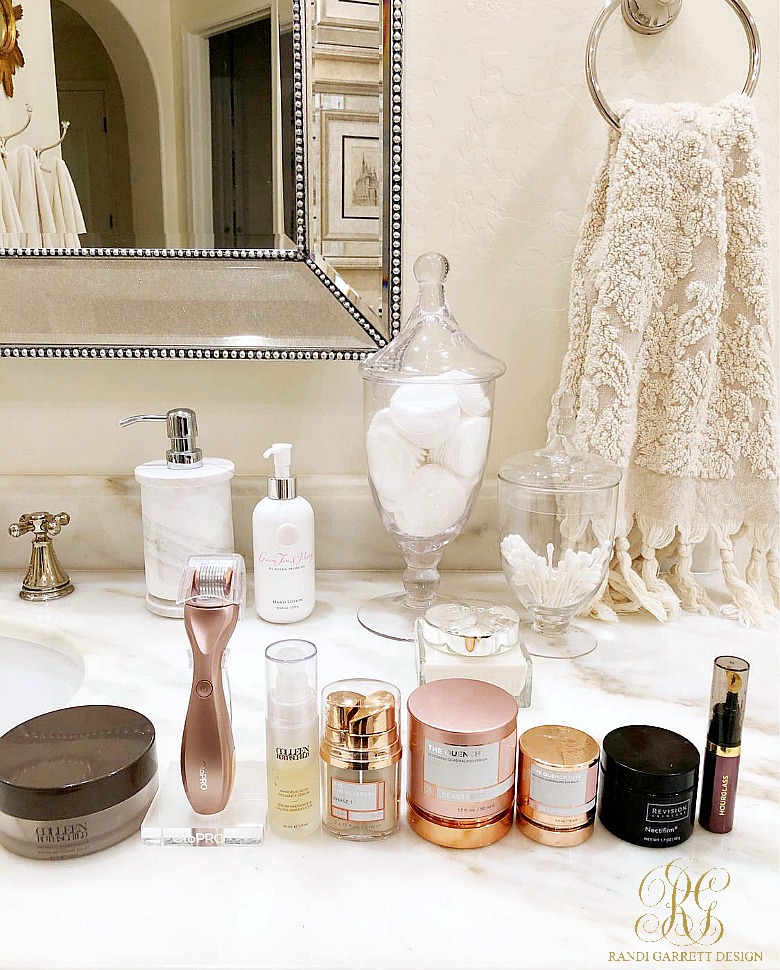 Wash off makeup with this Cleansing Balm – It melts your makeup off and leaves your skin feeling fresh and silky
Cleanse your face with this Face Wash
Prep your skin with this Micro Needling Tool 3 times a week – I love love love this tool! It opens the pores allowing your product to penetrate into your skin. This has made all the difference in my skin's glow!
Protect with this Serum – A daily treatment that promotes cellular turnover and helps with fine lines, acne, dark spots and overall skin texture. LOVE IT!
Fight signs of aging with this amazing 45 Day Retinol Serum – Use this twice a year to rejuvenate your skin! You will not believe the results!
Hydrate with this Moisturizer – The same as the morning! It leaves your skin so dewy.
Hydrate your under eyes with this Eye Cream – Same as the morning! You will wake up with bright eyes! I also love to use this Retinol eye cream 3 times a week to fight fine lines.
Hydrate your neck with this Neck Cream – Don't forget your neck and chest! They need to be protected too! I love this neck cream! A little goes a long way! Your neck and chest will feel amazing after just one application!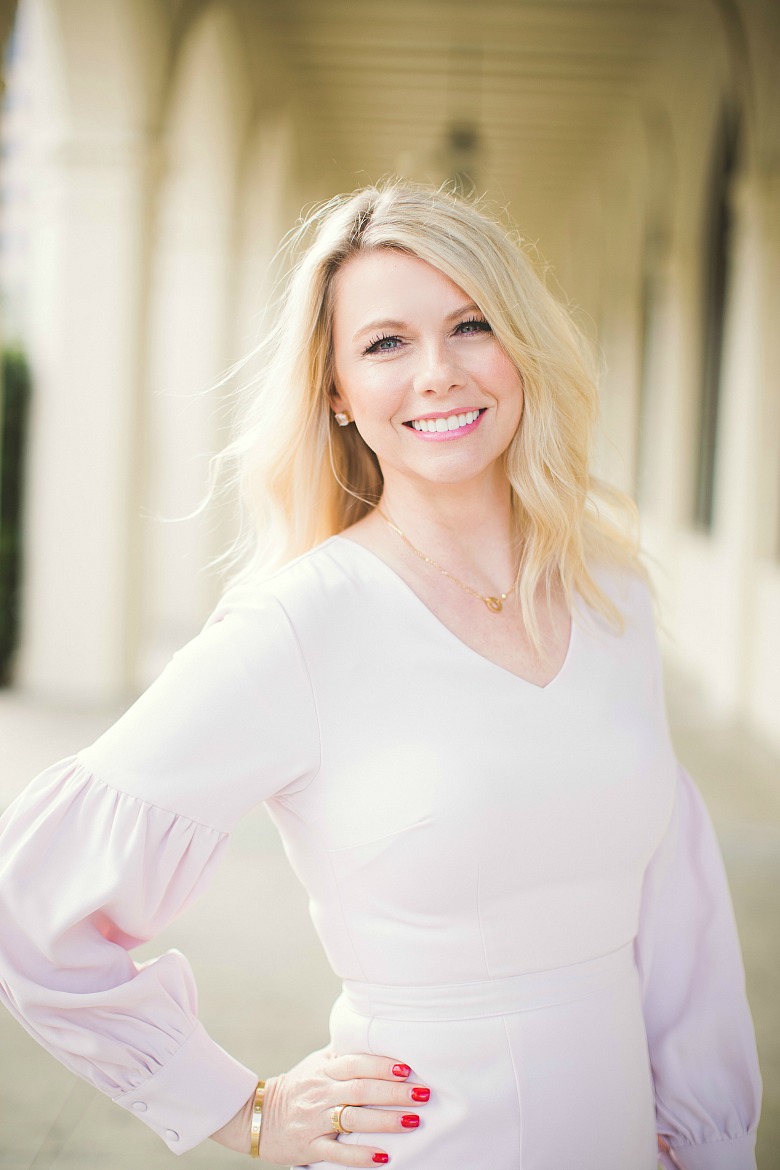 I hope these products help you make your skin as beautiful as you are on the inside!
Skin Care

Makeup