Welcome SPRING!!!! This year I was SO excited to decorate for spring! Last year, we had just moved into The Wren. I was completely exhausted mentally, physically and emotionally. The thought of decorating for spring felt so overwhelming. So, I just sprinkled a tiny amount of spring in our home. This year, I feel settled and so inspired to fluff our nest for spring!
The Wren is fully decked out in spring decor and I am so excited to share it with you! There is a little bit of spring sprinkled throughout the whole house. Since there is so much to share, I will be sharing our Spring Home Tour in sections. Today, we will be taking a peek into The Wren's family room styled for spring. There are tons of ideas for spring decorating for your family room!
When I switch out my seasonal decor, I always use this formal for decorating. It's simple and it helps me not feel overwhelmed.
My Seasonal Decorating Process
Clear out all decor and accessories.
Vacuum and dust everything.
Lay down a new rug. I love to layer mine. Purchase a smaller rug and lay it right over your larger rug for a pop of color for the new season.
Add your seasonal throw pillows.
Place your larger accessories in the room, like floral arrangements.
Add any smaller accessories like books, candles and decorative objects to your space.
Cozy up your room by adding a few throws.
I hope you enjoy our Spring Family Room!
This post contains affiliate links for your convenience. Read my disclosure policy here.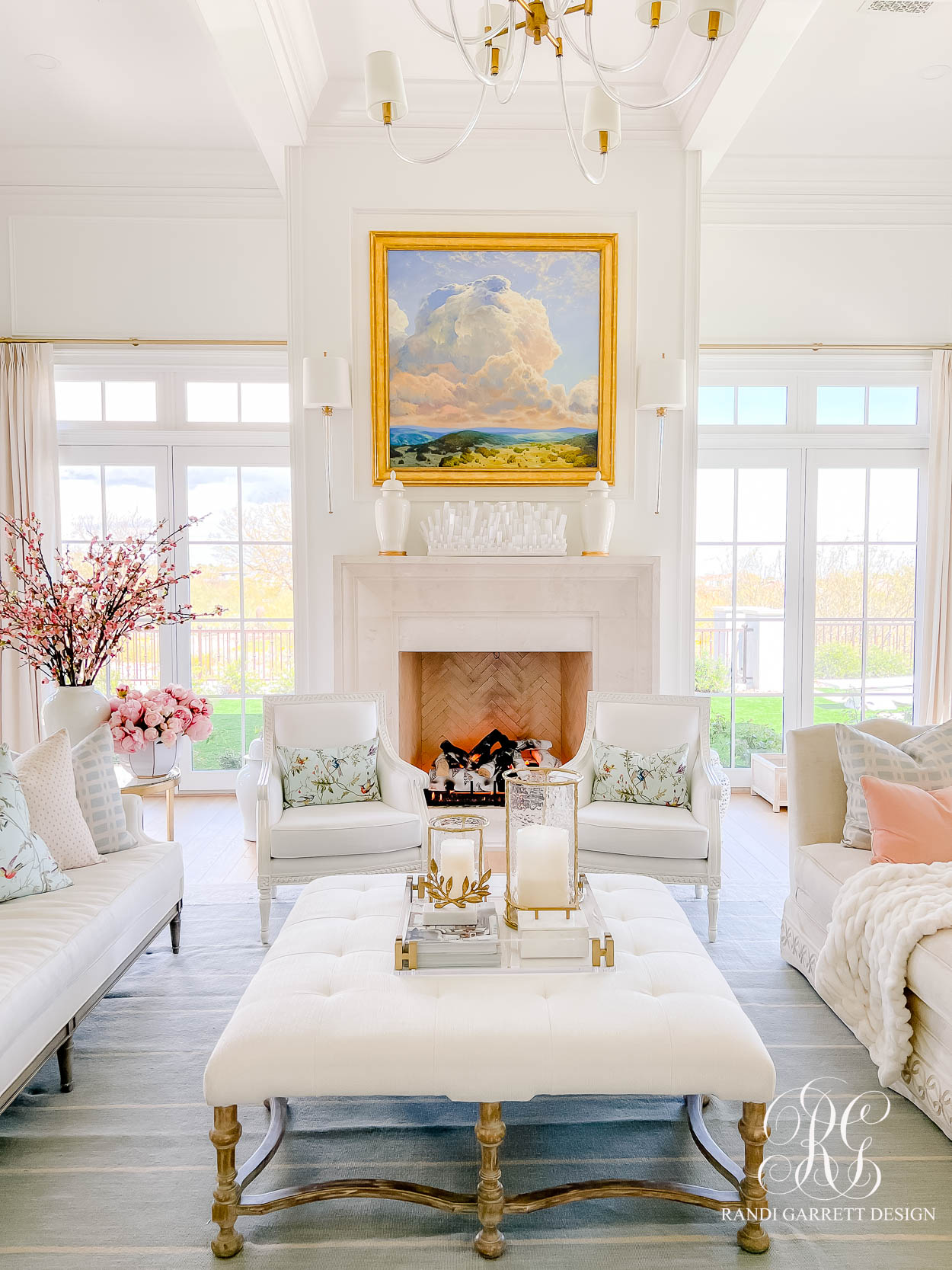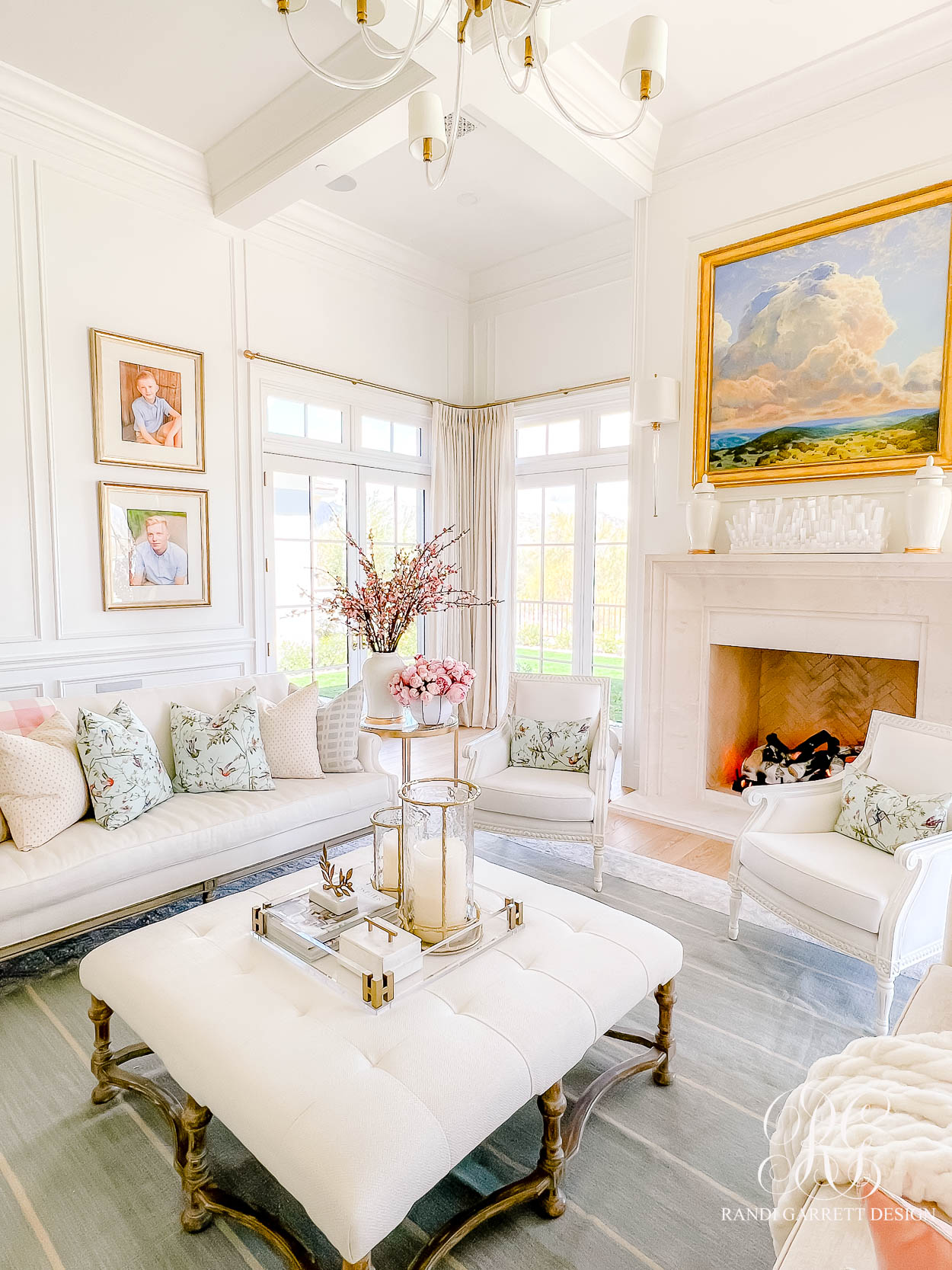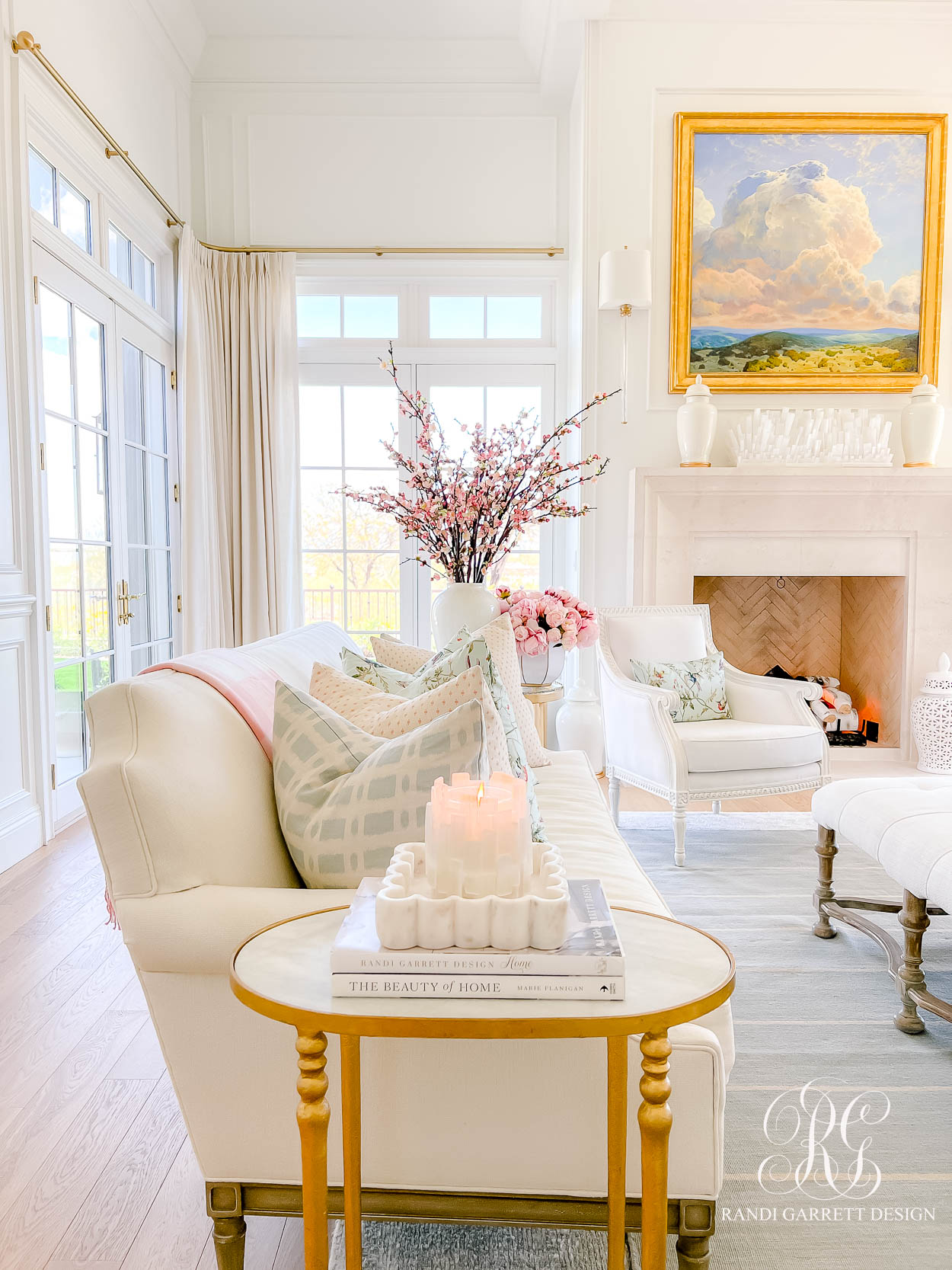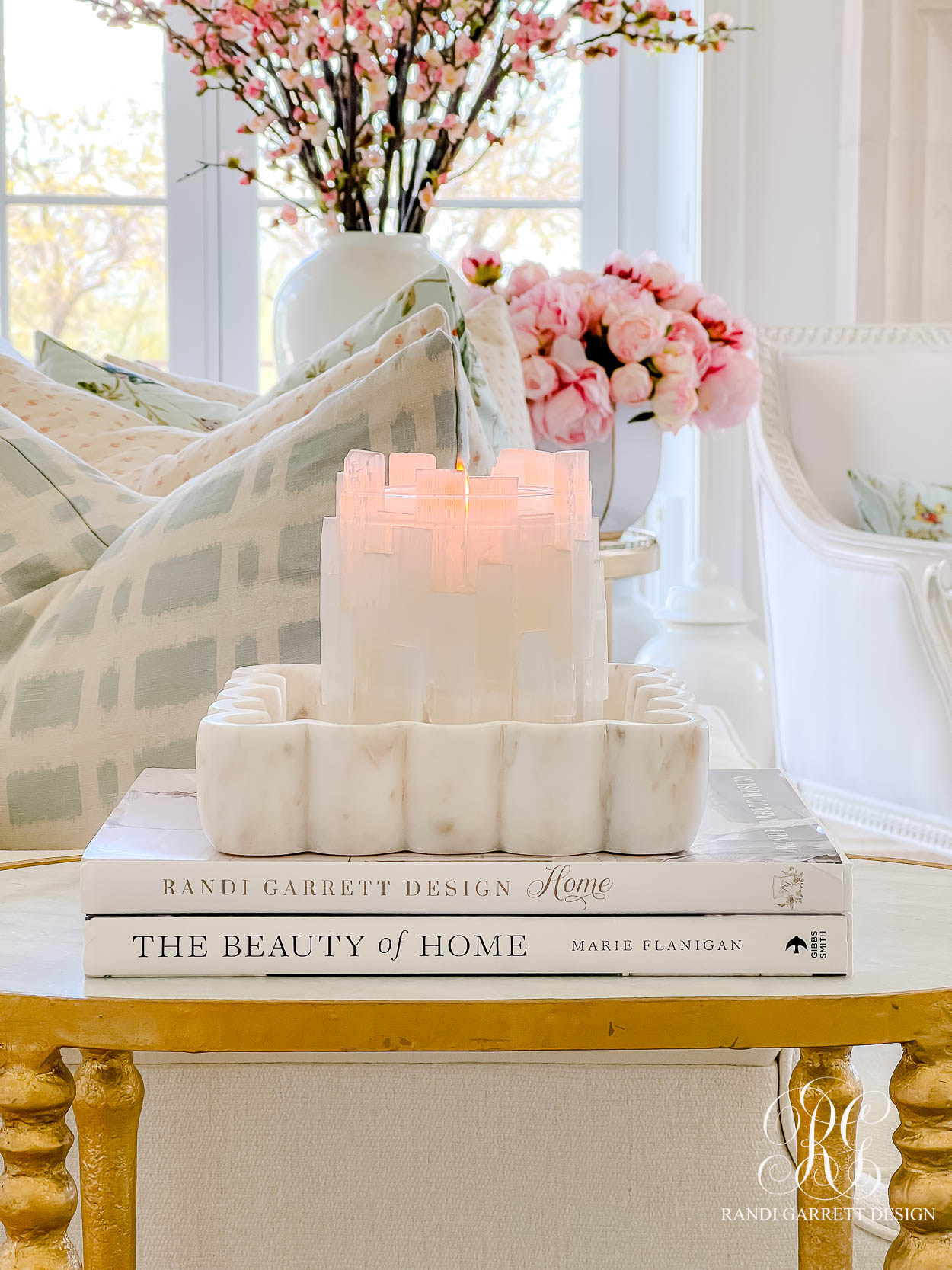 Side Table | Marble Scalloped Tray |Selenite Candle Holder | Randi Garrett Design Book (sold out)| The Beauty of Home Book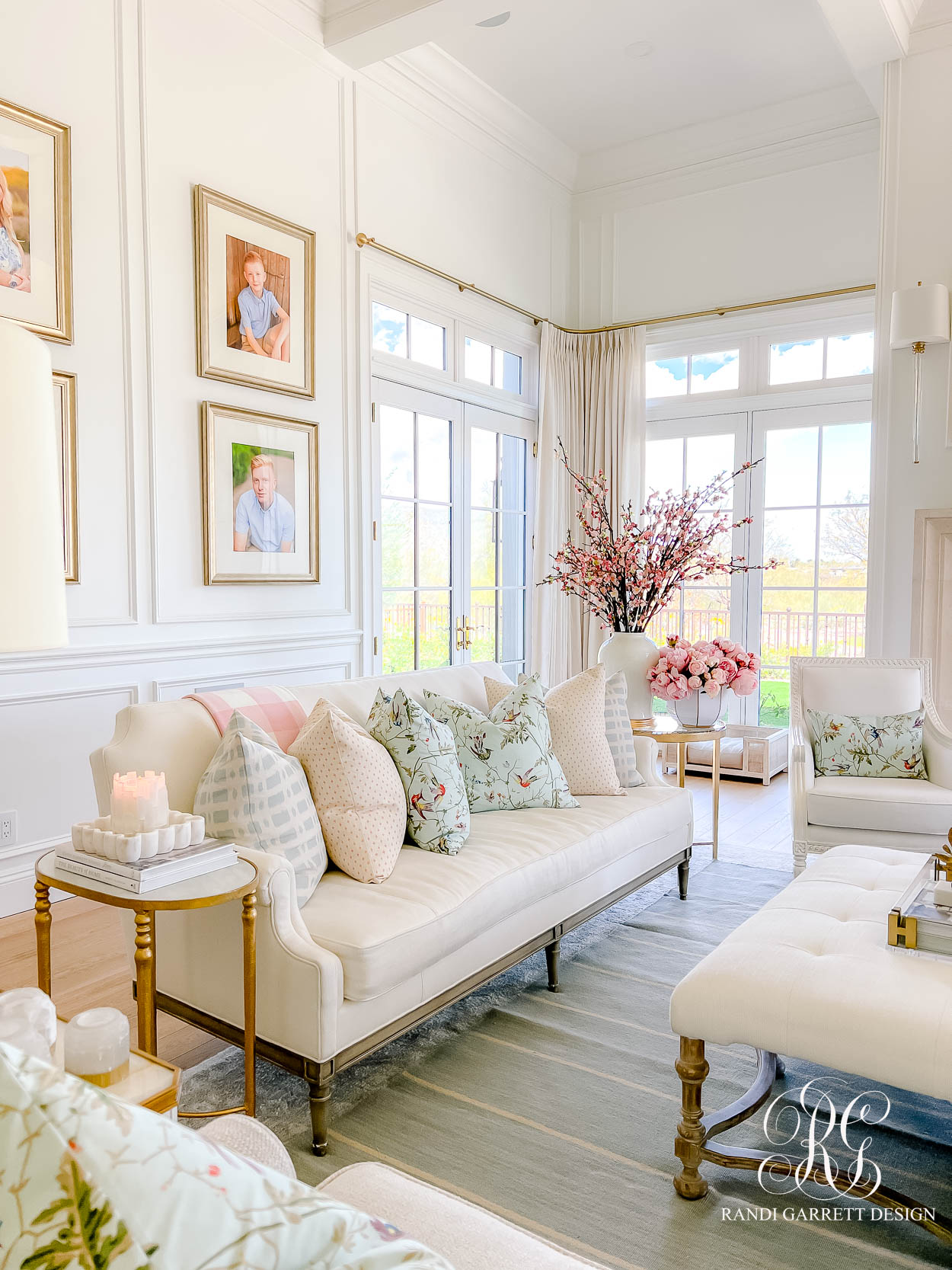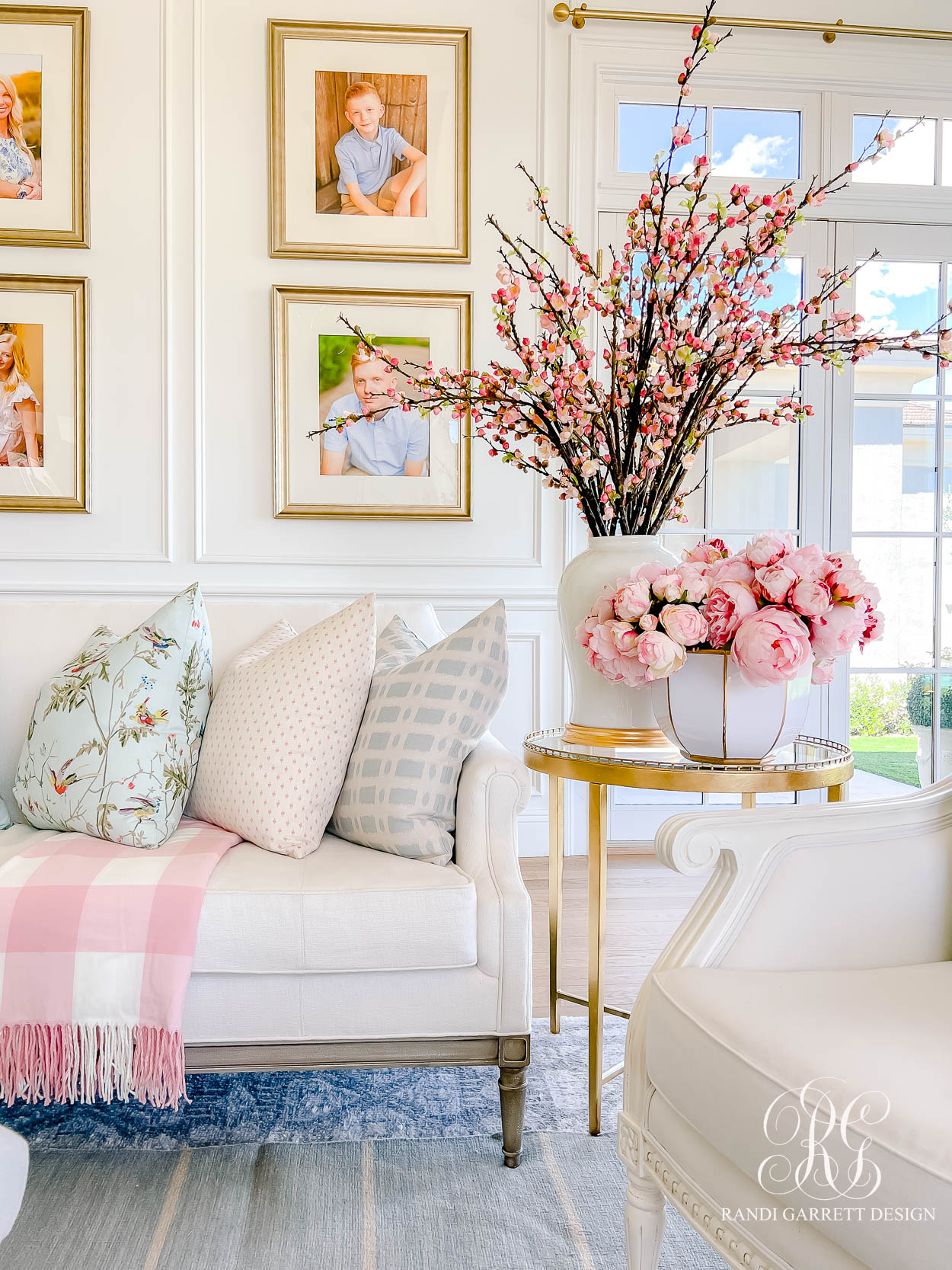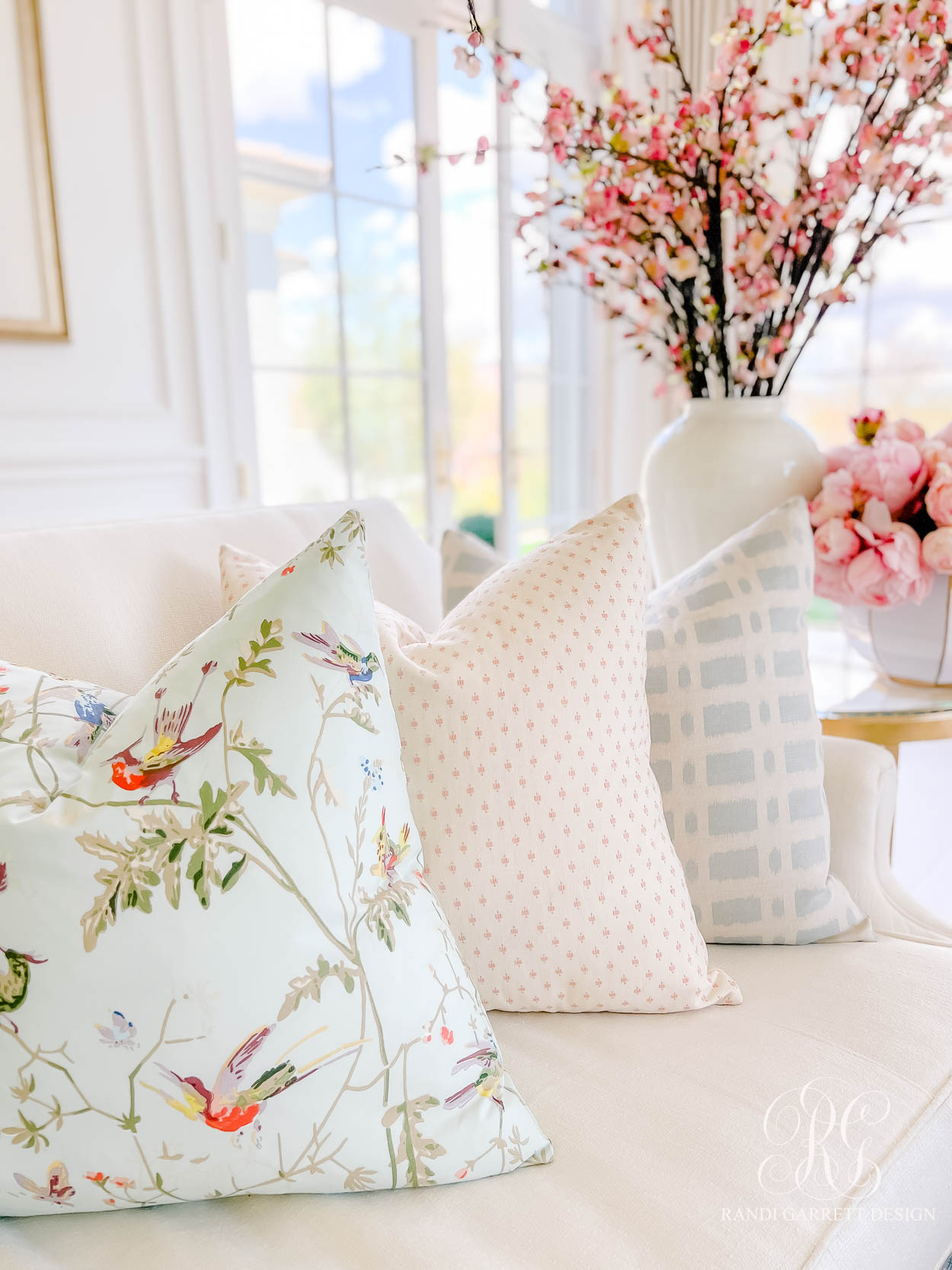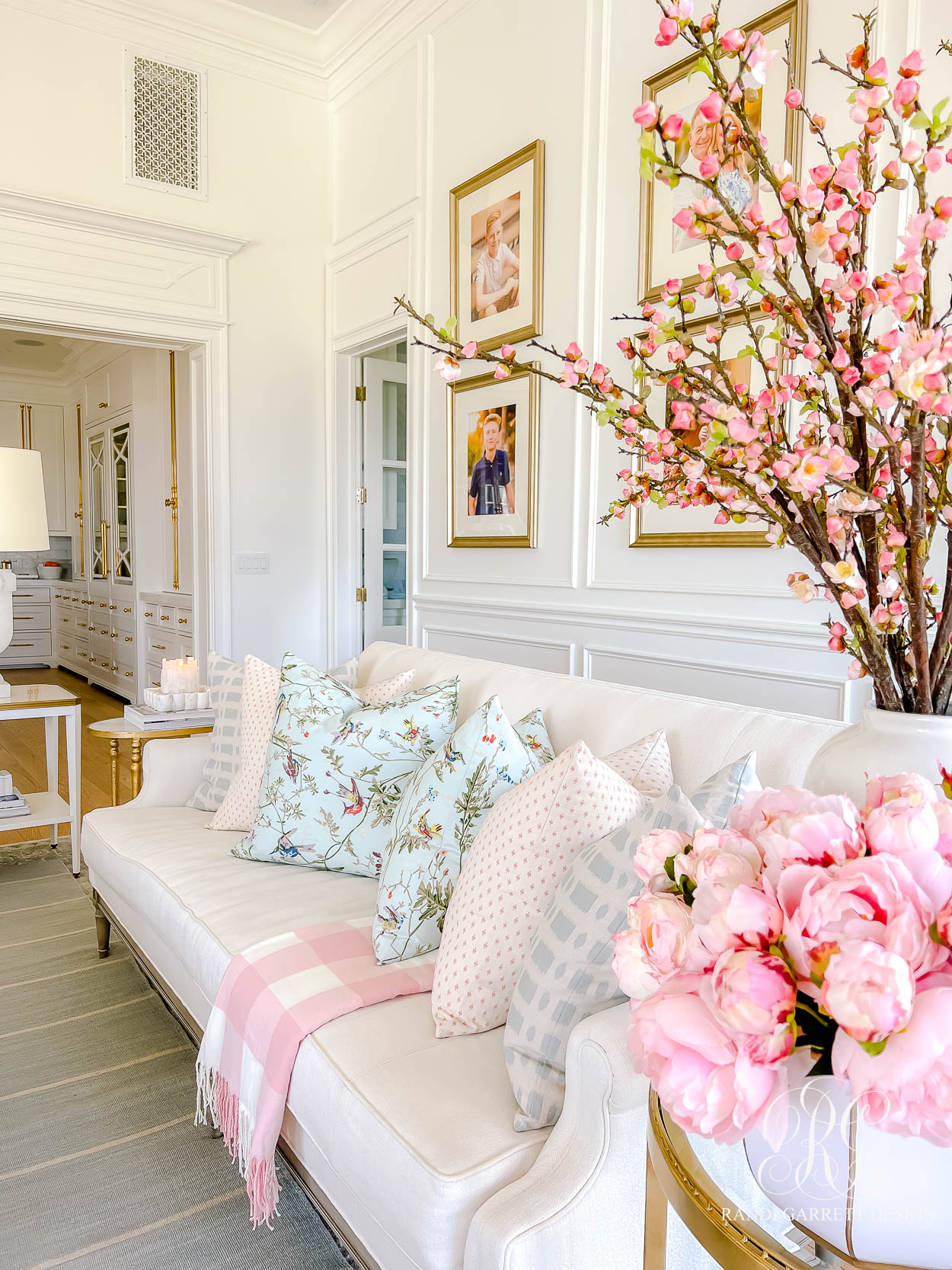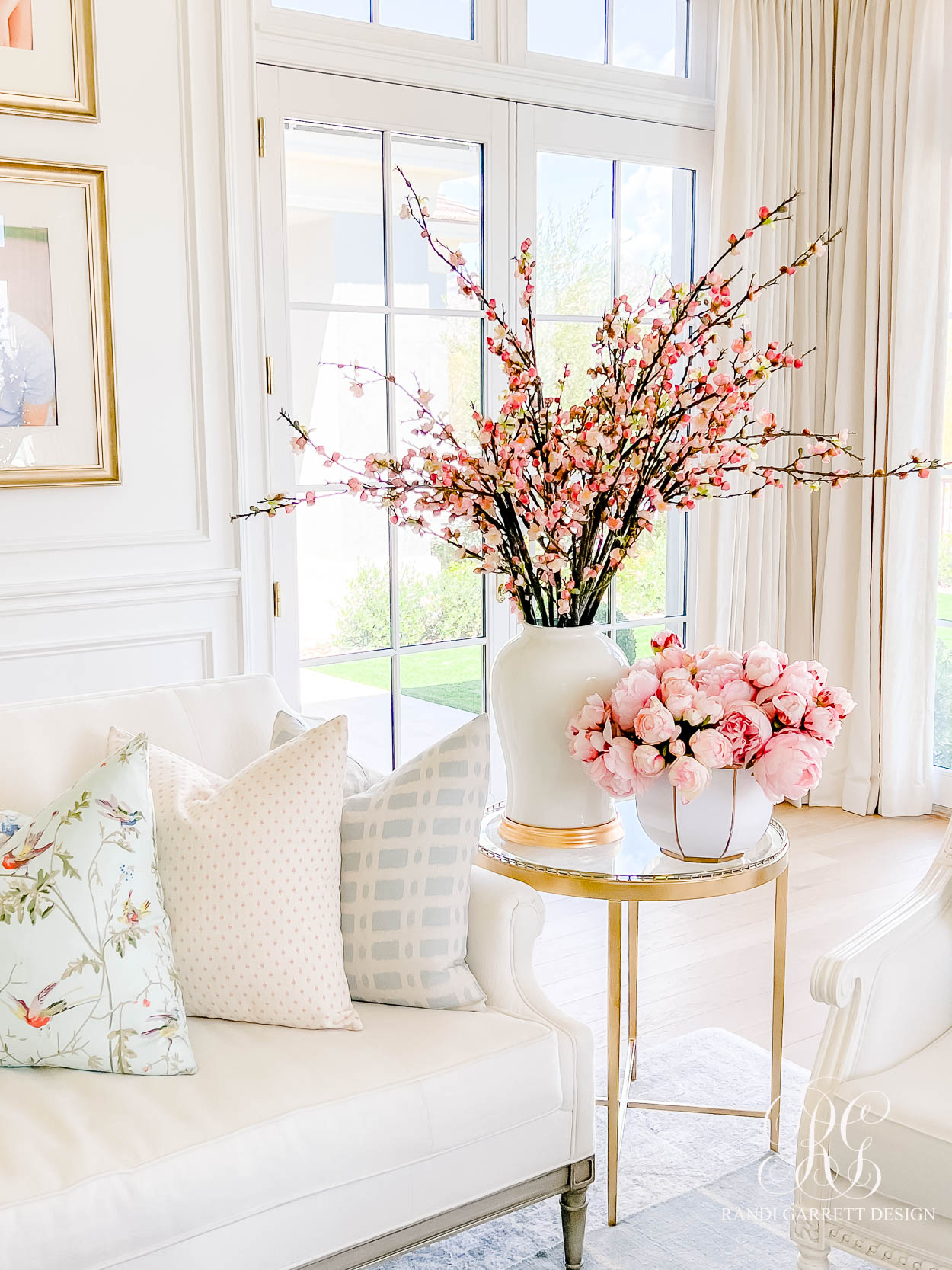 Throw pillows really add a special personality to your space. Arianna Belle is my favorite place to get throw pillows that pack a punch and last for years! When selecting your pillow combination, choose a large, medium and small pattern. My large pattern is this stunning Hummingbirds Duck Egg pillow! It shouts spring and makes me smile every time I see it. Our medium pattern in the Blue Townline Road pillow and the small print is the Barlow Blush pillow. I have a coupon code for you to get 15% off your order! Just use code RANDISPRING23 at check out to save 15%. The code is valid now through April 1st.
This page has all of my favorite pillow combinations that I have featured in our home over the years. Use pillow inserts that are 2″ larger than your pillow cover. These are my favorite pillow inserts.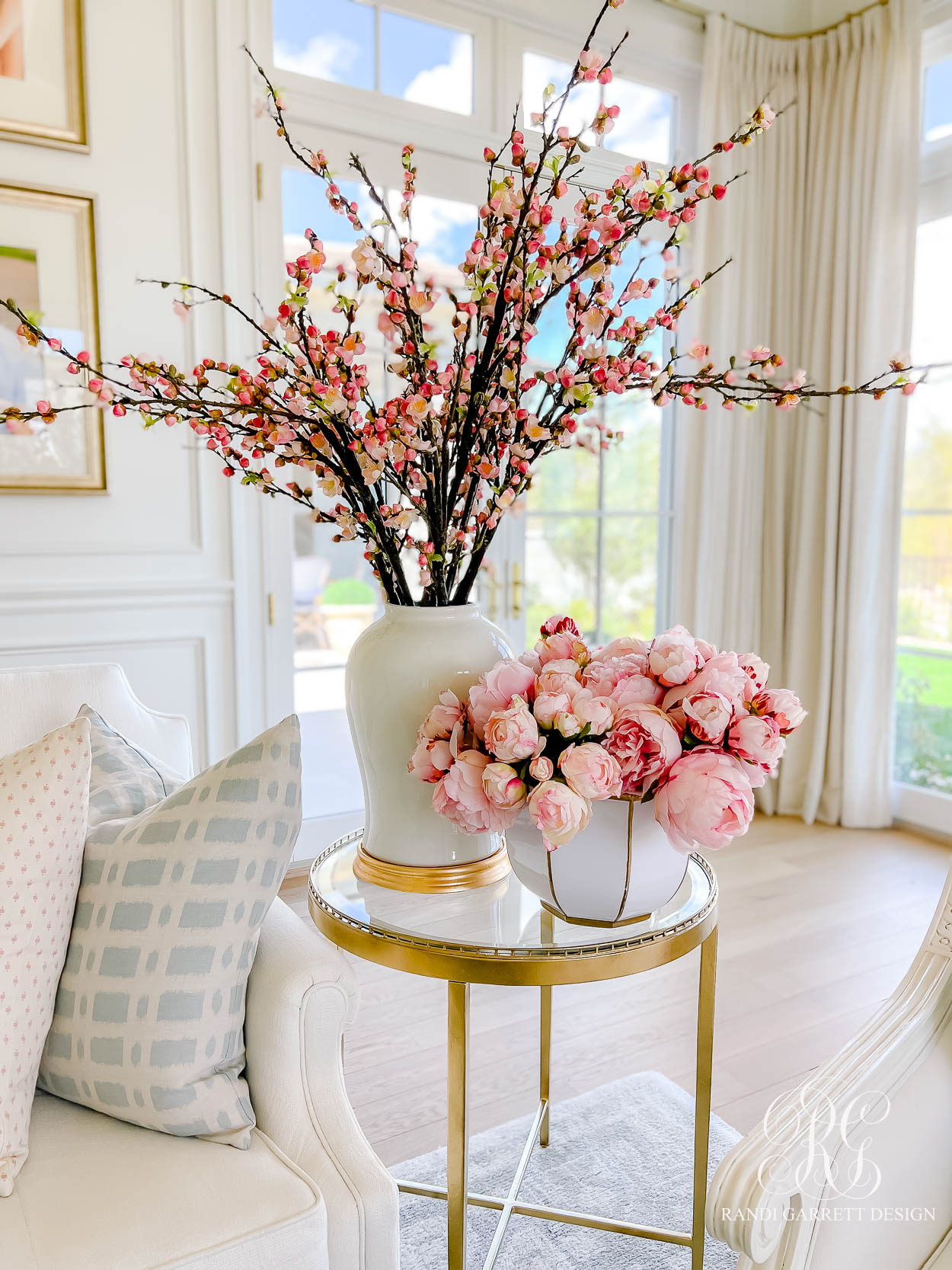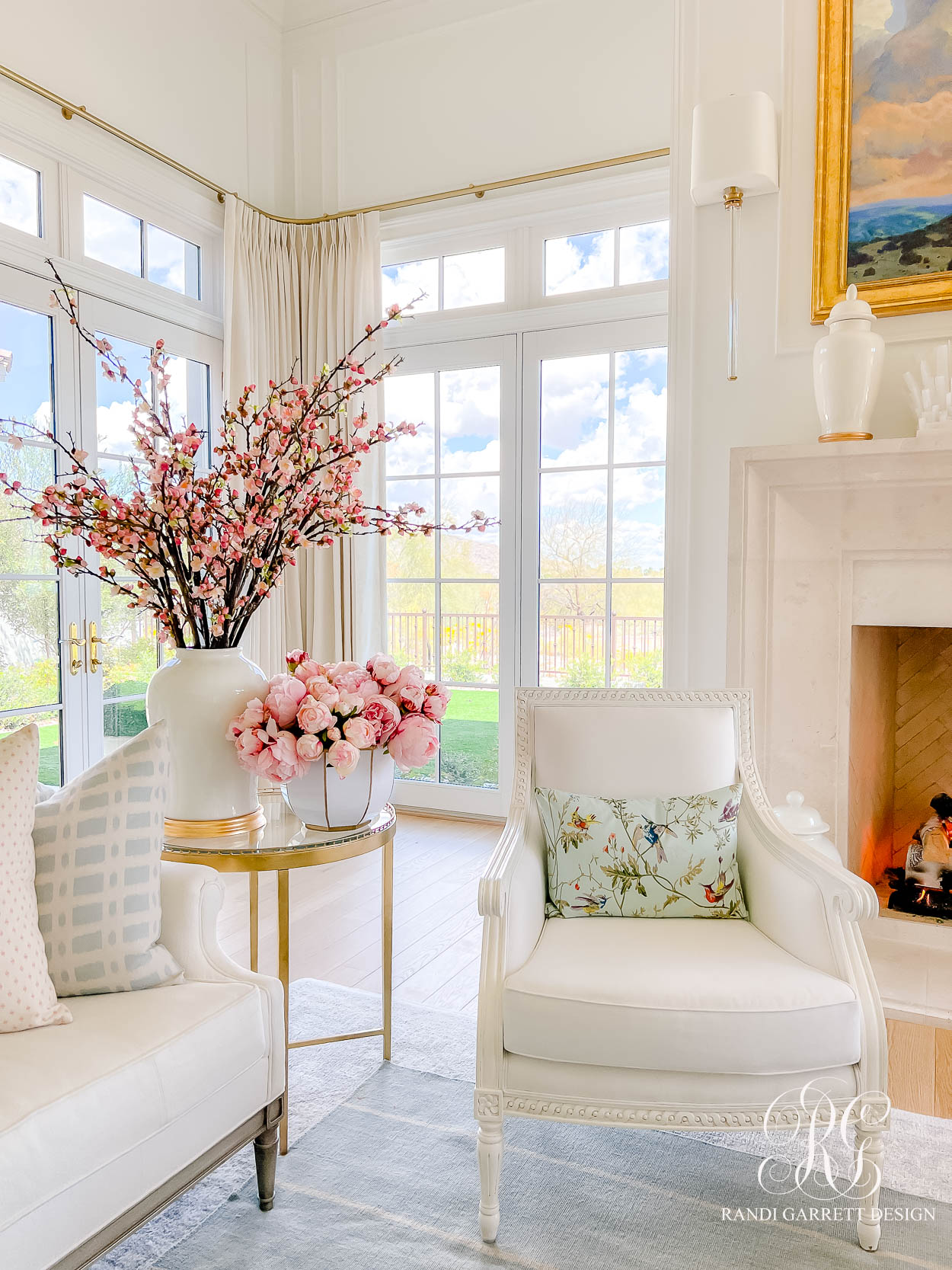 You know how much I love adding realistic faux florals to a space. They add such a powerful punch to a room! For spring, I used these buddingcherry blossom stems (I found them in a boutique in Utah, but I will sourced another favorite one for you). For a large ginger jar (my jar is 20% off with code friendsfamily), like the one I used, I like to use between 10-12 stems to fill the jar. Bend the stems to fit the height of your vase.
For the peony arrangement, use this white and gold bowl (budget option here) with 3 peony bunches (or these peonies) and 2 of these peony bunches. If you have any gaps, fill them in using these individual peony buds.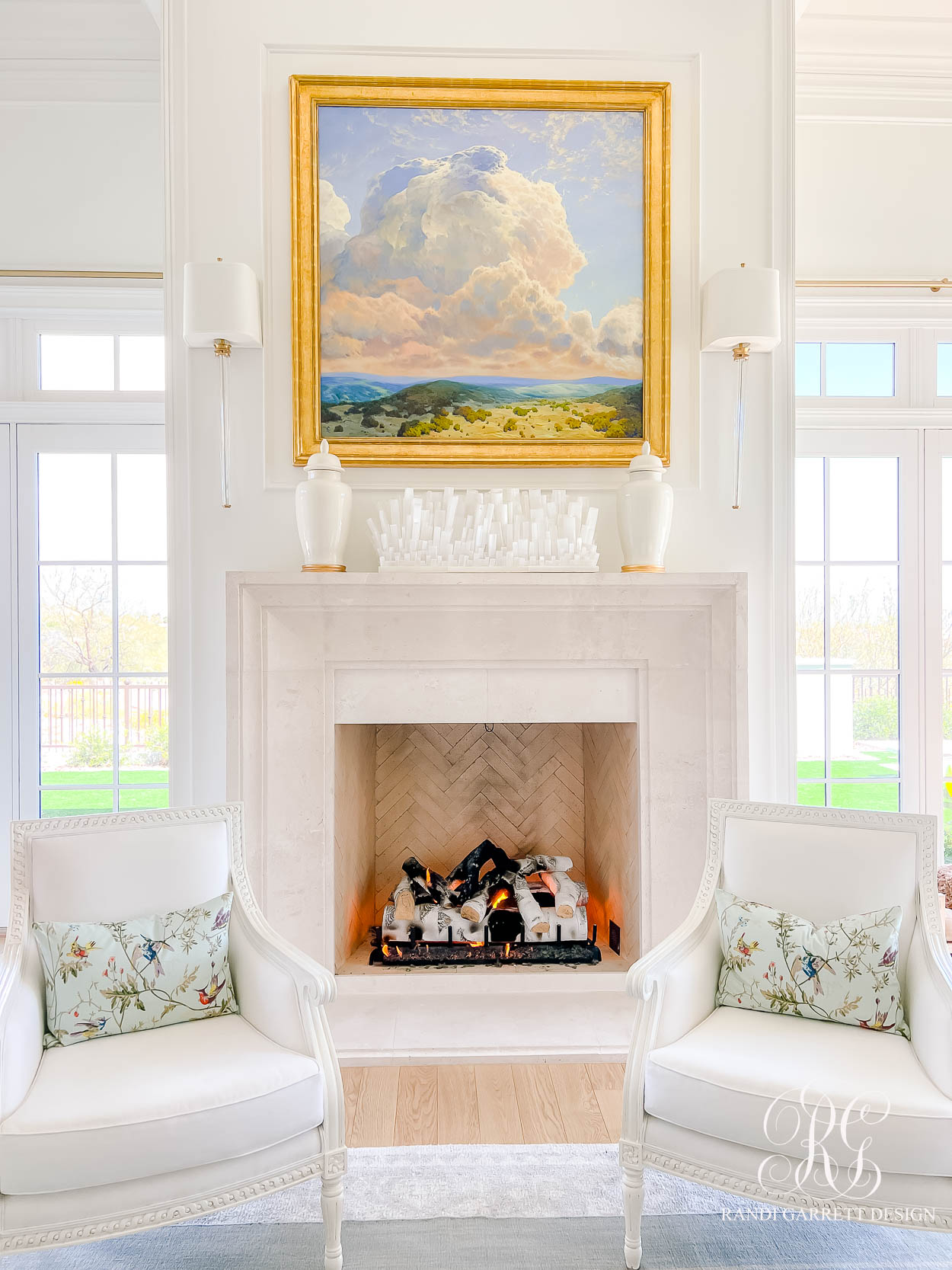 We added this spectacular selenite sculpture to our mantel. It really adds a special touch to the room. You can get one for your home that is completely customized to the size you need. These chairs are a new addition as well. They are the same chairs we have in our entry. Here is a similar, budget friendly option. Our white and gold ginger jars are on sale 20% off right now with code friendsfamily.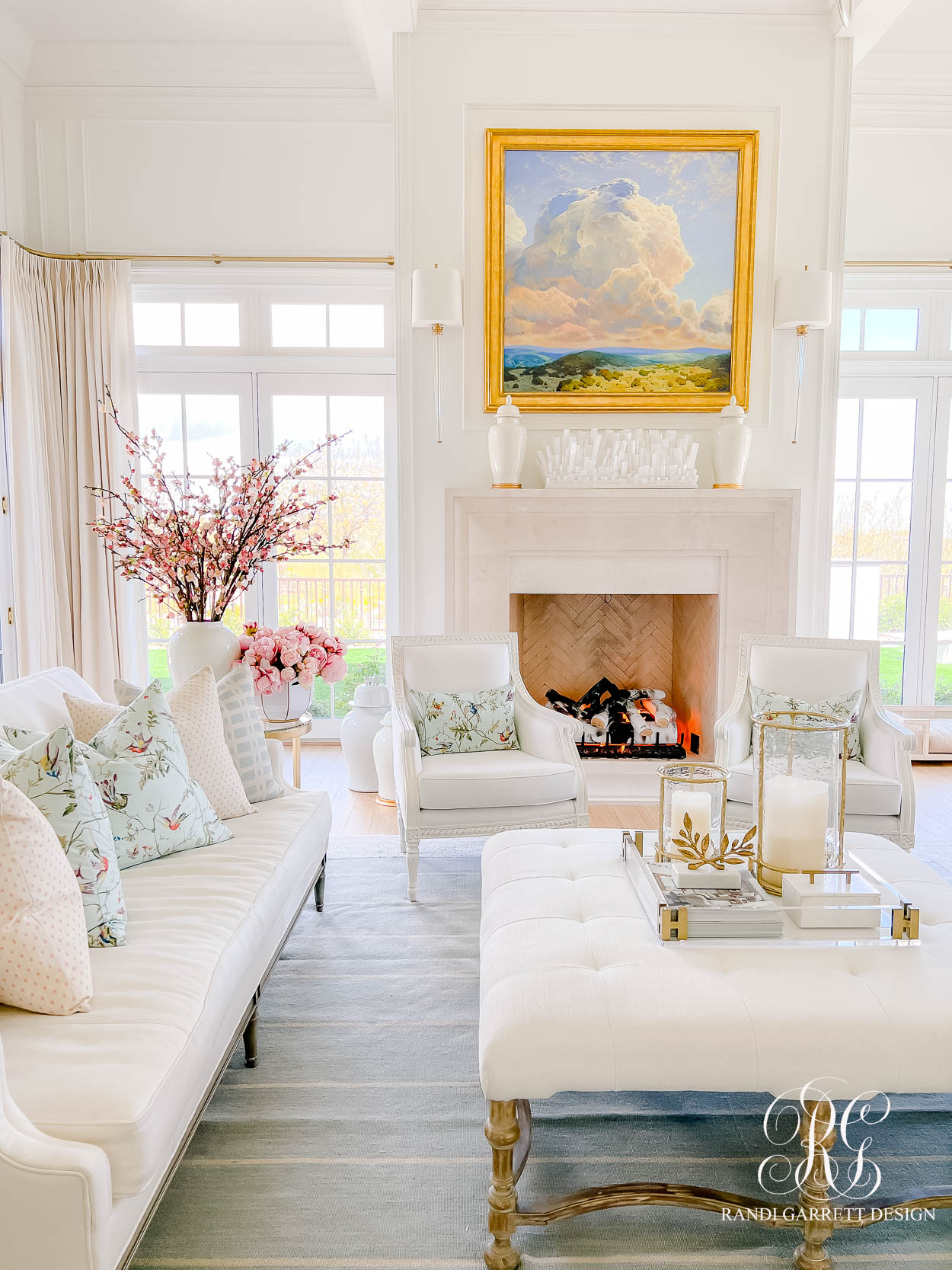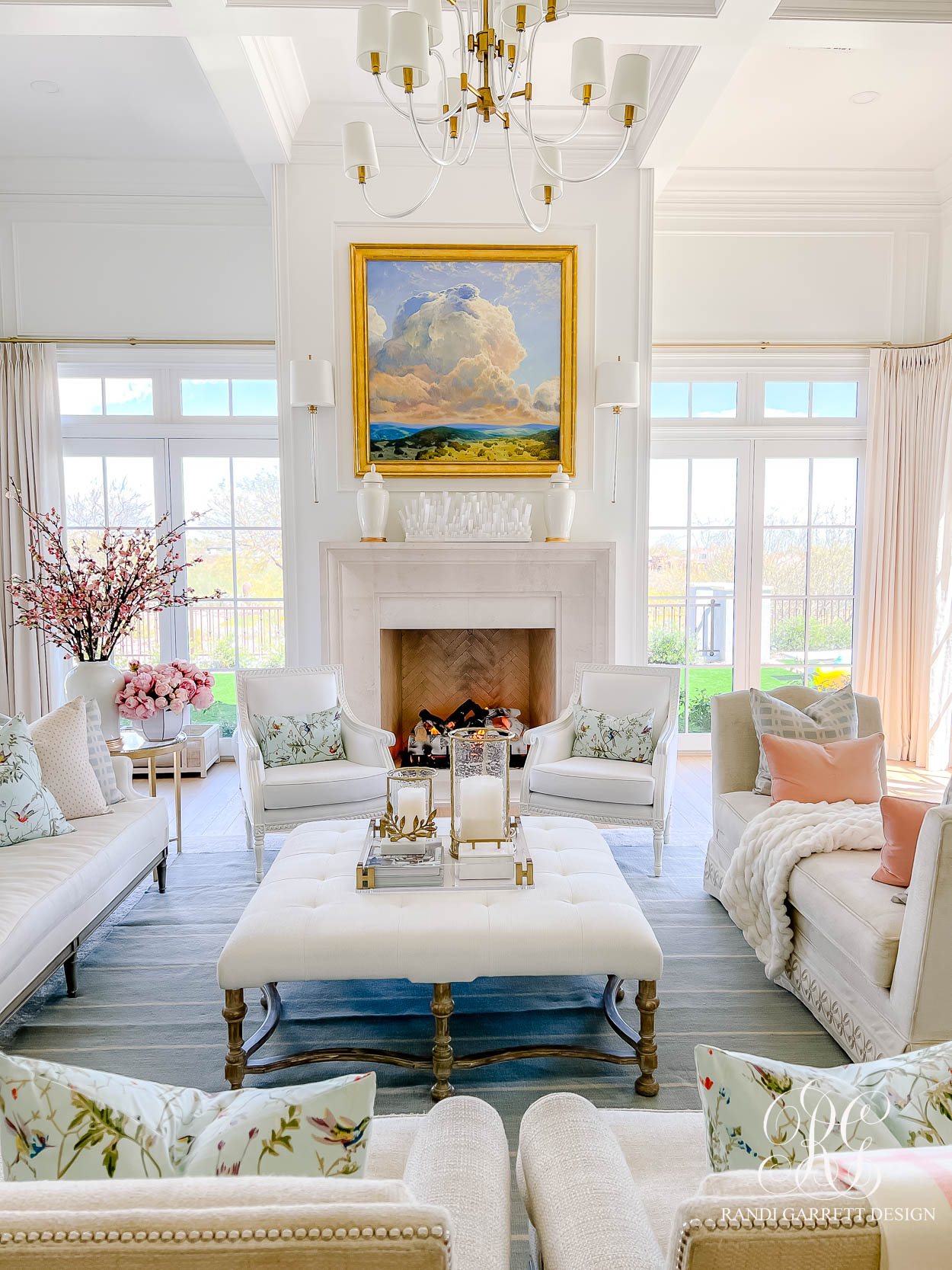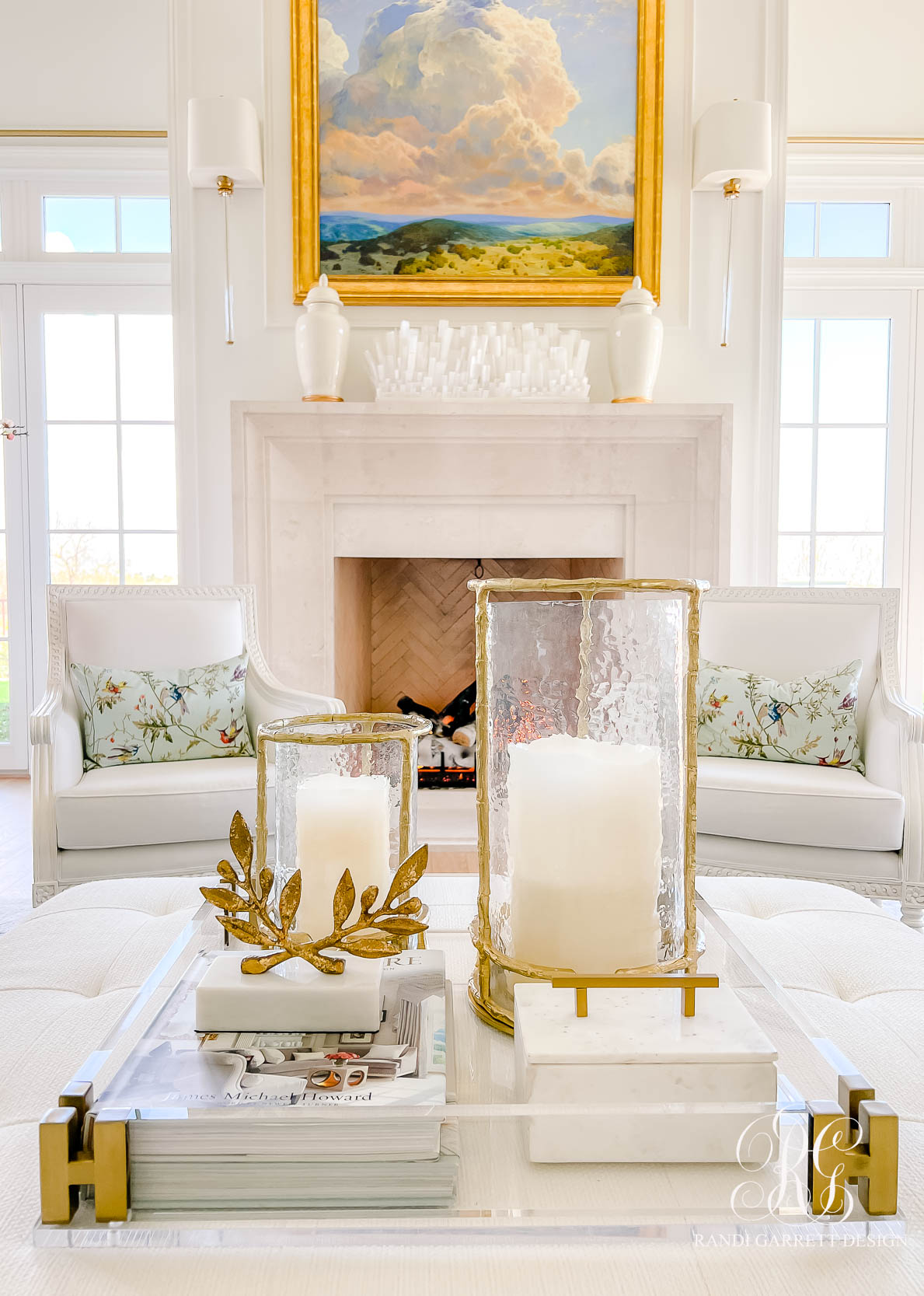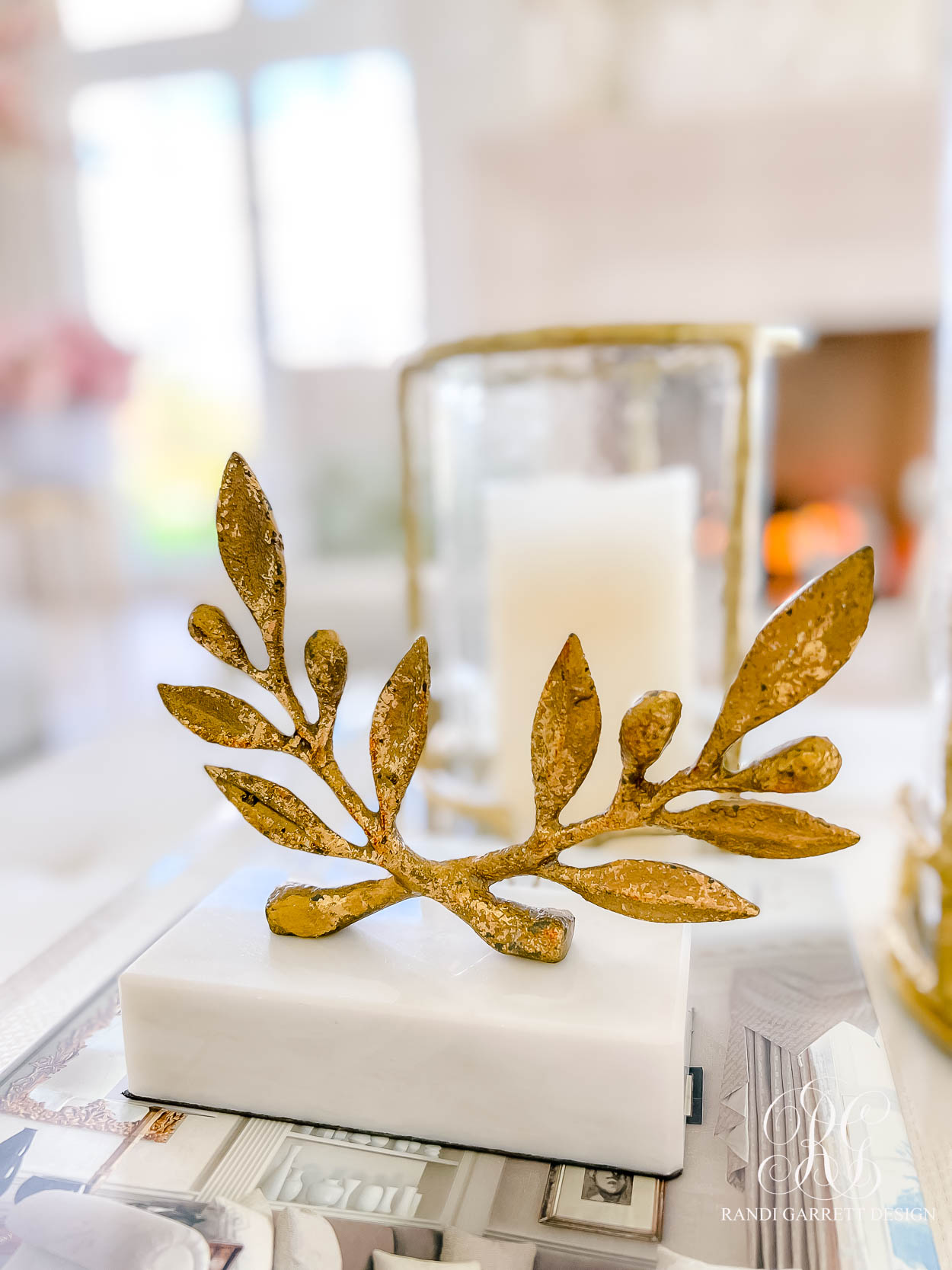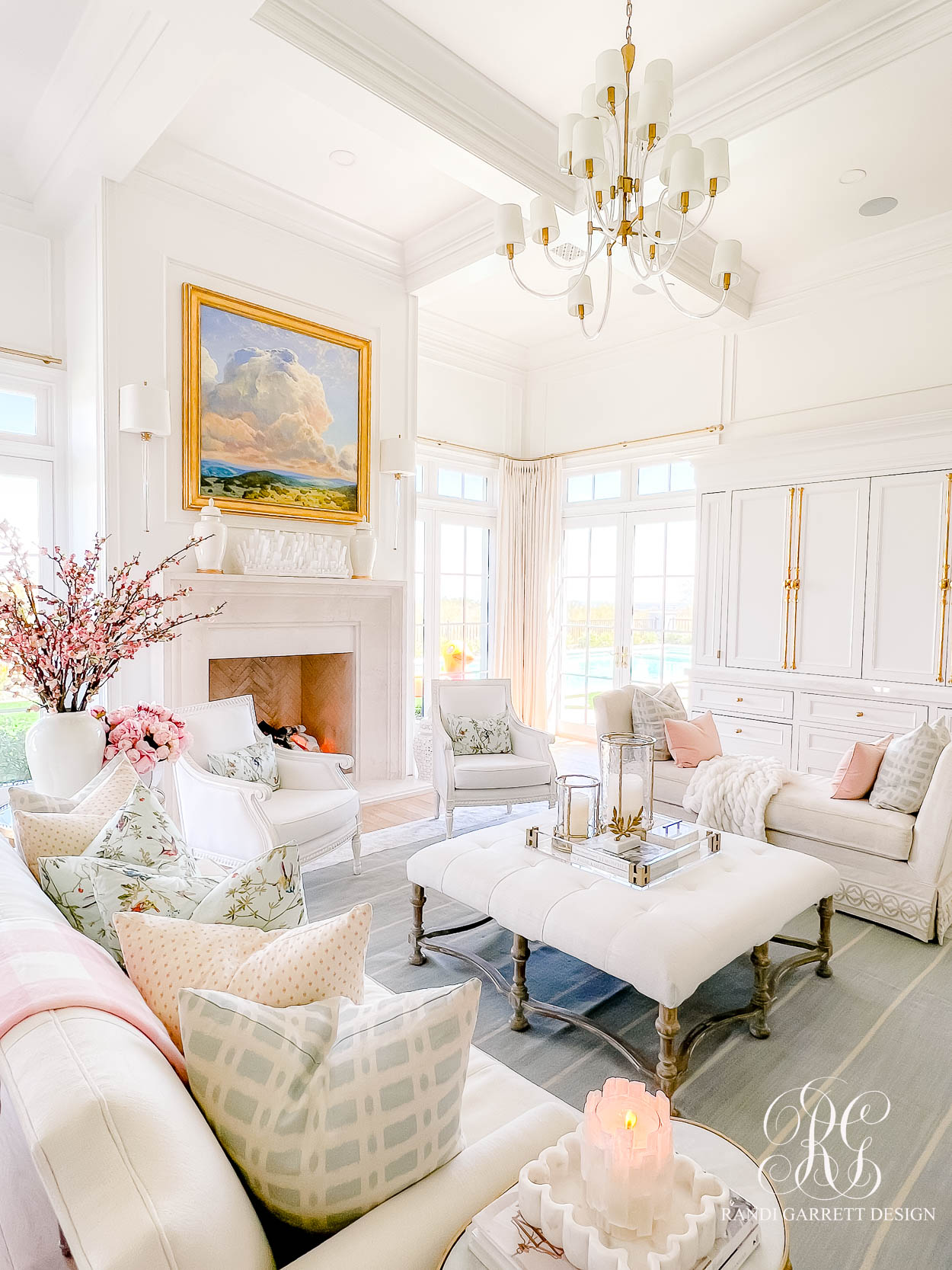 Coffee Table Details – lucite tray (no longer available) |gold bamboo hurricane |laurel wreath statue |marble box | decor books (here and here) | ottoman (similar) | striped rug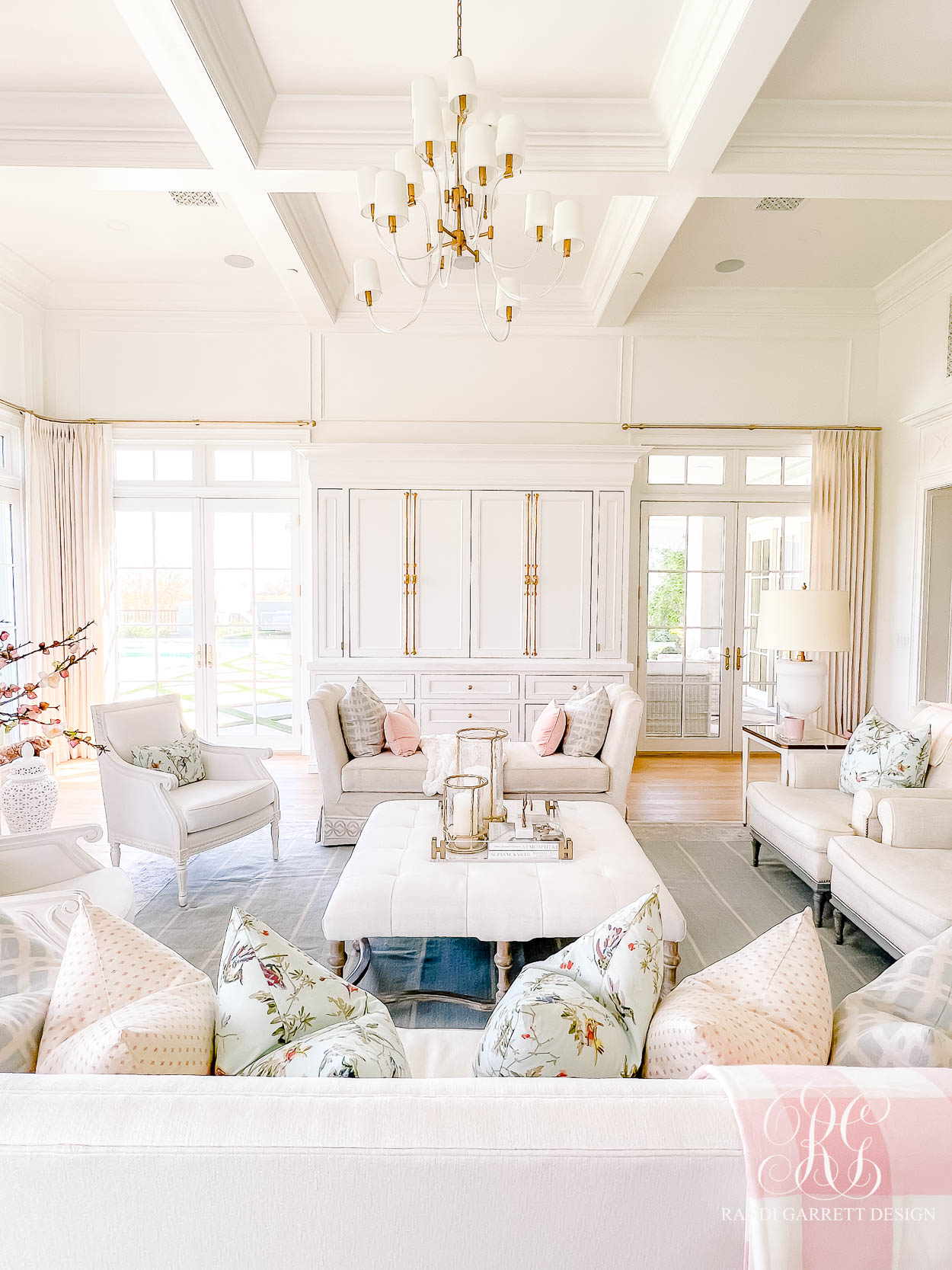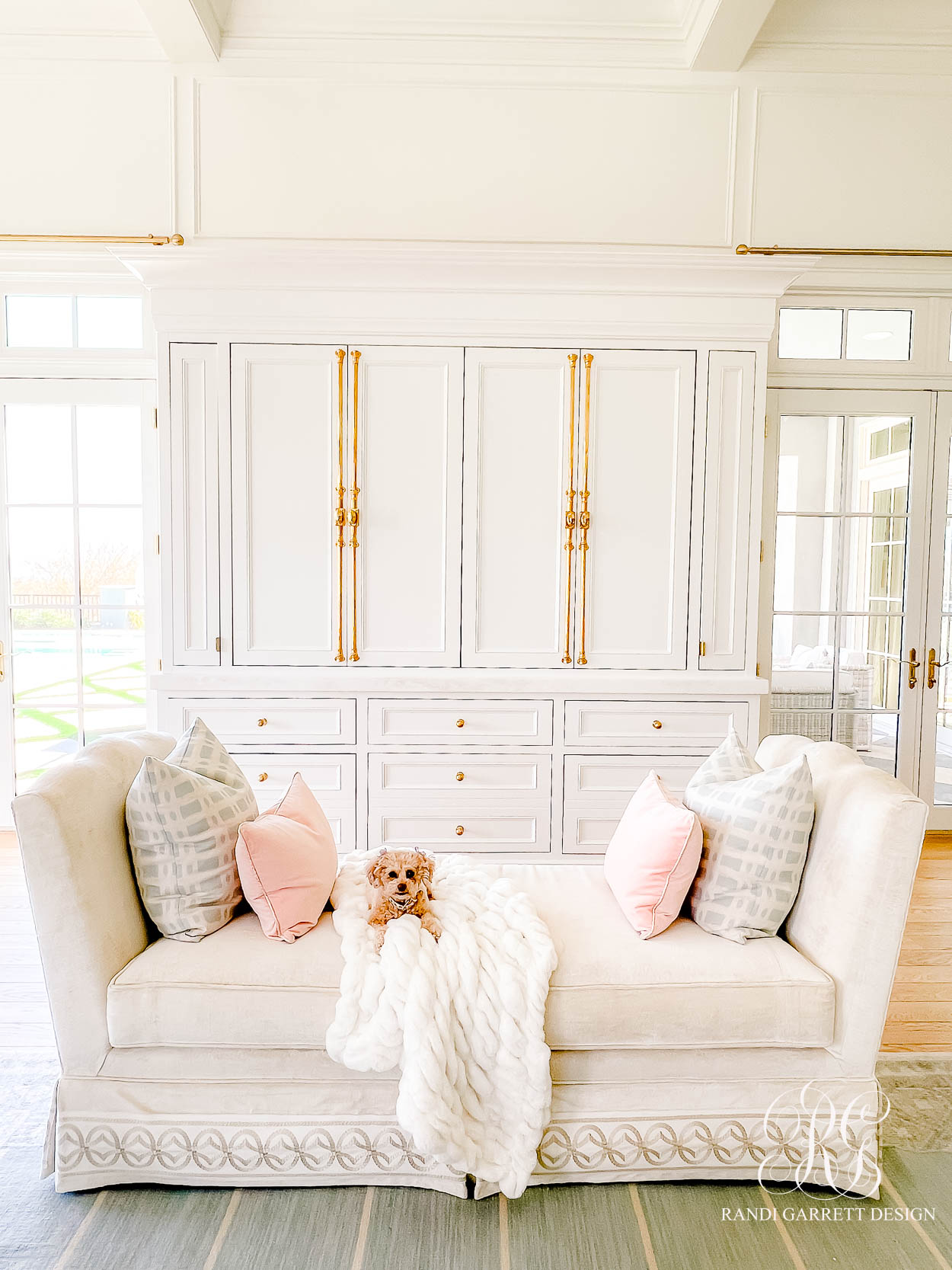 Daybed |Blue Townline Throw Pillow | Blush Velvet Lumbar Pillow | Fur Throw | Rug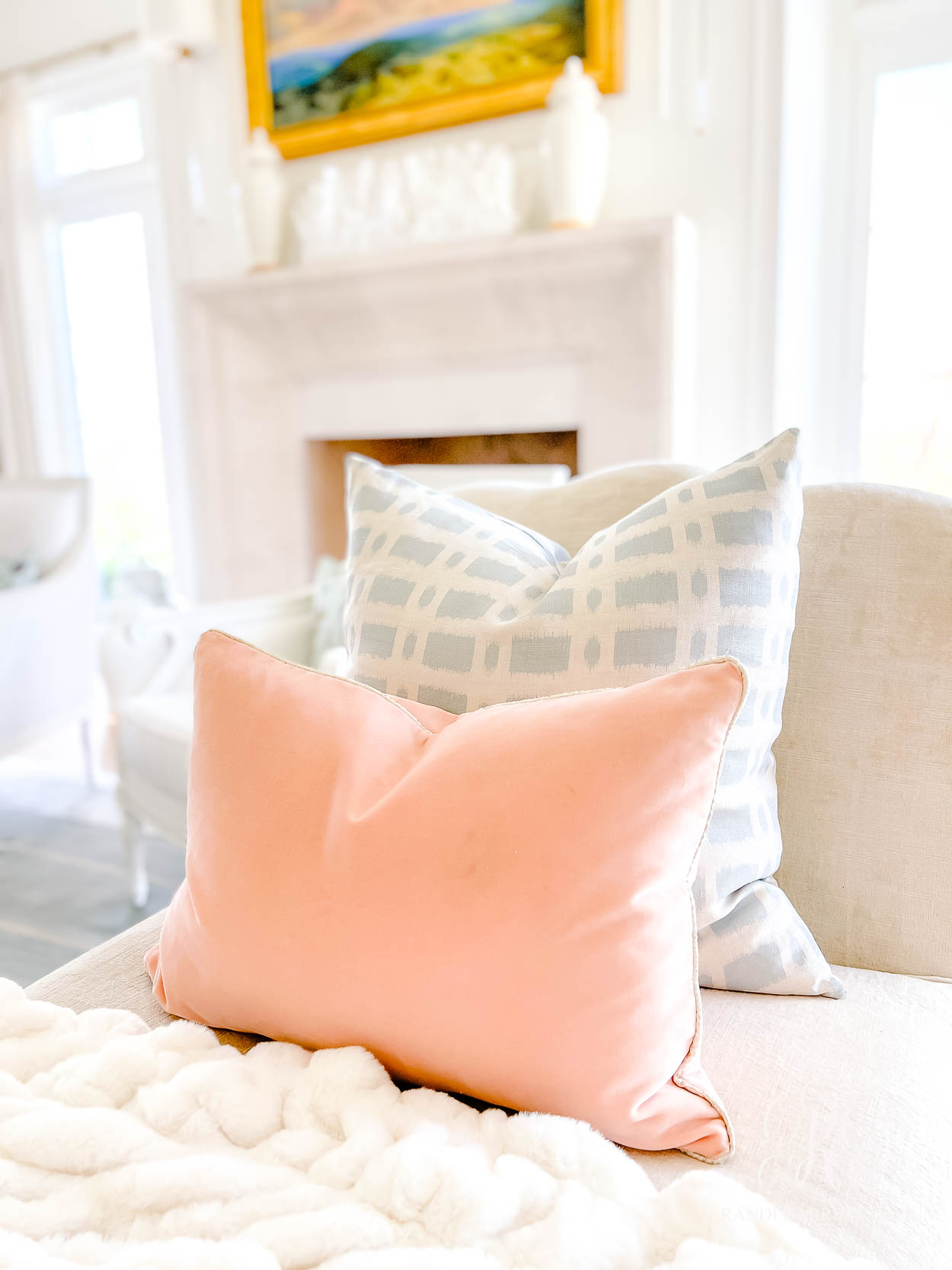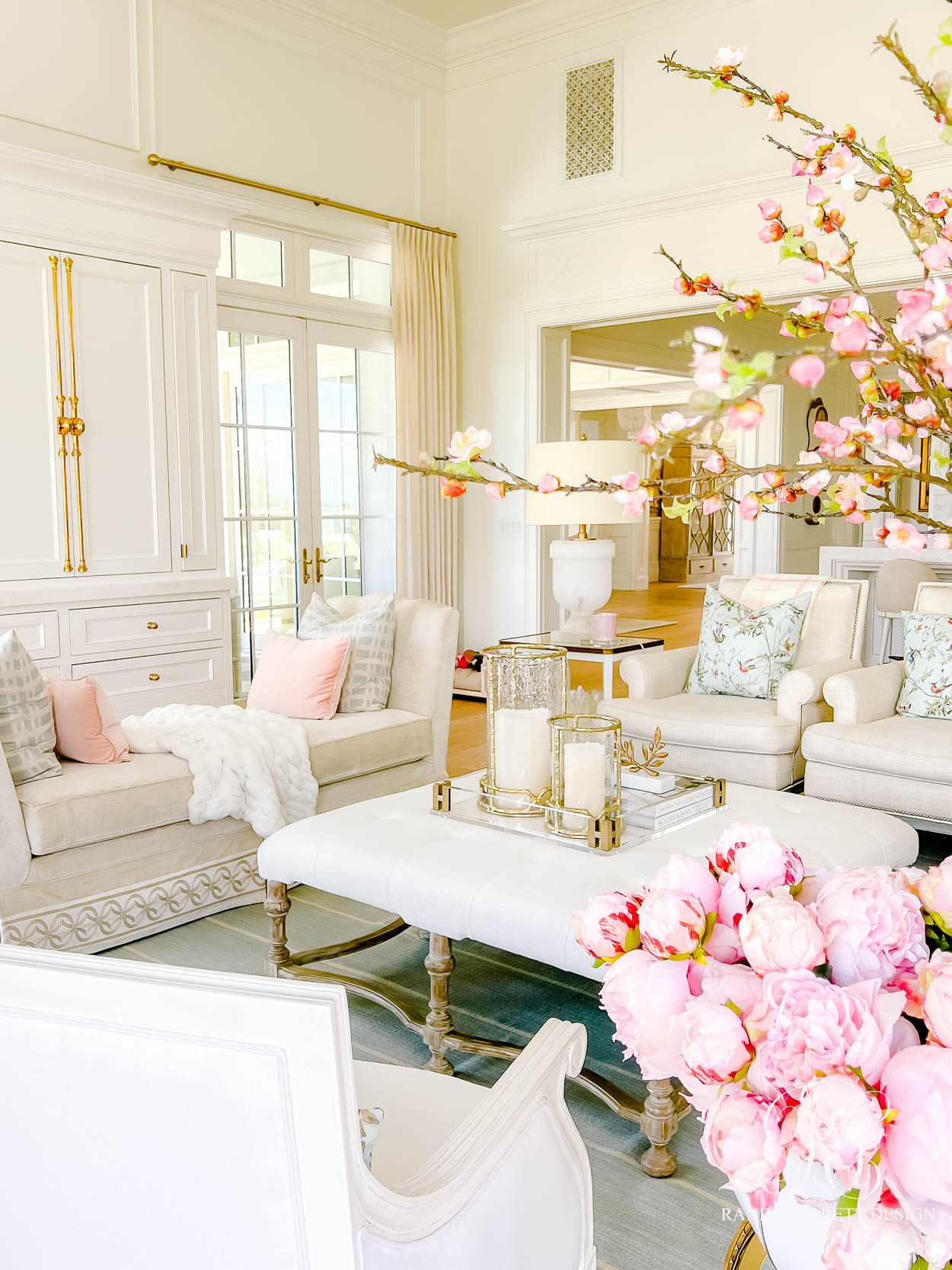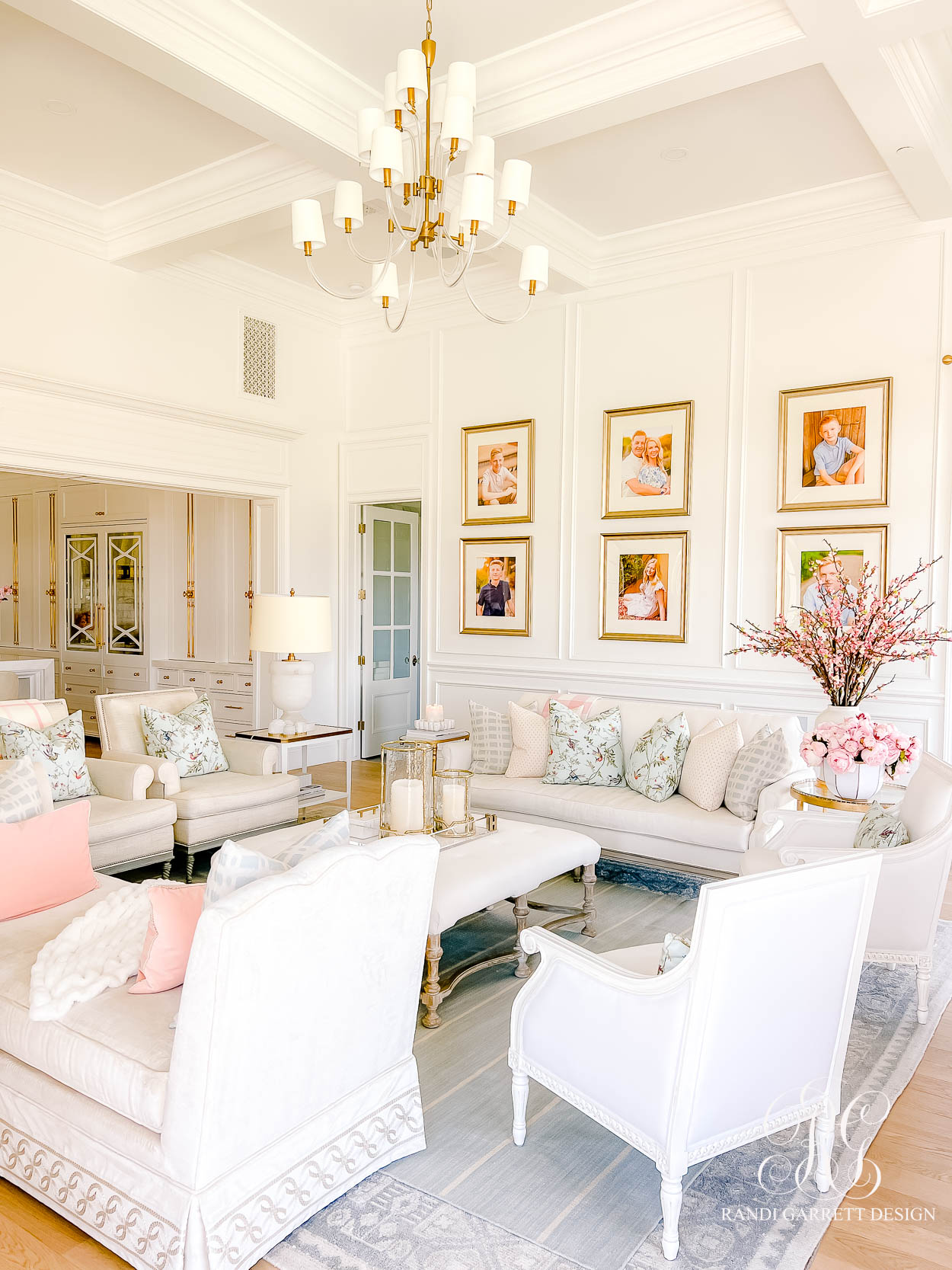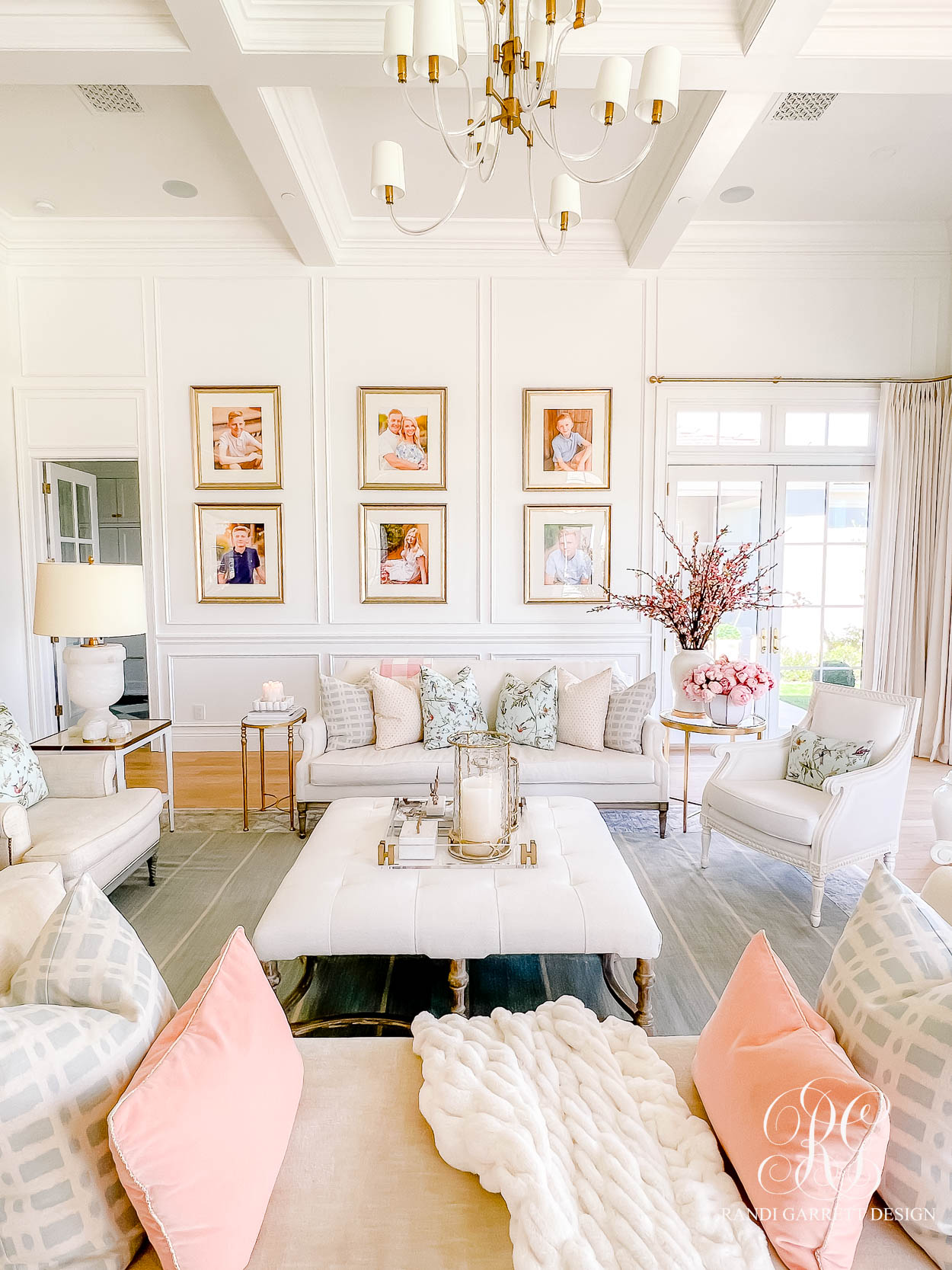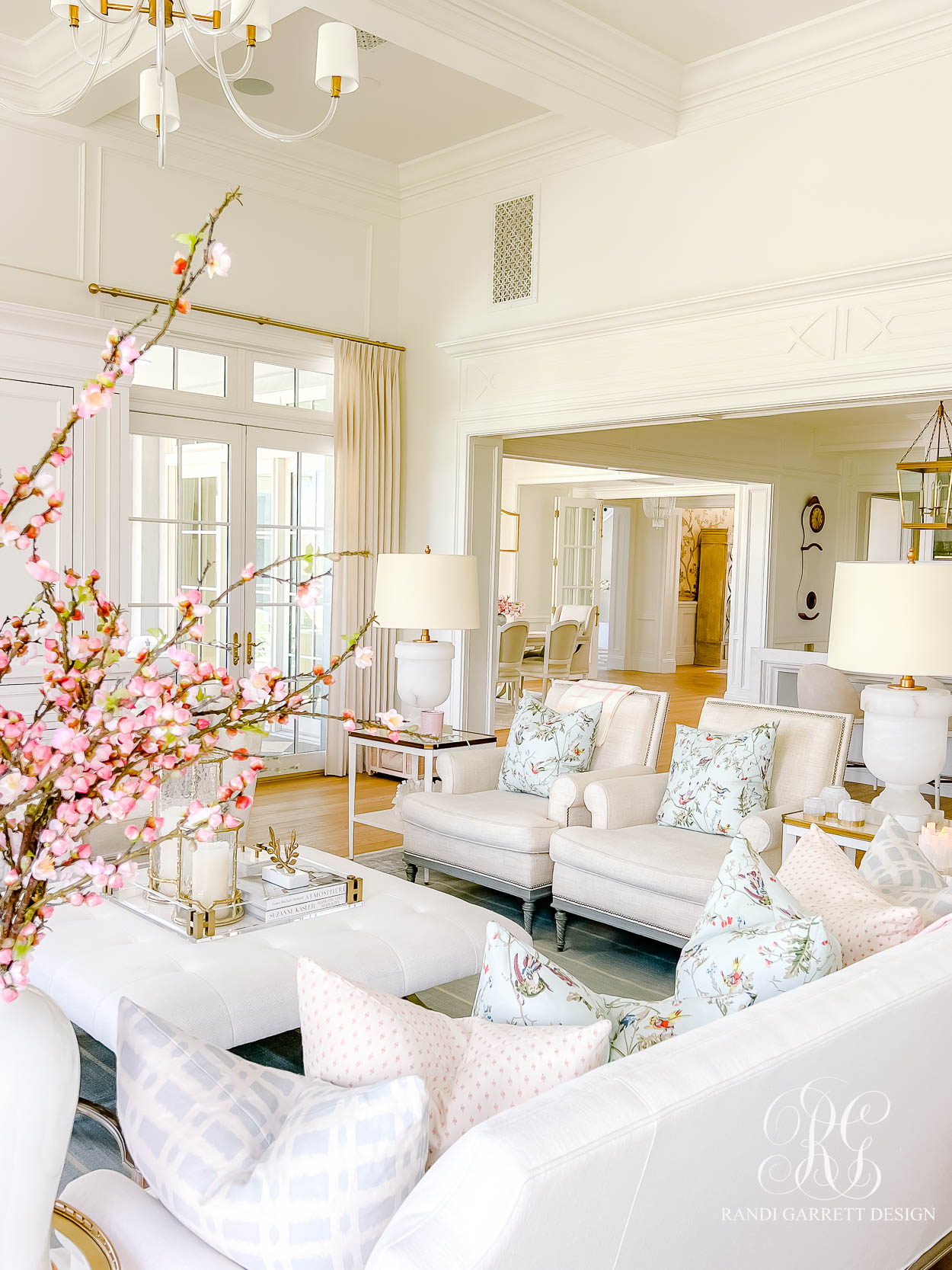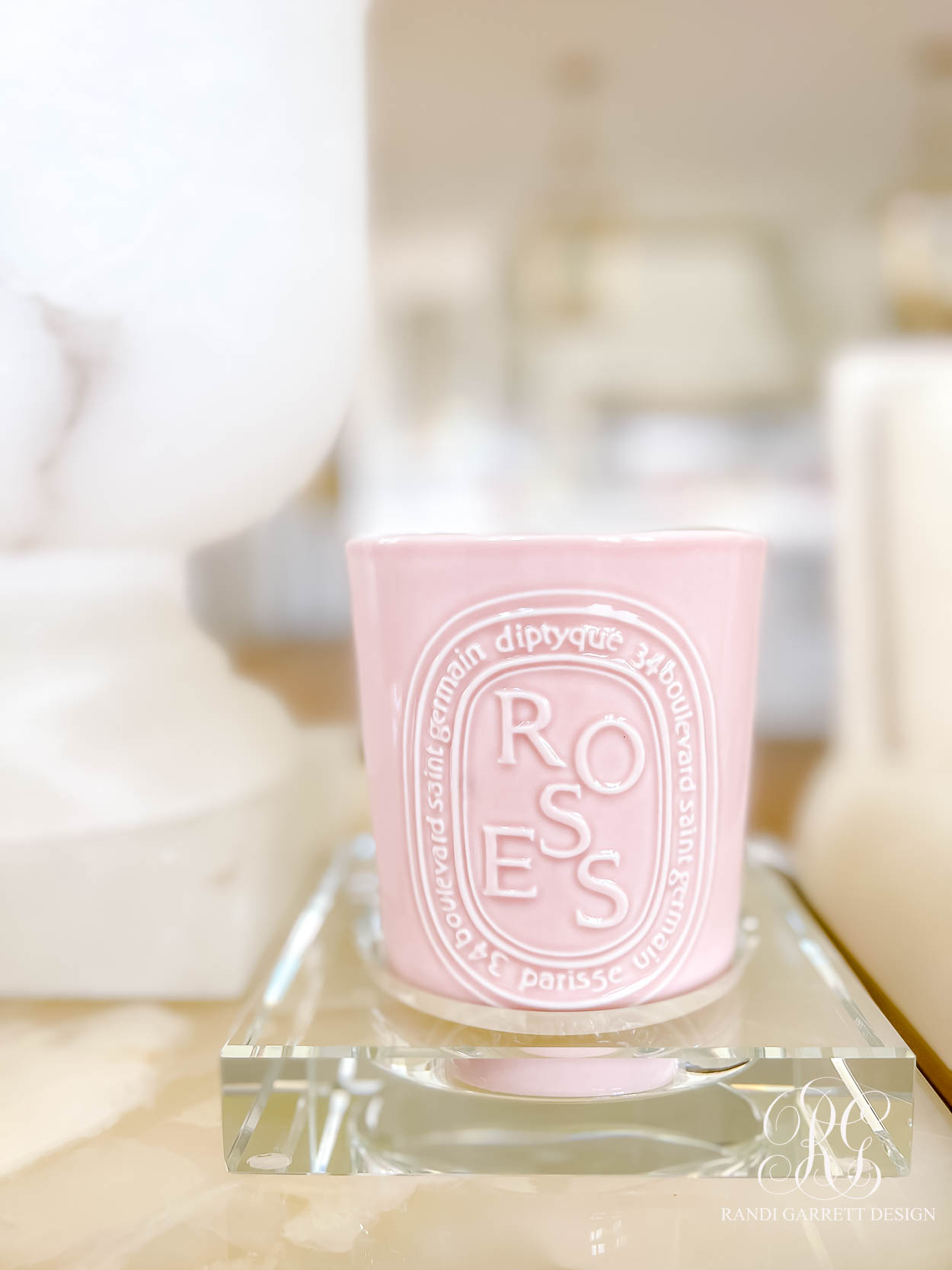 Rose Candle | Crystal Candle Holder (this is the large) | Lamp |End Table (similar) | Club Chair | Pink Plaid Throw | Hummingbird Throw Pillow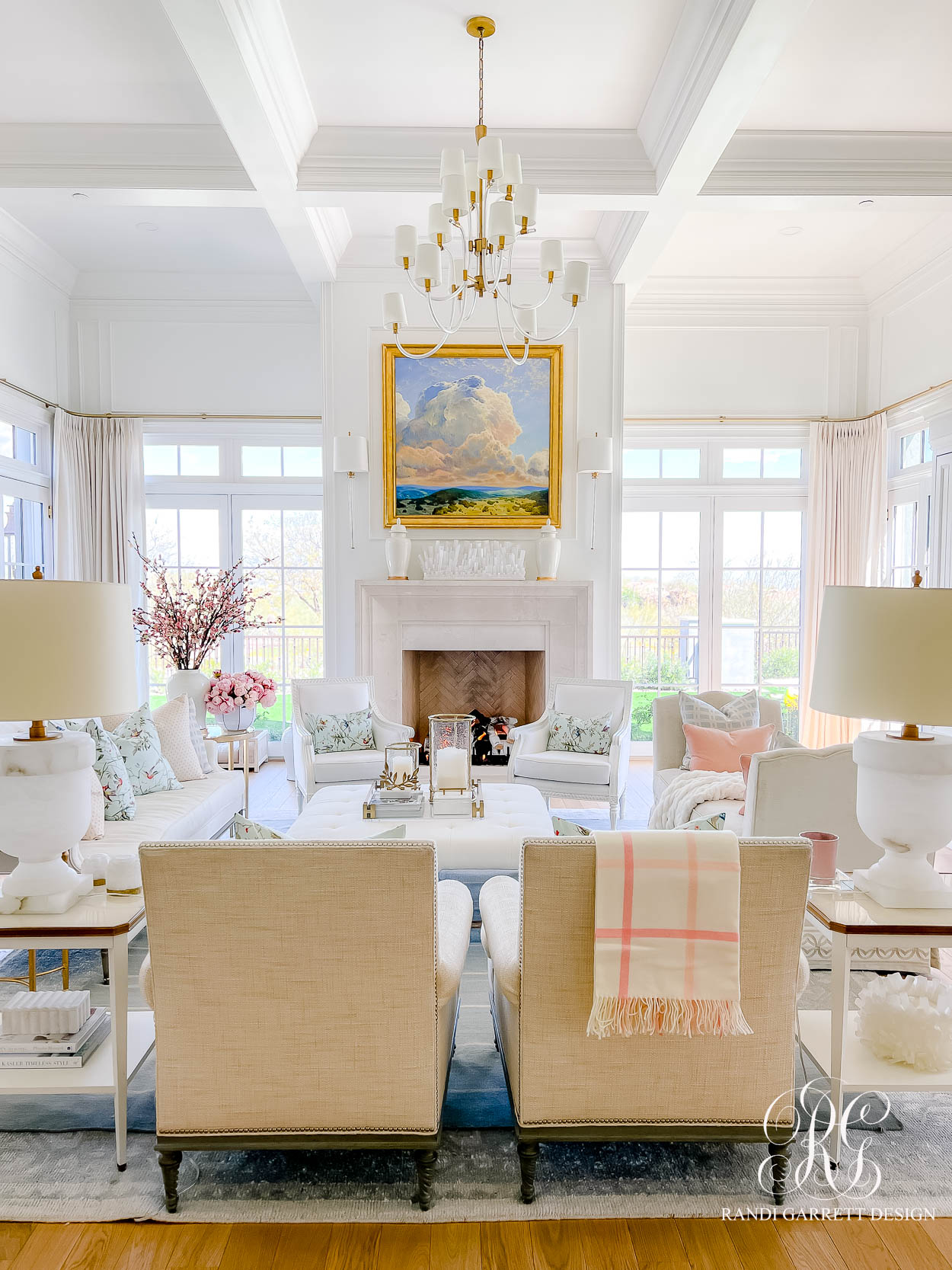 Come back tomorrow for a peek at our kitchen styled for spring!

Lighting

Furniture

Rugs

Throw Pillows

Throws

Florals


Ginger Jars

Candles

Accessories