We have a tradition in our home to make homemade Chocolate Chip Cookies every Sunday. This is a tradition I started with my dad and have carried on with my kids. Friends usually pop over to spend the evening so there aren't tons lefts over. But whatever is leftover, we put in a freezer, gallon sized ziplock bag and freeze for later. They come in handy when someone is having a bad day, when unexpected guests drop by or when you you're craving a little sugar. Just defrost them in the microwave for about 15 seconds or let them get to room temperature on a plate.
This past Sunday, we made our favorite Chocolate Chip Cookies (Grandma Sandi's recipe) with a twist for Spring. Instead of adding chocolate chips to the batter, we added white chocolate chips with some crushed up mini Cadbury eggs. Once out of the oven, we added 2-3 more mini eggs to the top. OH MY GOODNESS you guys, they were SO GOOD! I had to share this simple twist on a Garrett classic! I know you will love them! This little change is giving me all kinds of ideas for more twists on the classic cookie base we love!
I'll share the recipe below and if you haven't tried making our family's favorite Chocolate Chip Cookie Recipe, give it a try, it's delicious!
I hope you make them and love them!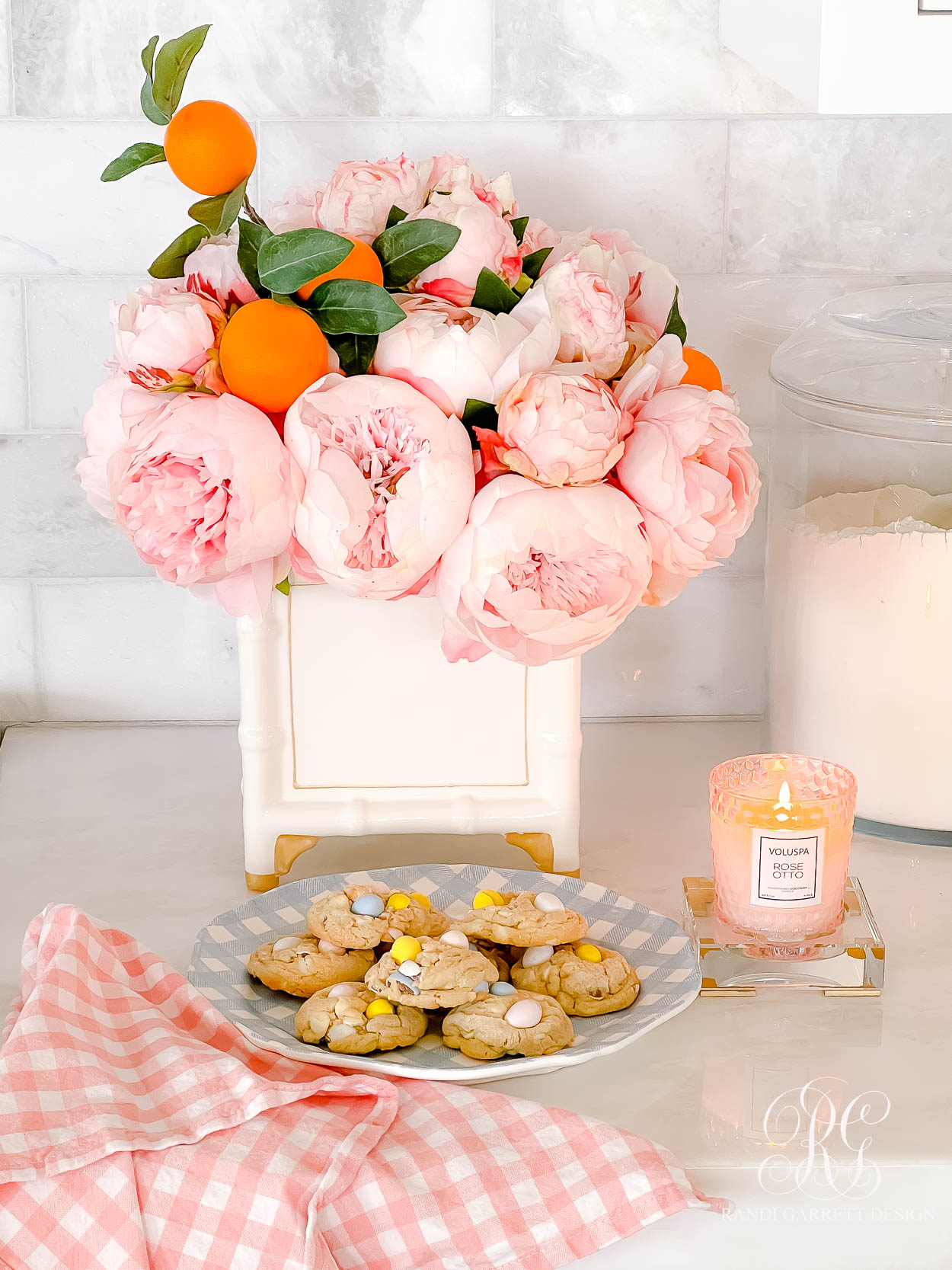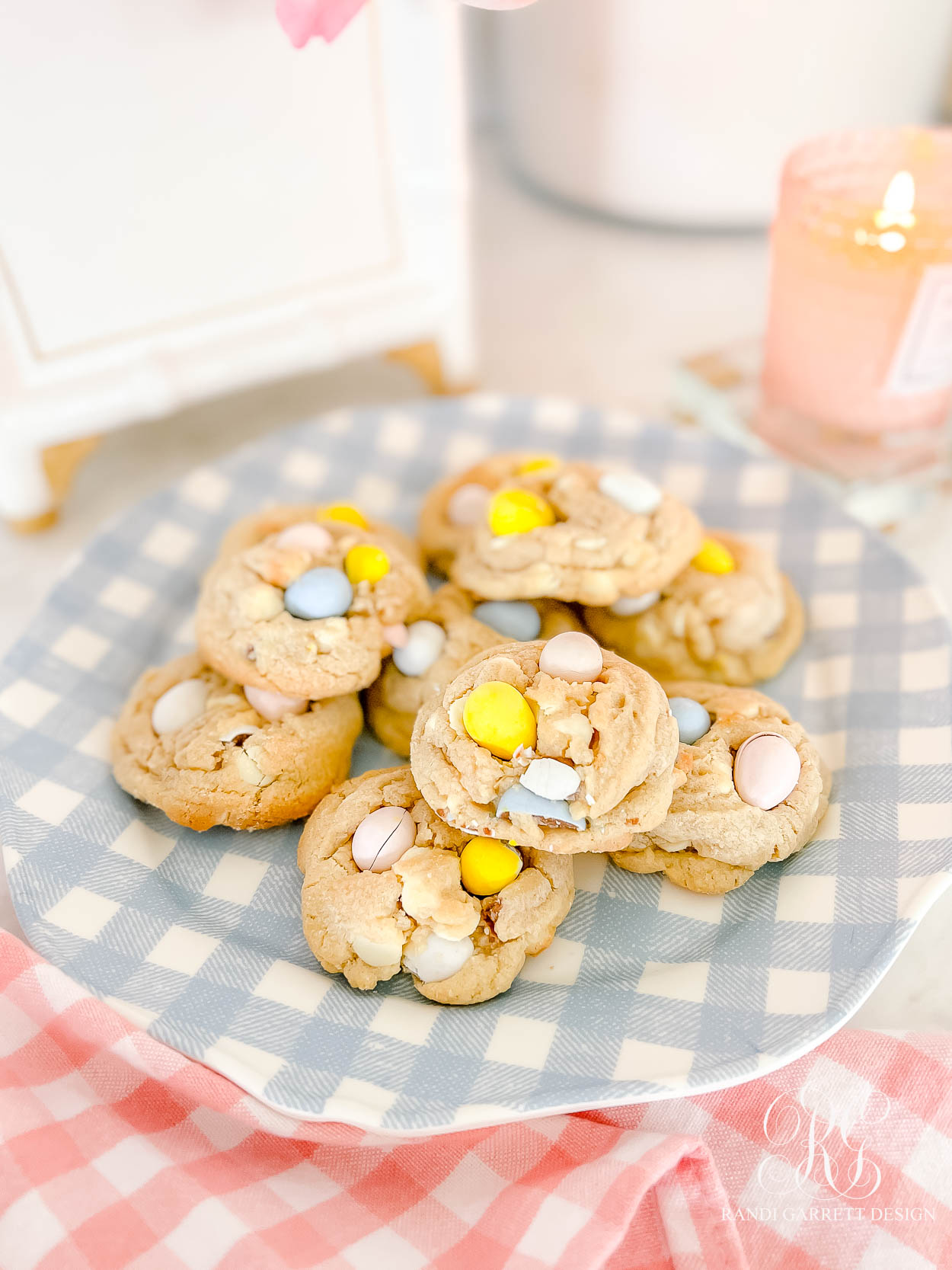 White Chocolate Mini Egg Cookie Recipe

Ingredients
1 1/2 Cups White Sugar
2 Cups Brown Sugar (packed down)
3 Eggs
2 T (yes Tablespoons!) Real Vanilla
1 Pound Unsalted Butter - softened
6 Cups All Purpose Flour
1 1/2 Tsp Salt
1 1/2 Tsp Baking Soda
3 Cups White Chocolate Chips (frozen)
2 pkgs Mini Cadbury Candy Eggs (1 Cup Crushed Mini Cadbury Eggs and 1 PKG Whole Mini Cadbury Eggs for the top of the cookies)
Instructions
Preheat oven to 350 degrees.
Mix together sugars, egg and vanilla until light in color, about 1-2 min.
Add softened butter (room temperature).
Mix until light in color and fluffy. About 2-3 min.
Add flour, salt and soda until combined.
Add white chocolate chips and crushed mini candy eggs and stir until combined.
Use a cookie scoop to drop cookie dough onto cookie sheets.
Bake at 350 degrees for 9-11 minutes.
Push 2-3 whole mini Cadbury candy eggs into the top of each warm cookie
Cool slightly then transfer to wire rack.
We like to freeze our extra cookies in gallon ziplock bags. They are also delicious frozen with a scoop of ice cream between them for a yummy ice cream sandwich treat!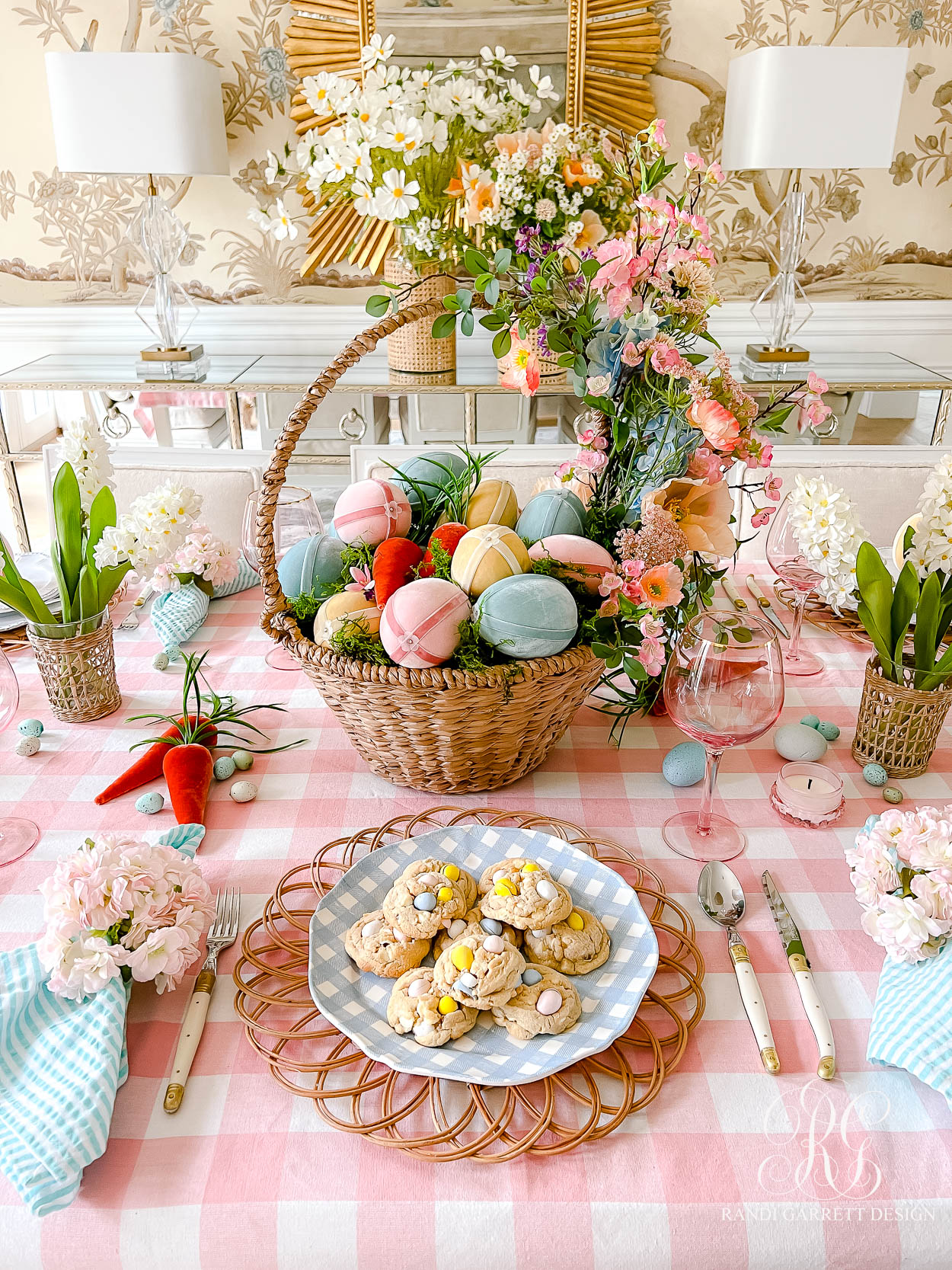 They would look so festive on your Easter table! Get my Easter Table Details here.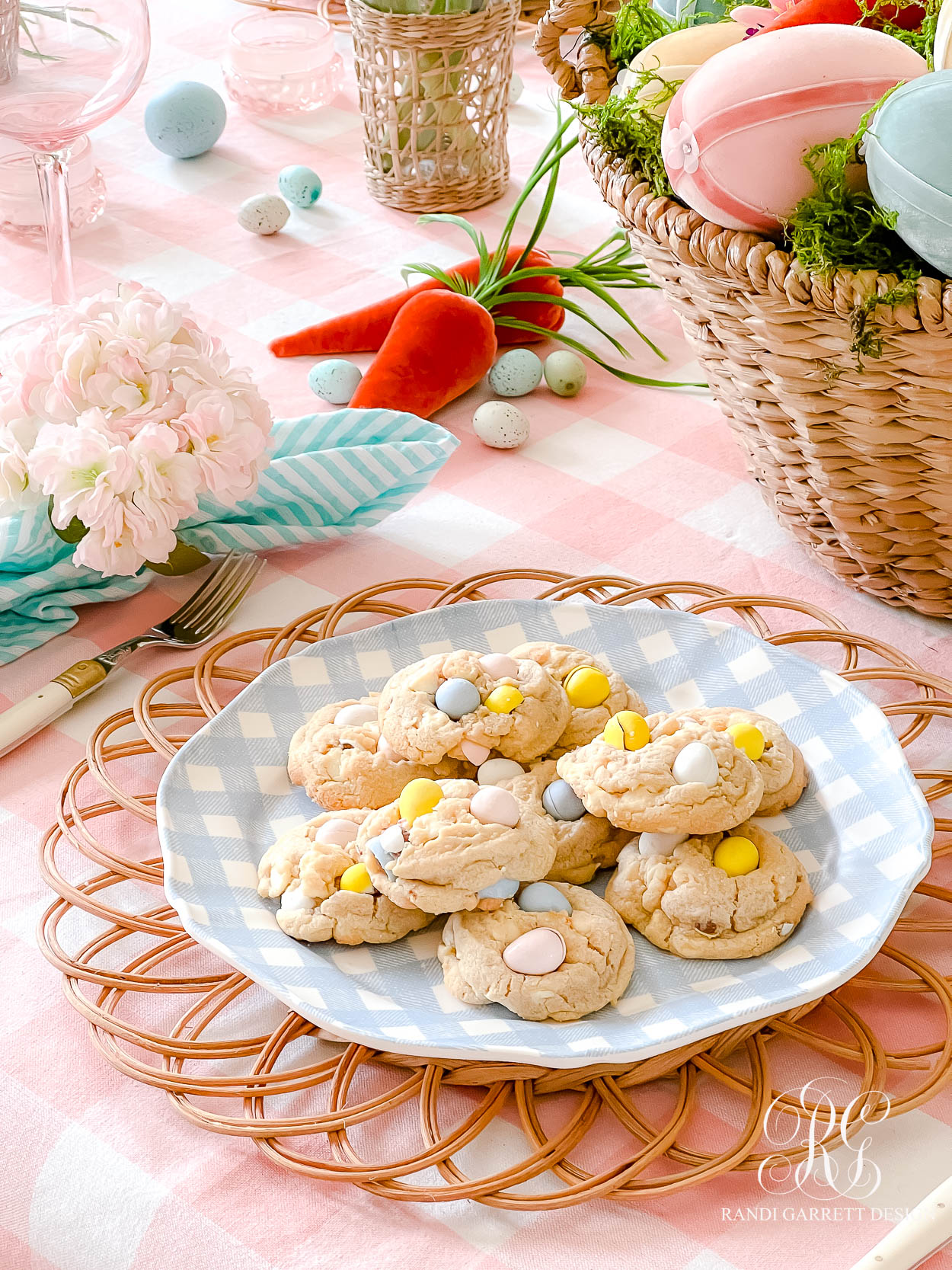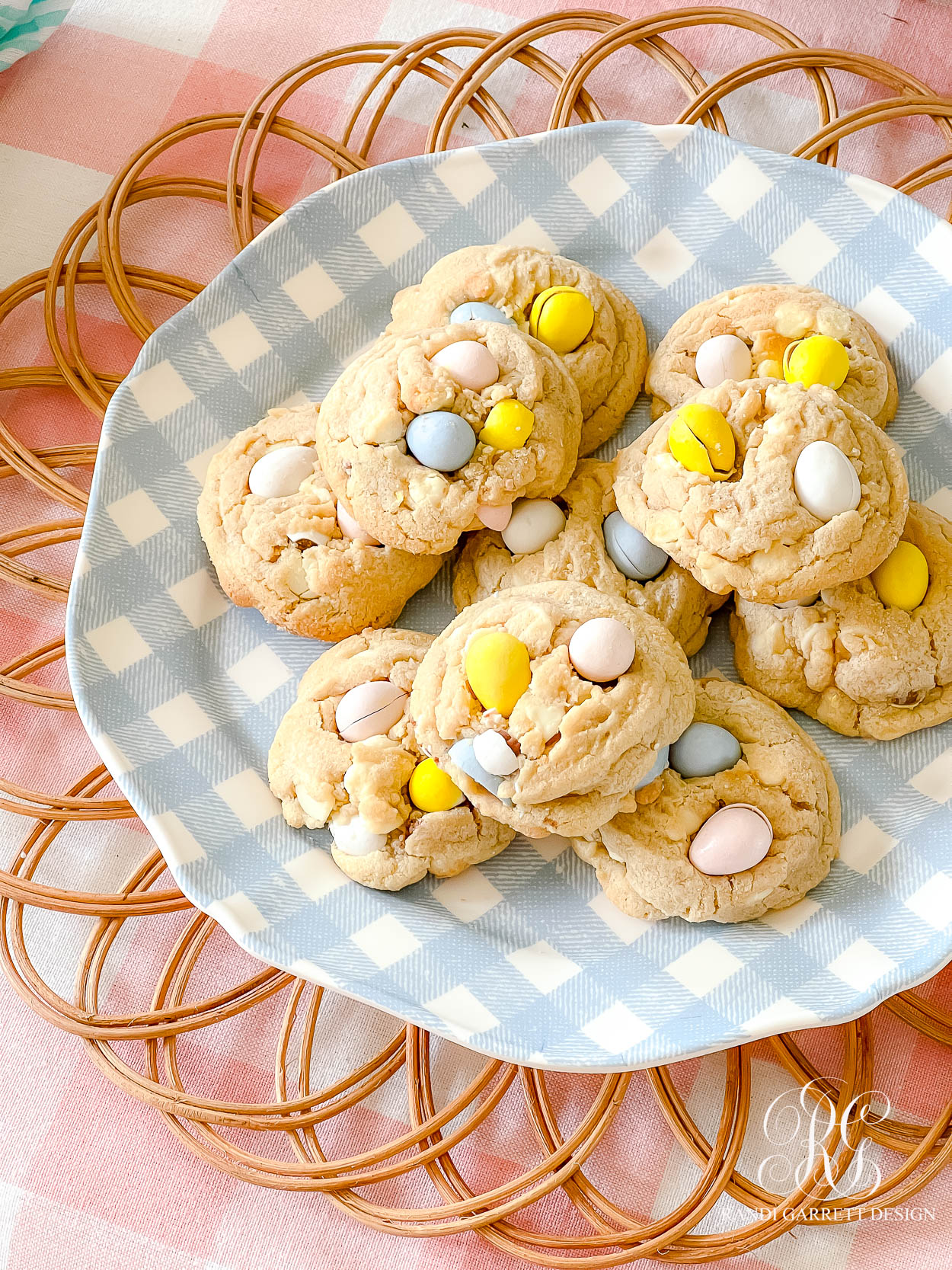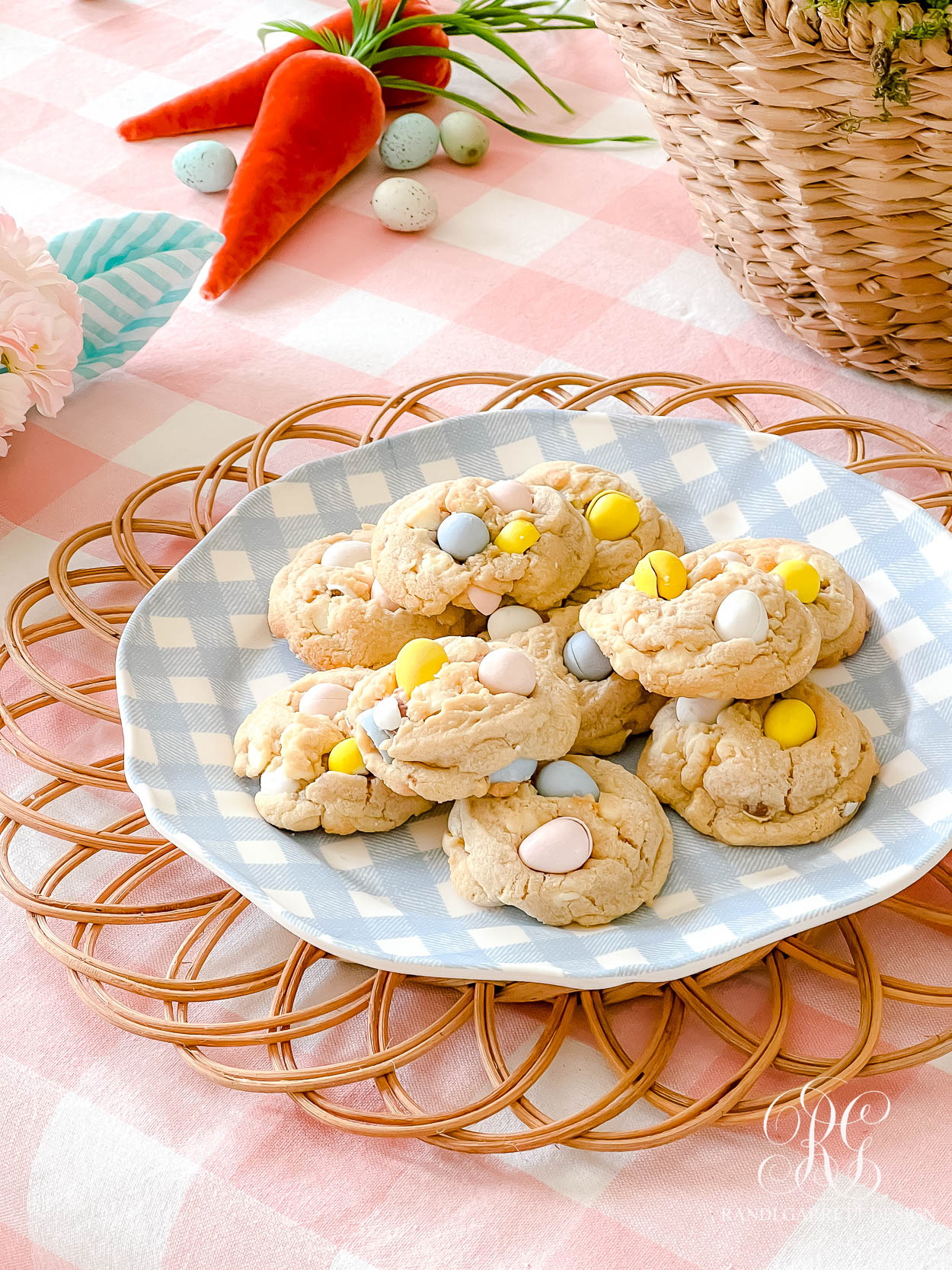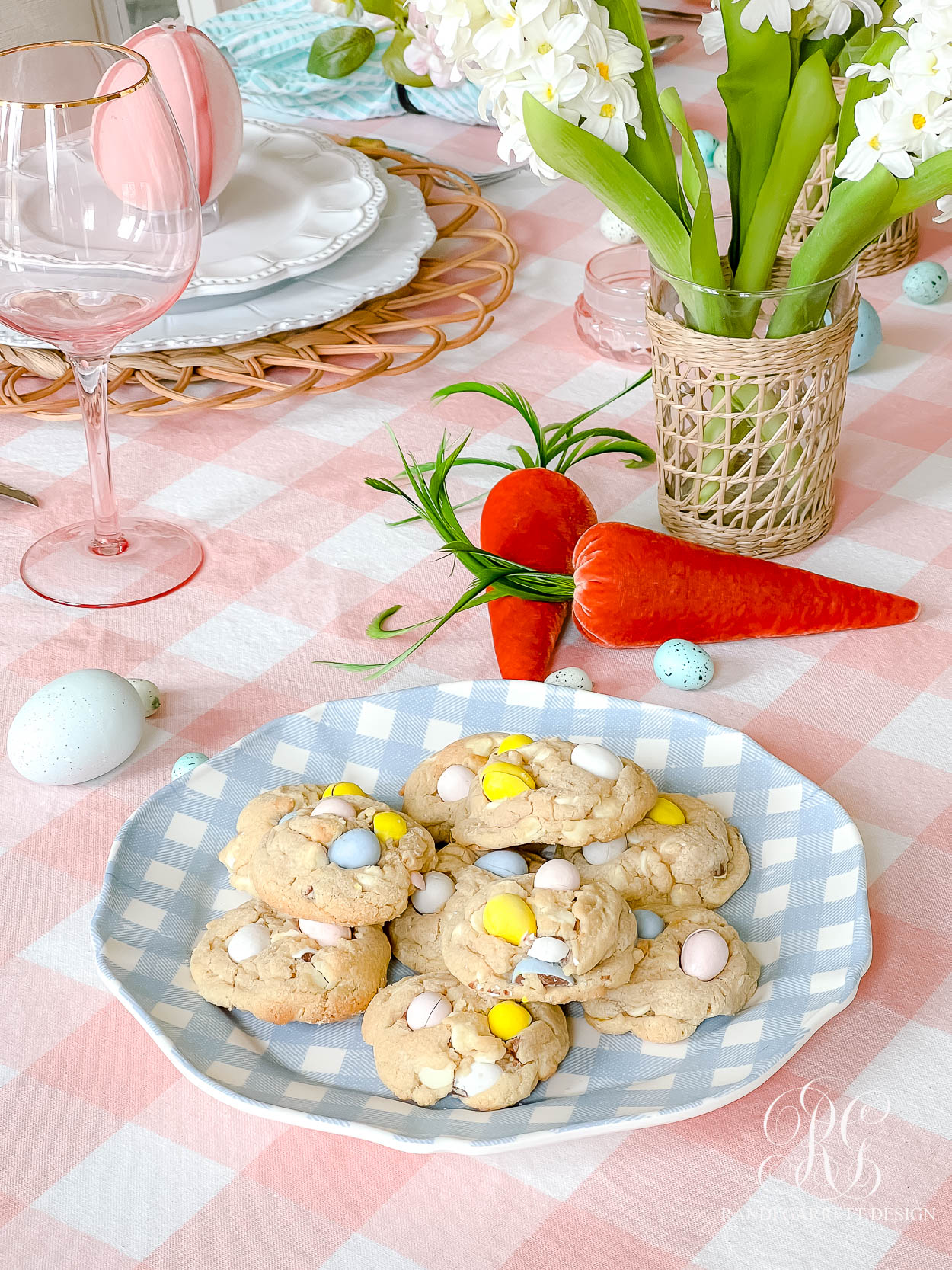 Peony Arrangement


Dishes + Linens

Easter Table Details






Cookie Making Essentials