Giving gifts should be the funnest part of Christmas, not the most stressful! Sometimes with all of the "stuff" we have to do around the holidays, giving gifts gets pushed to the bottom of the list until its too late too come up with a thoughtful gift.
This year, I have really tried to slow down and enjoy the season more. You will notice below, that our Christmas tree is bare. We put it up but I am not decorating it until after Thanksgiving this year. It's easy to get caught up in the frenzy of Christmas and loose site of the true meaning of this blessed season.
Today I thought I would share a few tips for giving the best gifts. Hopefully this will help take some stress off your Christmas shopping! The best gifts are the ones that make others feel like you have really thought about them. Not just grabbing something off the shelf and tying it with a bow. Gifts of time and of ones self are the greatest gifts of all.
I have created 4 Christmas gift guides for the important people in your life. Each gift has a sentiment attached that will make your gifts true gifts of the heart.
Tips for Giving the Best Gifts – Christmas Gift Guides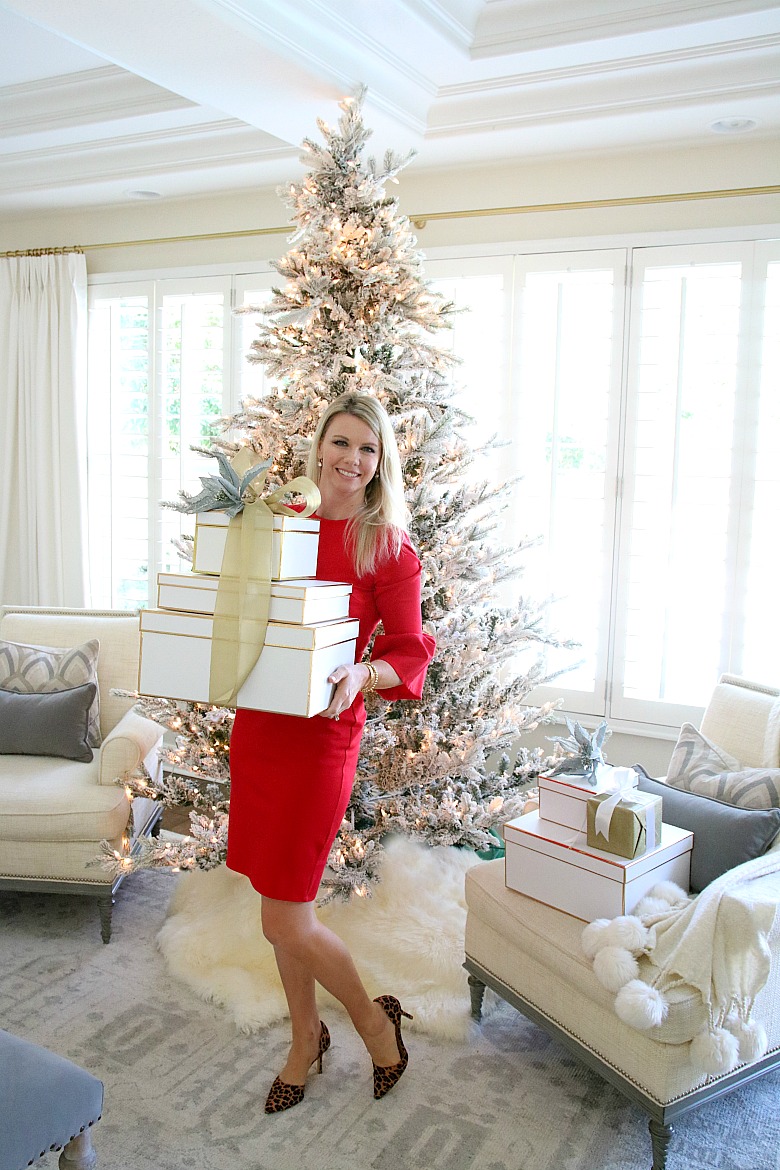 Let's start with gifts for the home. I love giving gifts that my loved ones can display in their home.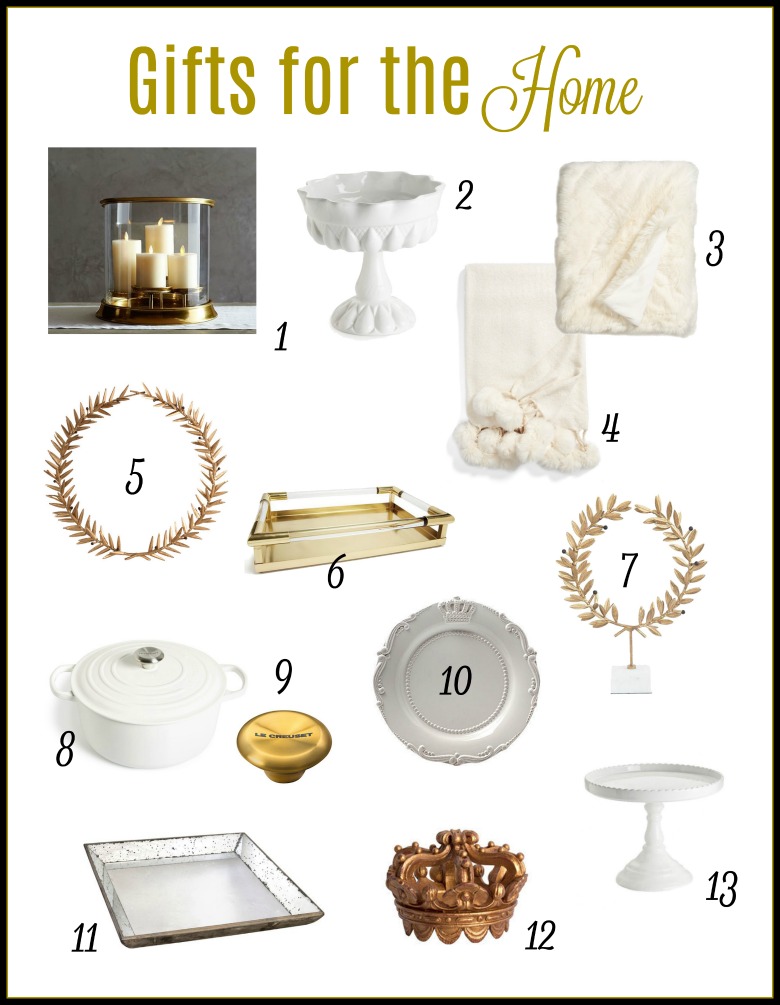 1  |  2  |  3  |  4  |  5  |  6  |  7  |  8  |  9  |  10  |  11  |  12  |  13

1 Gold Hurricane –  Gift the gift of light. Attach a sweet note to this gorgeous hurricane about how this special person lights up your life.
2 Footed Bowl – This is my favorite bowl to use for entertaining. Fill this with your loved ones favorite treat. They will think of you every time they use it.
3 & 4 Pom Pom Throw & Fur Throw – These throws are my absolute favorite throws! I have them in white and pink. We use them daily! Wrap these up with your favorite movie and a sentimental note.
5  Laurel Wreaths symbolize victory and honor. Give this to someone who has overcome a challenge this year or who you love and honor. Include this sentiment in your note to them.
6  & 11 Gold Lucite Tray & Mirrored Tray – Trays are such a wonderful, versatile gift. They can be used in any room in countless ways. Add a special note to your tray with an act of service you will render to the recipient. Maybe breakfast in bed, or a plate of homemade cookies.
7  Laurel Wreath – I L O V E  this little accessory! I know who ever you give it to will love it too! See number 5 for a sweet sentiment to include.
8 & 9 White Dutch Oven & gold handle – This is my go to pot for baking and cooking. It cooks evenly and quickly! You can even buy the gold knob so your friend or family member can switch out the handle!!! Include a few of your favorite recipes as a special touch!
10  Crown Plates – For that loved one that truly special. They will feel like royalty overtime they use these dishes. I love mine and use them to serve our family dinner nightly. Attach a sweet note and include reasons why this person means so much to you.
12  Gold Crown – I love crowns! They remind me of the noble nature of each one of us. I think every girl needs one in her home as a reminder of where she came from and where she is going.
13 White Cake Plate – Last but not least- cake plates just make you smile. Give this to someone who loves sweets or entertaining. Include a box of chocolates to display for a treat on Christmas day, with a note about how sweet they are.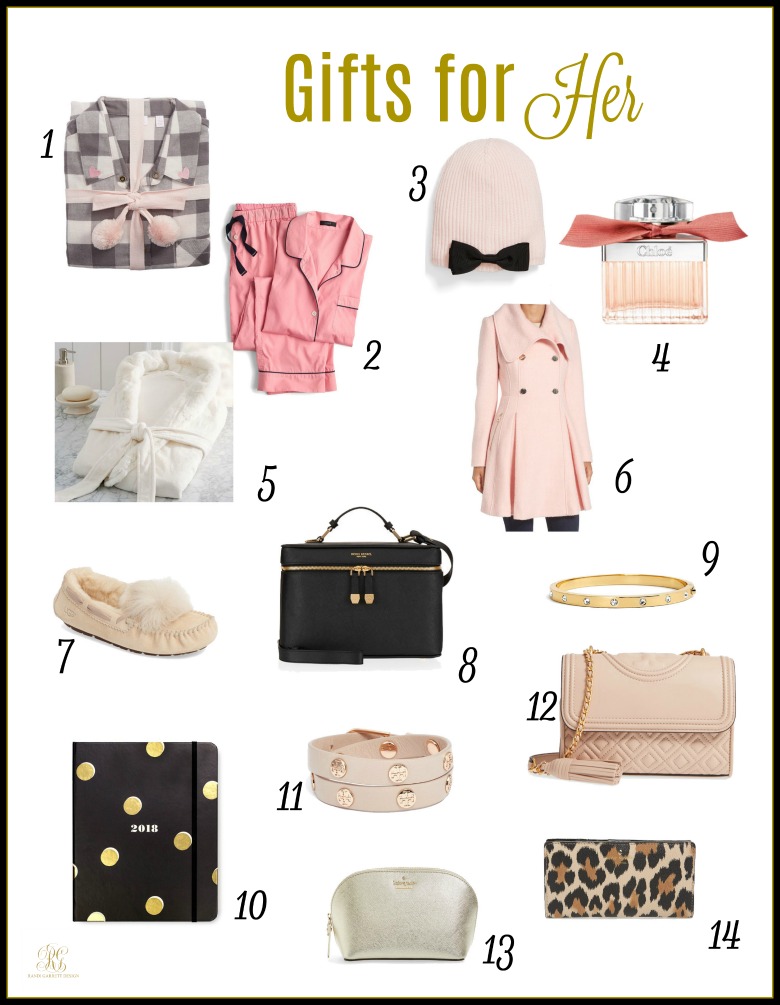 1  |  2  |  3  |  4  |  5  |  6  |  7  |  8  |  9  |  10  |  11  |  12  |  13  |  14

1 & 2 It's been a tradition of ours to get pj's on Christmas Eve ever since I was a little girl. I know many other families have this same tradition. Sleeping in new, comfy pj's is like sleeping in a hug! Give that special gift to someone  you love!
3 & 6 Baby it's cold outside! Help keep that special someone warm and darling with a cute winter hat or this fabulous coat! Tuck a special note into one of the pockets to brighten their day!
4 Who doesn't like smelling like a dream?! This is my favorite perfume! It has a light floral scent and the bottle is stunning.
7 These slippers are adorable and so so comfy! Give these to someone who's footsteps you would love to follow. Write them a kind note about their example.
8 I LOVE this make up bag!!!! I have it and can't tell you how much I love it! I know that who ever you give it to will love you forever too! Add a list of your favorite makeup tips or tuck your favorite lip gloss inside.
9 This bangle bracelet can symbolize an everlasting friendship. It goes with everything and is a fabulous staple.
10 I love getting a planner for the new year for Christmas! This one is sure to bring a smile! Give this to a loved one with family birthdays already written inside.
11 This  bracelet is my everyday go to! Hang a gift tag to the buckle with qualities you love about the person you are giving it to.
12 This purse is on my wish list! I love the color and the tassel on the side.
13 Who doesn't love a little make up bag? A gold one to boot! Put a couple movie tickets inside and treat your friend to a movie too!
14 A wallet is a fun gift especially when it is leopard! Include some photos inside the wallet for a special surprise.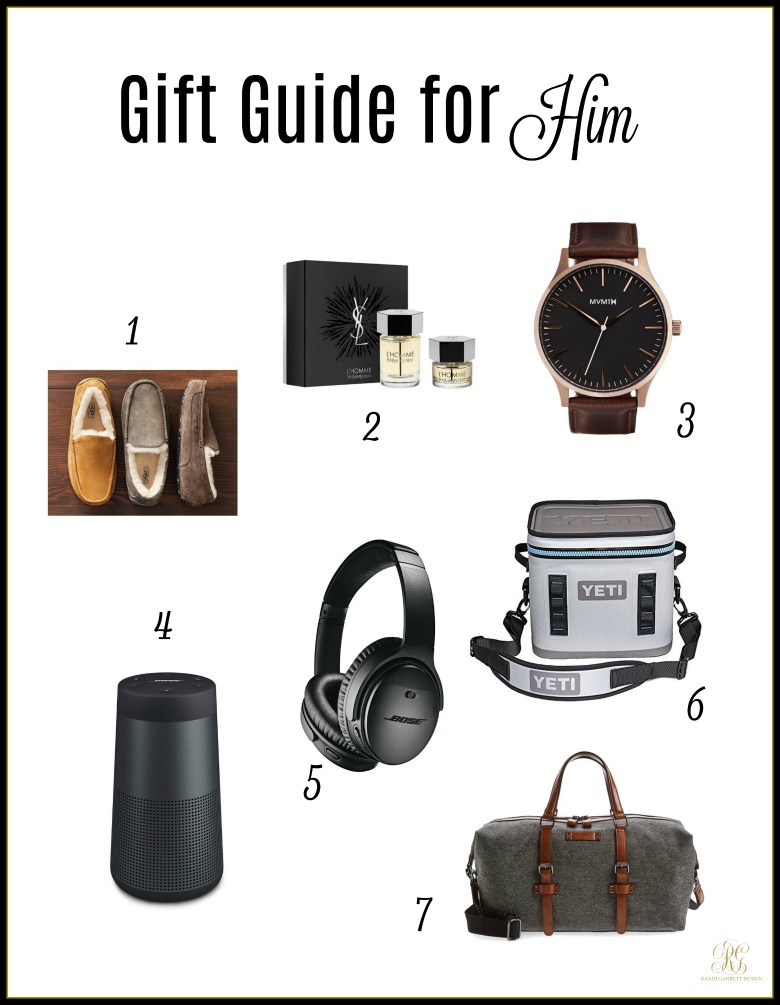 1  These are my husband's favorite slippers. I like including tickets to his favorite sports team in them.
2  This cologne is the best!!! Write 10 reasons you love your man and attach it to the box.
3  Give the gift of time with a watch. Also write down 3 date night ideas for him to look forward to.
4  A speaker is a fun gift for him to use while he works or plays. Tell him how much you appreciate the little things he does for you and play it through the speaker on Christmas morning.
5  We love these earphones. When we travel without the kids, we bring these along and watch movies together on the plane.
6  For some reason, men love coolers. This Yeti cooler is pretty awesome! Put a note inside promising a special picnic with this cooler.
7   It's in the bag! Plan a weekend get away and include the details inside this handsome tote!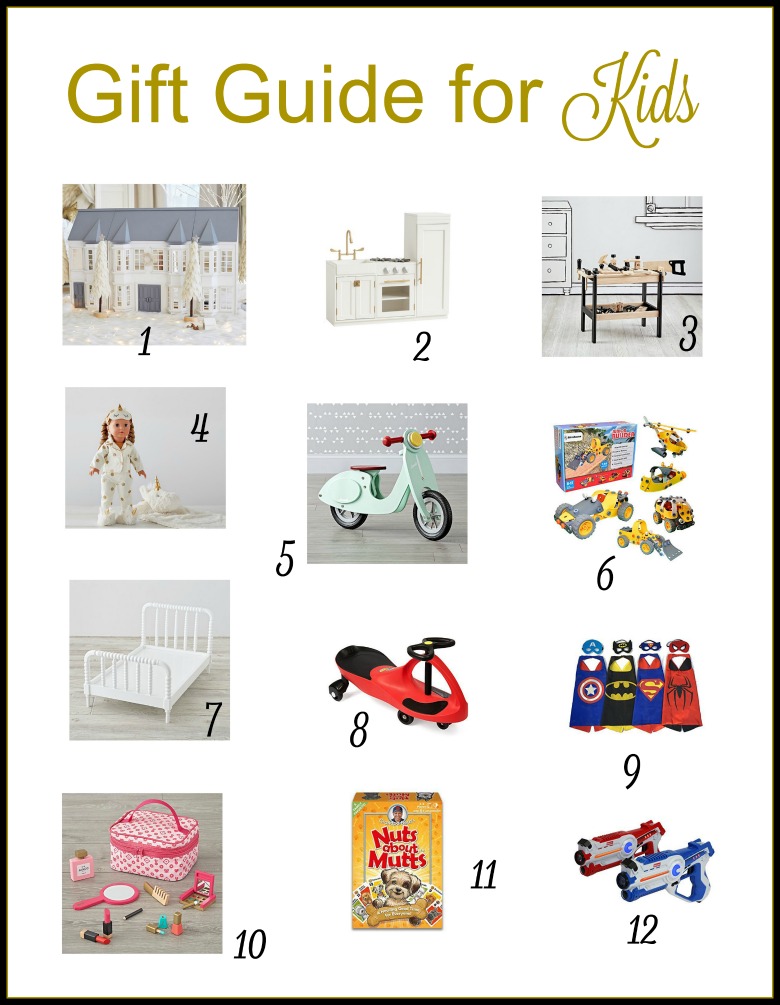 1  |  2  |  3  |  4  |  5  |  6  |  7  |  8  |  9  |  10  |  11  |  12


I love to give my children gifts that allows them to use their imagination. All of the gifts included in my gift guide are gifts that will get them off of their electronics and using their creative little minds. These gifts are all things you can do with your child or grandchild too. After all, the best gift is the gift of time!
Wishing you a season of love and happiness filled with fun not stress! Slow down and savor these moments!
I can't wait to share our home decorated for Christmas! Here is our last year's Christmas home tour in the meantime! Click on the photo for more…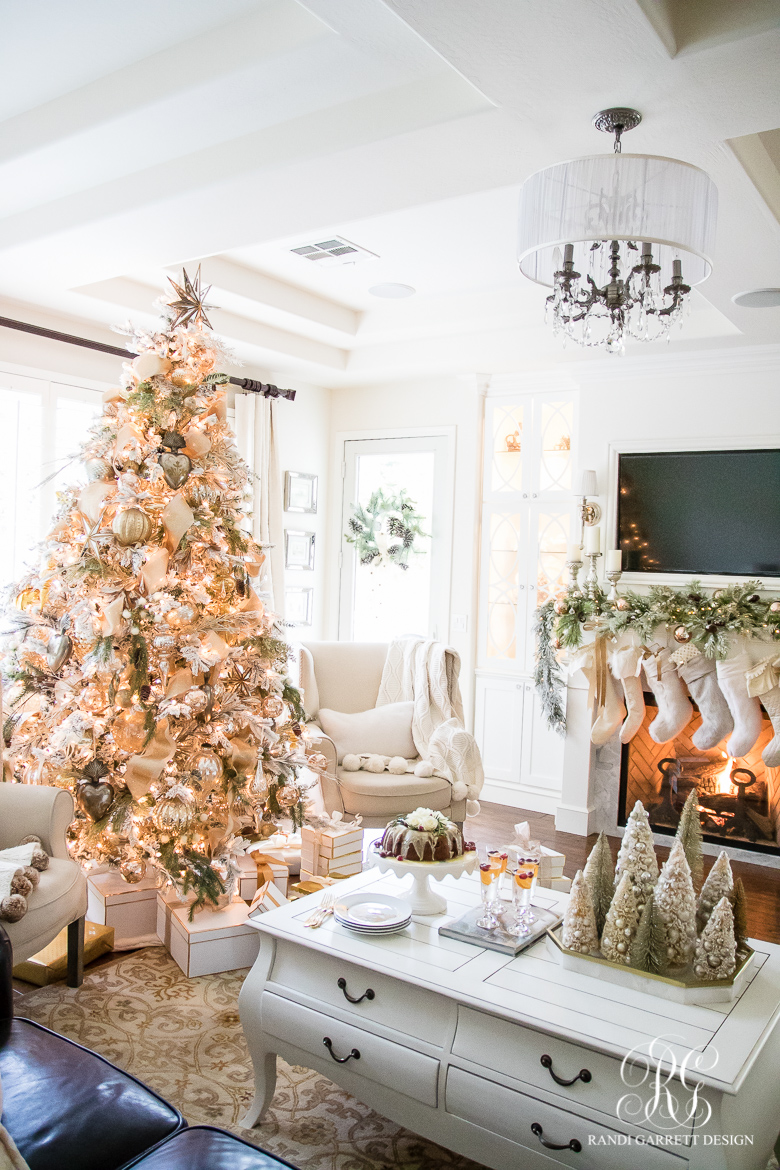 Next visit my friend Jen at Decor Gold Designs. She is sharing her gift guides today too! Happy shopping!