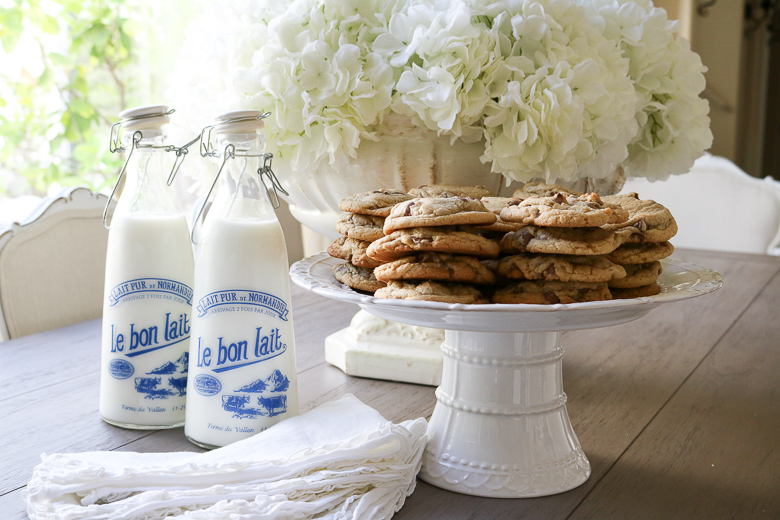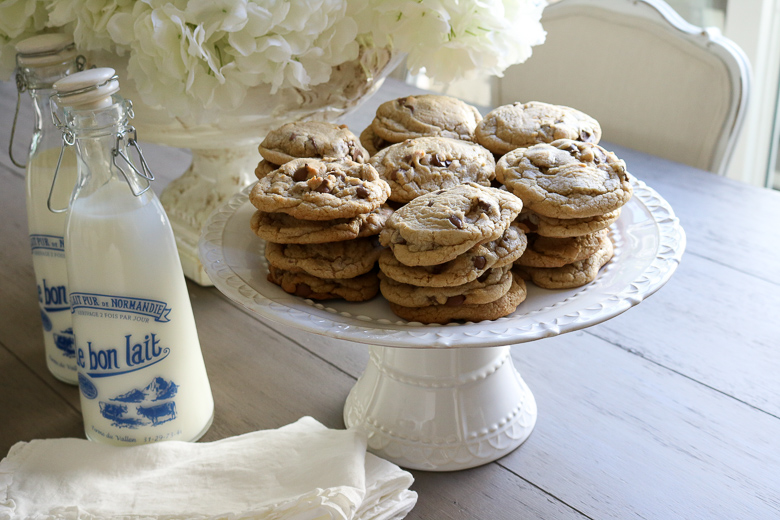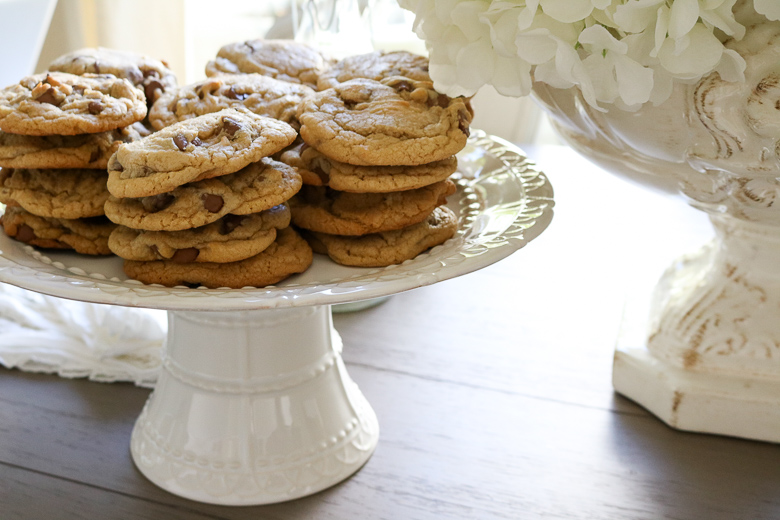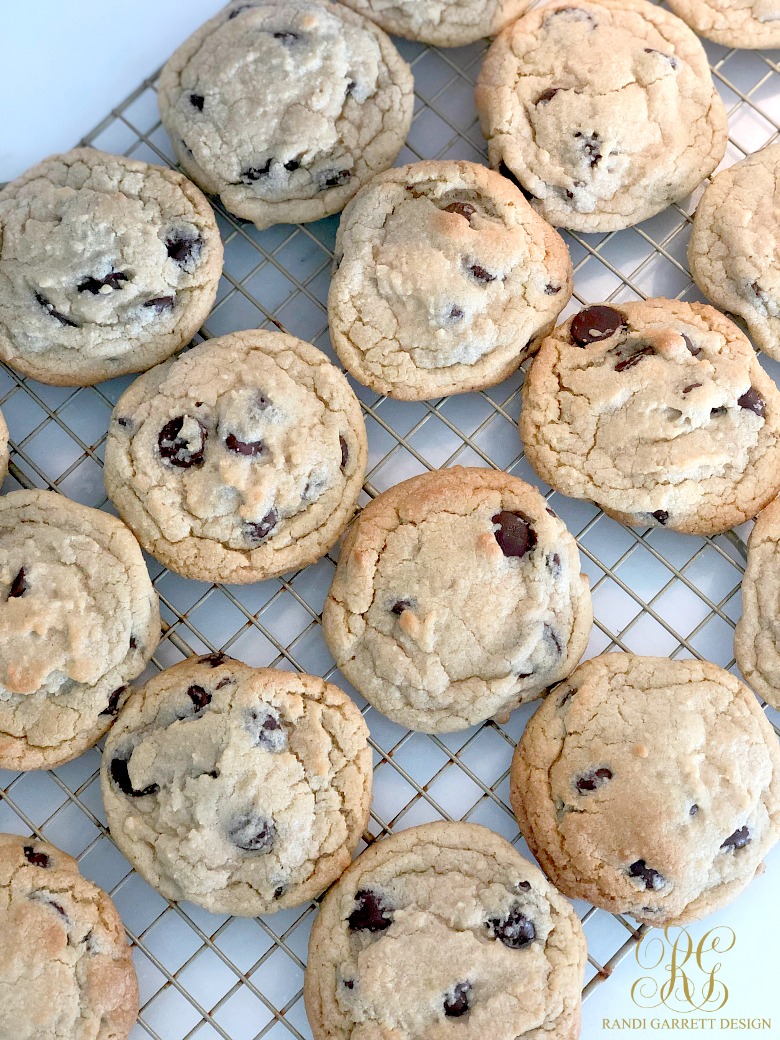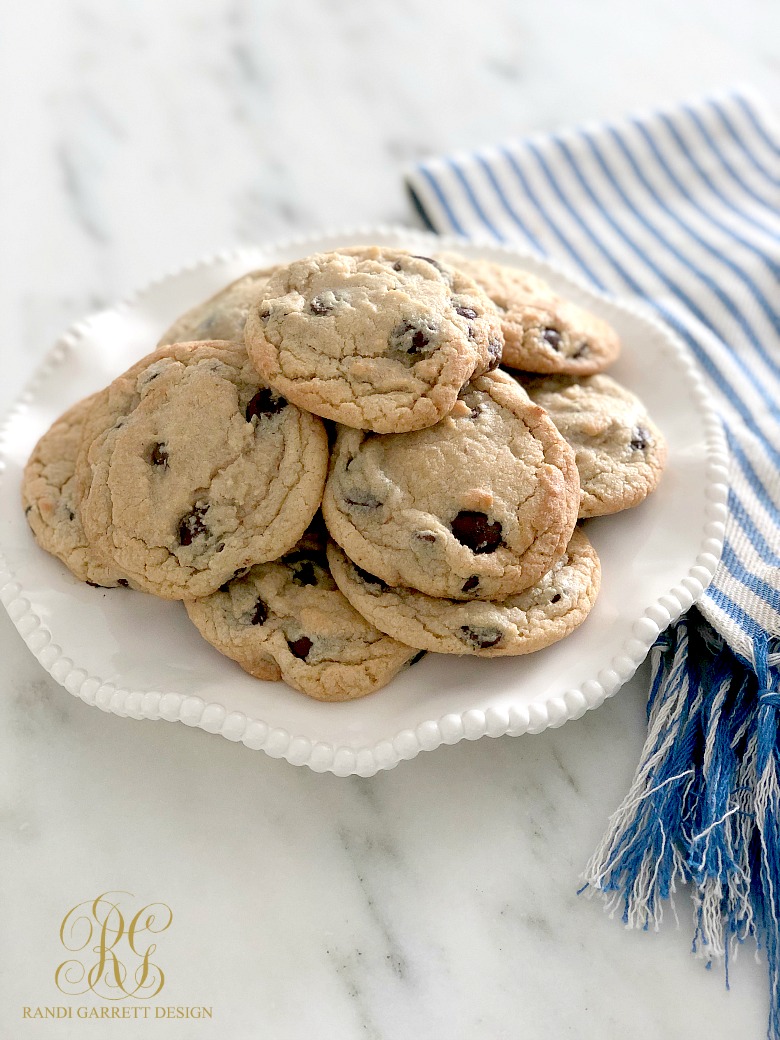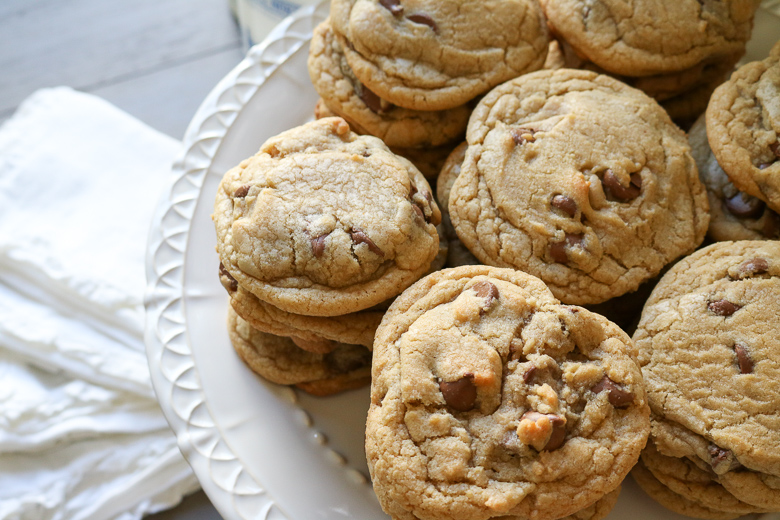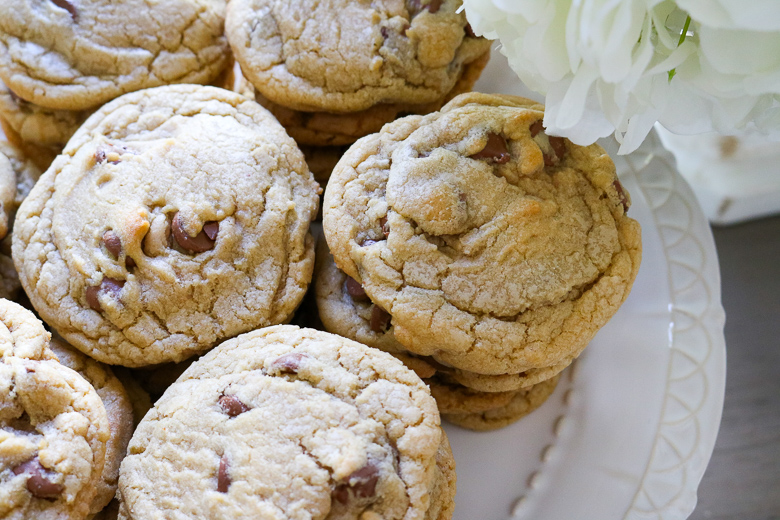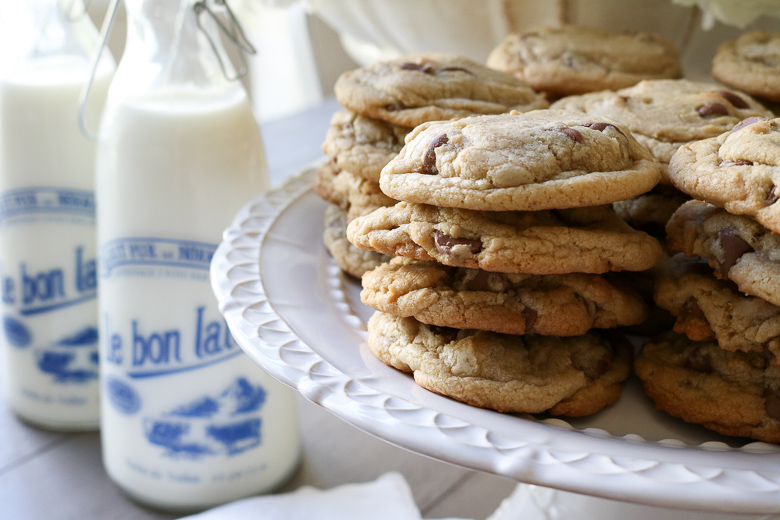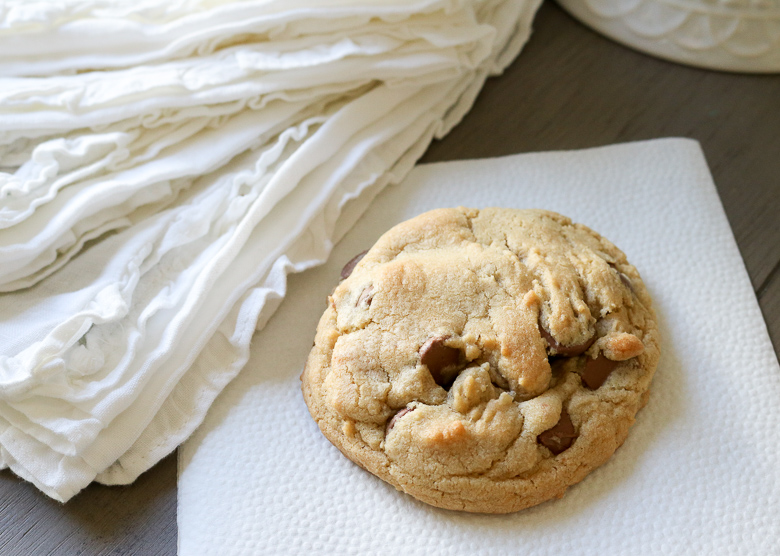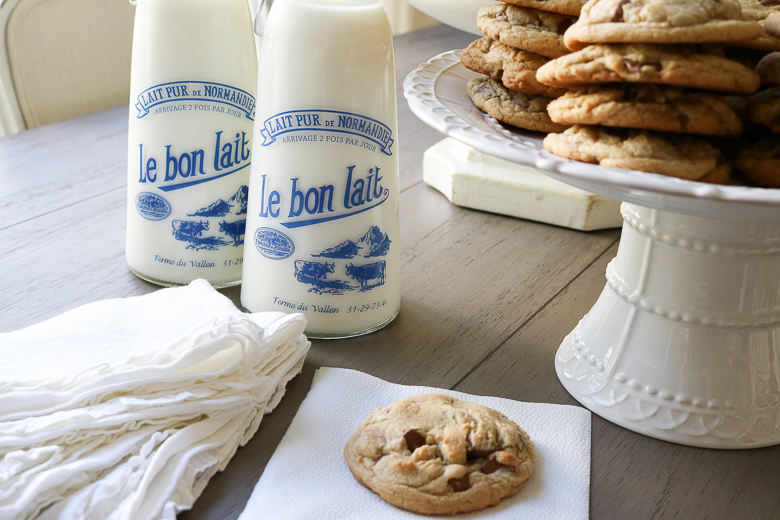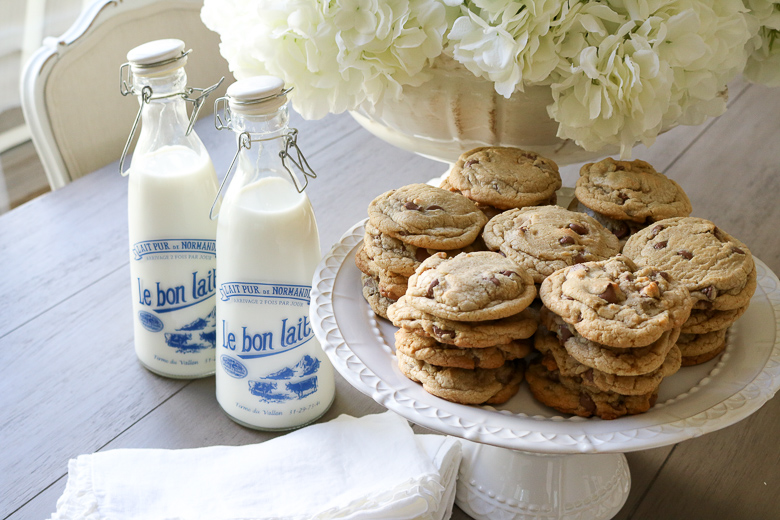 Every Sunday night when I was in high school, my dad and I would make chocolate chip cookies. It was our special time together. He taught me that a good baker reads a recipe all the way through before beginning to bake. He taught me to clean up as you go, so there wasn't a huge mess to clean up at the end. Most importantly, he taught me to love baking. Chocolate chip cookies are so much more to me than a yummy, American tradition, they are a reminder of precious memories spent with my sweet dad.
When I married my husband, we go to visit his parents for long weekends and holidays. There were always freshly baked chocolate chip cookies to welcome us. I've mentioned before how my mother in law has some of the best recipes, you can read about one of our family's favorites here.
These chocolate chip cookies were not your normal chocolate chip cookies, they were THE BEST chocolate chip cookies EVER!!! I am serious. The. Best. Ever. She shared the recipe and all of her tips on how to get them to turn out perfectly, with me. Over the years, I've made these cookies hundreds of times. Each time they are made for someone new, they insist on getting the recipe.
Today I am sharing my mother in law's Best Ever Chocolate Chip Cookies and all of the tips to help you make them perfectly!
The Best Chocolate Chip Cookie Recipe Ever

Ingredients
1 1/2 Cups White Sugar
2 Cups Brown Sugar (packed down)
3 Eggs
2 T (yes Tablespoons!) Real Vanilla
1 Pound Unsalted Butter - softened
6 Cups All Purpose Flour
1 1/2 Tsp Salt
1 1/2 Tsp Baking Soda
4 Cups Chocolate Chips (frozen)
Instructions
Preheat oven to 350 degrees.
Mix together sugars, egg and vanilla until light in color, about 1-2 min.
Add softened butter (not melted).
Mix until light in color and fluffy. About 2-3 min.
Add flour, salt and soda until combined.
Add chocolate chip and stir until combined.
Use a cookie scoop to drop cookie dough onto cookie sheets.
Bake at 350 degrees for 9-11 minutes.
Cool slightly then transfer to wire rack.
We like to freeze our extra cookies in gallon ziplock bags. They are also delicious frozen with a scoop of ice cream between them for a yummy ice cream sandwich treat!
A few tips
Keep your chocolate chips in the freezer. They will last longer and keeping them frozen will allow your cookie dough to be the perfect temperature.
Soften your butter on the countertop just until it is soft to the touch. Don't melt it! This will make your cookies flat!
I use the medium cookie scoop and these measuring cups. They are the best!
I love love love my Bosch! The dough fits perfectly in the bowl and mixes the cookies to perfection!
Drop your cookie sheet on the countertop after baking your cookies if your cookies are too fluffy.
Store uneaten cookies in freezer safe gallon sized bags. They last up to 3 months in the freezer. Just set them out to unfreeze them or eat them frozen!
Use them to make an ice cream sandwich! Scoop your favorite ice cream between 2 frozen cookies.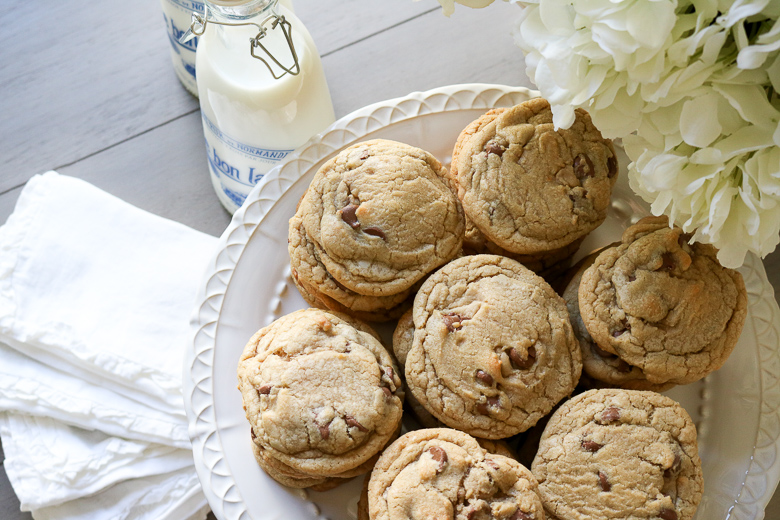 Go make some memories and whip up a batch of these cookies! Your friends and family will love you!
Here are my favorite kitchen tools I use for this recipe…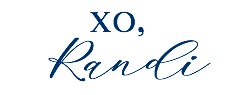 *Some affiliate links were used in this post*