With the holidays inching closer and closer, I thought I would share my 5 must have white entertaining essentials! These essentials are pieces you can use for every holiday and throughout the entire year! It's a great time to stock up now so you can use them through the entire holiday season!
I love using white entertaining essentials when I entertain. It makes it so easy to add any pop of color you would like. Keeping the basics white instantly elevates your set up and creates a cohesive look with little effort!
To make stocking up on these essentials even more simple, you can find them in just 2 places – Wayfair and Birch Lane. I love both of these brands because they offer fast shipping, and thousands of quality pieces for your entire home! Wayfair has a Labor Day sale going on right now. They have fabulous pieces for every room in your home! It's a great time to stock up on holiday essentials! Birch Lane is known for it's classic styles that stand the test of time. They have an additional 25% off sale with code SAVE25.
This post is done in partnership with Wayfair and Birch Lane and contains affiliate links. Read my full disclosure policy here.
Here are my entertaining essentials!
5 Must Have White Entertaining Essentials
1. Dishes
White dishes set the scene for any event, dinner, party or get together. A good set of white dishes will be your entertaining work horse! Invest in a nicer set for special occasions and an everyday set. Buy at least a set of 8. I recommend service for 12. Below you can see some of my very favorite dishes! I use these babies over and over! You can mix and match them, add pops of color or pattern. The possibilities are endless!
I have had my crown dishes for years and love using them for the holidays and for everyday! They also look beautiful paired with these beaded plates. My gold rimmed plates are my go to for the holidays to add some sophistication to my table. The rosette and lace plates look beautiful mixed and matched with all the patterns in the collection!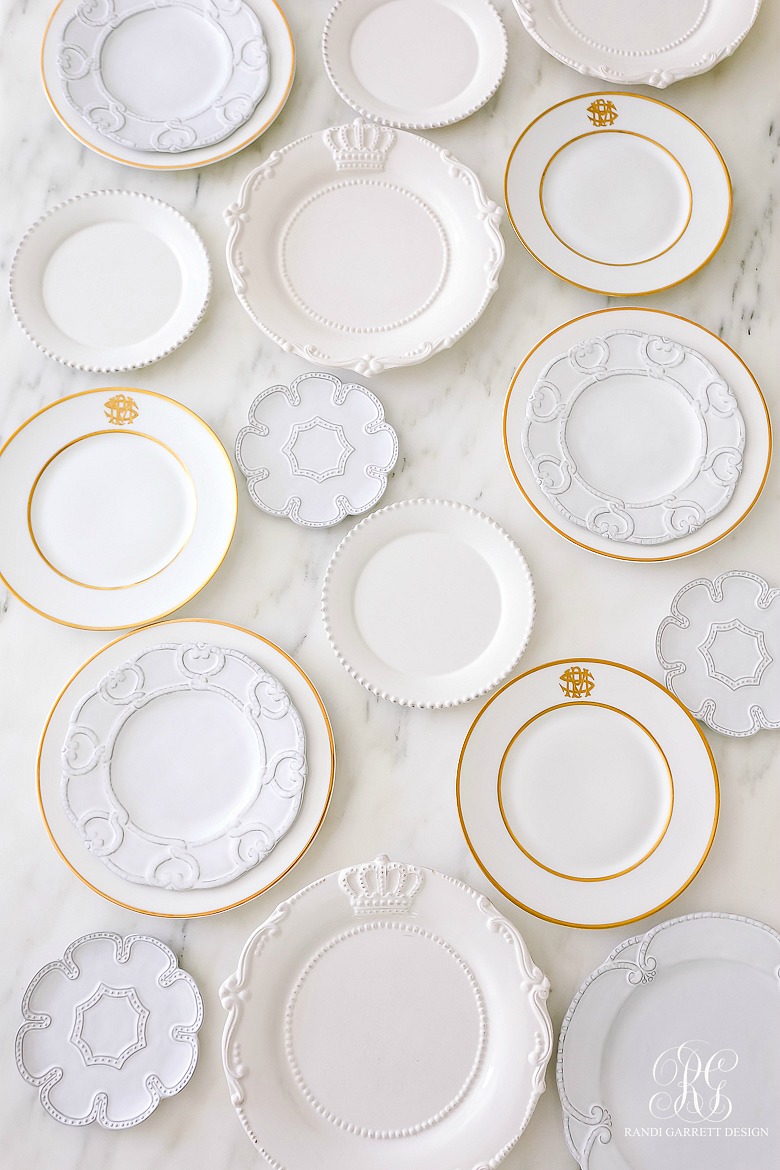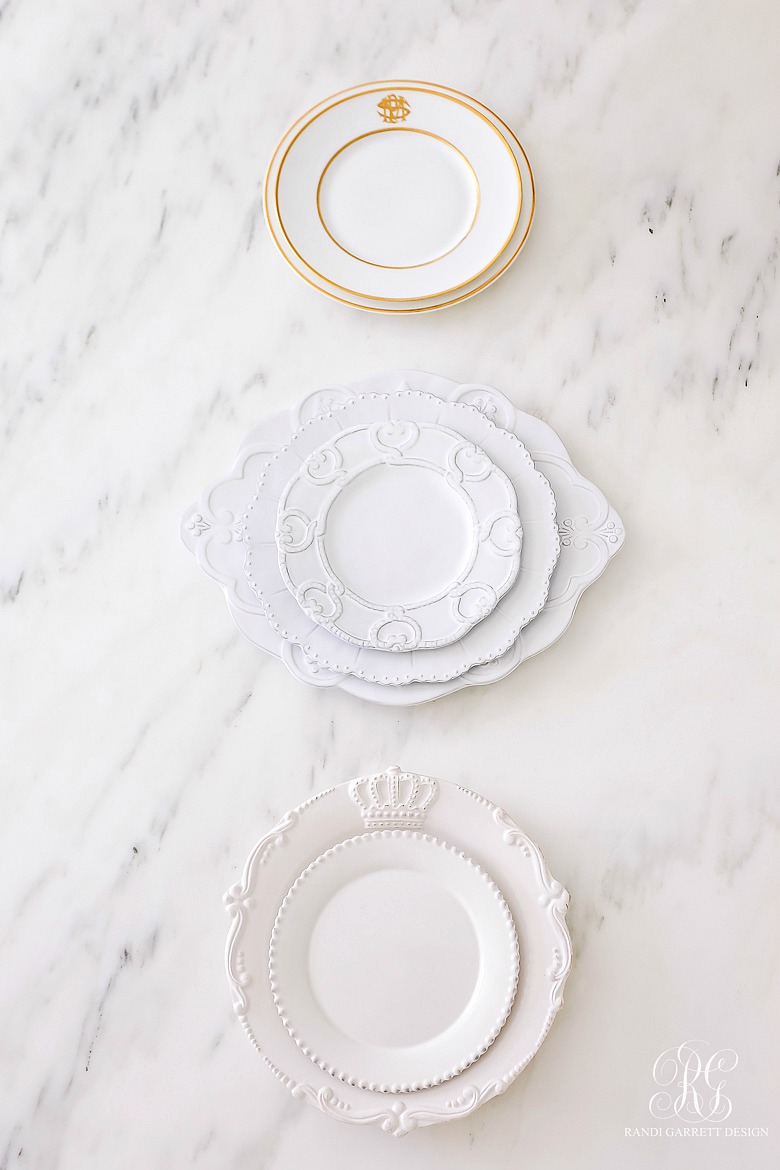 Gold Rimmed Plates | Monogrammed Gold Rimmed Plates | Scalloped Charger Plate | Rosette Dinner Plate | Antique Lace Salad Plate |  Beaded Canape Bread Plate |White Crown Dishes | White Beaded Plates


2. Table Linens
White table lines are essential! I love them for their versatility.  Look for white linens with texture and personality. Here are a few of my favorite.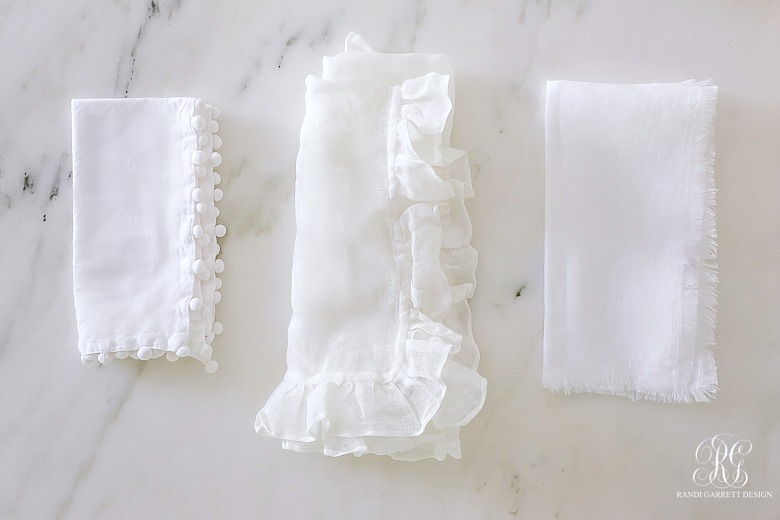 White Pom Pom Napkins | White Linen Ruffle Napkins | White Fringed Linen Napkins


3. Bakeware
Something I really love to use when entertaining is white bakeware. Pop your dishes into the oven to bake and then serve them straight out of these pretty dishes!
Use the 7 quart dutch ovens to serve soup or hot chocolate. Tie a pretty ribbon on the handle for Thanksgiving or Christmas and use these pots in a buffet line for hot cocoa or apple cider.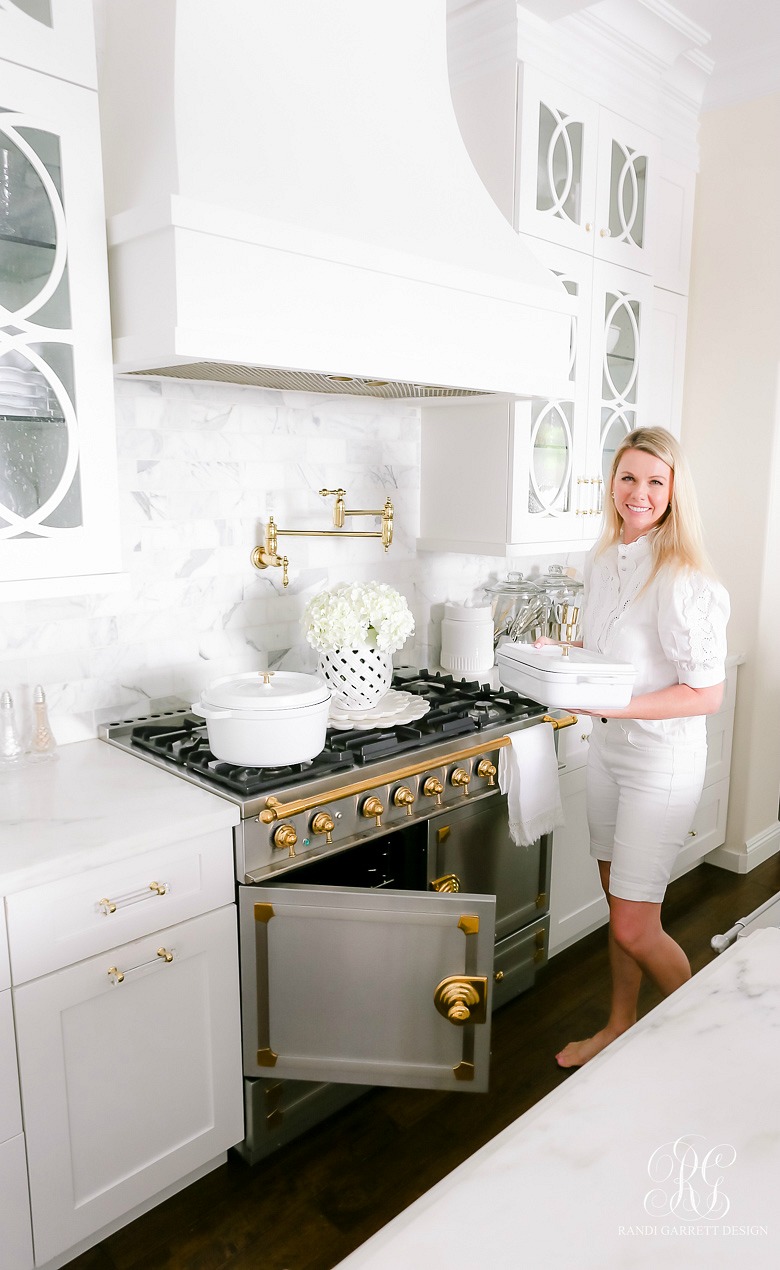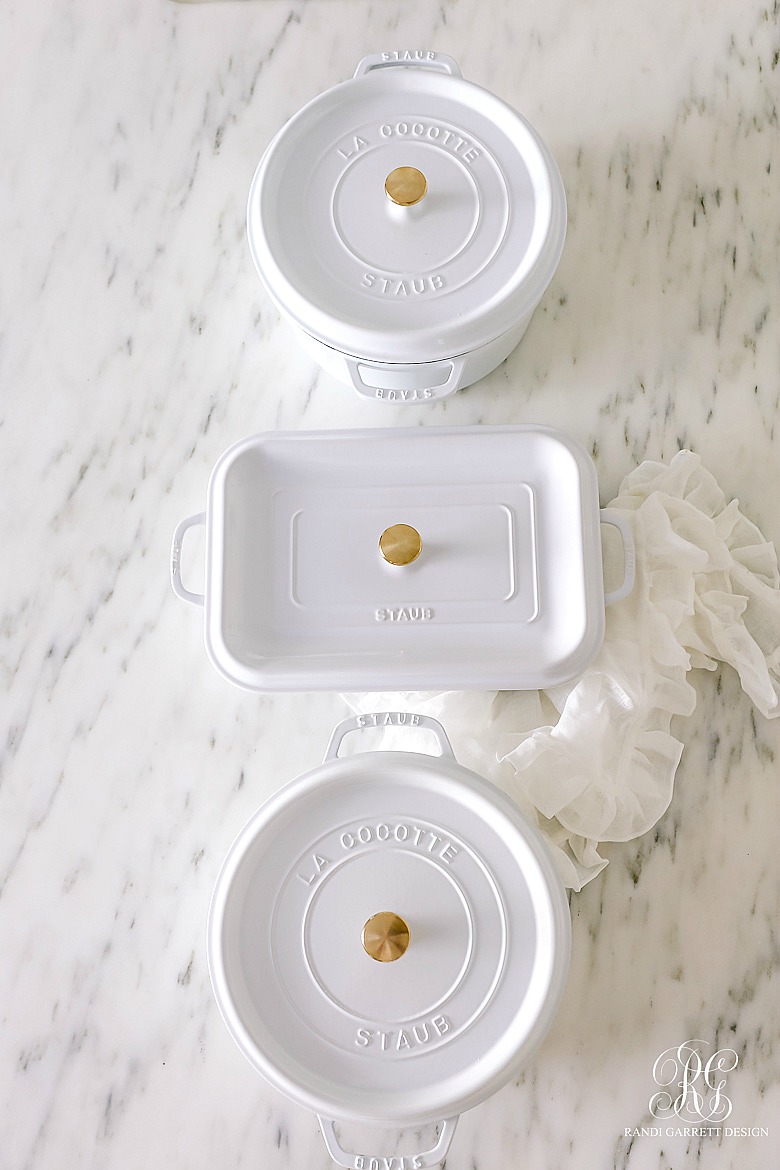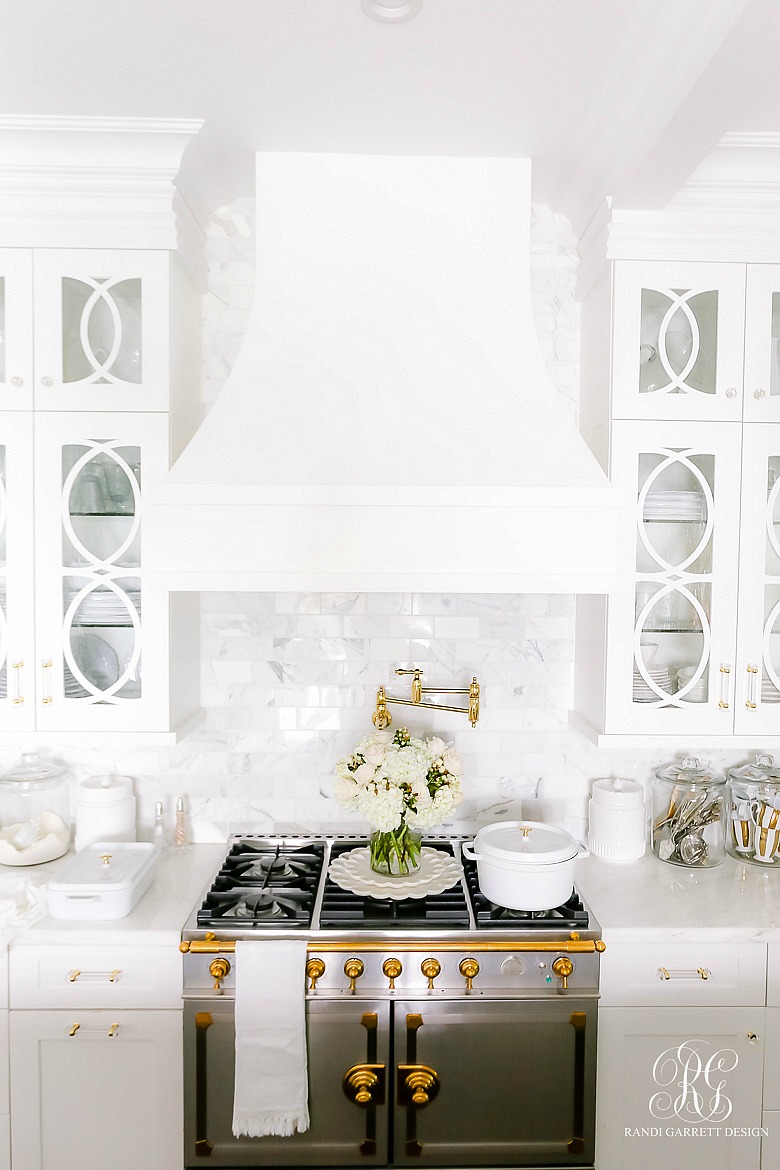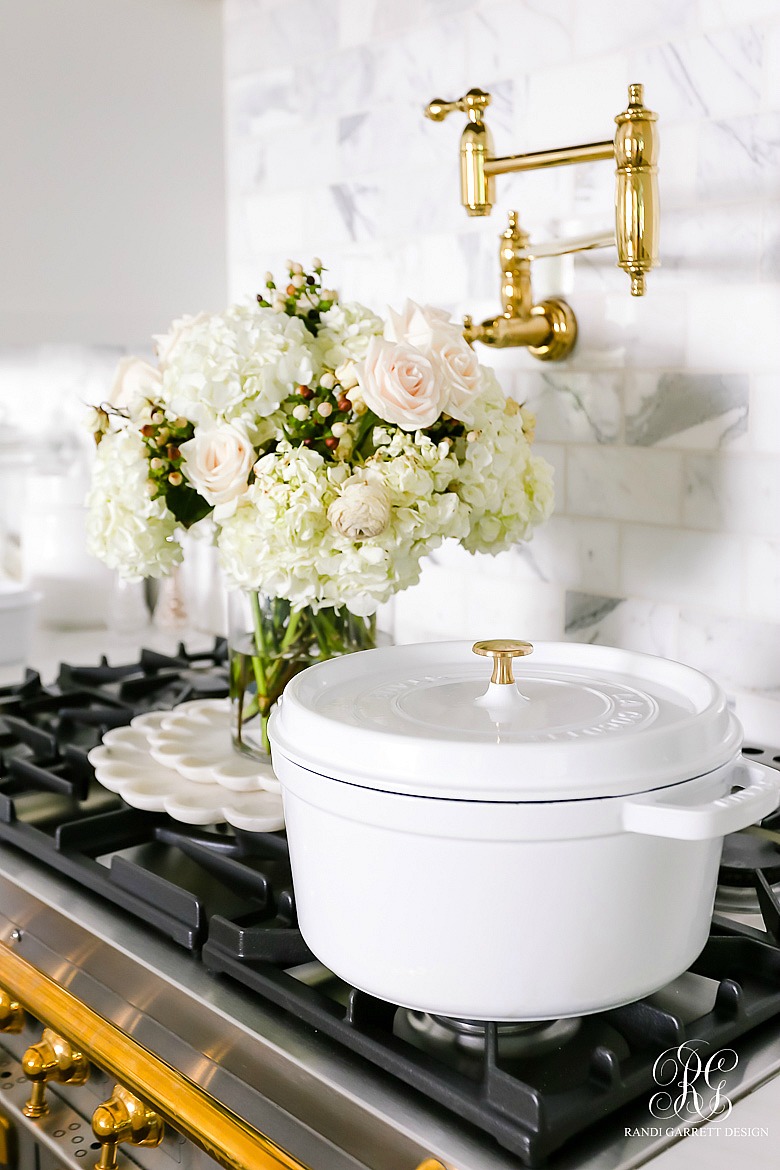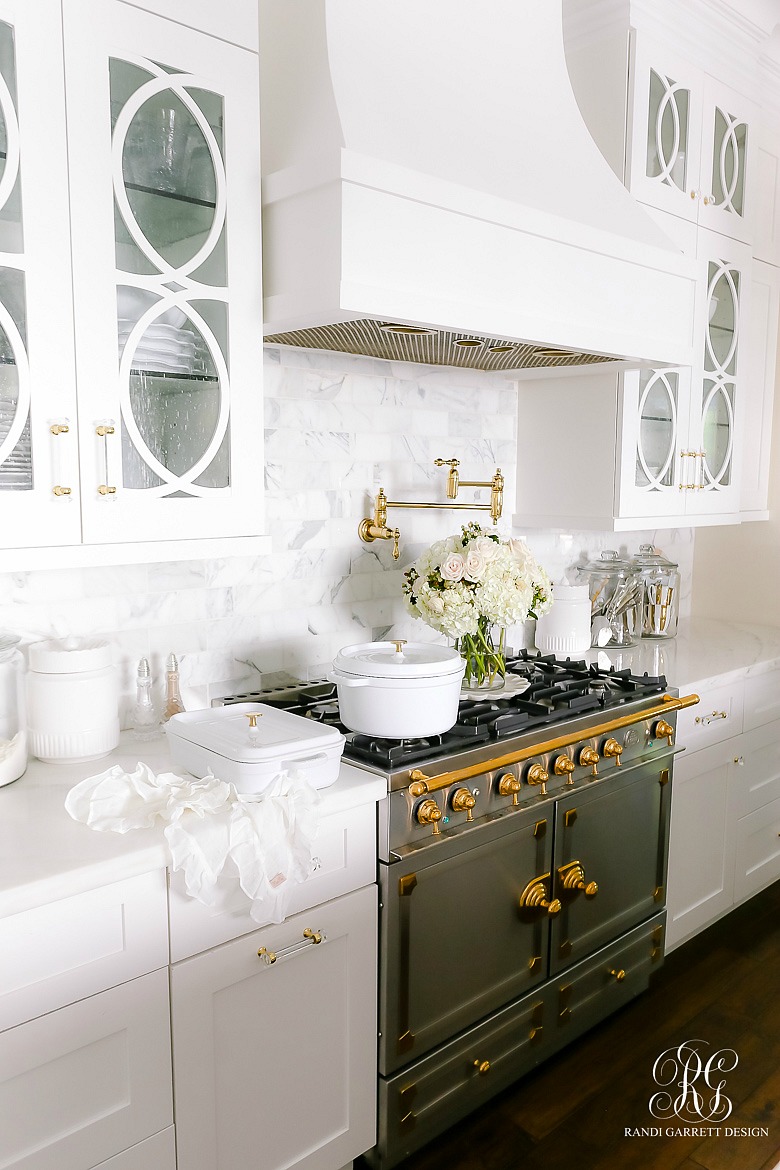 7 Quart Dutch Oven | Rectangular Baking Dish


4. Serving Dishes and Platters
Serving dishes, platters and bowls help make all of your food dishes sing! Look for pieces that are white but still have character and can be used in lots of different ways.
Marble cutting boards can be used for food prep plus serving.  This white compote can be used for dips, salads or floral arrangements. Gold rimmed bowls add a little sparkle to your table or buffet and fun platters give your food an extra pop! White cake plates dress up yummy desserts and give your buffets height.
I just ordered this gold rimmed ruffle bowl and these lux stacking bowls for my holiday entertaining. It is exquisite! This footed tray with small ruffle bowl is going to be perfect to serve holiday dips and chips!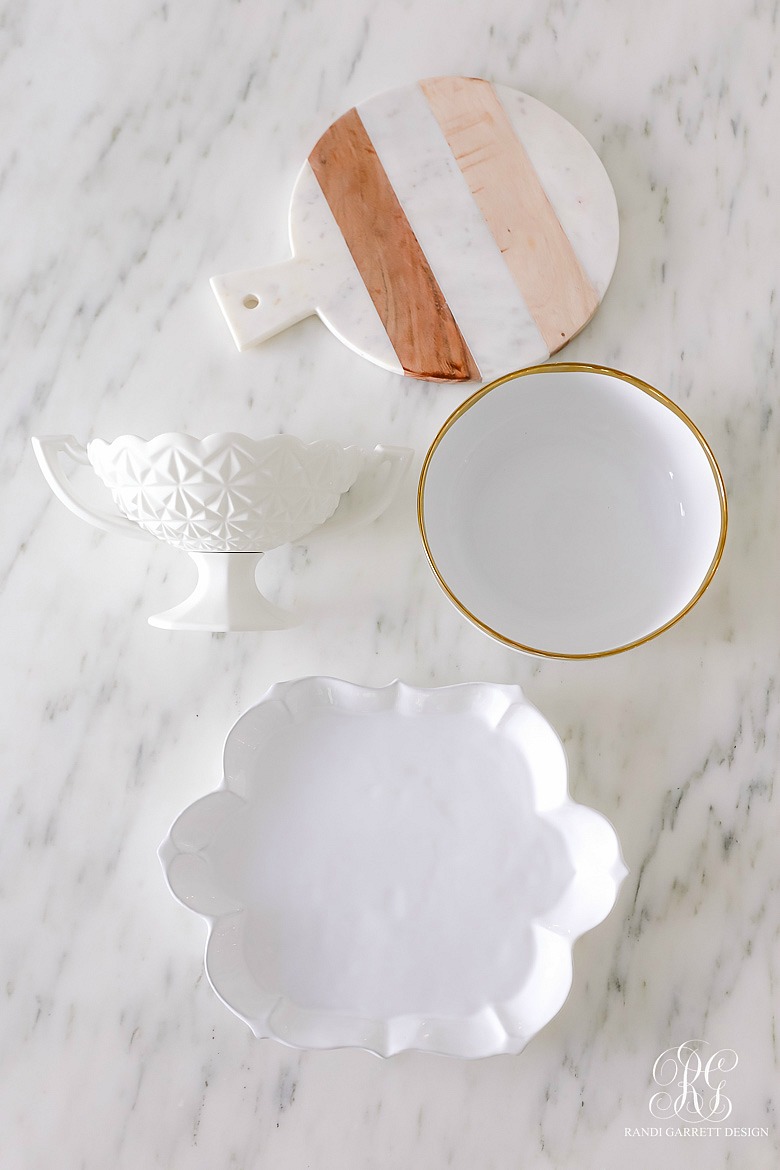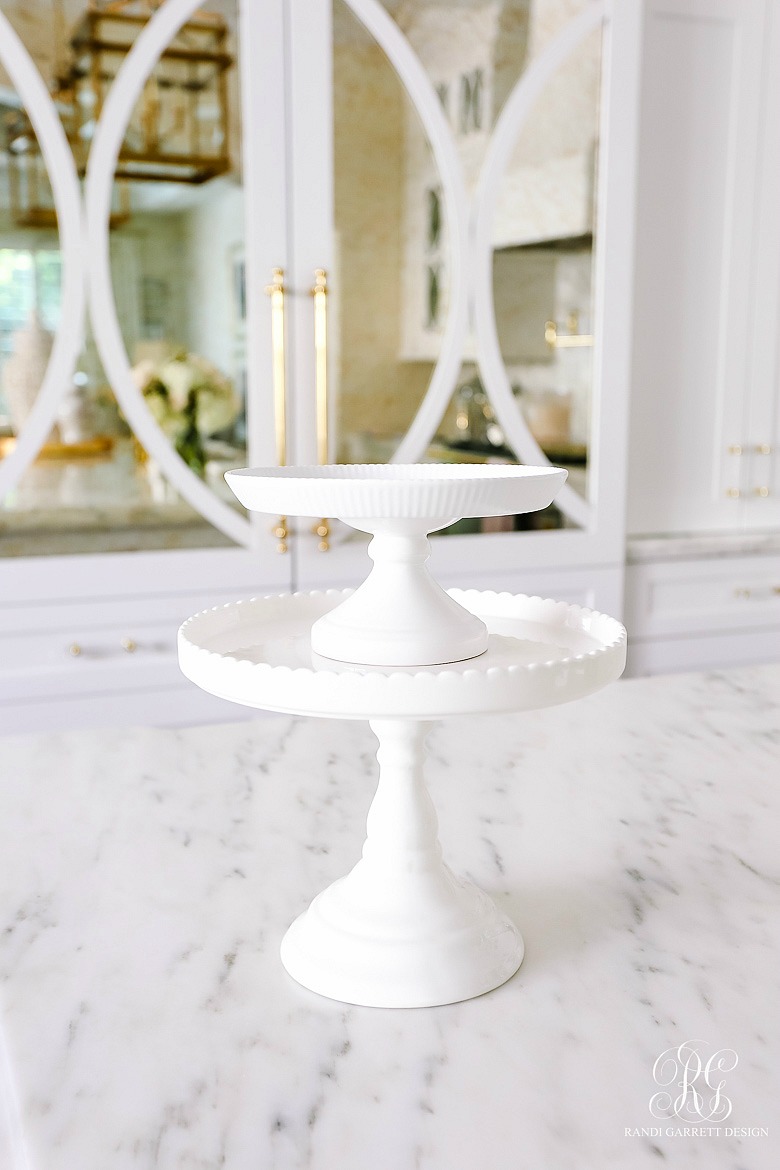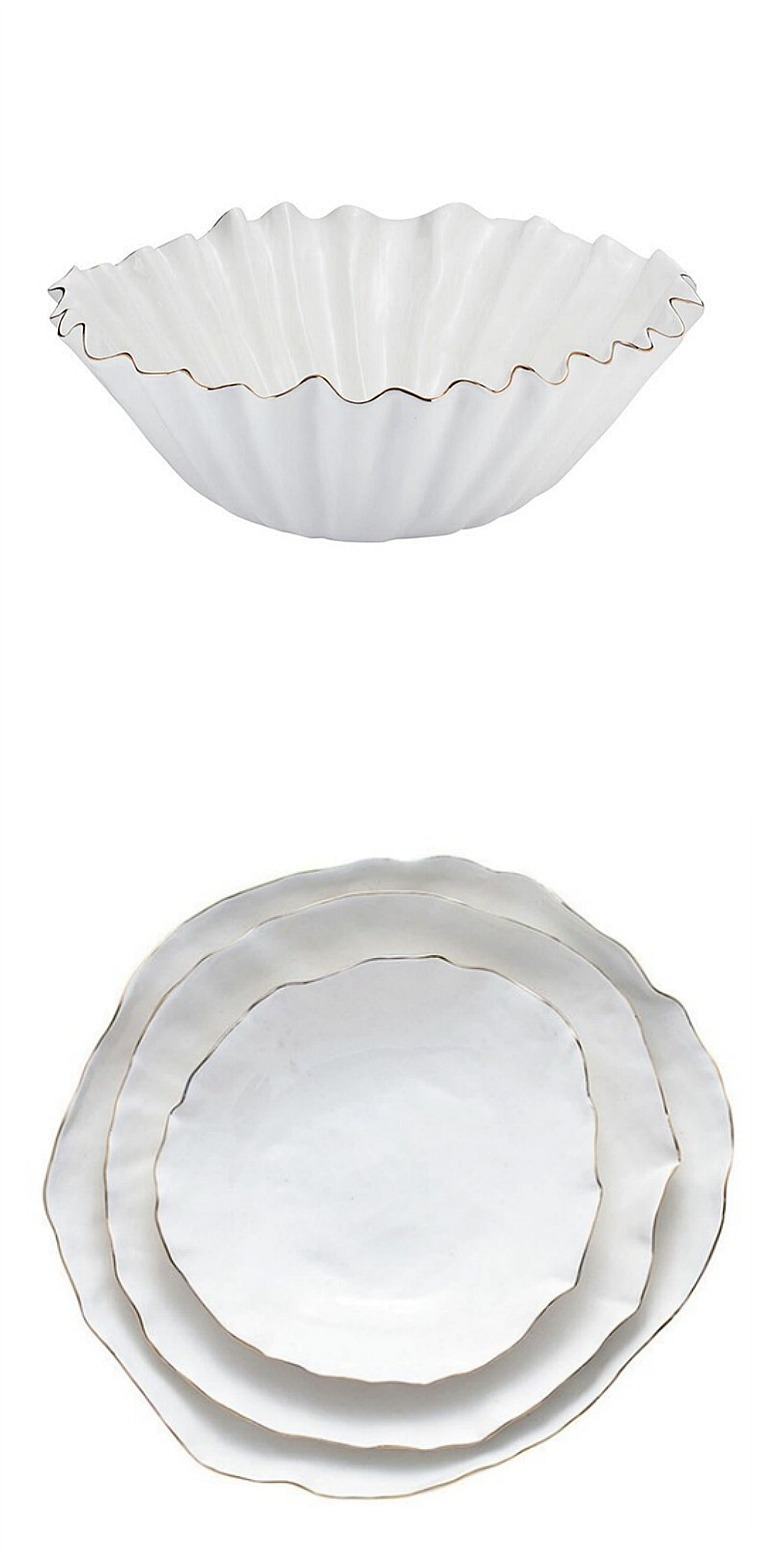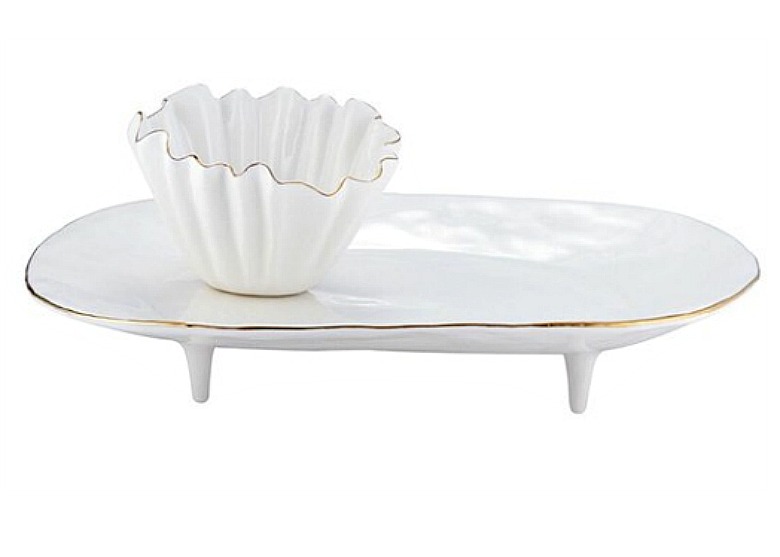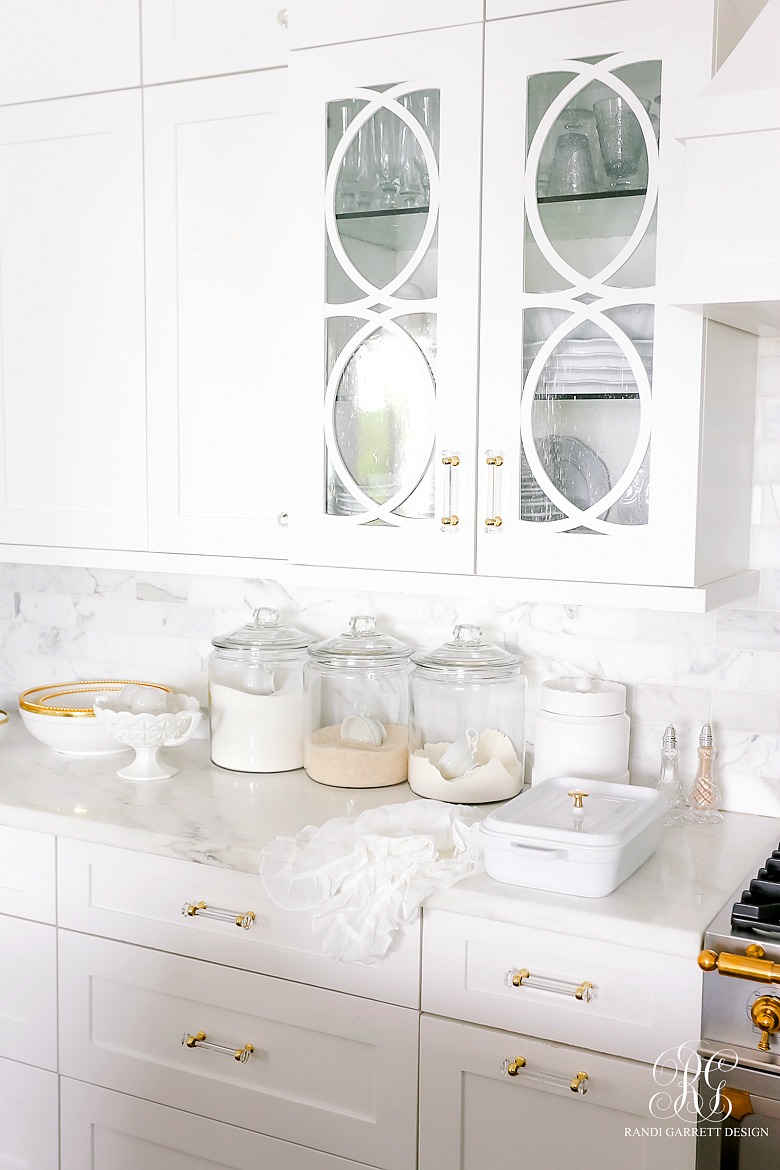 5.  Centerpieces
This year I am trying to reuse pieces fore every holiday to save myself time and money. Here is a simple and elegant centerpiece using these basketweave vases I bought in the Spring! You can use this arrangement for Fall, Halloween, Thanksgiving and Christmas with a few simple tweaks.
For Fall use faux white hydrangeas with some gold leave tucked into the flowers. For Halloween, add a few plastic spiders and some curly willow stems. During the Christmas season, nestle in a few pine springs and Christmas ornaments!
These faux hydrangea are so real looking! They come in a set of 3. Each bunch has several stems tied together. Look at how lovely they look just tucking into my basketweave vases! Push the leaves into the vase if you don't want them sticking out.
I have 3 bunches in my small vase and 5 in my large vase.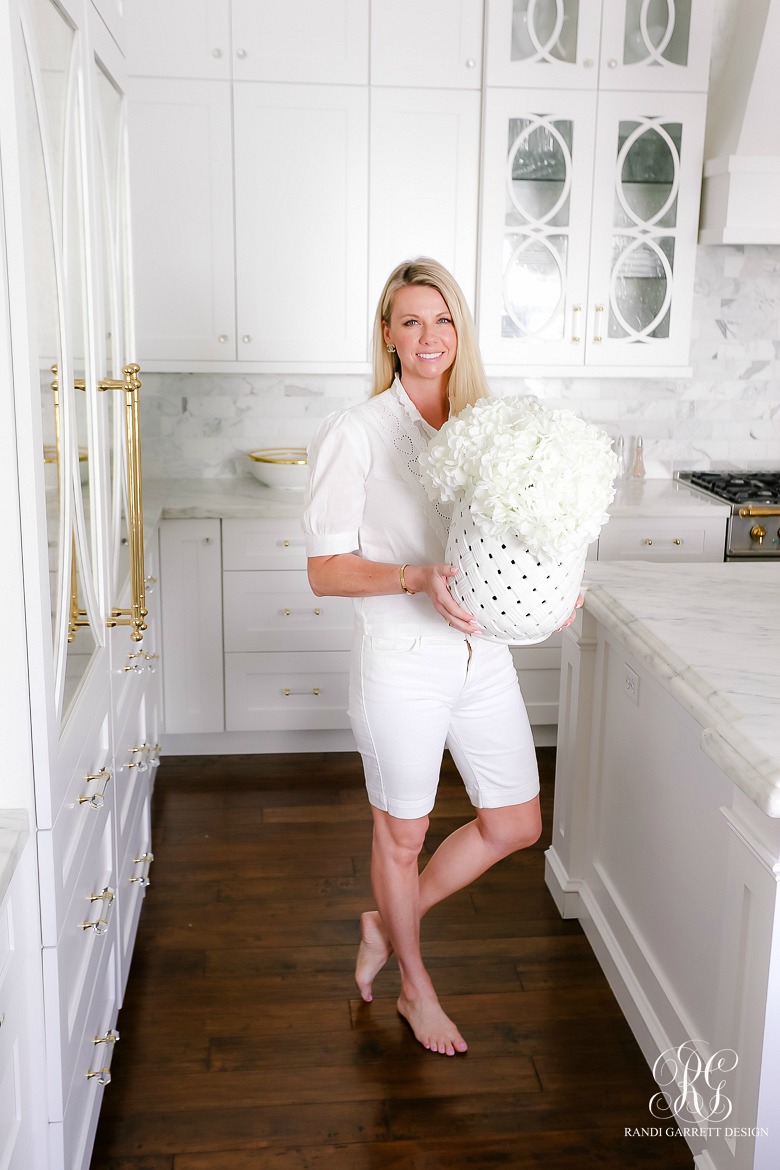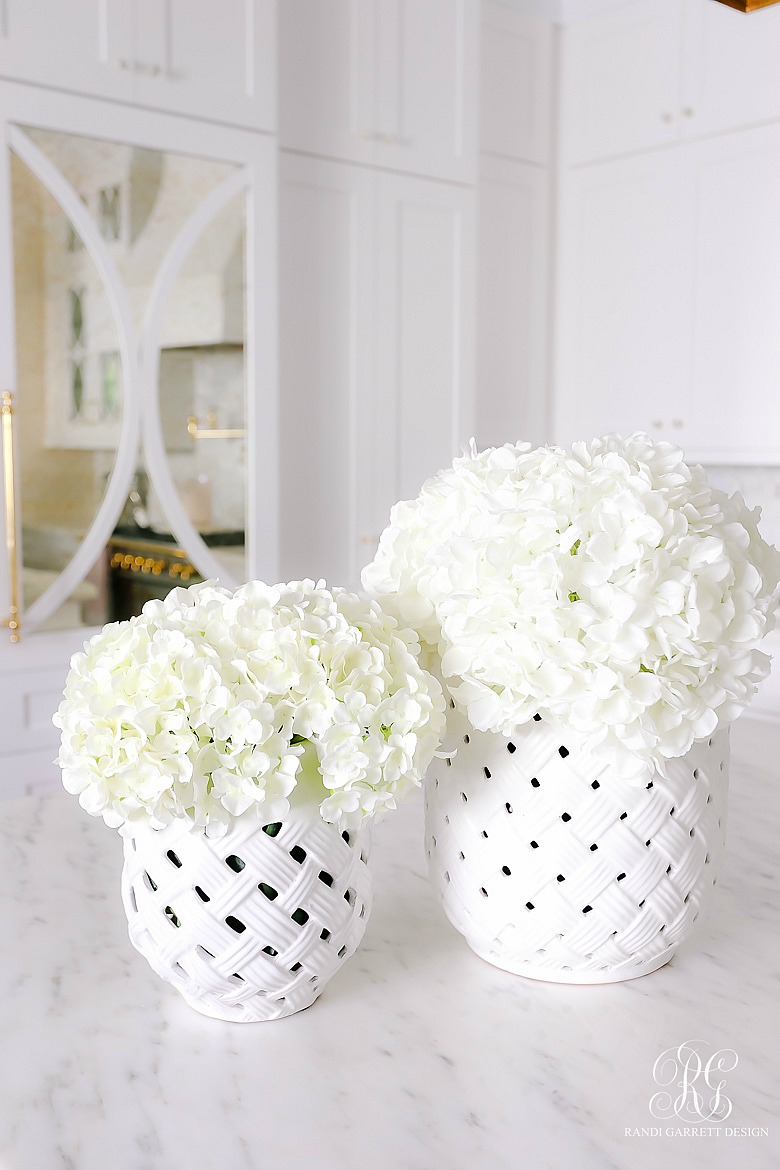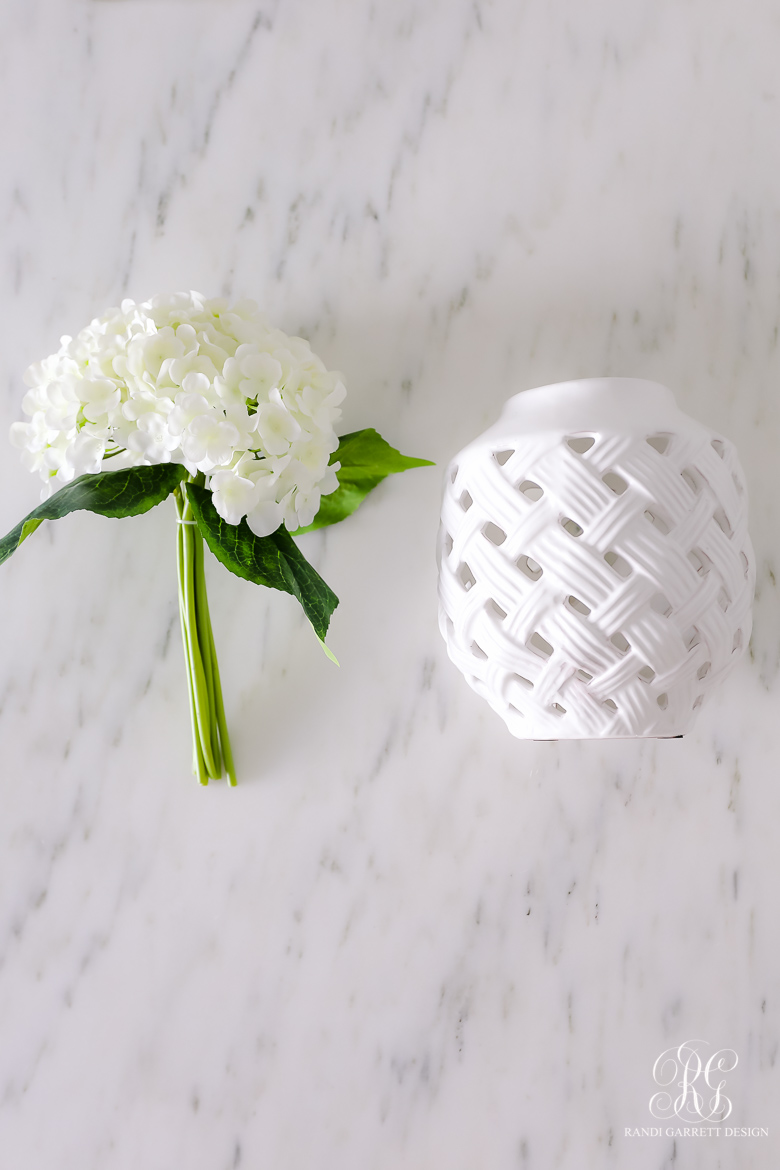 Basketweave Vase Large | Basketweave Vase Small | Faux Hydrangea Stems

Go stock up on some of these white entertaining essentials at Wayfair and Birch Lane! Your get togethers will be more fabulous and more stress free when you use some of these white essentials!