The definition of a den is a small, comfortable room in a house where a person can pursue an activity in private. It also means, a wild animal's lair or habitation! Haha! Both definitions are fitting for the den in our home! Our den is a place where our sometimes wild children go to work on homework, study or play online games with cousins! It's where Matt likes to retreat to study or relax. It's a room with many purposes and it just got a little makeover!
The den is the first room you see when you enter our home. It ironically, is the last room in the house that I redesigned to fit with the feel of the rest of the house! You have to prioritize when you work on projects. This room was working just fine as it was, so it fell to the bottom of the project list.
Well it's day in the sun has finally come! Our den received a little makeover with the help of some of my favorite creative people! I am so excited to share our families den, or "my wild animal's lair" with all of you!
This post contains affiliate links. Read my full disclosure here.
Glam Den Reveal
Let's take a look back at how this room began. Before this room was dark and very den like. Over the years it has received a new coat of paint, a new light fixture, new rug and ever changing accessories.
Now it is light and bright and full of special pieces I am dying to share with you!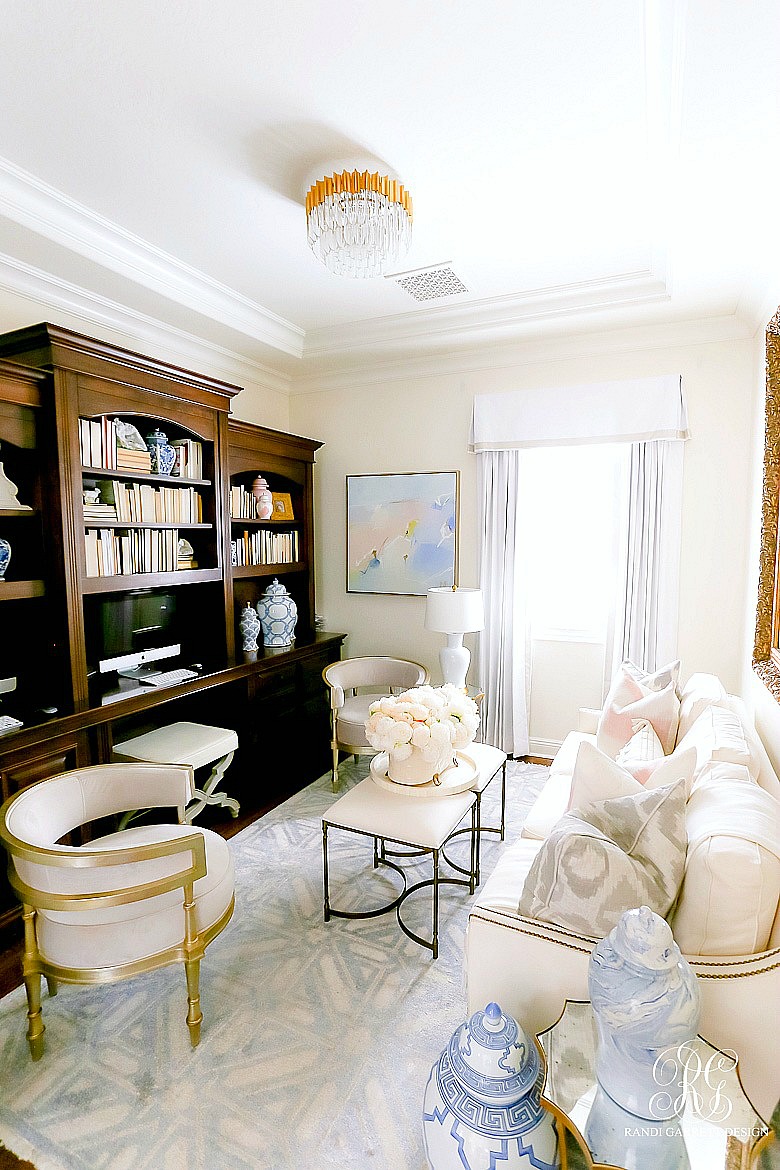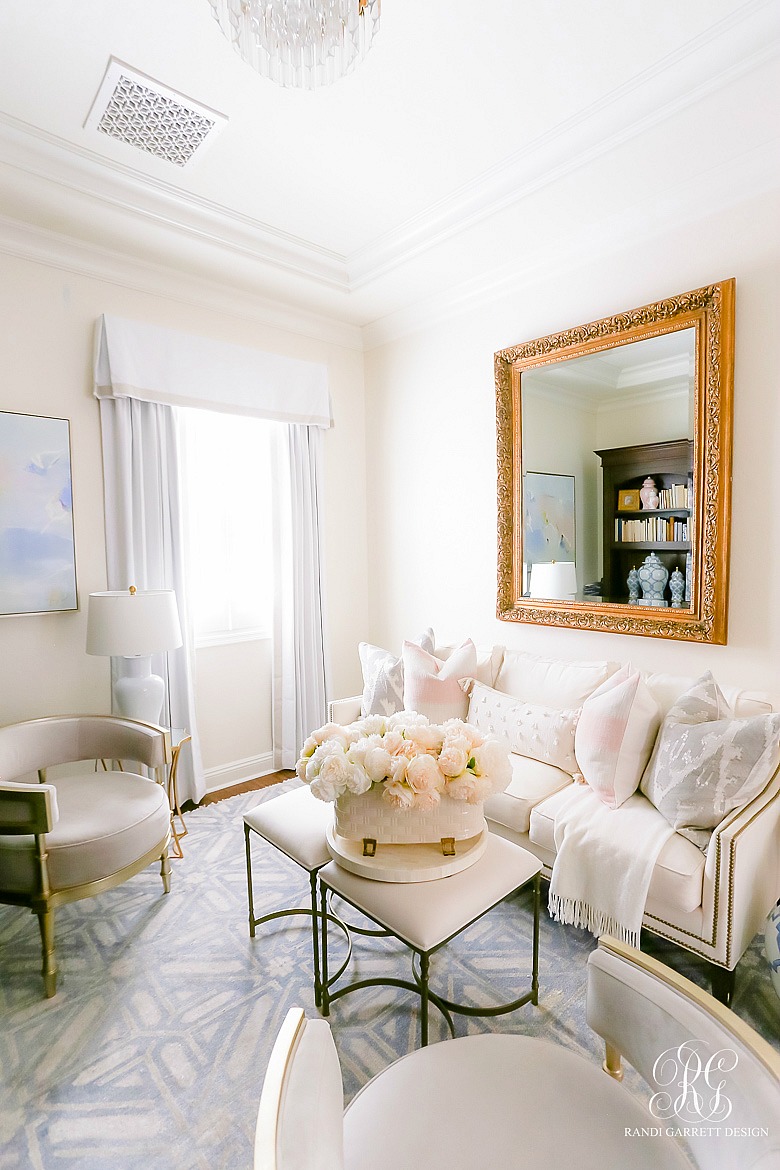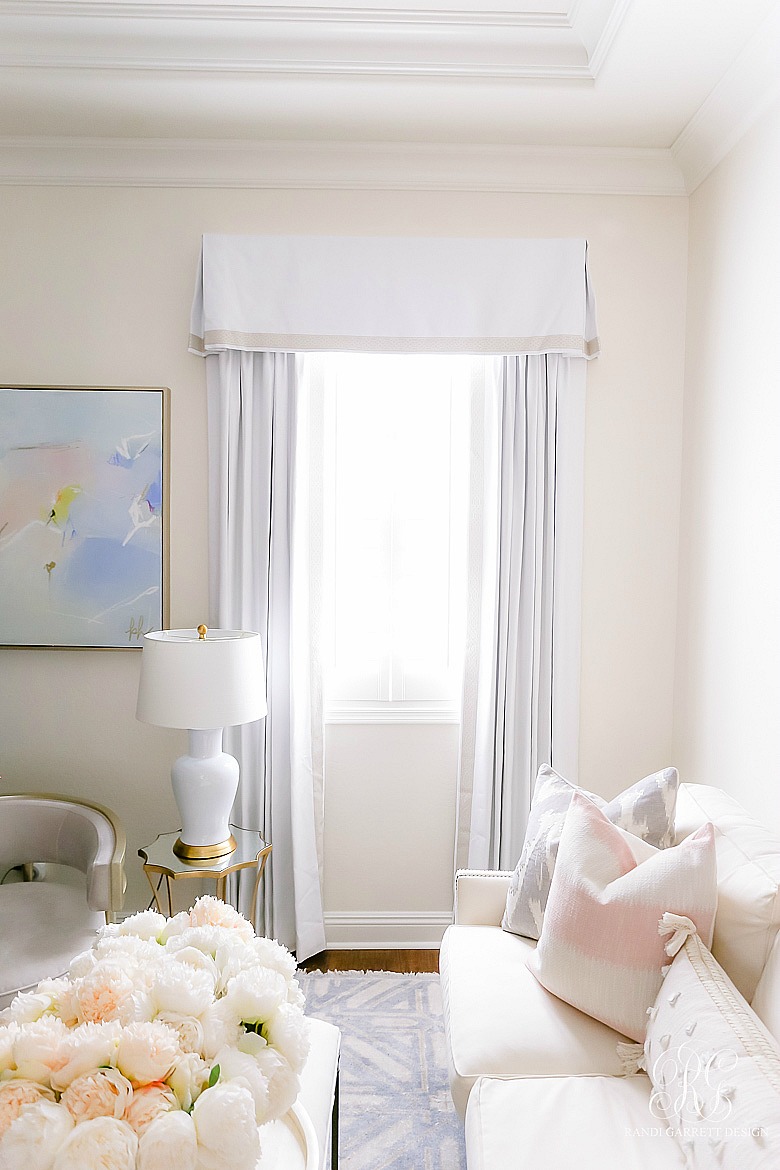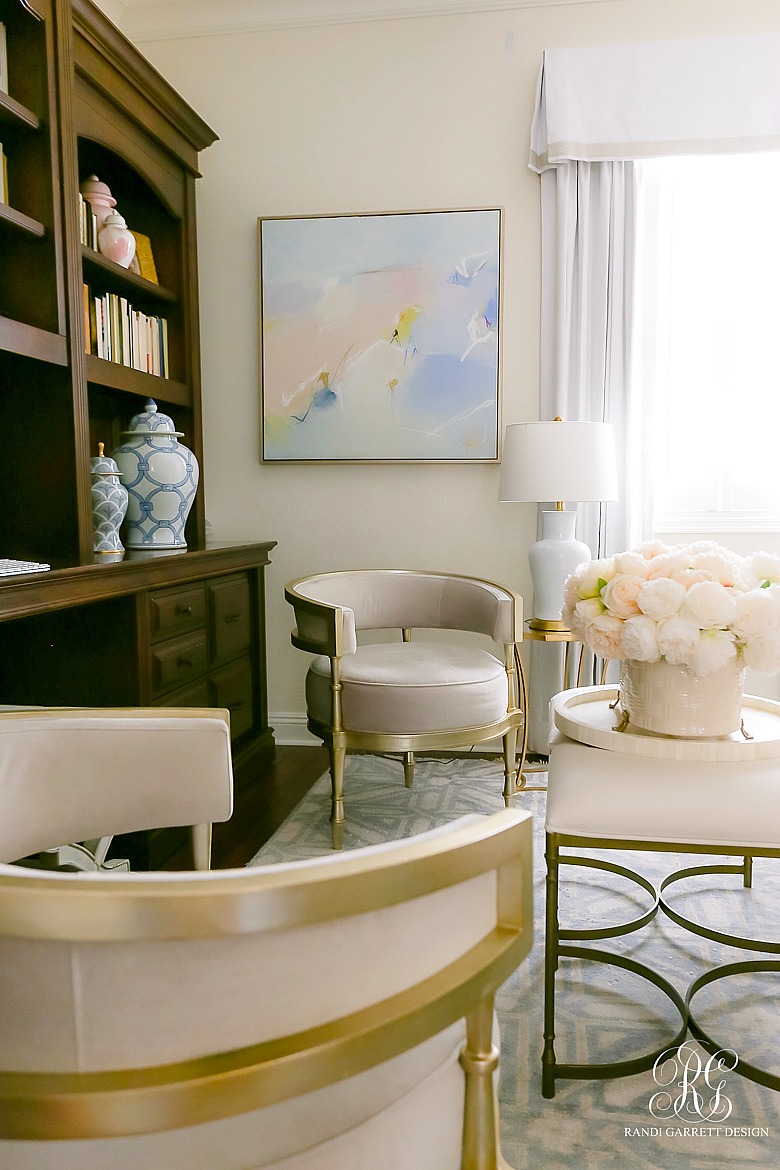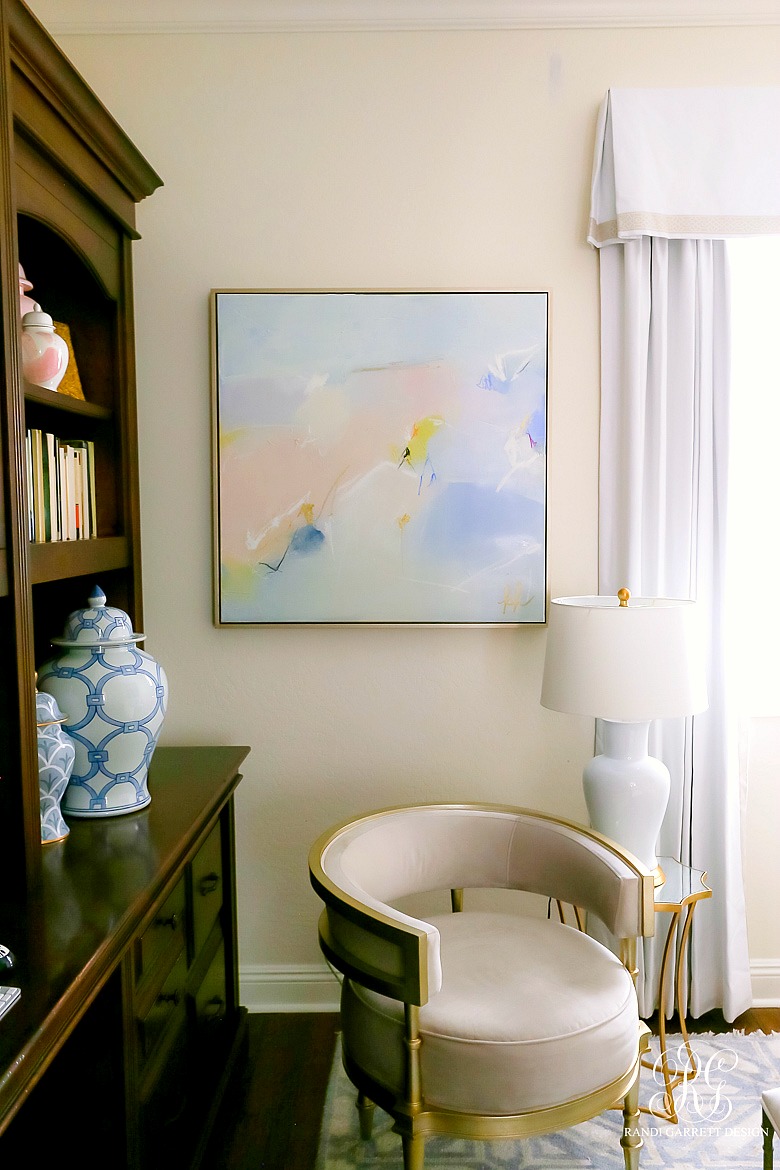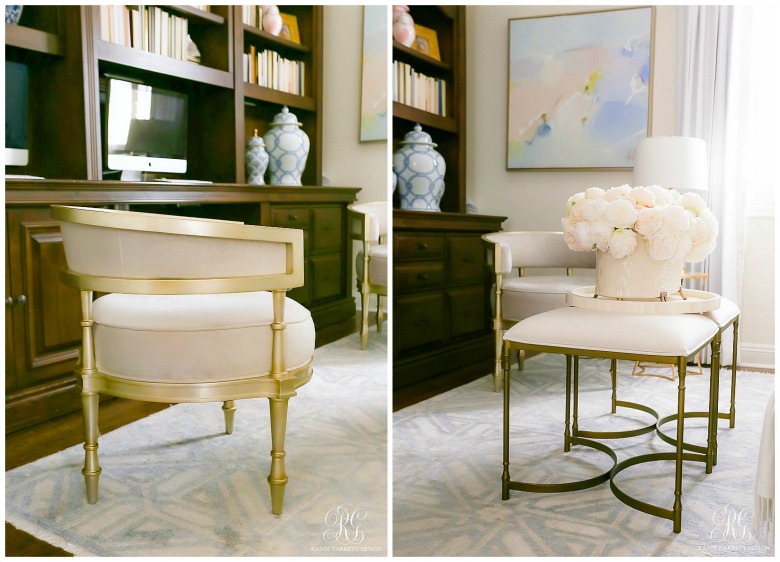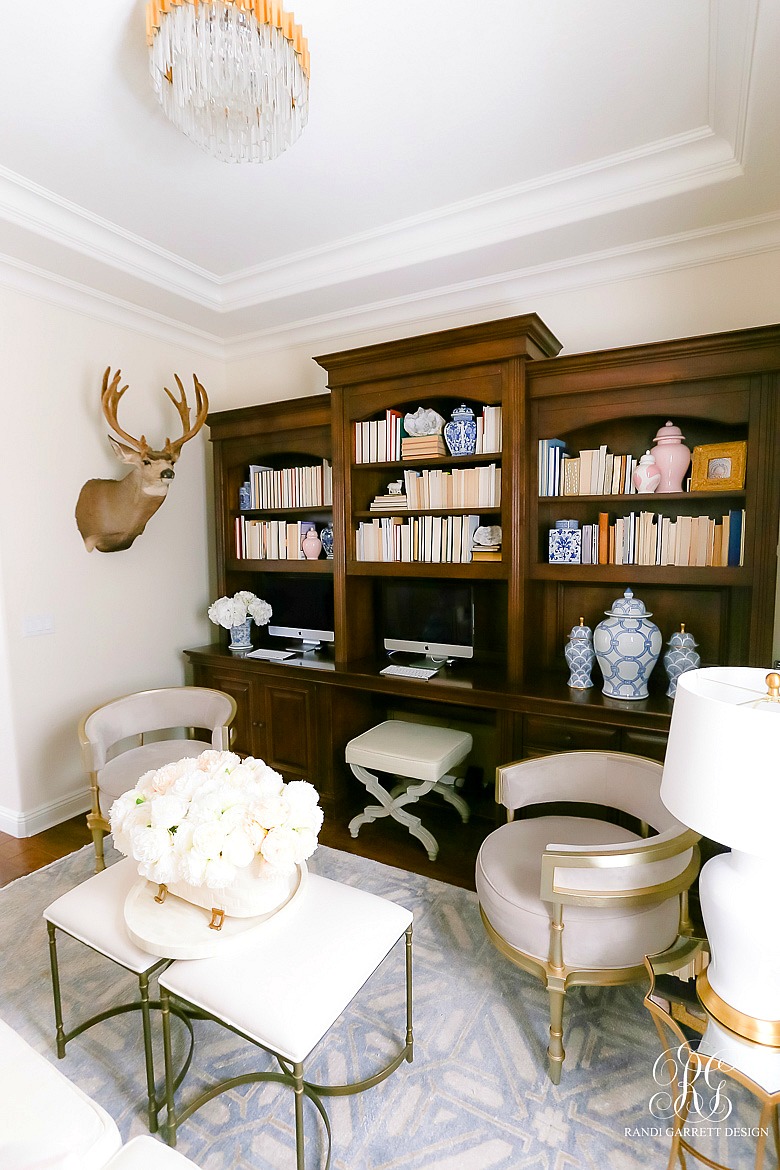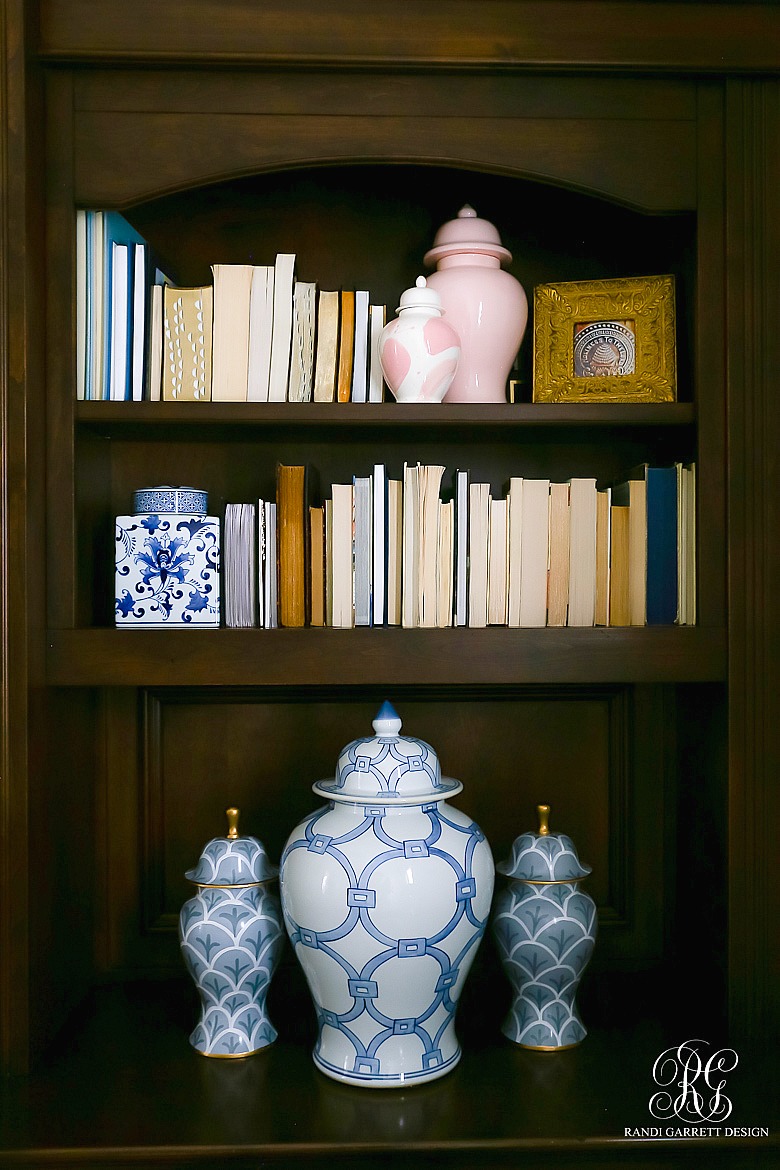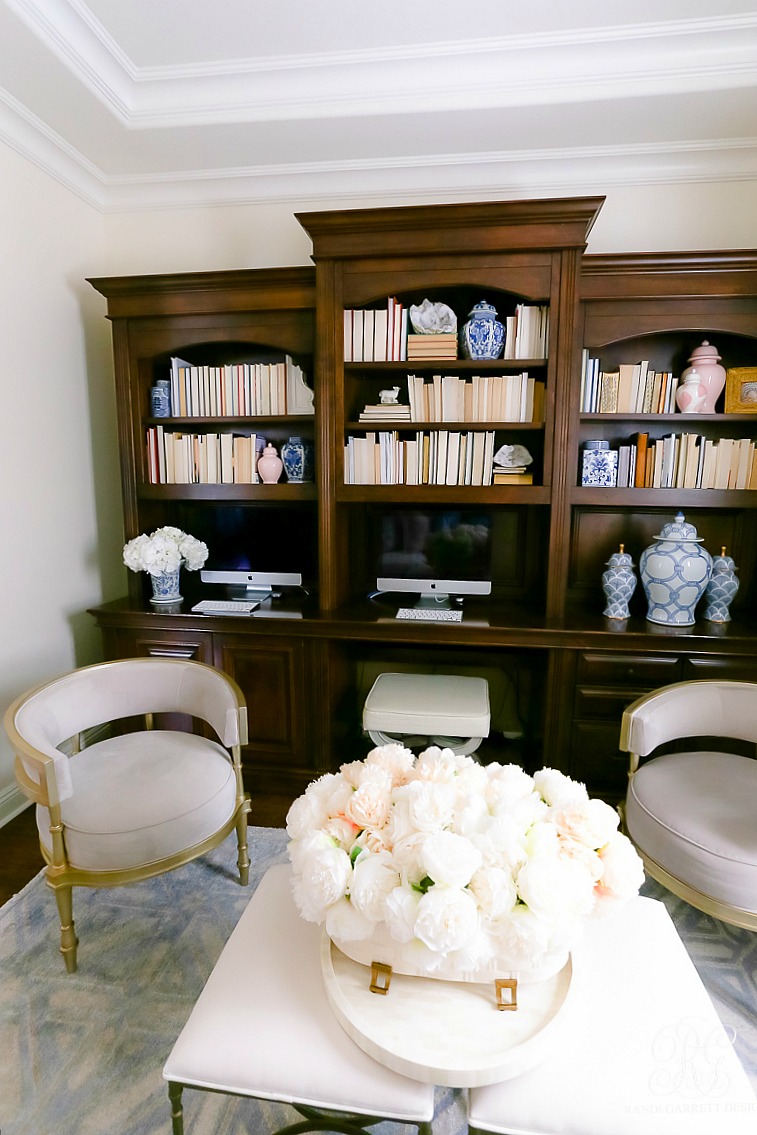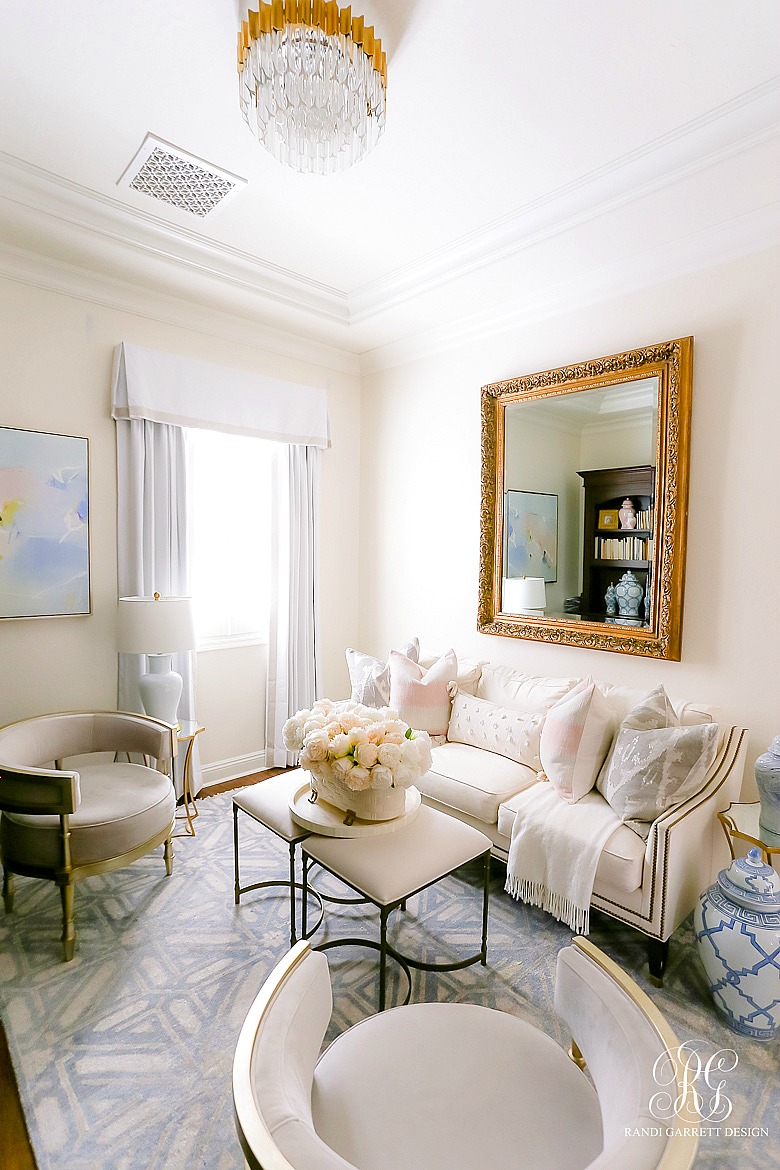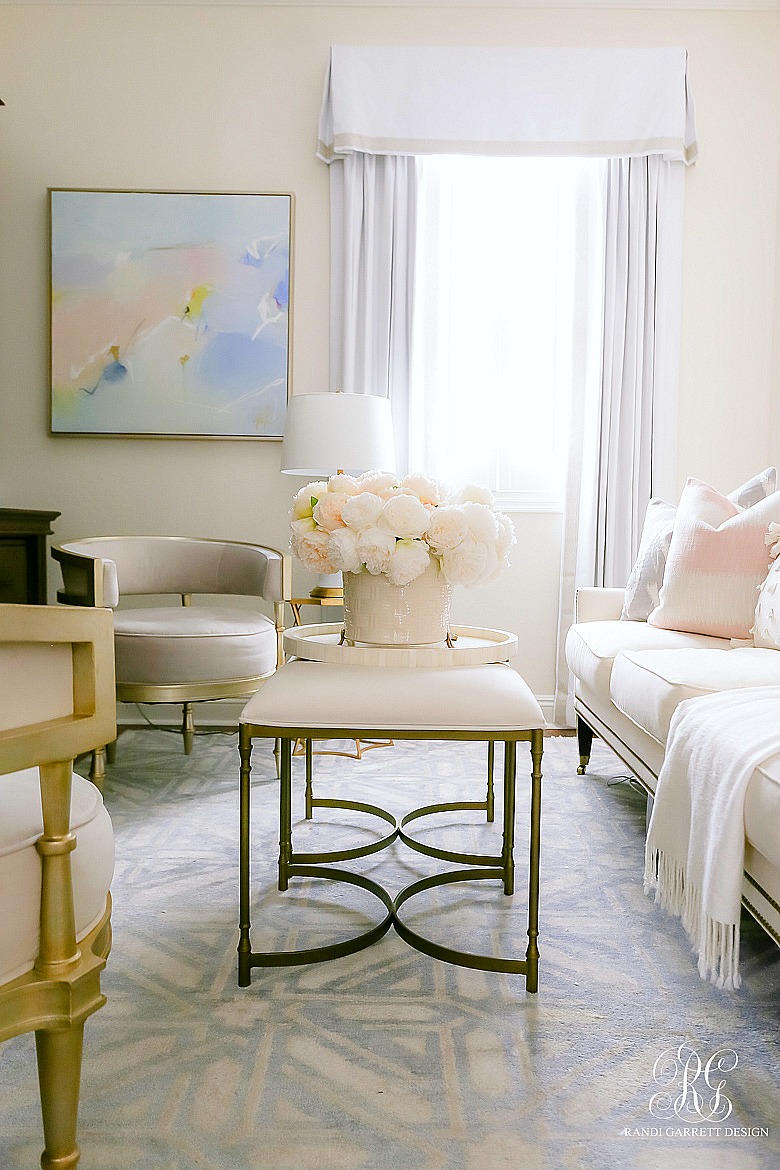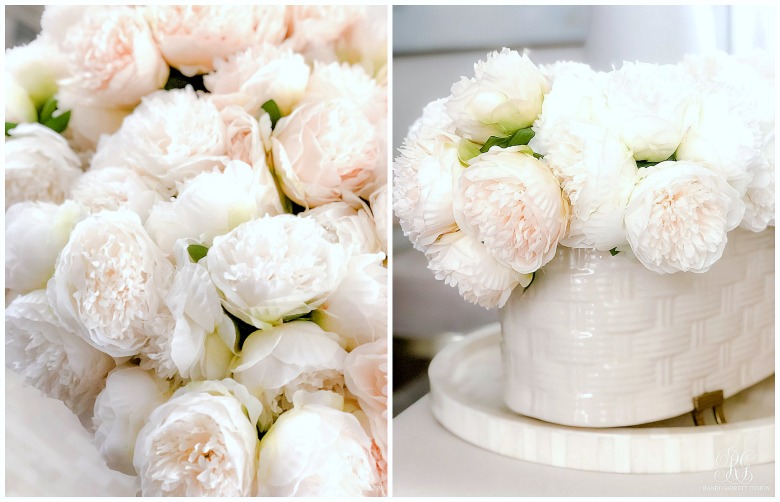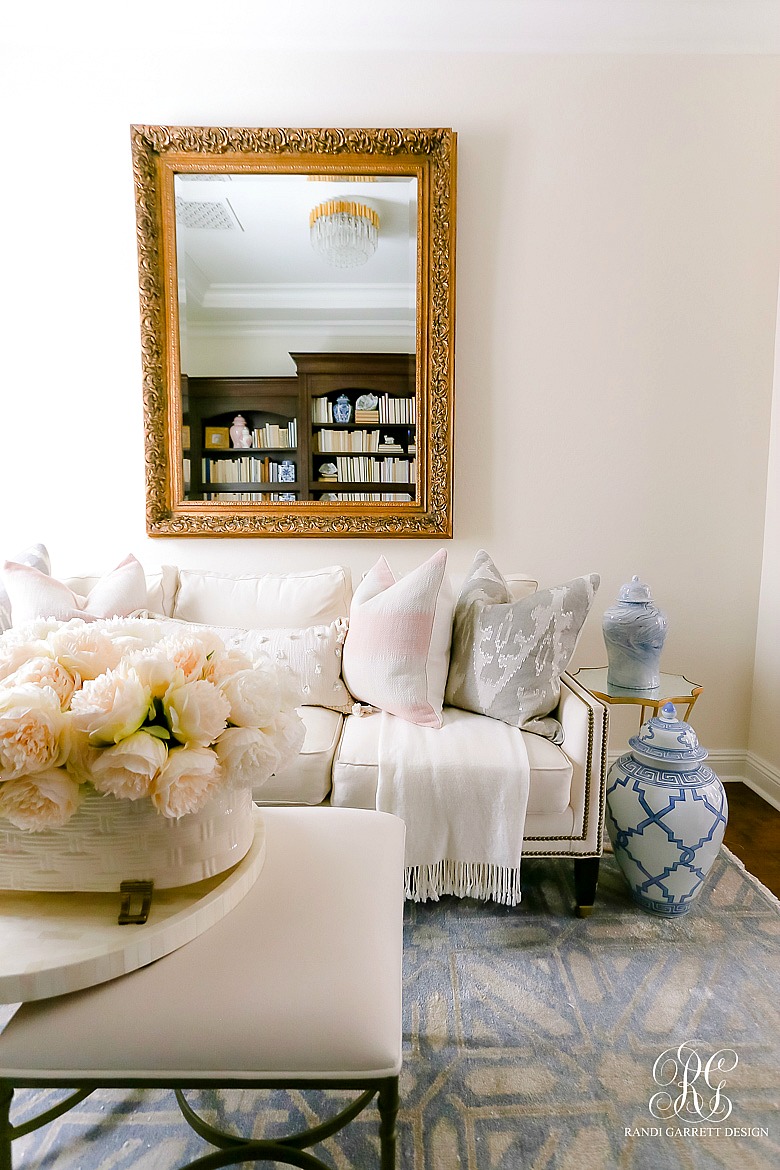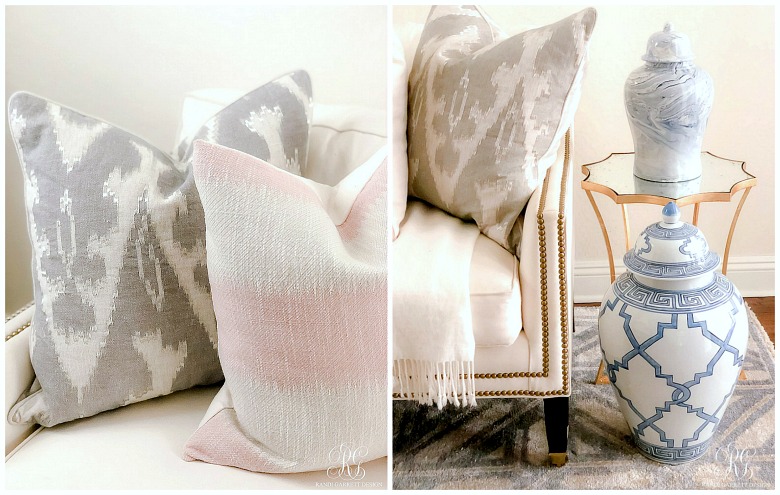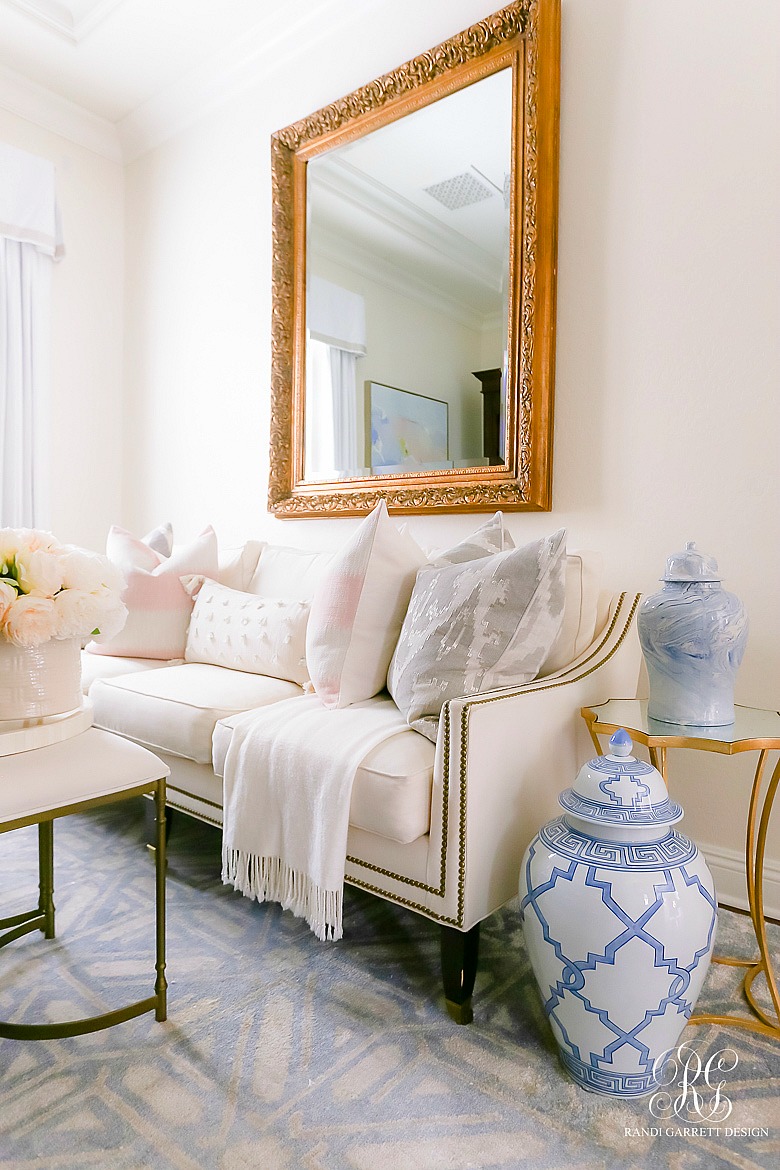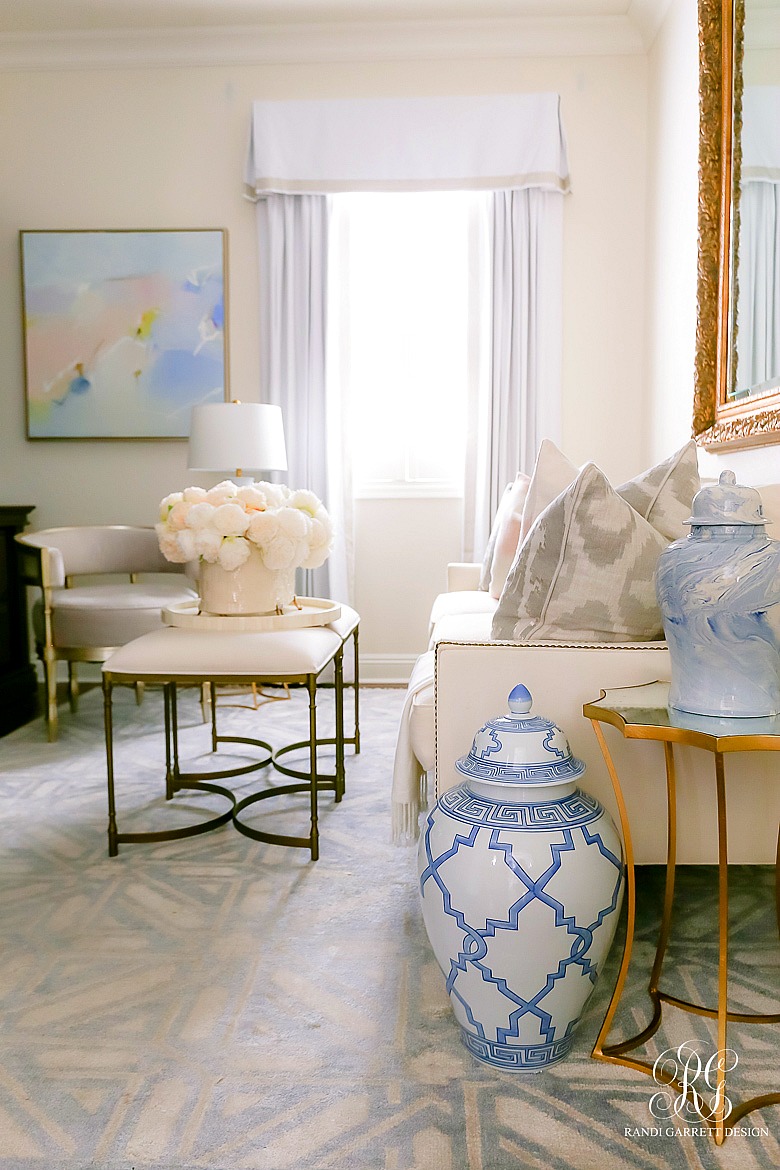 I kept the "big" pieces in the room the same. The sofa and large gold antique mirror stayed along with the custom cabinetry. A few simple changes is all this room needed to give it a fresh new look!
The most dramatic change was the on the window wall. Changing out the drapery and hanging a beautiful piece of art, totally transformed this room! Custom drapes are worth every penny! Mine are from the fabulous Willow Bloom. They suggested doing something a little different in here. So we decided to add a valance to the top of the custom drapery. Beautiful trim was sewn along the edge of each panel and at the bottom of the valance. This type of valance is a timeless, elegant way to dress your windows.
The gorgeous art is from a dear friend and amazing artist, Katherine Freeman. You can find her art here. I love how the soft colors breathe new life into this room! It is exquisite! Thank you Katherine!
New chairs gave the room a more sophisticated feeling. Since this is the first room you see when you enter our home, I wanted it to have a touch of glam like the rest of the house. These chairs have the most gorgeous champagne finish! The velvety fabric is durable and cozy.
Notice the new ceiling light? It is the sister to the chandelier in my office. If you missed the reveal you can see it here. I love how it ties the two rooms together! It is a flush mount, crystal beauty! Oh how it sparkles and give this room the perfect touch of glam!
Below I've included a detailed source list for you.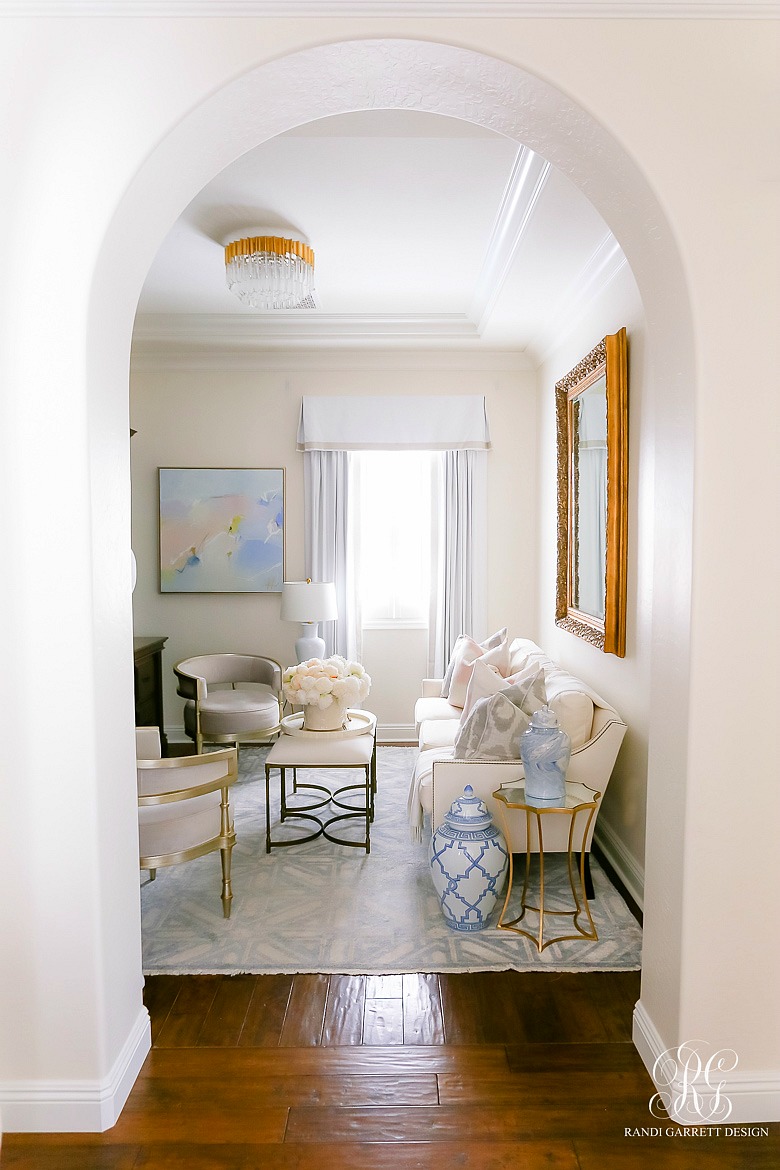 White Couch (old) | Similar
Rug (one of a kind) | Similar 
Gold Mirror (antique) | Similar
Stools (I used 2 as a coffee table)
X Stool at Computer
Lumbar Pillow (similar)
Any of these pieces could be used in any room of your home! They are versatile and durable. I hope you have a wonderful week and hope you got some inspiration from this room redesign to make your home more beautiful!