You all loved the Amazon finds home post I did a few months ago, so I thought I would do an Amazon Fall Home finds post! This was so much fun to put together! You will find finds for home decor, holiday entertaining and of course Fall decorating! You can also check out the post I shared a few months ago here. I hope you find some fabulous things to help welcome Fall into your home and make your entertaining this holiday season even more wonderful!
I will be sharing my Fall decor in a week or two. You can get a sneak peek at what I am using here. Check out last year's Fall decor here.
This post contains affiliate links (full disclosure here).
Here is a look at the gorgeous, affordable finds I found for Fall!
Amazon Fall Home Finds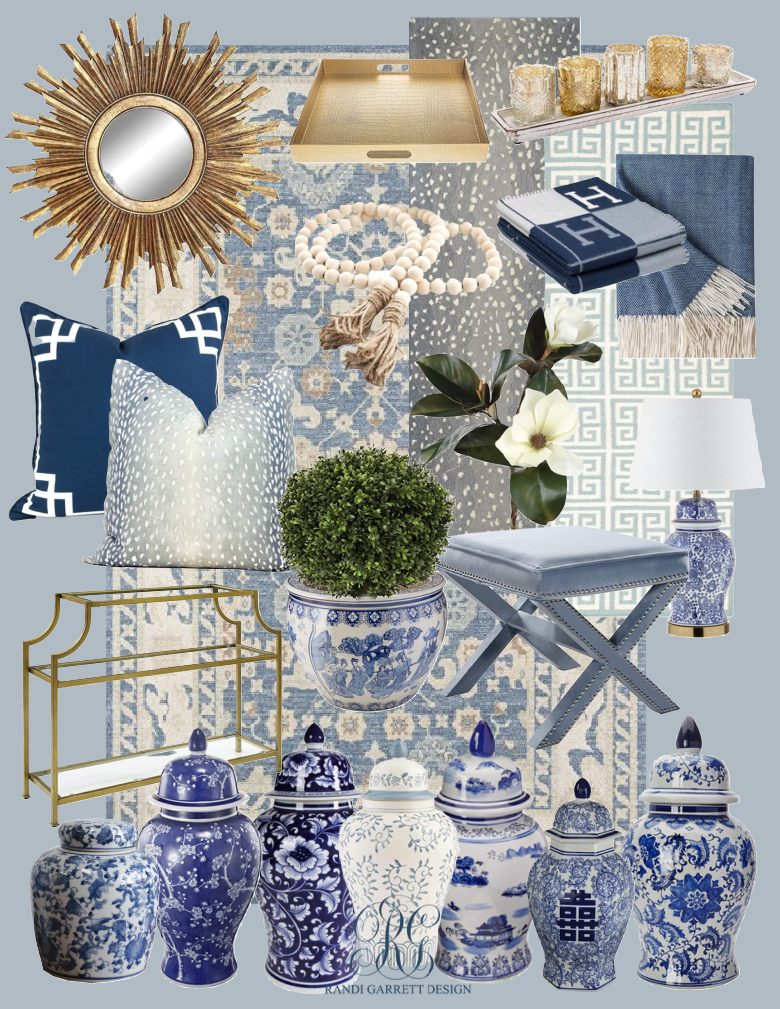 Sunburst Mirror | Blue Cream Rug | Gold Tray | Antelope Runner | Greek Key Runner | Votive Set | Wood Beads | Navy H Throw | Navy Herringbone Throw | Navy Greek Key Pillow | Antelope Pillow | Faux Boxwood Topiary | Chinoiserie Planter | Faux Magnolia Stem | Blue Velvet X Stool | Ginger Jar Lamp | Gold Entry Table | Happiness Ginger Jar | Cherry Blossom Ginger Jar | Floral Ginger Jar | White and Blue Ginger Jar | Village Ginger Jar | Traditional Ginger Jar | Large Blue and White Ginger Jar
All of these pieces can be styled year round. Mix in a few Fall accents and this timeless look transforms into a gorgeous, classic Fall scene! I can't wait to show you how I am styling the house this year! Mix different shades of blue and pattern to create layers for the eye to dance upon. Add a few pops of gold in your accents to add a focal point.
Fall Entertaining Finds
This next board features lots of goodies for Fall entertaining! Again, most of these pieces can be used year round. Simply adding a few Fall touches makes your home come alive for Fall.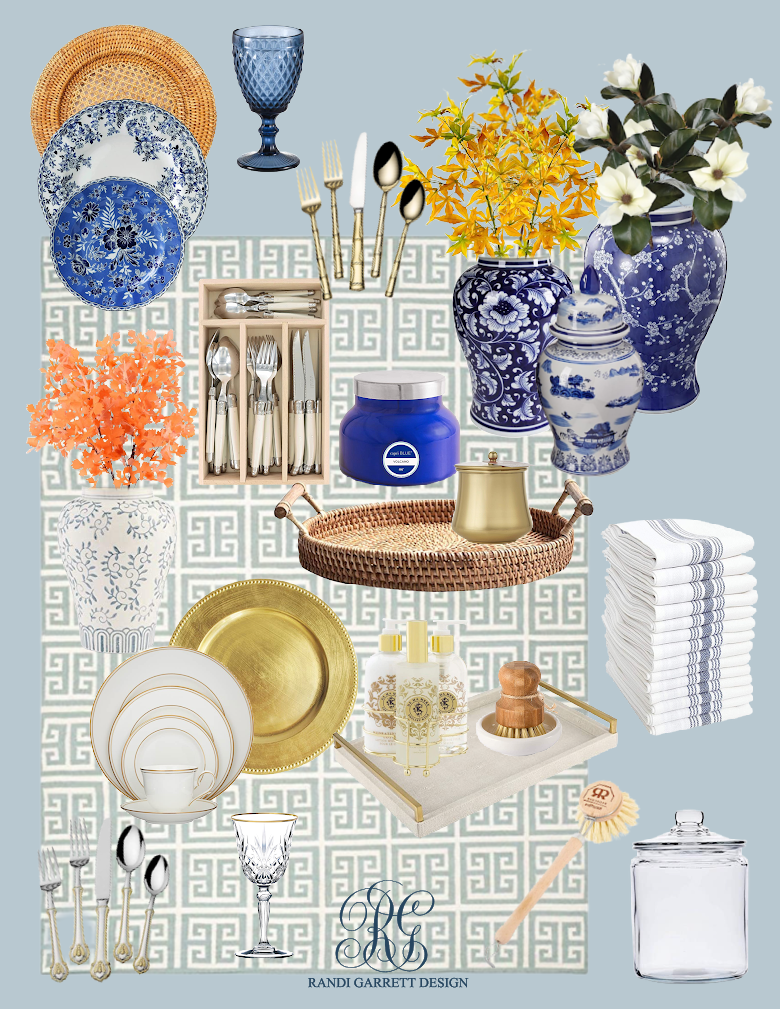 Greek Key Rug | Rattan Charger | Chinoiserie Dinner Plate |Chinoiserie Dessert Plate | Blue Goblet | Gold Bamboo Flatware | Golden Fall Stem | Faux Magnolia Stem | Orange Faux Fall Leaves | French Laguiole Flatware Set | Blue Candle | Floral Ginger Jar | Cherry Blossom Ginger Jar | White Blue Ginger Jar | Gold Lidded Pumpkin Candle | Rattan Handled Tray| Blue and White Ginger Jar | Gold Rimmed Dishes | Gold Chargers | Gold Soap and Lotion Caddy | Dish Scrub Brush and Tray | Gold Handled Tray | Blue Striped Dish Towels | Gold and Stainless Bee Flatware | Gold Rimmed Goblet | Kitchen Scrub Brush | 2 Gallon Jar (this is a set of 3)
Fall Decor Finds
Fall decor! You can use so many color schemes to capture the magic of Fall in your home. Here are a few gorgeous Fall decor themes for you!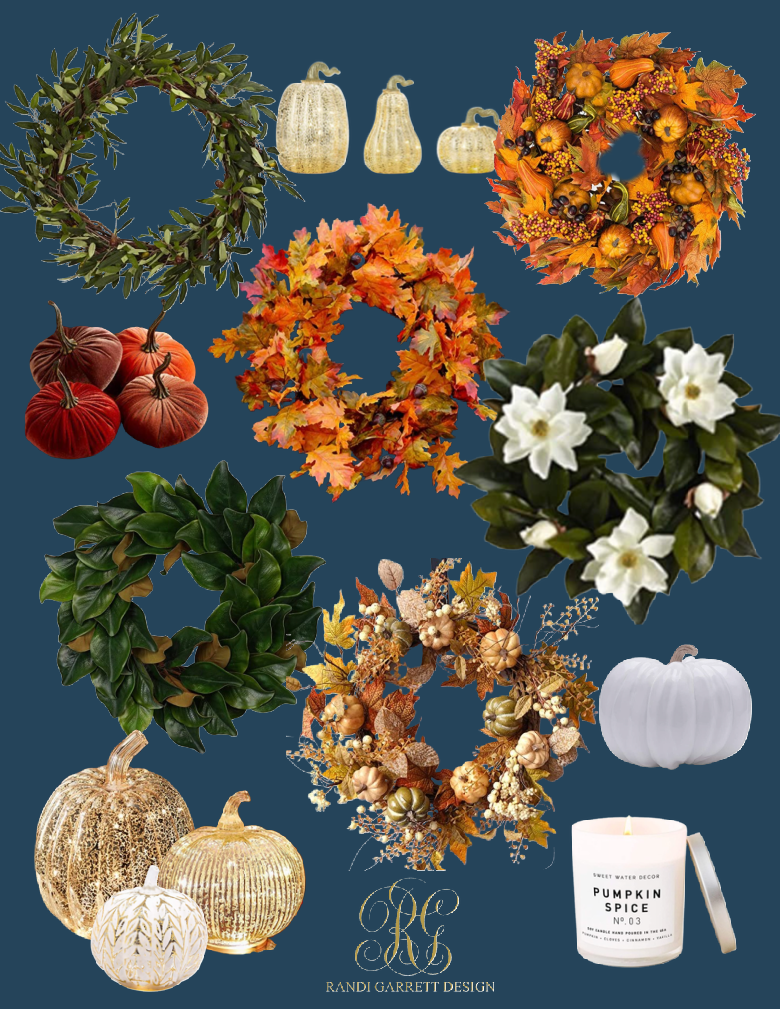 Olive Wreath |Gold Mercury Glass Pumpkins | Pumpkin Fall Leaf Wreath | Velvet Pumpkins | Fall Leaves Wreath | Magnolia Wreath | Magnolia Leaf Wreath | Golden Pumpkin Fall Wreath | White Pumpkin | Large Mercury Glass Pumpkin | Medium Mercury Glass Pumpkin | Small Glass Pumpkin | Pumpkin Spice Candle
Here is a round up of even more Fall decor find for your home! I hope you find some treasures for your home! Happy decorating!
More Fall Finds