This post contains affiliate links for your convenience. Click here to read my disclosure policy.
We've lived on our home almost 12 years now! We finished our backyard a few years after we moved in. When we designed the backyard we knew we wanted it to feel like a backyard oasis. Living in the Arizona desert, we wanted to feel like we had been transported to a lush, relaxing, space far from the blistering sun!
Ficus trees were planted around the perimeter of the yard with the plan to have them grow into each other. Thus creating a wall of privacy and lush greenery. They are kept small by having them trimmed twice a year. It took about 4 years to them to grow together and about 6 before they become a full hedge.
Below the trees, we had drought resistant Green Cloud Sage planted. They too eventually grew together to form a beautiful hedge lining the yard. Bright purple flowers bloom on these a few times a year. Our planters hold Iceberg Rose bushes. They are hardy, insect resistant bushes that bloom in floribunda, meaning multiple blooms.
All of the foliage in the yard help give the backyard an oasis feeling. We both grew up in Southern California. Being in our backyard makes us feel like we are back home.
But while our foliage creating a retreat for us, our furniture outside never felt inviting or as an extension of our home. So we saved up, looked for the perfect furnishing to create a backyard that felt more inviting. All the pieces we ended up purchasing are not only comfortable and they are beautiful. They add to the oasis feeling we were looking for, for the backyard.
Today, I want to share our backyard oasis reveal 12 years in the making! I hope it inspires you to transform your outdoor spaces into beautiful places to retreat to for your family. All of the sources are listed at the end of the post for you. Everything in our backyard is 20% off this holiday weekend!
Backyard Oasis Reveal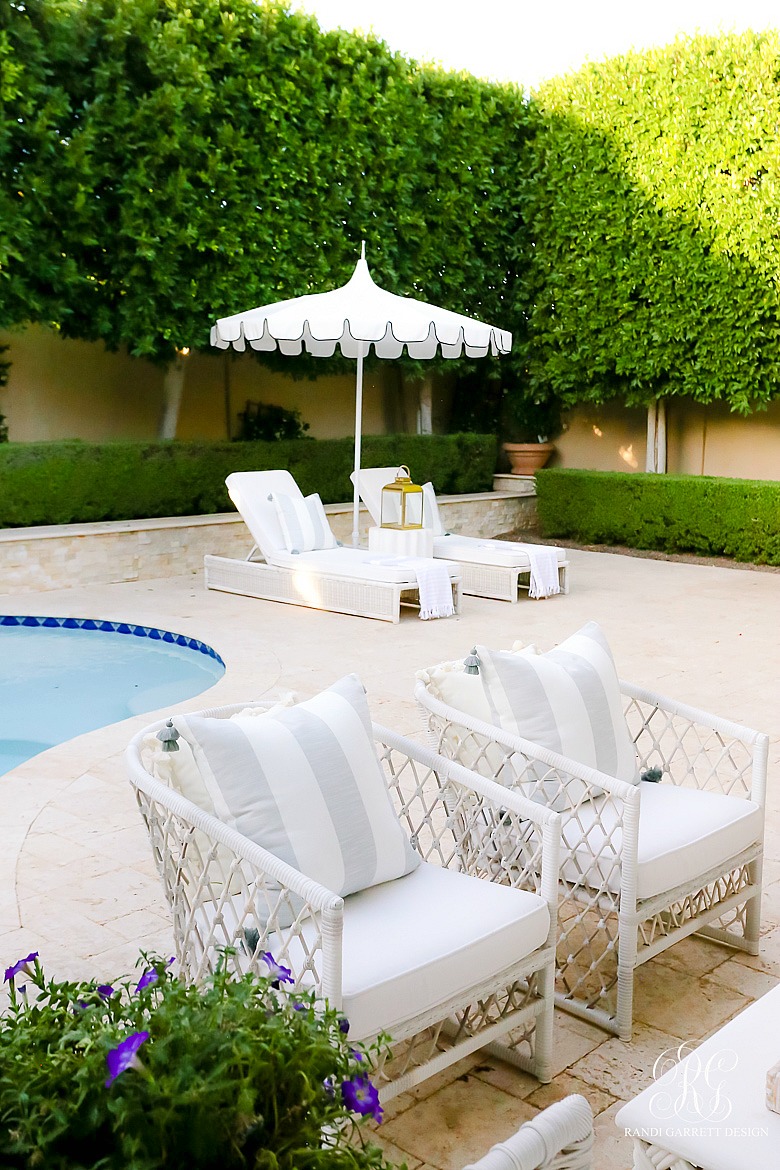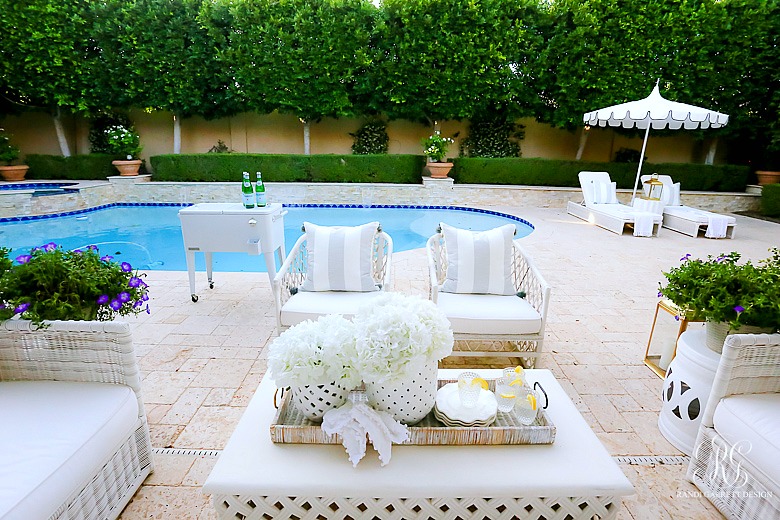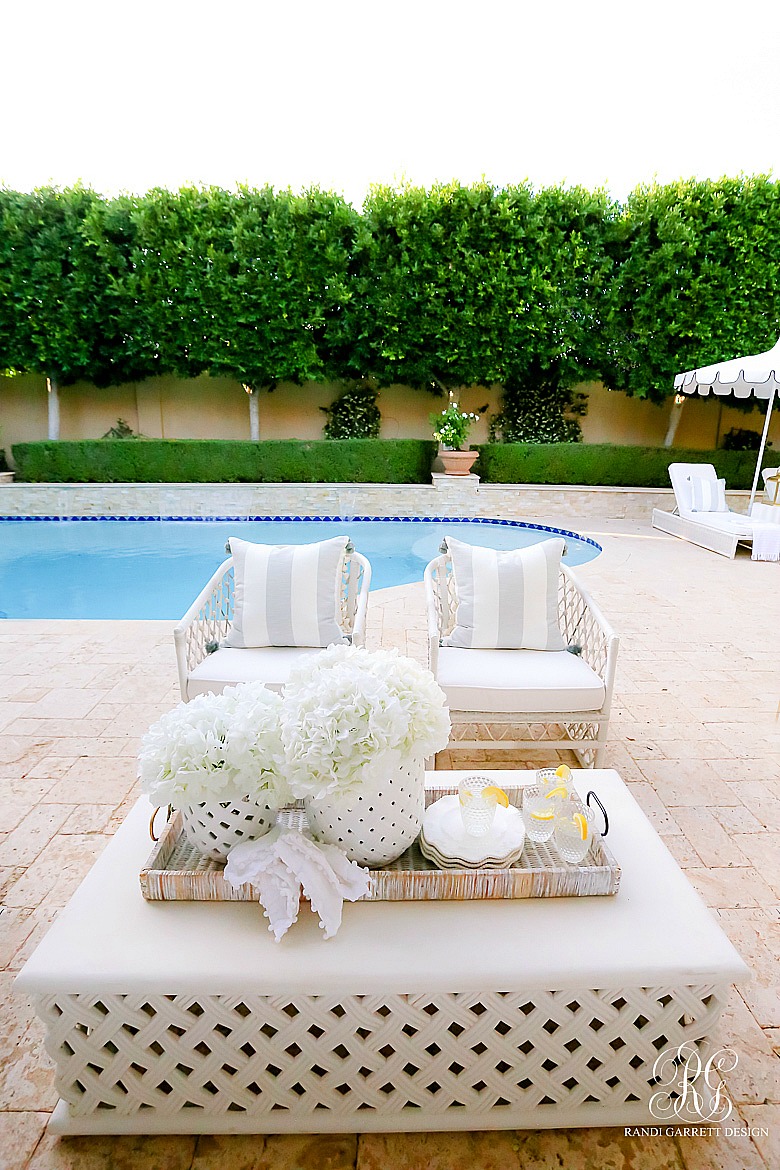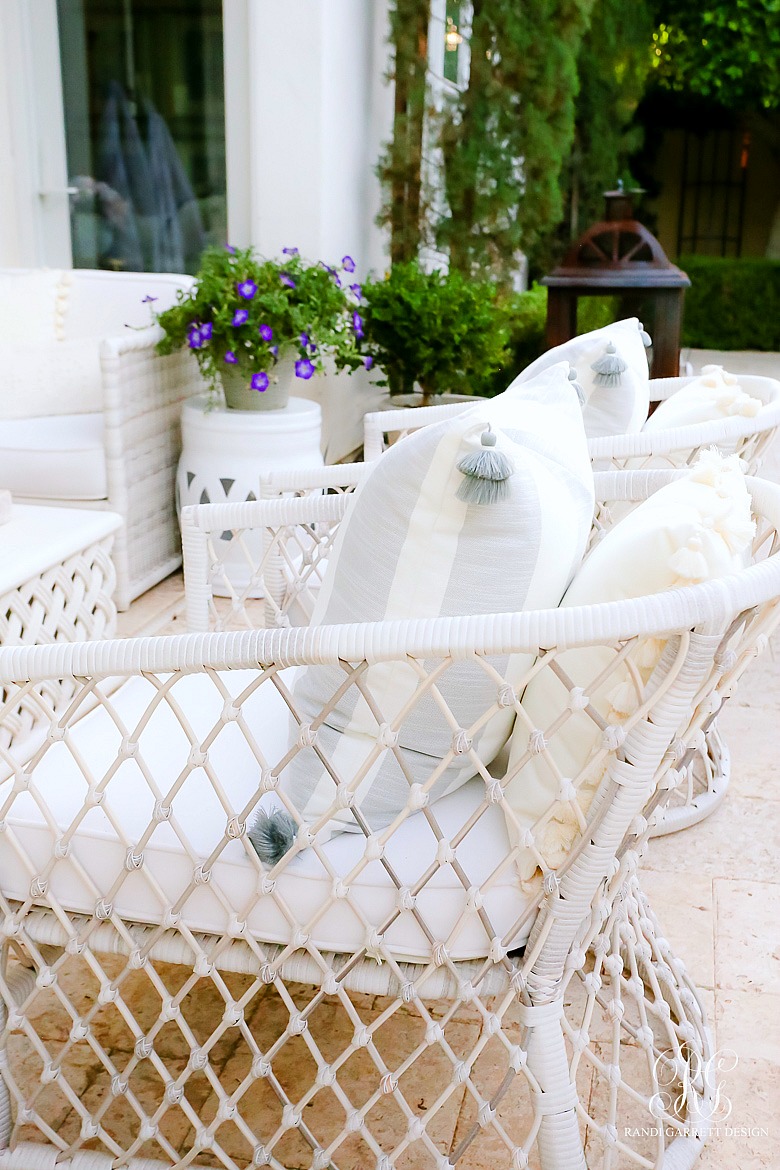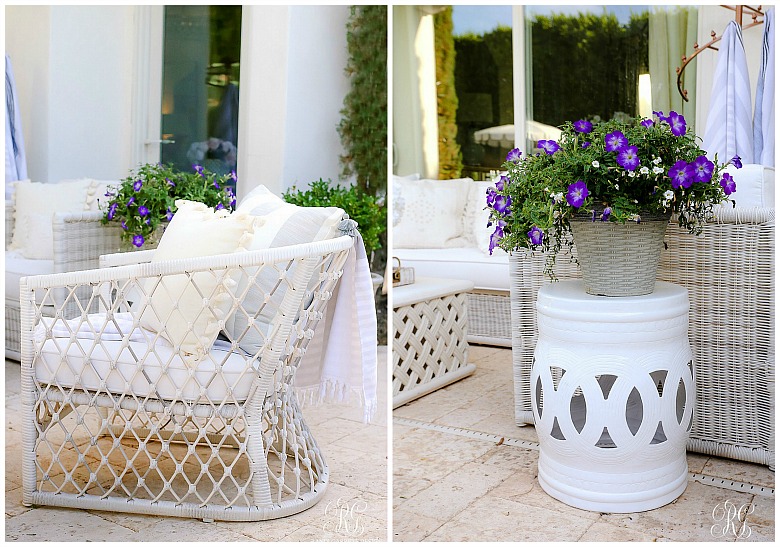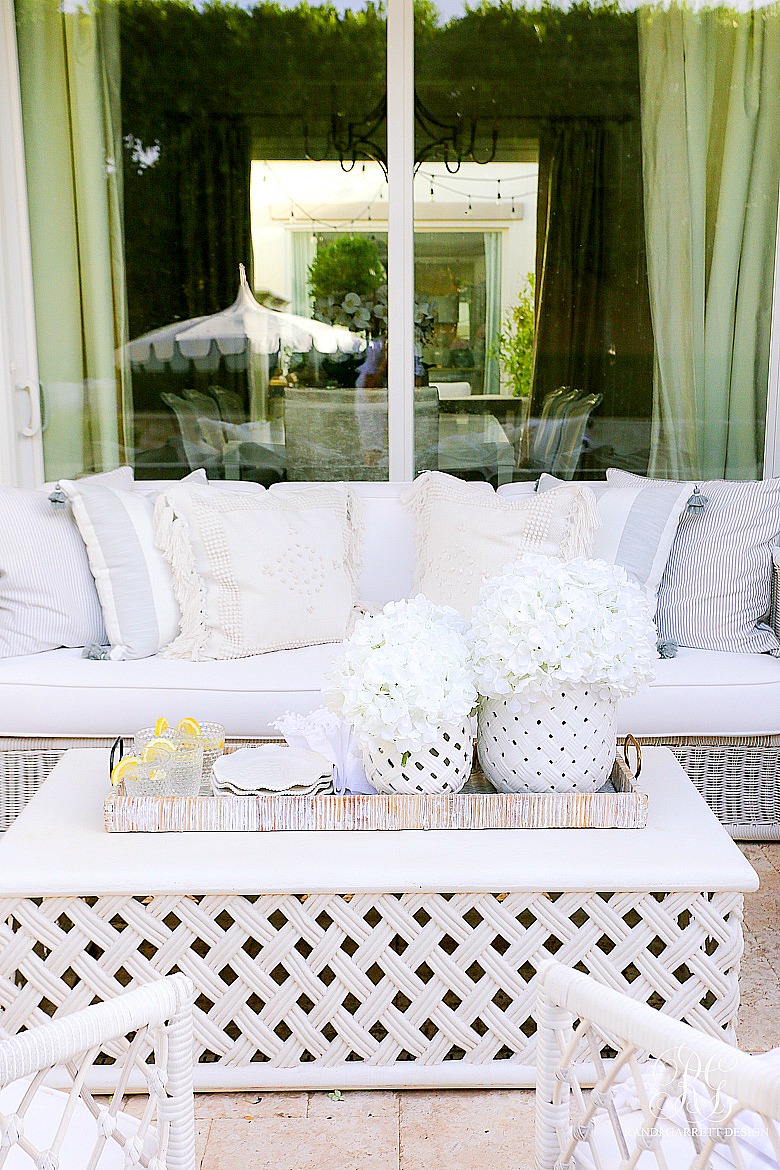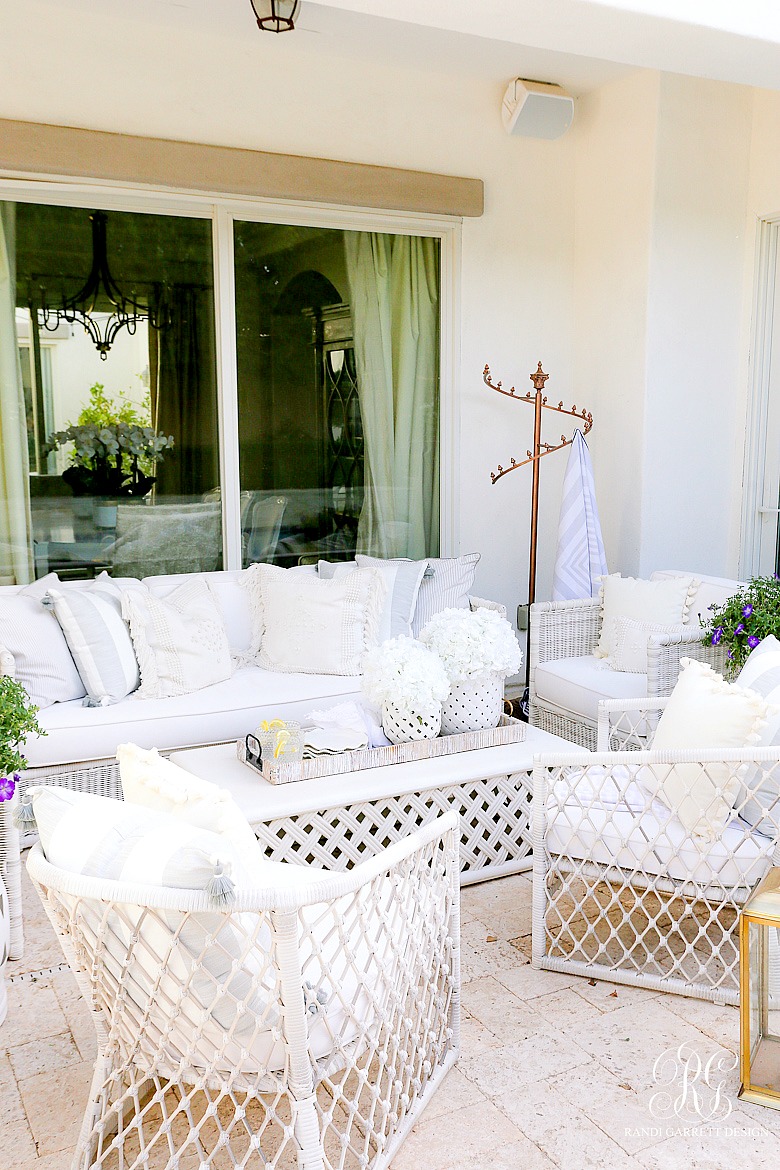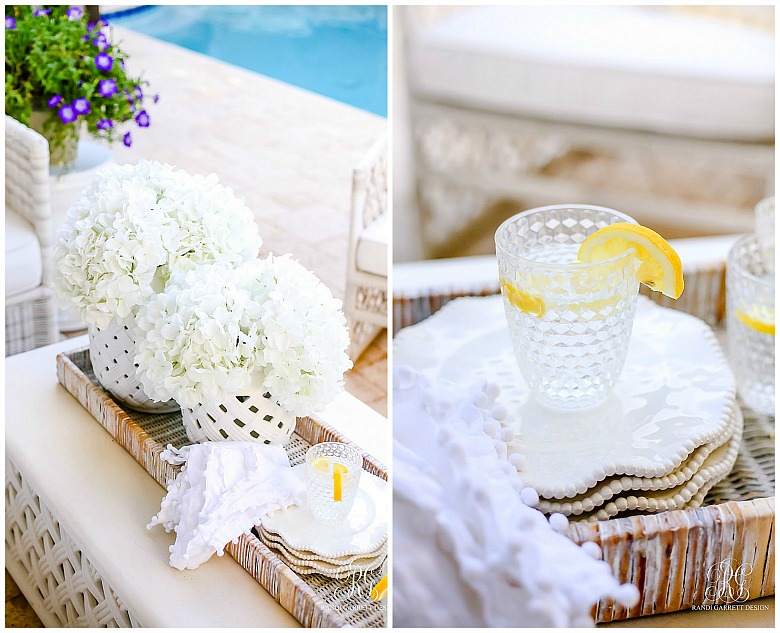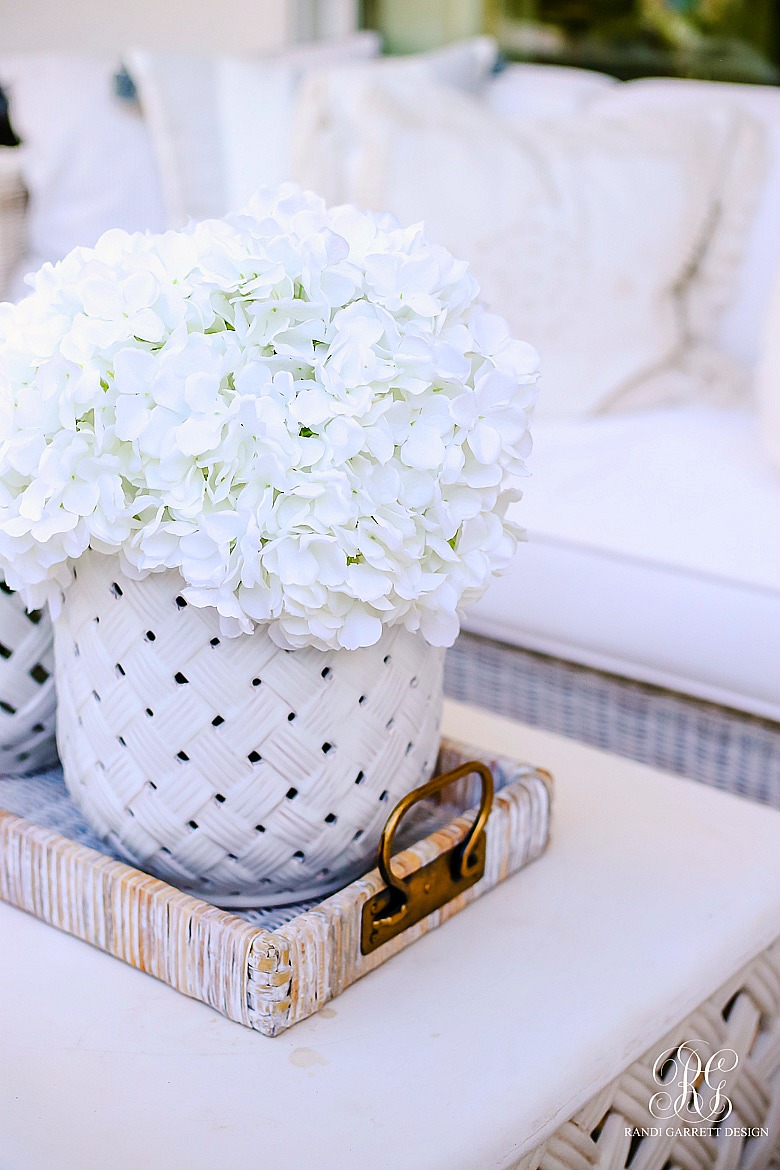 I'm in LOVE with these basketweave jars! I have used them inside with my faux pink peonies and outside with the faux white hydrangea. I also plan to use outdoor candles inside them as hurricanes! Look for them to pop up all over my house this Summer!
This long wicker basket is fabulous to hold your outdoor dishes or use it as a serving tray for food!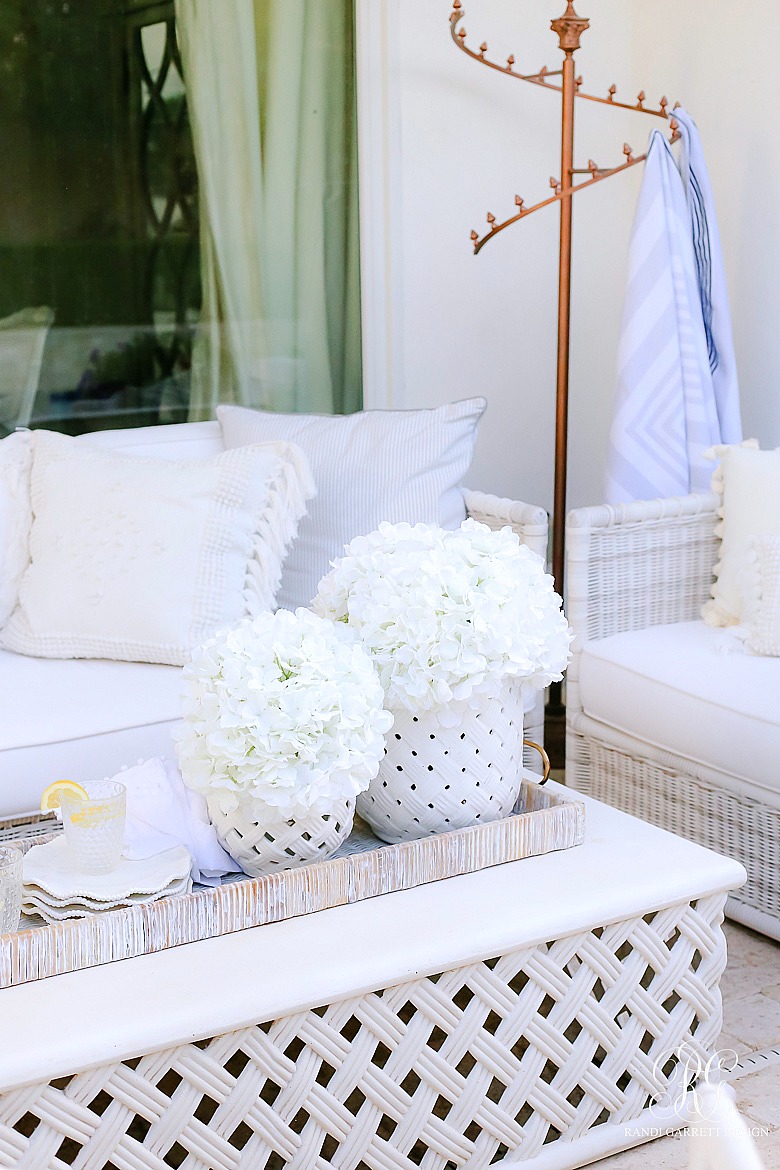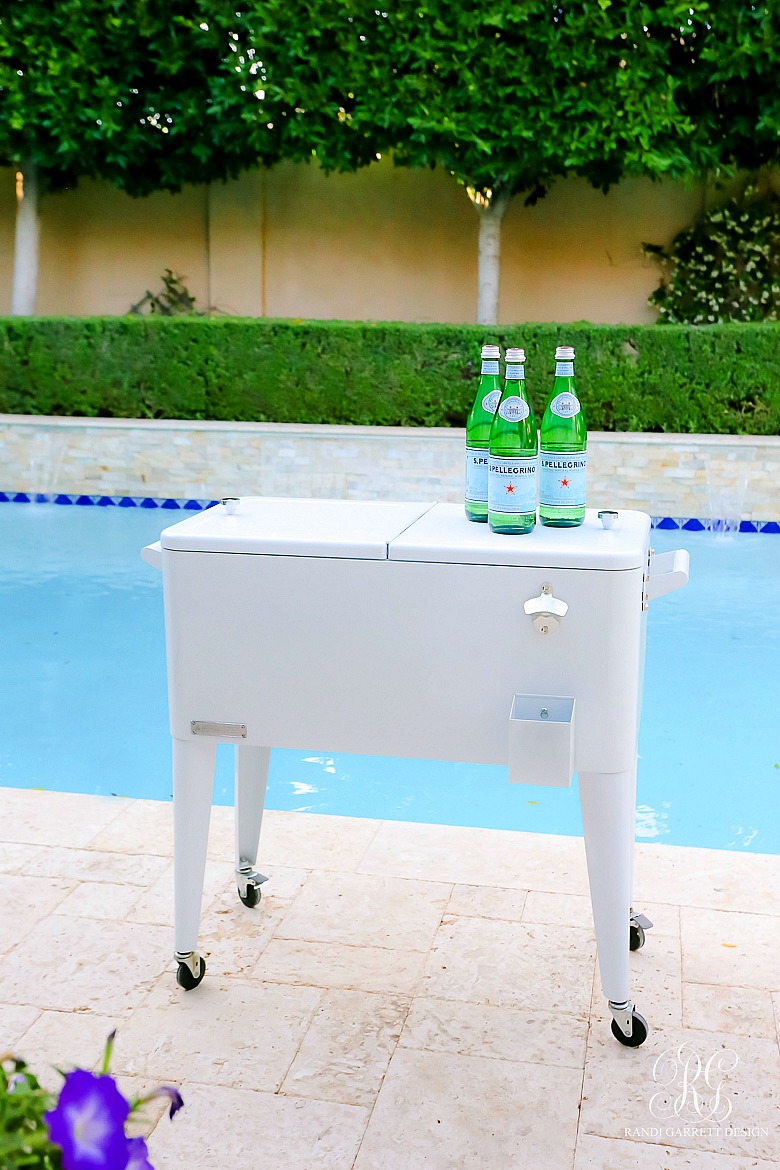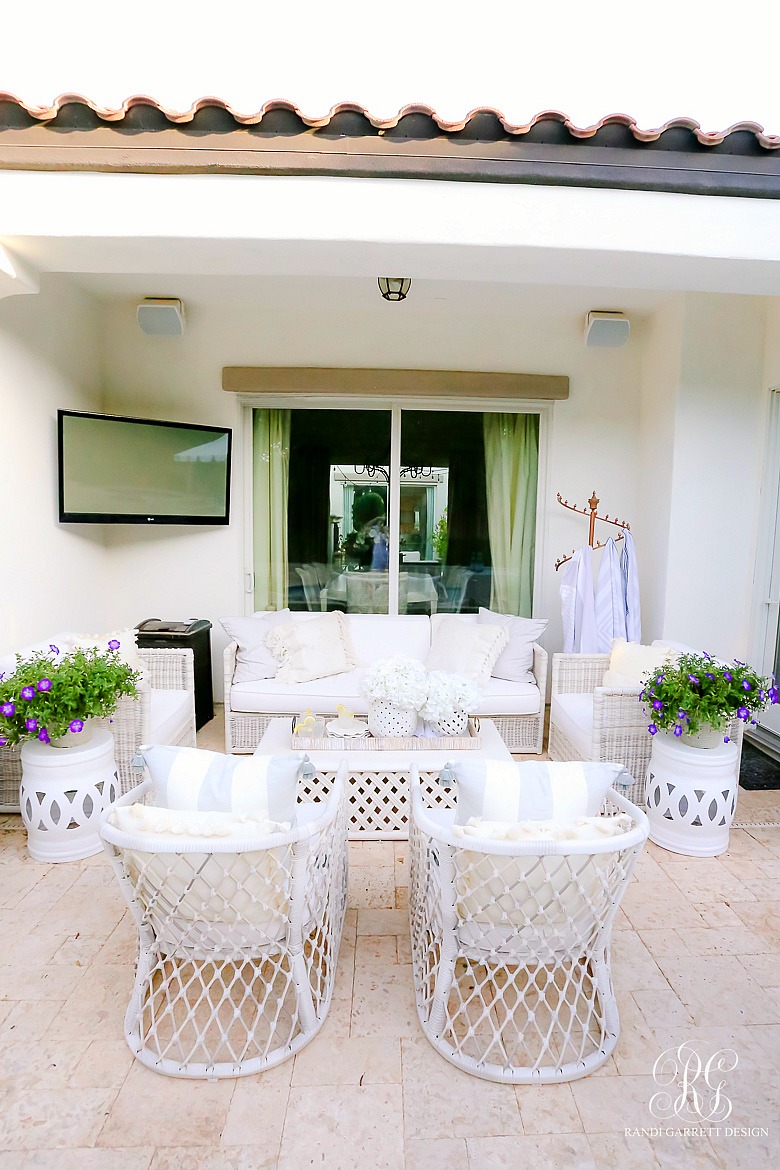 We used to have an metal outdoor dining table here. It got too hot to touch in the summertime. Instead we created an outdoor living room for our family and friends to gather. It's so much more comfortable to cozy up on a couch or chairs and watch the kids swim or take in a ballgame on the tv.
We keep the furniture covered with furniture covers most of the time to keep them clean and protected from the elements. When we are using the backyard, we pull them off and tuck them into our deck box. I love using our vacuum to keep the dust and dirt off of the cushions.
Our towel rack is actually a vintage coat rack. I found a similar one here. I love finding unique pieces for our home! Think outside the box when shopping.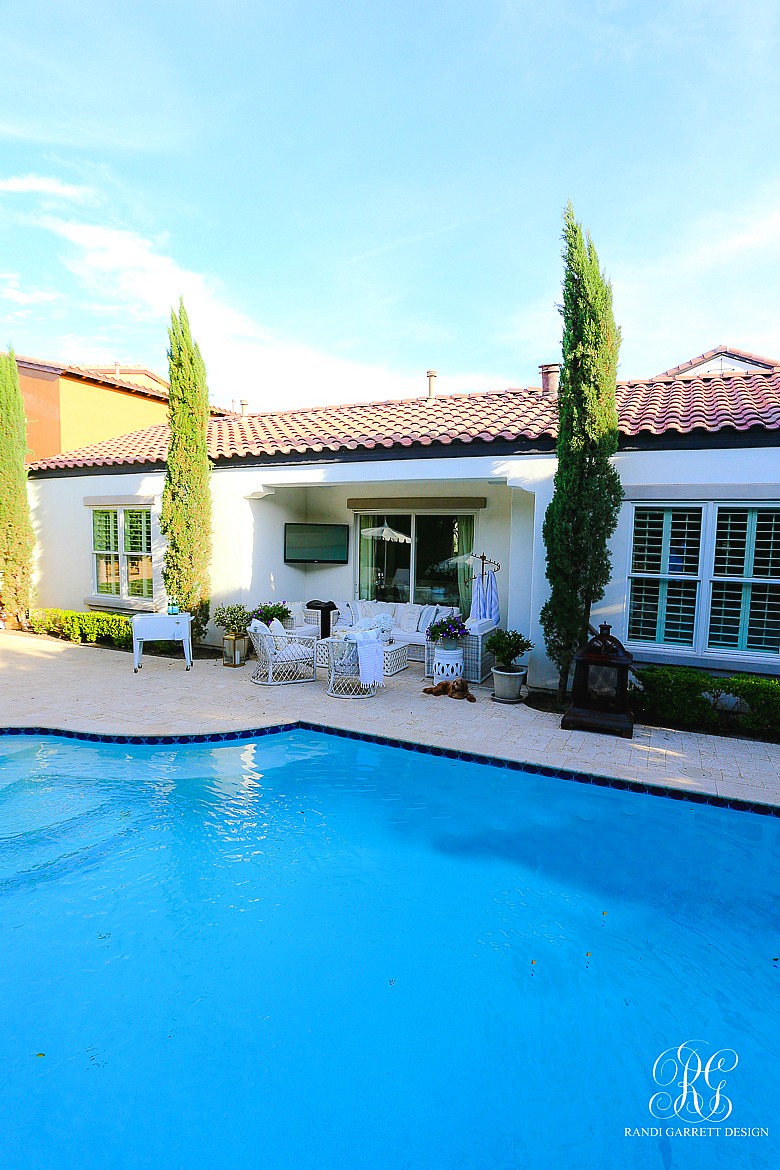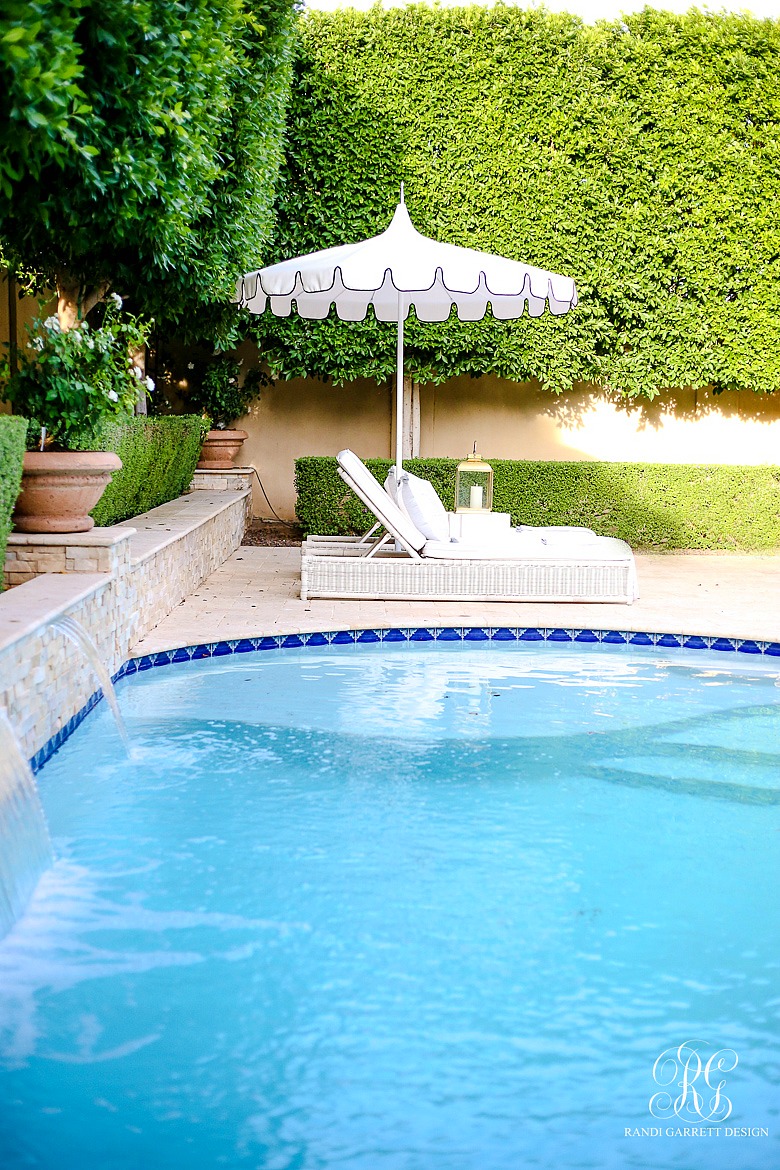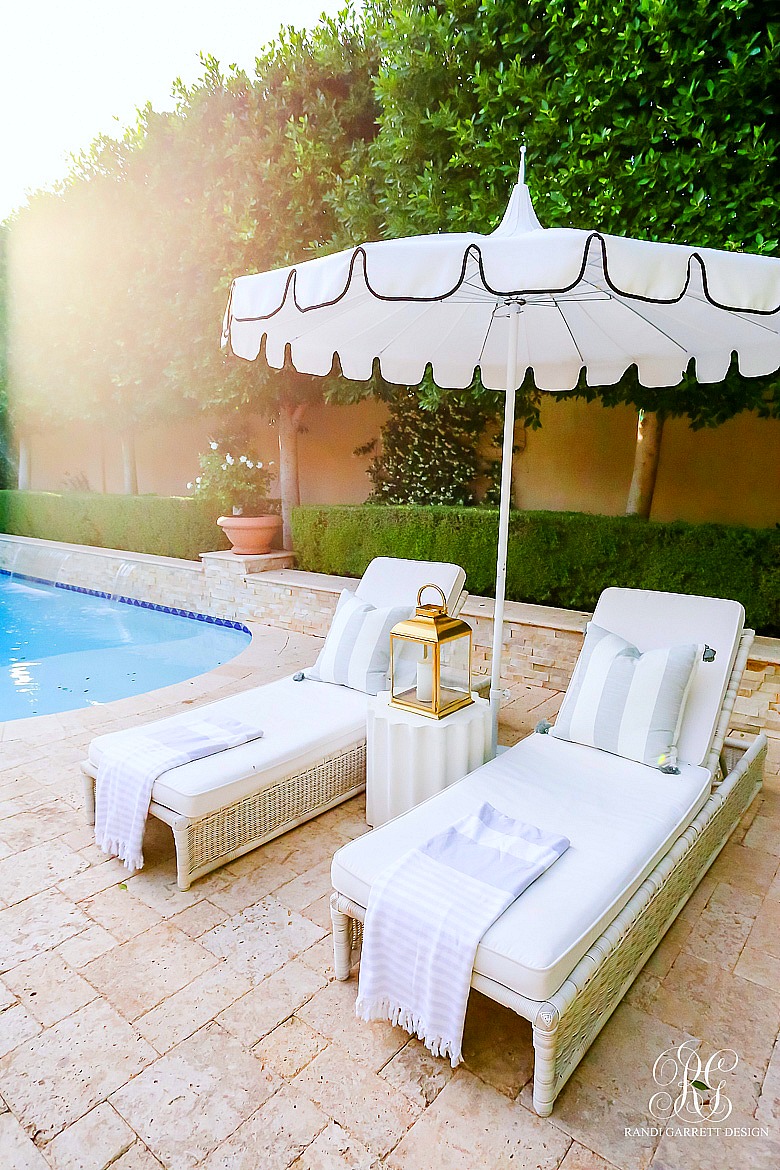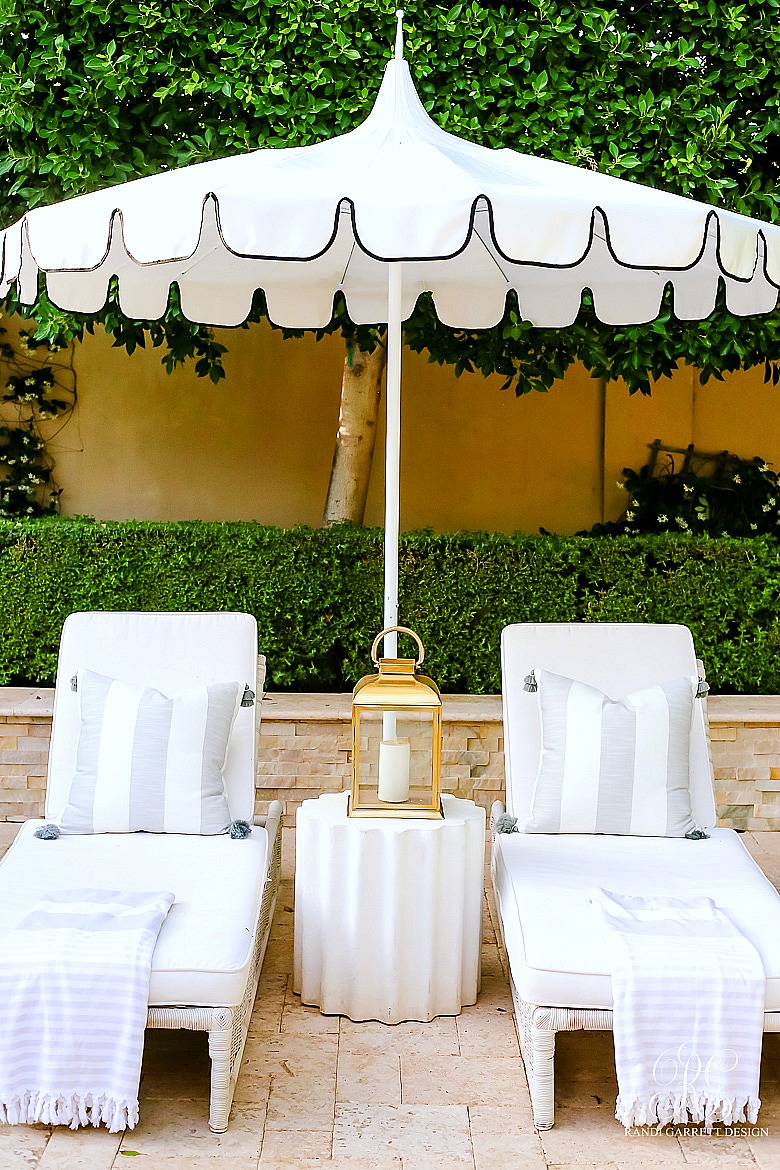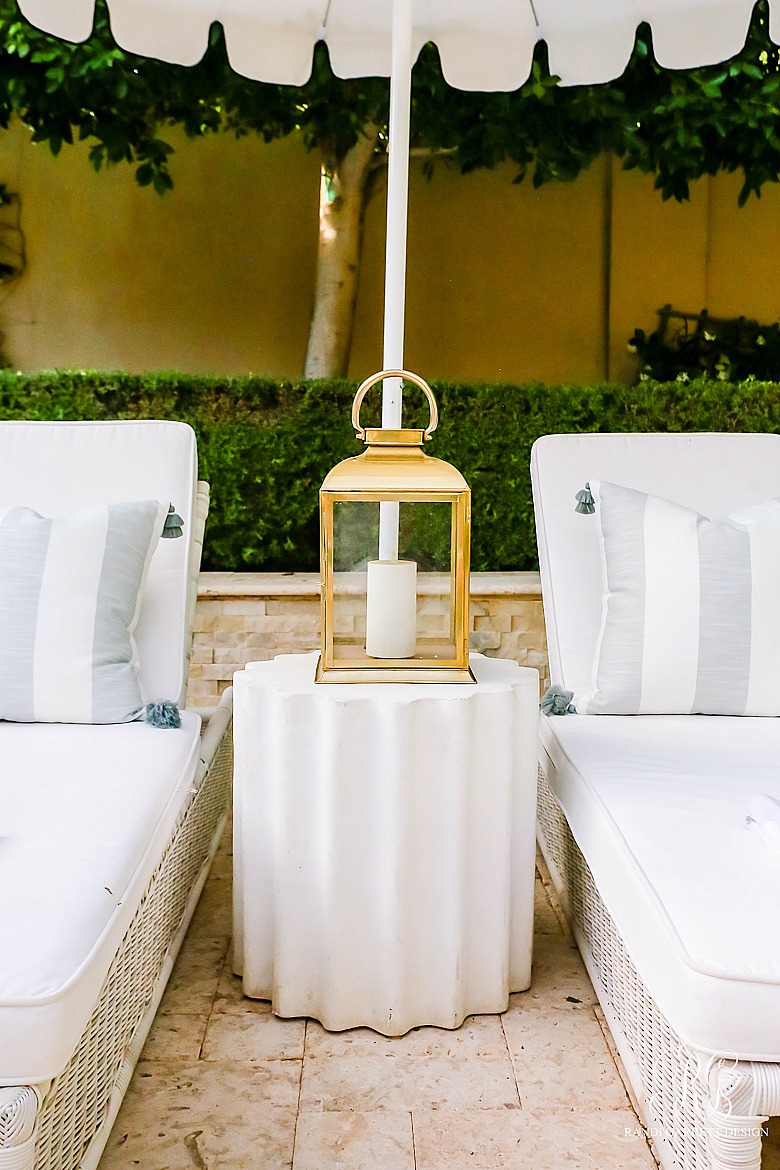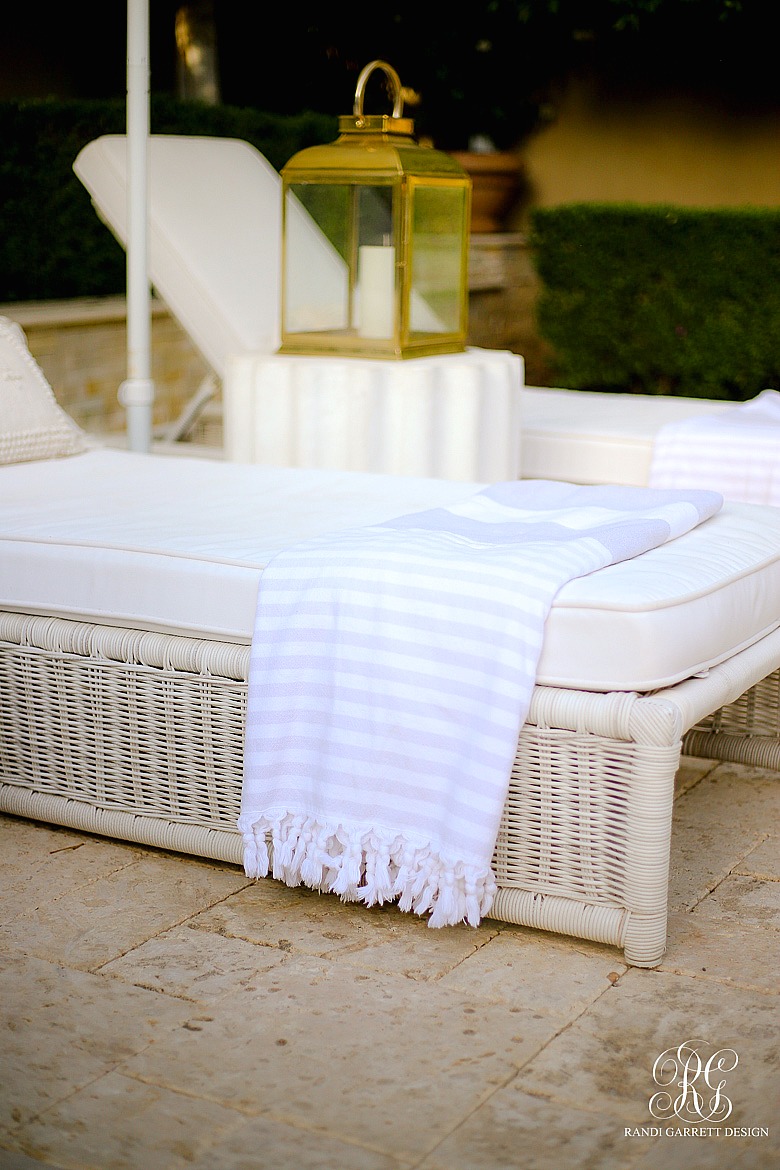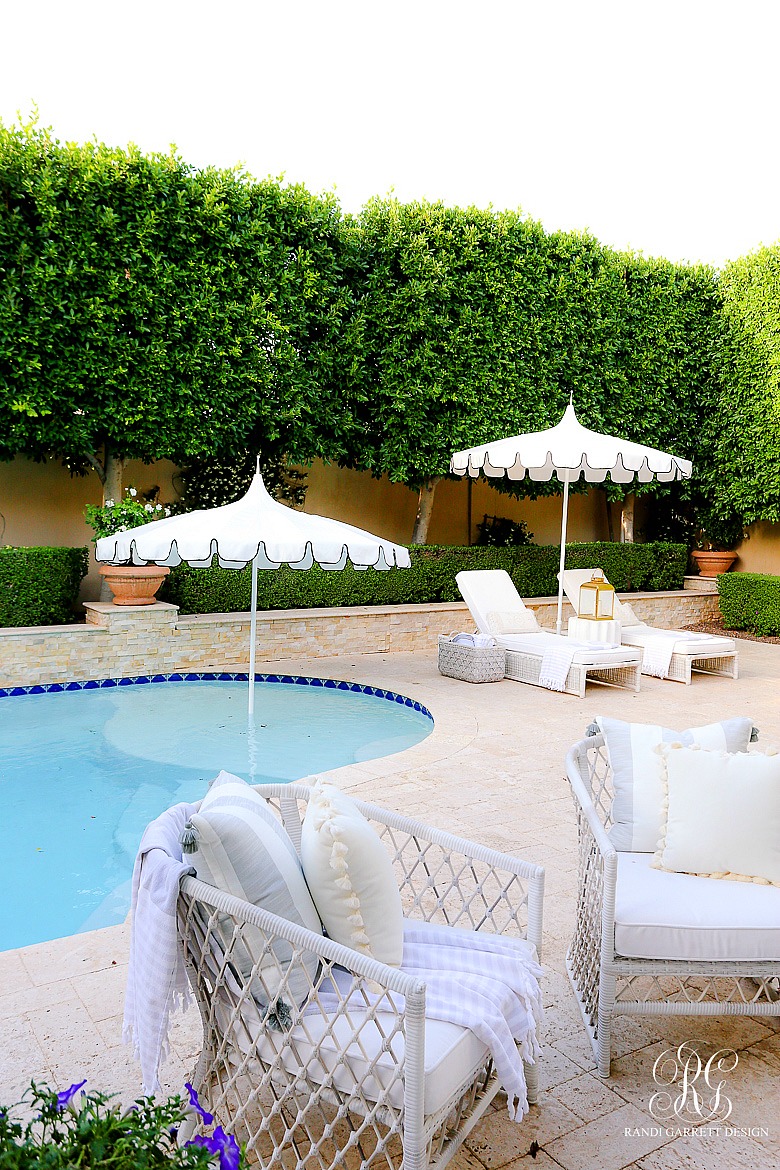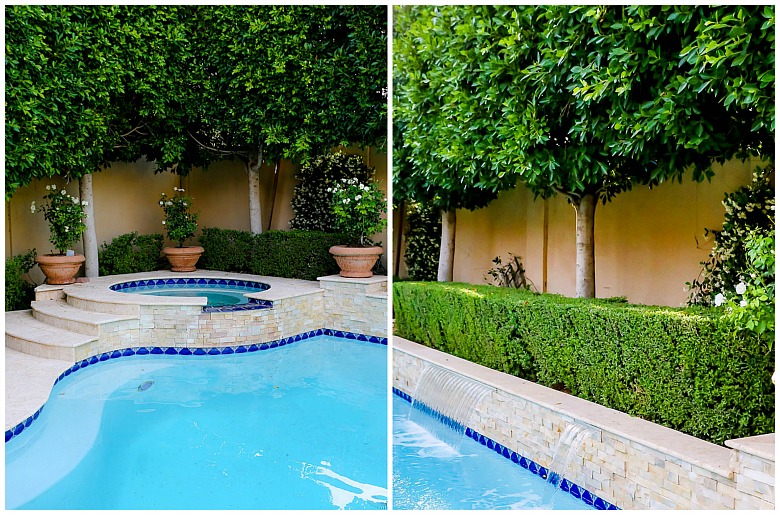 Wicker Couch | Wicker Club Chairs |  Wicker Armchairs | Lattice Coffee Table | White Drum Side Table |  Wicker Lounge Chair | Column Side Table | Gray and White Bistro Chairs | Concrete Side Table 



Scalloped Umbrella | White Umbrella Stand | White Drink Cooler | Gray Striped Outdoor Pillows | White Tassel Outdoor Pillows | White Fringe Outdoor Pillows | White Fringe Lumbar Outdoor Pillows | Gray Striped Beach Towel | Dark Gray Striped Beach Towel | Long Wicker Tray | Basketweave Vase – Large – Small | Ruffled Melamine Plates | Diamond Cut Glasses | White Pom Pom Napkins | Outdoor Lanterns (mine are sold out – similar here ) | Towel Basket | Towel Rack – vintage – similar here