My dear friend turned 50 a few weeks ago, so to celebrate we threw her a French Bakery inspired soiree! She and I love to bake together and plan to take a trip to Europe someday to visit all of the darling bakeries we have been drooling over for years. To bring a little of that dream to life, I used inspiration from some of my favorite French bakeries. It was so much fun to throw this special soirée for her.
The ideas I will be sharing today can be used for any girly party. I hope you gain some inspiration and throw a beautiful soiree for someone you love as well!
This post contains affiliate links for your convenience. Read my disclosure policy here.
Kitchen
My friend loves pizza and milkshakes. So, we made gourmet pizza in our pizza oven and custom milkshakes with our Ninja Creami. I forgot to take any pictures of the food! I am so sorry! We used the kitchen island to serve the food buffet style. Different sized white charcuterie boards (rectangular charcuterie) served as platers for the pizzas.
These are the gourmet pizza combos we made…
Fig and Pig (fig spread with prosciutto, pine nuts and arugula)
Margarita (pesto, Roma tomato, basil)
Sausage Alfredo
Pesto Chicken (grilled pesto chicken and Alfredo sauce)
My mini bistro stand, that looks like it came from a European bakery, served as the perfect stand for the milkshake toppings. For the milkshakes, we used my Ninja Creami, it is fabulous and so simple to use. Trader Joe's vanilla ice cream served as the base. We then let people choose their mix ins from the topping bar. It was really a fun way to serve dessert.
A darling floral number 50 top the stand. I found these from a cute lady in London. She takes custom orders and does a phenomenal job.
Faux pink peonies, cherry blossoms, dahlias and eucalyptus draped across the island create a stunning focal point for the soiree. To recreate this faux floral garland, start by draping 2-3 eucalyptus garlands over your island or table. Next, tuck in your peonies, then cherry blossoms and finally the dahlias. This would be gorgeous down the center of a table for a bridal shower, baby shower, wedding or birthday soiree!
For a special touch, I had pink and gold foil napkins made with her name on them. They coordinated with the party invitation and resemble the packaging at my favorite French patisserie.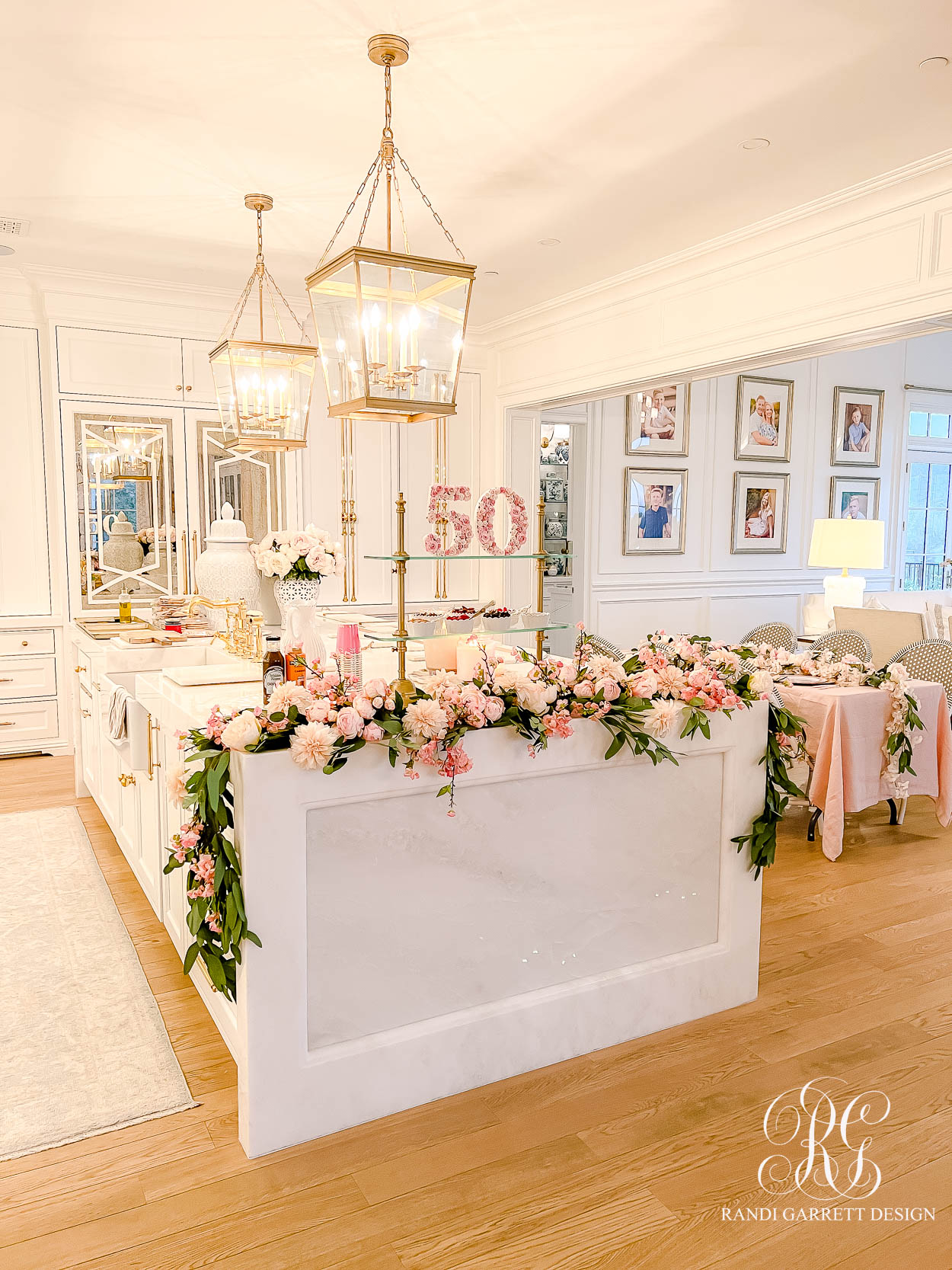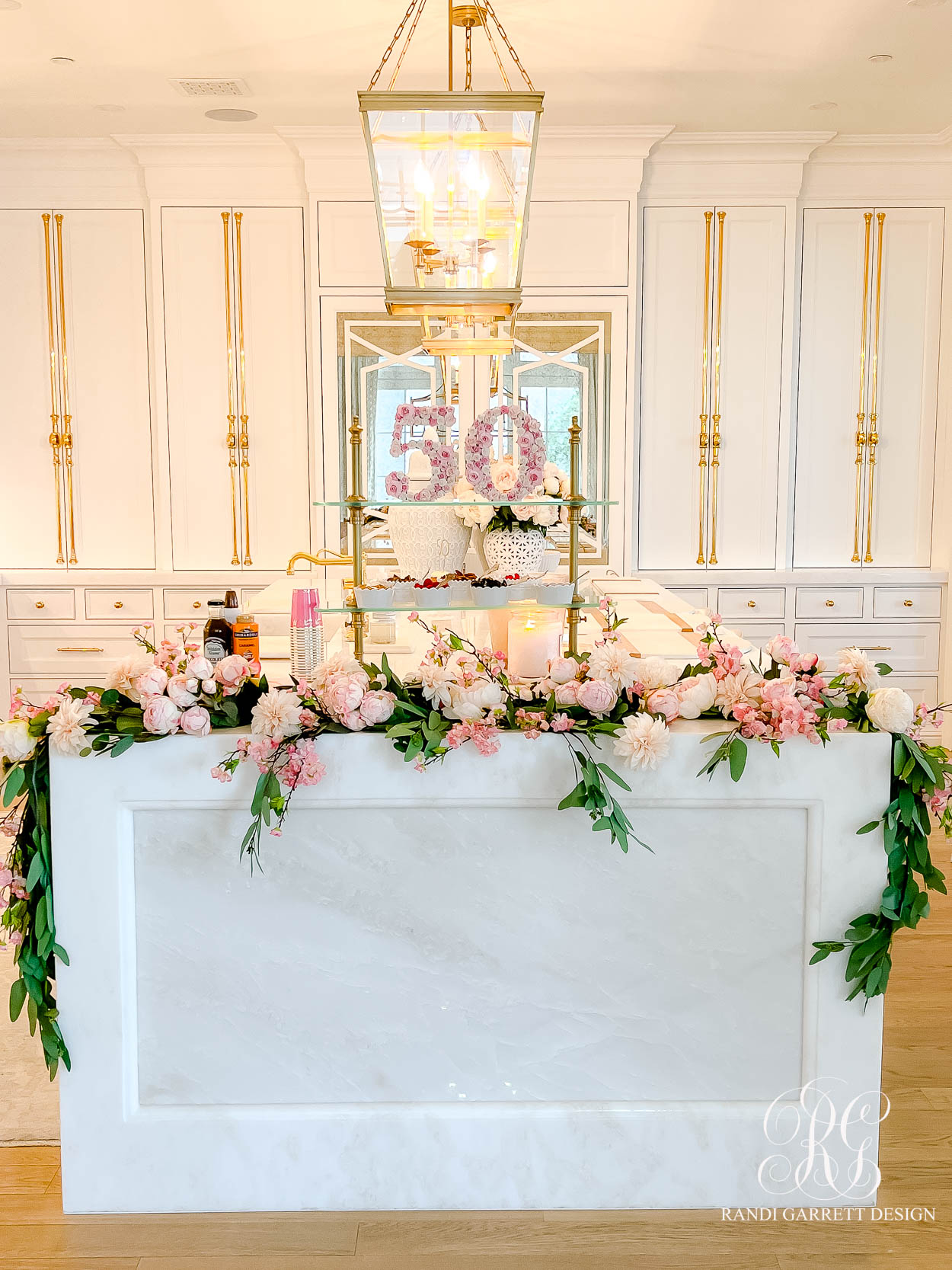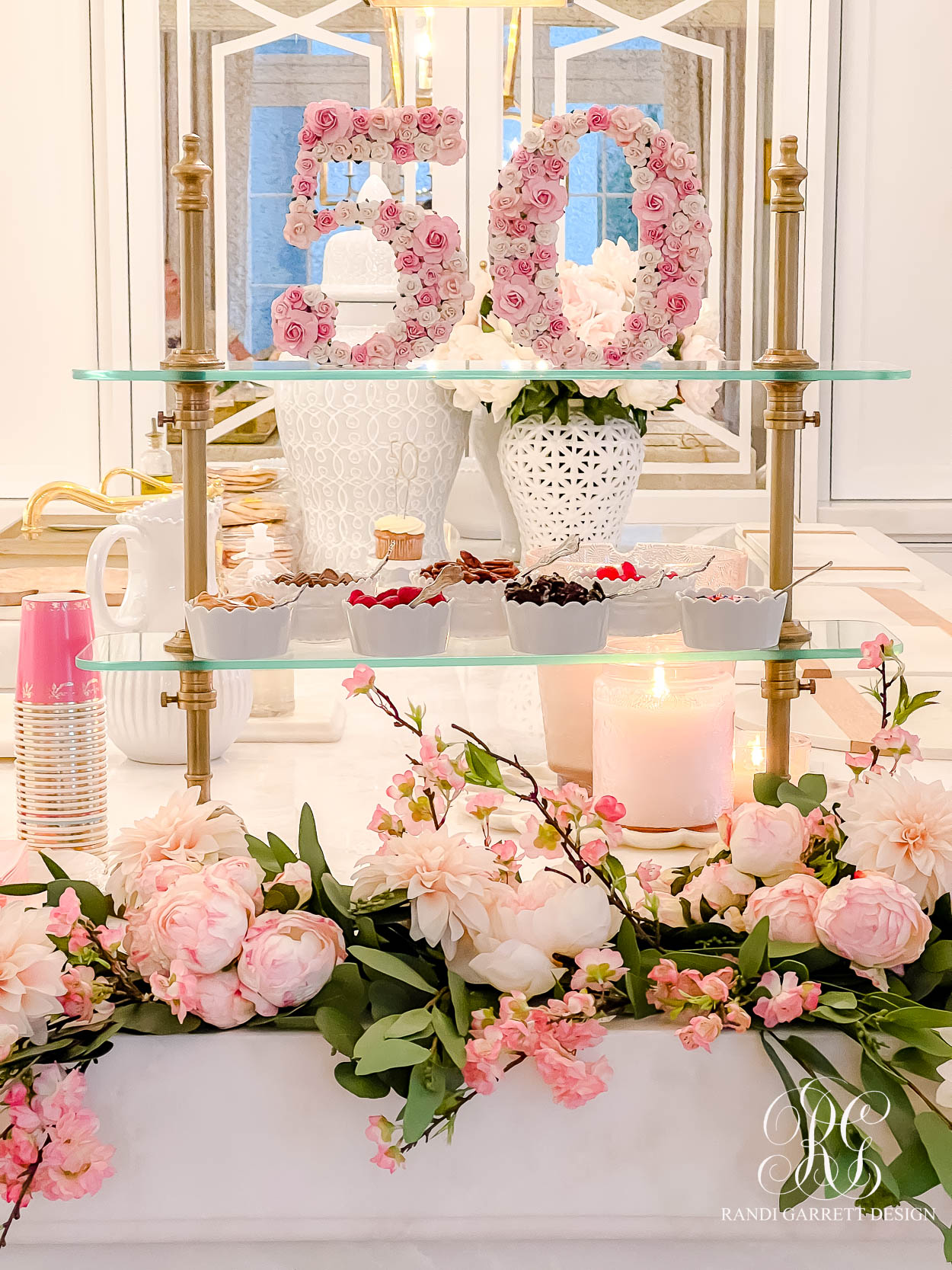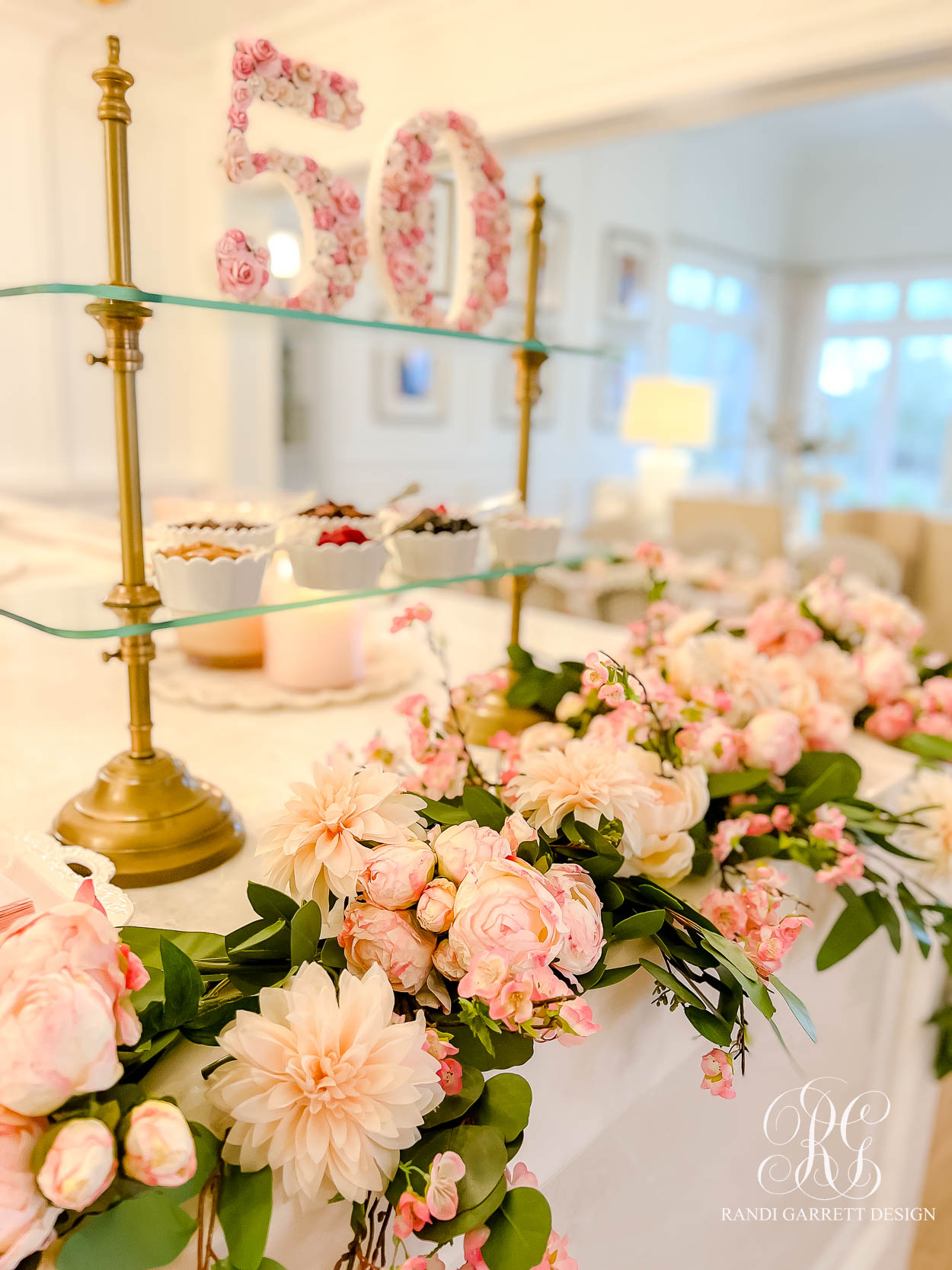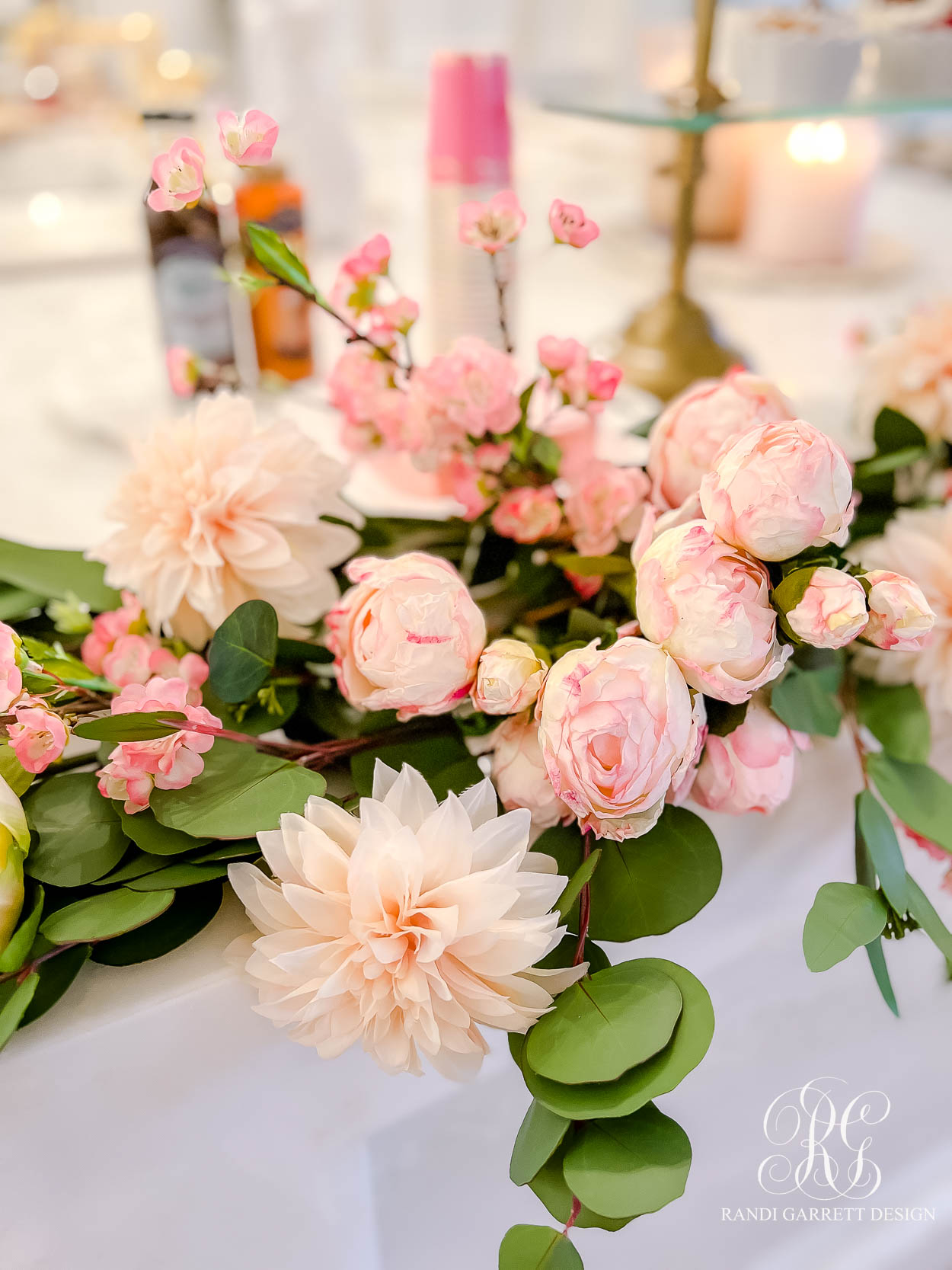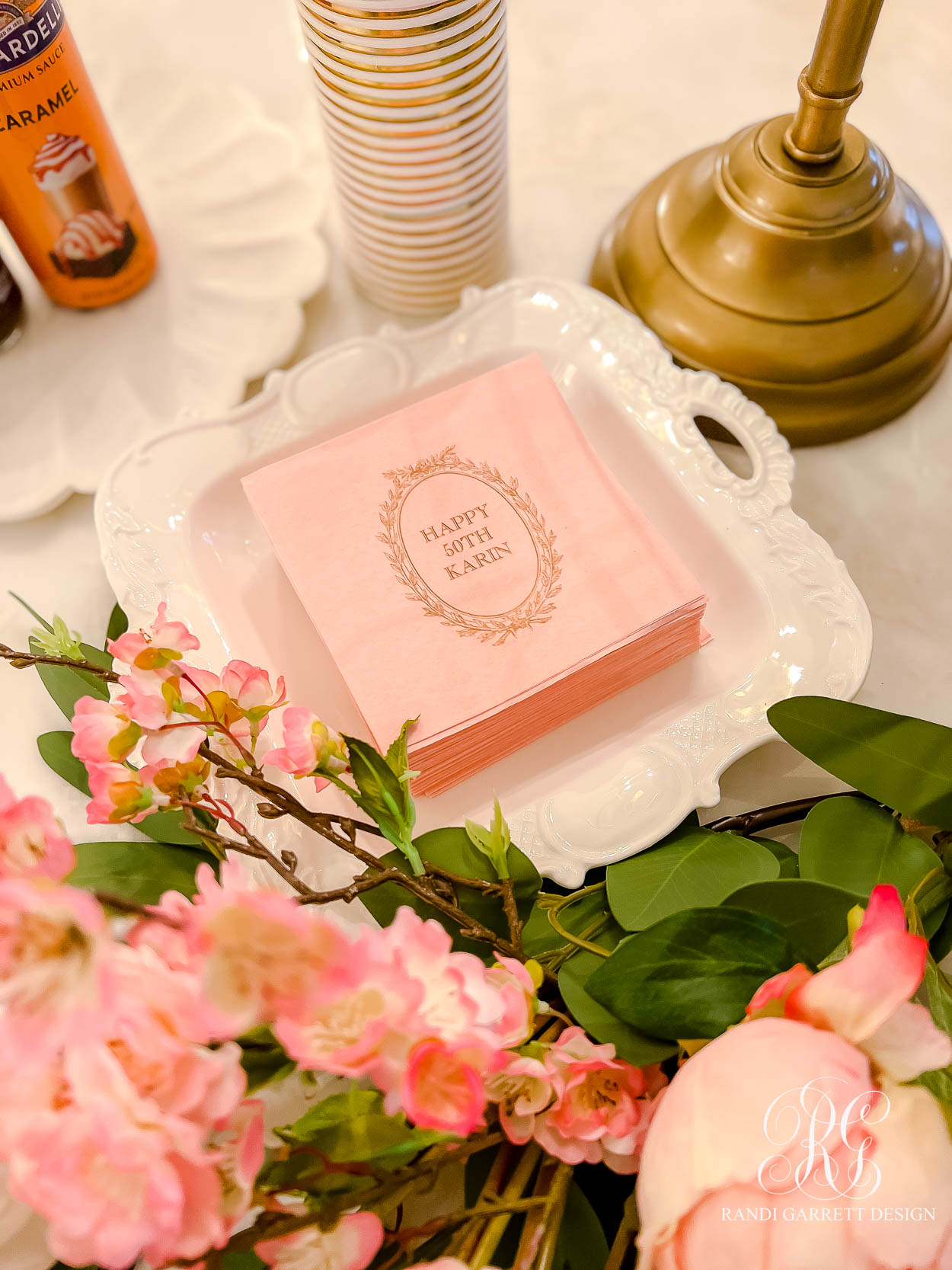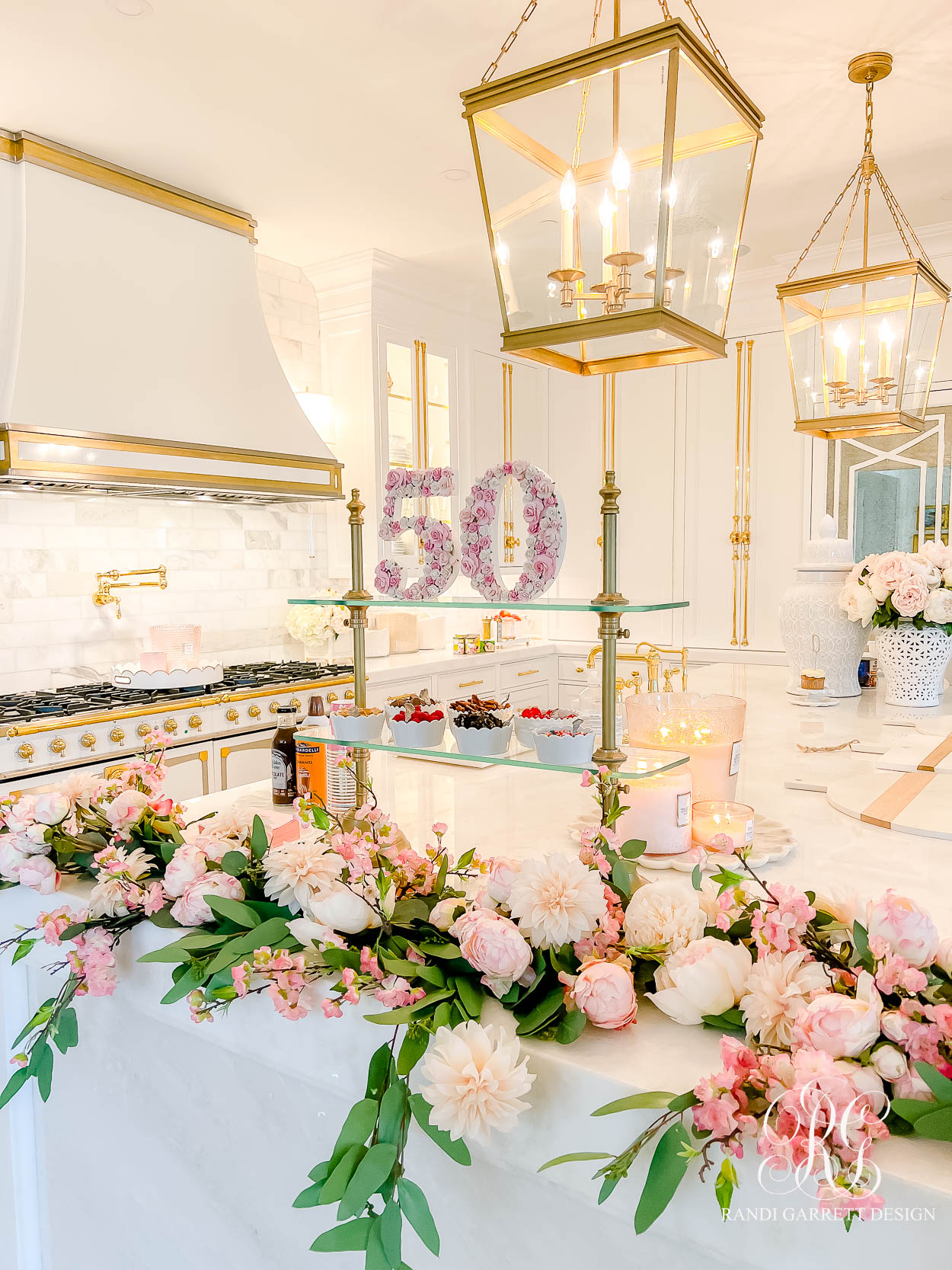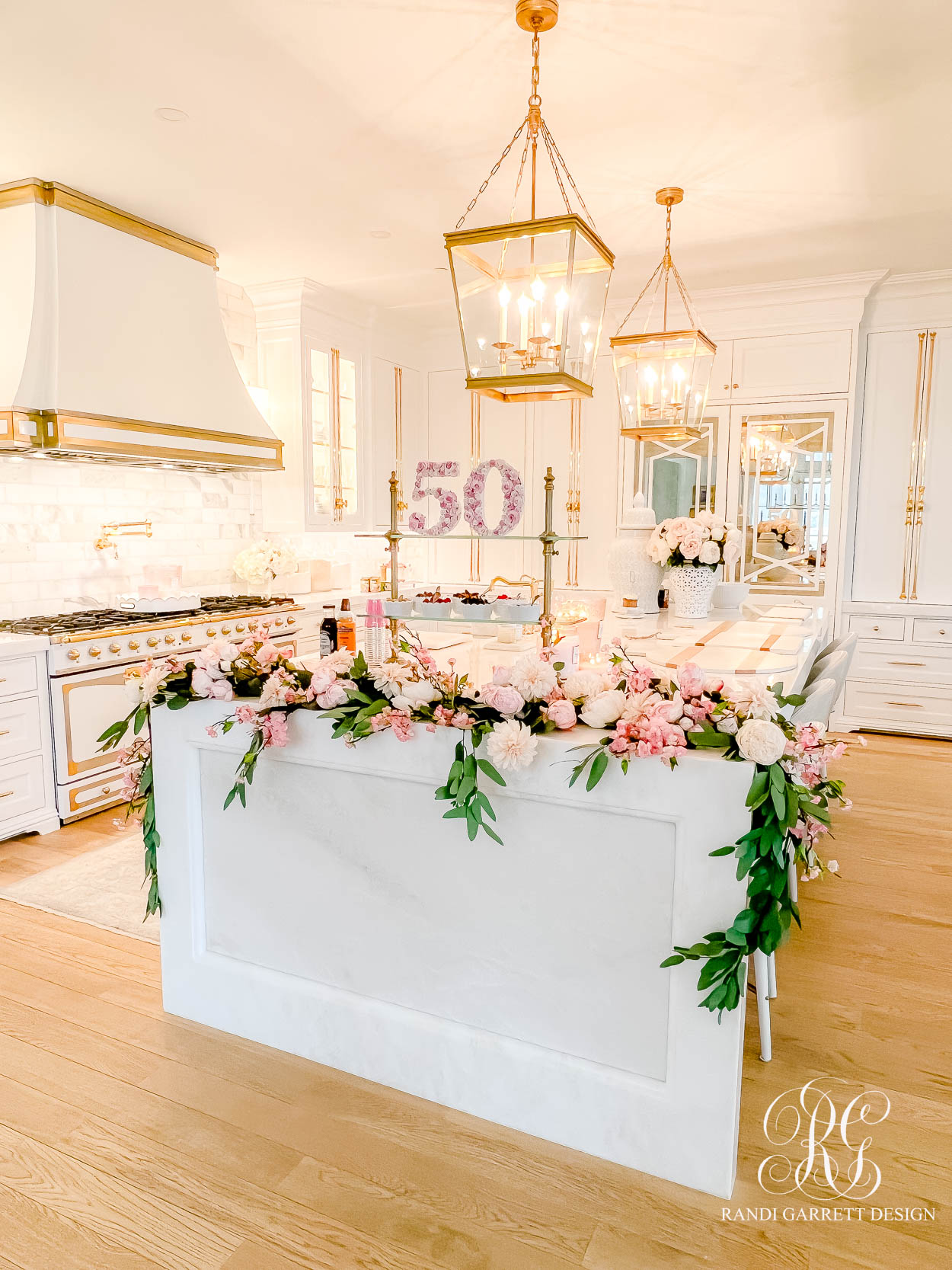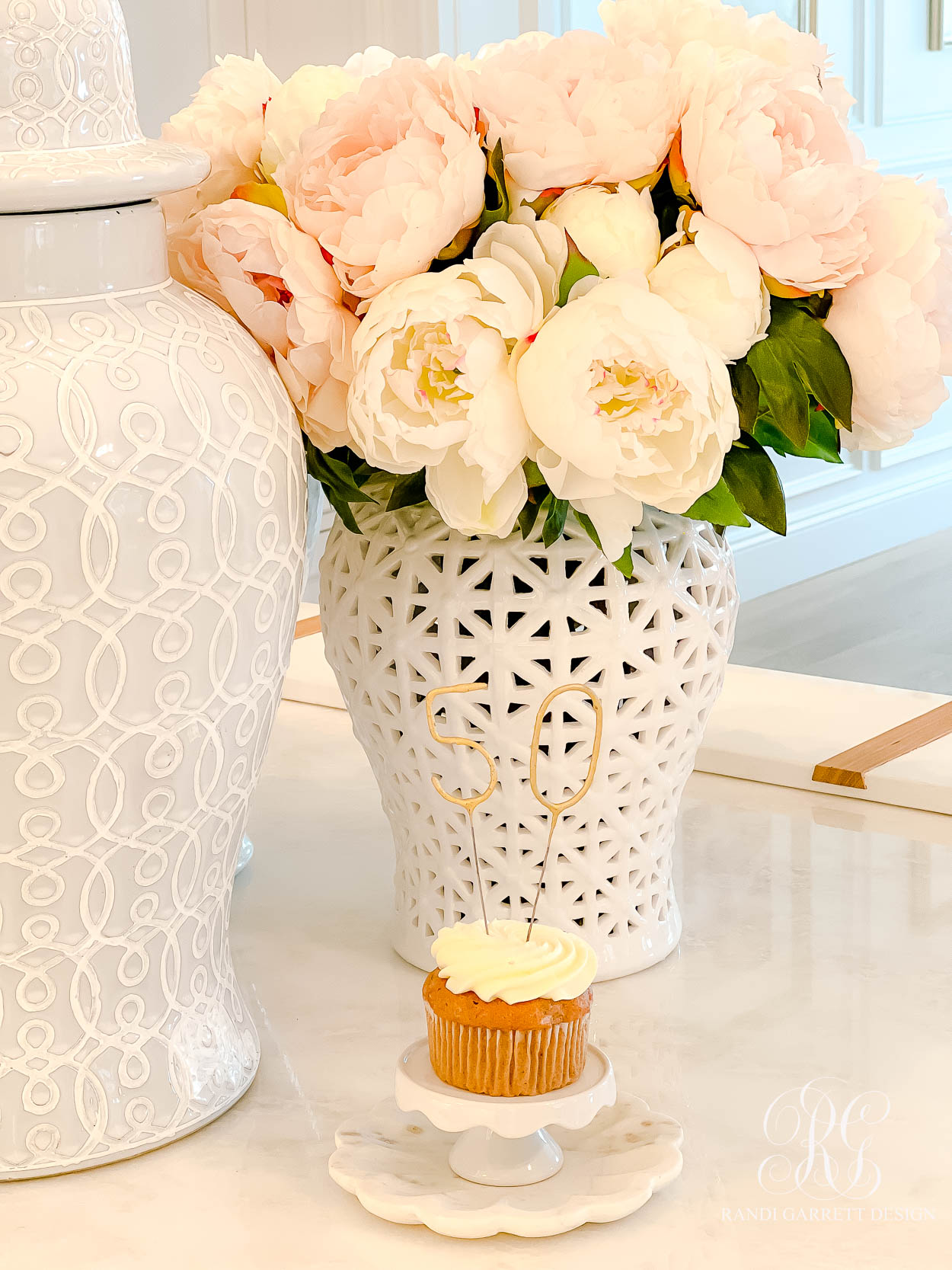 Mini Cake Stand | Marble Ruffle Tray | Number Sparkler Candles | Scalloped Mini Dishes for milkshake toppings
Even though we were having milkshakes for dessert, a birthday party just wouldn't be a party without a cake. An oversized cupcake with sparkler candles made the party feel like a birthday soiree!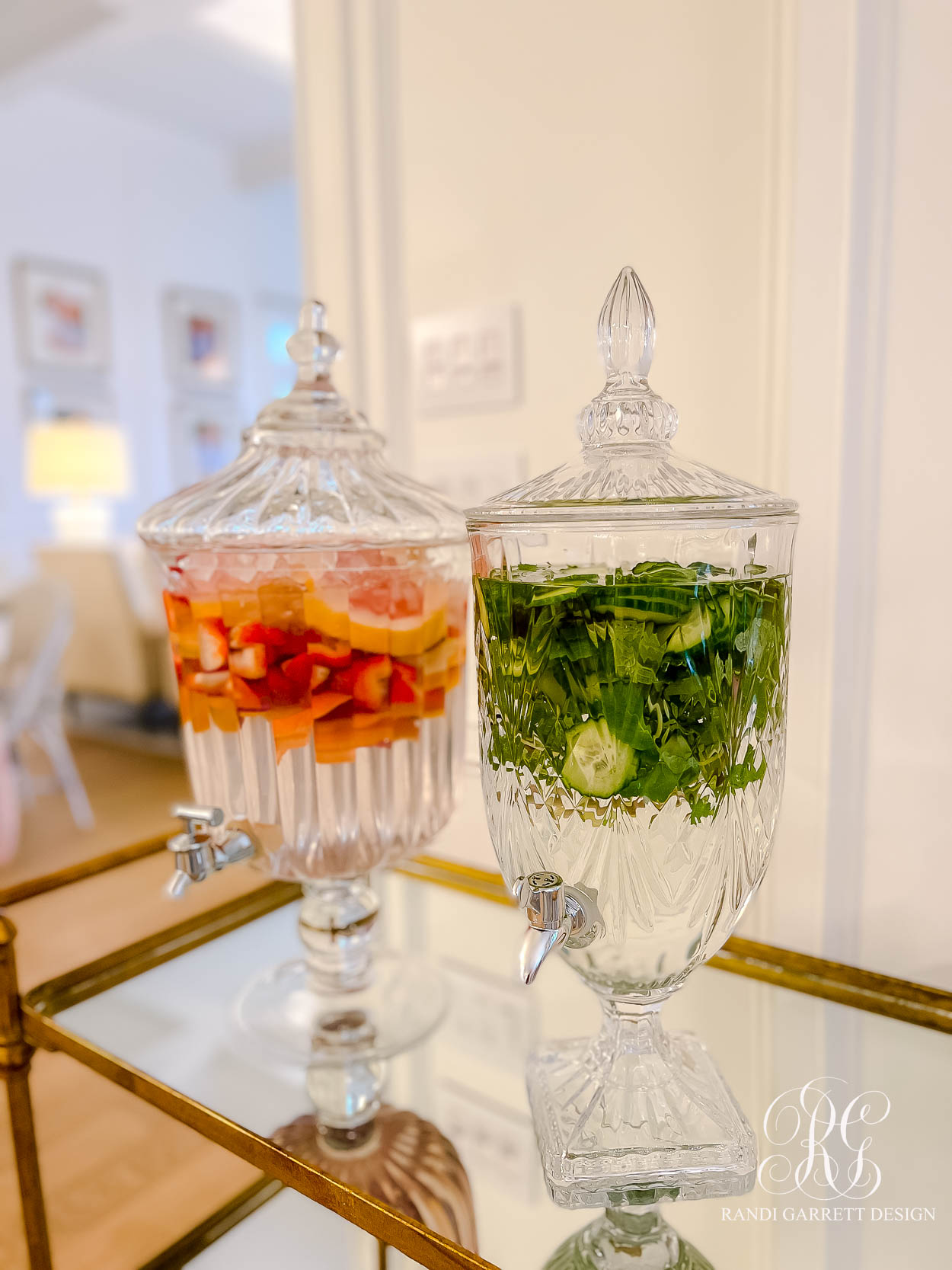 Gourmet flavored waters were her drink of choice. Use these gorgeous urn dispensers to make them look extra fancy. These are the combinations for the evening…
Sunshine Water
1 orange sliced
1 ruby red grapefruit sliced
1 pint strawberries sliced
Throw in a gallon ziplock and toss in the fridge the morning of your party to allow the flavors to meld together.
Cucumber Mint Water
1 french cucumber sliced
1 bunch fresh mint
Add to a gallon ziplock and toss in the fridge the morning of your party to allow the flavors to meld together.







Table Details
To accommodate all the guests, we set our dining room and breakfast room tables, then set up a folding table for the right amount of seats.
Each table had the same place settings. The centerpieces were slightly different, but coordinated. I used pink linen tablecloths on all the tables. These beautiful pink and gold dishes are plastic and disposable (making cleanup a breeze)! They looked like glass china! The pink and gold flatware came with the plates!!! Gold charges, pink ruffle napkins and pretty gold rimmed plastic glasses complete the place settings.
The centerpieces on the kitchen and dining room tables were made using my faux pink peony bunches (peony bunches budget friendly) and some faux eucalyptus stems. I used these white and gold bamboo bowls and these white and gold cache pots as the vases. Glittered number 5 and number 0 picks were placed in each arrangement.
Votive candles sprinkled down the table created a beautiful glow for the soiree.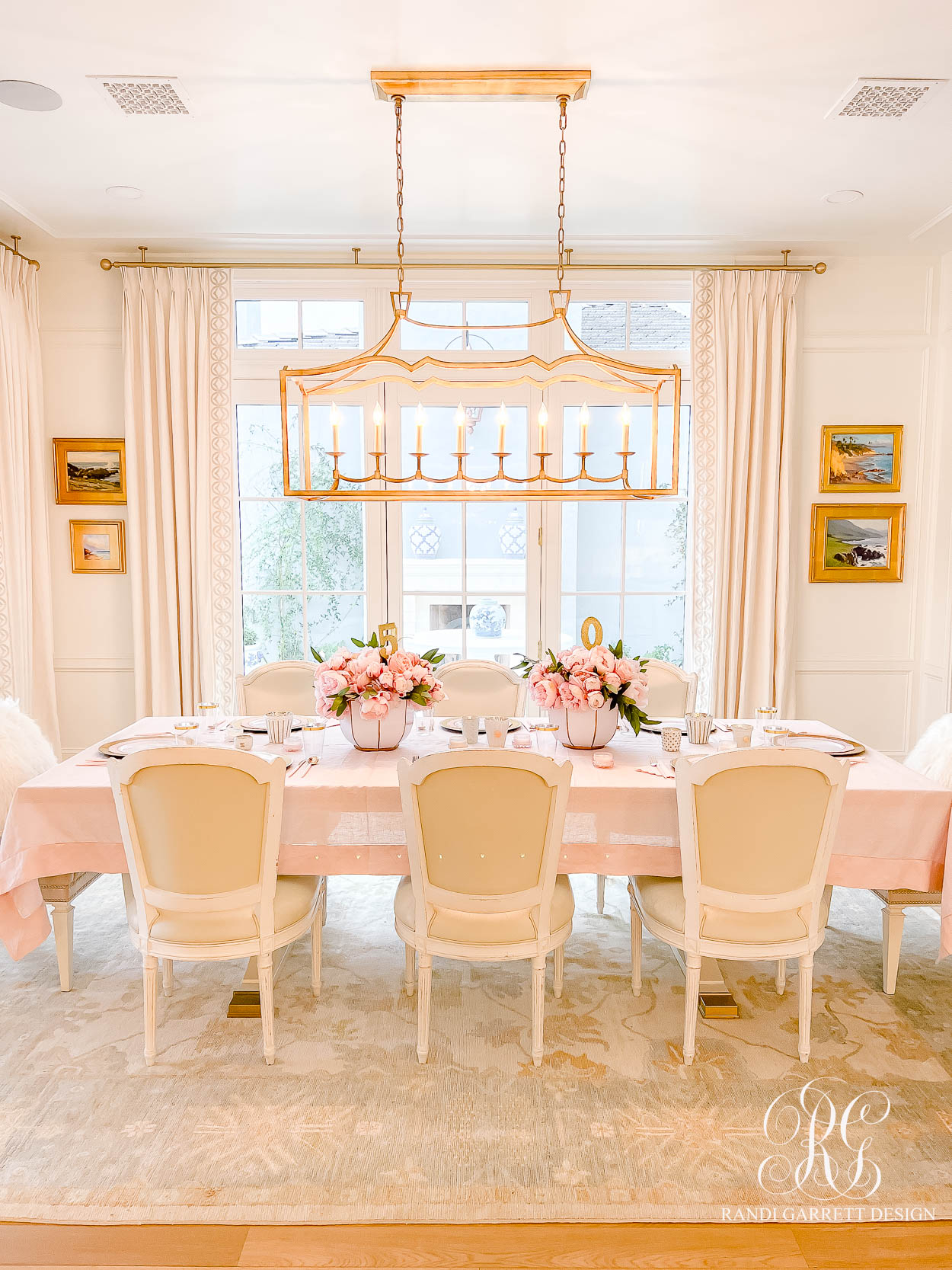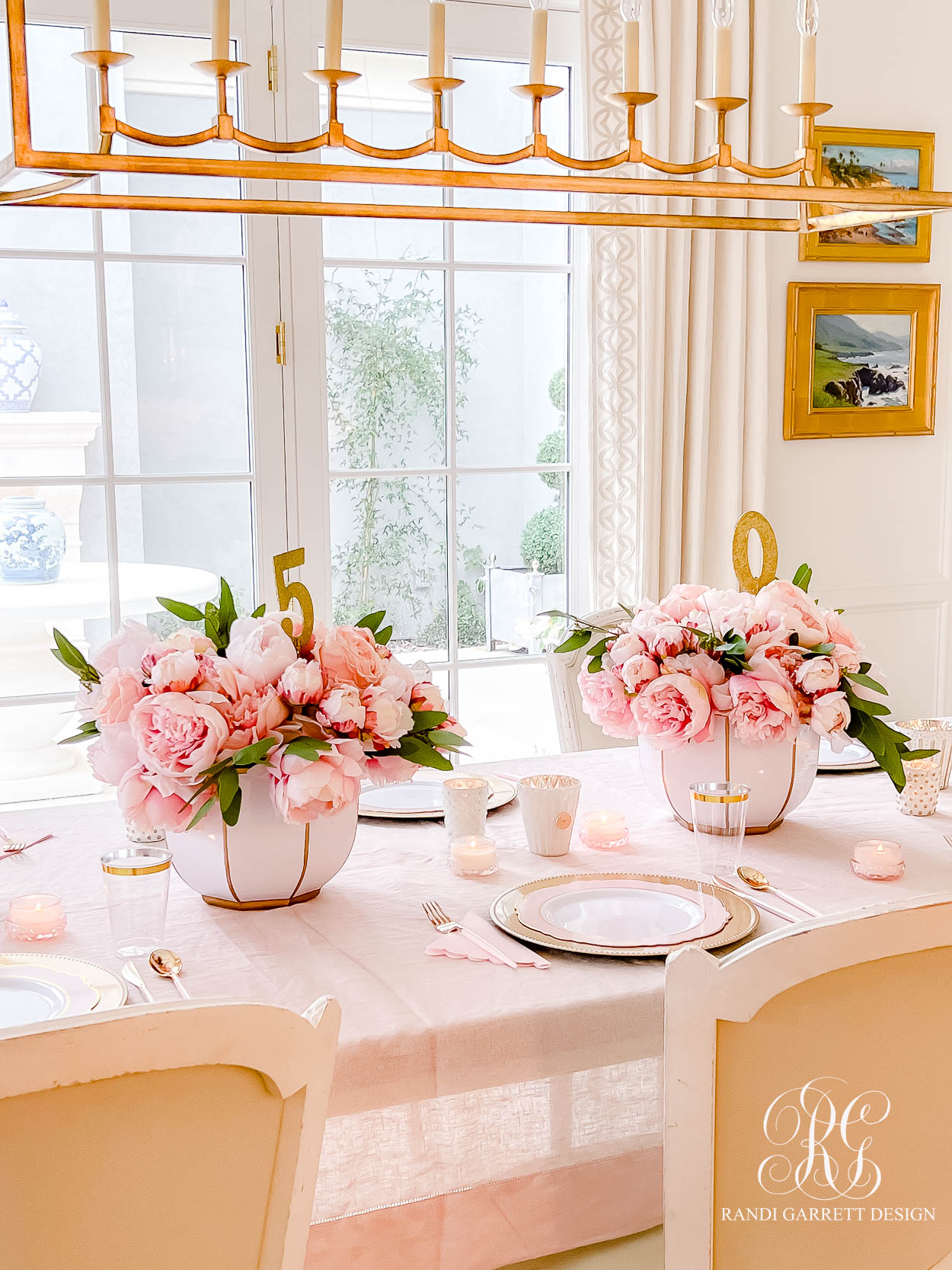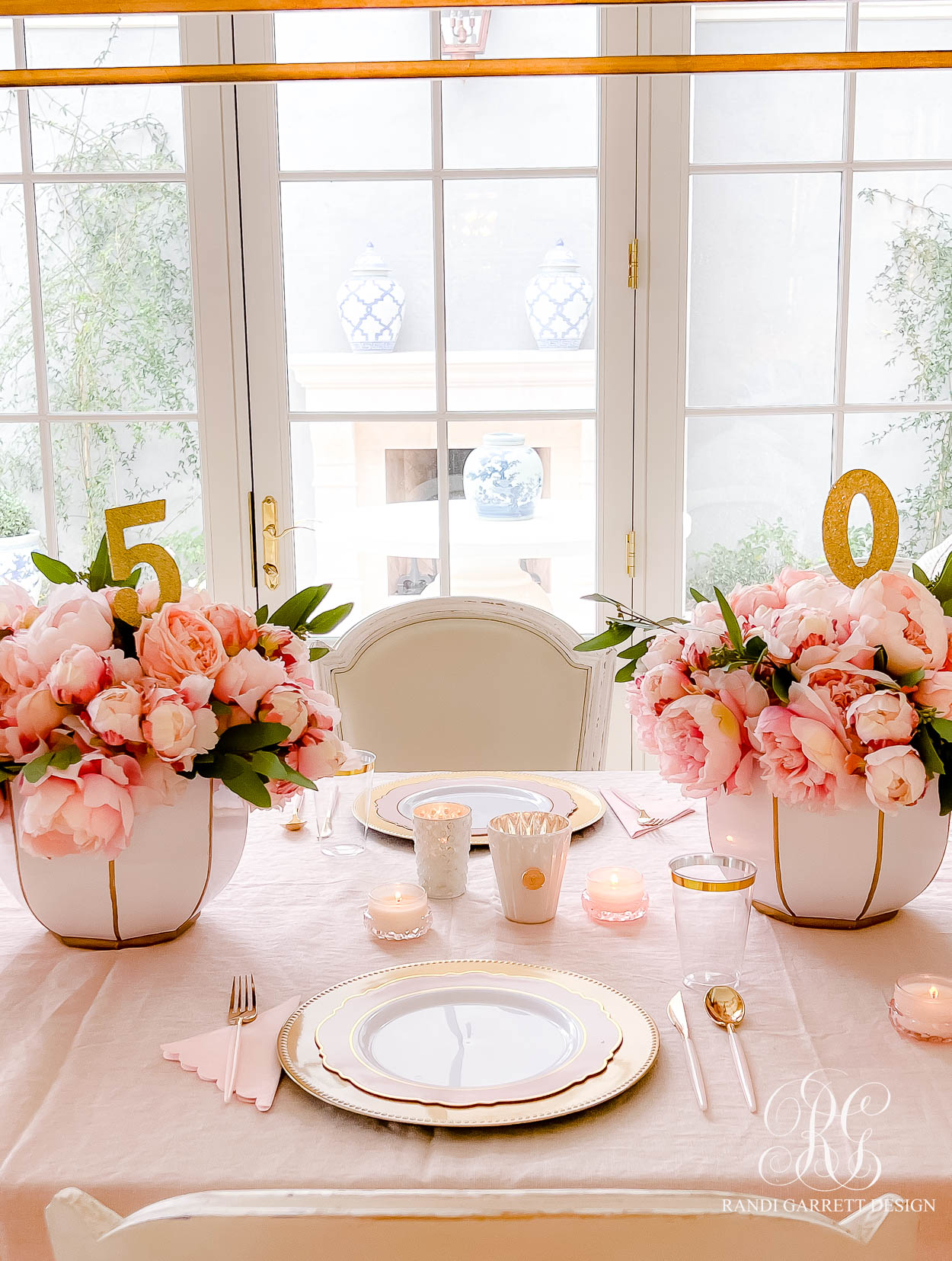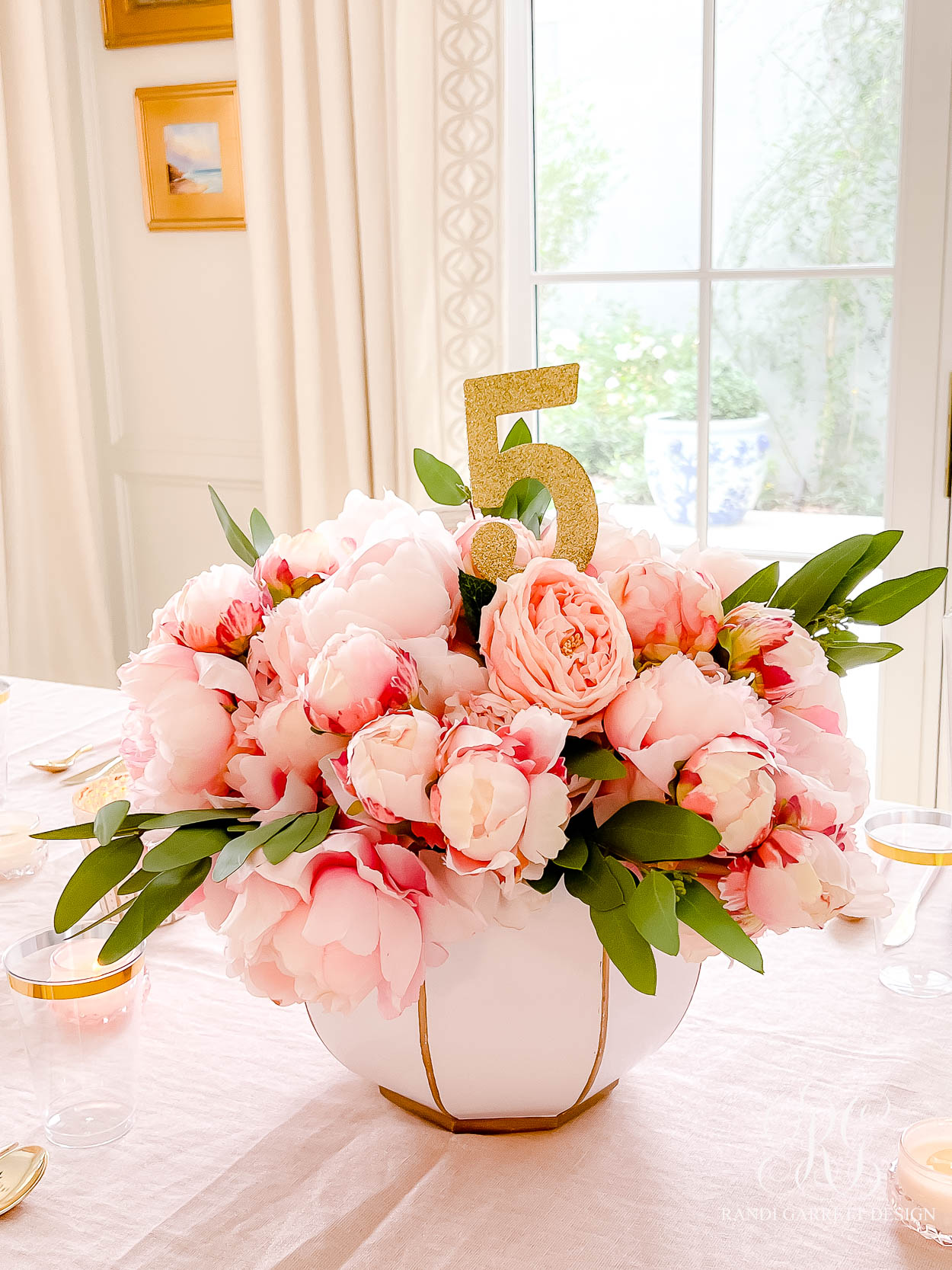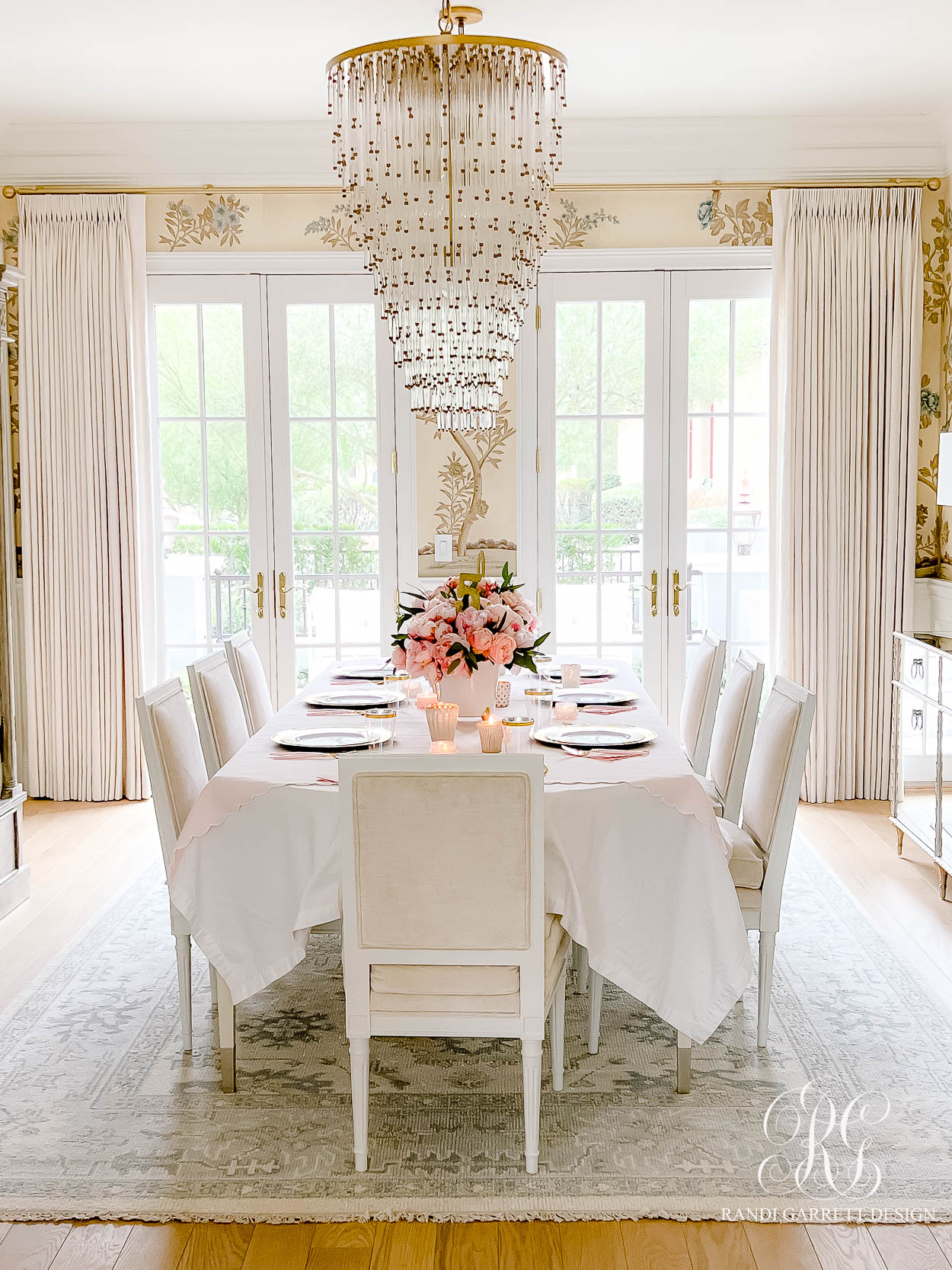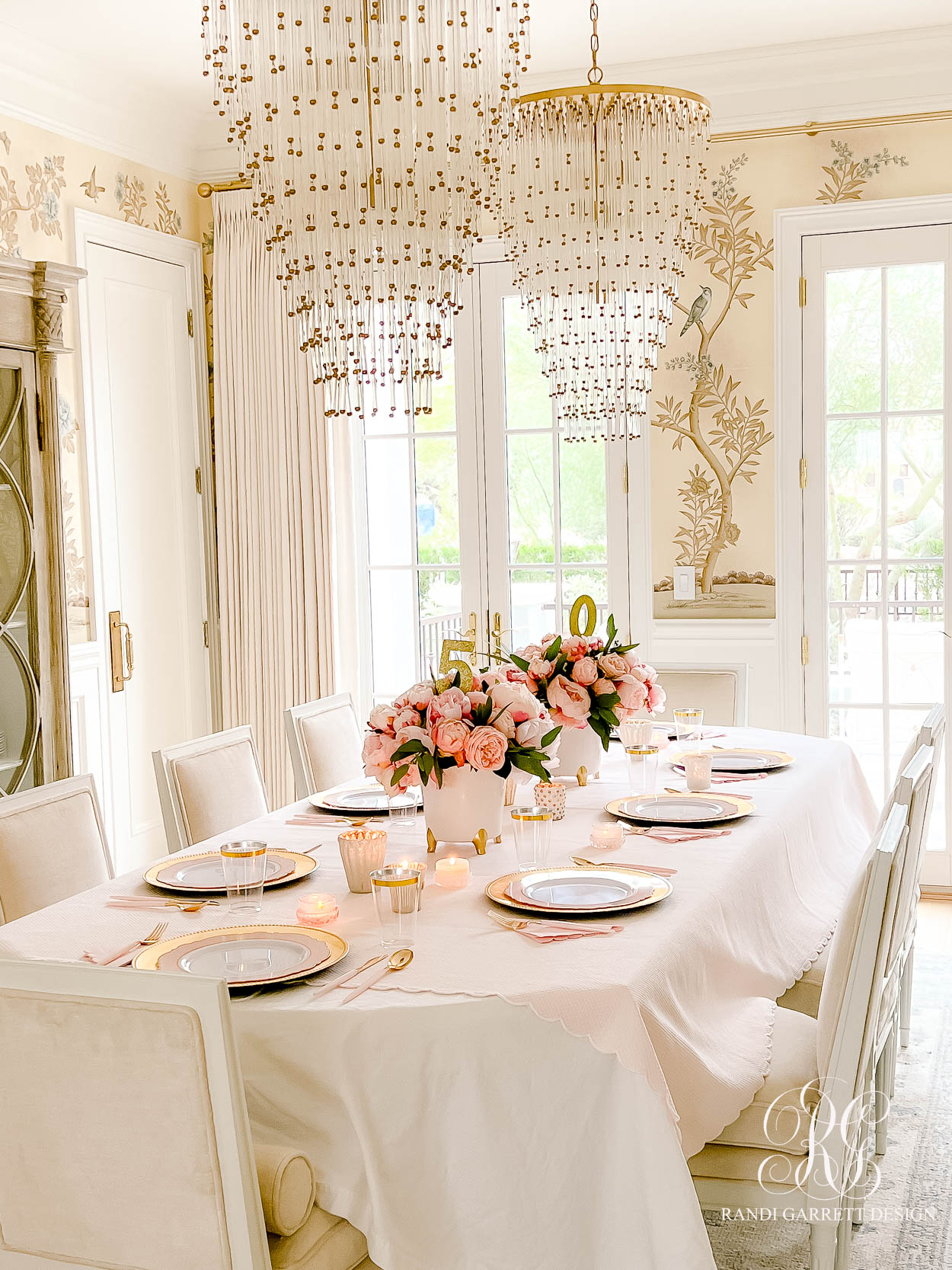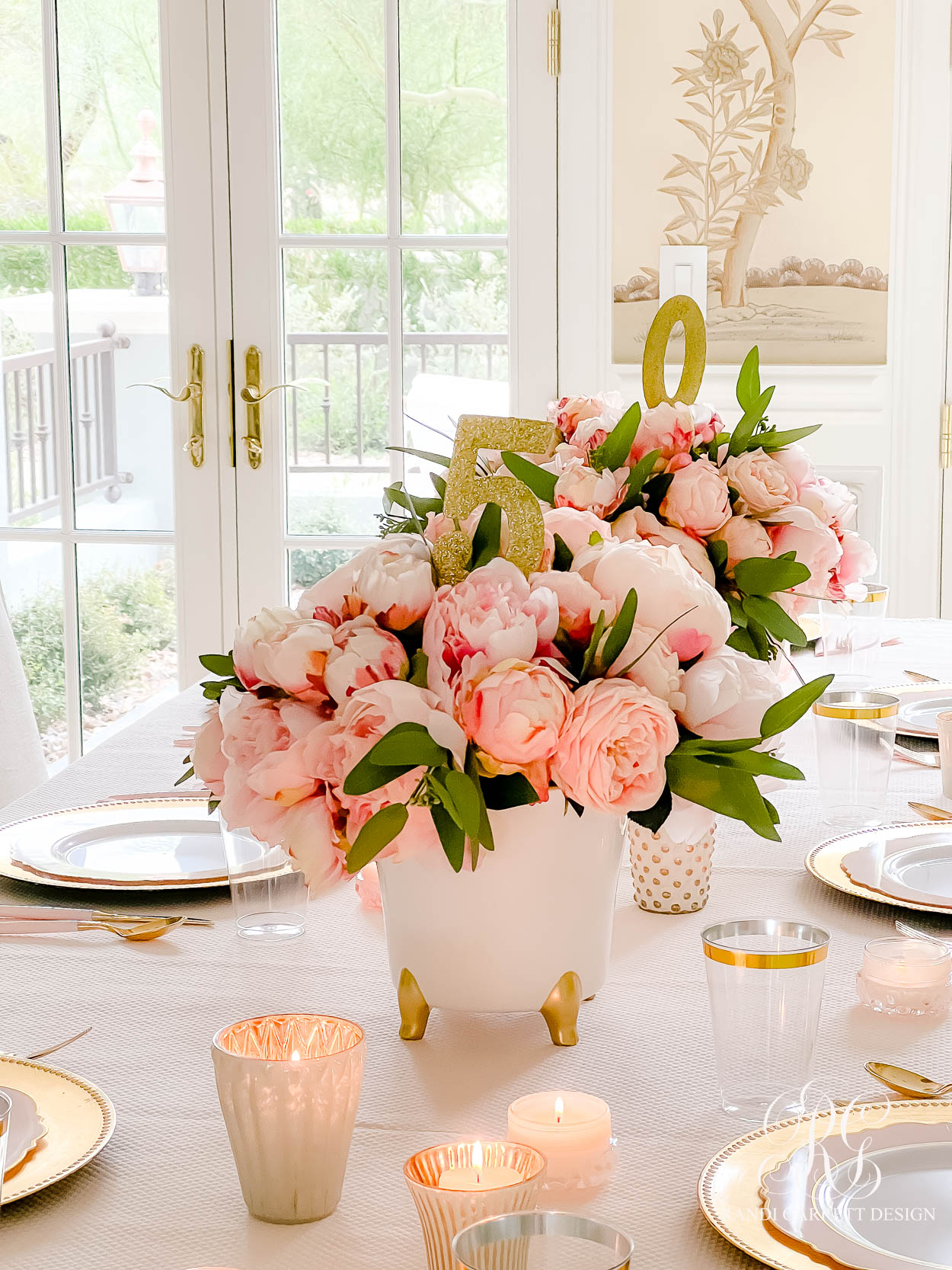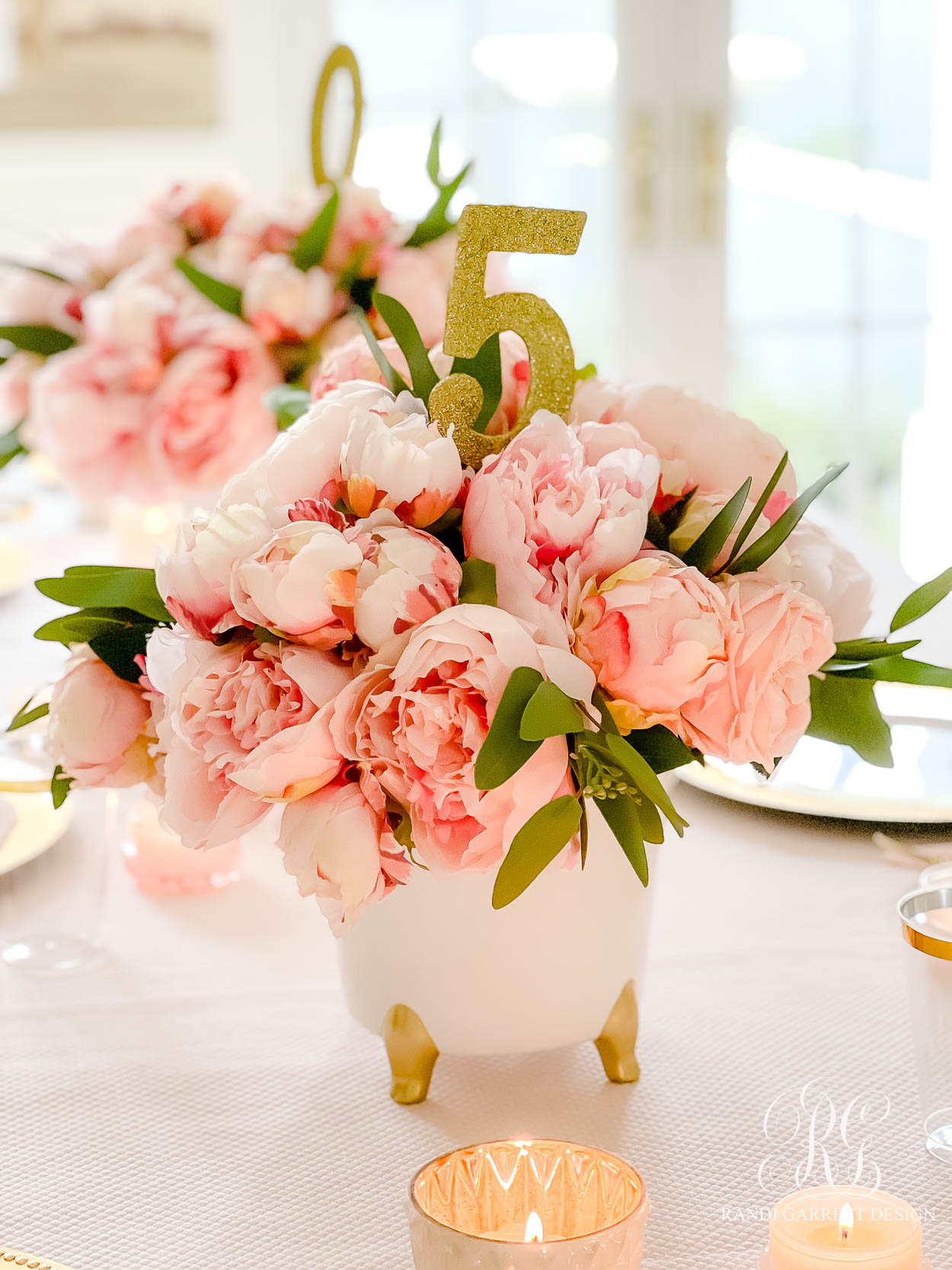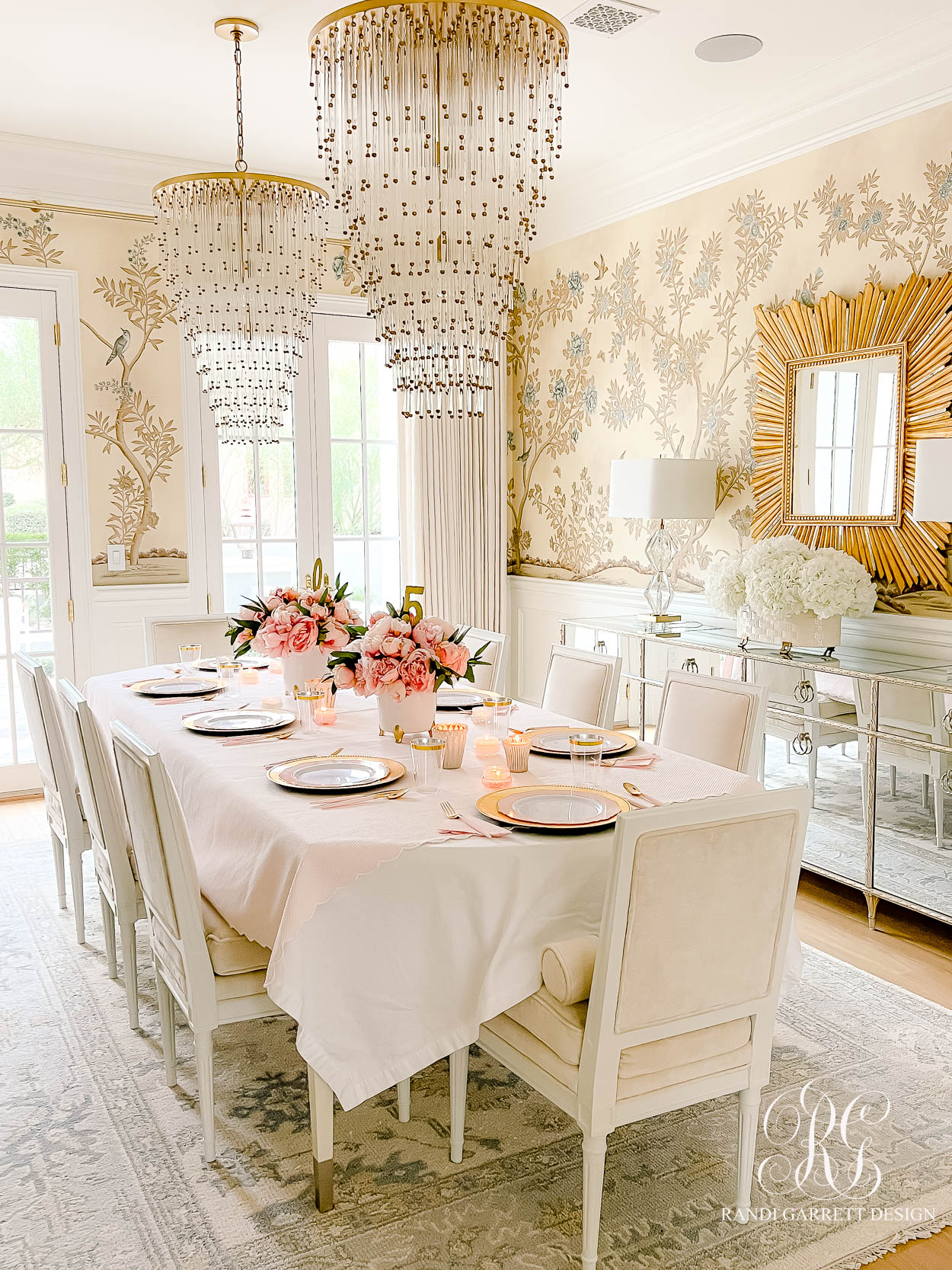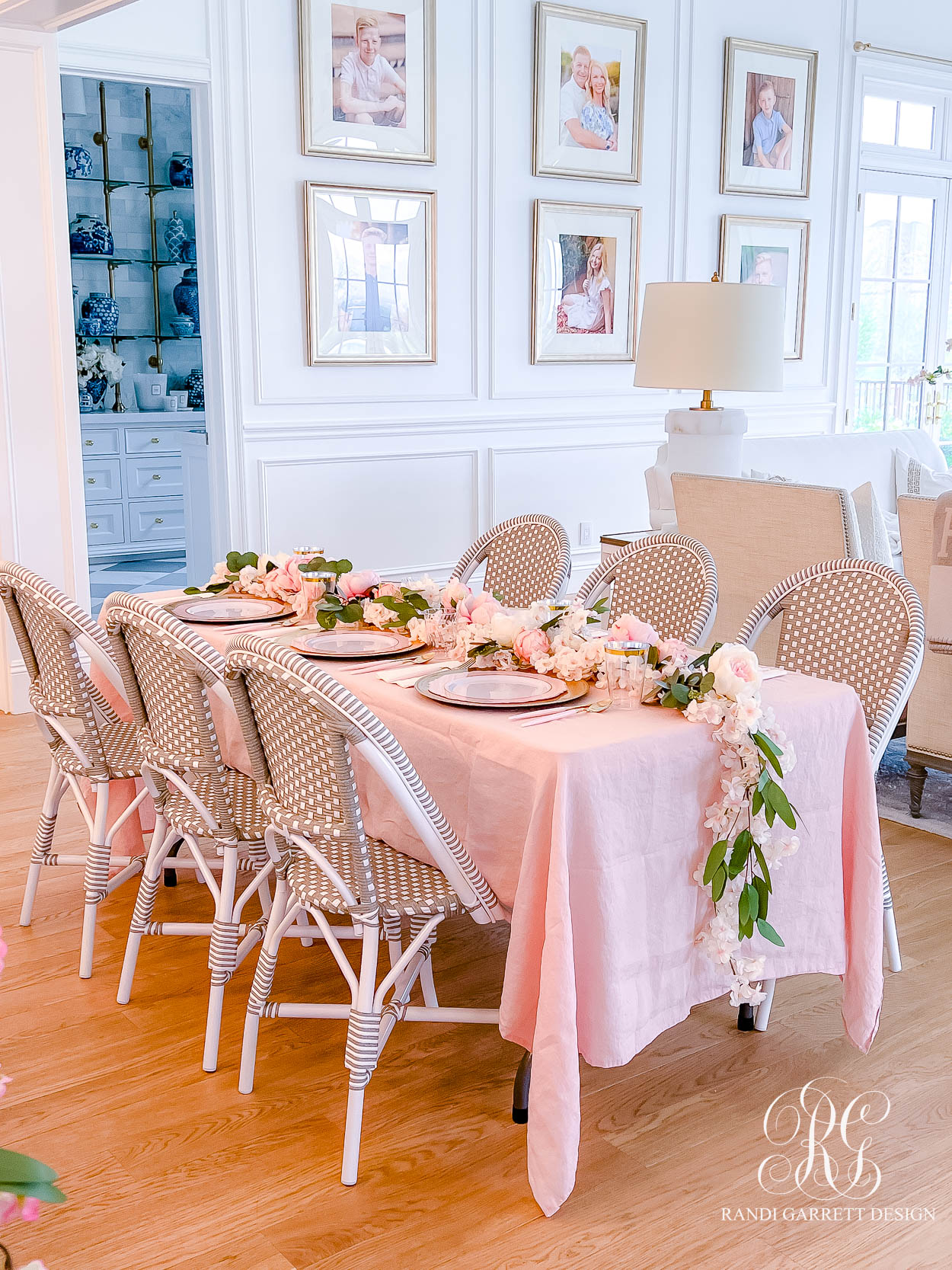 On this table, I used cherry blossom garlands as the base for the garland. Then tucked in eucalyptus, peonies and peony buds for added fullness.