Chocolate is the way to my heart! I figured it might be the way to some of your's as well! So, today I am sharing my all time favorite Fudgy Brownie Recipe that will steal your heart for sure! This brownie is chocolaty and oh so decadent! Add peanut butter chips, toffee chips, chocolate chips, mint chips or make them just like the recipe says. Any way you make these brownies, your heart will be happy!
Typically I pour my brownie dough into a 9 x 13 baking dish and slice them with a plastic knife. The plastic knife creates the most perfect cut lines that don't create extra crumbs on the top of the brownie! It's a magical trick I learned while working in a bakery when I was in college.
Since Valentine's Day is right around the corner, I pulled out my heart cookie cutters and cut heart shaped brownies and topped them with a light dusting of powdered sugar. They turned out so cute! Keep your left over brownie crumbs and make brownie milk shakes or brownie crumb sundaes!
I hope you enjoy this favorite recipe of mine and share it with someone you love!
This post contains affiliate links for your convenience. Read my disclosure policy here.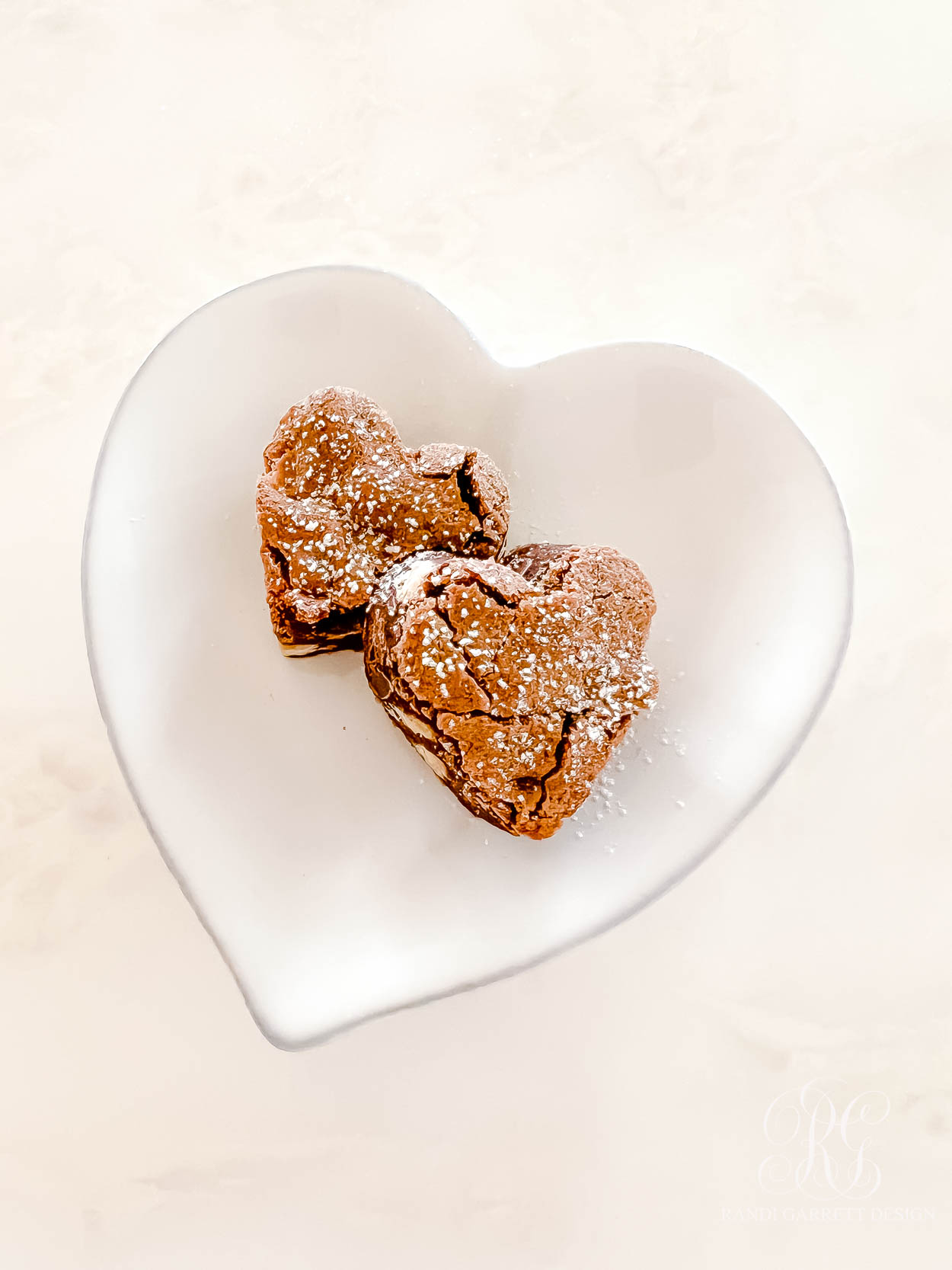 Fudgy Brownie Recipe

Serving Size
2 inch brownie
Ingredients
1 cup all purpose flour
1/4 tsp salt
1 stick unsalted butter
16 semisweet chocolate
4 ounces unsweetened chocolate
4 eggs (room temperature)
2 cups sugar
4 tsp vanilla extract
1 cup chocolate chips (or other flavored chips)
Instructions
Preheat oven to 325 degrees.
Grease a 9x13 baking pan.
In a small mixing bowl, combine flour and salt.
In a medium sized saucepan on low heat, melt the butter with the chocolate (not the chips), stirring occasionally until smooth and melted.
Remove from the heat and cool until lukewarm, about 5-10 minutes.
Beat the eggs with the sugar until light and creamy, 2-3.
Add the vanilla and beat well.
Add the chocolate mixture and beat until combined.
Add the dry ingredients and mix thoroughly.
Fold in chocolate chips.
Spread the batter evenly in the prepared pan.
Bake for 20- 30 min.
Check the brownies at 20 minutes and bake longer if necessary.
Do not over bake!
Cut with plastic knife.