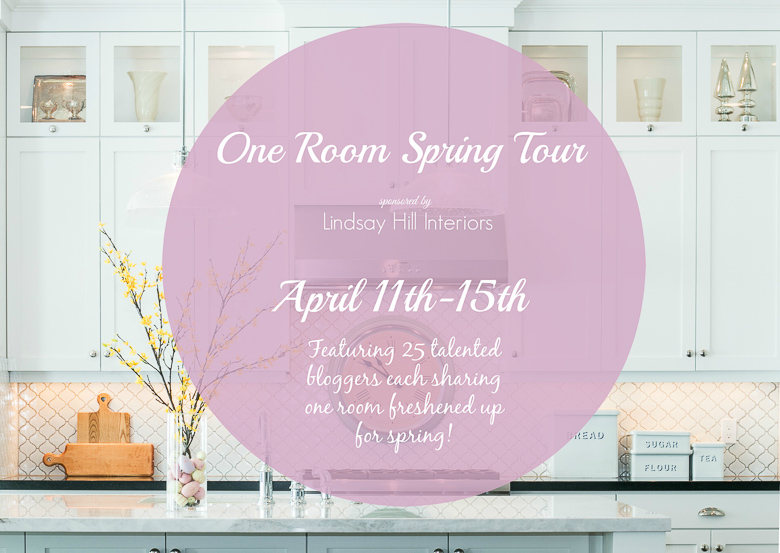 Welcome to the One Room Spring Tour! My friend Kathleen asked me to join with her and 25   bloggers to share ways to freshen your home for Spring.  Here's how it works, each day this week 5 bloggers will feature a different room in the home.  They will share ways to freshen that room for Spring!
If you're here from my friend Shannon at Fox Hollow Cottage blog, welcome!  Today's room theme is the entryway.  The entryway is usually a small but important space in the home.  It is the first place guests see when they enter your home.  You want them to feel welcomed and invited into the rest of your home.  Today I am sharing with you some easy ways I got my entryway ready for Spring….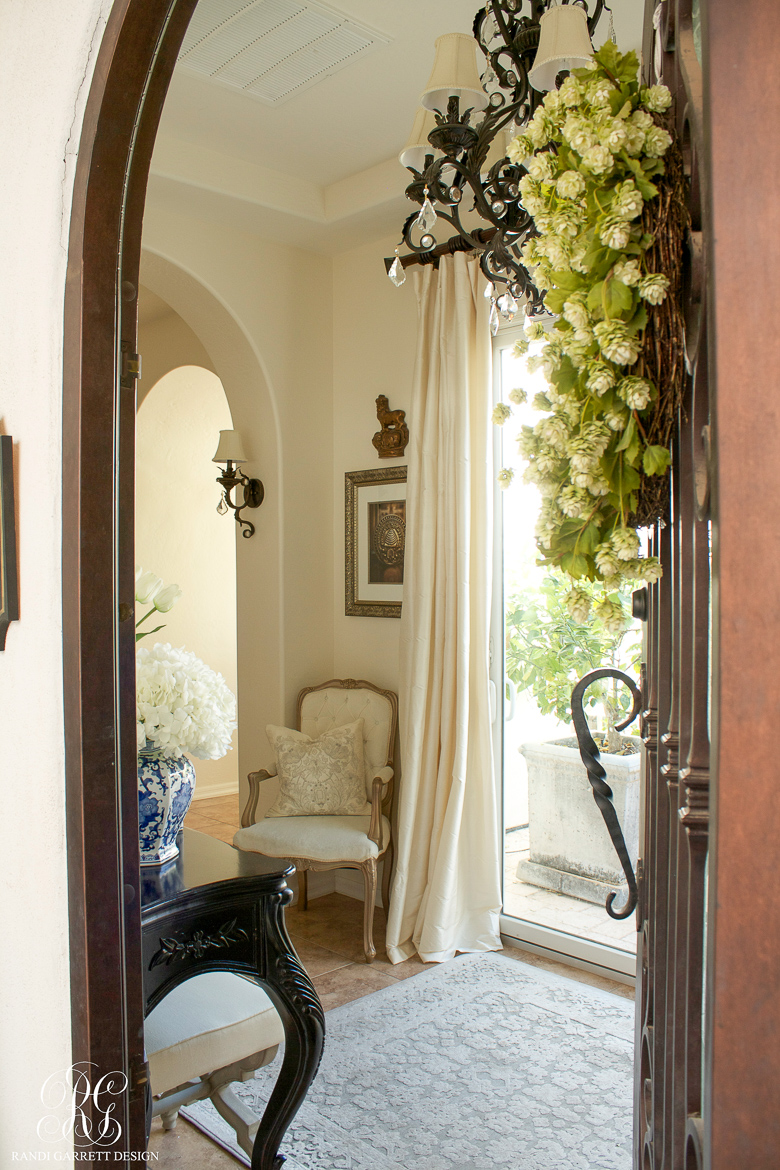 Our front door opens into a quaint entryway that peaks out into our courtyard. There is light streaming through the windows welcoming you inside.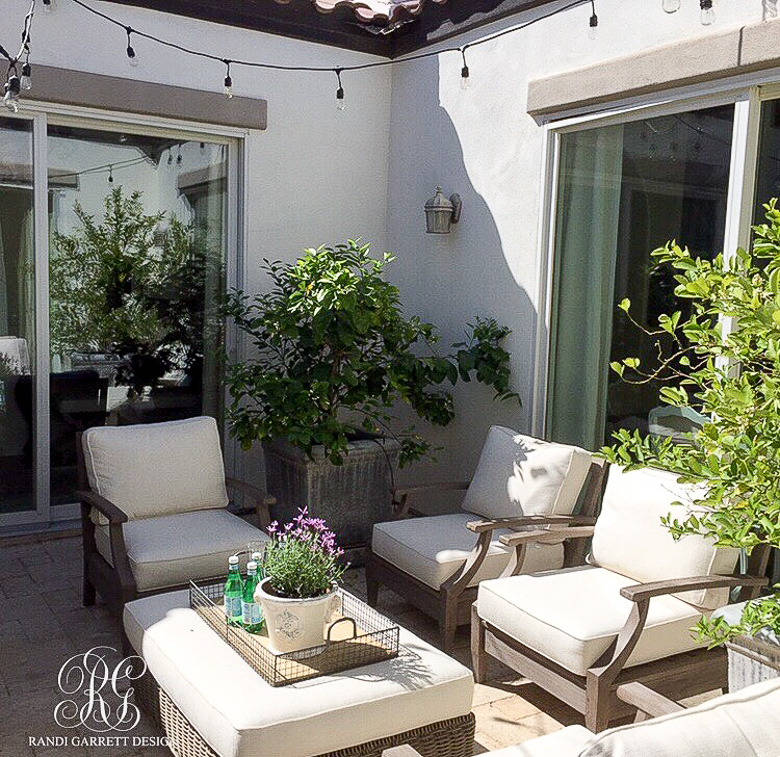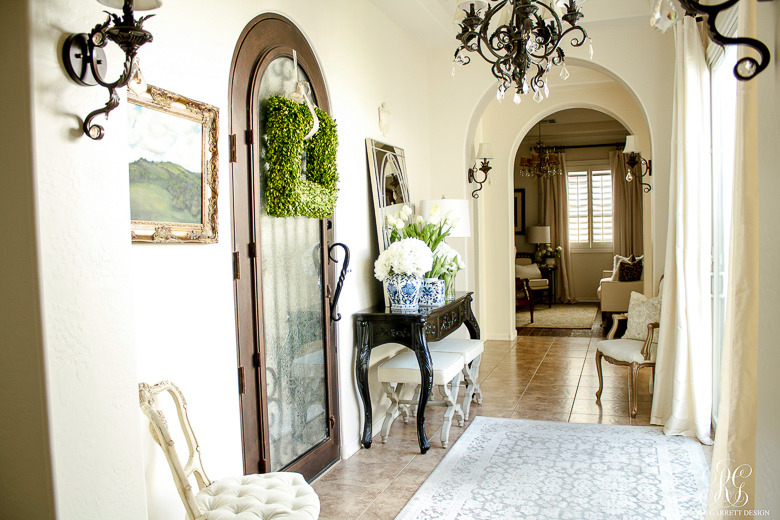 This year to welcome in Spring, I shopped my house for ways to make a statement without having to spend any money.  You can do the same thing!  Look around your house and see what you have.  Move things around, borrow from other rooms and have fun!
Here's what I did…
First, I brought in my cream chairs from my office to give the entry a bright, clean feel.  One of my best friend's taught me how to oil paint last year.  I hung our first painting, a lush landscape, on the wall to the left of the door. Sentimental pieces are one of my favorite things to add to a room.  They add love and uniqueness.  Photographs, family heirlooms, a special trinket from a trip, all of these things give your home personality.  Every time I pass this painting, I am reminded of my friend who lives far away now. Suddenly she's right with me again.  Surround yourself with things you love and hold special meaning and you will feel more love in your home.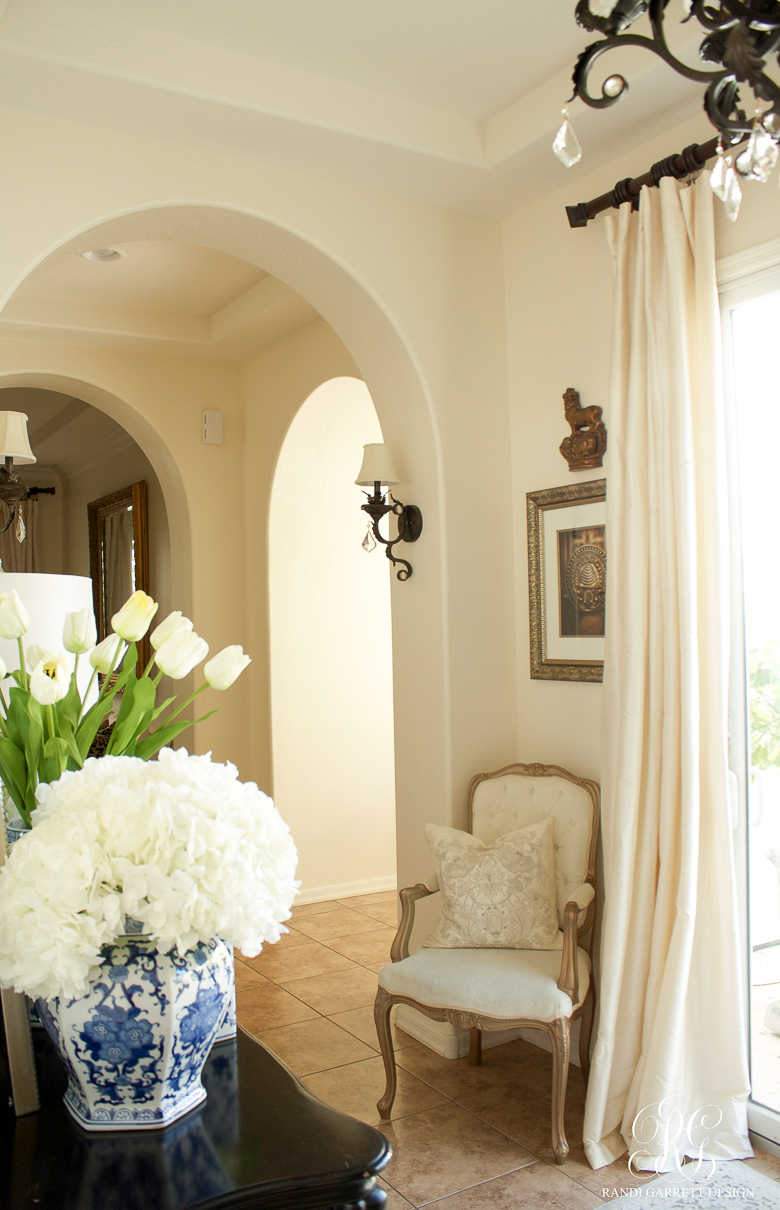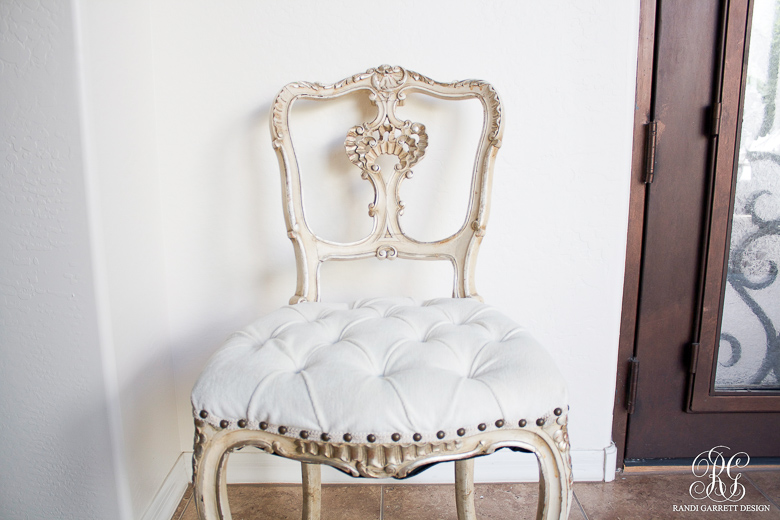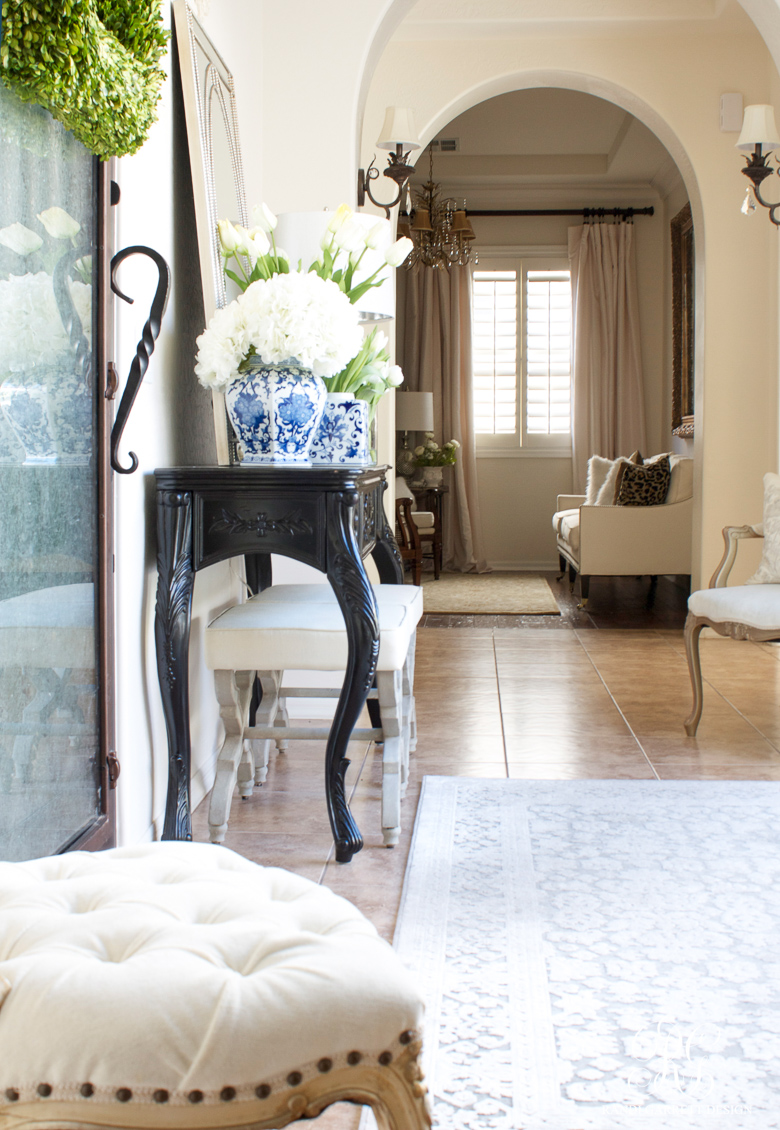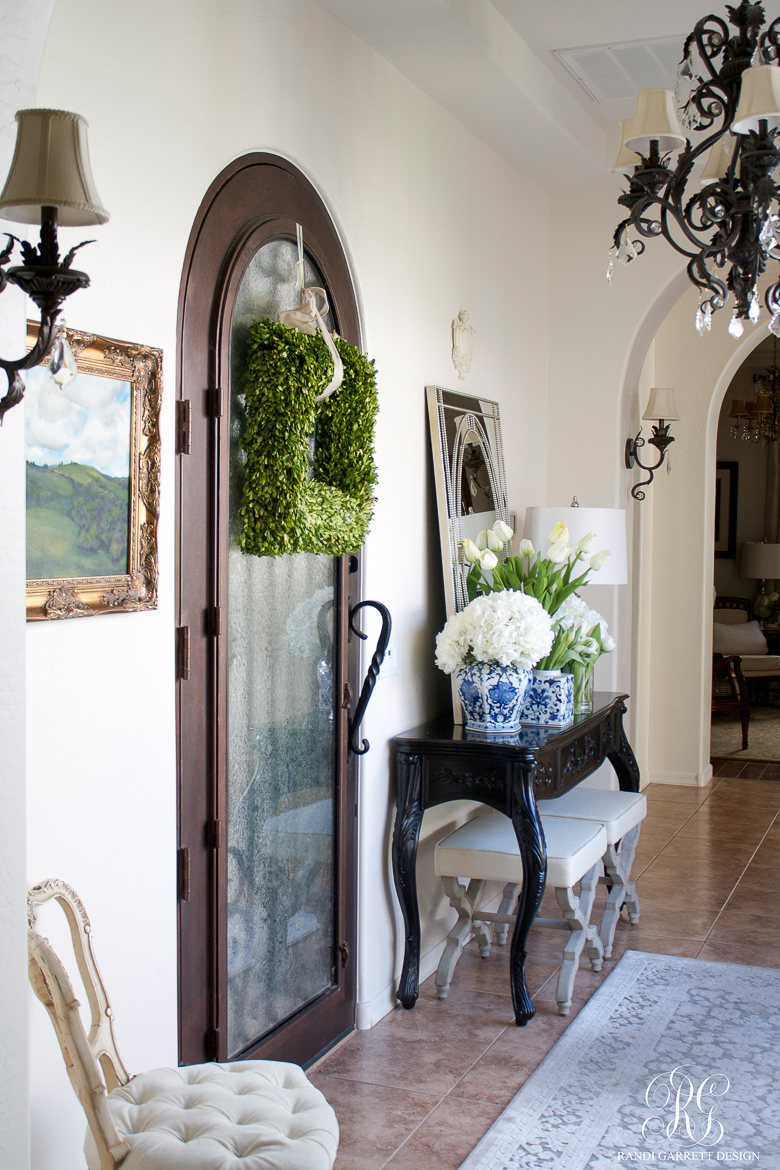 Second, I pulled out my preserved boxwood wreath and hung it on the door. Who says wreaths can only hang on the front of the door?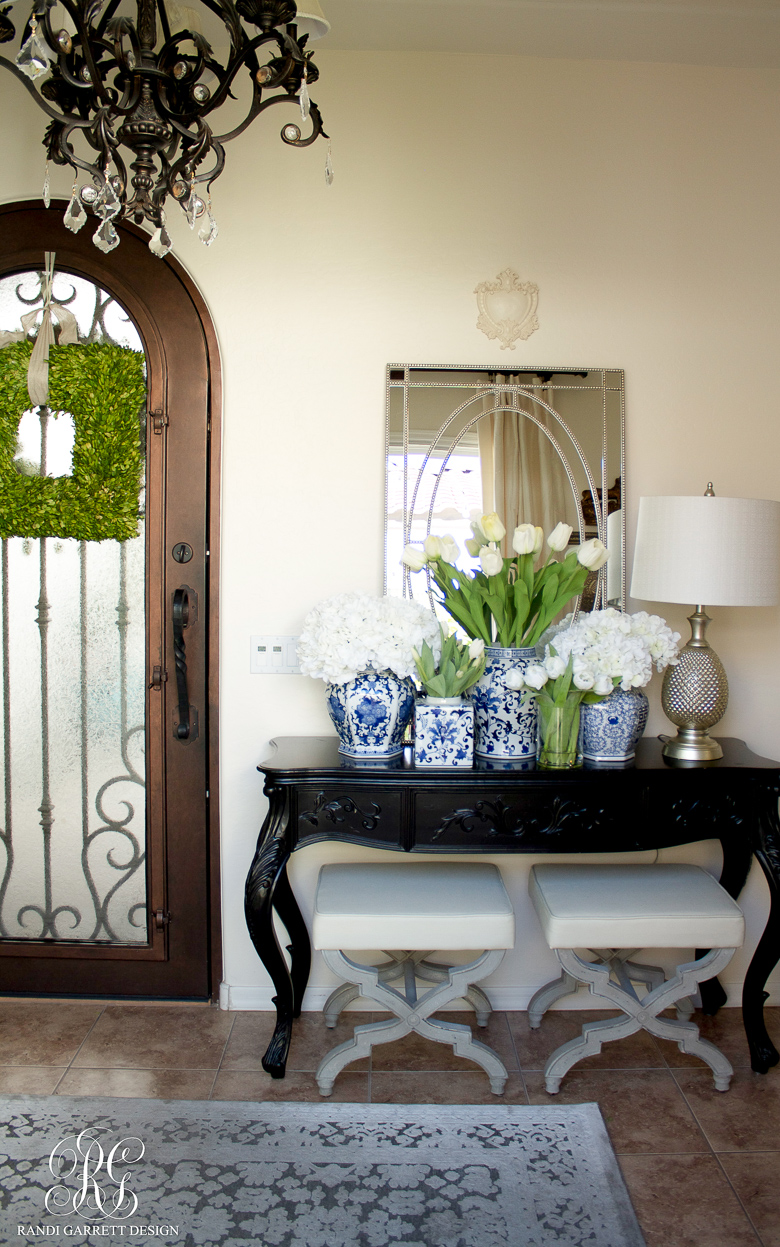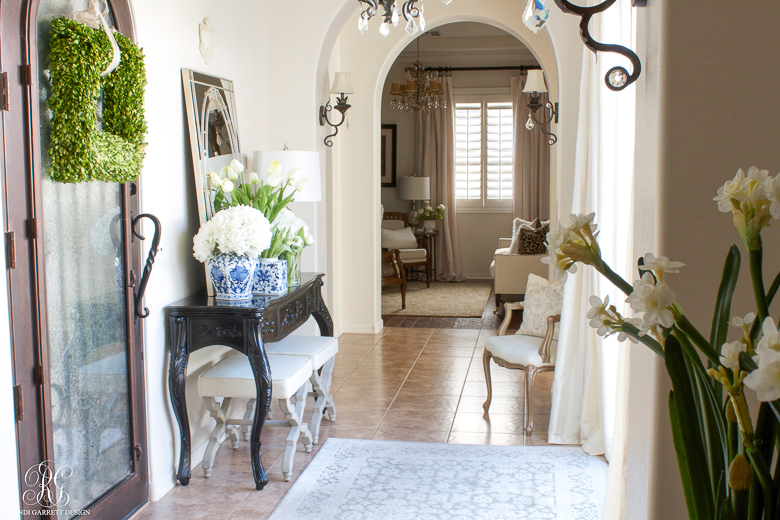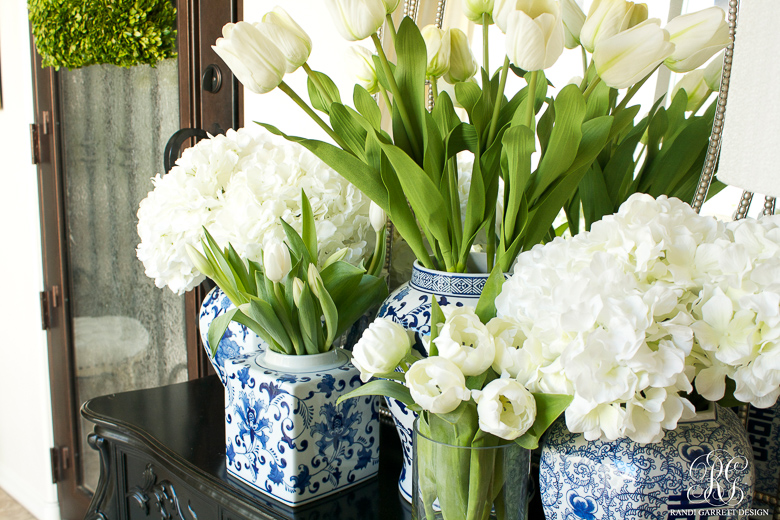 Third,  I addressed the entry table.  I wanted to make a statement with a large arrangement this year.  The collection of blue and white vases I had tucked away seemed the perfect way to add drama and interest.  Blue and white ginger jars are popping up all over the design world this year.  Though they are a time less classic, blue and white jars are all the rage in design trends.  They make the perfect canvas to display fresh and faux Spring flowers.
You could do the same thing with a collection of white pitchers, or vases, or whatever you have on hand.  For my vignette, I used flowers I already had and mixed them with some fresh ones.  Can you tell which ones are faux?  You can read my Spring flowers post to learn how to decorate using fresh and faux together.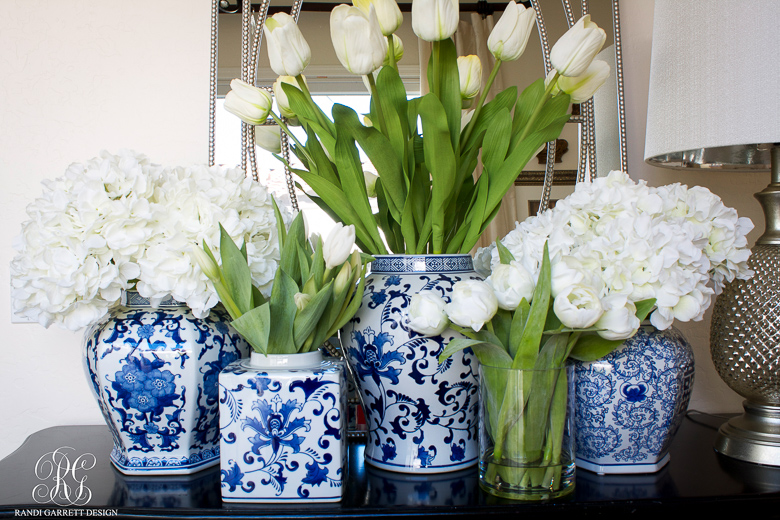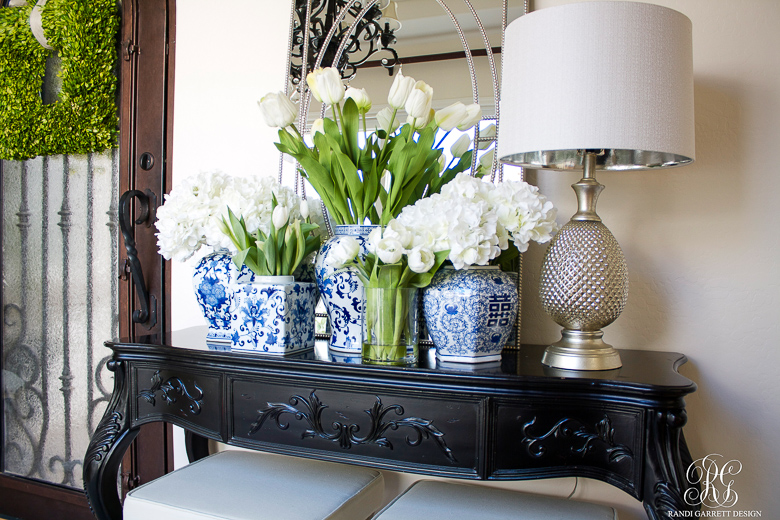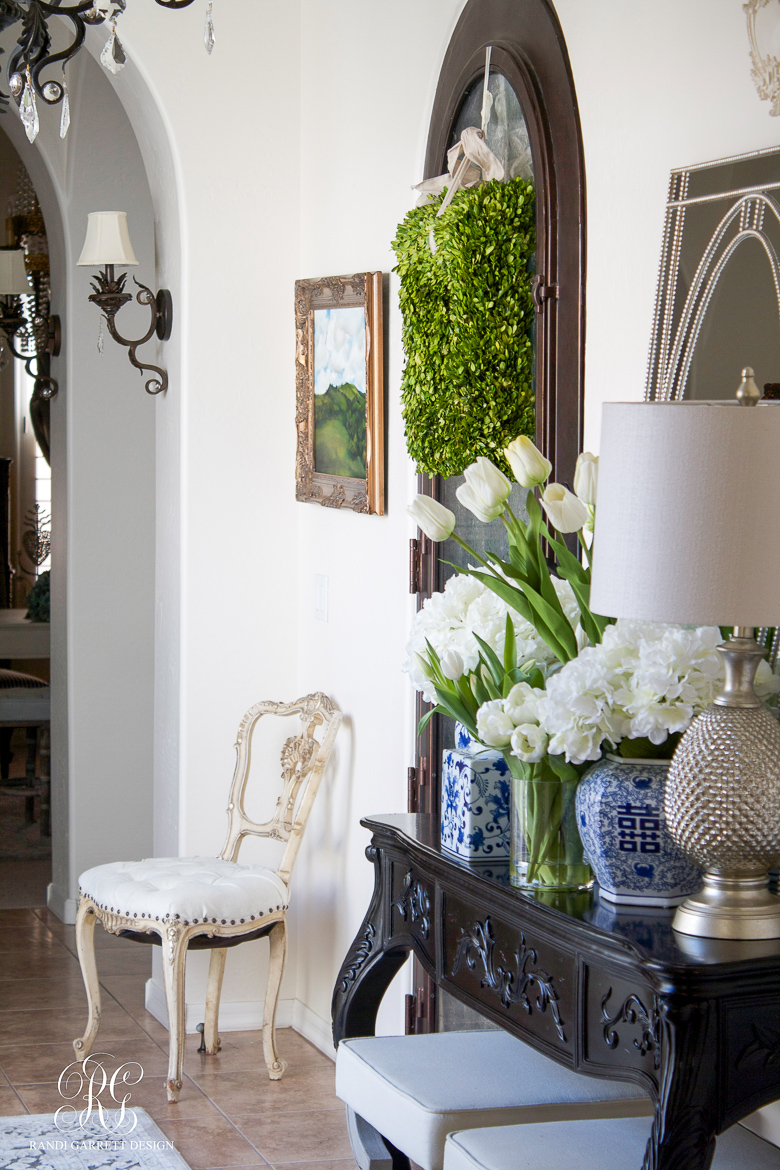 Fourth, I created a simple arrangement of Paper Whites with fresh Spring moss in this large antique ironstone urn. It creates a focal point when you walk in from the garage door. You could use a large white bowl with flowers in pots from Lowe's to create a similar look.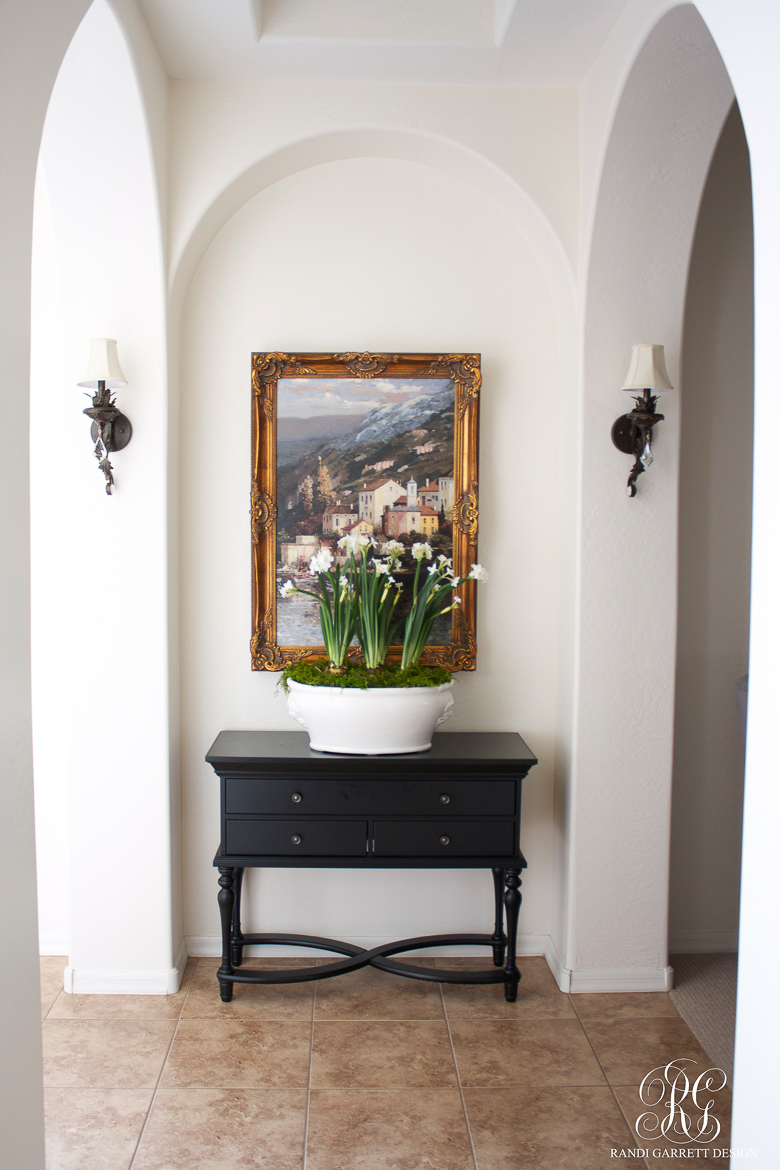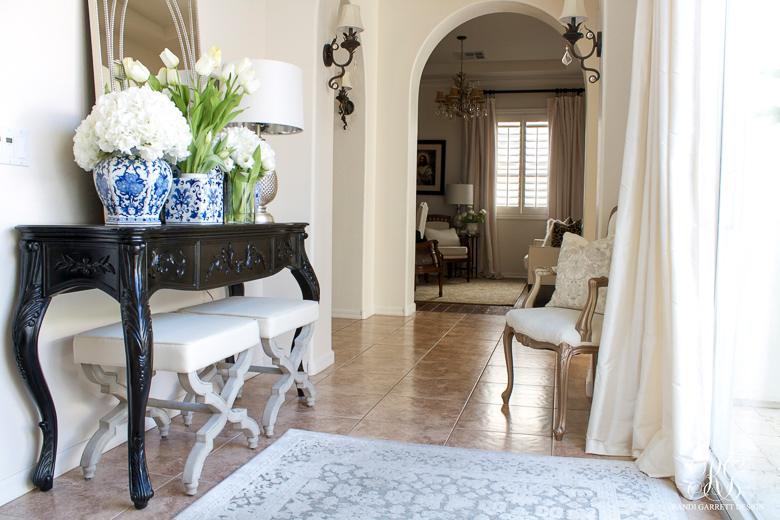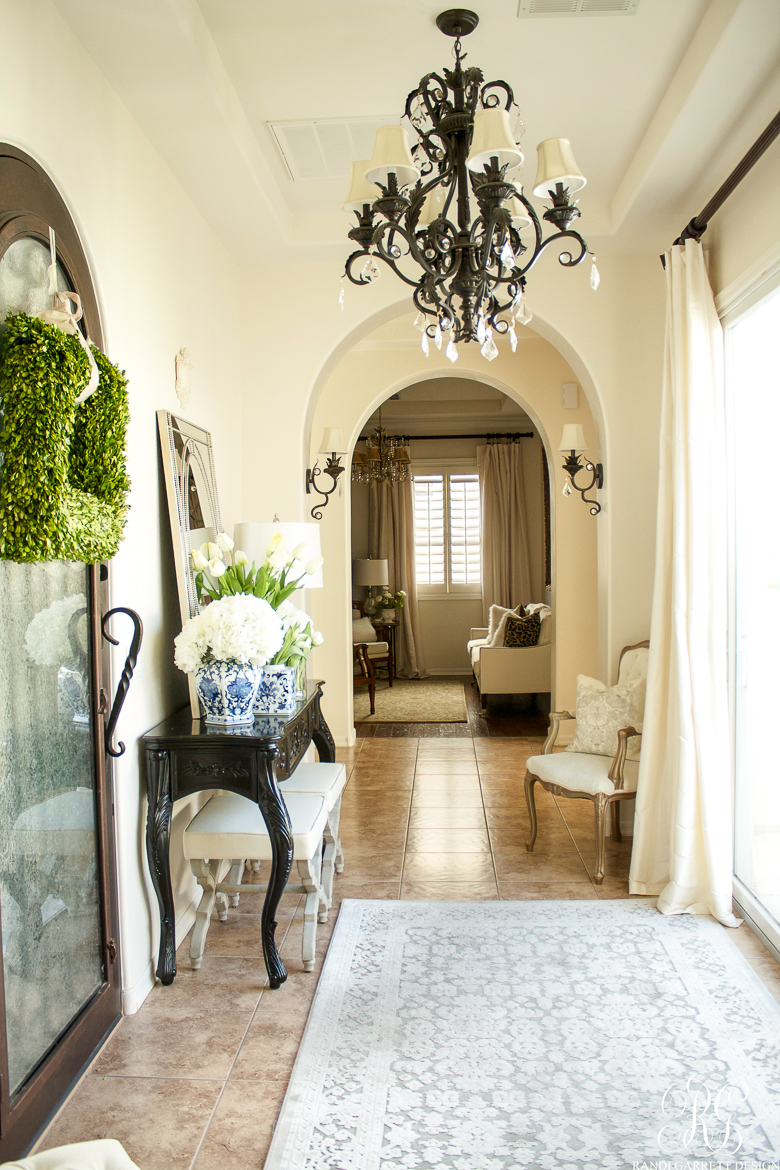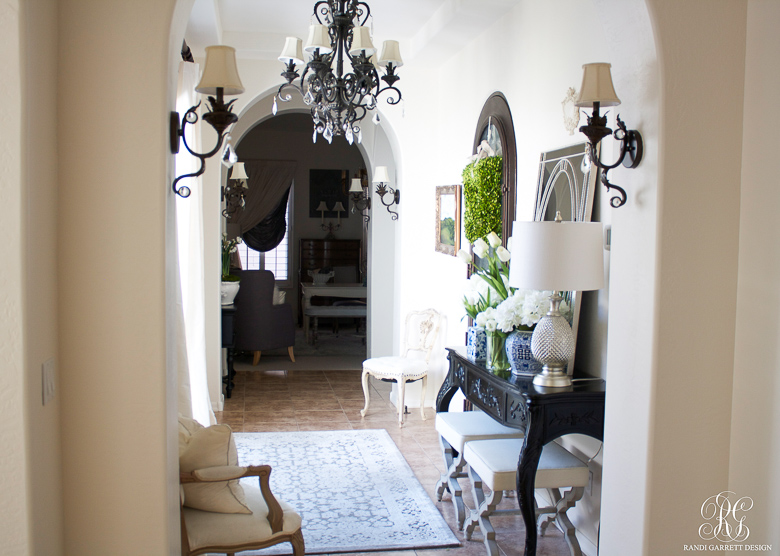 With these 4 easy steps, I freshened up my entryway for Spring and it didn't cost me a penny!  Shop your house for ways to bring Spring into your entryway! You might just be surprised what you come up with!
To recreate this look in your home you can shop the links below….

For more Spring entryway ideas, follow along to my friend Sarah,
Life on Virginia Street
.  Here is a list of the tours for the rest of the week. Tune in everyday for more inspiration.
Monday, April 11th – Front Door/Porch
Emily – Eleven Gables
Trinity – c.1934
Courtney – The Hamby Home
Wendy – Life on the Shady Grove
Becky – This is Happiness
Tuesday, April 12th – Entryway/Foyer
Sarah – Life on Virginia Street
Summer – She Leaves a Little Sparkle
Kathleen – Lindsay Hill Interiors
Shannon – Fox Hollow Cottage
Randi – Randi Garrett Design
Wednesday, April 13th – Living Room
Erin – Sunnyside Up
Alma – Almafied
Oscar – Oscar Bravo Home
Ashley – House of Five
Megan – It's a Grandville Life
Thursday, April 14st – Kitchen
Brittany – Dutchess of York
Annie – Zevy Joy
Marg & Liz – Fancy Farm Girls
Kelley – Kelley Nan
Rachel – Maybe Matilda
Friday, April 15th – Dining Room
Kris – Driven By Décor
Allison – A House and A Dog
Tamara – Citrine Living
Kendra – Momtique
Haneen – Haneens Haven