*I partnered with Walmart to bring you these stylish storage options.
January brings lots of thoughts about organizing and giving your home a fresh start. I don't think I've ever told you guys that I used to work for people organizing their homes. It was such a fun job! Organizing brings such a sense of immediate satisfaction. I love it!!! I've learned over the years that the best part of organizing is finding stylish storage solutions. Turning an ugly cupboard into a beautiful surprise when you open the door is so rewarding! Pieces that serve a function, and double as a design element are my favorite to incorporate! Today, I am taking you inside our closet and bathroom to share some stylish storage options for your home! I hope this makes you excited to style and organize your home too!
All of the stylish storage options I'm sharing today are from Walmart. Creating a comfortable, stylish space doesn't have to cost and arm and a leg! I was shocked at all of the beautiful pieces they carry for your entire home. On their site you can also shop by style! I love adding a touch of glam to each of my rooms, so the glam section was really appealing to me!
Stylish Storage Options for your Bathroom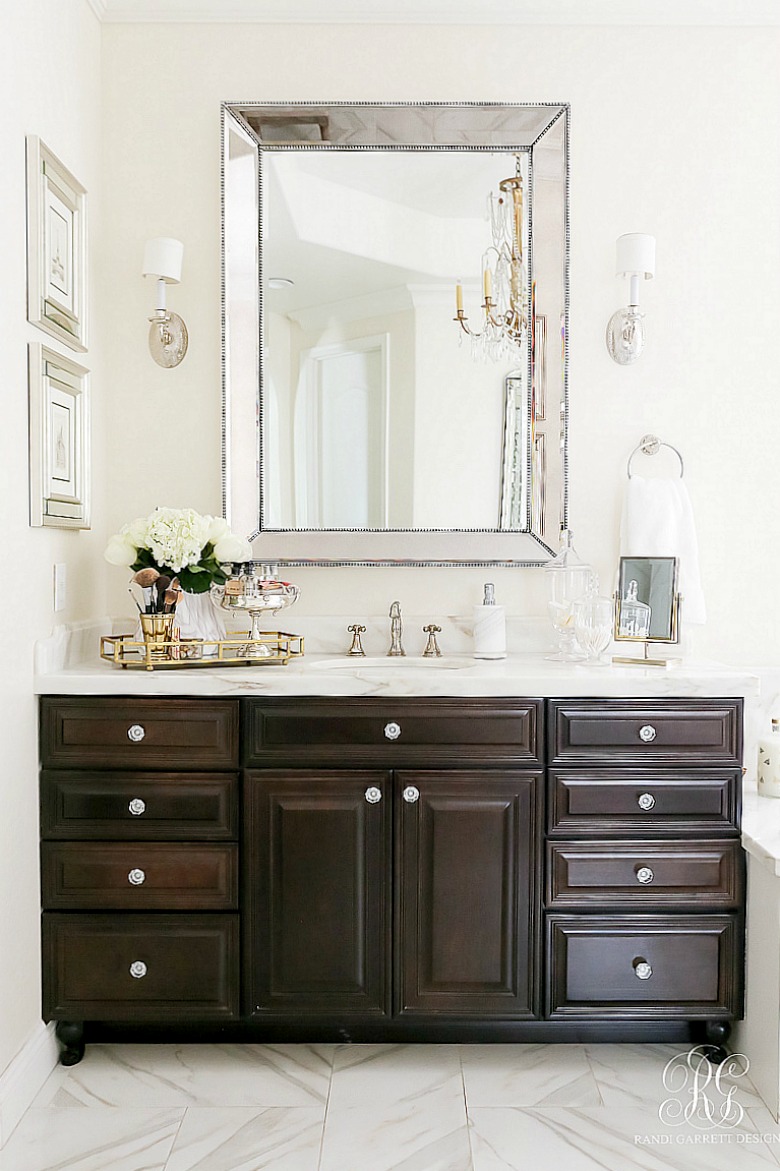 In the bathroom, I like to use pretty trays to organize and display favorite beauty products. Most of my products are tucked away in the drawers and cabinets, but the ones I use the most are neatly organized and styled on this gorgeous mirrored gold tray. Your makeup brushes could be tucked away in the drawers, but to make a more stylish choice, place them in a gold julep cup or silver julep cup.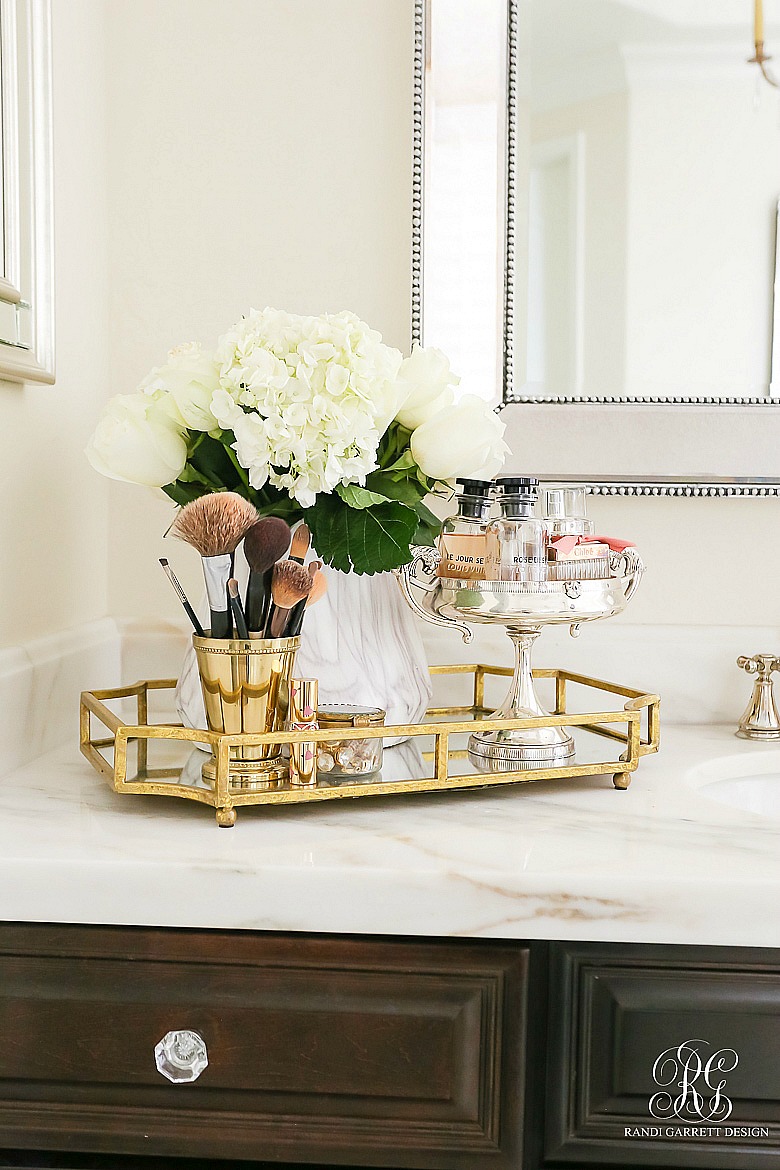 Fresh flowers will brighten your bathroom too! I love using unexpected item as vases, like this marble jar. Makeup sponges and cotton swabs are turned from ordinary to extraordinary in these glam mini apothecary jars!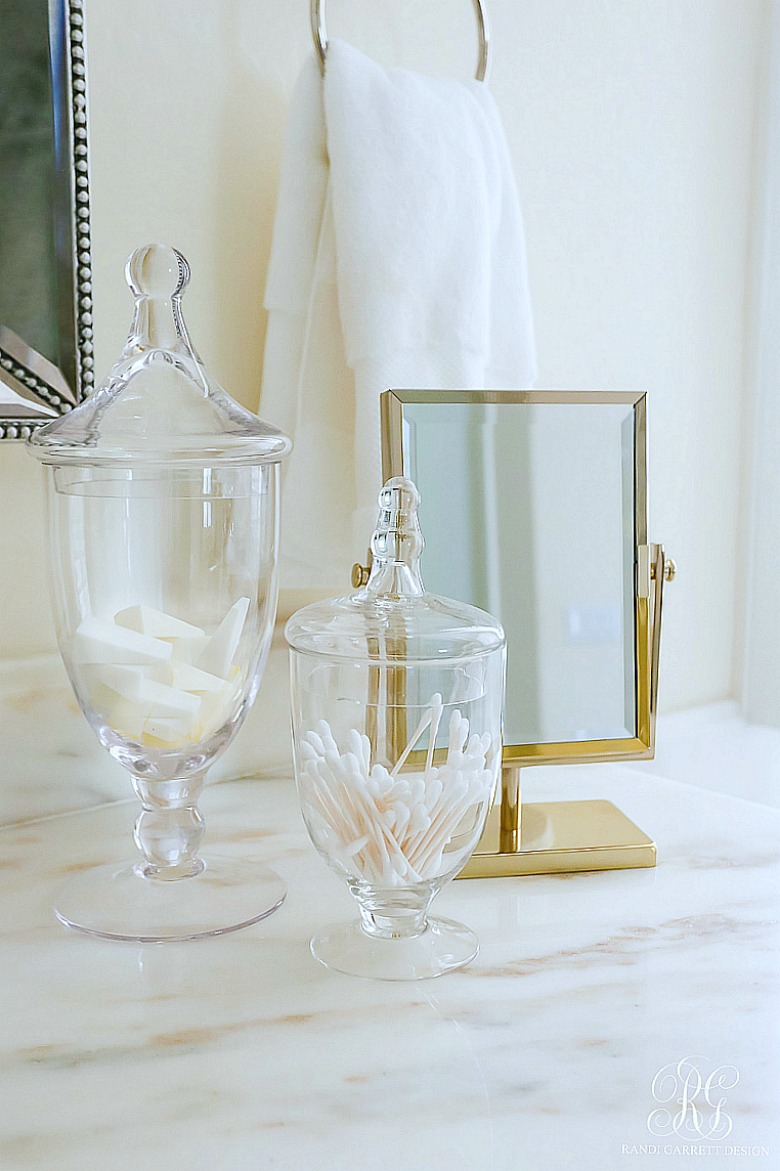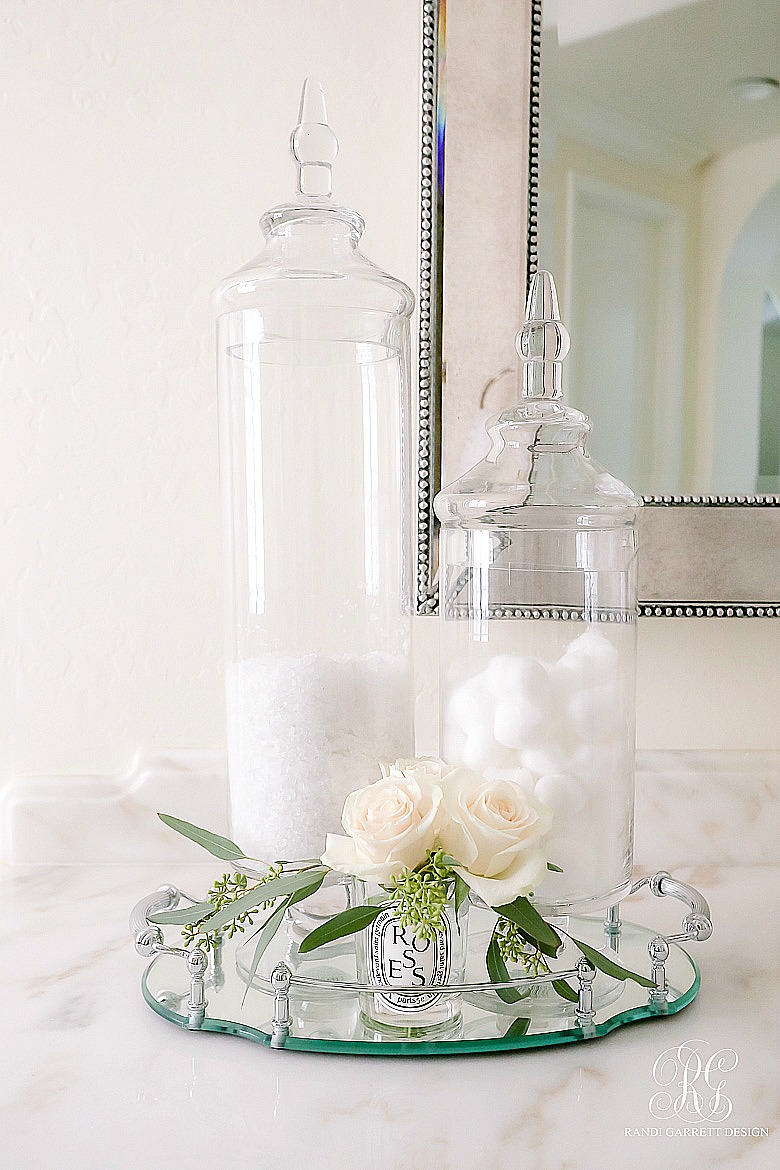 On my husband's counter, I have taller apothecary jars with epson salt (for baths) and cotton balls. To add even more style to this area, finish it off with a pretty vase and more fresh flowers. This chrome mirrored tray is fabulous for organizing all of your essentials. An empty candle holder makes the perfect vase for some fresh flowers.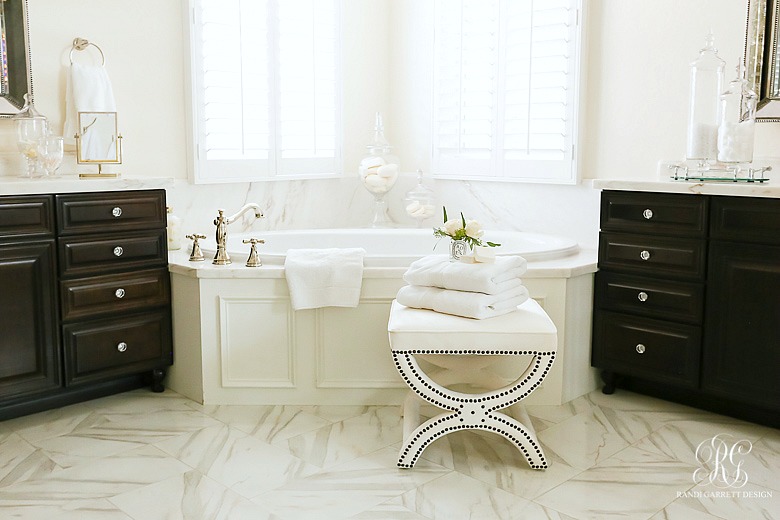 Towels are a bathroom essential! Store and style them with some finesse on a glam bench. I used this gorgeous velvet bench with nailhead trim to not only show off our fresh white towels, but also to give us a place to sit and put our shoes on.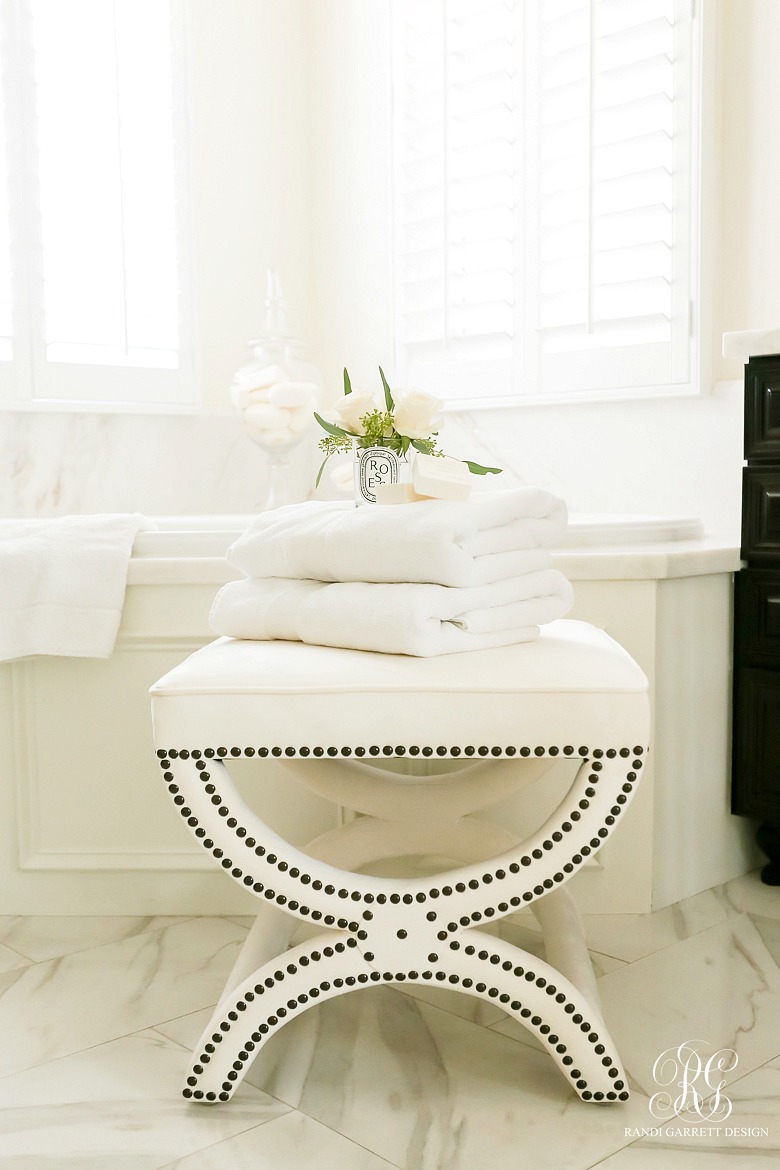 Stylish Storage Options for your Closet
Don't over look stylish storage in your closet! Whether your closet is large or small, you can organize your things with style! It just takes a little creativity. Try adding a fur rug to your closet floor. Ours is large enough for a medium sized fur rug. If yours is smaller, you can use this smaller fur rug.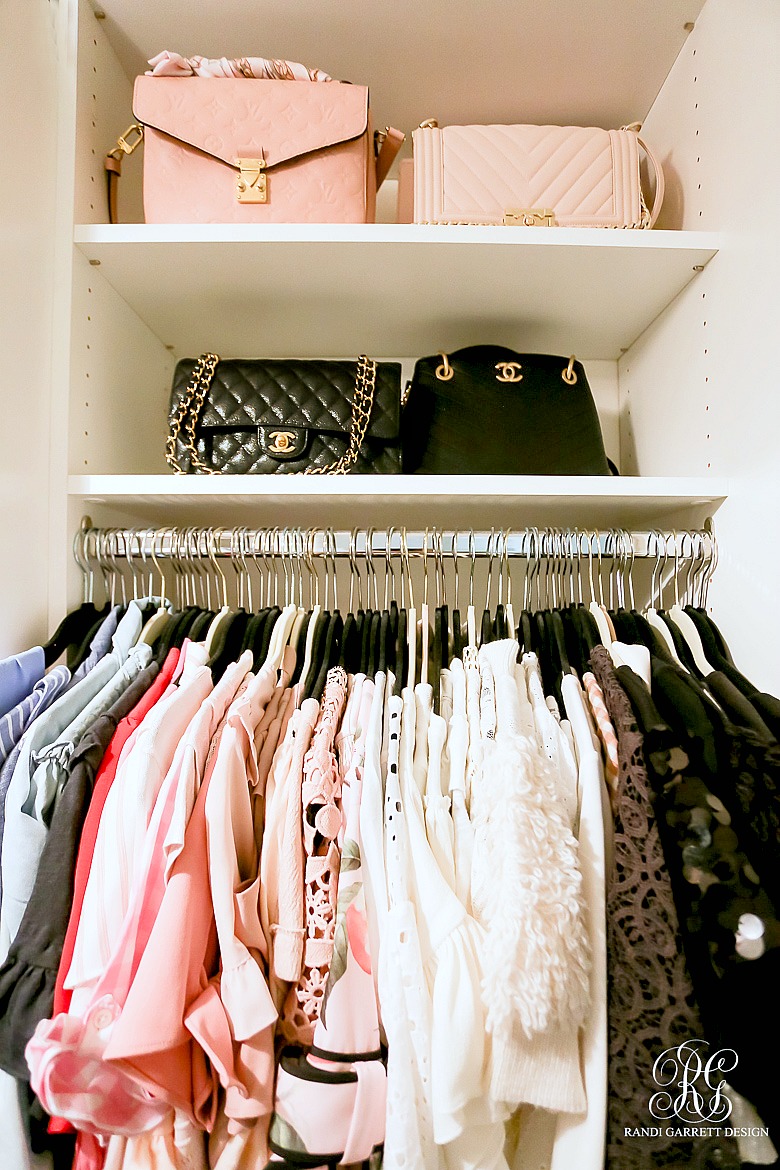 Using all the same style hangers, gives your closet a cohesive, pulled together look! I love these velvet hangers for my shirts, pants and dresses and these velvet clip hangers for my skirts.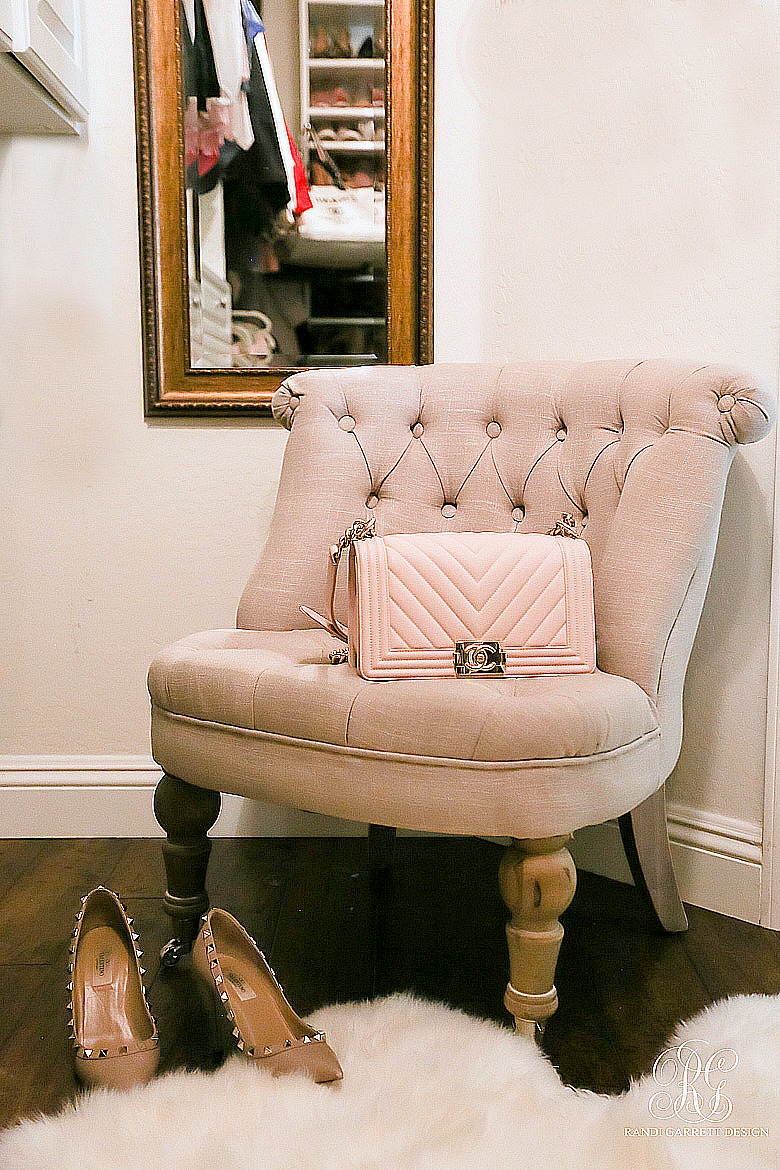 If you have the space, add a cute chair or stool to your closet. My tufted chair is the perfect size for your closet. It's also less than $200! I've seen them sold at other stores for over $600!!!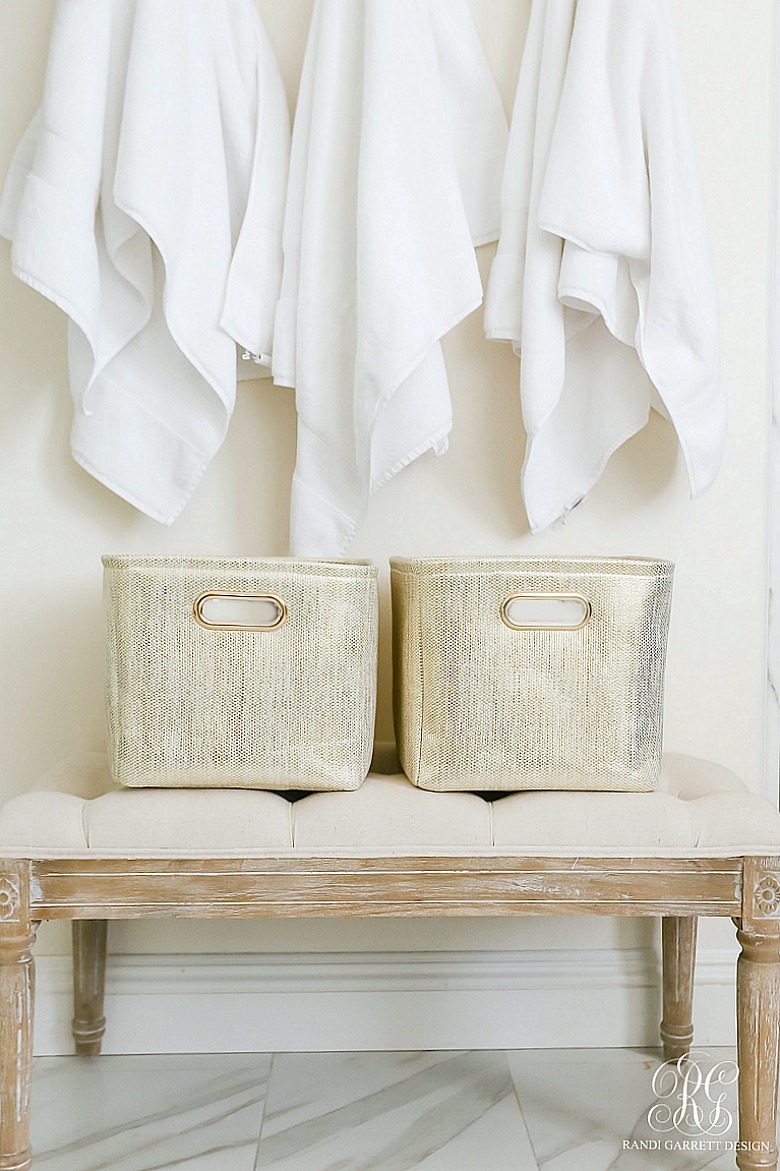 Use stylish baskets to hold small accessories in y0ur closet. Love, love, love these gold storage baskets! I have two on a shelf in my closet for all of my scarfs, mittens and hats. The other holds wallets and other small accessories. This linen tufted bench is also a great piece for your bathroom or closet. We use ours to lay out our clothes for the day.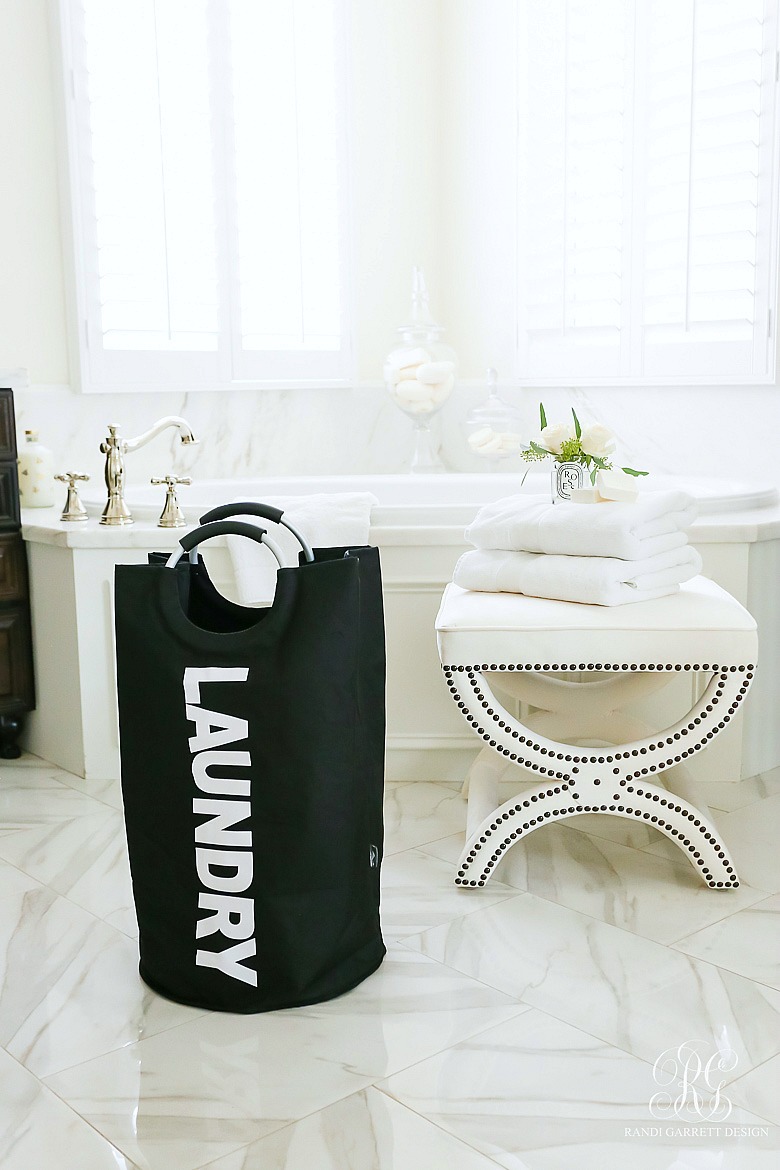 My husband's dry cleaning goes in this fun black and white laundry bag. Fill it, then throw it in your car to take to the cleaners and be the most stylish one in line at the cleaner! It looks fabulous in your closet too!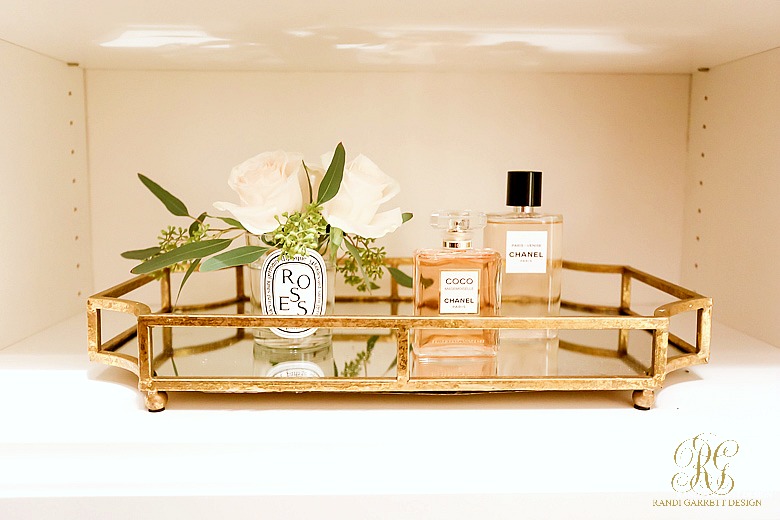 If you've got the space, a beautiful tray is lovely to hold your favorite fragrances. Look at how fabulous it looks just placed on a shelf in the closet!





Go style your bathrooms and closets! Have fun and make it functional and pretty! Tour the rest of my closet here,  and my master bathroom here.
Never miss a post! Sign up for my weekly newsletter by click the button below…