This post is done in partnership with Wal Mart and contains affiliate links. Read my disclosure policy here.
With fall creeping right around the corner, I am starting to pull out my fall decor and fall recipes! We don't get much of a fall here in Arizona, so I try to pull out all the stops to make it feel like fall in 100 degree weather! The fast approaching holiday season, and the stress of the events from the passed year and a half, can feel a bit overwhelming. I find joy in slowing down, cooking for my family and styling our home for the holidays.
September is self-care awarenesses month. Take this month to slow down and take care of yourself. Each of us find happiness and peace in different ways. For me, cooking for my family and styling our home bring me a deep sense of serenity.
Our family loves taco soup, especially in the fall! I thought I'd share our favorite taco soup recipe and some of the products that bring me joy when I'm in the kitchen. I love using pieces that are functional and beautiful. I also look for quality pieces that will last a life time, not just a few seasons. It's one way I take care of myself, while caring for my family. You may not know that Wal Mart carries premium brands for your kitchen. Staub, KitchenAid, Cuisine Art, Calphalon are just a few of the brands they carry, that I love. You will be so impressed at the beautiful pieces you can purchase at Wal Mart for your kitchen! Their prices, selection and shipping times are just a few of the reasons I find myself shopping for pieces that bring me joy at Wal Mart.
Cooking for my family brings me joy and is therapeutic – if the recipe is simple and I can have fun styling it! This taco soup recipe, is so simple, yummy and really fun to dress up for fall! I hope you give it a try and find some amazing pieces for your kitchen to help pamper yourself in the kitchen!
The Best Taco Soup Recipe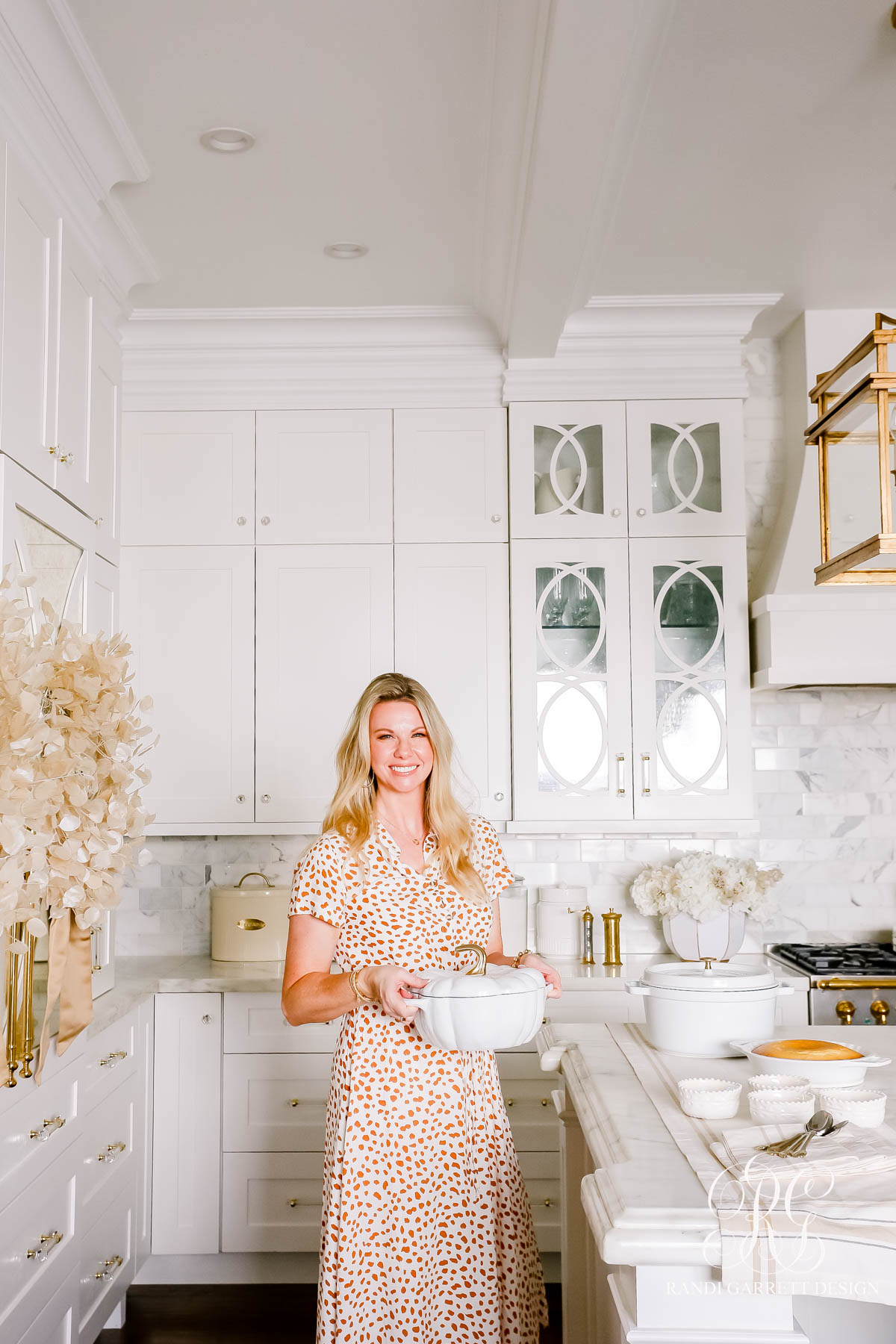 Shop my dress here.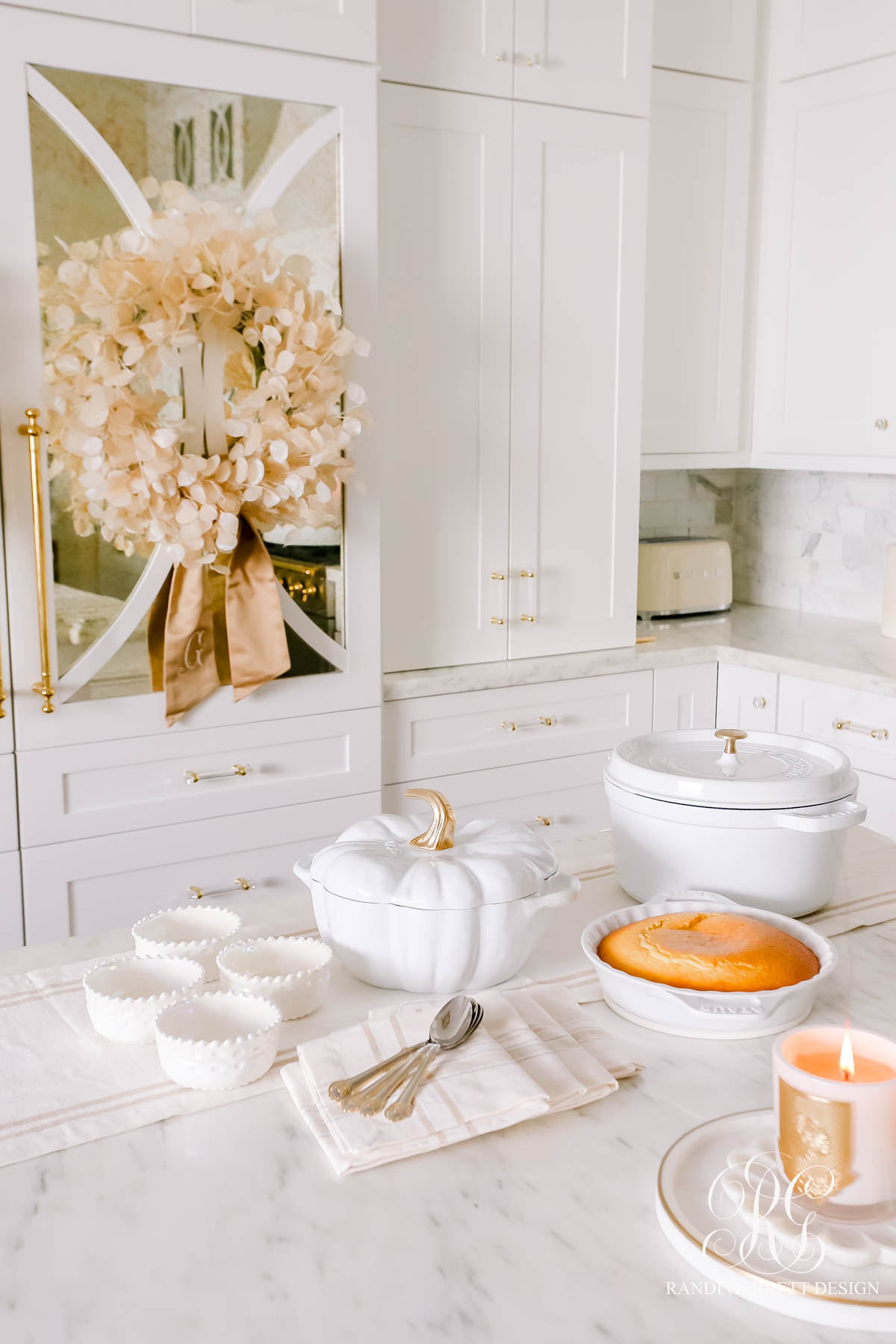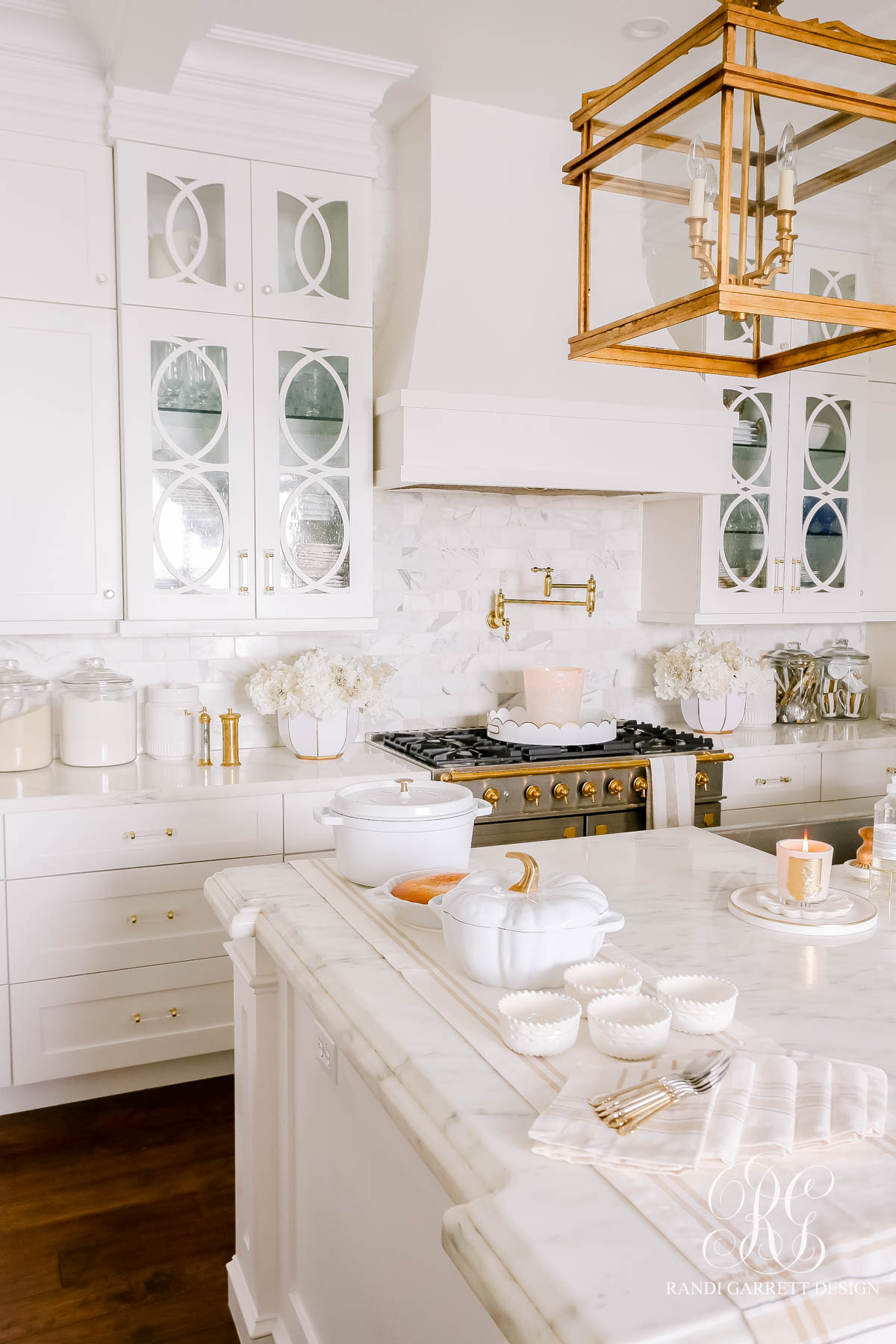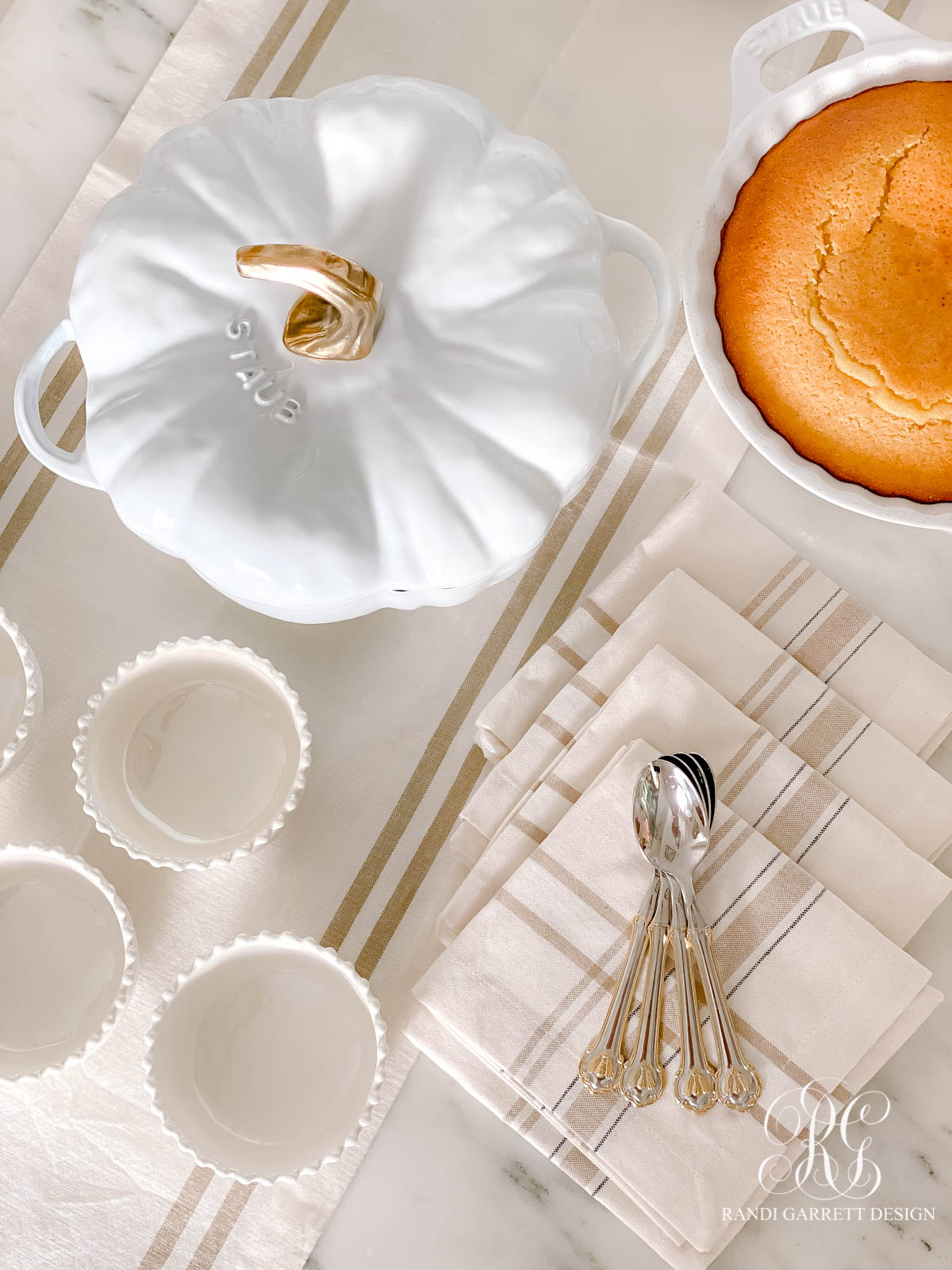 This recipe feeds a crowd, so cook it in this large Staub dutch oven. This is my most used pot in the kitchen. You can use it for cooking on the stove and in the oven. It comes is several colors too. I transfer some of the taco soup into this darling Staub pumpkin cocotte to elevate the meal for fall! The kids love it – um so do I! This can also be used on the stovetop and in the oven. Display it on your stove all fall long!
To dress up the countertop or table, use this french striped table runner and french striped napkins paired with these fabulous silver and gold bee flatware! The flatware can be washed in the dishwasher and is my favorite everyday flatware!
A good pie pan is a kitchen essential! I love this Staub ruffle pie pan will bring a smile to your face every time you use it! I think you will also love these beaded bowls to serve your taco soup.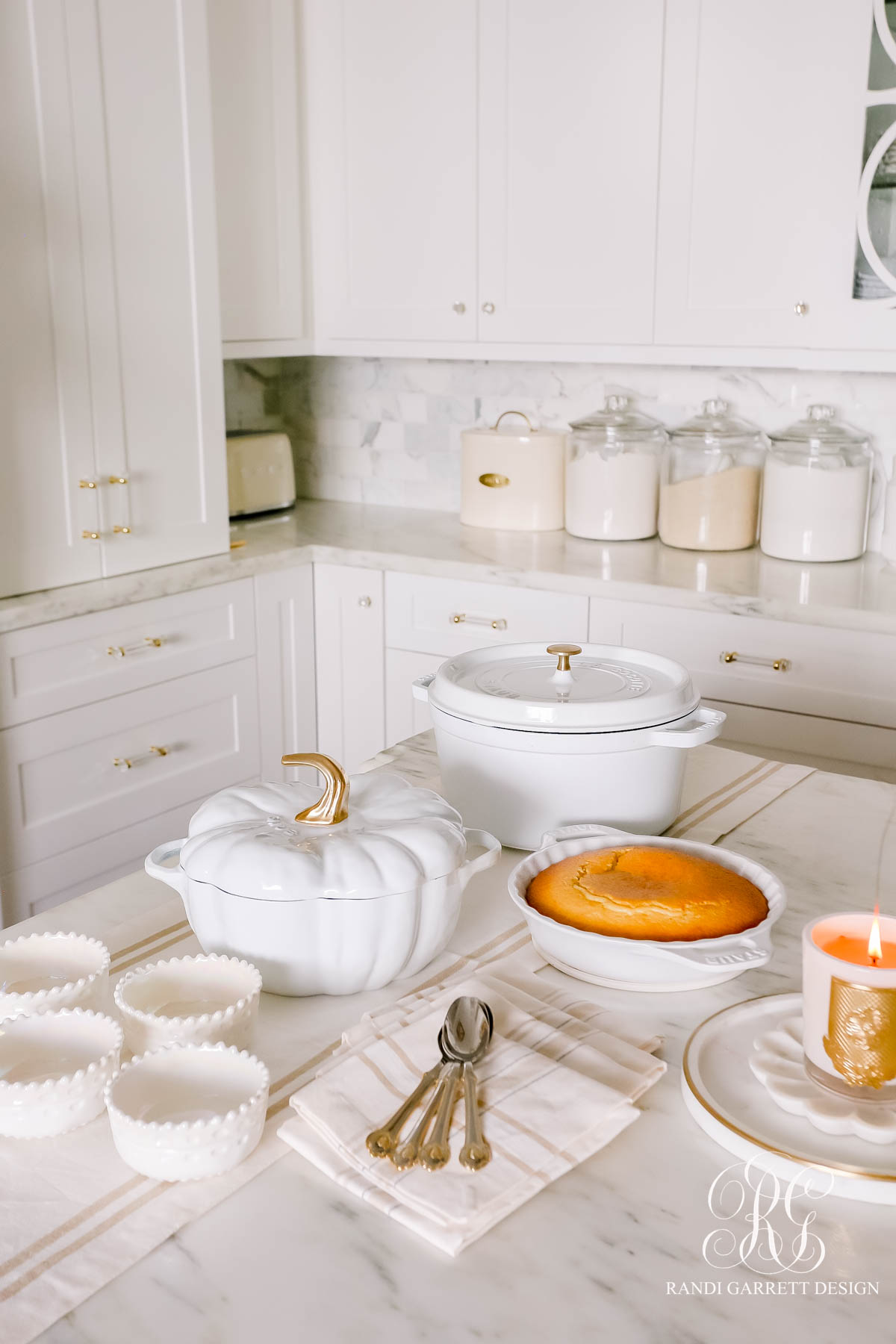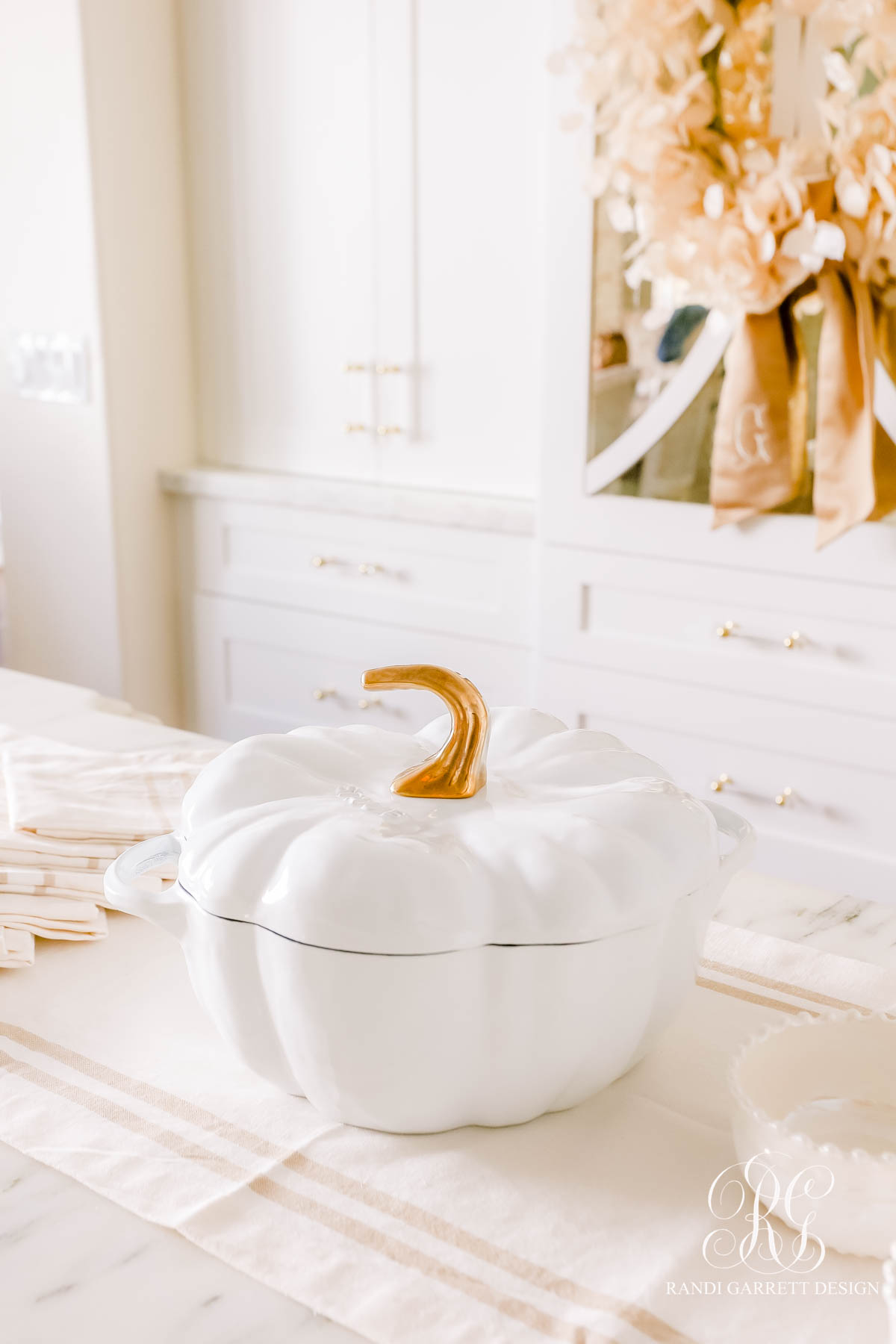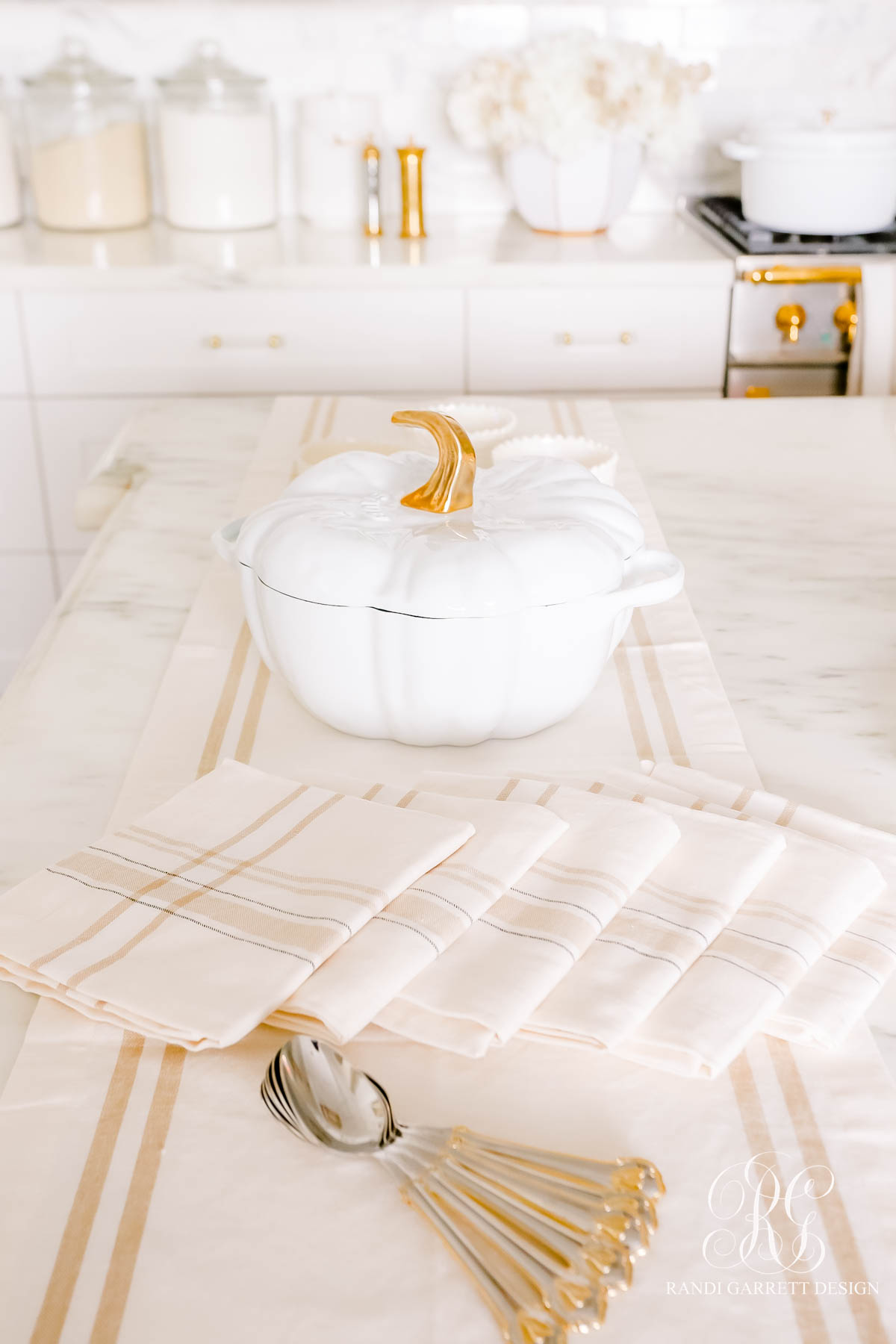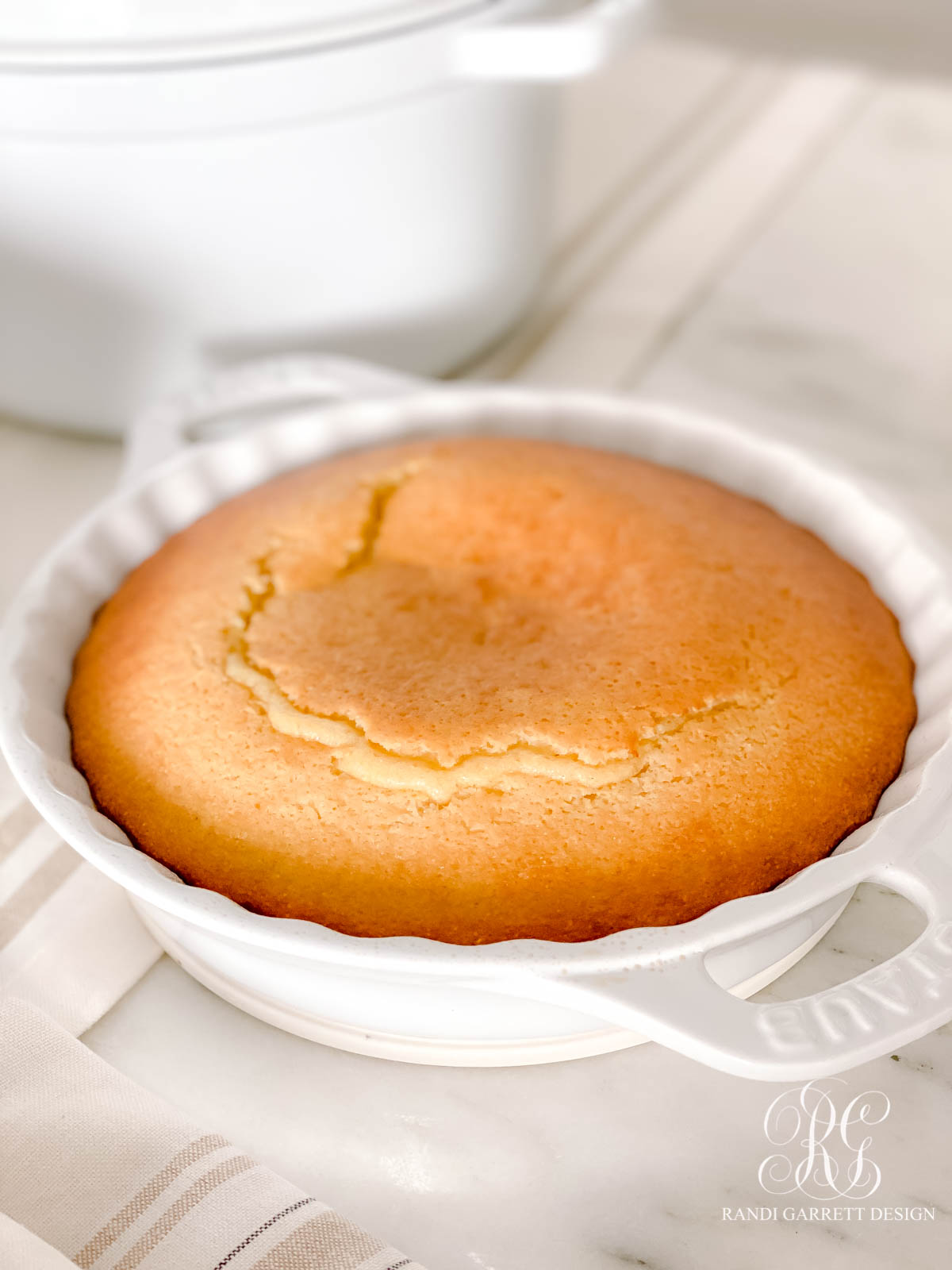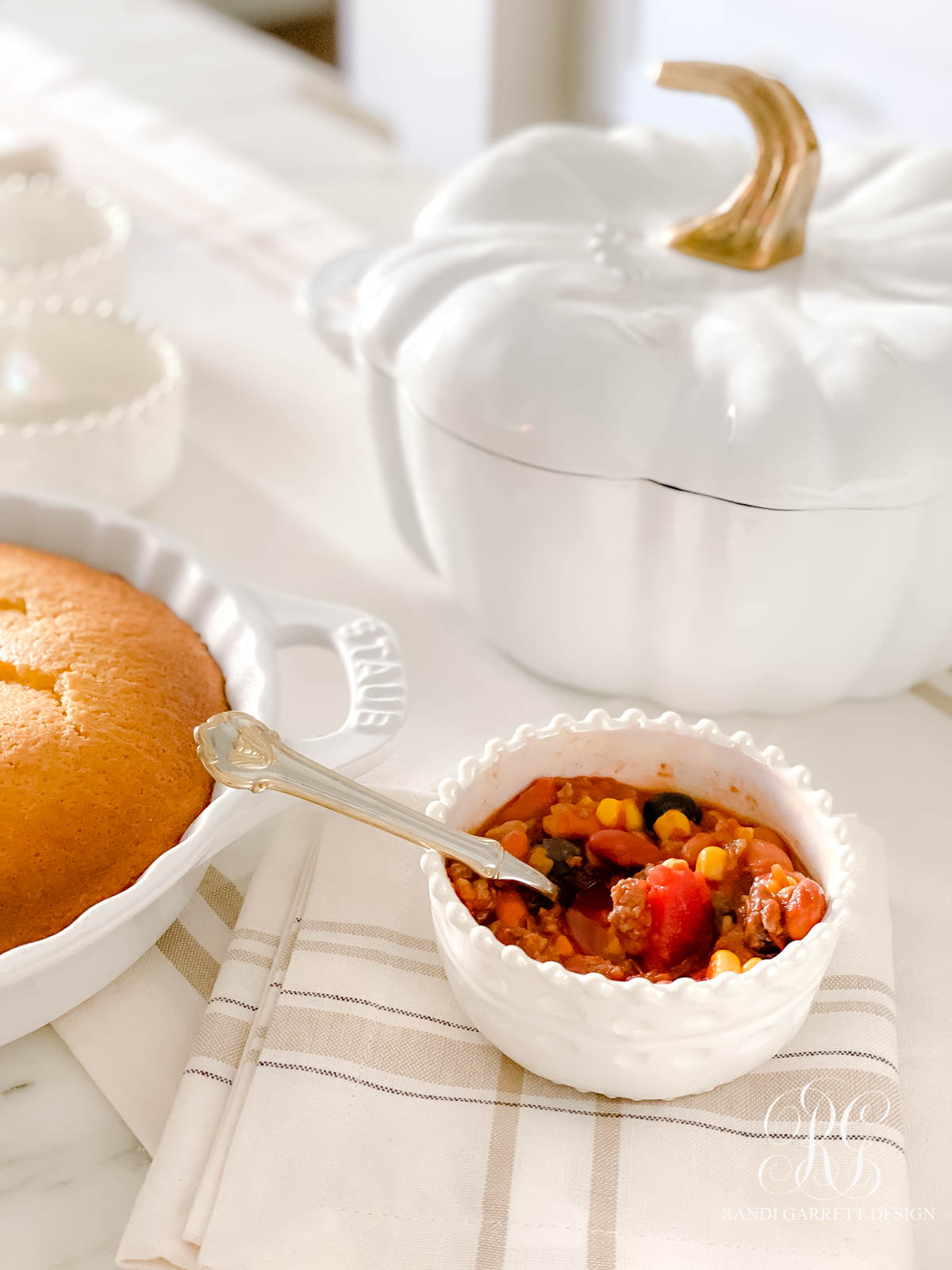 The Best Taco Soup Recipe

Ingredients
1 lb ground beef or ground turkey
2 cups diced onion
1 can pinto beans -drained and rinsed
1 can kidney beans -drained and rinsed
1 can sweet corn or whole kernel corn - drained
1 can stewed tomatoes
1 can diced tomatoes
1 can crushed tomatoes
1 can diced green chilies
1 can sliced olives - drained
1/2 pkg taco seasoning mix
1/2 pkg ranch dressing mix
Toppings
sour cream
chopped green onion
shredded cheese
diced avocado
chopped cilantro
crushed corn chips
Instructions
Brown ground beef and onions in a large skillet. Drain off fat. Pour into stock pot and add beans, corn, tomatoes, green chiles, olives, and seasoning mixes. Cook in medium heat until bubbly. You can also cook this in the crock pot, after meat is browned, on low for 6 hours. Top with desired toppings.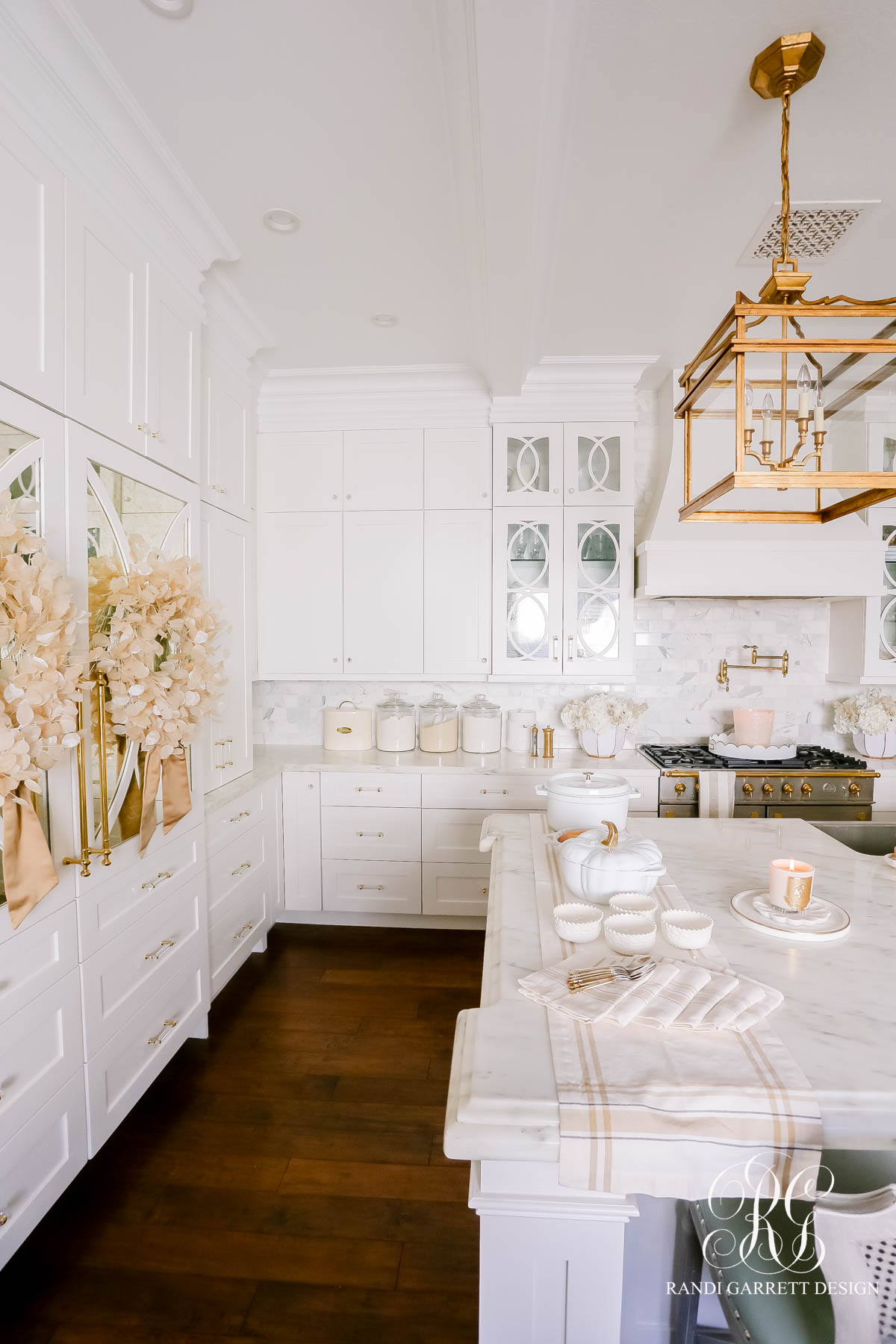 Here are more of my favorite premium kitchen pieces..