Whether you are hosting a fancy Christmas dinner party, glam girls' holiday lunch, or simply celebrating with your family, you can set a magical Christmas table with 3 simple tips! To help you set a table that no one will forget, I am sharing tips on how you can set a simple, beautiful table that looks like you spent hours decorating.
The best tables are the ones that look like you have spent hours slaving over, but in reality set in only a few minutes! Simple elegance. That is the trick! I'll let you in on a few of my secrets to setting fabulous and simple tables!
But first, I am joining a few friends to bring you a little Christmas inspiration loop called Styled for the Season. Each blogger is sharing Christmas styling tips. If you have come over from my friend Sara at Haute and Humid, welcome! I am so happy to meet you and look forward to seeing more of you!
*This post contains affiliate links (read more here) and is done in partnership with Jouer.
3 Tips to Set a Magical Silver and Gold Christmas Table

No. 1
Create a Fabulous Centerpiece
Try creating a centerpiece that you can leave up for the whole holiday season. This will allow you to enjoy it for a long time and will take one thing off your plate the day of the get together.
For my centerpiece, I used ornaments I already had on hand. Large, medium and small, mercury glass silver and gold ornaments, mixed with a gold leave garland, some snowflake ornaments and ribbon!

Recreate the Look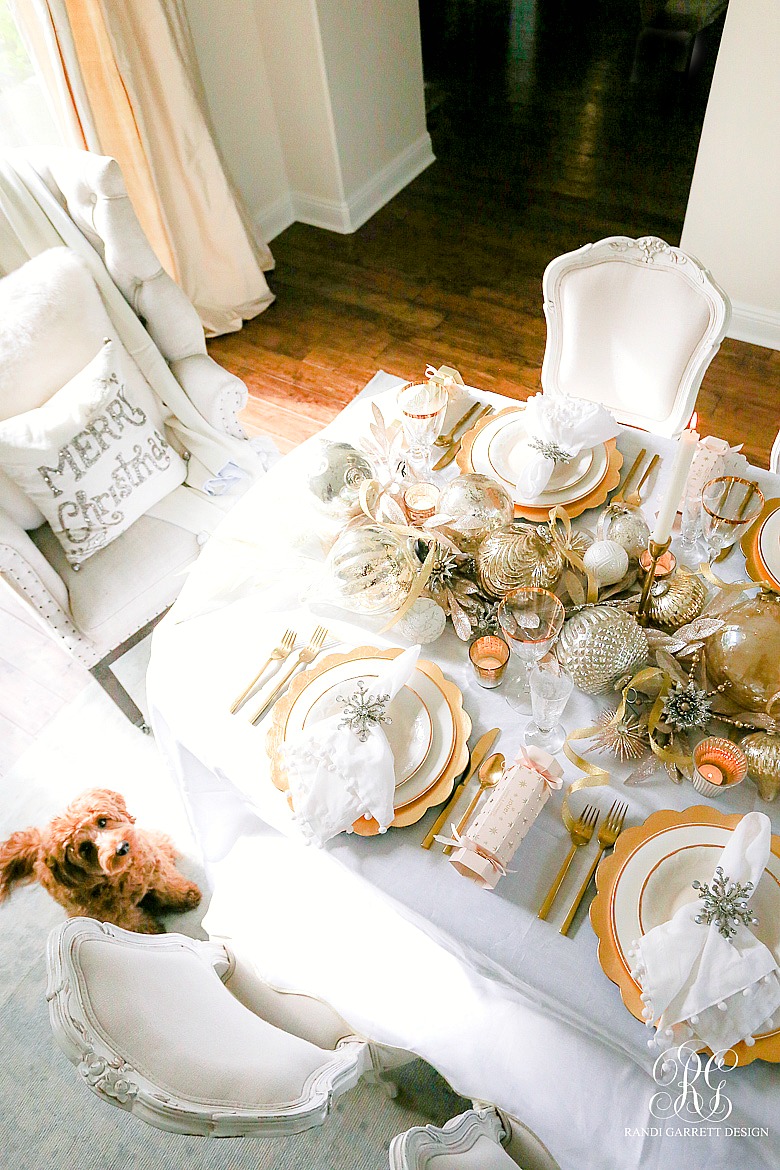 I had to include this sweet shot of Chloe watching me. She just sat in the shot watching so intently!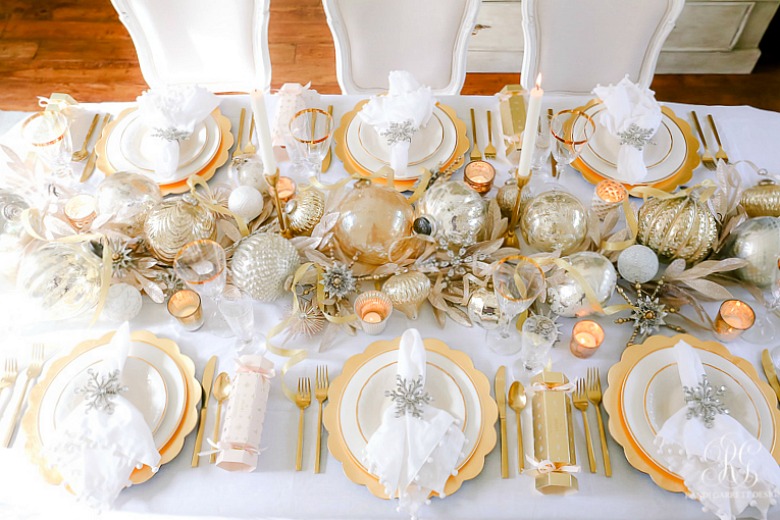 No. 2
Make your Place Settings Special
The key to a magical place setting is to make the guest feel extra special! It starts with pretty dishes! For my magical silver and gold table, I used these charming gold ruffle chargers. They are whimsical, fun and affordable!!!
My gold rimmed dishes add a touch of class. If you are looking for a versatile set of dishes that you can use for any season and for every occasion, these are a fabulous option!
Use gold flatware to tie the look together. This is another thing I use ALL the time!
White pom pom napkins tucked into a crystal snowflake napkin ring add a touch of sparkle and magic to the plate. See how the pom poms look like mini snowballs?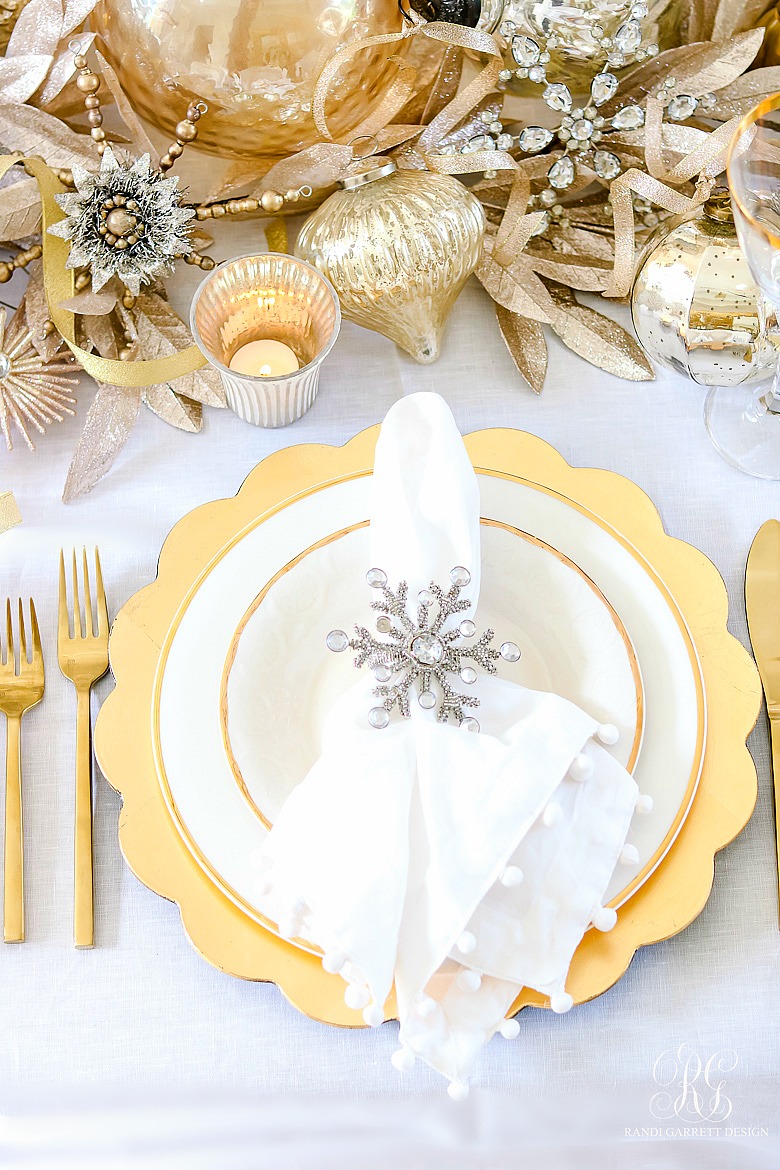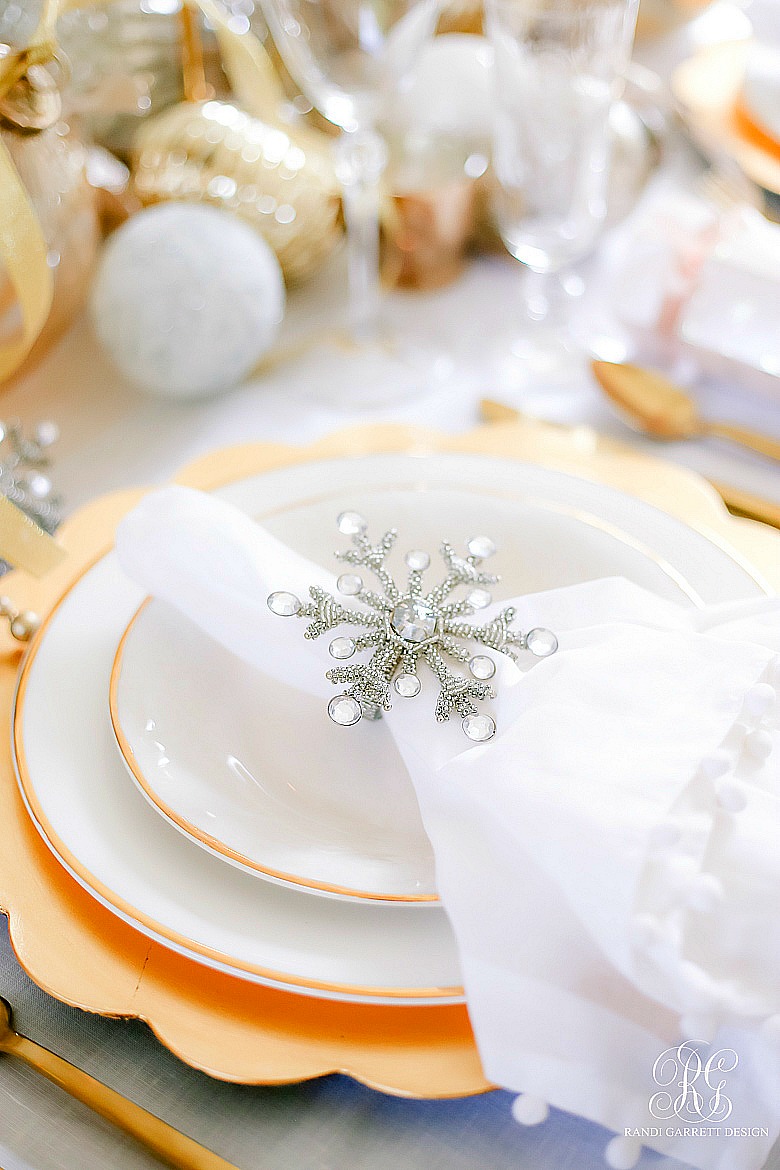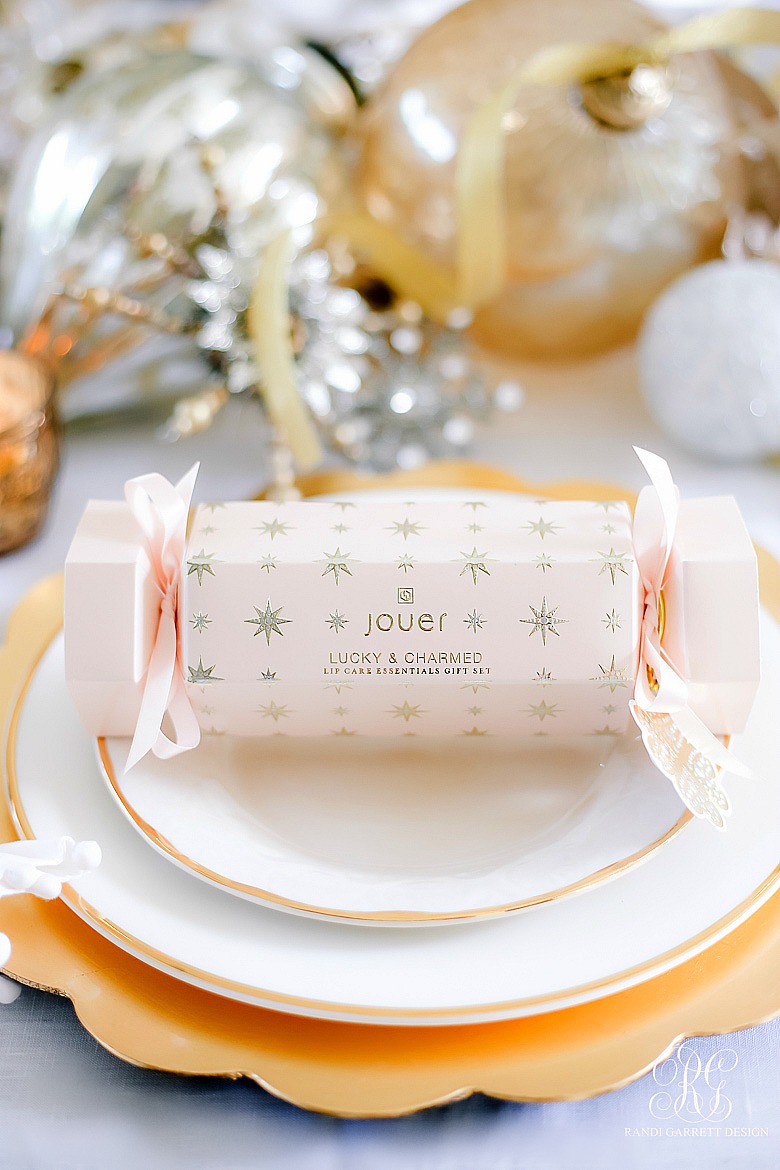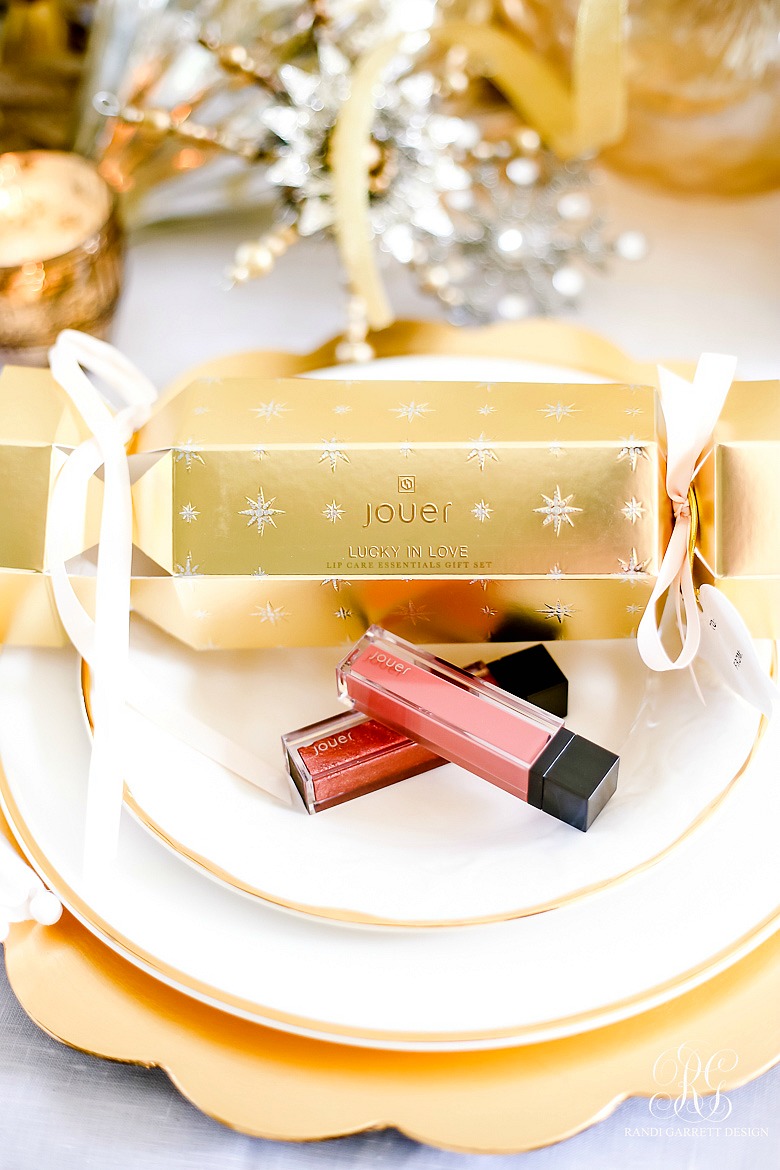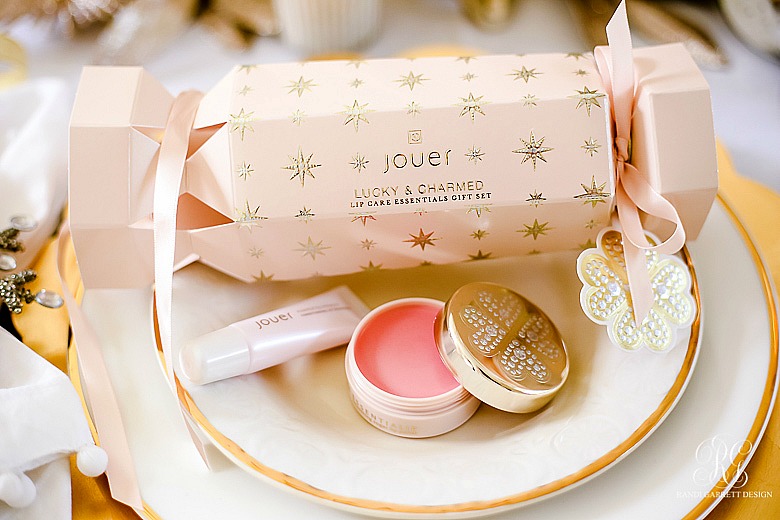 For that extra special something, something, use these darling poppers by Jouer. I placed one at each seat at the table for my girl friend's to take home. The gold popper includes two lip glosses -one sparkle and one matte. The blush popper has a rose lip scrub to exfoliate and lip enhancer to create fuller lips. Everything from the packaging, to the glitzy tag scream Christmas magic! They really make the table magical!
These would also be a fabulous stocking stuffer or gift for any girl in your life.



No. 3
Create a Magical Mood
Create a magical mood by adding votives to the table and a few tapper candles. I love this gold set of votives. They dress almost every single table I set!  Whether y0ur party is during the day or night, light your candles to add some Christmas magic!
Think about what else you have displayed in the room that can add to the feel. I added some mercury glass Christmas trees for their reflective finish. Light dances off them creating a magical mood.
A cozy tassel throw is draped on each head chair for some luxury. Fur throw pillows are placed in the chairs as well for even more comfort. Little things like this really help set the magical mood.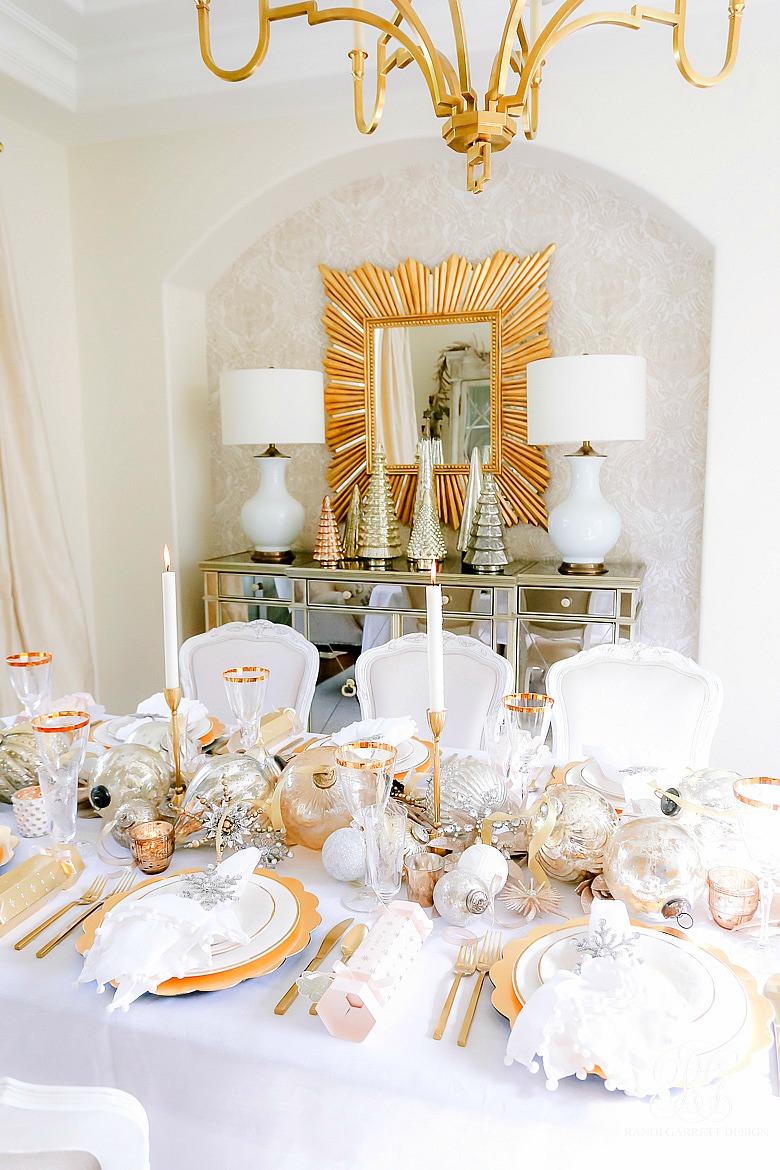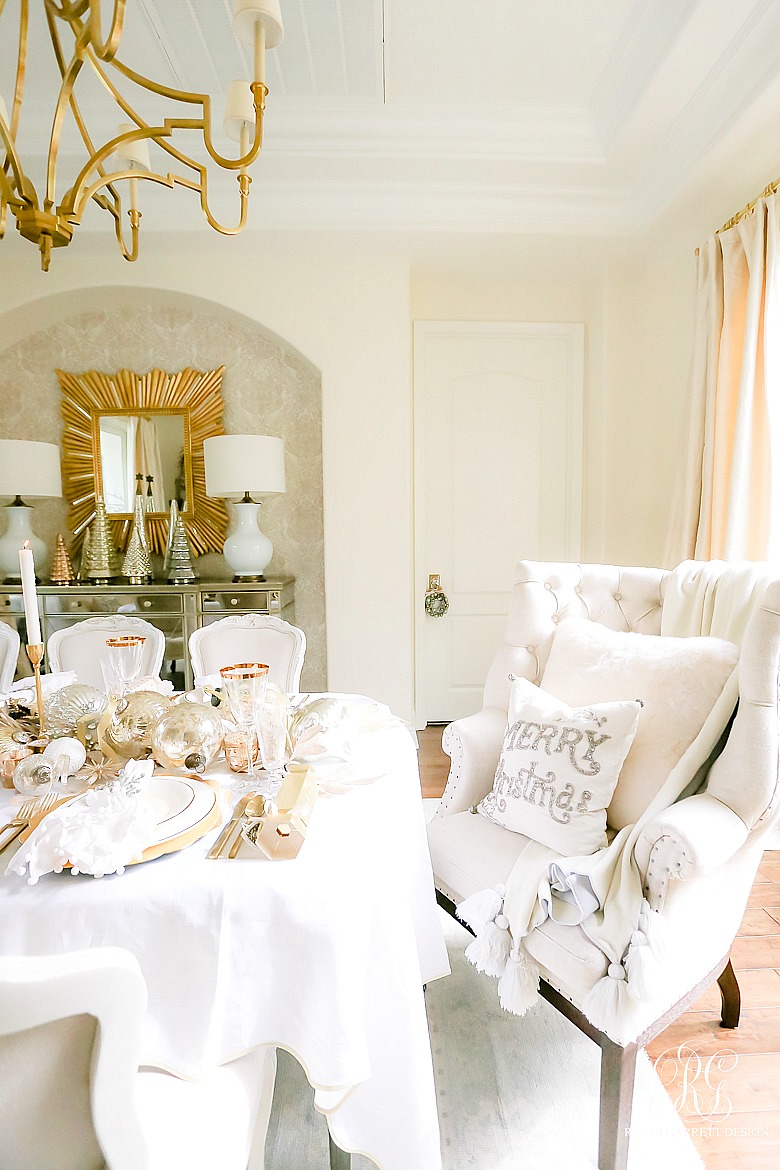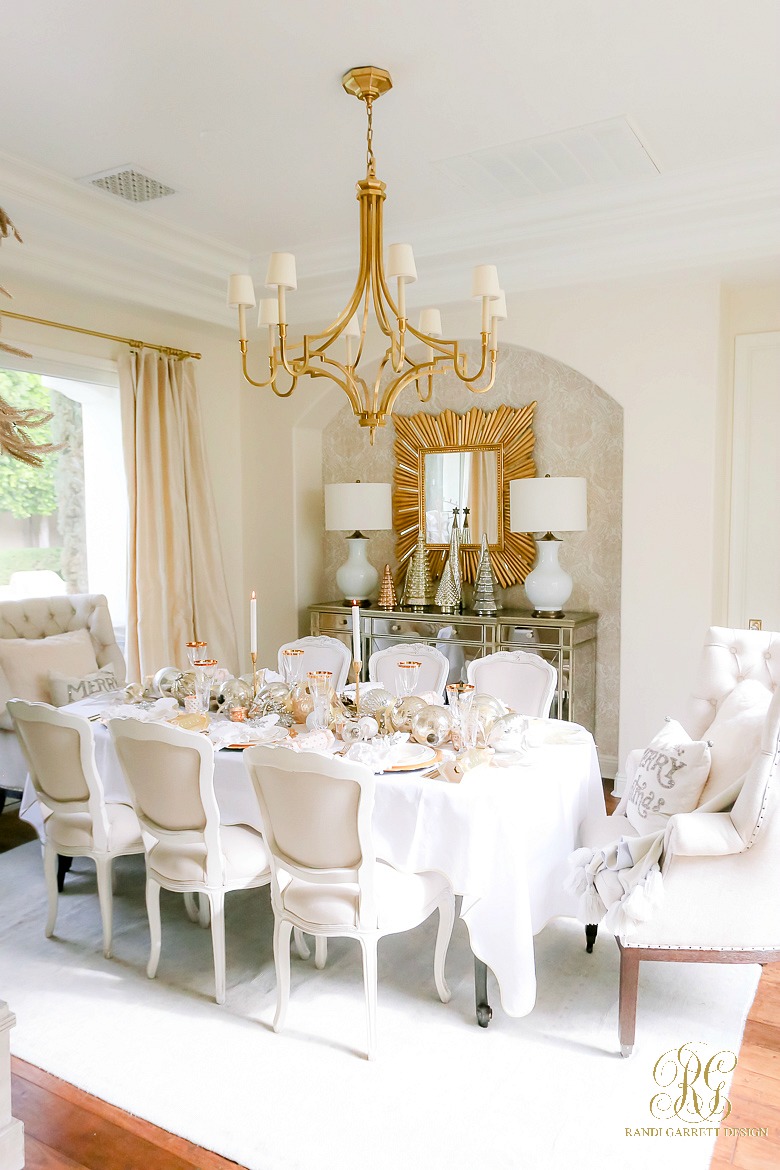 Try setting a magical silver and gold Christmas table at your house this year!
For more Christmas inspiration head over to my beautiful and talented friend Alicia from The Lush List!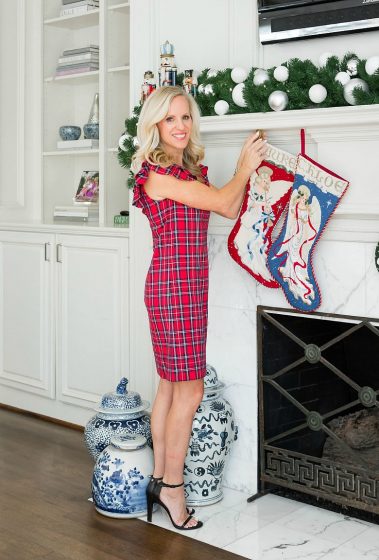 Here is a full list of the gals in this tour…
Never miss a post! Sign up for my weekly newsletter by clicking the button below…