Giving gifts is so much more fun when you share something you love! This year I am sharing some of my favorite things in hopes it will introduce you to some new favorites to share with those you love. Here are a few of my favorite things – Christmas gift guides!
*This post contains affiliate links. Read more here.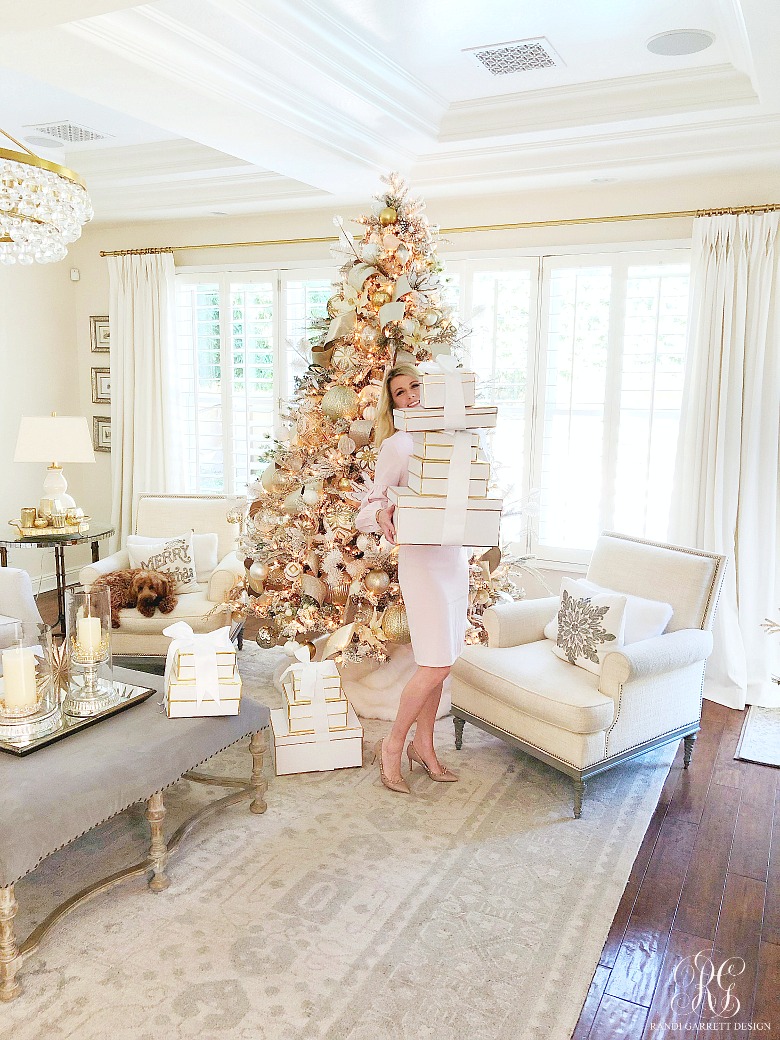 My Dress | White and Gold Boxes | White Ribbon | Club Chairs | Similar Rug | Christmas Decorations
A Few of My Favorite Things – Christmas Gift Guides

1 | 2 | 3 | 4 | 5  | 6 | 7 | 8 | 9 | 10 | 11 | 12 | 13 | 14 | 15

1 This Tory Burch purse is fabulous is black and also comes in a beautiful blush. It can be used as a cross body, shoulder or arm bag! It is so versatile!
2 Roses de Chloe is my absolute favorite perfume! I wear it almost everyday. The scent is a light, fresh and feminine!
3 Give this leopard bandana to any girl in your life! She can wear it in her hair, around her neck or even tied around her purse handle! It is an absolute favorite of mine!!!
4 A leopard glasses case! Monogram it for a personalized touch!
5 Luggage tags -these babies are so stylish and yes, my favorite! Choose from tons of patterns, colors and monogrammed font styles. Create the most personalized gift for that girl who love to see the world!
6 I just purchased this faux fur leopard coat for all the holiday parties and date nights this winter. Give this as a gift or add it to your wish list!
7 White leopard jacket. Yes, please! So elegant, sure to bring a smile and a squeal to whoever is lucky enough to receive it!
8 This monogrammed tote is a MUST have! It is the perfect bag for traveling with it's zip top and inside pockets. Choose from a ton of patterns and leather colors. You can also monogram it! Get the matching luggage tag and passport cover to complete the look.
9 Every girl needs a little sparkle in her life! My current favorite is this darling horseshoe link bracelet – it's a stunner! Use is by itself or stacked with a few others.
10 These cubic zirconia earrings are my absolute fav! I wear them almost everyday and know that they will make the perfect gift for a teacher, sister, friend, mother, etc.! They come in lots of colors as well.
11 Give the gift any girl will feel pretty wearing. Chose from a few pretty color combos of lipstick and lip liners.
12 How cute is this passport cover? At less than $50, it's a fantastic, personal gift!
13 Give the gift of comfort with these cozy and classy pink pjs.
14 YOU GUYS!!!! These crown bee pajamas are darling! How fabulous!!!!! The cuff reads, "just bee yourself!" They are on their way to my house as I type!
15 Bow slippers. Yep, I don't need to say another word. The perfect gift.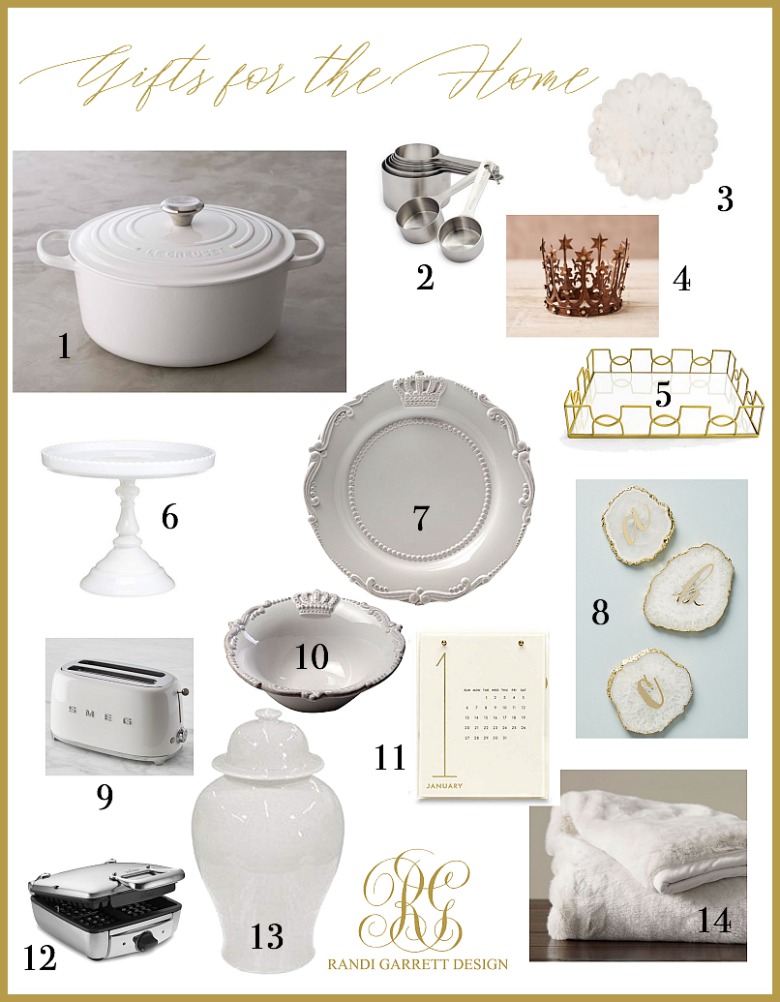 1 | 2 | 3 | 4 | 5 | 6 | 7 | 8 | 9 | 10 | 11 | 12 | 13 | 14
1 This white dutch oven is a piece you will have for the rest of your life. I love it. Period.
2 Give these measuring cups to anyone who loves to bake! They include a 2 cup!!! They are my most favorite baking accessory!
3 Quite possibly my favorite home accessory, is this marble petal tray. Use it in endless ways! I love using mine as a candle tray, accent under a vase of flowers and are the base to a fun vignette.
4 Crowns make any girls feel special. They look amazing stacked on top of books, around a candle or perched on a shelf! Give this gift to make someone feel like royalty!
5 Everyone could use a beautiful gold tray in their life. This one is my favorite.
6 Cake plates are such a fun, unexpected and versatile gift! You can use them for baked goods or as a stand for a small vignette in your home! This white scalloped rimmed cake plate is my absolute favorite!
7 Crown plates. Yes, you need to add them to your wish list and wrap a set up for your bestie. I've had mine for almost 6 years and use the everyday. They are my favorite dishes!
8 Monogrammed coasters are a fabulous gift! We use them at our house to hold each one of the kids' cups. This cuts down on dishes and the constant stream of glasses on the countertop. Purchase one for each of your friend's children or your nieces and nephews!
9 I love love love this toaster! I know anyone you give it to will too!
10 These crown bowls are on my wish list this year. I have the matching dishes and think it's about time to get the bowls to go with them!
11 A fabulous mini desk calendar will bring a smile to anyone's face. This one is my fav because it is white and gold!
12 Homemade waffles are the best!!!! We make them every year on Christmas morning. I'll share my recipe with you all later. This waffle maker is the BEST!!!
13 White Ginger jars are one my favorite home accessories! This white one will look amazing in any home!
14 Give the gift of luxury with my favorite fur throw!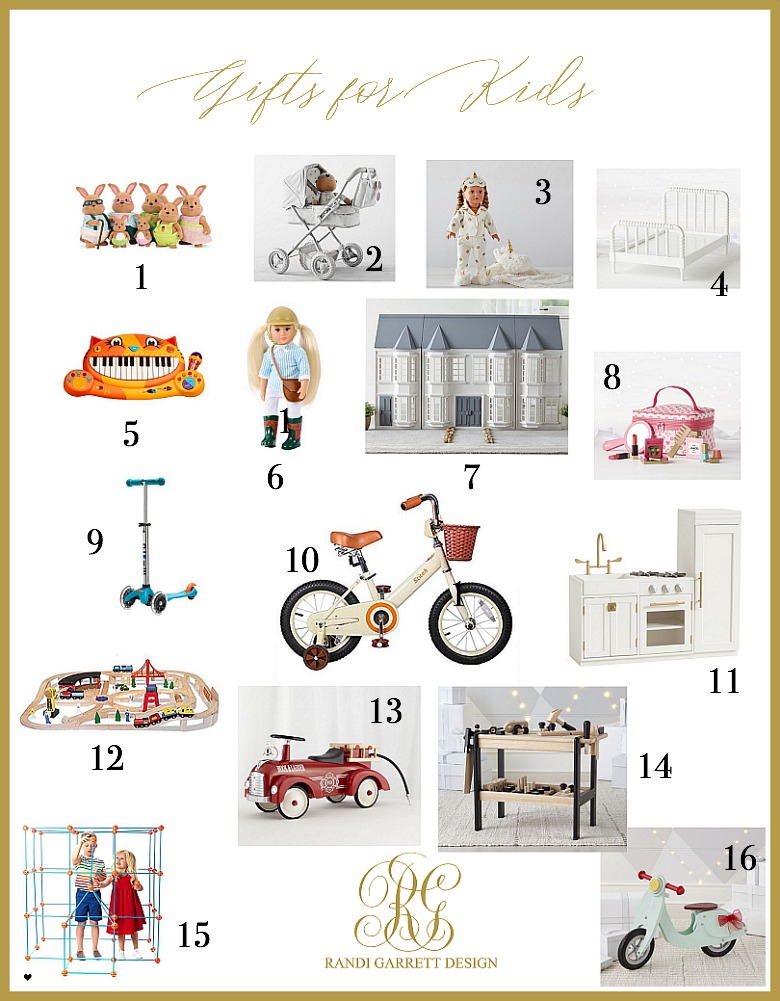 1 | 2 | 3 | 4 | 5 | 6 | 7 | 8 | 9 | 10 | 11 | 12 | 13 | 14 | 15 | 16
1 These furry little animal families are a favorite among my kiddos!
2 Doll strollers are a little girl staple, especially this one that looks like a charming baby buggy!
3 My daughter spent hours, upon hours, dressing up her dolls. This unicorn outfit is a favorite this year!
4 Jenny Lind beds remind me of my childhood bed. This little Jenny Lind doll bed is my favorite doll bed ever!
5 My mom found this darling piano / karaoke for kids! How cute!!!!
6 These little 6″Lori dolls were my daughter's absolute favorite dolls to play with. They have so many different ones with tons of outfits and accessories.
7 My kids have outgrown dollhouses, but I am tempted to buy this one for my future grandkids! I love it so much!
8 Little girls love to pretend to put on their makeup like their mamas! Check out this darling play makeup set!
9 This is my little boys' favorite scooter ever!!! They come in tons of colors.
10 A baby beach cruiser! Yep, my favorite kid's bike ever!!!!!
11 Play kitchens have come a long way! This small version of our white and gold kitchen is my personal fav!
12 My little boy's spent countless hours playing trains. I love this little train set because you can set it up anywhere!
13 Firetrucks are a favorite among any little boy!
14 Check out this adorable little work bench. I love toys that inspire kid's imaginations!
15 This fun little create a fort set is awesome! My boy's love to build forts with it. You build with the pieces then throw blankets over the top to create the ultimate fort! Seriously our favorite toy!
16 Love this wooden toy scooter. The best part, you can use it inside or outside!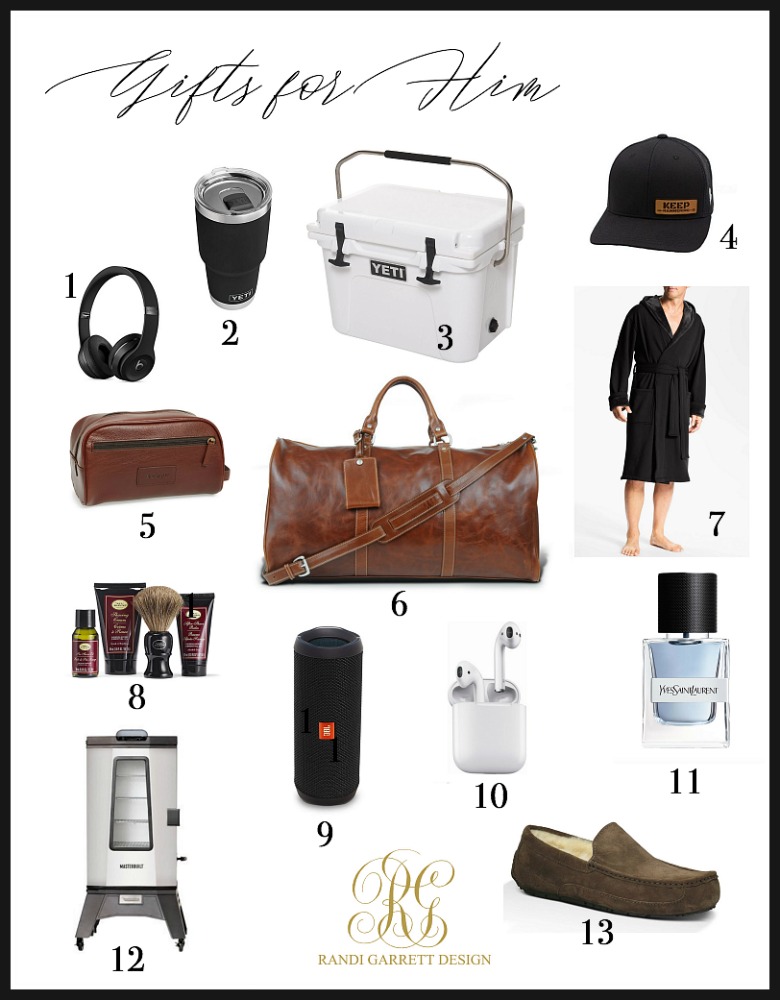 1 | 2 | 3 | 4 | 5 | 6 | 7 | 8 | 9 | 10 | 11 | 12 | 13
1 These are my husband's favorite beat headphones. He uses them when we fly. They are heavenly!
2 The Yeti tumbler is the perfect gift for your man. My guy likes to use his when he works out and on long car rides.
3 This Yeti cooler is smaller, great for day trips and tailgating!
4 My husband loves this guy on Instagram, Cameron Hanes. His slogan is, "Keep Hammering!" Inspiring for any guy! He loves this Keep Hammering Hat.
6 Leather Cabin Bag – my husband's favorite bag for travel!
7  This top rated luxurious bathrobe will be your man's favorite!
8 To keep your man looking his best, buy him this shave kit. My husband loves his!
9 I got this portable speaker for my son when he left to serve a 2 year mission in New Zealand. He has told me over and over how much this little speaker rocks!
10  Apple AirPods – not my fav, but the fav of many of the men in my life!
11 This is my favorite men's cologne! It smells amazing!
12 My dad has this smoker and it is the best! It's electric making it so easy to use!
13 Rounding up this gift guide with the most comfy and favorite from my husband's closet. He loves his UGG slippers!!! I've worn mine out of the house on accident on multiple days because I forgot they were on my feet! Ha Ha!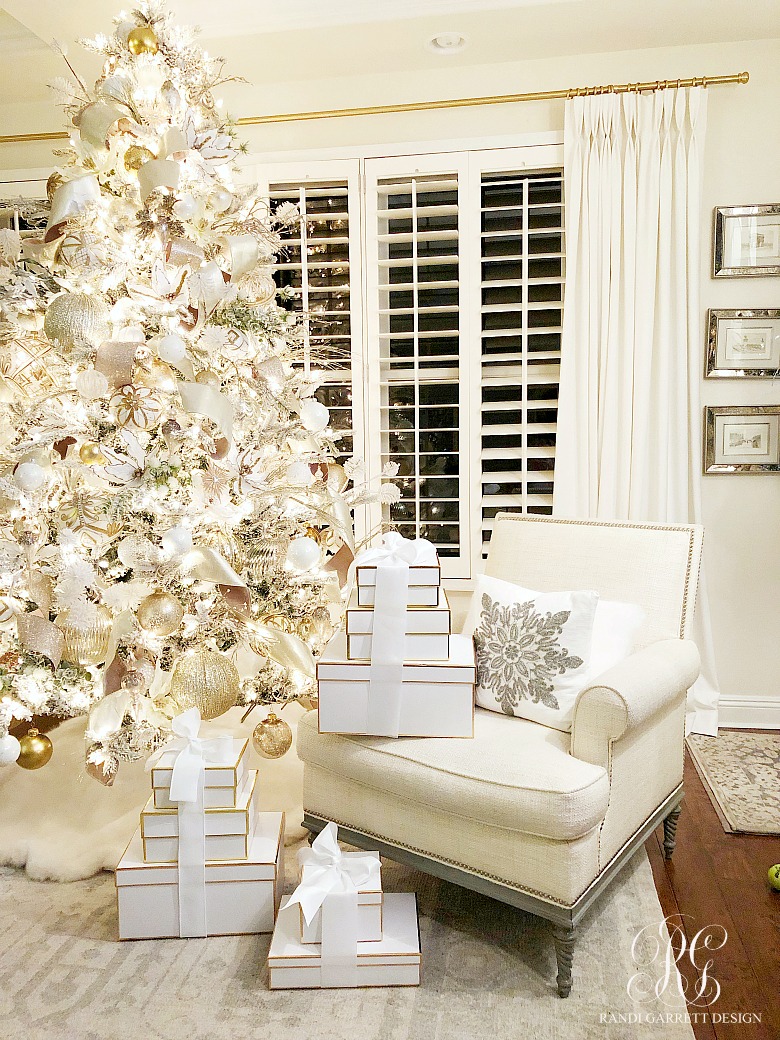 I hope these favorite things help you  find the perfect gift for the special people in your life! Happy shopping!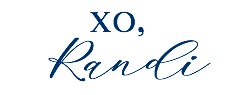 Never miss a post! Sign up of my weekly newsletter here…