Last night I lay in bed thinking about how thankful I am for this special time of year. Everyone seems more focused on someone else's needs more than their own. There is a tangible excitement in the air. People are kinder. The whole world seems to sparkle. As I thought about what I love most about Christmas, one word came to my mind –light.
The world is lighter and brighter at Christmastime. Beautiful twinkly lights and shiny ornaments glisten everywhere you look. It is literally brighter from the light the Savior brought into the world. It gets even brighter as we share and care for one another. The spirit of giving is intensified around Christmas, making it the most magical time of the year!
One of my favorite Christmas songs has always been, "I'm dreaming of a white Christmas!"  The imagery of white makes me think of all the light during this special time of year. So to bring that magical light into our home, I decorated with the theme, "I'm dreaming of a white Christmas!"
Our home is part of a home tour, called Simply Christmas, featuring some of my favorite designers! There is a list of all homes at the end of this post. If you have just come from the lovely Kelly of Lily Pad Cottage, welcome! Kelly's lakeside dream home always leaves me daydreaming!
My Christmas Home Tour is my favorite post of the whole year! I hope you enjoy it and that you get some Christmas inspiration for your home as you decorate it for the most glorious celebration of all! Get ready for some major Christmas photo overload!!!!
*This post contains affiliate links. Read my full disclosure here.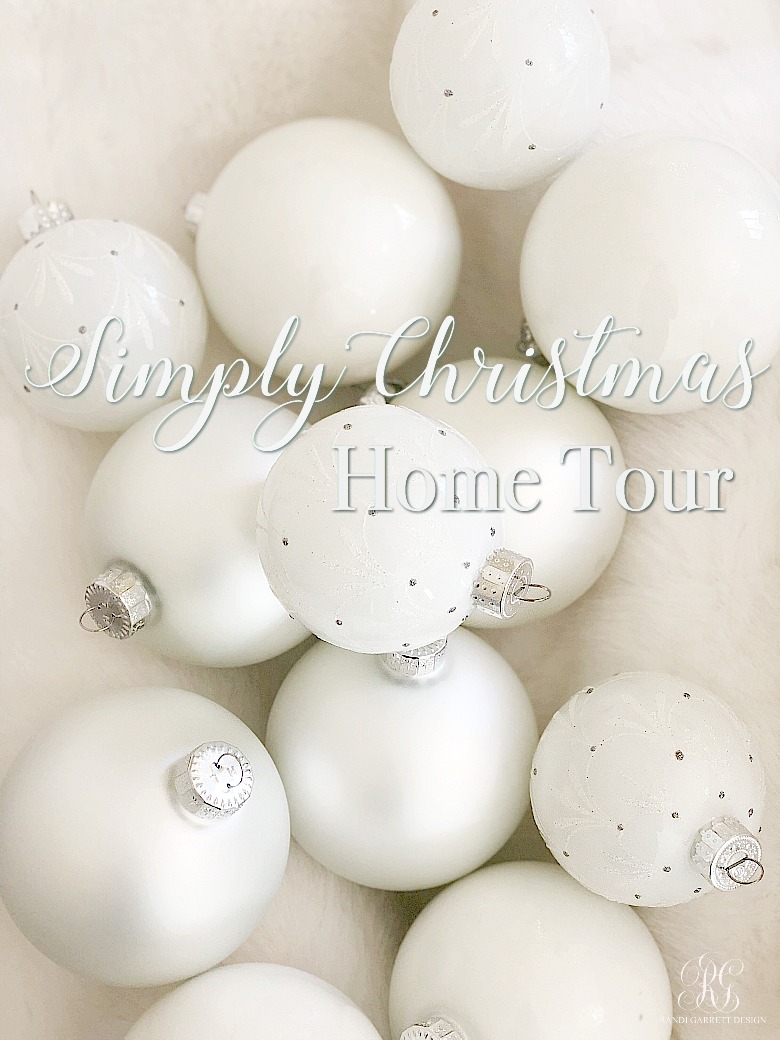 I'm Dreaming of a White Christmas Home Tour
Drapery (c/o) | Hardware (c/o) | Gray Rug | Large Temple Jar | Chair 
 Inside you will find touches of white and gold throughout the entire house to go with our white Christmas theme.
New white linen drapes welcome you in at the front door. They are a gorgeous, luxurious drape edged with a beautiful gray, greek key trim. A brilliant gold rod shows them off! You can get some for your house at Willow Bloom. You can request to have trim put on yours like I did. Mine have the two finger pinch pleat at the top and are lined. Their drapery and hardware are fabulous!
Most of our walls are painted in Ralph Lauren's Edwardian Linen mixed by Dunn Edwards. It's a creamy white paint that looks amazing with any color. The white drapery really pop against it.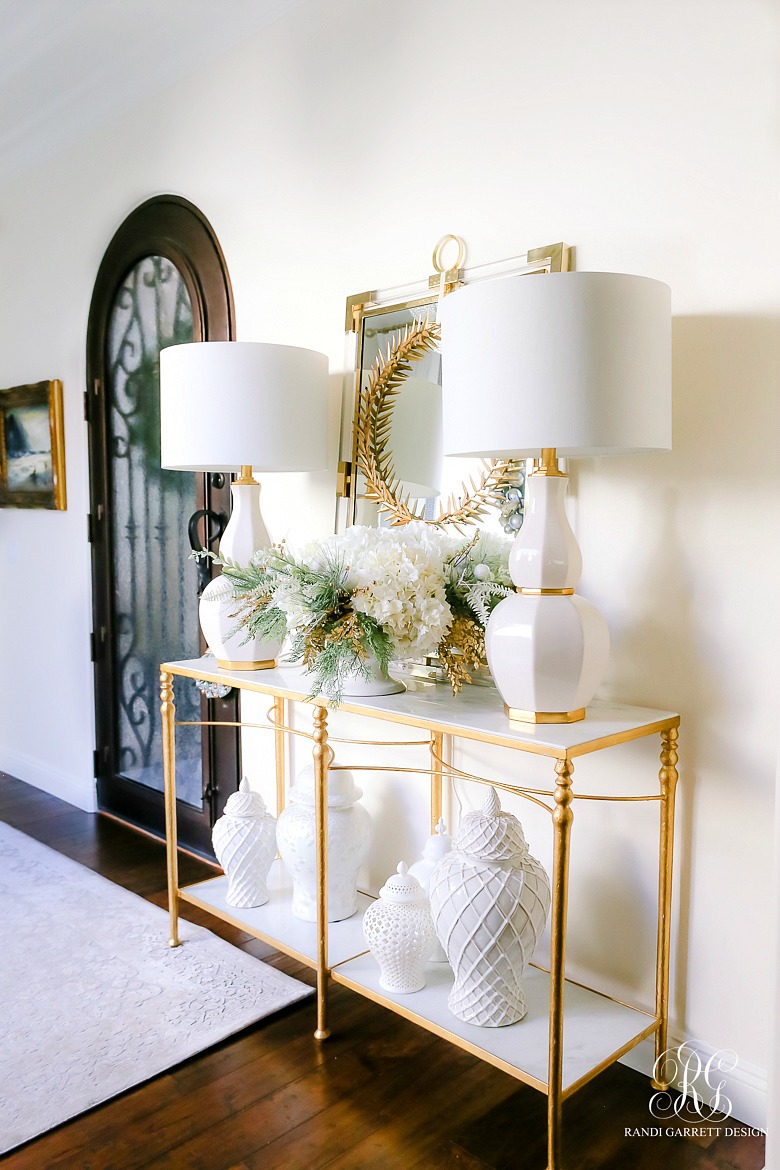 Marble Entry Table | White Gold Table Lamps | Lucite Mirror | Laurel Wreath | Lattice Ginger Jars | White Shell Temple Jar | Small White Ginger Jar | Gray Rug | White Urn
On the entry table, I used the same hydrangea arrangement I always have here. Adding a few sprigs of faux fir mixed with a few gold berry picks and a few Christmas picks, gave it a totally magical Christmas feel. Don't be afraid to use your current decor! Just add a few simple touches to make it feel like Christmas!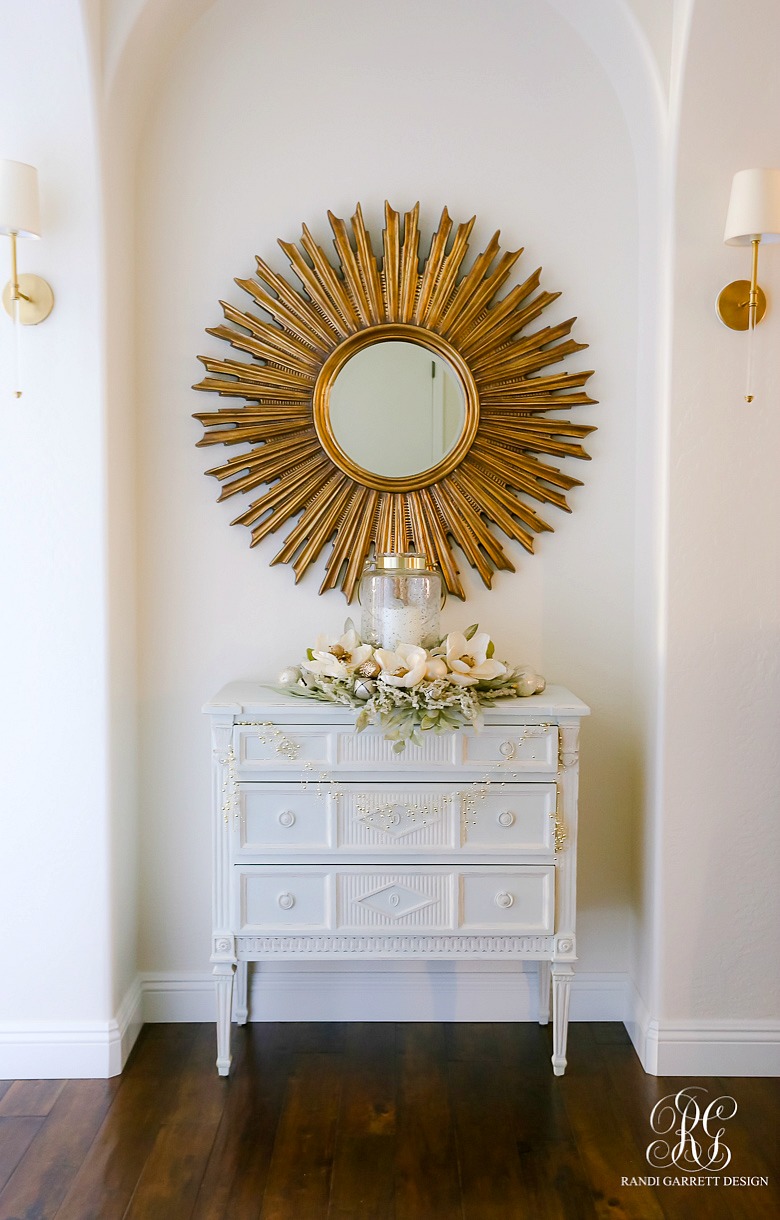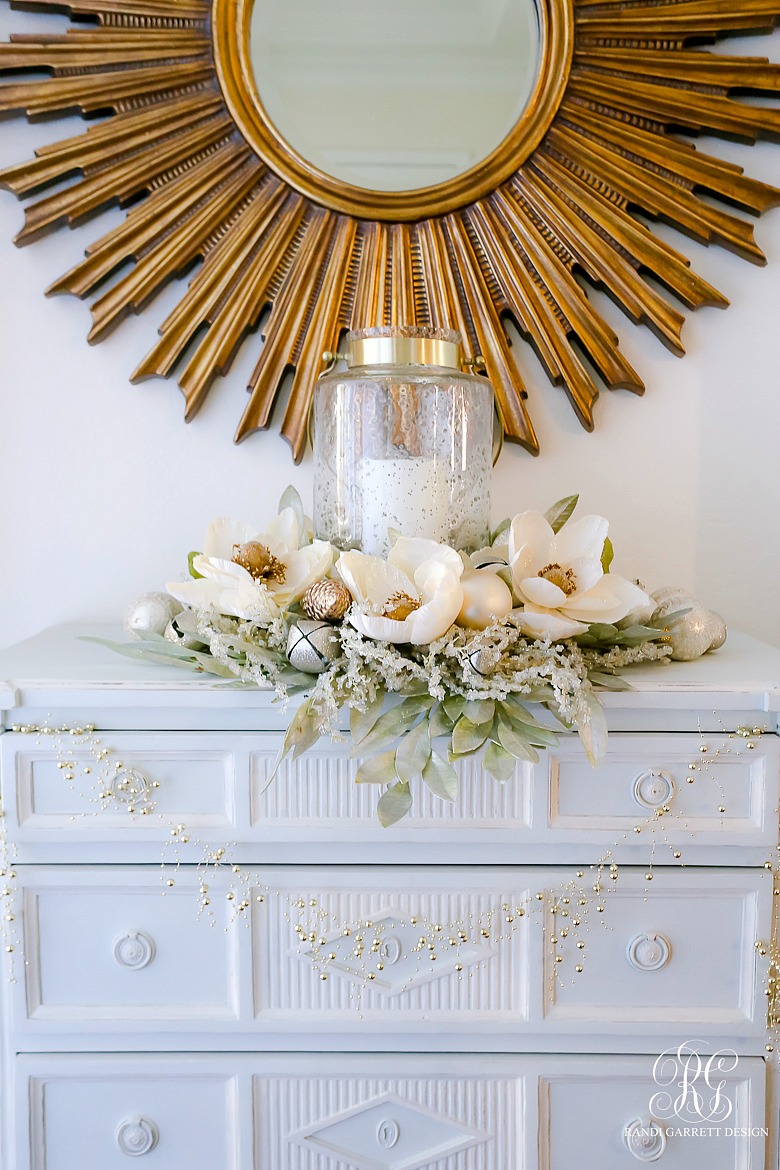 Use a few wreaths to dress up a hurricane. Here I used a silvery green wreath, layered with a crystal wreath. Next, I tucked in a few ornaments and faux magnolias. Drape a simple garland to fancy up any table or chest.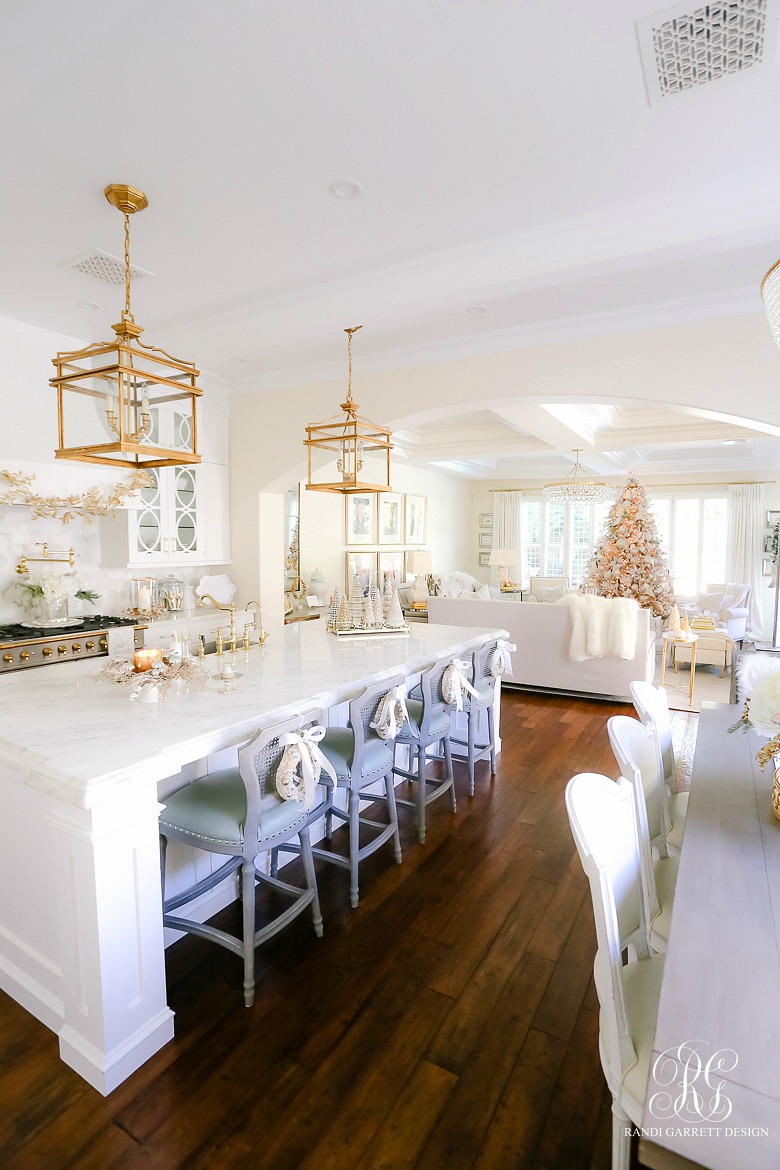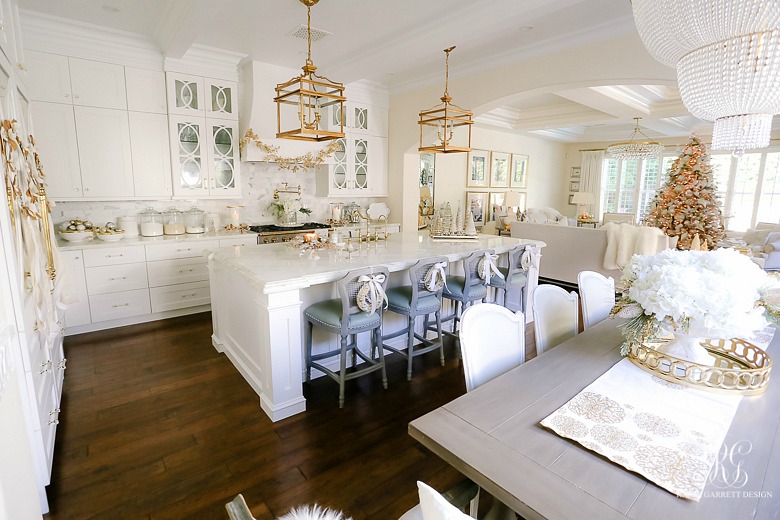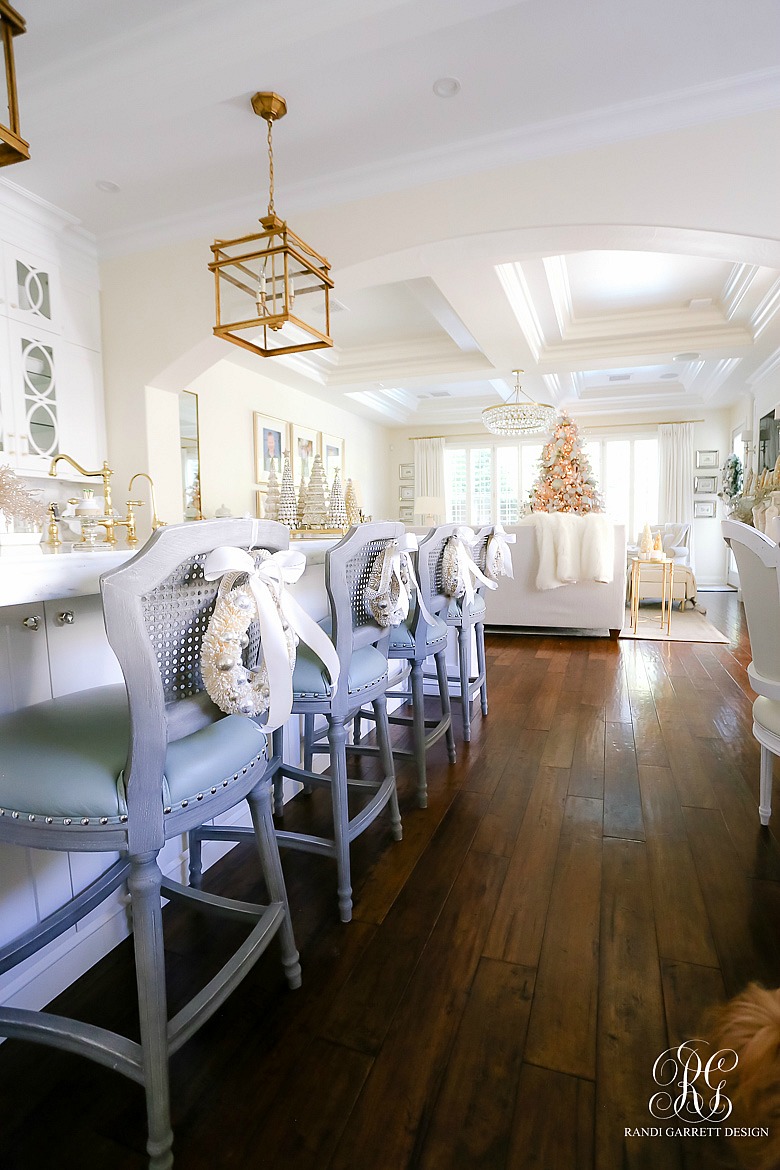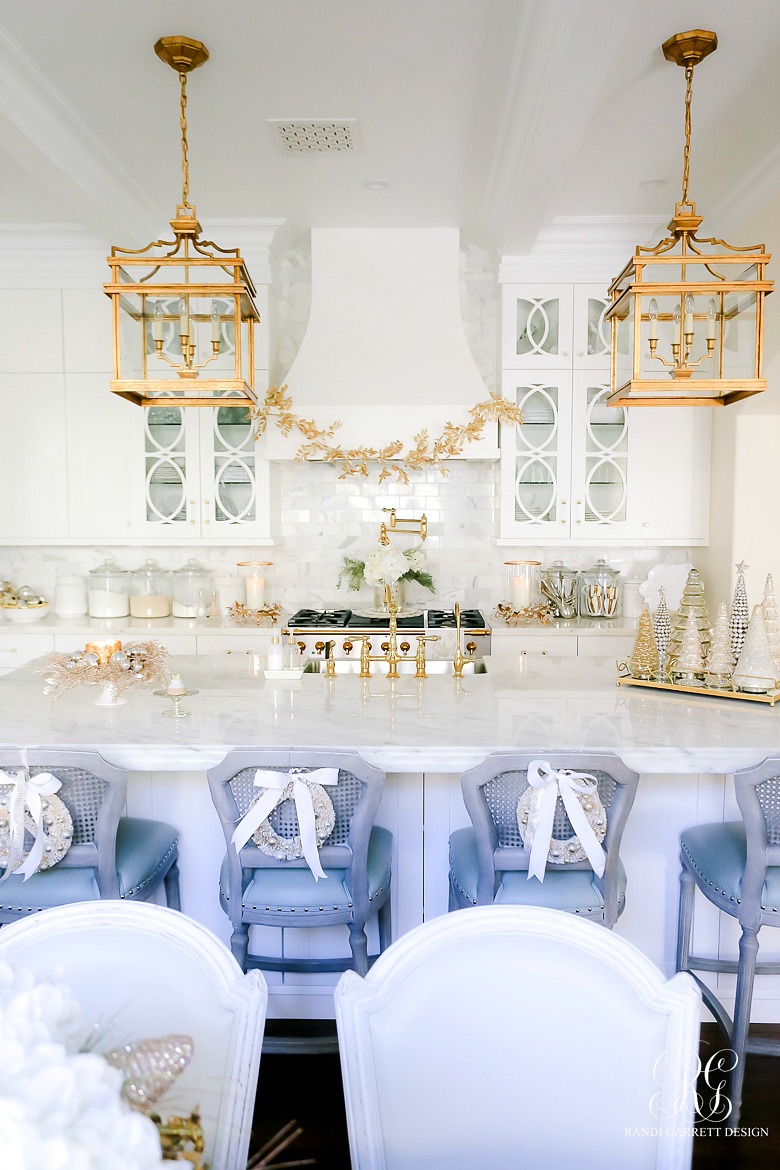 Gold Lanterns | Gold Faucet | Similar Barstools | Gold Pot Filler | Gold Hurricane | Silver and Gold Stove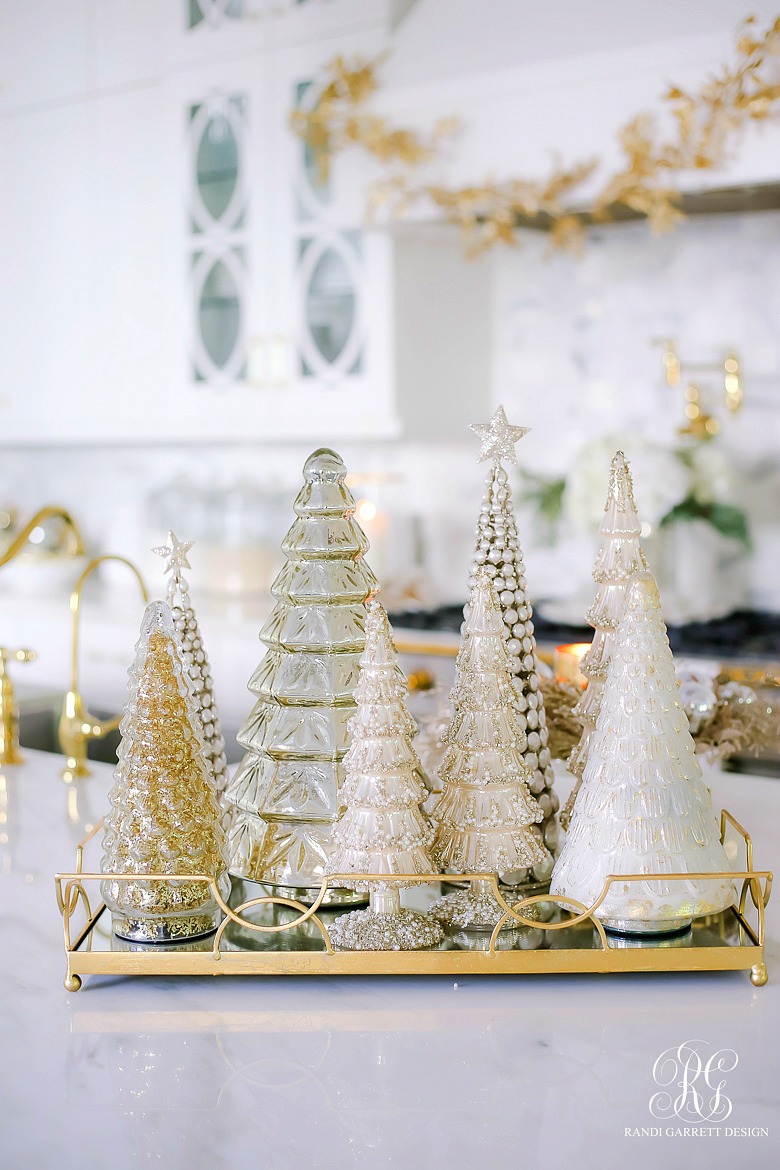 Gold Tray | Similar Gold Tray | Beaded Christmas Trees | Pearl Christmas Trees | Mercury Glass Trees | Glass Tree | Glittered Christmas Tree
Whites and golds are sprinkled throughout the kitchen to make it sparkle, like new fallen snow. Group some of your favorite mercury glass trees together in a gold tray for a simple, and magical decoration for your countertop.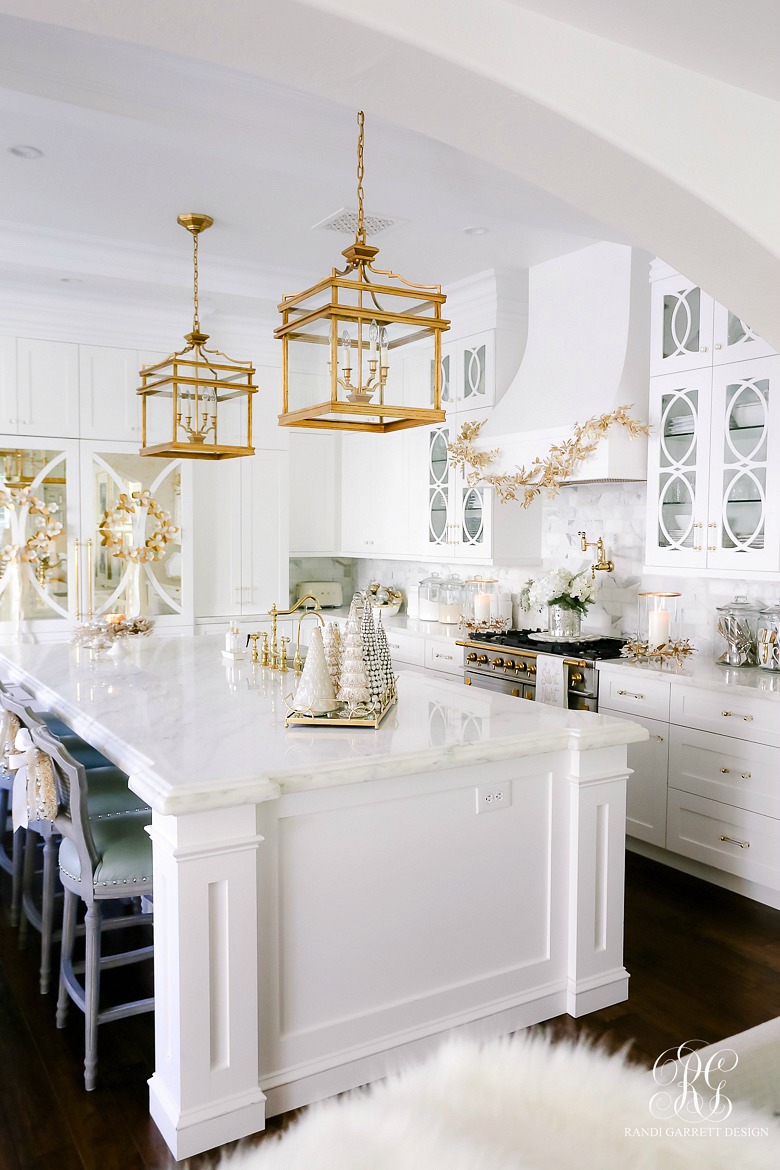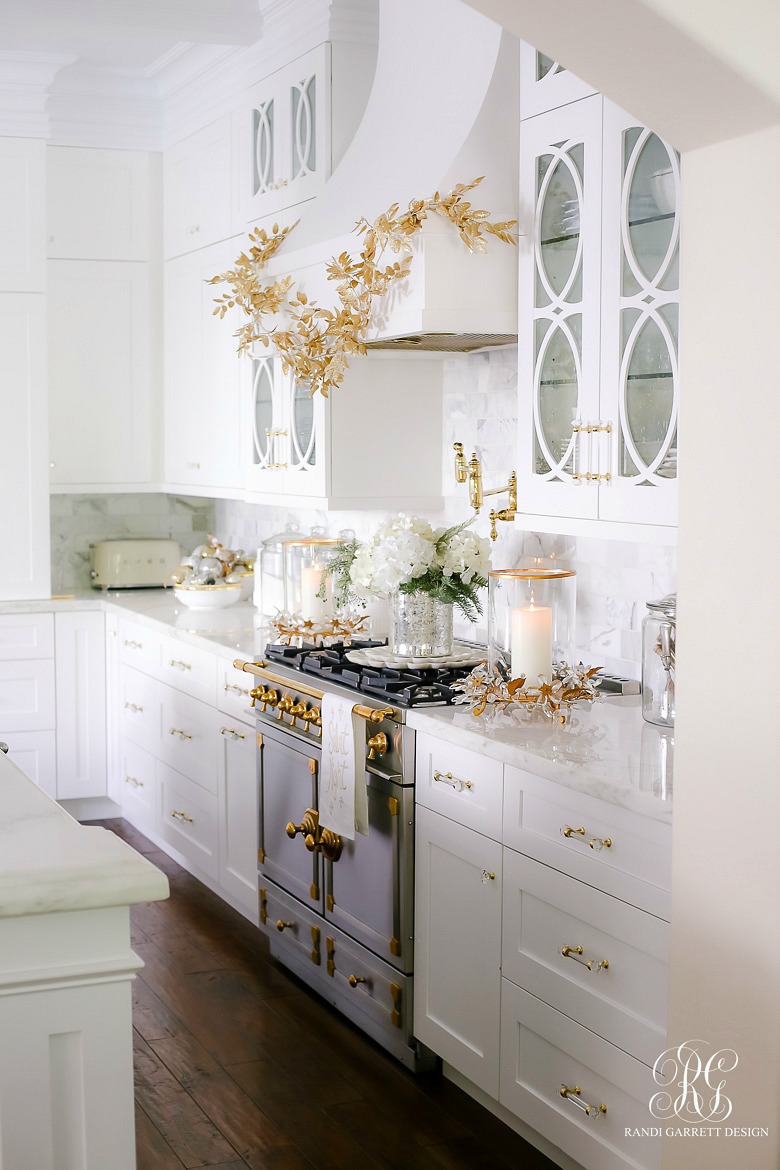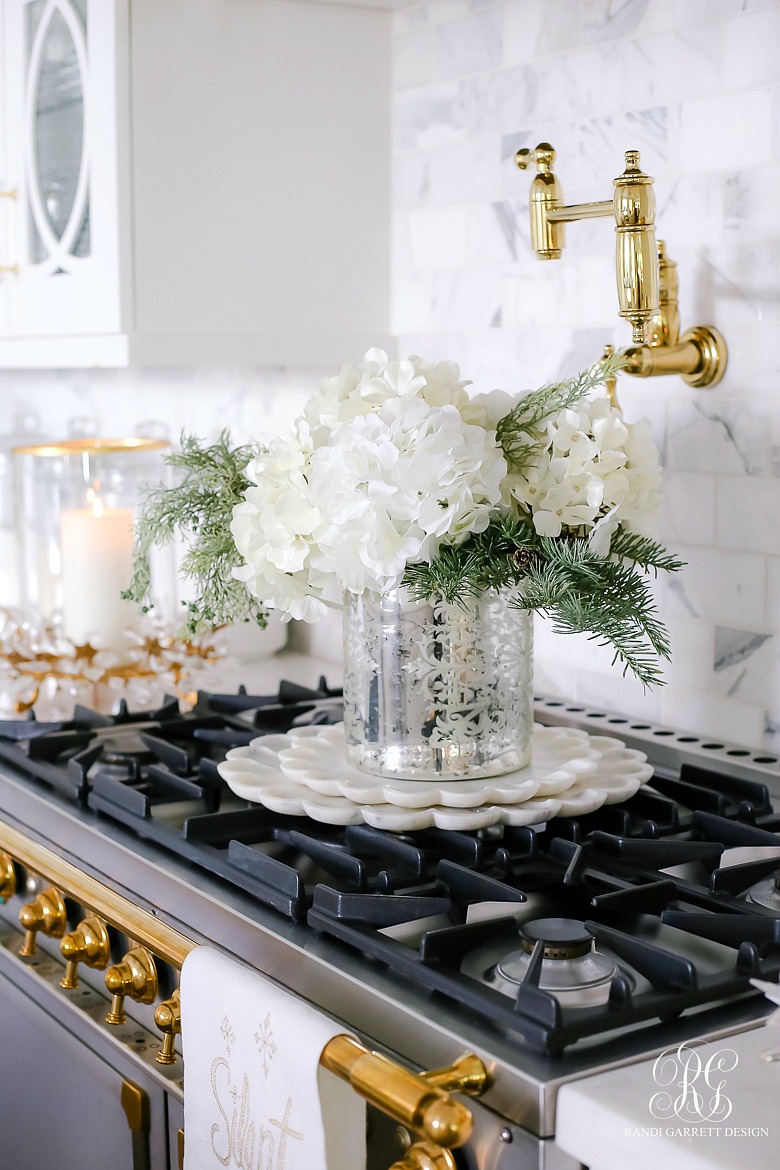 For a simple and festive arrangement that will last all season long, use a mercury glass vase, a few faux hydrangeas and some fir picks. Place it on top of my favorite marble petal trays!
Silver and gold Ornaments in pretty gold and white bowls make the countertop look cheery in seconds!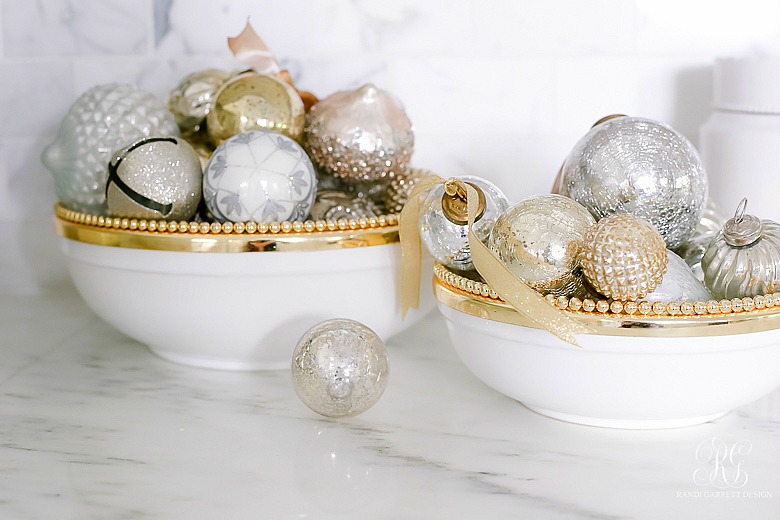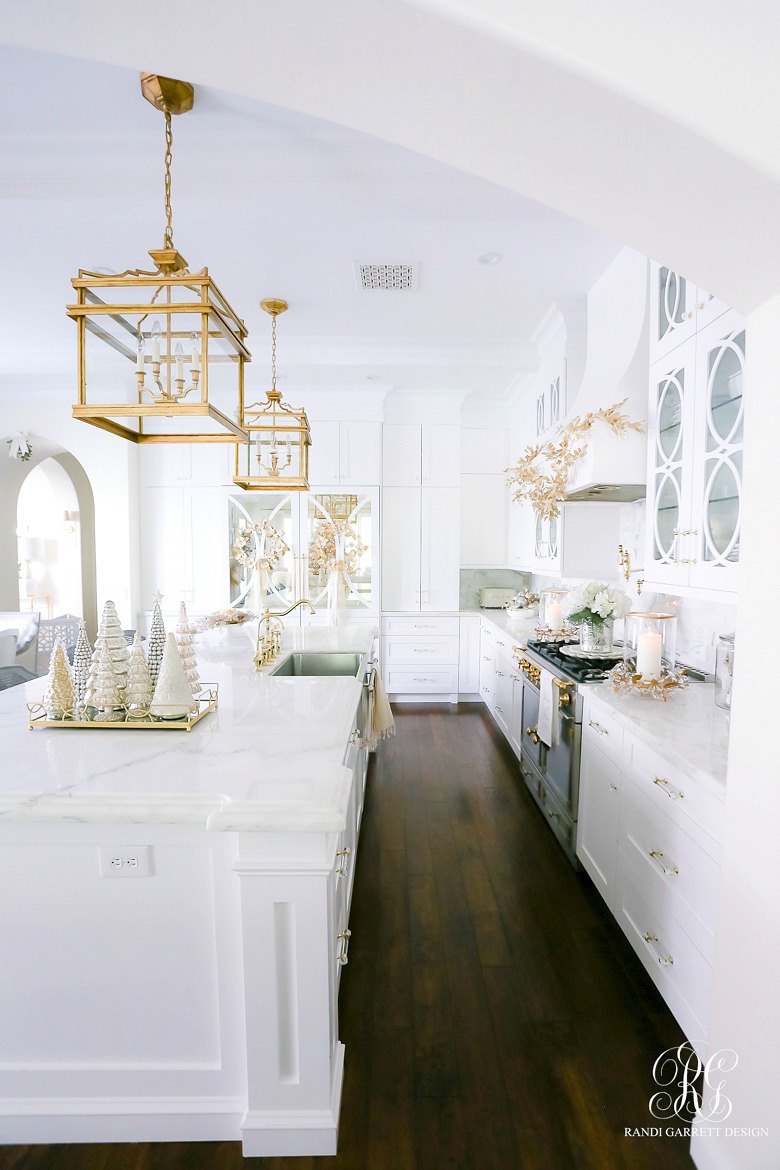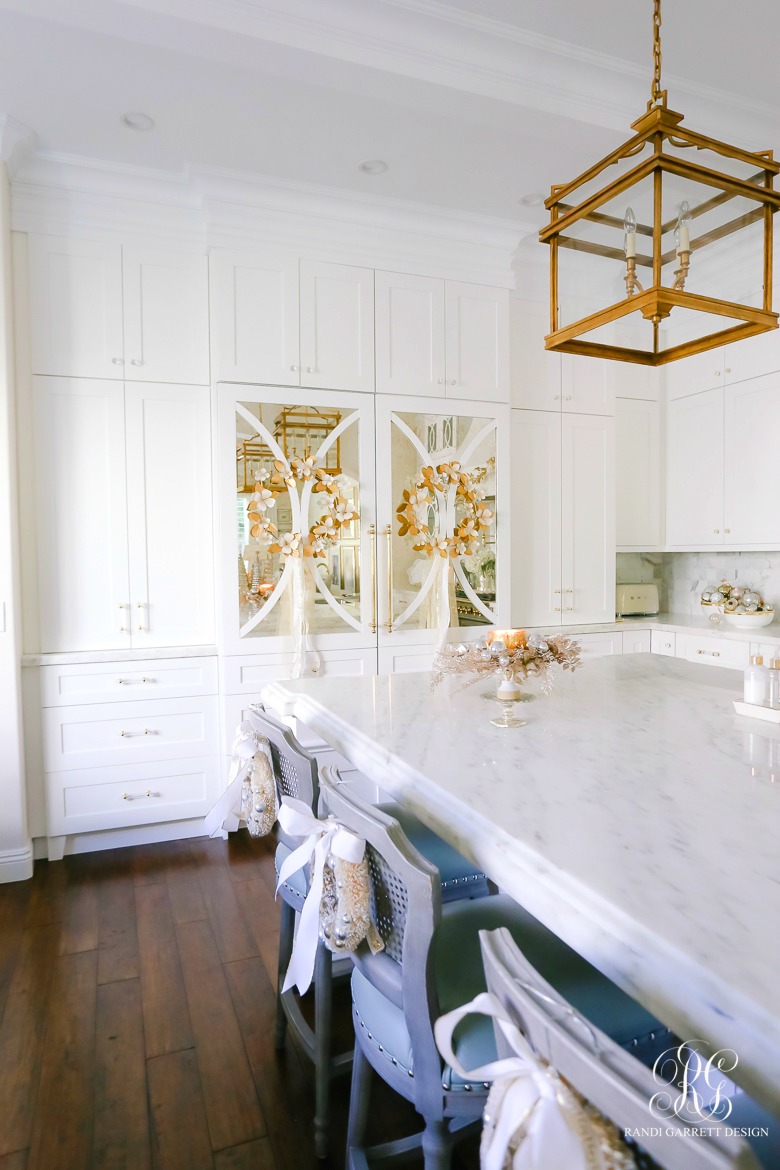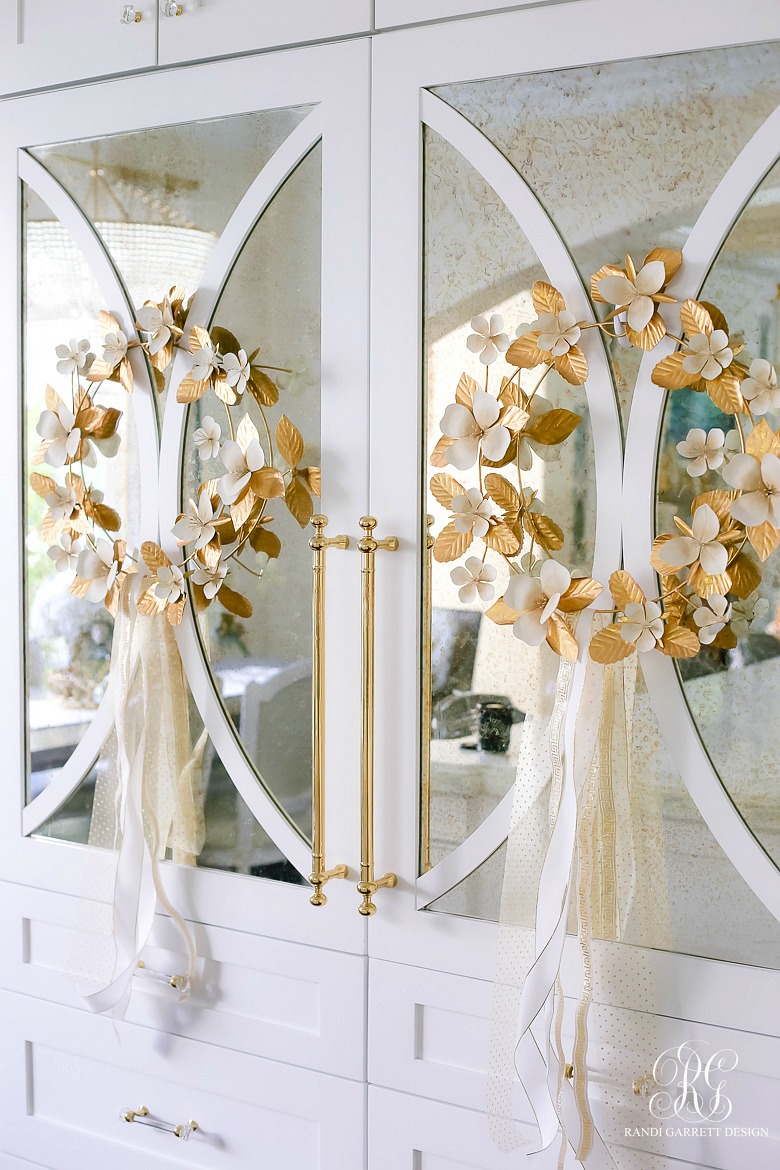 Don't overlook unexpected places to add Christmas cheer! Dress up your fridge! Use command hooks to hang a few wreaths on yours! I used white and gold metal floral wreaths with white and gold ribbons. The best part, you can use these wreaths all year round!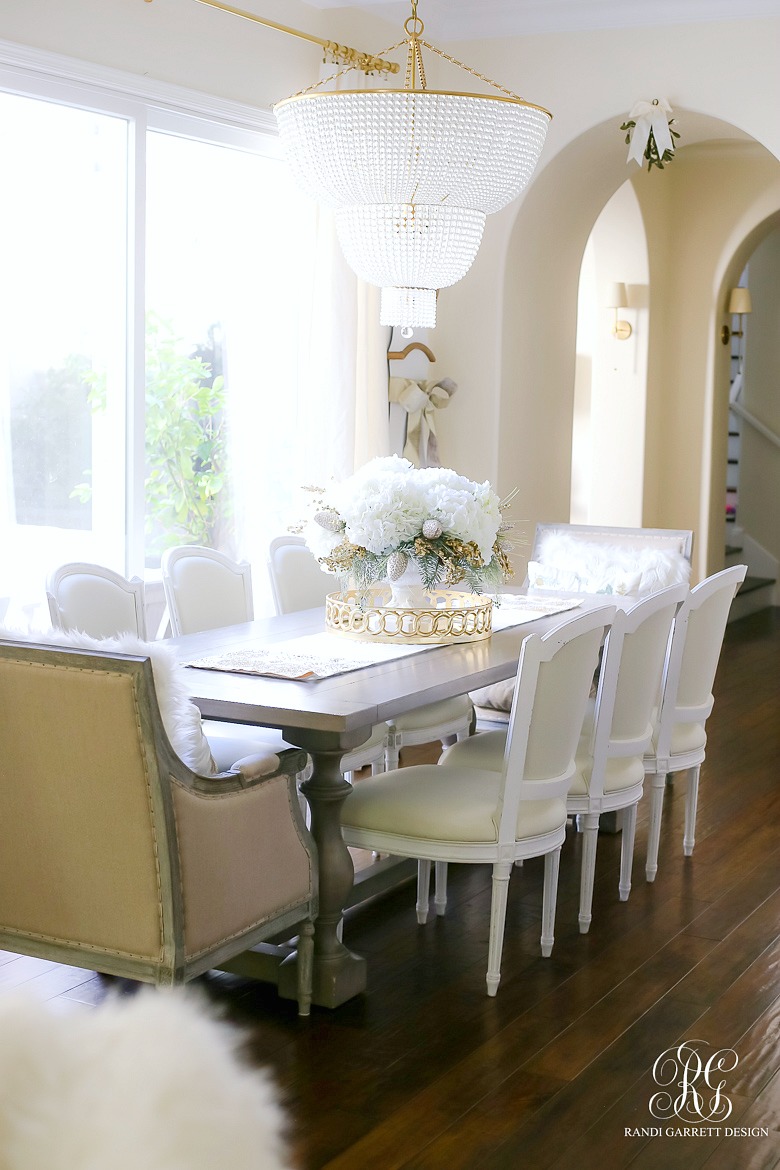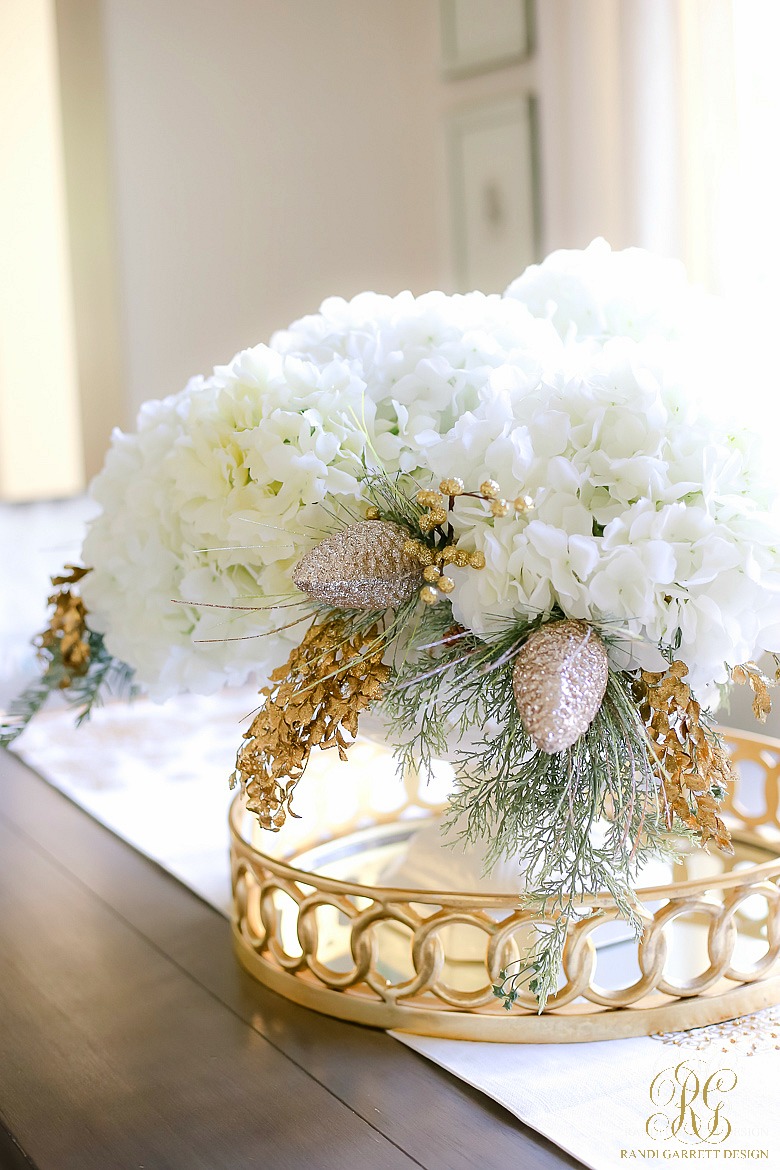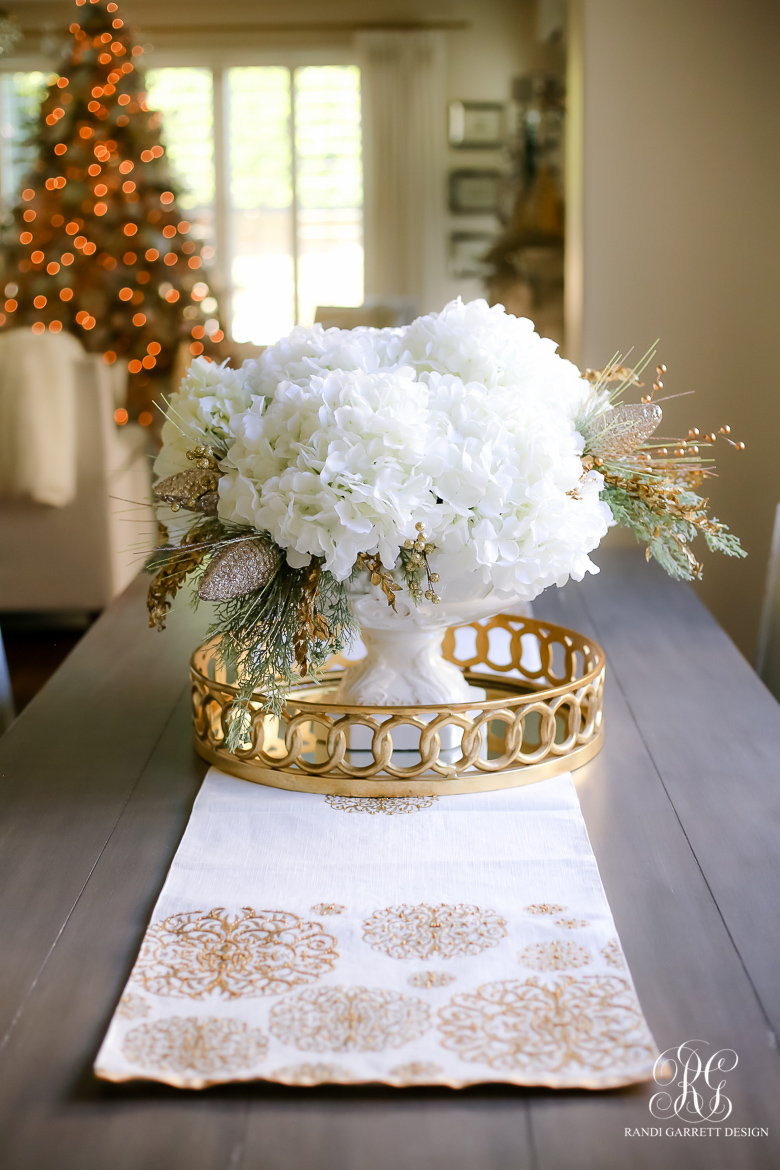 Gold Circle Tray | White Urn | Faux White Hydrangea | Glitter Pinecone Picks | Pine Picks | Glitter Berry Picks | Beaded Table Runner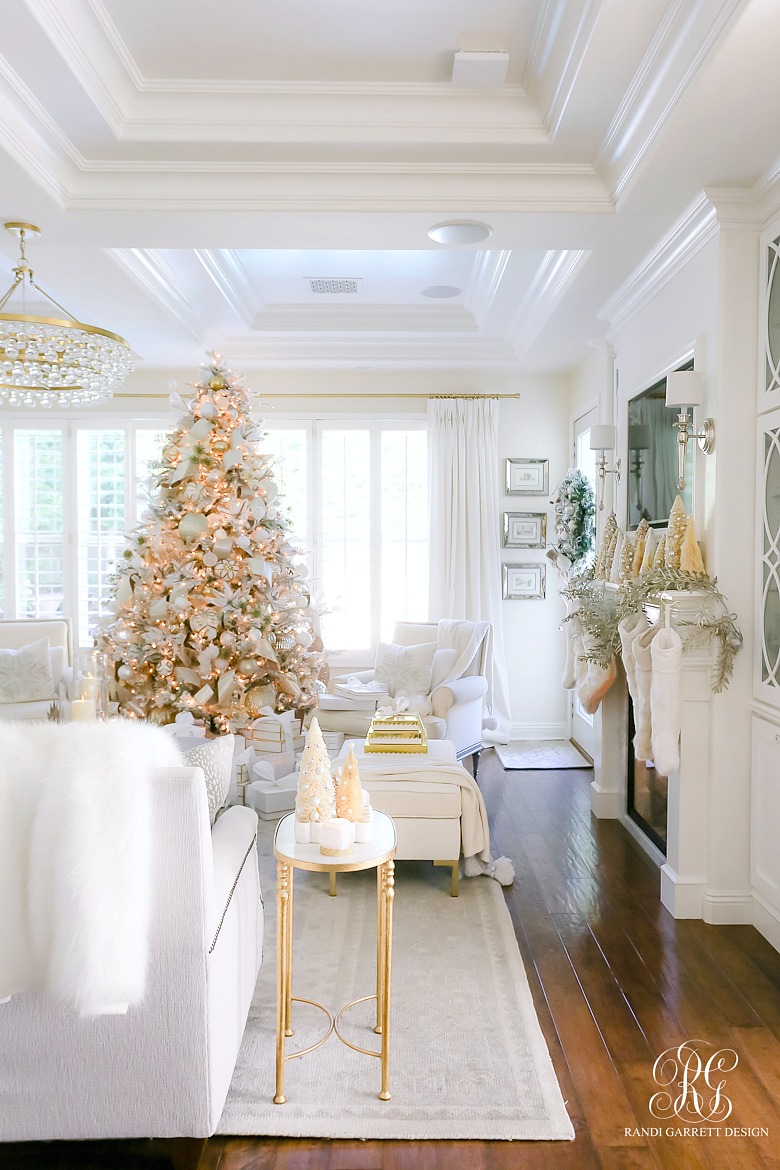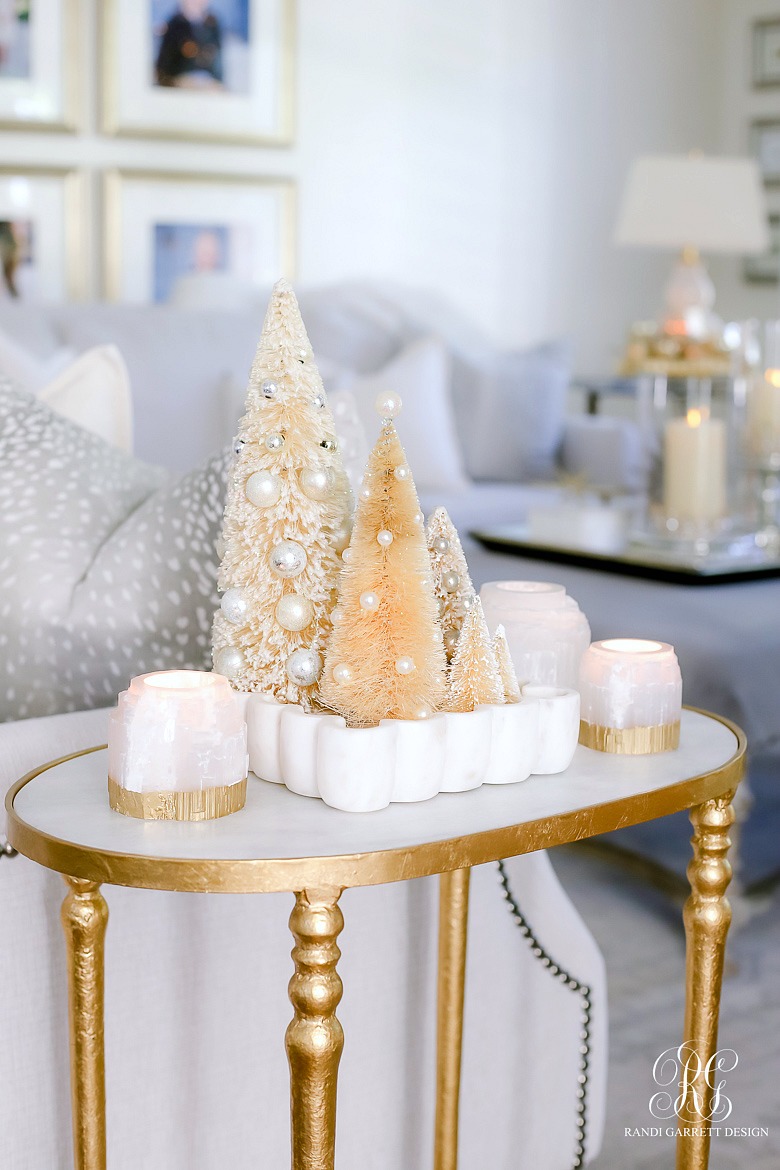 Gold Marble Side Table | Votive Holders | Bottle Brush Trees | Marble Petal Bowl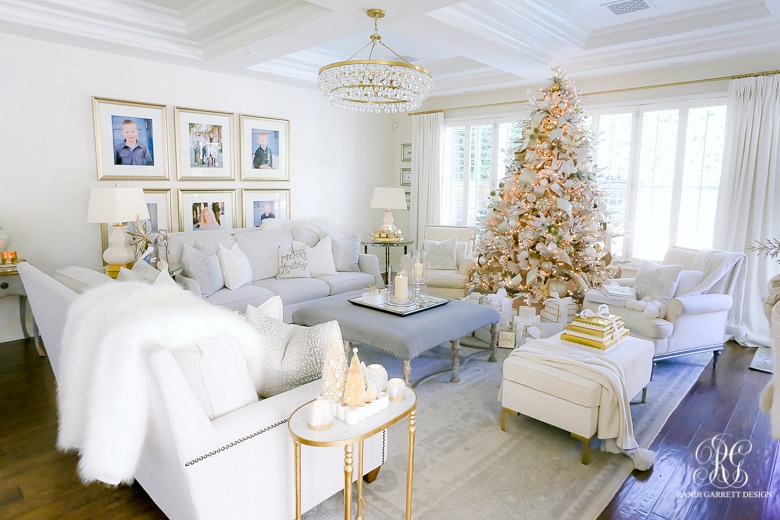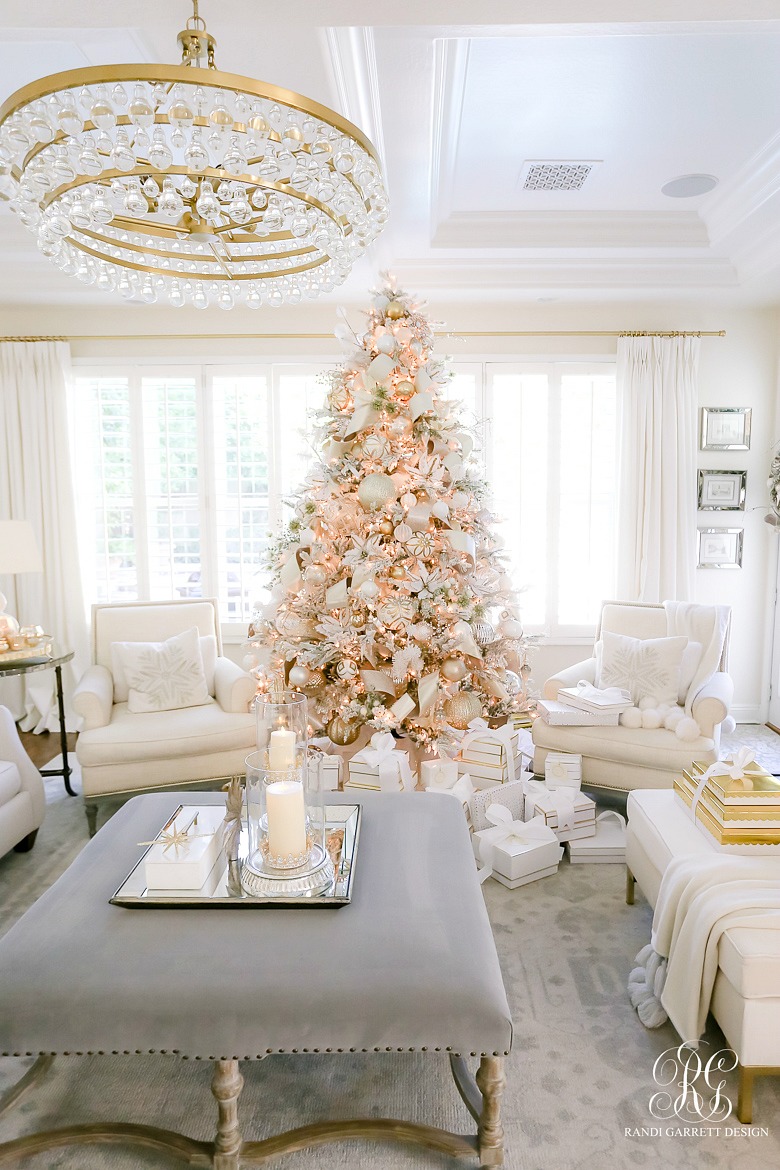 In the family room it's as close as you can get to a white Christmas! The tree features all of my ornaments from last year's Christmas Home Tour with just a few added gold and white ones I picked up this year. I used my same ribbon from last year too, I just flipped over the ribbon to the reverse side. The front was a taupe velvet, the back a soft, shimmery gold.
To see exactly how I decorate my trees, you can watch my Christmas Tree Video Tutorial here.
Snowflake pillows and fur lumbar pillows add a soft touch to my club chairs.
Try using all white wrapping paper and boxes to create a snowy feeling! Then use ribbon that has a little bit of gold to add some sparkle!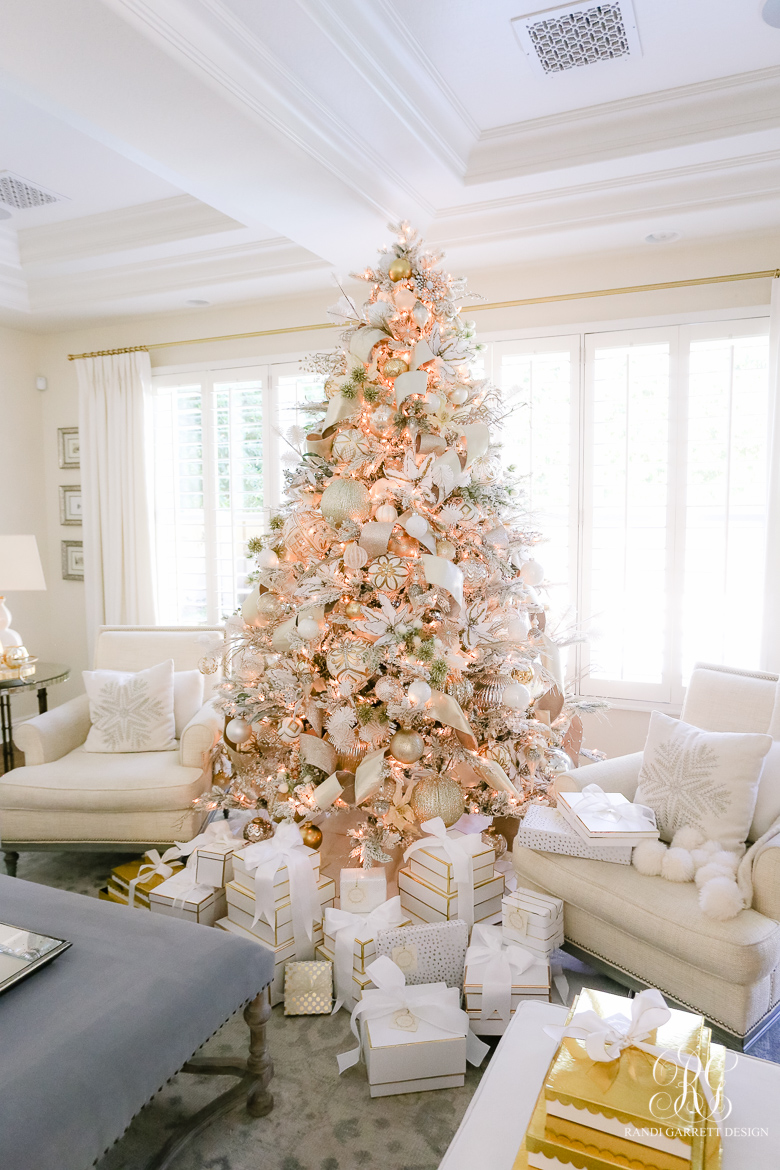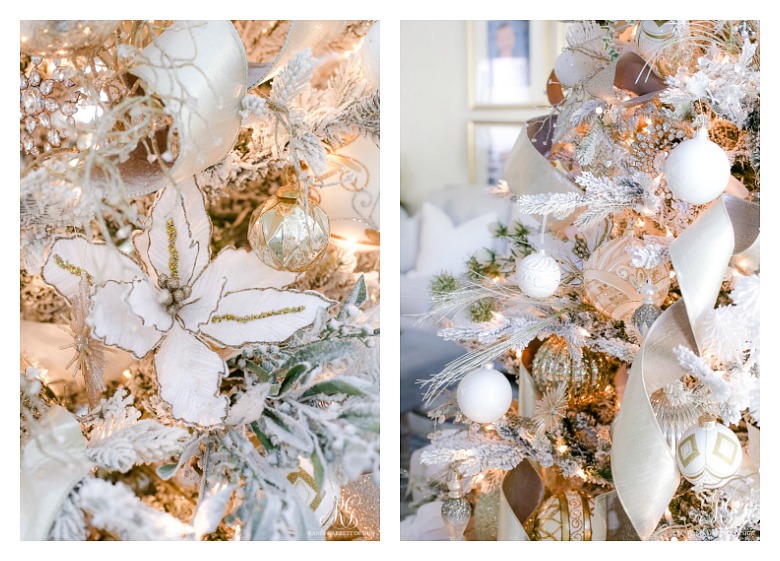 My 9 ft Flocked Christmas Tree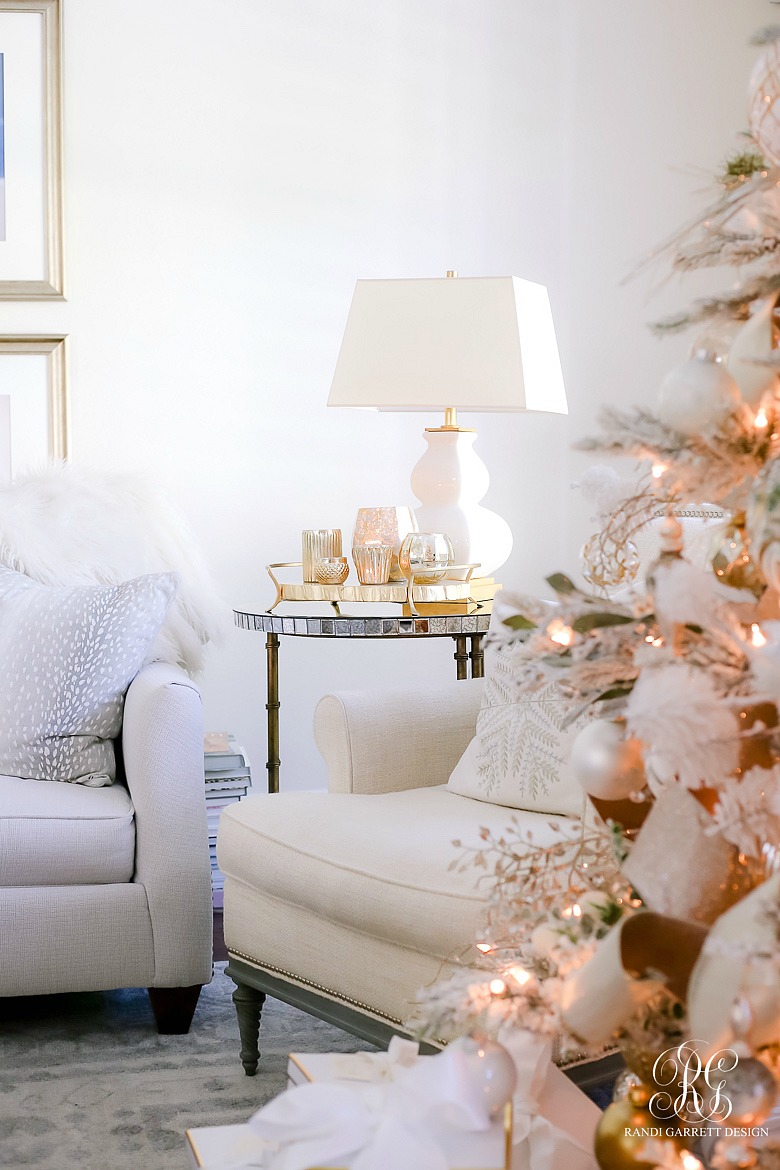 Marble Tray | Gold Votives | White Gold Lamp | Gray Antelope Pillow | Snowflake Pillow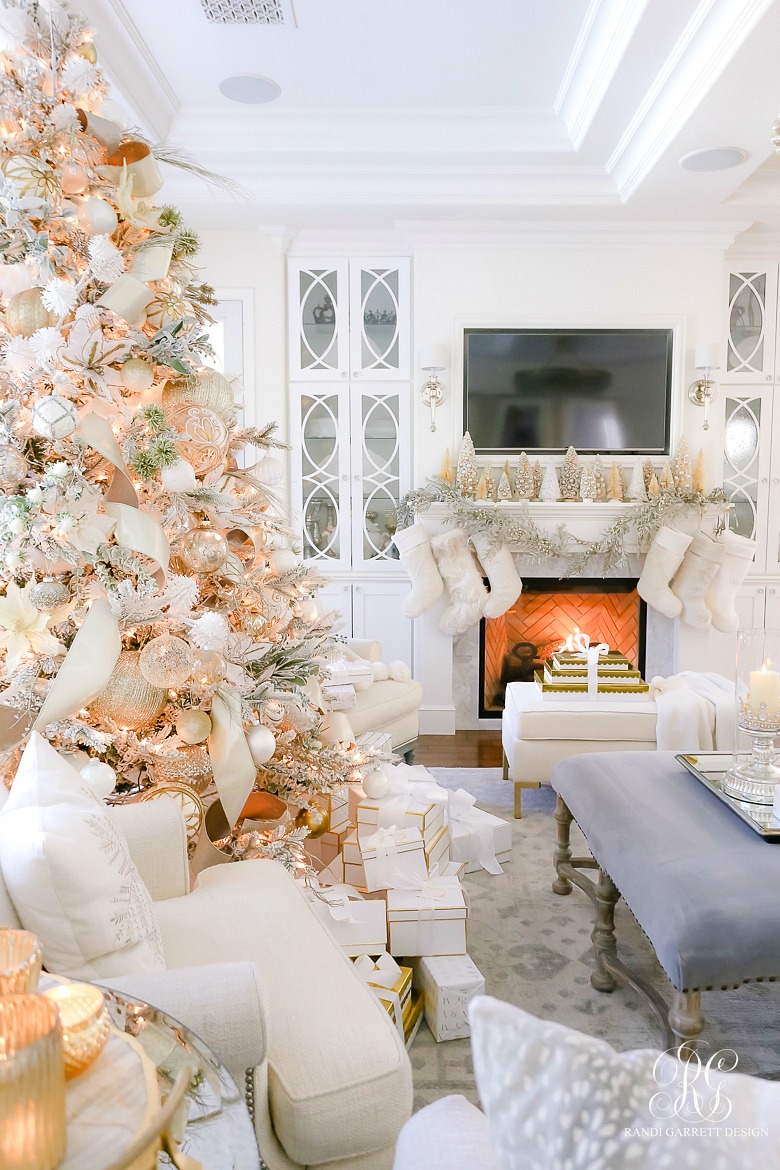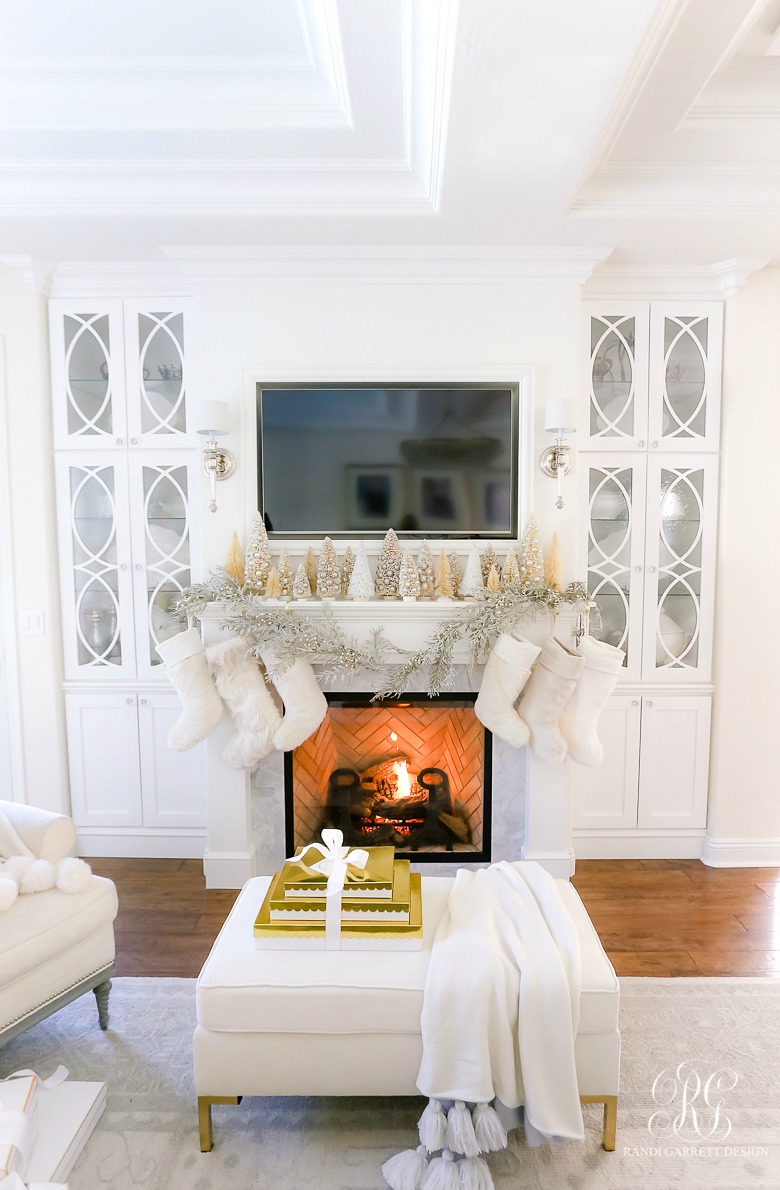 Bottle Brush Trees with Ornaments | White Bottle Brush Trees | Fur Stockings | Garland (similar) | Tassel Throw | White Velvet Bench | White Gift Boxes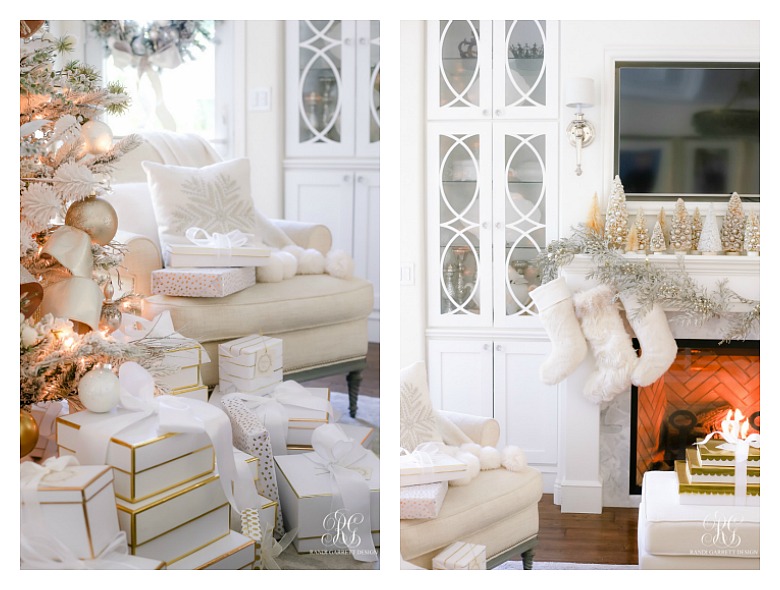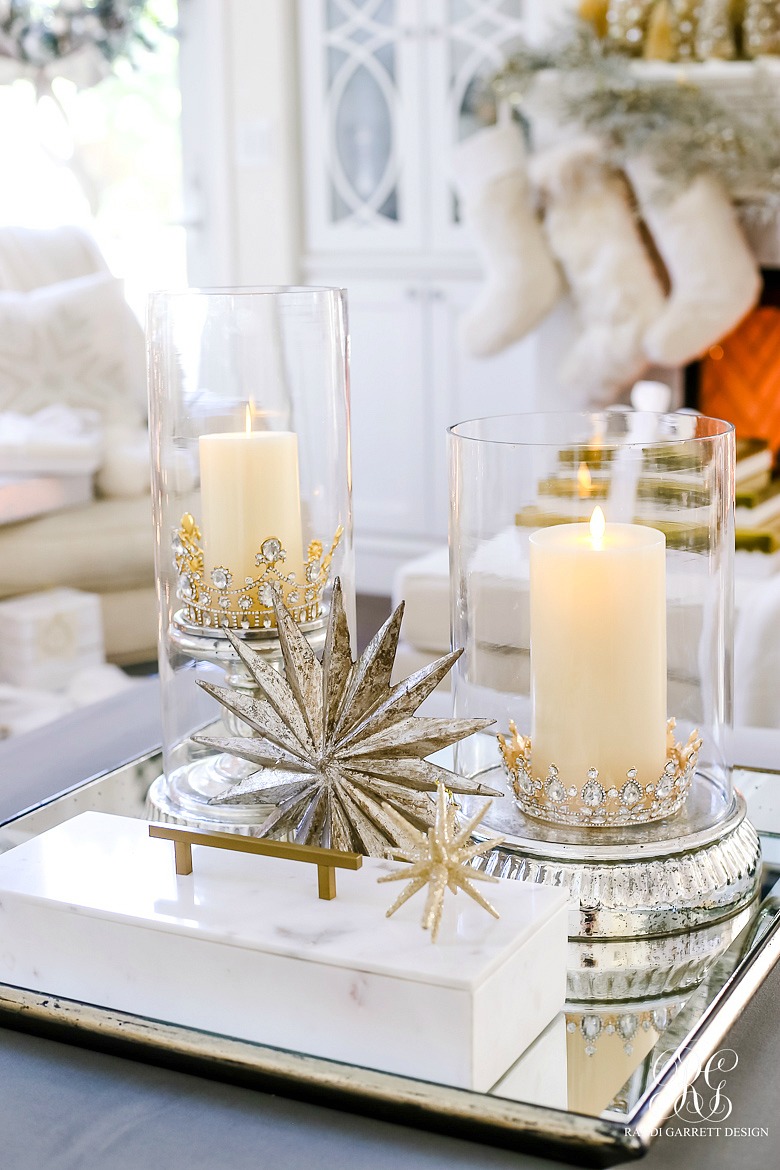 Tiaras aren't just to be worn! Try adding them around a candle in a hurricane for a nod to the Christmas wisemen. Tree toppers an also be used as accessories to decorate for Christmas! I used one here as a special touch with a few star ornaments.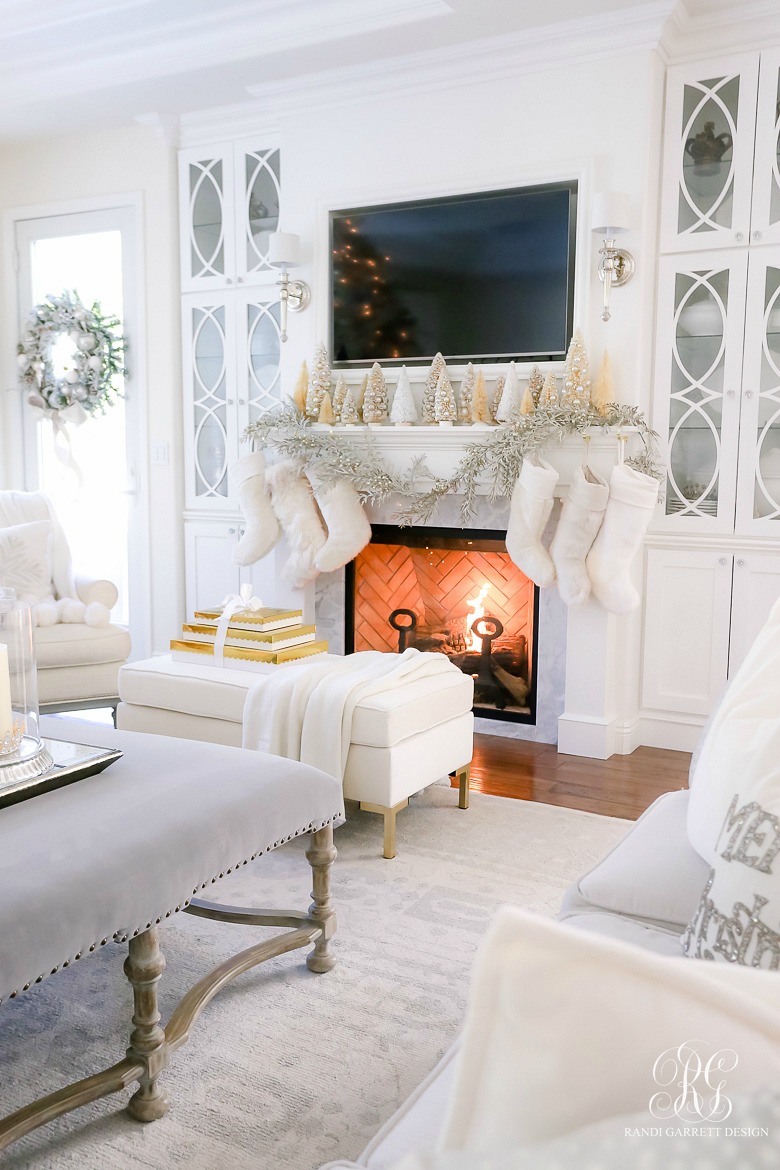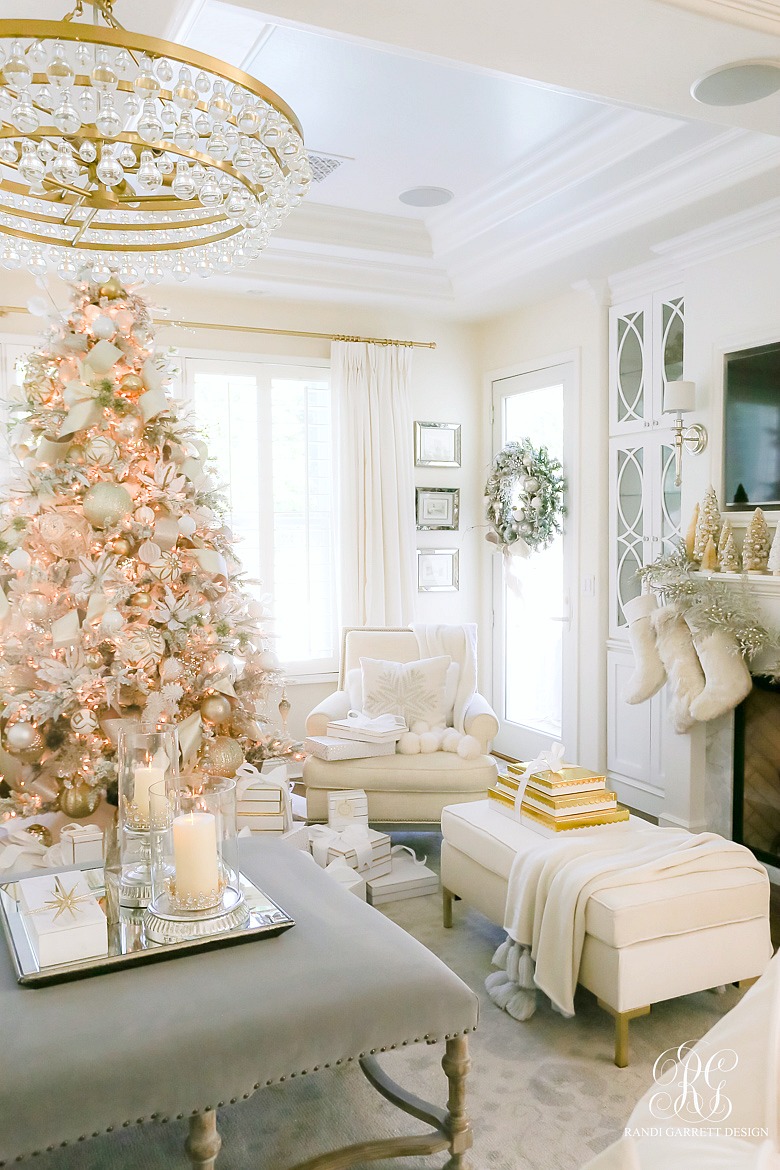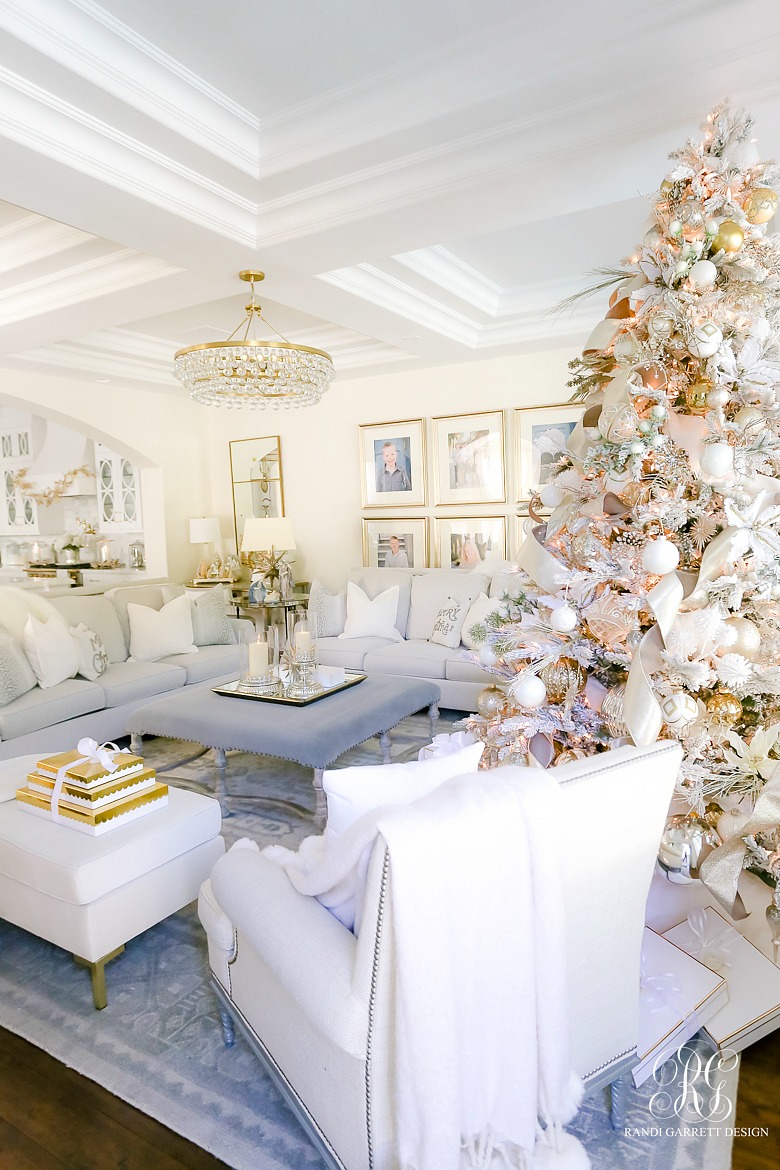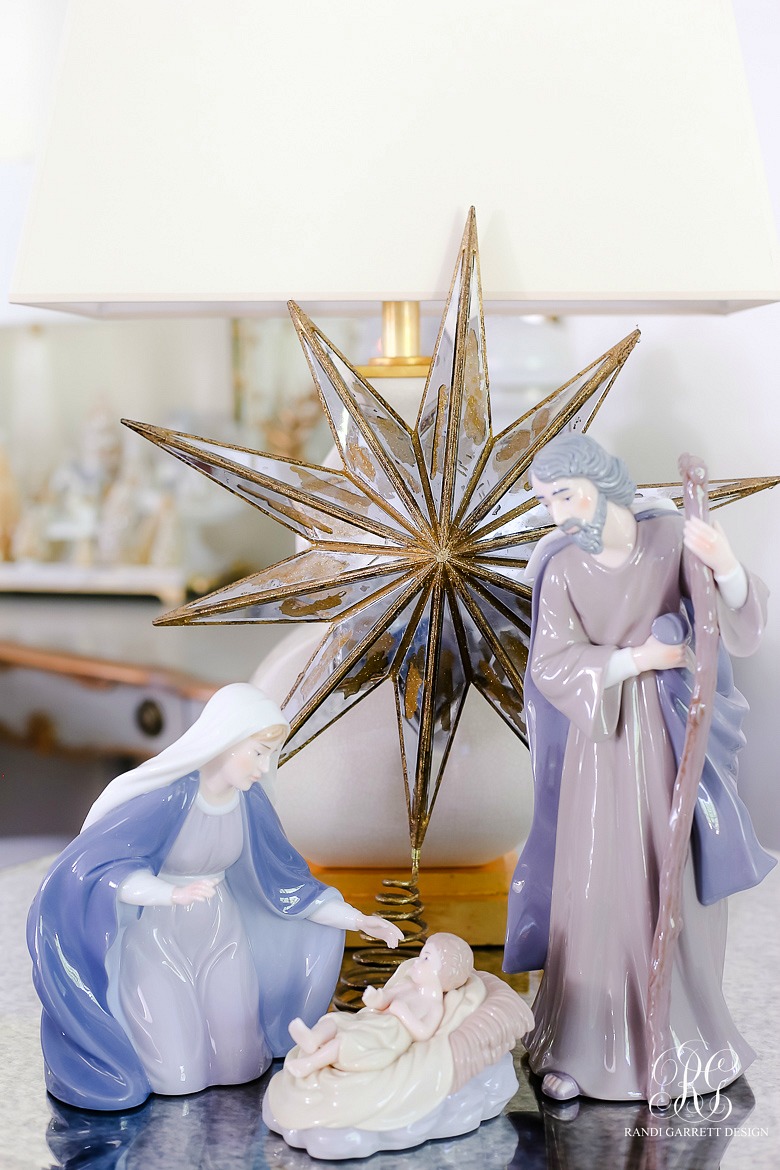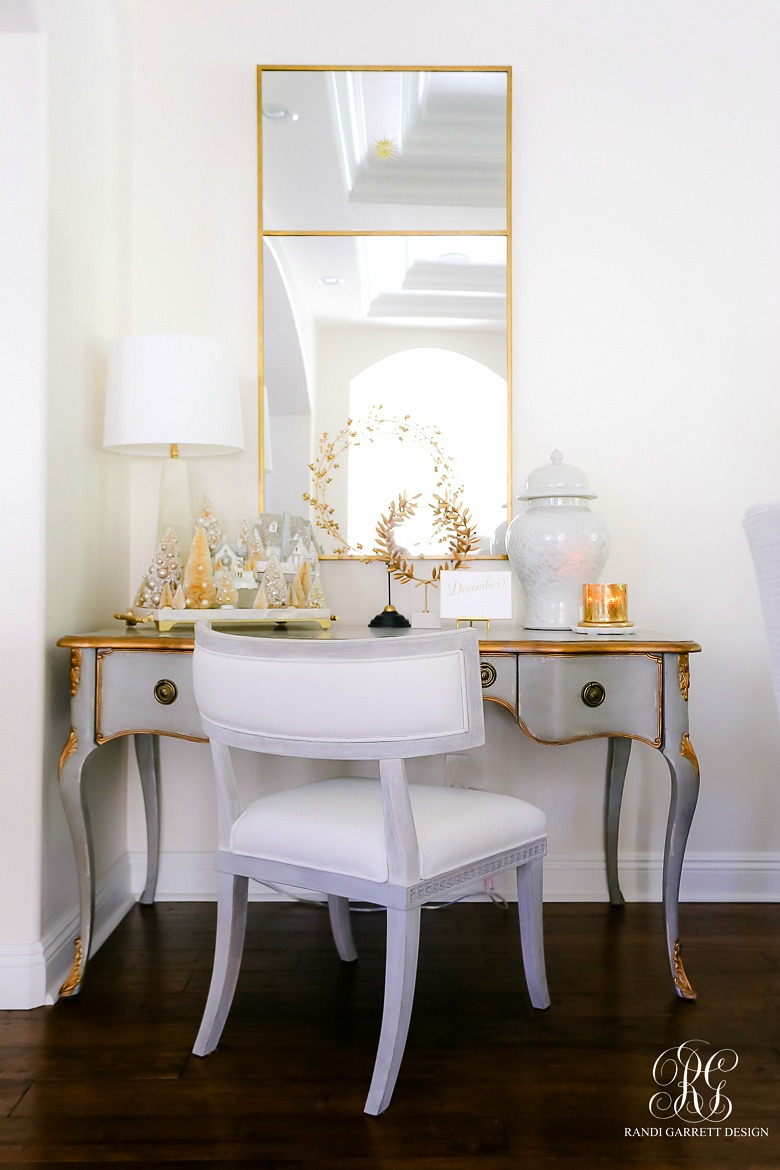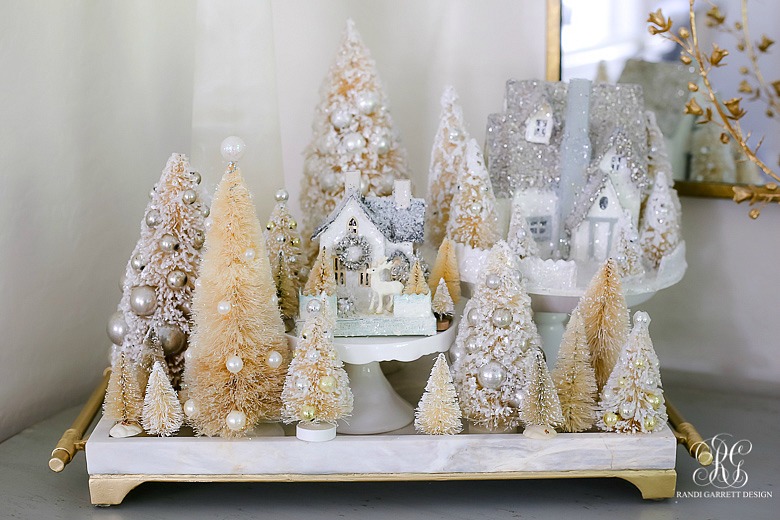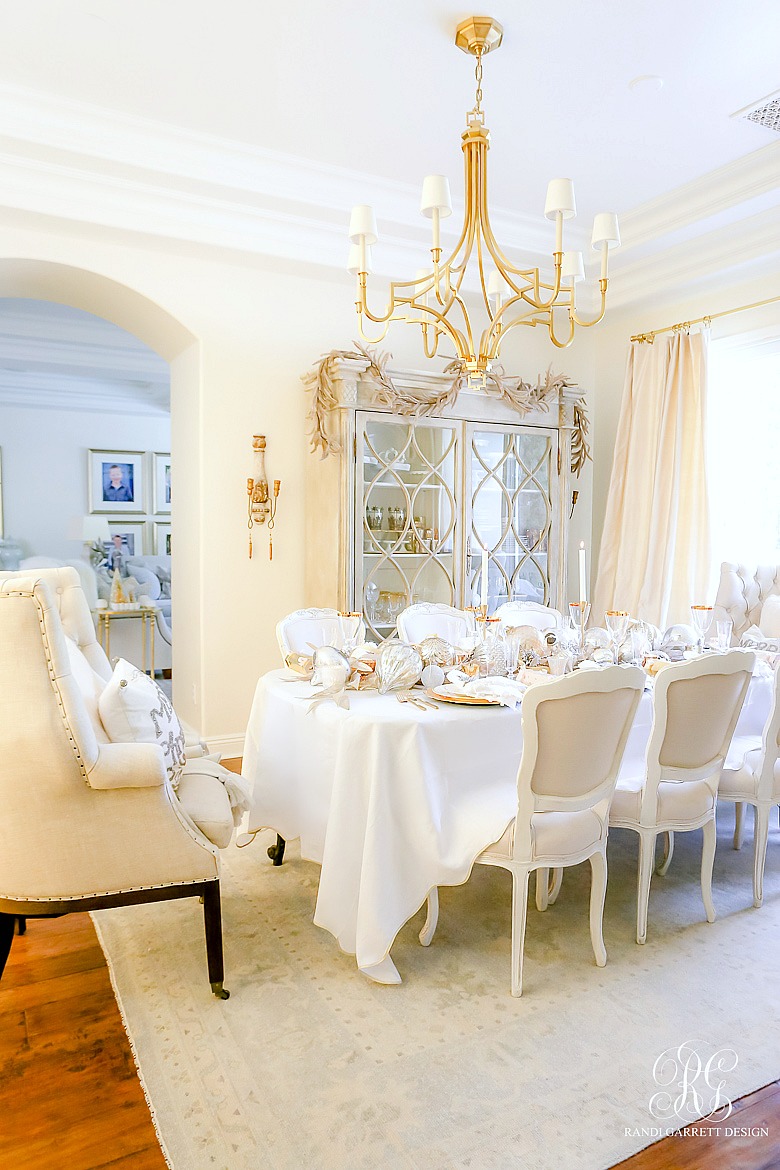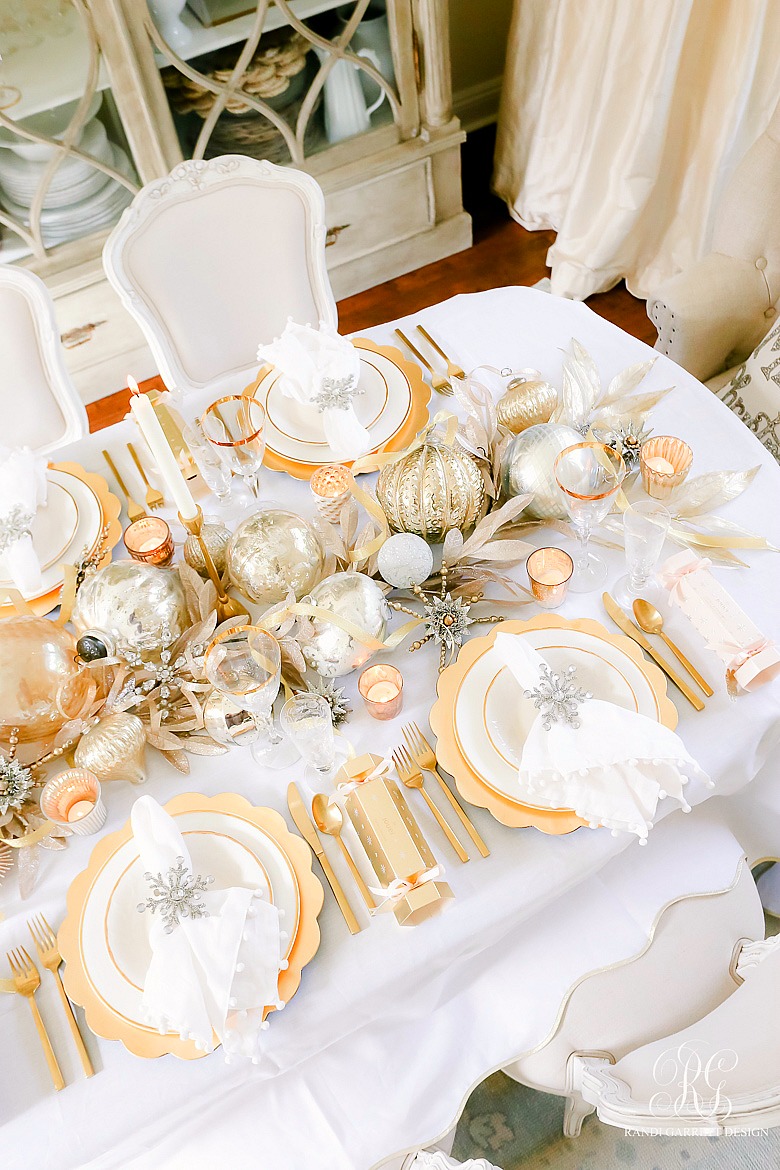 See my whole Christmas dining room with more photos and all the sources here.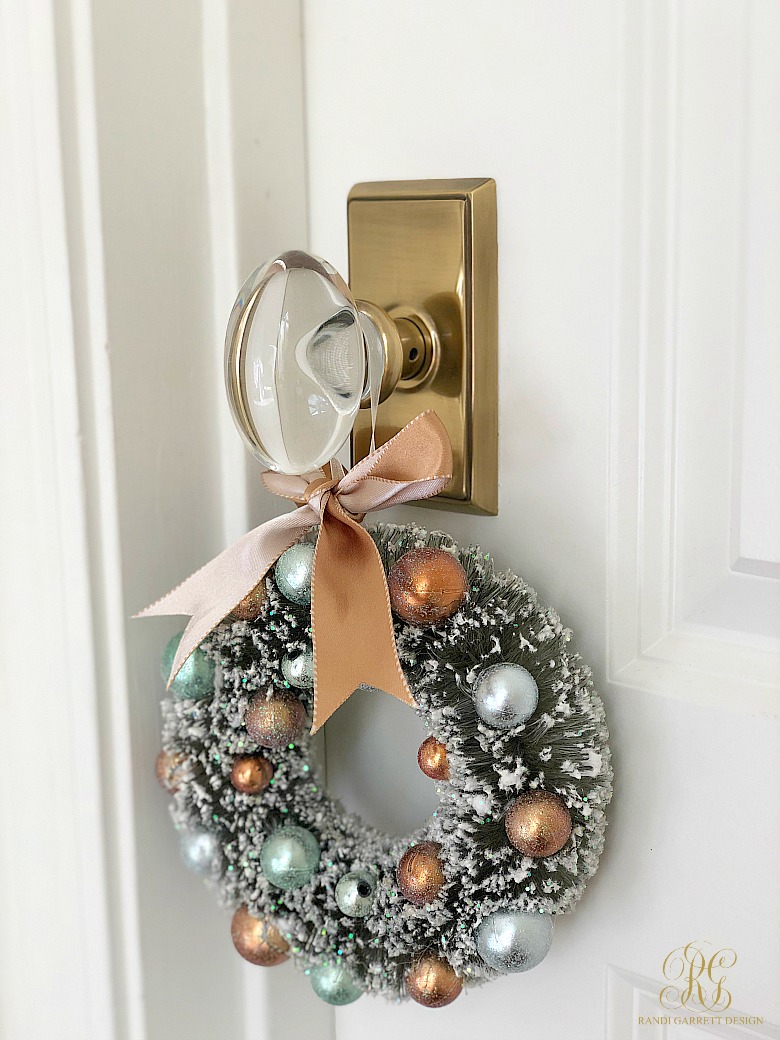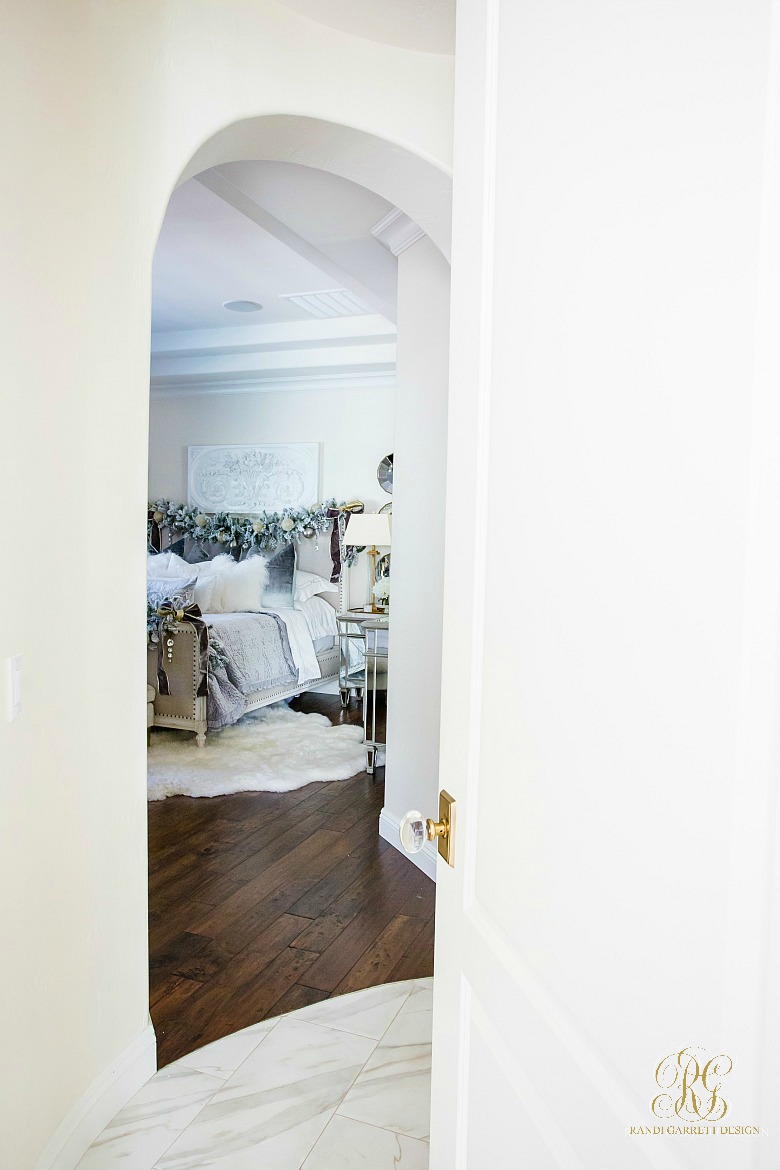 A simple way to update your home is to switch out the doorknobs! We recently switched ours out to these gorgeous brass and crystal knobs from Emtek. They are stunning! You won't believe how many gorgeous styles they carry!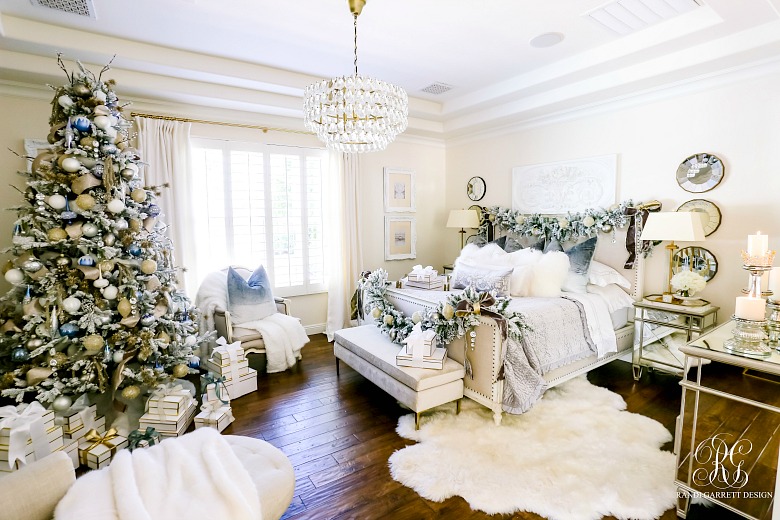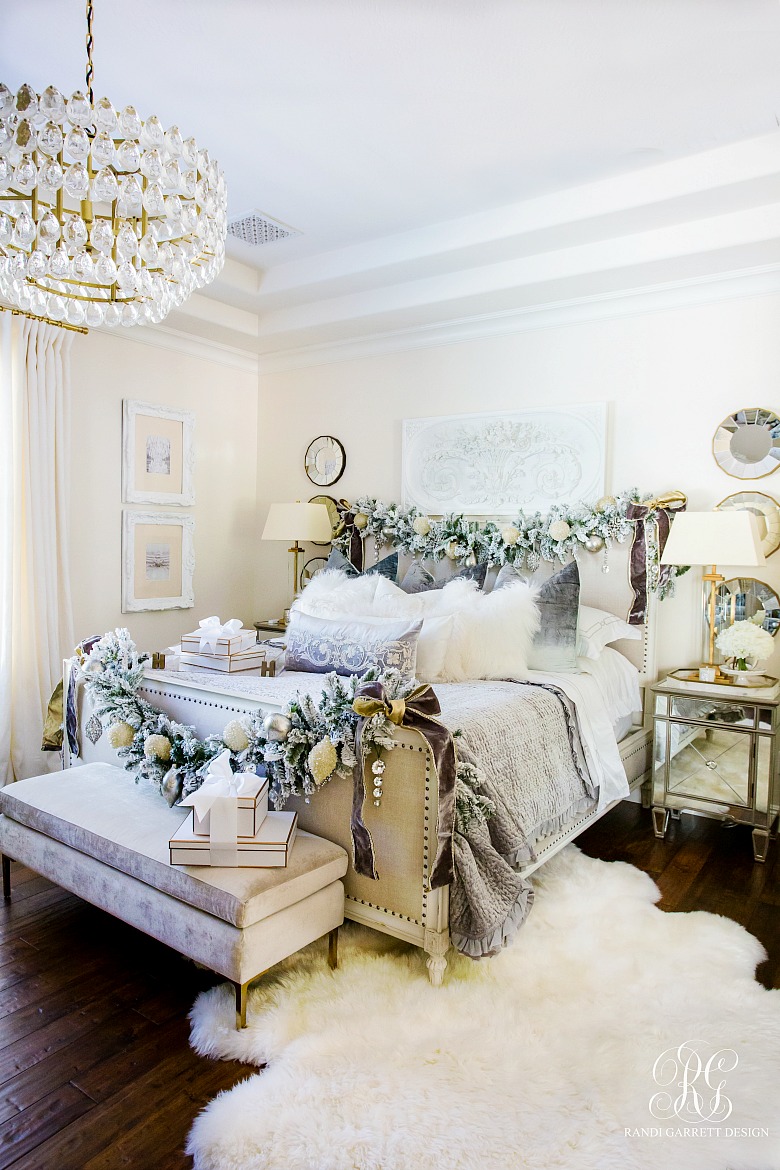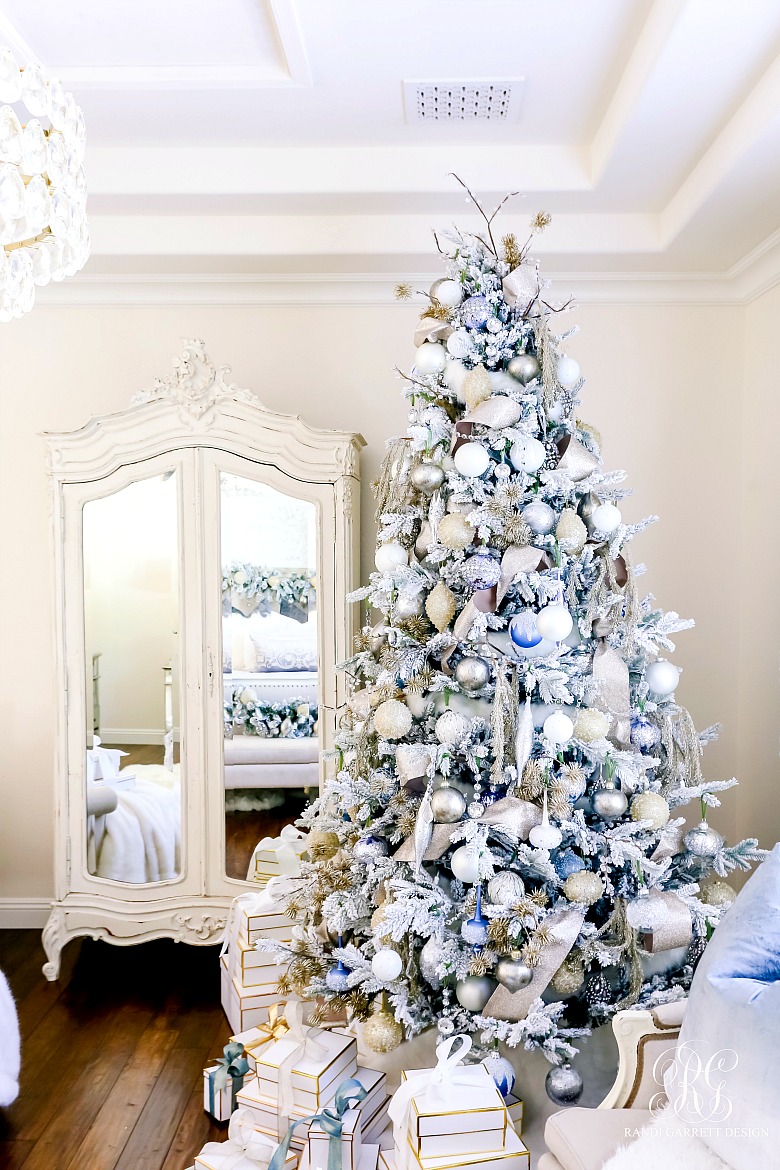 For all the details on our Christmas bedroom, click here!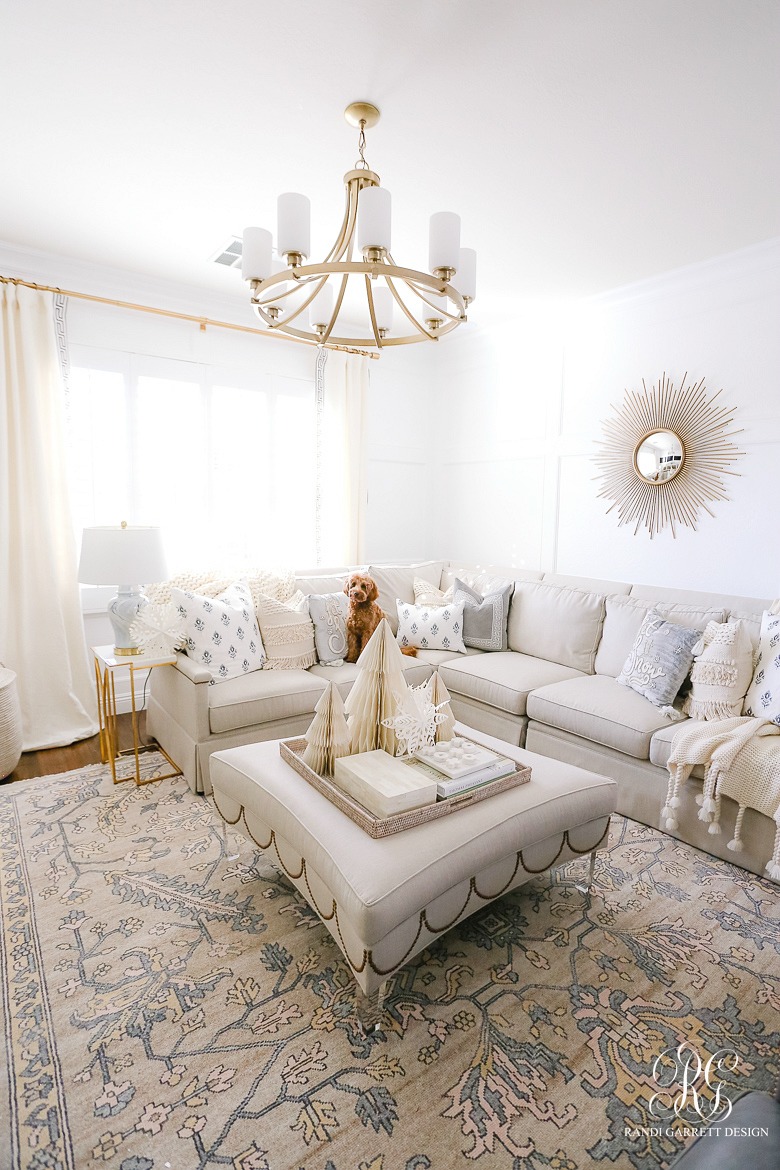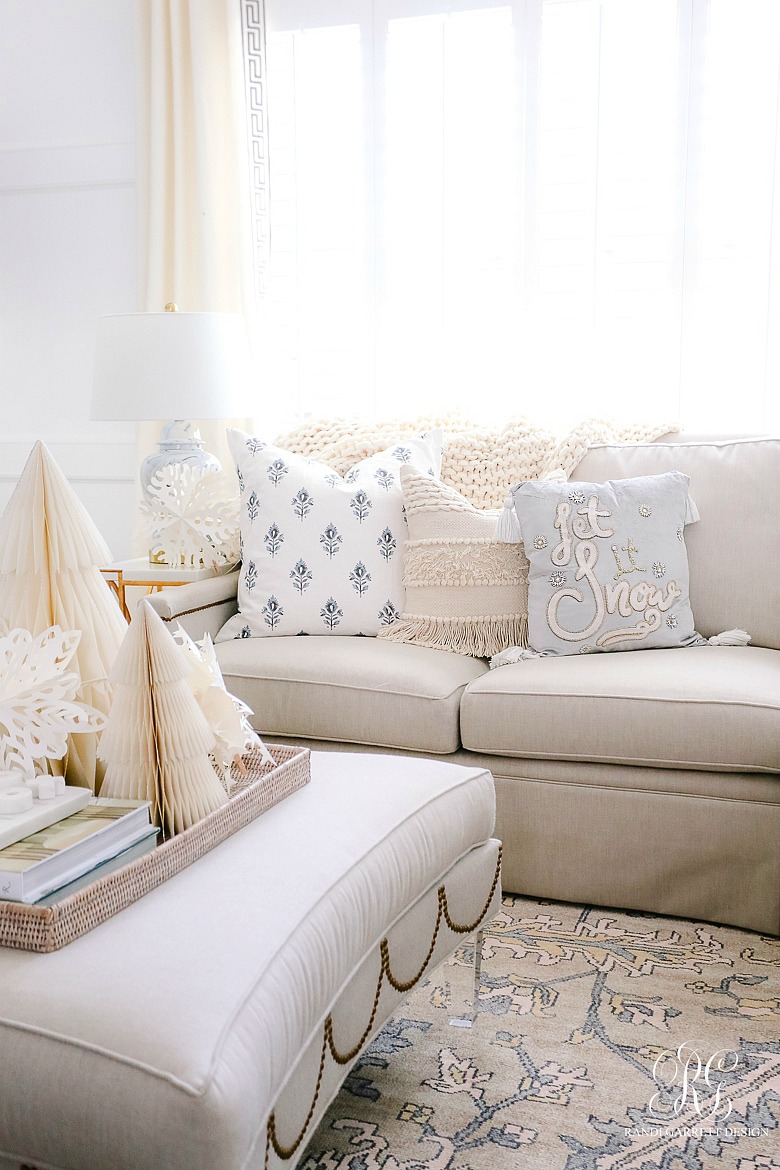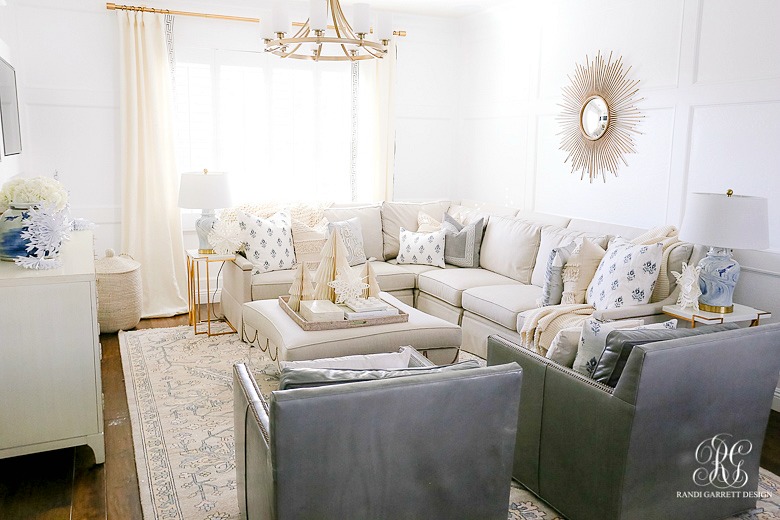 Upstairs I kept things simple and snowy! In the family room, simple paper accordion trees and paper snowflakes dress up the ottoman. They are sprinkled around the room. A few new pillows like the, let it snow pillow, make the room feel more like Christmas without going overboard.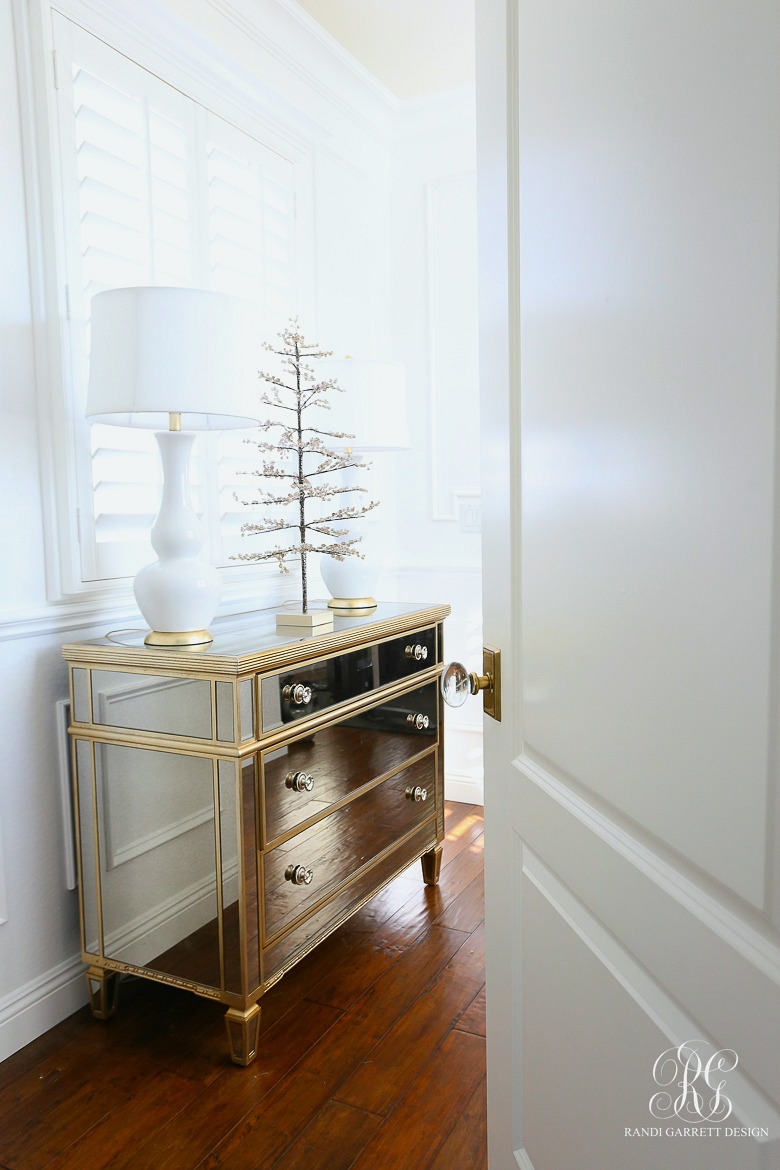 Mirrored Chest | White and Gold Lamp | Crystal Christmas Tree | Gold and Crystal Doorknob c\o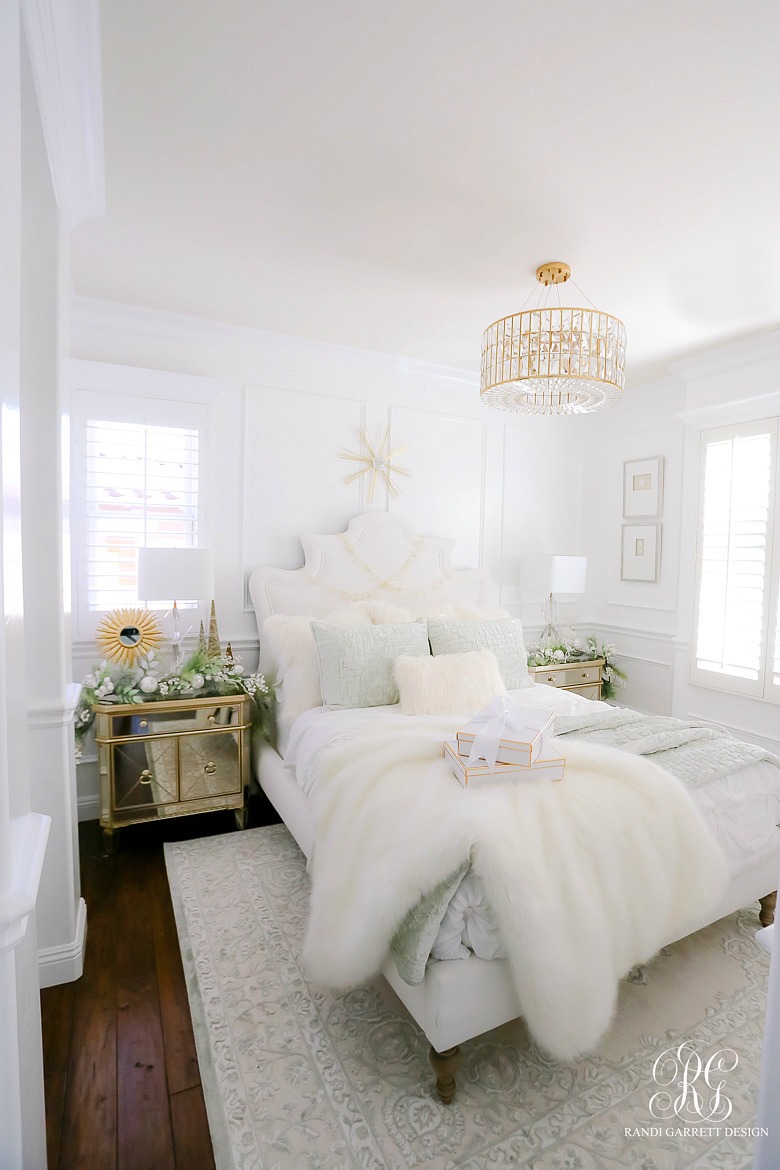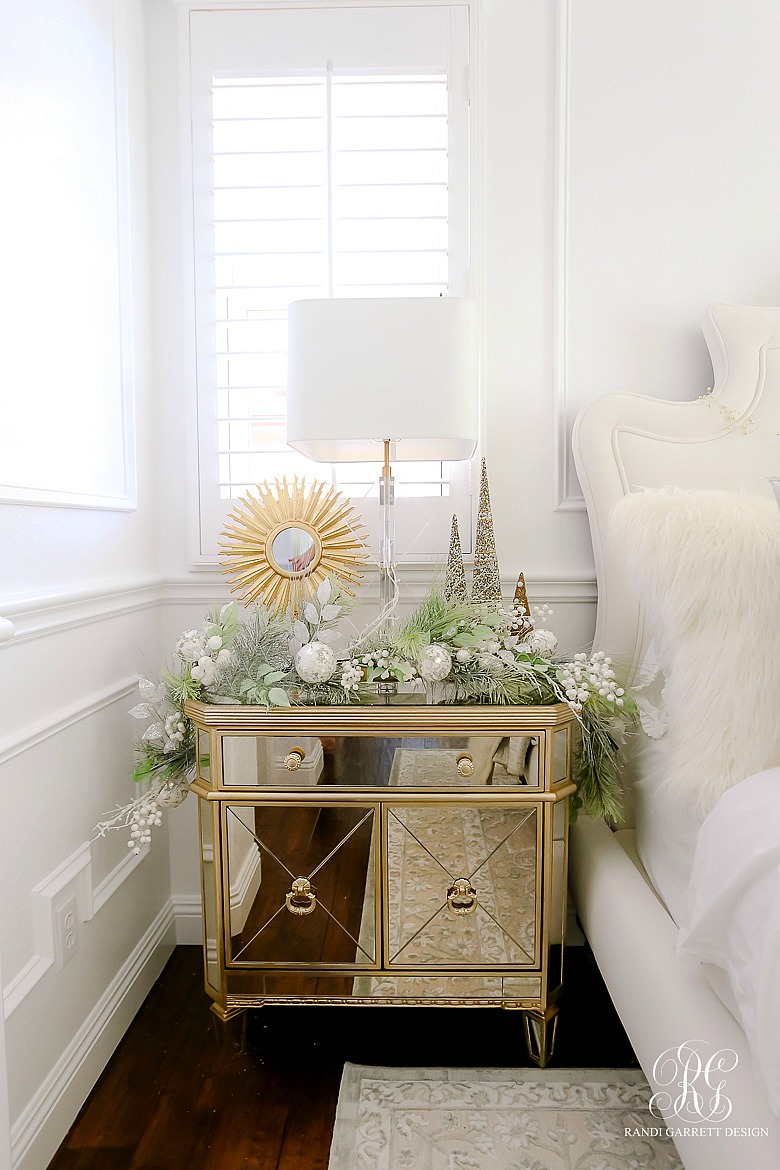 Sage and white garlands on the nightstands and gold beaded garland is all it took to dress up the guest room this Christmas. Did you see our guest room reveal?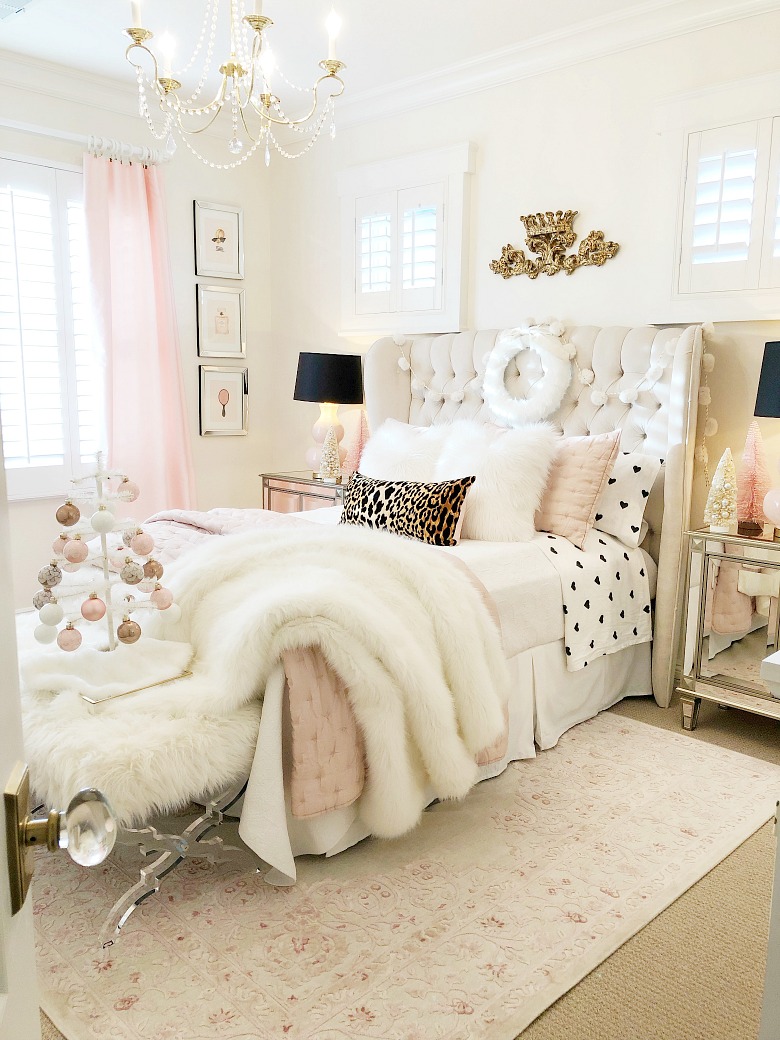 Mini Christmas trees are a super fun way to style your children's rooms for Christmas. This white feather tree reminds me of my mom. We always had a feather tree on our kitchen table at Christmastime. We usually use small ornaments to decorate them. This year, I used full sized ones and think it looks so fun!



Finally a peek into our courtyard.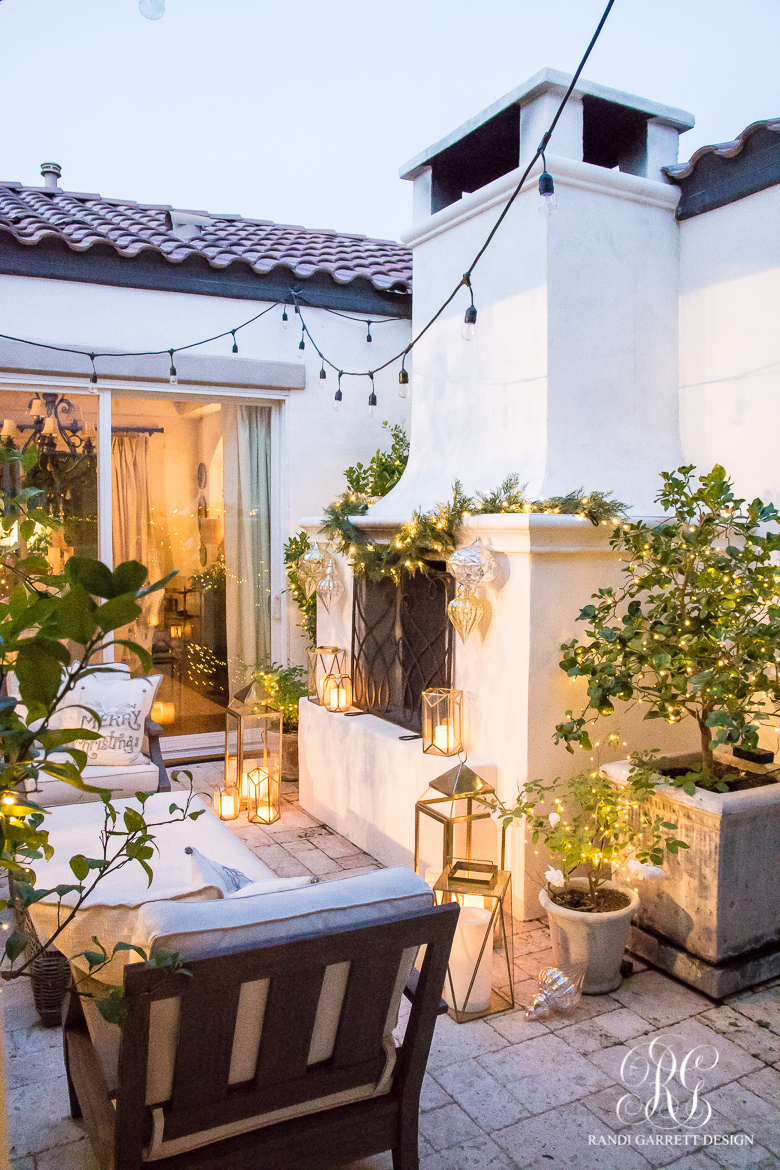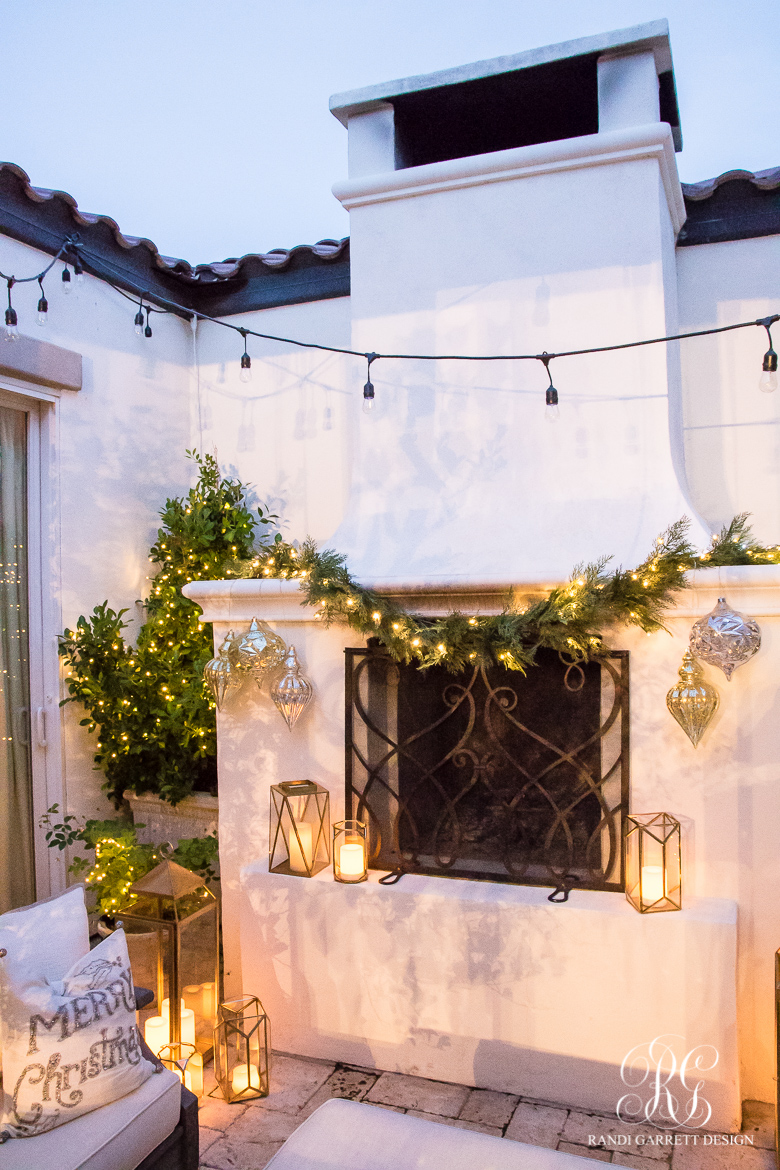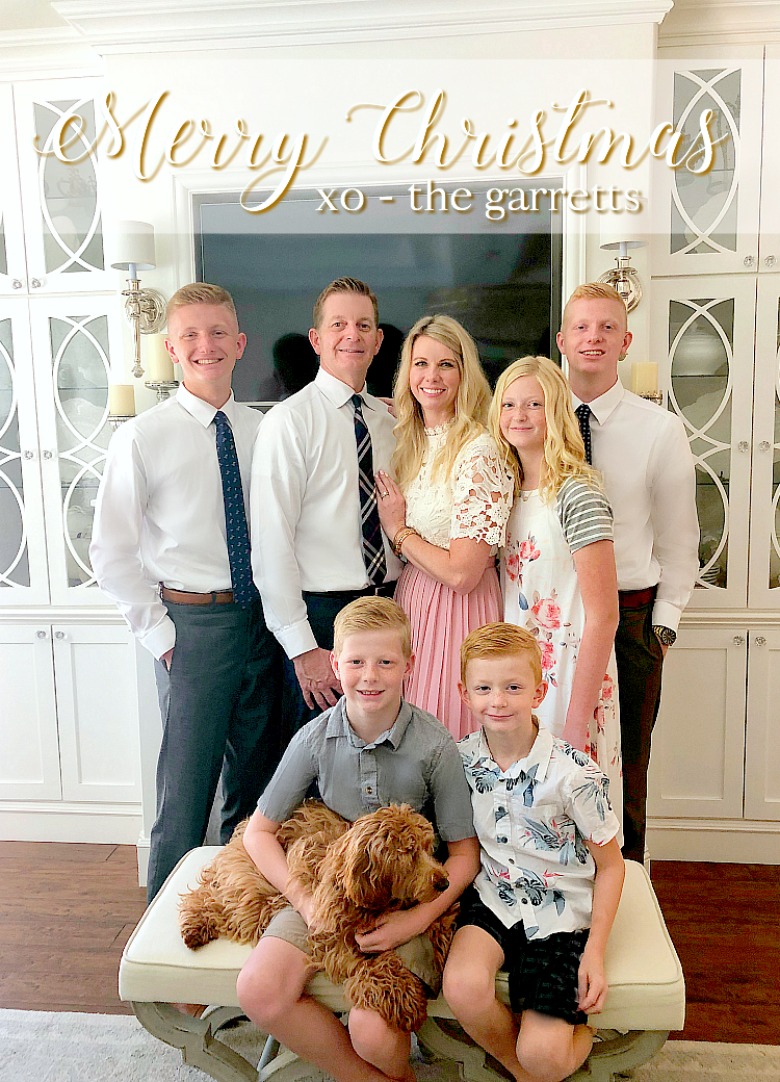 Wishing you all the Merriest of Christmases filled with the light of the Savior!
Next head over to my friend Sarah from Life on Virginia Street to see some more Christmas inspiration. Here is the full list below…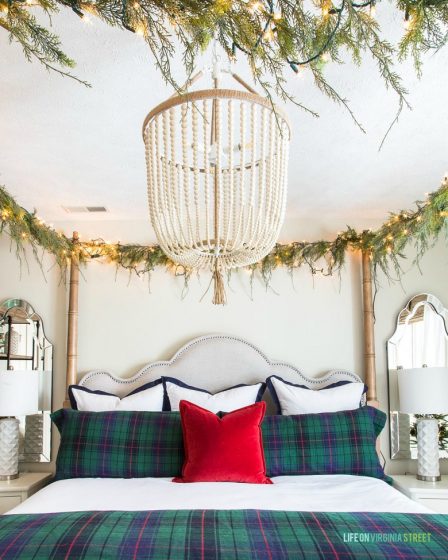 Decor Gold Designs | Lily Pad Cottage | Me | Life on Virginia Street | Design Loves Detail | My Texas House
If you would like to get a weekly email with my latest posts, you can click the link below…

You may also like..