Our guest bedroom is one of the last rooms in the house that has gotten a makeover! Since this room is used and seen less frequently than other rooms in the house; it fell to the bottom of the priority list. Well, it's day in the sun finally came and I was able to give the room a glam guest bedroom makeover! A few years ago we began updating our home one room at a time, starting with our kitchen. See our kitchen remodel here. Leading to the transformation of almost our entire home!
The guest bedroom has stuck out like a sore thumb! Driving me a little nuts! Bedrooms are my favorite rooms to design! So, this room was one I was really looking forward to making over!!!
Many of you may have followed along on this process on Instagram with with me. I shared a few videos of the progress of the room. This was not done overnight! Like many of the projects you have probably done in your  homes, this one had many hiccups along the way! I'll share more about that later!
Every room I design starts with an inspiration piece. Something that inspires me to create the feel for the room. Don't laugh too hard, but for this room, my inspiration was a bottle of bubble bath! The irony of it all is I hate taking baths! Haha! It happened when I found this gorgeous, icy blue and gold bottle of bubble bath when shopping online, of all places! For some reason, I was so drawn to the jar! It felt refreshing and glamorous, just like I wanted my guests to feel when they stayed with me.
So this glam guest bedroom was designed around a beautiful bottle of bubble bath. It sits in my bathroom so I can stare at it everyday. No, I won't ever use it! I giggle a little when I look at it. It is a beautiful reminder that inspiration can be found all around us, in the most unexpected way. Just open your eyes and use your imagination!
*This post contains affiliate links. Read my disclosure policy here.
Here's a look at what the room used to look like…
BEFORE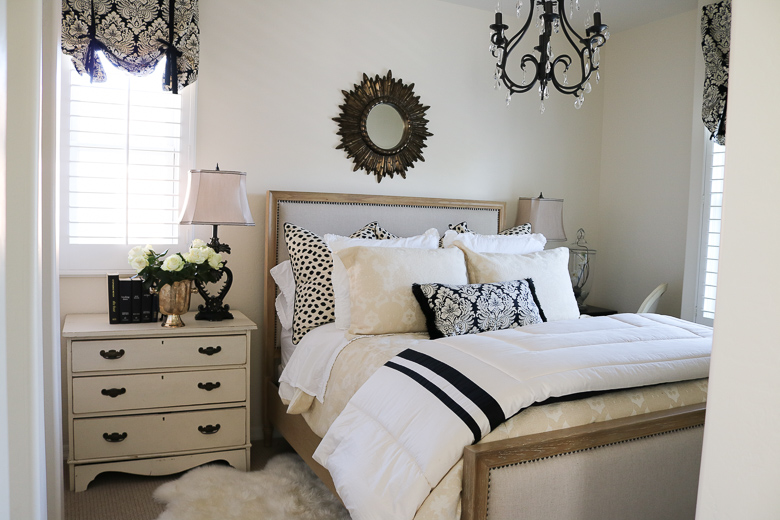 AFTER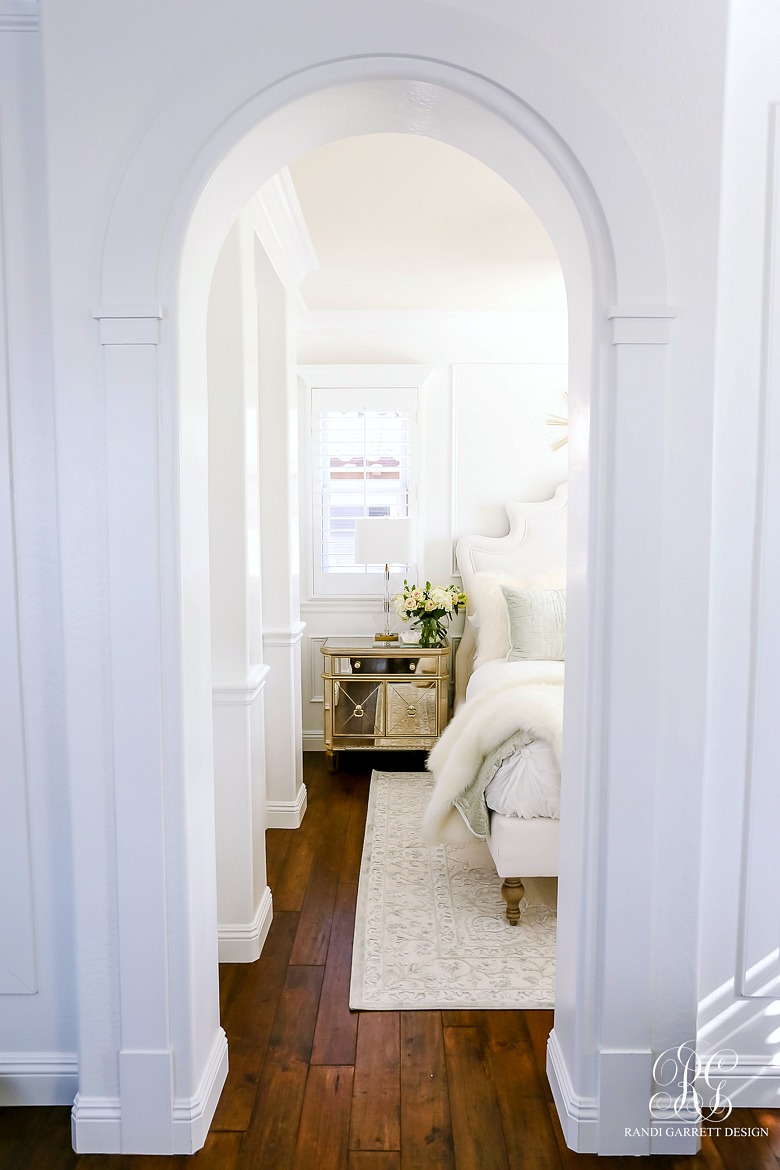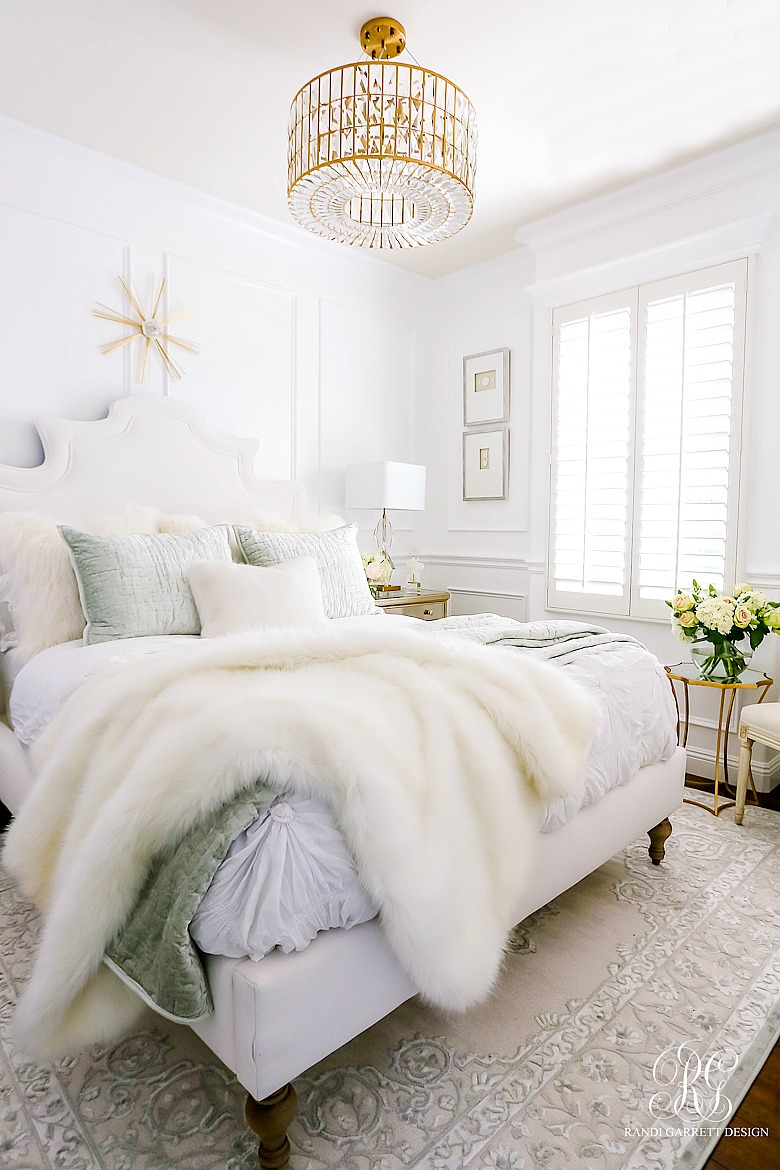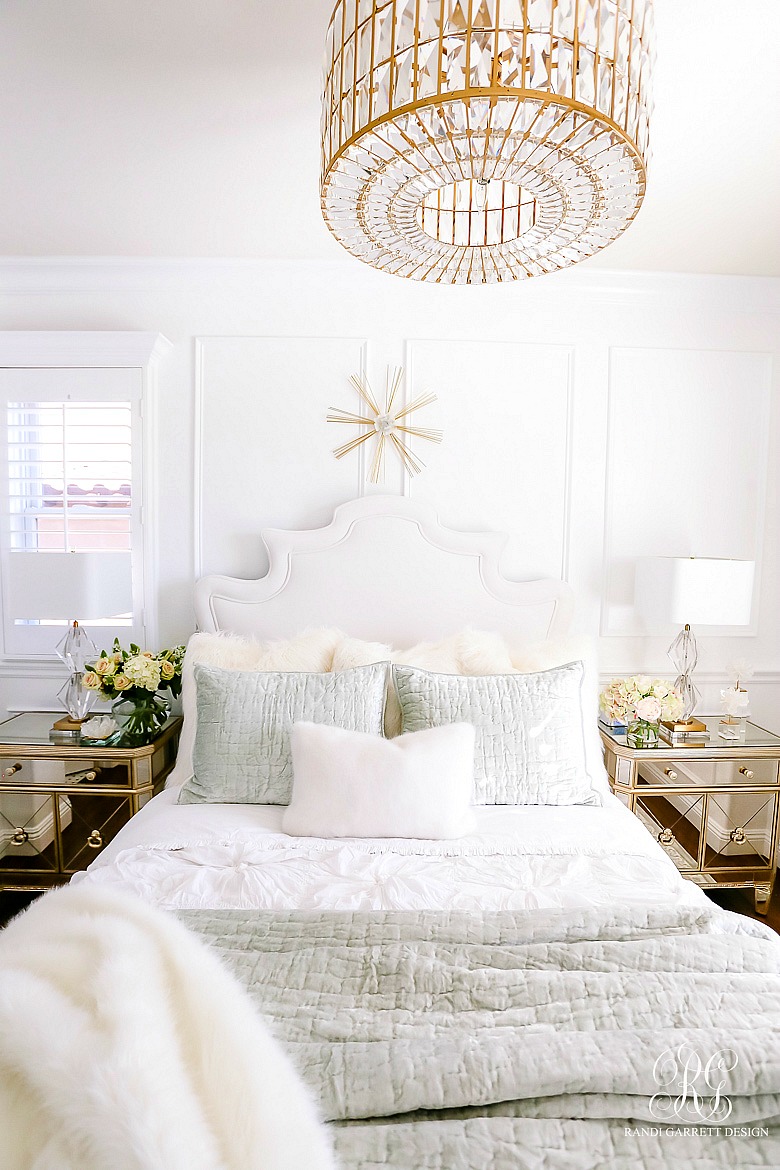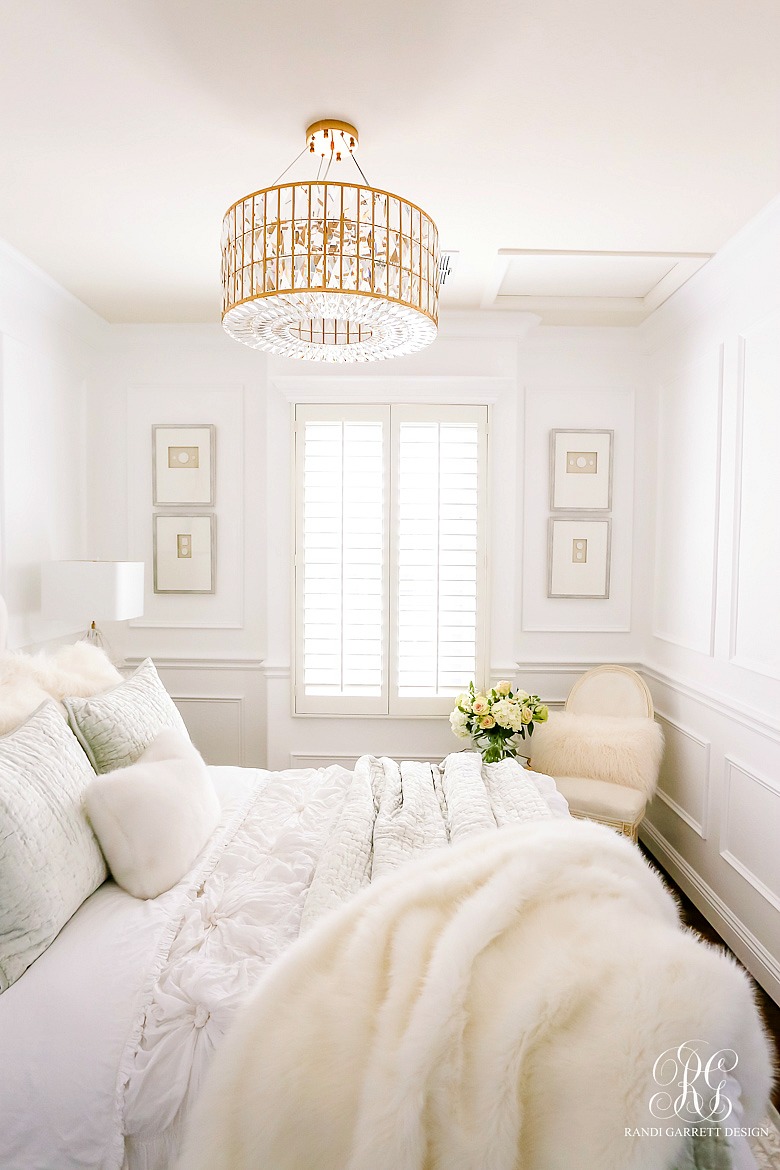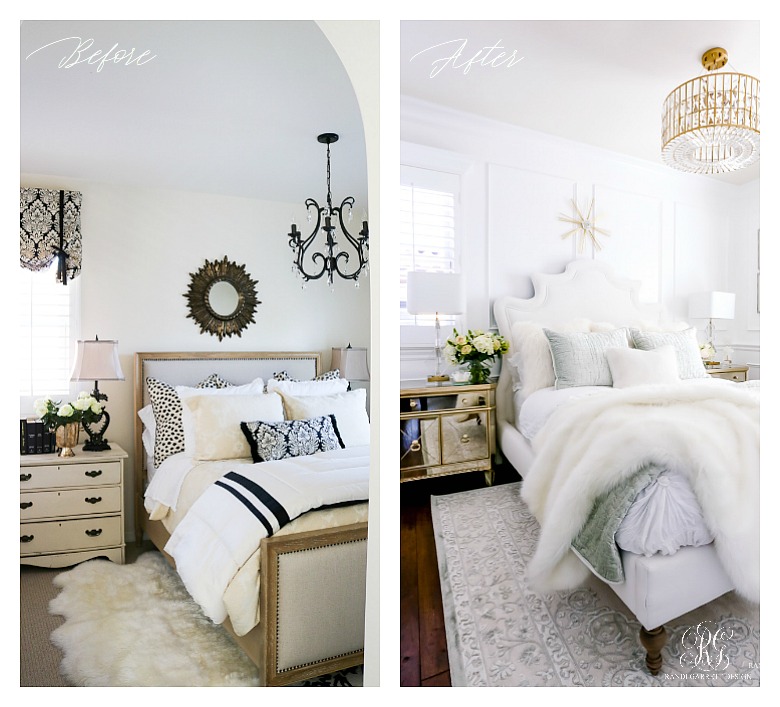 Before, the room consisted mostly of hand me down furniture. We donated almost everything in the room. Then added some personality to the walls with some gorgeous trim work.
My contractor who helped me with our kitchen, guest bathroom and family room remodels, added the trim work. Can you even believe the difference that one change made?!!! Look how much bigger and brighter it feels! Not gonna lie, I want to make this my bedroom now! You just may see some trim work appear in my bedroom!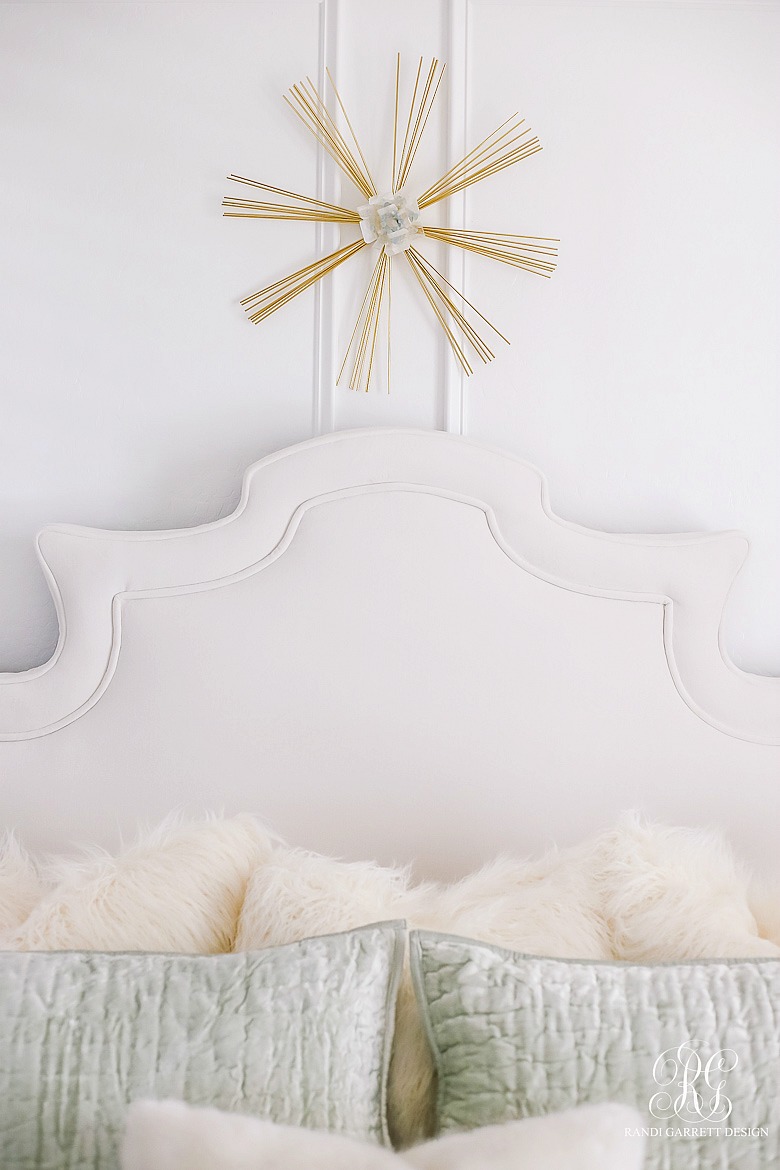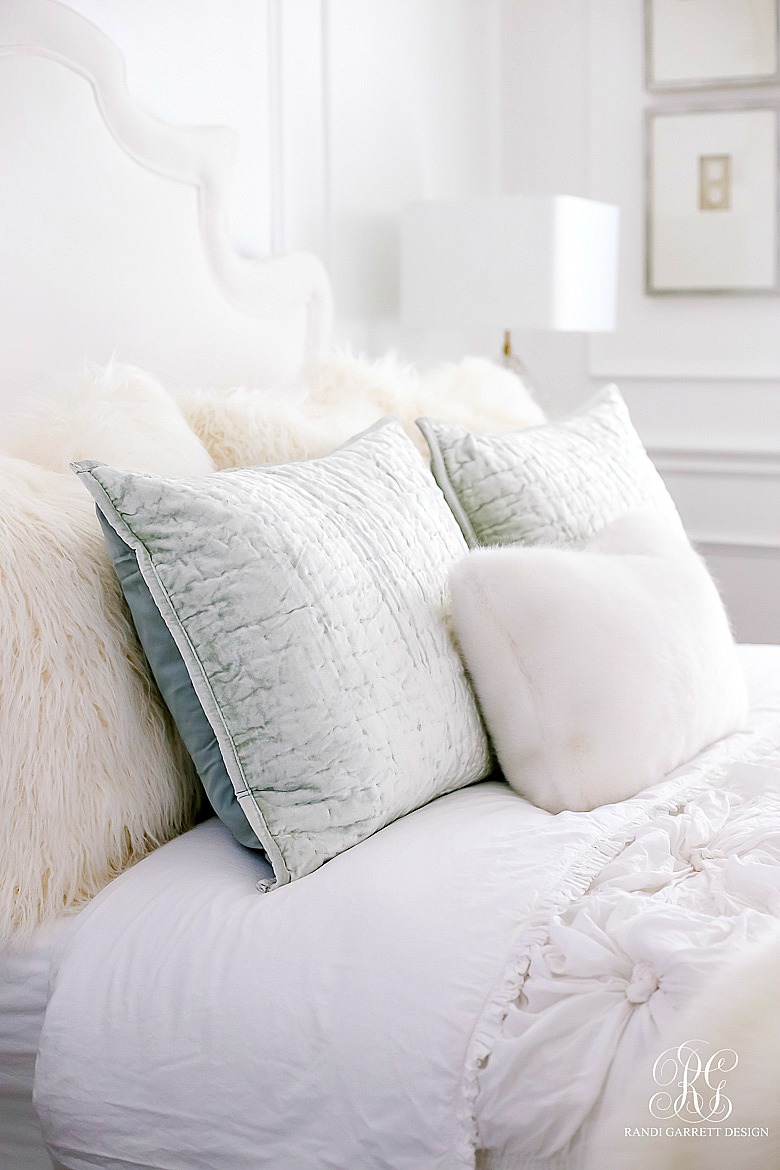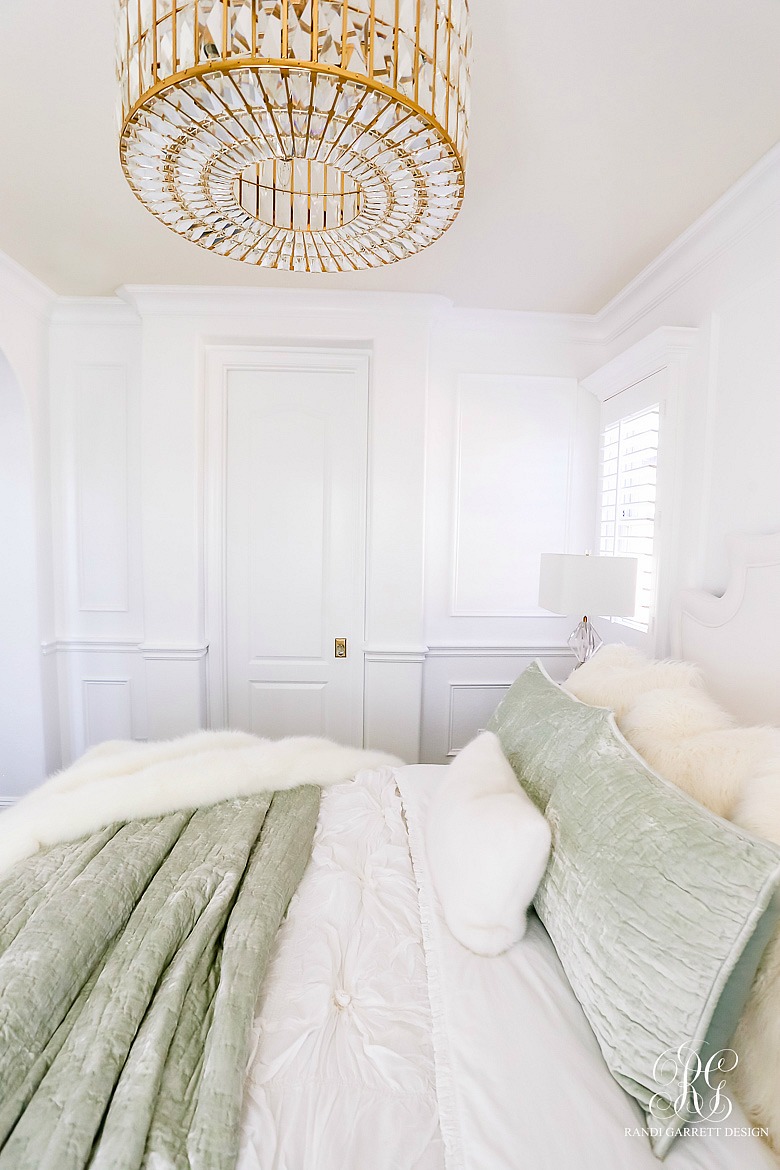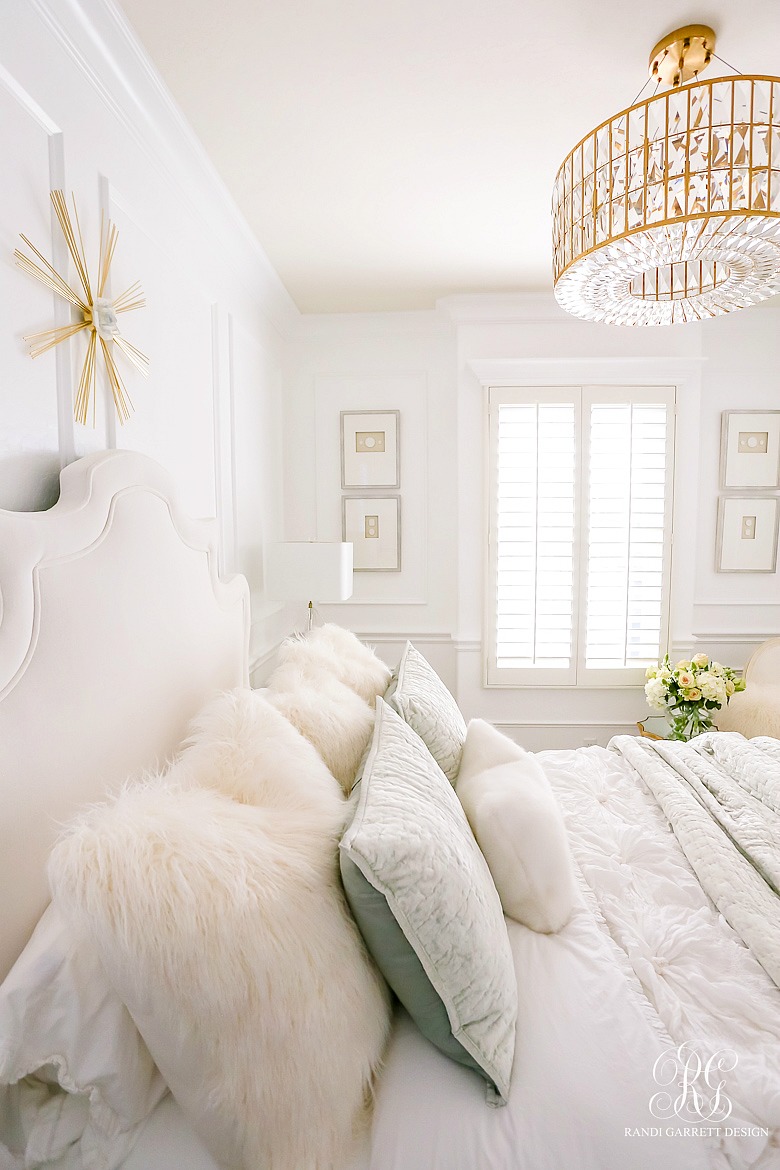 After adding the trim work, the focal point of the room is this white velvet bed. Mine is from here, but I found it for LESS THAN half the price here or here!!!!
The bedding is soft and luxurious. Remember the bubble bath bottle I was talking about, that icy blue color from the bottle is the color of the velvet bedding I used. Think of the color of a glacier or mountain waterfall – it's that refreshing color.
To create a glam feel, I used 3 fur euro pillows in the back, 2 of the glacier velvet standard shams and a fur lumbar pillow. Look at how soft and pillowy the white ruched quilt mixed with the white fur throw and dainty ruffle sheets are! Glam to the max!!! Can you tell I don't want my guests to leave?!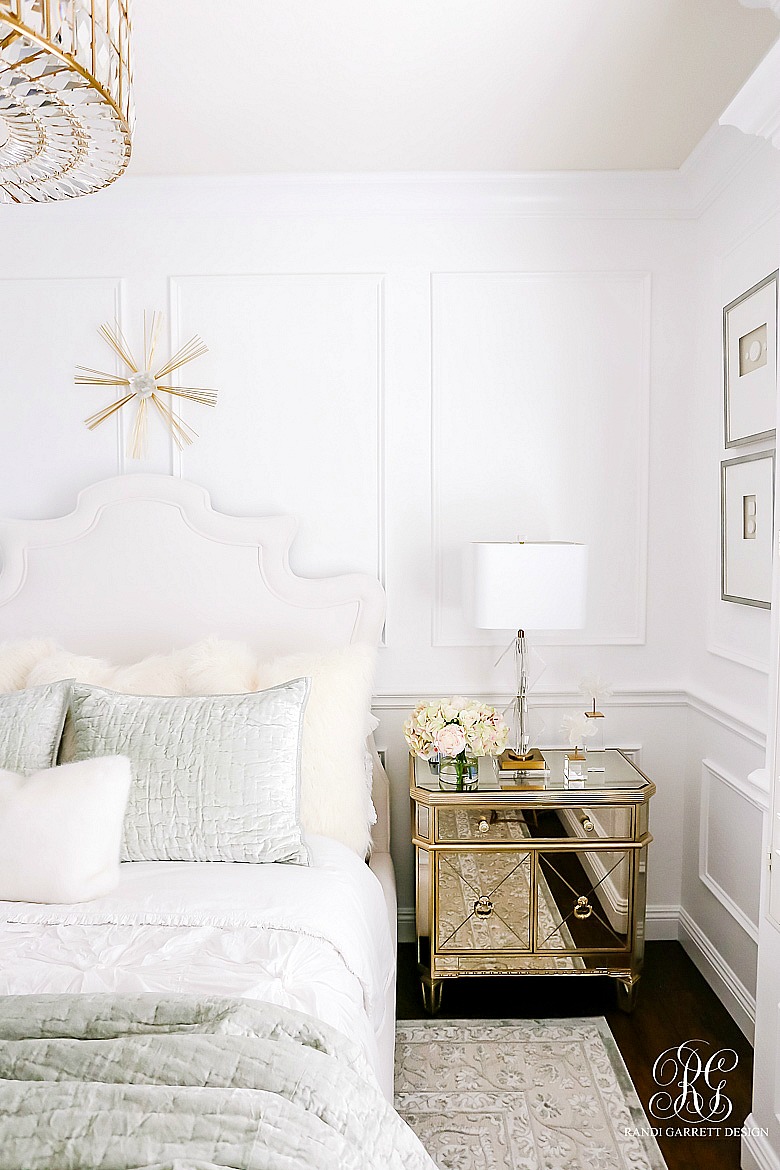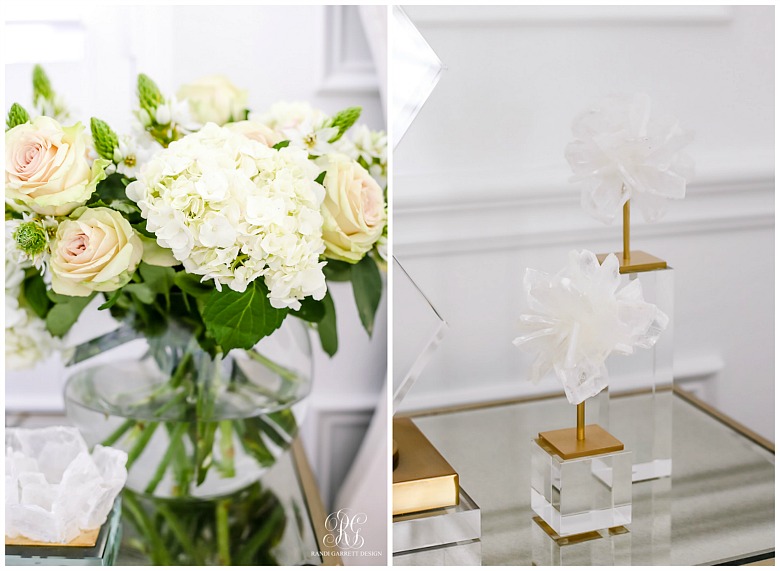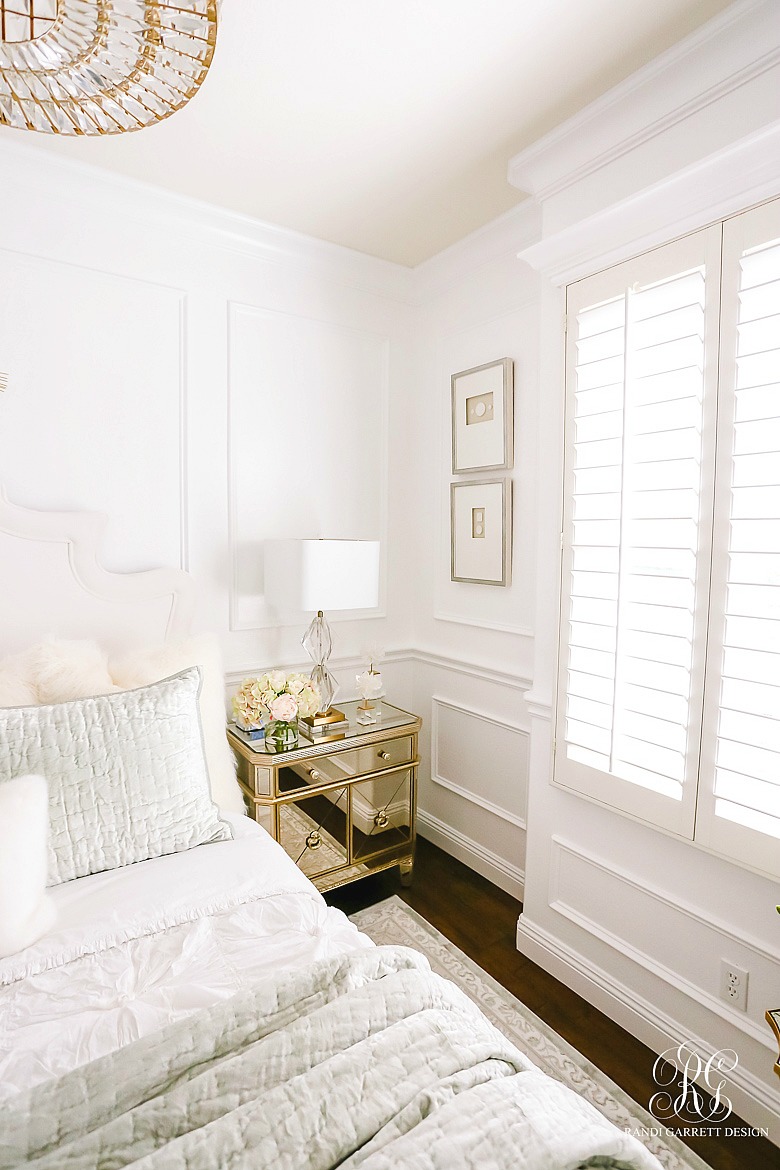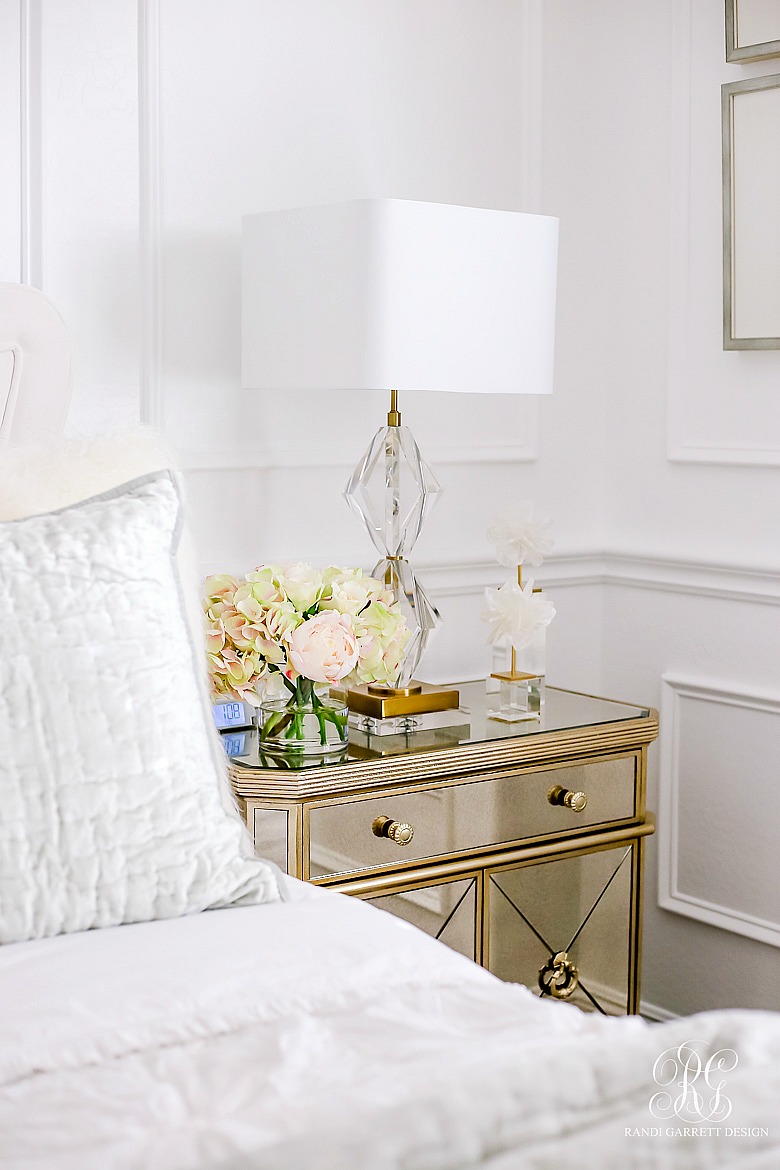 Remember the hiccups I mentioned earlier? Well the nightstands were one of those hiccups! I ordered a mirrored chest and a white and gold side table for nightstands. The chest was waaaay too big and the side table was waaaaay too small!
After finding a new spot for the chest, and sending back the side table, I found these perfect mirrored nightstands that fit the room like a glove! The light gold detail give a nod to the Hollywood Glam era that I love so much. Mirrored furniture makes a space feel larger and more elegant.
Another hiccup we had was the chandelier. The one I ordered arrived and looked gigantic! So, my bedroom got a new chandelier and I went back to the drawing board!
This sparkly chandelier is the crowning jewel of the room! See all of those crystals? The reflection of each one dances off the walls and ceiling at night making the room feel like it is engulfed in stars! So magical! This chandelier was also half the price as the first one! Sometimes mistakes end up being very happy ends!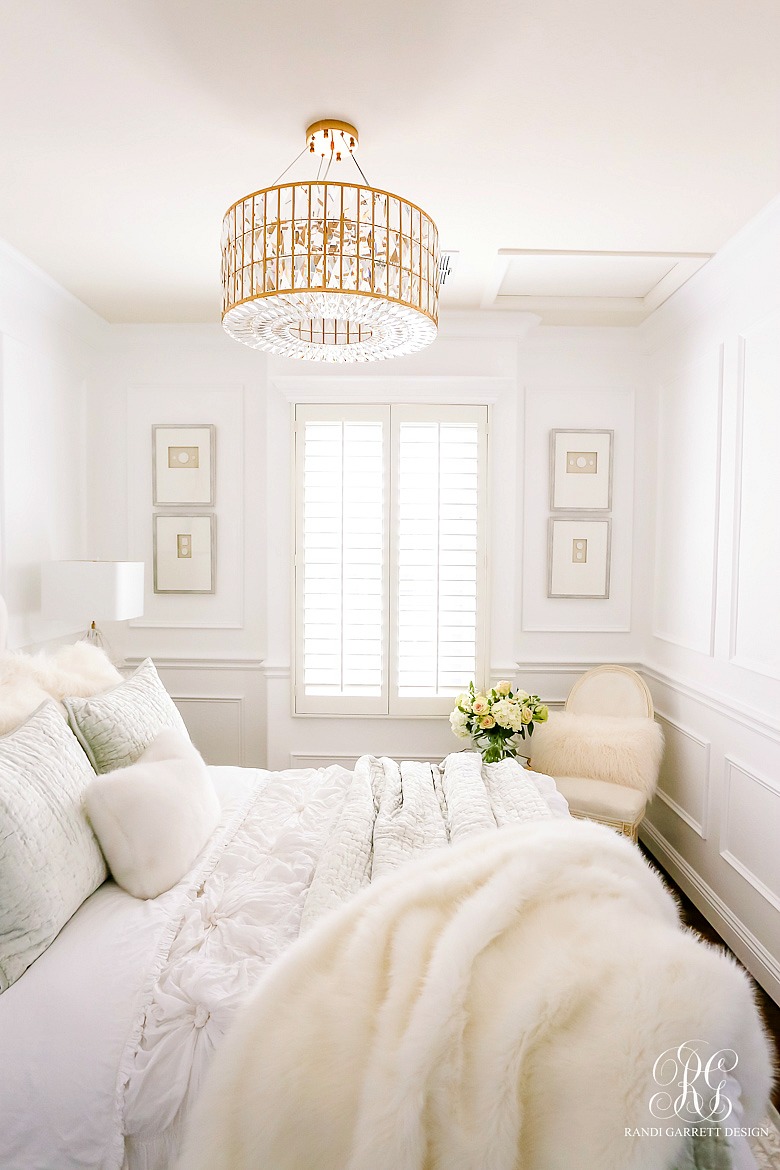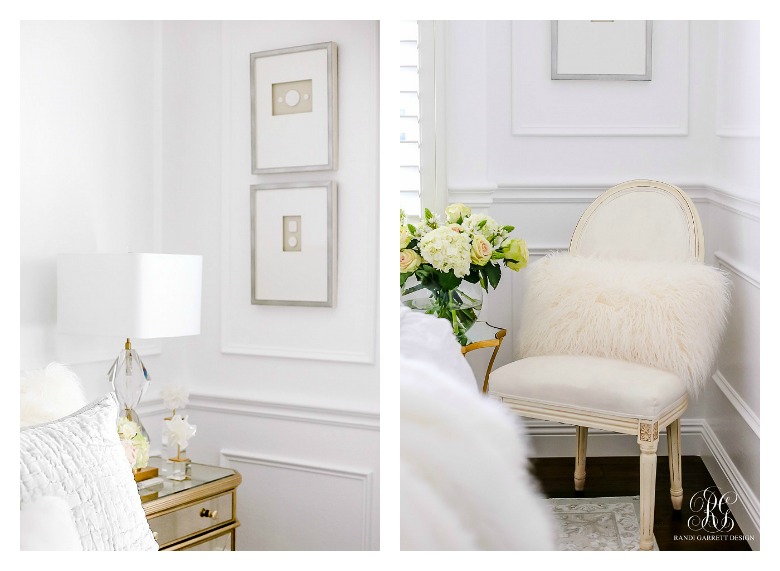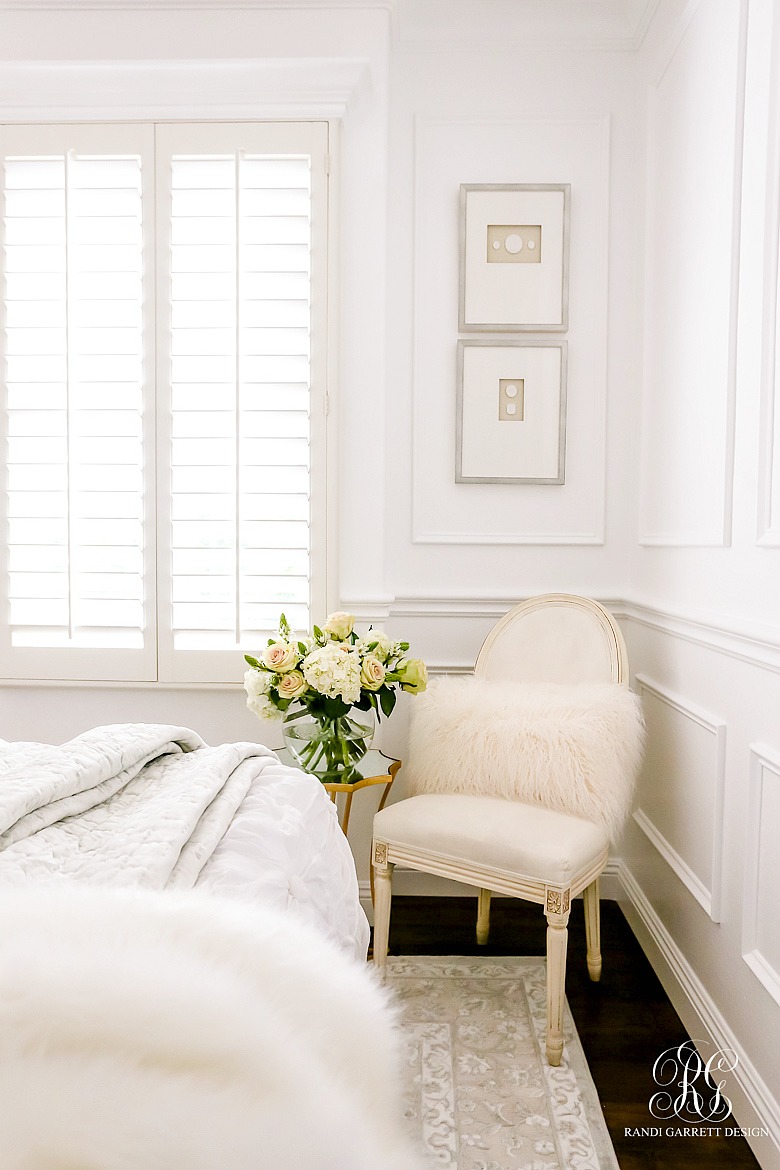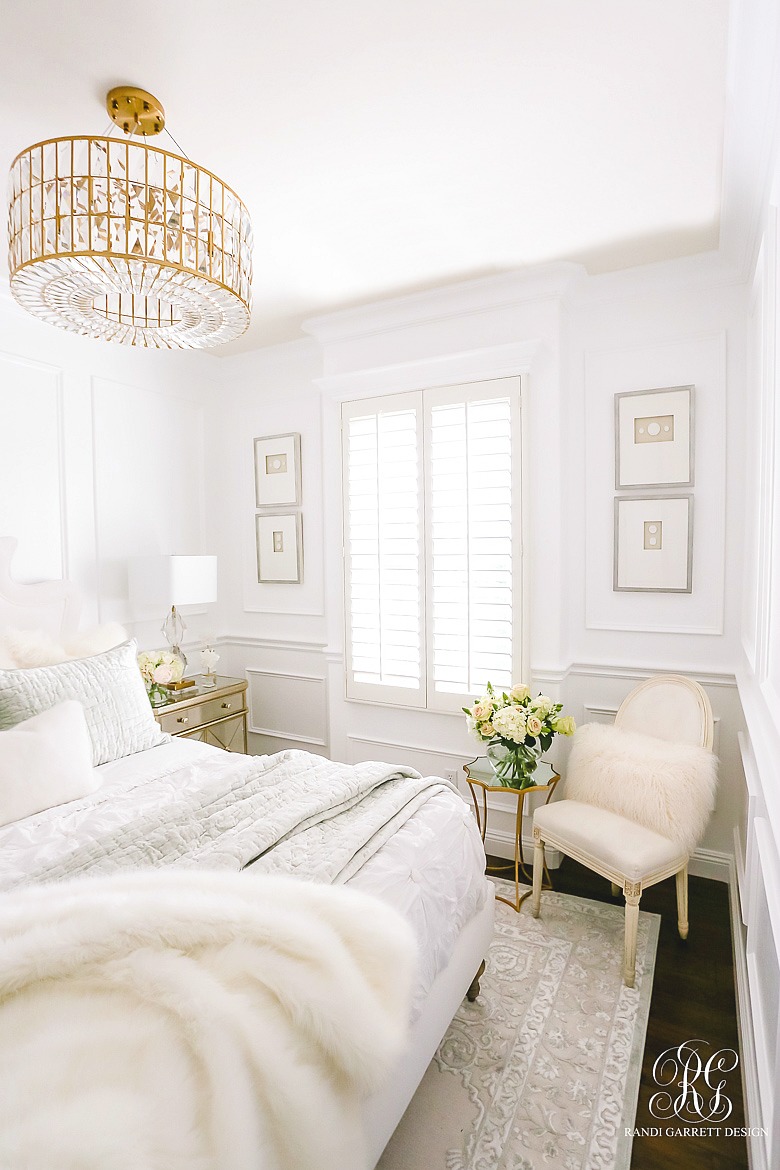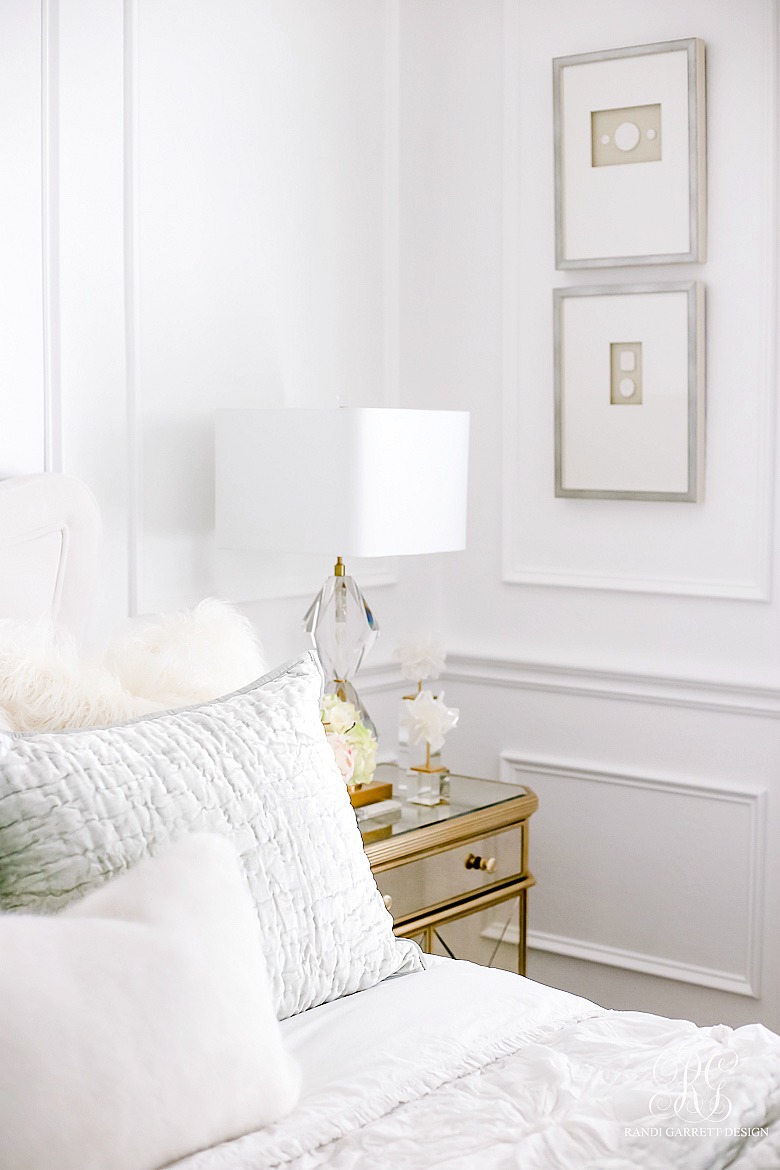 Accessories are truly the jewelry for a space. Make sure they reflect your style and a little sentiment. Sentiment adds heart and warmth to a room.
The sunburst art above the bed has a celestite rock center. As a little girl, my dad taught me to love rocks. We would collect them, tumble them  and even make them into jewelry. He taught me that there is beauty in even the smallest of God's creations.
Also, a beautiful lesson about how adversity polishes us into something more spectacular than we could have ever imagined. So, finding this art that combines my love for sunbursts and my dad's love for rocks, was such a treasure! It is different. I love to be unique!
On the nightstand are fresh and faux florals. Add fresh florals to your guest room the next time guests come to town. You will be their favorite person! Fresh flowers make people feel so special. There are also more crystal details in the selenite crystal votive holder and the selenite blossoms. Again, they make me think of my dad and add a touch of glam to the room.
Finally the framed intaglios on the wall. These are similar to cameos. Each one reflects a scene or person. They are replicas of timeless, classic antiques. I love them!
A few other pieces to mention, the rug and lamps. The rug is gorgeous and a fabulous price! We have the same one in pink in Ellie's bedroom. Notice how the colors match EXACTLY with the velvet glacier colored quilt? It could not be more perfect!!! There are tones of taupe, creams and grays. I love it, it is fabulous! Find a spot for it in your house and click add to cart!
The crystal lamps. Your husband will hate me for suggesting them! I am so sorry! They are a splurge! But, worth every penny you saved by getting my bed for less than half the price and a killer deal on the rug! Haha! Seriously though, when you find something that goes so perfectly with your vision for a space, it is worth saving until you can get it! Wait for them to go on sale, they always offer 30% off. If this isn't in your budget, here is another beautiful, similar option.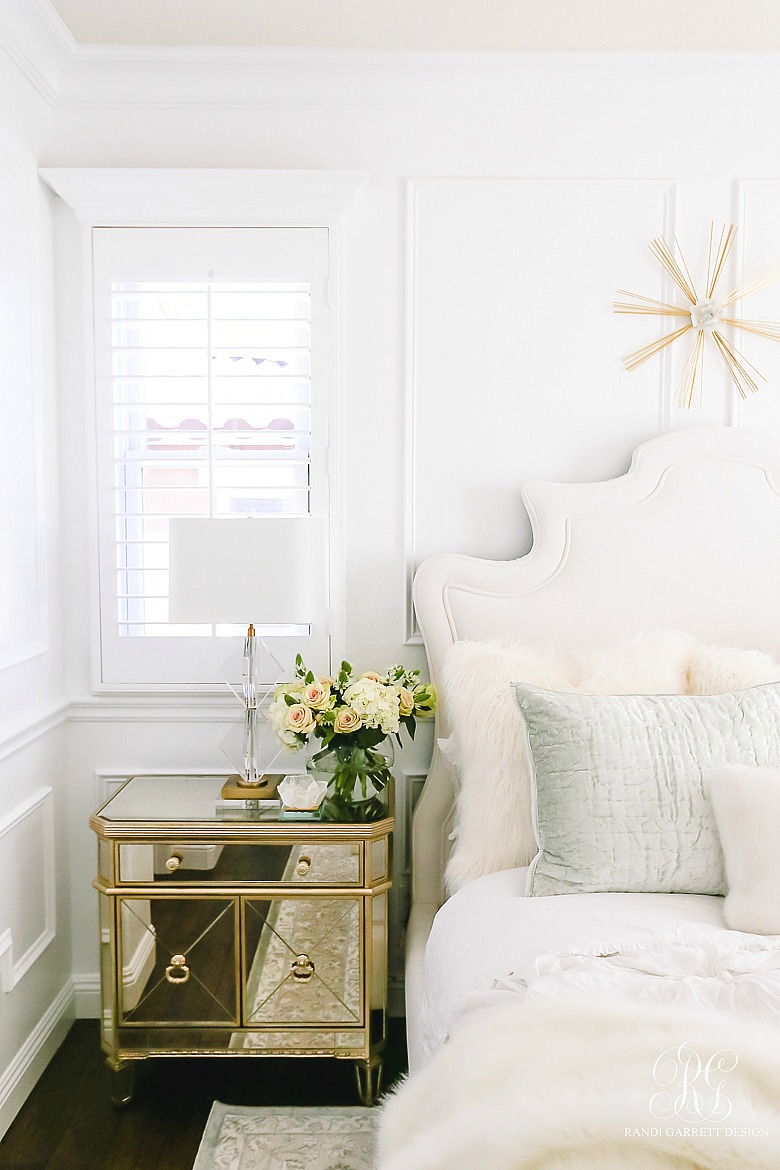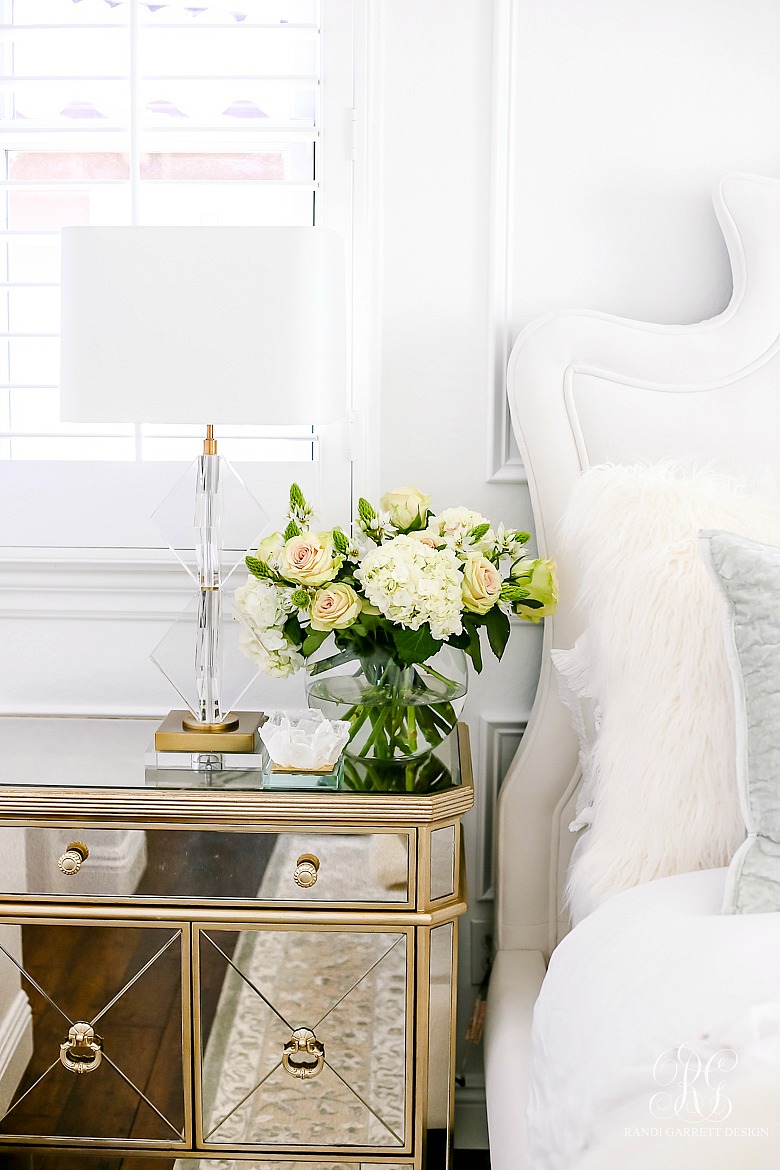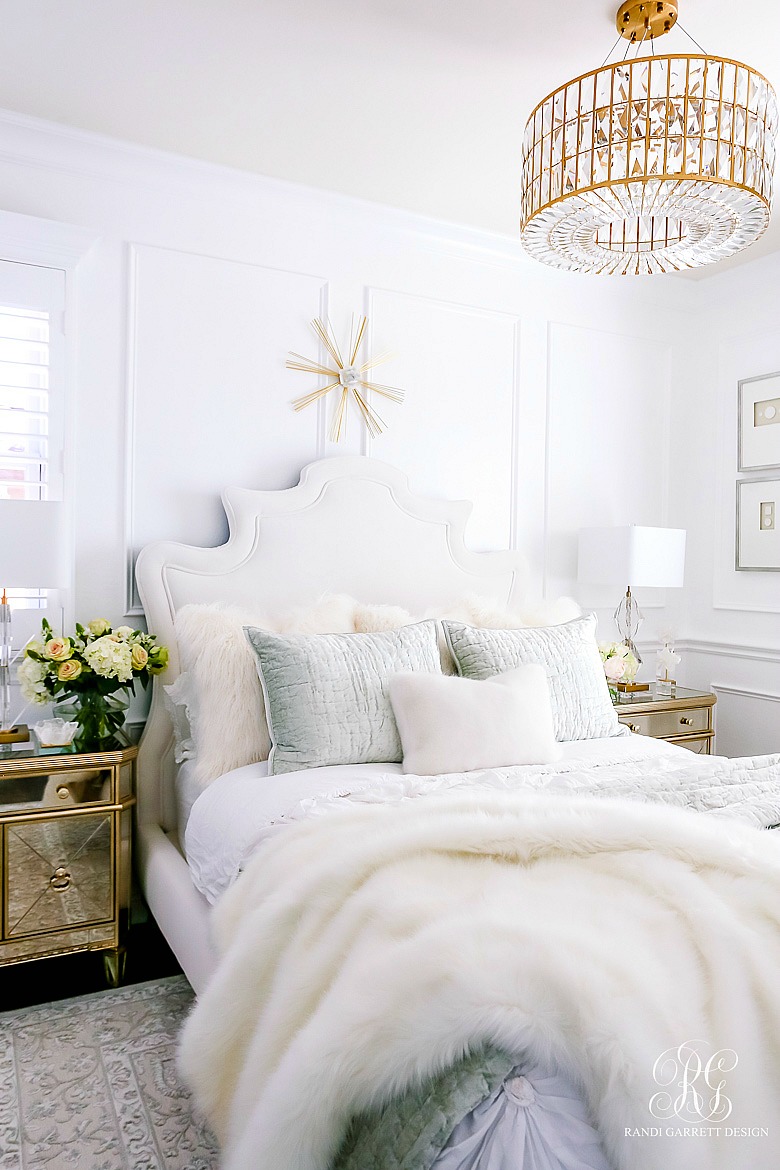 I wish you could all be my guests and stay in our glam guest room! Hopefully our makeover inspires you to create your own glam guest room for family and friends!
Here are more of our room transformations. To see the makeovers, just click on the room-
Room Details
Paint Color  – Dunn Edwards base color- no tint added- Semi Gloss 
Wood Floor – African Plains – by Sahara Sun

Crystal Lamps {similar less expensive version}
Intaglio Art (and here)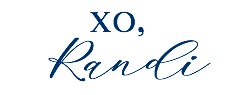 Never miss a post! Sign up for my weekly newsletter by clicking the button below…