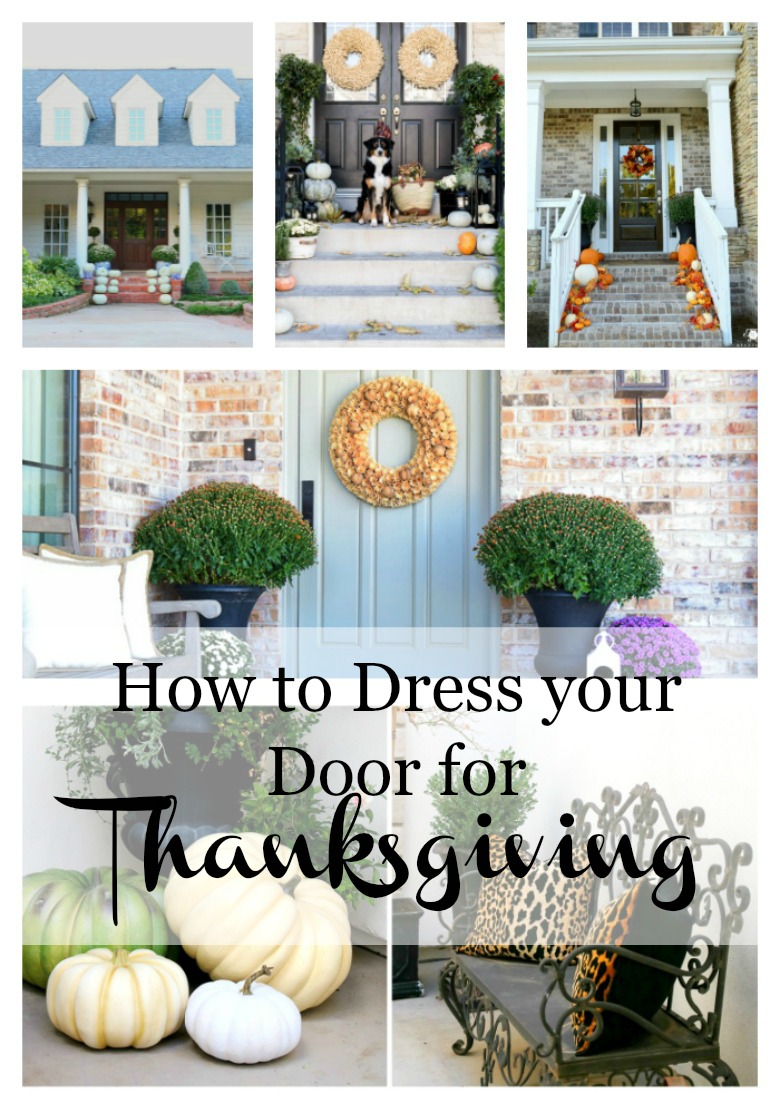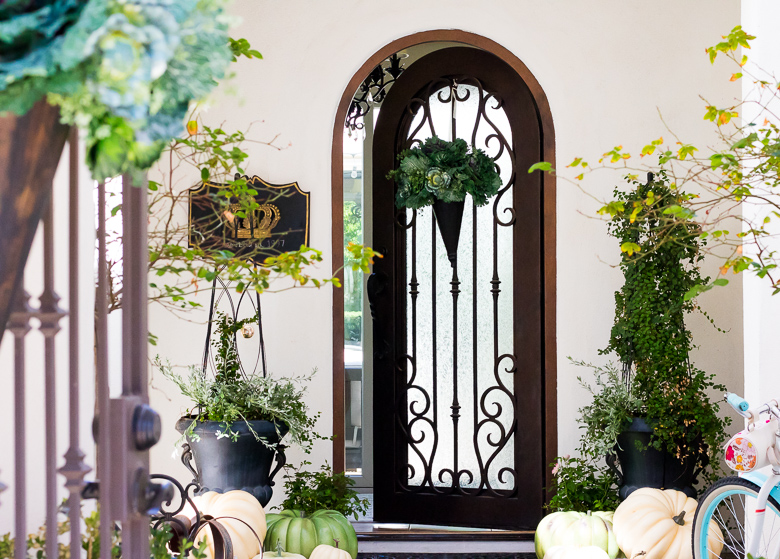 Welcome November!!!! To help welcome this month of Thanksgiving, I will be sharing ways to "dress" your home and yourself, for the big day. Today I'm sharing beautiful tips for dressing your front door for Thanksgiving!
My mom always dressed the black, double doors to my childhood home with beautiful wreaths. I remember looking forward to the season changes to see what she would come up with next. Walking through our front door always felt like walking into a hug.
The front door is the first things guests see when they come to your home. Give them a welcomed greeting! Today I'm sharing some beautiful tips for dressing your front door for Thanksgiving. I've gathered some of my favorite porches dressed up for the season to give you some inspiration for your front door.
Tip #1
Use a basket instead of a wreath to hang fall foliage.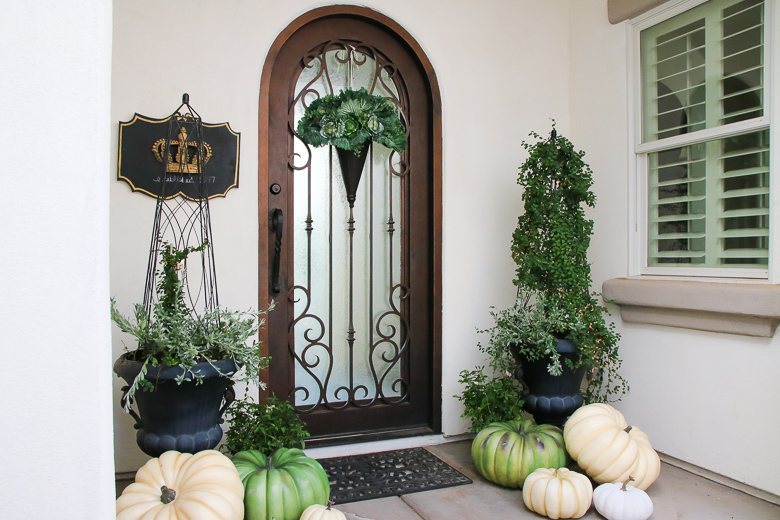 I love a good wreath, but sometimes it's nice to mix things up a bit! Find a flat backed basket and fill it with fall foliage for a beautiful Thanksgiving door display. I used fall lettuce mixed with some winter berries for my arrangement. You could use fall flowers like hydrangeas, sunflowers or colorful fall leaves. You can see more of my fall home tour here and here.
Here are a few baskets you can fill for you door…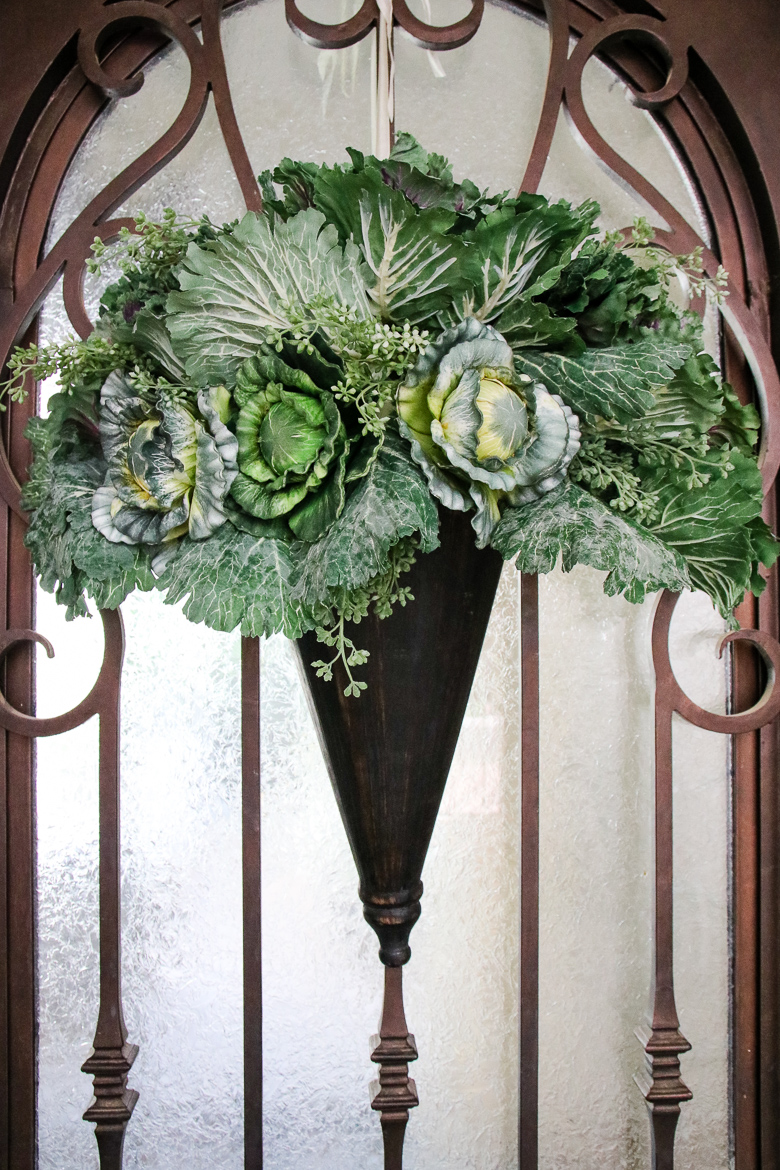 Tip #2
Mix faux leaves with fresh pumpkins.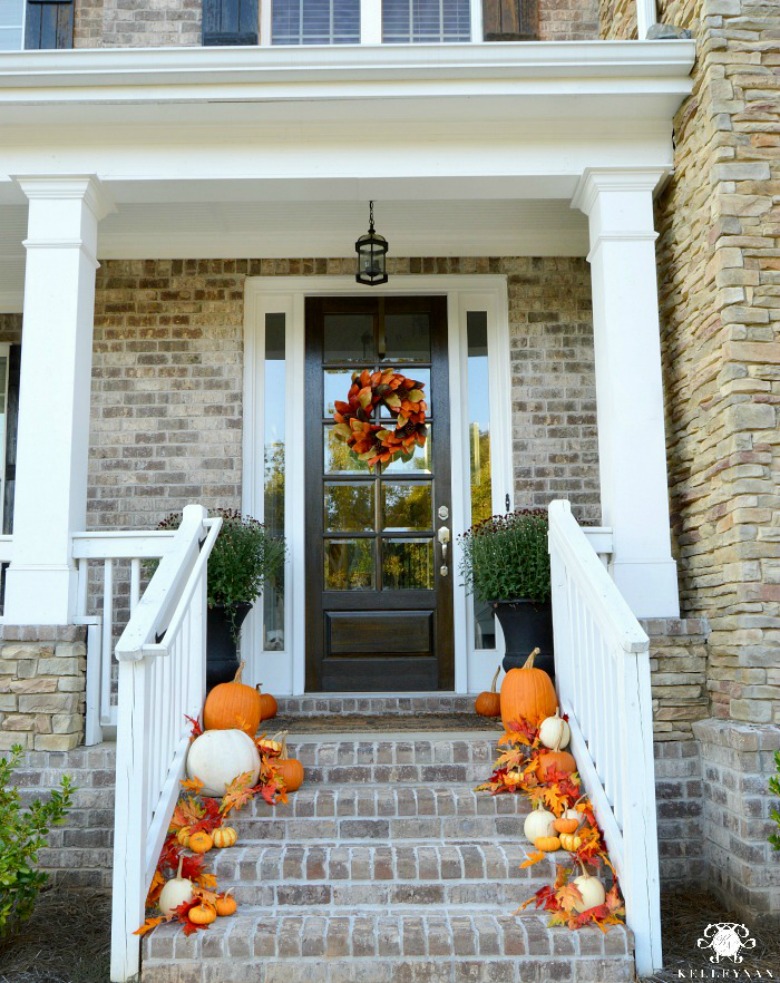 My friend Kelley from Kelley Nan, welcomes her guests with her sweet southern charm, fresh orange and white pumpkins mixed with faux fall leaves. Get this look by grabbing a fall leaf garland, then snip it into small sections. Tuck the leaves under the pumpkins for a gorgeous Thanksgiving welcome!
Tip #3
Use a variety of colored mums for beautiful fall color.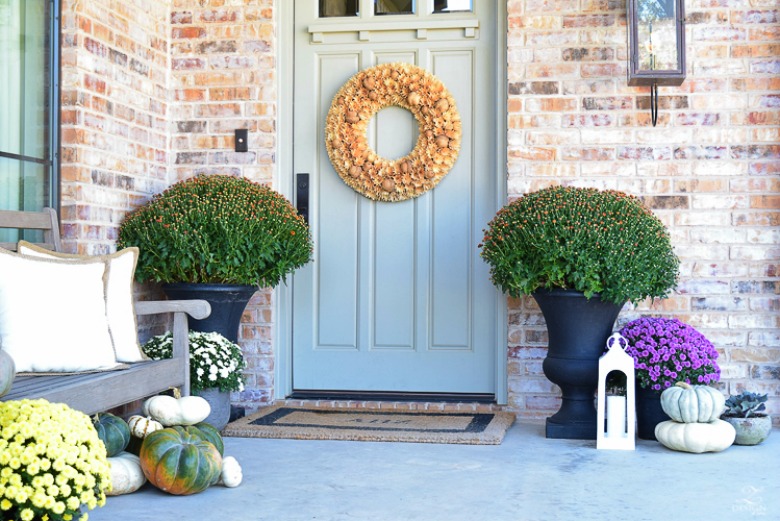 I love how my friend Bree, of Z Design at Home used 4 different colors of mums to add soft, gorgeous fall color to her front porch.
For a quick and easy way to get this look, place your mums directly into their decorative pots. You can go back and plant them later when you have more time!

Tip #4
Place pumpkins on decorative pots.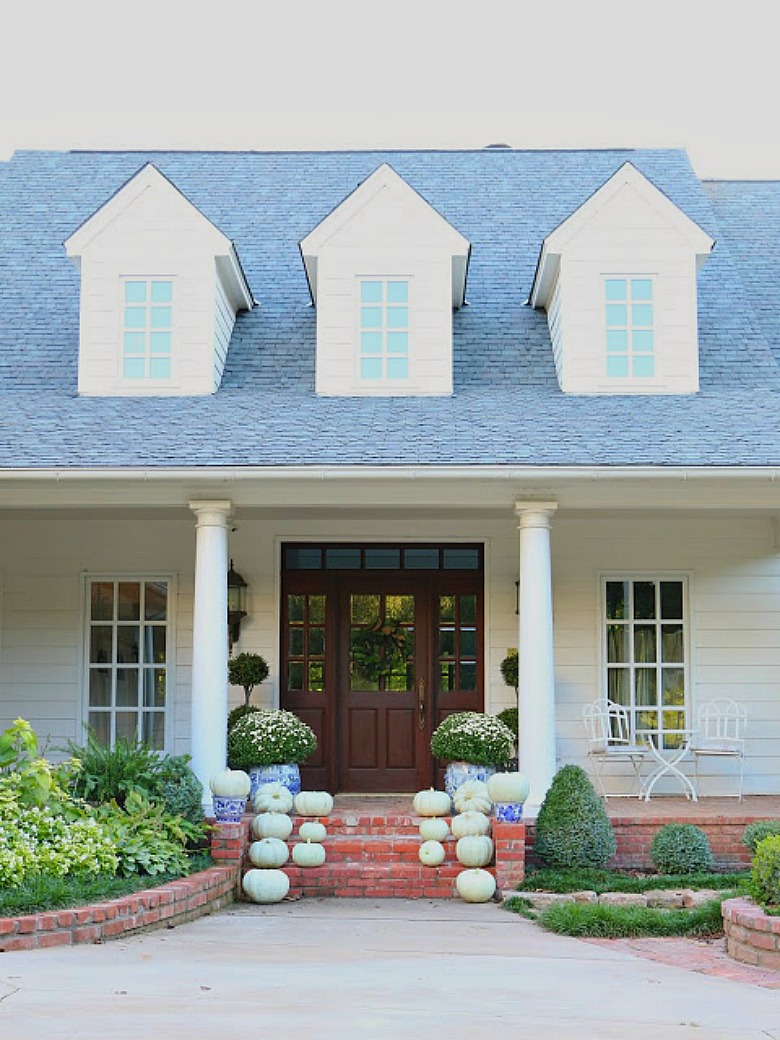 How charming is Emily at Eleven Gables front porch?!!! Look how she used blue and white pots as a base for her home grown, heirloom pumpkins. What a simple, genius way to decorate for Thanksgiving!
Find your favorite pot, and stack one or more pumpkins on top! Here are some of my favorite decorative pots…

Tip #5
Fill outdoor lanterns with pumpkins.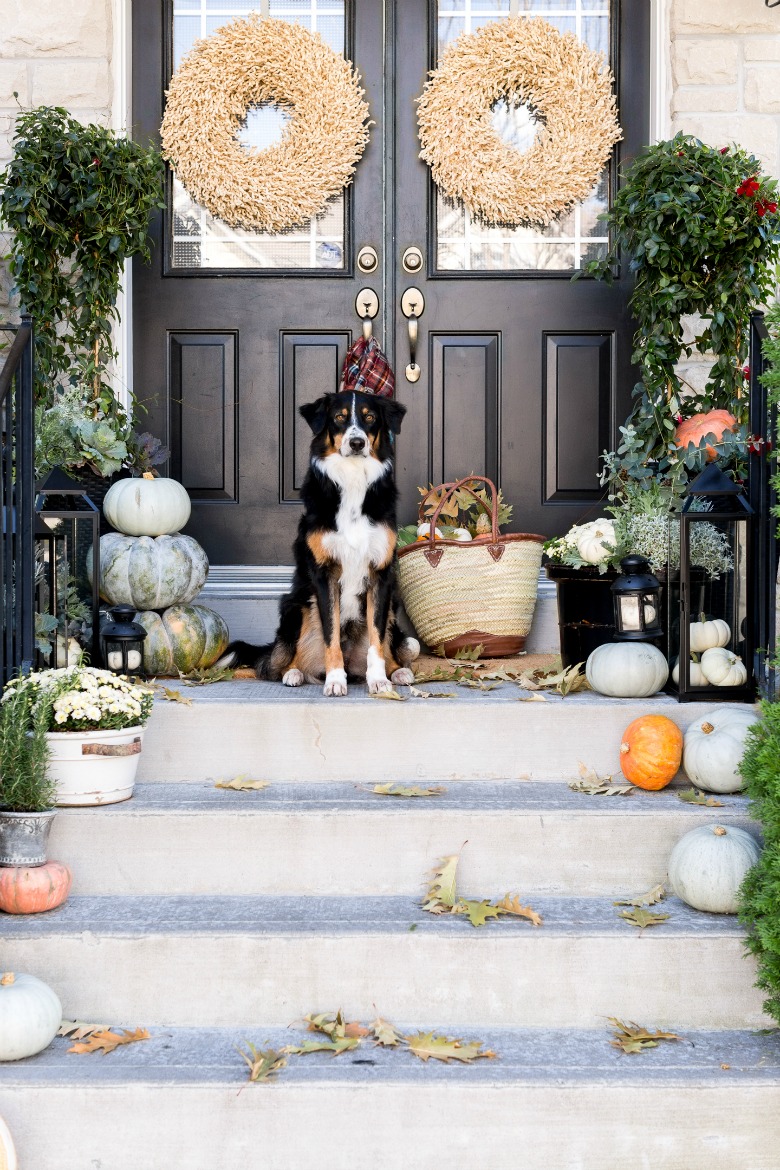 Lanterns don't have to hold just candles! The darling Lucy, of Craftberry Bush, dressed up her outdoor lanterns by filling them with fresh baby, white pumpkins. You could fill yours with a mix of orange and white, or all orange. If your lantern is big enough, you could stack a slightly larger pumpkin on the bottom with smaller ones on top.
I've used my lanterns every month since I bought them! They've been inside, outside, housed flowers, candles, more flowers, spiders and crows and now you can bet mine are going to be holding some pumpkins!
Here are some of my favorite lanterns…

I hope you've been inspired to dress up your front door for Thanksgiving this year!!! Check back for more ideas on how to "Dress" your home for Thanksgiving this year!
xo,