Dreaming up new color schemes for Fall has always been a creative outlet for me. I love looking around nature to find beautiful color combinations that I can bring into our home. This year, I took inspiration from our recent trip to Florida. The turquoise, aqua water against the beautiful shades of green trees really spoke to me. As I envisioned Fall and The Wren, shades of blue and green seemed like such a glorious color combination, reminiscent of plump heirloom pumpkins growing on the vine.
So this year, Fall at The Wren will feature various shades of blue and green. Today, I am sharing some blue and green Fall decor ideas if you would like to incorporate this color theme in your home. The beauty of these pieces is that they can be used throughout the entire year (minus the pumpkins). The accessories and decor are neutral and can be used for years to come.
If you are looking for more neutral color themed Fall decor, check out my Neutral Fall Decor post here.
This post contains affiliate links. Read my disclosure policy here.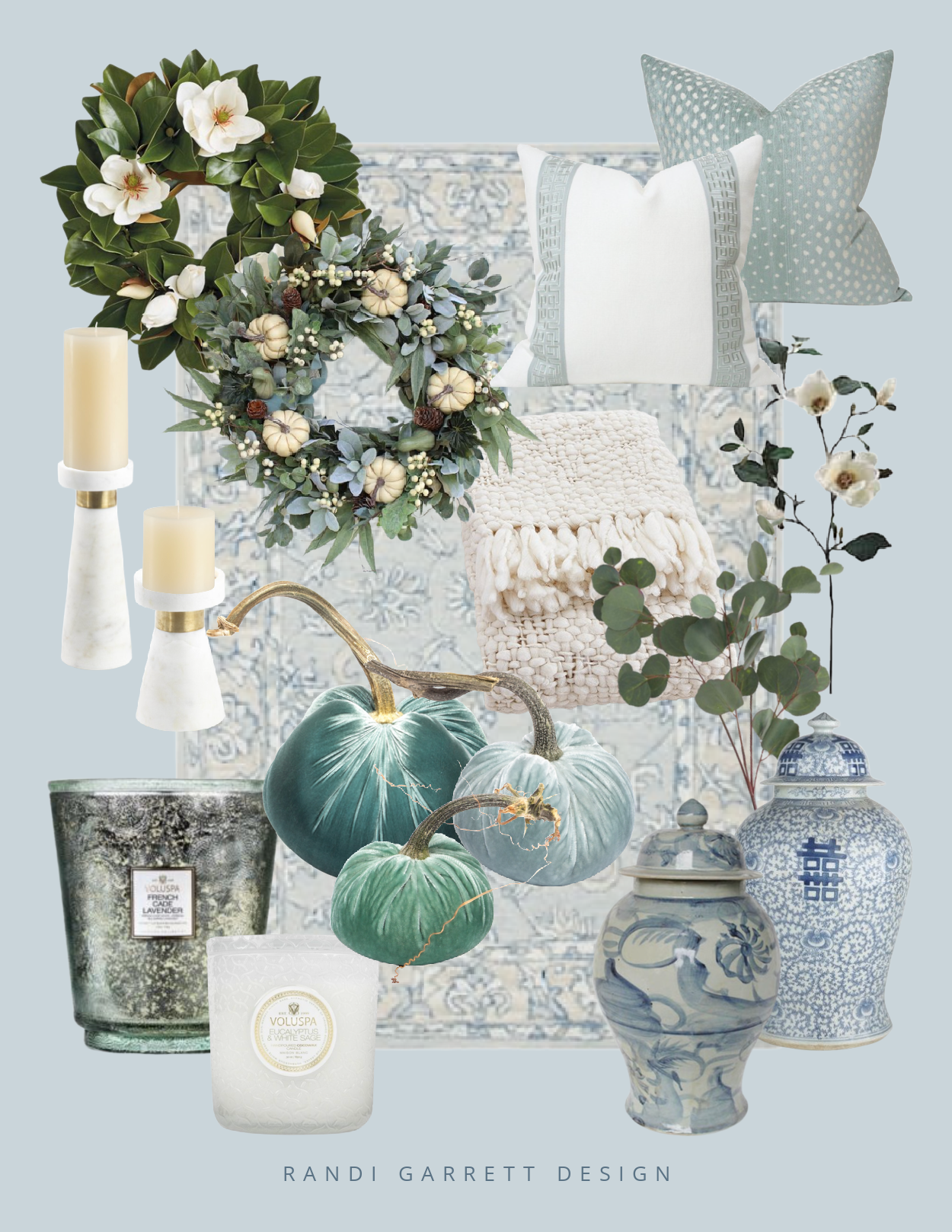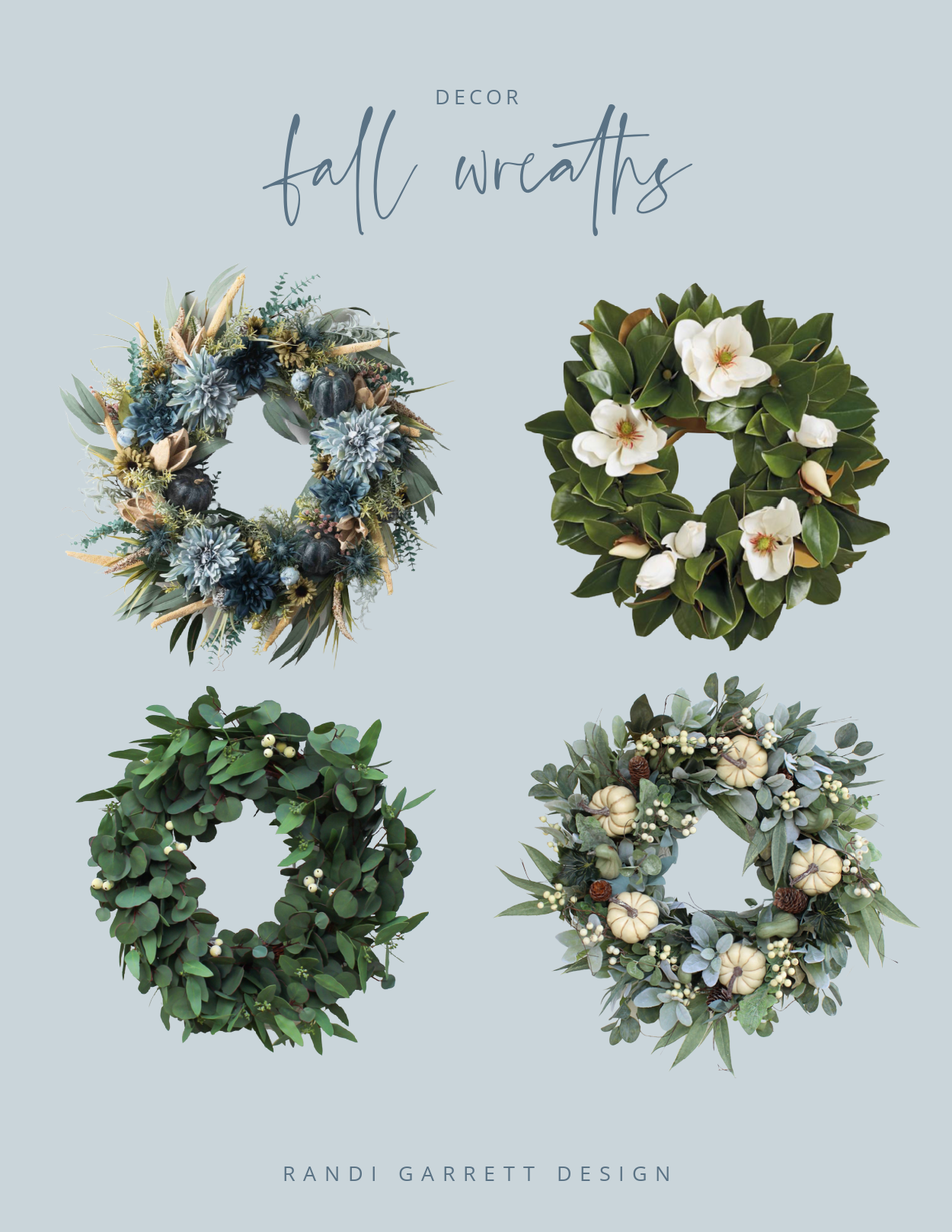 Any of these Fall wreaths would work inside or out. Leave them as is, or add a beautiful ribbon for a glammed up Fall look.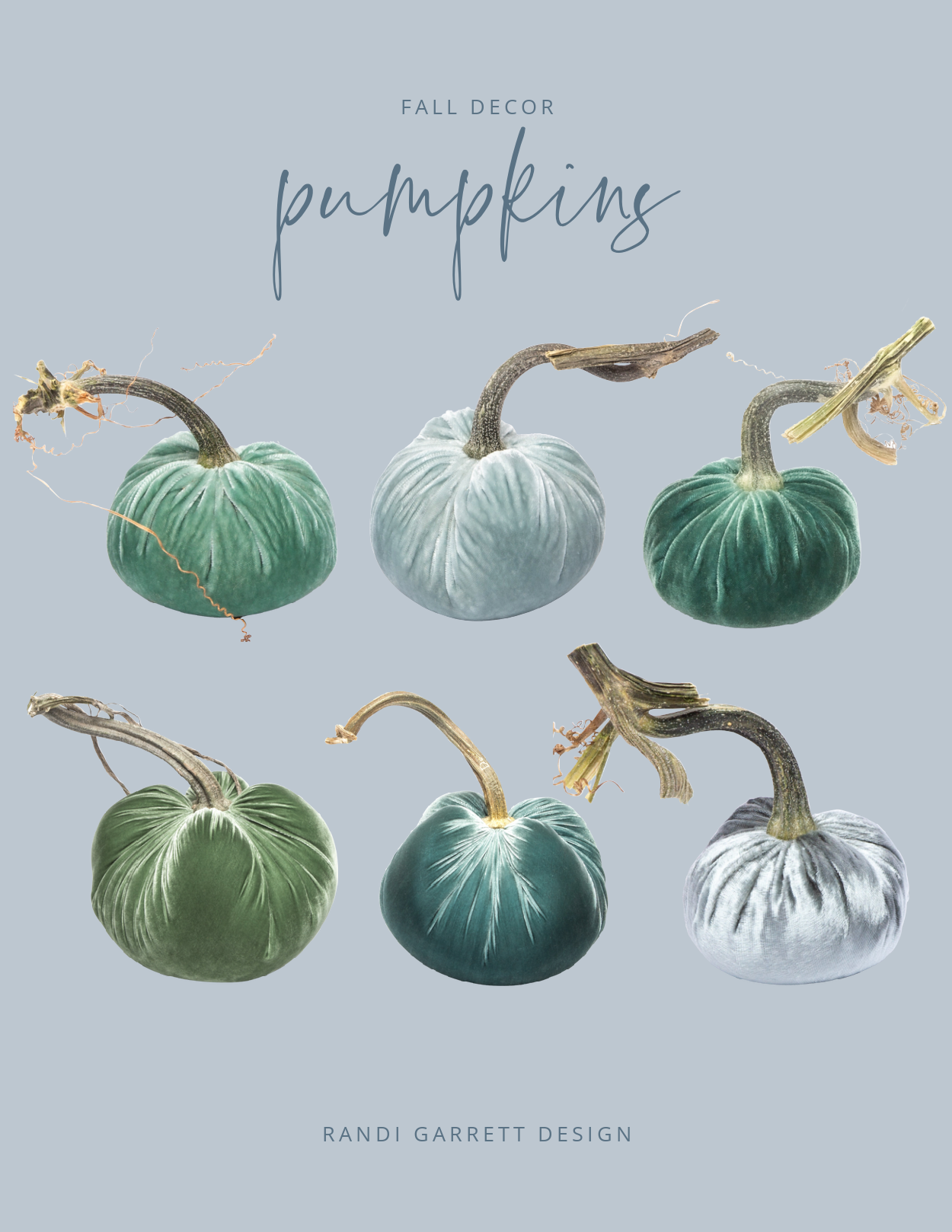 These velvet pumpkins are a Fall staple at our house! You can use them in countless ways to style your home for Fall in luxurious style! I can't wait to show you how I styled my velvet pumpkins this year!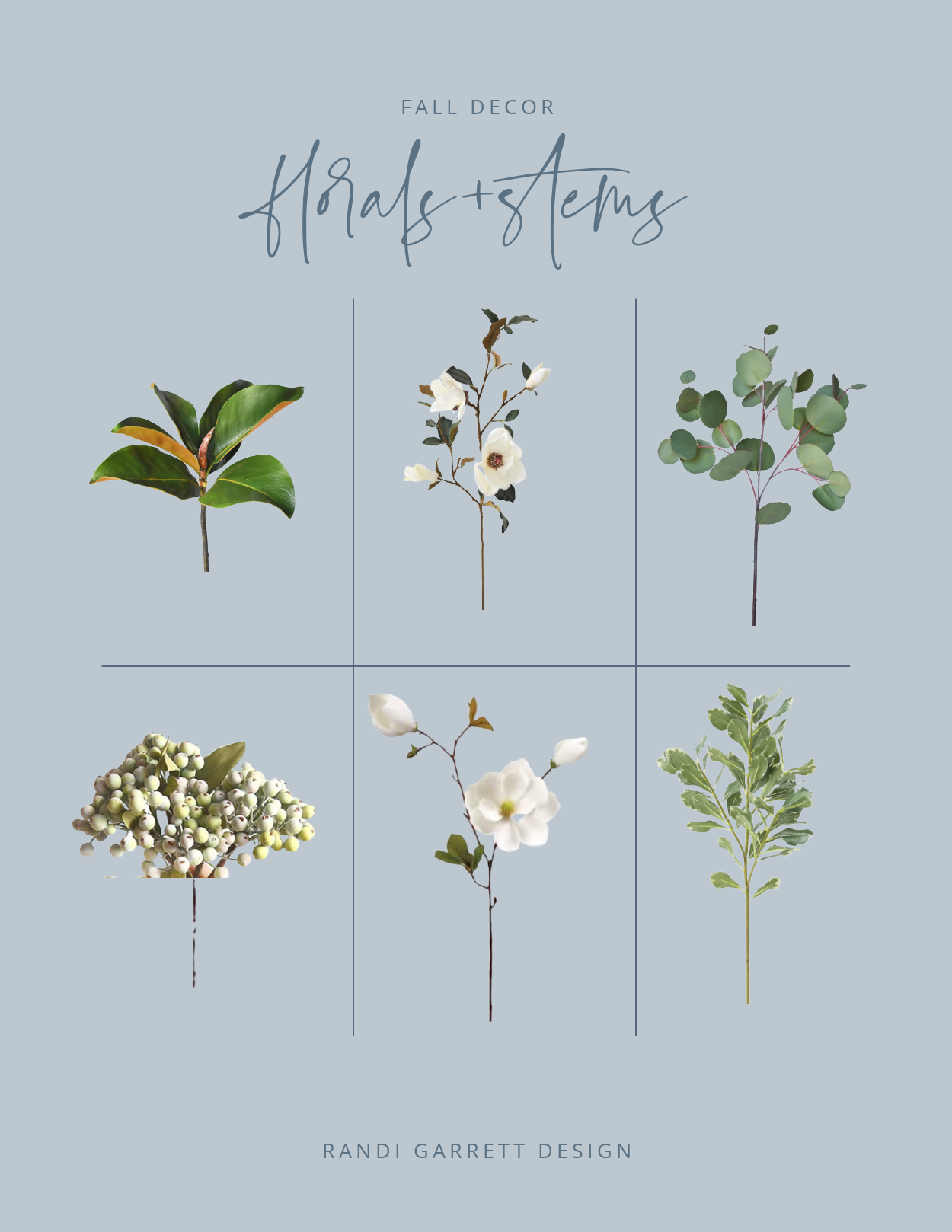 Faux magnolia stems mixed with stunning blueish green berries and greenery will help you create a stunning Fall arrangement in your home. Use them in ginger jars, on your mantel and as filler in centerpieces. I have each of these Fall stems and they are all fabulous!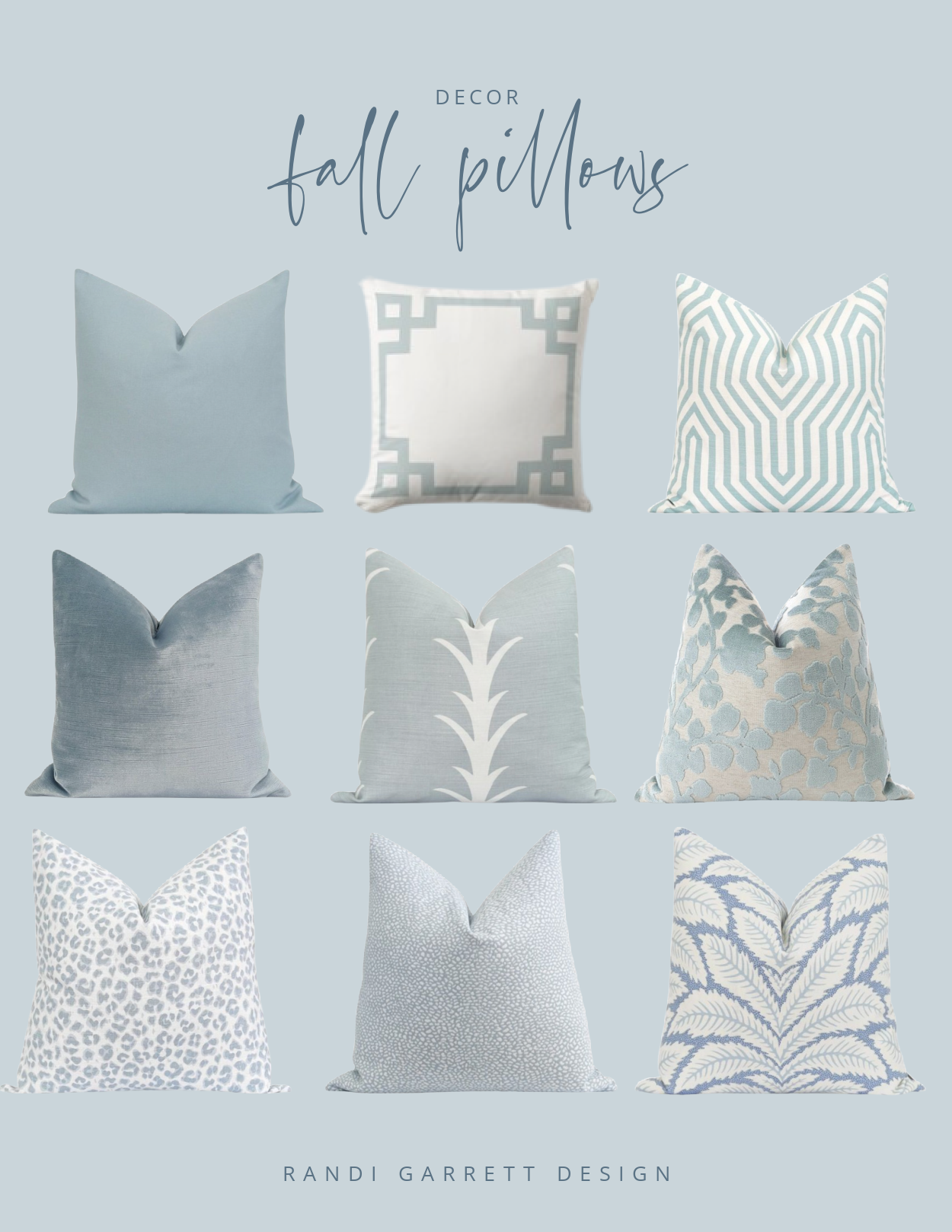 Each of these throw pillow combinations would look gorgeous with magnolias and velvet pumpkins! Blue throw pillows are in style year round and never go out of style! I love to buy size 22″ with a 24″ insert. This size works great on sofas and beds making them so versatile.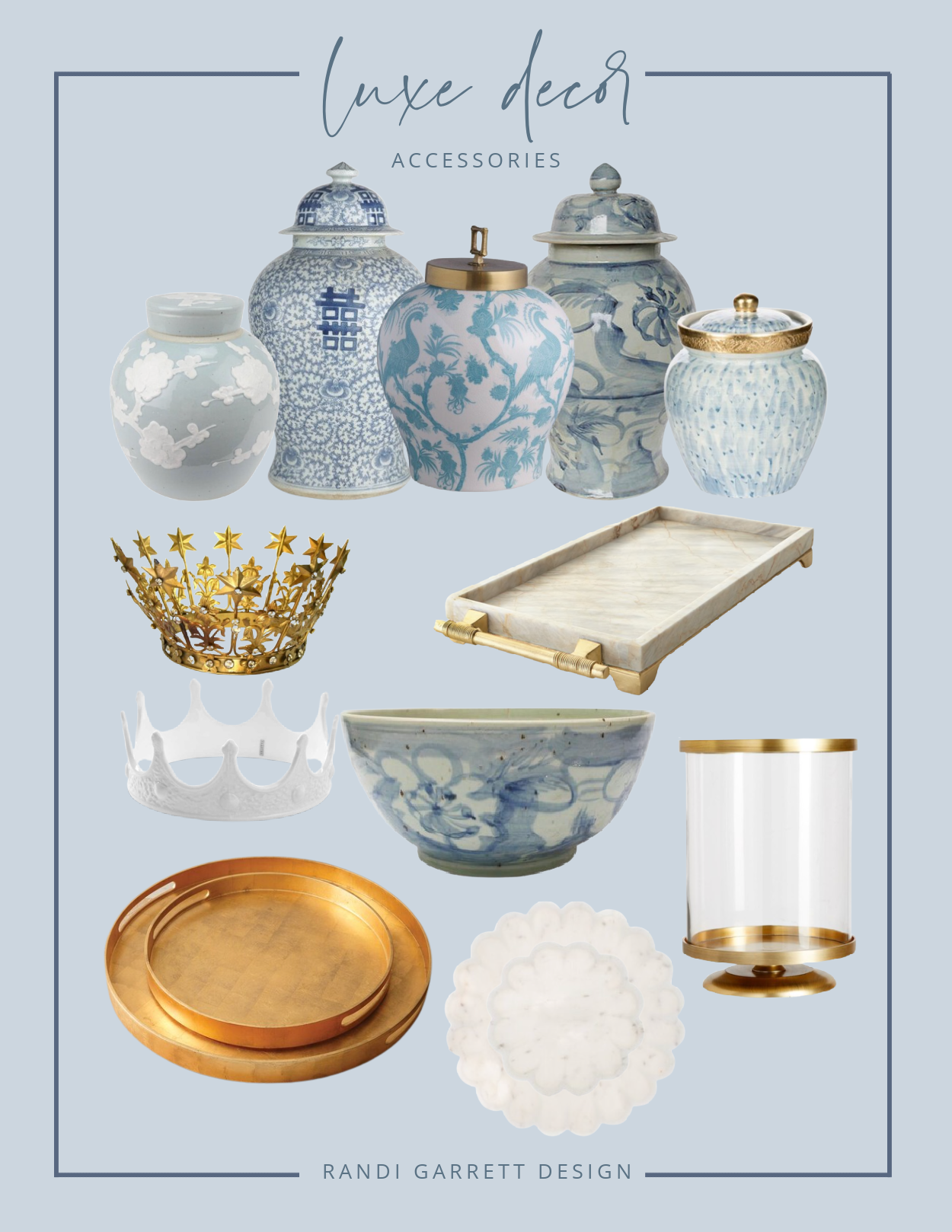 These are all accessories I own and style year round. Dress up any pumpkin with a crown for a chic Fall arrangement. Grab a few ginger jars that you can style for Fall and beyond! Ginger jars are my favorite accessory because of their versatility and beauty! Style them empty or with about 12 Fall stems in them.
Trays are a staple accessory. This round gold tray, marble tray with gold handle and marble petal trays are some of my absolute favorite! I have every size of the marble petal tray. I love to stack the 16″ and the 12.5″ for a beautiful layered look. Style your favorite candles on them. My favorite Fall candles are linked below for you.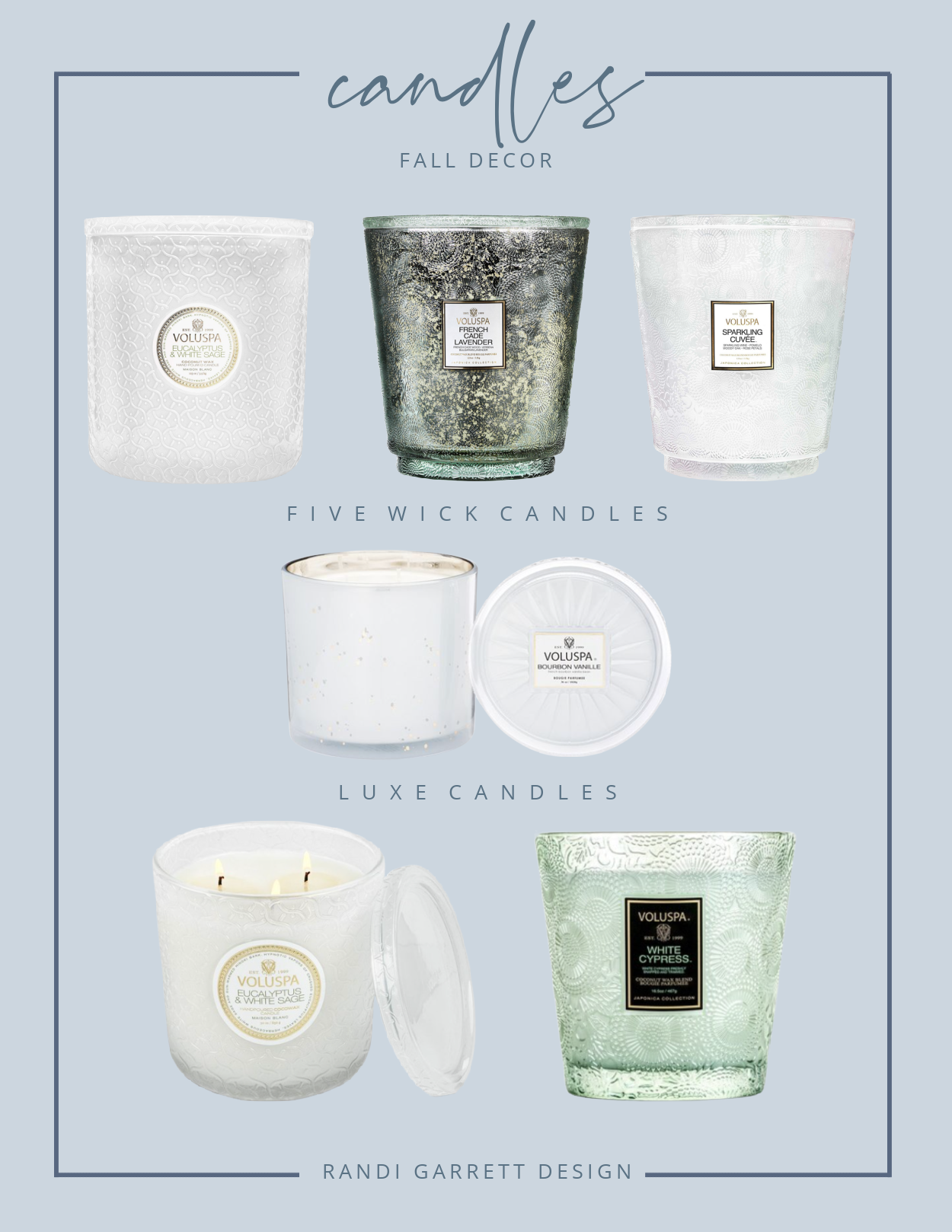 You can burn these scents together! I love mixing the eucalyptus and white sage with the french cade lavender! They smell amazing together! The 5 wick candles will last you for months! I can usually burn mine for at least seasons. My favorite combo is a 5 wick, luxe candle and classic sizes styled on the16″ marble petal tray.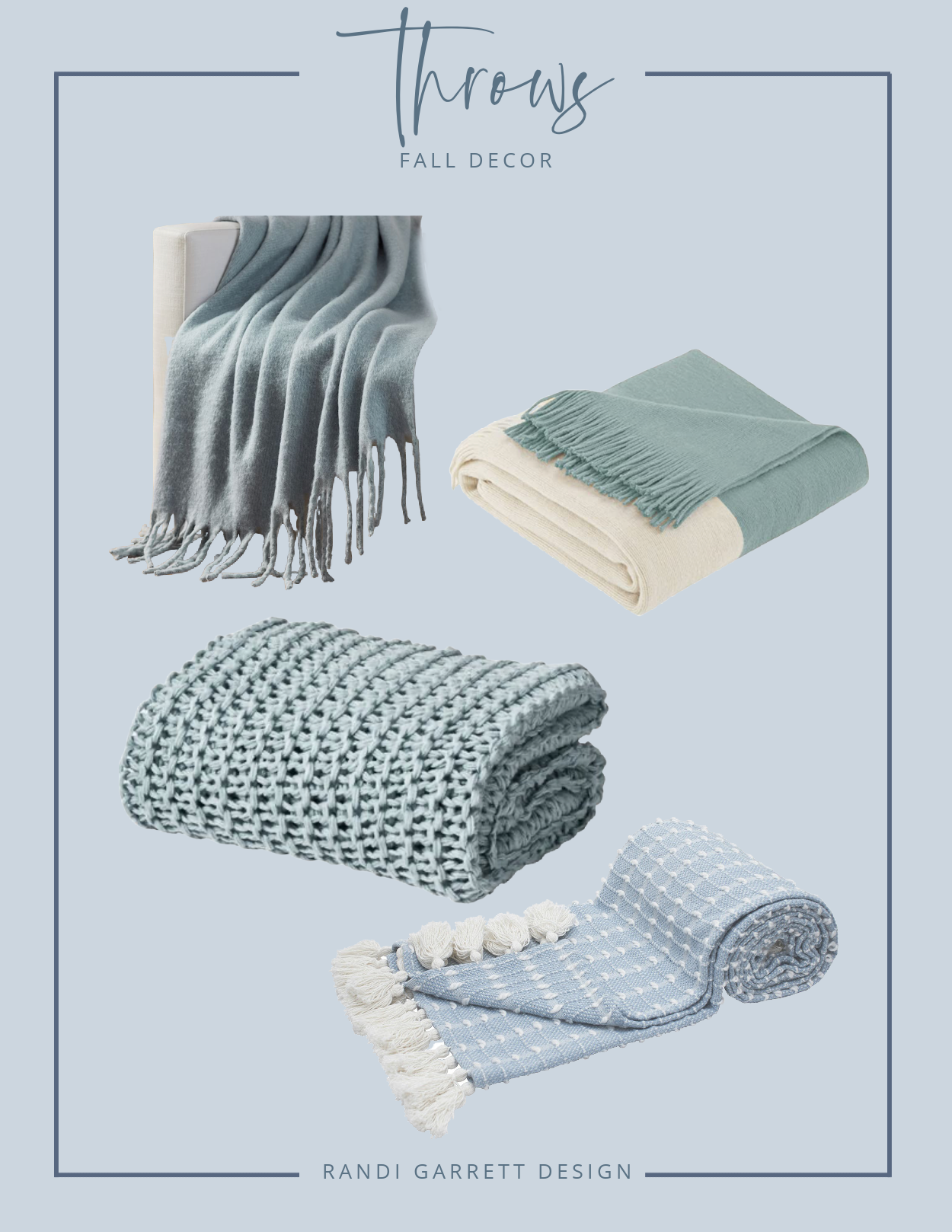 Any of these cozy throws will look gorgeous in your home styled for Fall.
I'll be sharing how I styled these blue and green Fall decor pieces in The Wren in the next few weeks in my Fall home tour! I hope you find some treasures to help you welcome Fall into your home!