It seems that the most anticipated room reveal, next to the kitchen, is our main bedroom reveal! Well the wait is over, today is the day!!! I am thrilled to finally be sharing The Wren's Main Bedroom Reveal! I have partnered with my favorite furniture company, Caracole, to design a bedroom dreams are made of. This project really has been special to me and our family. We have 5 children, 2 pups and really live in our home. Having a home that is livable AND luxurious is so attainable when you select pieces that are constructed out of durable, beautiful materials. Caracole's pieces are not only breathtakingly beautiful, they are designed to last! A few months ago, I introduced you to Caracole in this post, please click through to read more about why I love Caracole and why I know you need their pieces in your home.
Every furniture piece in our bedroom is lovingly crafted from the team at Caracole. As you step inside The Wren's main bedroom, notice the exquisite details on each piece. Everything from the luxe, durable fabrics to their gorgeous finishes will leave you speechless. Their attention to detail is beyond impressive. You will also note that Caracole is a master at combining traditional lines with transitional updated styles. Caracole also has different price points so you can find something that fits your budget. One last thing to note, all of the pieces I selected and most of their pieces are neutral in finish and fabric allowing you to incorporate any accent color or pattern you wish!
Welcome to The Wren's Main Bedroom Reveal! I hope this gives you some inspiration for creating the bedroom of your dreams! There is a full sources list at the end of the post.
This post is done in partnership with Caracole and contains affiliate links for your convenience. Read my disclosure policy here.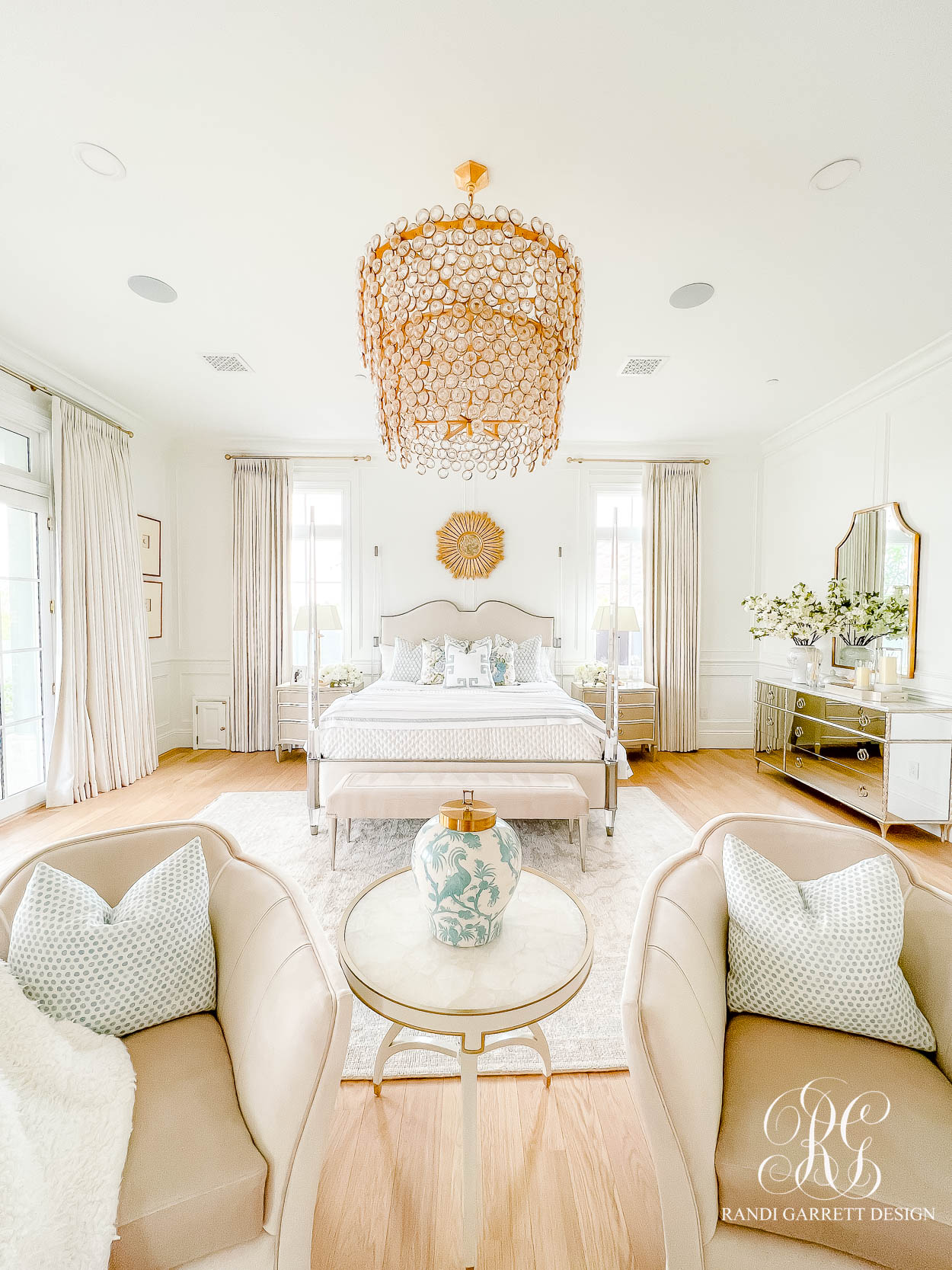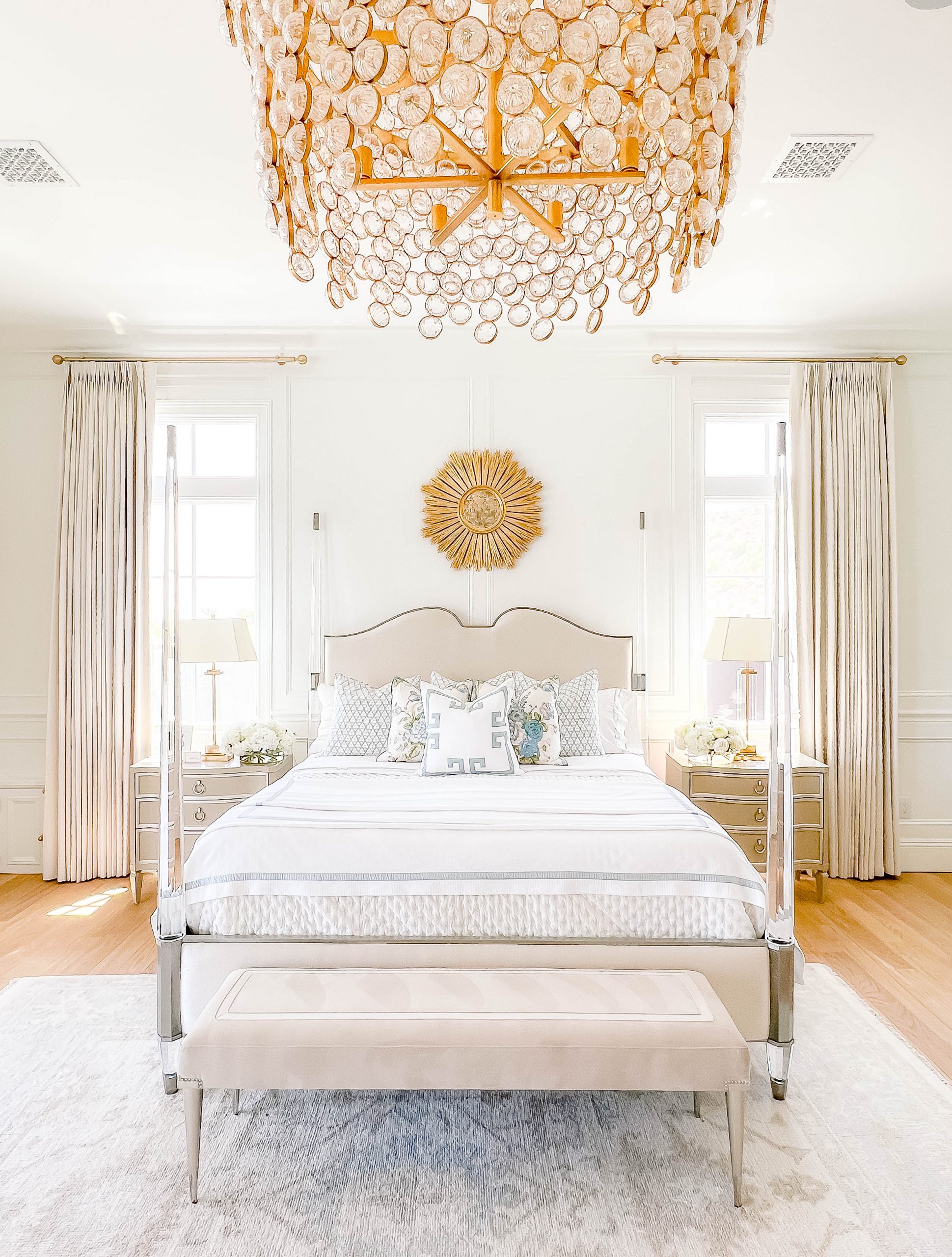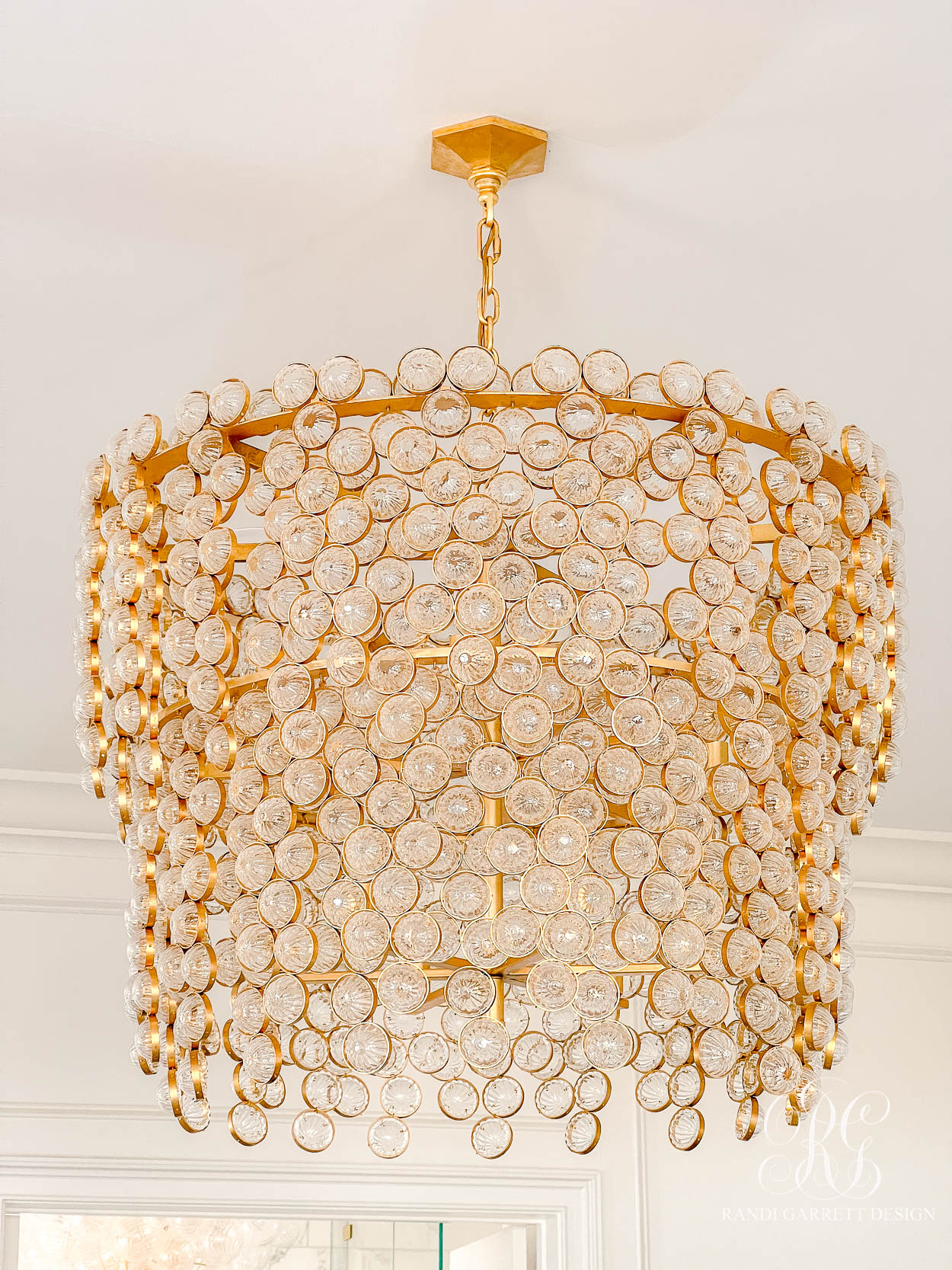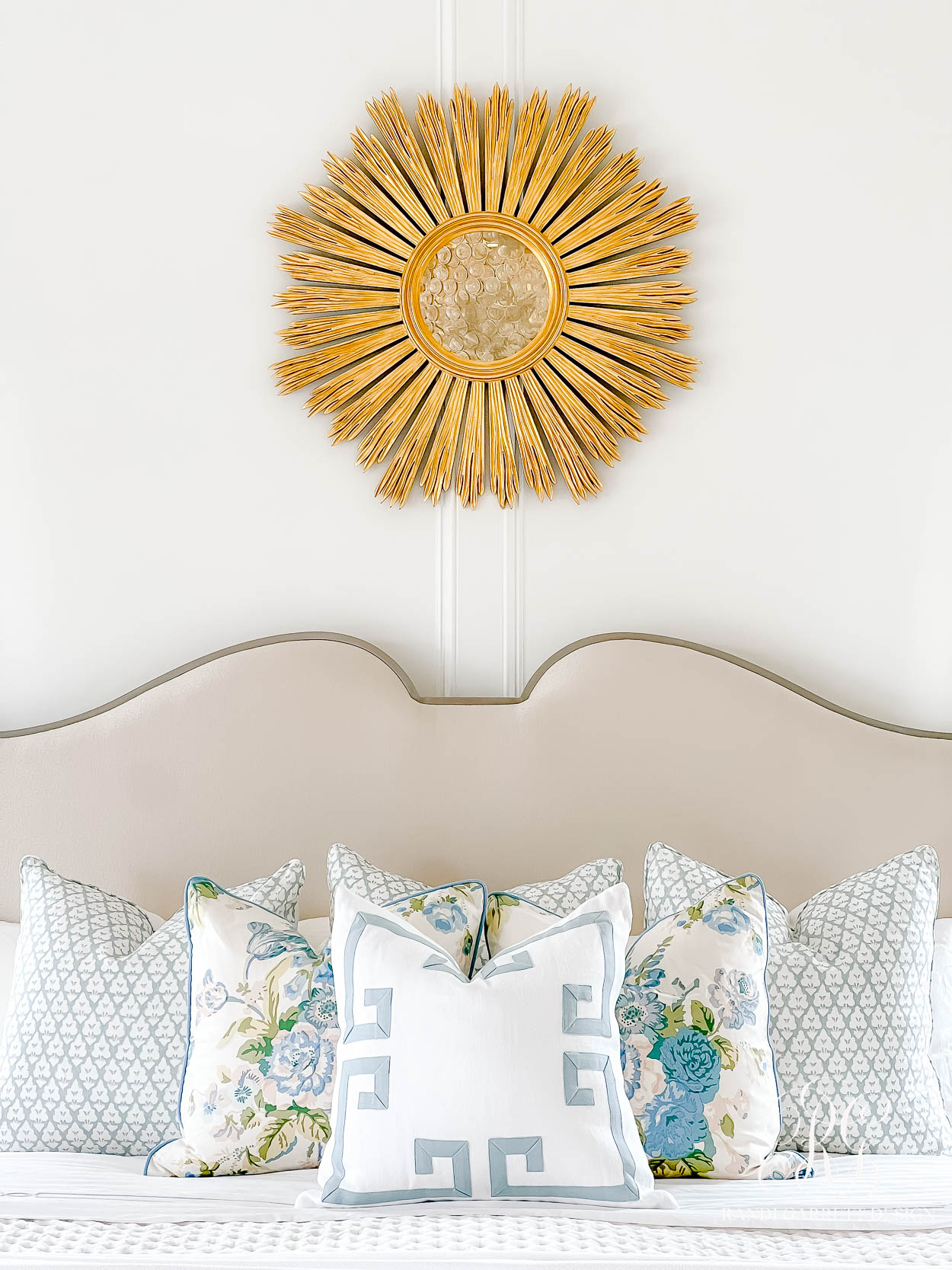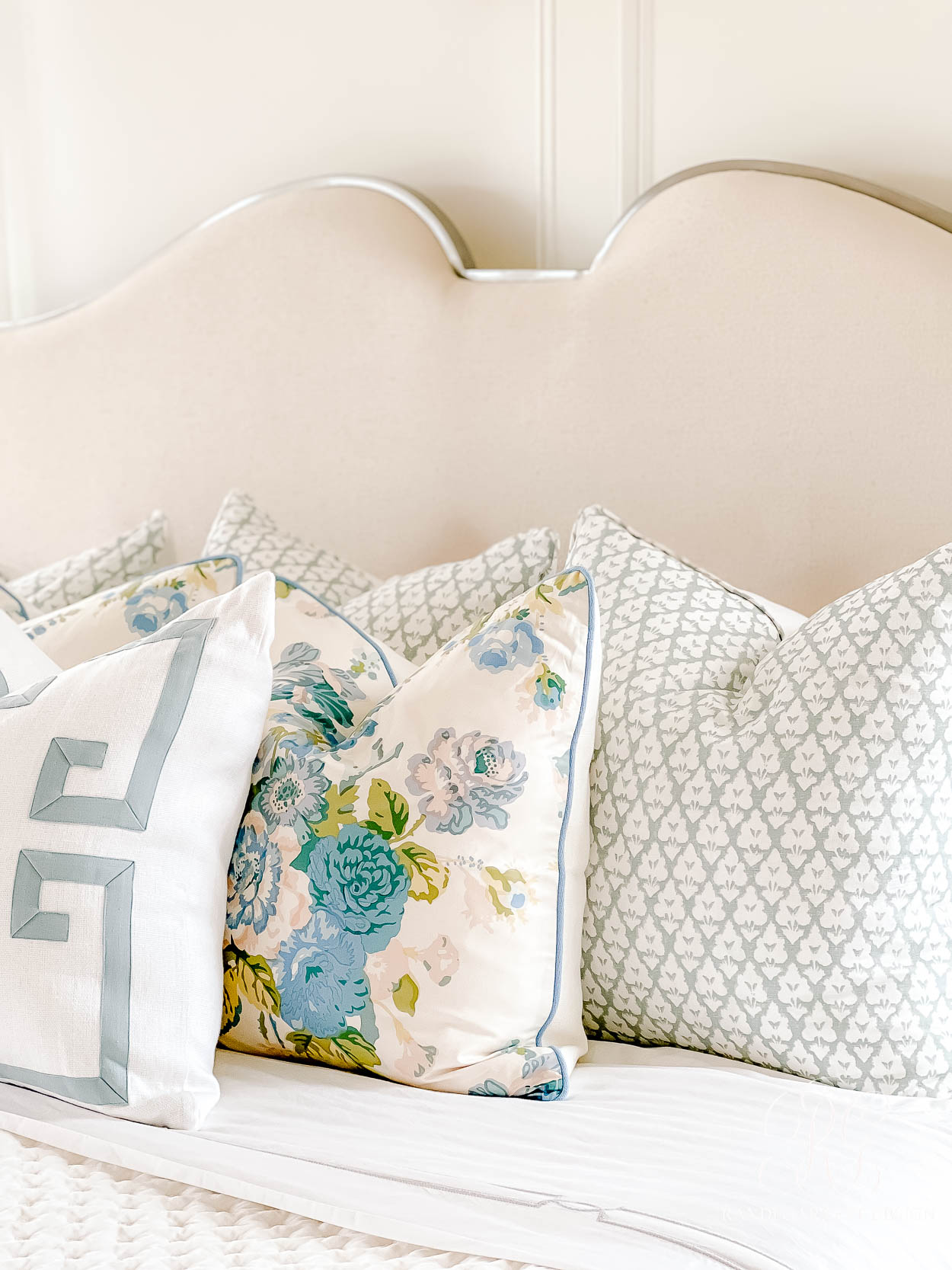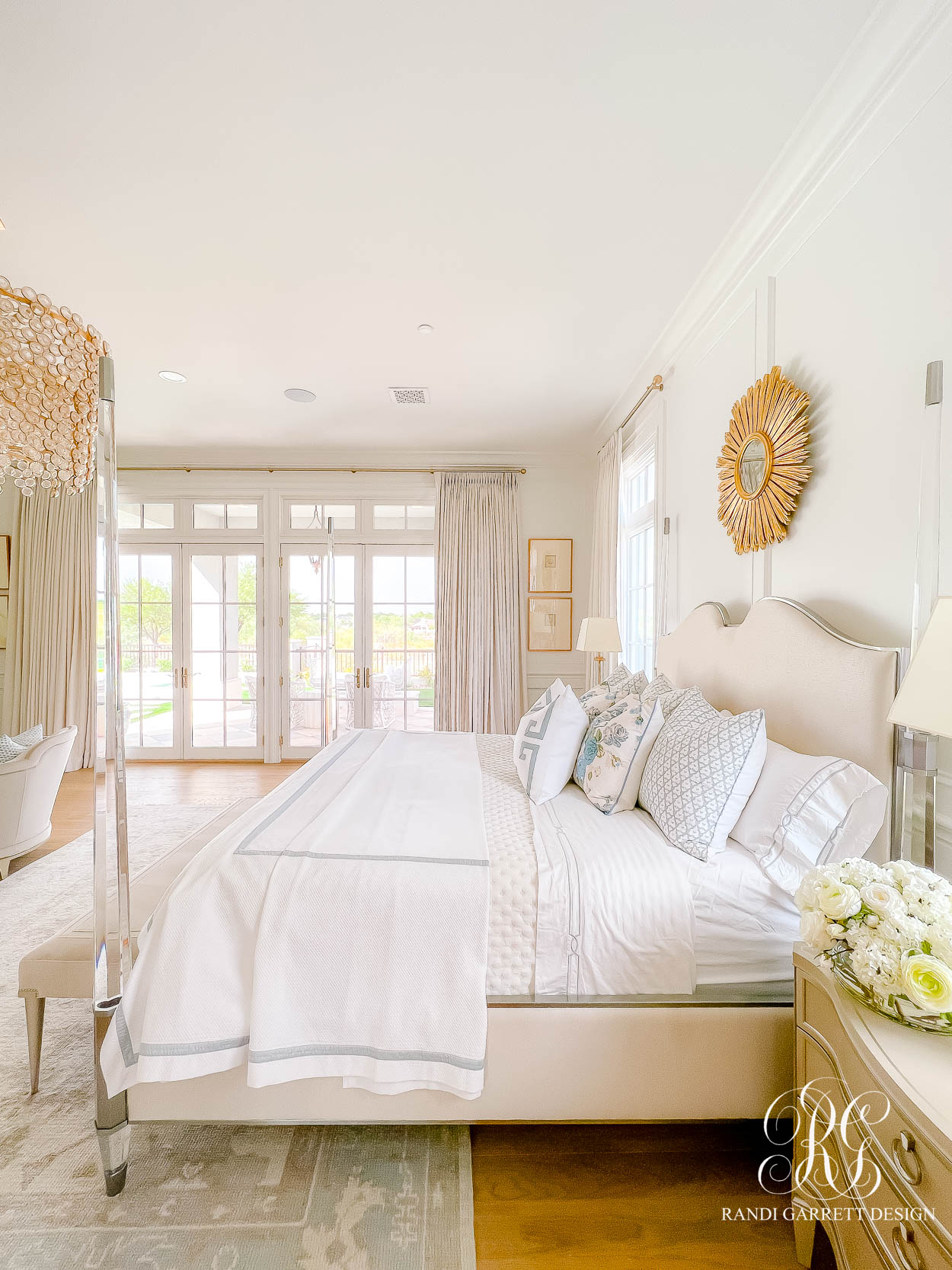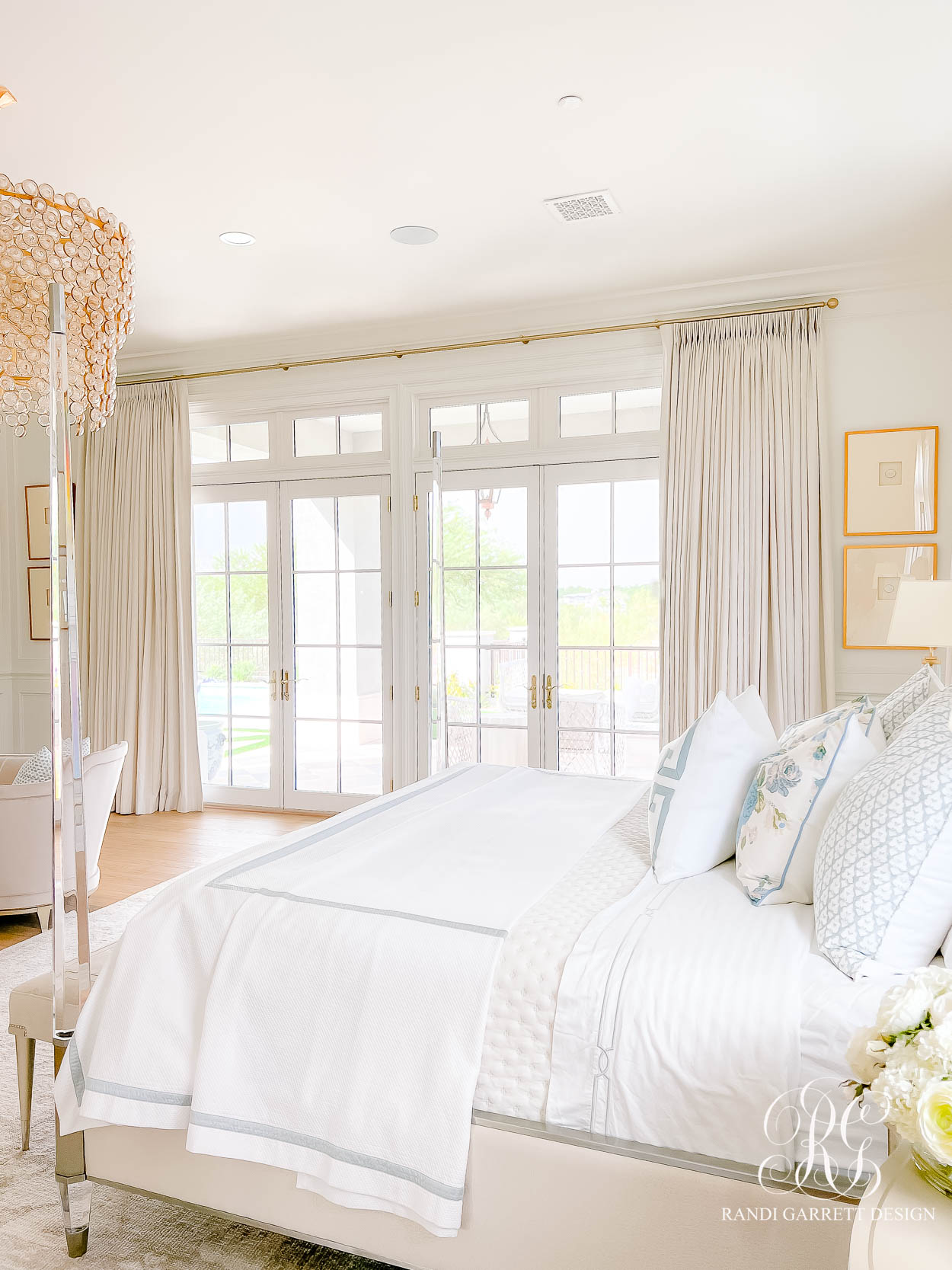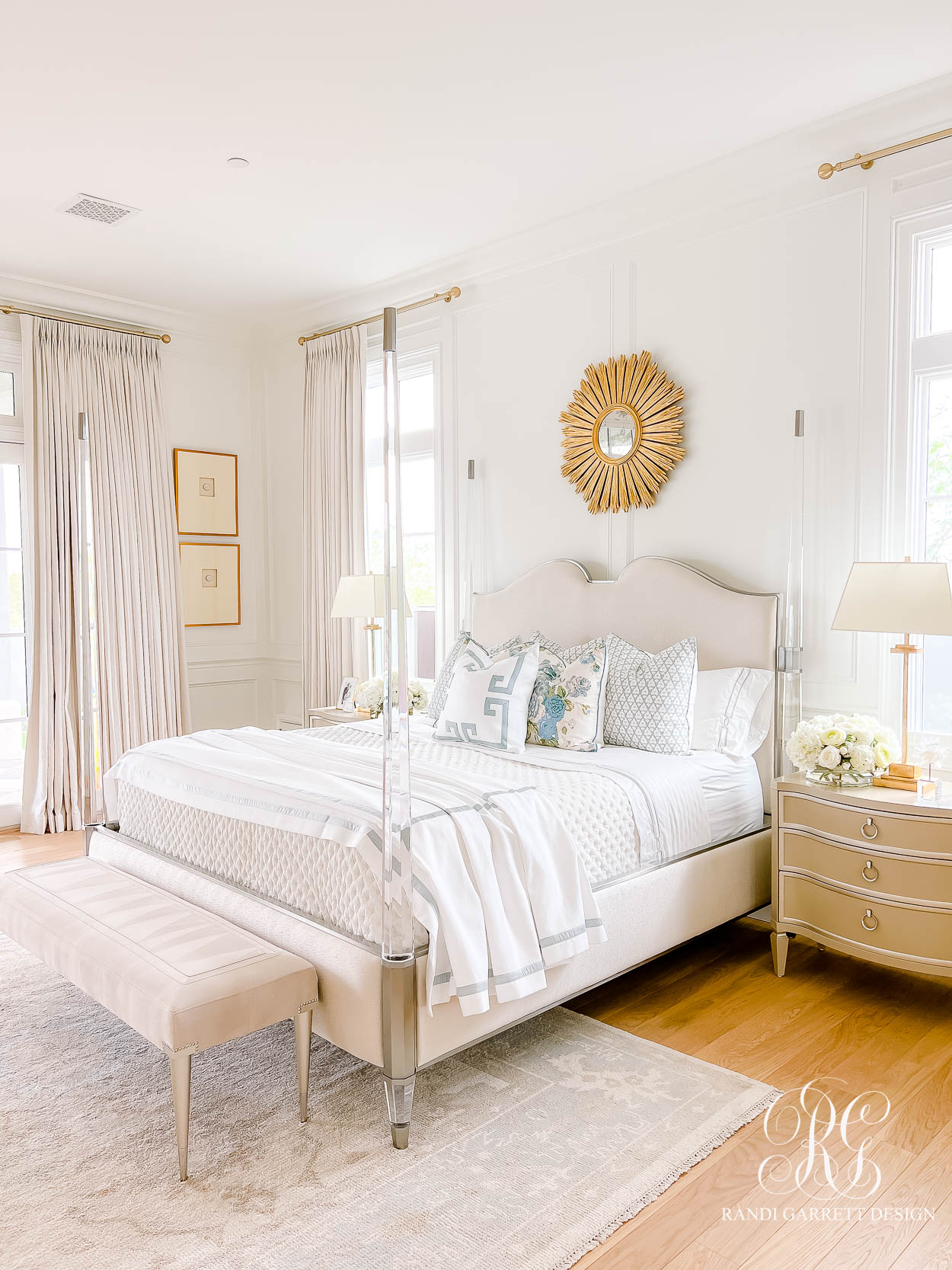 The beautiful, neutral backdrop of Caracole's pieces, create a soothing slate to add any color combination. When I first saw this bed over three years ago, I was speechless! It is the most beautiful bed I have ever seen. The Post is Clear bed (how darling is the name), has clear acrylic bed posts which feel absolutely magical! It has an upholstered headboard, footboard and side rails. I love the perfect blend of masculine and feminine lines.
For Summer, I chose a pretty shade of blue as a calming accent for our bedroom. The color reminds me of the ocean, swimming pools and the gorgeous summer sky. Our bedding features my favorite embroidered sateen sheet set, gorgeous cream velvet quilt (that is the perfect weight for any season and can be washed and dried at home) and this pretty light weight coverlet (my color is pool).
I used 3 of these 22″ throw pillows in the spa color, 2 of these 22″ floral pillows and 1 of these 22″ fretwork pillows (my exact pillow is sold out).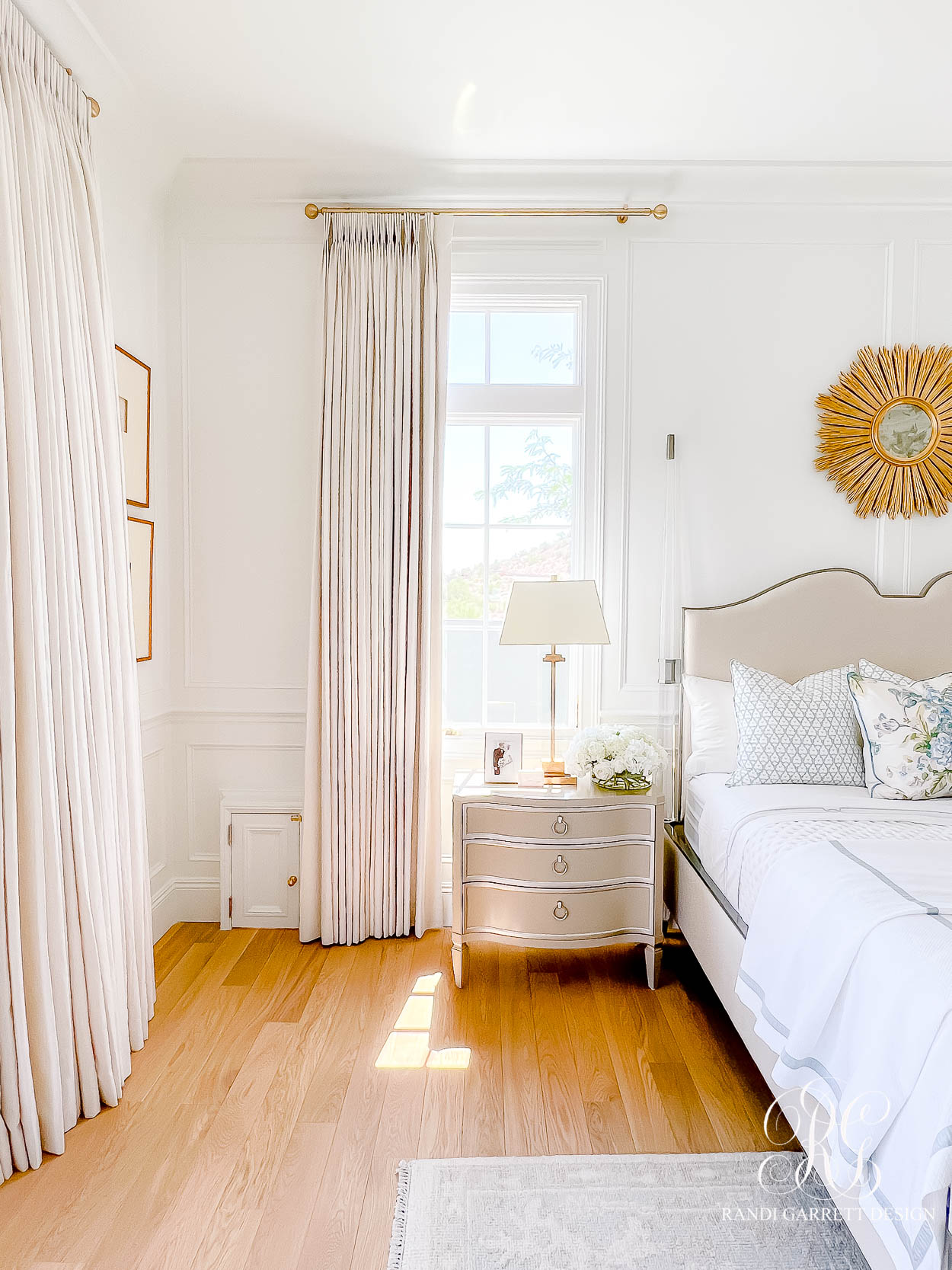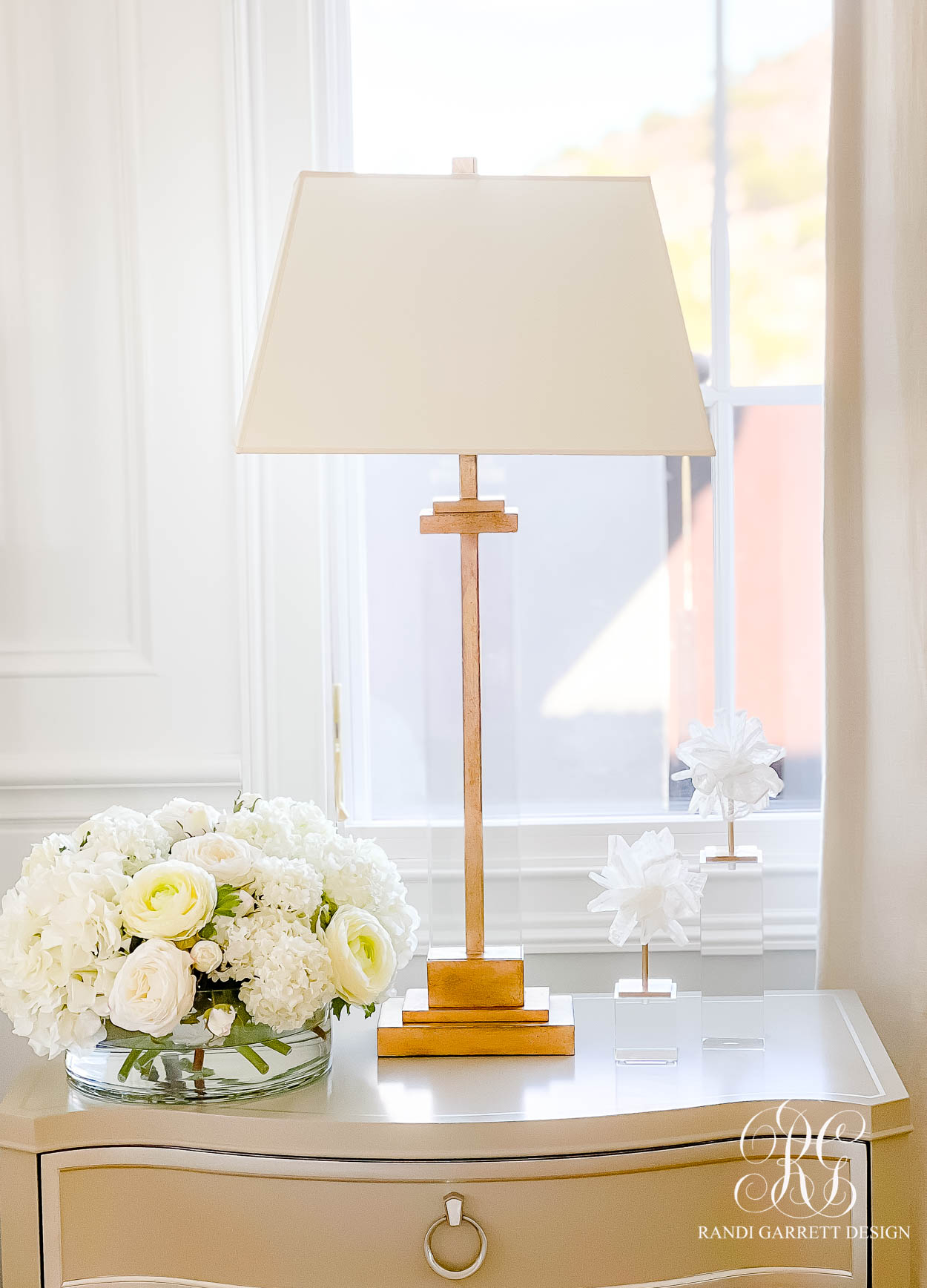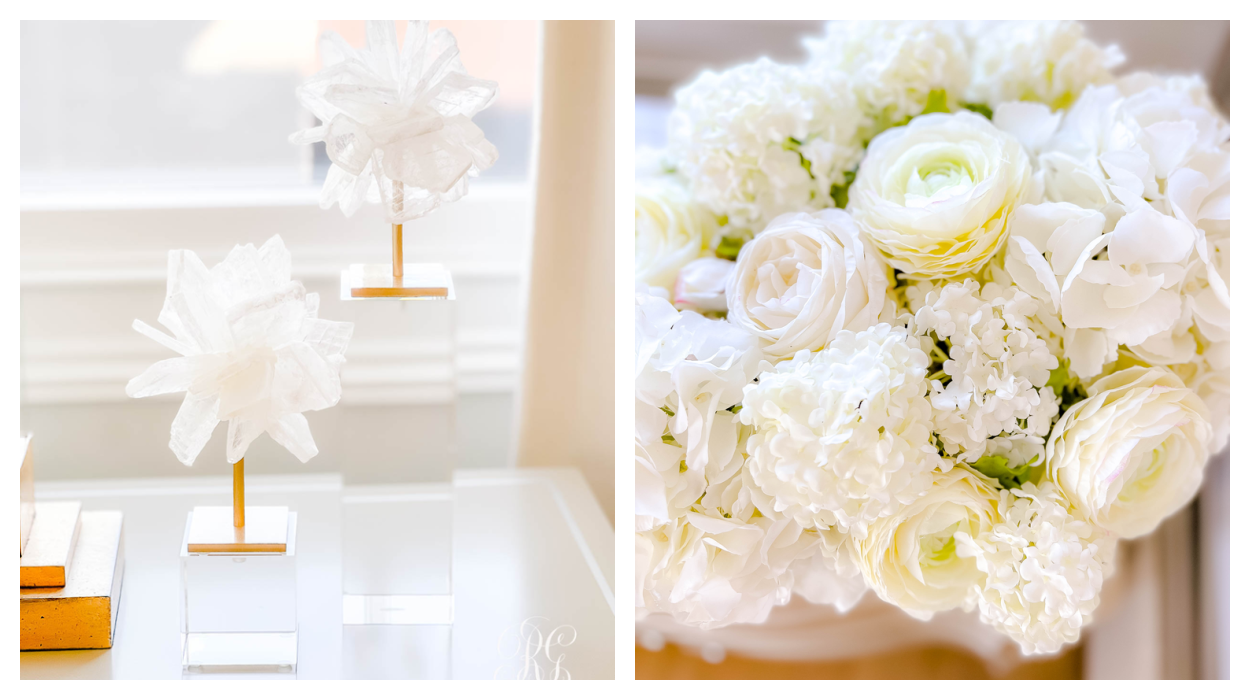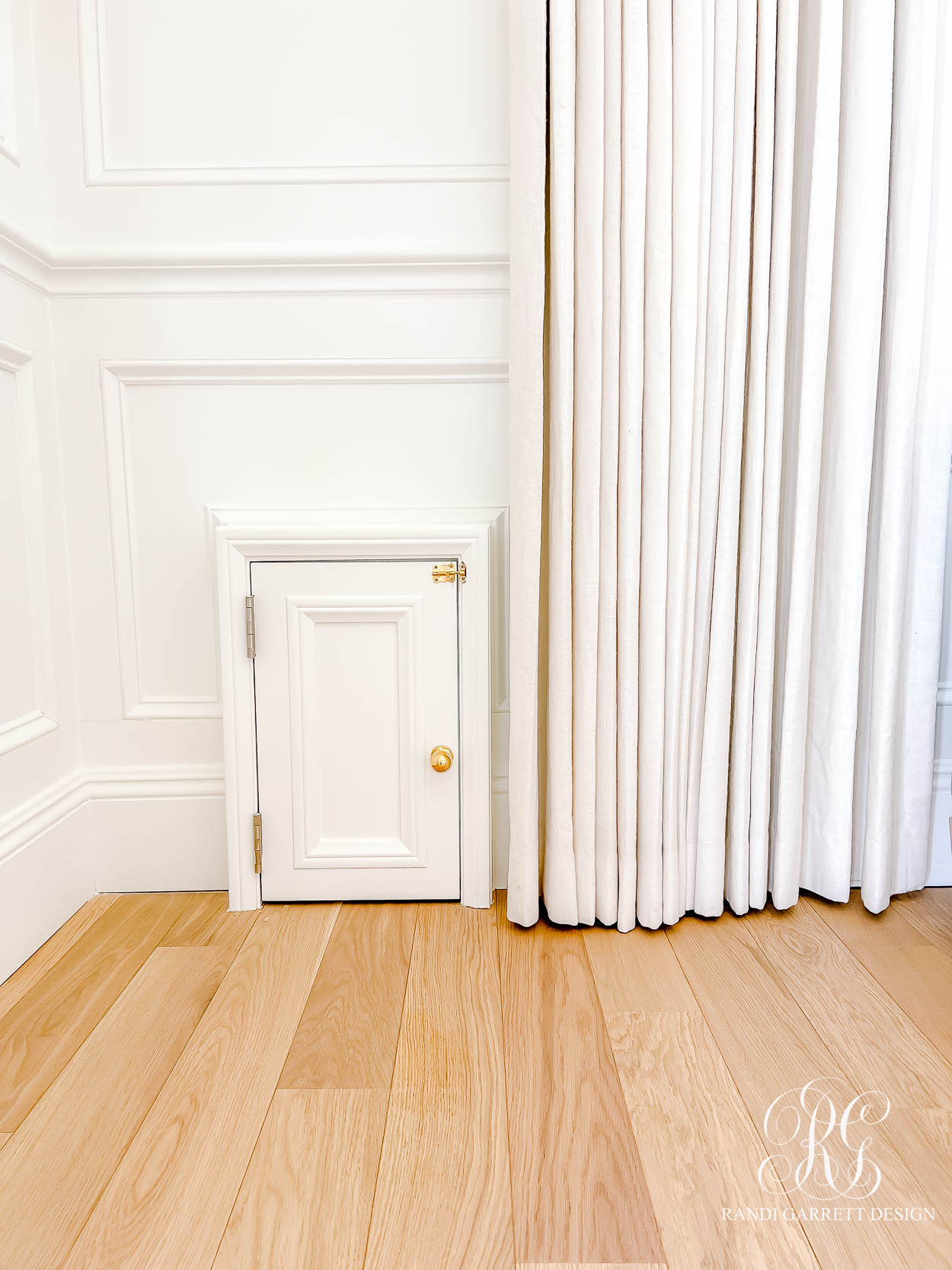 We had our trim carpenter install this mini door to look like our larger doors to cover the doggie door. When left open the pups can pop outside to a fenced dog run. We just have to convince them to use it!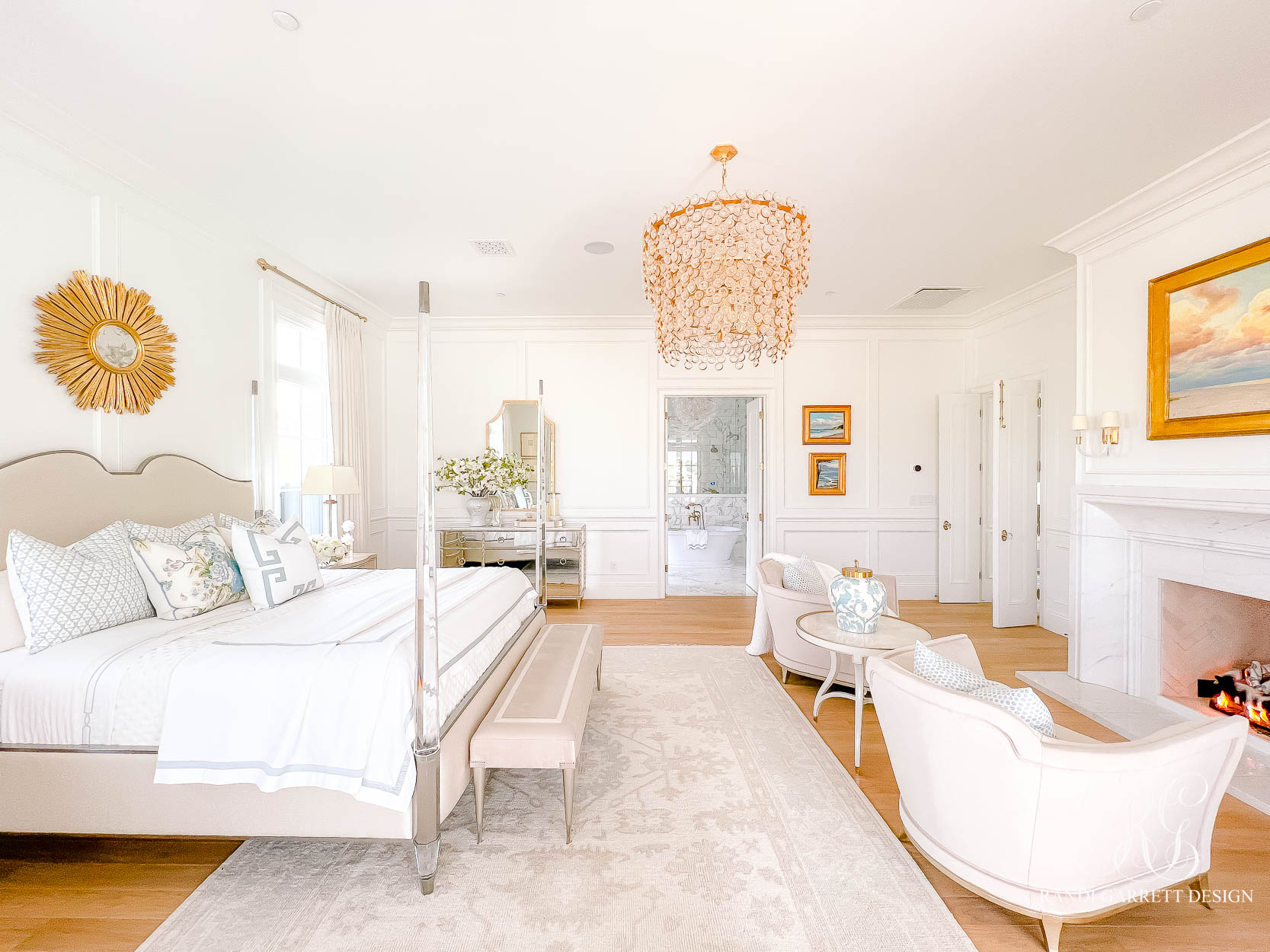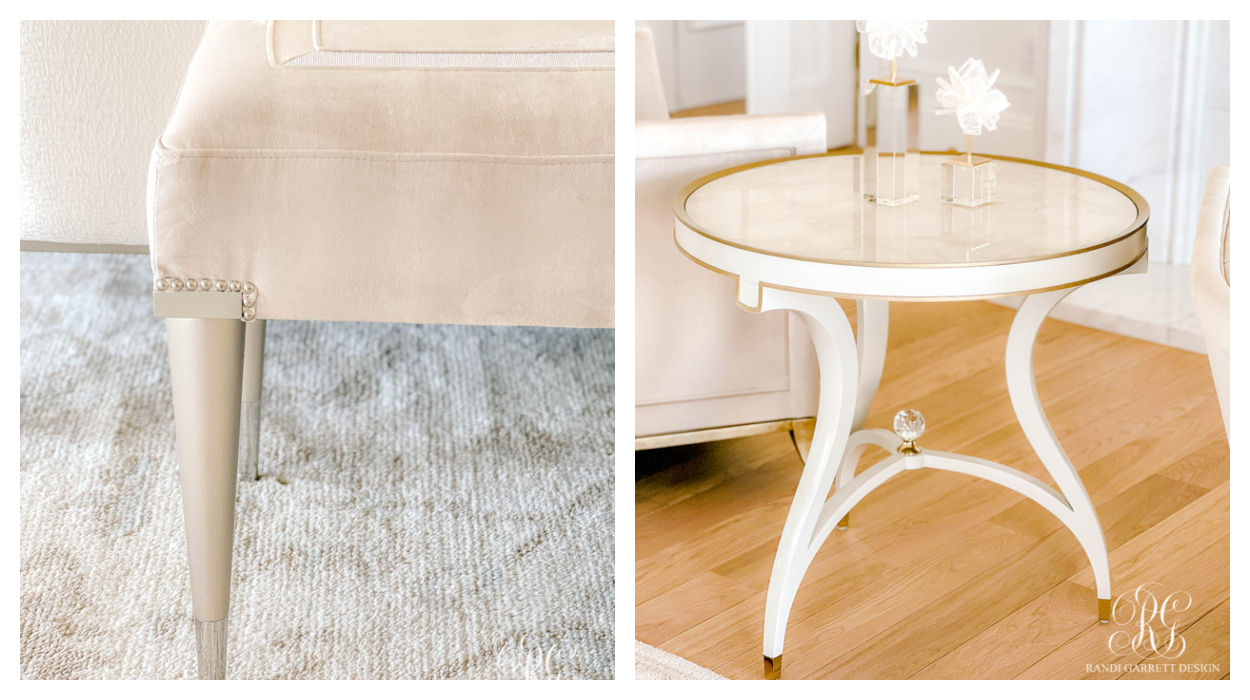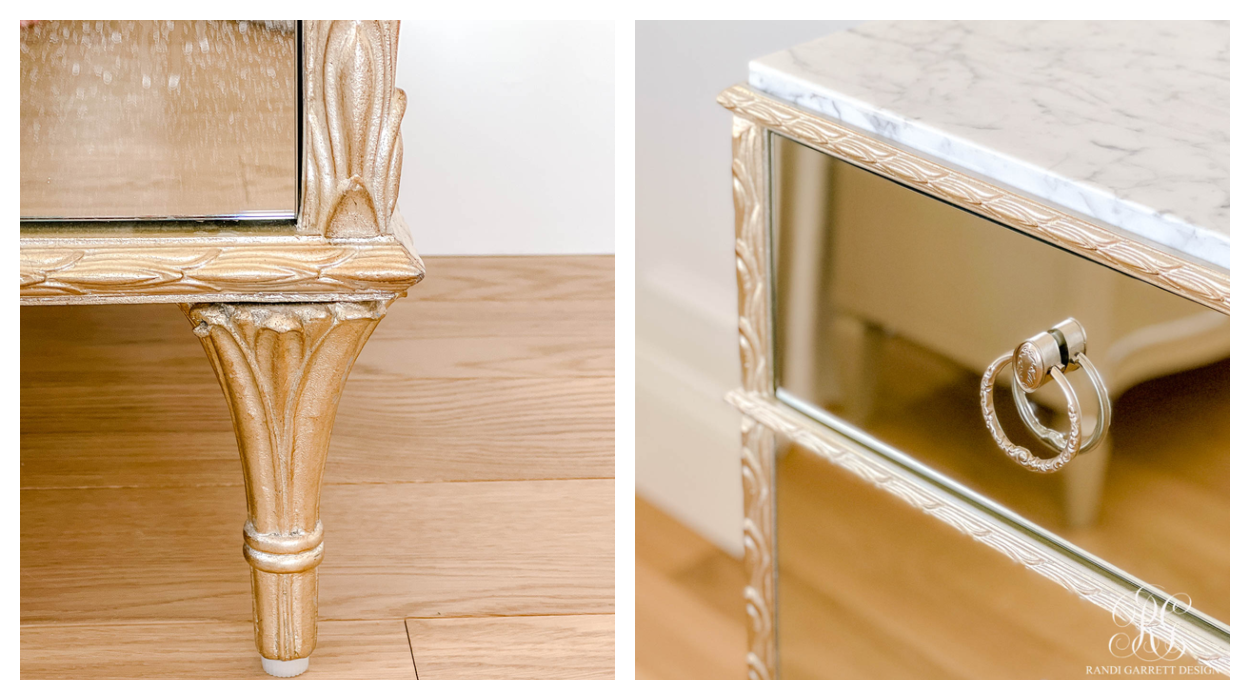 Bench | The Ladies Side Table | Fontainebleau Dresser | Bend the Rules Club Chairs
Look at the details on each of these Caracole pieces! The dresser features a marble top, mirrored drawers and gorgeous details on the legs and hardware. I love the fabric framed detail on the bench at the foot of the bed. If I had to pick a favorite piece, it would be The Ladies Side Table! Can you even handle the exquisite details on this table? The crystal ball is my favorite!!!!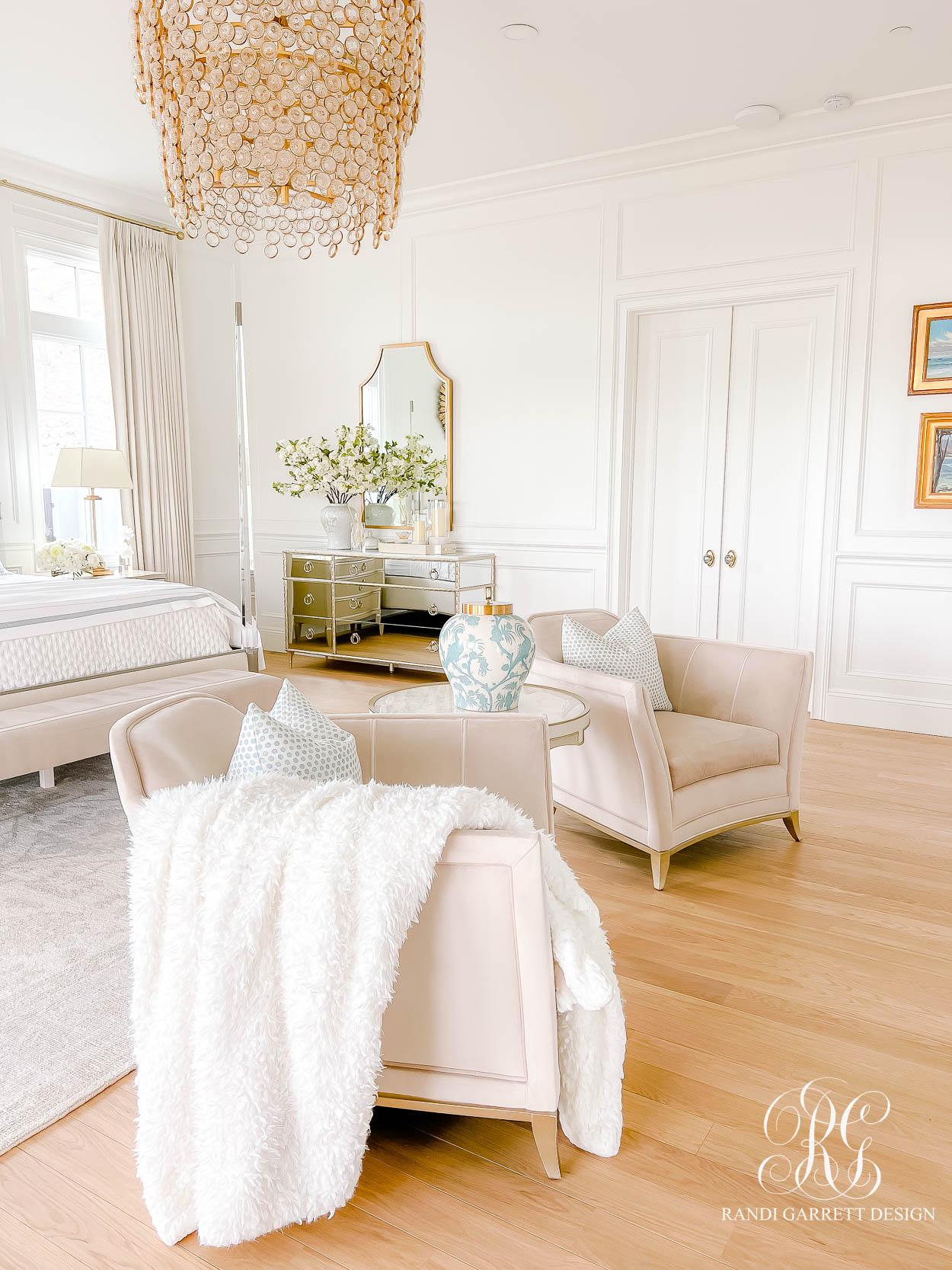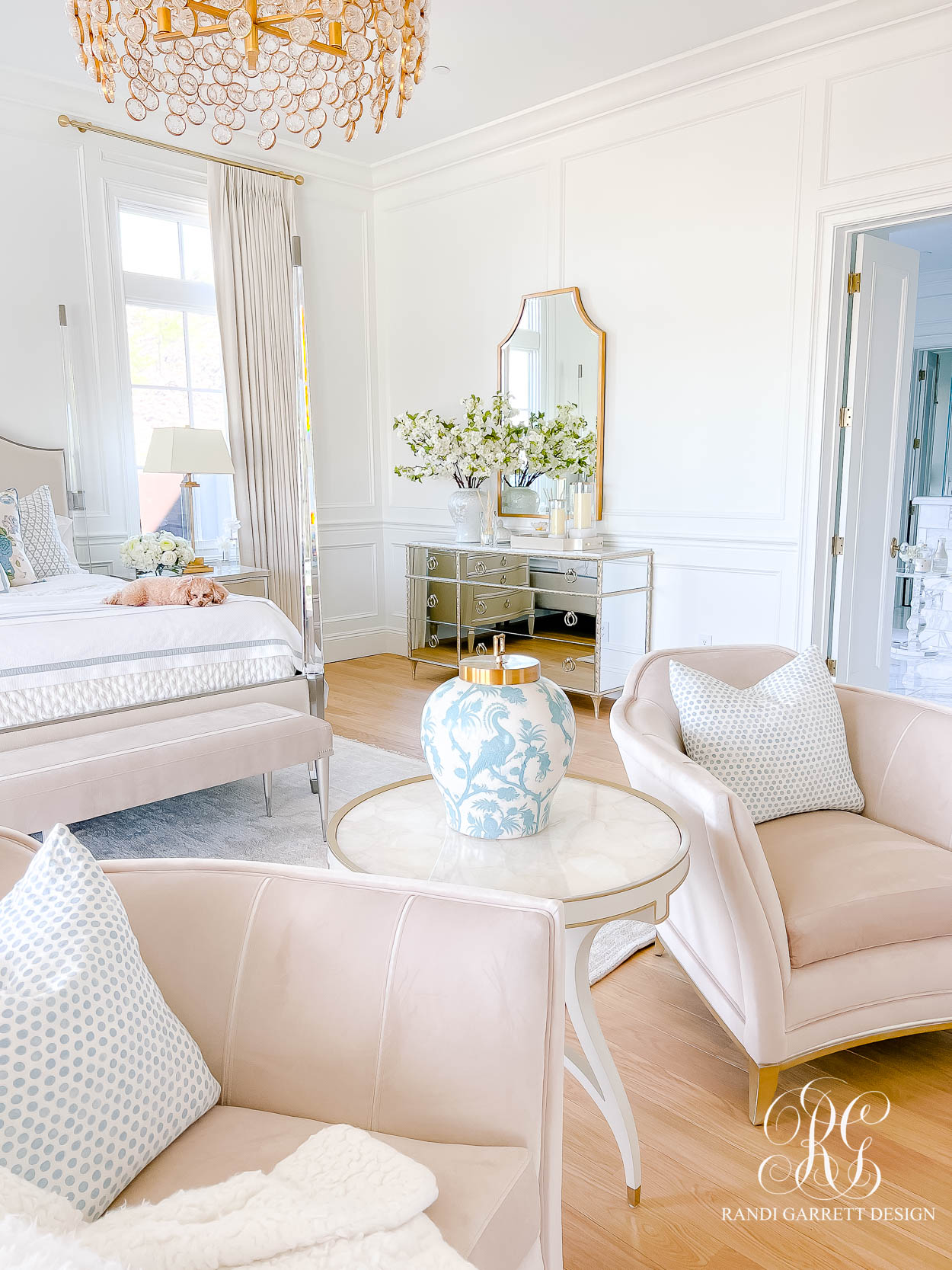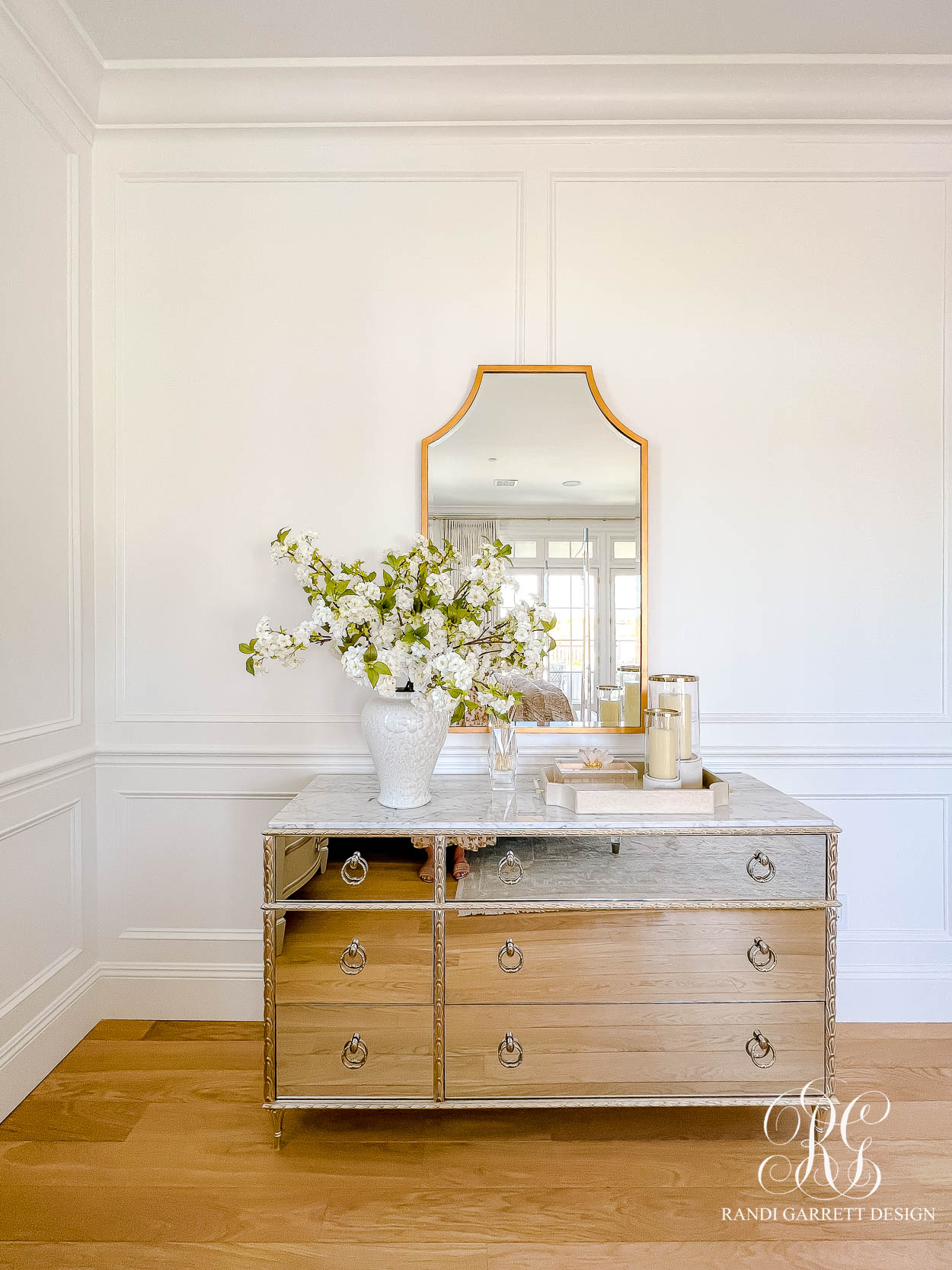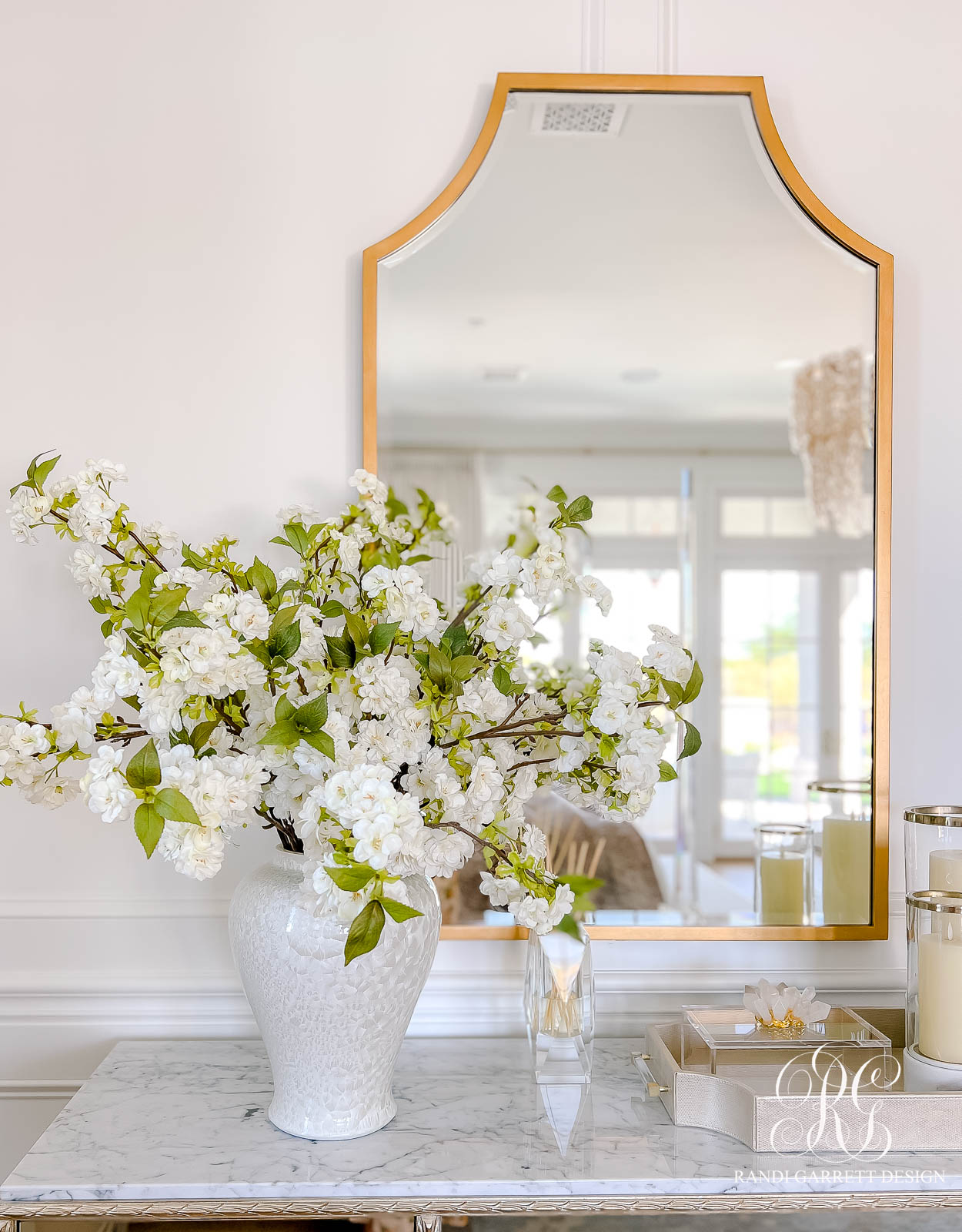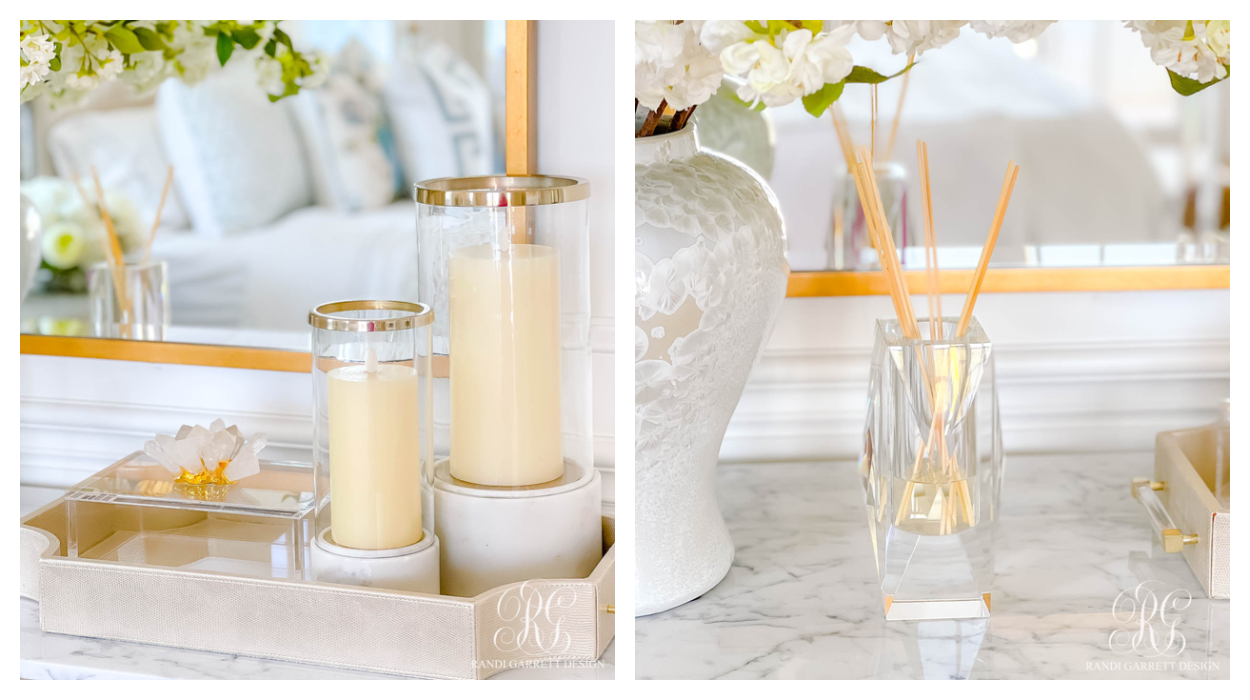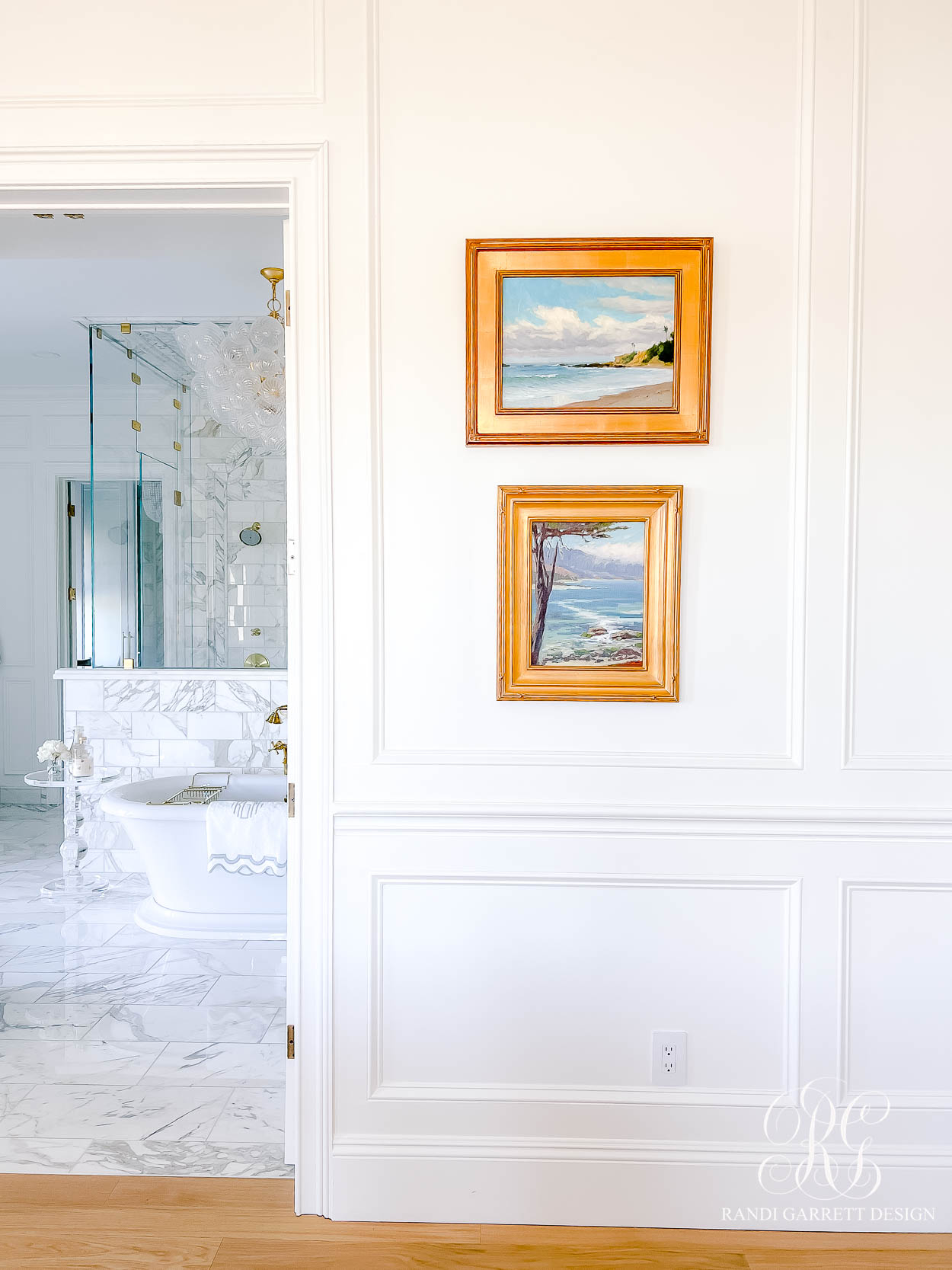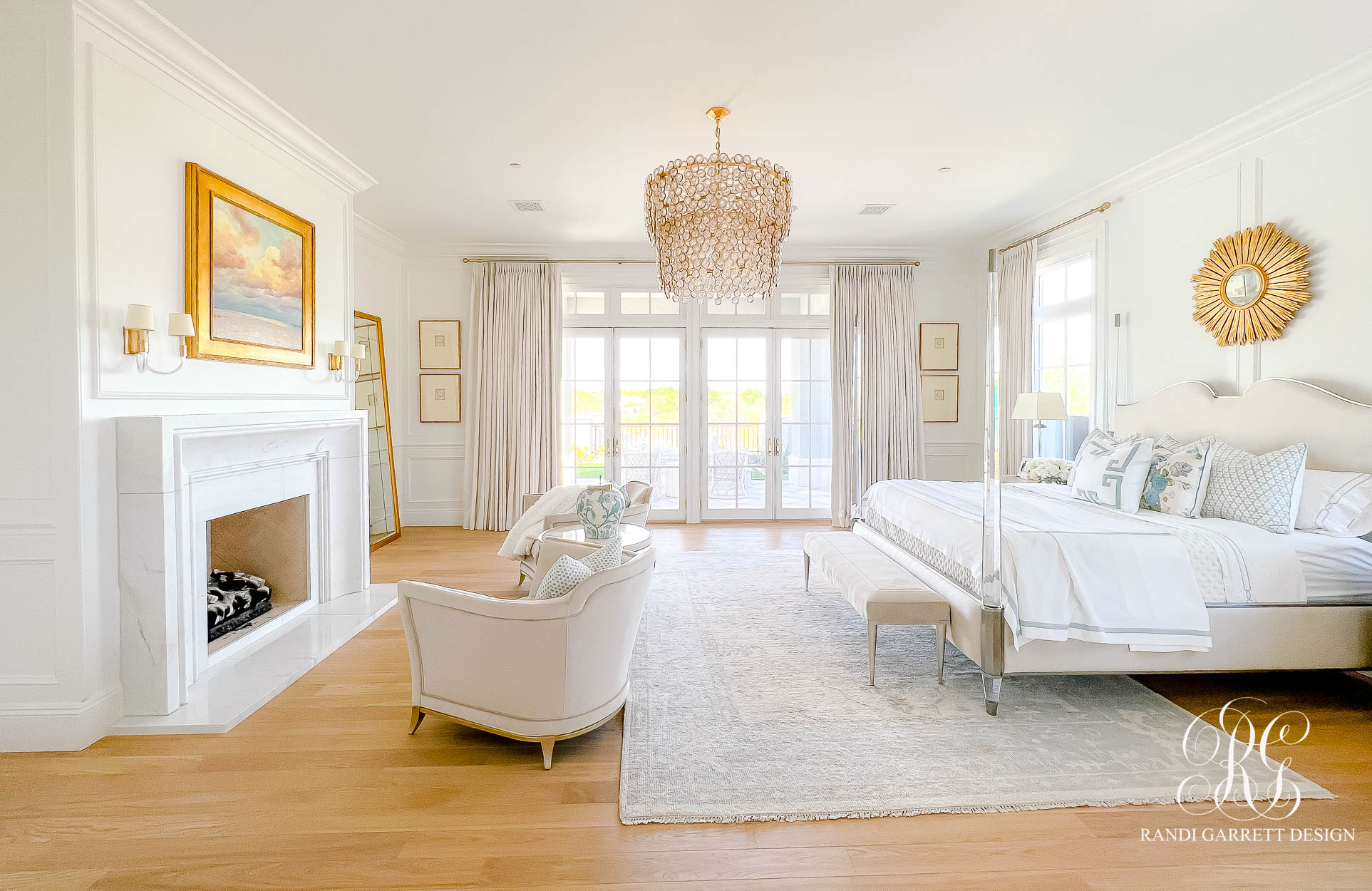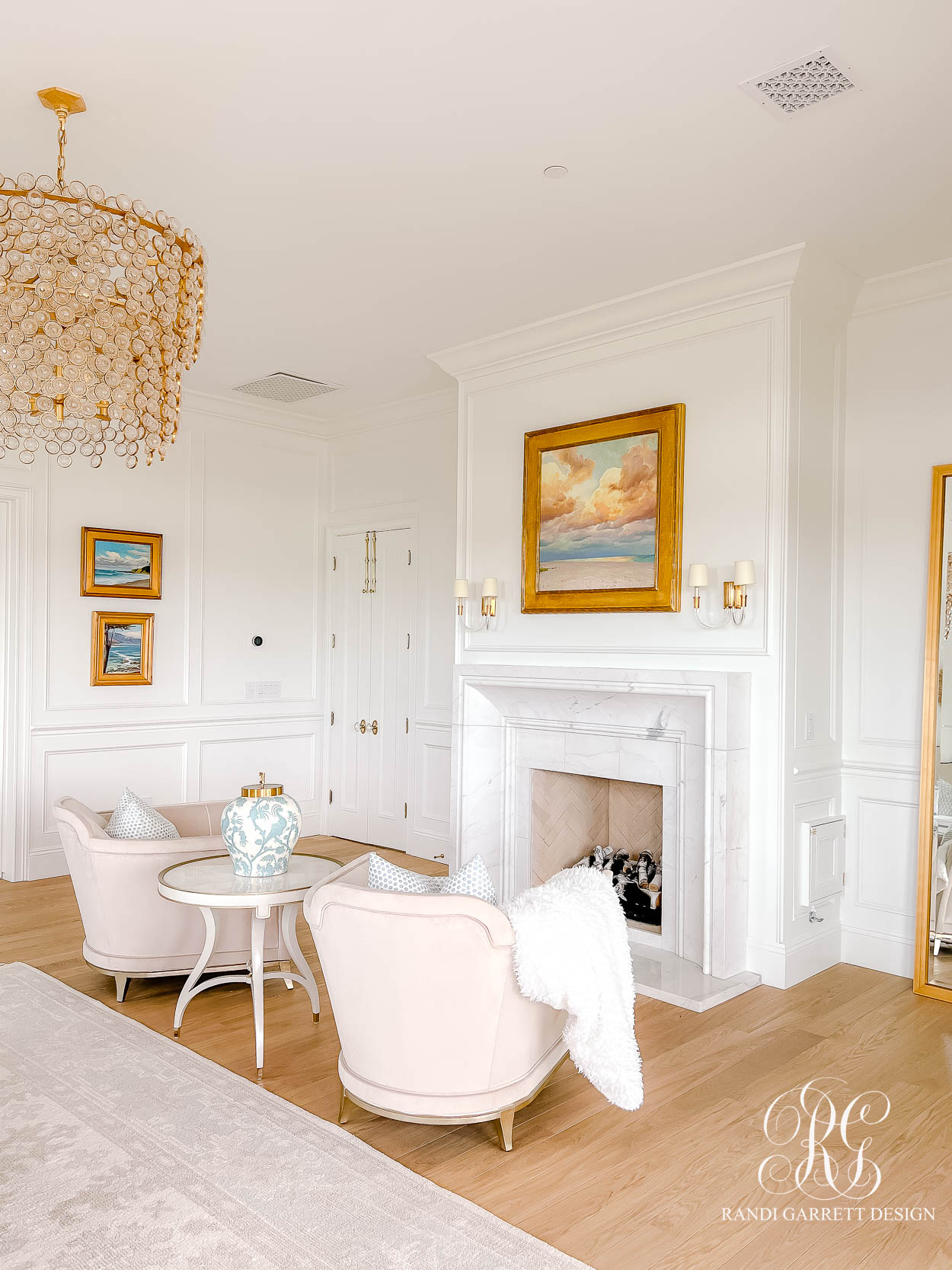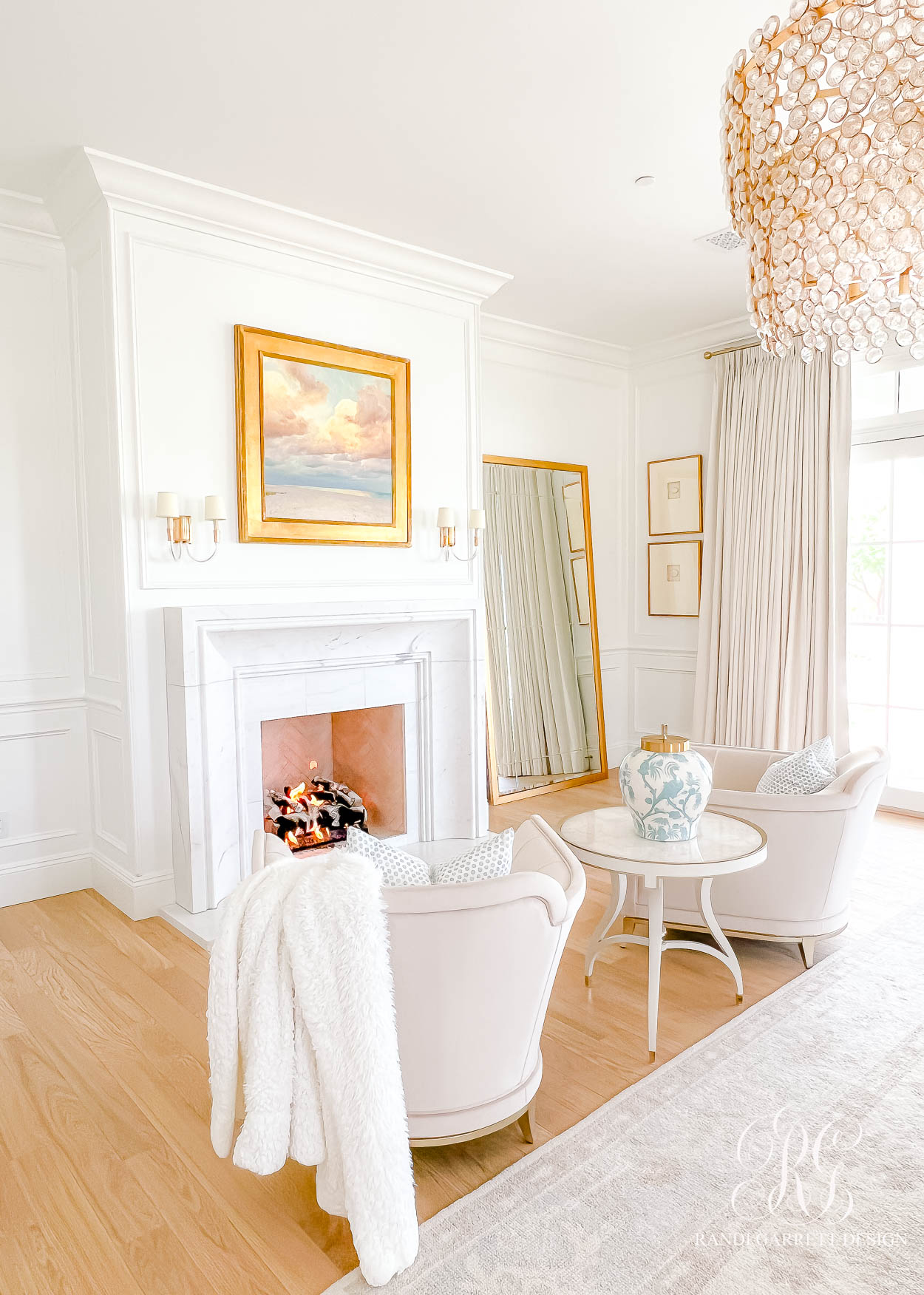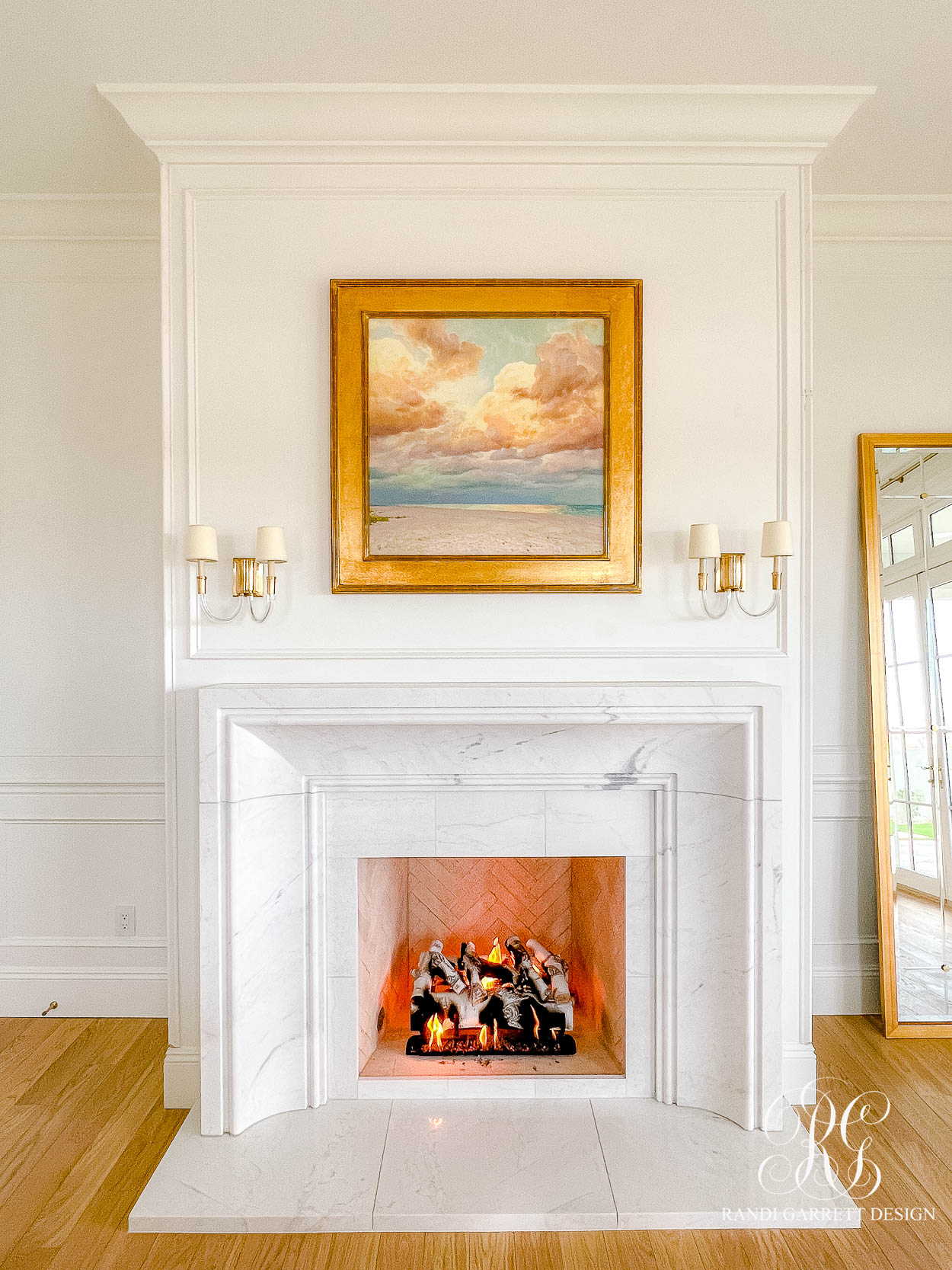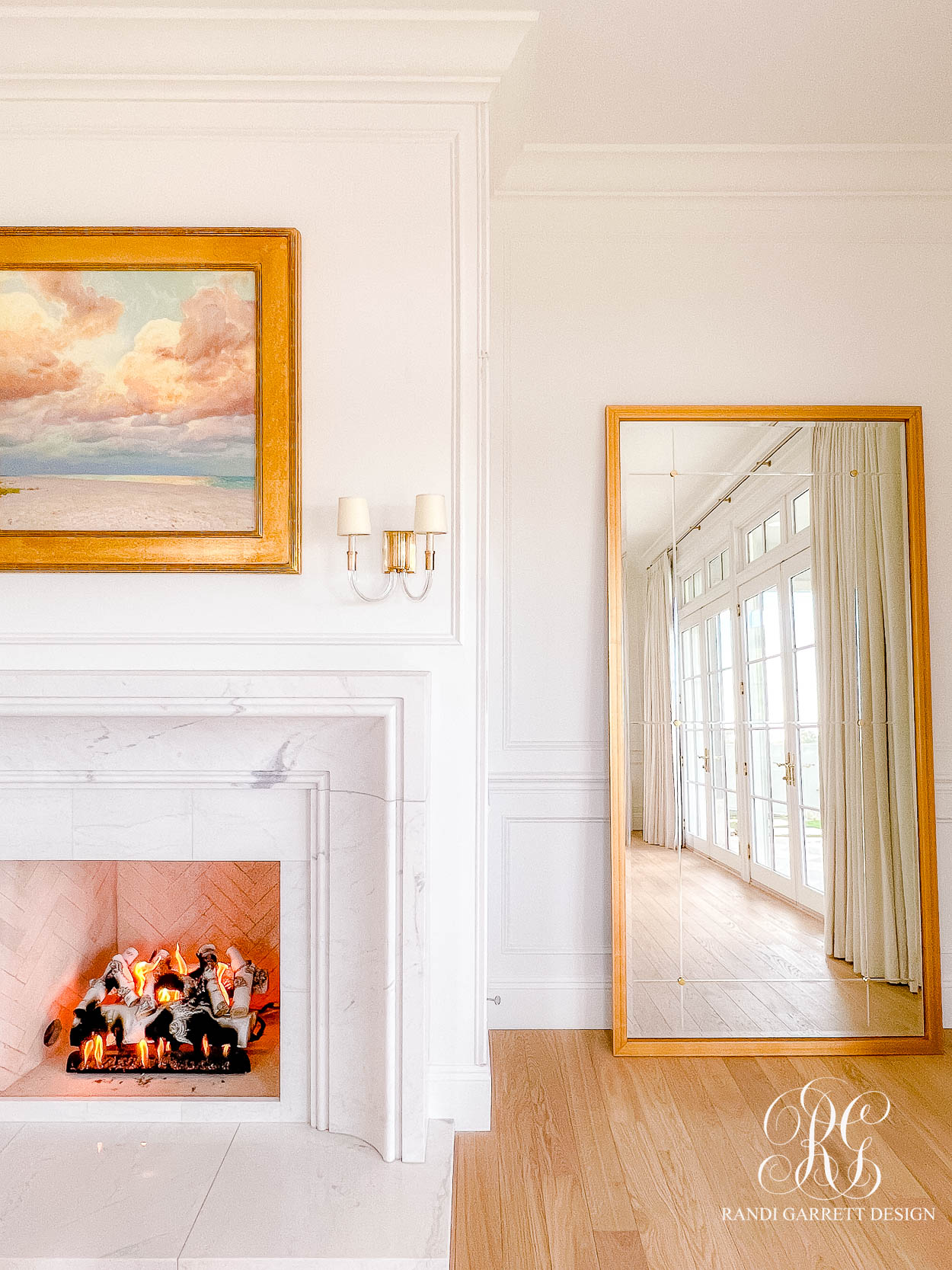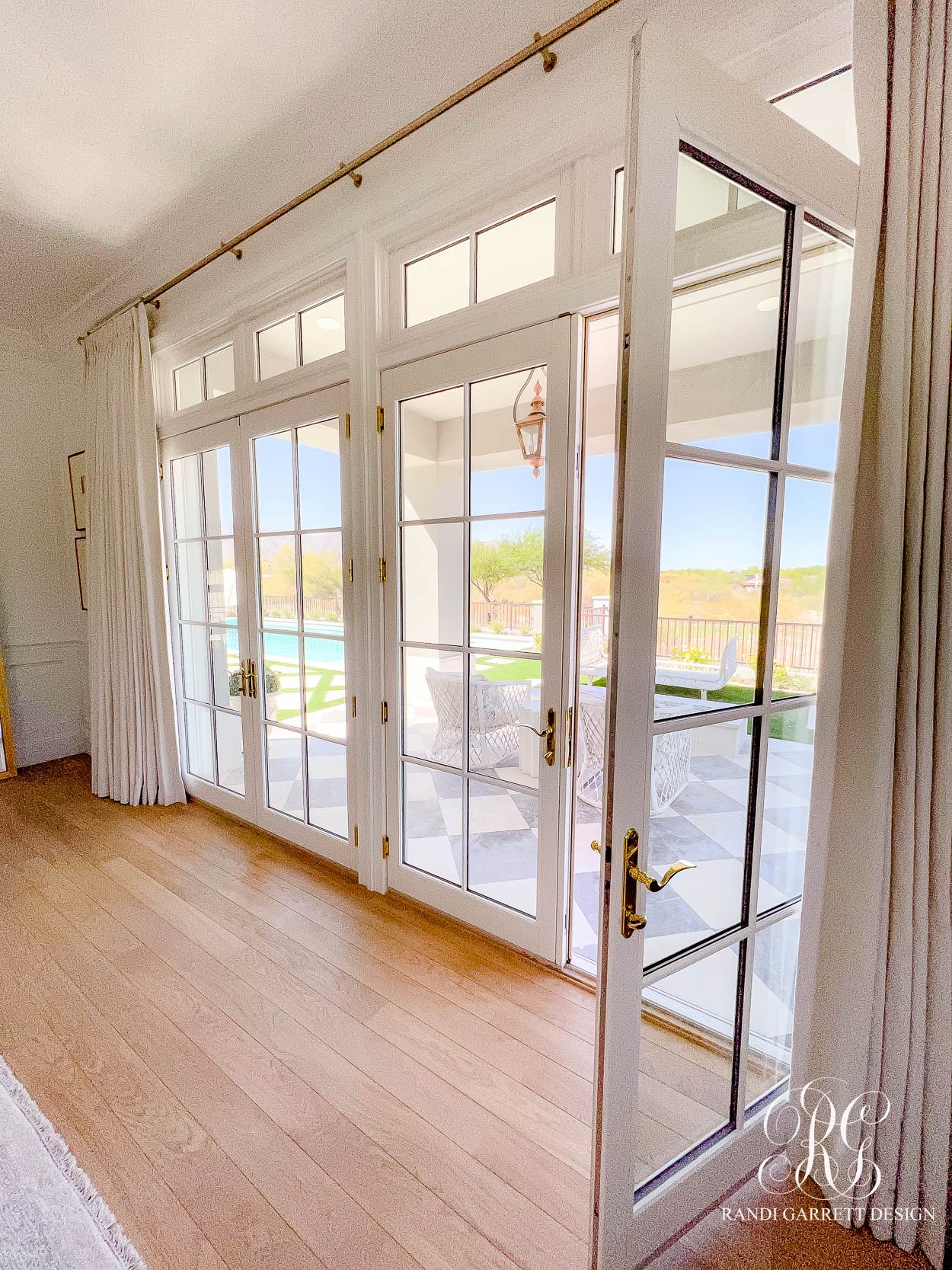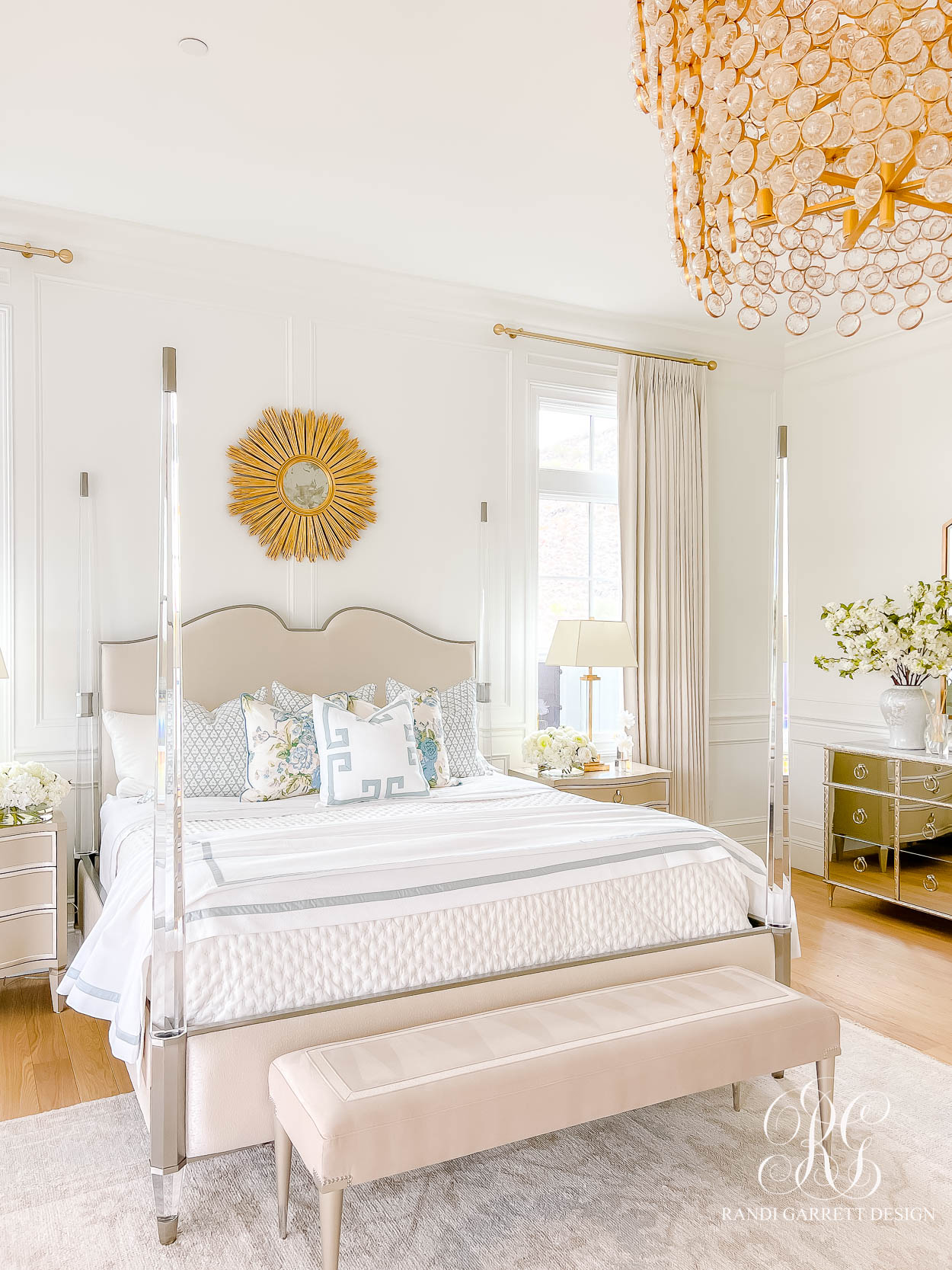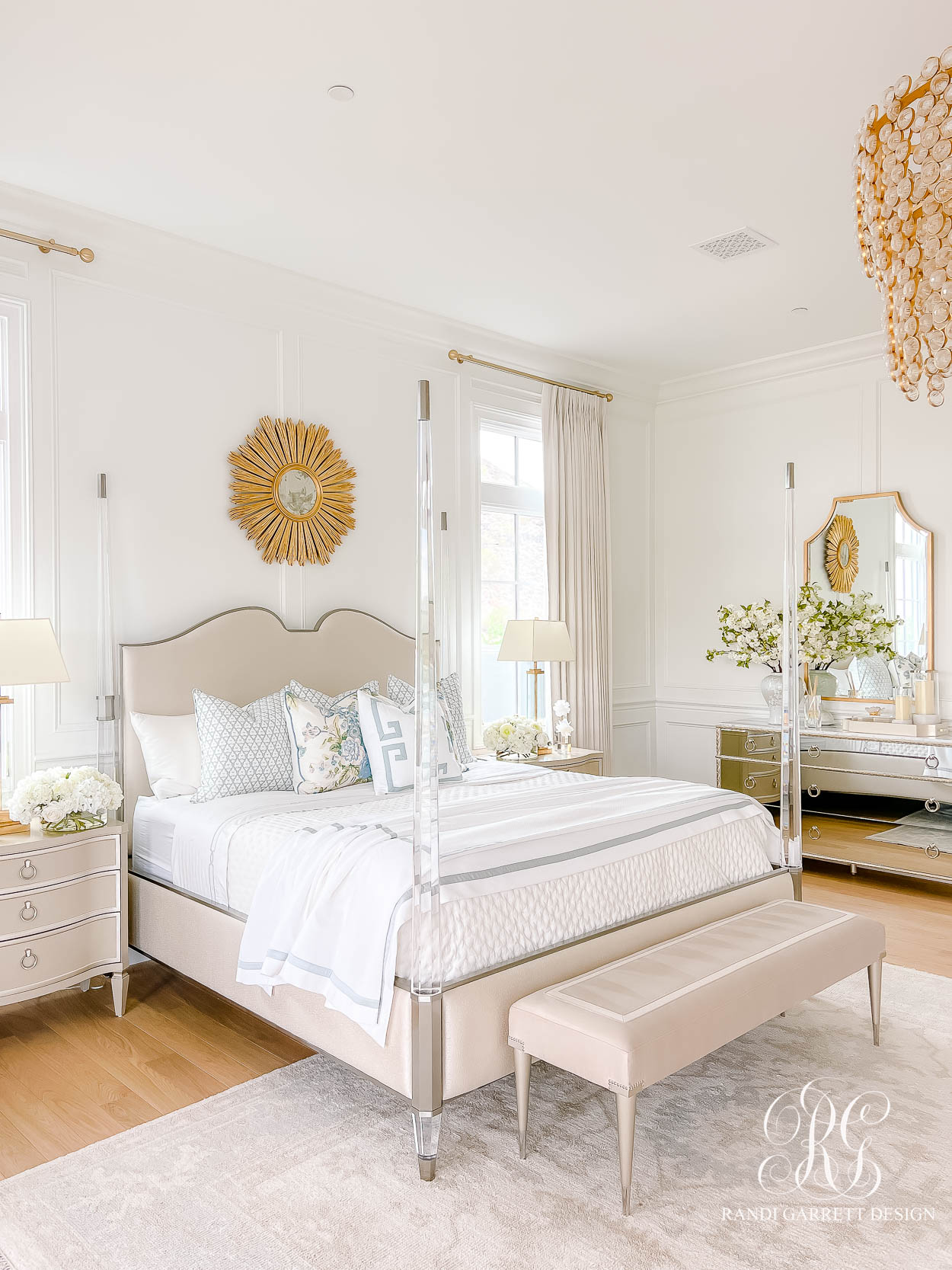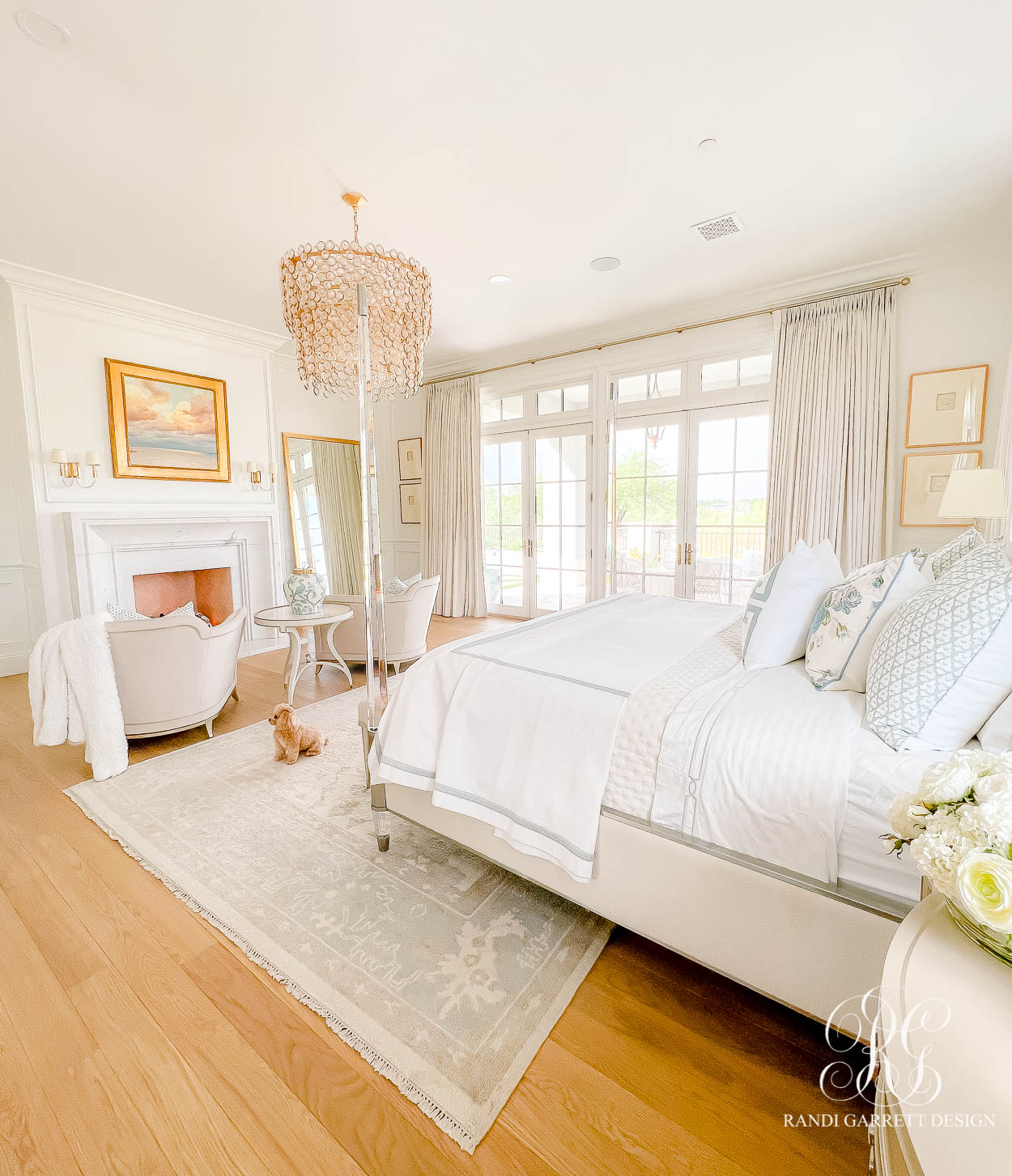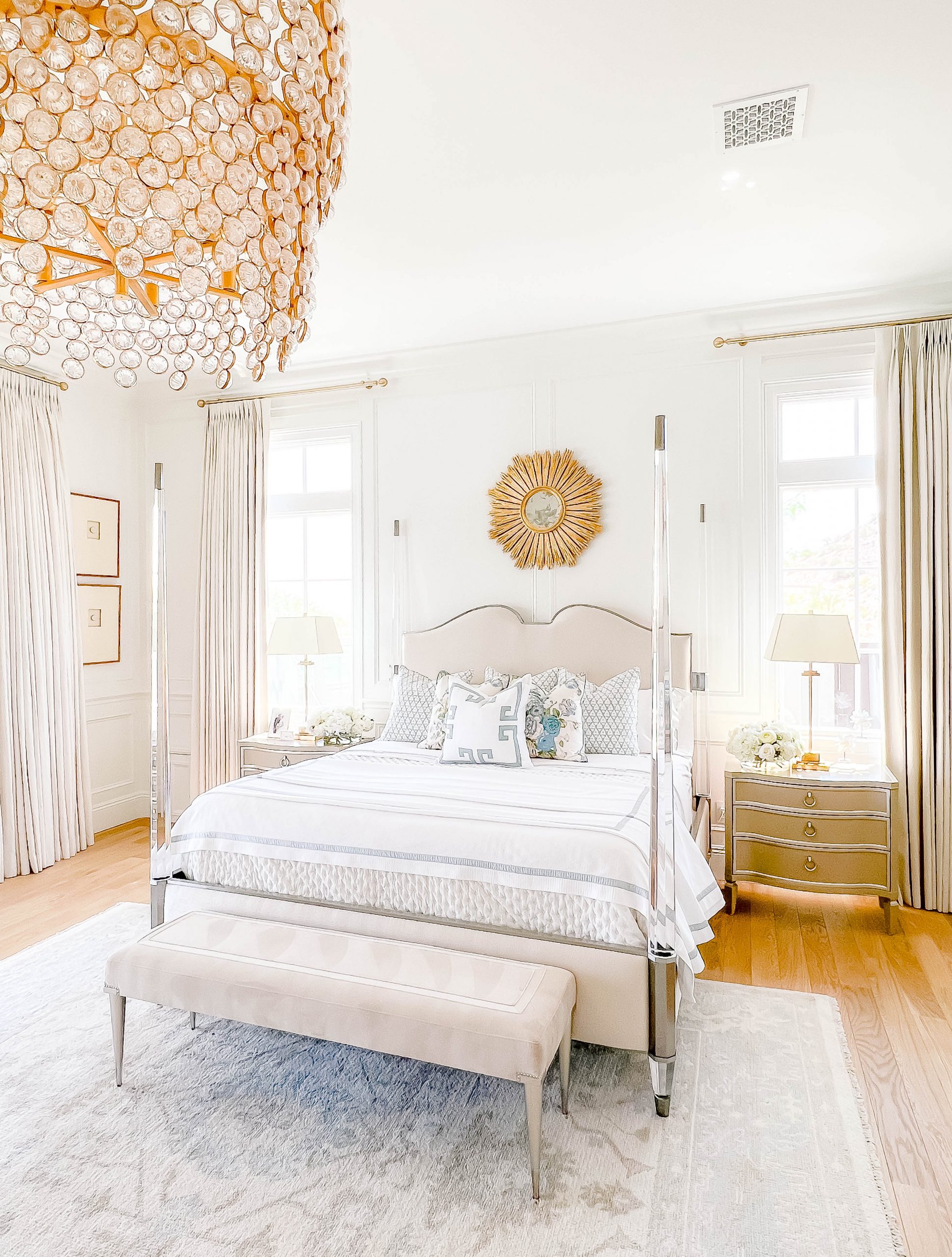 Below you will find a full detailed source list. A special thanks to Caracole for designing such stunning pieces that allow you to live in and love your home!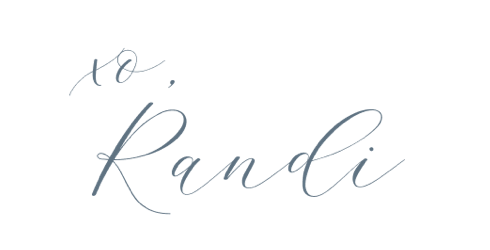 Furniture – all furniture c/o Caracole
Bed | Bench at foot of bed | Nightstands | Marble Topped Mirrored Dresser | Club Chairs | Stone Top Round Table
Lighting
Bedside Table Lamps | Chandelier | Fireplace Wall Sconces

Bedding + Linens
Embroidered Sheets | 3 Block Print Throw Pillows (22″) | 2 Floral Throw Pillows (22″) | 1 Fretwork Throw Pillow |Ivory Velvet Quilt | Coverlet in Spa | Polka Dot Throw Pillow 22″)


Accessories
Drapery + Curtain Rods – The Shade Store – White Linen with blackout lining – I love this similar option here and had them in our previous home
Rug – One of a kind, similar here
White Faux Cherry Blossoms (I have 12 stems)
Marble Hurricanes (similar)
Crystal Room Diffuser (scent Prosecco)
Selenite on Stand (small |large)
Paintings all originals from galleries in Laguna Beach, CA and Emi and Co





Hardware
Oval Doorknob with Brass Oval Rosette – c/o Emtek
Surface Bolts on Doors – c/o – Emtek

Flooring
Havwood in Amlagama finish
Paint Colors
Walls and Trim – Benjamin Moore's Chantilly Lace Semi Gloss Sheen
Ceiling – Benjamin Moore's Chantilly Lace Flat Sheen