This is a sponsored post written by me on behalf of Floor & Decor. All opinions are 100% mine.
So, you love the look of marble for your bathroom shower, but you are worried about the upkeep and budget. Well, you can use ceramic tile to create a beautiful shower with character! Ceramic tile is a fabulous option to keep your budget in check! With a little creativity, you can create the shower of your dreams using ceramic tile!
I LOVE marble, but it is way more expensive and does require some maintenance. My recommendation would be to use marble in your main bathroom and sparingly, as a special pop, in secondary bathrooms.
Today, I want to share our secondary bathrooms that feature ceramic tile showers with character. Using ceramic tile, with a touch of marble saved us thousands of dollars without sacrificing the look we wanted to achieve! We were able to find all of our ceramic and marble tile at Floor and Decor!
You have heard me talk about how much I love Floor and Decor's showrooms and the vast selection they have at amazing prices! They are really the best resource for everything you need to create your dream space. They also providefree design services if you need a little help pulling your space together.
When we were selecting all of the tile for The Wren, it was SO overwhelming! Floor and Decor made it easier for me to visualize each space for a few reasons. Their showrooms feature every tile sample with grout in the tile. Adding grout makes such a huge difference. Being able to see what it will look like once the tile is laid made it so much easier to visualize the space! They also have amazing shopping carts that allow you to spread out your selections to "see" them all together. This was a huge help to me when trying to design so many spaces! Finding everything as one store kept me sane and made delivery, pick up and installation a breeze.
Here is a look at each of our bathrooms featuring ceramic tile showers. I will be sharing the full room reveals once the spaces are complete. I hope these shower peeks inspires you to design the shower of your dreams!
Ellie's Shower
Here are the mood boards I used for Ellie's bathroom. We wanted her bathroom to have lots of personality and detail, on a budget! So we used Bright White Ice Ceramic Subway Tile in her shower along with some Maoilica ceramic pencil trim to create a wainscoting detail. We used Dolomite Skyfall Clipped Diamond Marble Mosaic on her bathroom floor to add a richness to the room. Get the rest of herroom sources here.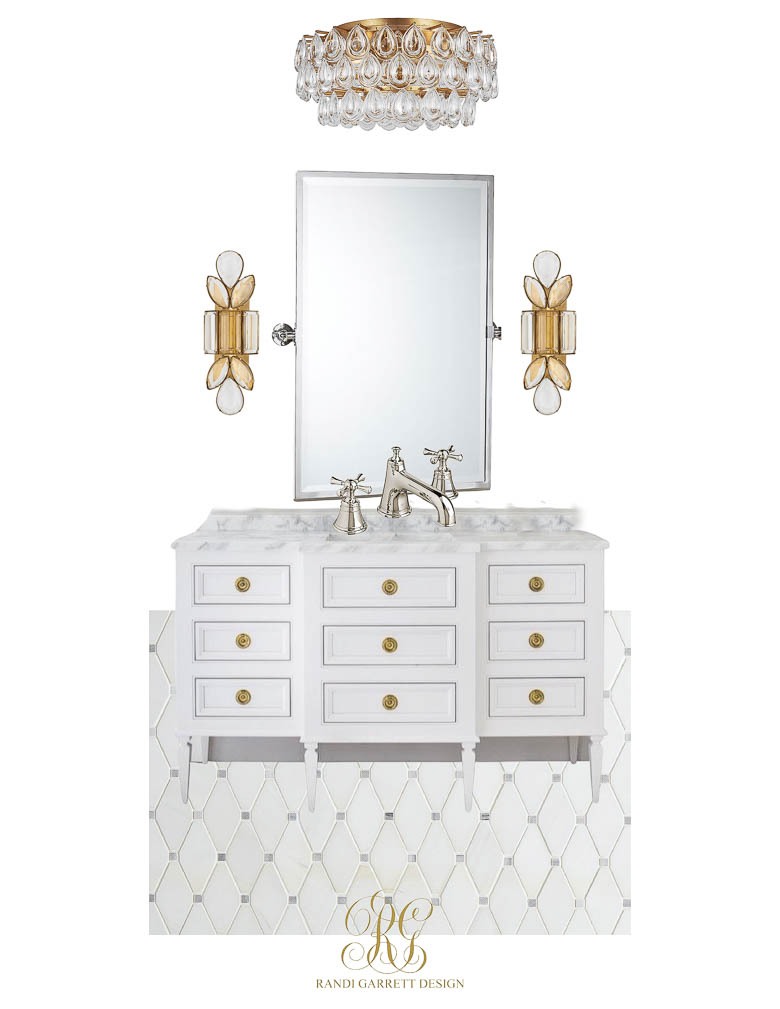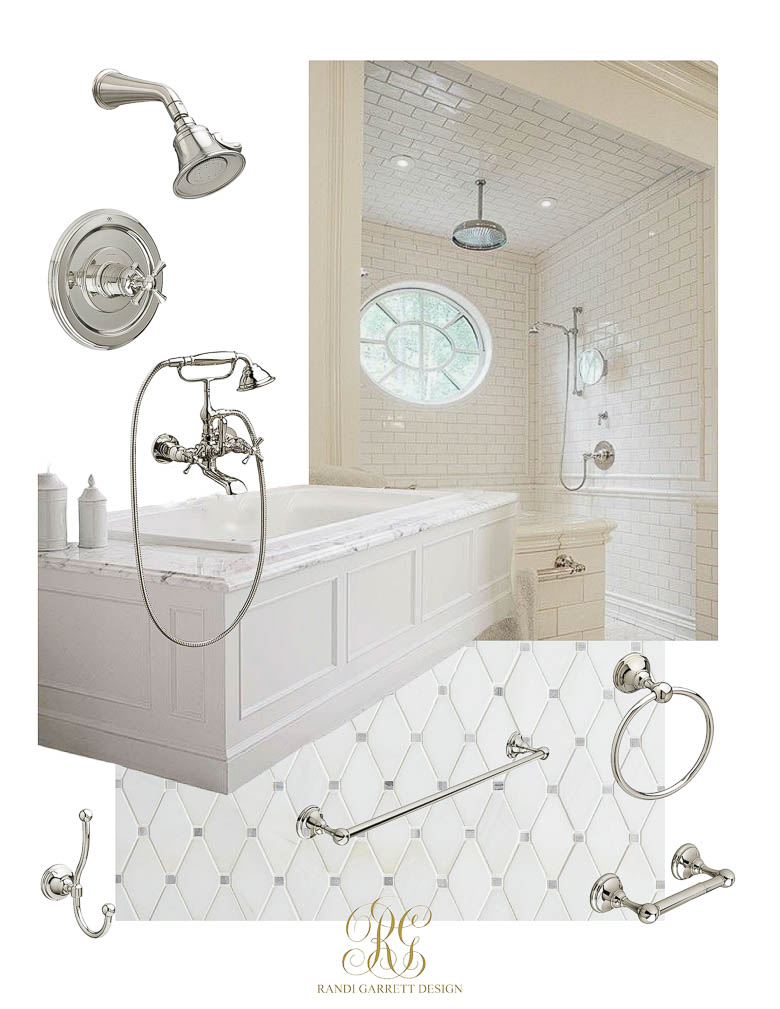 Guest Casita Shower
We also used this same Bright White Ice Ceramic Subway Tile and this gorgeous Bright White Ice Ceramic Baseboard and Bright White Ice Chair Rail in our guest casita bathroom. Thassos 2 inch Polished Marble Hexagon tile on the shower and bathroom floors add that special pop to the room.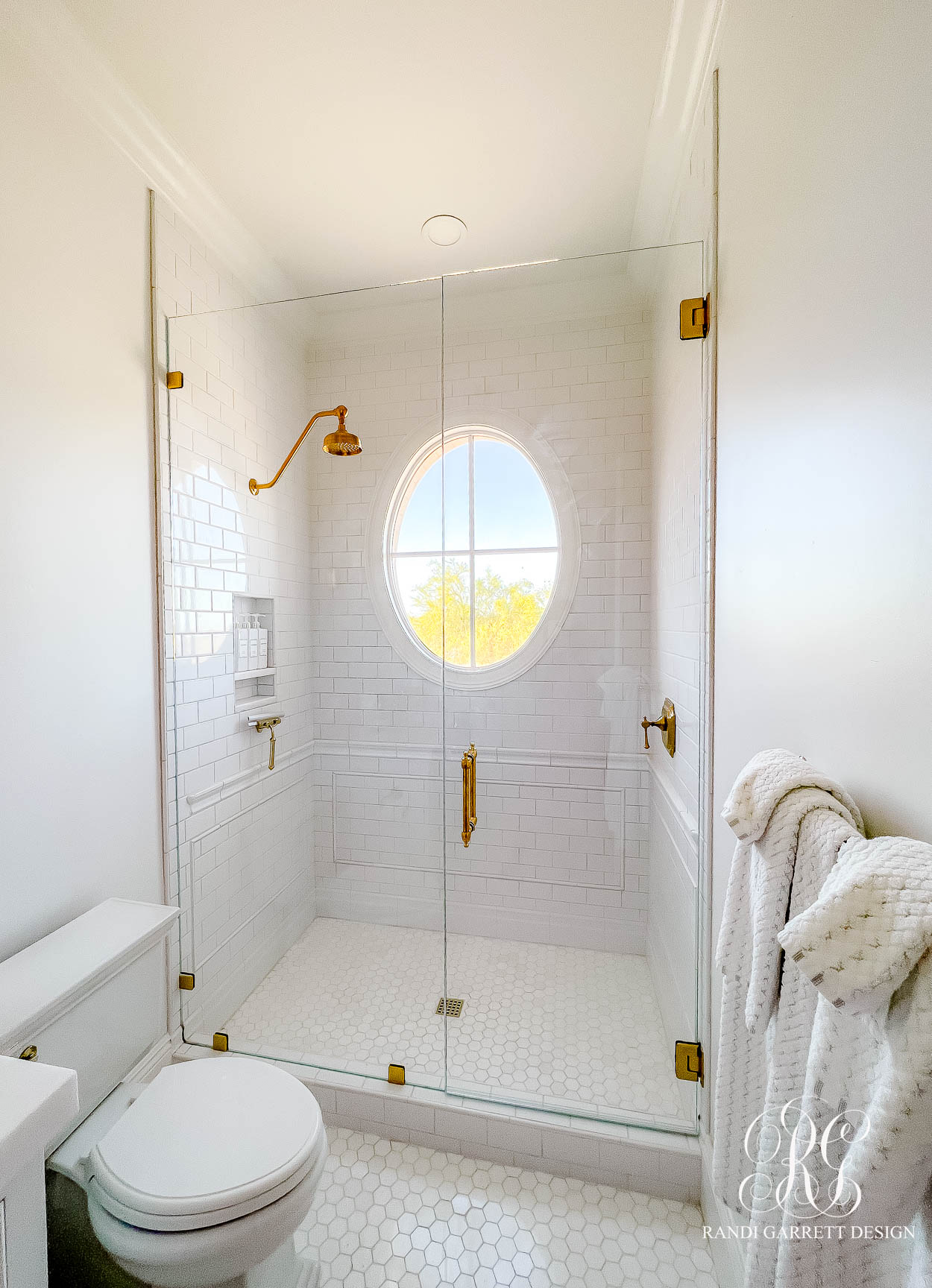 Cole and Jack's Shower
Cole and Jack's bathroom is so much fun! Here is a look back at their mood boards.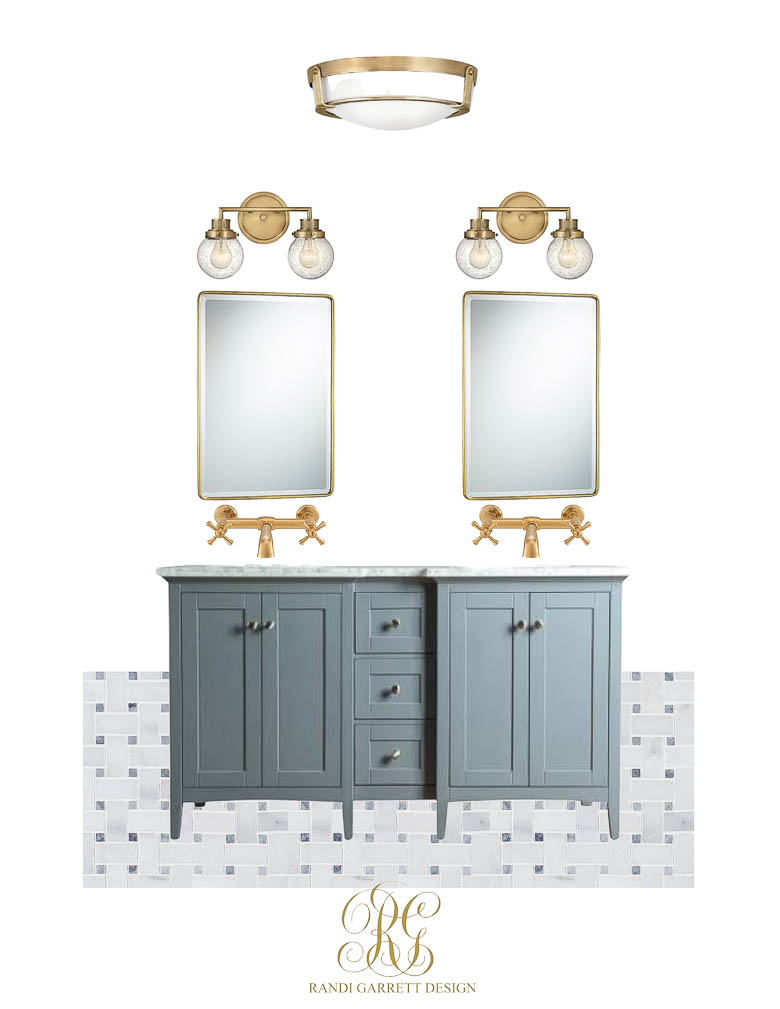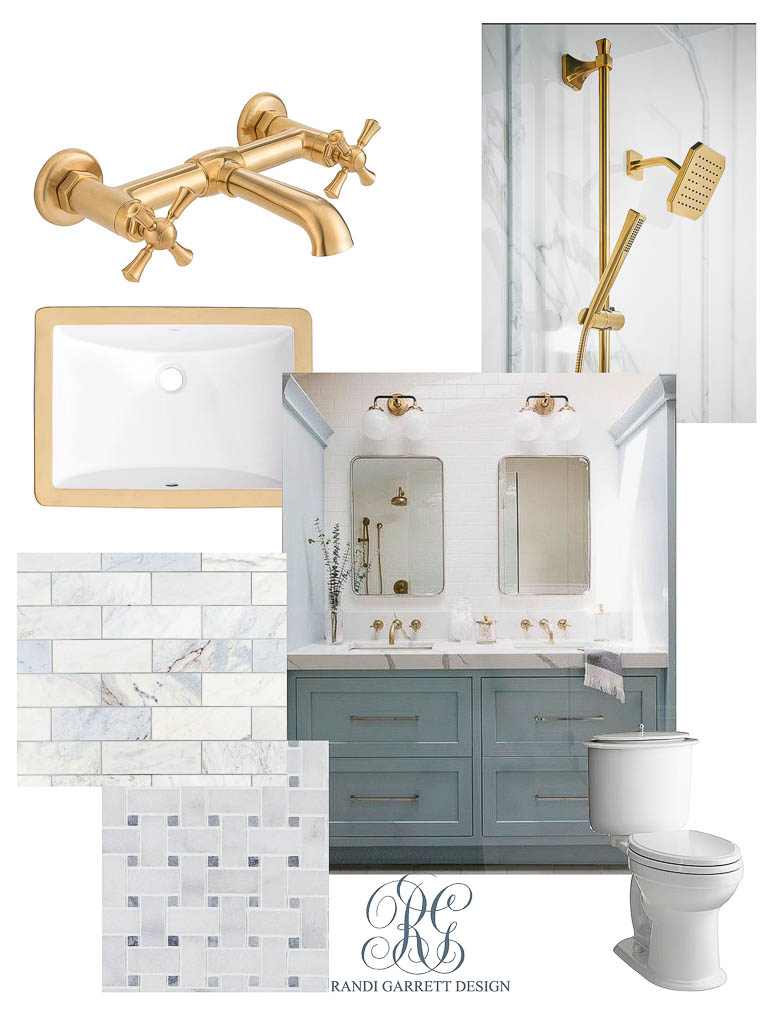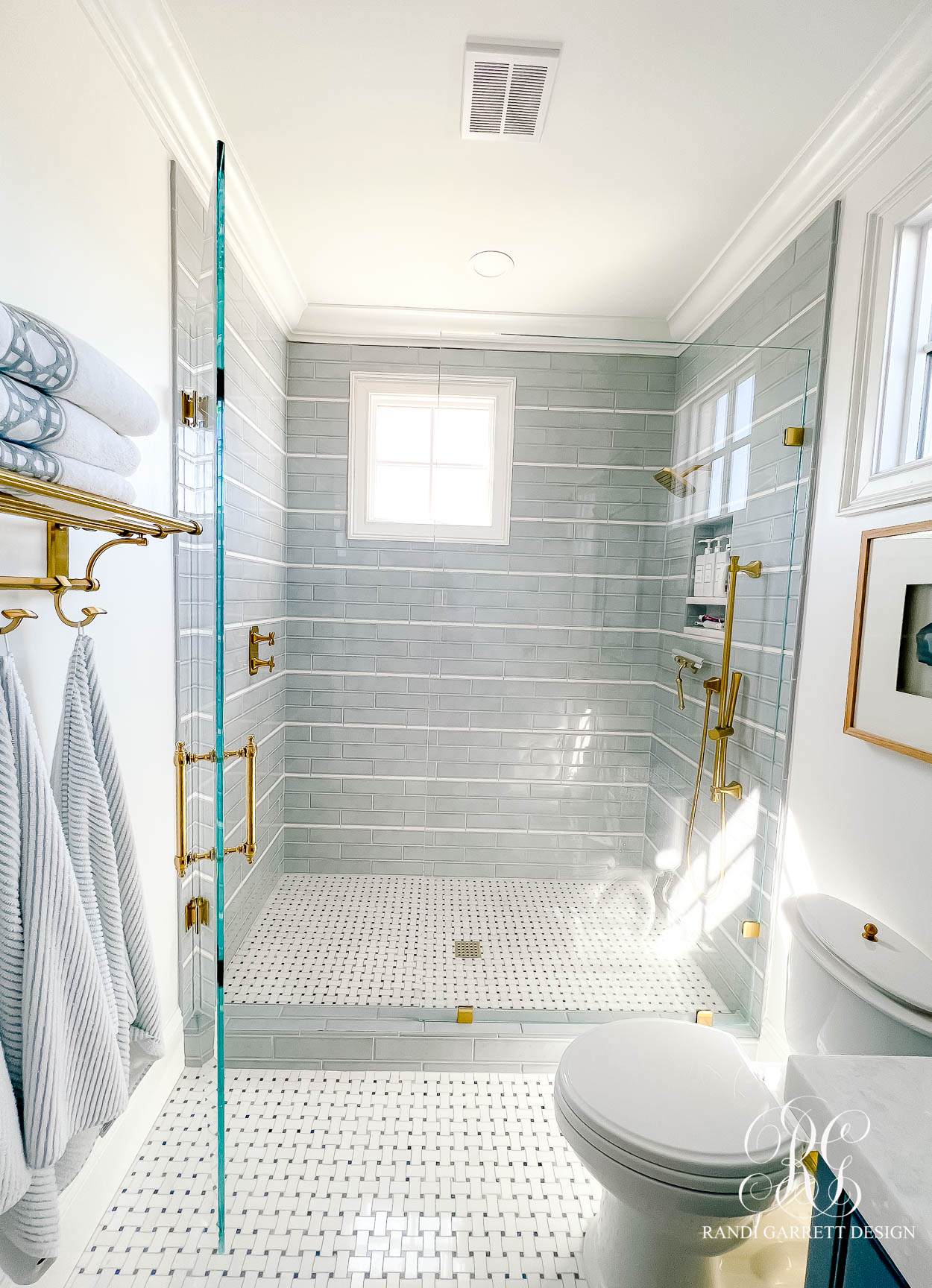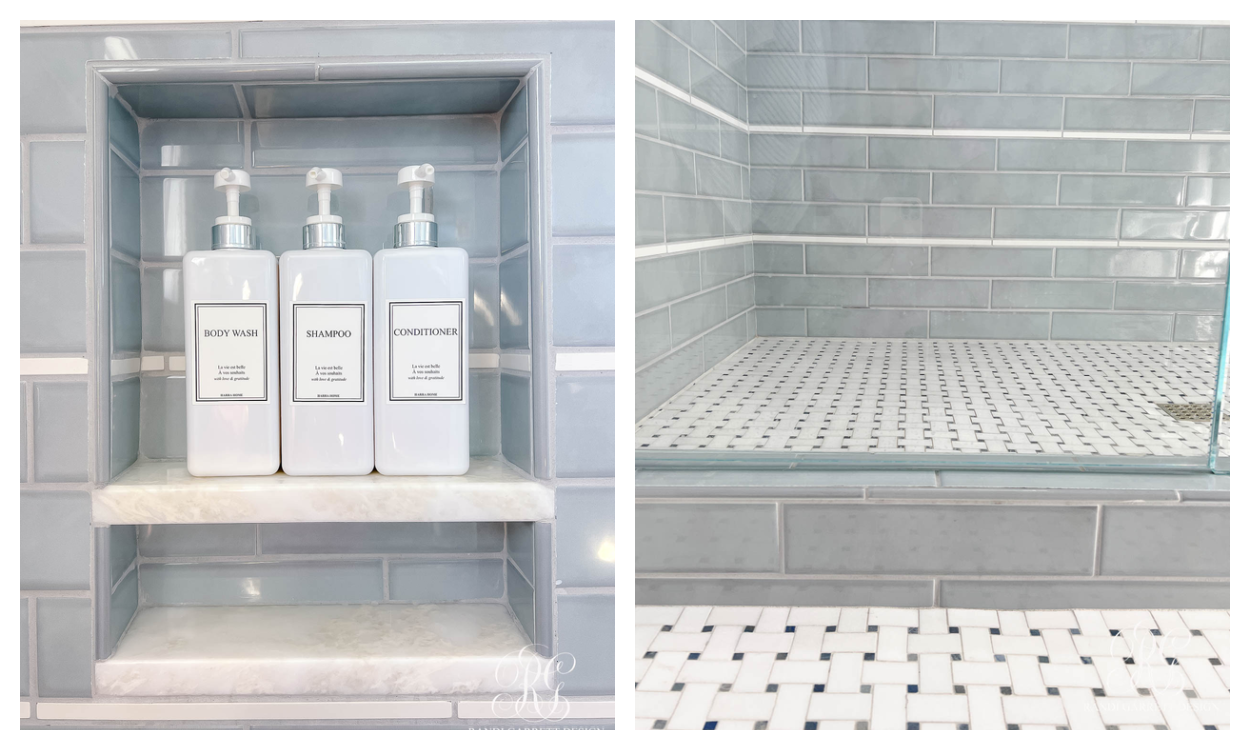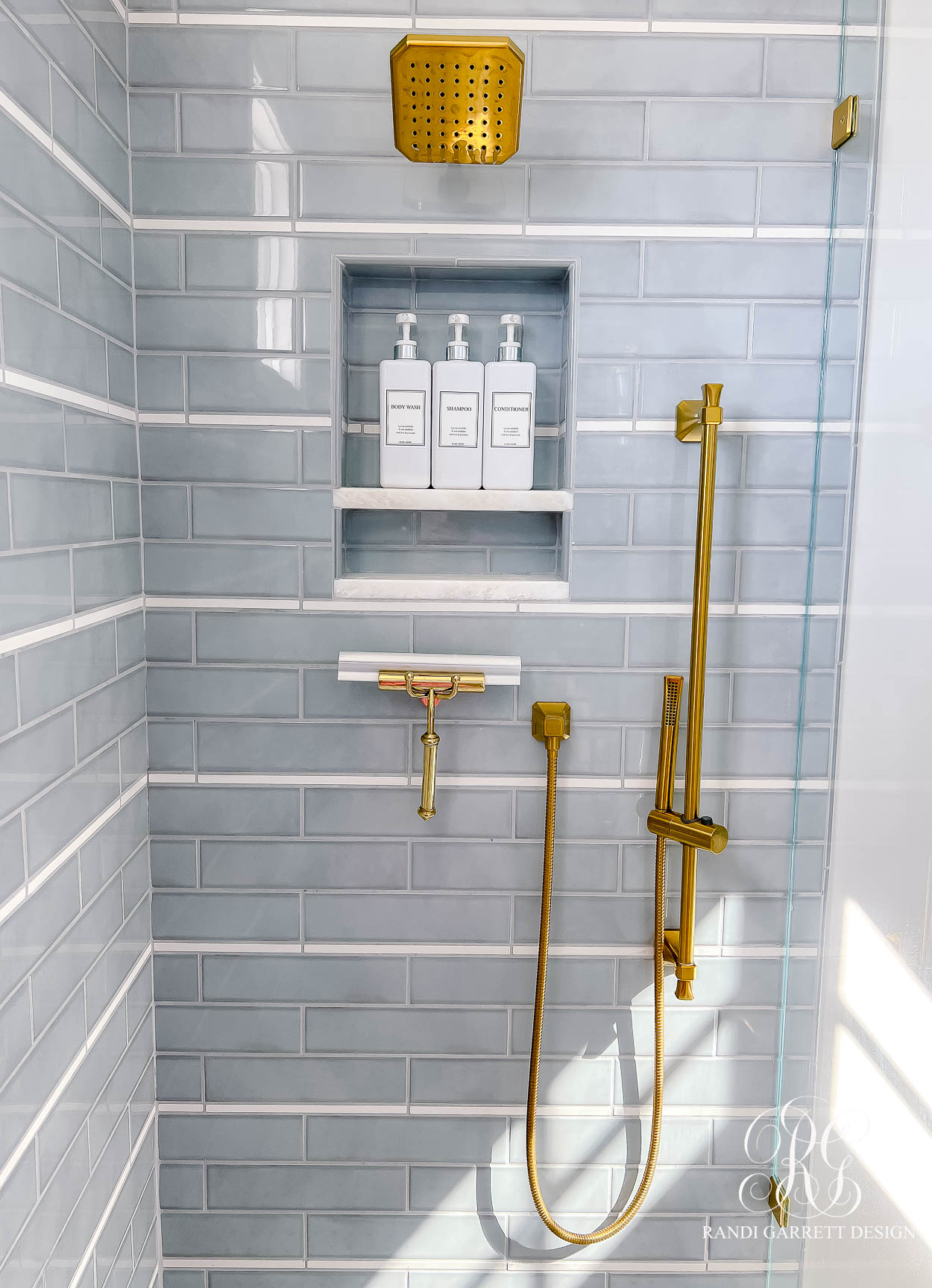 For their shower, we used Canvas La Belle Air Polished Ceramic Tiles and White Boarder Bright White Liner pieces to create a fun striped pattern on the shower walls. La Belle Air Polished Ceramic Liners were used on the shower wall edges to finish the tile. The marble basket weave floors are stunning and tie the blue into the rest of the room. Get the rest of the room sources here.



Seth and Tate's Shower
And last, but not least, Seth and Tate's shower. A look back at their mood board. Find all of the room sources here.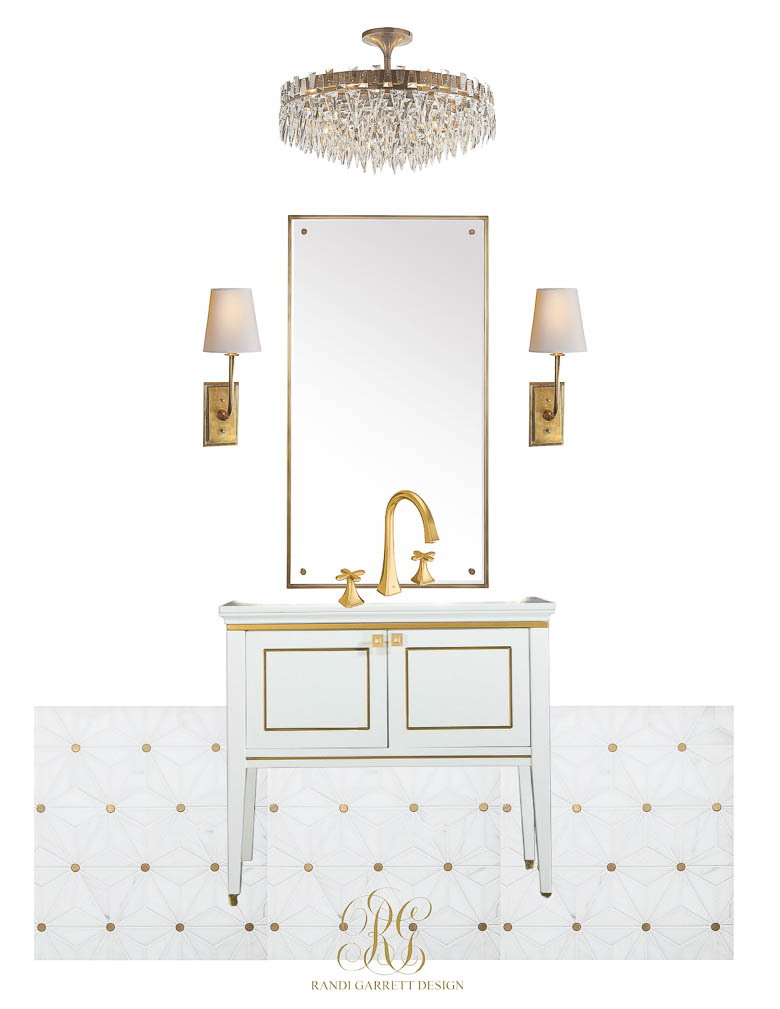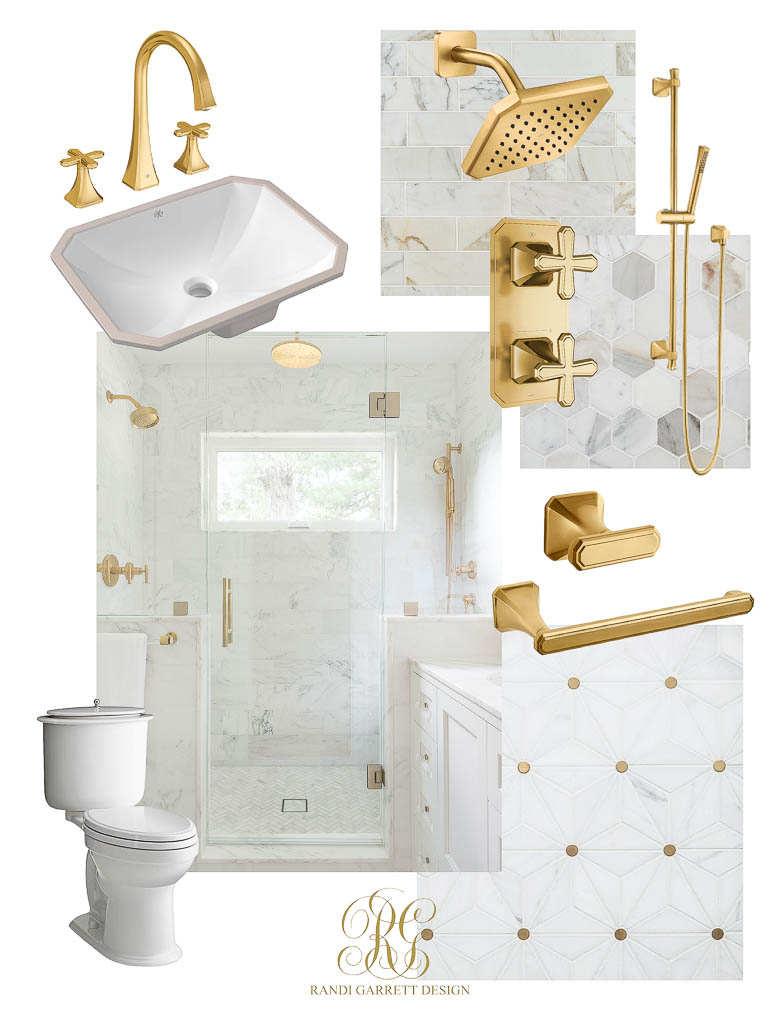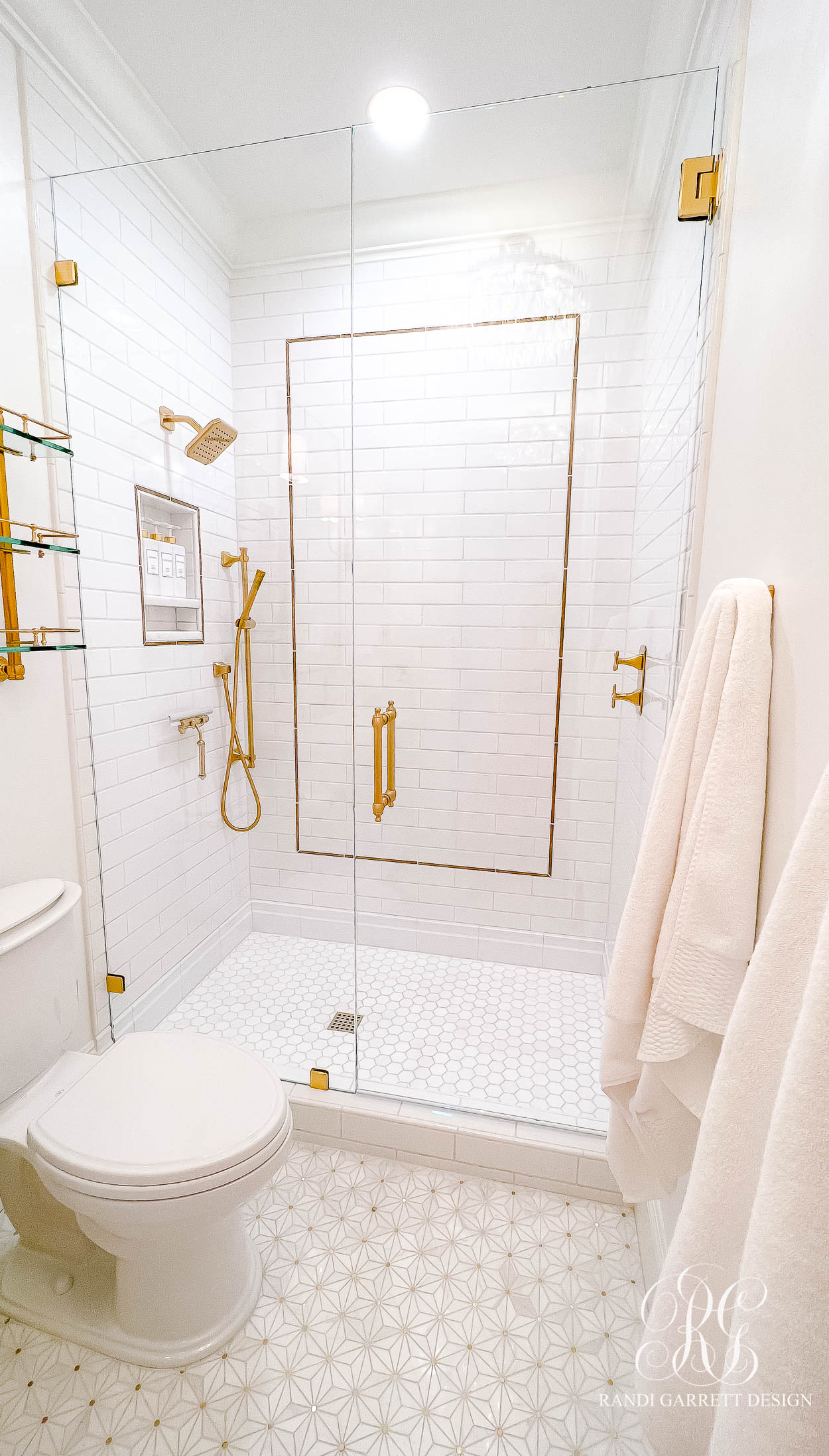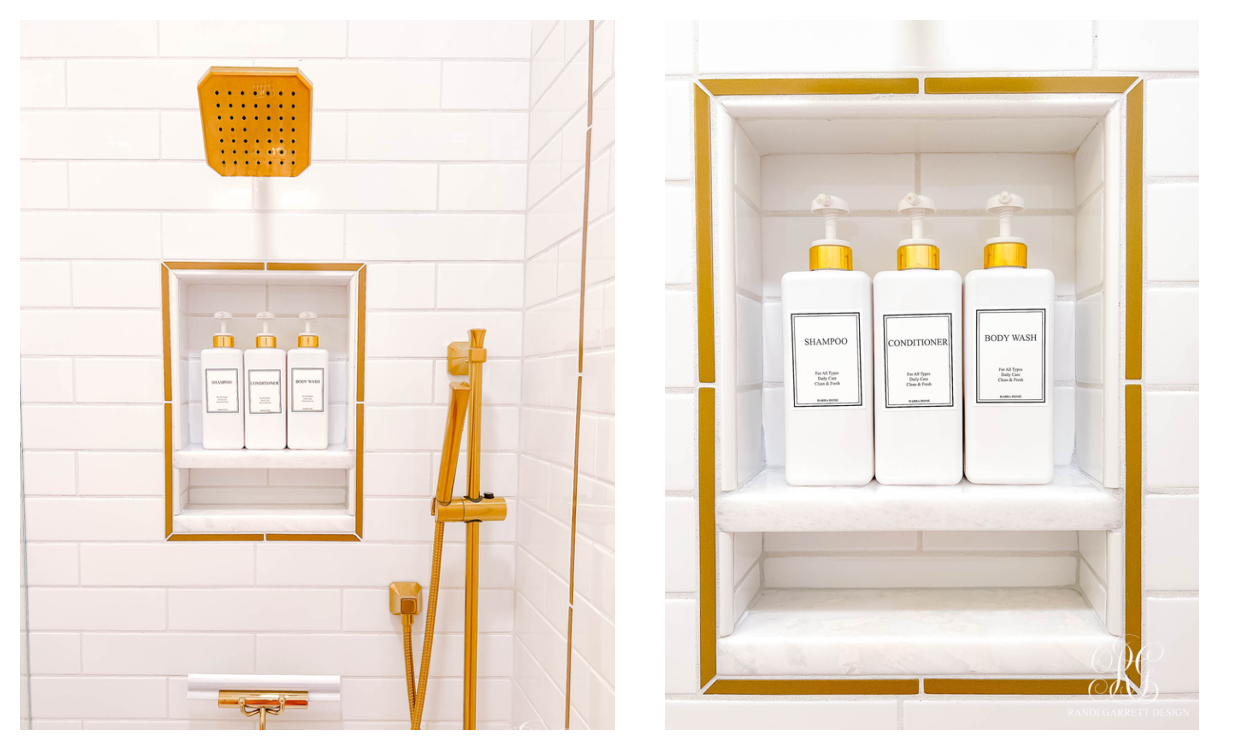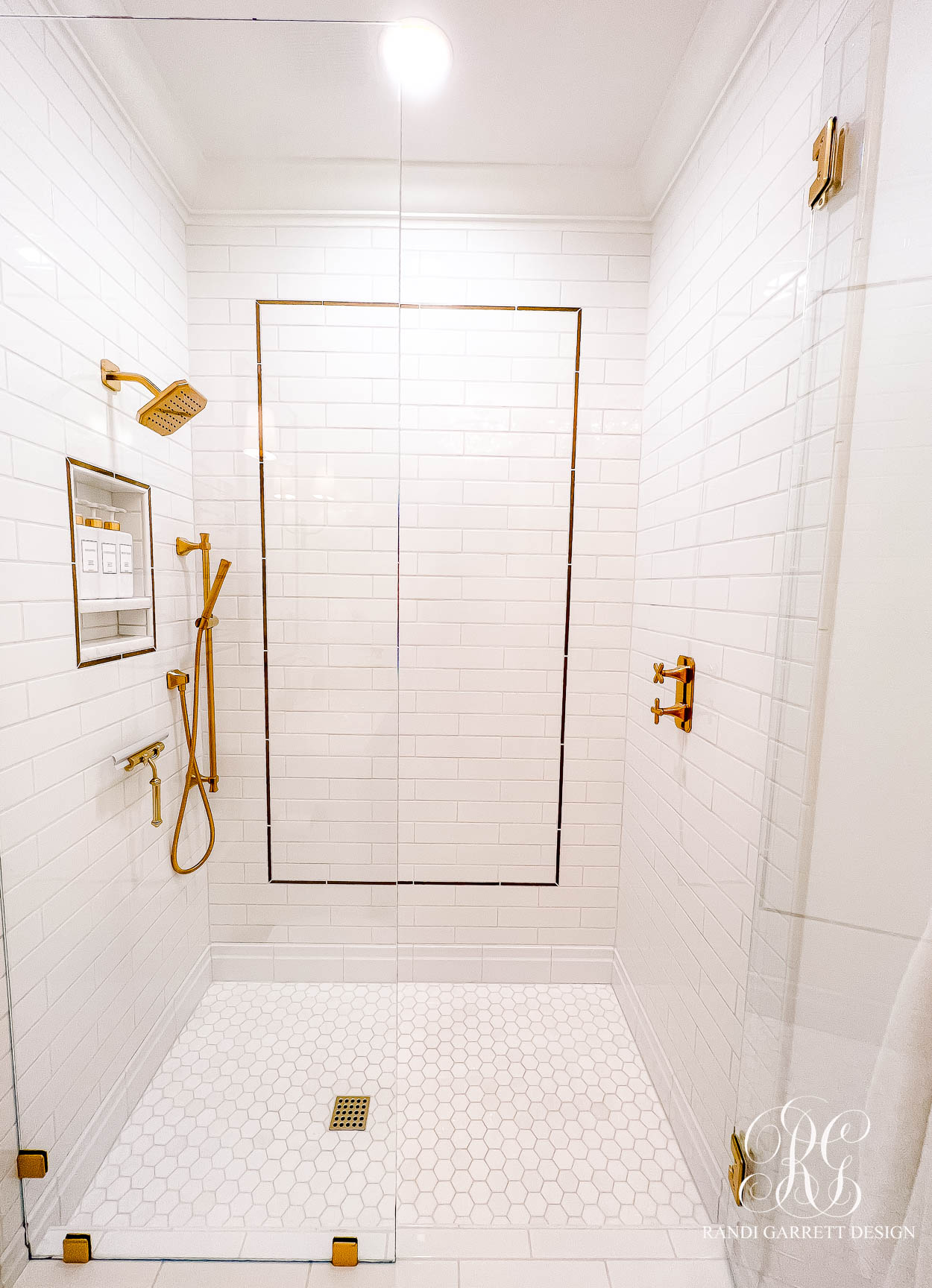 I really had fun dressing up this bathroom! We used white and gold ceramic tile in the shower and white and gold marble tile on the bathroom floor! For the walls, we selected this 3×12 inch ceramic subway tile to give this bathroom a slightly more modern feeling. We used a square gold accent in champagne gold to create the gold box on the shower wall and around the niche. It appears that this product is no longer available, but they do have it in rose gold. We used this pretty ceramic base for a gorgeous tailored look along the base of the shower. On the shower floor is a beautiful Marmo Thassos White Hex. We would have used the same stunning Vivano Marmo Nova Dolomite Brass Polished Marble Mosaic that we used on the bathroom floor, but it isn't suitable for shower floors. When you are shopping at Floor and Decor, the have signs by each product letting you know where each product is recommended for use.


I hope these ceramic showers get you inspired to create something beautiful in your home!