I have been dying to share with you, the kid's bathrooms mood boards over at our new house! Designing and building a custom home is like you have heard, a ton of work! But it is also a lot of fun! There are so many steps and choices involved before you get to your end result. Those little details and steps are sometimes the things that cause the most stress and anxiety during the process!
Today, I want to share a simple step in the process that will help take some of that stress and anxiety out of the designing process. This step will help you visualize your space so you can make all of the little and big decisions with ease! Create a mood board for each space you are designing. They will become your best friend when designing any space!!!!
Mood boards help you see all of your choices, together. They help you visualize the space and how each piece will fit or won't fit into the room. You can create a mood board by using sites like Canva or Picmonkey. Read more about my mood board process here.
I am trying to make mood boards for every space in our dream house and will be sharing them as I finish them. Today, I have all of the kid's bathrooms ready to share! I hope they help you envision our new home and help inspire you in your home.
This post contains affiliate links (full disclosure here). This post is sponsored by DXV, who has provided me with product. All reviews and opinions are my own.
Dream House Kid's Bathroom Mood Boards
Something I learned while building – you have to choose your plumbing fixtures early in the process due to the way they build a home. How the heck are you supposed to choose a faucet when you haven't even selected a light? In order for me to make those choices, I created bathroom mood boards to help me make plumbing and all the other choices for each bathroom. While shopping for fixtures, I knew I wanted quality faucets that would stand the test of time from a design stance as well as a durability stance.
I looked at, touched and sourced hundreds of plumbing fixtures when I found DXV, I had my perfect match! Let me introduce you to them. DXV is a luxury plumbing company that offers the most beautiful, durable, plumbing fixtures for every style of home. Their products are without a doubt some of the most gorgeous fixtures you will ever see! I can't wait to show you them! Even their packaging will impress you! I am using their products throughout our entire home and will be giving you all the details as we go along in our building process. To see their products in person, visit the DXV website to find a supplier near you. I will also share where you can find the products I am using online.
Here are the mood boards for each of our kid's bathrooms. I can not wait to see these spaces come to life! Notice how the overall feel of these spaces flow together, even though we are using different products and finishes. Each room has it's own personality, but together they paint a unified picture.
Cole and Jack's Bathroom
Cole and Jack will be sharing a room and a bathroom. I love the lessons they learn living together and the bond they share growing up in the same room. I wanted them to have their own sinks so they could live together in harmony, haha!. When I saw the Oak Hill wall mount faucet, I knew I had my inspiration for the room! This room was completely designed around this faucet! I love the cross handle, stunning satin brass finish and timeless feel of this beautiful faucet! I'm actually using it in our butler's pantry as well because I love it so much (mood board coming soon)!
One thing I really loved about DXV's products is that you can mix and match their product families. For example, I am using the Oak Hill faucet in here with their new Belshire shower system. Their Belshire line has more modern lines. I love it mixed with the more traditional lines of the Oak Hill line. Notice the Oak Hill toilet I have selected for their bathrooms as well! It is stunning. The top pull flush knob is my favorite detail! For the sinks, we are using the Pop under counter sink. It's clean lines are perfect for this space.
I am really excited about the lighting in here as well! For a whimsical touch, we used brass medicine cabinets which also give the space some extra storage. We are having a custom vanity made that will be painted a blueish green color (like the photo) to match the blue marble tile. I'll share those details later.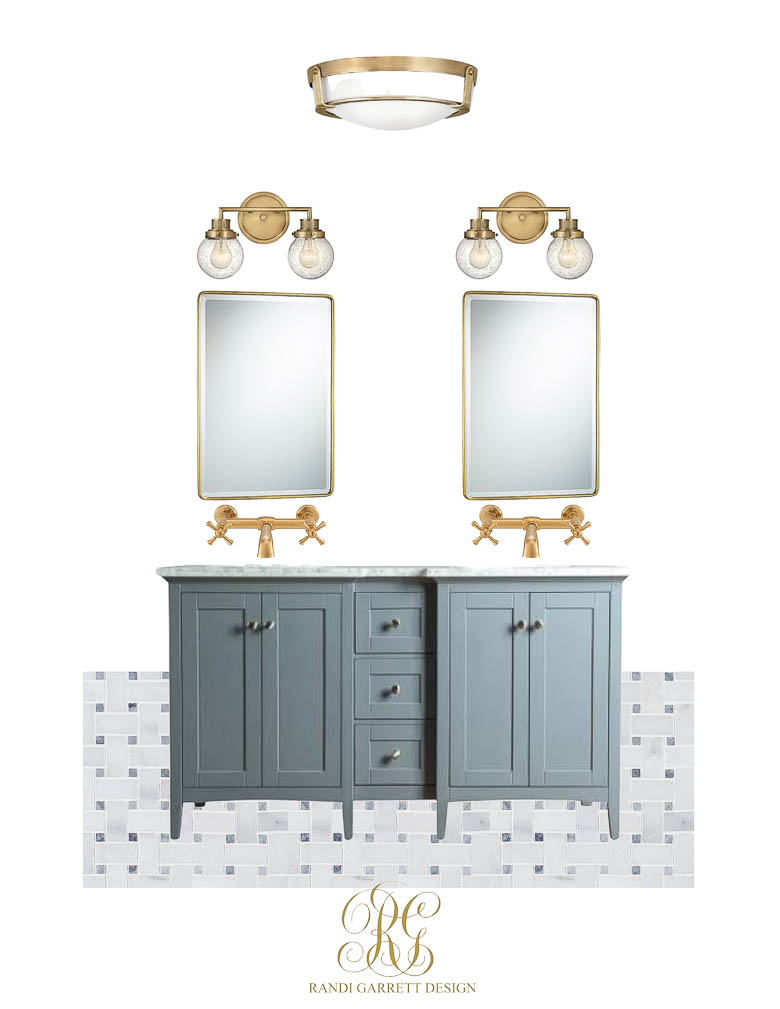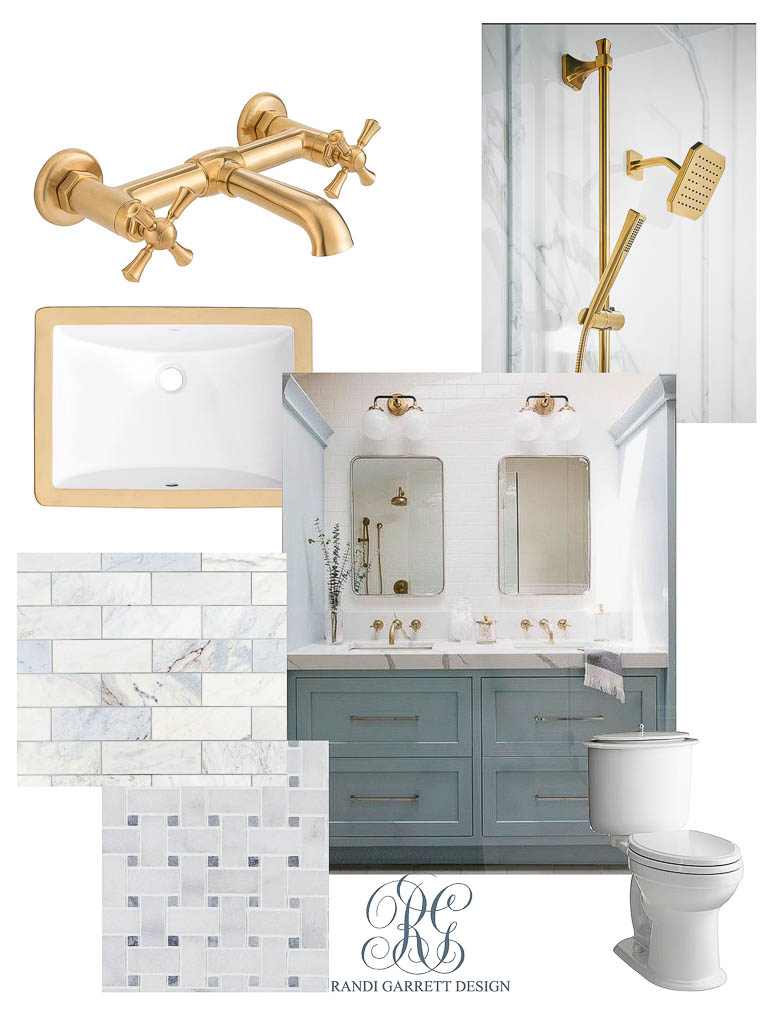 Ellie's Bathroom
Ellie really wanted to use chrome fixtures in her bathroom. So we selected the gorgeous Randall faucet for her bathroom with coordinating shower and tub fixtures. To add a little warmth to the space, we are using brass lighting. I love mixing metals in a space. I think it adds interest! The Randall collection comes in four stunning finishes making it tough deciding which one to use!
Her vanity will also be custom made to look similar to the one here. The front of her tub will have wood paneling, like the photo below. Her shower will feature beautiful wainscoting tile. We are both so excited about this space! Ellie's Randall tub faucet is so charming! I love the old world feel, so much I am using it in two other spaces! I can't wait to show you! Not shown in the mood board, is the sink we are using. It is the most glorious sink ever – the Belshire under mount sink. Don't you just love how unique it is?!
To make her space feel more girly, we chose sconces that look like pieces of jewelry and a crystal flush mount for the ceiling.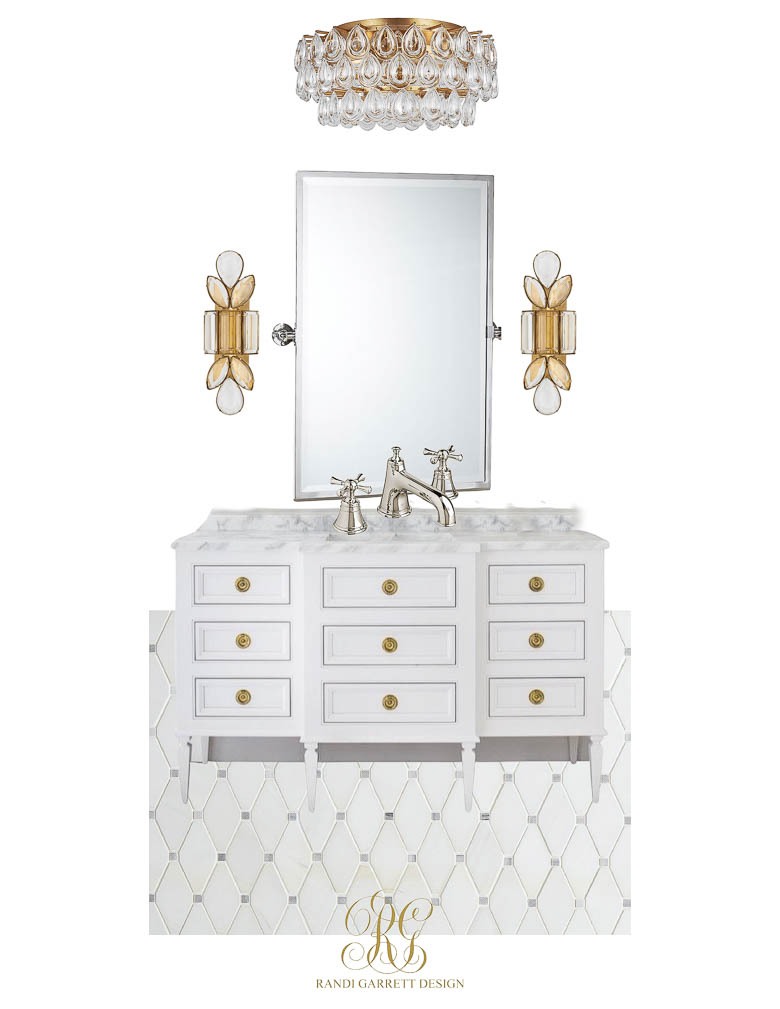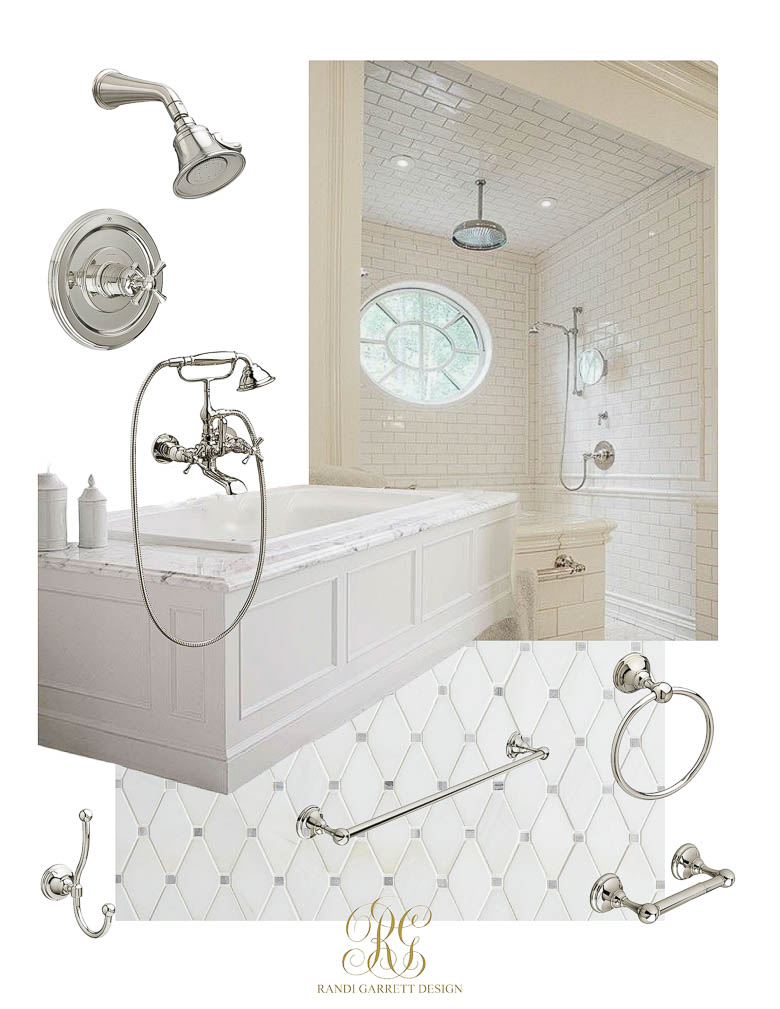 Seth and Tate's Bathroom
Finally Seth and Tate's bathroom. Neither one of them live at home anymore, so this room will be used when they come to visit and eventually when they get married, will be a room for them and their spouse to stay. For that reason, I want the space to feel both masculine and feminine. DXV's new Belshire line felt like the perfect blend for this room. You can select your faucet spout and handles with several different options making them so customizable! I fell in love with the Belshire high spout in their beautiful satin brass with the cross faucet handles.
The shower features the Belshire personal hand shower and shower head with matching cross handles. This is the same shower system we are using in Cole and Jack's bathroom, which helps create a nice flow from room to room.
Do you recognize the crystal light in this bathroom? It's the same one we used in our guest bathroom makeover in our current house. It's one of my favorite lights of all time, so I had to use it again in the new house. I love the sconceswe found to go with it. They have a crystal backplate which ties in with the crystals from the chandelier. The vanity will be similar to the one in the mood board, without the gold trim. I wanted the mirror to be pretty simple to let the lighting and plumbing be the stars. Look at the simple gold button detail in each corner. This gives it just enough personality for the space.
We will be using the beautiful Belshire sink and Oak Hill Toilet in here as well.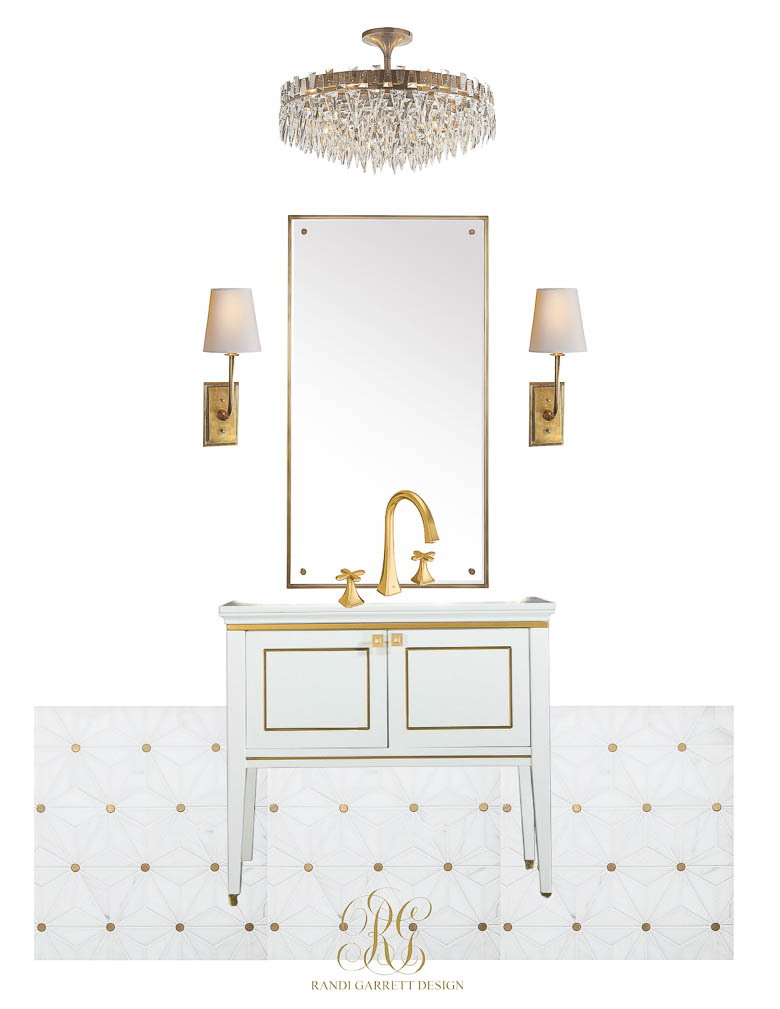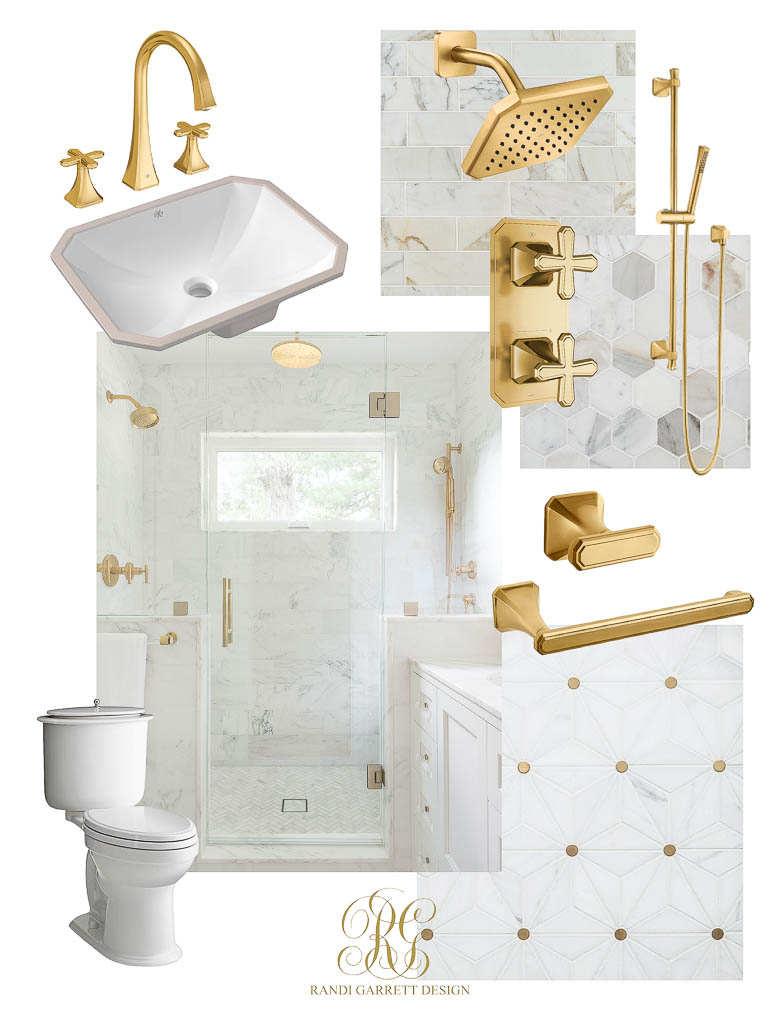 I hope you enjoyed these mood boards! I'll be sharing more soon!
Which bathroom is your favorite?