A few years ago, Matt and I traveled to London and Paris to visit Matt's parent's who were serving a mission for our church. The charm and detail of the quaint shops and bakeries mesmerized me. Their attention to detail was exquisite. Even in the smallest of spaces, they found ways to add detail and character. A treat for the eye at every glance!
When designing The Wren, I wanted to instill a little European charm throughout our home, giving it some old world detail with a modern twist. A butler's pantry was really an absolute dream of mine. Our past homes had either no pantry or a tiny closet as a pantry. They served their purpose, but with a large and growing family, a larger pantry would be an absolute dream come true! So, I can say without reservation, our butler's pantry is a dream come true and one of my favorite rooms in The Wren!
She is packed with charm, detail and of course lots of storage. Right now she holds most of our food and back stock items for our family. One day, if a child or parents needs to live with us, she is ready to serve as a second kitchen. She is equipped with a fridge, freezer, dishwasher drawers, microwave / oven, sink, disposal and has access to our garage and guest house. Guests can access her without entering the main part of our home, if they wish.
The details of our butler's pantry could be used in a kitchen of any size. The key to creating a space with character, is to add pattern, texture and detail on unexpected places – making the ordinary, extraordinary! I hope you enjoy The Wren's Butler's Pantry Reveal and feel like you have been transported to a charming European Boulangerie!
I have a detailed source list at the bottom of the post for your reference.
This post contains affiliate links for your convenience. Read my disclosure policy here.
The Wren's Butler's Pantry Reveal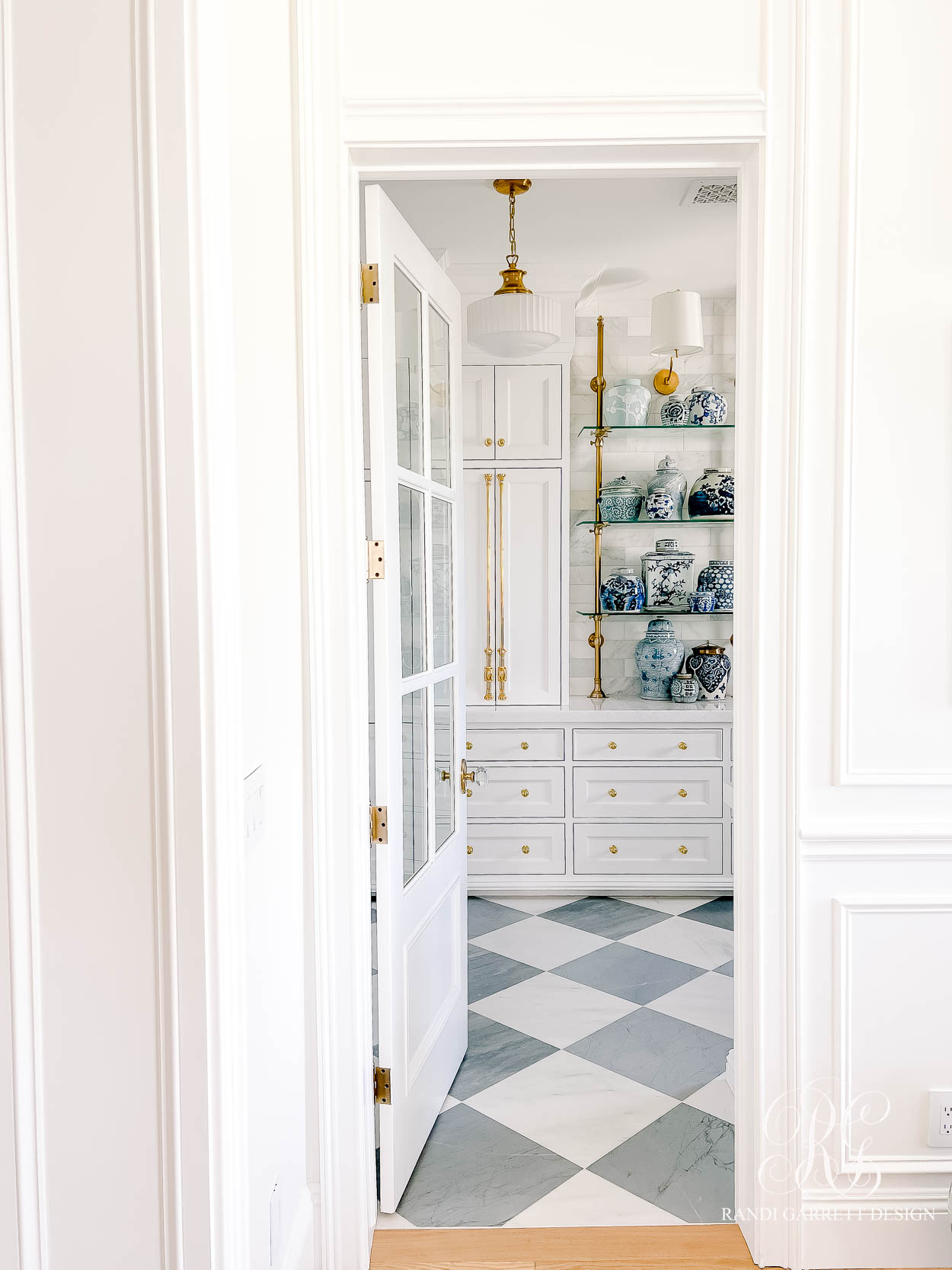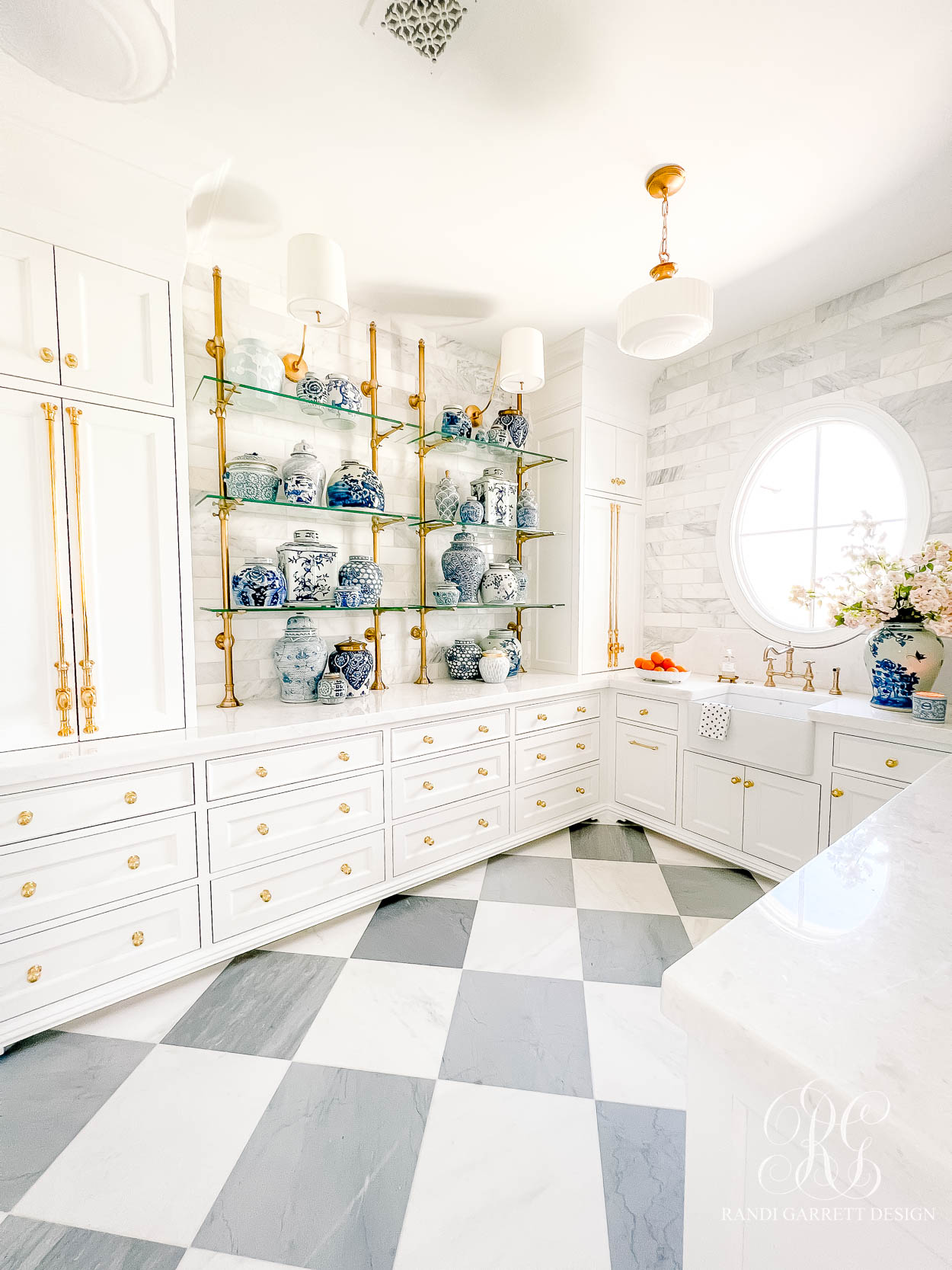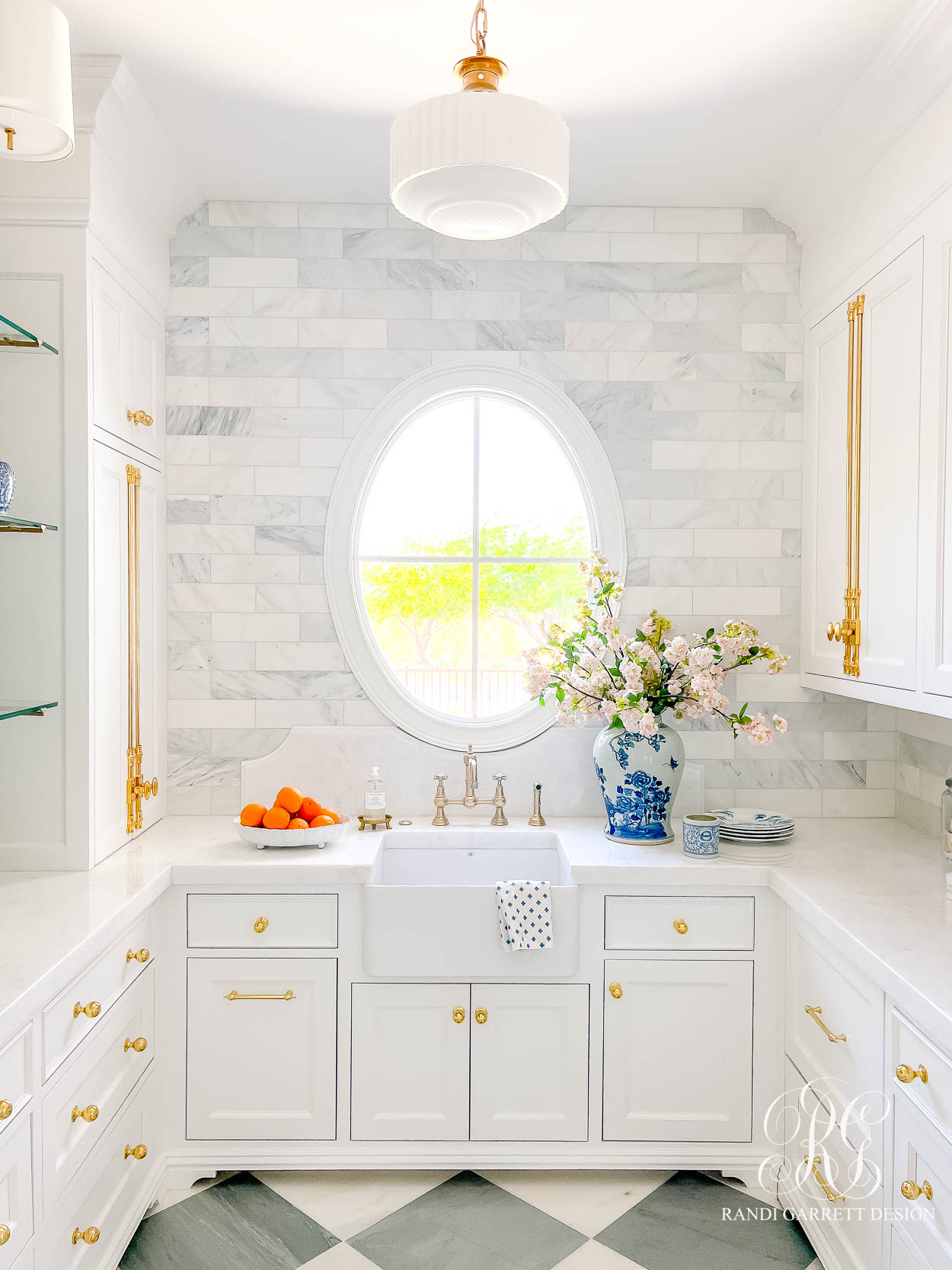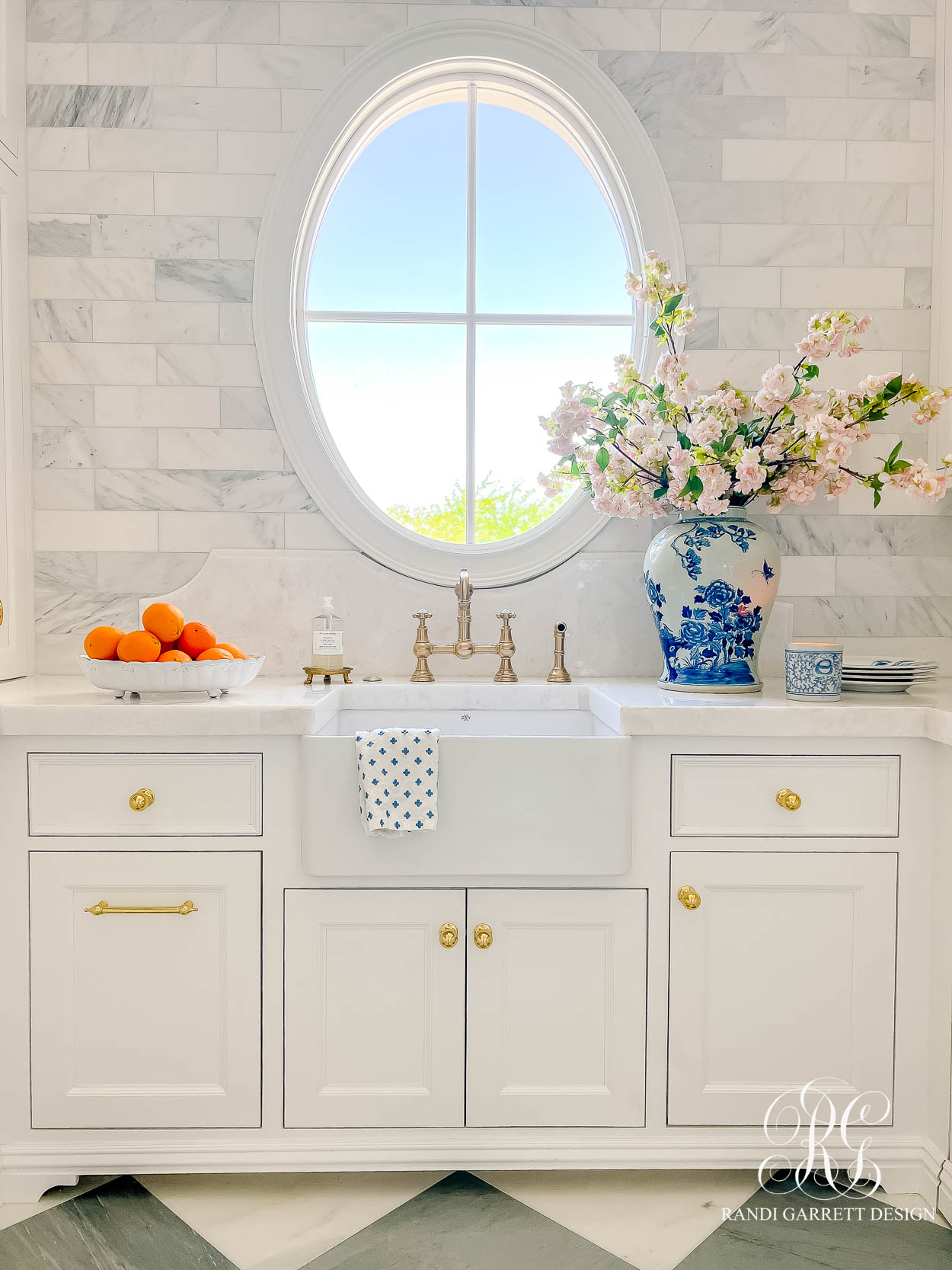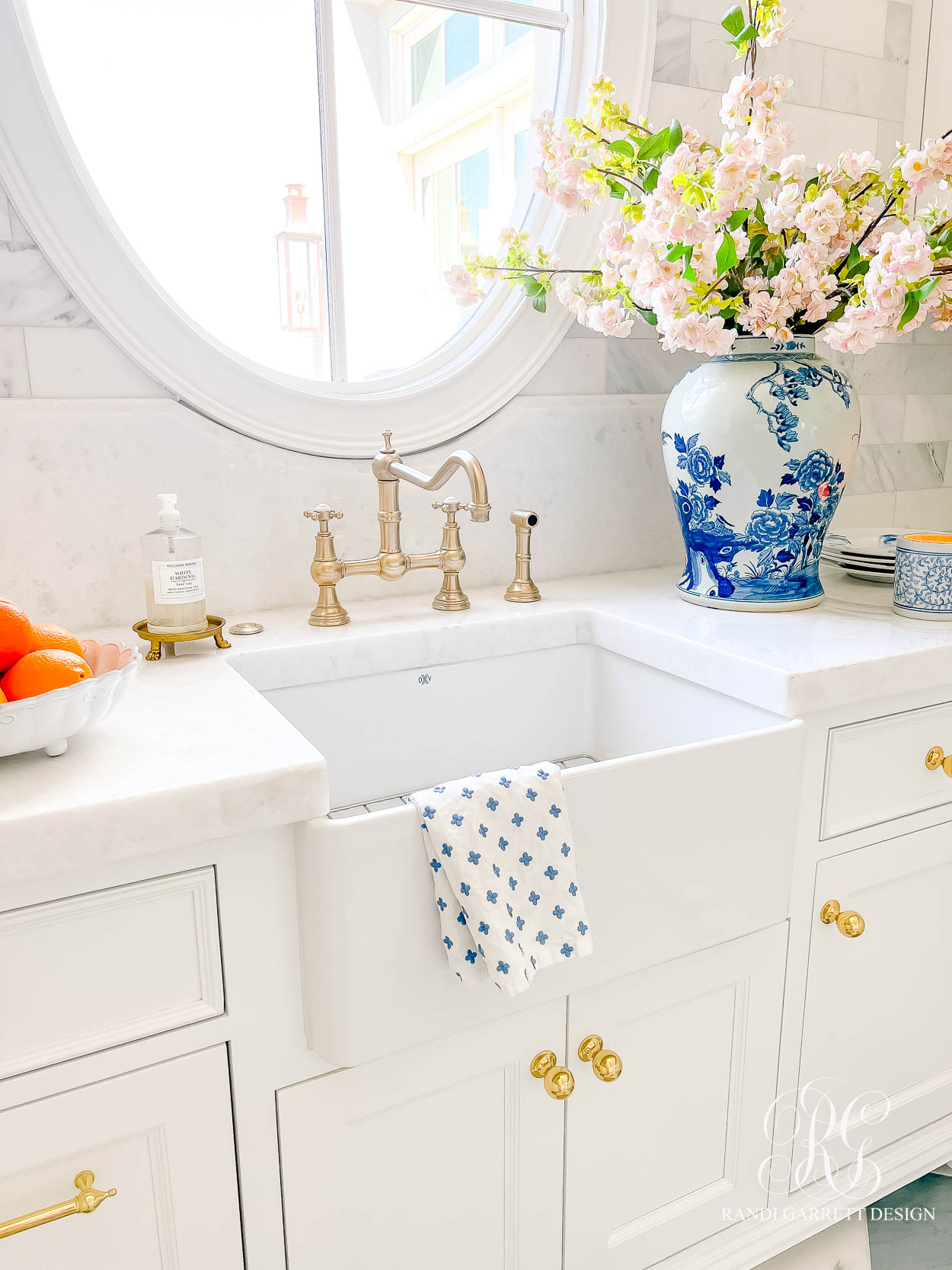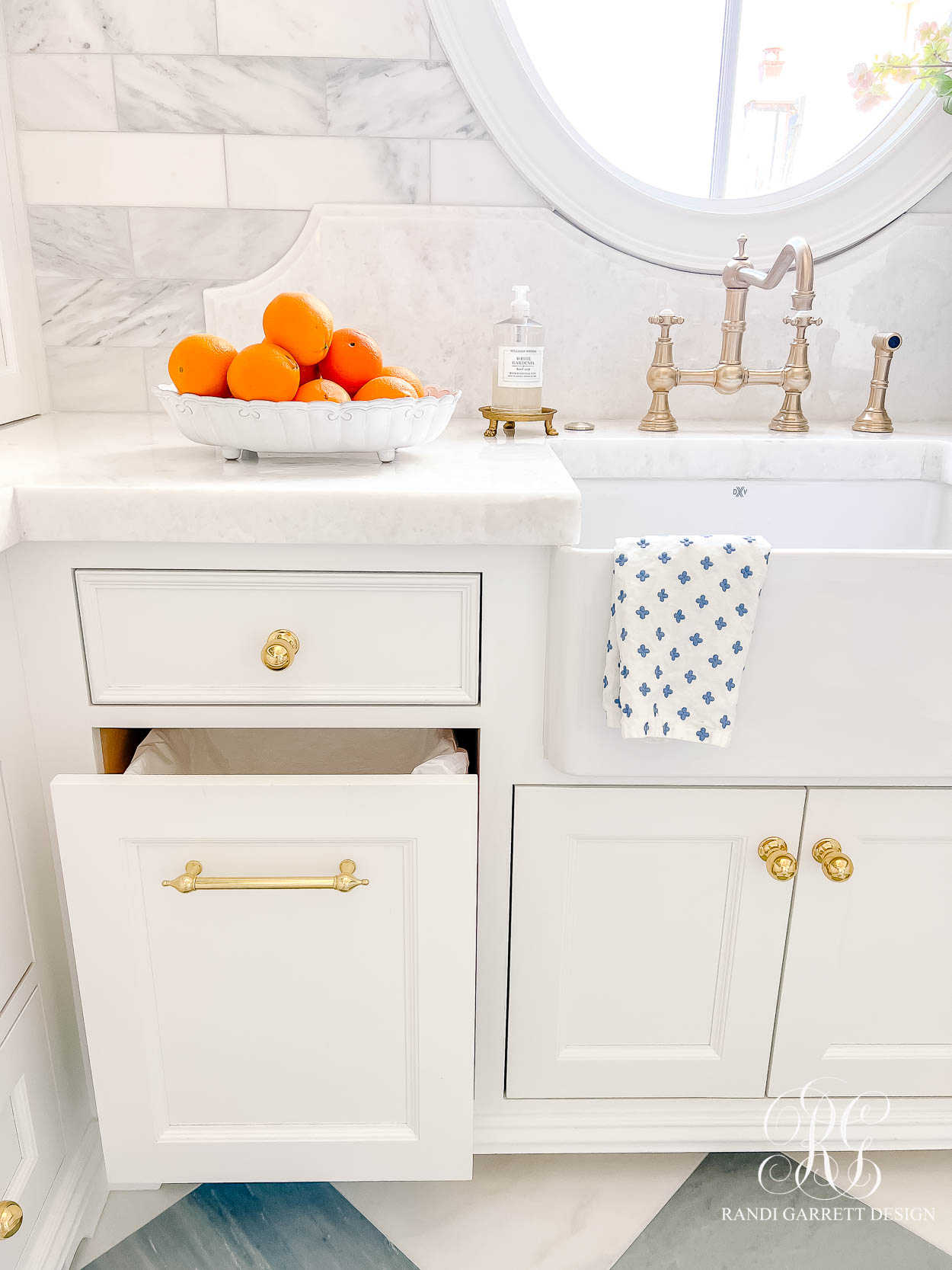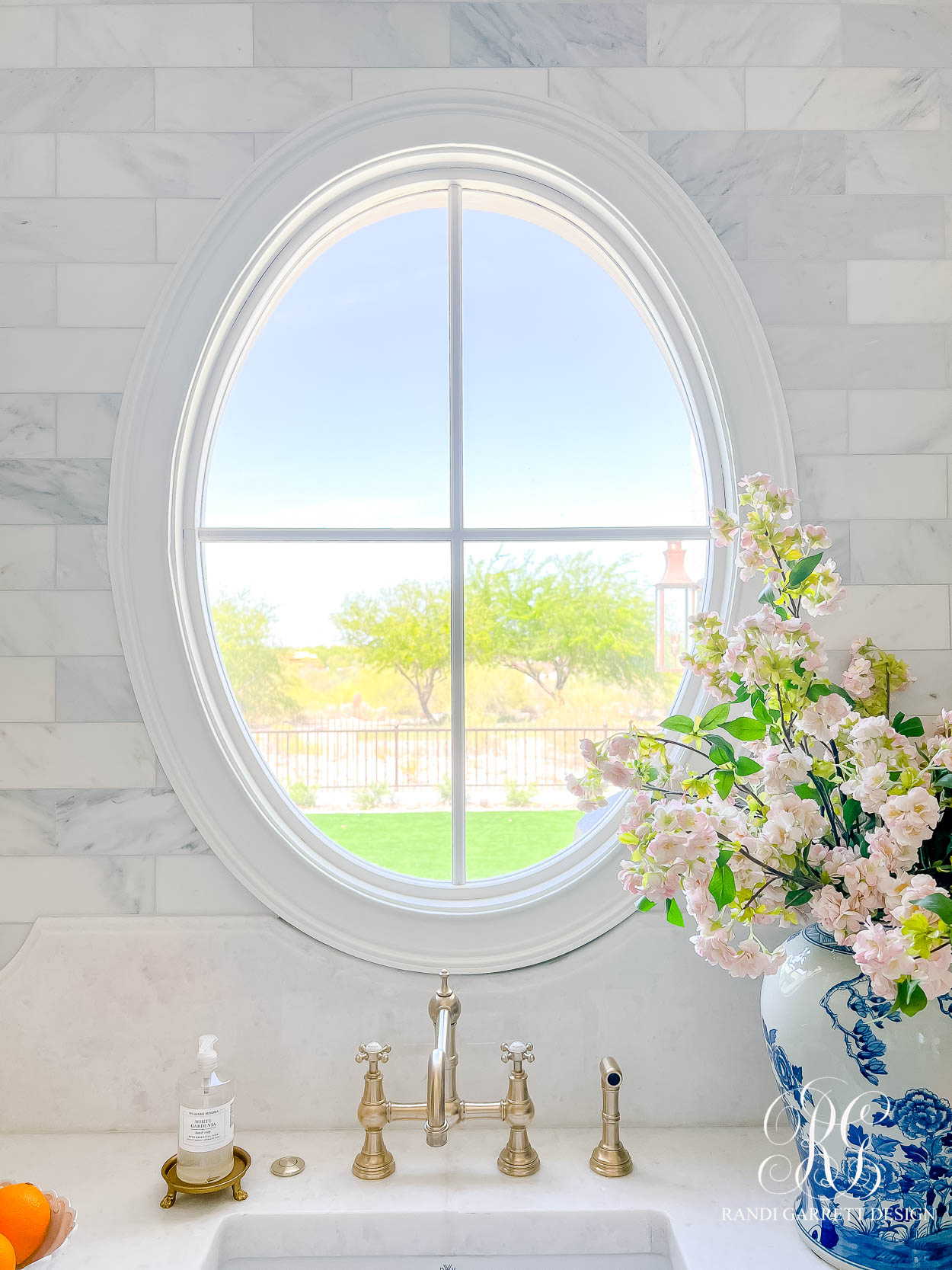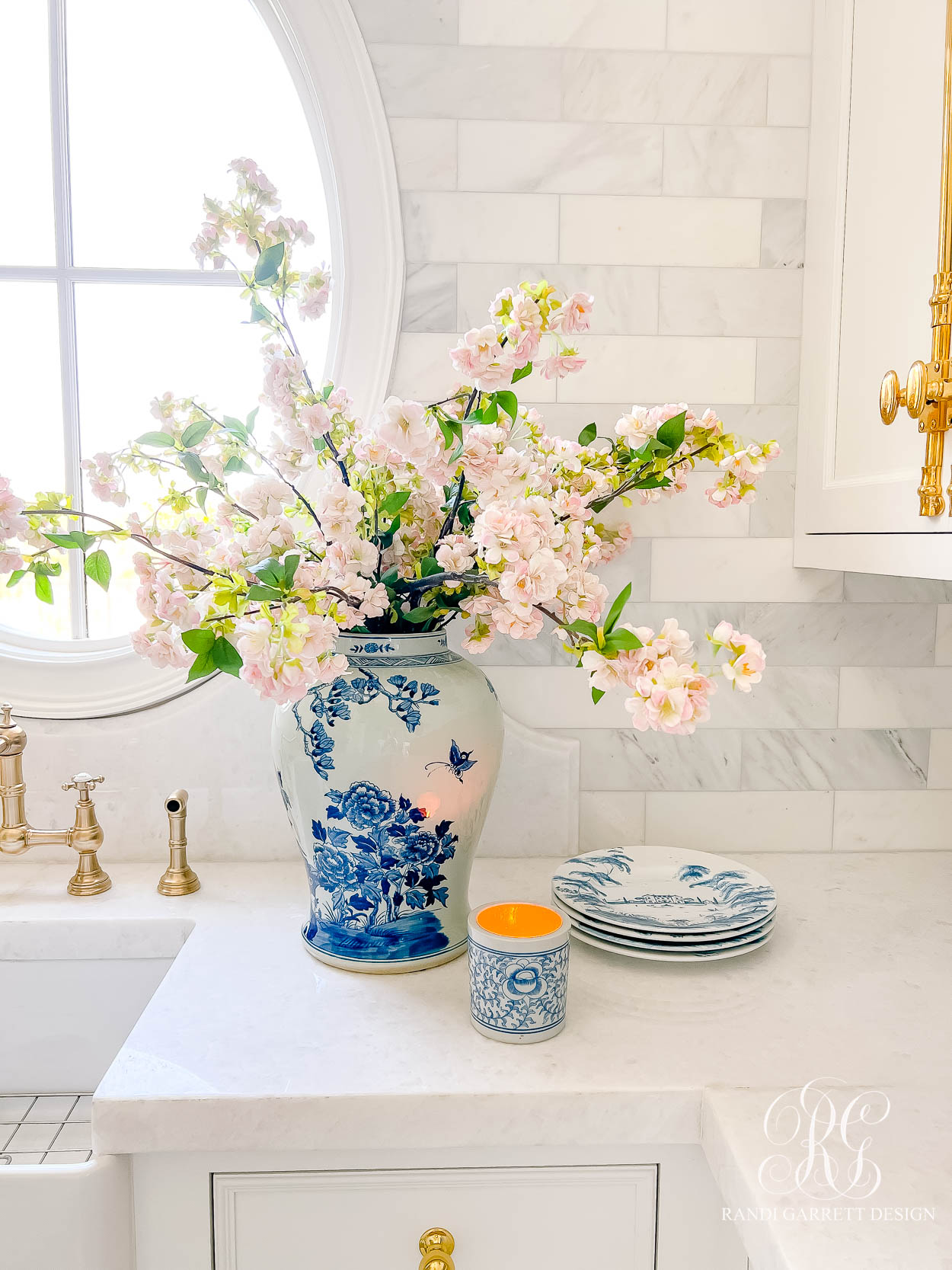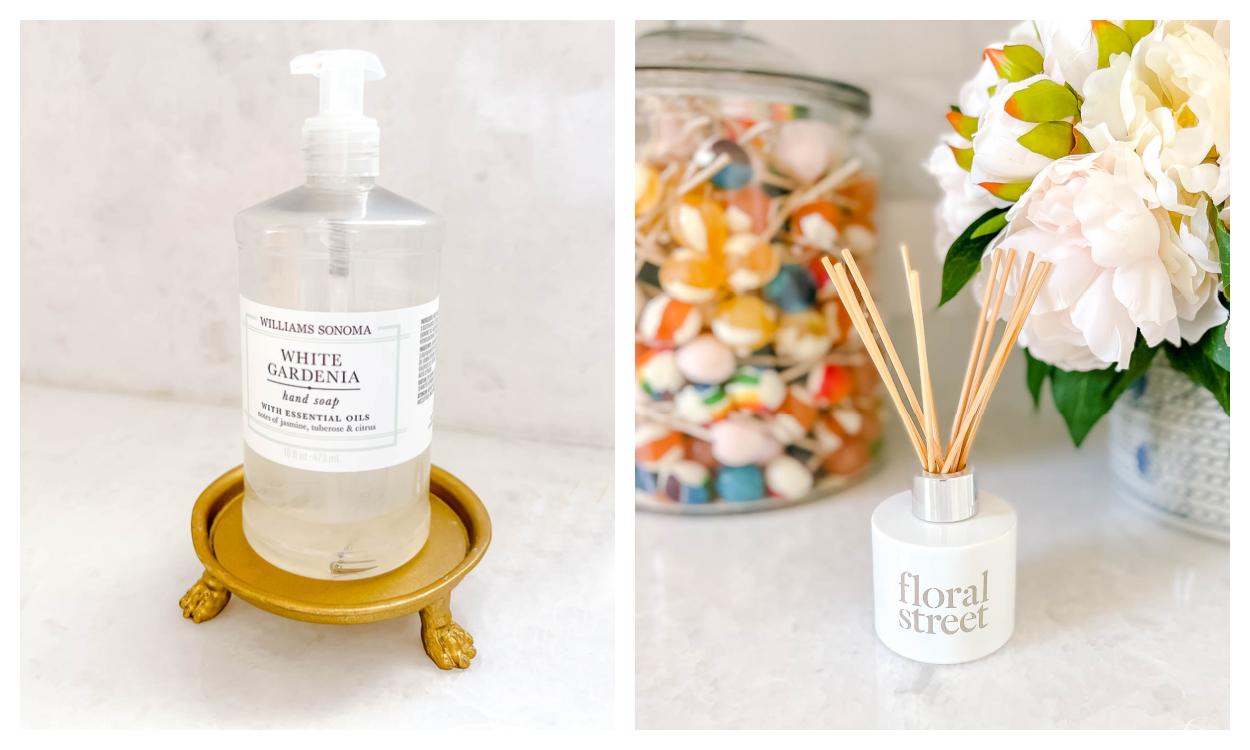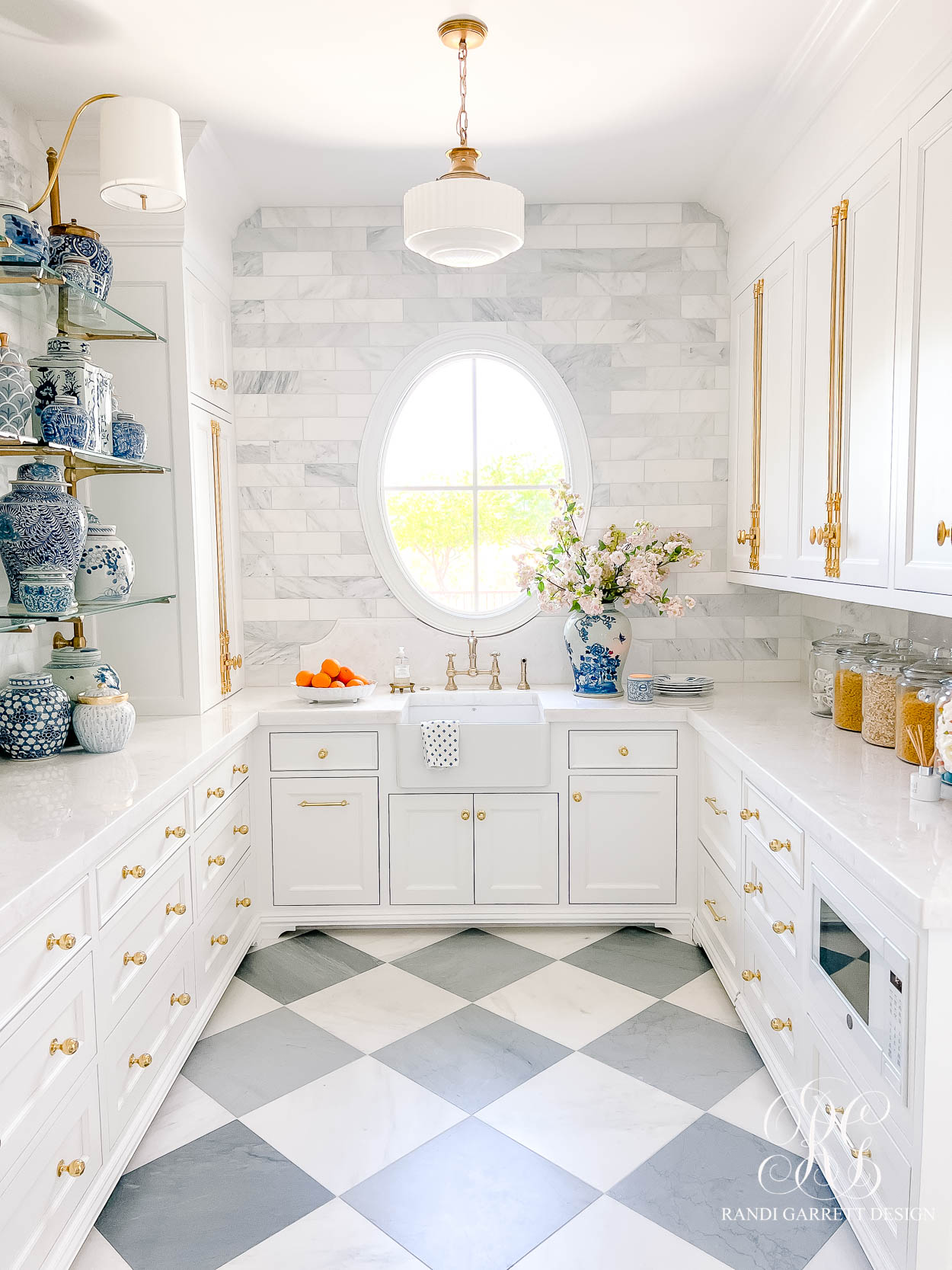 The room is wrapped in marble subway tile and features a beautiful gray marble and white marble checkered floor. Both details add so much warmth and character to this room. Our cabinets are painted in Benjamin Moore's Chantilly Lace and feature gorgeous hardware from Armac Martin and cremone bolts from Baldwin Hardware. Cremone bolts can be found all over in French design. They are a timeless detail that will leave you weak in the knees! The cabinet base is trimmed with a beautiful furniture base detail. Adding more character.
Since the walls and floors are pretty pattern heavy, I chose a more understated marble. This gorgeous polished, white Aethos marble may not have fancy veining, but don't miss her sparkle that almost appears to be shimmering back at you. It is absolutely exquisite! I had our marble fabricator fabricate an extra large marble backsplash behind the sink with curved corners and an ogee edge.
Our DXV apron sink is a smaller version (24″) of our kitchen and laundry room sinks. It is reversible and can be used showing the paneled or plain front.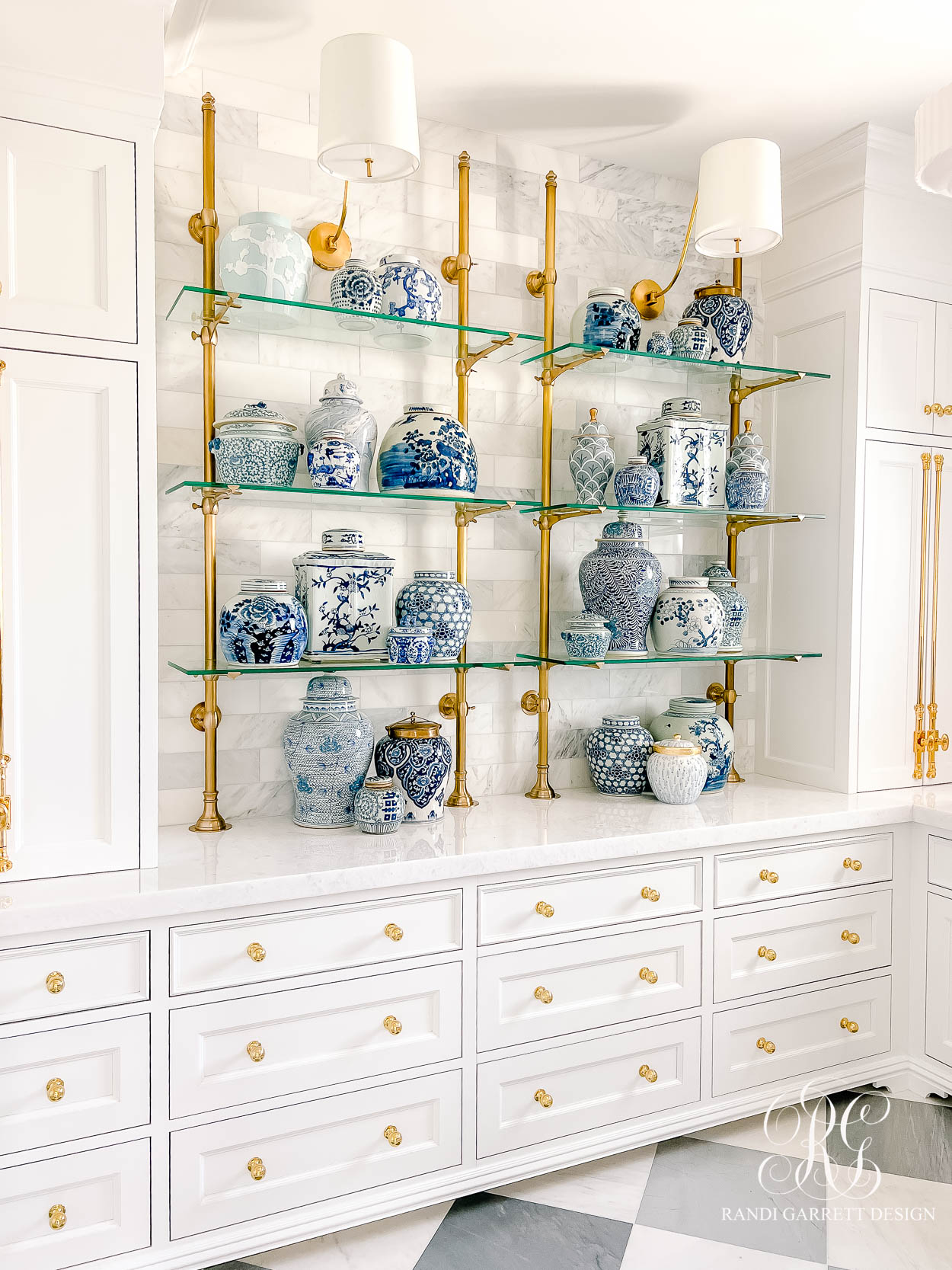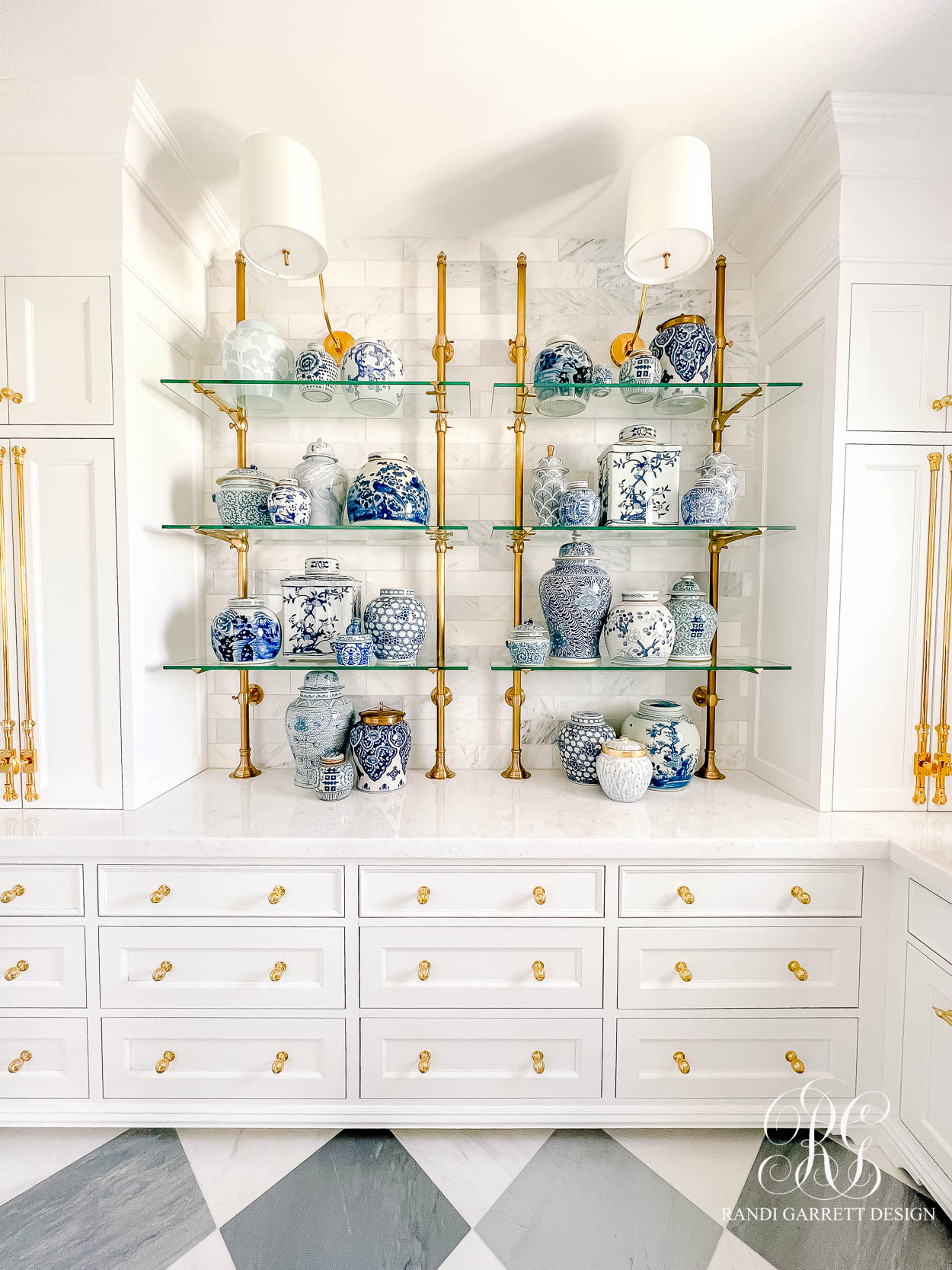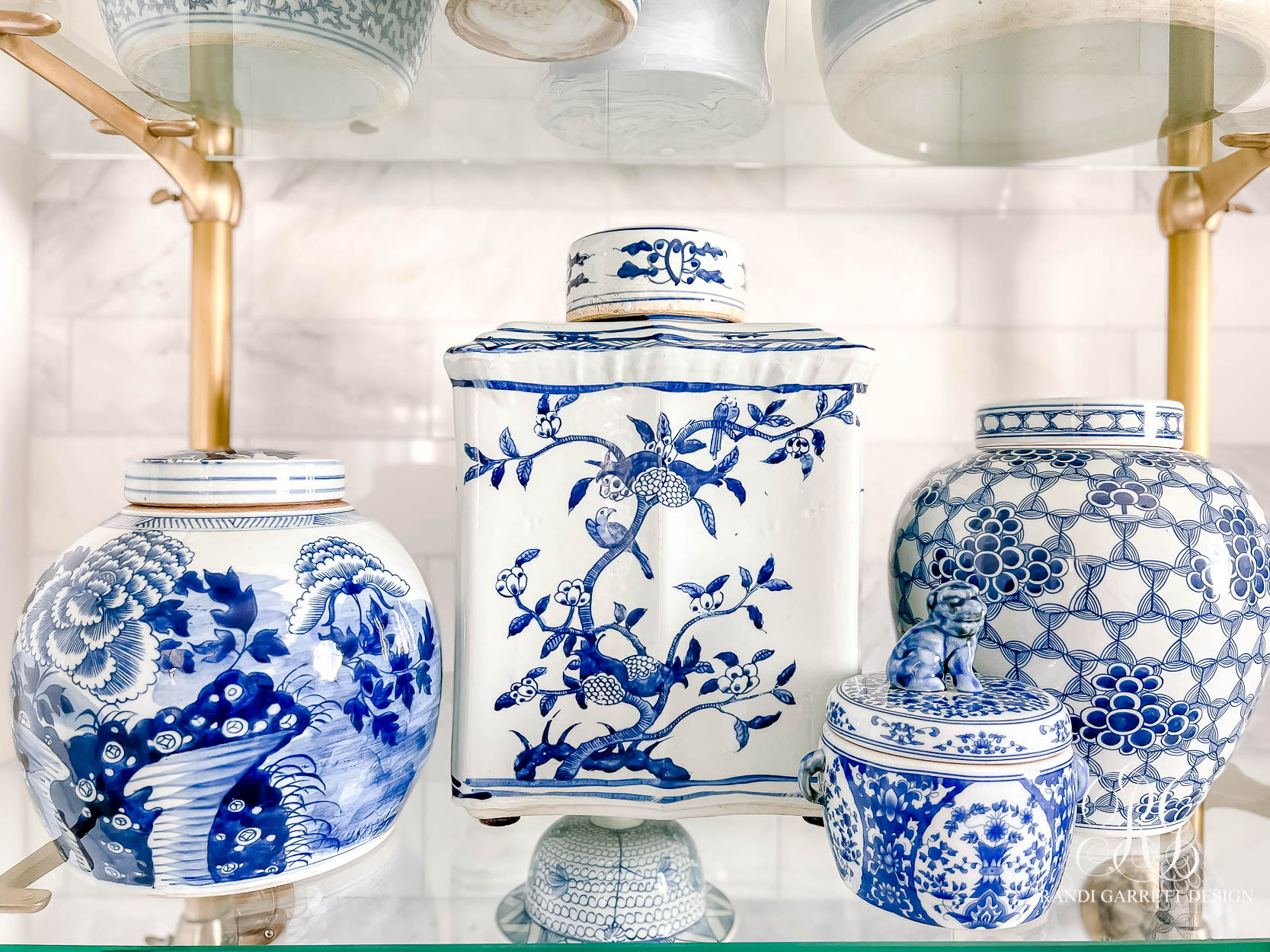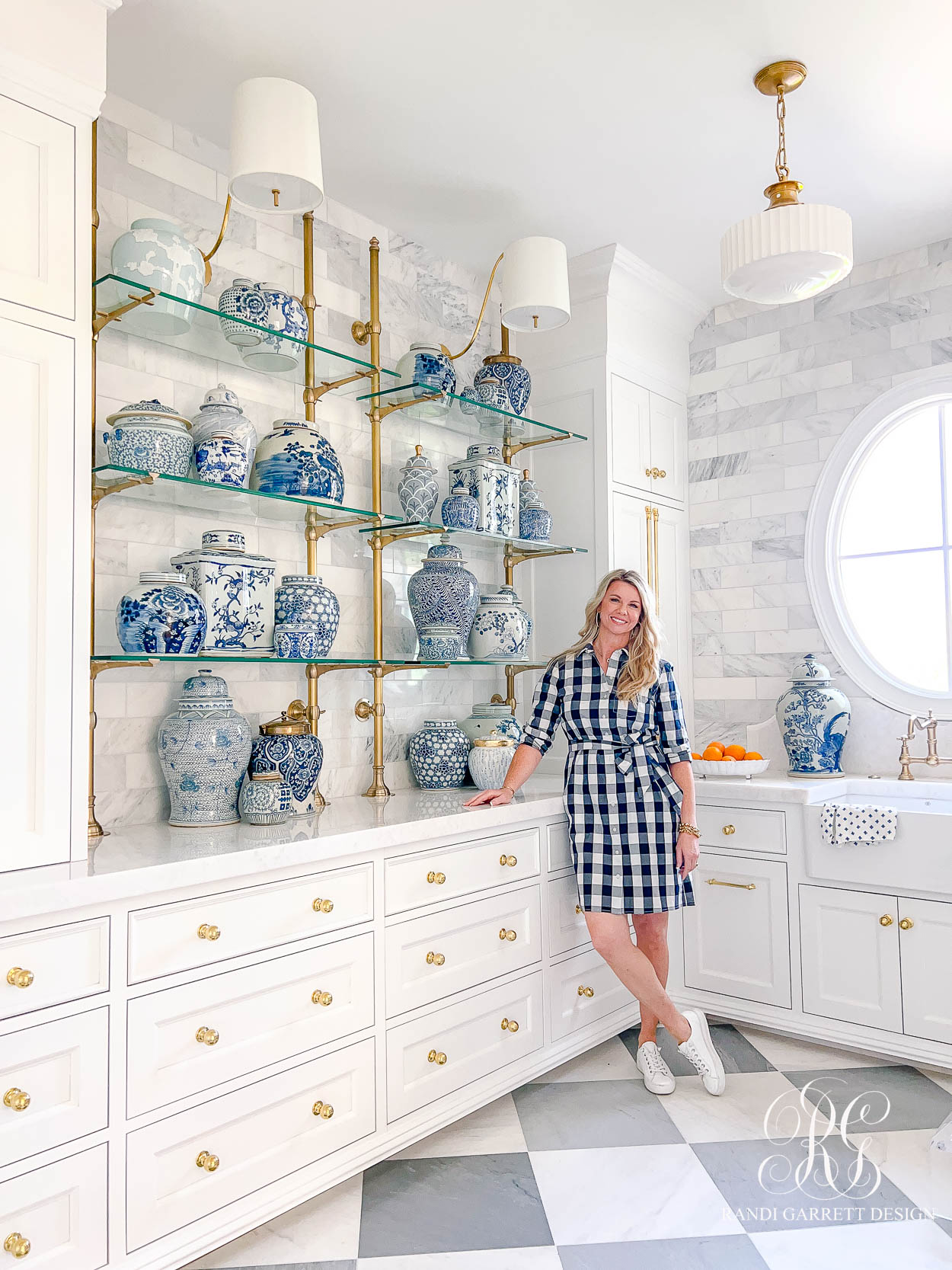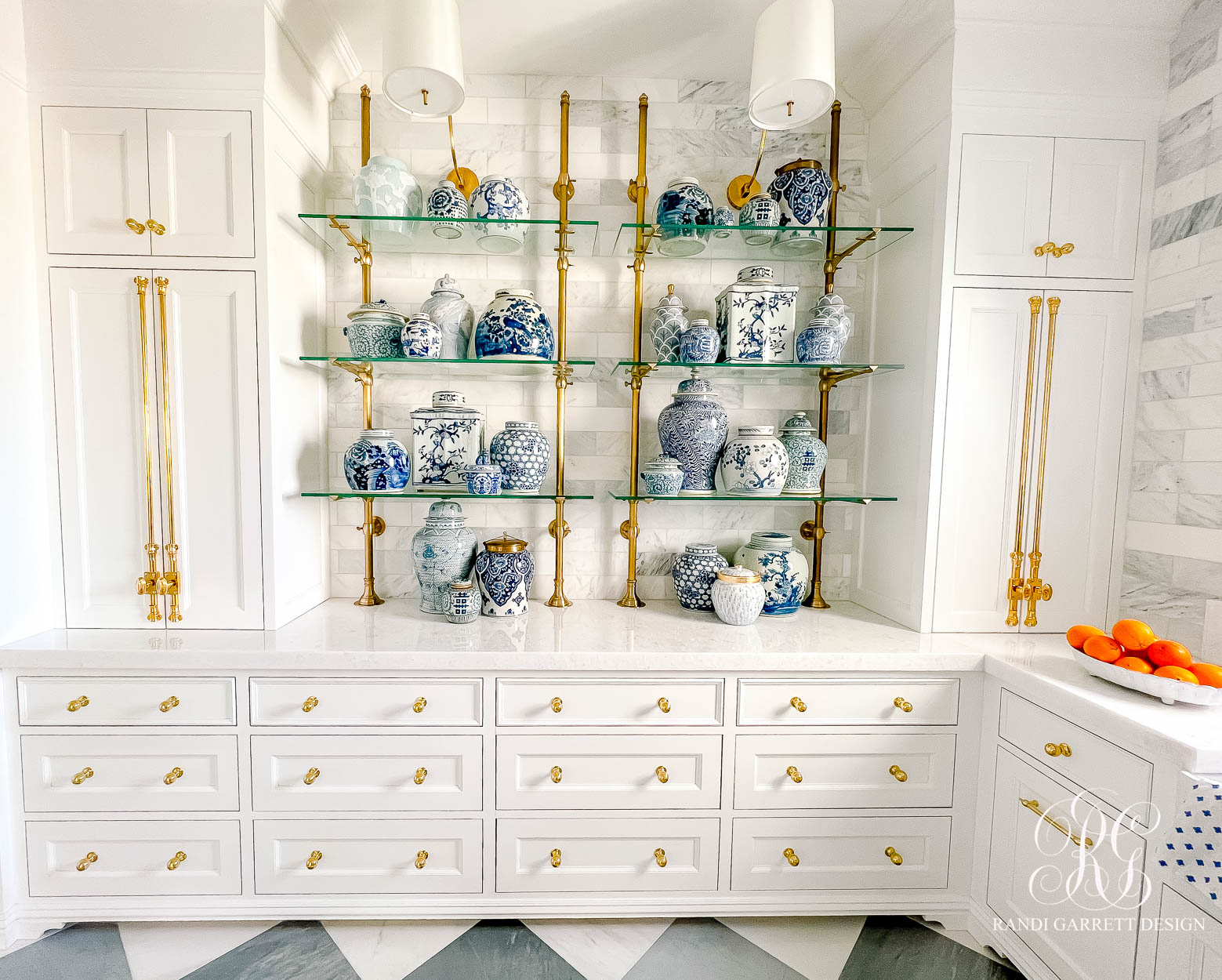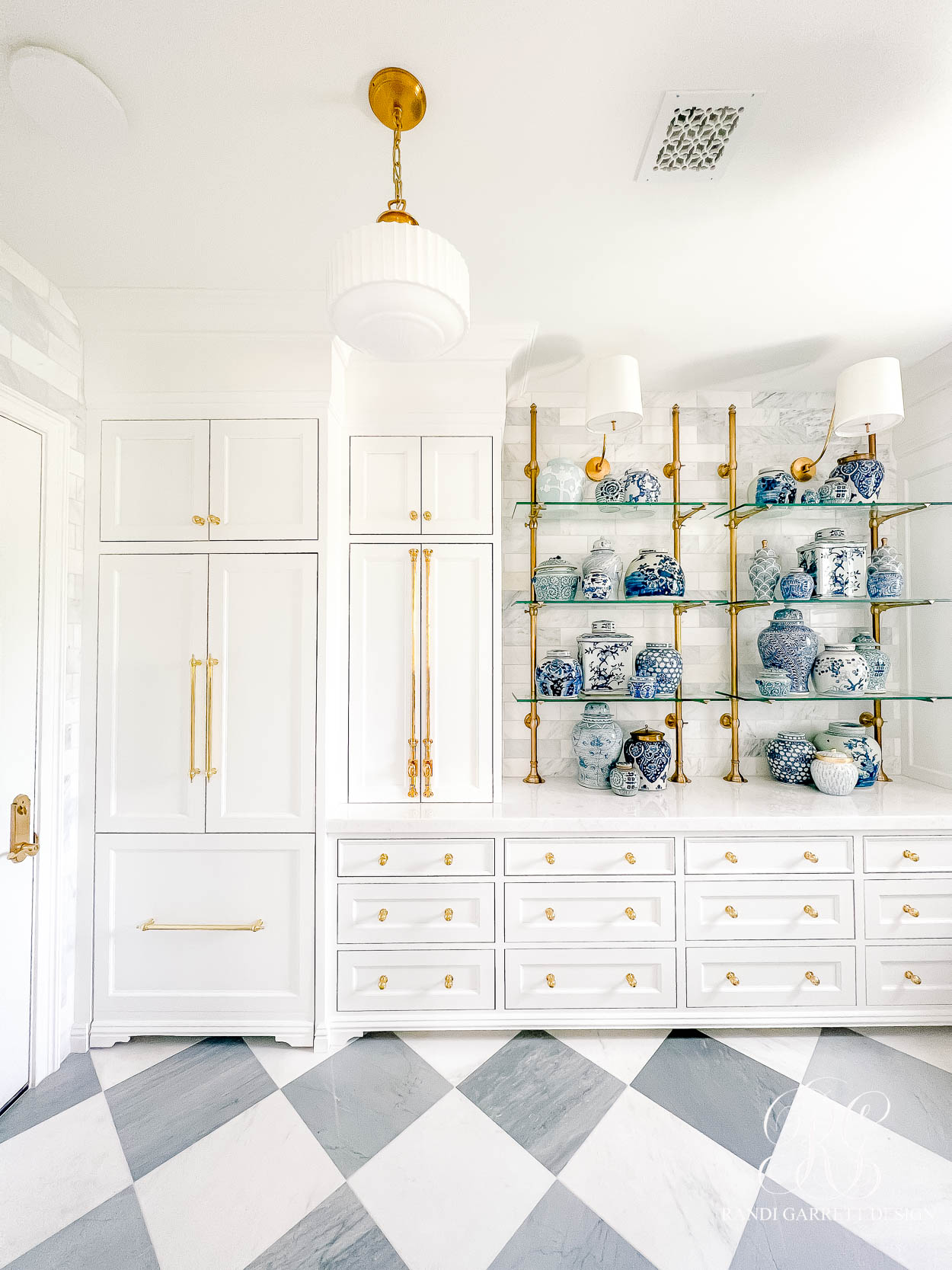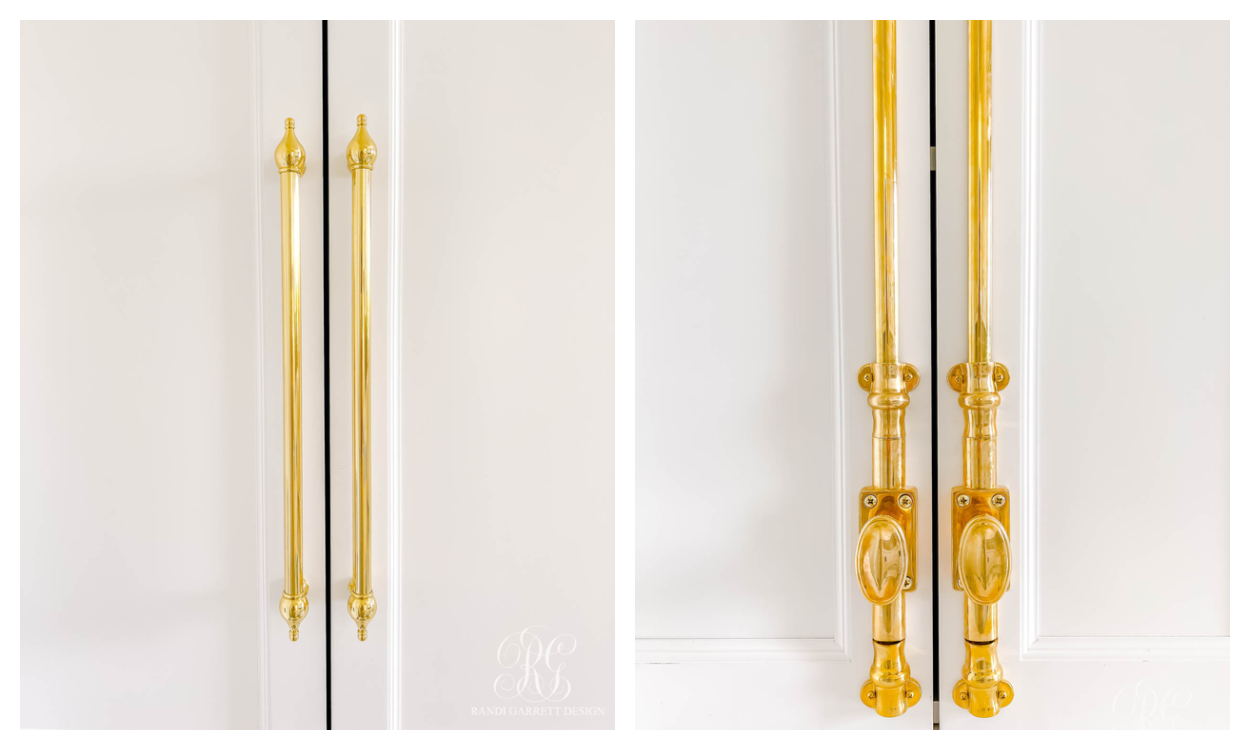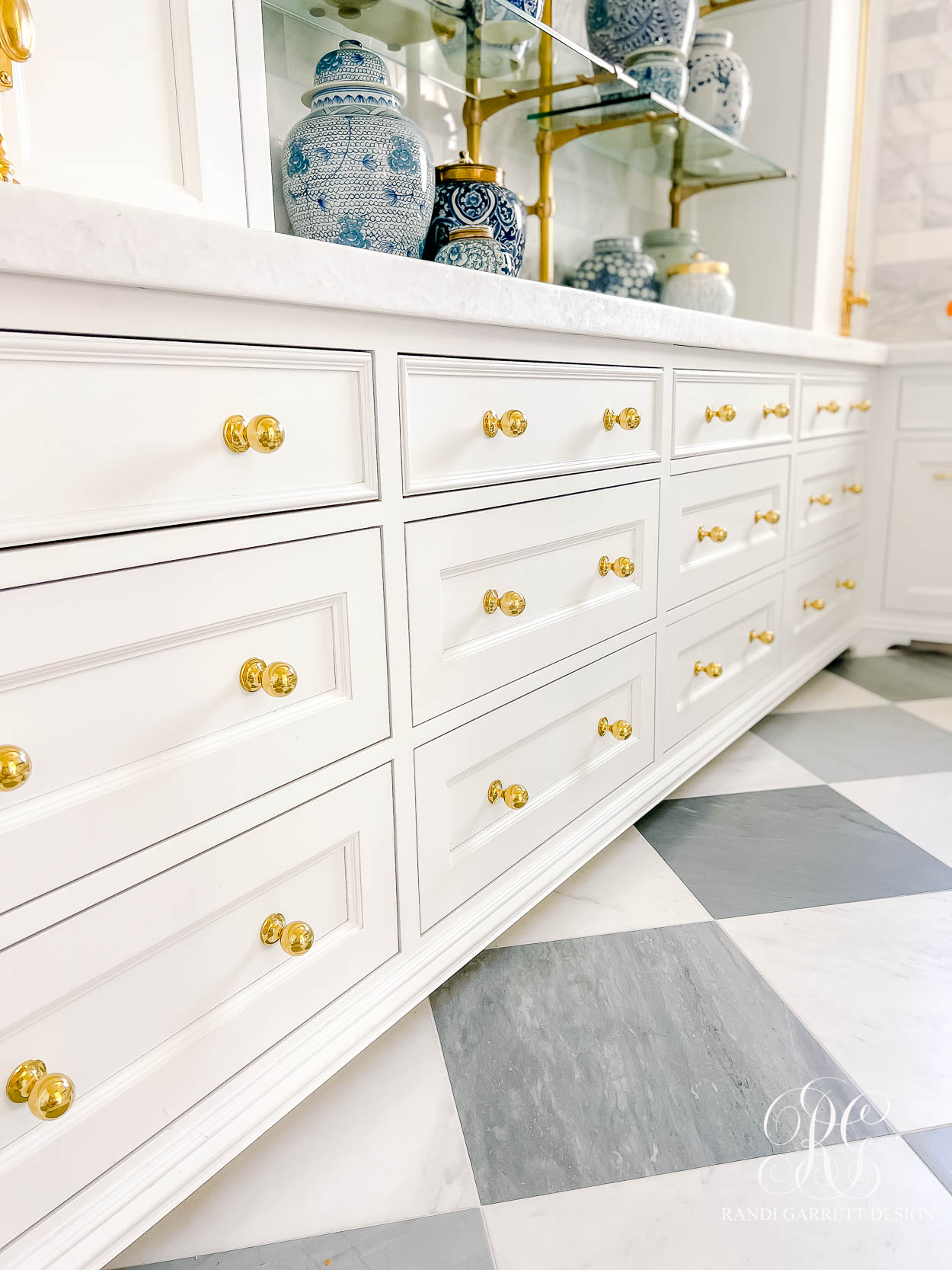 One of my favorite details in the room are the French Bistro Shelves. They were from RH, but are no longer available. You can have them custom made here. I filled mine with my collection of blue and white ginger jars. Originally, I was going to house all of my white cake plates and white serving platers. The white fell flat against the white cabinets. The blue and white pops! I can't help but smile every time I step inside!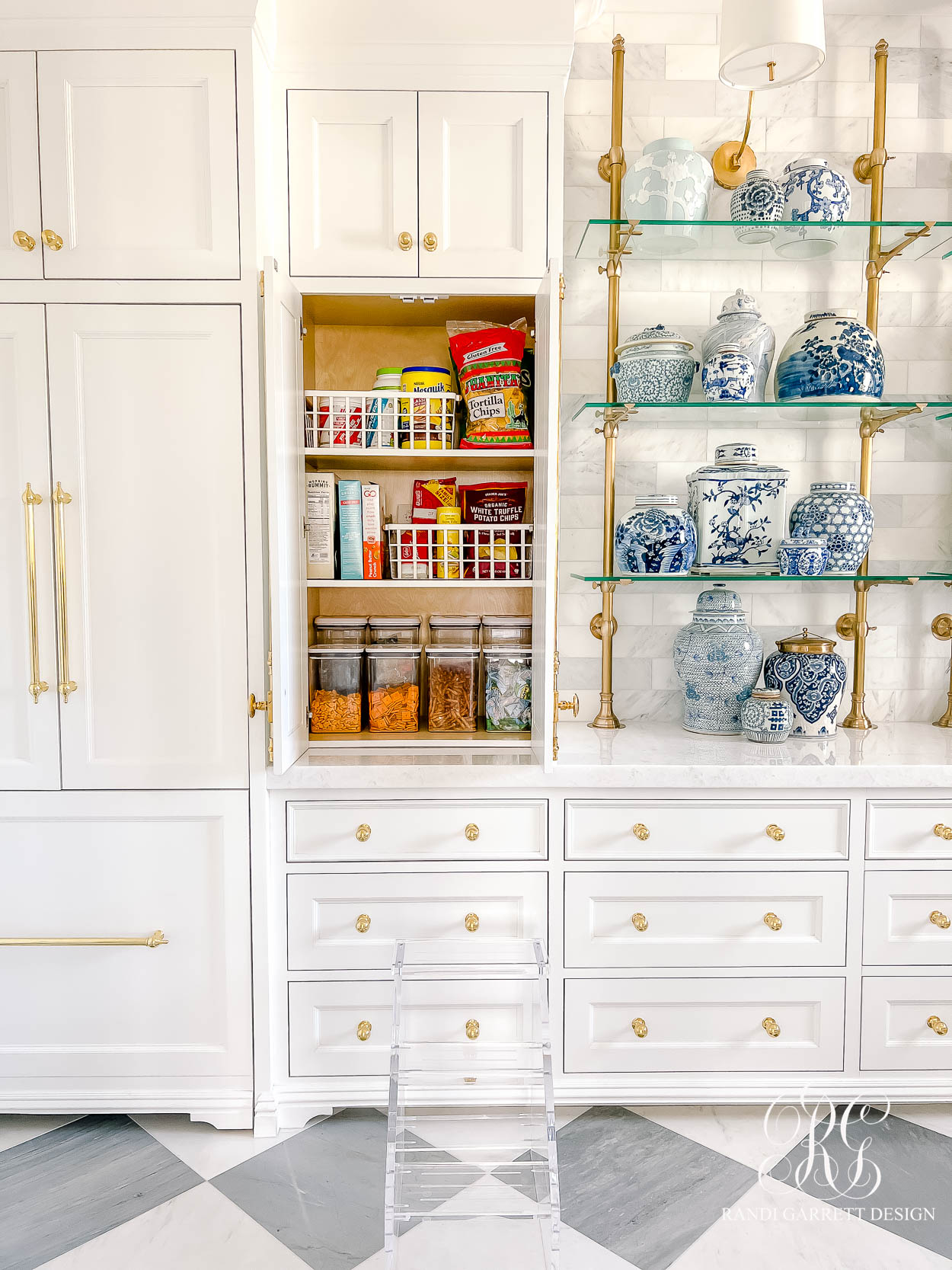 Here's a little peek into our food drawers and snack cabinets. I'll go into further detail about those in my Instagram stories. Below are a few organizer I found to be functional and pretty!
Sources
White wire baskets |White Drawer Dividers | OXO Containers (large here and small here)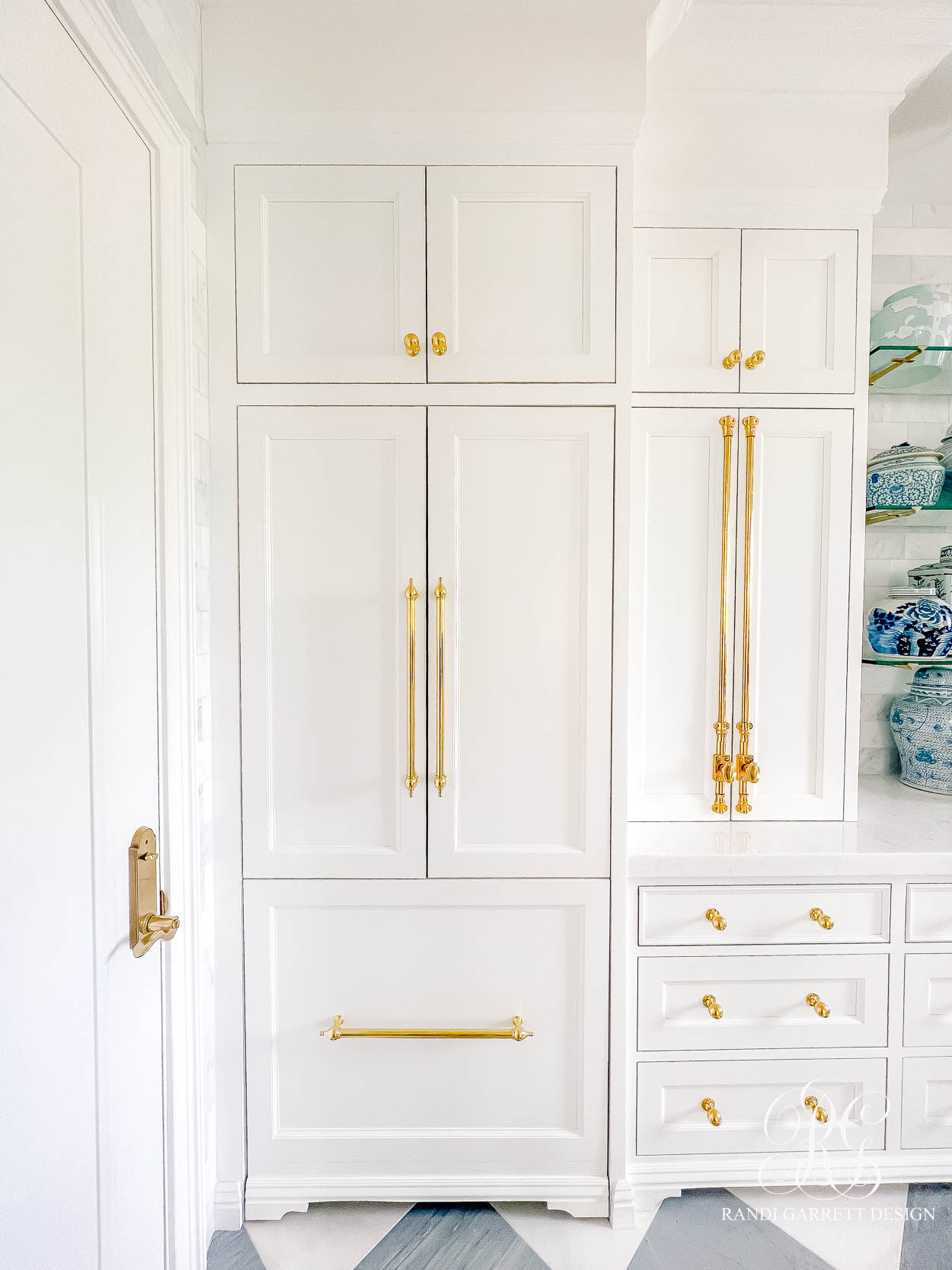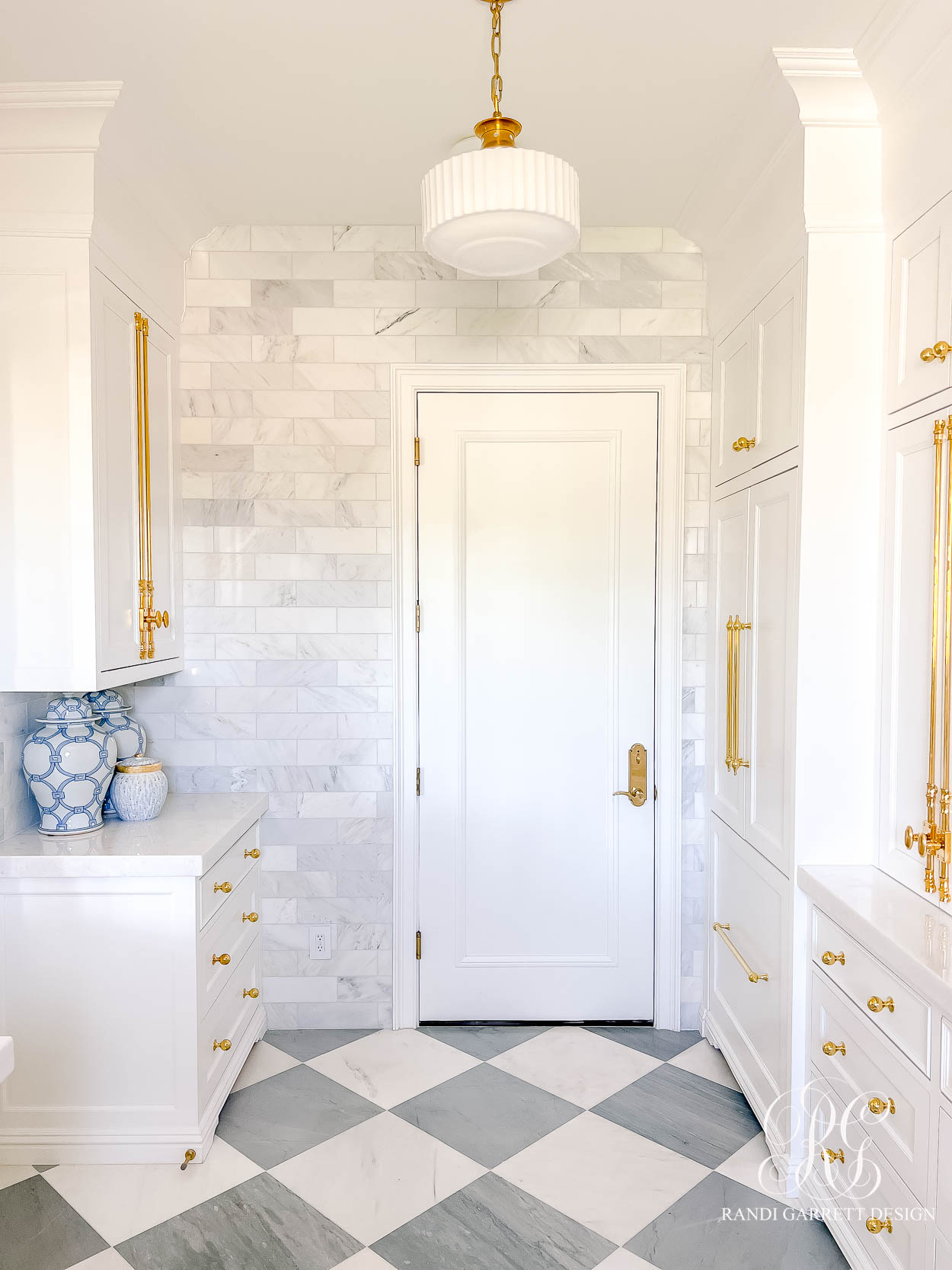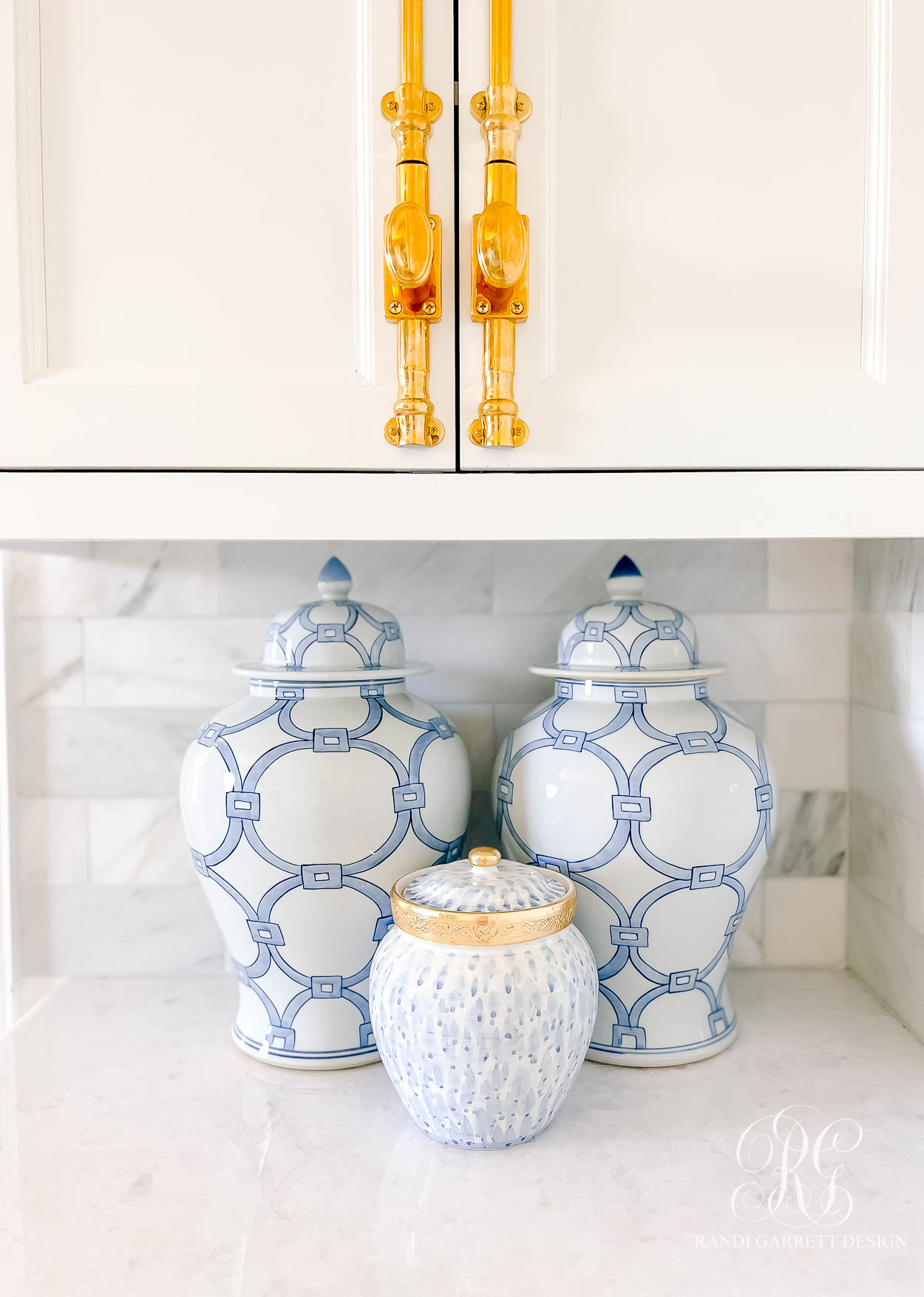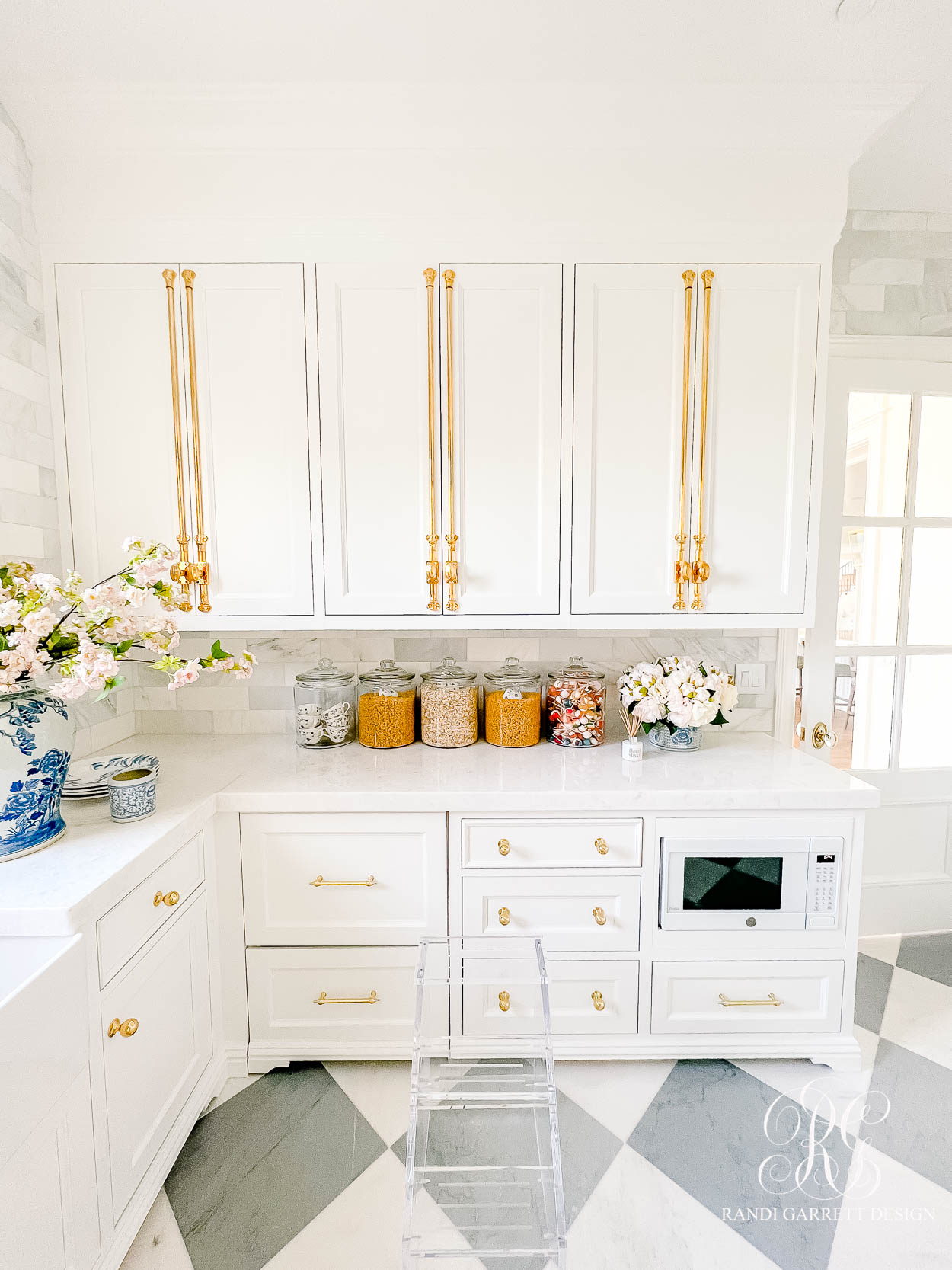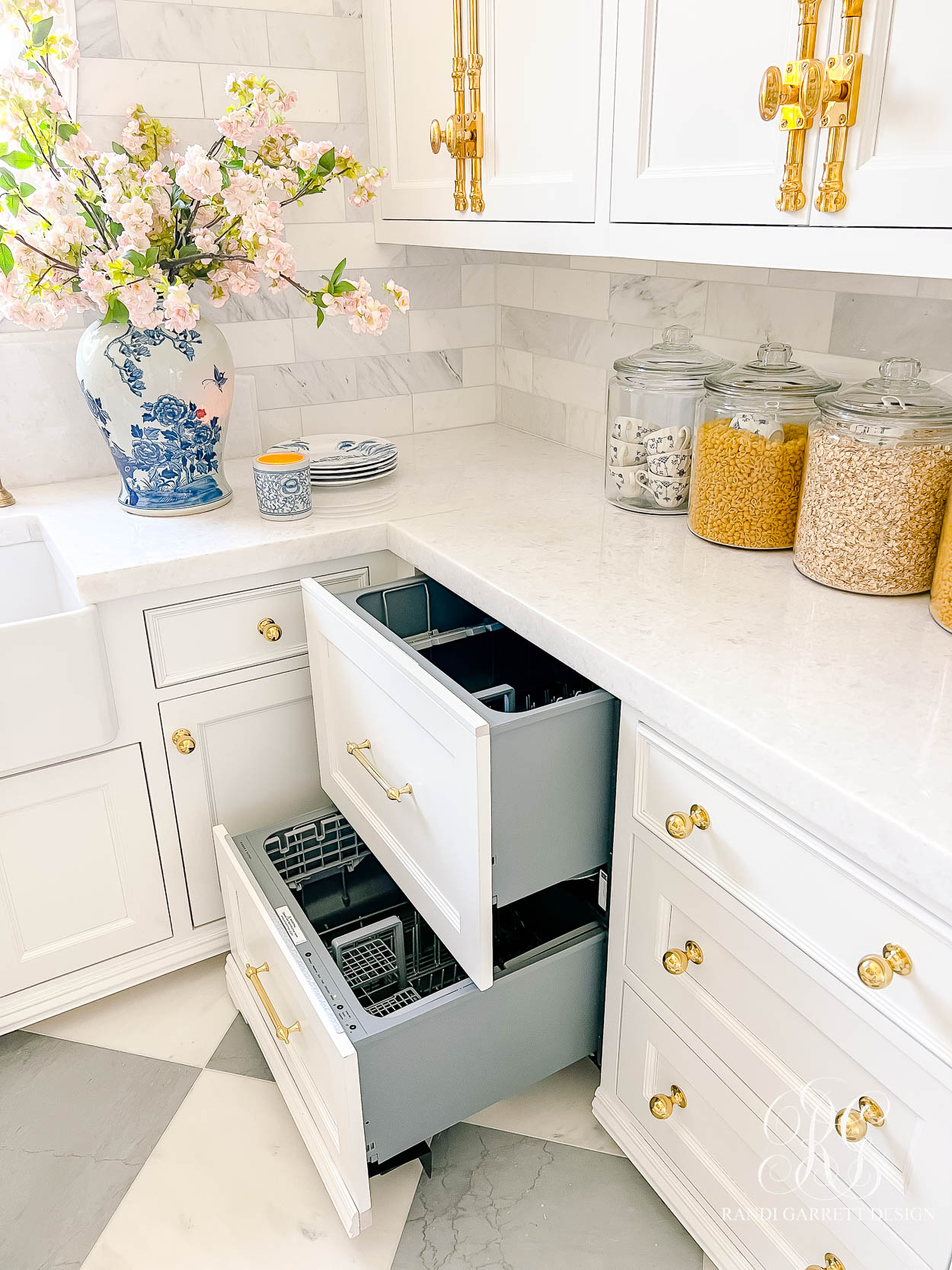 The fridge is a Fisher Paykel French door panel ready style. We used panel ready dishwasher drawers in here and I am in love with them!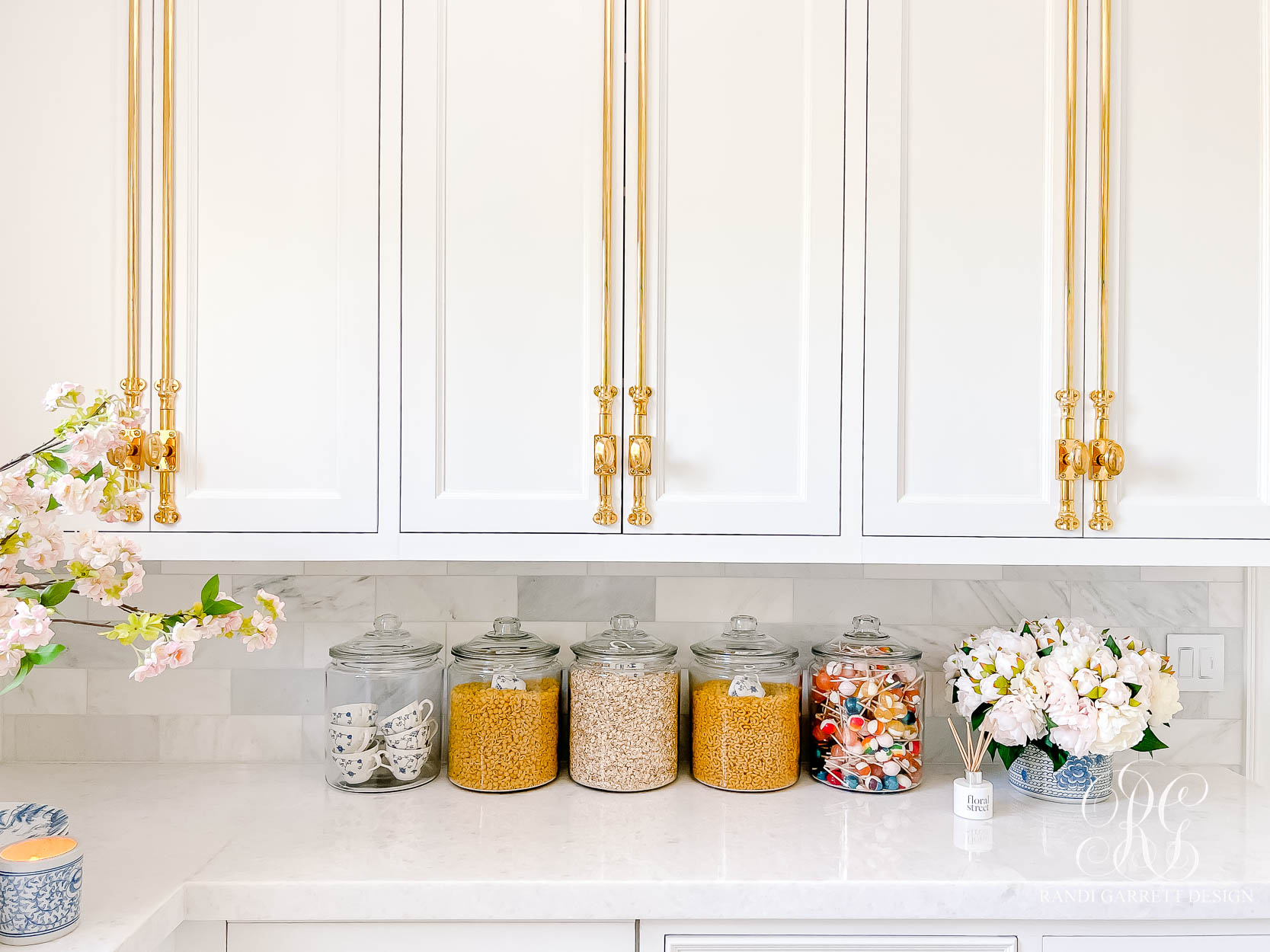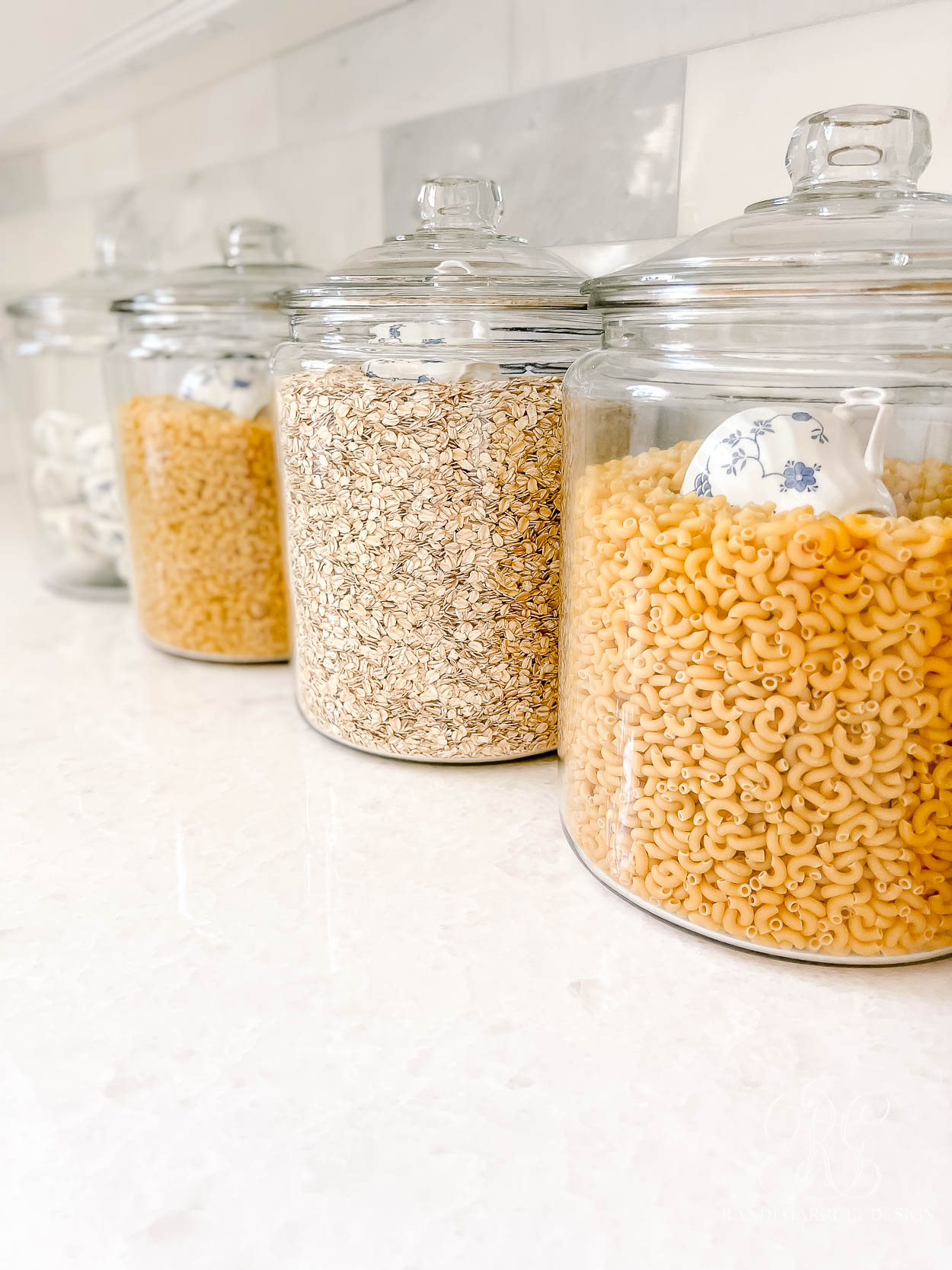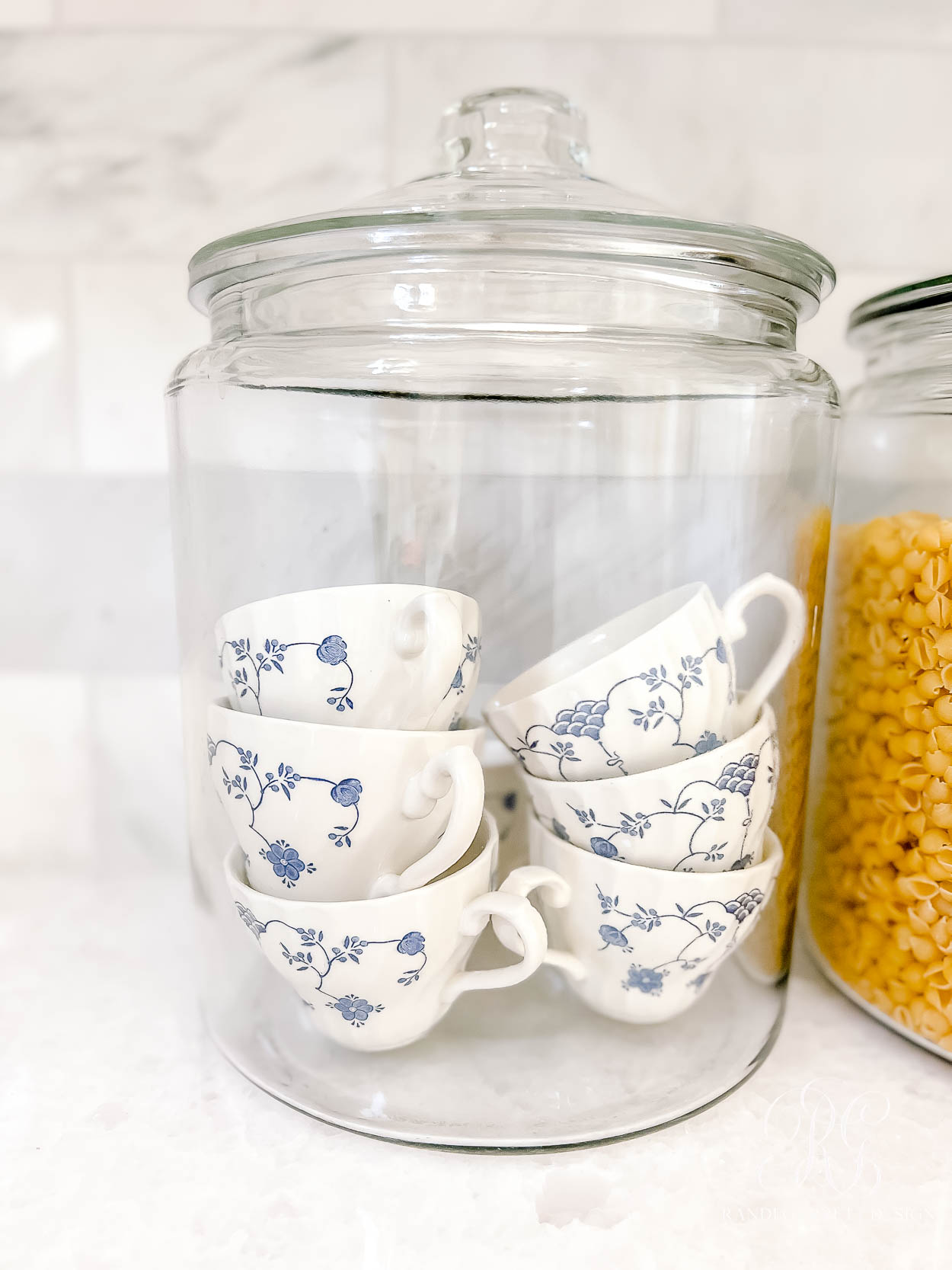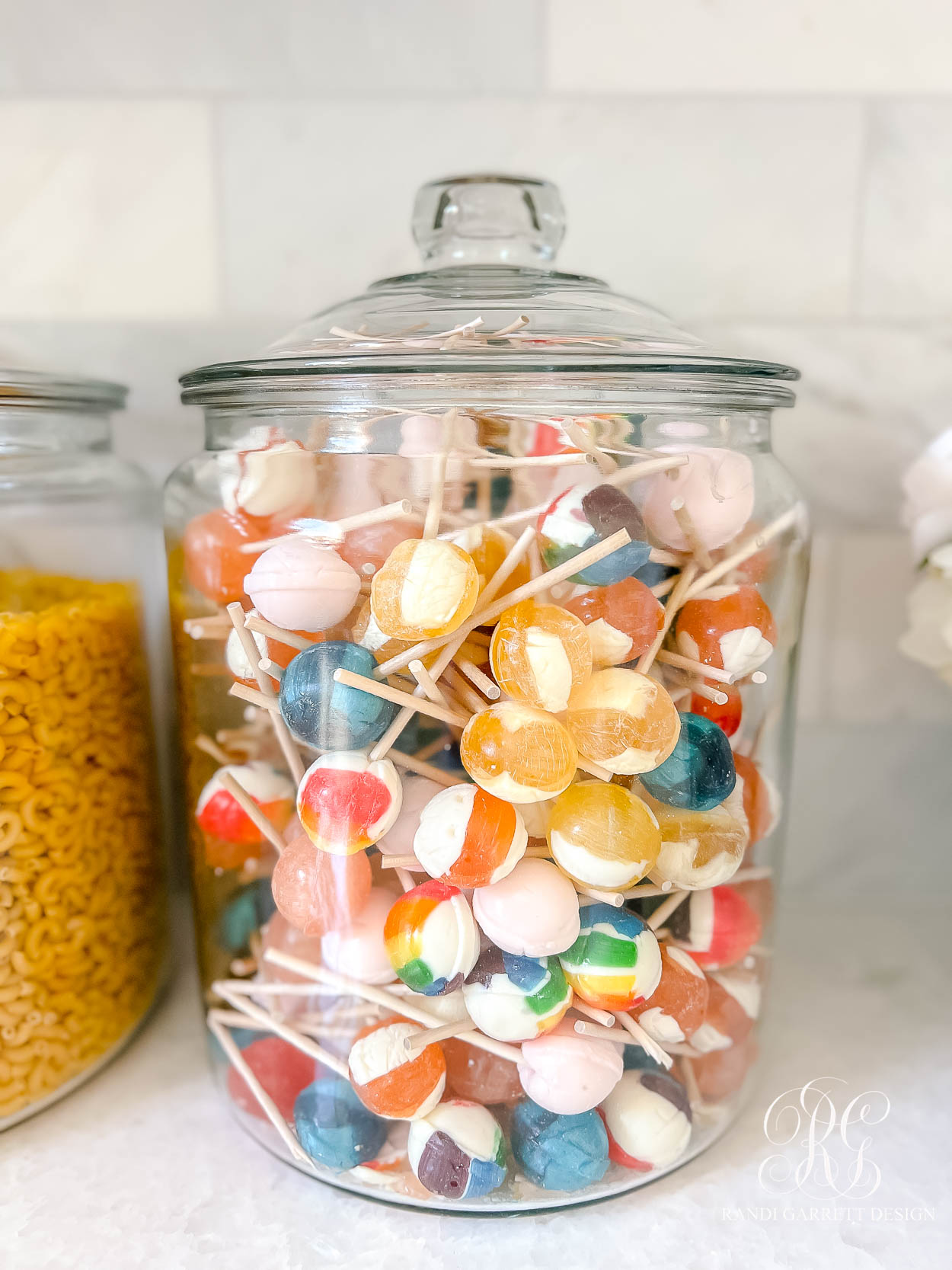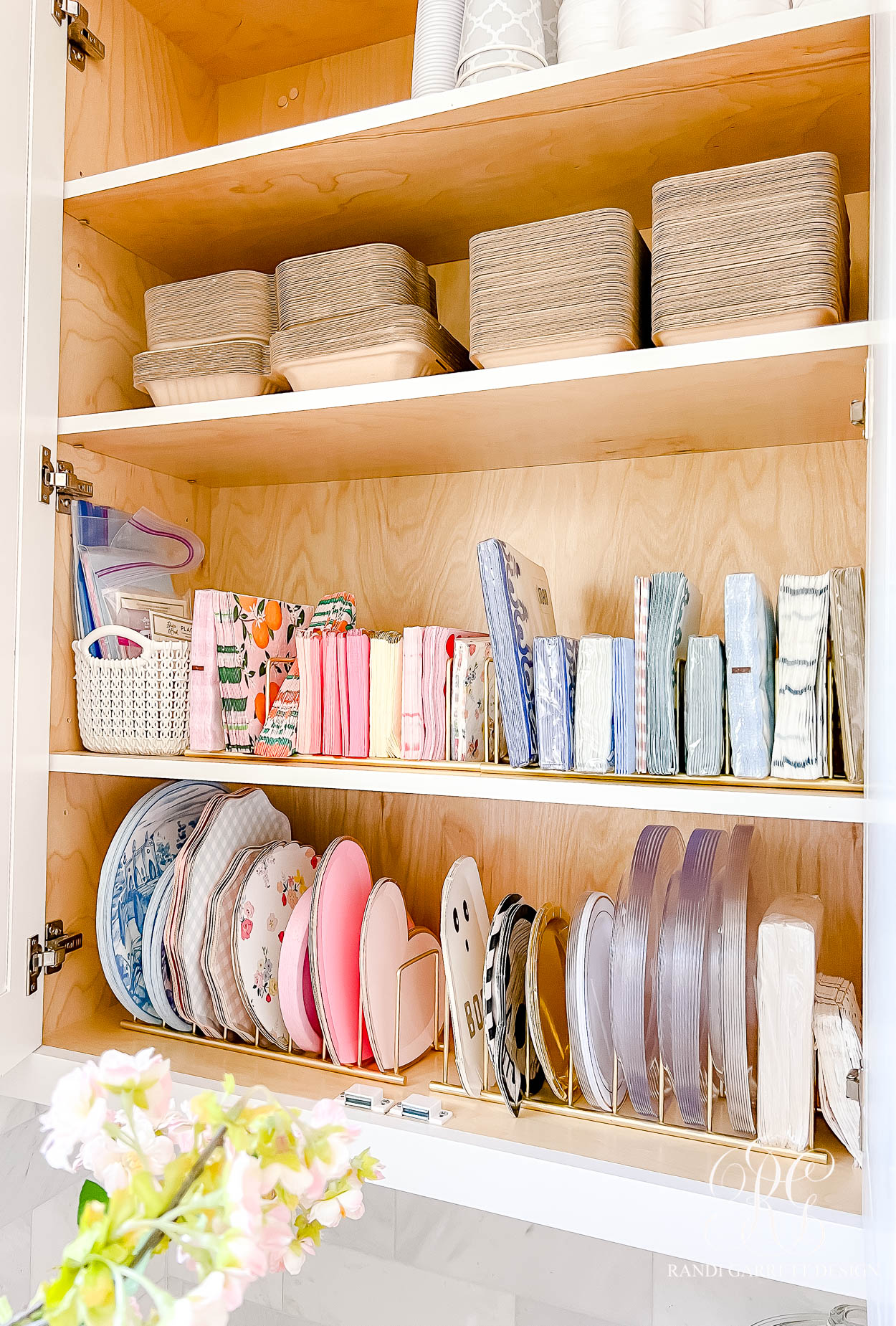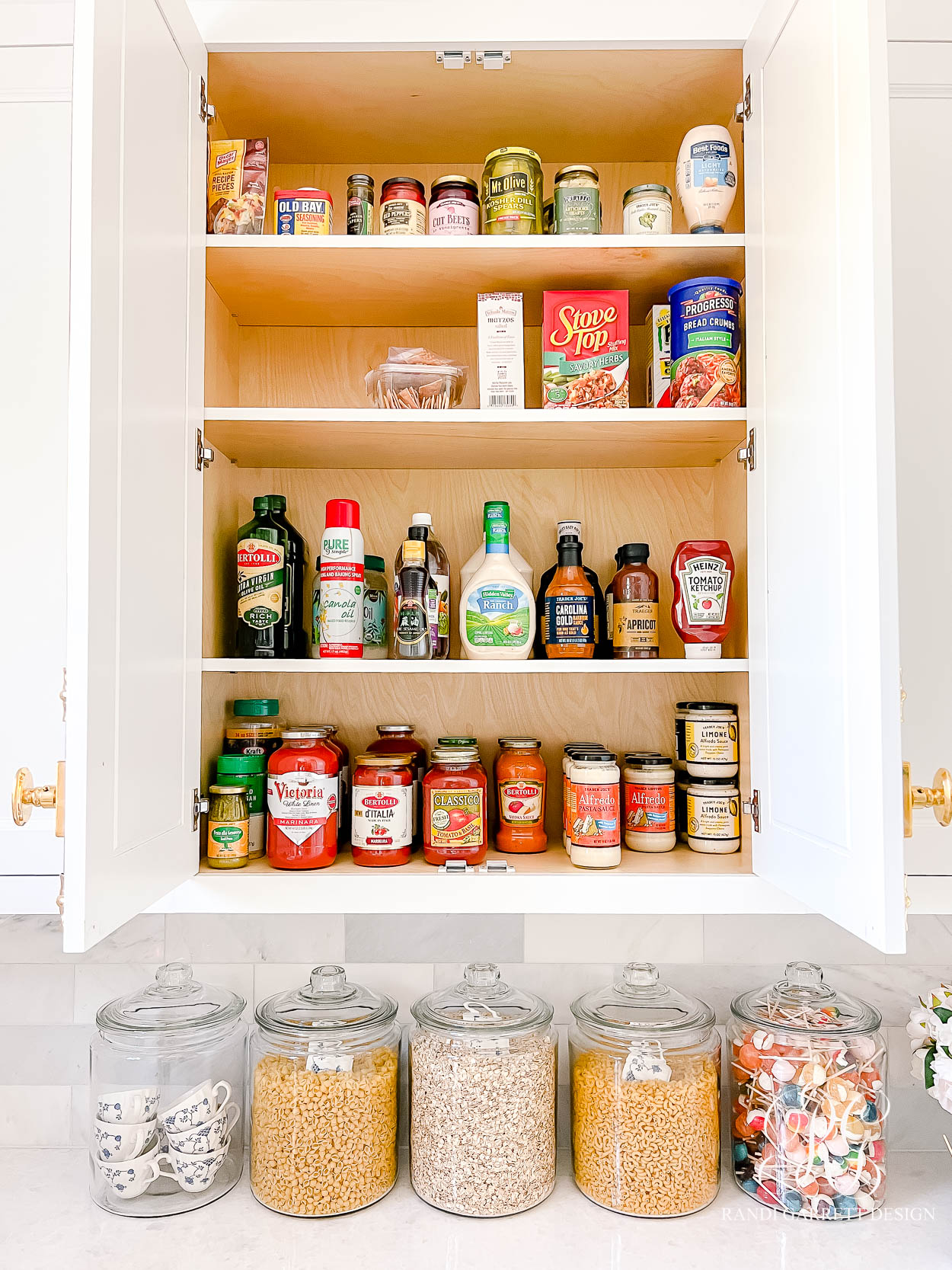 I used our jars from our old kitchen (which I have had since Matt and I got married), as storage for our pasta, oats, teacups and of course our old fashioned sucker stash! I used blue and white teacups (from our wedding china) as scoops.
More food storage is in these cabinets and my favorite cabinet in the house… my pretty paper goods! I wanted to find a place to hold all of my prettier paper goods so I could see them. Before they were stacked in a drawer making it hard to see what I had. I used these gold plate racks to store my paper plate and paper napkins. Now, I can see everything all at once! It's such a cheerful cupboard to open! I find my favorite paper plates at Meri Meri, Caspari and Home Goods.
This lucite step stool makes it so easy to reach everything up high and looks so perfect in the space!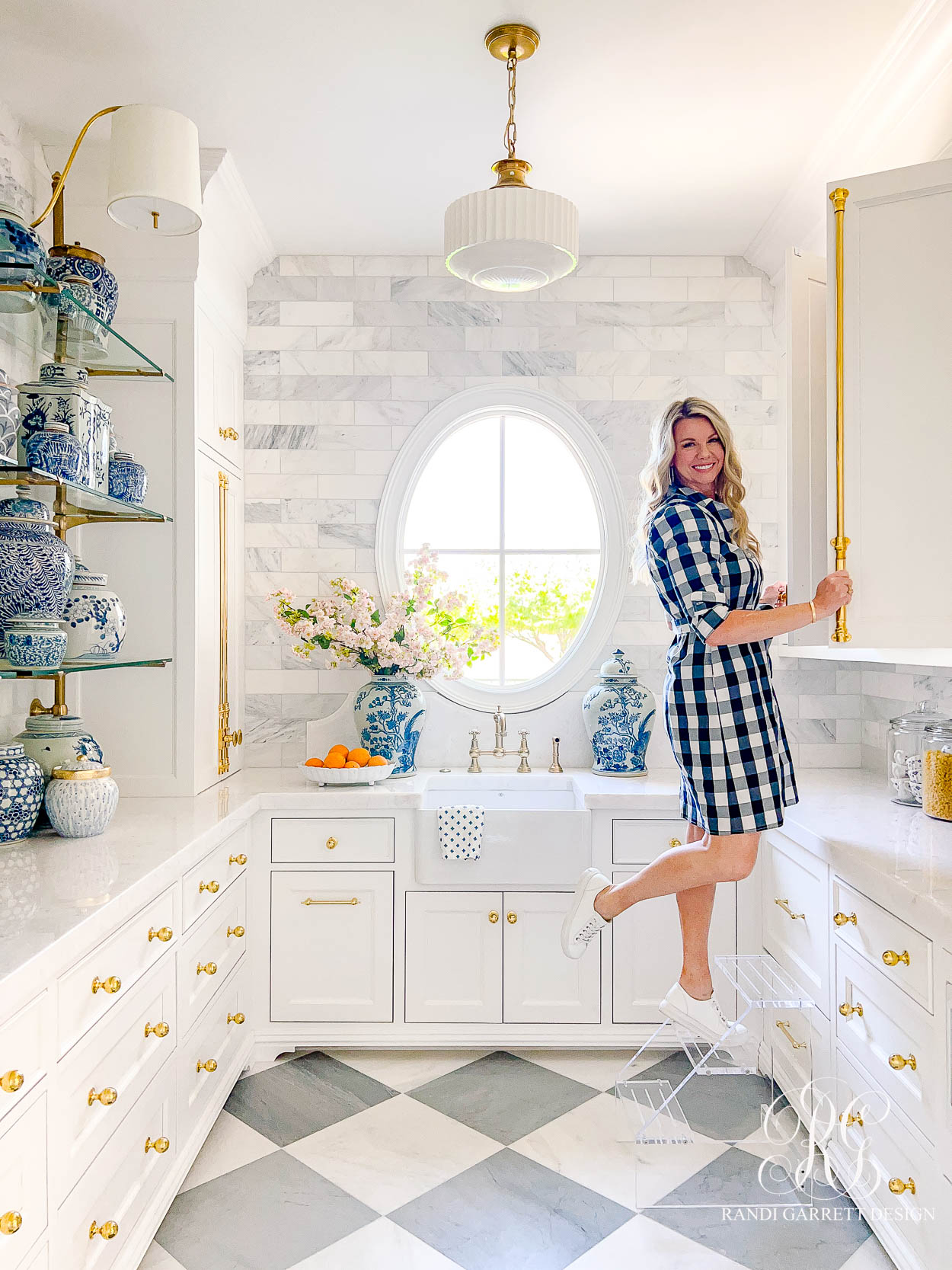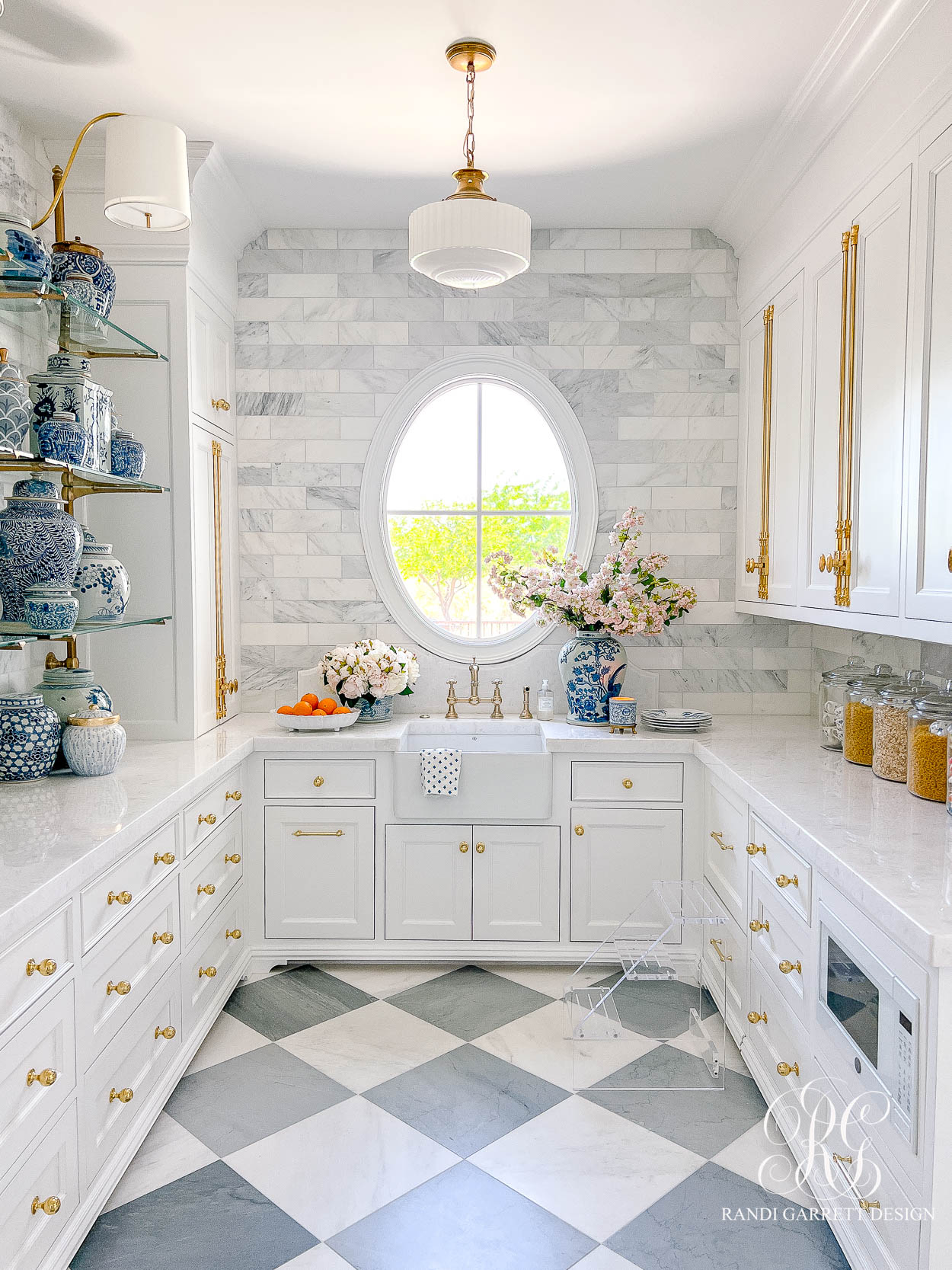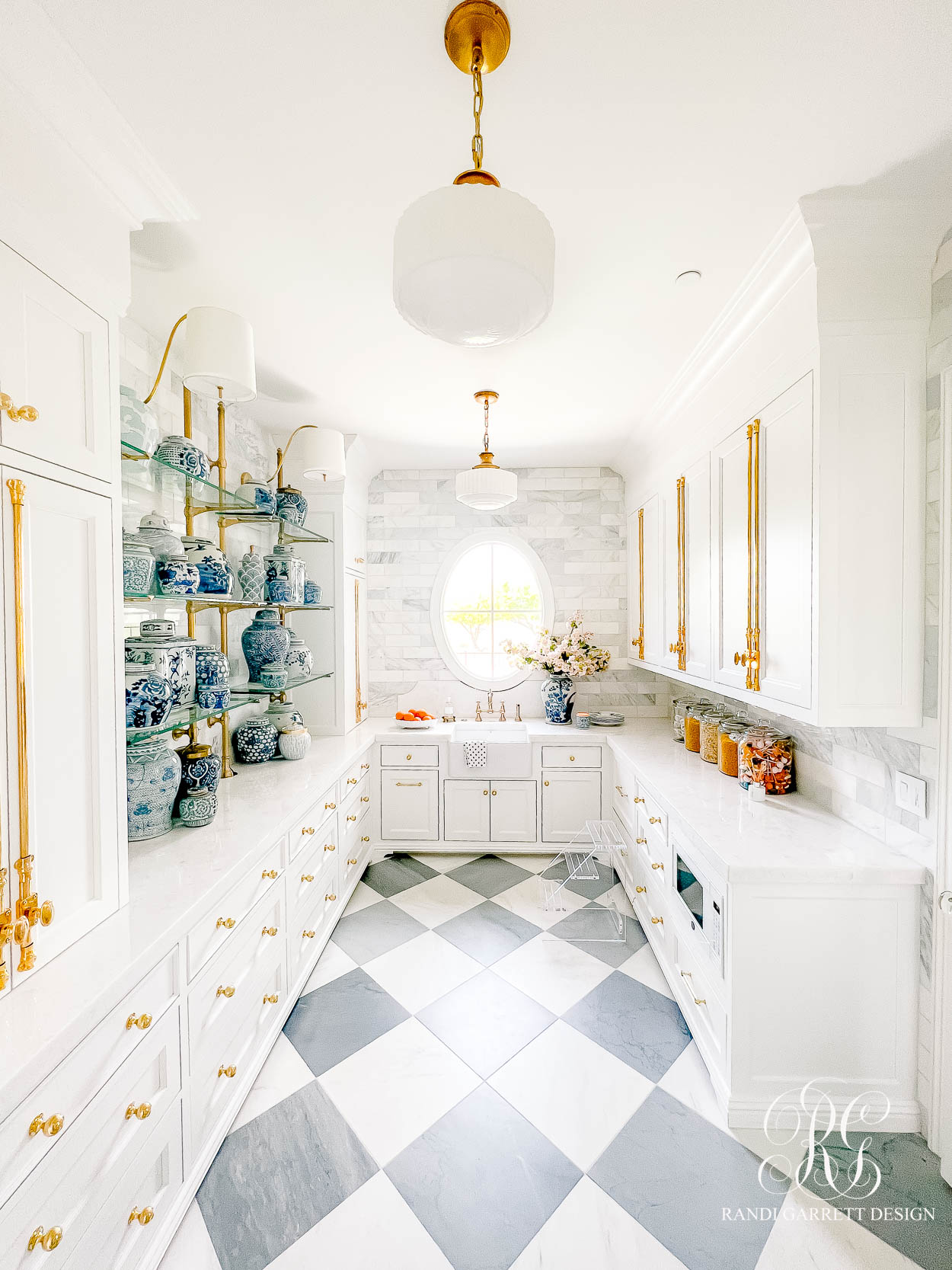 Our lighting is one of my favorite elements in the room! I love the detail on the Milton Road pendant lights and the Understudy wall sconces.
I hope you enjoyed the tour of our Butler's Pantry! Please let me know if you have any questions and what you think!
Sources
Cabinet Color – Benjamin Moore Chantilly Lace
Marble Subway Tile – Hampton Carrara Polished 4 x 12
Marble Countertops – Aethos Polished with a mitered edge
Gray Marble in checkerboard flooring 18 x 18 Victoria Grey Honed Marble
White Marble in checkerboard flooring18 x 18 Hampton Carrara Marble (we bought it polished and had our tile guy hone it)
Hardware
Cremone Bolts – Baldwin Hardware
Cabinet Knobs – Latchford Knob 35mm Armac Martin
Cabinet Pulls – Belgrave Cabinet Handle Armac Martin
Appliance Pulls – Belgrave Appliance Pull Armac Martin
Door Knob – Emtek Hampton Knob with Oval Rosette backplate in French Gold finish

Lighting

Plumbing Fixtures
Sink – DXV 24″ Hillside Apron Sink
Appliances
Dishwasher Drawers – (large here and small here)
Accessories
French Bistro Shelves – no longer in production


Ginger Jars


Craftsmen