My Ellie is officially all moved into her Chic Dorm Room! Leaving her was so much easier knowing she has a cozy, homey place to come home to everyday. Ellie wanted her dorm room to feel chic and girly. She chose floral bedding with lots of texture and luxurious, soft fabrics.
Her favorite accessories are sentimental pieces from home. A quilt her Aunt Allie made her, when she turned 16, is draped over her desk chair. A hand painted painting from a dear friend hangs above her desk. Faux, pink peonies in a white and gold vase remind her of home. The Paris and London art prints from my sweet friend, Georgianna Lane bring back all the fond memories of our special trip to Europe this past Spring. There is photograph of the Salt Lake City LDS temple hung next to her bed. This is a special church building where she hopes to be married someday. All of these sentimental pieces help her room feel like home.
We still need to add some family photos and a special tennis racket craft for her wall. But it is nearly complete! Here's a peek at how we transformed her space into a Chic Dorm Room! Any of these items would look amazing in any chic, girly space.
This post contains affiliate links for your convenience. Click here to read my disclosure policy.
Ellie's Chic Dorm Room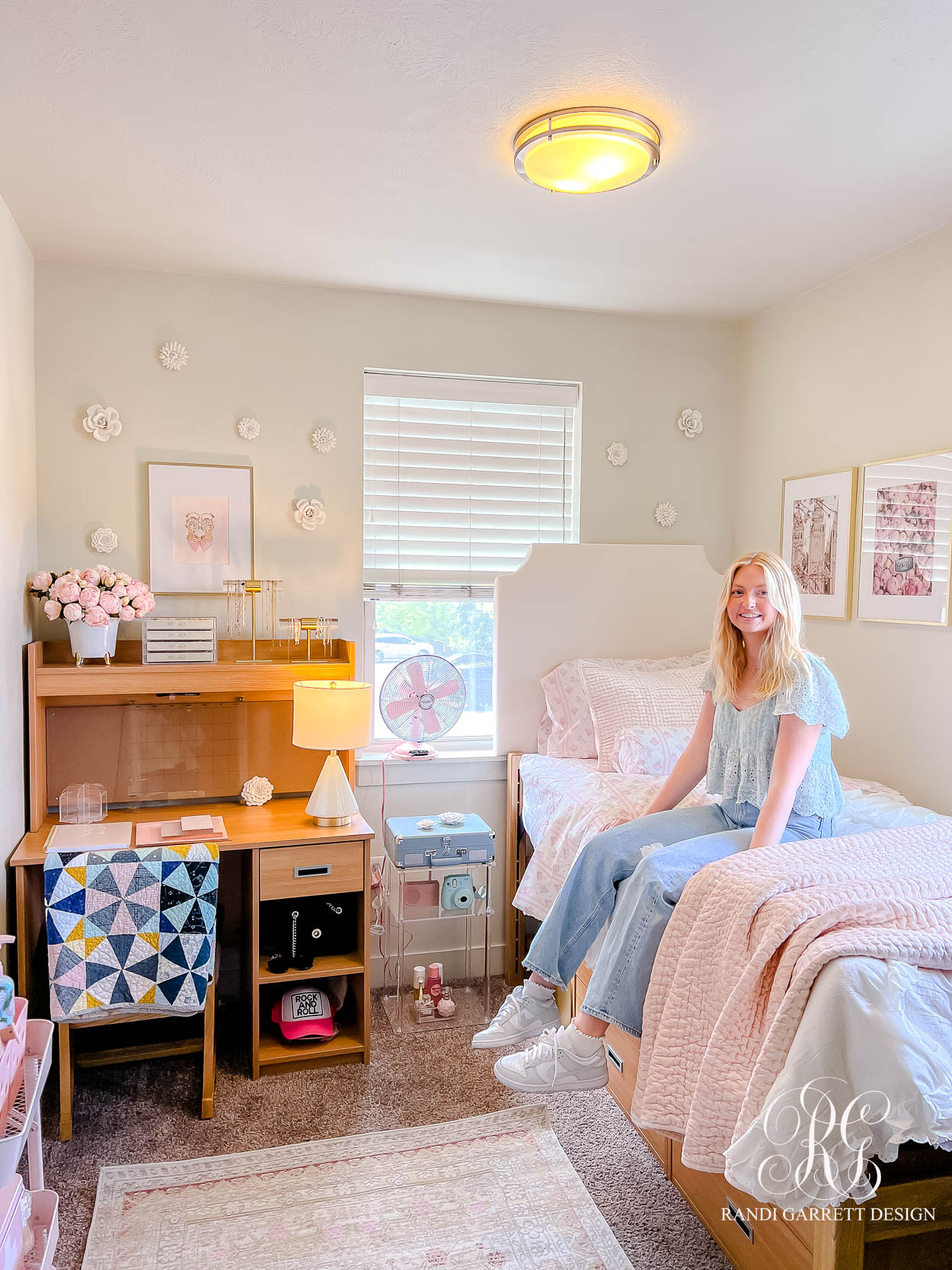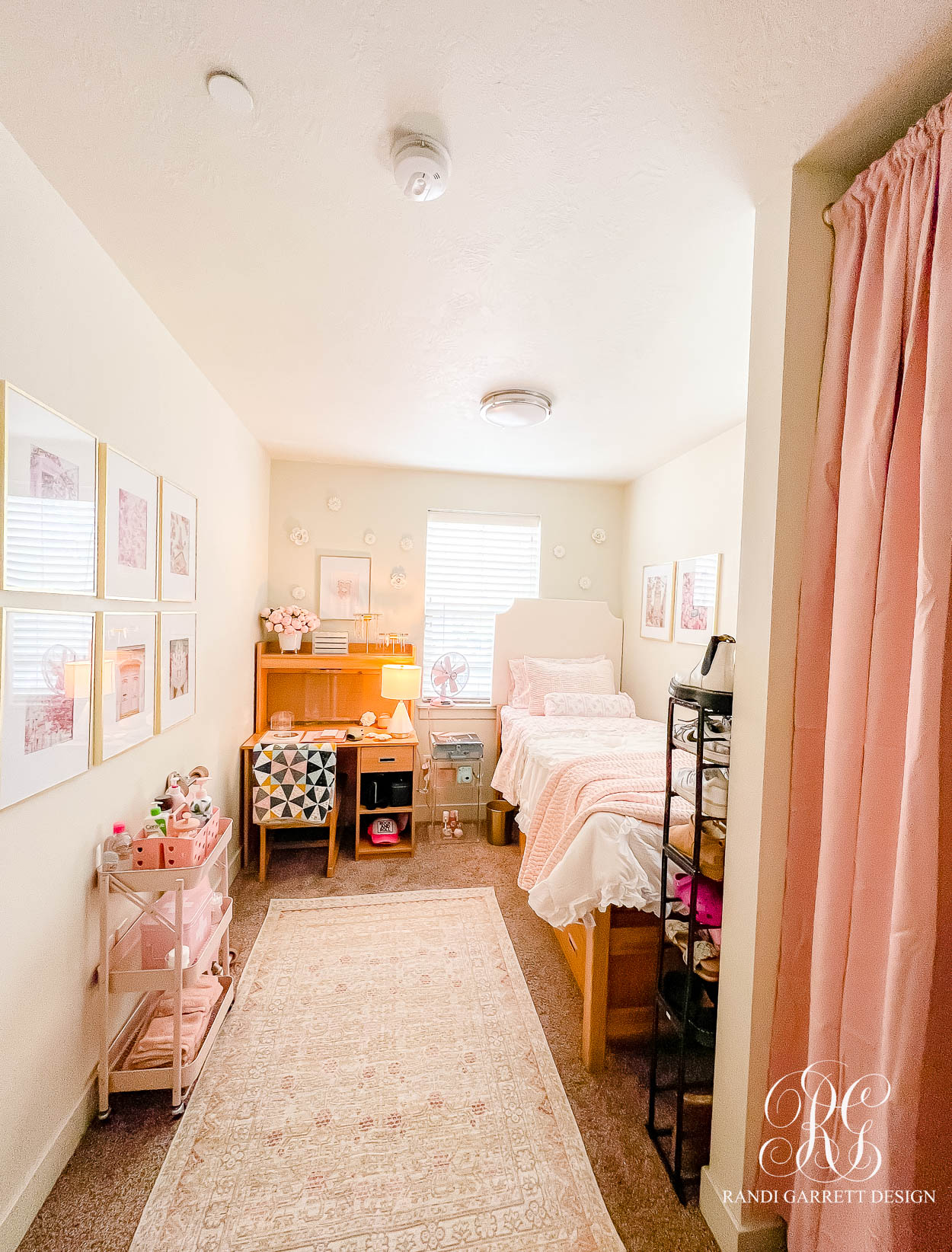 Luxurious College Bed
We started the bed with a comfy memory foam pad for extra comfort. Then afluffy mattress cover. I ordered Ellie two sets of sheets so she can rotate them to help them last longer. One set is pink floral. The other is cream lace and match her comforter. A cushiony lace comforter made of layers of lace and ruched fabrics makes the bed extra cozy. At the end of her bed, we added this pink velvet quilt for cool nights. Since dorm beds are anything but chic, we found this velvet headboard that Velcro's to the wall. She can read or study in bed with comfort and in style. Matching shams add a soft touch to the bed. A girly floral bolster completes the look.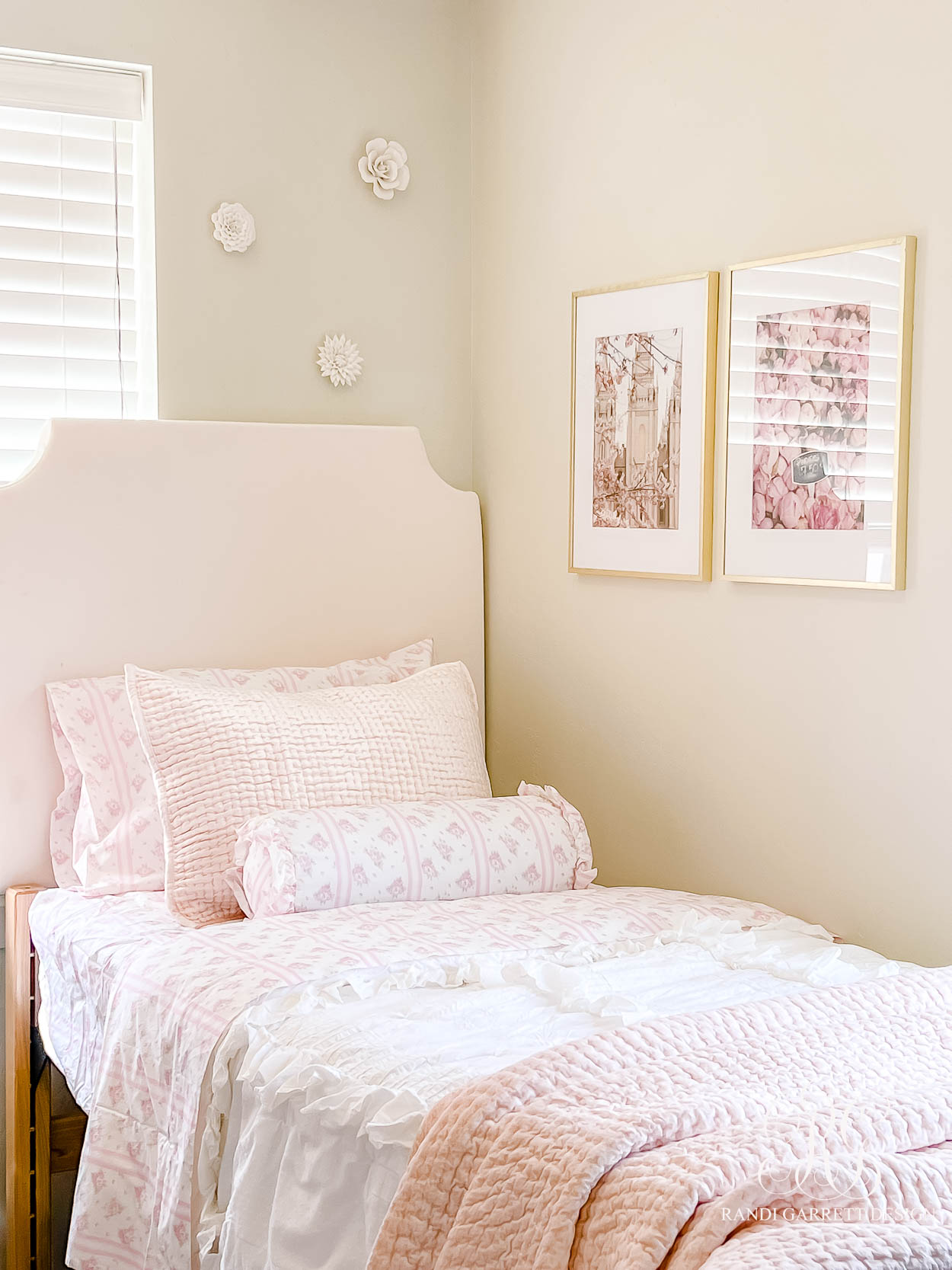 Chic Study / Vanity Area
Ellie's room came with this wooden desk. We dressed it up a bit with the quilt her Aunt Allie made for her. It is so fun and cheery. This space doubles as a study area and vanity area. We used stylish jewelry organizers and cute desk accessories to keep the space feeling chic.
We added a custom watercolor print our friend made special for Ellie. Porcelain flowers brighten up the wall as well. These are spread whimsically around the room. We just attached them to the wall with a tiny finishing nail.
My favorite white and gold cache pot is filled with my favorite faux pink peonies as a reminder of home.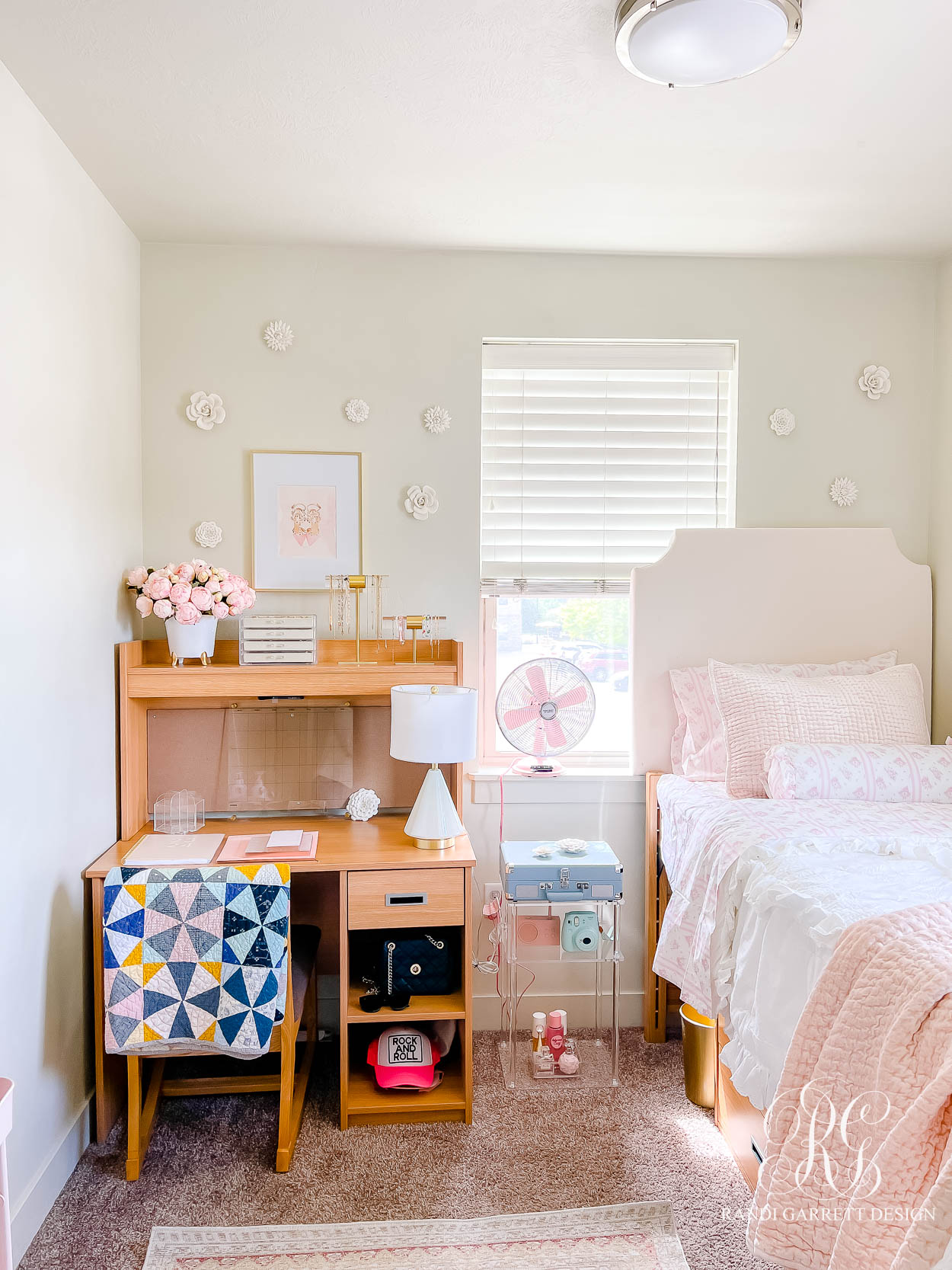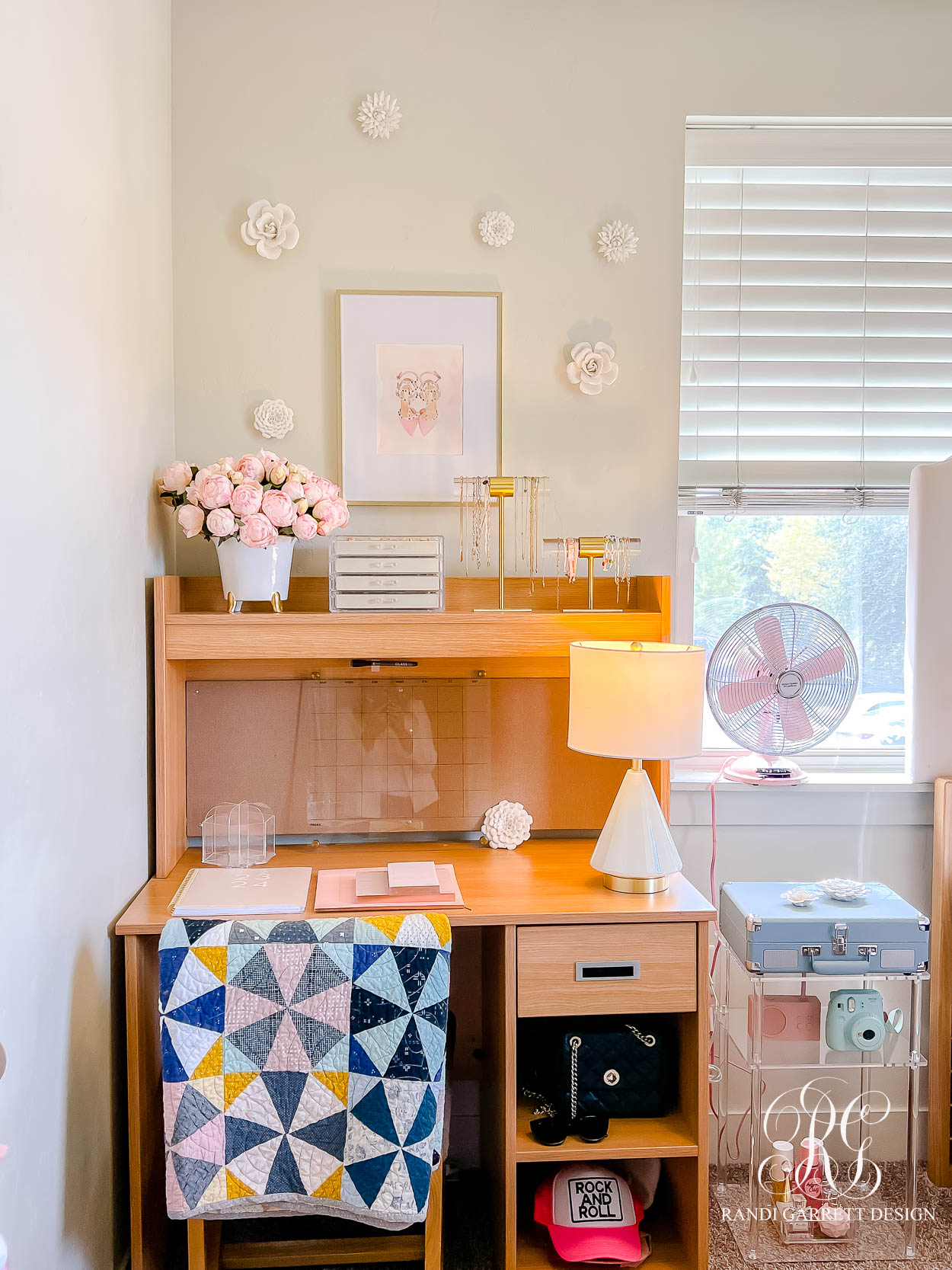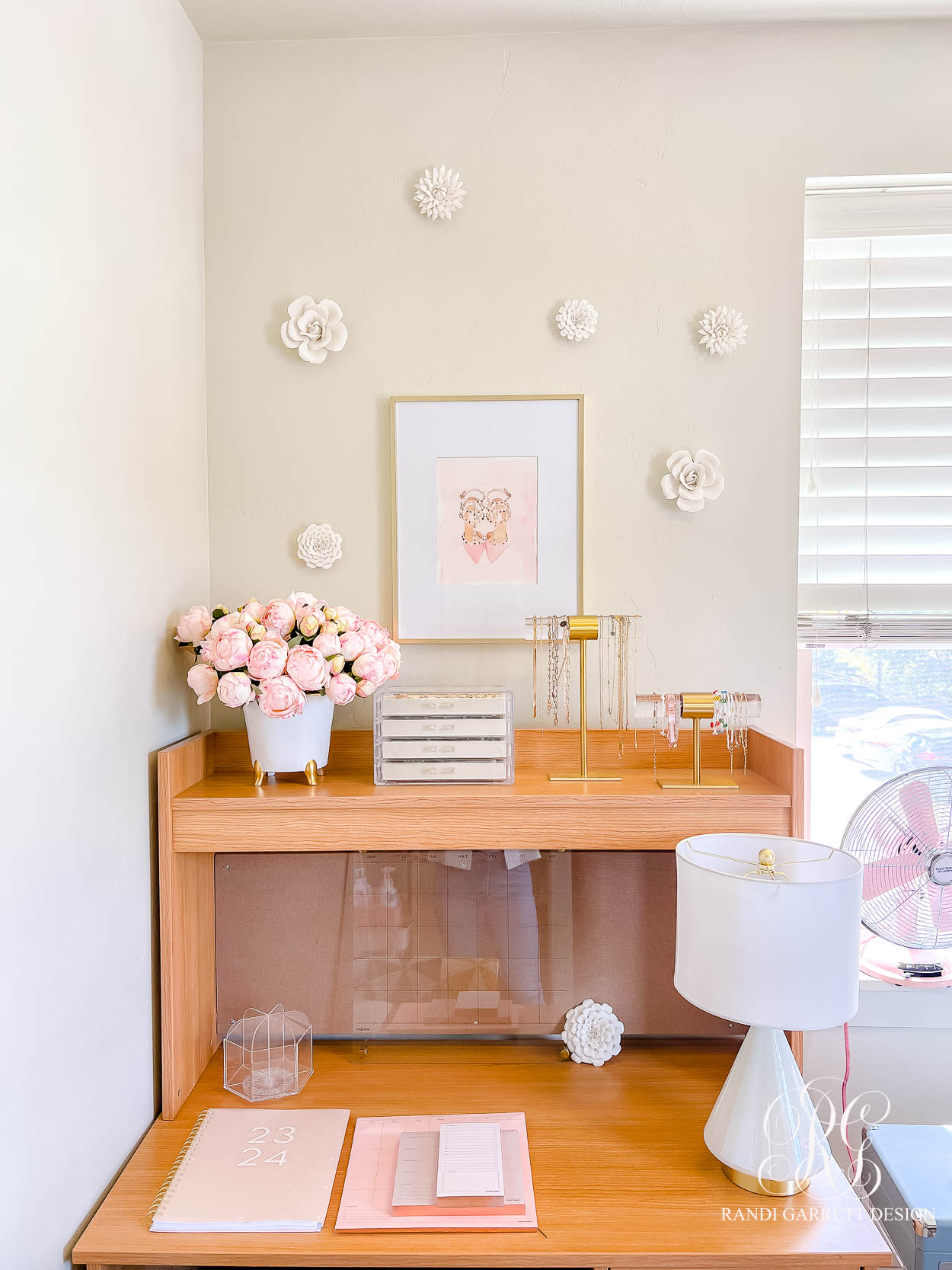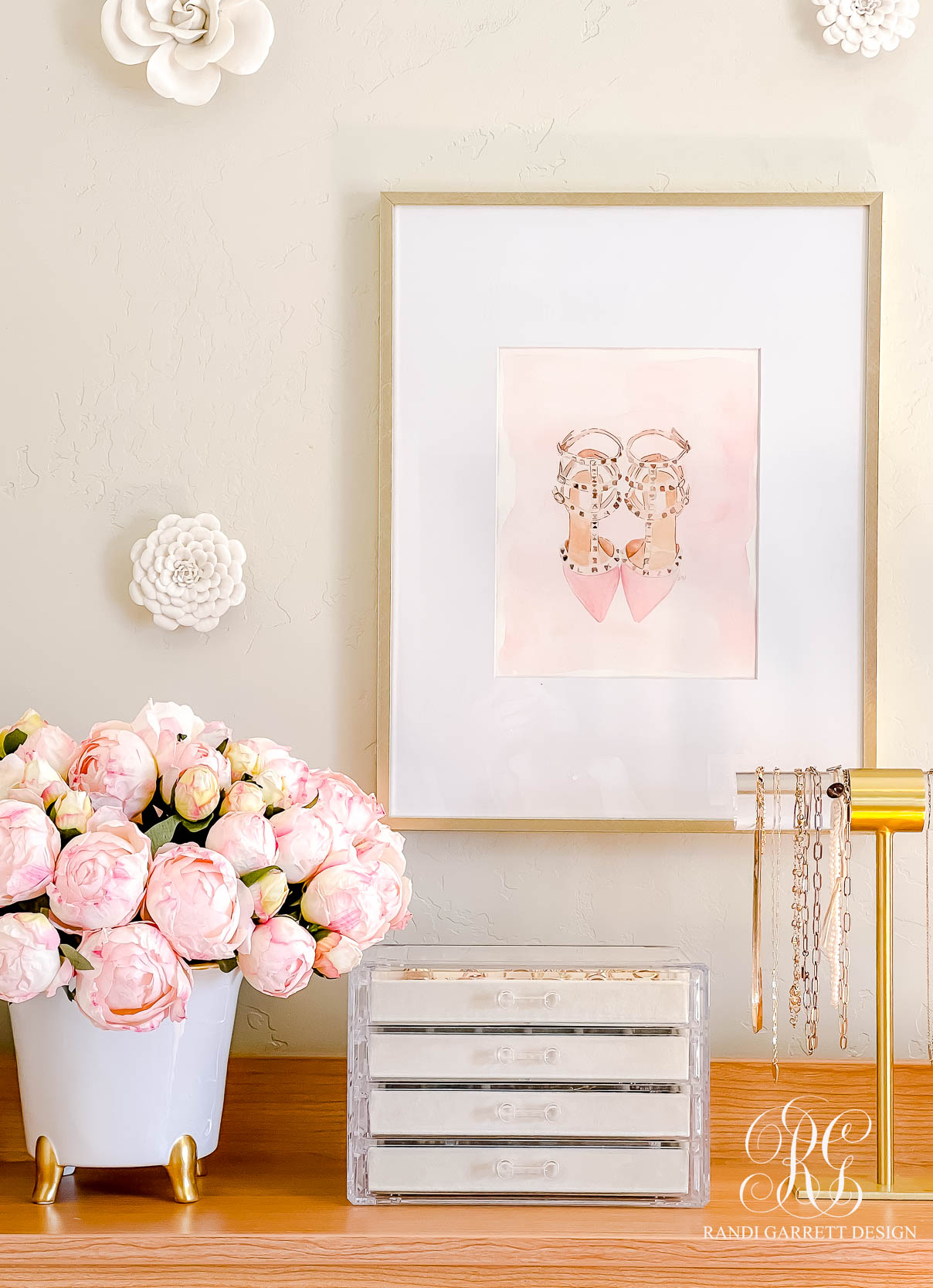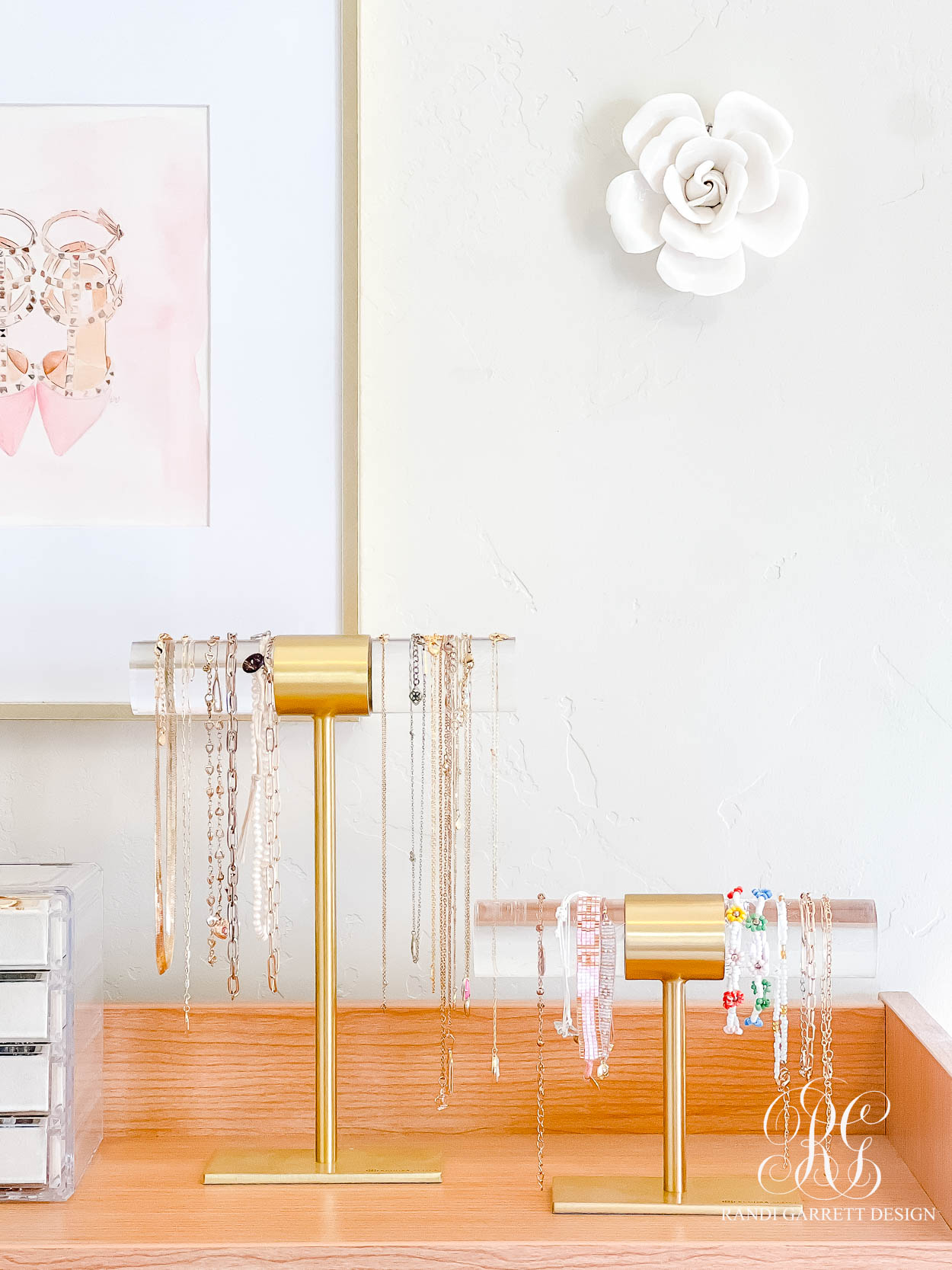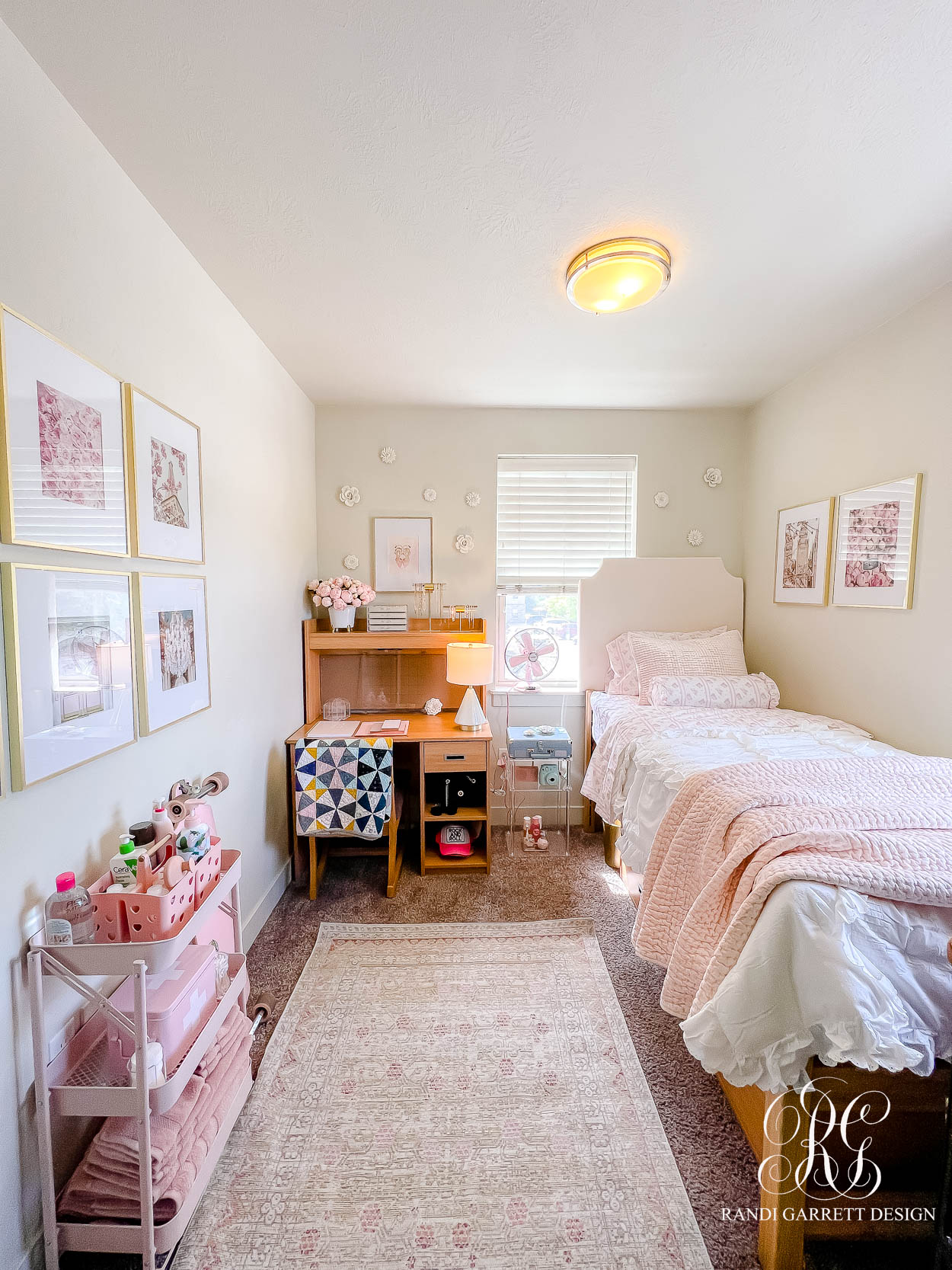 Chic Storage Solutions
College dorms and apartments are usually pretty tiny. Chic Storage are a must! We found several chic storage solutions that added to the style and organization of her room. Here is what we used…
Pink Caddy – Holds misc first aid (pink first aid kit here) and toiletries.
Acrylic Nightstand – The perfect place for her record player, perfume and small electronics.
Shoe Organizer – This on is great because it is so narrow. It fits in tight spots while still storing a ton.
Drapes – Hide all the clothes. We used a pretty gold tension rod to hang these high quality, affordable drapes. I wish I had had time to steam them for her!
Collapsable Hamper – Holds a ton and is super light weight.
Gold Command Hooks – Perfect for hanging towels!
Over the Door Full Length Mirror – Don't sacrifice any valuable wall space!