Fall! After the hottest summer on record, it can not get here quick enough! Like every year, in the past, I love to style our home for fall with unexpected fall colors. Here in Arizona, fall comes in November or December. Since our weather is atypical, I like to play off that and make my fall decor atypical as well! Try playing around with unique fall color schemes, do something different! I promise you will have so much fun being creative and unique!
This fall, my inspiration came from our family trip to the beautiful Florida beaches. Aqua water, powdery sand and glistening sunshine were my inspiration for my fall color scheme. I chose fabrics that are reminiscent of the gorgeous Floridian waters and sparkling sunshine. Fall foliage is white and airy, conjuring up memories of the soft powder sand. Sparkling crystals dance around the room like the sunshine across the aqua waters. The house feels warm and magical!
Hot Skwash luxurious's, velvet pumpkins are my favorite way to welcome fall into our home. You will find them sprinkled throughout our entire house. They add whimsical luxury to every room they dress. Feathers, crystals, velvet and stunning one of a kinds make each pumpkin a spectacular addition to your fall decor. They come in sizes ranging from 3″ up to their extra large Luca. Whether you select a large or tiny pumpkin, your space will feel more magical with a Hot Skwash pumpkin!
I hope you enjoy our fall, Floridian inspired family room! Come back to see how I incorporated this color scheme throughout our entire home for fall.
This post contains affiliate links for your convenience. Click here to read my disclosure policy.
Cozy Fall Candles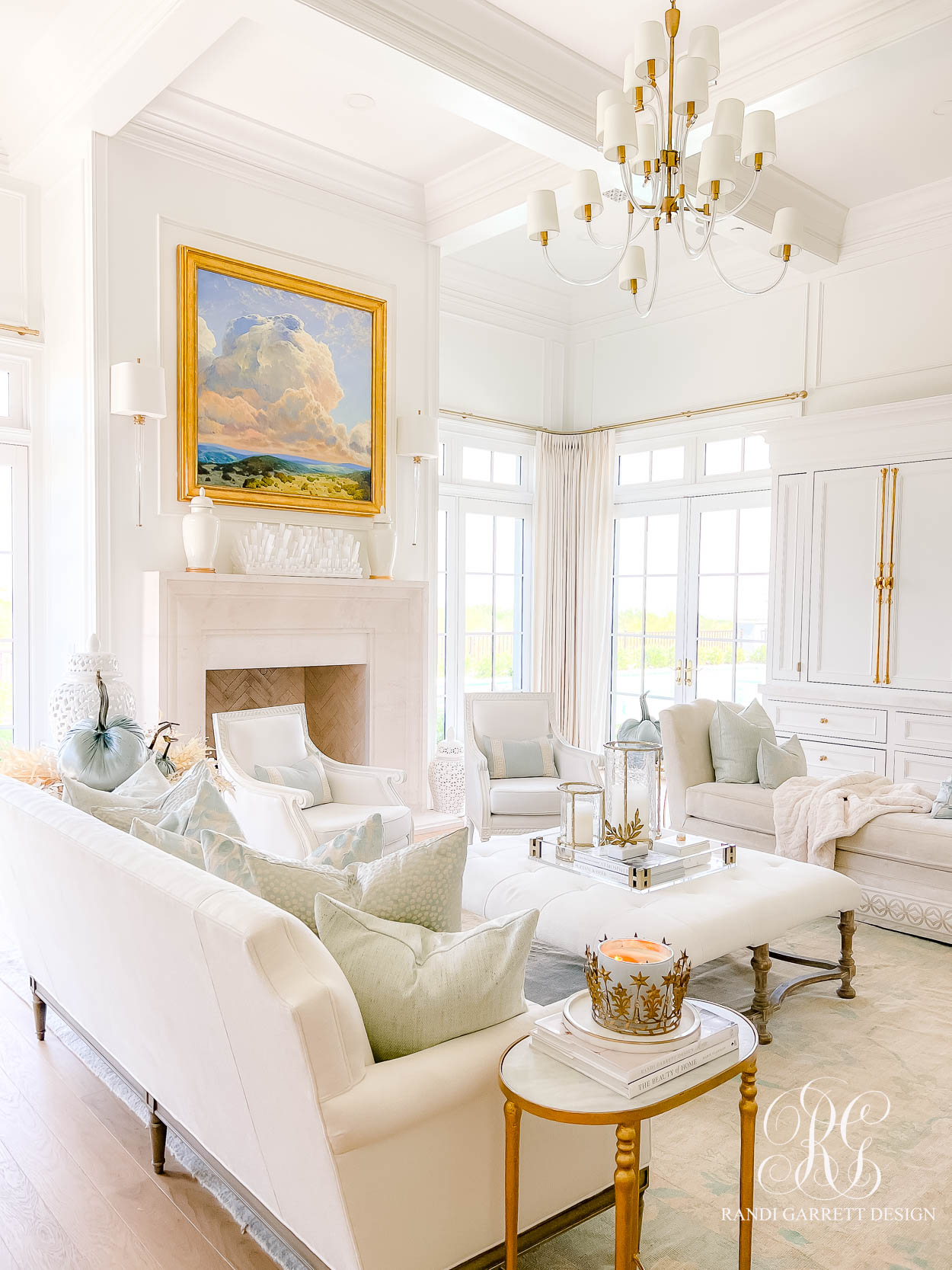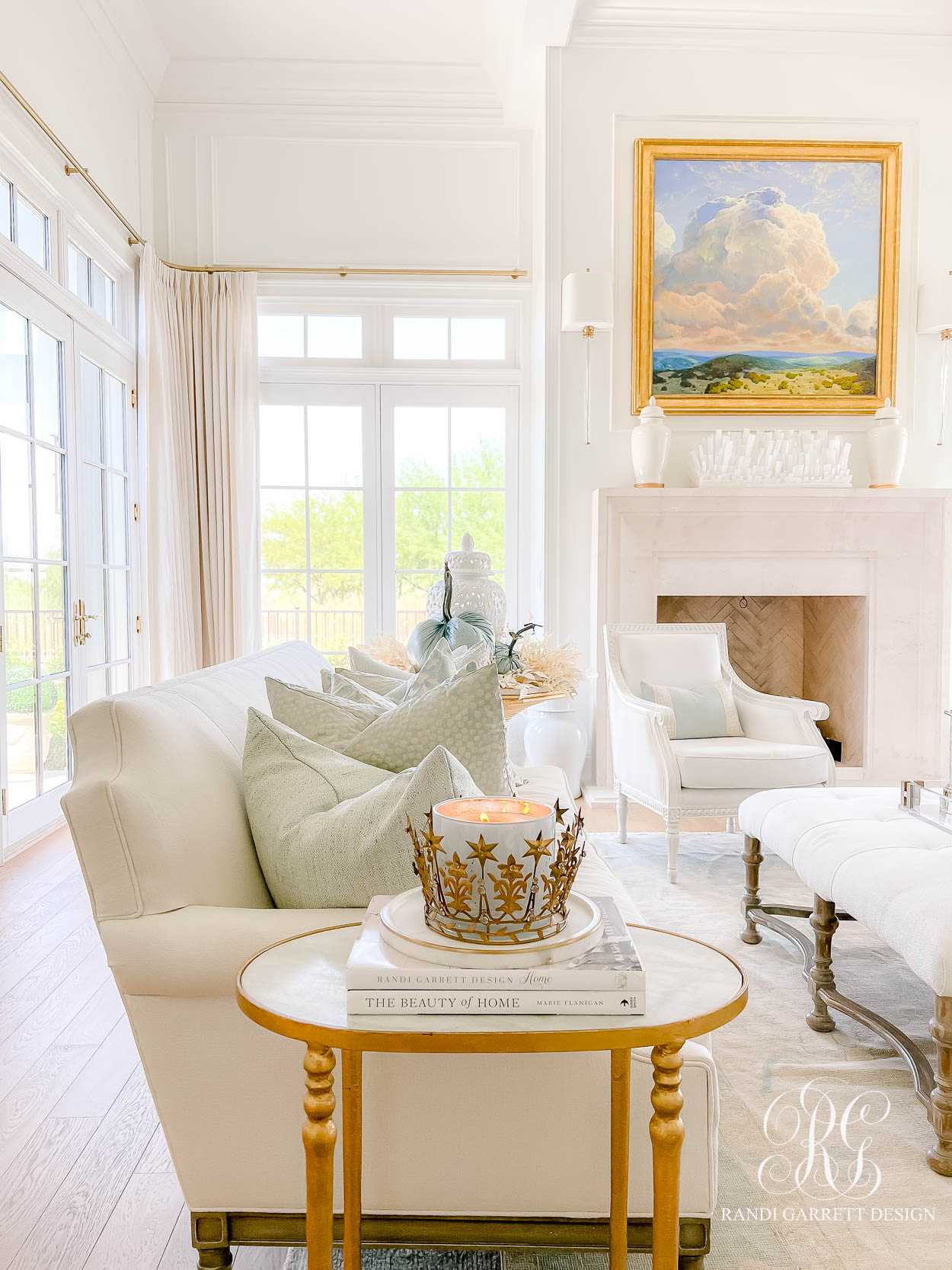 Candles are a quintessential fall decor item. Dress your's up with this magical starry night crown and gold rimmed marble tray. The crown fits around this vanilla candle perfectly!


Luxe Fall Throw Pillows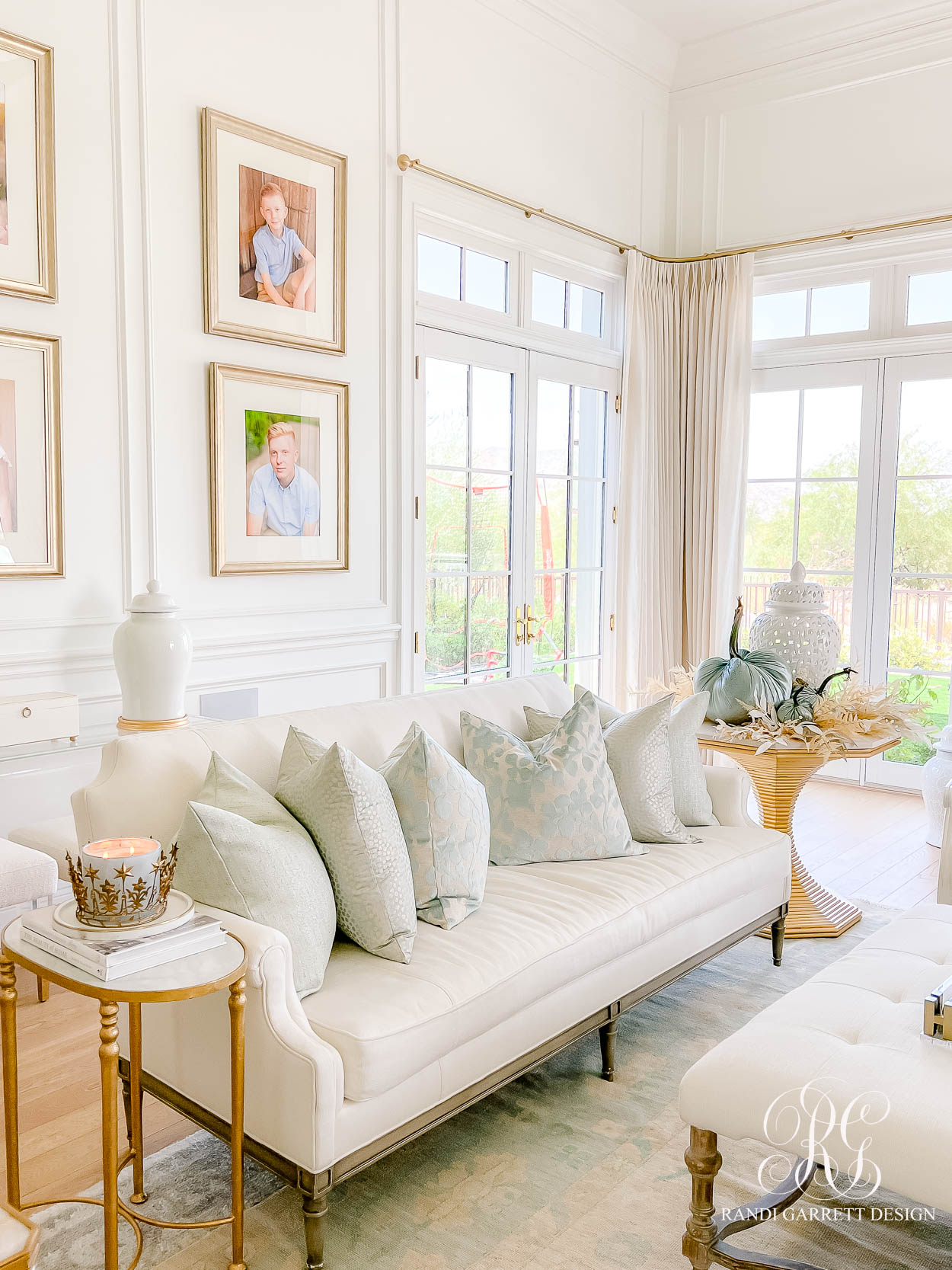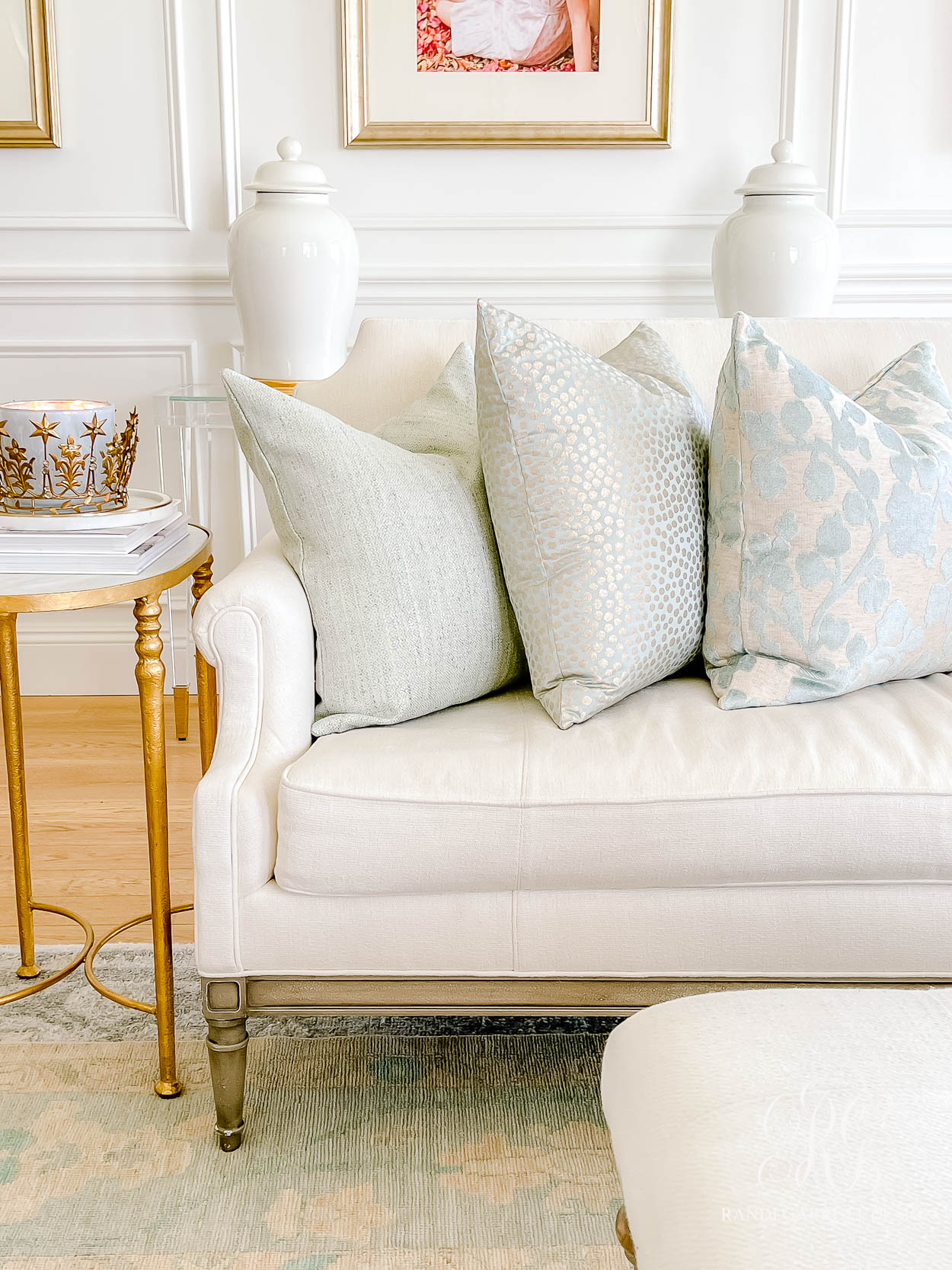 These are my favorite pillows ever! The beautiful metallic threading the metallic aqua blue throw pillow, in the back can't be captured in photos. It is simply stunning! Thegold metallic dotted one is breathtaking! And the blossom cut velvet throw pillow feels so luxurious. Paired together, they are unbelievably beautiful. So soothing and luxe! They can also be used year round. My throw pillows are all 22″ with a 24″ down insert (these are the inserts I use). I like my pillows extra fluffy. If you want your's less full, buy a size 22″ insert. I think the 24″ looks more designer.


Velvet Hot Skwash Pumpkins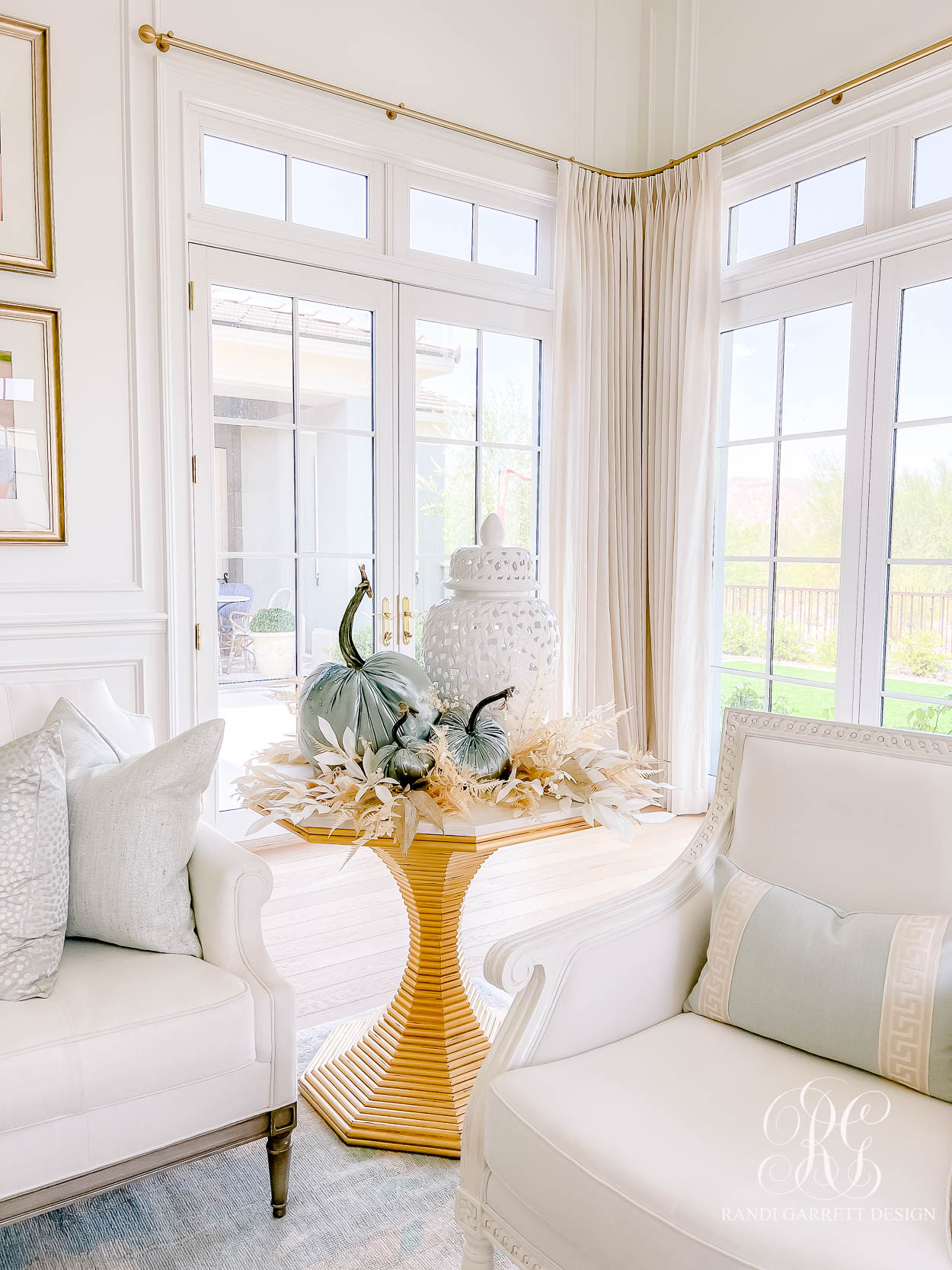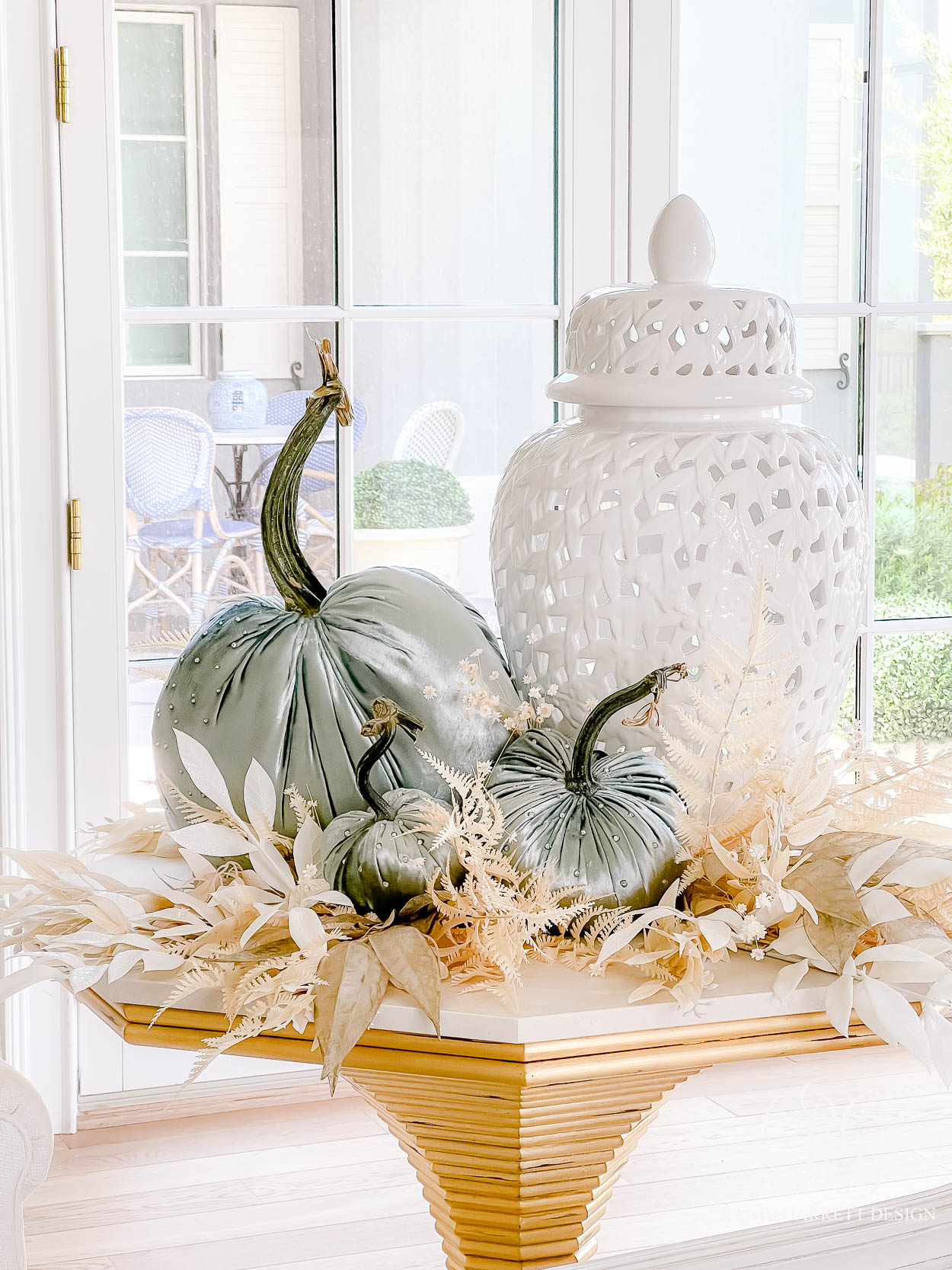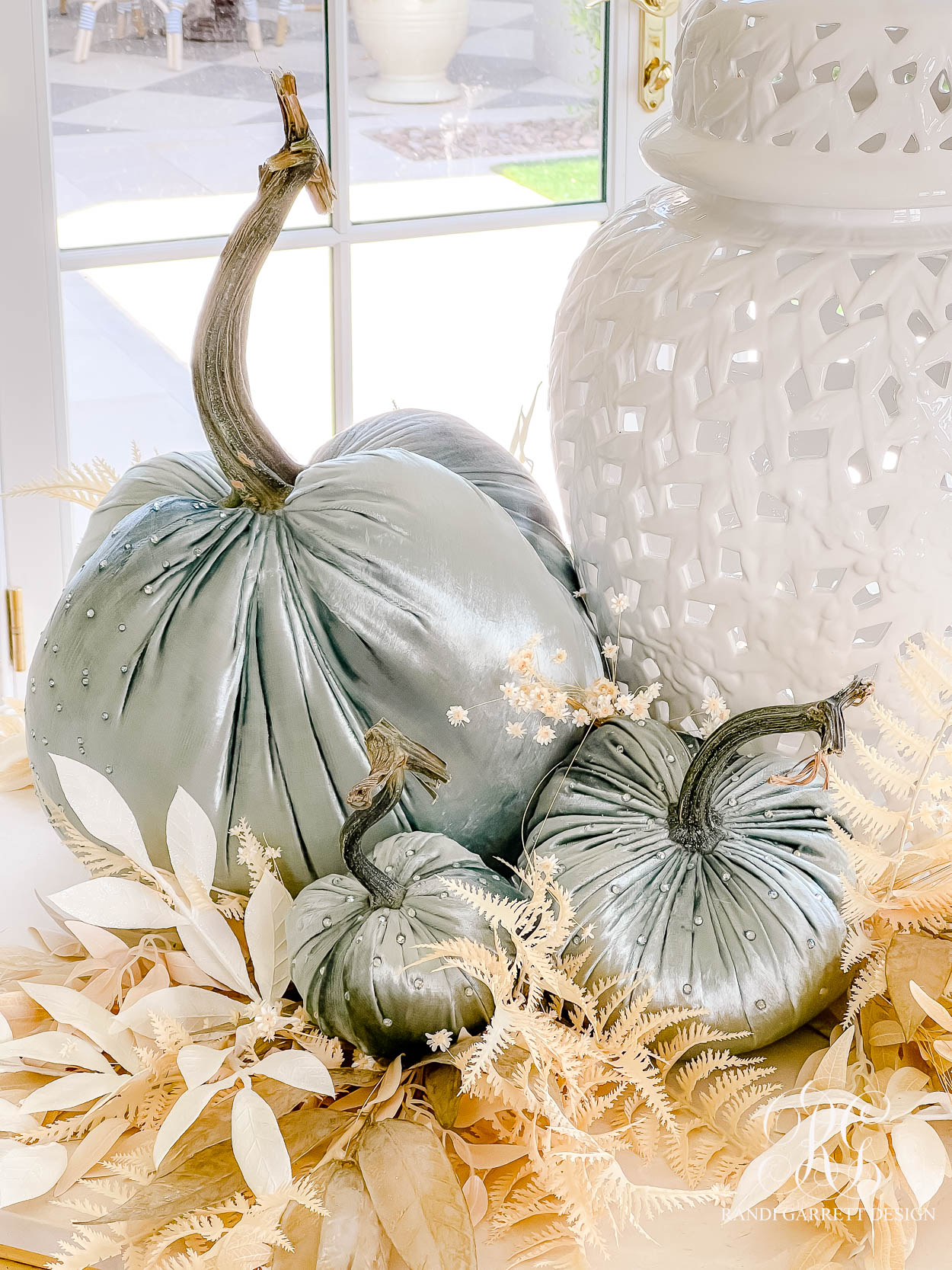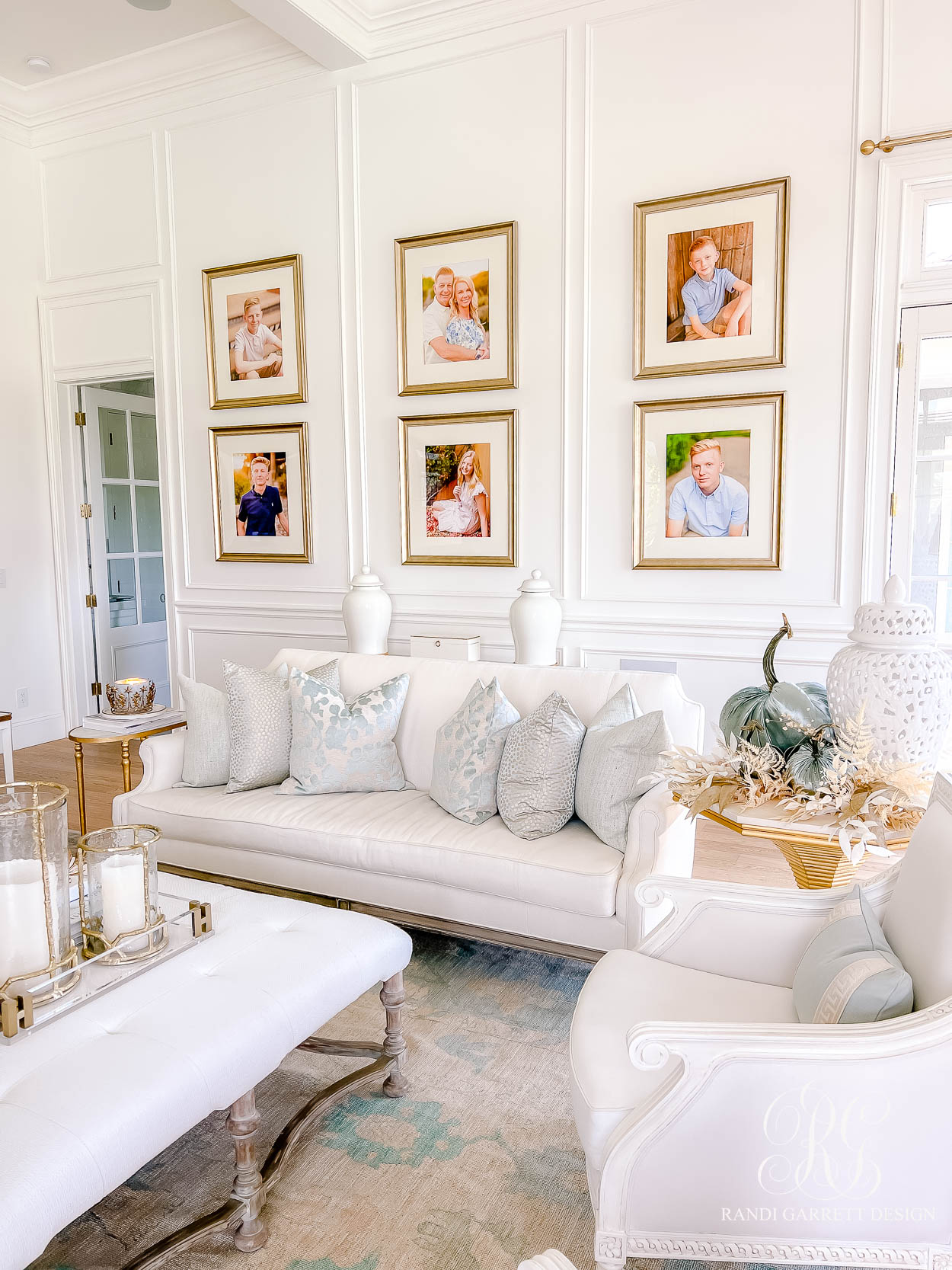 Can you even stand how gorgeous these Blue Ice, Crystal Velvet Hot Skwash pumpkins are?!!! They just may be my favorite ever! My side table features the LE in Blue Ice, 8″ Blue Ice with Crystals and 6″ Blue Ice with Crystals. Our family room has 14″ ceilings and is a large room. If your room is more cozy, you can order a smaller large pumpkin, like the JJ. This grouping would also look stunning with the Hot Skwash Ivory Pumpkins.
The pumpkins sit on top of a bed of wispy, white fall foliage. Use these cream eucalyptus leaves with a few bleached Italian Ruscus leaves, White Fern Stems and clusters of these dried white star flowers to recreate the look.
Try this same look on your fireplace mantel as well. Instead of styling my mantel for fall, I chose for my side table to be the focal point.




Fall Family Room Details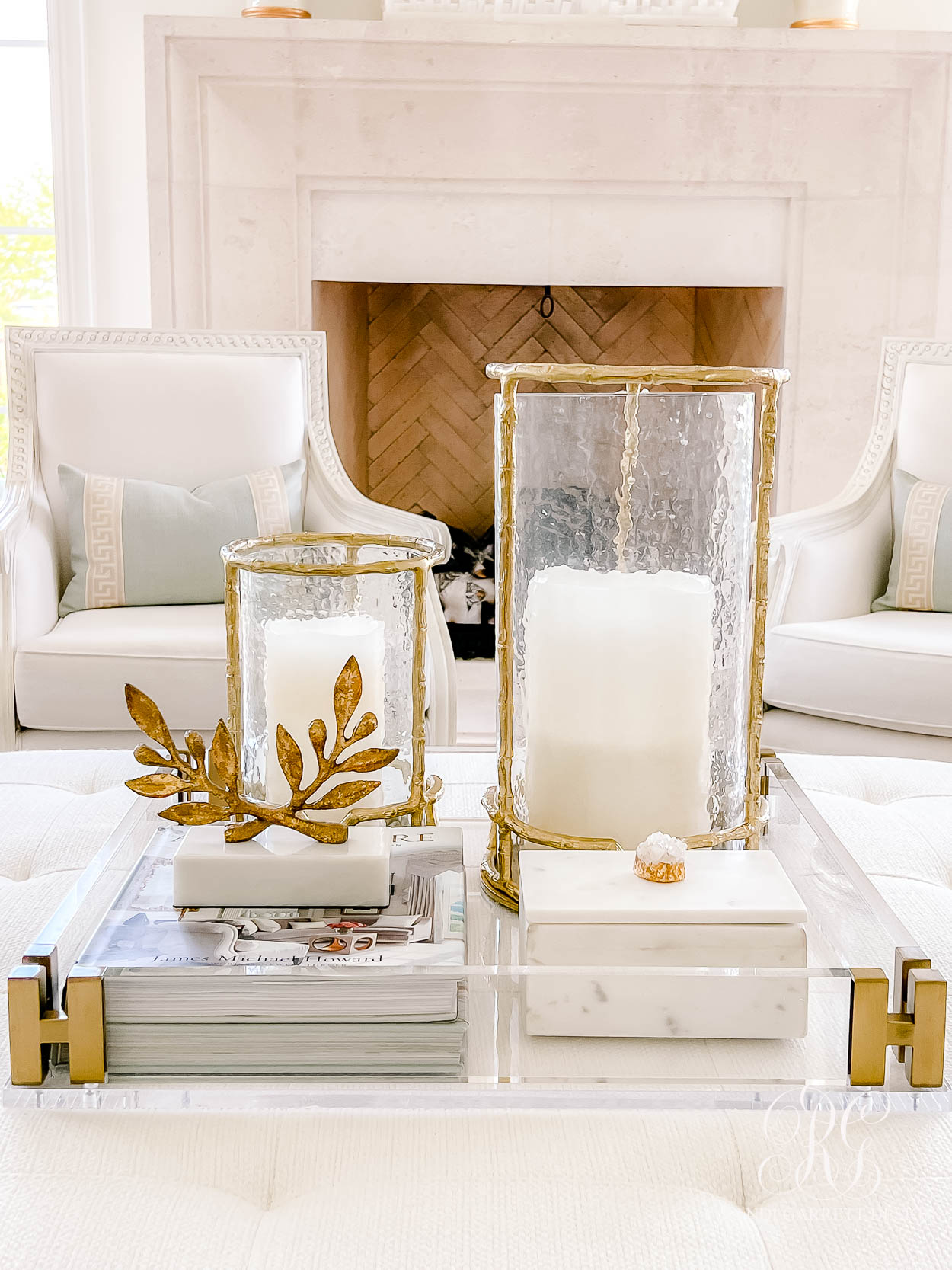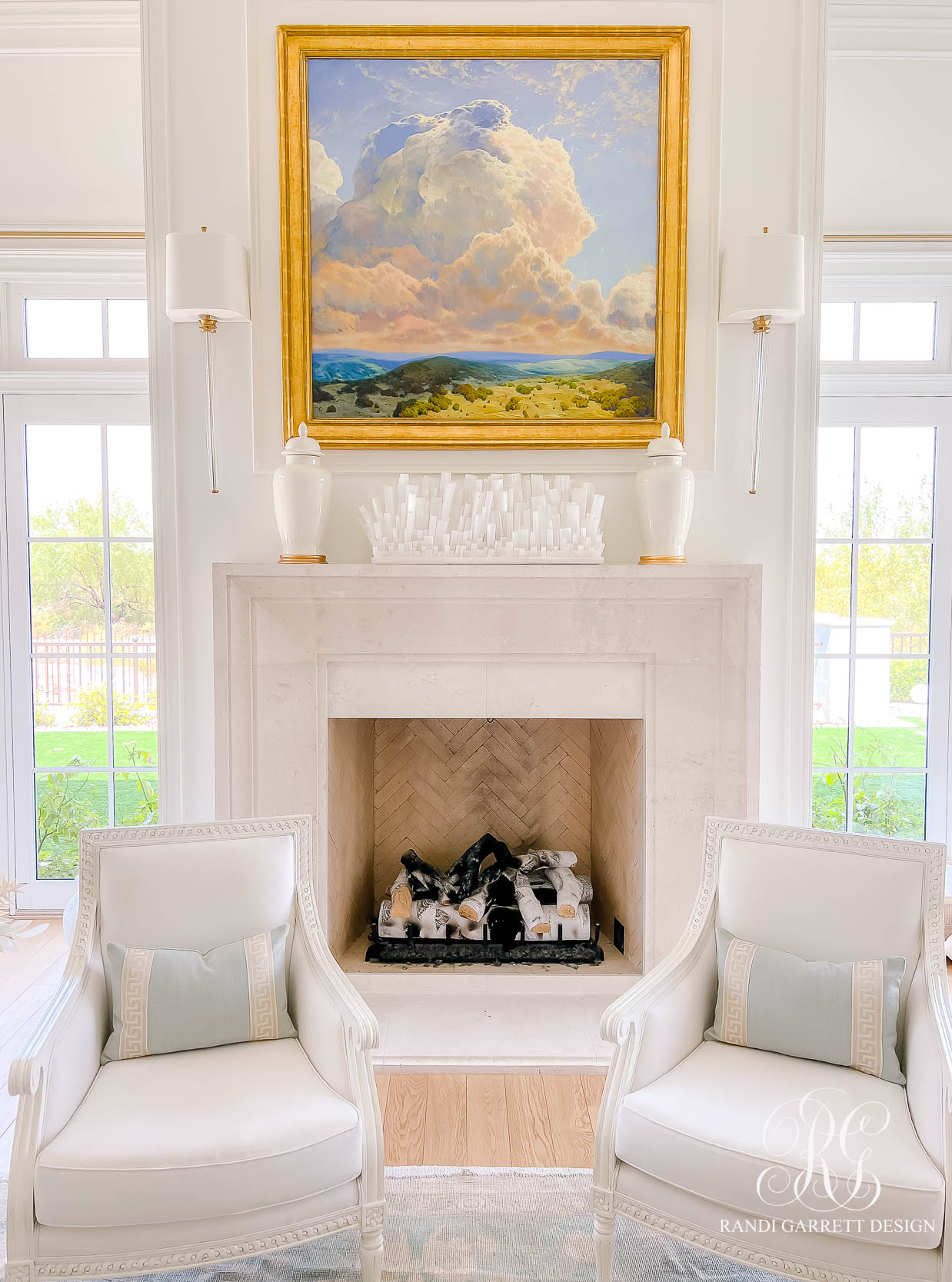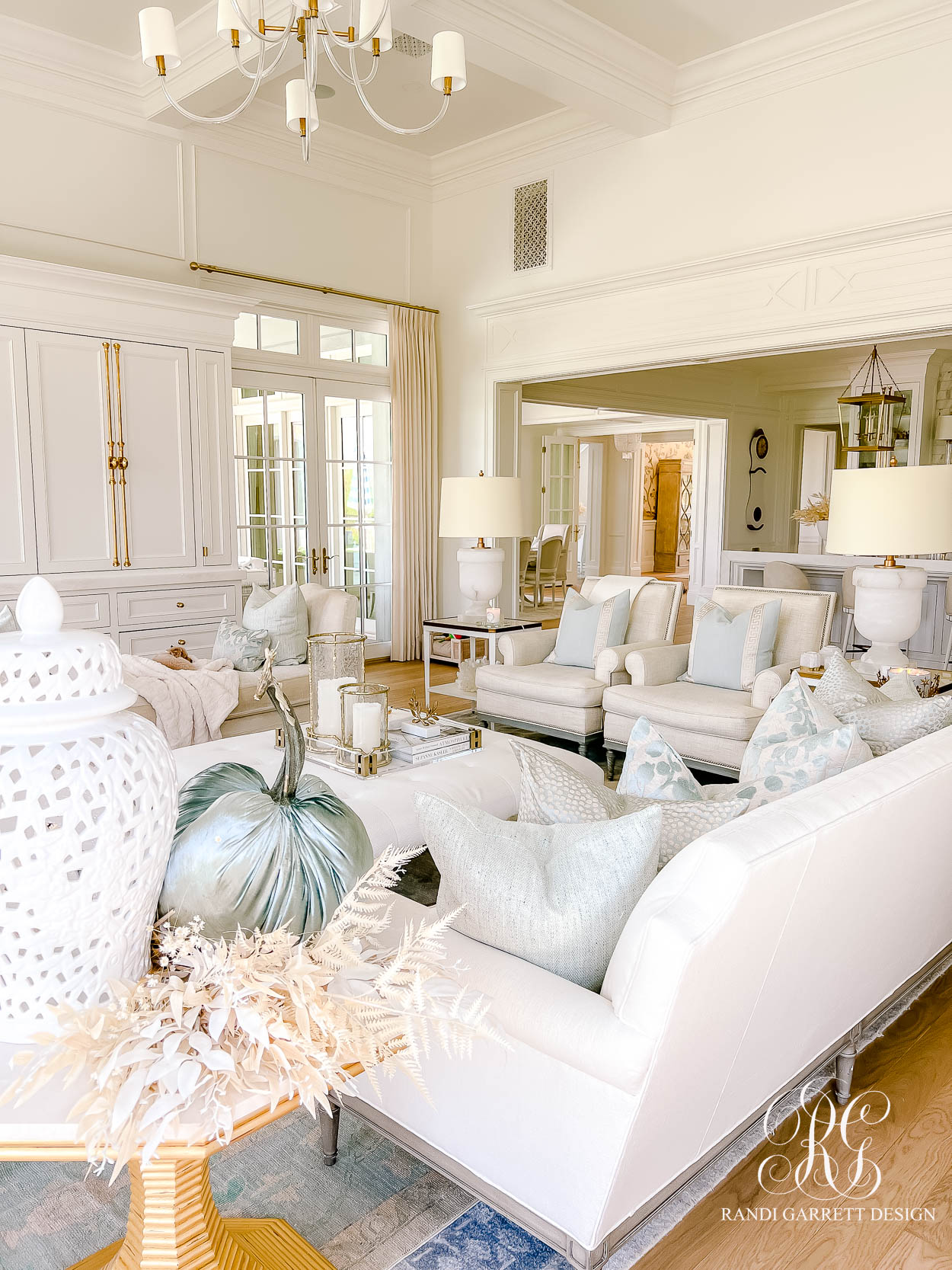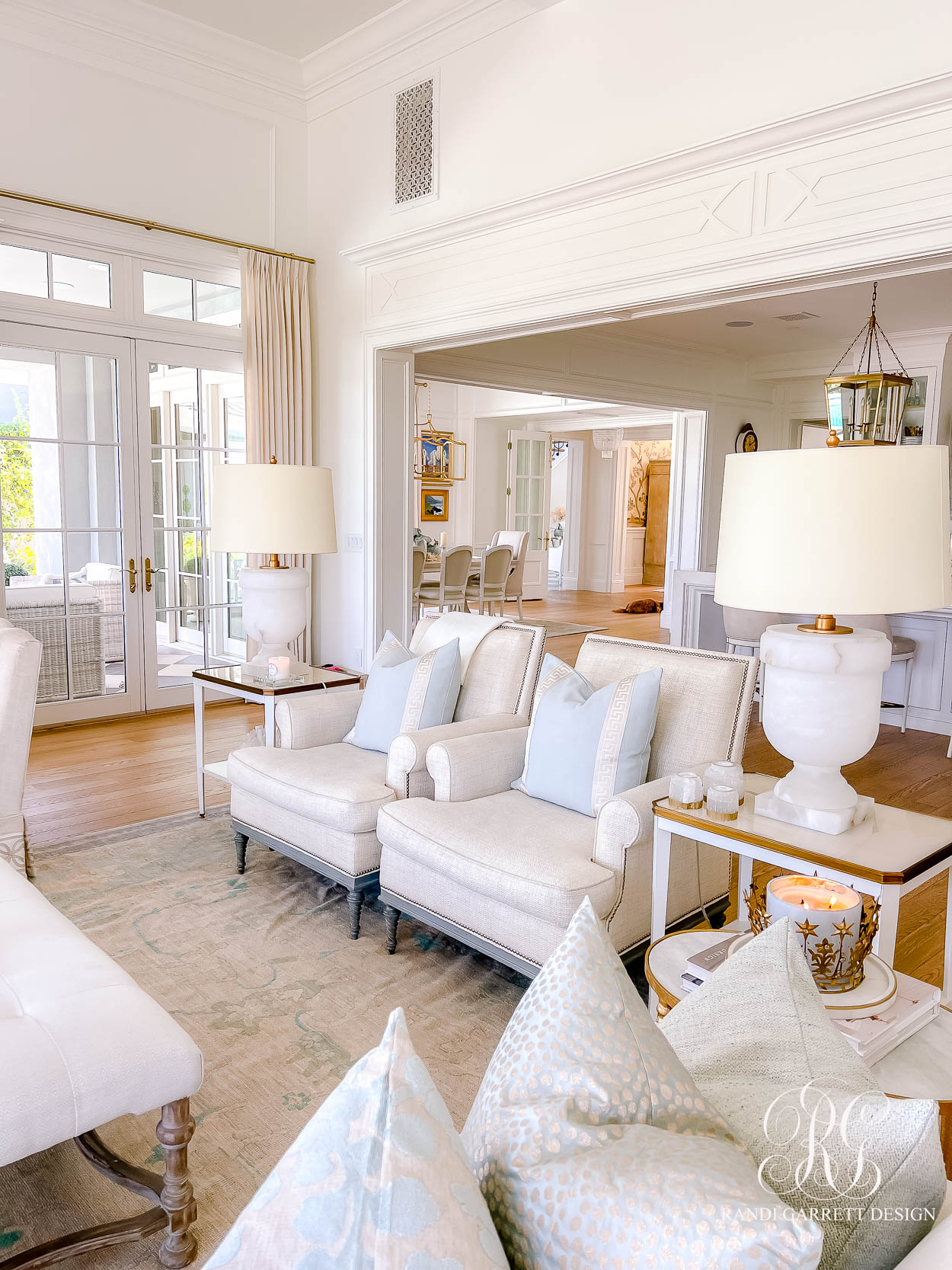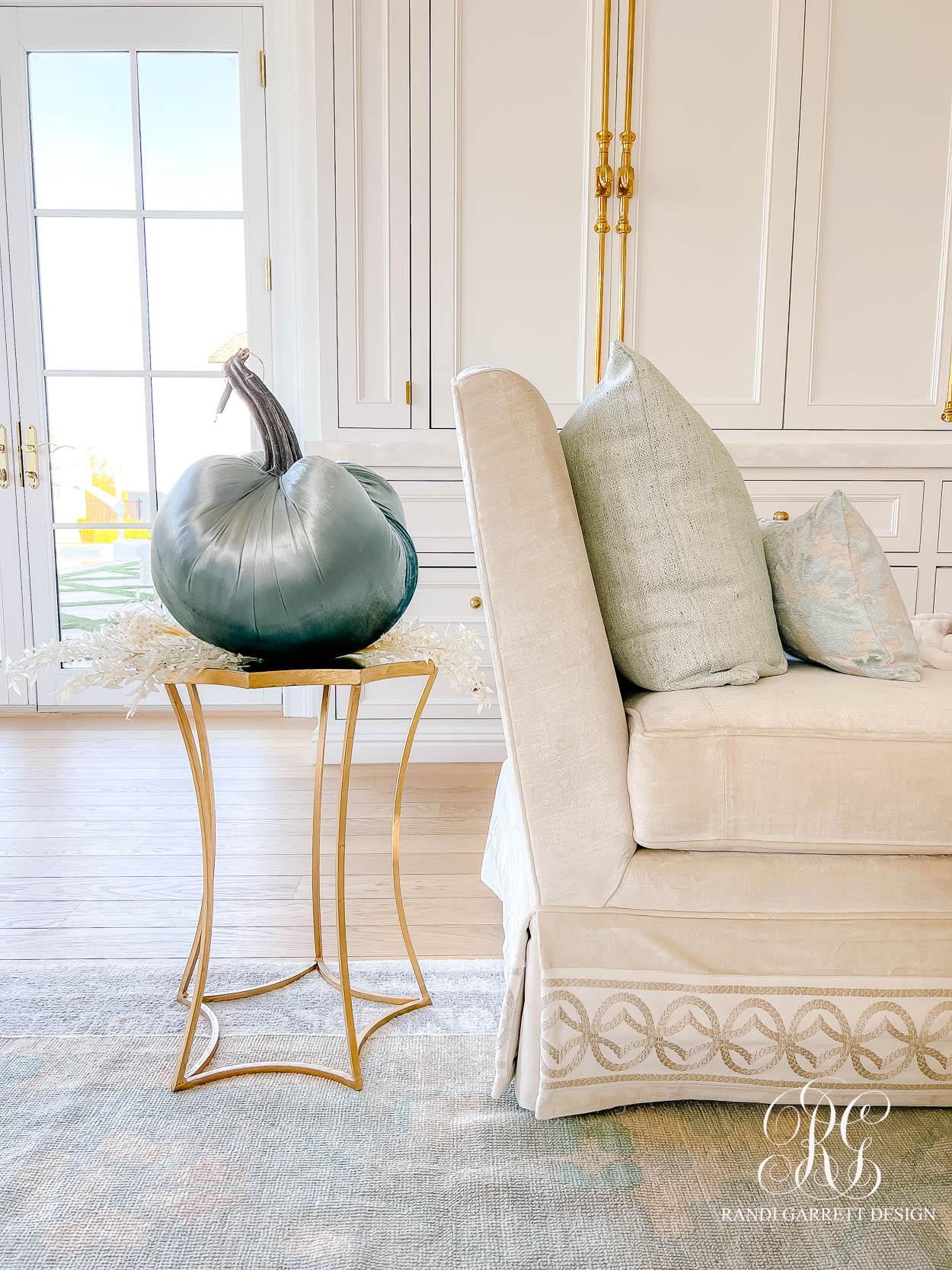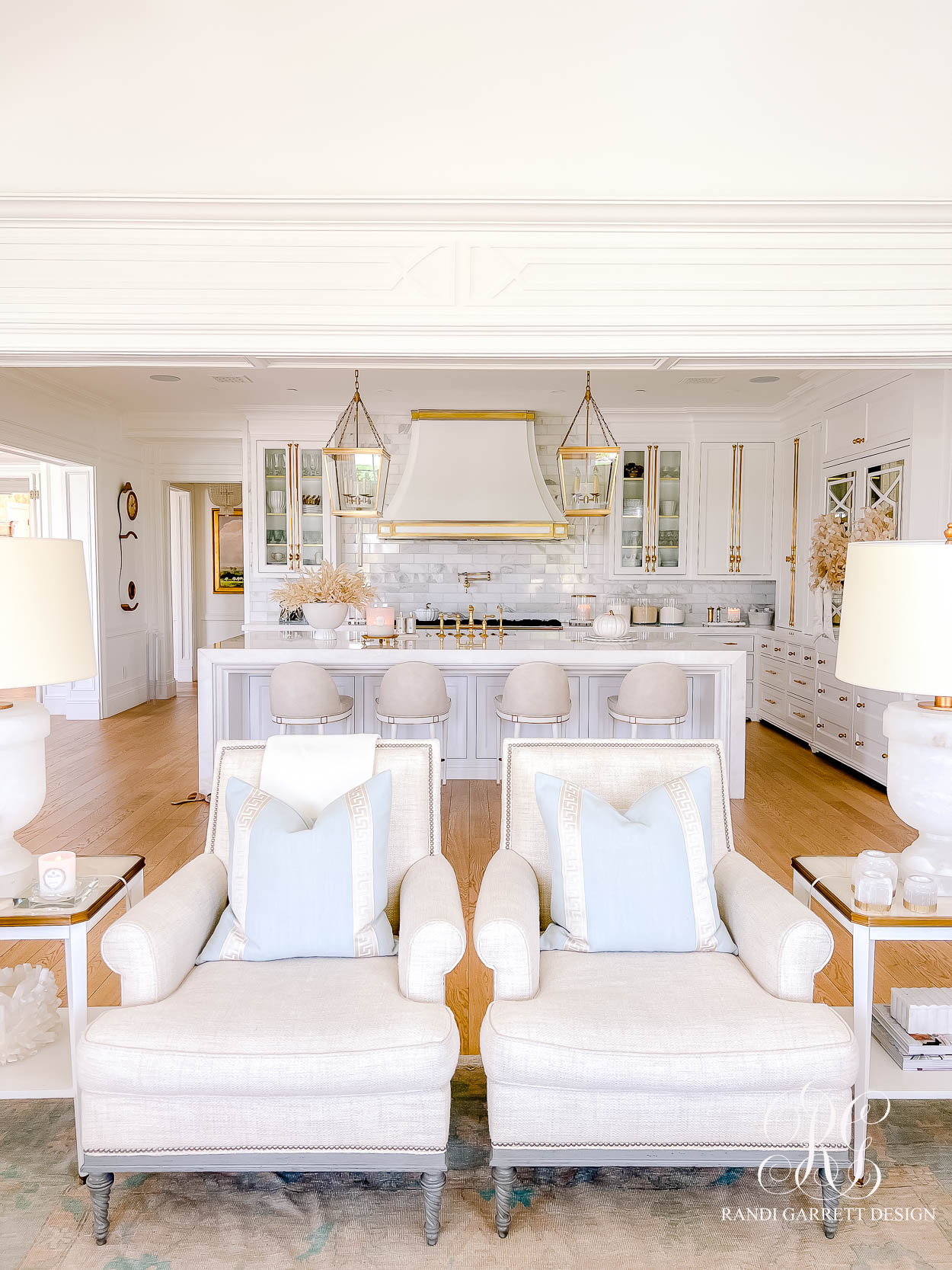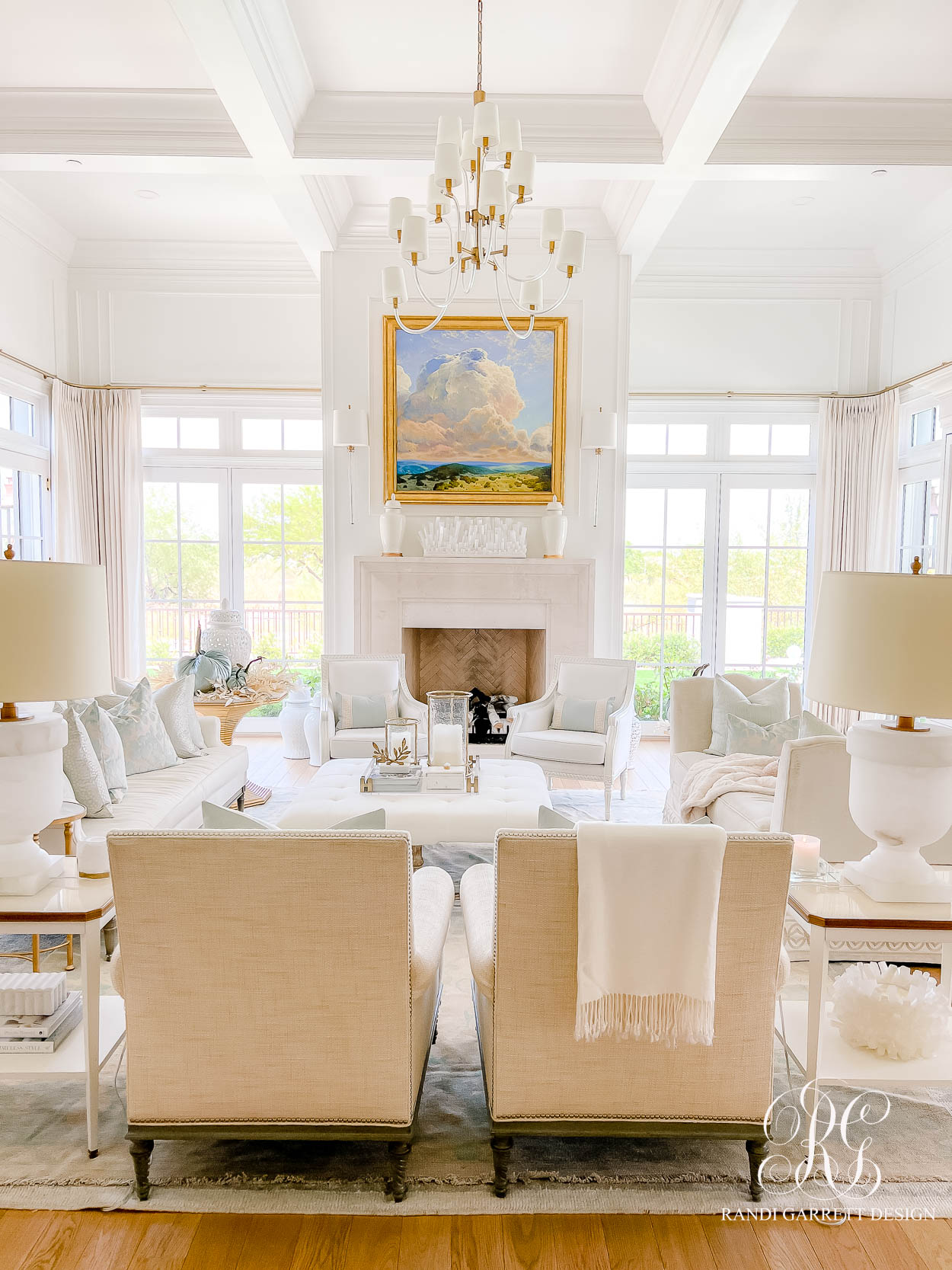 Pumpkins

Furniture

Accessories




Candles


Lighting

Throws