With summer behind us and the holiday season in front of us, it's time to start fluffing our nests to welcome family and friends for the holidays! One of the ways I love to refresh and cozy up our home for guests, is to warm up our front porch. Your porch is the first impression guests get when they come to your home. Making it feel warm and welcoming, draws people inside with a warm embrace.
Frontgate is my absolute favorite place to turn when I am sprucing up my outdoor spaces. Their pieces are timeless, durable and chic! Whether you're looking for a gorgeous doormat, pretty planter, designer wreath or a special accent, they have the perfect piece to make your home feel warm and stylish! Frontgate helped me give our front porch the most cozy, housewarming feeling for fall. The pieces I used will transition through every holiday and season with ease and style. I can't wait to show you, so you can use them at your house too!
This post is done in partnership with Frontgate and contains affiliate links for your convenience. Click here to read my disclosure policy.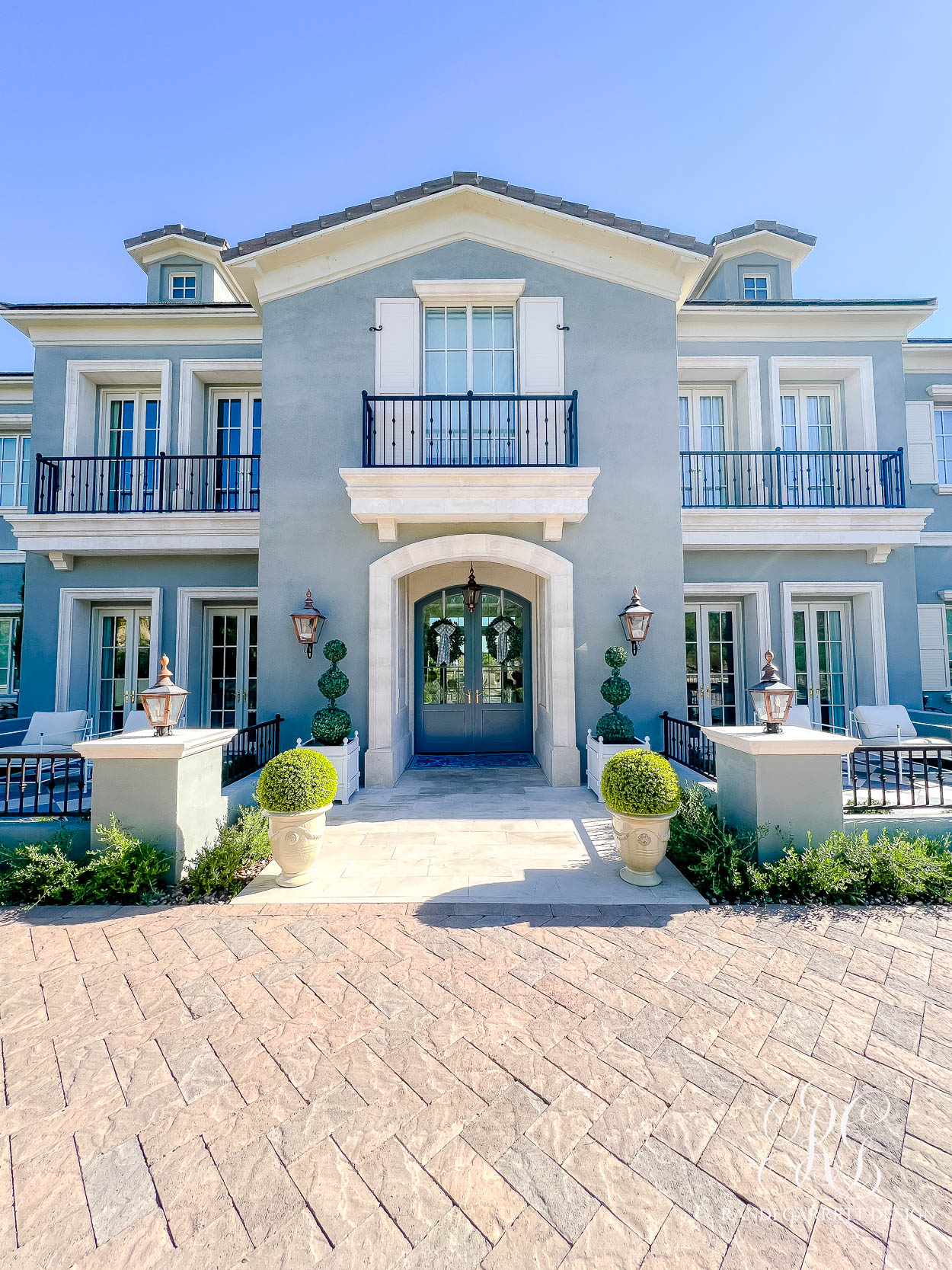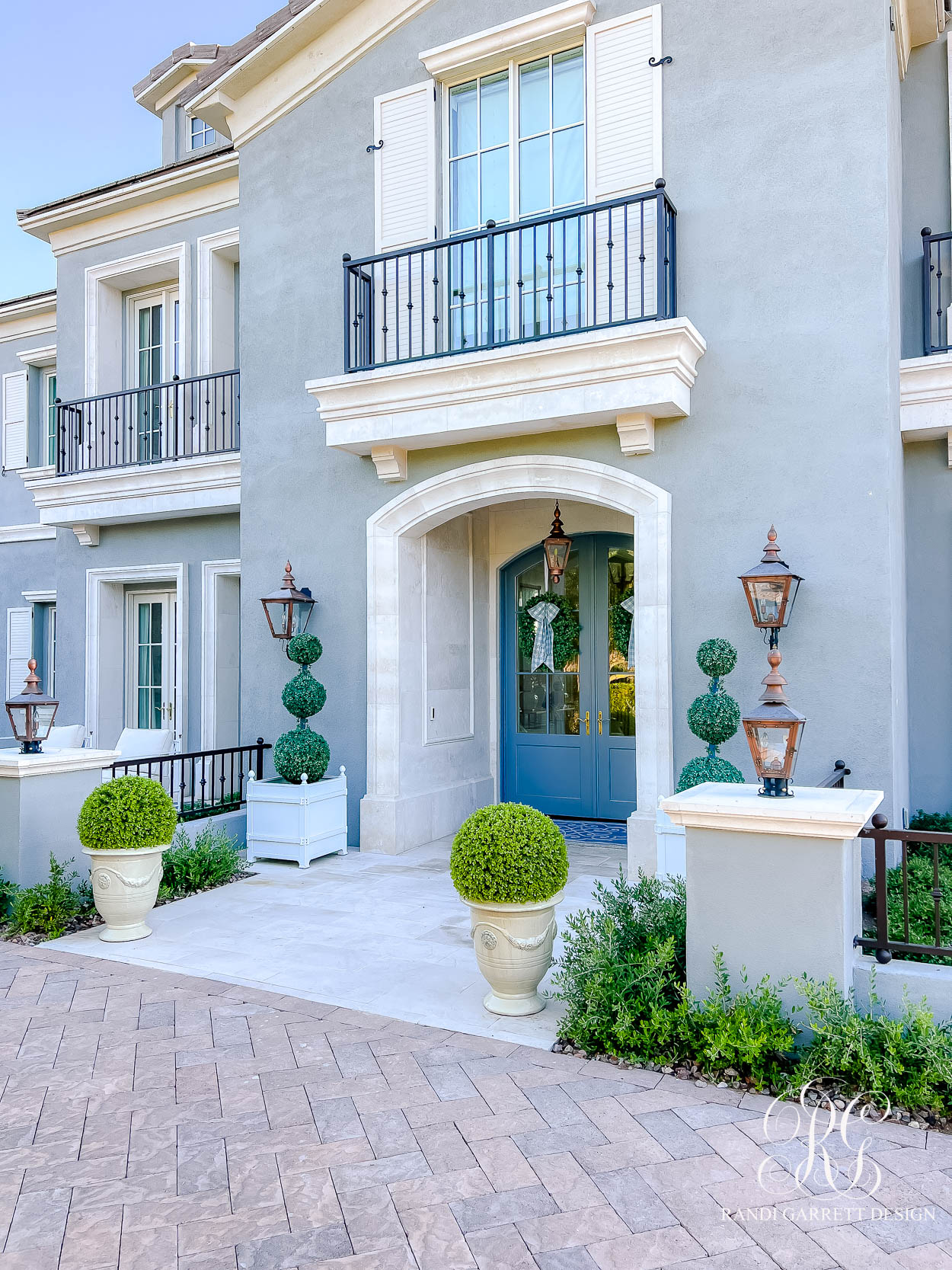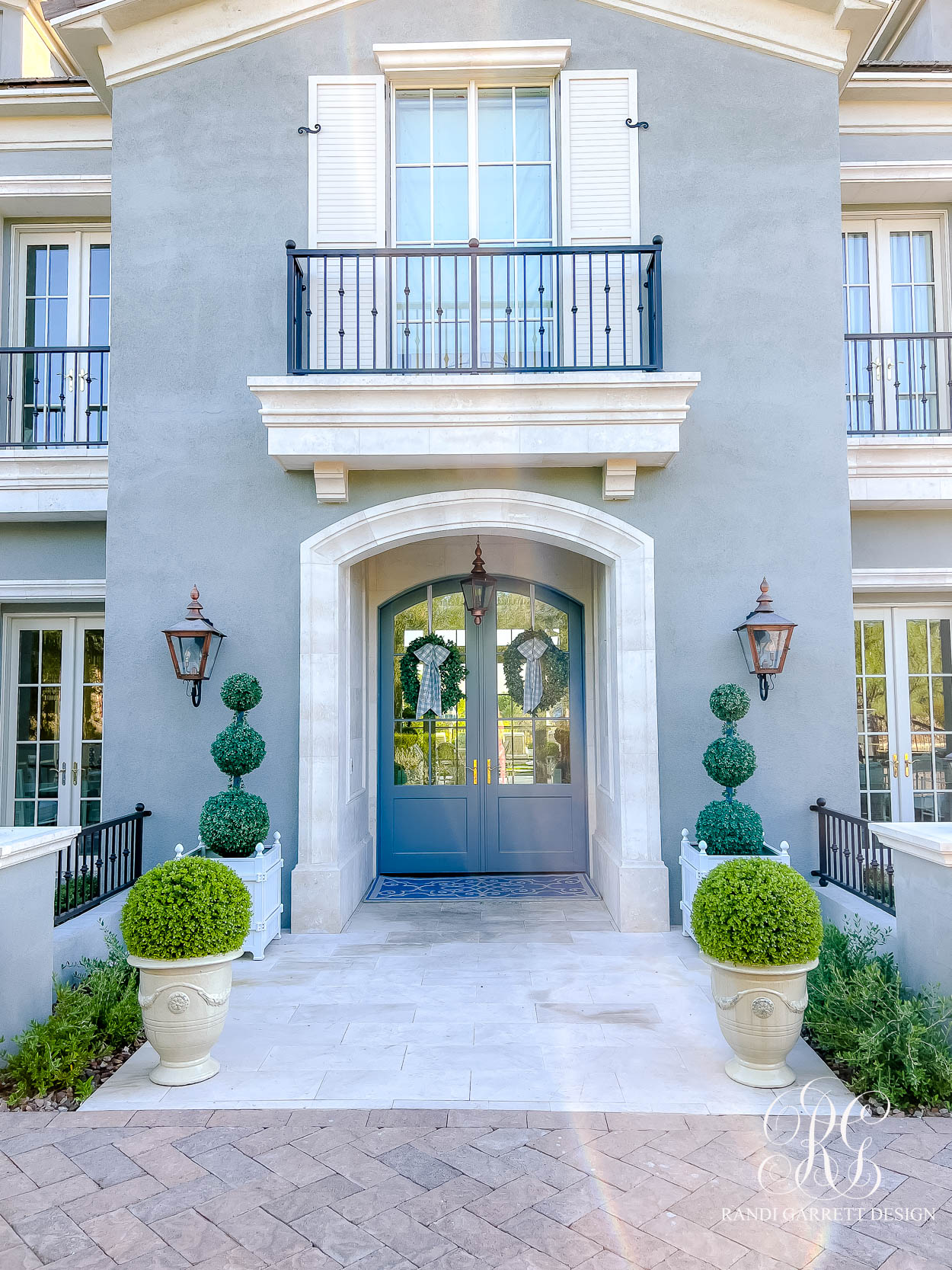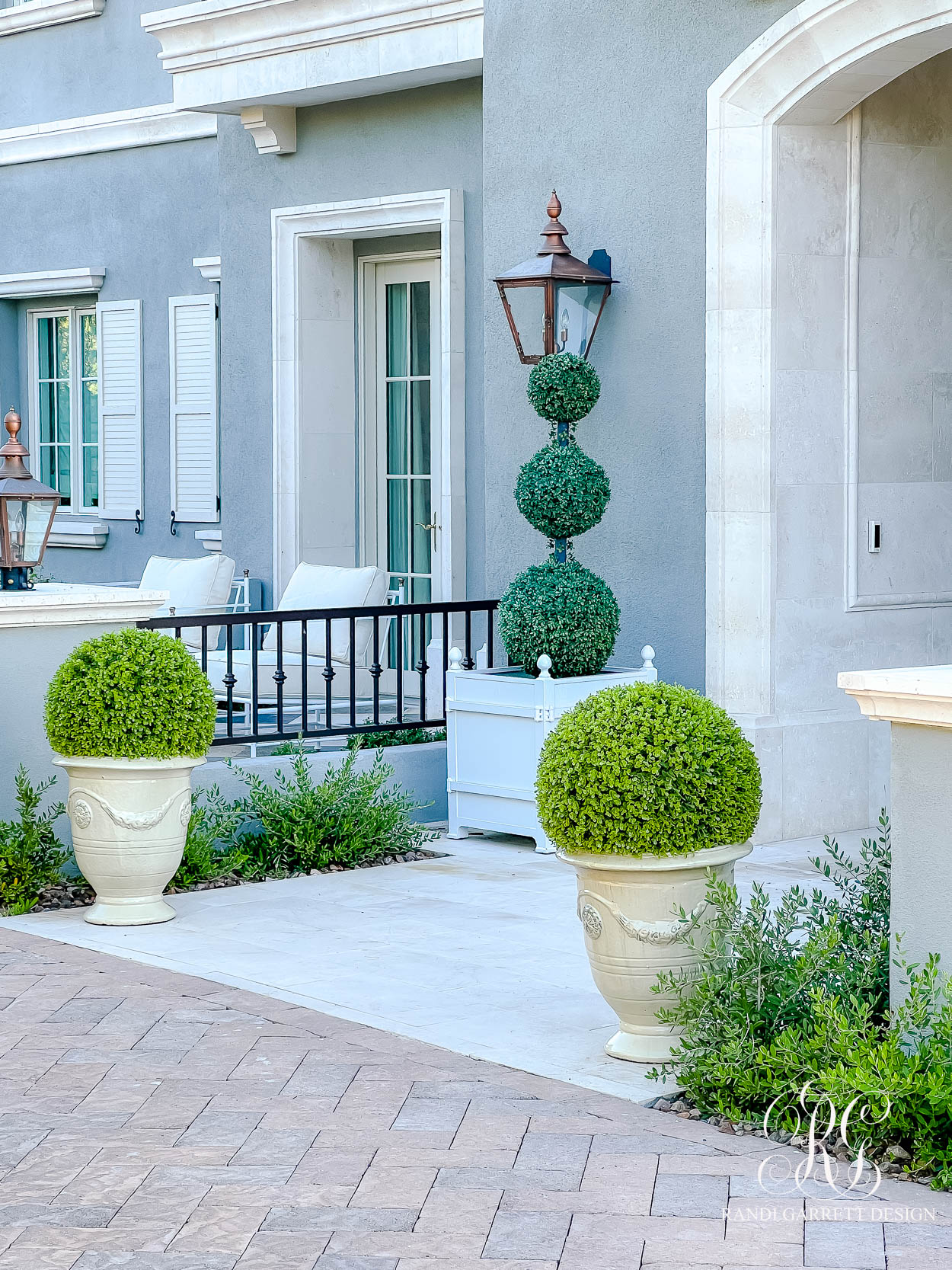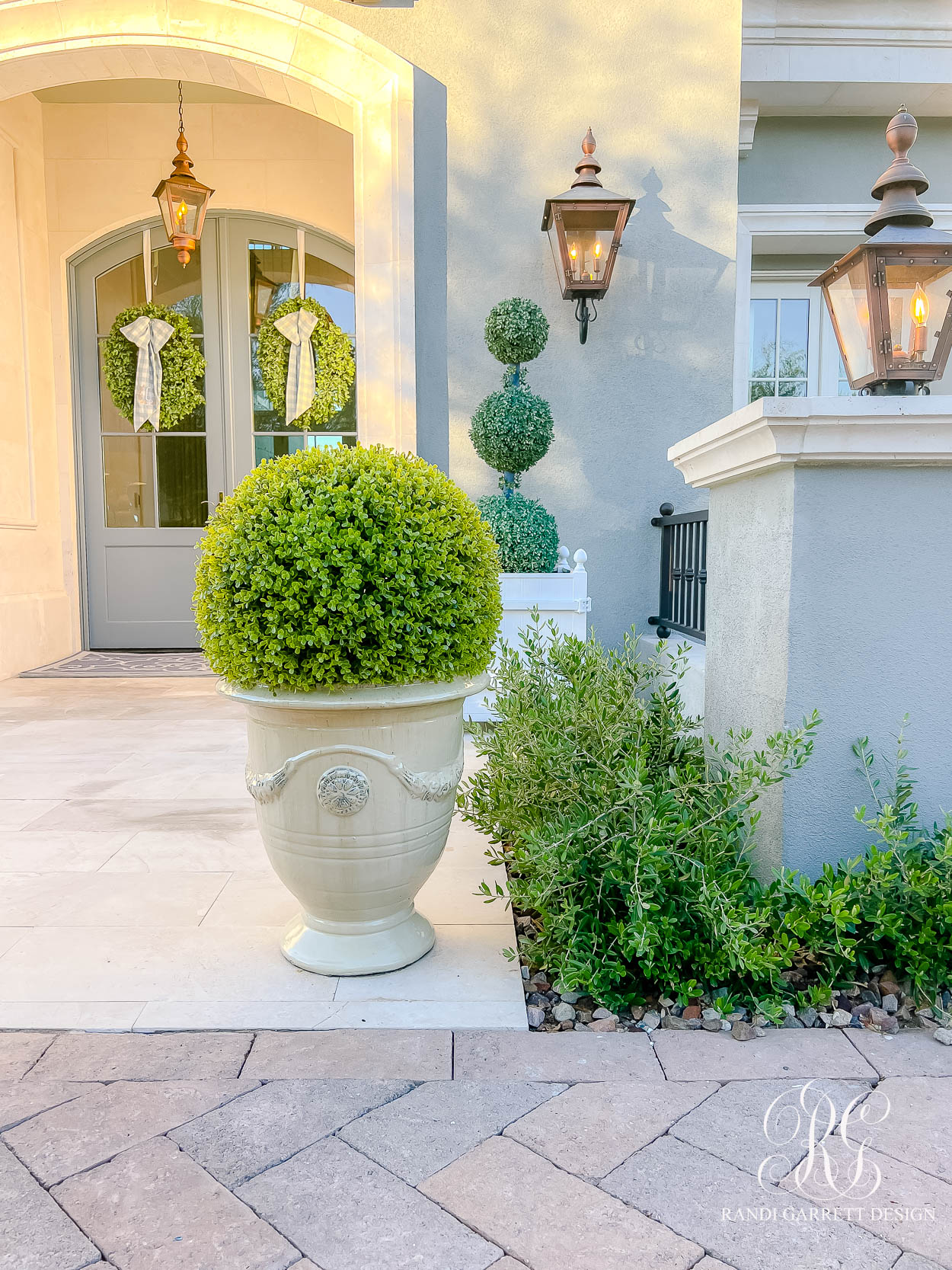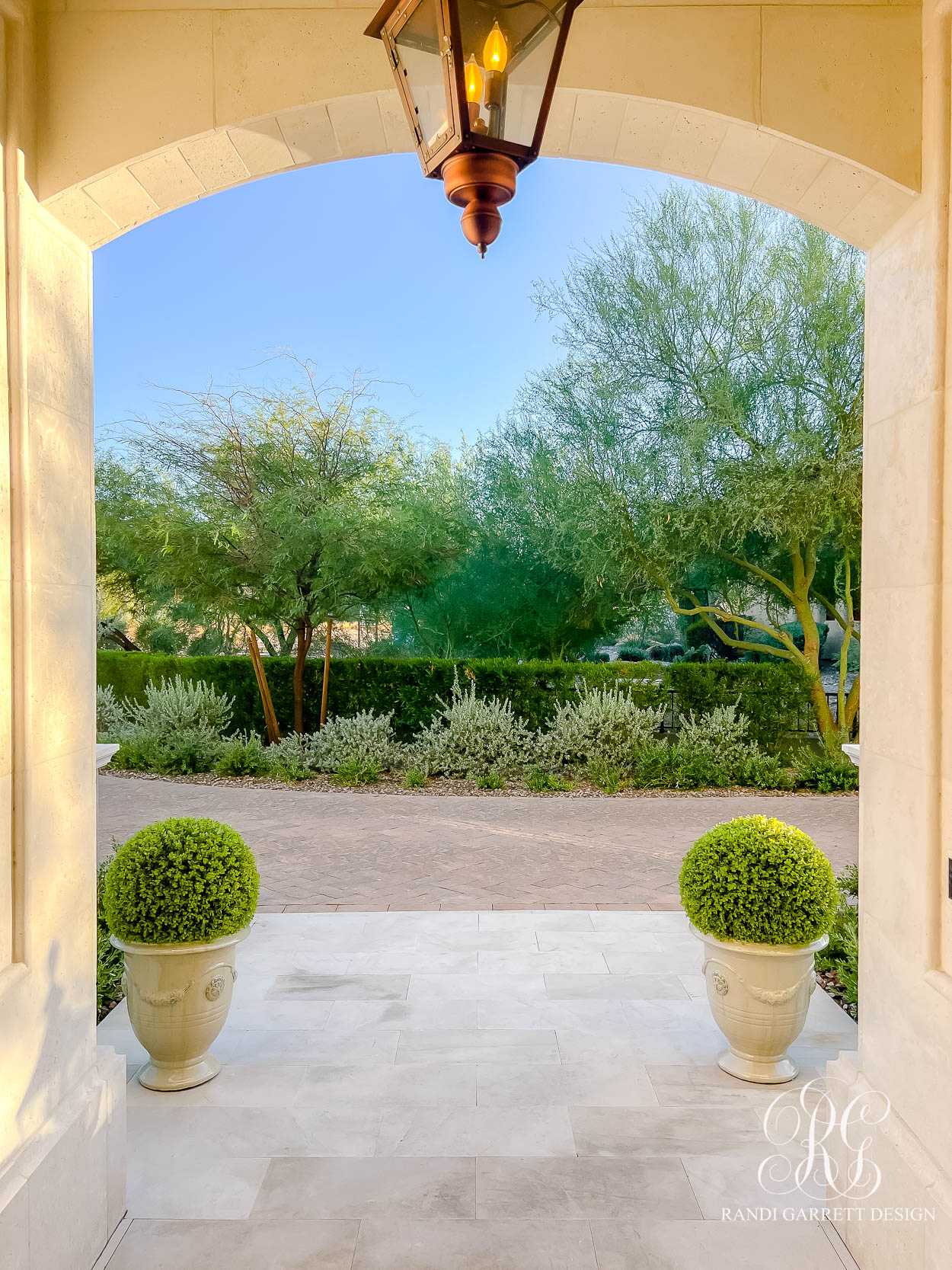 We used Frontgate's Anduze pots (our's are size 21″ in color sand) to warm up our porch and make it feel more homey for fall and the holiday season. These planters are unbelievably pretty. They come in several colors and 3 sizes. I love their European flare and timeless lines. Use them in your front or backyard to add some warmth and charm. Add these realistic boxwood balls to create the most perfect pair for your porch. These are so realistic looking! I had a follower say she found her husband watering them with a hose! We love them so much we added them to all of our pots out back too. They are coated with a UV protection to keep them from fading.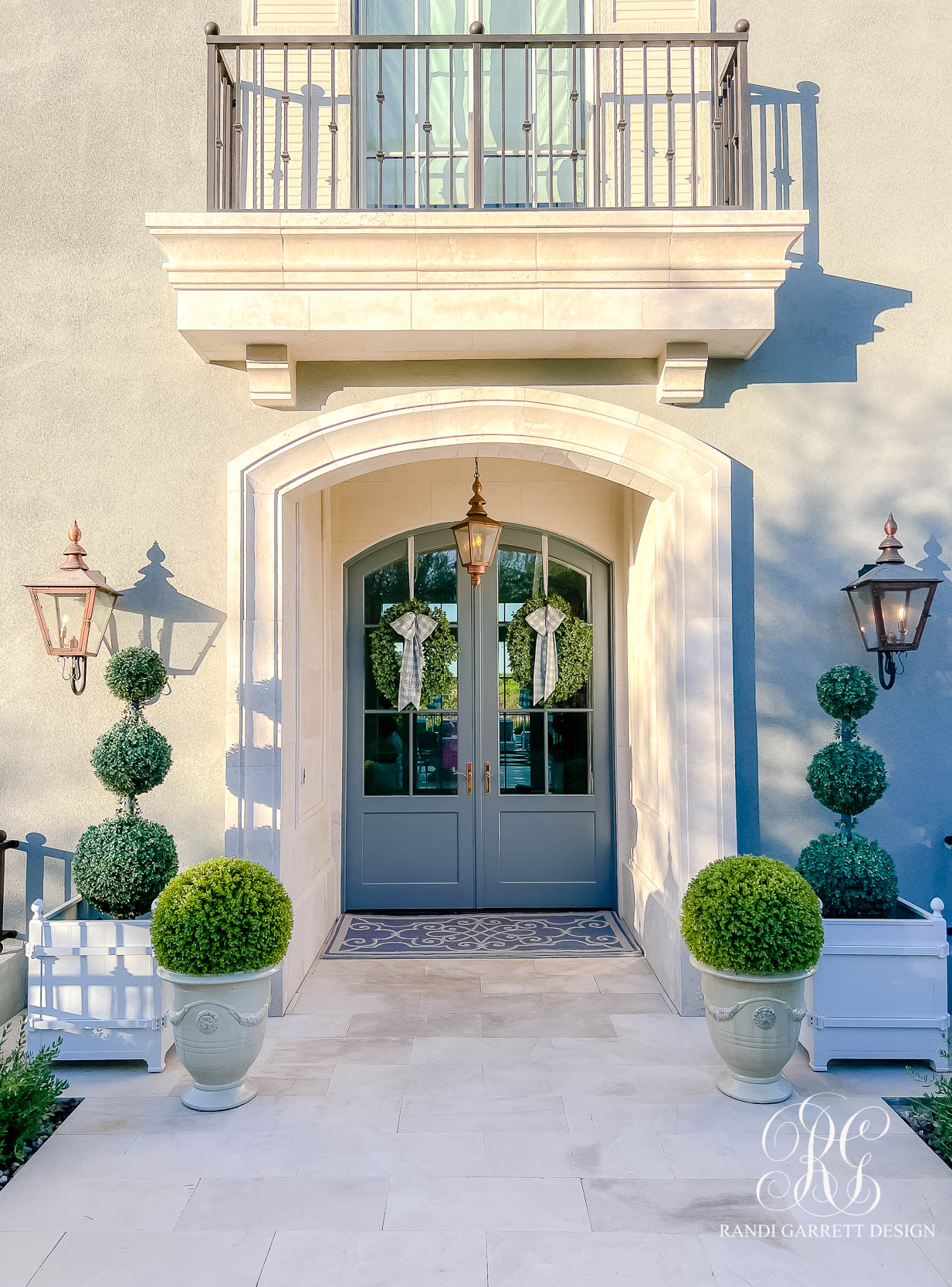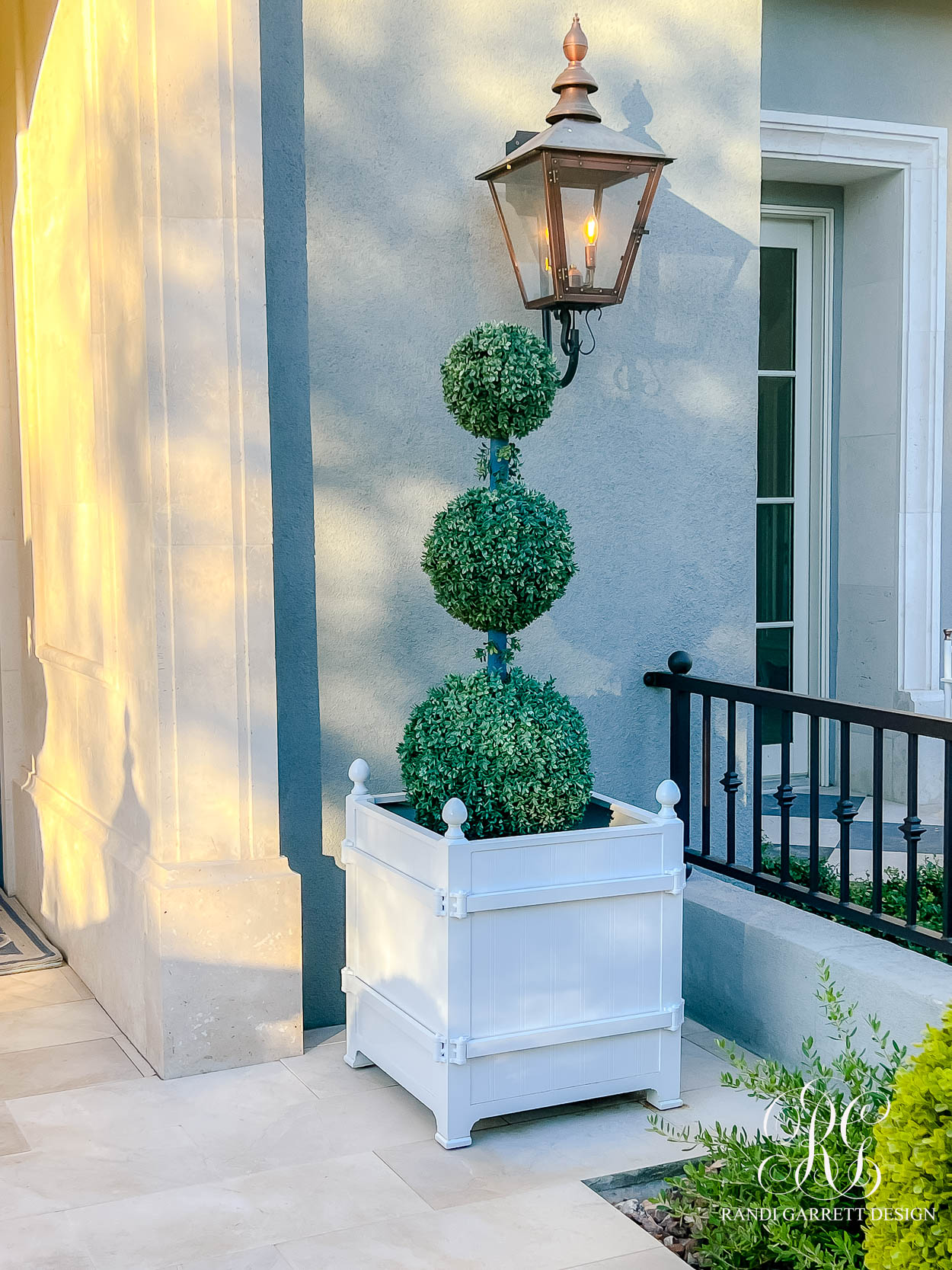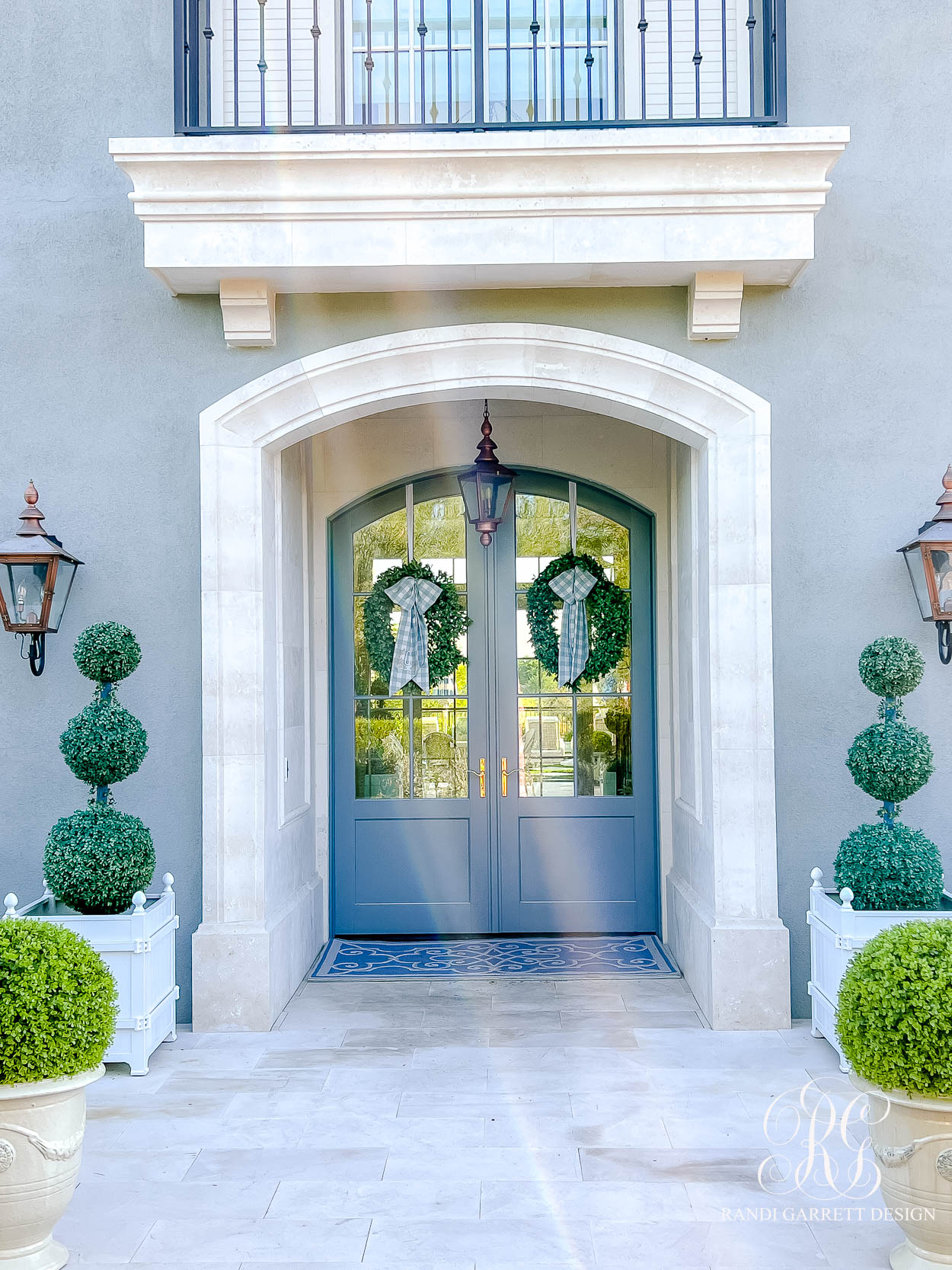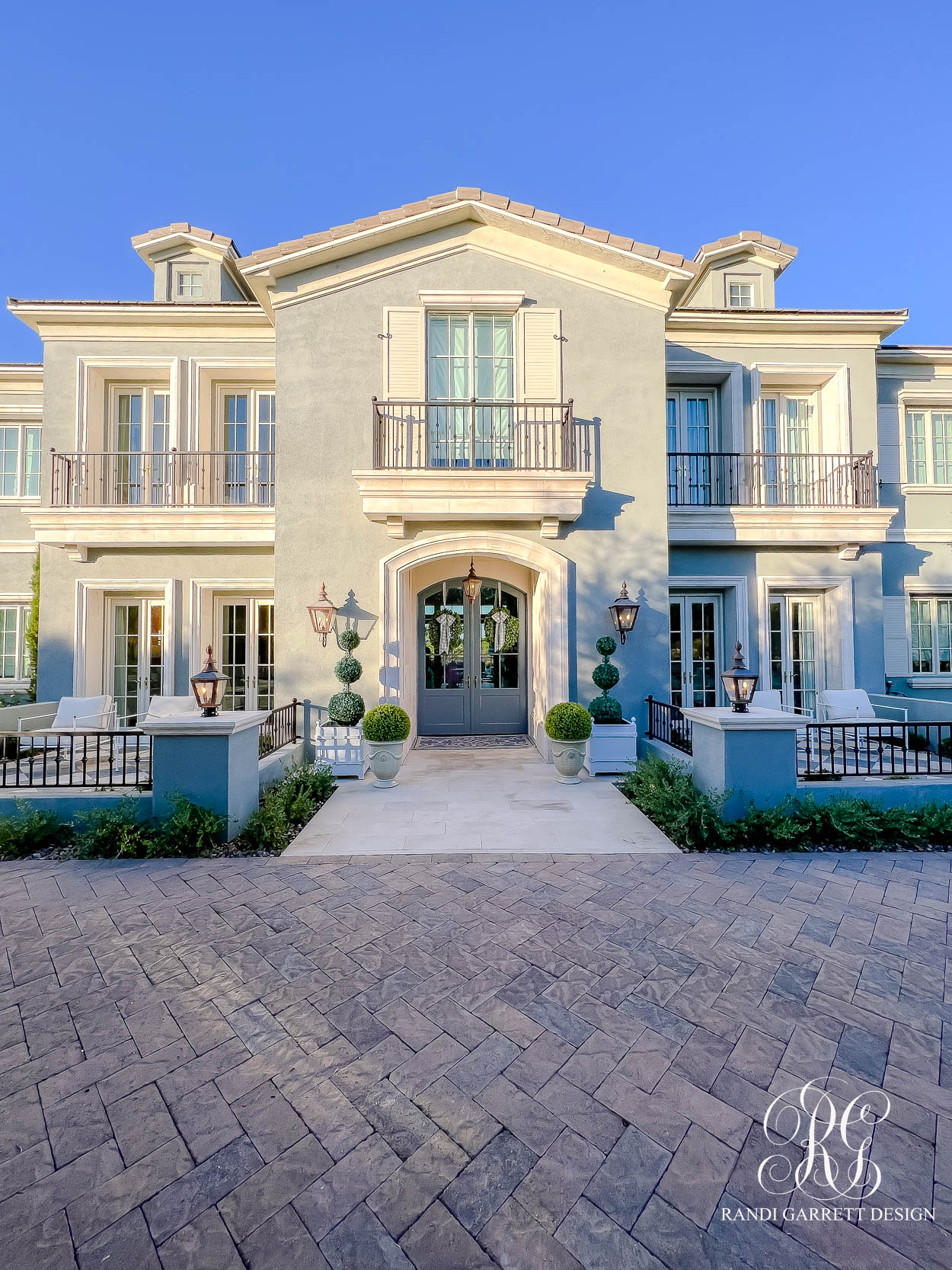 We also used Frontgate's Versailles Planter (our's is size 27″ in white). These are absolutely fabulous! They weather our harsh Arizona summers and crazy rain. We used Frontgate's 3 Ball Topiary in our's. Again, stunning! We have had them for years and they still look amazing.
Frontgate also has a lovely selection of doormats (our's is from Frontgate, but the color is discontinued). The quality is superb on all of their pieces.
Grab a pretty wreath to create a welcome feeling. I linked some of my favs below. Use their adjustable wreath hangers to hang them and their wreath storage bag to store them!

Topiaries

Planters

Doormats

Wreaths

Accents

I hope you feel inspired to give your porch a housewarming makeover!