Do you ever flip through a magazine and pause to stare or like or pin a photo of a bed that is styled to perfection? Do you ever think, my bed will never look like that? Well, stop thinking like that! Follow a few simple tips and you will be styling your bed like a pro! There are countless ways to make a bed and style the throw pillows! Today, I want to share 7 ways to style pillows on your bed with ease! The key is in mixing pattern and color, size and shape. You'll see just how simple it is to make your bed look like it was styled by a designer.
Instead of running all over town to try to find pillows that coordinate, shop online and see how patterns mix and match together. I like to screenshot pillows that I'm considering. Then place them next to each other on my desktop to see how they look together. The pillows I'll be styling with today all come from a new line found only at Dillard's called Villa by Noble. Pieces in this collection can all be mixed and matched taking the guess work out of design. Dillard's has a beautiful selection of quality bedding pieces and for the rest of your home. Finding a place that carries so many gorgeous pieces in one place saves you time and money!
This post is done in partnership with Dillard's and contains affiliate links (full disclosure here).
7 Ways to Style Pillows on a Bed
First, I like to start with a blank slate! Use white bedding essentials to allow you to use any color or pattern you desire. This is the most versatile and budget stretching tip!
You can leave your bed all white, I think it is a beautiful look for winter and summer. My bed features this gorgeous White Plaza Coverlet with matching Euros. The foot of the bed has a cozy Basketweave Linen Duvet in Sugar.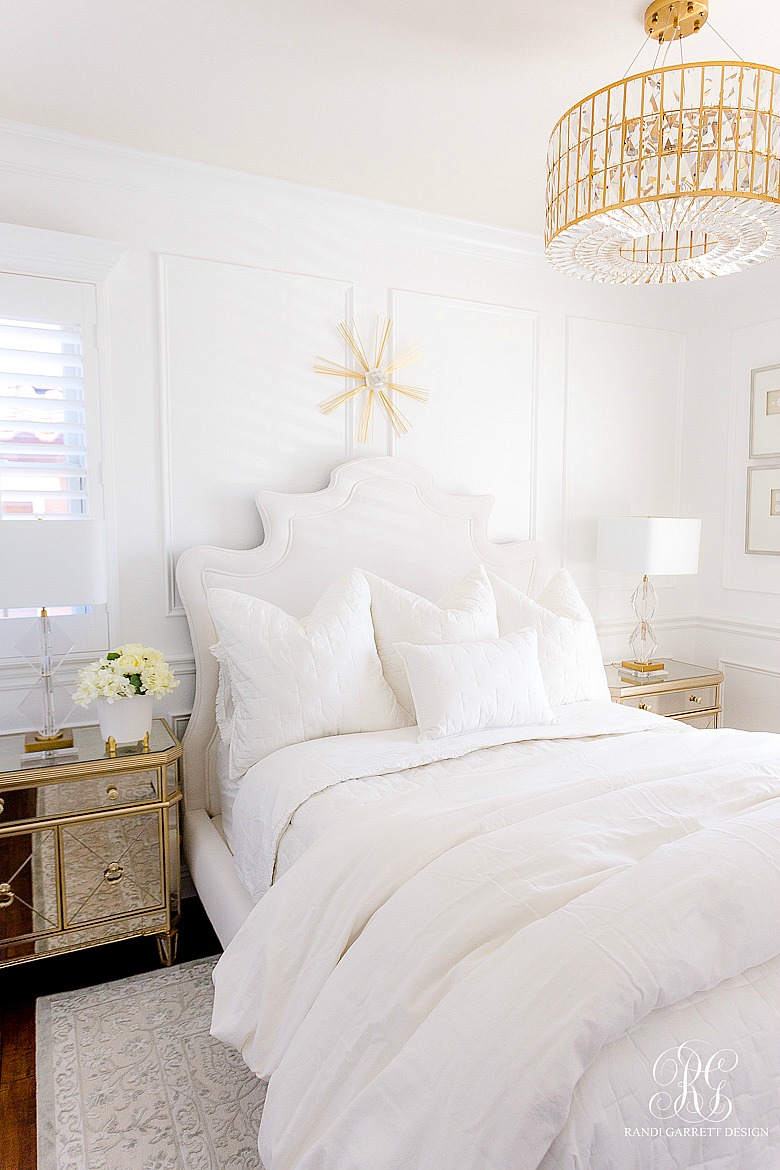 Here are all the pillows I'll be using to get the different looks…

No. 1
For reference, my bed is a queen but these looks also work on a king sized bed. For this look, use 3 Plaza Quilted Euro Pillows across the back of the bed and one Plaza Quilted Breakfast Pillow (lumbar pillow). They are a nice weight and I love the sewn detailed pattern that makes the bedding look extra fluffy.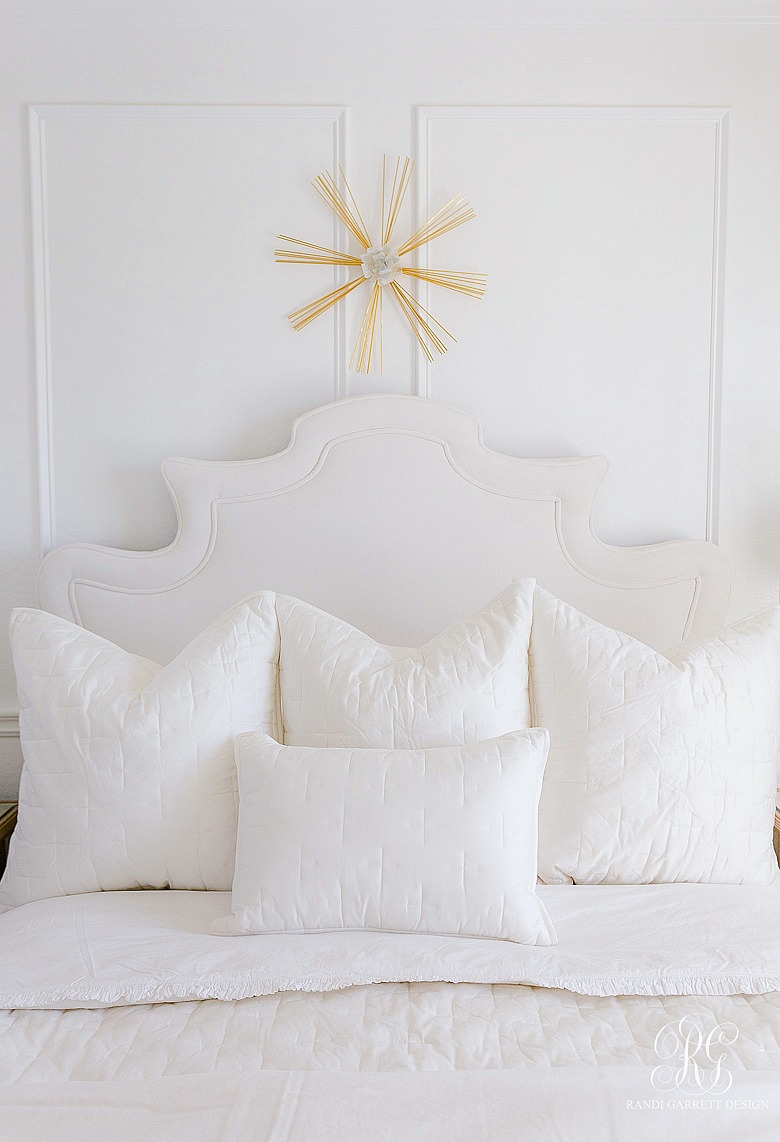 3 White Euros | 1 Breakfast Pillow | 1 Queen White Quilt | 1 Basketweave Duvet in Sugar | 2 Standard Basketweave Shams in Sugar
No. 2
Next start thinking about mixing in a little pattern and color. These fabulous spots leopard pillows look amazing mixed in with the crisp white essentials.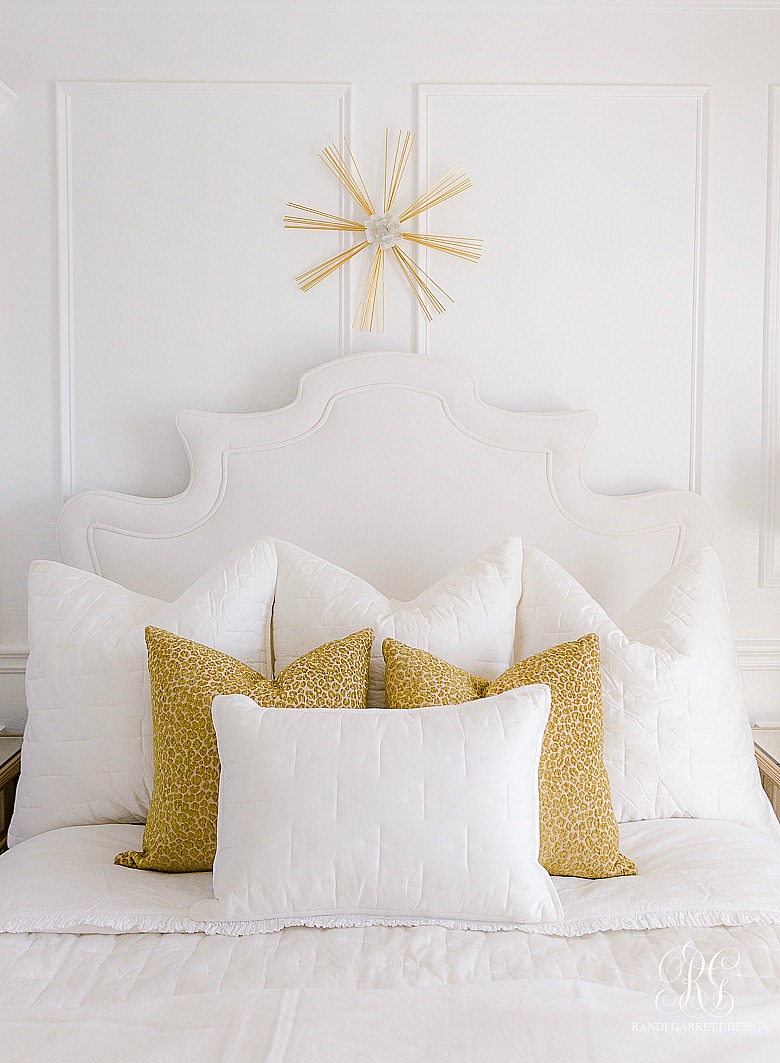 3 Euros | 2 20 x 20 " Pillows (Leopard Pillows) | 1 Breakfast Pillow
No. 3
For a cleaner look, use these fun striped pillows in the same layout as in the above look.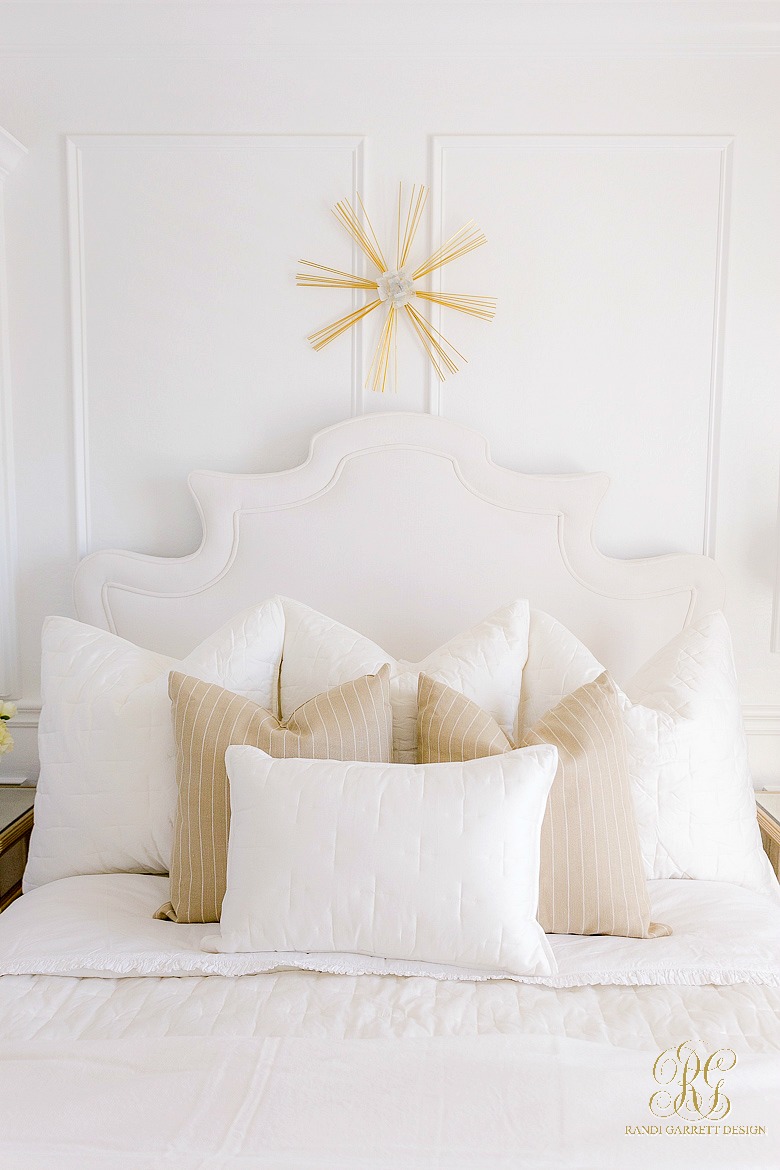 3 Euros | 2 20×20″ Pillows (Kalahari Striped Linen)  | 1 Breakfast Pillow
No. 4
For a more cozy look, use more euros! Here I've used 2 of these block print ikat pillows instead of smaller throw pillows. This is a simple change, but makes a big difference in the feel of the bed.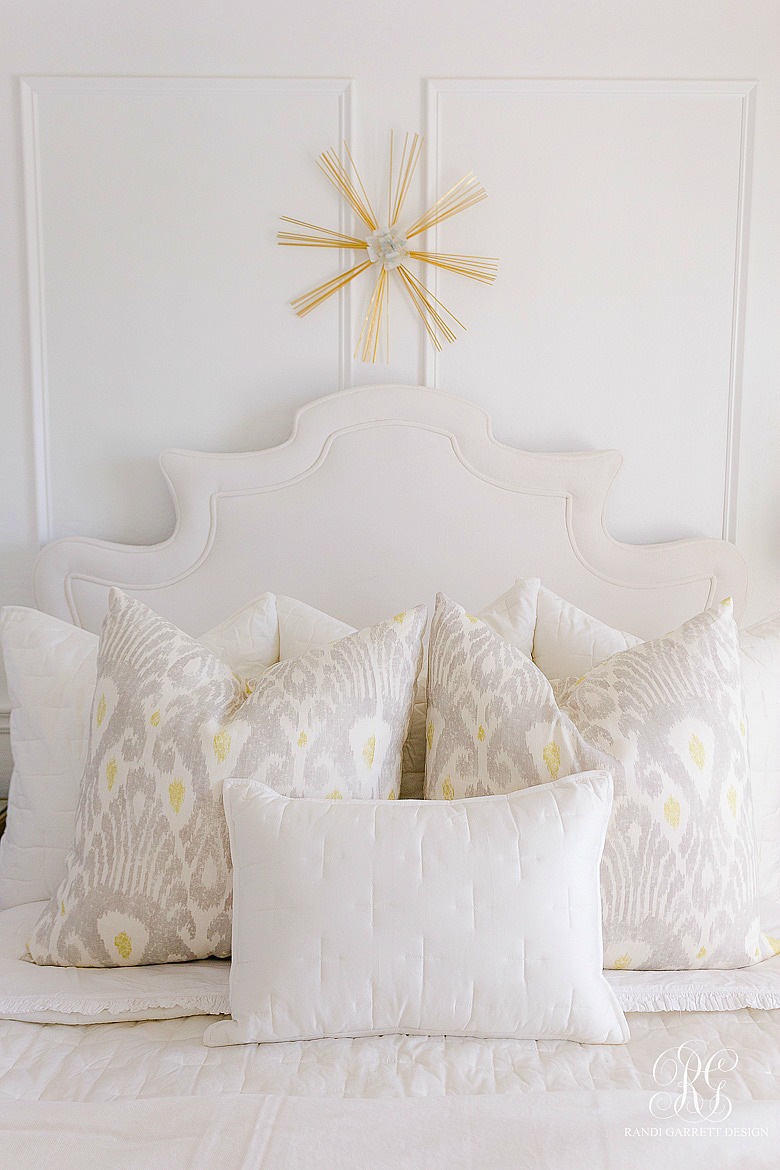 3 Euros | 2 Euros (Block Print Euros) | 1 Breakfast Pillow
No. 5
People are sometimes afraid to mix pattern. Don't be! Just remember this good rule of thumb; use a large print, medium and small. As for color, think back to your days in grade school when you studied the color wheel. Style your bed with colors in the same color family or complementary colors – opposites on the color wheel. My bed features pillows that all belong in the neutral family.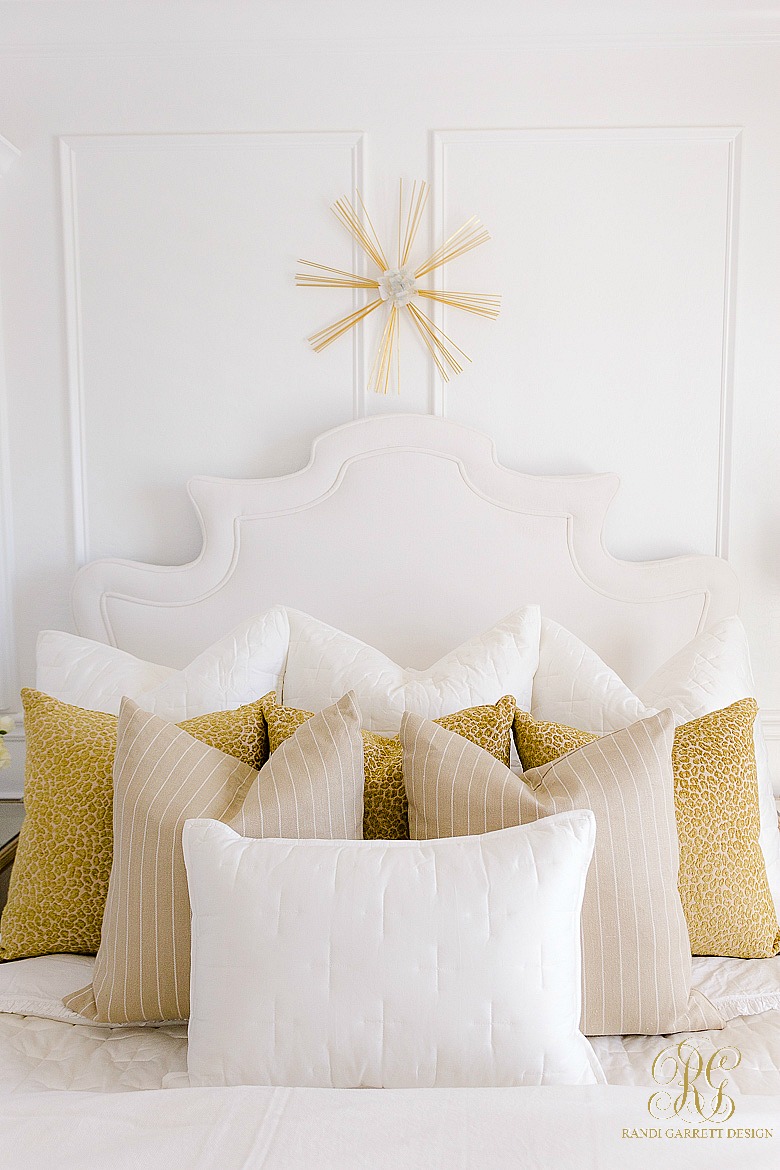 3 Euros | 3  20  x 20 " Pillows (Leopard Pillows ) | 2 20 x 20 " (Kalahari Striped Linen Pillows) | 1 Breakfast Pillow
No. 6
This next look uses lots of pattern! It works because of the rule I mentioned, use 1 large print, 1 medium and 1 small.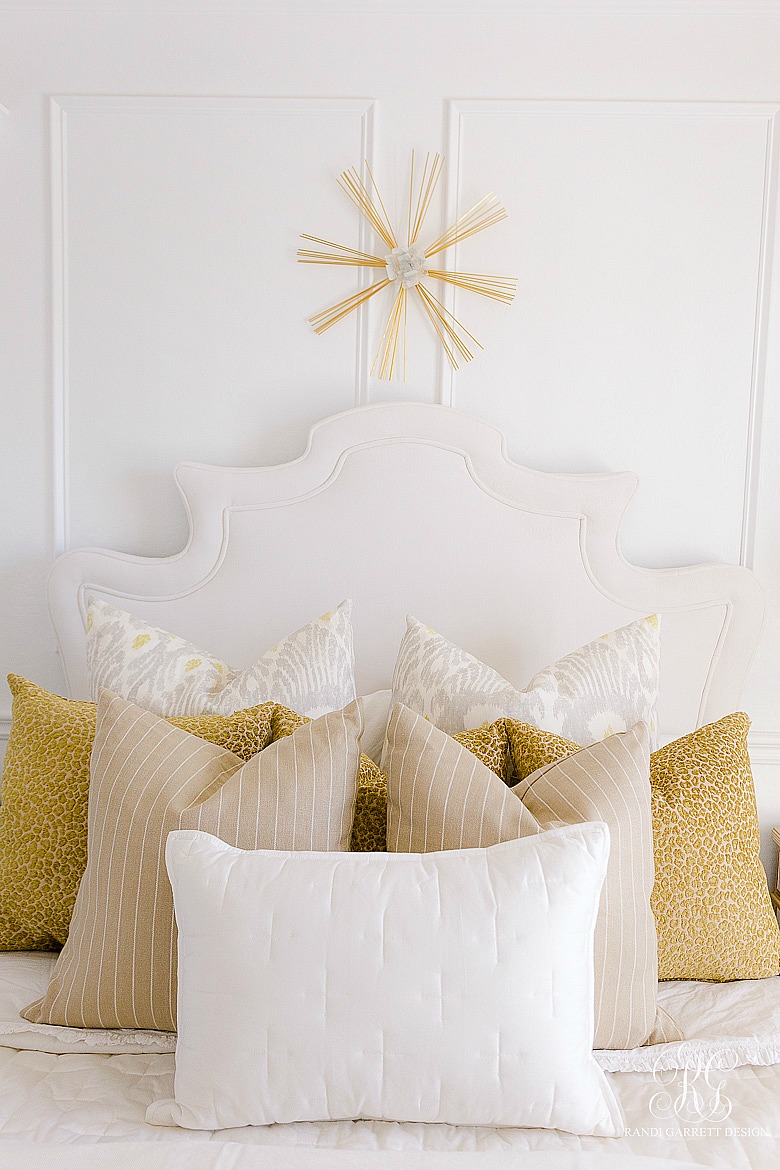 2 Block Print Euros | 3 Leopard Pillows (20×20) | 2 Kalahari Striped  Linen Pillows (20×20) | 1 Breakfast Pillow
No. 7
Last look! This look is all about layering! I love having a ton of pillows on my bed, it makes it feel like a luxurious retreat!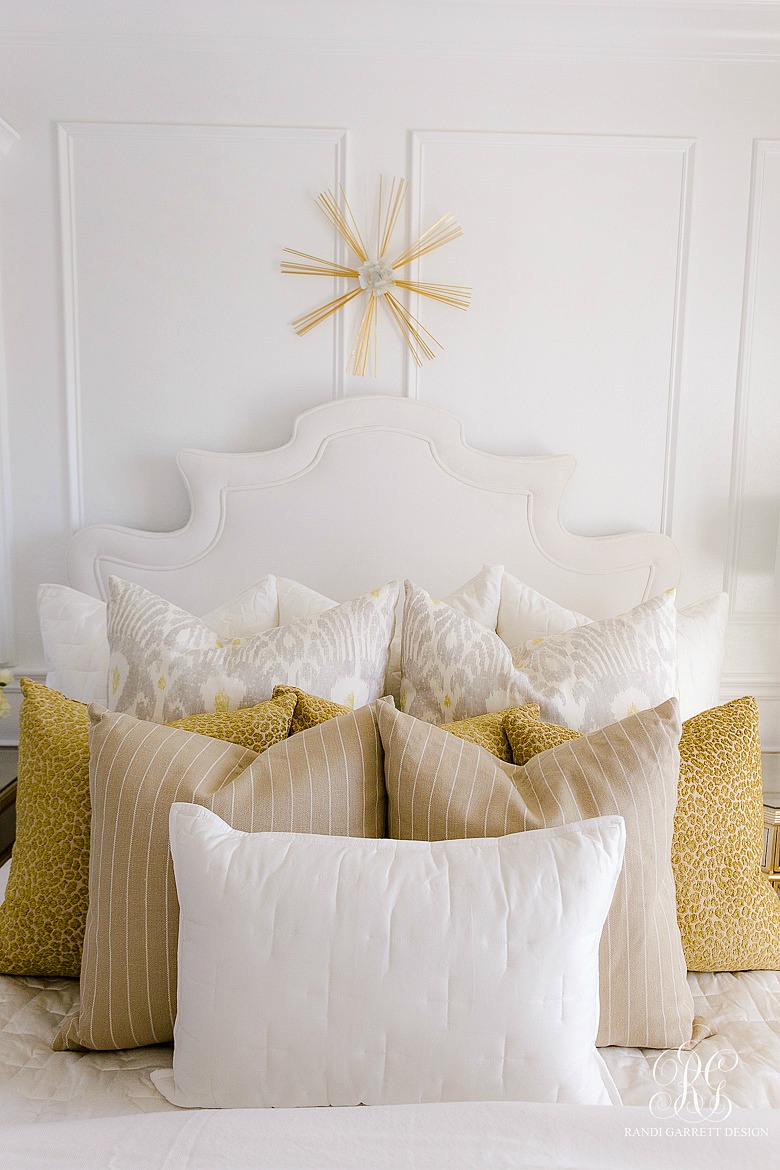 3 Euro (White) | 2 Euros (Print Block Euros) | 3 20×20″ Pillows (Leopard ) | 2 20 x 20″ Pillows (Kalahari Striped Linen) | 1 Breakfast Pillow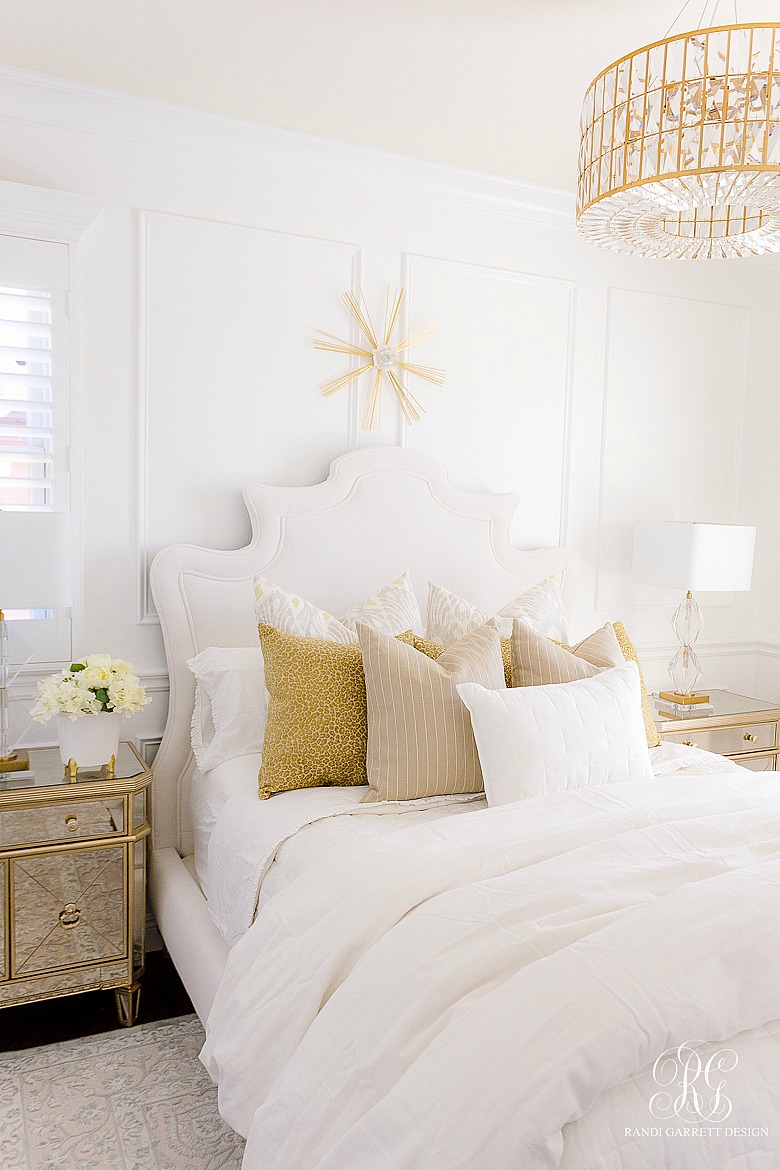 Now go mix and match your pillows and style your bed like a pro! If you're on the hunt for some bedding essentials to dress your beds or some fun pattered pillows, check out the Villa by Noble Excellence line at Dillards. Here are some more pieces in the collection I love!


Get the sources for the rest of the room here.