One of the beautiful things about design is that you can get inspiration from almost anywhere! I look forward to setting my seasonal tables all year long and am constantly looking for inspiration. Last Fall, I spotted a velvet pumpkin with a flower on it designed by my friend Daria of Hot Skwash. I knew exactly what I wanted to do for my Halloween table this year! For almost a year I have waited to set this glam Halloween table! So today I am bursting with excitement to share with you this Chanel inspired glam Halloween table!
So, Daria and I have been planning a black and white color scheme for this table for quite some time! When I told her I wanted to use Chanel as my inspiration, she began to create black and white pumpkins to fit the theme. This table features pumpkins made from velvet and boucle fabrics. Each pumpkin is dress up with a unique flower or magnificent sparkling crystals. She also made beautiful black and gold pomegranate with gold crystals dripping down the center! They are so glam!!! You can get some for your home by visiting Hot Skwash.
I hope you feel inspired and gain some inspiration for your Halloween decorating!
This post is done in partnership with Hot Skwash and contains affiliate links (full disclosure here).
Chanel Inspired Glam Halloween Table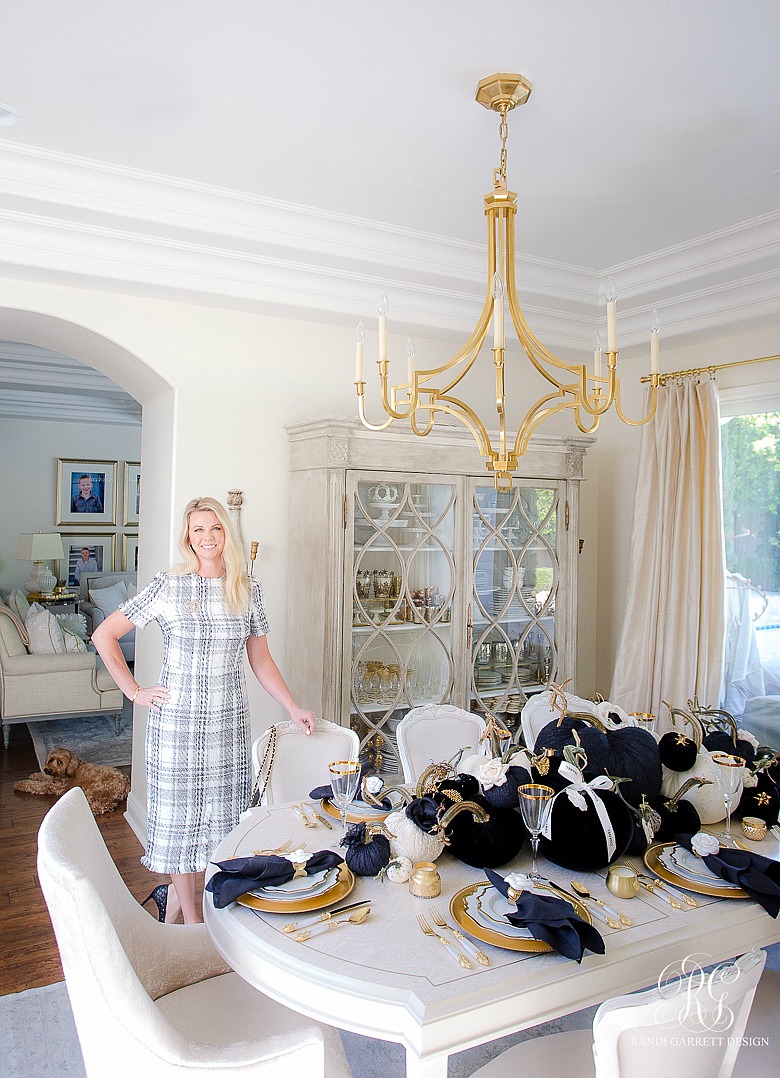 Plaid Dress | Chanel Brooch  | Black Heels | Chanel Inspired Handbag and here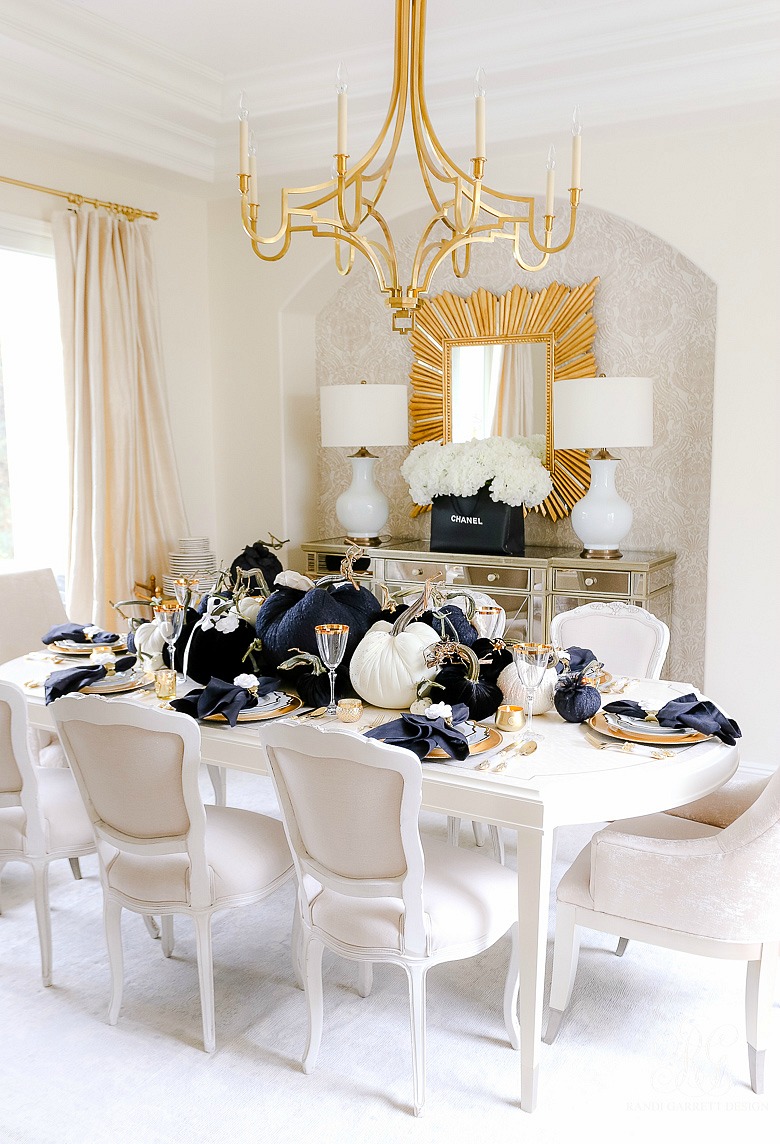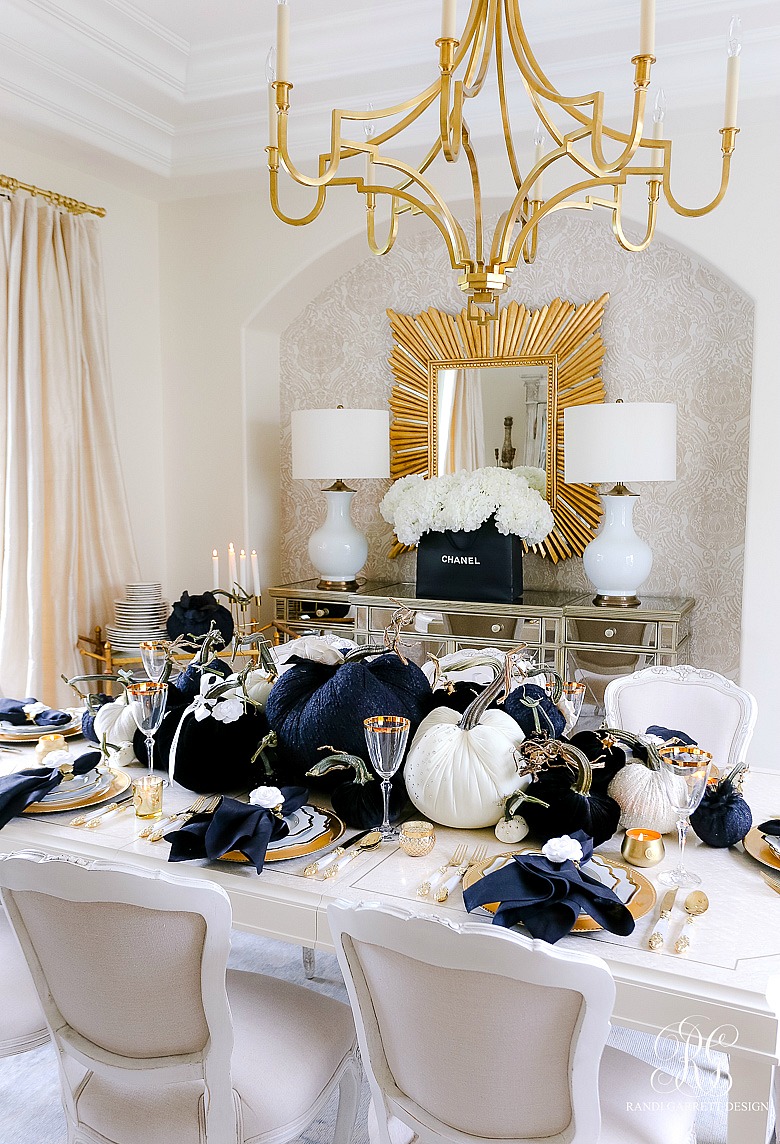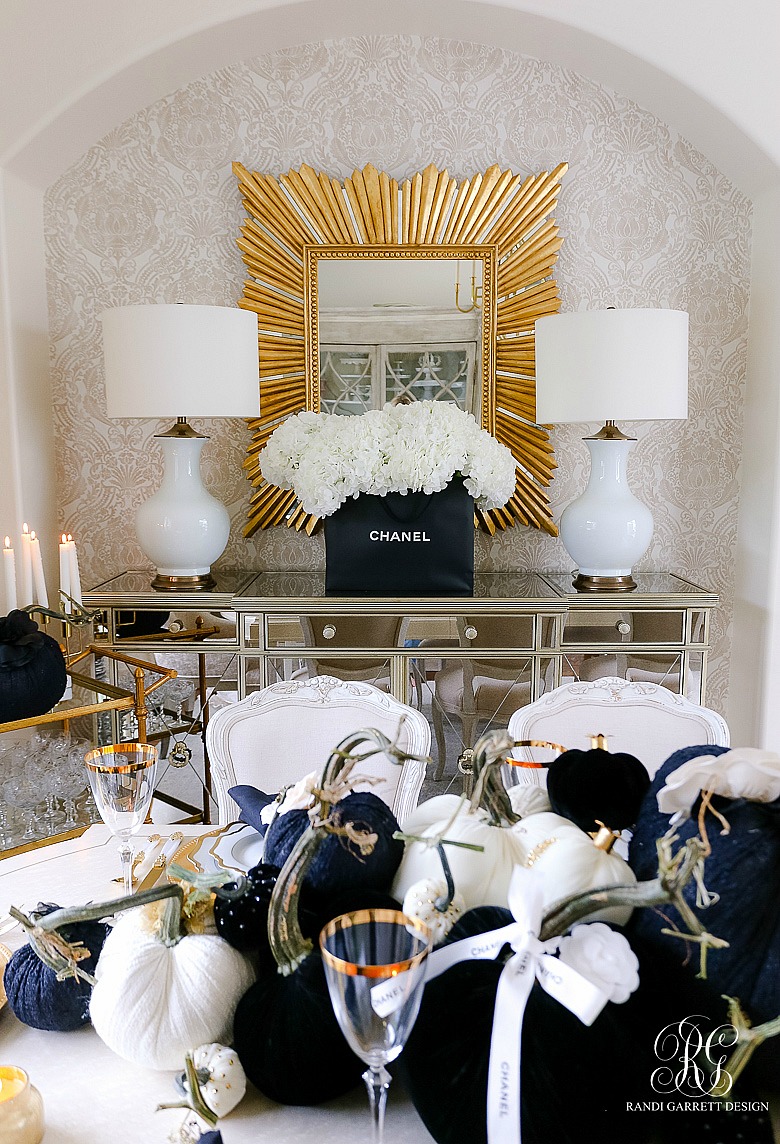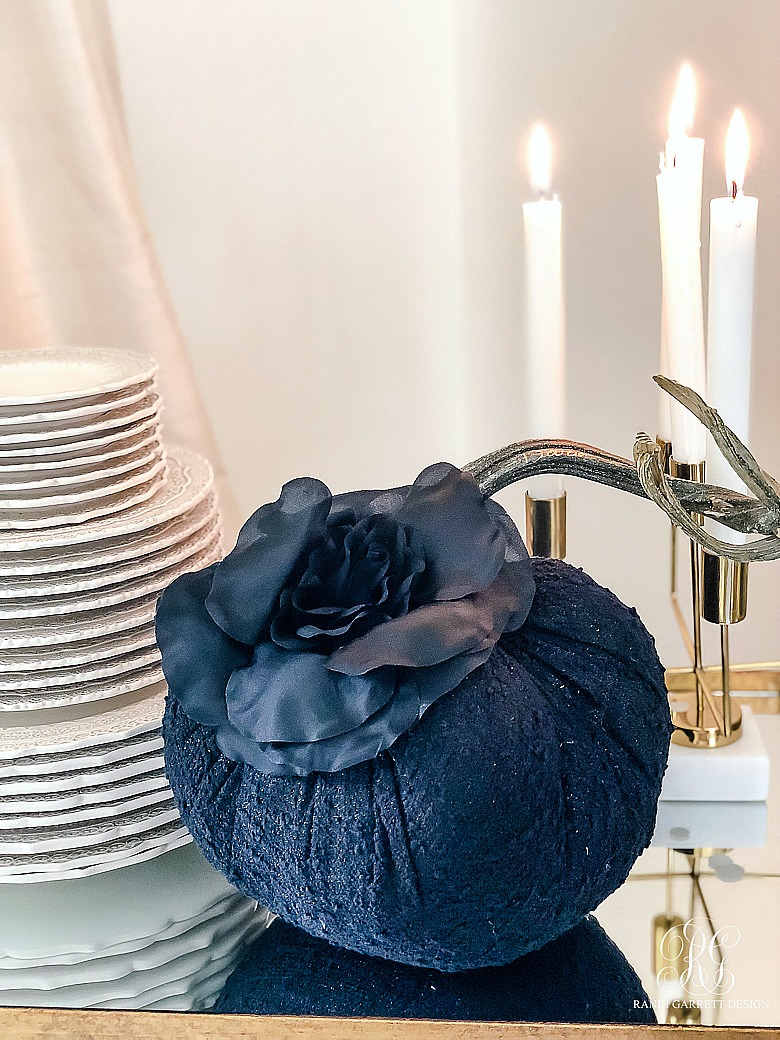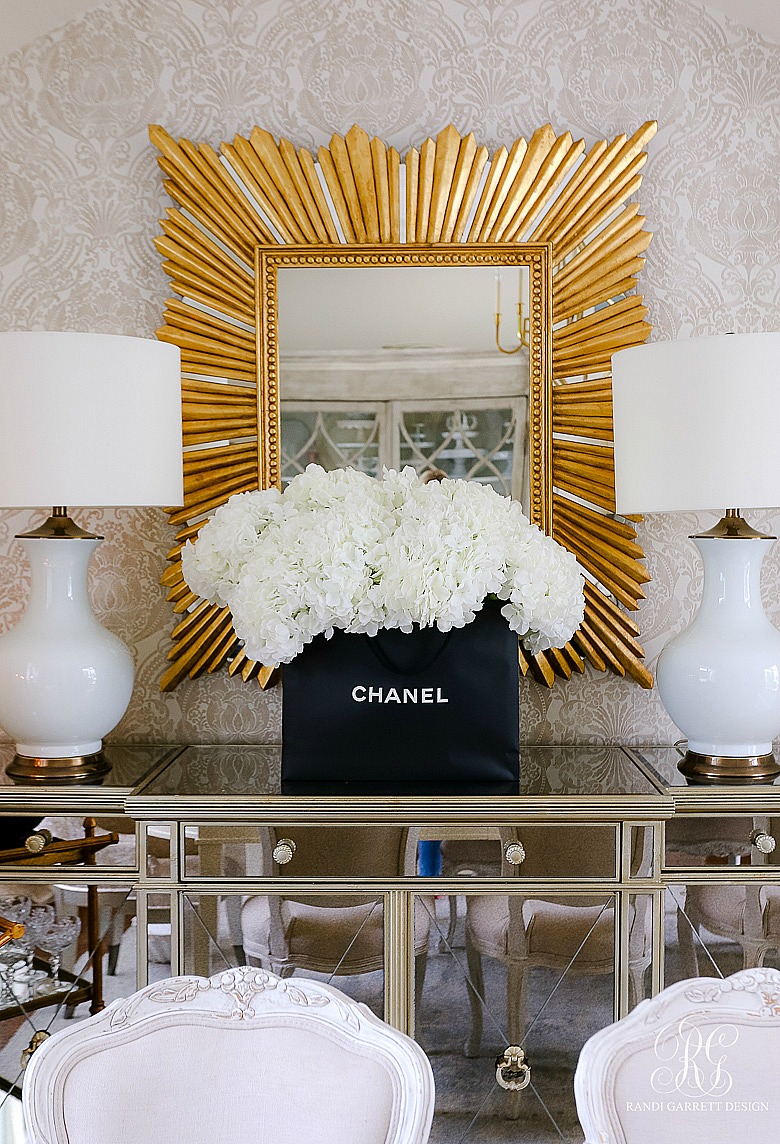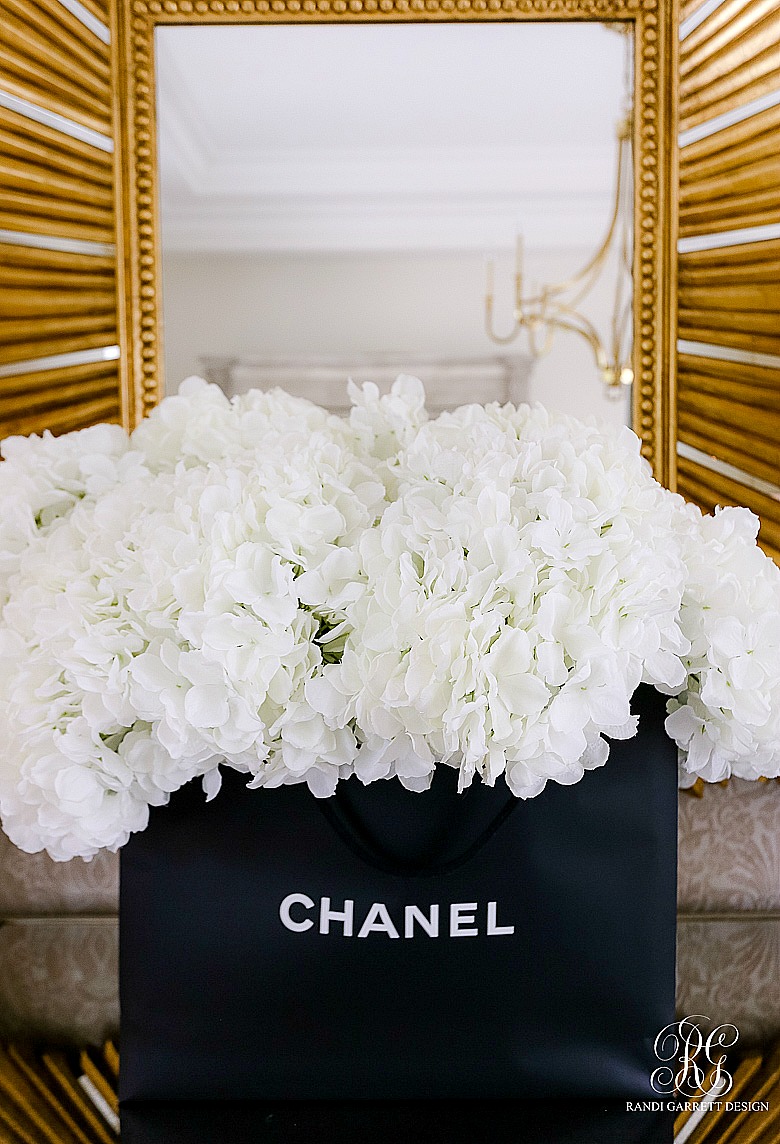 Our mirrored buffet features a Chanel shopping bag filled with the most gorgeous faux hydrangeas. This simple arrangement makes a huge statement with ease! The black and white color scheme give nod to Halloween in the glamest of ways!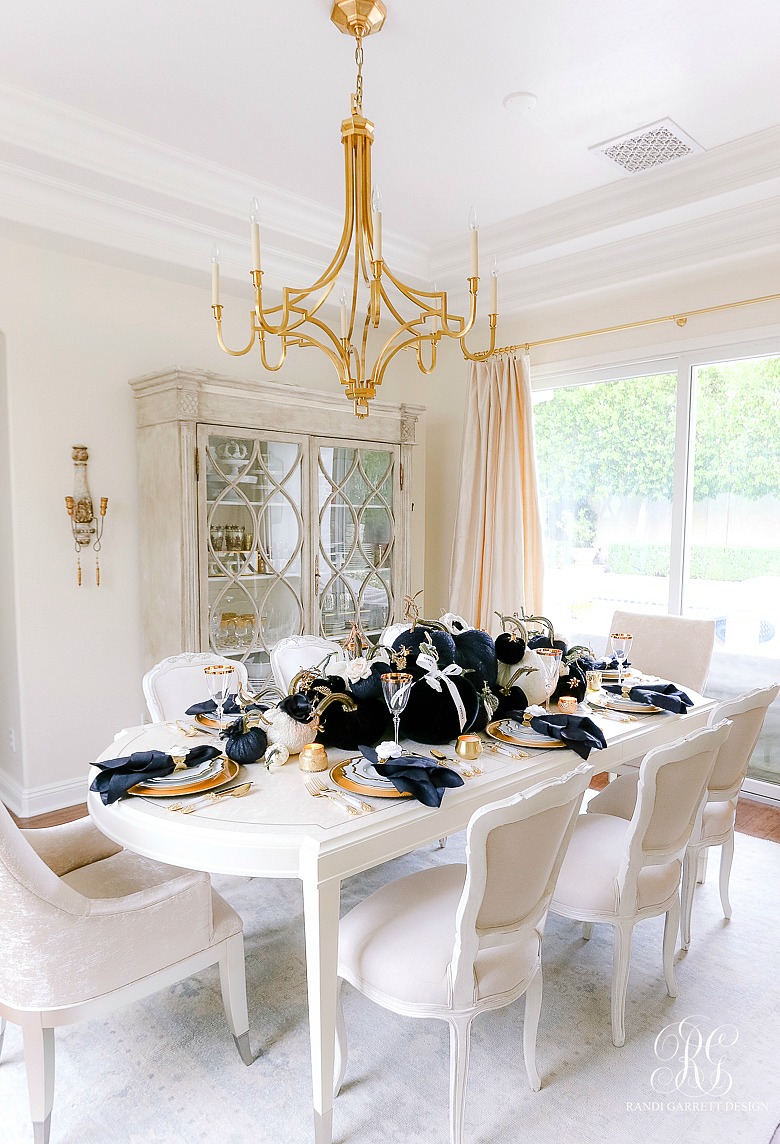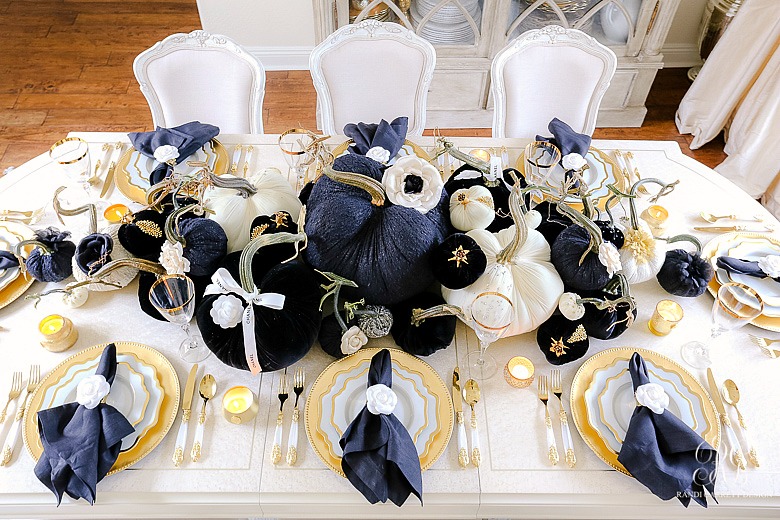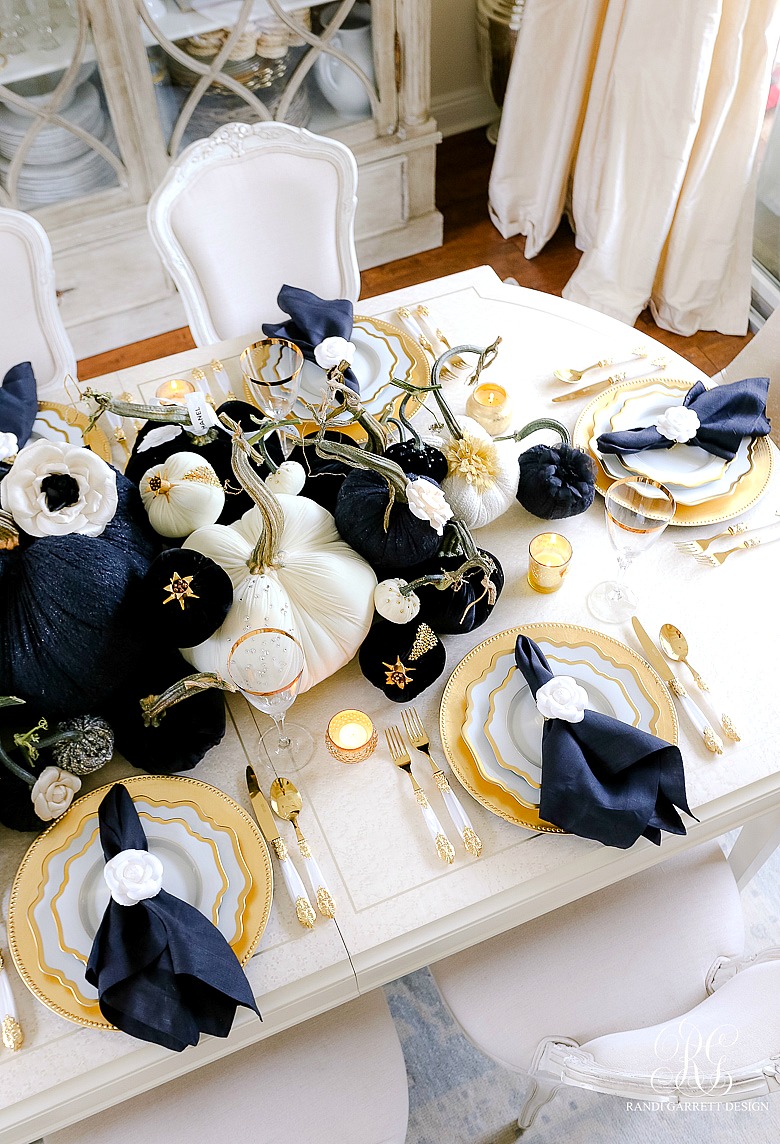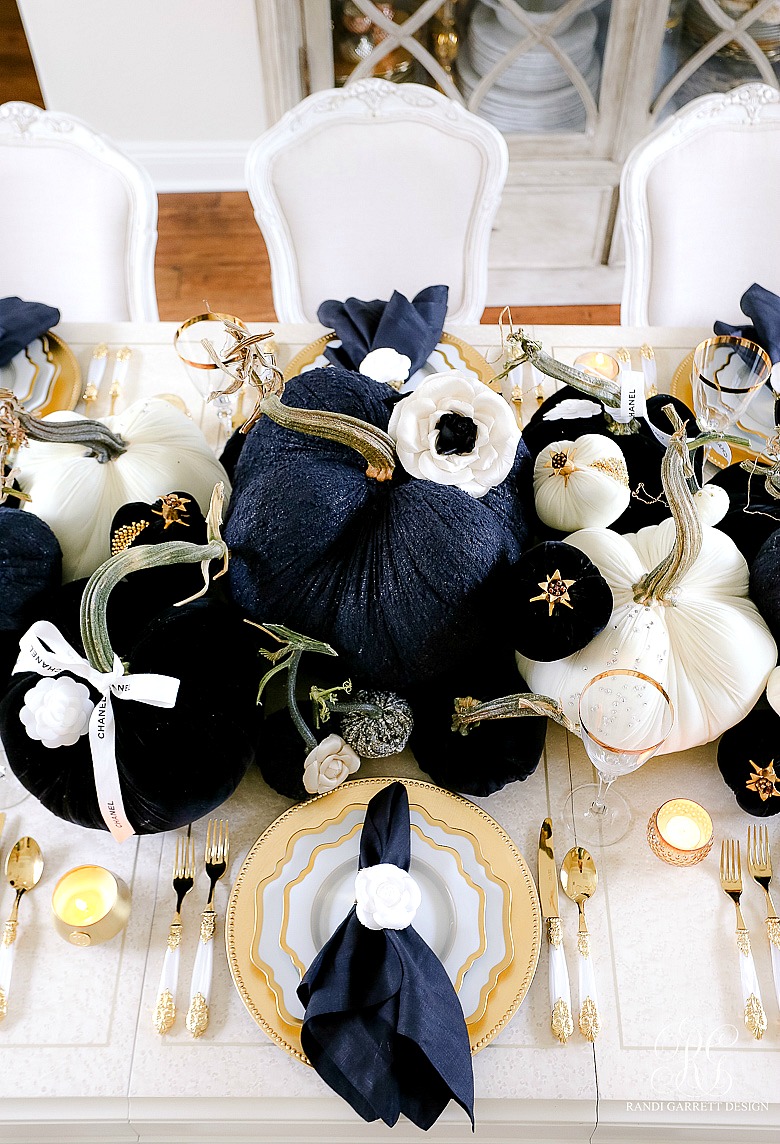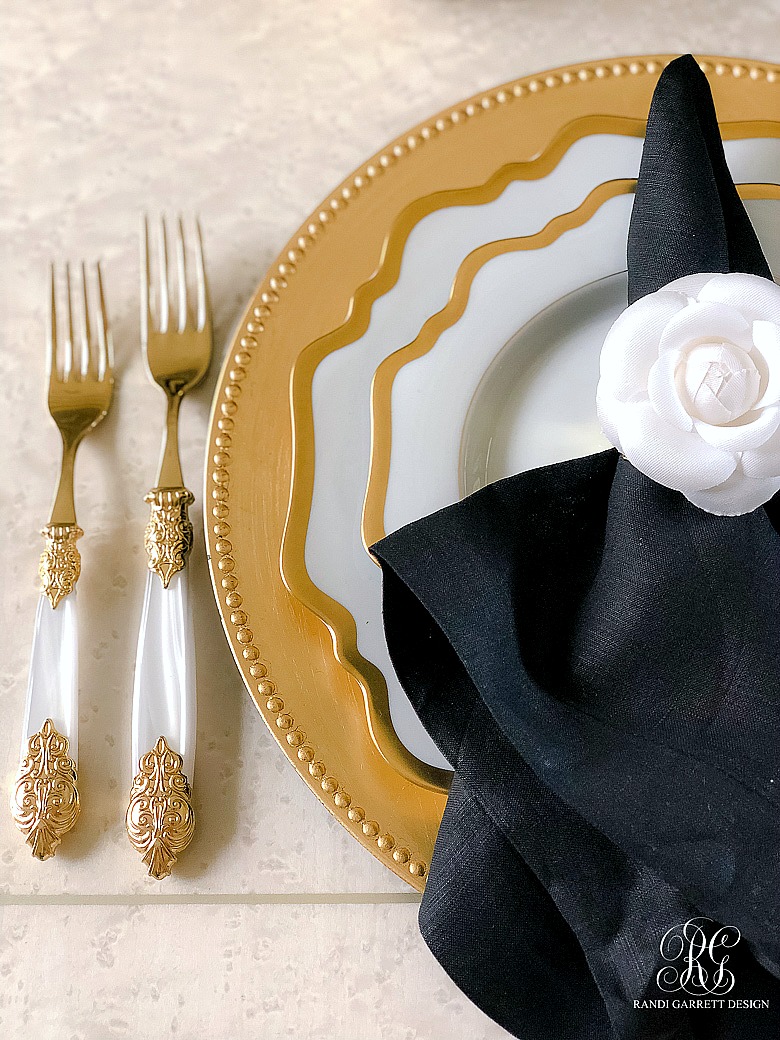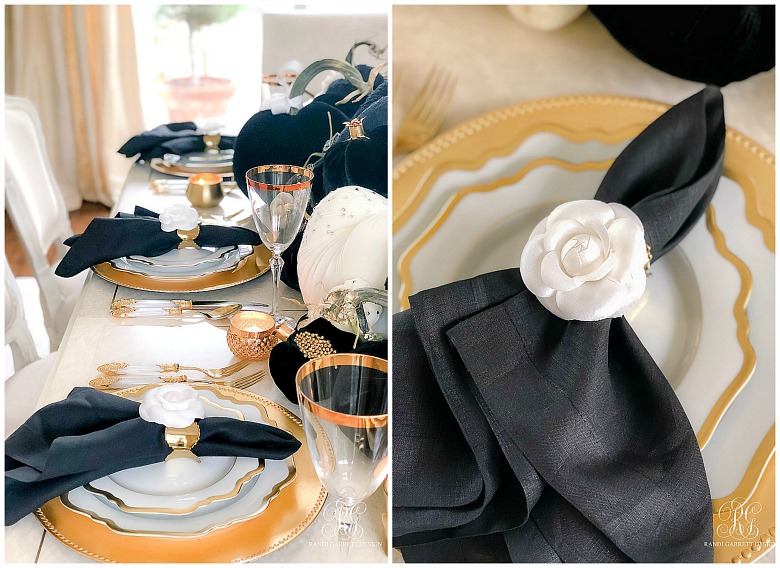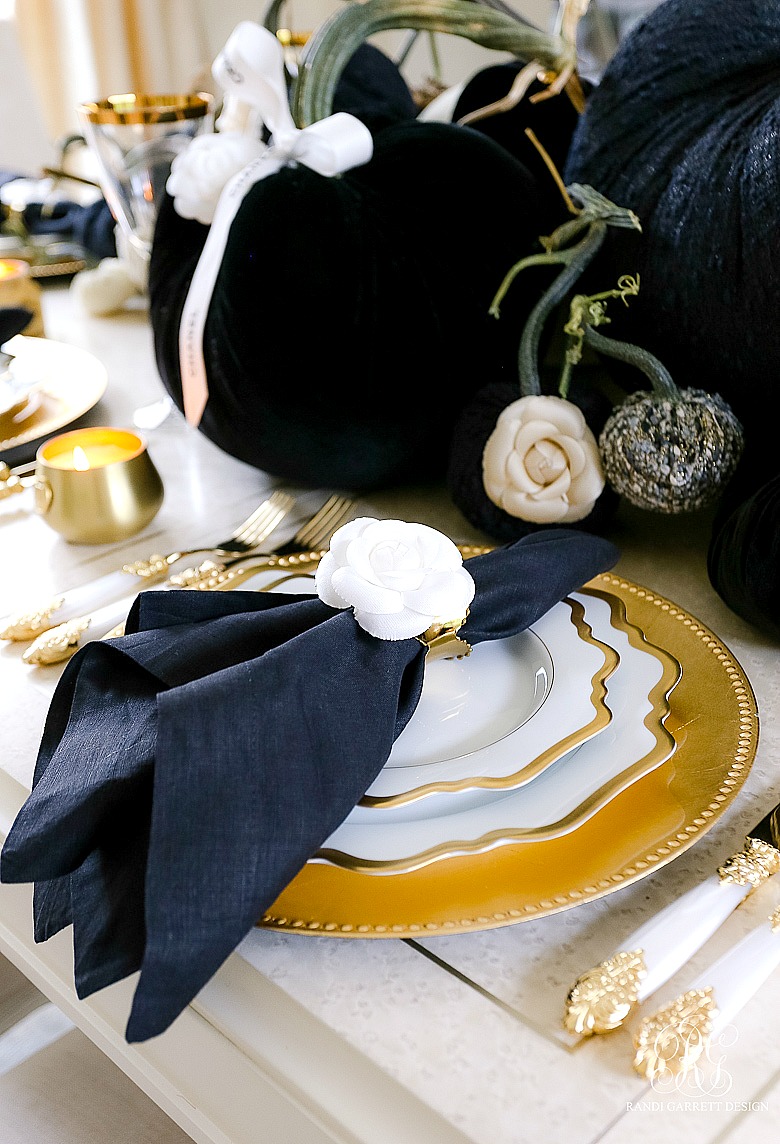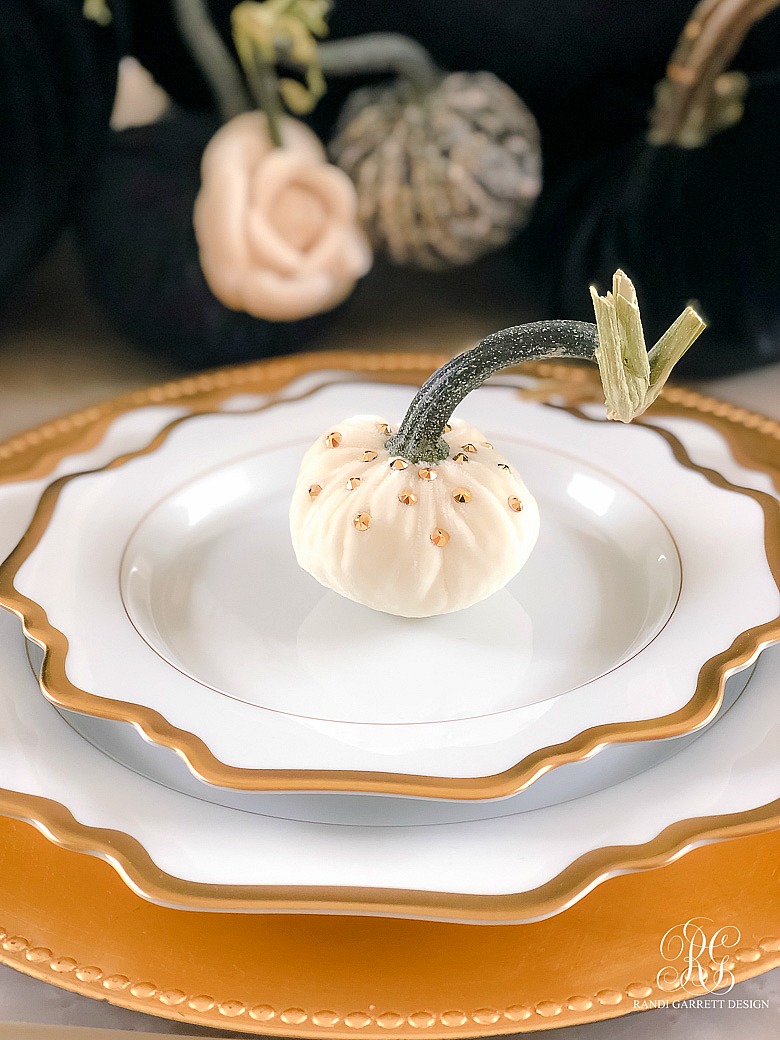 The place settings feature gold beaded chargers and these gorgeous gold rimmed plates and stunning gold flatware. I also used these on my golden Fall table. You will see them more this holiday season because they are so versatile and beautiful!
Black linen napkins and dressed up with my gold napkin rings with a faux camellia flower attached. The camellia flower is the symbol of Chanel. Pairing it with the black napkins makes a stunning statement. You could send each of your guests home with the flower to be worn as a brooch used on their pumpkins!



 More Affordable Plates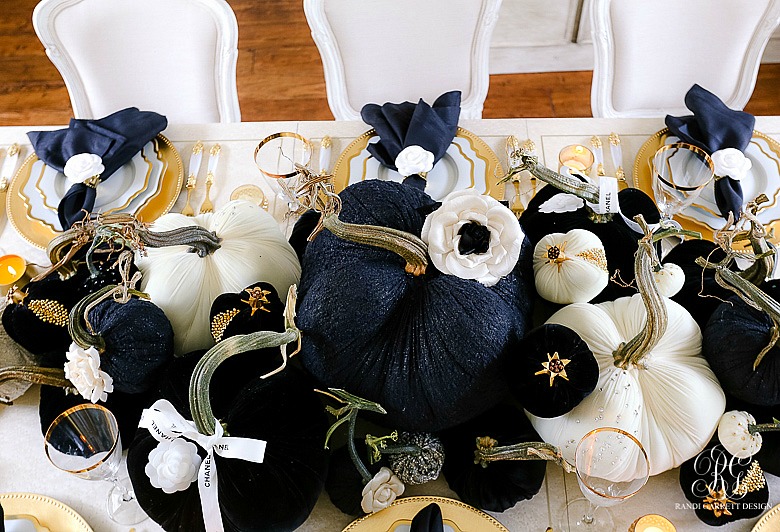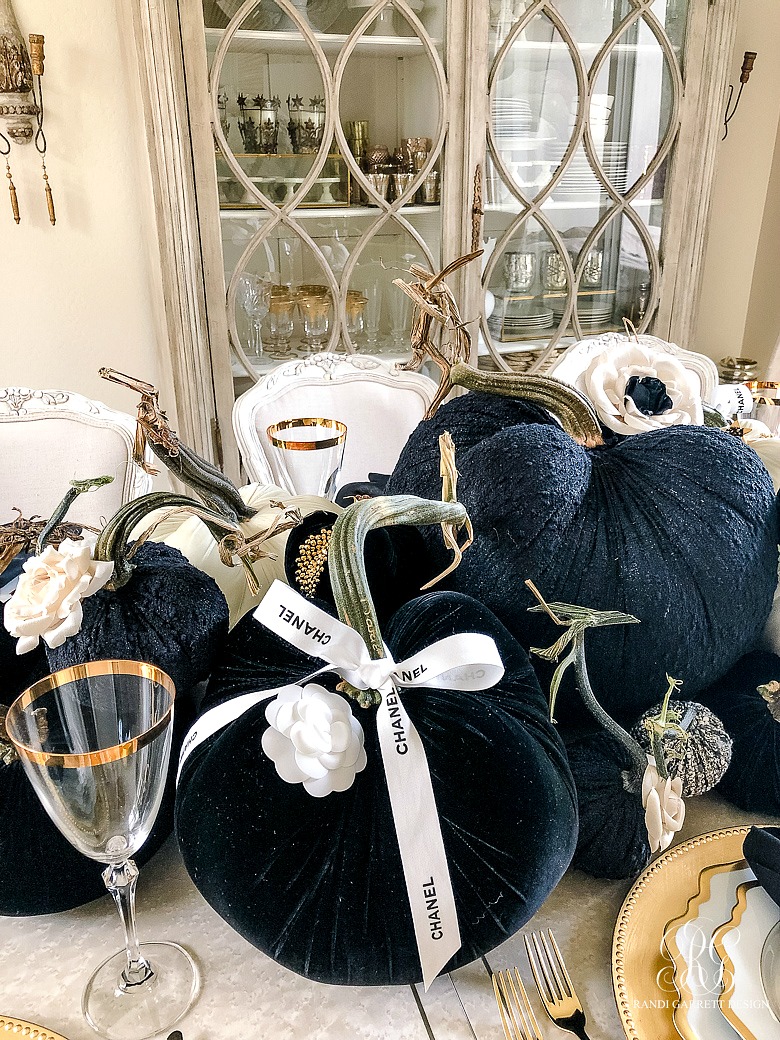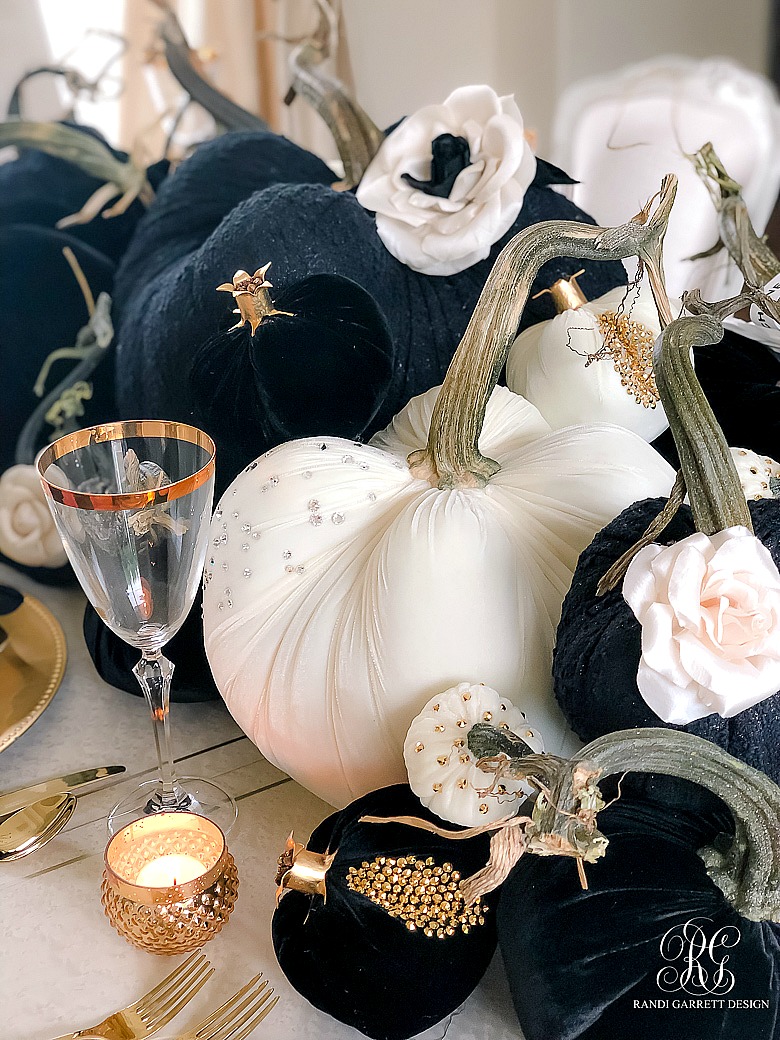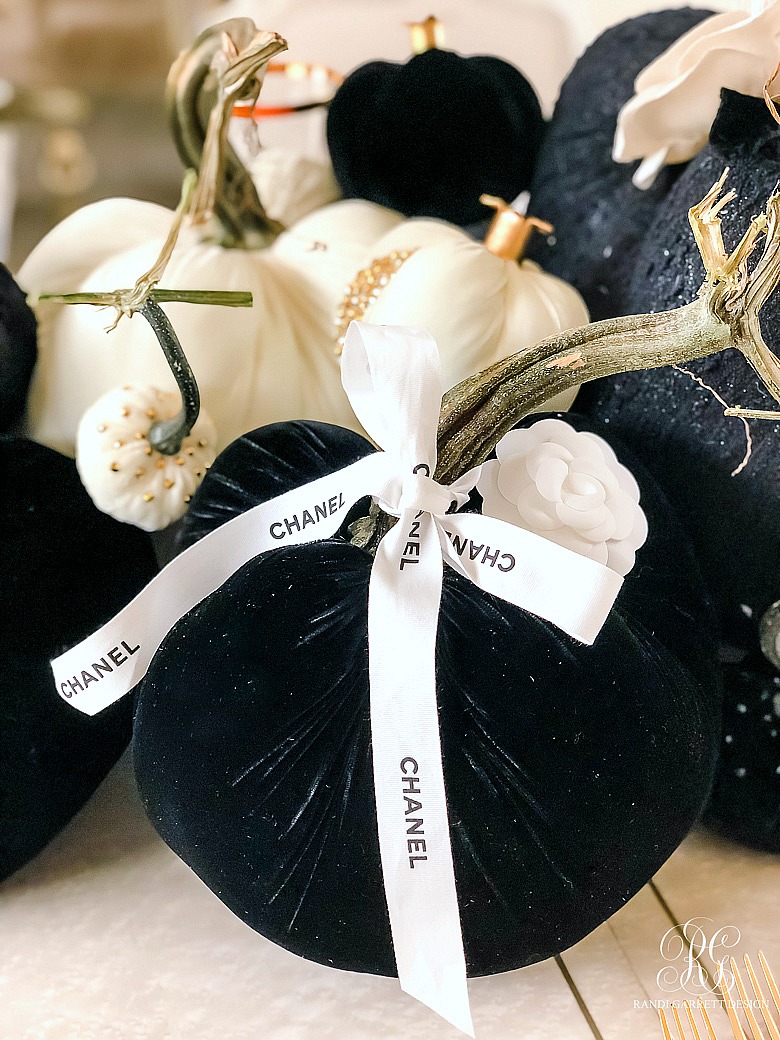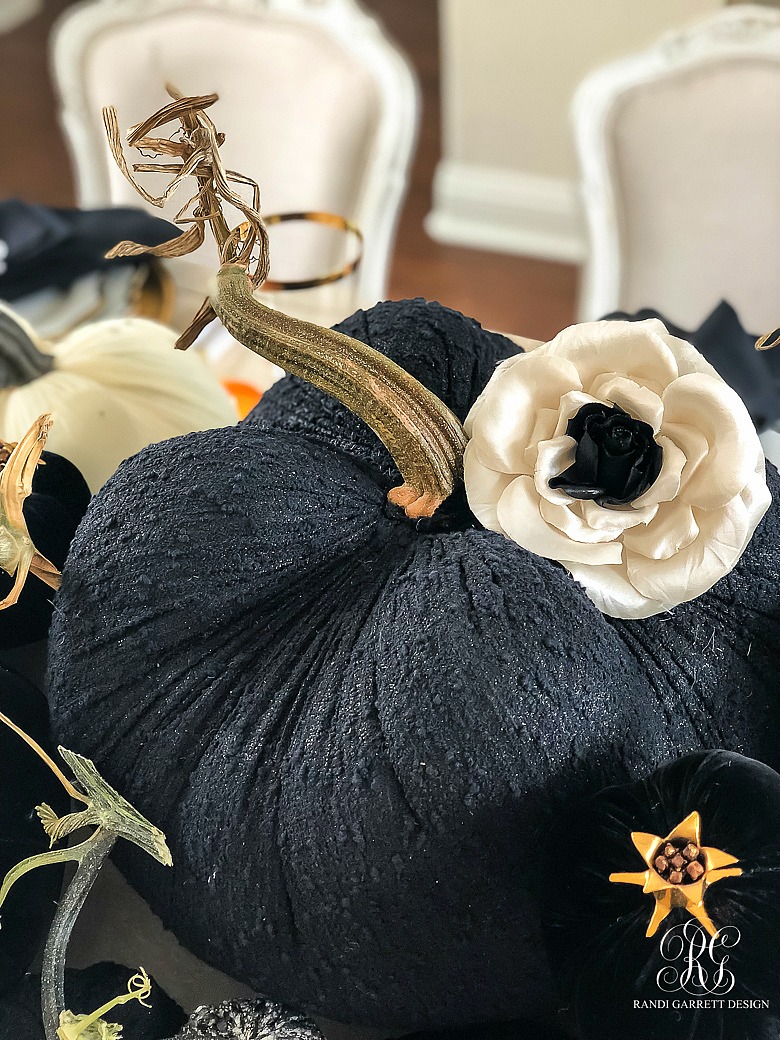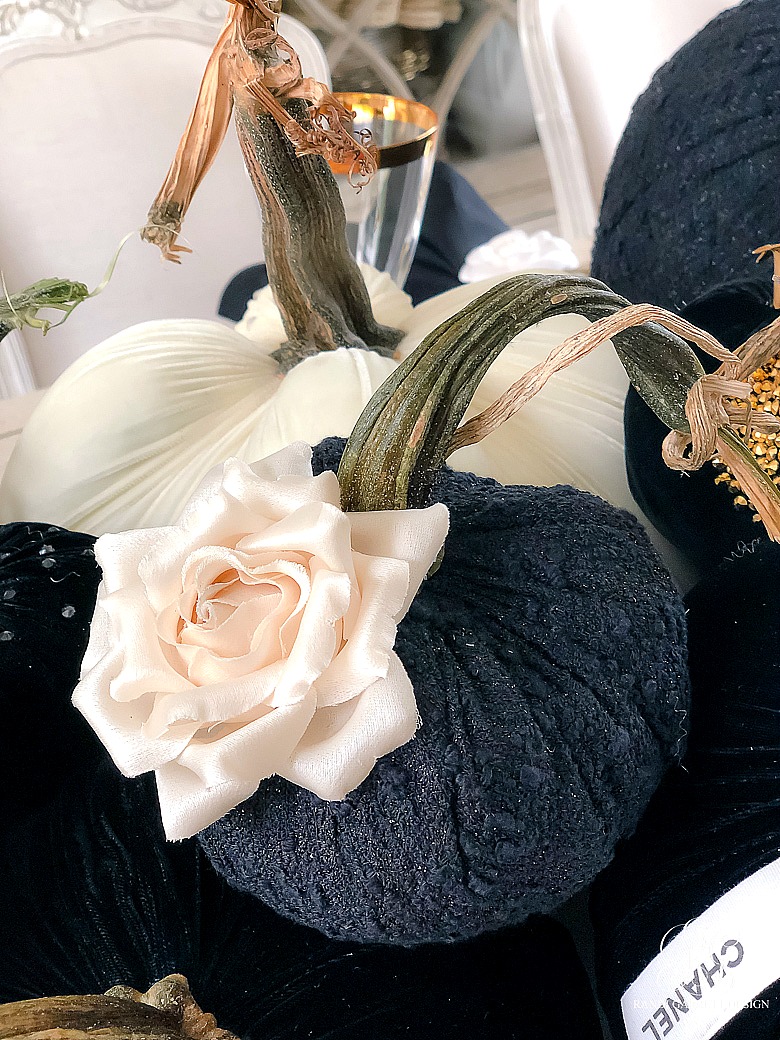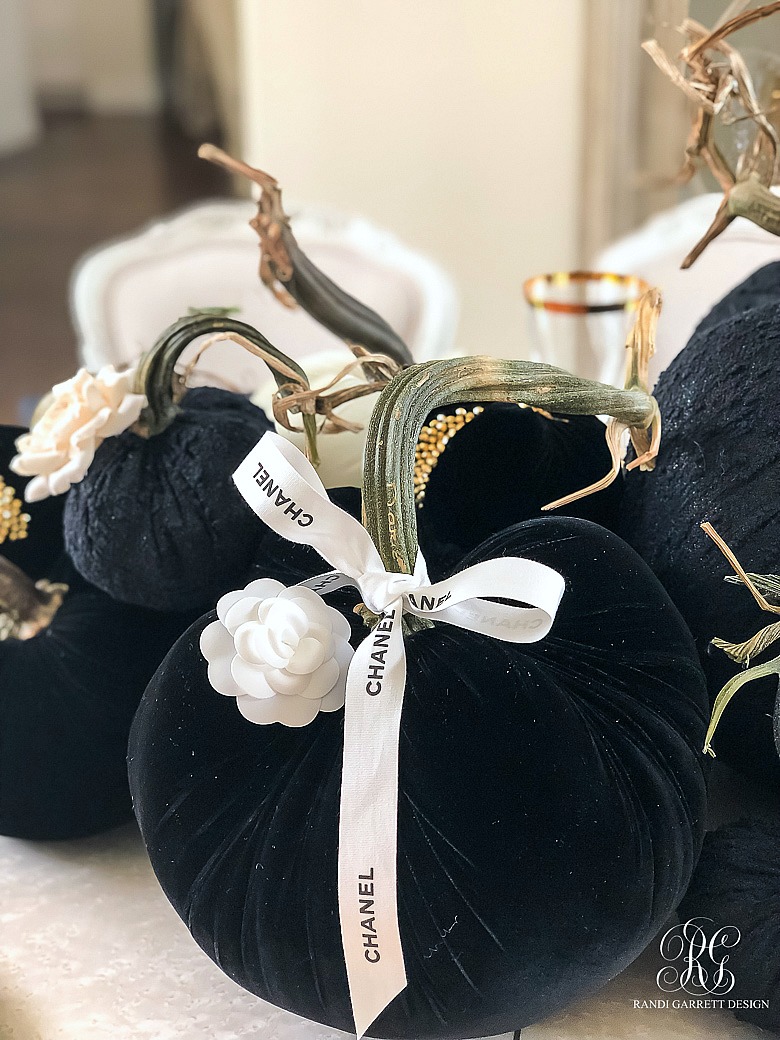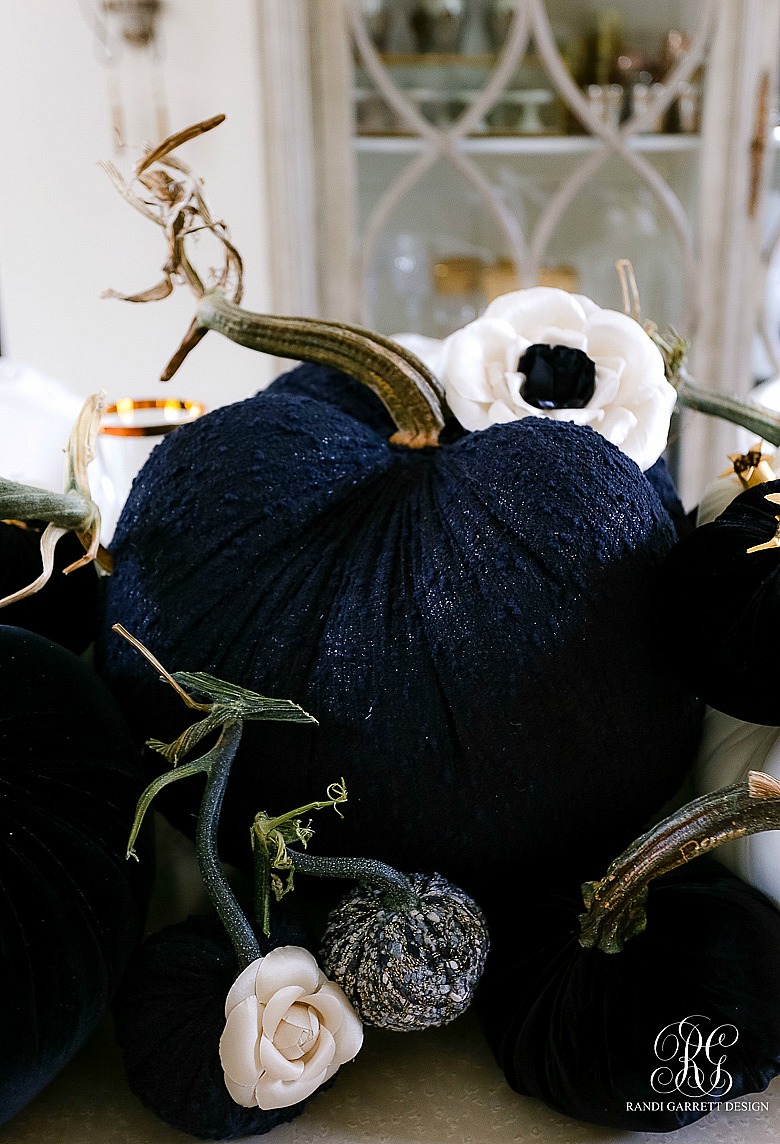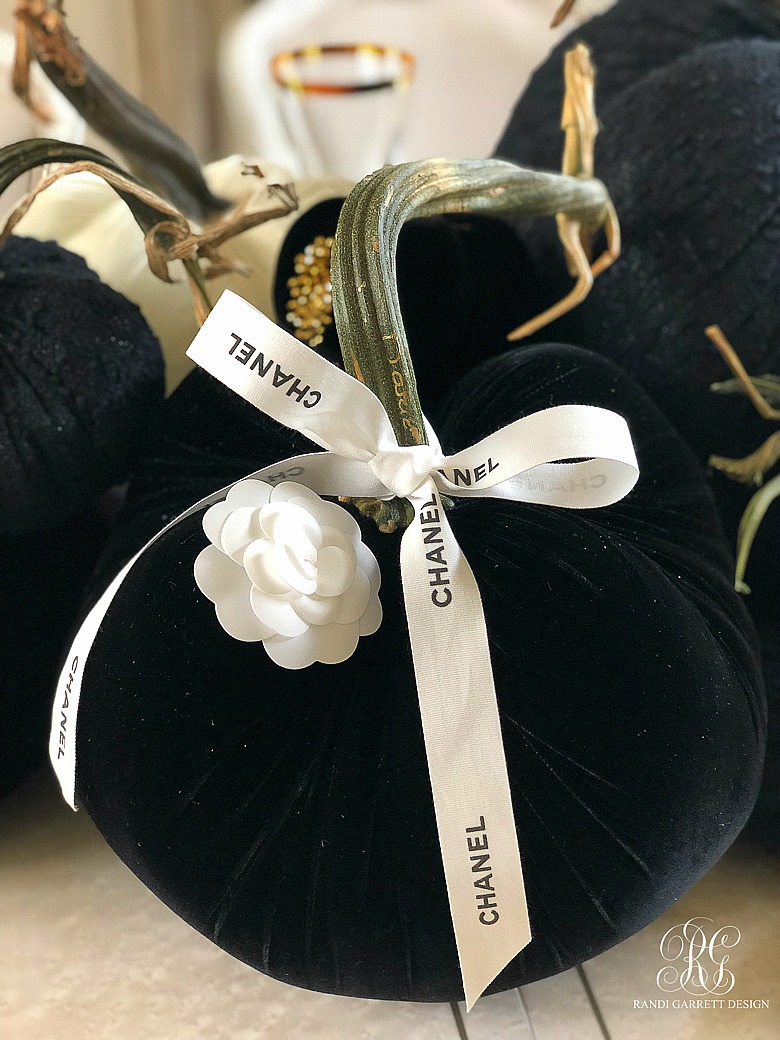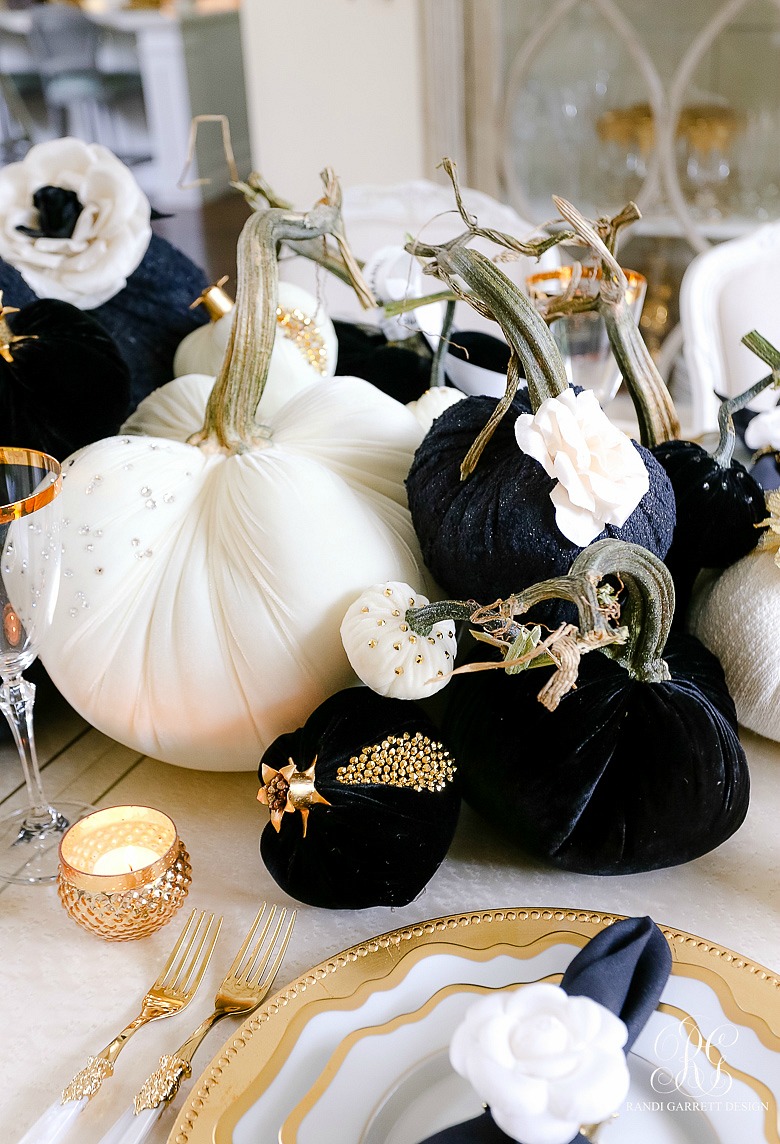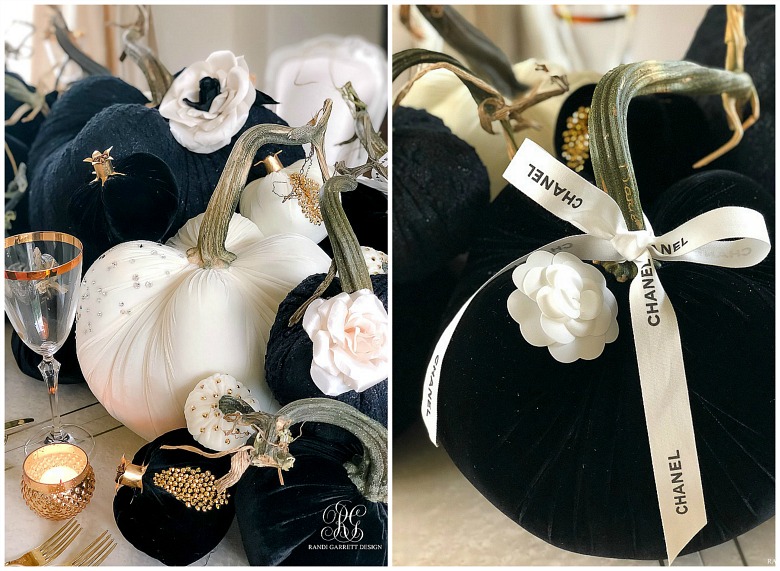 Daria worked her magic creating glam Chanel inspired pumpkins! I used some of my Chanel ribbon from a purchase and tied it on a few of the solid black velvet pumpkins. A white Chanel camellia flower from the same packaging finished off the look!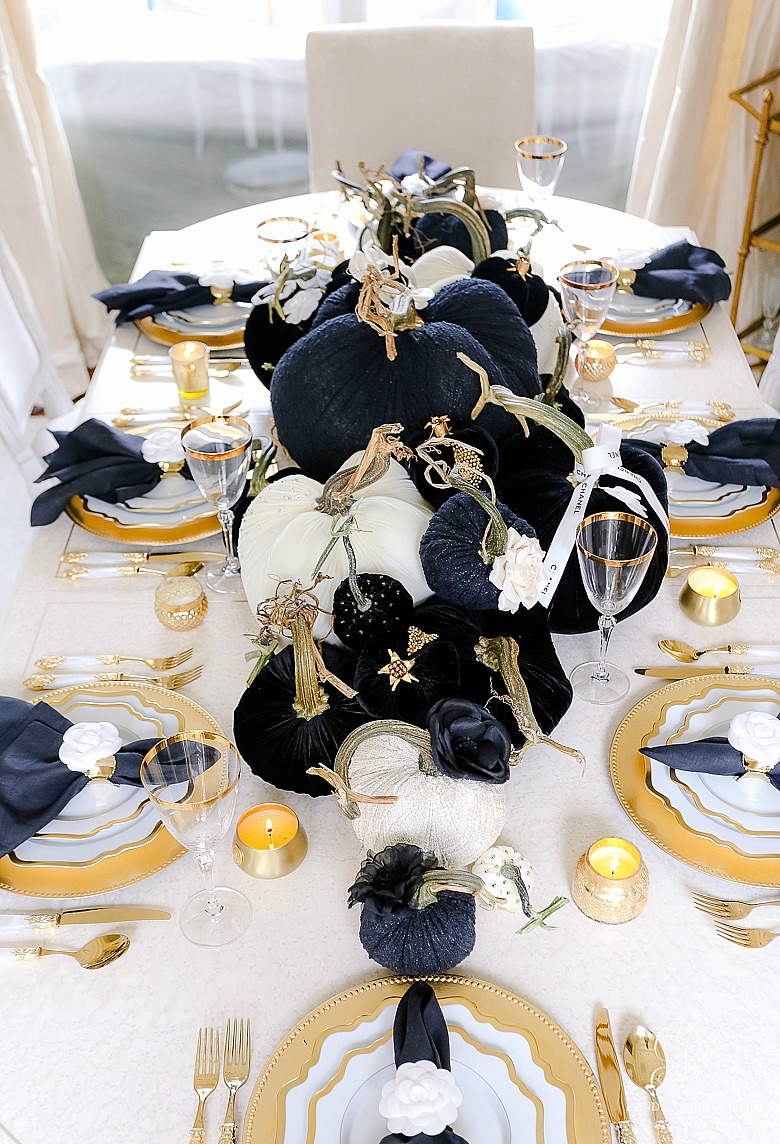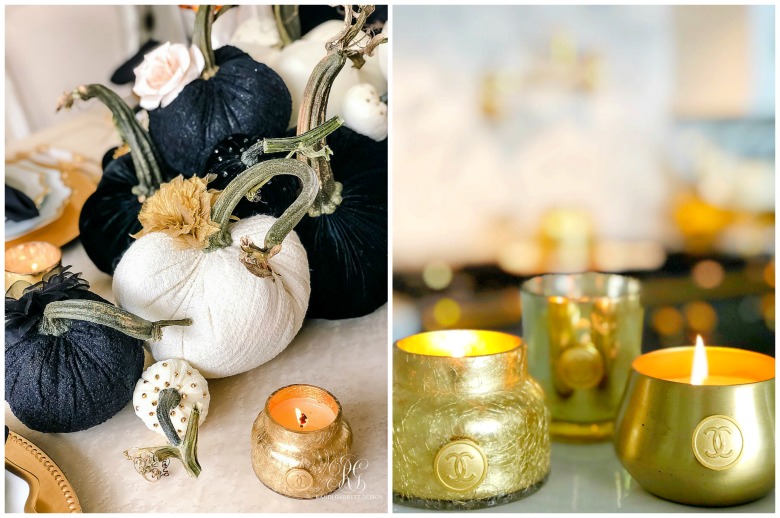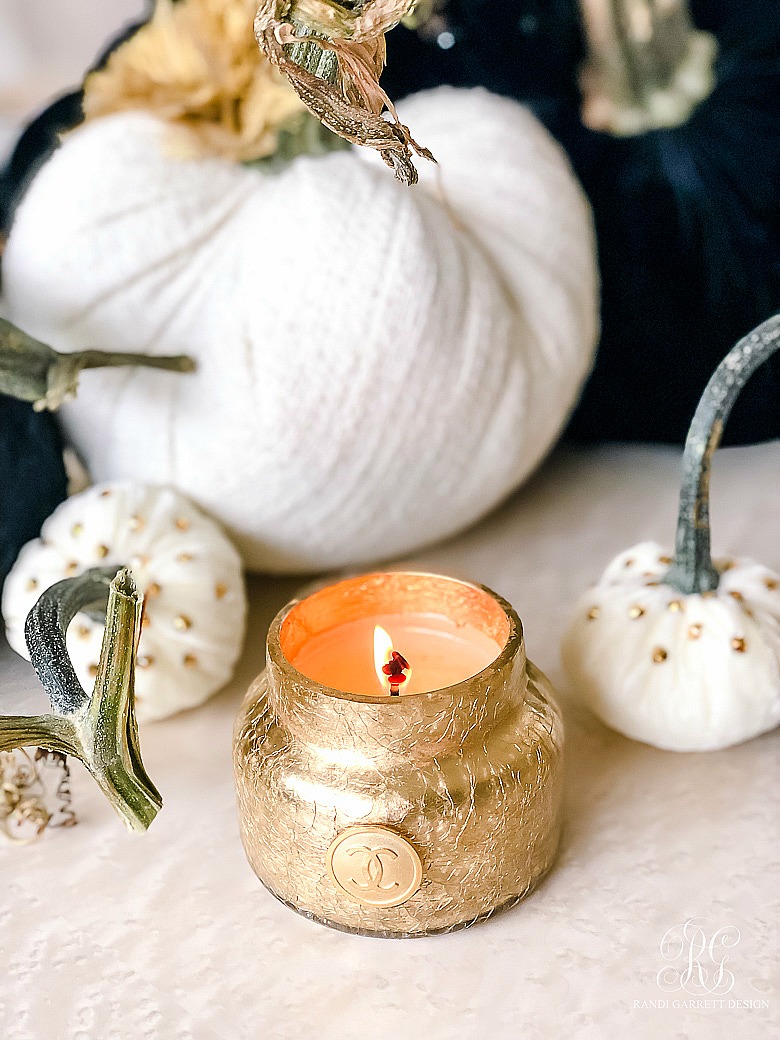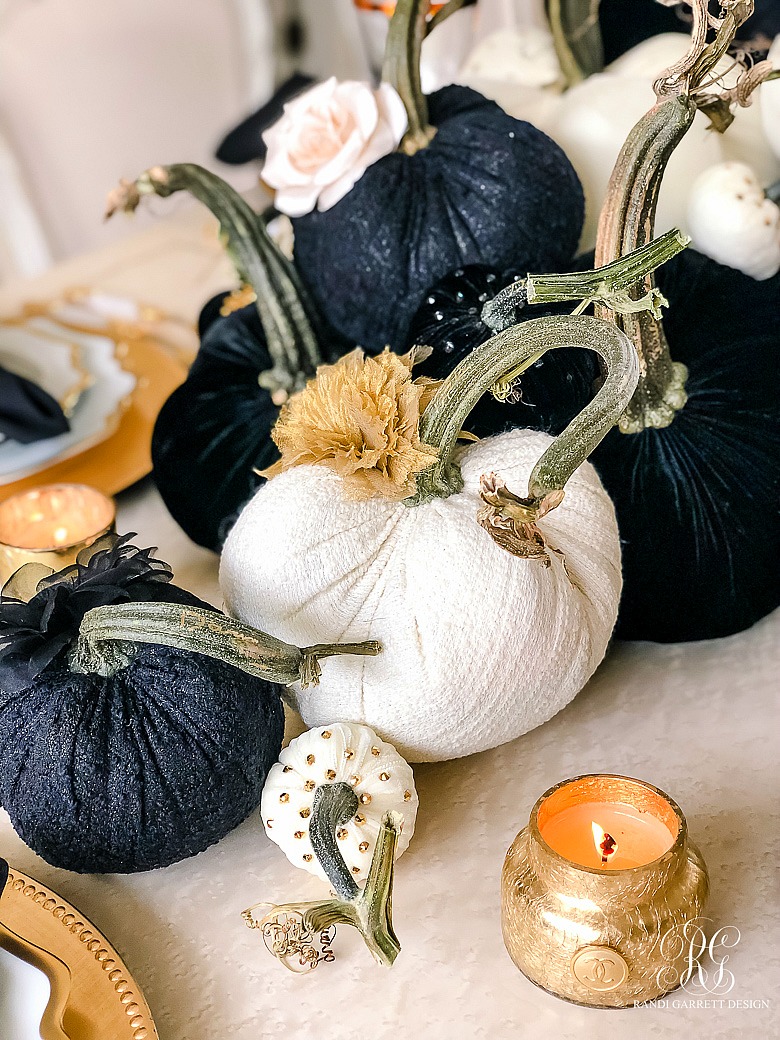 You can make these Chanel inspired candle votives too by simply clipping the back off of these Chanel inspired buttons and hot gluing them to some gold votive candles!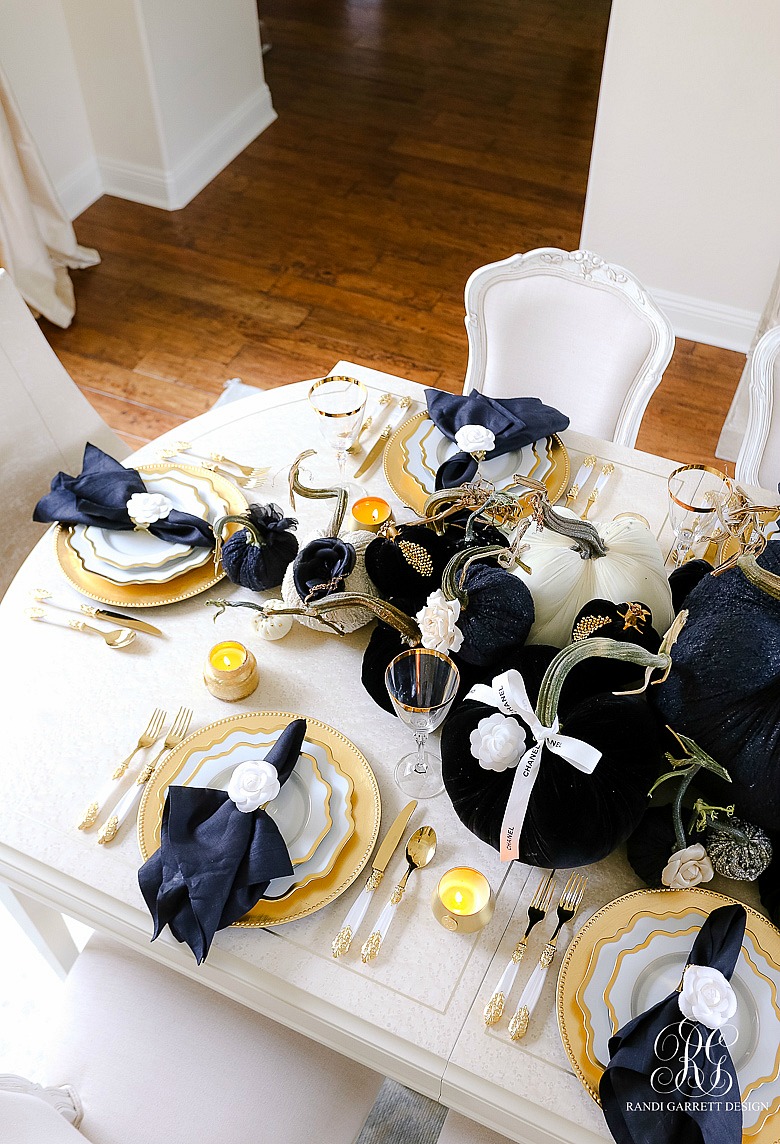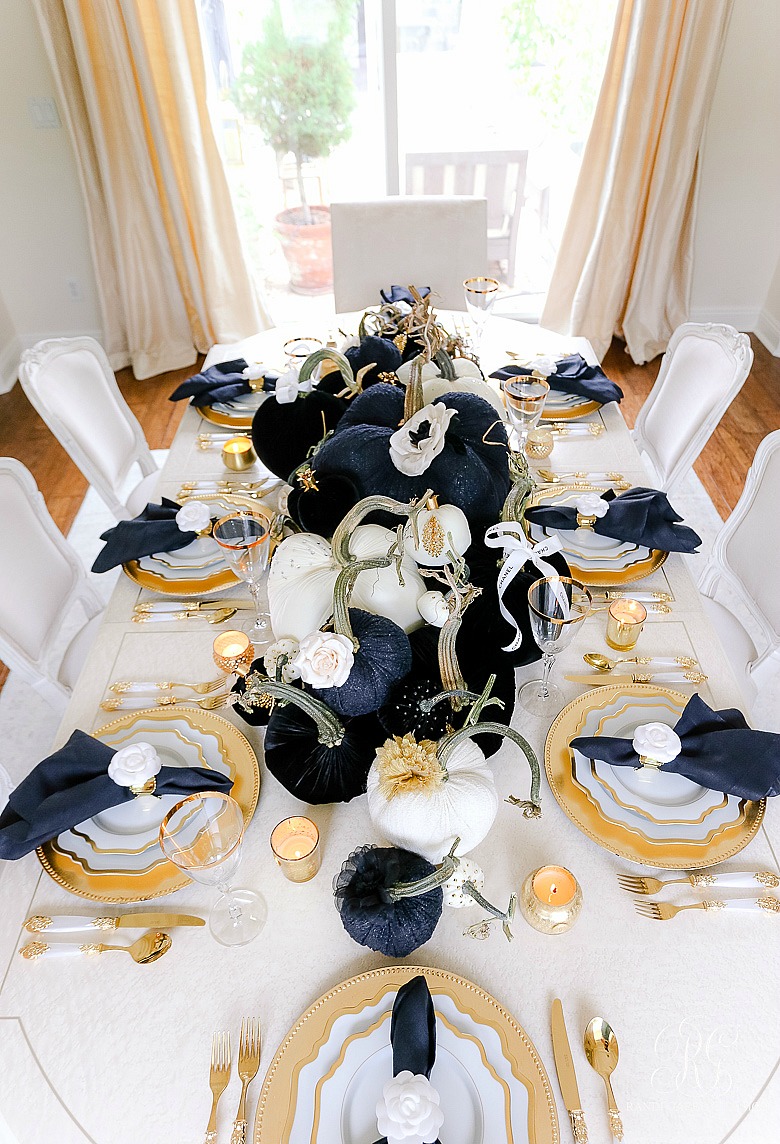 So there you have it, a Chanel inspired glam Halloween table! Thank you Daria for creating such gorgeous pumpkins for this vision!!! This is just the beginning of my Fall and Halloween content! Get ready for lots more!!!
If you missed my Fall Home Tour and other Fall posts you can click on the words below to read the posts!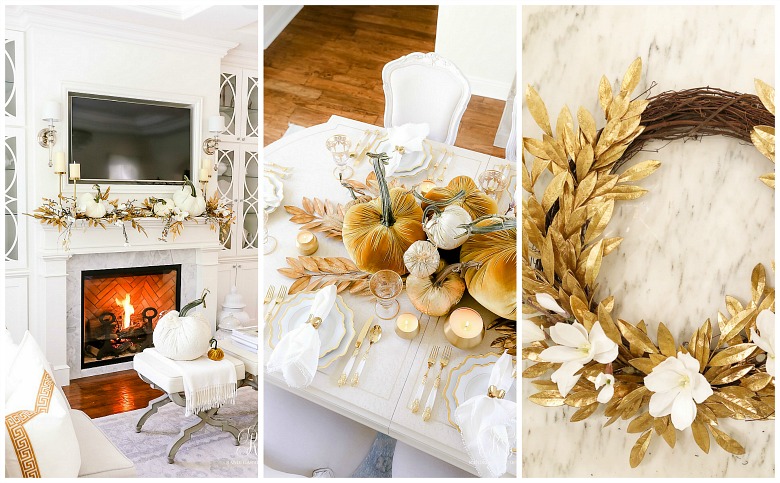 Fall Home Tour | Golden Harvest Fall Table | How to Make this Gold Fall Wreath