As a little girl, I remember sitting in my swimsuit on our white metal waffle gridded patio chairs. When I stood up, I would have the grid checked pattern imprinted on the backs of my legs! My sister and I would giggle about the marks and see how long it took for them to disappear. The sound of the heavy metal chairs rubbing on the cement still rings in my ears when I think back on those days.
Over the years, there has been some serious improvement in the production of patio furniture and livable outdoor pieces! That makes me and my checkered legs so happy! We updated our patio and backyard this past year with some gorgeous pieces that make our patio feel more like an extension of our home. It makes a really big difference in how often we use our yard! Now that we actually love the pieces we have in our outdoor spaces, we spend more time outside!
Today, I am sharing a budget friendly version of our backyard in a patio round up for you!!! You can create a similar look in your patio or yard for less using these pieces. I found all of these pretty products at Wal Mart! You will be pleasantly surprised by the gorgeous selection they have! There is a huge selection of quality, budget friendly pieces for your entire home.
Here is a look at our backyard, then see a recreated look with similar, budget friendly pieces below.
This post contains affiliate links and was done in partnership with Wal Mart. Read my full disclosure policy here.
Patio Round Up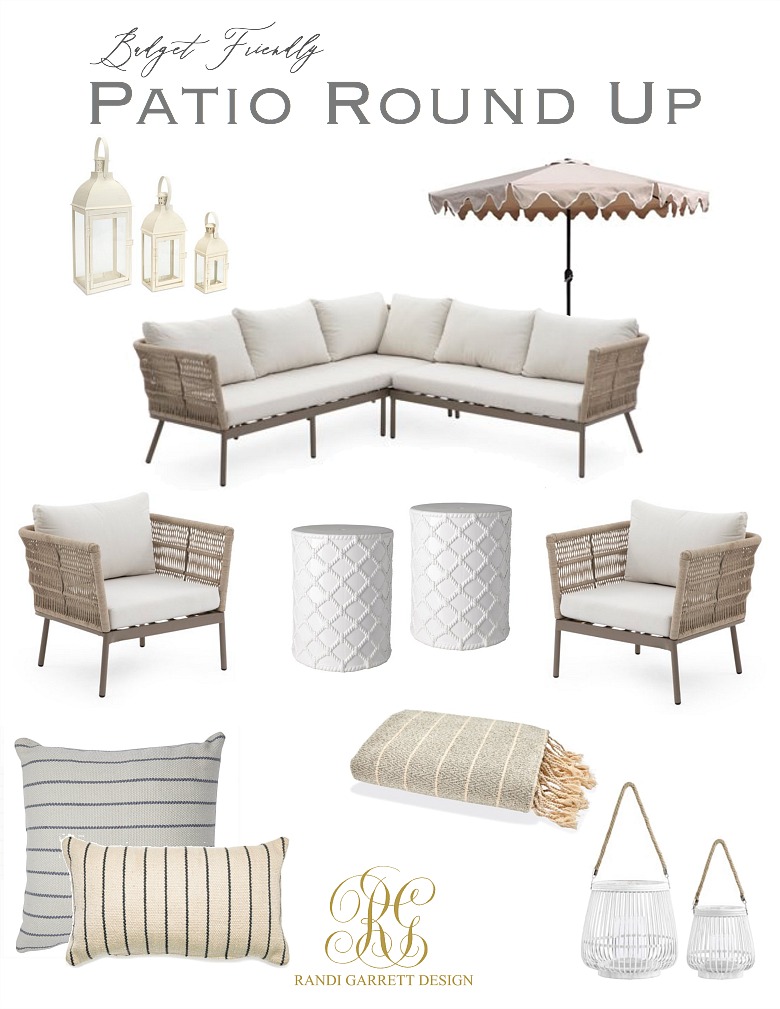 Outdoor Sectional | Outdoor Arm Chair | Outdoor Scalloped Umbrella | Umbrella Stand | White Garden Stool | Cream Outdoor Lanterns | Gray Striped Outdoor Throw Pillow |  Cream Striped Lumbar Pillow | Striped Throw | White Bamboo Lanterns | Spiral Towel Stand



Patio Pieces with Dual Purposes
Try finding pieces that serve dual purposes. This allows you to get a lot of use out of one piece, getting you more bang for your buck!
See the antique coat rack in the patio corner? I looked high and low for a towel rack that would hold enough towels for our family of 7! I couldn't find one anywhere. One day, while shopping a local antique fair, my friend pointed out this fabulous rack. I instantly thought it would be the perfect towel rack! I found this gorgeous, sleek chrome version for a steal! During the winter months, it can be brought inside and used as a coat rack.
The white bamboo lanterns can be used as candle holders to light your backyard in the evenings. They can also be brought inside to be used as vases for fresh or faux flowers.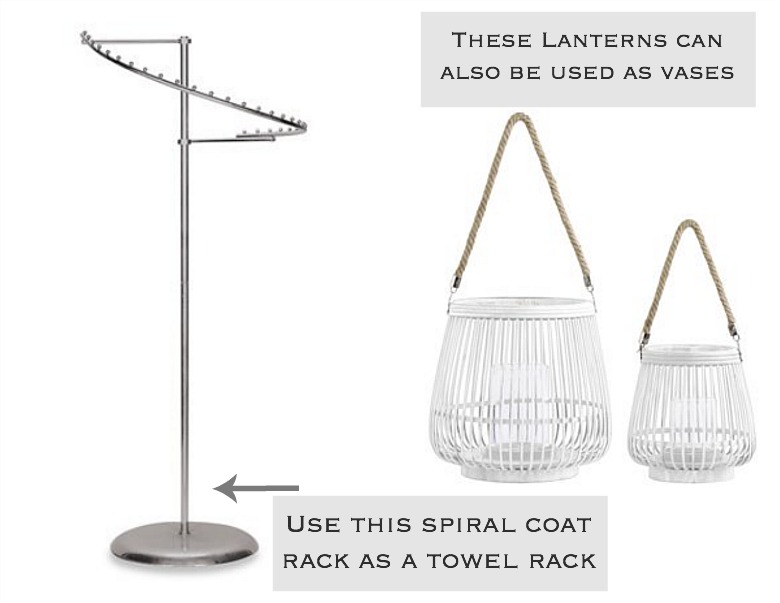 Spiral Coat Rack (towel rack) | White Bamboo Lanterns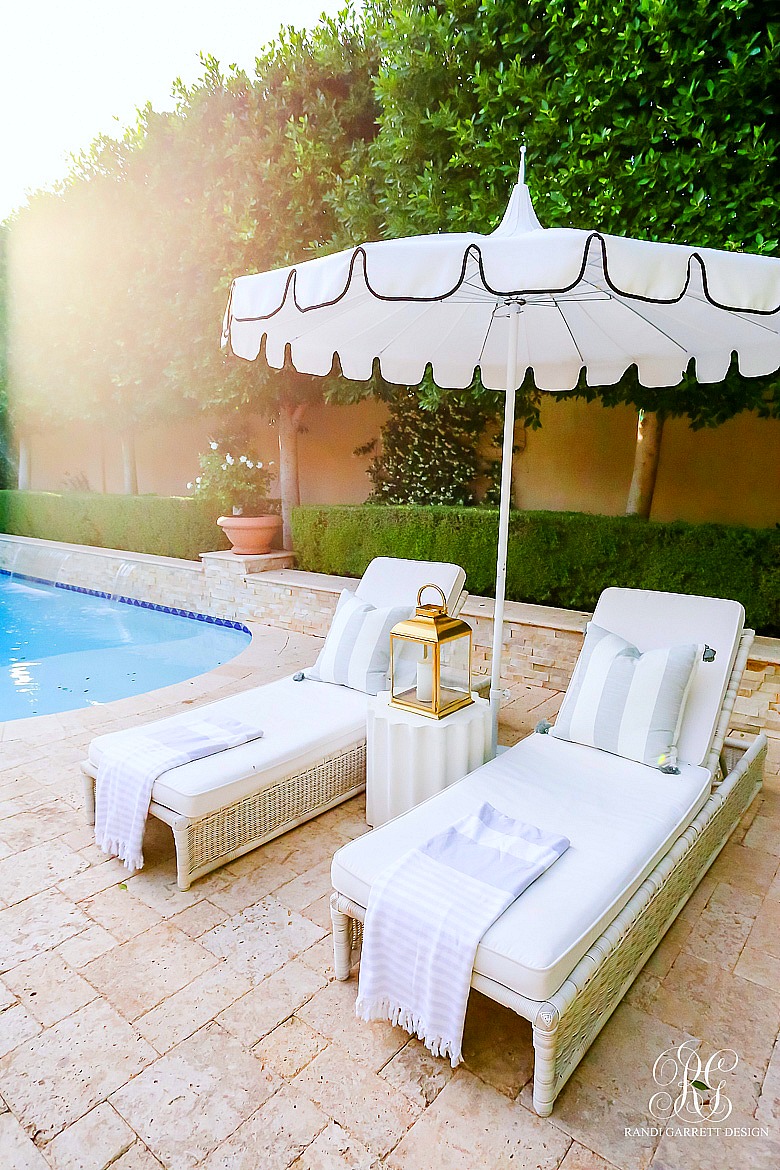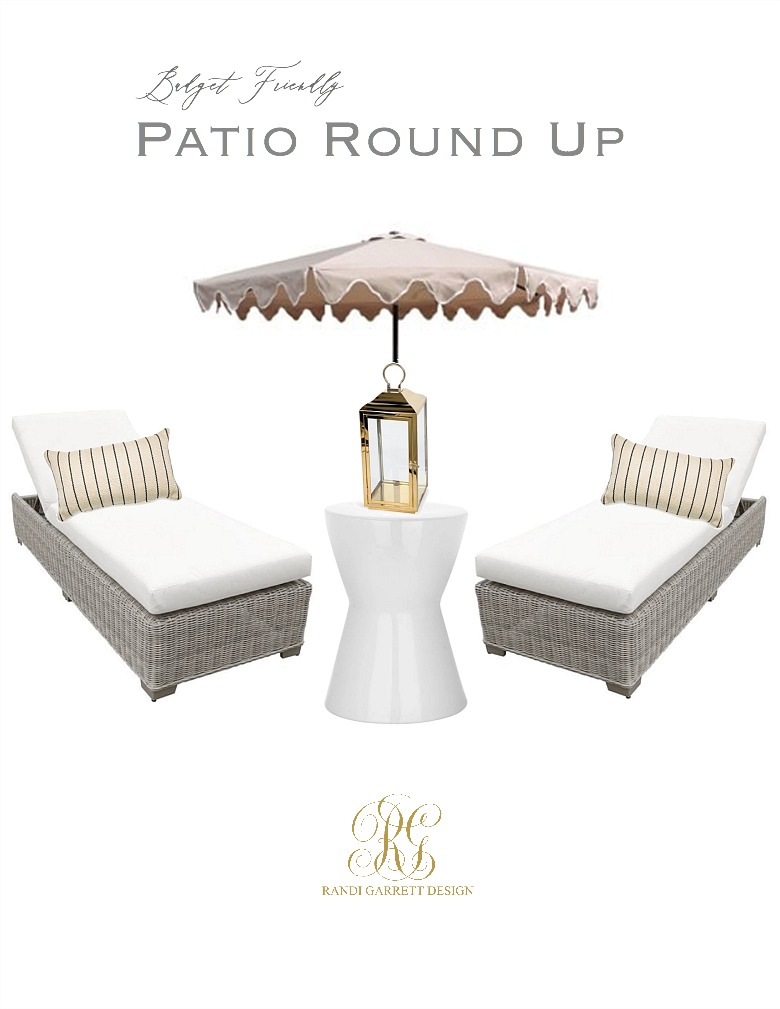 Wicker Lounge Chair | White Garden Stool | Scalloped Outdoor Umbrella | Gold Lantern | Striped Outdoor Lumbar Pillow

Use these pieces to create a beautiful backyard or patio oasis for you and your family this summer! I promise you will use y0ur backyard and patio more when you actually love the way it looks!
Below you will find all the pieces featured in this post, plus a few extra goodies!