Candles are such a simple way to add warmth to your home no matter what the season! There is magic in a candle flame! When your house smells amazing, your mood lightens and suddenly your home feels more cozy and inviting. You can take your candles to the next level by adding some simple touches to them. Today, I want to share a few of my favorite Spring candle scents and some Spring candle styling ideas. These ideas are simple and will add some much needed cheer to your home this Spring.
This post contains affiliate links for your convenience. Read my disclosure policy here.
Spring Candle Styling Ideas
Here are seven simple Spring candle styling ideas!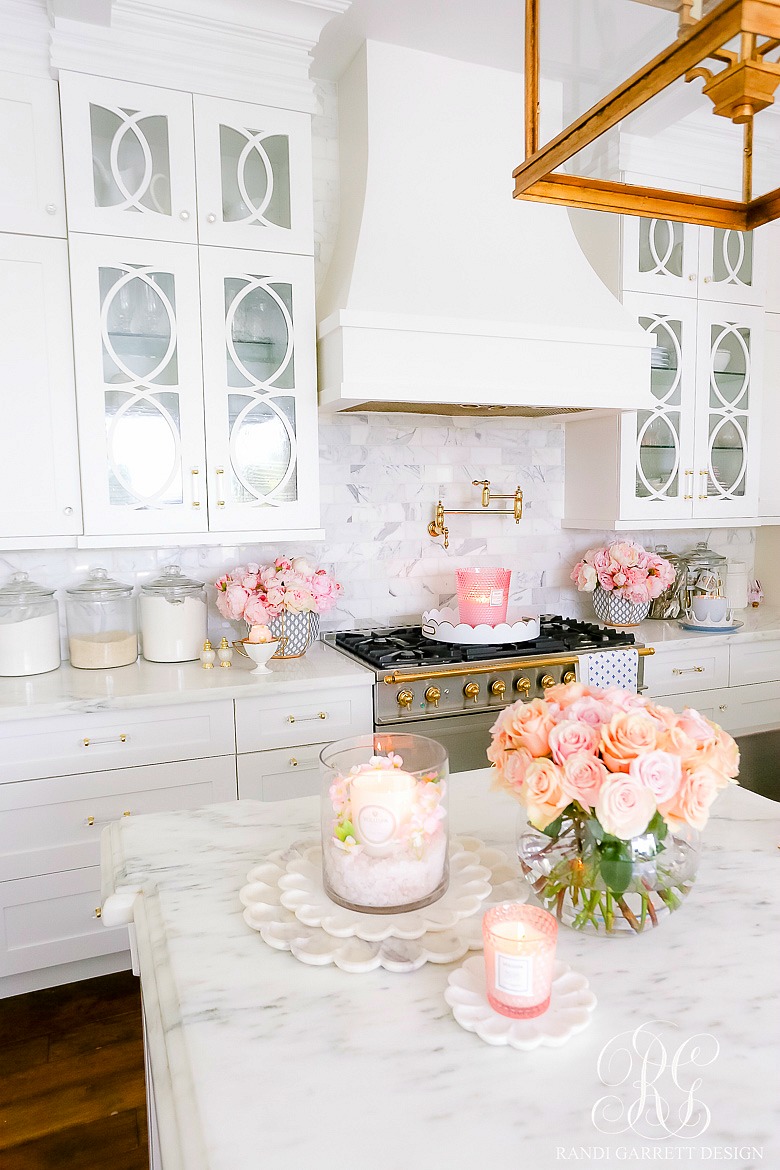 Cherry Blossom Hurricane
This is one of my favorite Spring candle styling ideas and it is so quick and easy! Just fill a medium sized hurricane (mine is 8 inches wide and 8 inches tall) with epsom or rock salt and pink rocks about 1/3 of the way. Place your favorite candle on top of the filler. I used this Pink Citron candle. It's a light sweet citrus smell. So perfect for Spring.
Next, clip some faux cherry blossoms from a faux stem with some wire cutters. Tuck them down into the vase filler. Making sure the blossoms are tucked below the top of the candle to there is no way the flame will touch them. As always, you should never leave a candle unattended once lit.
Place on top of these gorgeous marble petal trays.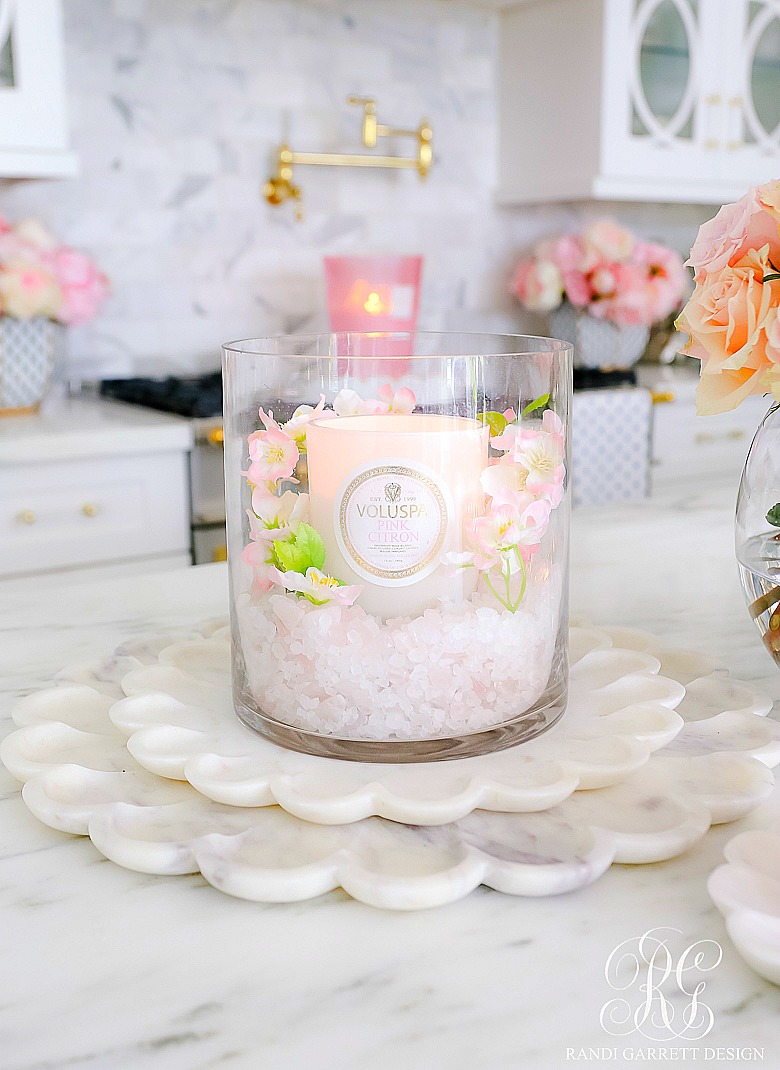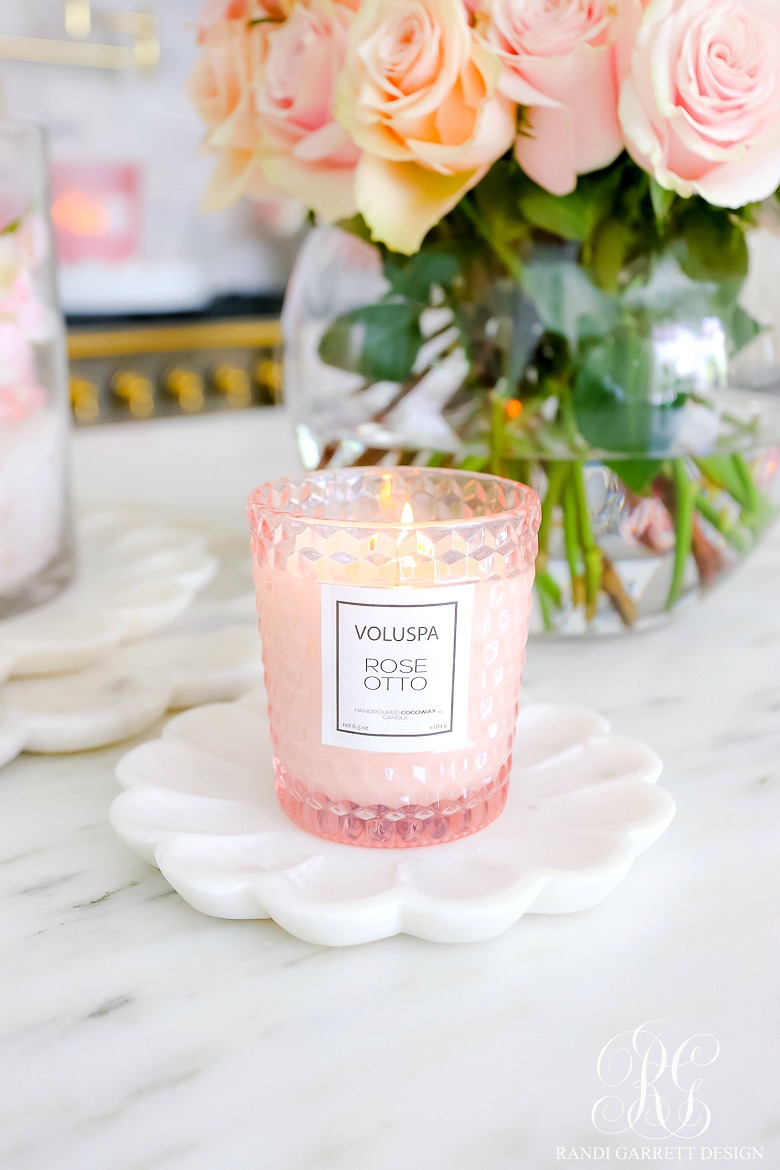 Petal Tray
I love this small marble petal tray paired with a gorgeous Spring candle. Leave it by itself, or style it in a vignette for more of an impact. This Rose scented candle is so light and delicious. Once the vessel is empty, use the pretty vessel as a bud vase or make up brush holder.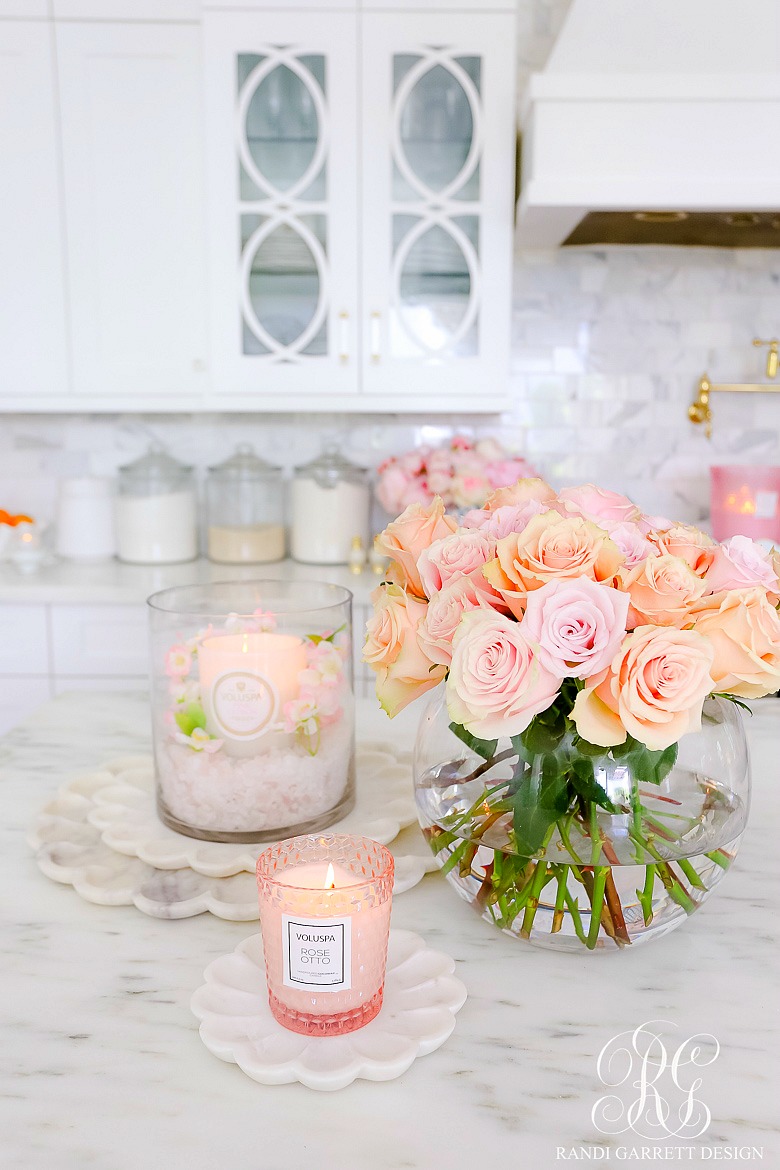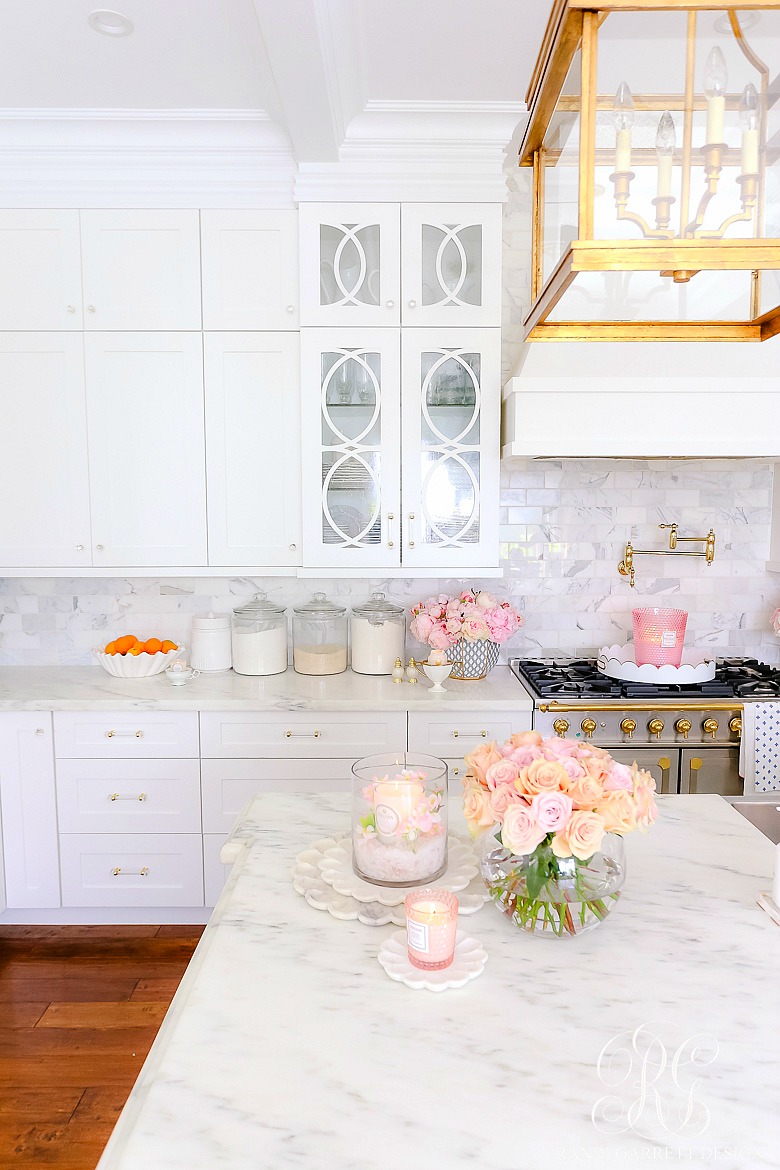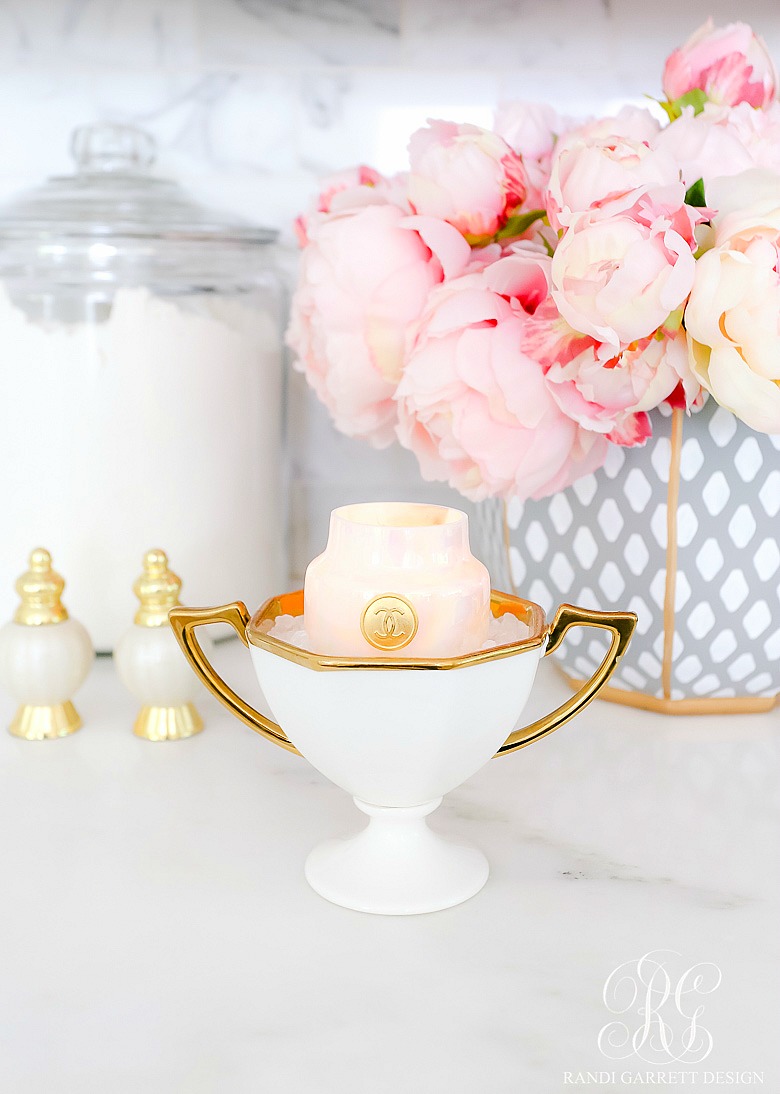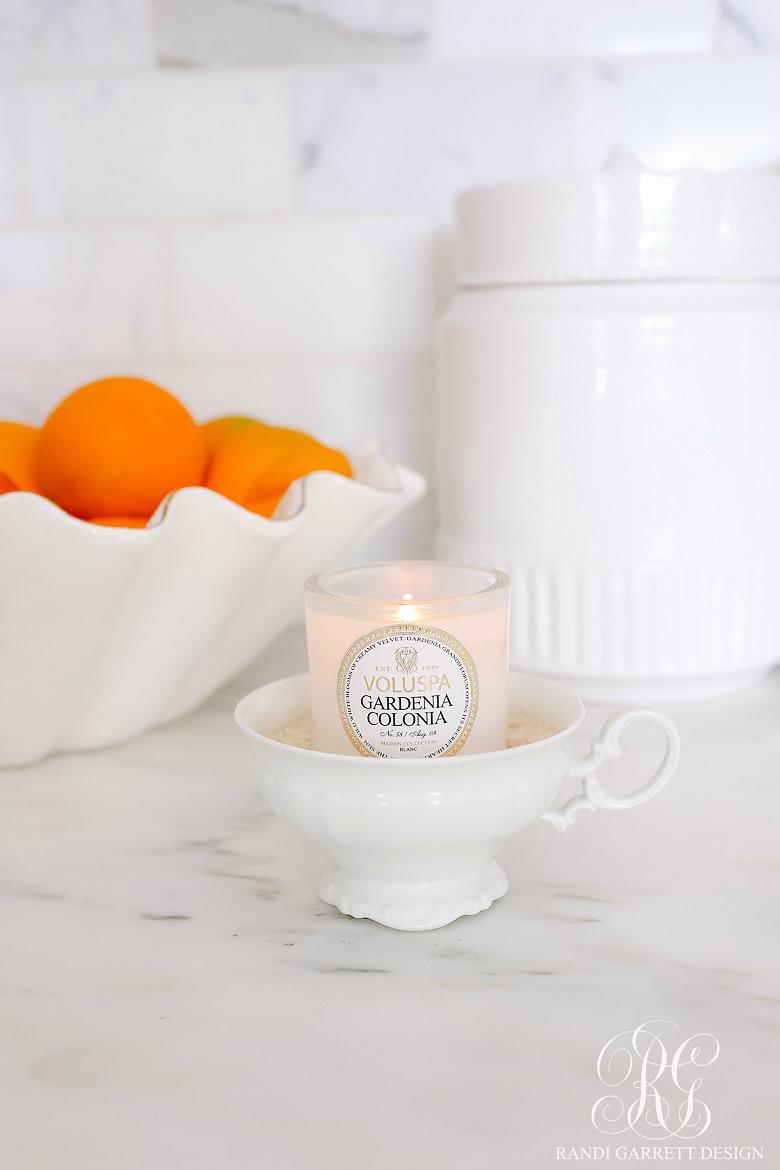 Votive Styling
Don't overlooking styling votives. They may be tiny, but they can pack a lot of punch! I love to style mine in small trophy cups filled with rice or rock salt.
Tea cups also are a darling way to style votives. Use them by themselves or create a vignette with several. I think they would look so cute down the center of a table.
To recreate my Chanel inspired votive, just clip off the back loop of a Channel button. Then hot glue it to your favorite votive or candle!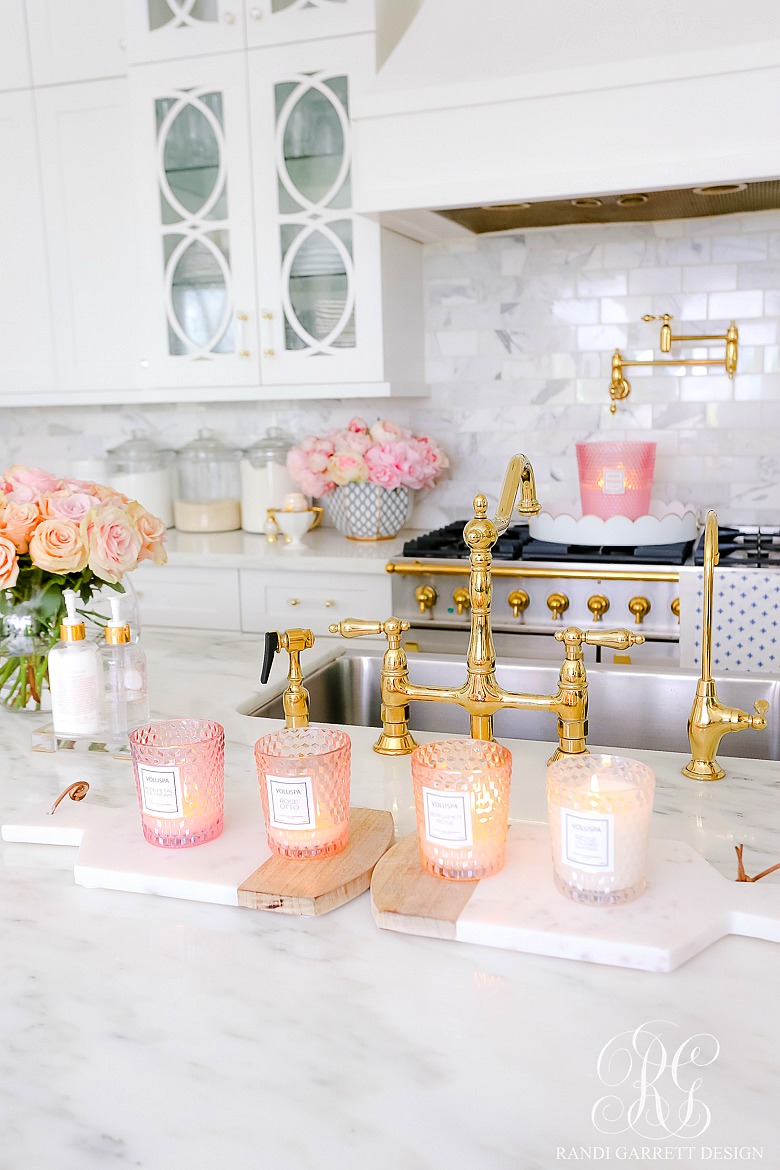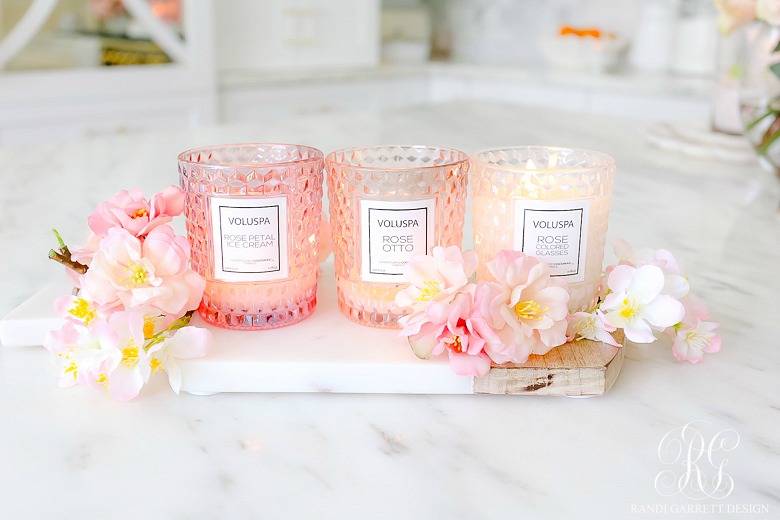 Parade of Candles
This pretty line up not only looks amazing, it smells like Spring heaven! Grab a few small marble cutting boards or any cute cutting board. Line up a few Spring scented candles. I love these various rose scented candles. They smell so good all burning together. The ombre effect the vessels give together is soft fun!
Tuck a few cherry blossoms stems around the base of the candles to complete the look.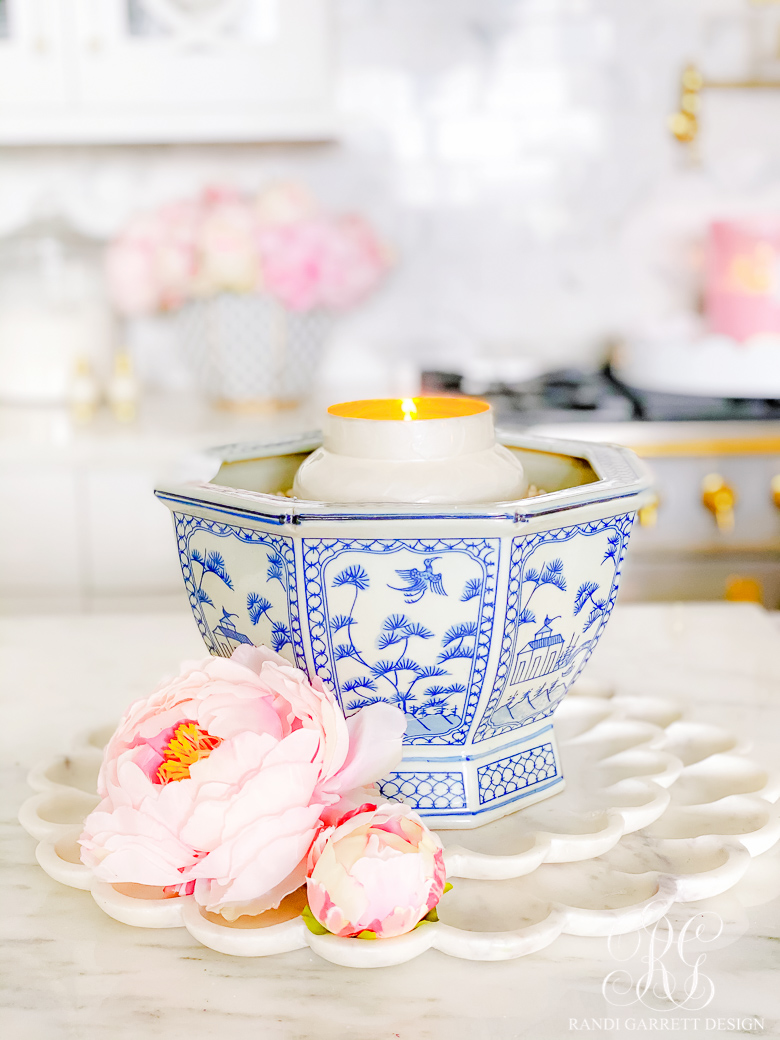 Blue and White Cache Pot
Fill your favorite blue and white cache pot with some dried white beans. Top it off with a yummy Spring candle. I used this fruity scented candle.
Layer on top of these marble trays. Add a few faux peony blooms to the base.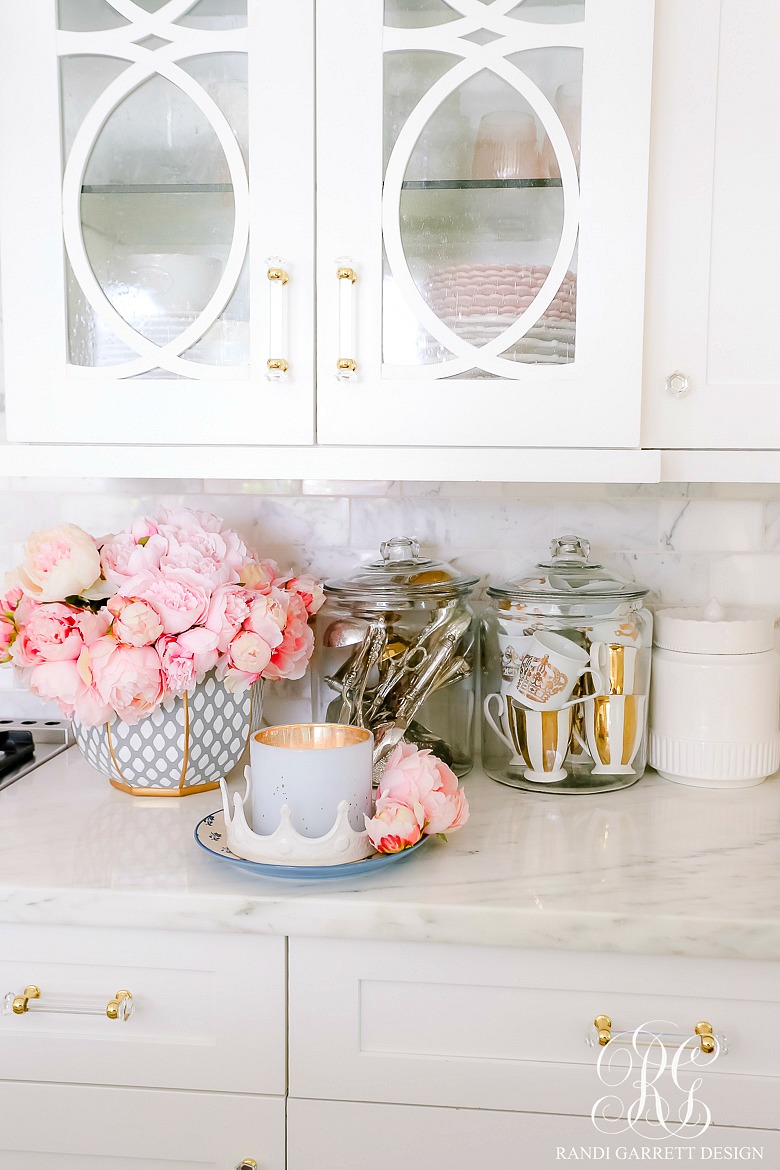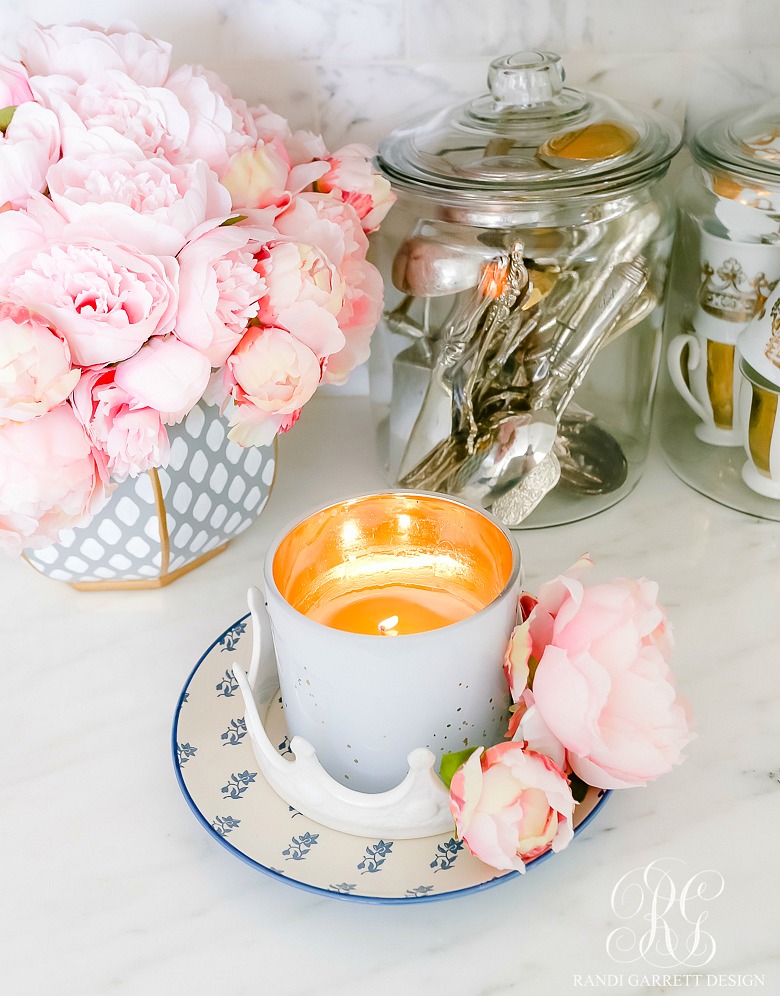 Crown Candle
You guys know how much I love crowns! So I just couldn't end without sharing a candle styling tip with a crown. Here I used my favorite blue and white dinner plate, white crown and fabulous vanilla scented candle. Again I tucked a few faux pink peonies at the base to finish the vignette.


I hope these Spring candle styling ideas give you some inspiration to warm up your homes this Spring!