Can you believe it has already been 3 years since we remodeled our kitchen?! It is still the most asked about room in our home. So, today I thought I would celebrate this anniversary with a special Top to Bottom Kitchen Review. I am sharing what I love, what I would change, and all the sources to help you make your kitchen your dream kitchen!
First here is a look at what our kitchen looked like before the remodel. You can see the full kitchen remodel post here.
*This post contains affiliate links for your convenience. Click here to read my disclosure policy.
BEFORE: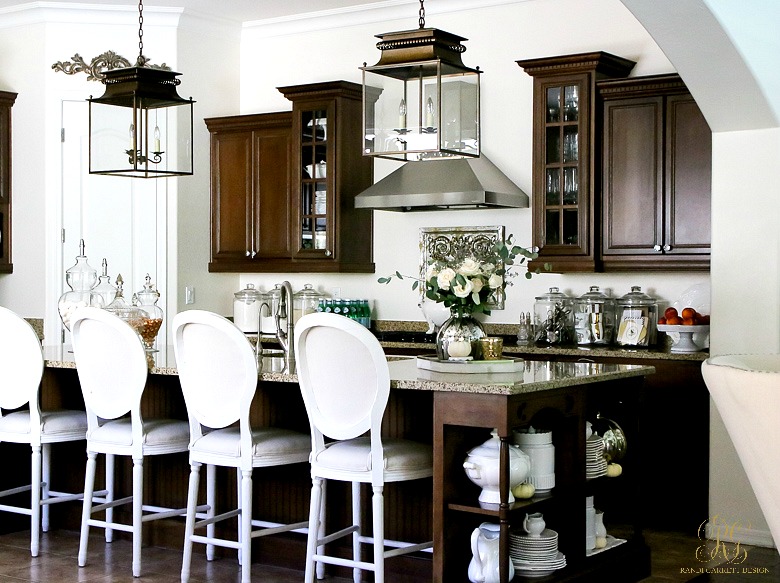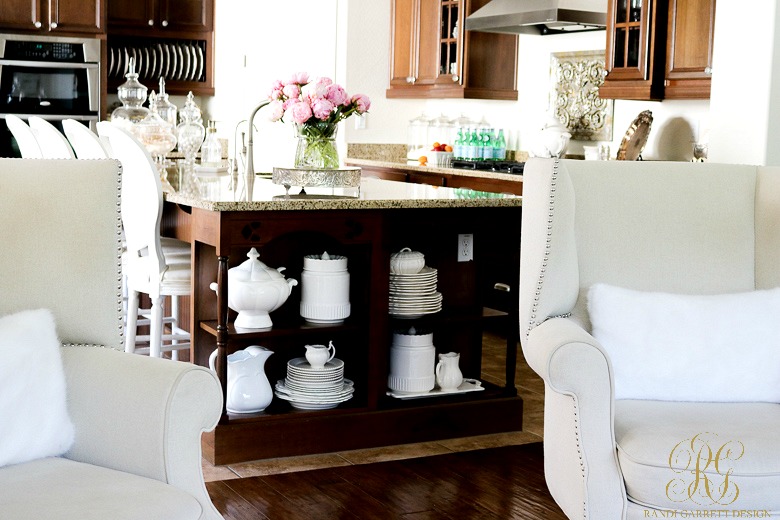 AFTER: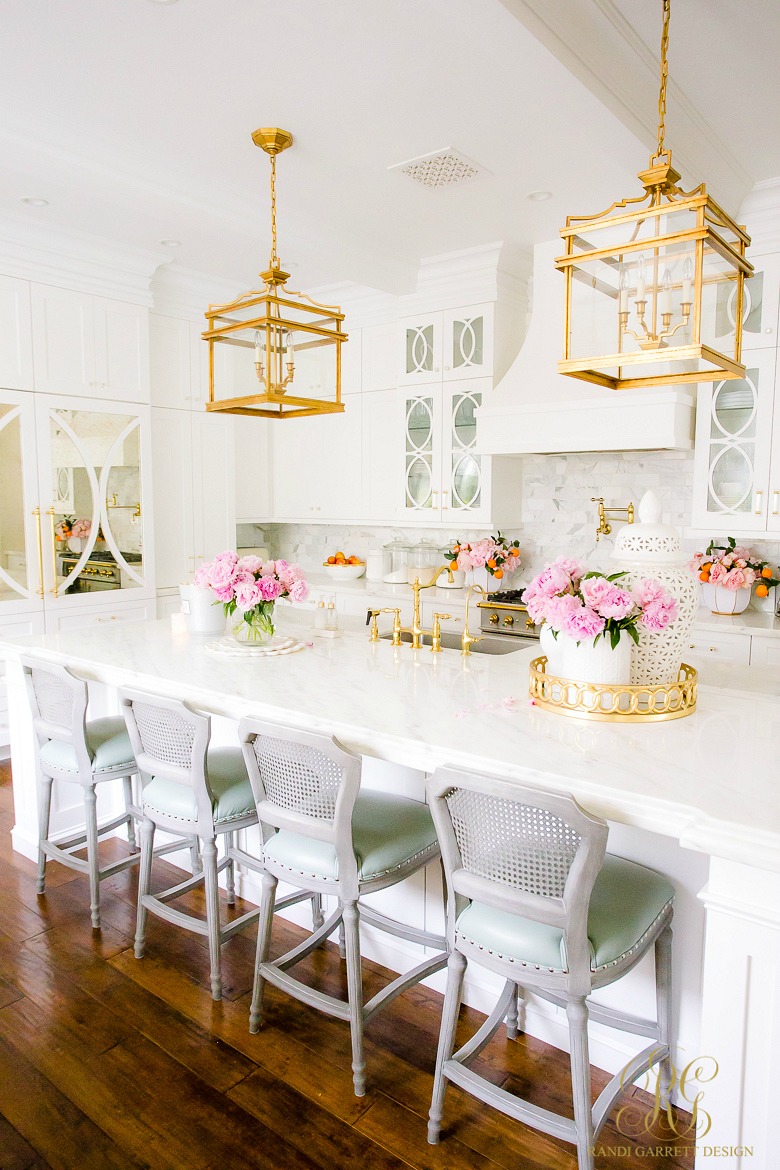 Our Kitchen Remodel Review
I'll go through each part of our kitchen and give you a brief run down on the item, if I like it, would I use it agin and some pros and cons if there are any.
Lighting
First, let's talk about the lighting in our kitchen remodel. We used these gold lanterns above our island. Our ceilings are 10 feet tall. I love how these lights anchor the room. I would choose them again in a heartbeat!
The chandelier above the kitchen table is spectacular! It glistens and adds the perfect amount of softness to the kitchen. I think it is worth every penny. I did find a more budget friendly option here.
Lighting Review
Do I like it? Love it!
Would I choose it again? Yes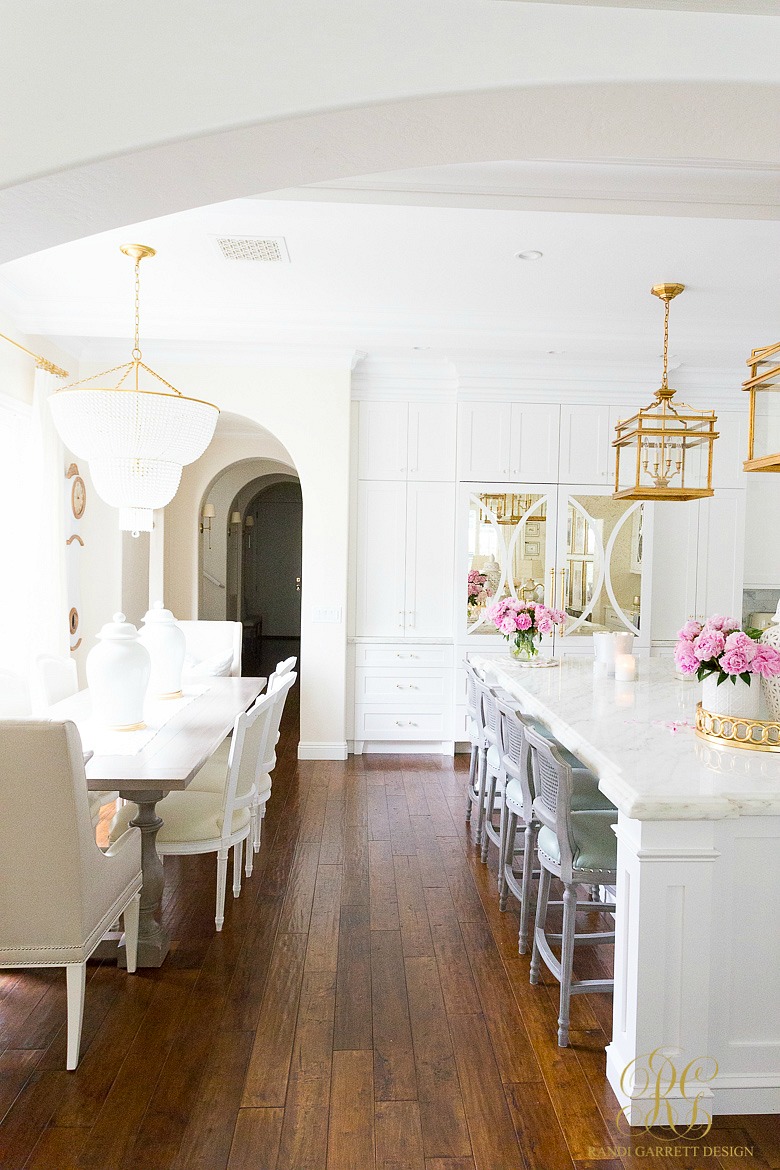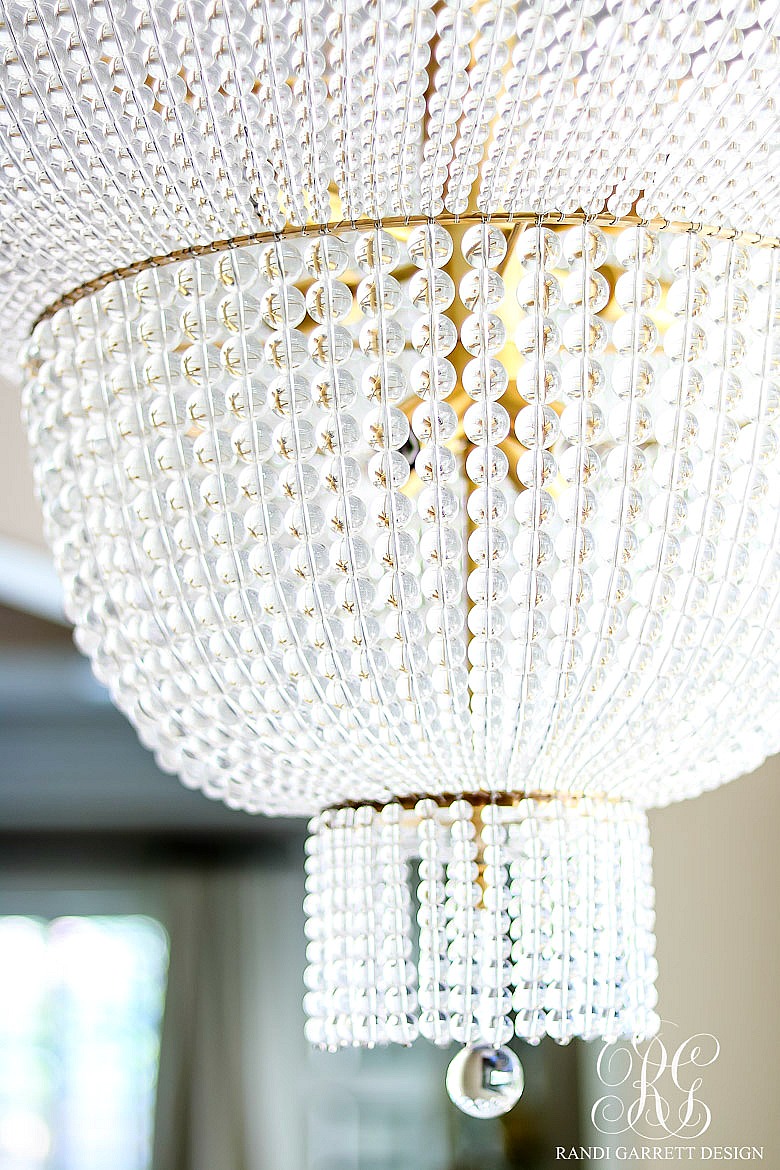 Hardware
The hardware on our refrigerator is amazing! The quality is fabulous.
Our cabinet handles and knobs take our fairly plain white kitchen cabinets and make them sing!
Hardware Review –
Do I like it? I really do love our hardware. It has a beautiful blend of old and new. Sticky finger prints show and need to be wiped down at least once a week to keep them sparkling.
We used the same hardware in our bathroom. A few of the end pieces have popped off. We have reattached them with super glue. None have come off in the kitchen which makes me wonder if they came off because of the change in temperature due to the steam.
Would I do it again? Yes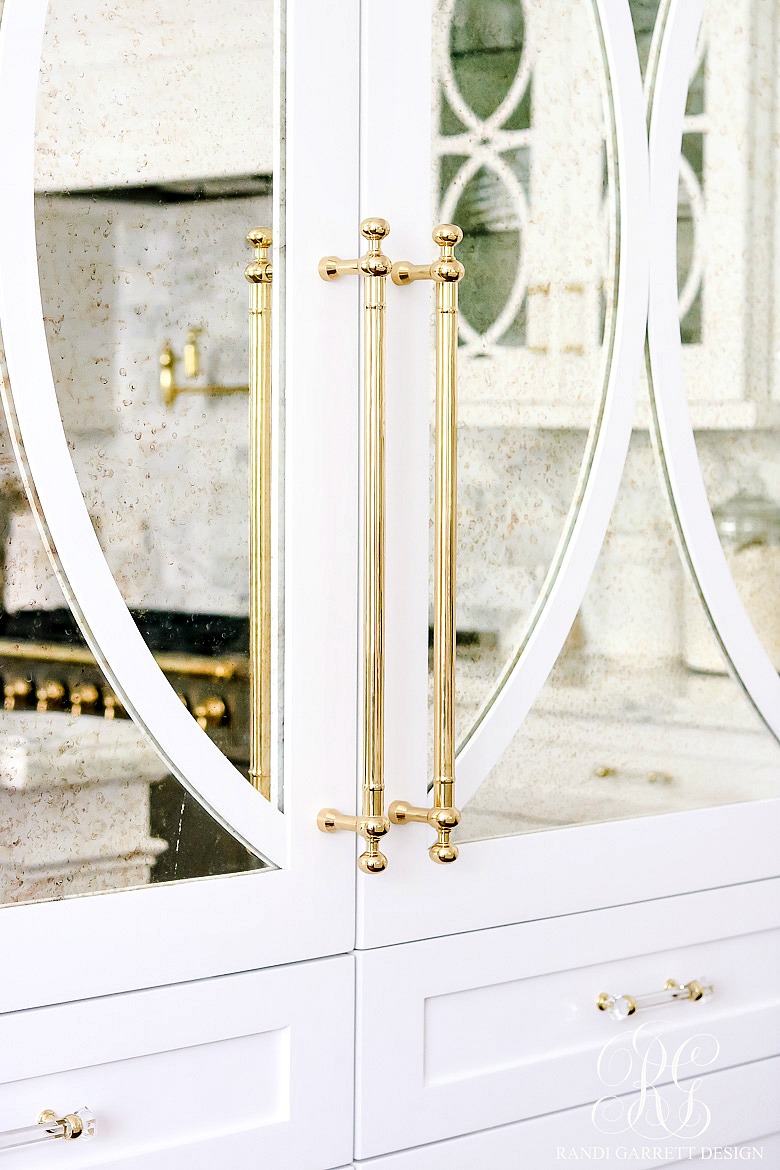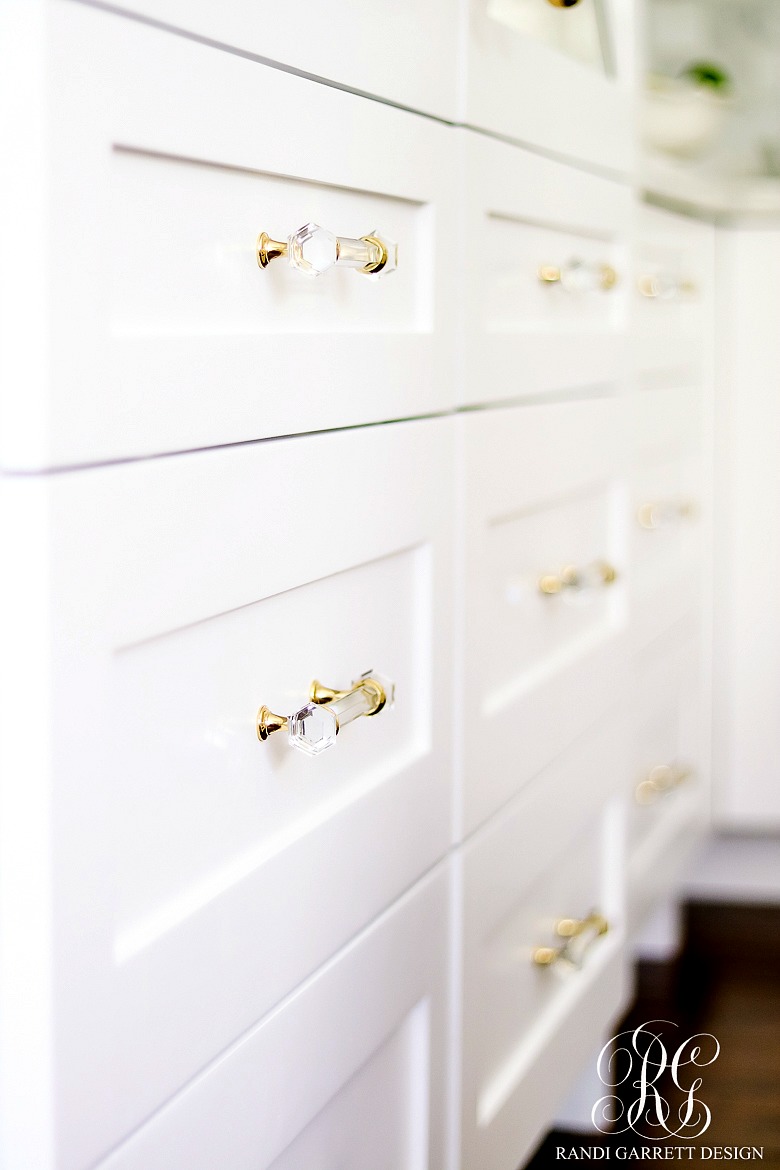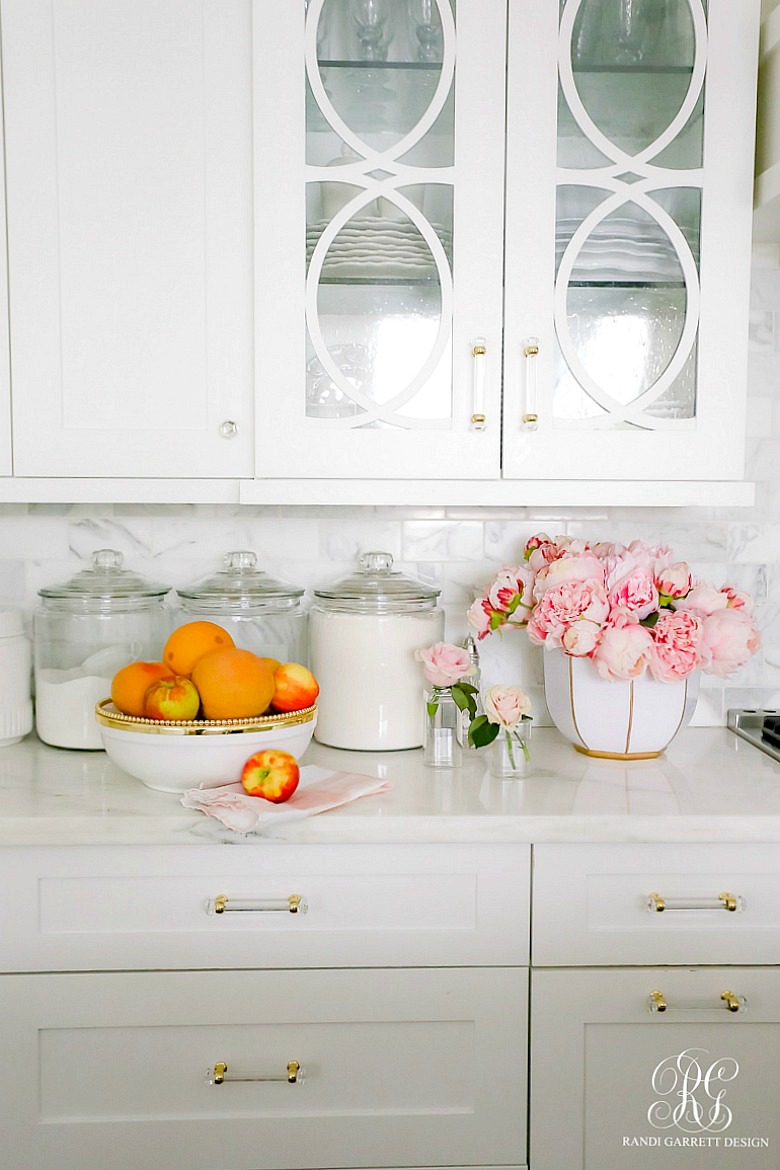 Marble Countertops + Backsplash
We almost chose quartz over marble. We had the stone quarry place a quartz slab and a marble slab side by side. For use the choice was plain as day. We loved the warmth and character of the marble slab. I wrote an entire post about my thought on marble, how to care for it and my full review. You can read it here.
Our island is 125″ x 5 feet. We used a double ogee edge on the island and a simple edge on the perimeter. Our countertops are polished. The stone we used is quarried here in the US and is a White Mountain Marble. It is a harder more durable marble.
Our backsplash is a marble subway tile. It has a white grout. We actually bought it on Amazon because it was the best price. In the 3 years we have had it, I have only wiped it down 3 times. I love, love, love it!
Do I like them? I love them
Would I use them again? In a heartbeat!
Pros – Old world feel, gorgeous detail, unique style.
Con – Marble will etch and scratch. You have to be careful which products you use to clean it.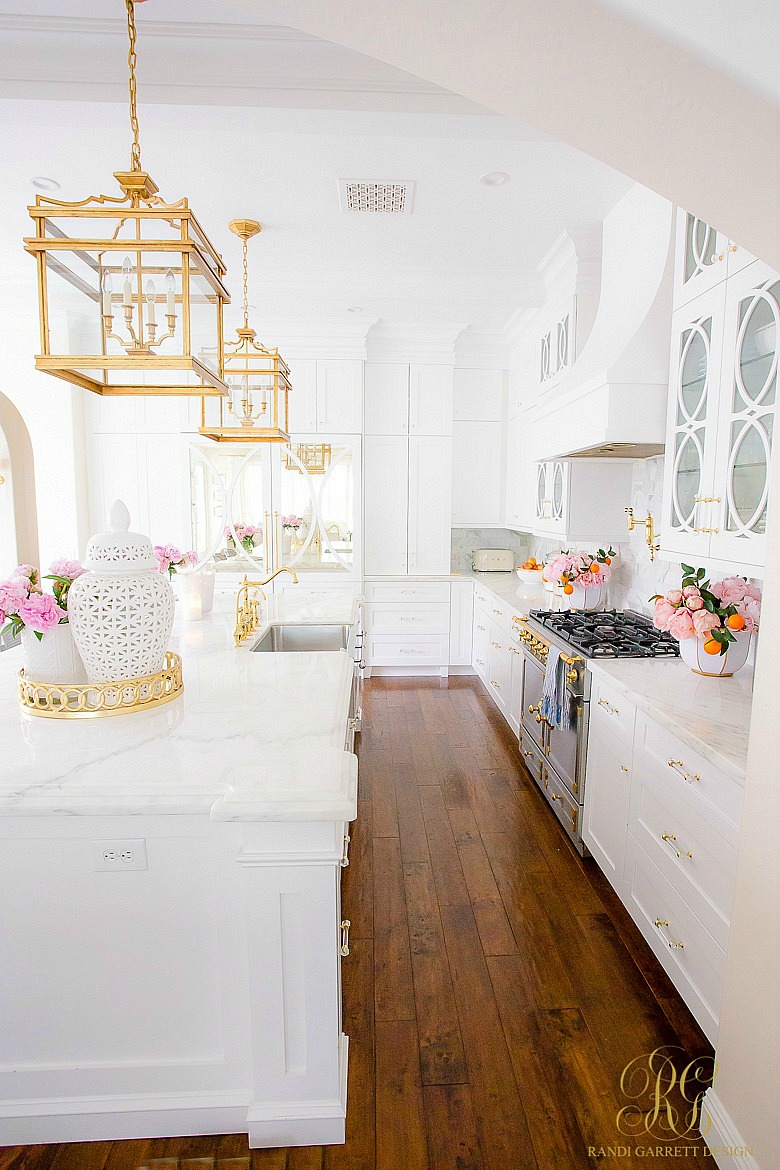 La Cornue Range
Our La Cornue Range is really the star of the kitchen! I also wrote a full review on it here if you are interested in reading more. Basically it is a French Range, with two smaller ovens. One side is convection the other can be switched from convection to conventional. I love it's unique and elegant look.
Do I like it? No, I LOVE it!
Would I use it again? Yes!
Pros – Cooks and bakes like no other range I've used. Love the look.
Cons – No electric timer, cleaner, small ovens and uses smaller baking sheets.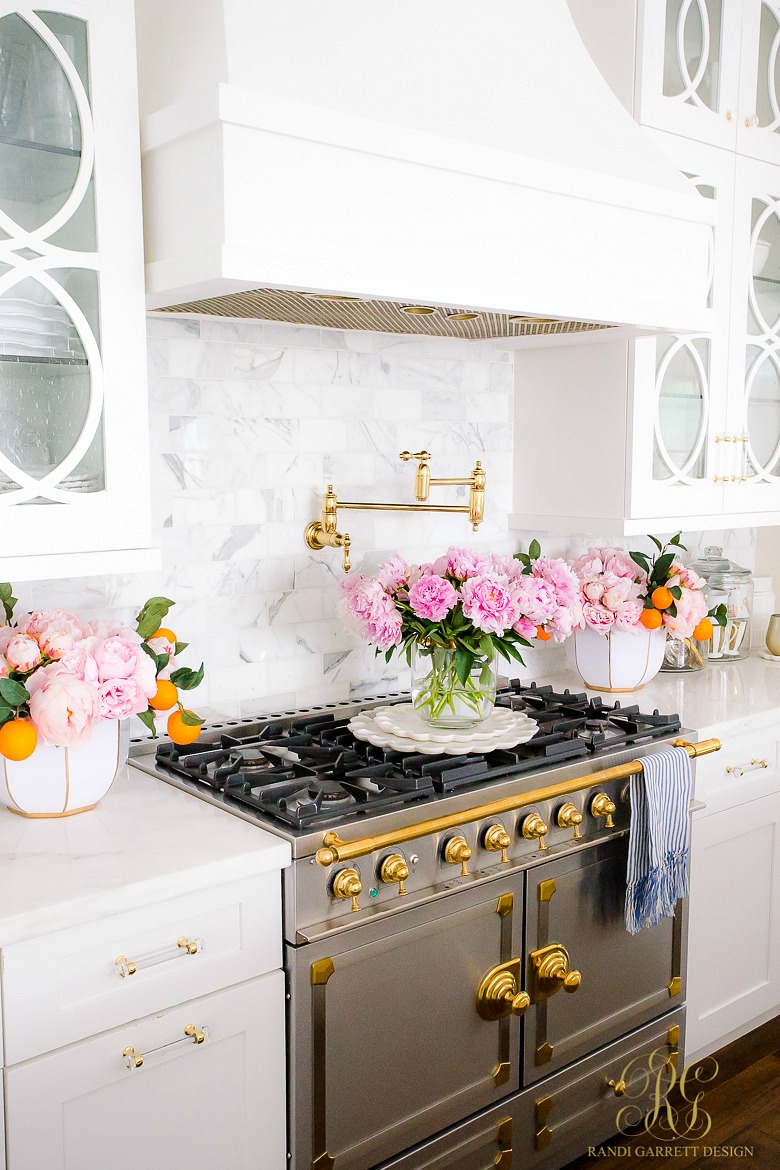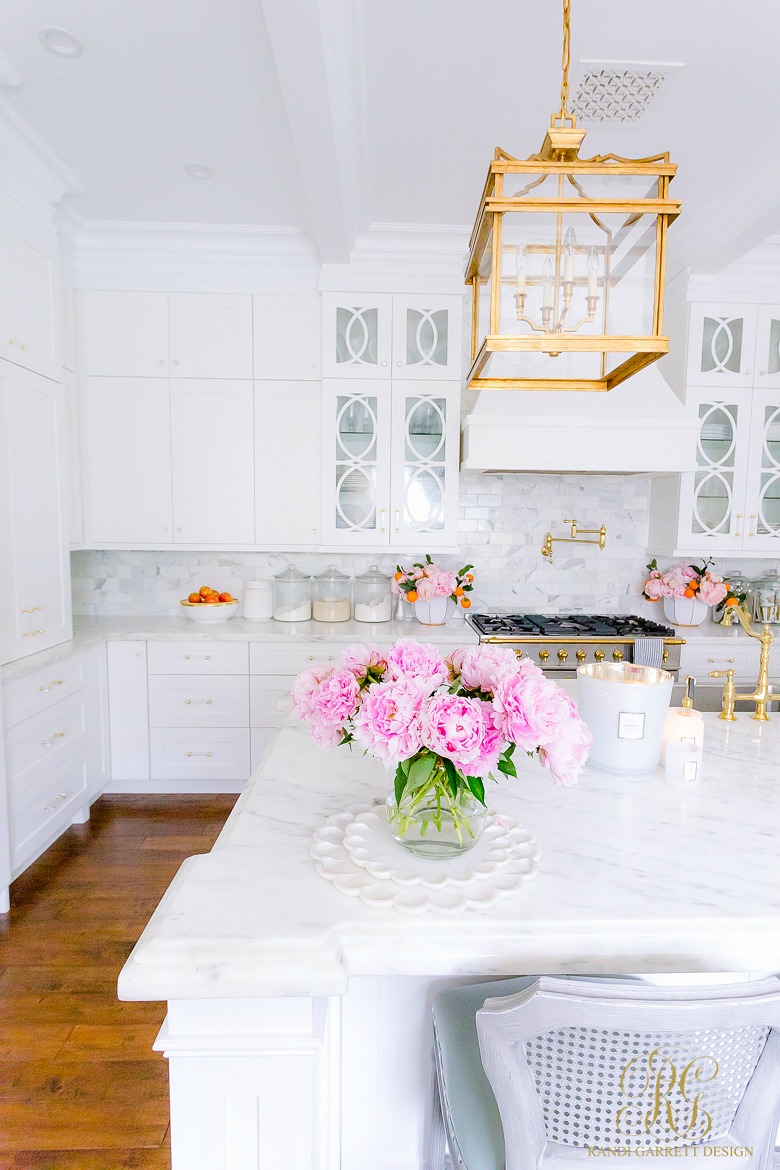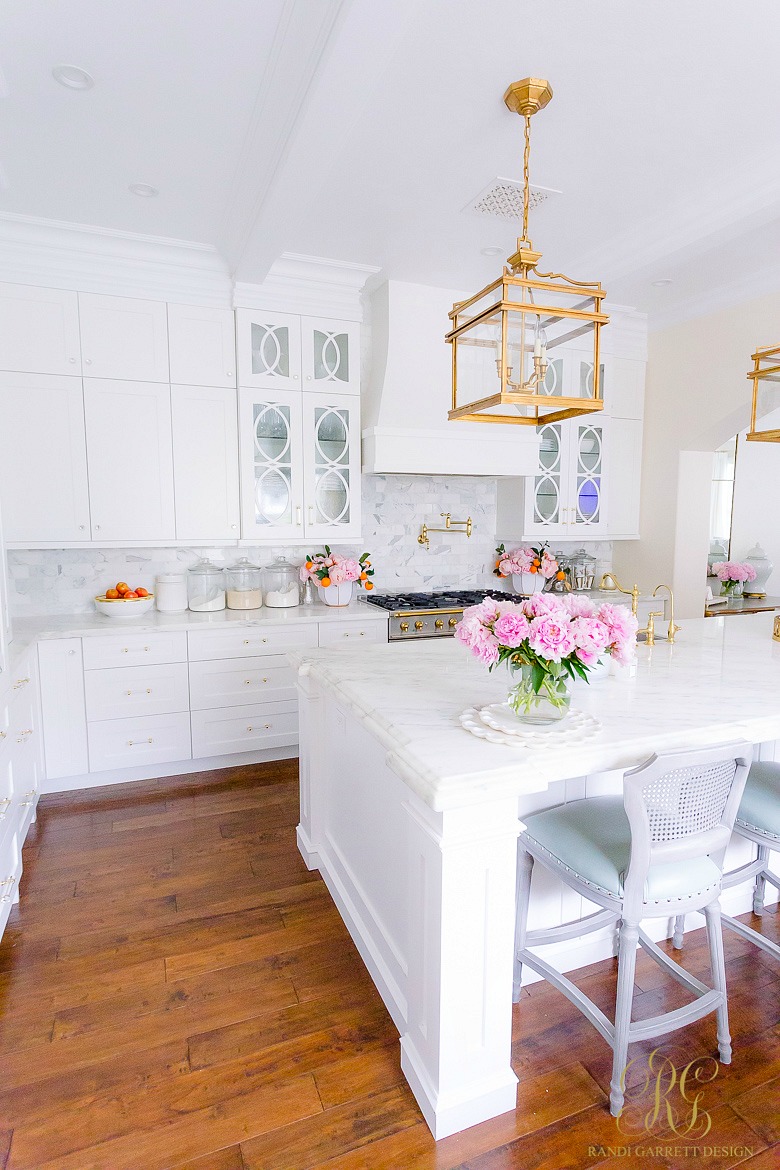 Kitchen Sink, Faucet, Pot Filler + RO Faucet
Our kitchen faucet is very budget friendly. I love the look of it. We have had to have our plumber come tighten the handles a few times. The pot filler is fabulous! I wasn't sure how much I would actually use it, I have been surprised just how much I use and love it!
The RO faucet is gorgeous and has not had one problem.
Our sink is stainless steel with a towel bar attached to the front. I used a brass drain ring to tie in the look of the brass faucet. Our sink unfortunately is not made any longer. Here are a few options for you here and here.
Do I like them? Yes, I love both the faucet and the sink
Would I use them again? Yes!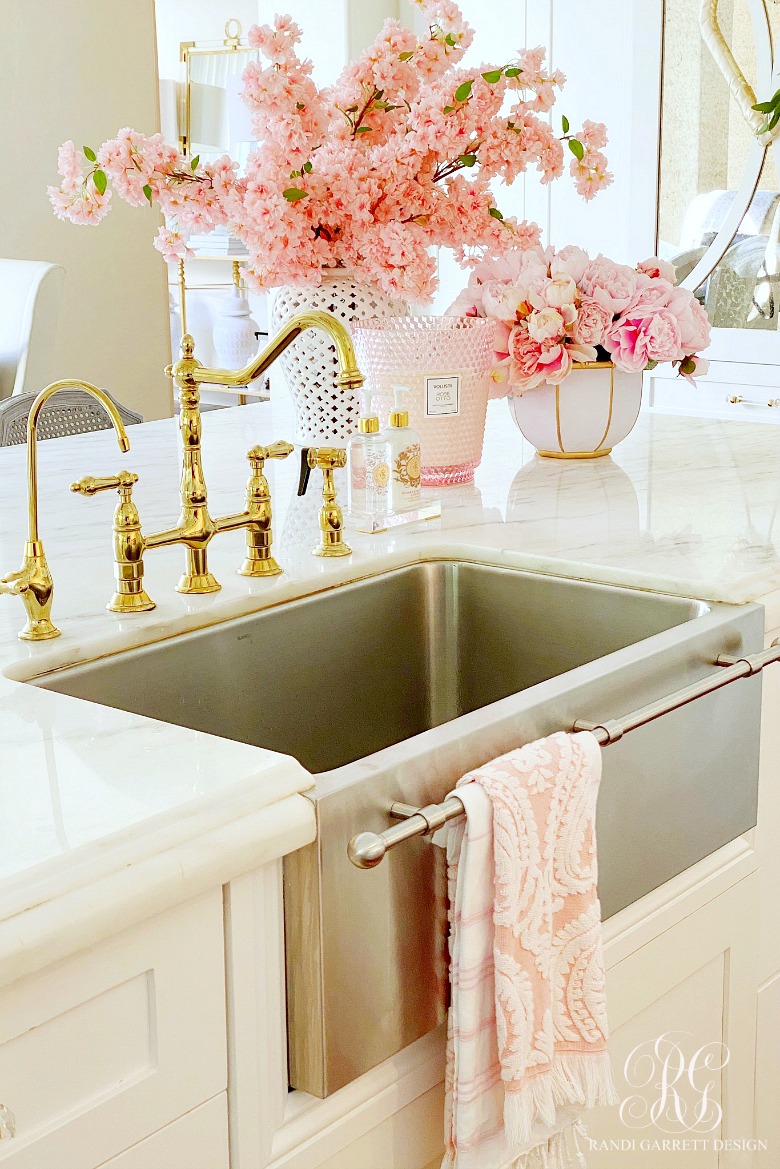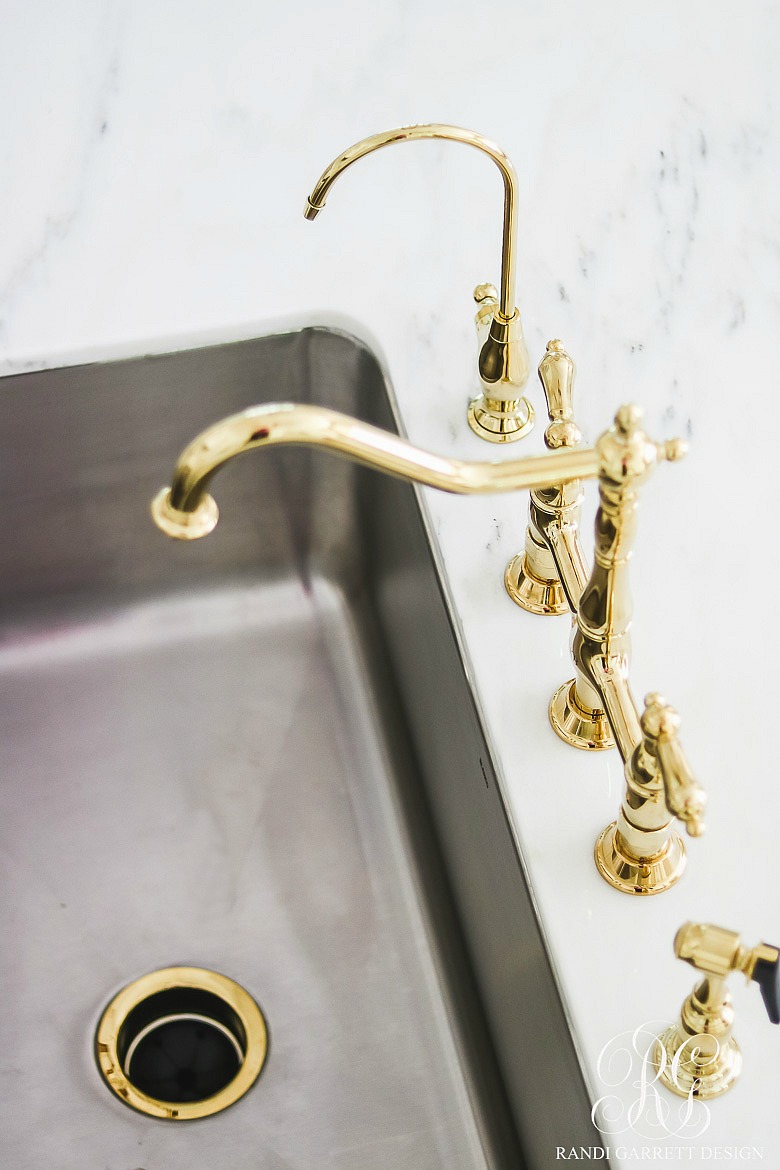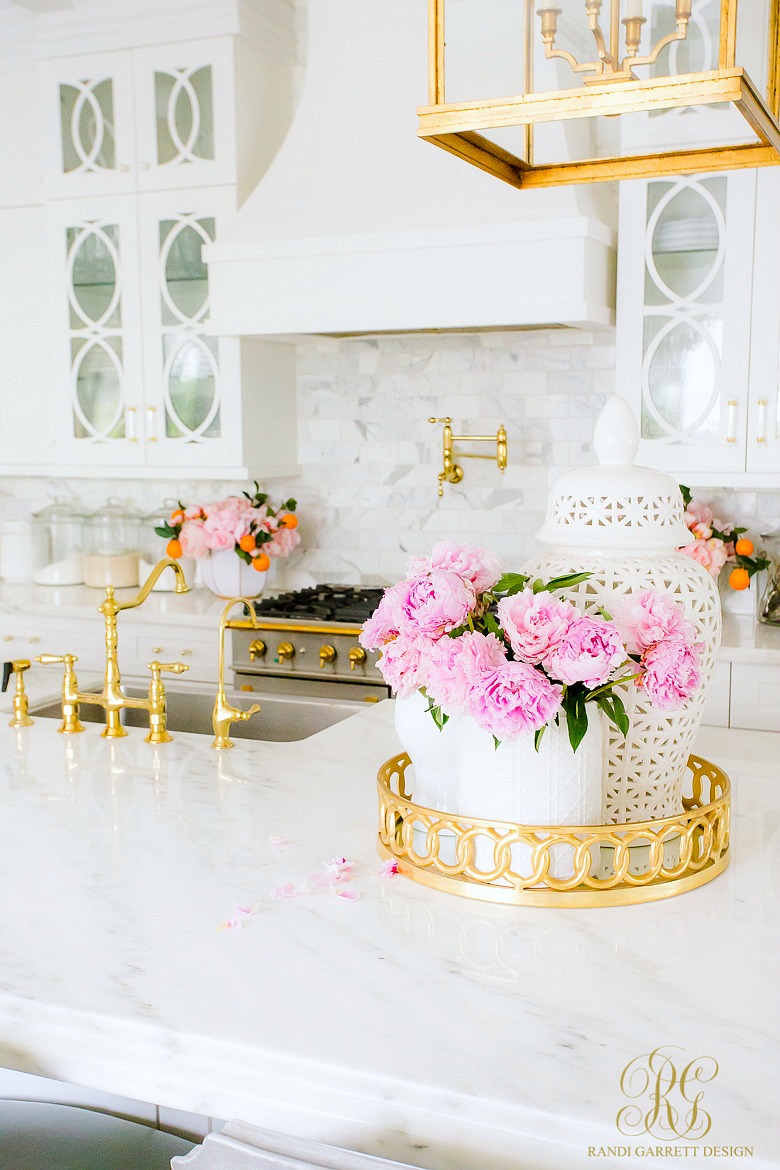 Kitchen Cabinets + Vent Hood
We chose simple white shaker cabinets on the majority of the cabinets. They are made from a large cabinet company. We didn't splurge on the cabinets. If I had to do it again, I would spend a little more money and upgrade to a nicer door that didn't scratch and dent so easily. The decorative cabinets that flank the range are called mullion doors. We had these custom made with seeded glass to make them look antique. I love these doors and the character they add to the kitchen.
Our vent hood was custom made by our awesome cabinet installer. He did an fantastic job customizing it for us.
The paint color was a custom blend. I am sorry I don't have the name for you.
Do I like the cabinets and vent hood? I love the look of the cabinets but not the quality. The hood was custom and I love it.
Would I use them again? I would not use the cabinet company again – Solid. It's a great price point, but if your budget allows, I would try to find something more durable.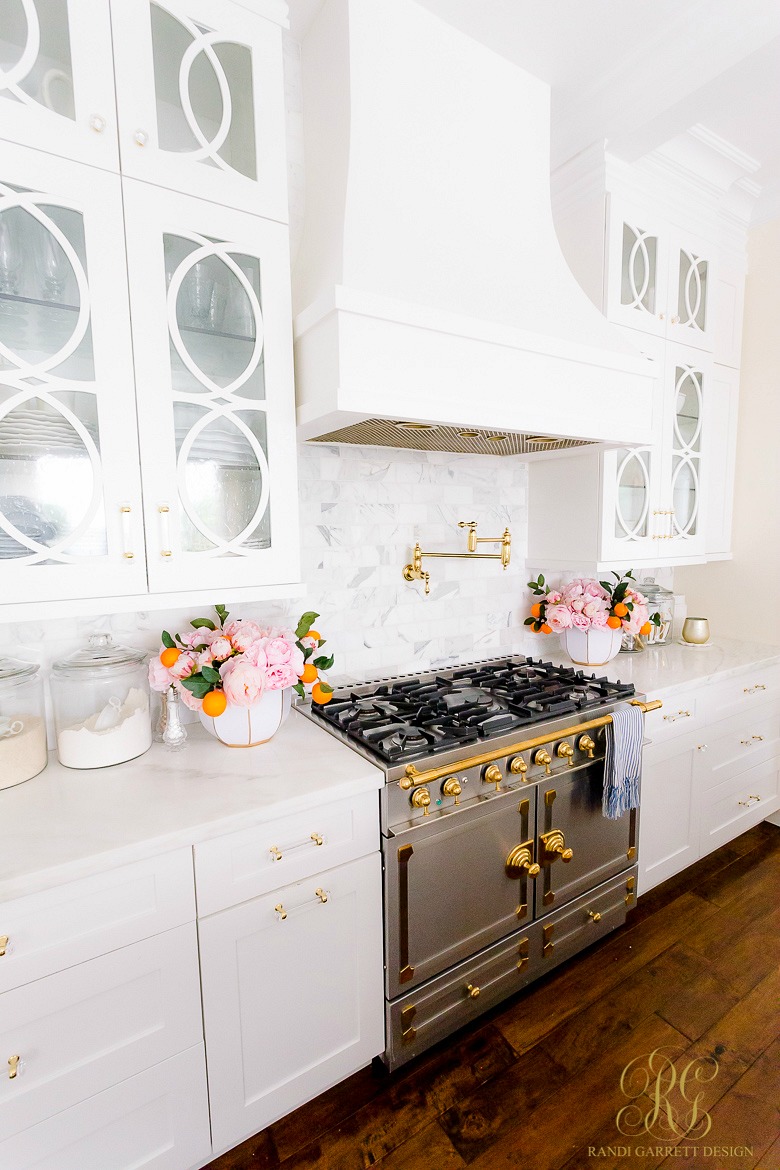 Fridge and Freezer
Our fridge and freezer are both from Thermador. They hold a ton of food. The custom cabinet panels fit perfectly over them. We had our carpenter custom make the panels to look like french doors with drawers. Hollywood mirror finish off the look. It's an antique finish on the mirror made to make it look old.
Do I like them? Yes!
Would I use them again? Yes
Pros – Great storage, cabinet panels attach beautifully to these panel ready units.
Cons – Ice maker is inside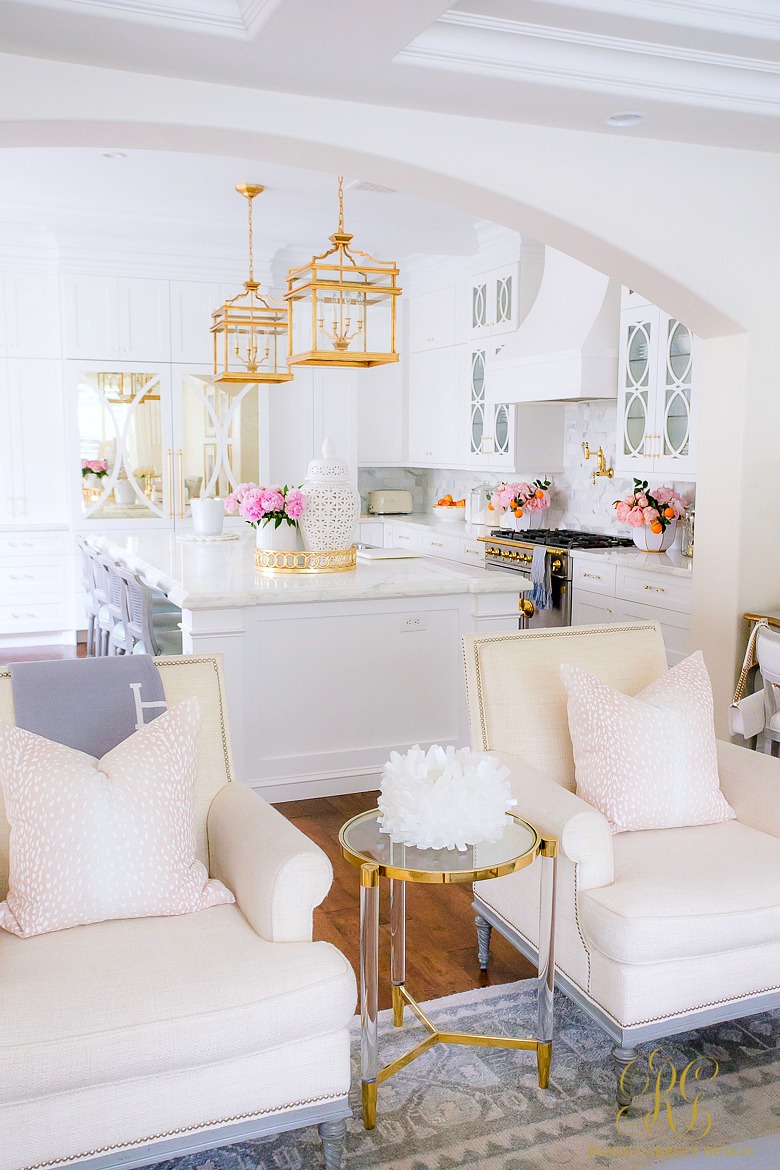 Wood Floors
Our wood floors have held up very nicely. They are not too dark to where they show dust and dirt. I love how they are slightly distressed. I use this steamer to clean them and this vacuum daily. They are African Plains, Sahara Sun.
Do I like them? They are fabulous and timeless.
Would I use them again? Yes


Room Accessories
Our barstools are no longer made, but I found some very similar barstools here.
All of the other accessories in our kitchen are sourced below…