Giving makes us feel so so good! It's the true magic of this special season. When we do something for someone else, we feel a sense of joy and happiness that can not be matched. Watching someone open a gift you have spent time thinking about, purchasing and wrapping with care feels amazing!
That special gift needs to have an equally special wrapping to complete the package! Gift wrapping not only sets the excitement and anticipation of a gift, it shows the extra thought and care you have given that special someone.
Today, I'm sharing 5 Christmas Gift Wrapping Tips you Will Love! These tips will help you give gifts that reflect your love through special detail.
5 Tips You Need to Know for Fabulous Christmas Wrapping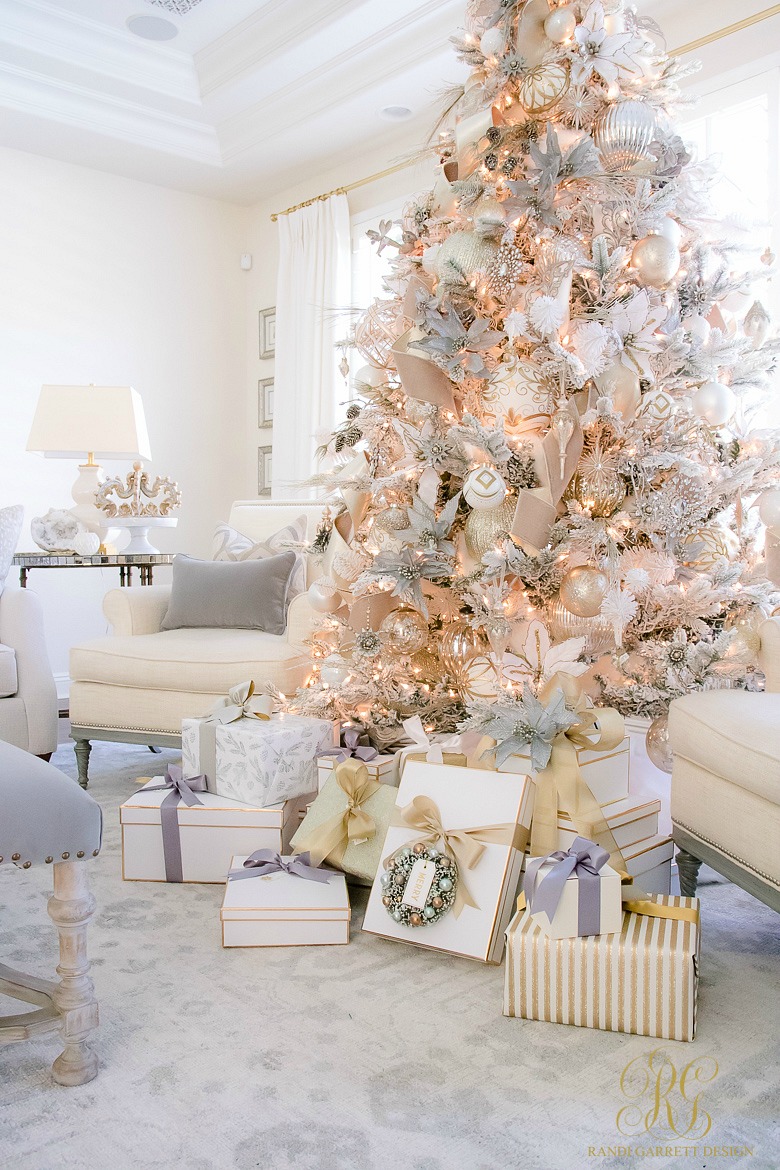 You don't have to use Christmas Wrapping paper!
Scouring the stores this year for the perfect wrapping paper, helped me realize – you don't have to use Christmas wrapping paper when wrapping your Christmas gifts! In fact, I encourage you not to use Christmas paper! Look for something unique and special. Then make it feel like a Christmas gift by adding ribbons and trim.
Try using white glossy gift wrap for a classy blank slate. This will allow your gift to blend into anyone's decor no matter who's home it is going to!
My friend's are so sweet, they always try to wrap my gift in white, silver or gold, because they know it will look perfect under my neutral tree!
This is just a simple detail, but it shows that someone has taken extra care when giving you your gift.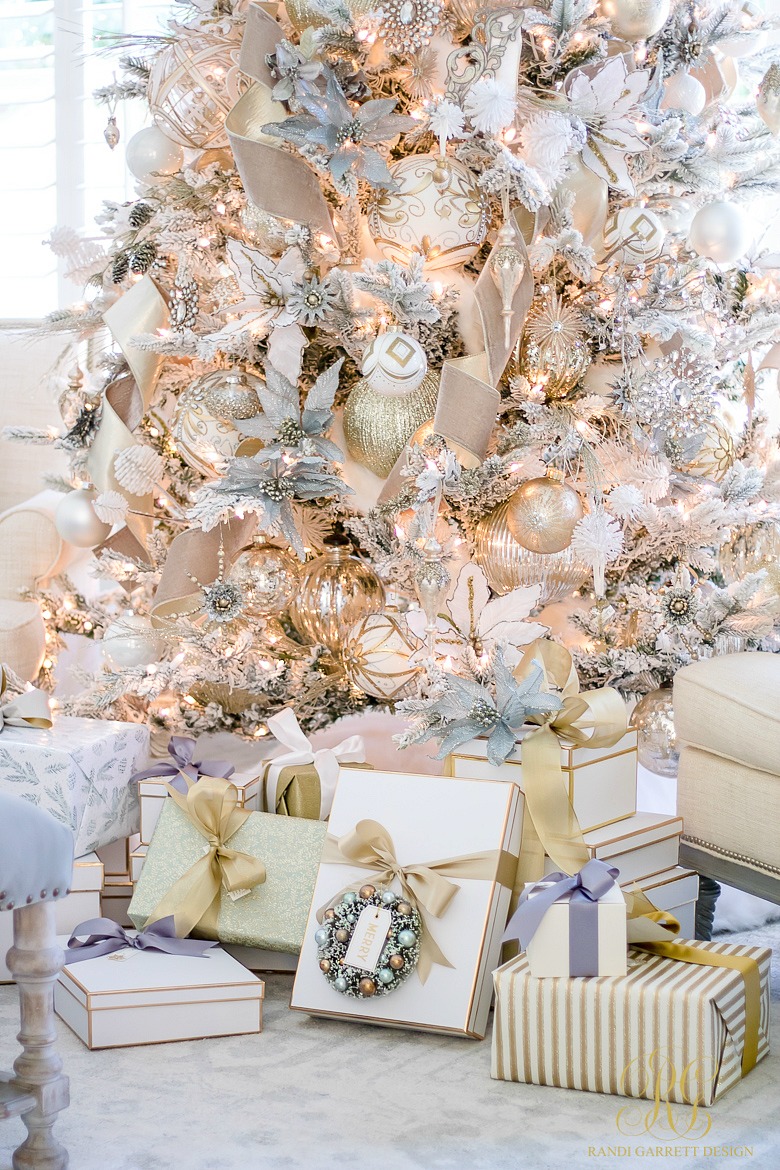 Ditch the paper, use a pretty box!
Save yourself some time, buy a stash of plain white gift boxes. Tie them up with pretty trims and you are done! I invested in a collection of gift boxes a few years ago and have never looked back! That decision has saved me to much time and money I buy half the gift wrap I used to!
All white packages mixed with a few wrapped gifts, looks amazing under your tree.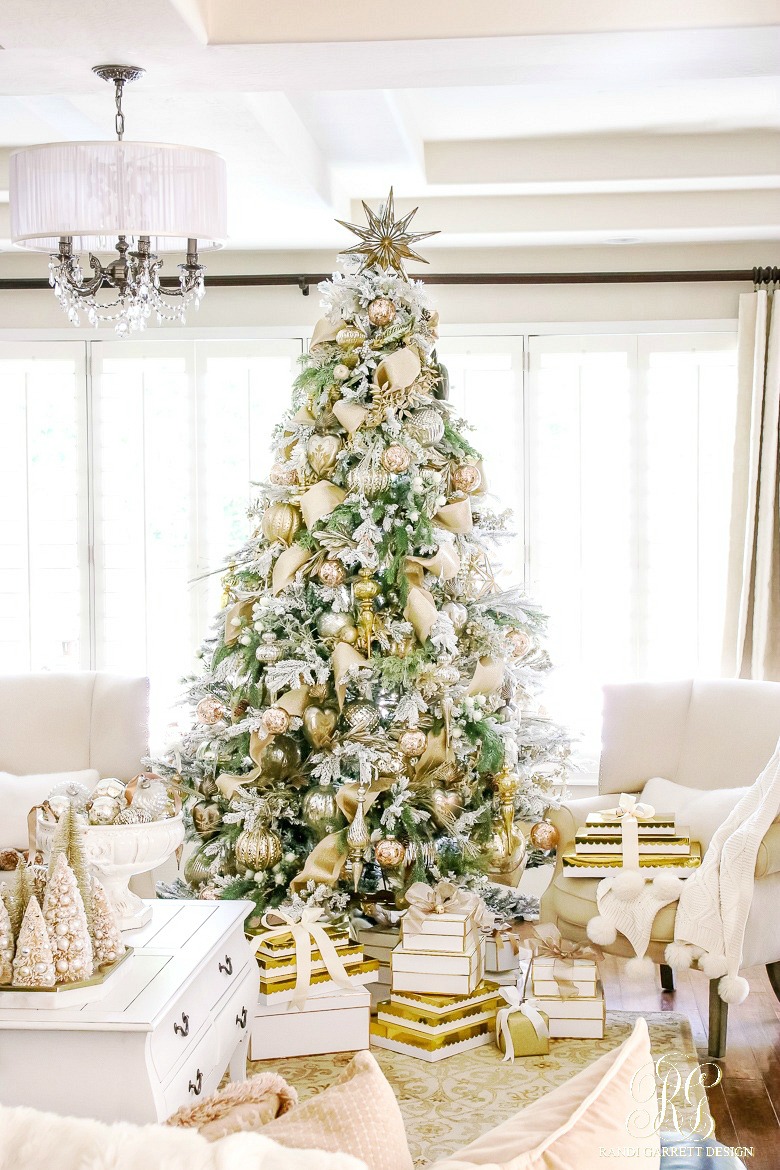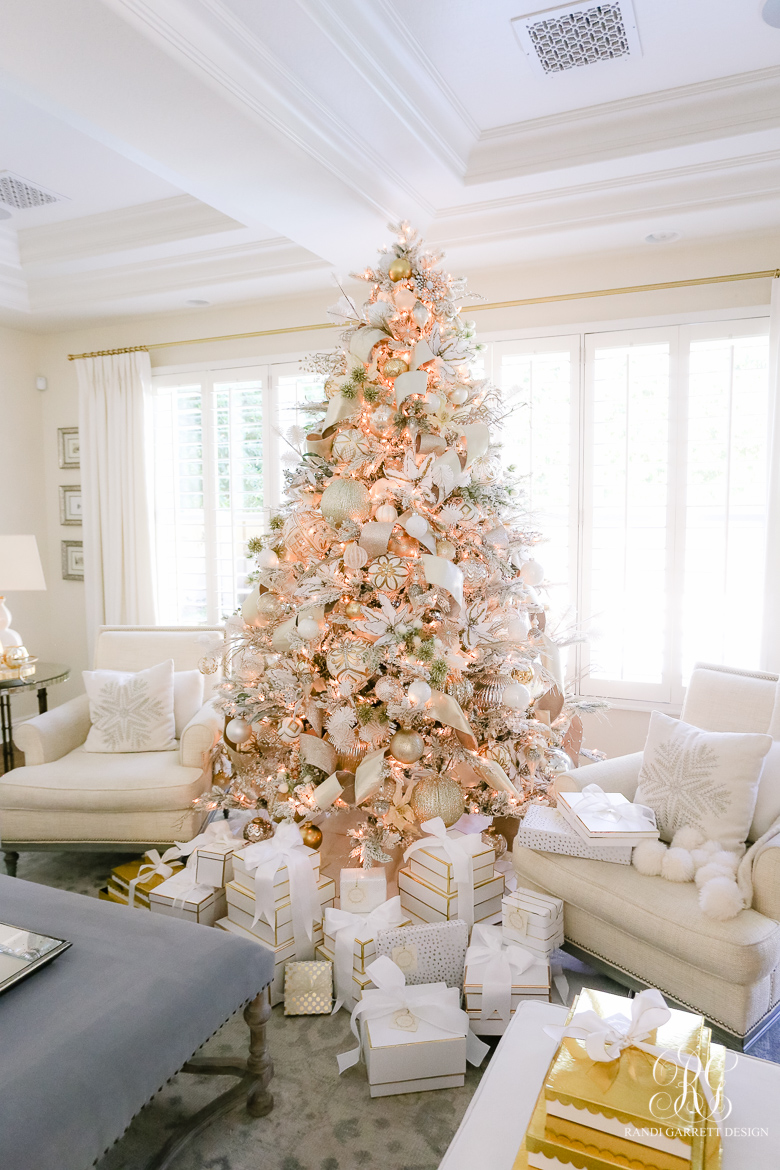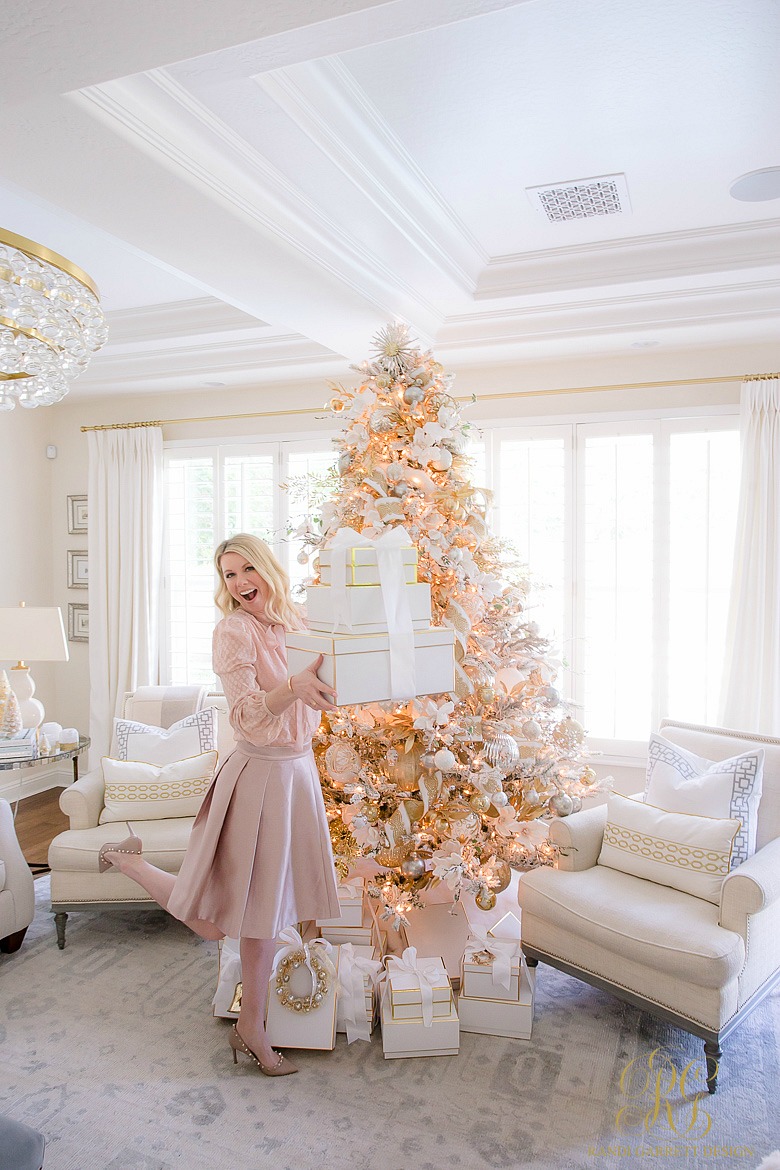 Use a variety of ribbons with texture and widths.
Ribbon is the key to a beautifully wrapped gift. Use a variety of ribbons with different texture and widths. Tie your presents with wired ribbon or luxurious satin ribbon to give them a designer feel. Using a few different types of ribbon creates a gorgeous display under your tree. Choose colors that will coordinate with your tree and home decor.
Giving it to someone? Using a gorgeous ribbon to tie up their gift will show you care enough to pay attention to details.
Add something unexpected.
Anyone can give a gift wrapped with a bow! Make yours extraordinary by adding an unexpected pop! I love to use ornaments, jingle bells or flowers to give my gifts a wow factor.
Last year I used some bottle brush wreath ornaments as an unexpected touch and some gray poinsettias. Every year I tie silver and gold jingle bells to our neighbor gifts. They just make people smile.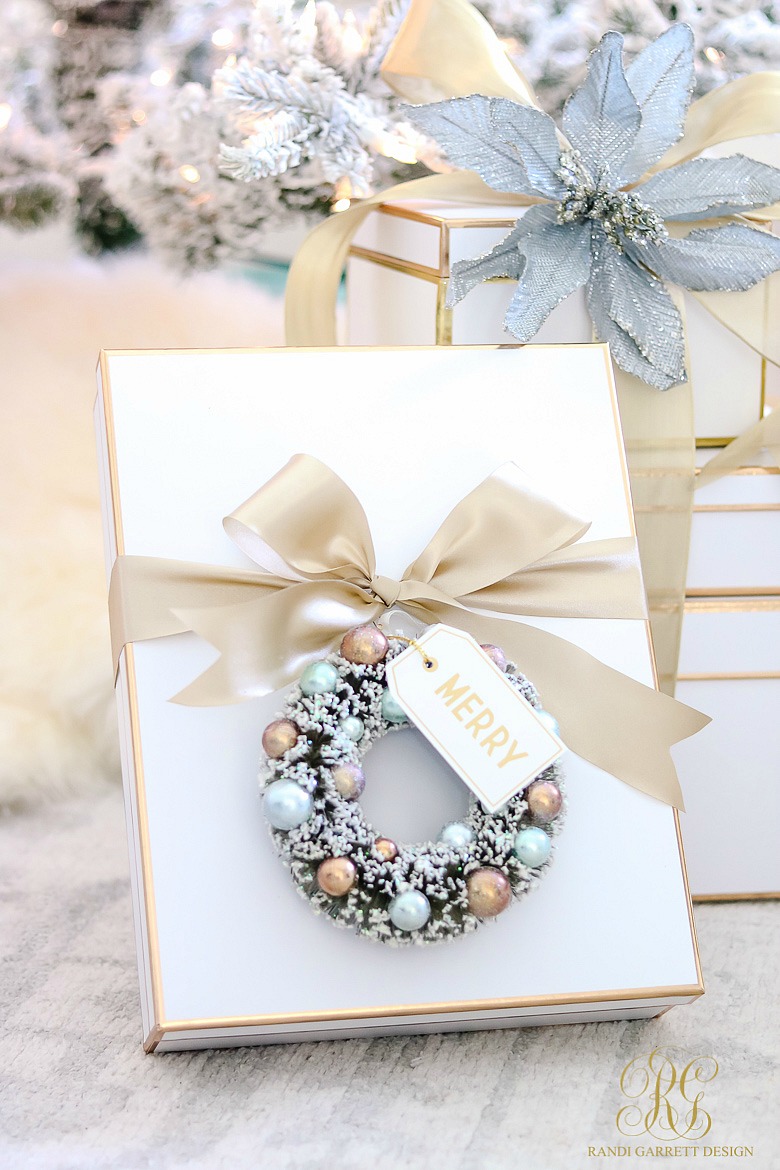 Trick your kids with tags.
My kids are the worst when it comes to peeking at gifts!!! Even if they didn't peek, they would shake their gifts or guess them by there size and shape.
One year, I had an idea! Give each of your kid's their own tag. Don't label them. Reveal whose tag is whose on Christmas morning. So, for example, my son has all Christmas tree tags, my daughter has all wreaths, one has Santa, and so on.
Just make a note in your phone or somewhere you will remember about who has which tag. This has solved the peeking issue! The kids love to try to guess which tag belongs to who!!!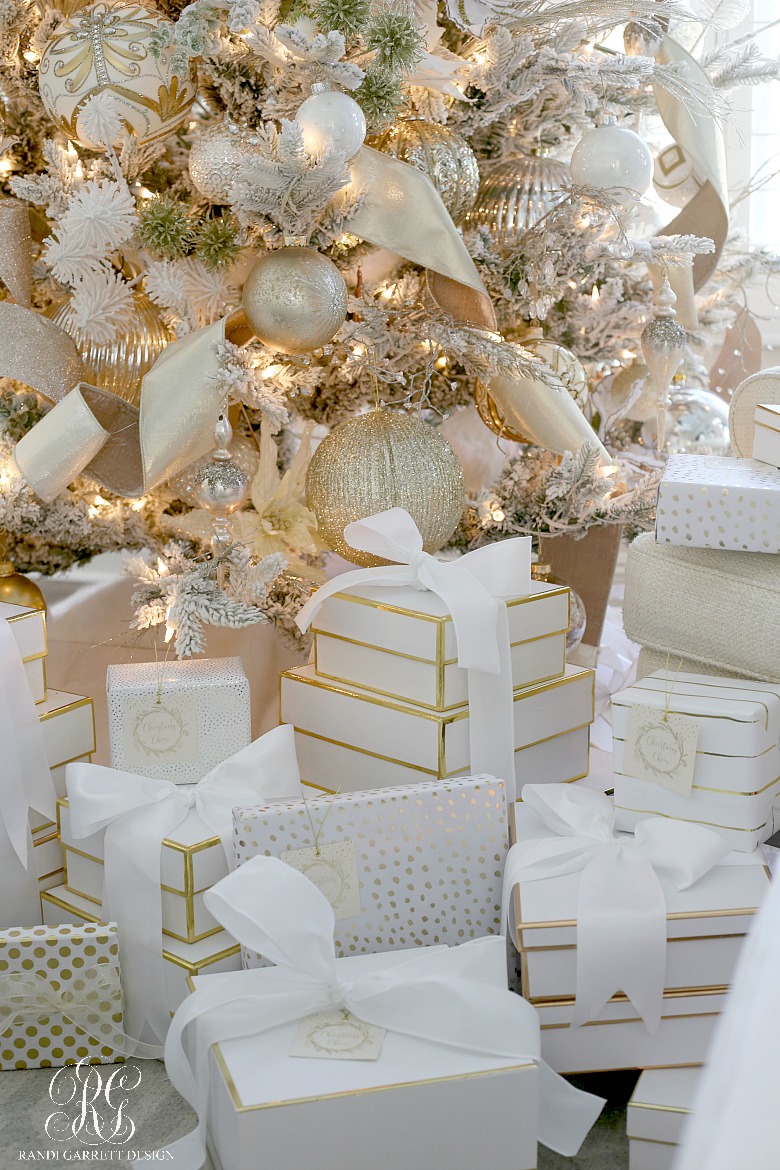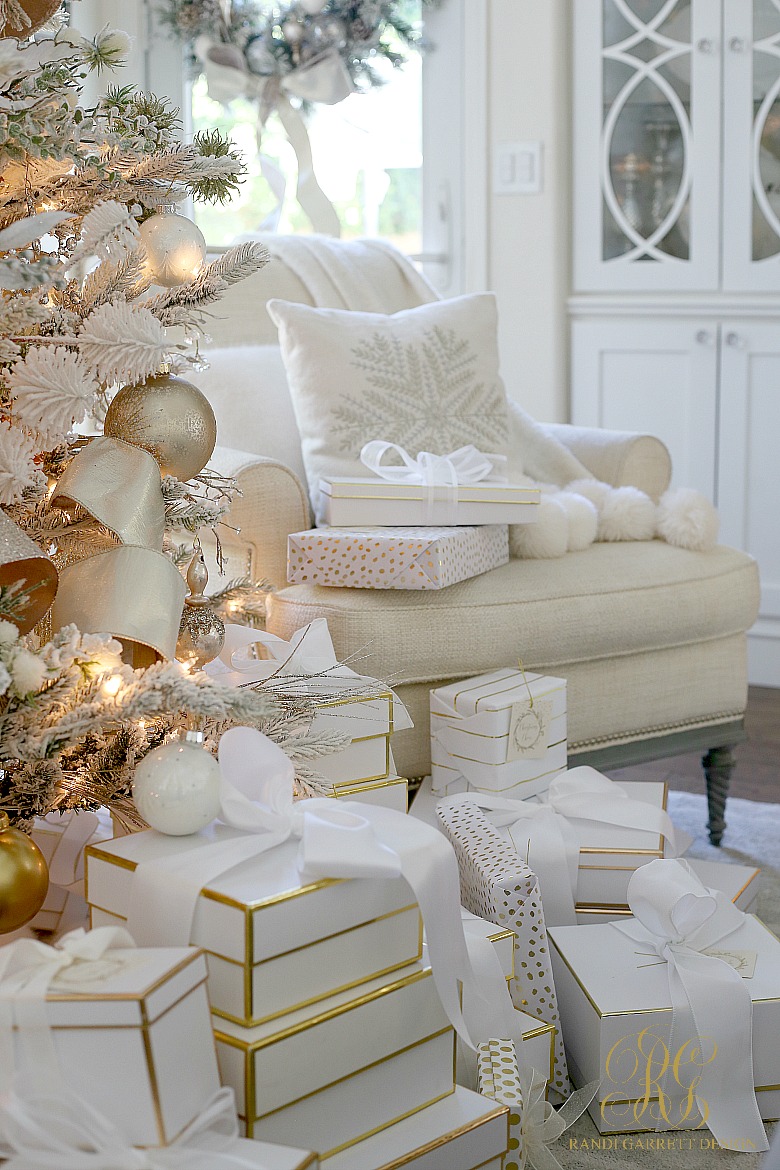 Looking for the perfect gift? Check out my gift guides! Happy wrapping and enjoy every minute of this joyous season!