What a difference a year makes! This time last year, we were packing up and saying goodbye to our home of 15 years. We moved into The Wren on December 1st to a home that was far from complete and threw a little Christmas up on December 3rd! It was a whirlwind to say the least! Well, it's been a busy year finishing the house and settling in. The Wren is finished and we truly feel settled and at home.
This past week my mom, sisters, daughter Ellie and assistant Natalie all helped me decorate and style The Wren. Christmas is always a magical time to decorate, but this year felt exceptionally magical. Having my loved ones give so much of their time to help me was the greatest gift of all. It reminded me of the reason we celebrate this season. Our greatest gift of our Savior's selfless sacrifice for each one of us. As you walk through The Wren this year, I hope you feel the love that was poured into every corner. The magic isn't in the decor, rather the Christlike gifts of love to make it happen. I will treasure the memories we made together forever. Enjoy Christmas at The Wren, may your heart be filled with the perfect love of our Savior this magical season.
Today, I am sharing our Blue and White Christmas Family Room. Please come back everyday as I share a different space with you.
This post contains affiliate links for your convenience. Read my disclosure policy here.
Blue and White Christmas Family Room
Shades of blue, aqua and white with a touch of gold are the colors of Christmas as The Wren. The Christmas tree and mantel feature gorgeous ginger jar ornaments and exquisite ornaments in various shades of blue and aqua. Velvet blue and aqua ribbon is curled into the branches. We layered pine, eucalyptus, magnolia and jumpier sprays to create a lush backdrop for the tree and mantel. I have everything I used to create this look sourced for you at the end of the post.
If you would like a step by step tutorial on how I style my tree, please watch my video tutorial here.
I also wrote a posthere about how much of each element to purchase for your tree (ornaments, ribbon, picks etc.), it's called my Christmas Tree Capsule.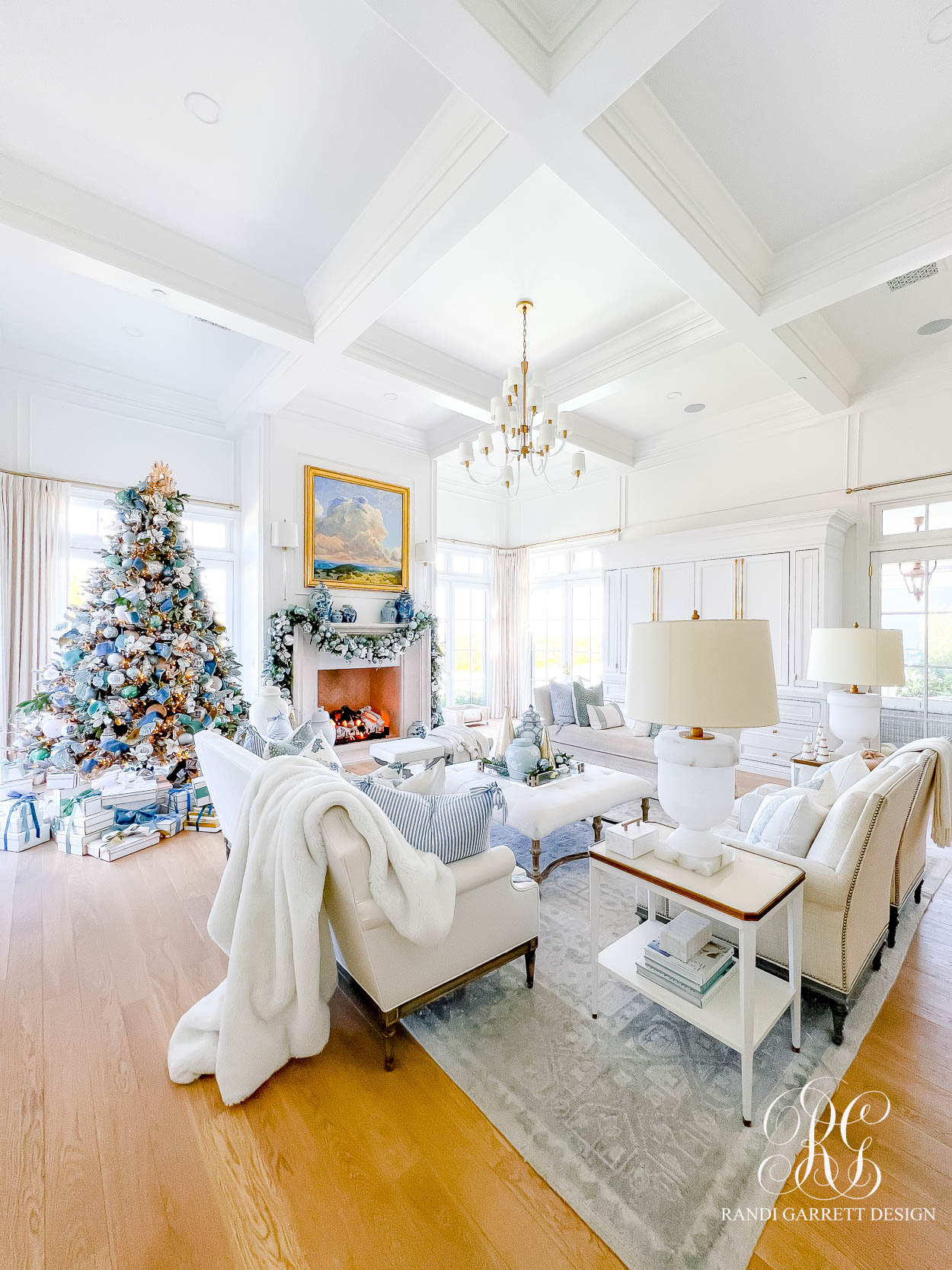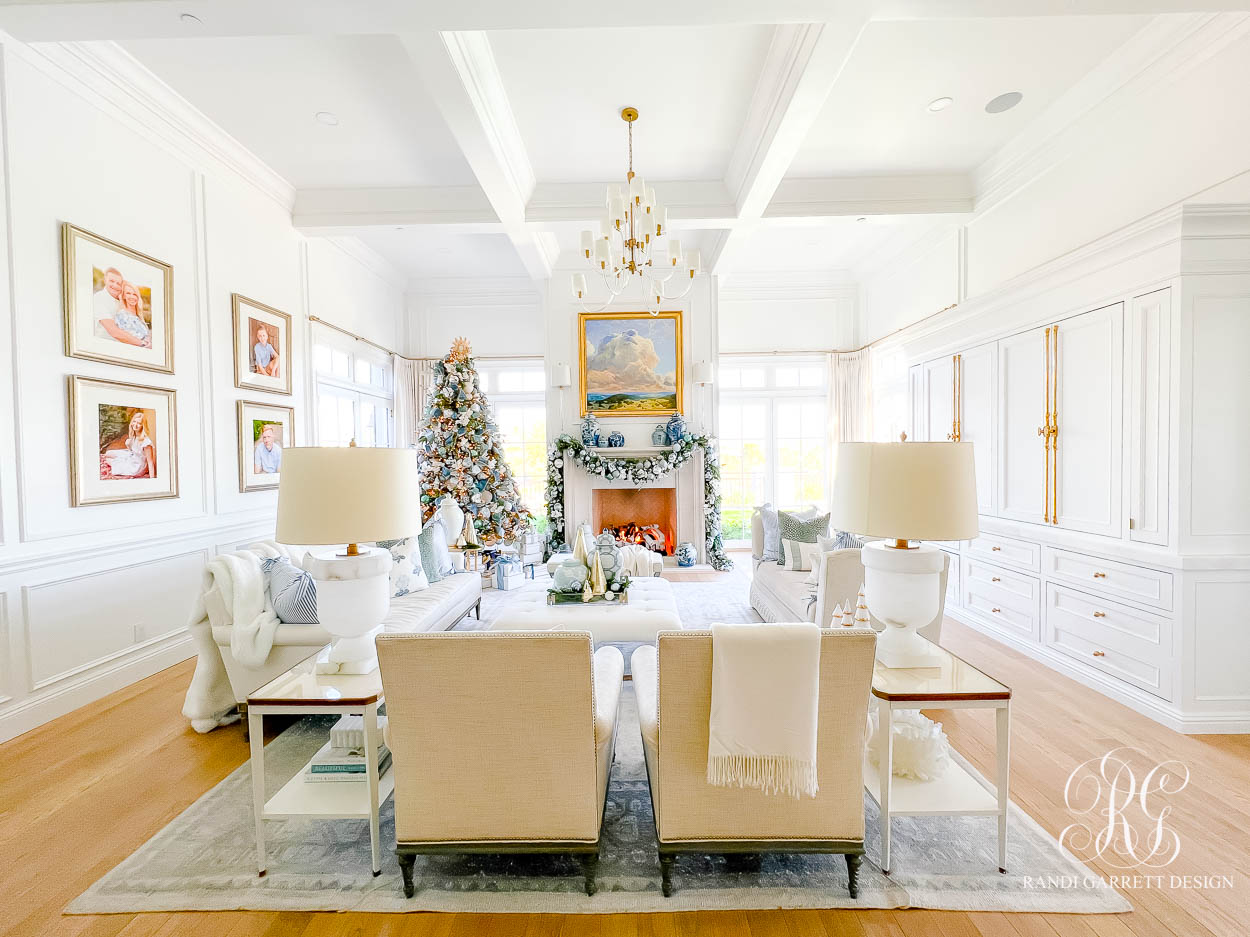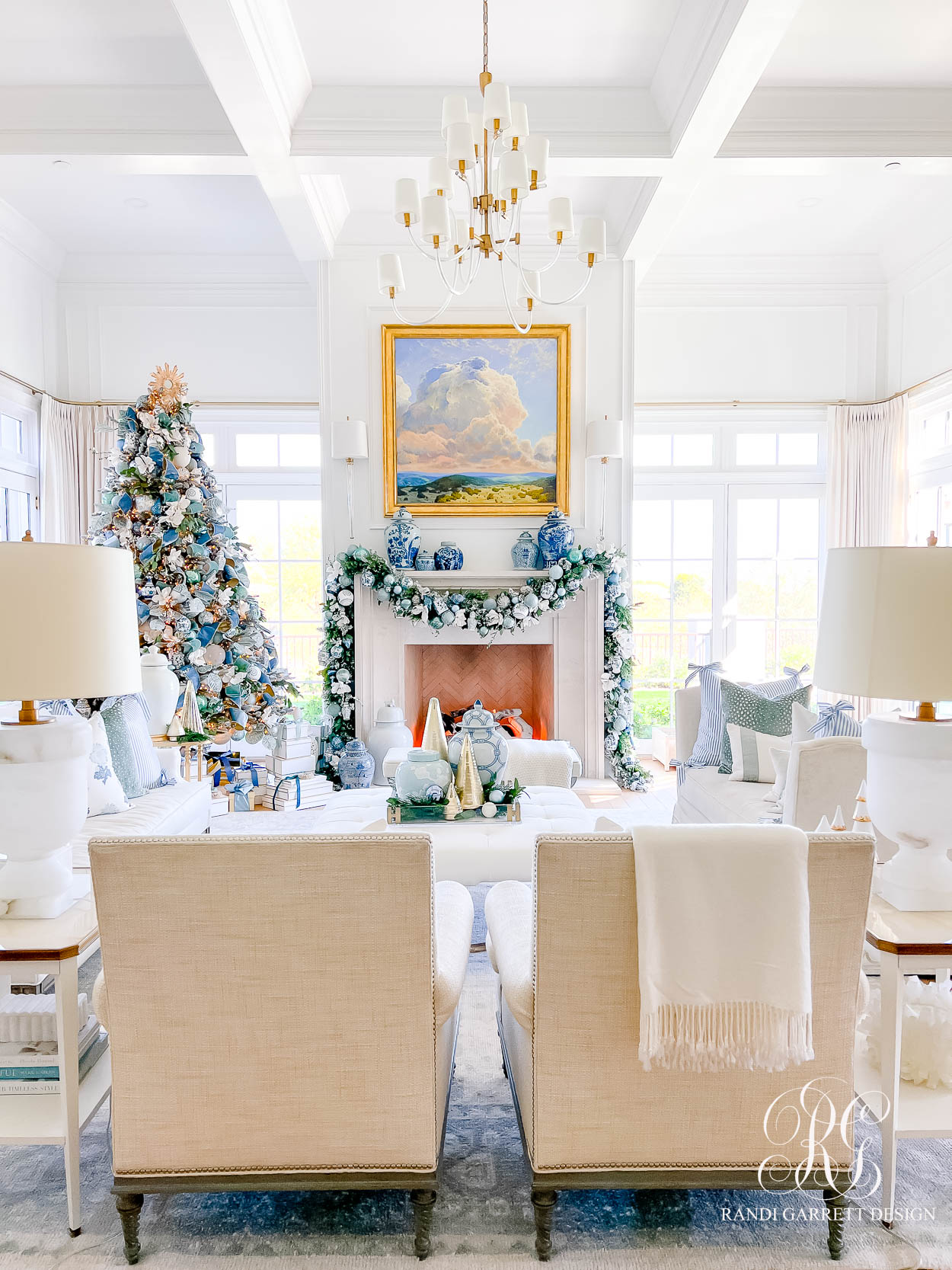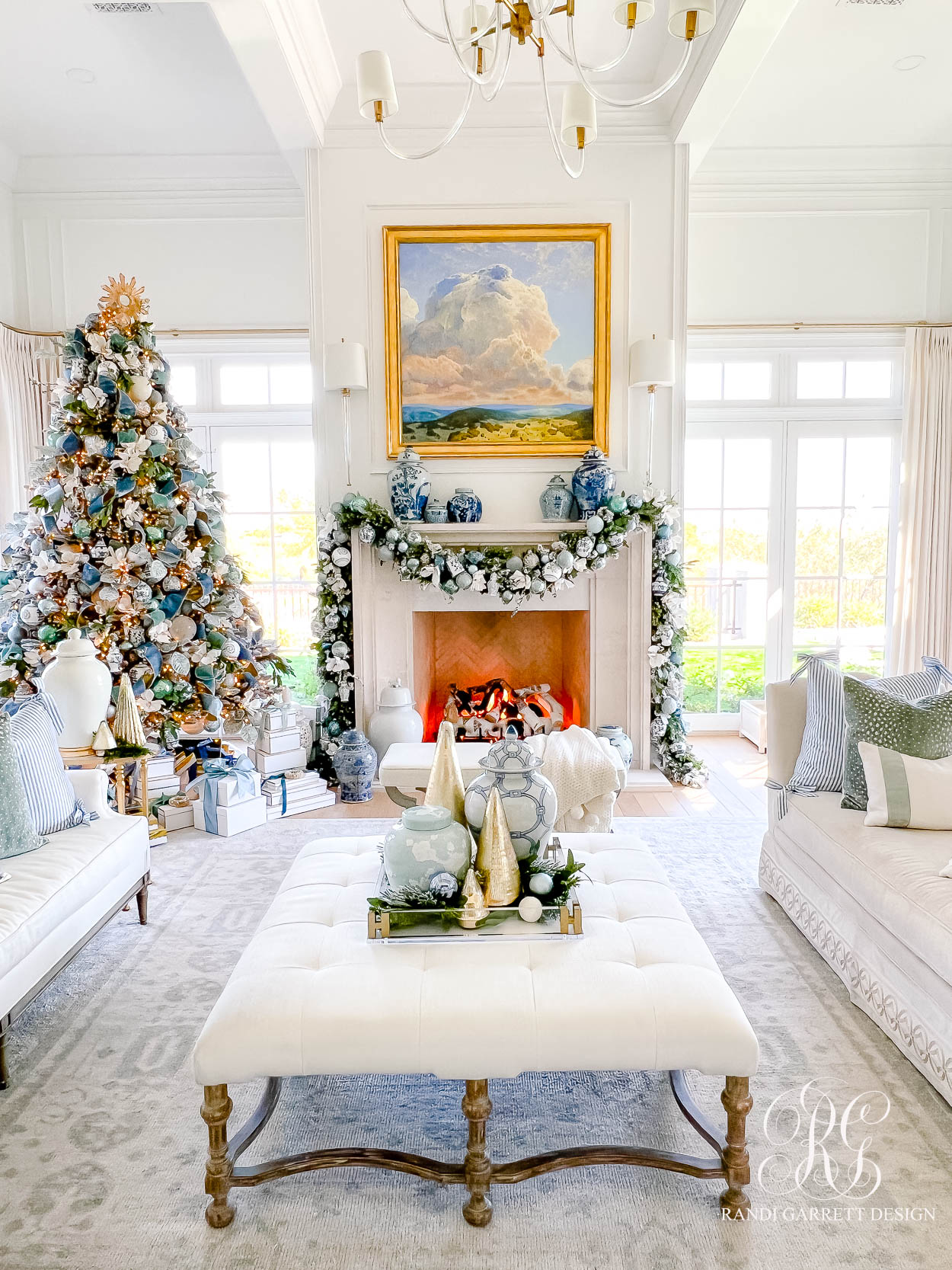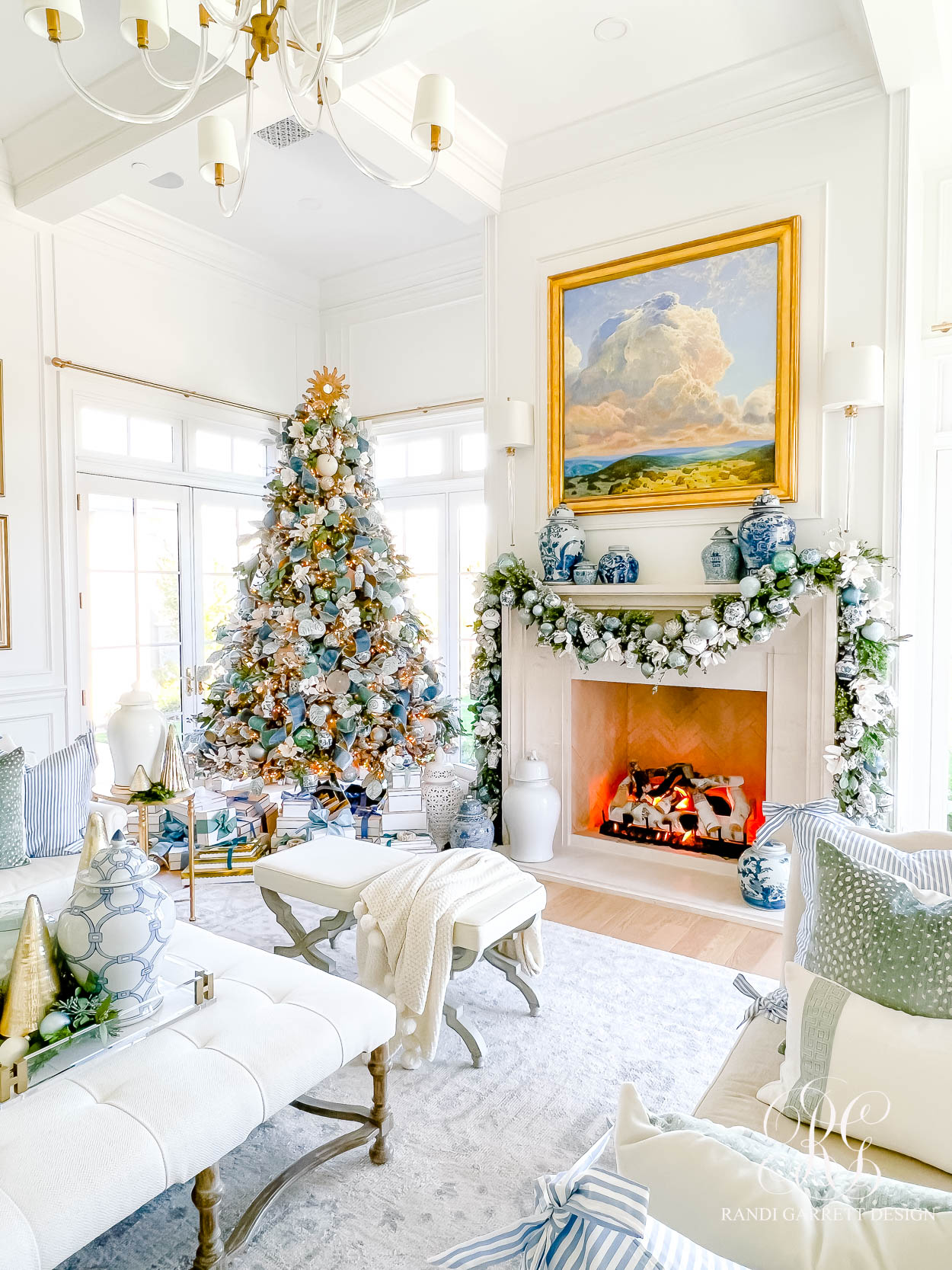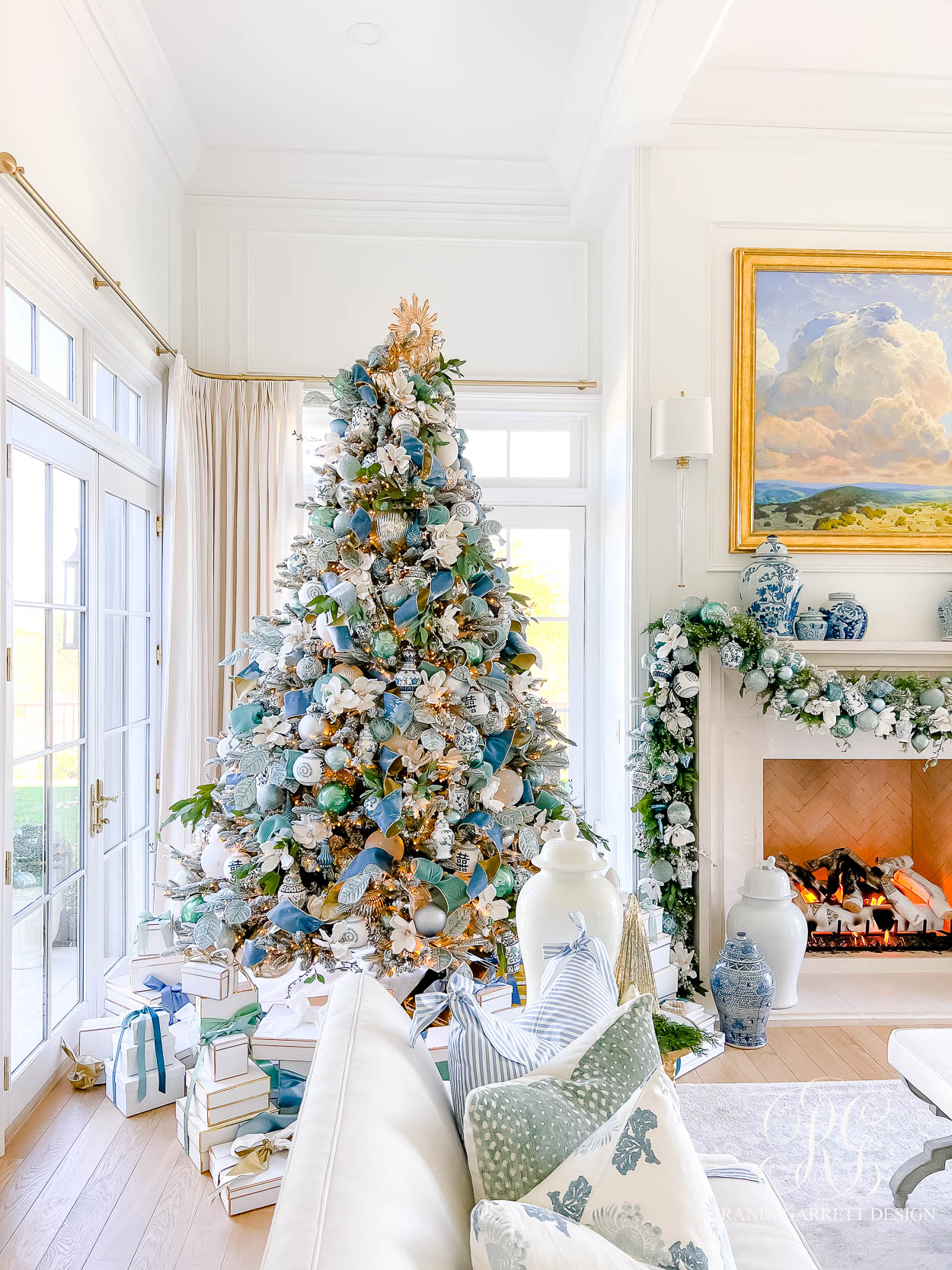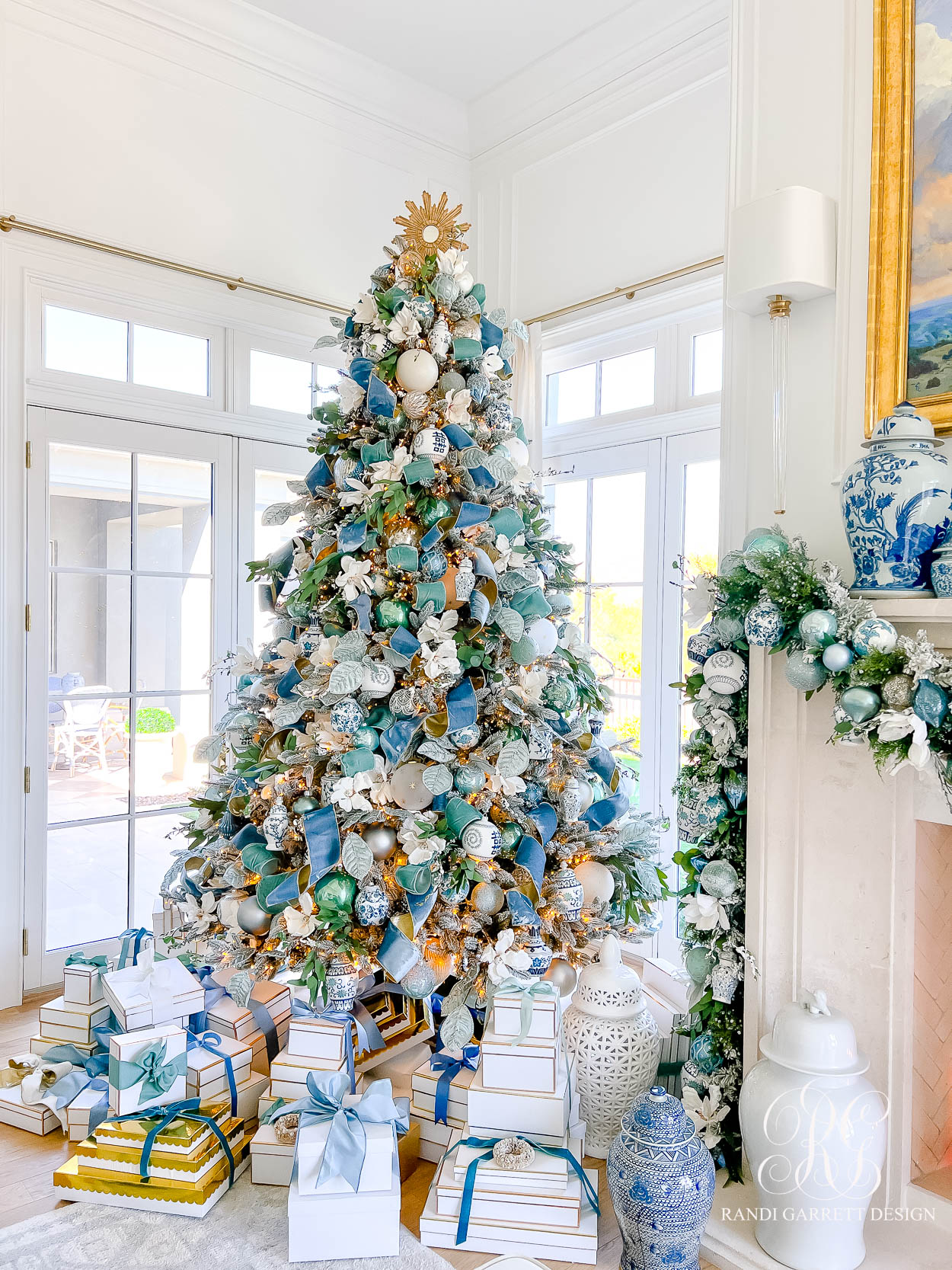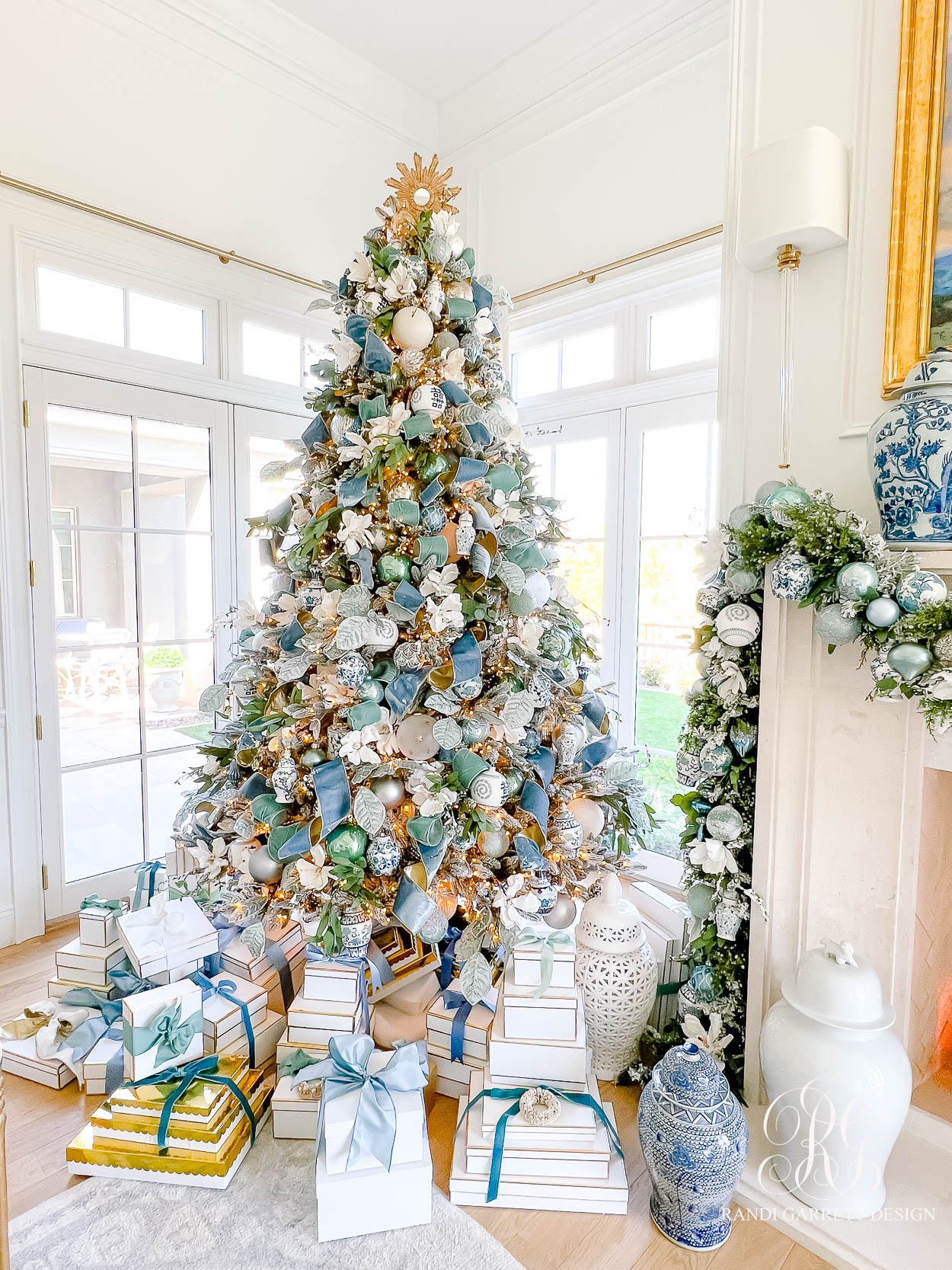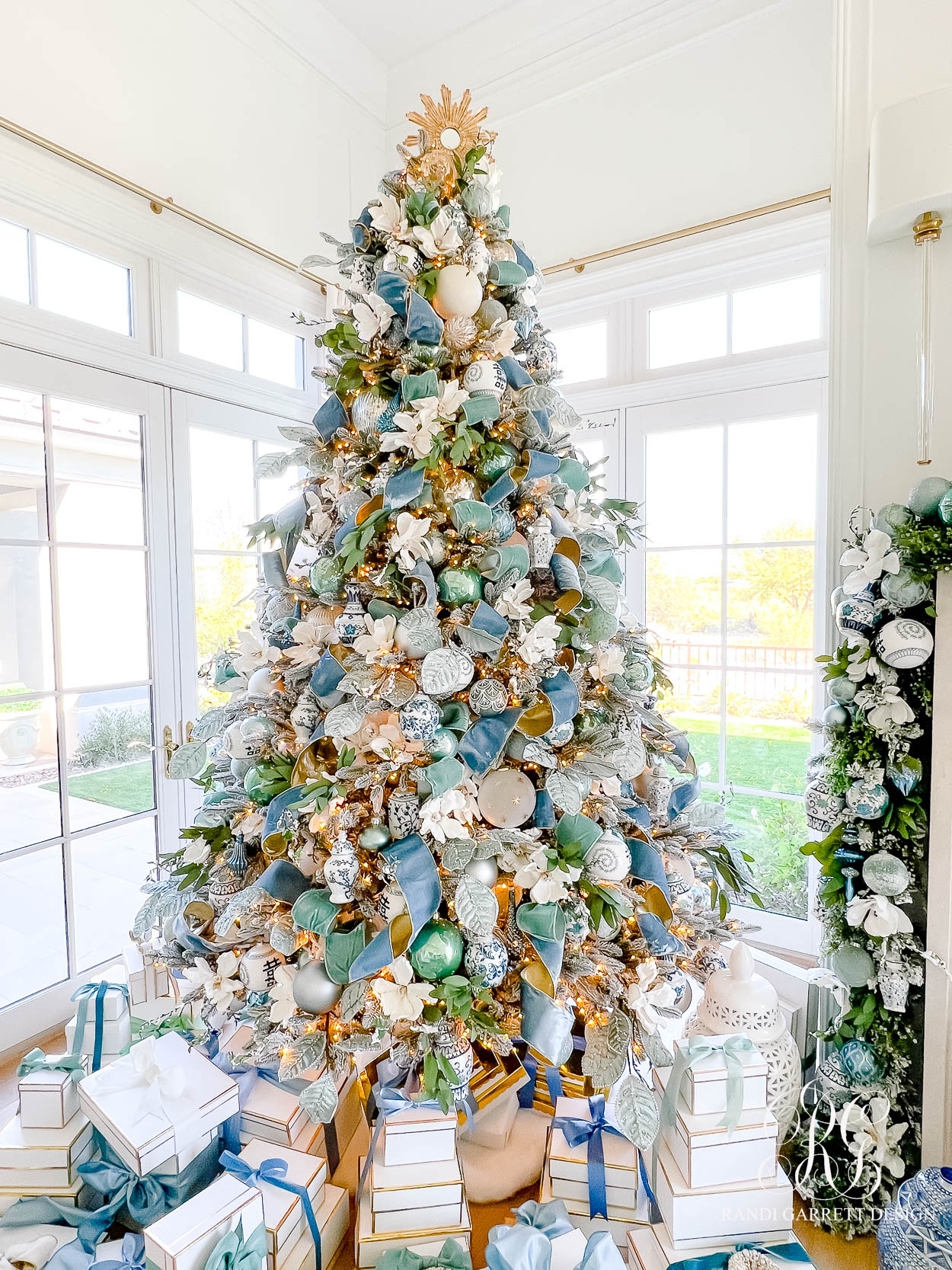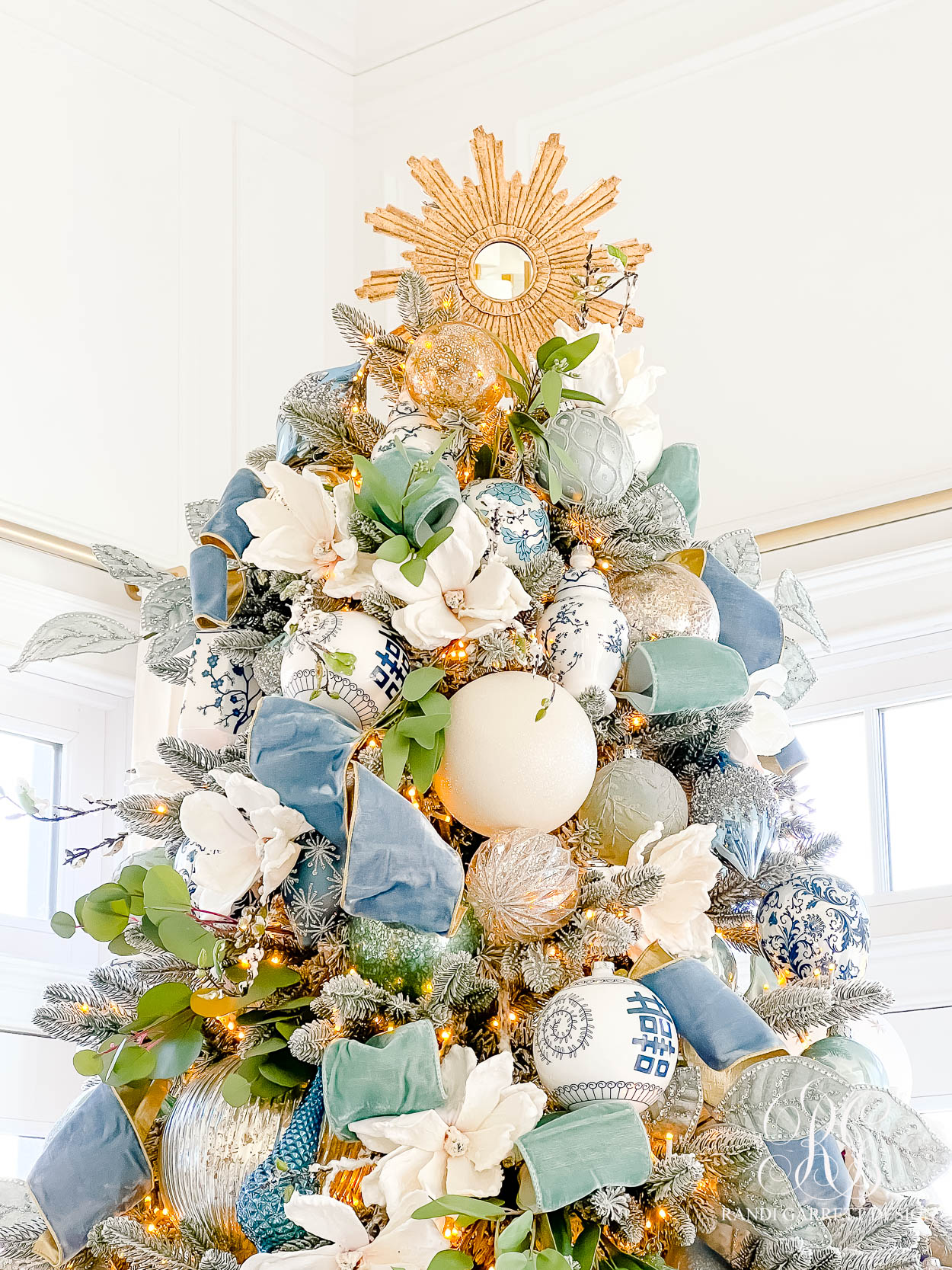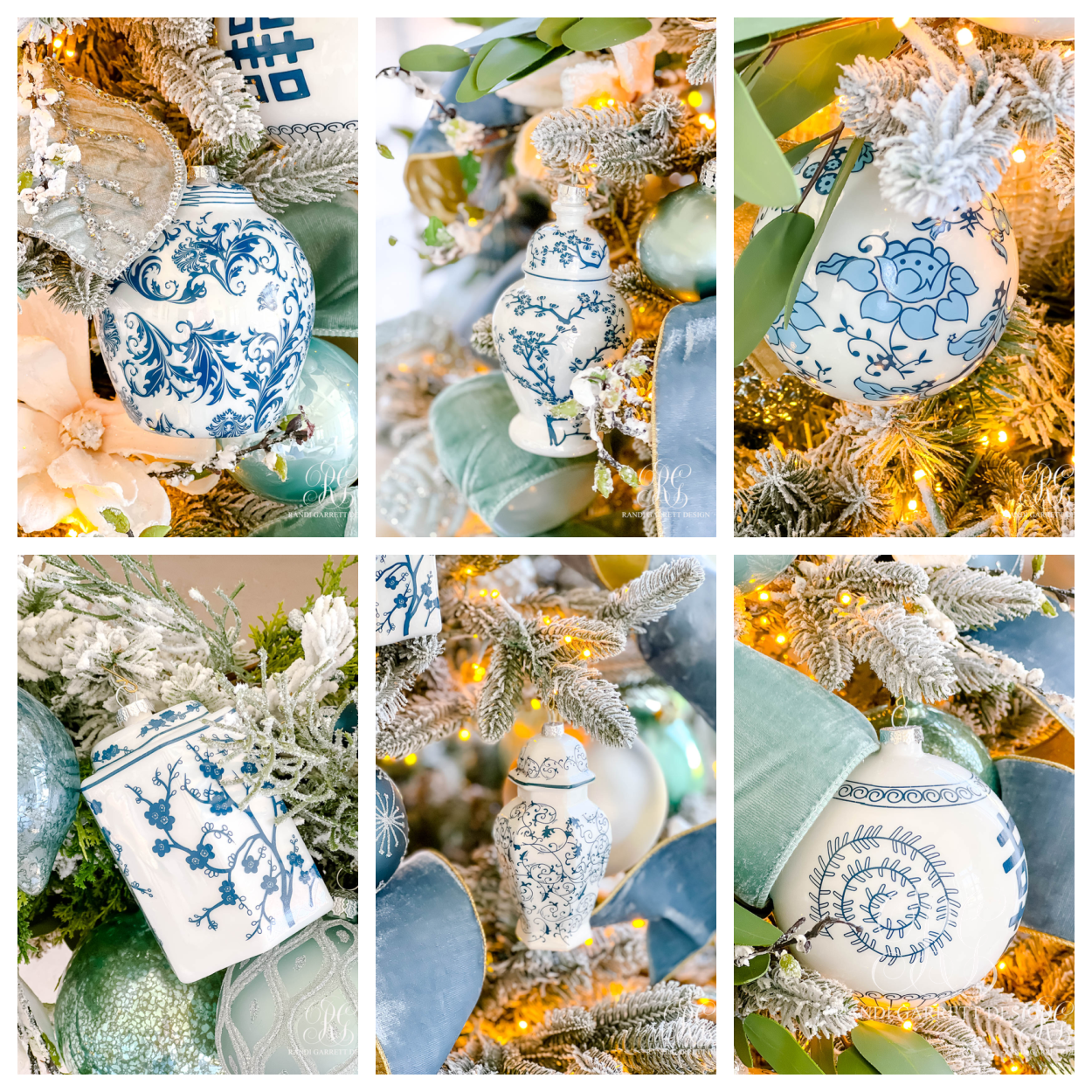 These stunning blue and white ginger jar and chinoiserie ornaments are the star of the tree and mantel garland! They are from my friend Tina's gorgeous shop Enchanted Home. Not only do they carry beautiful ornaments, they also have stunning selection of ginger jars, realistic faux florals and fabulous home decor. You will love her shop! These are the ornaments I used for our tree and mantel…
Floral Flat Top Ginger Jar Ornament 6″ | Blue and White Cherry Blossom Ginger Jar Ornaments 5.5″ | Hexigonal Ginger Jar Ornament 6″ tall | Blue and White Floral Ornament 4″ | Happiness Ornament 5″ | Ice Blue Ornament 5″

My Tree | Fur Tree Skirt | Blue Velvet Ribbon | Aqua Velvet Ribbon and Here| Snowy Magnolia | Blue Velvet Magnolia Stems | Eucalyptus Stems |Star Tree Topper | Blue + Aqua Ornament Set (I used 2 sets for my tree and mantel) | Extra Large Ginger Jar Ornaments Set | Large White and Gold Star Ornaments | Large Mercury Glass Ornaments | Large White and Gold Ornaments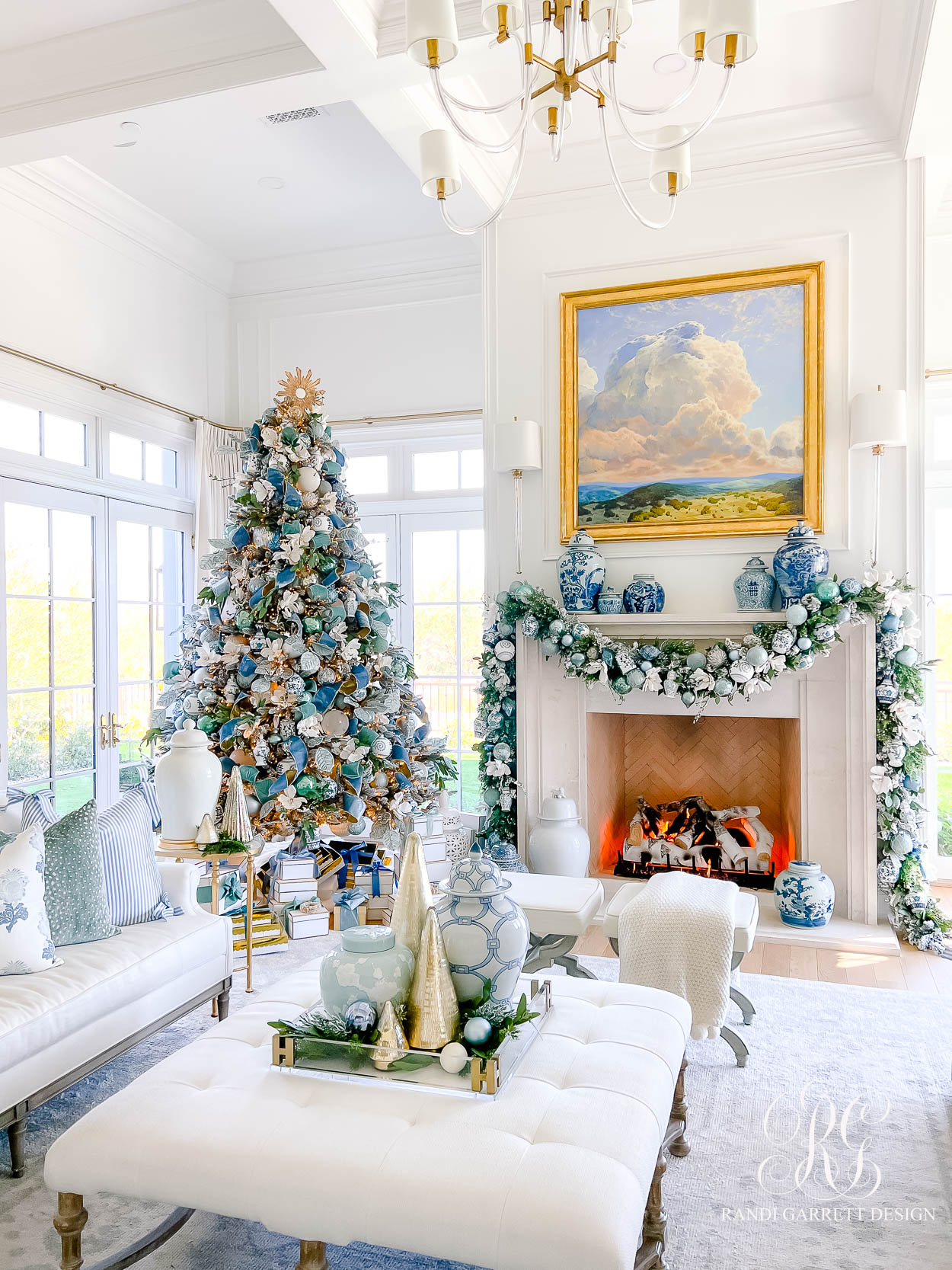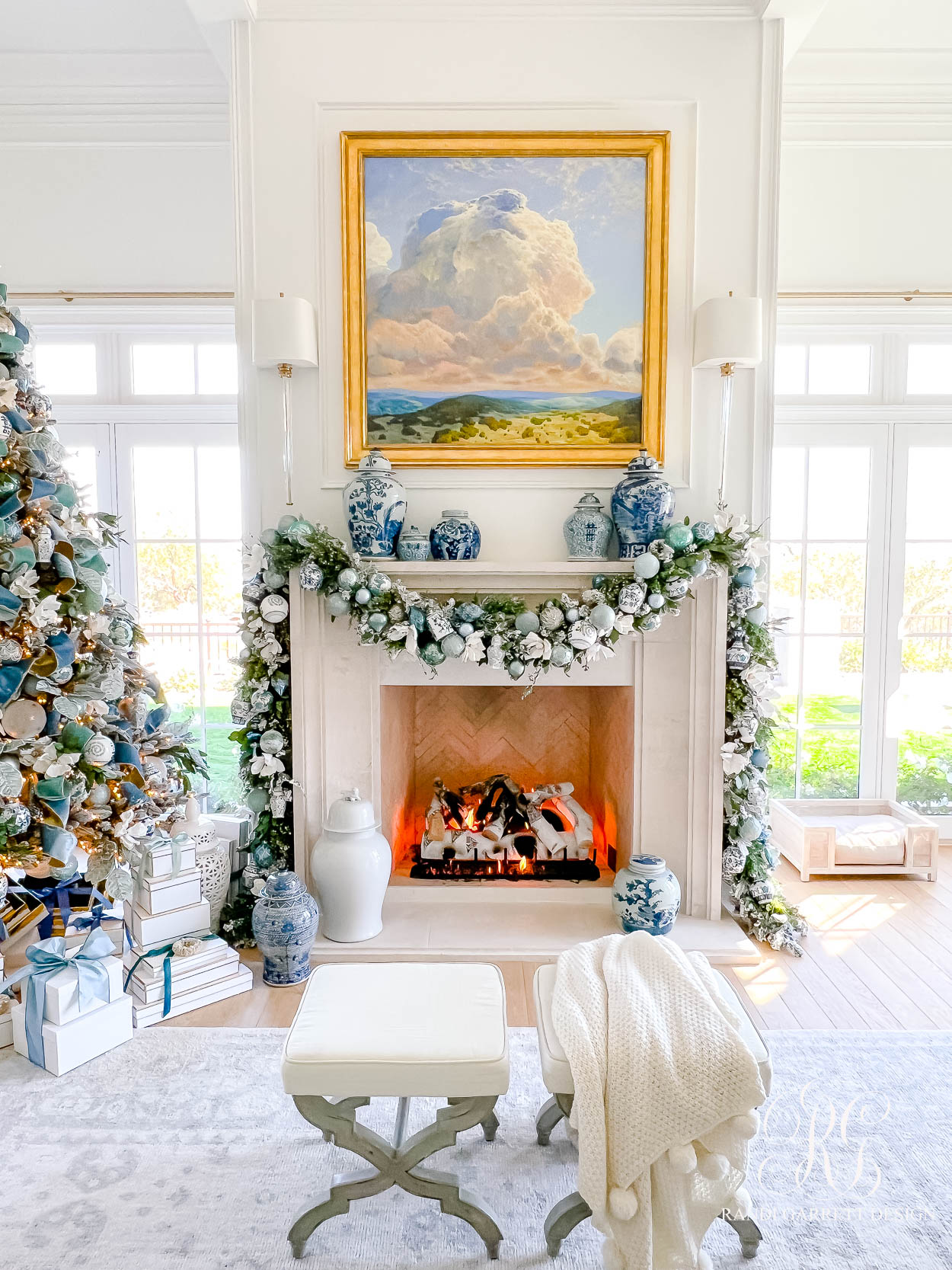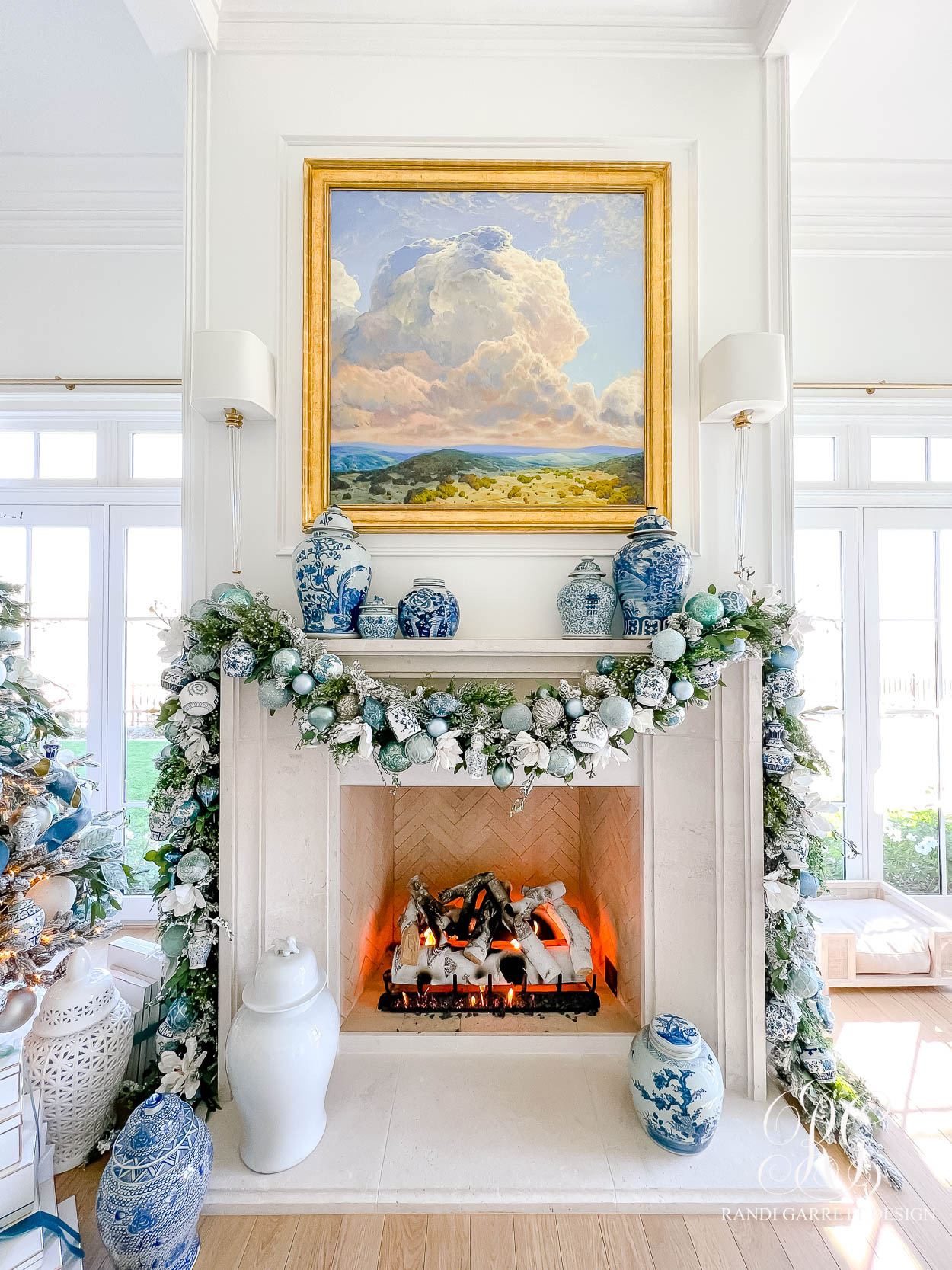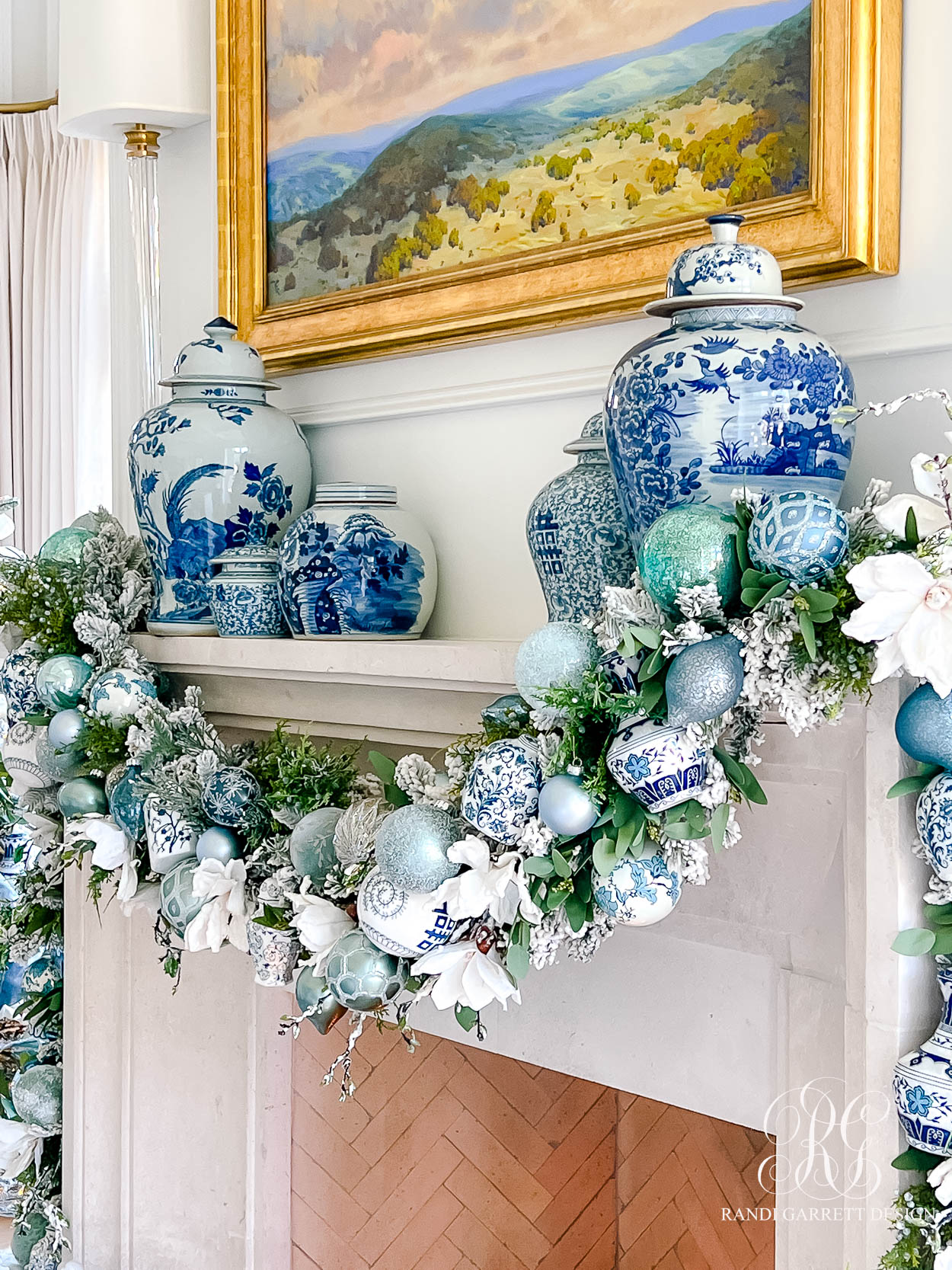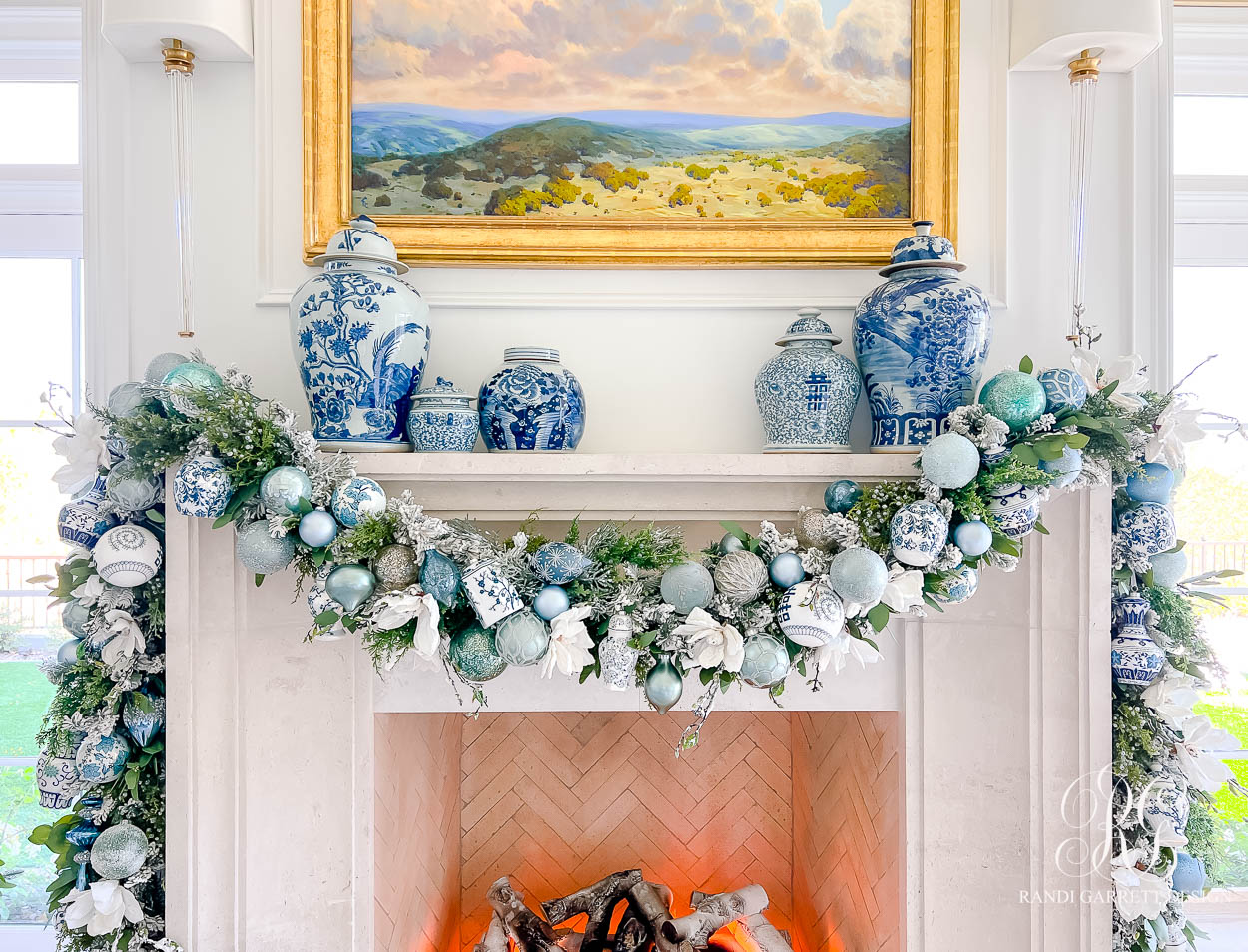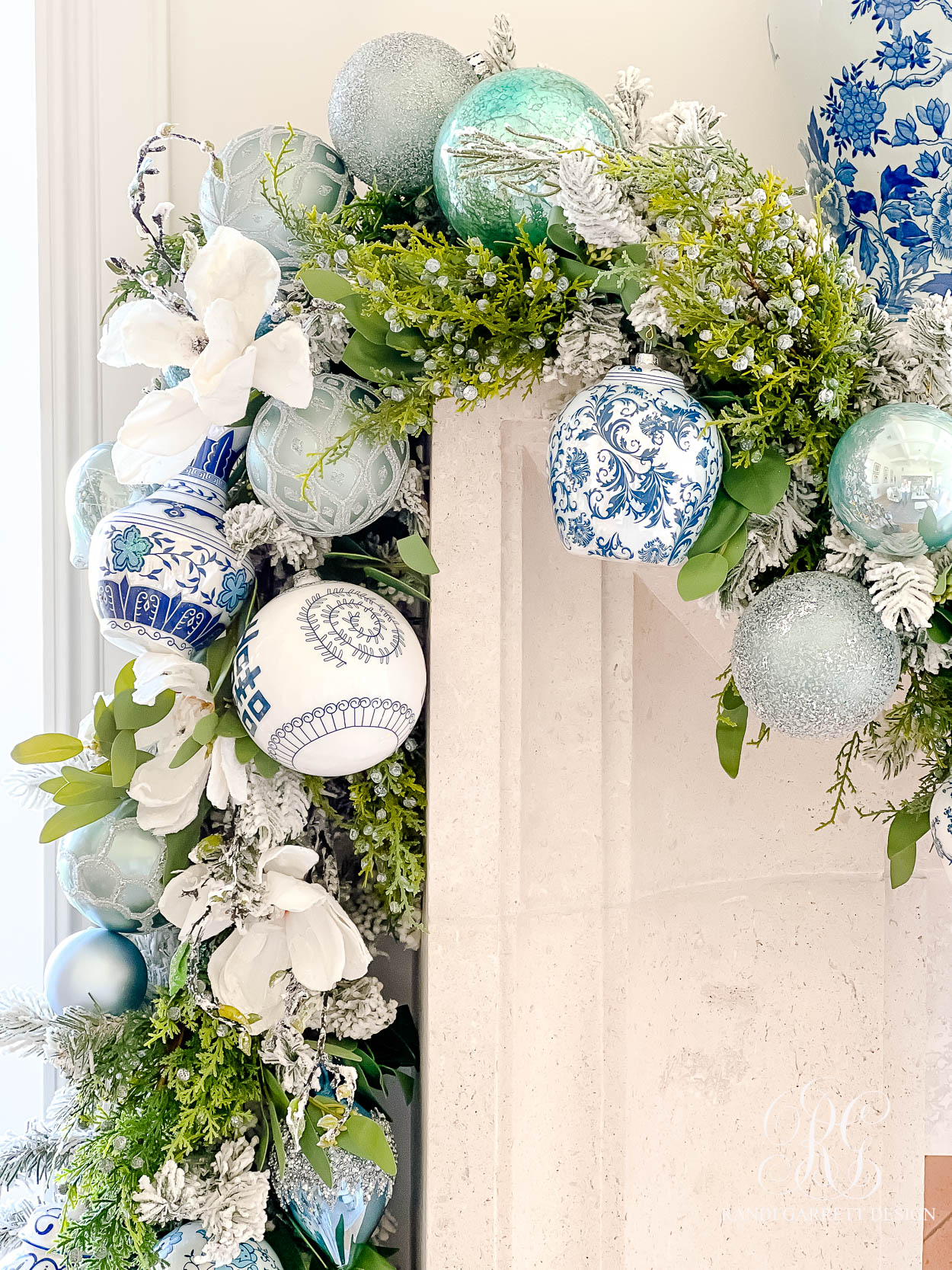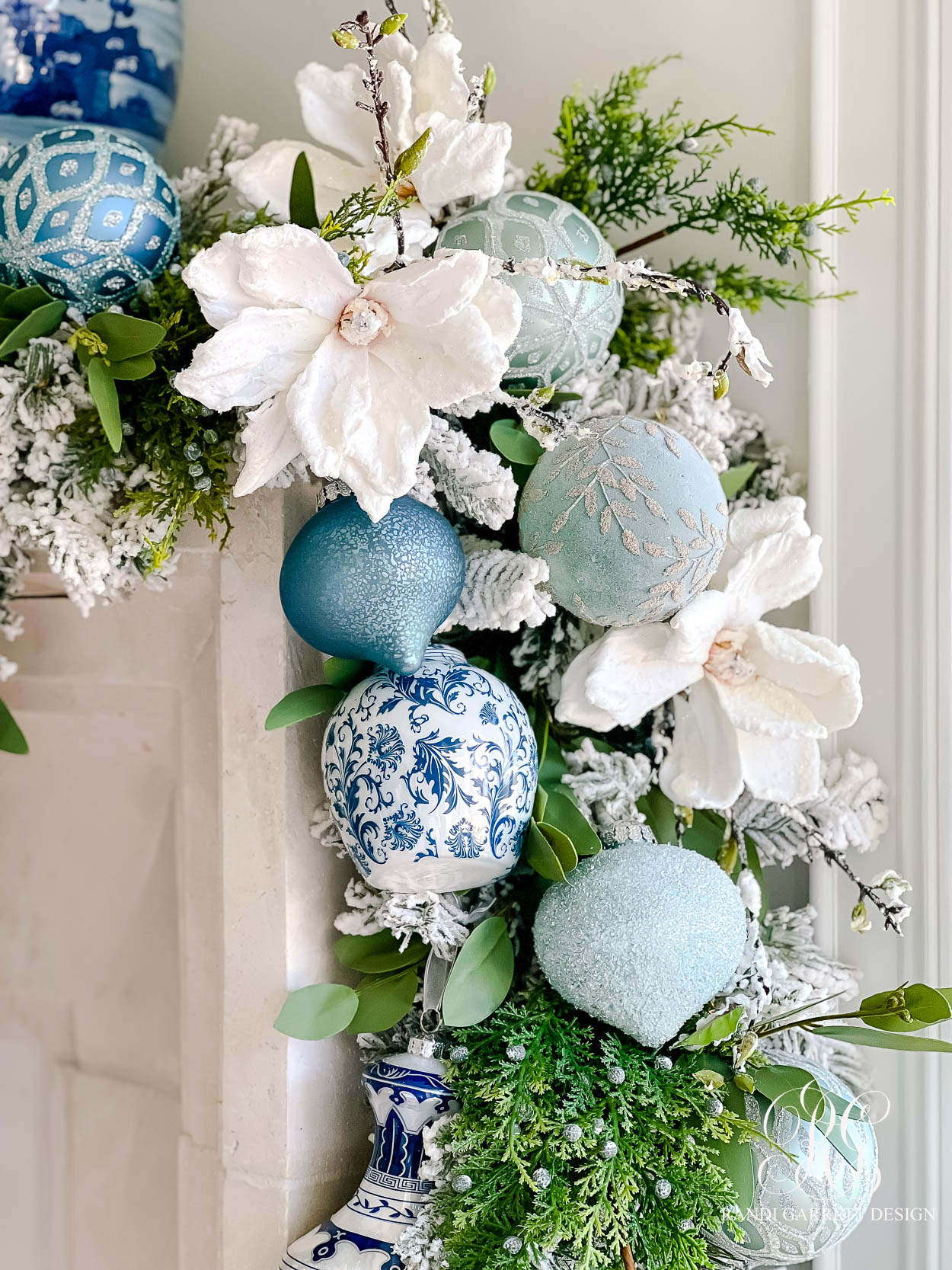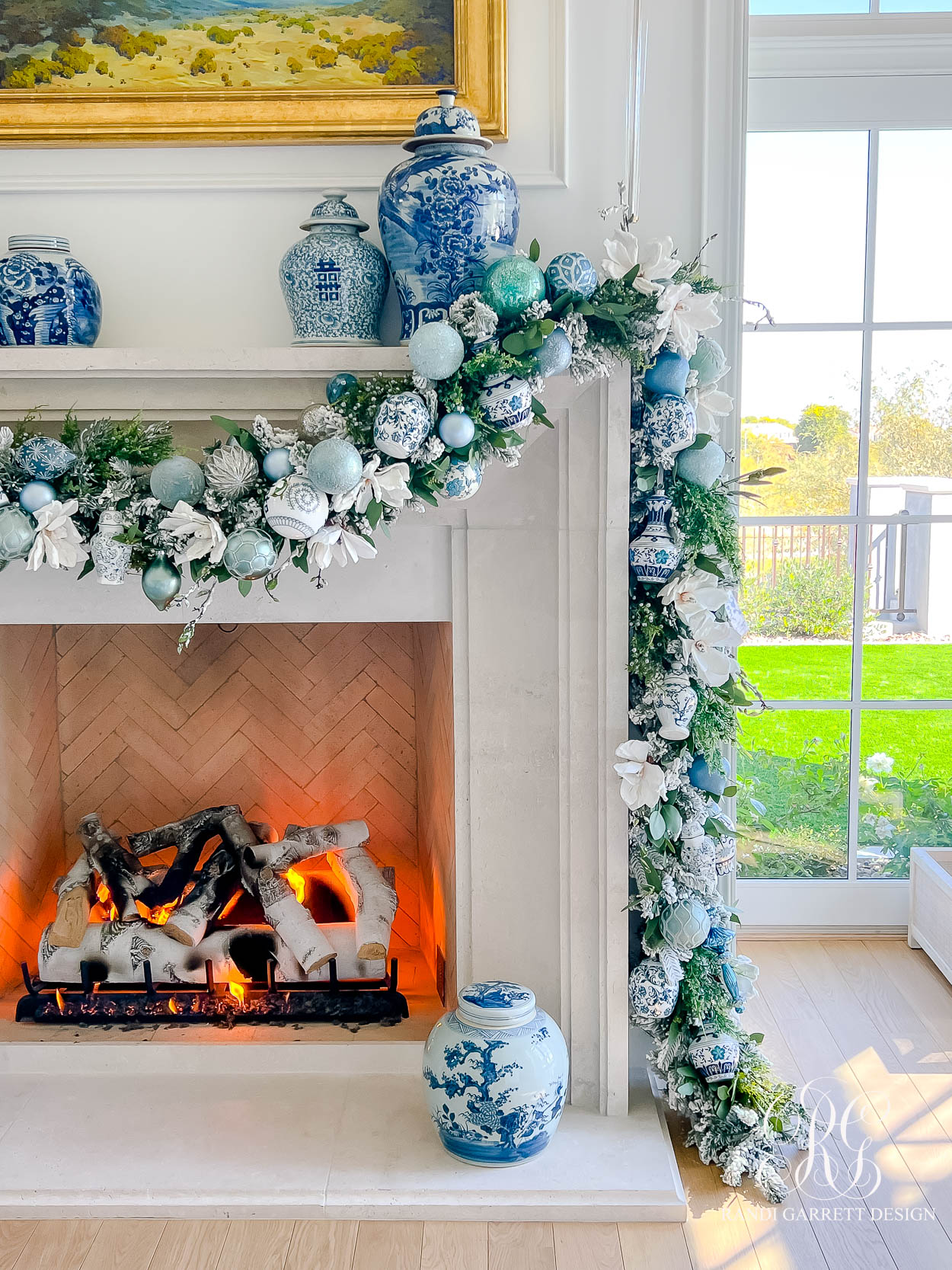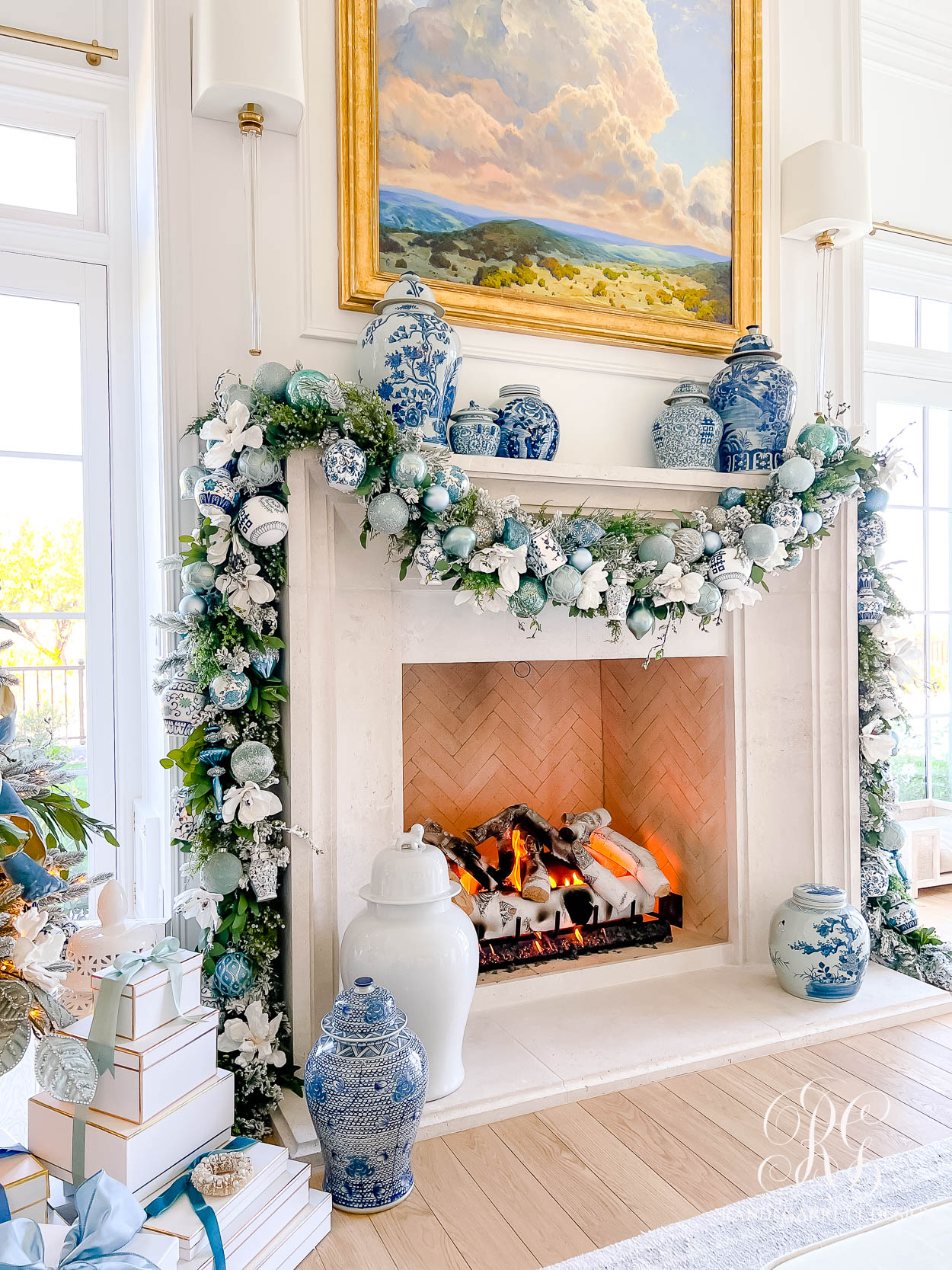 The mantel was really fun to put together! We strung together 3 pine garlands then attached 3 eucalyptus garland with zip ties. We secured it to the limestone mantel by adding heavy duty command hooks to the top of the mantel. The weight of the garland is being supported by the mantel itself. The hooks just hold it in place. Next we tucked in snowy magnolias and jumpier stems. Finally I dressed the whole garland with a mix of ornaments from the tree. I used these hooks to attach the ornaments. We used pliers to pinch the hook shut to ensure they won't fall off the garland.

To complete the look, we added a mix of some of my favorite ginger jars to the top and bas of the mantel.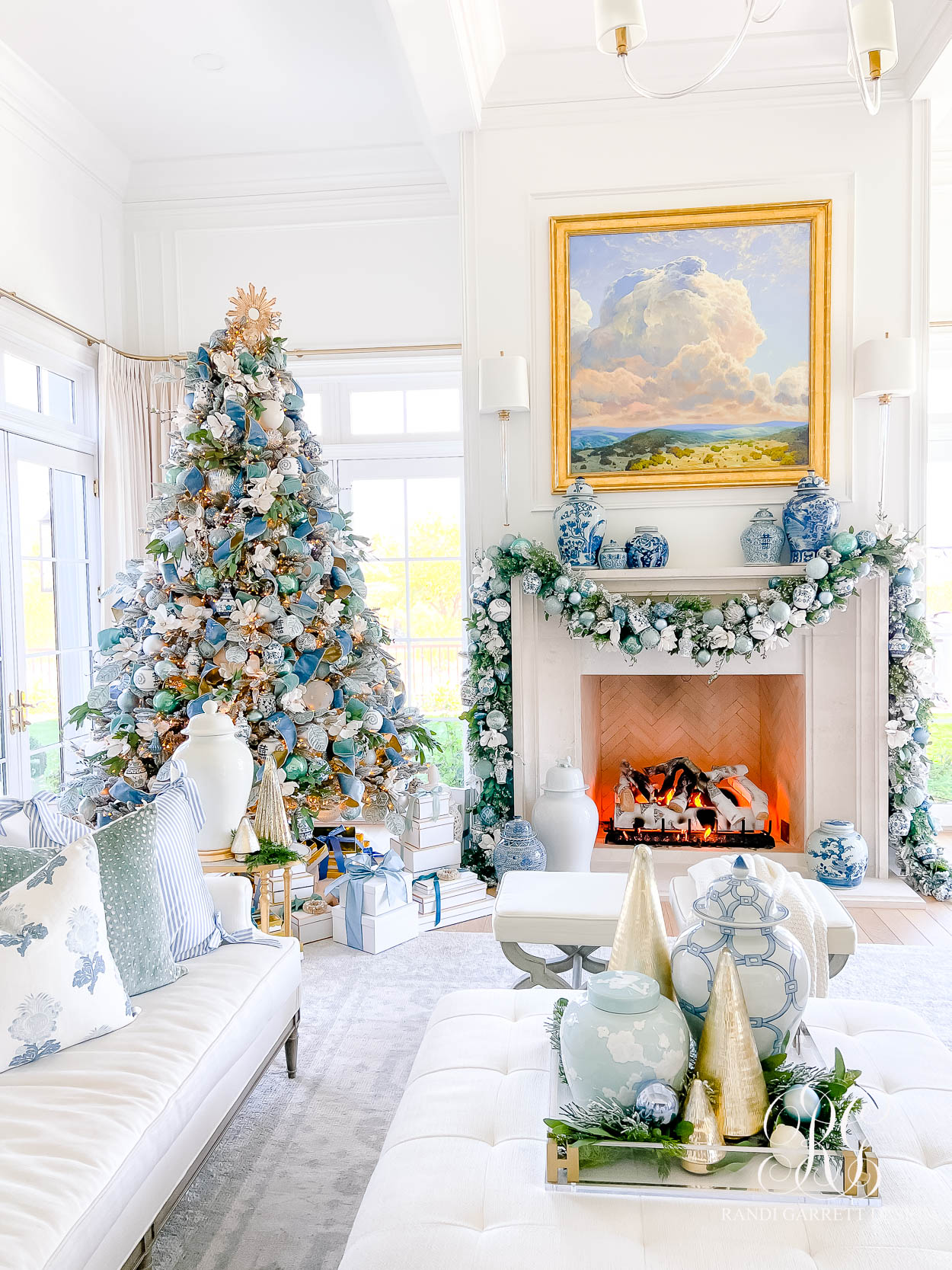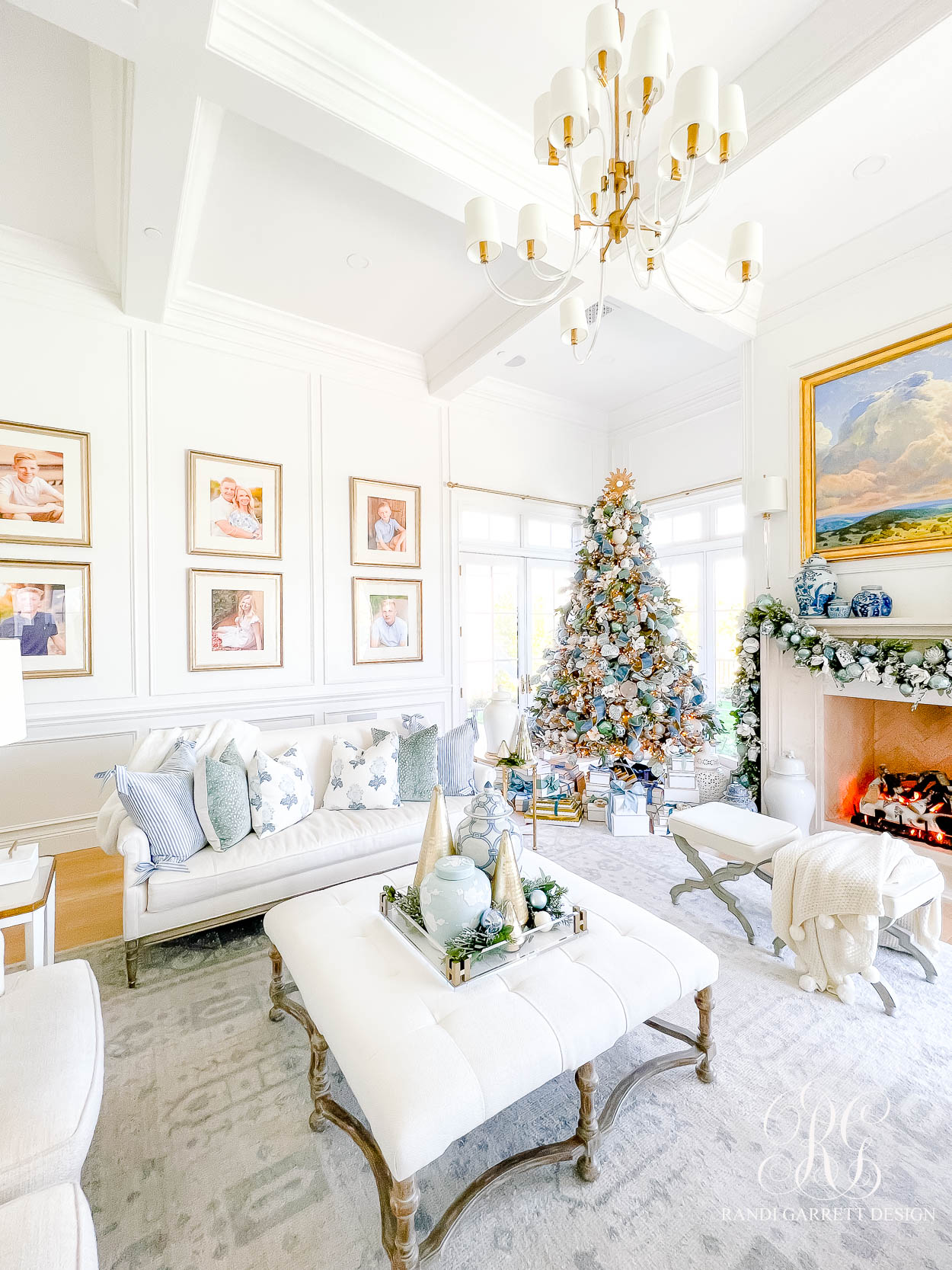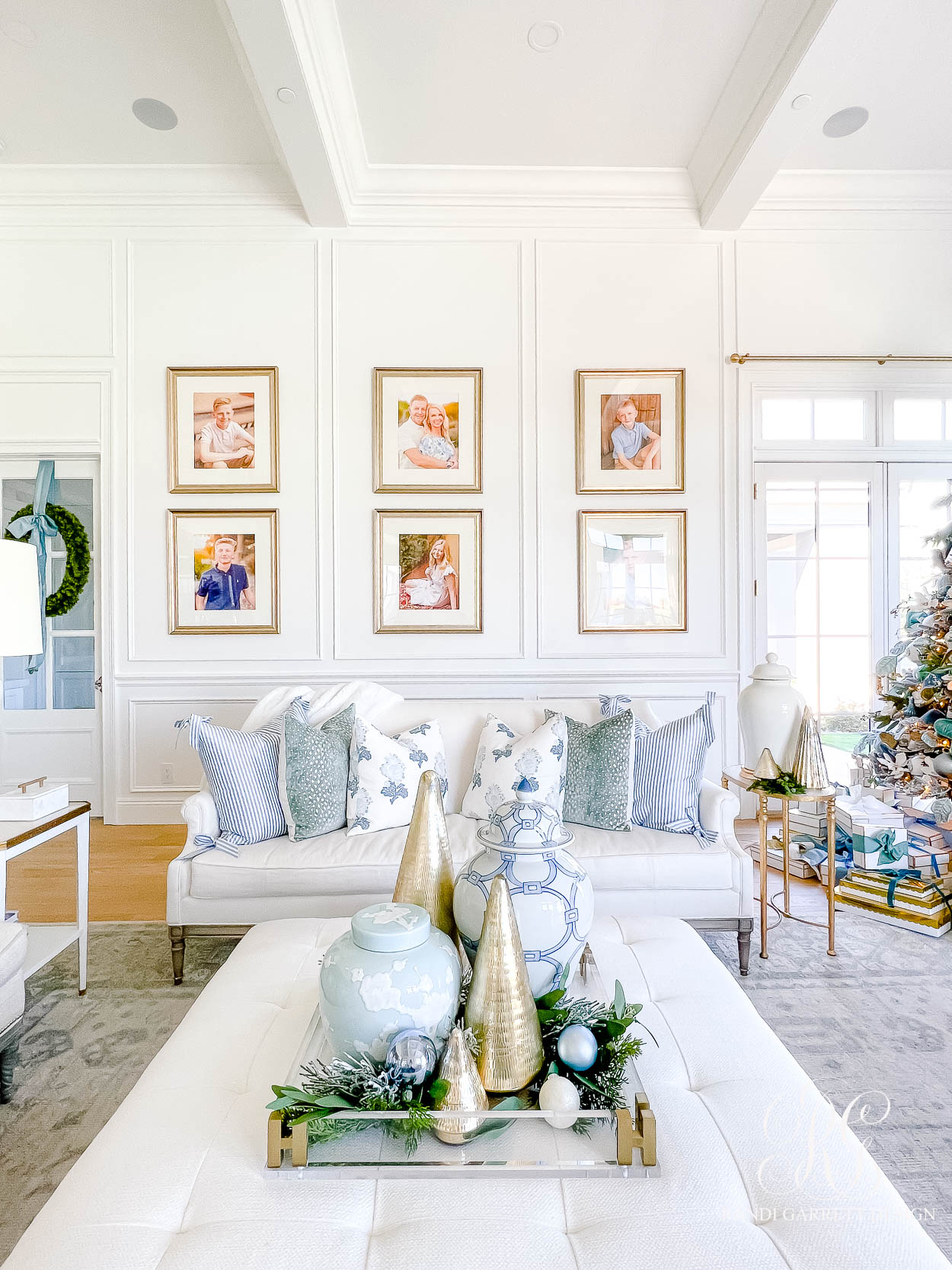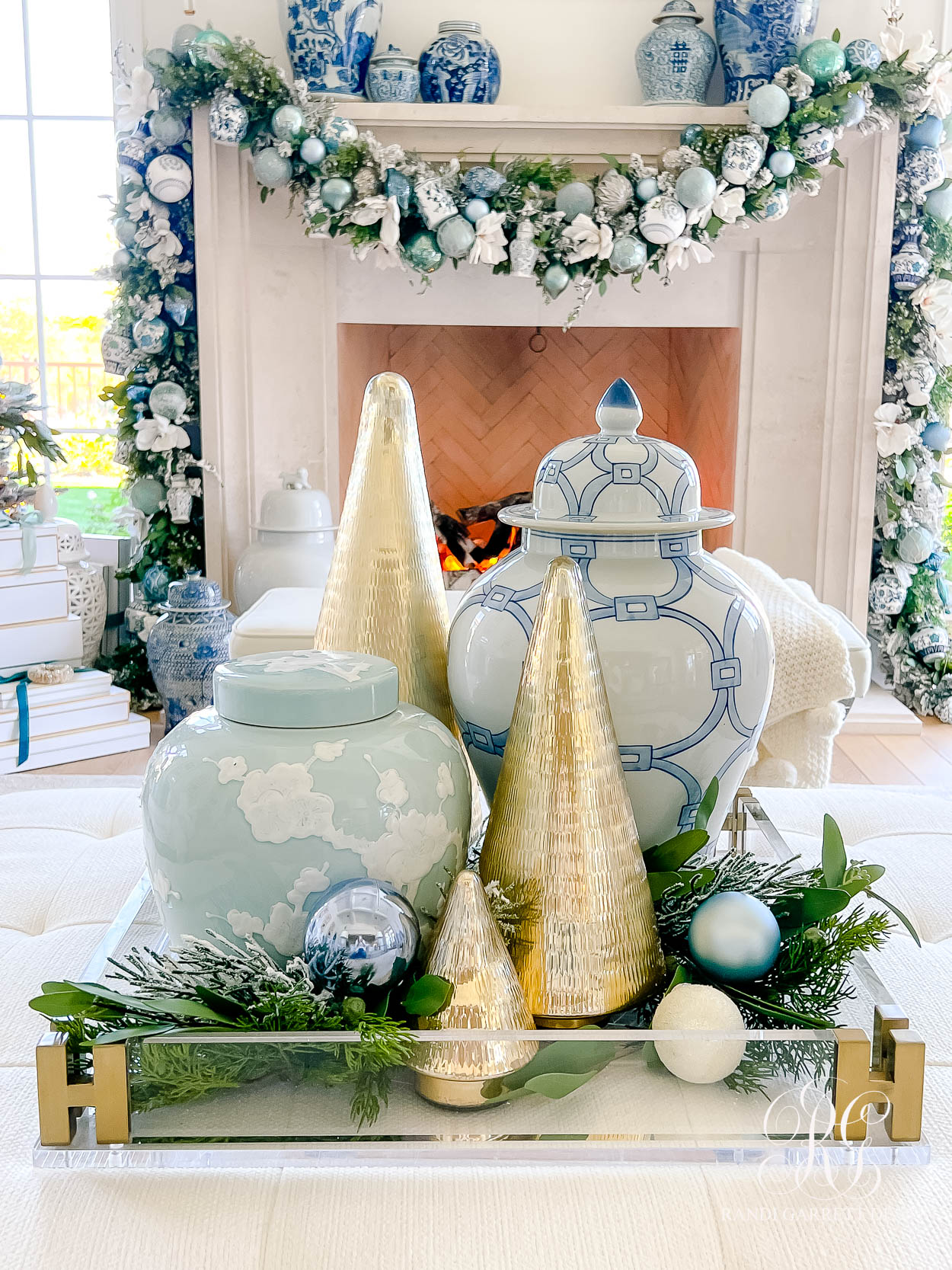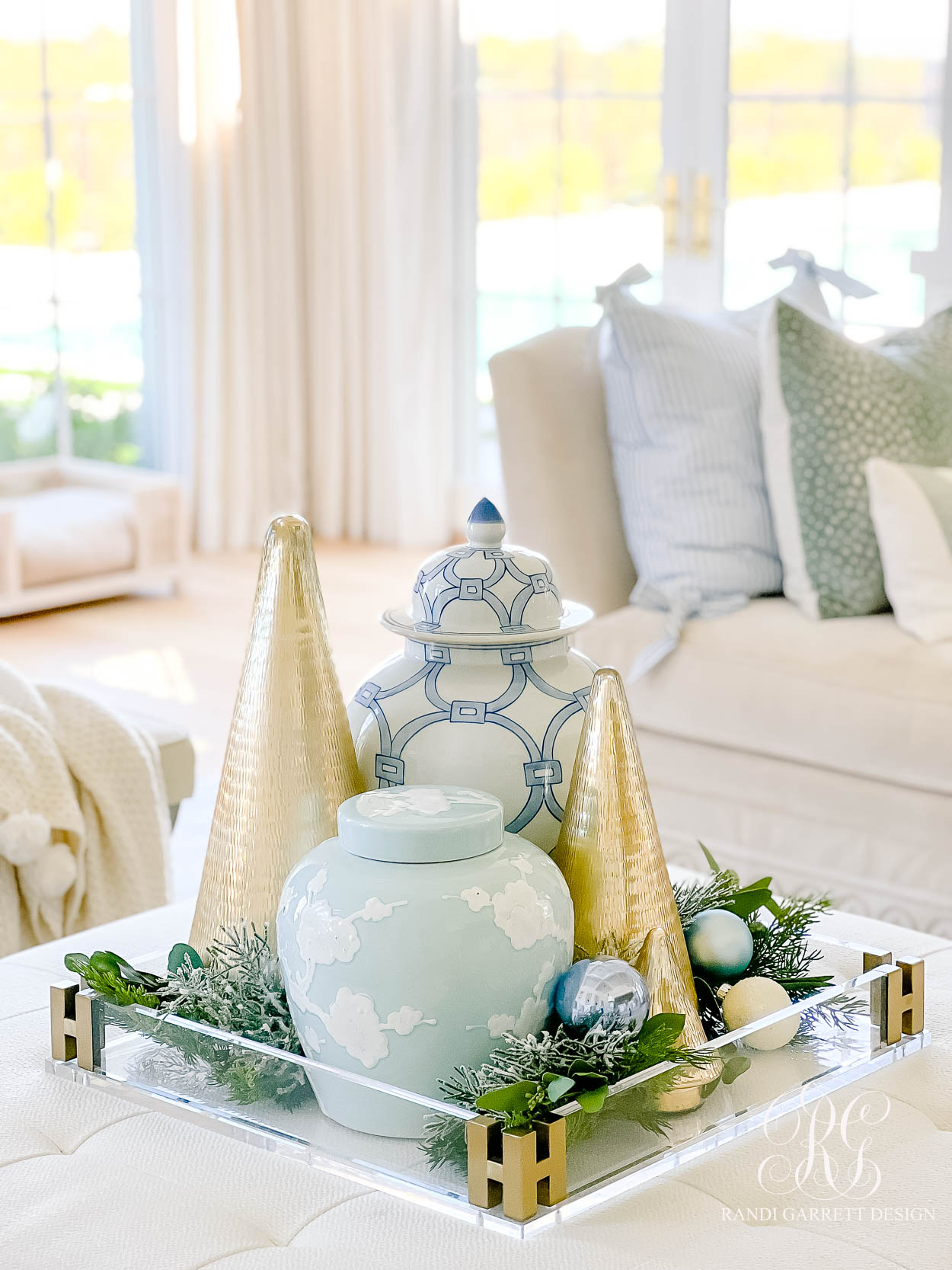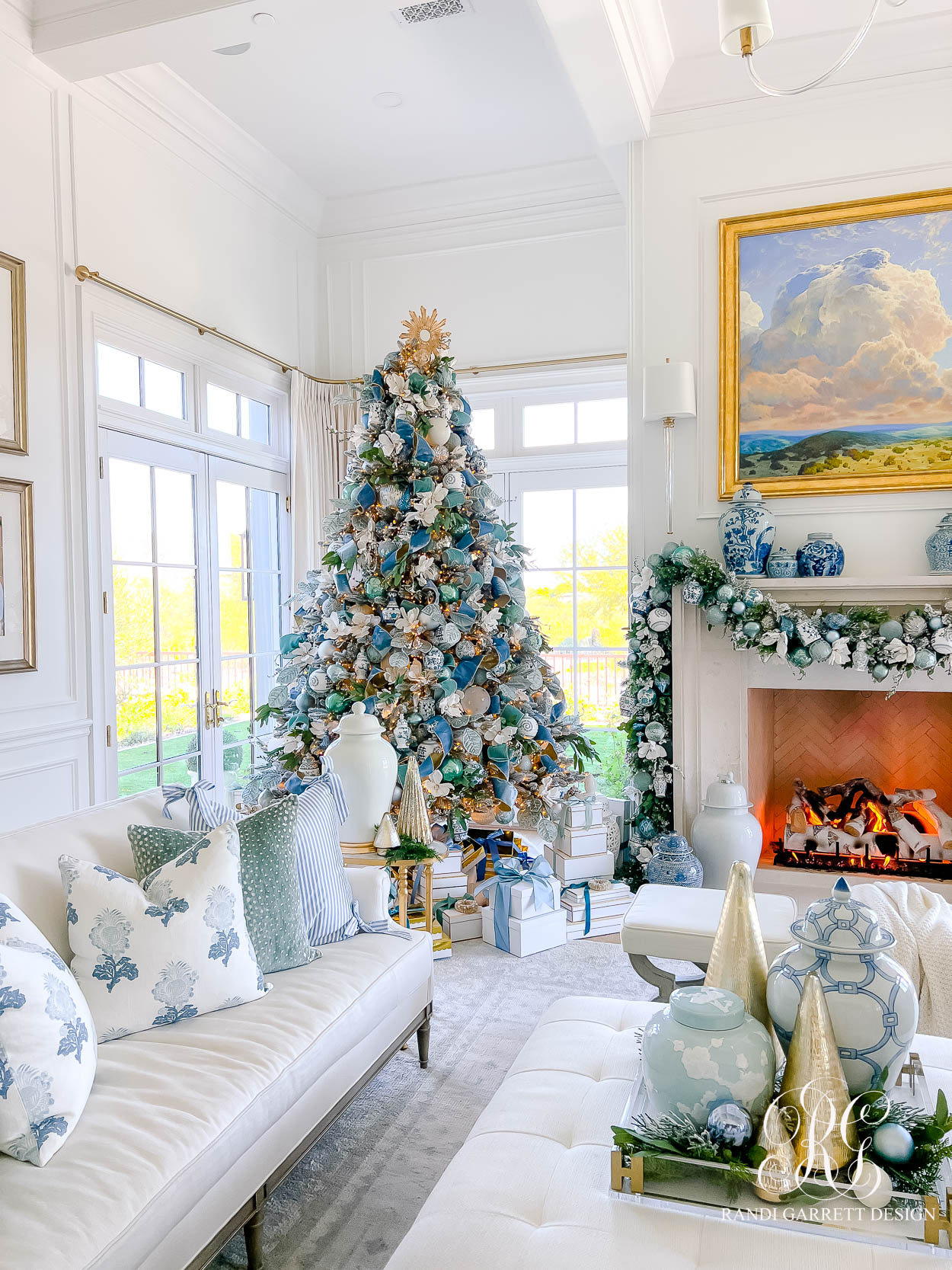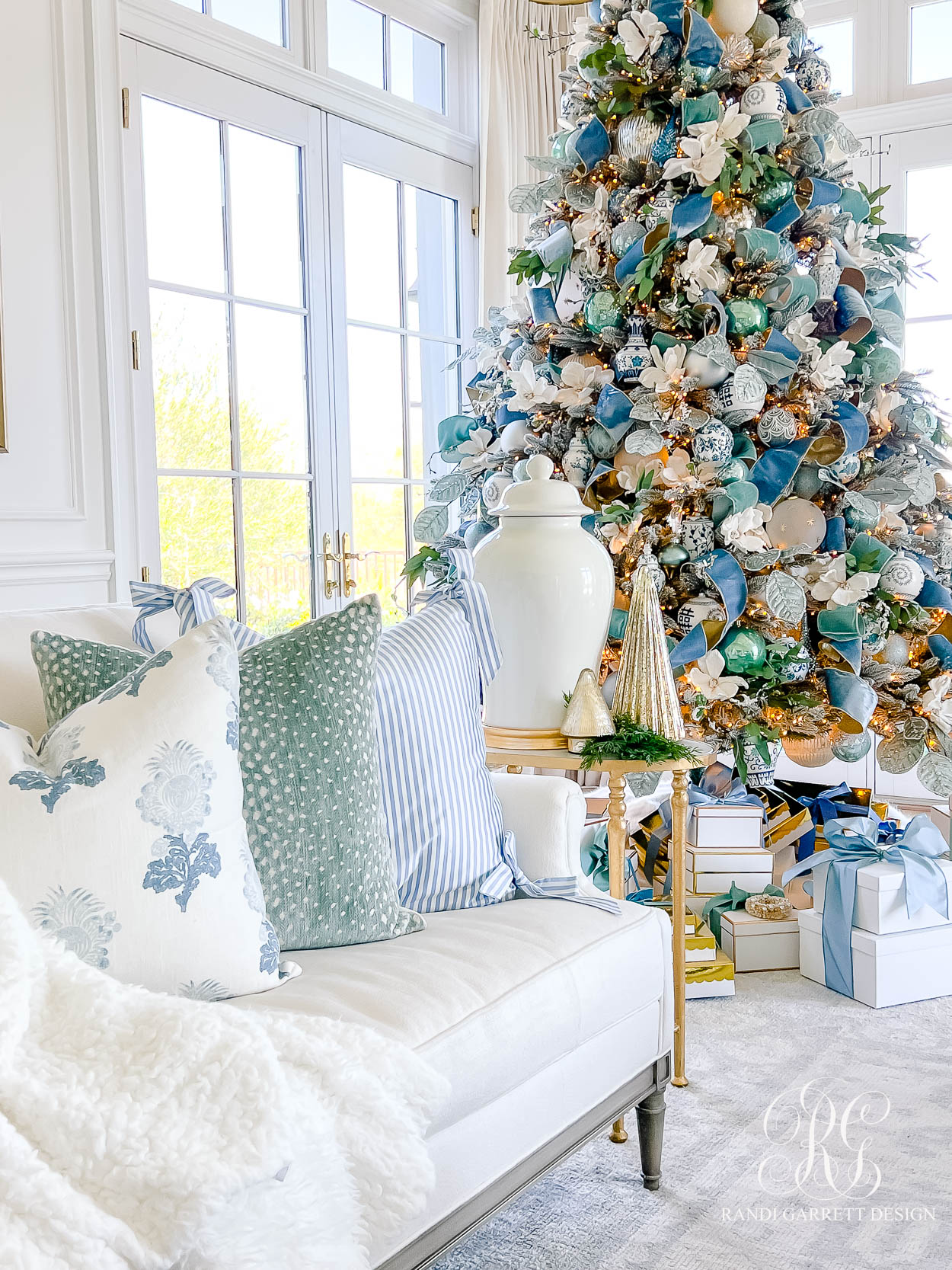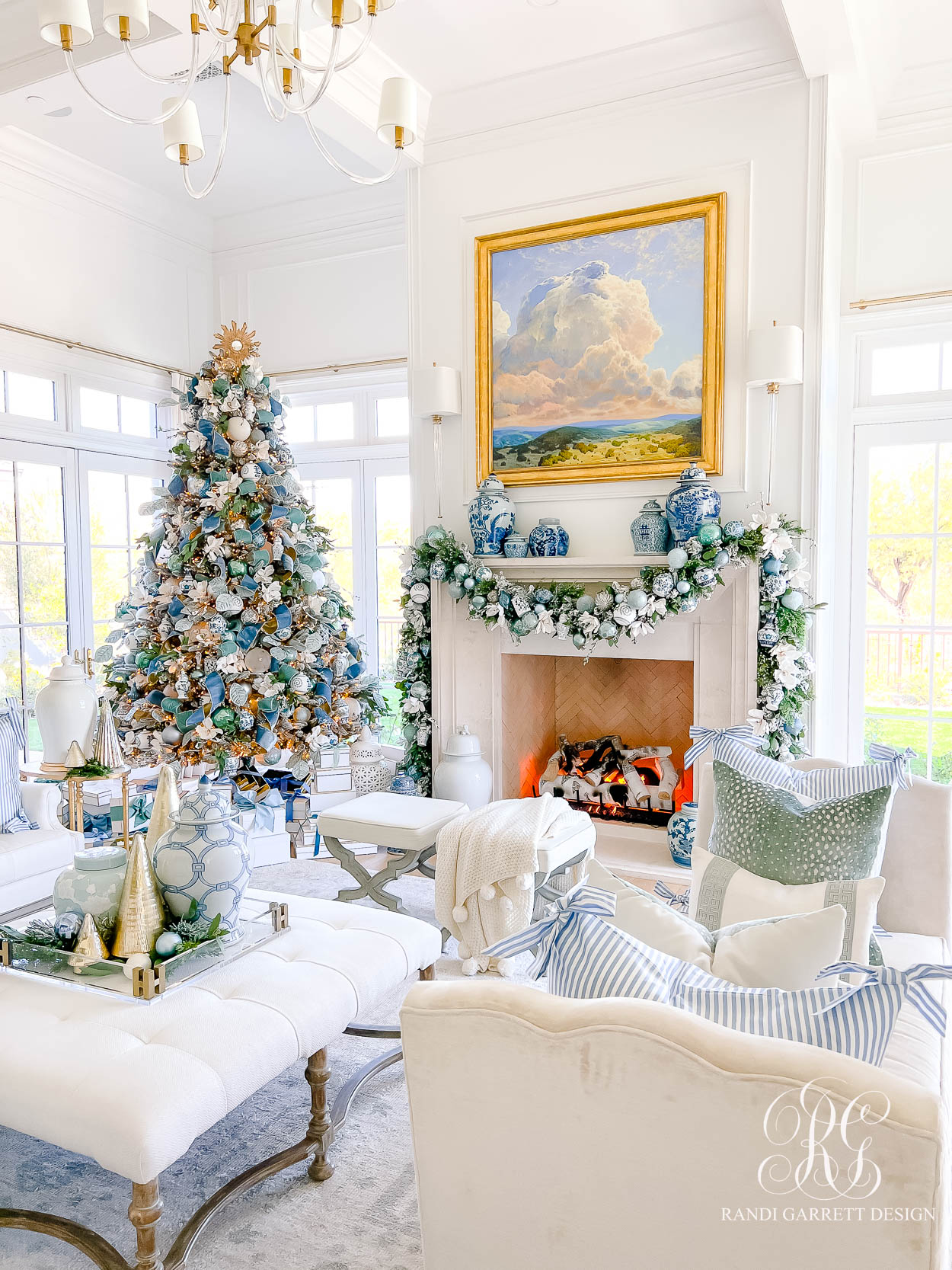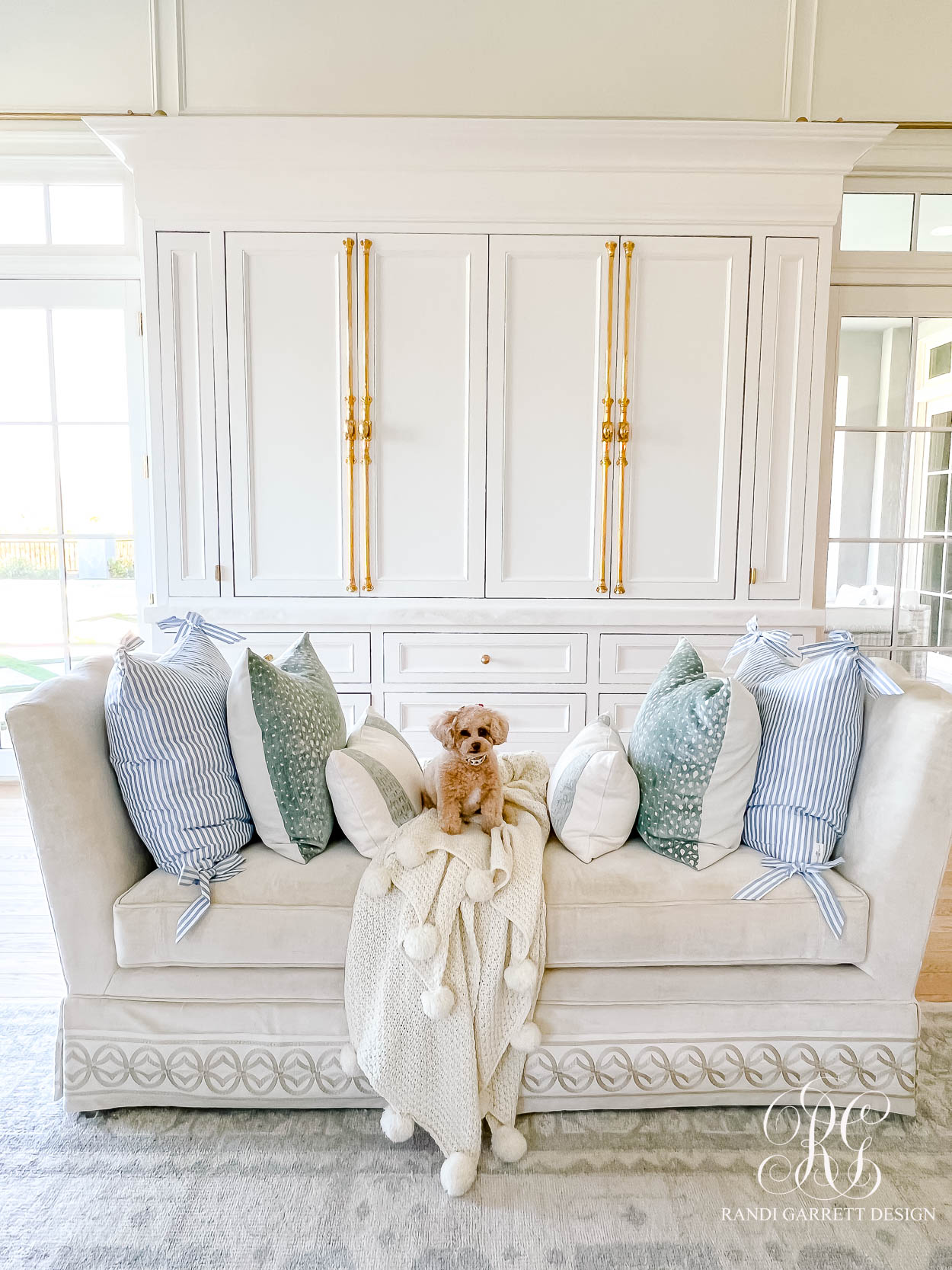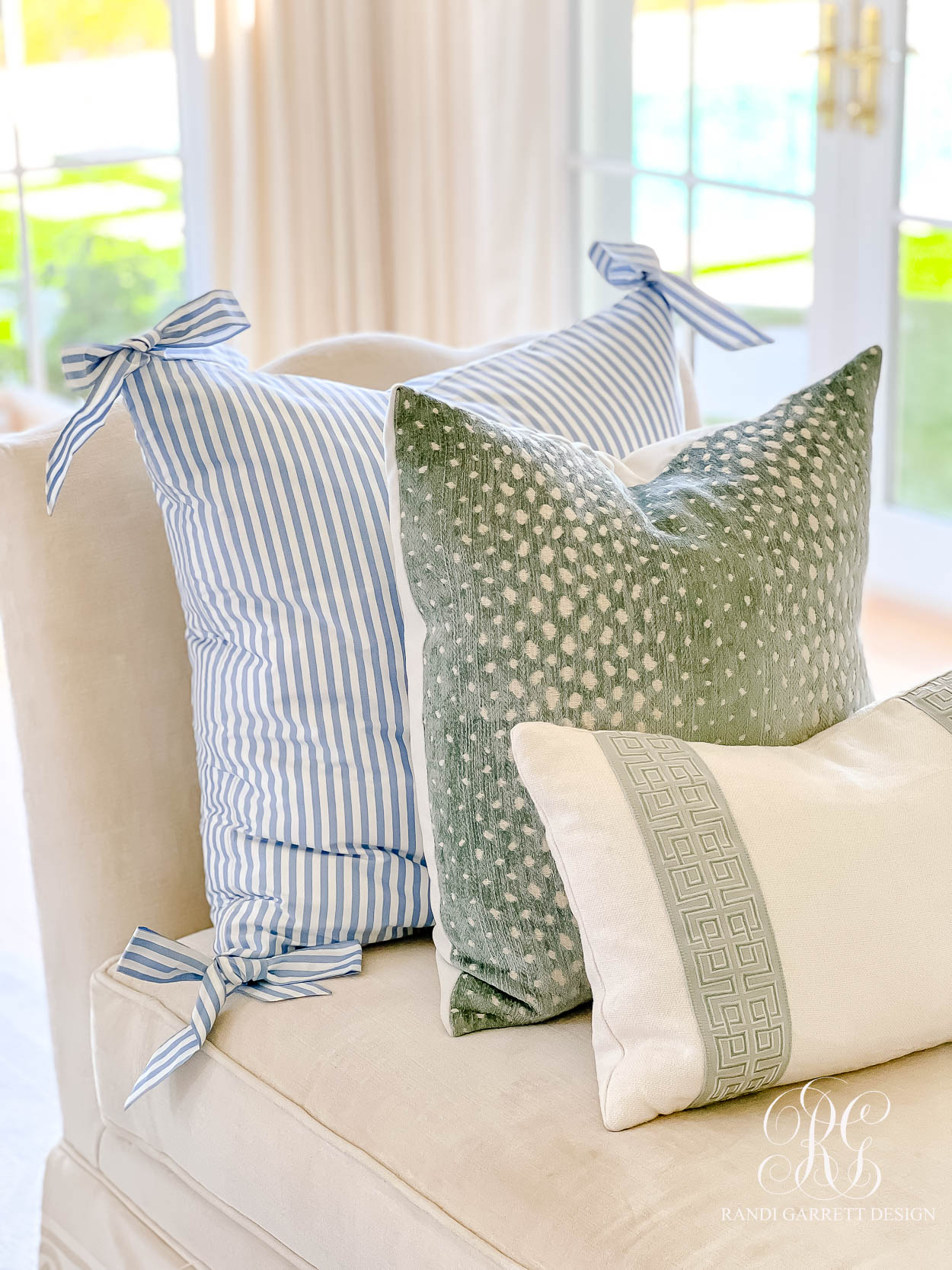 I love having fun with pattern and color when it comes to throw pillows! Remember this designer pro tip, mix a large, medium and small print and use a high quality insert that is 2″ LARGER than your pillow sham. These are the pillows I used in our Blue and White Christmas Family Room…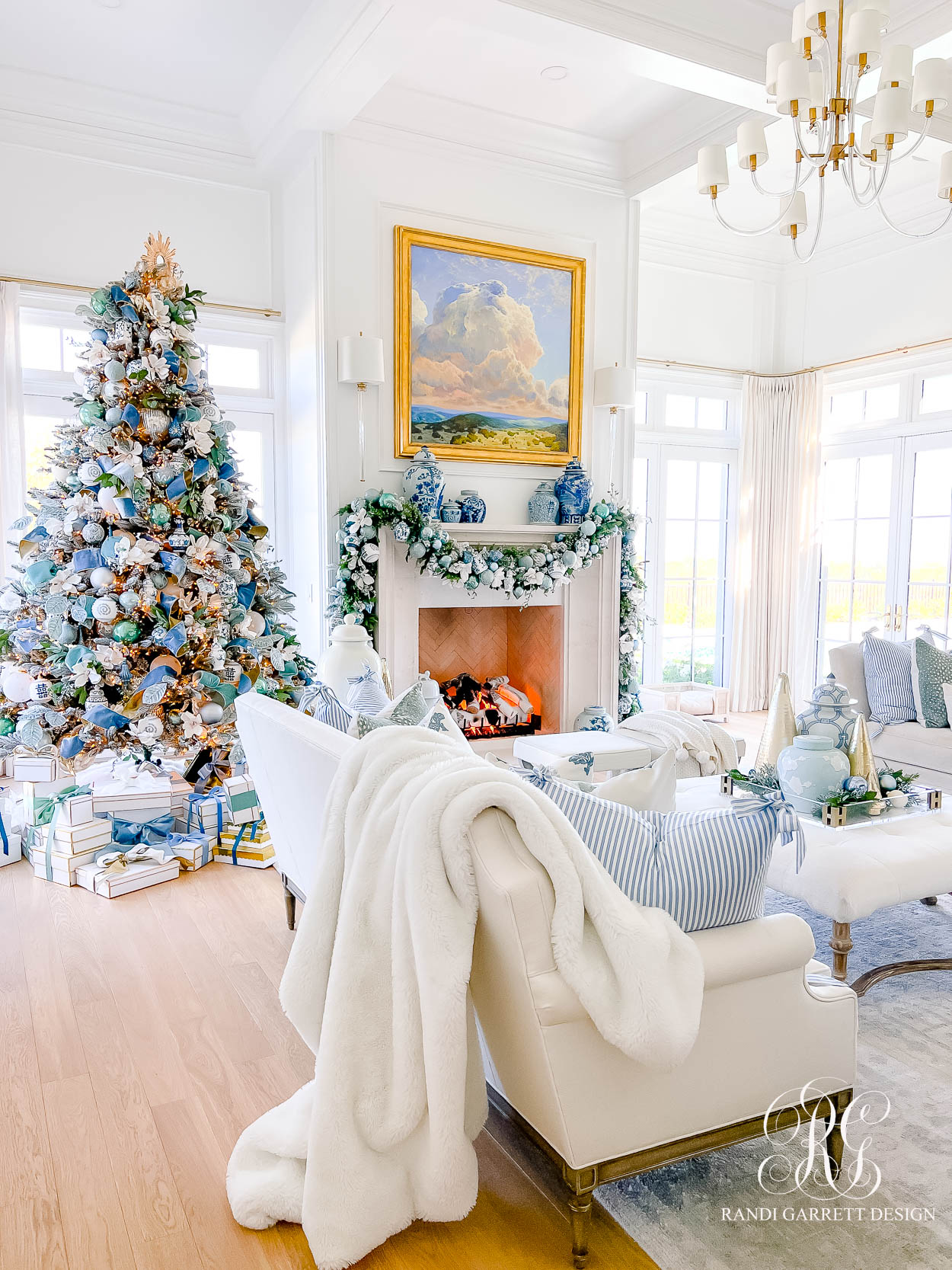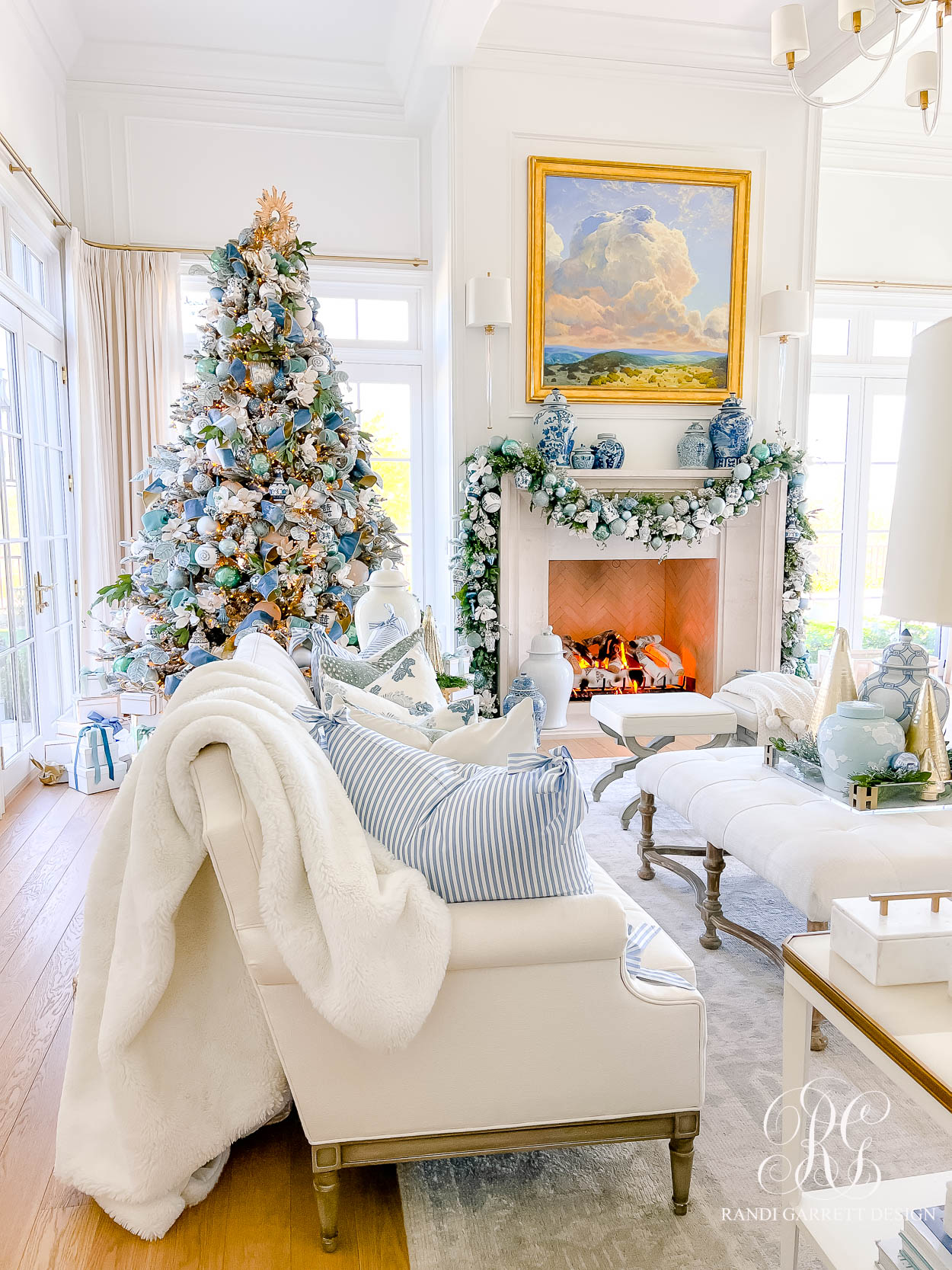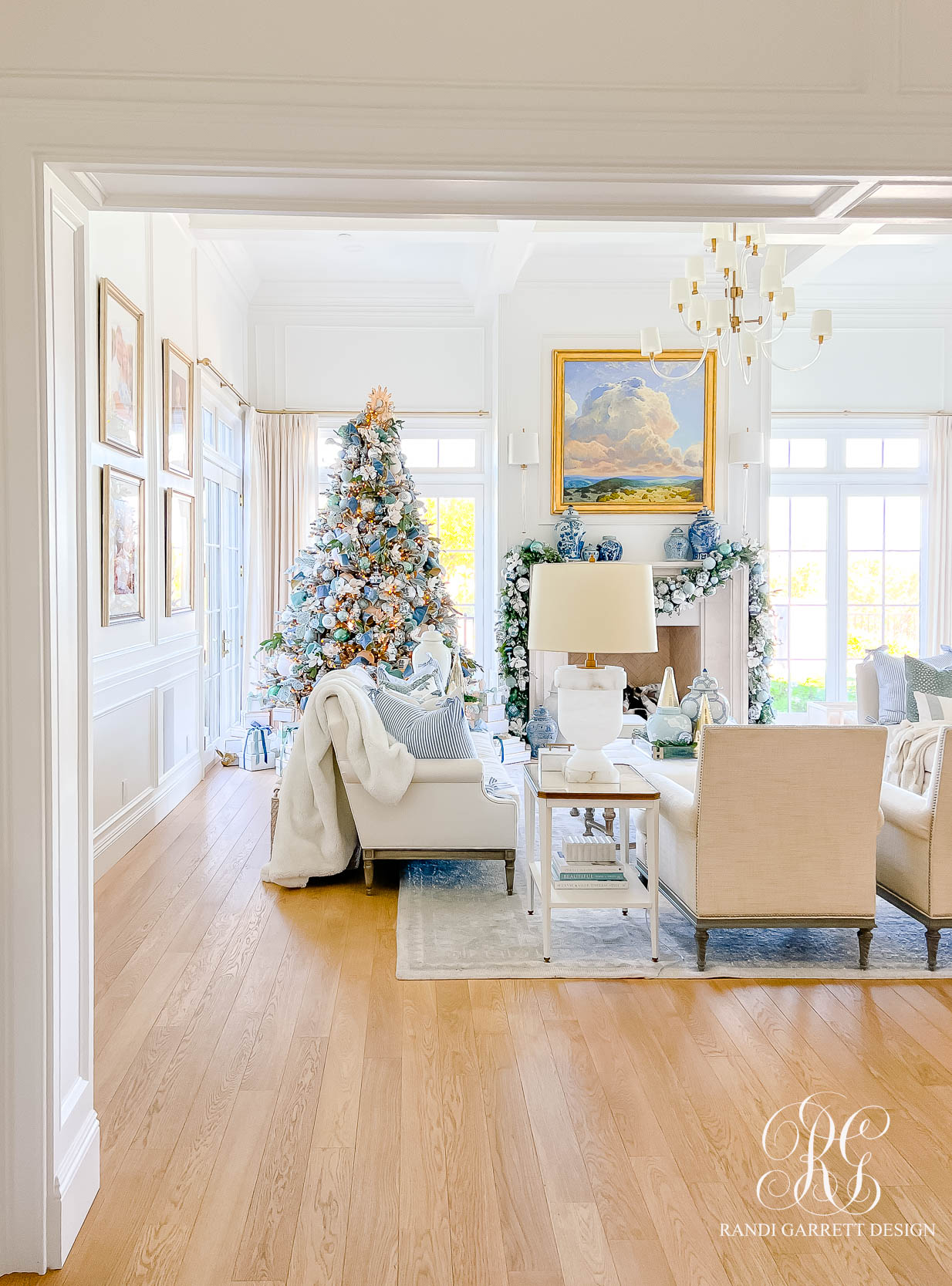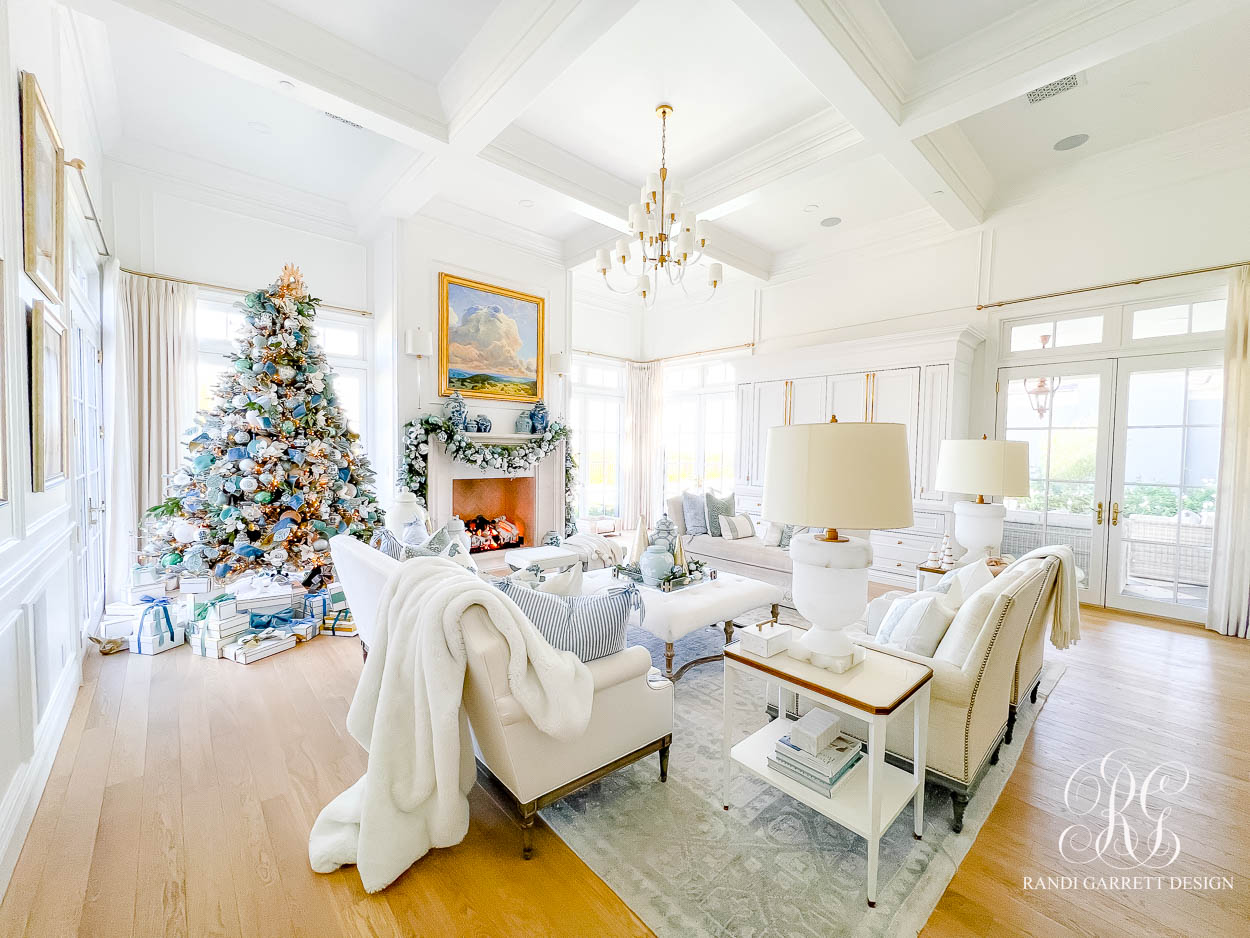 Please visit tomorrow to see a few more spaces styled for Christmas! All of the sources from our Family Room are below. Just tap on the photo.