We've all heard of wardrobe capsules. A small collection of clothes that can be mixed and matched over and over to create fresh new fashion looks. Well, today I want to share my Christmas Tree Capsule with you! This will help you create your own collection of basic Christmas decorations you can mix and match every year. Sprinkle in a few new pops of color and some new ribbon to create a fresh new look every year without having to buy EVERYTHING brand new. This Christmas Tree Capsule will help you decorate for years to come!
You may also enjoy watching my video tutorial on how I decorate my Christmas tree every year!
This post contains affiliate links. Read my disclosure policy here.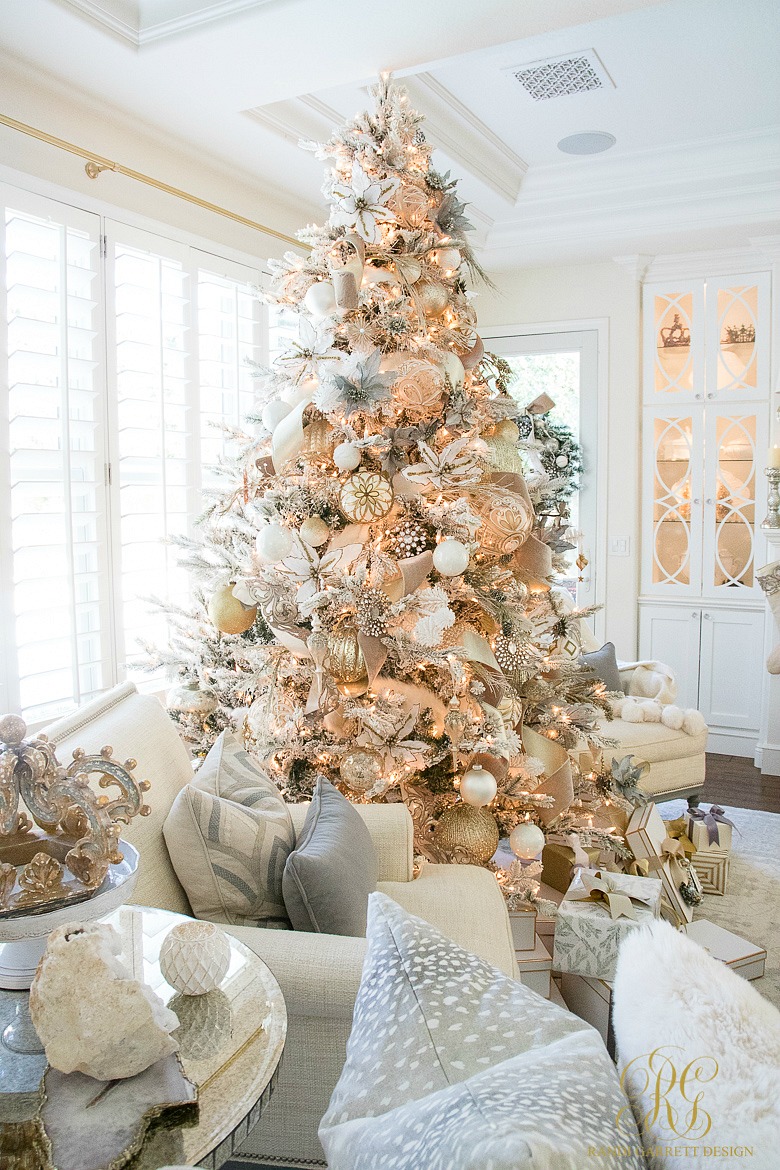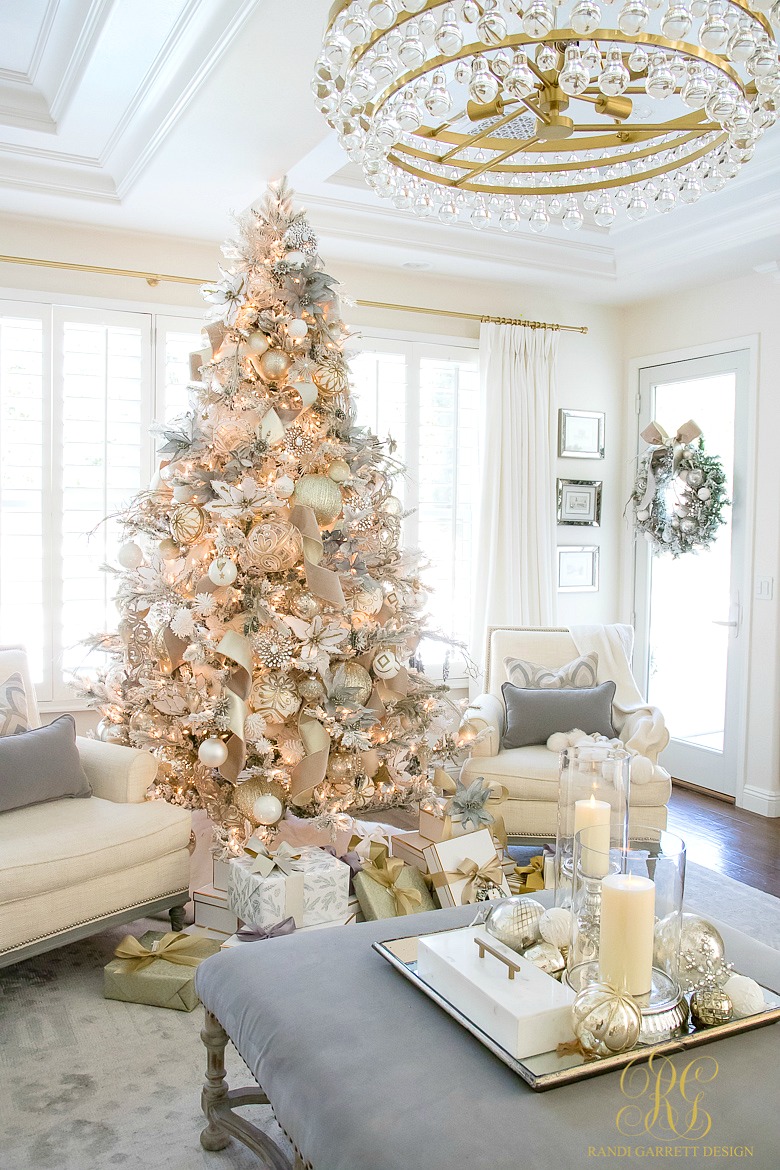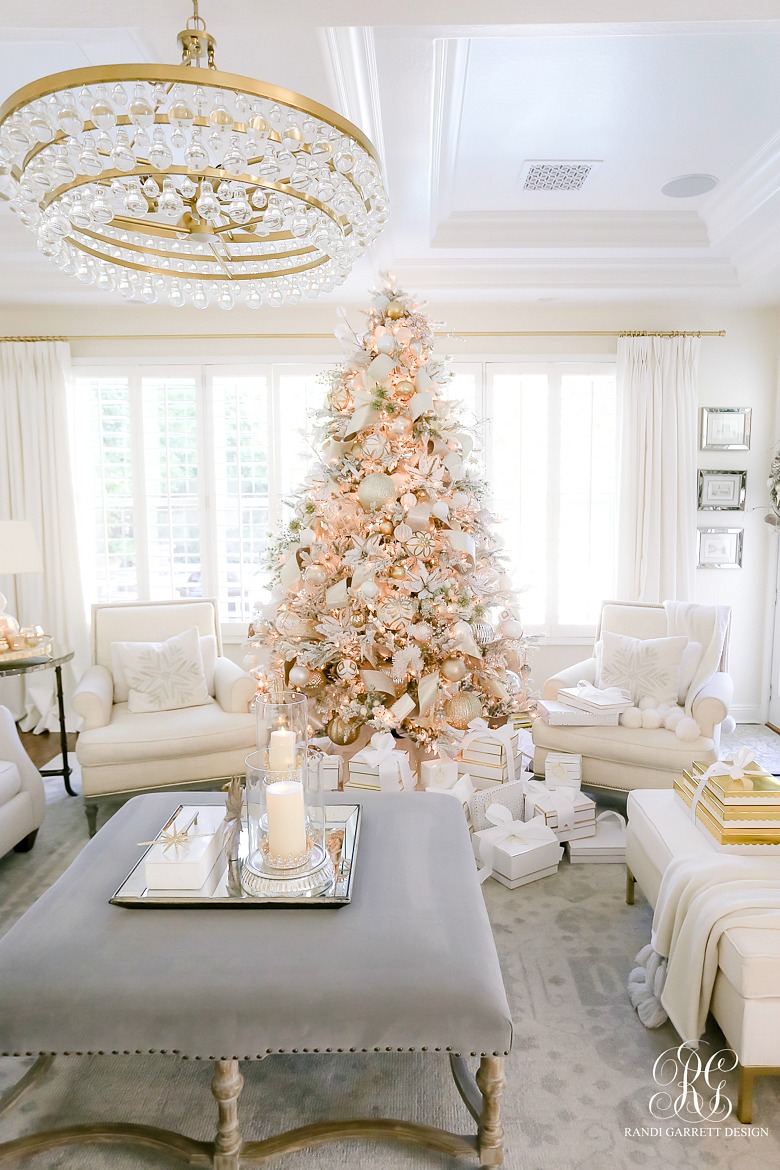 Christmas Tree Capsule
Tree
First, you need a good quality Christmas tree that will last for years! Here is a link to my exact 9ft tree ! I have had several trees over the years. This is by far my favorite! The flock doesn't shed and the lights and branches are amazing quality. Here are a few other beautiful options…

Fur Ribbon
I love using this fur ribbon on my flocked tree to make it feel even more snowy and magical. I use 6 rolls on my 9 foot tree. Tuck it into the center of your tree wrapping it from the bottom to the top.
Picks
Picks add a lot of punch to your tree! I like to use at least 5 types of picks (8-12 of each type). These can be used year after year and will take on a new look by grouping them together or scattering them around.

Ornaments
Next, a collection of base ornaments. These are the neutral ornaments you will be using year after year, then mixing in a splash of color or pattern each year.
Here is a simple formula to help you calculate how many ornaments you will need for your tree.
Trees under 9 feet need about 10-15 ornaments per foot in a variety of sizes.
Trees over 9 feet need about 12-15 ornaments per foot in a variety of sizes.
My tree is 9 feet tall so I use about 120 ornaments. For my tree I use…
10-15 Large Ornaments
50-75 Medium Ornaments
20-25 Small Ornaments (this is where I like to add a splash of color or pattern)
Here are some of my favorite ornaments basic and accent ornaments!

Pieces to add to your capsule every year to create a different look each year.
Flower Stems
Using different florals on your tree each year can give your tree an entirely different look! Use between 15-20. Here are some of my favorite…

Ribbon
The finishing touch, the ribbon! You have too watch my video tutorial on how I add ribbon to my tree! You will be shocked at how simple it is to add ribbon to your tree with my simple trick and how much ribbon you will save! I only use 10 yards on my 9 foot tree – about 2 rolls of ribbon. Since I only need 2 rolls, I buy really special ribbon to make my tree extra special!
Below are some of my favorite ribbon for this season…

Topper
Top your tree with a traditional tree topper!

I hope you can use these tips to start your own Christmas Tree Capsule for your house! Happy decorating!!!