It's time for my favorite party of the year – My Christmas Favorites Party + My Favorite Things! If you want to know how to host a Favorites Party, read my How to Host a Favorites Party post. You can throw this party anytime of year, but it is especially fun at Christmastime.
I invited some of my favorite girls friends, served some of my favorite food and decorated the house with some of my favorite decor! This year was extra special because a few of my favorite brands sent me some of my favorite things to give to my guests! It was such a fun night.
One tip I would give you – have a friend be in charge of taking candid photos of the guests. I didn't take a single photo of my favorite people because I was too busy playing hostess!
So, take a look at my Christmas favorites party, then throw one for your favorite people!
This post contains affiliate links. Read my disclosure policy here.
Christmas Favorites Party + My Favorite Things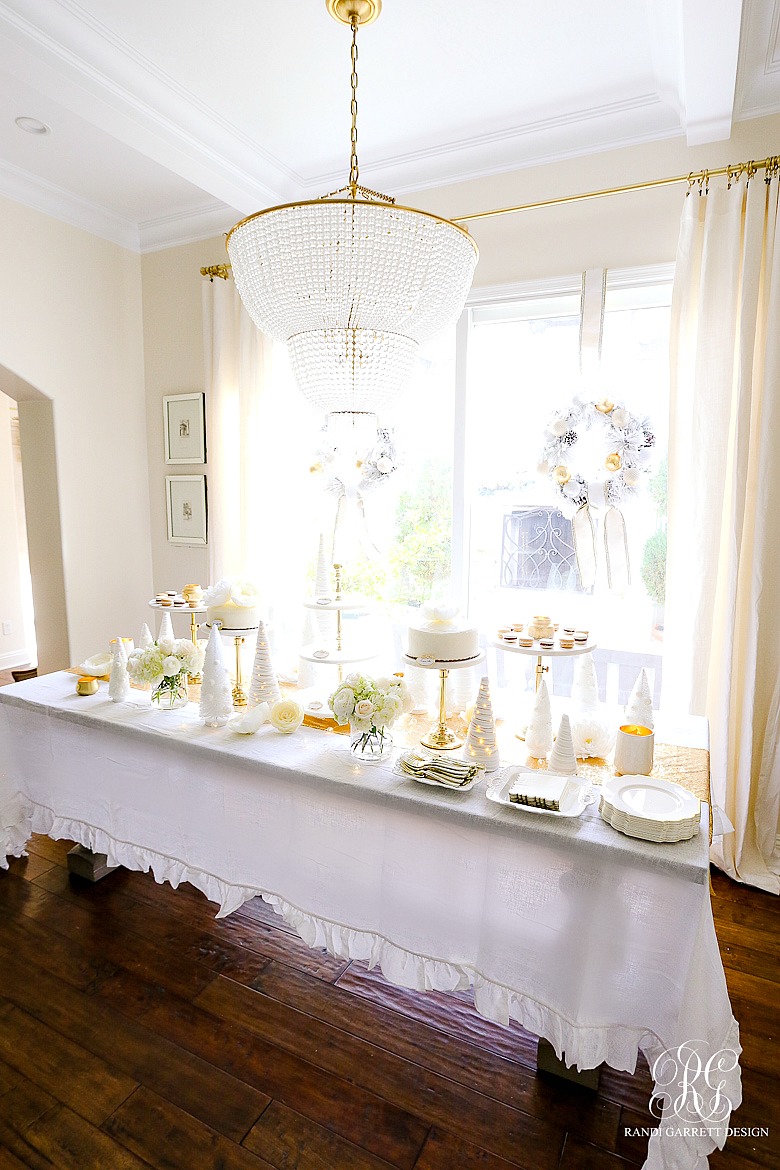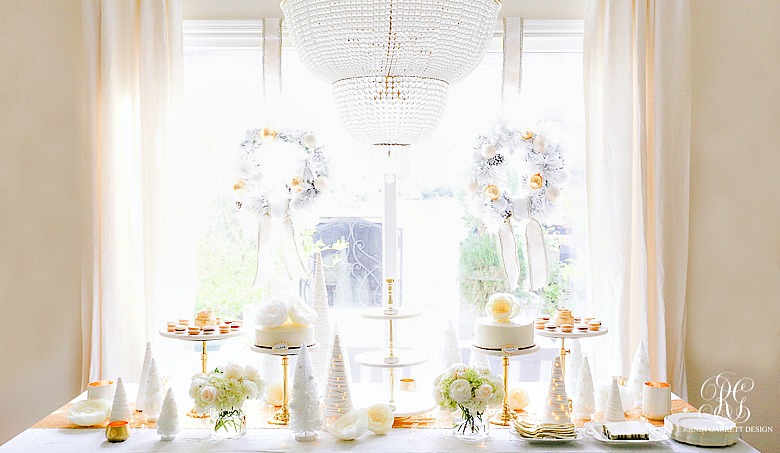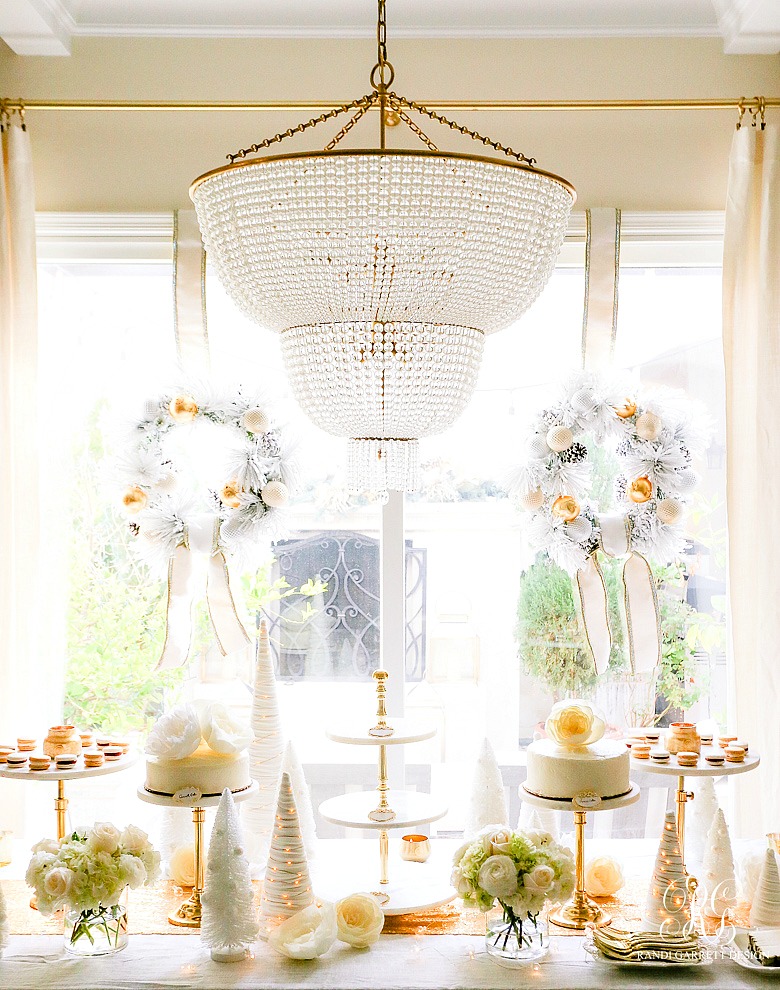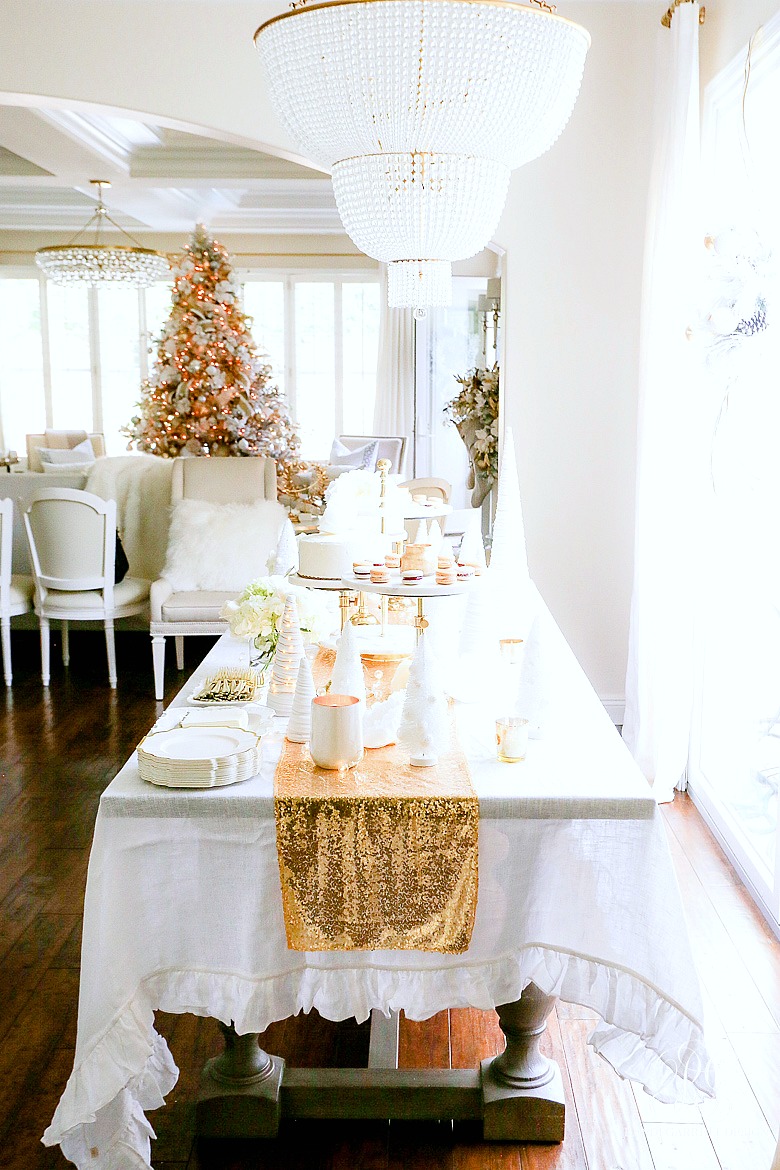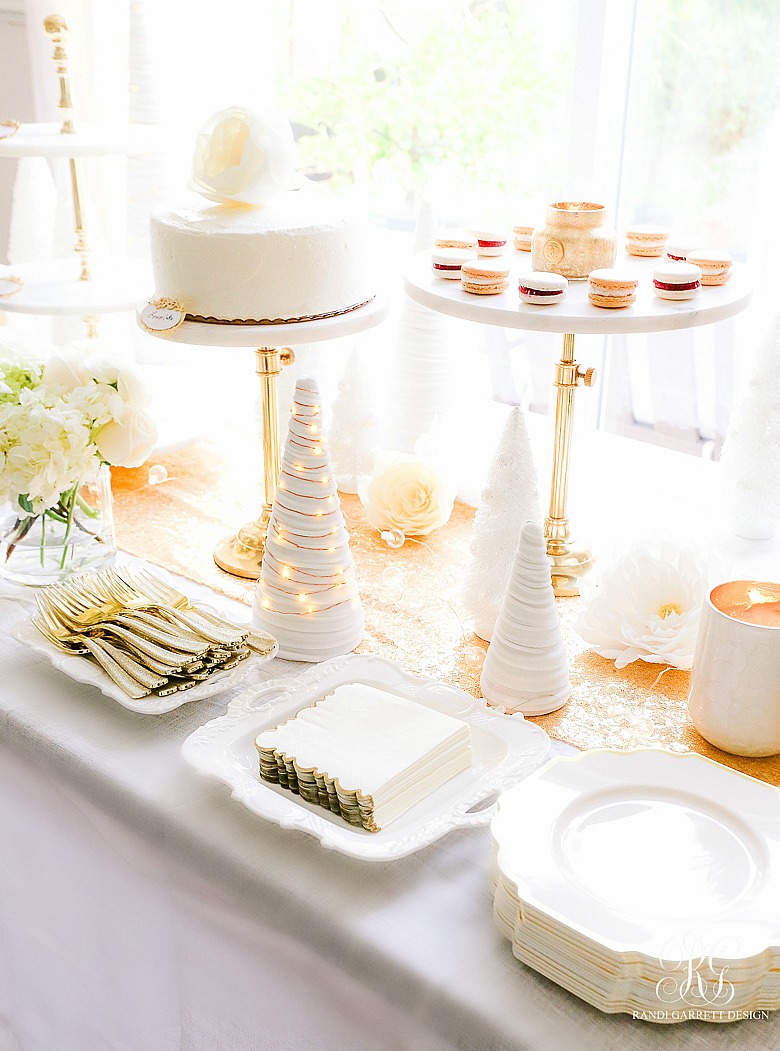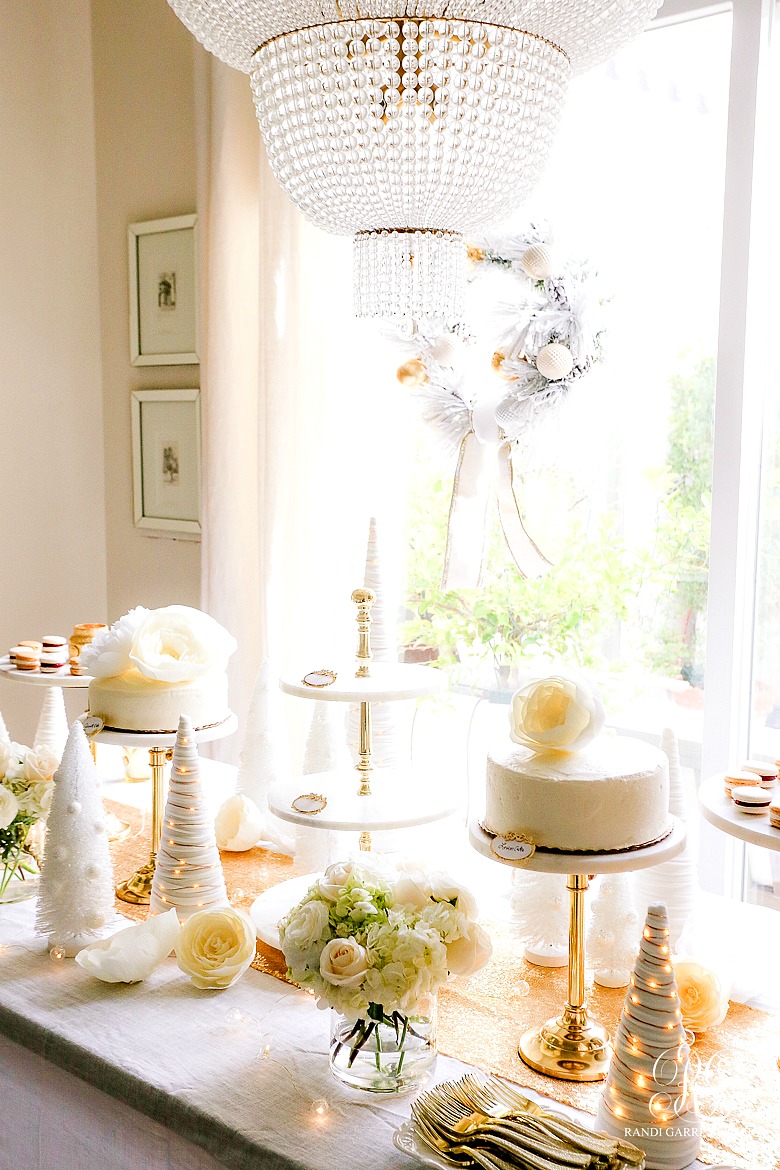 The Table Details
The table is dressed with my favorite ruffled tablecloth. I layered a gold sequin runner down the center of the table to add some drama.
Marble cake stands with shiny brass telescoping stands are the stars of the table! They are so stunning you guys!
A three tiered tray is the perfect piece to hold the finger food. Little gold oval frames hold papers that let guests know what each food is that is being served.
Glitter flatware, scalloped napkins and gold rimmed plates sit on small serving platters.
To make the table more special, I used velvet Christmas trees (I'll be sharing more about these in a post next week), and white bottle brush Christmas trees. I am in love with all of them!
Some handmade crepe paper peonies and paper roses add some whimsy to the table. Battery operated string lights draped around the trees and down the center of the table, make it feel magical.
I love to use fresh florals to make my parties extra special. Simple arrangements with white hydrangeas, white roses and some ranunculus finish the table off.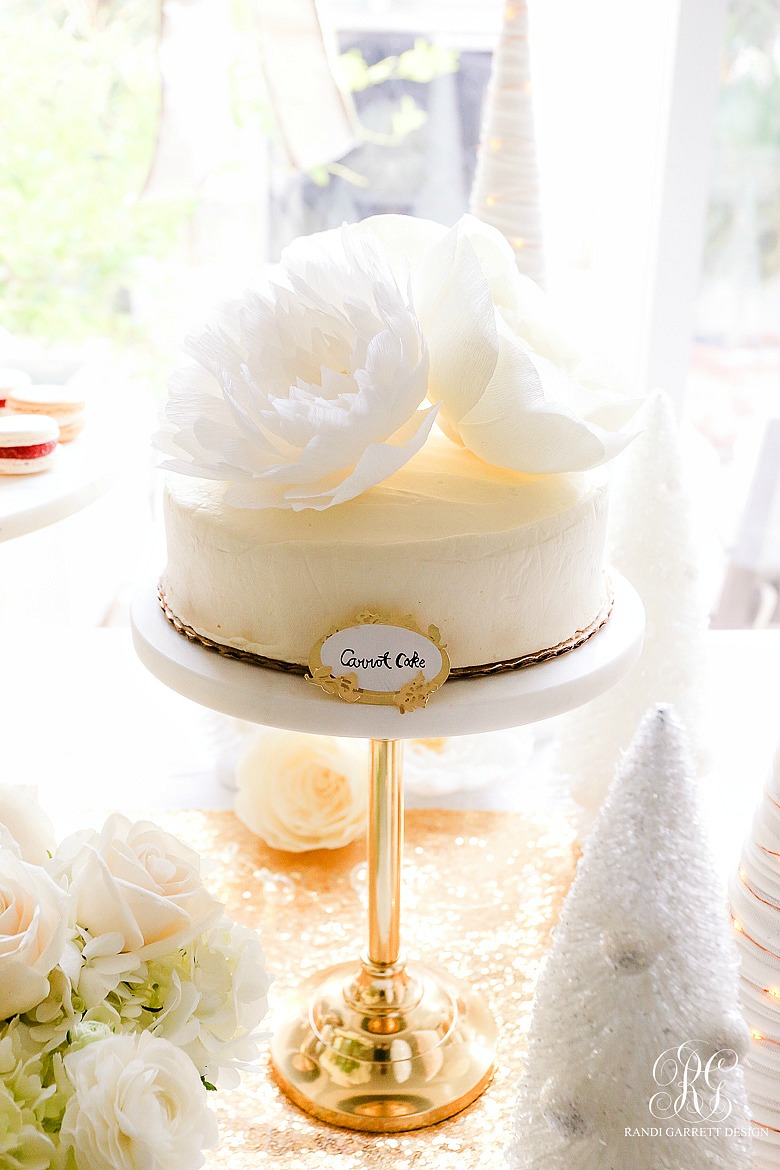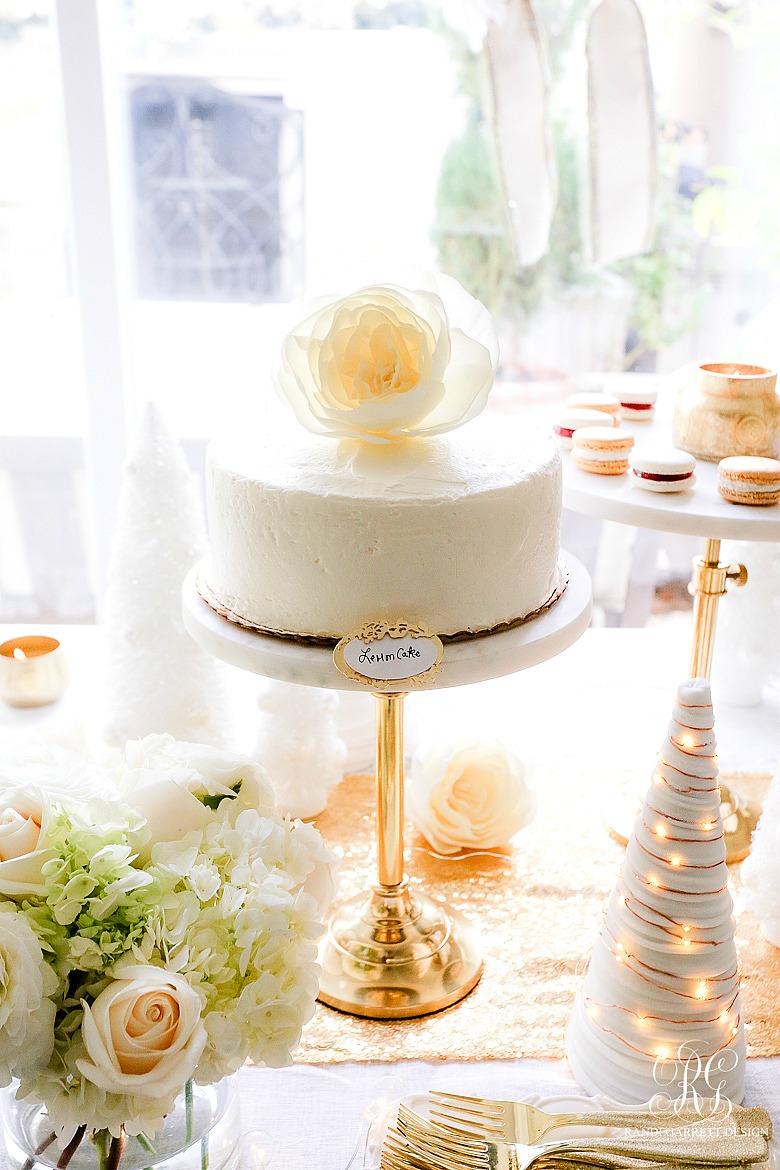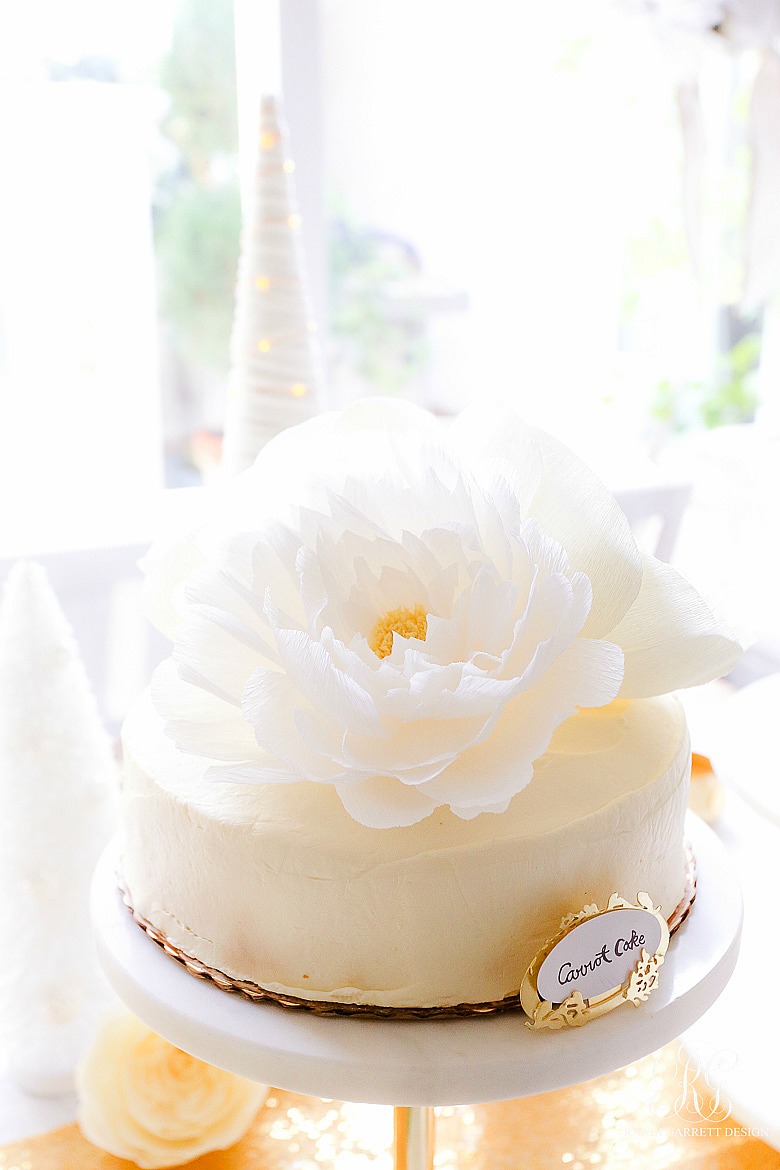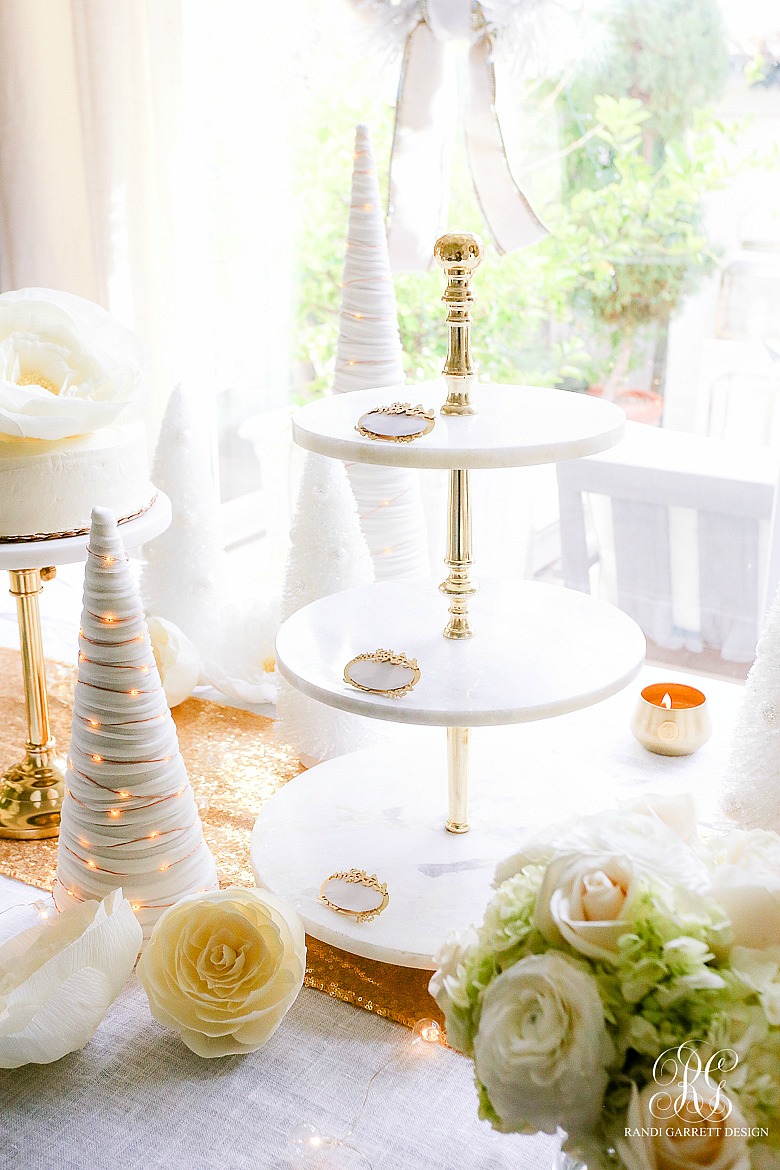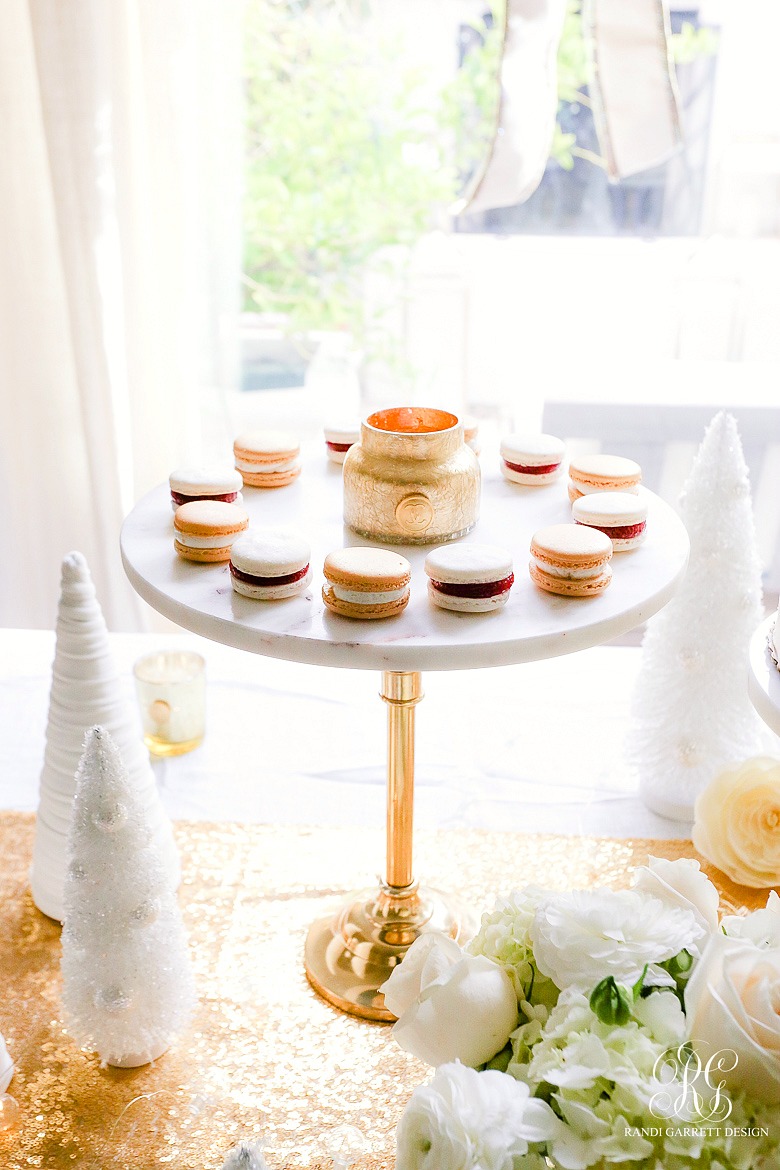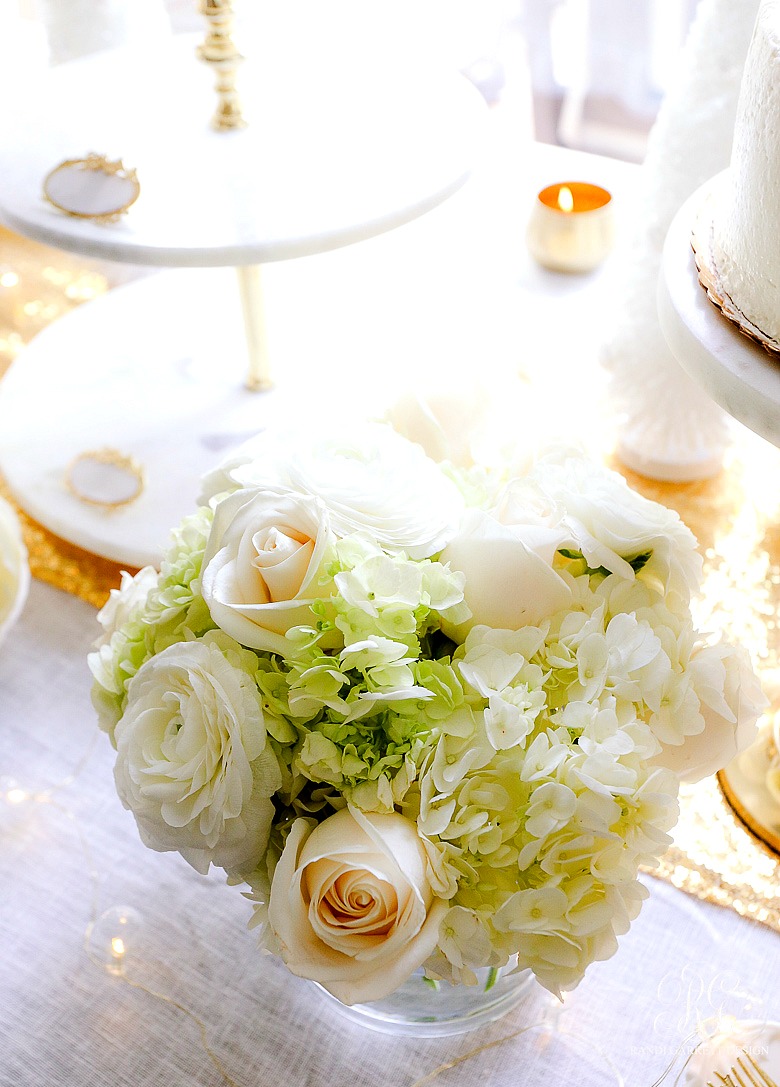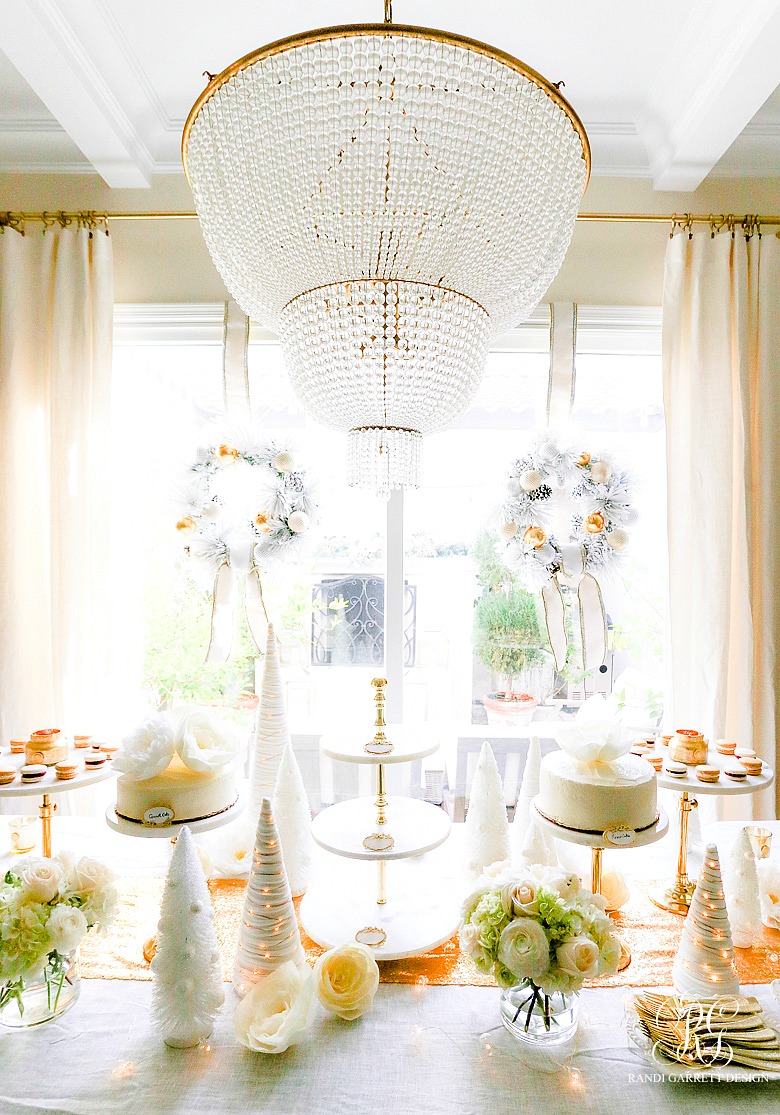 The Food
I served some of my favorite foods for this Christmas Favorites Party – lemon cake, carrot caramel cake, macarons, mini quiche, baked brie and some bacon wrapped dates. To make things easy on myself, I ordered the cakes and macarons online and picked up the finger foods at Trader Joe's.
I used these darling gold place card holders to label the food. They come with little papers too. Watch for them in next week's post too!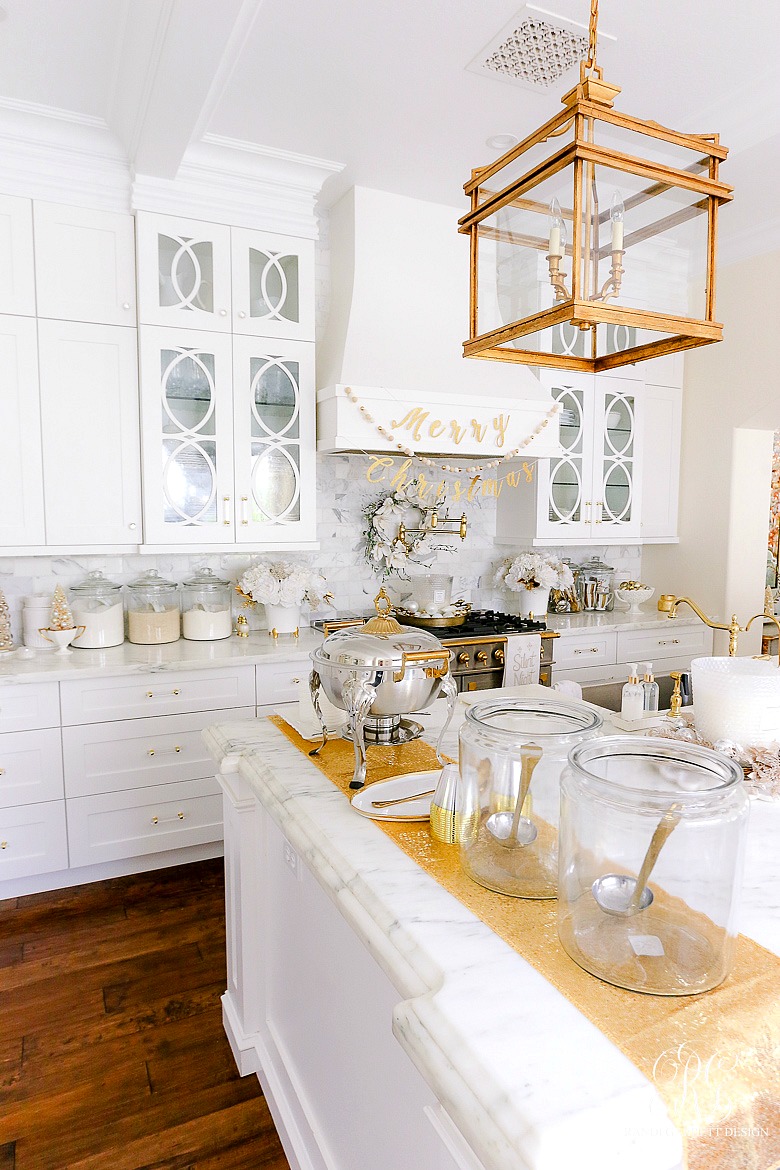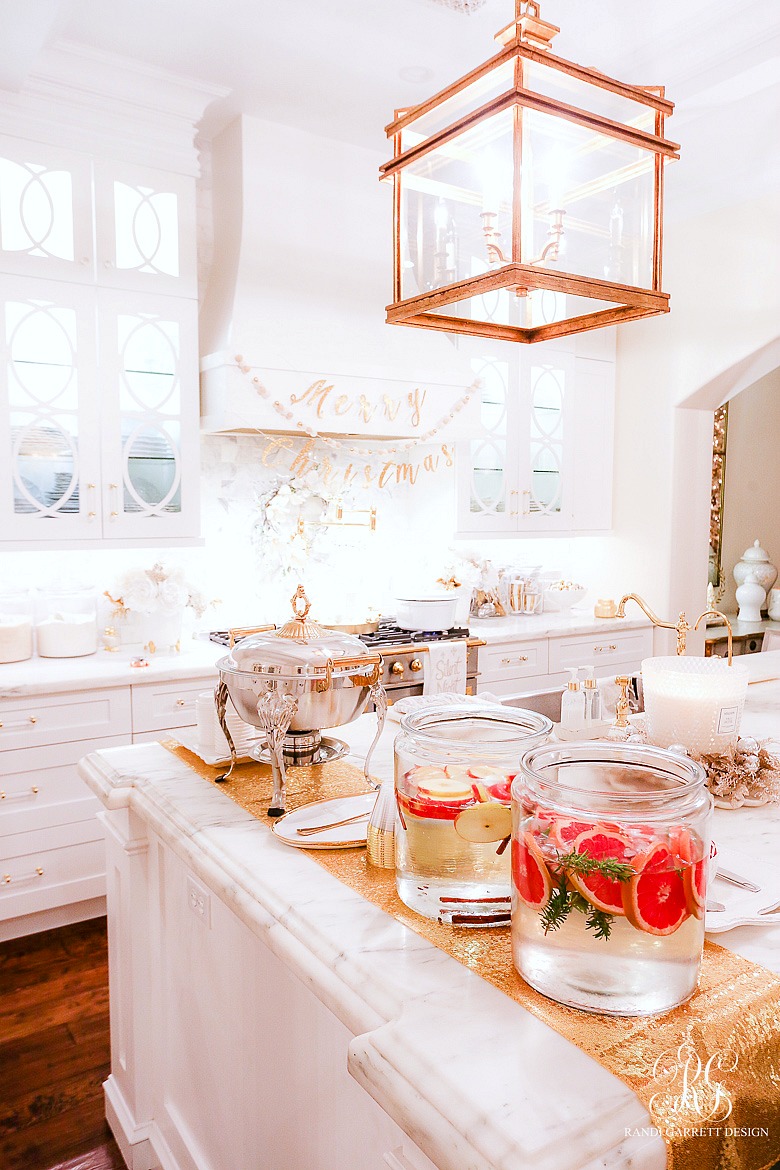 The Drinks
I love to serve a few drink options for my guests. Flavored waters, in my favorite 2 gallon canisters, not only look pretty -they taste amazing! This year I served pink grapefruit with rosemary and apple with cinnamon sticks. SO SO good! Keep your ladles on a serving platter so guests don't have to fish them out of the jars.
Hot cider is a must for a Christmas party! Start cooking yours about 20 min before your party so the house smells amazing when guests arrive. You can serve it straight from this pretty dutch oven or from a nice chaffing dish.
Here is my simple and yummy cider recipe …
Apple Cider Recipe
2 Bottles Trader Joe's Honey Crisp Apple Cider – or Favorite Cider
1 Sliced Orange
3 -5 Sticks Cinnamon
1 tsp Whole Cloves or 1/2 tsp Ground Cloves
Warm on low in dutch oven.
I set up a drink station on my island. Another gold sequin runner gives the counter a special pop! Use these pretty gold plastic cups to serve your flavored waters and these lidded cups to serve your cider.


 My Favorite Things
After guests shared and traded their favorite things, I gave away a few of my favorite things…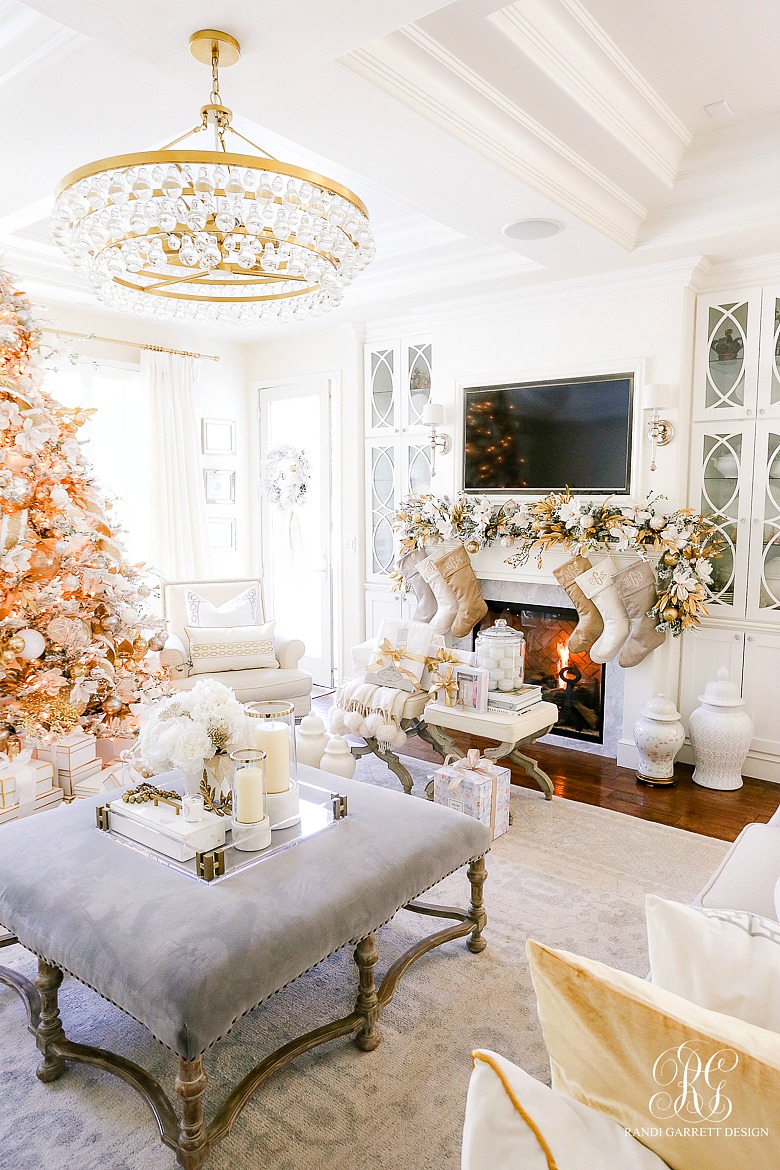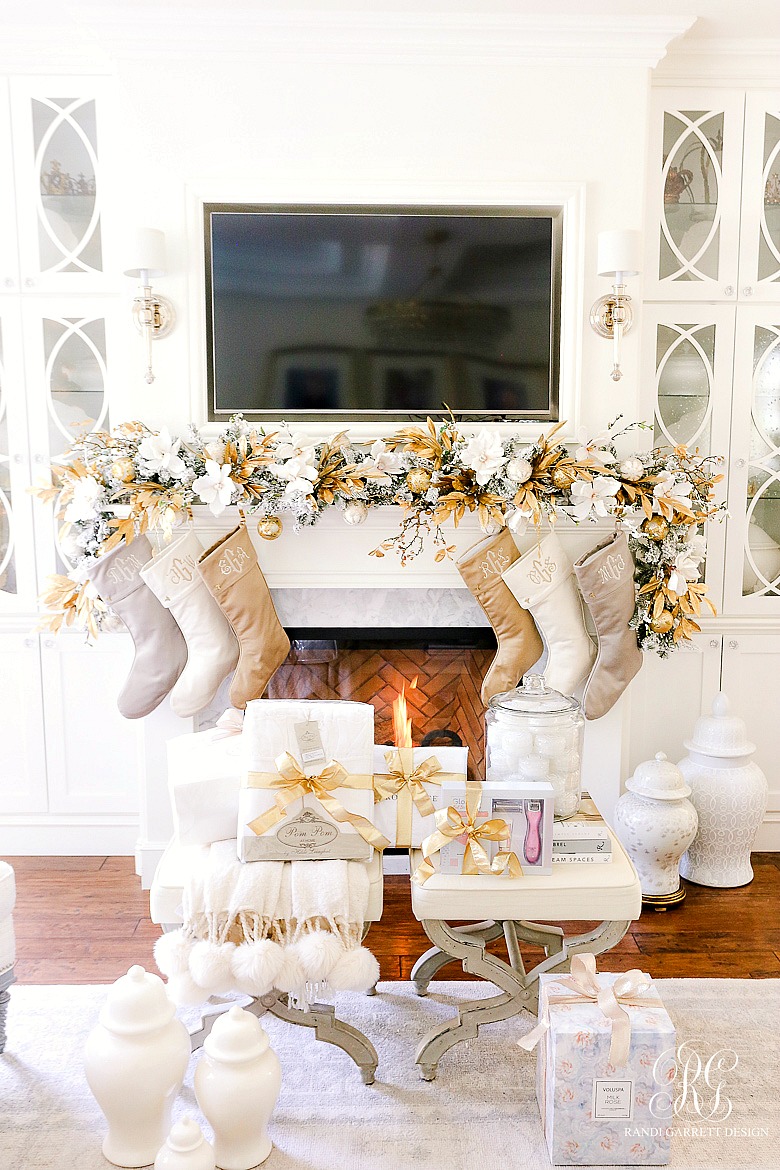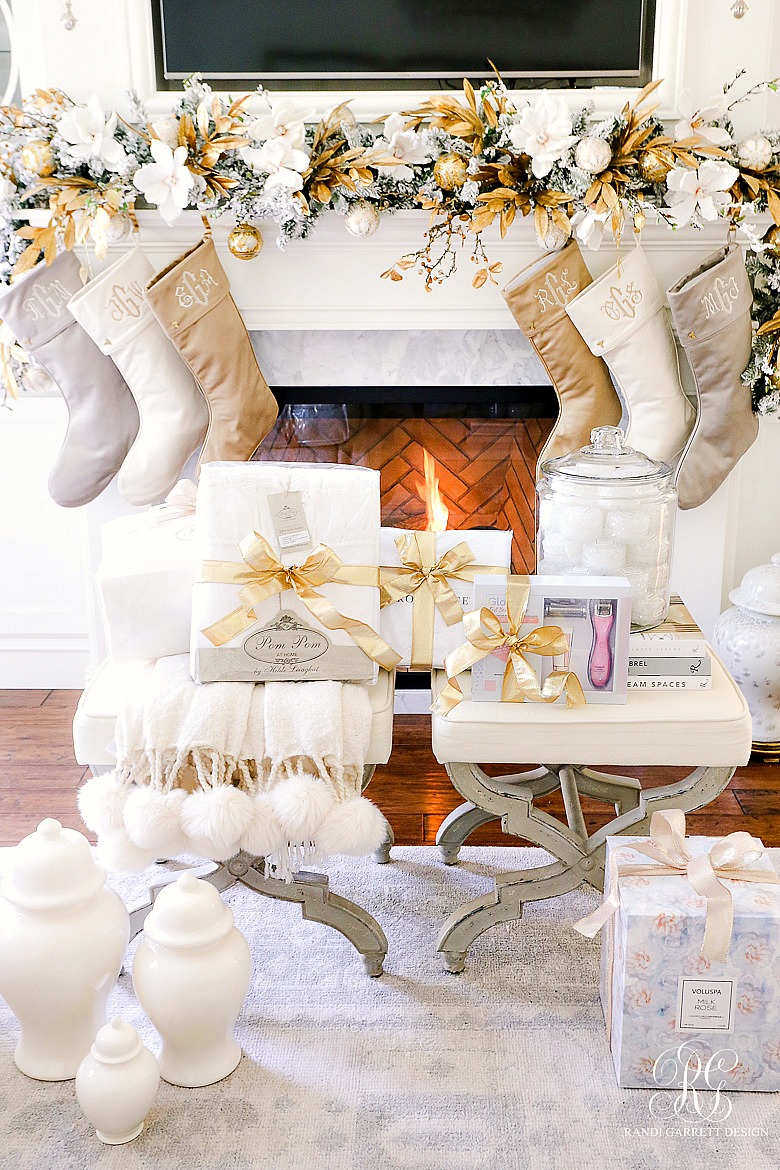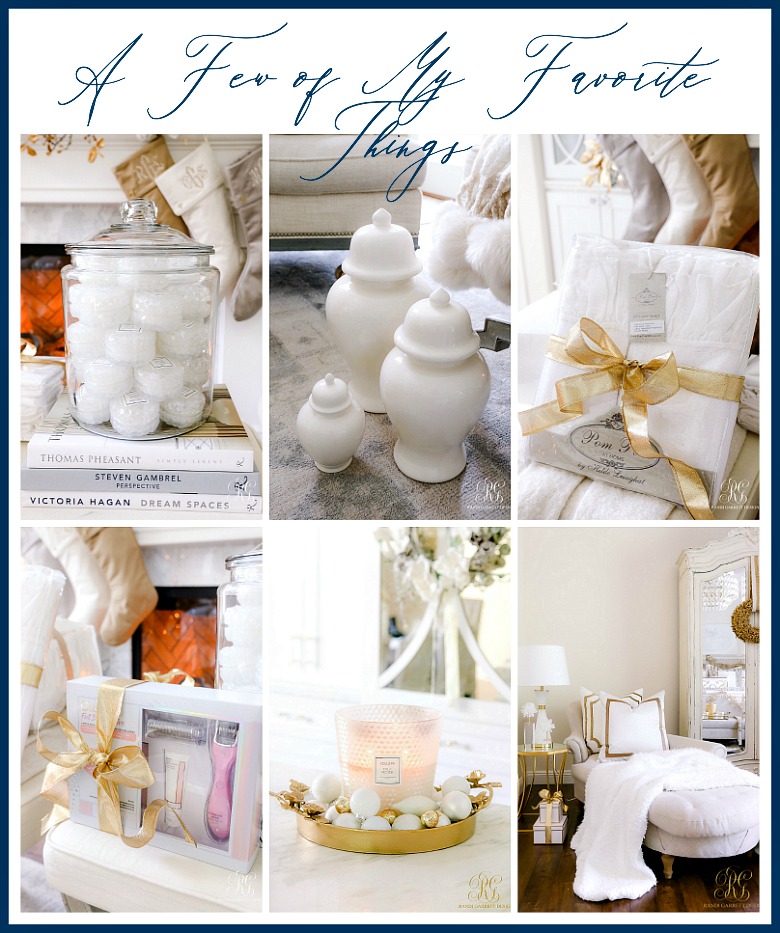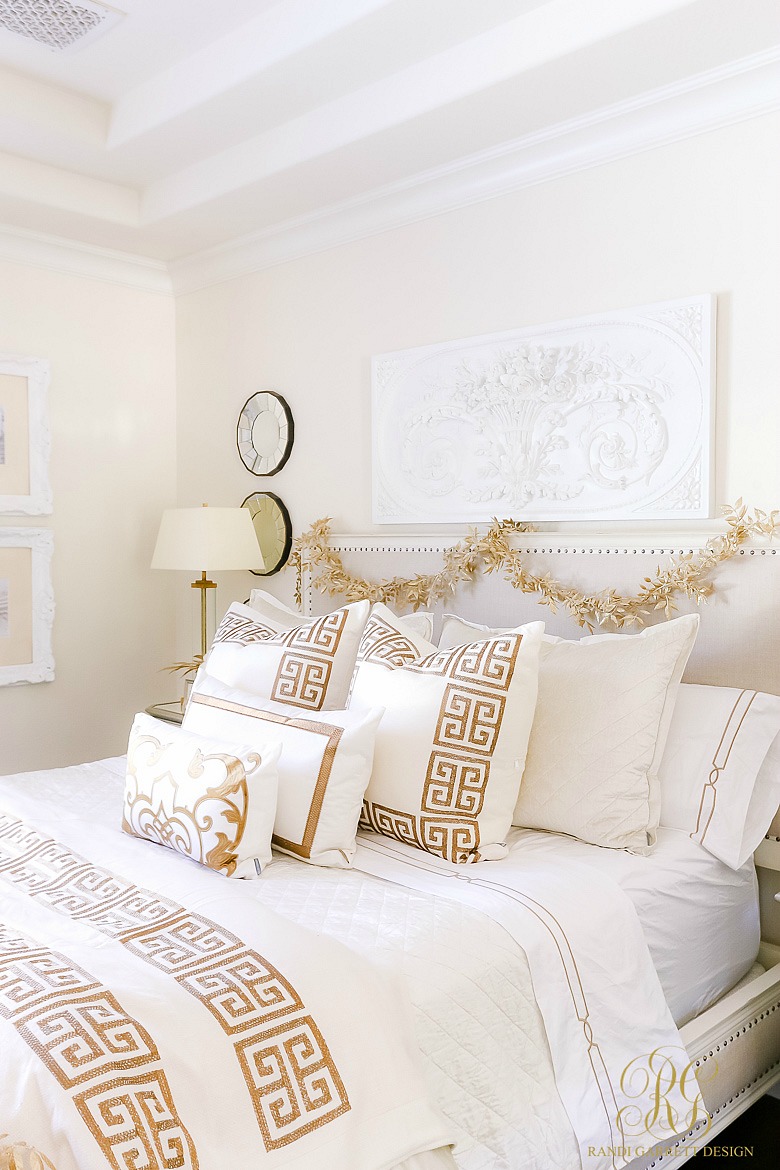 Each guest received one of my favorite Macaron candles in Milk Rose from Voluspa. Their candles are so pretty and smell amazing! I have them styled all over my house year round. My favorite candle of all time is their 5 Wick Hearth Candle! All of their scents are fabulous but the Milk Rose is fabulous anytime of year! They were so sweet to not only give each of my guests a mini candle but one 5 Wick Hearth Candle to one lucky guest!
Lauren Haskell Designs's ginger jars are also one of my favorite things. They are hand crafted in her studio in Oklahoma, making them extra special! One of my guests got to take home a set of their beautiful white ginger jars.
The white ruffled tablecloth on my table is one of my favorite table clothes ever! Pom Pom at Home, another one of my favorite brands, sent me one to give to one of my friends. Their bedding and linens have some of my favorites for years!
Beauty Bio has the most amazing beauty products and my favorite beauty tool called The Glopro! It's a micro-needling tool that airates the skin allowing your lotions and serums to work their magic! I use mine 3 times a week and it has transformed my skin! So, I was thrilled to send one of my guests home with one!
My all time favorite throw blanket is the Tula throw from Pom Pom at Home. It is an oversized, plush throw that looks amazing styled in your home! Not only is it the most cozy throw, I looks so luxurious!
Last, Frontgate sent a set of my favorite sateen sheet set to give away. Their sheets are fabulous!!! The sateen fabric is like sleeping on butter. Wash them over and over and they still feel silky soft. They come in several embroidered options and colors. The white ladder pattern is one of my favorites because it is so versatile.
A special thank you to Voluspa, Pom Pom at Home, Lauren Haskell Designs, Beauty Bio, and Frontgate for creating such beautiful products that make our homes so gorgeous and comfortable.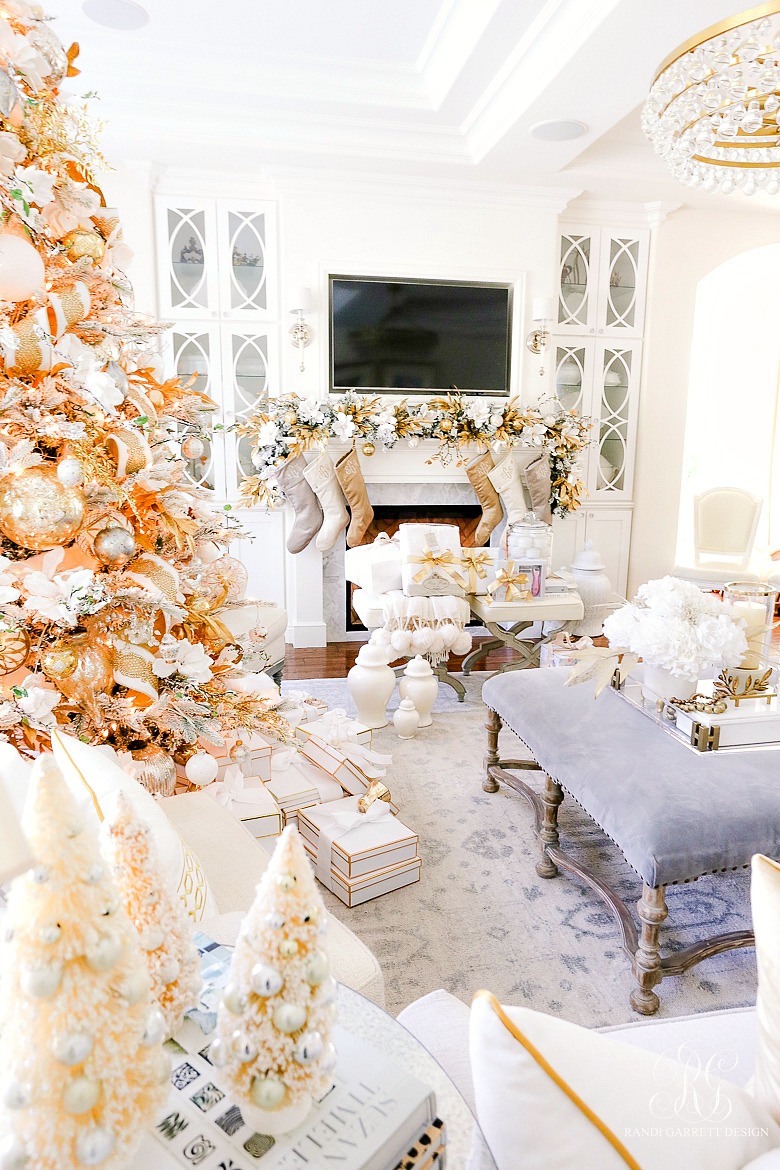 Here are a few photos of the party right before the guests arrived. I totally spaced taking any photos once guests came! It was a fun night with some of my favorite people! I hope you throw one and start a fun tradition with some of your favorite people!