This is a sponsored post written by me on behalf of Floor & Decor. All opinions are 100% mine.
Little by little our dream home is coming together! I feel like throwing a party with each check mark off the to do list!!! Recently, we finalized all of our tile selections! That was a huge one!!! Today, I get to share a peek at what I chose. A few weeks ago I shared some of our bathroom mood boards. Today, I'l be sharing our Dreamy Laundry Room Plans + Tile selections for those bathrooms. I'll be sharing our master bathroom next week!
If you follow me on Instagram, you may remember when I took a trip to Floor and Decor to get a feel for what I wanted in our dream house. I was blown away by all of the gorgeous, high quality flooring options, tile and amazing prices. Marble is my favorite material to use when designing a space. Their marble section had me weak in the knees and giddy about designing each space! If you haven't been to a showroom or visited their website, you need to take a visit asap!
The thought of having to select tile for our entire home was so overwhelming to me. But with Floor and Decor's selection and helpful associates, the process was so much more pleasant. I love the carts they have in the showroom that allow you to lay all of your selections out so you can see how they look together. Visualizing how the tile will look installed is so much easier due to their fabulous tile displays.
With the help of my sweet builder's wife, Allison, I was able to choose the tile for almost our entire home all from Floor and Decor! I am SO thrilled to be sharing my tile selections and the plans for our dreamy laundry room with you!
This post contains affiliate links (full disclosure here) and is a sponsored post written by me on behalf of Floor and Decor. All opinions are 100% mine.
Dreamy Laundry Room Plans + Tile Selections
As a mother of 5 children, I spend a fair share of time in the laundry room. When designing our new laundry room I wanted it to feel more like a retreat, instead of a work space. Here is a peek at what I came up with. Notice the dreamy Carrara Marble Bianco Carrara Thassos Parquet Marble Mosaic flooring! Knock me over with a feather! This marble is stunning and will be an amazing focal point for this dreamy laundry room.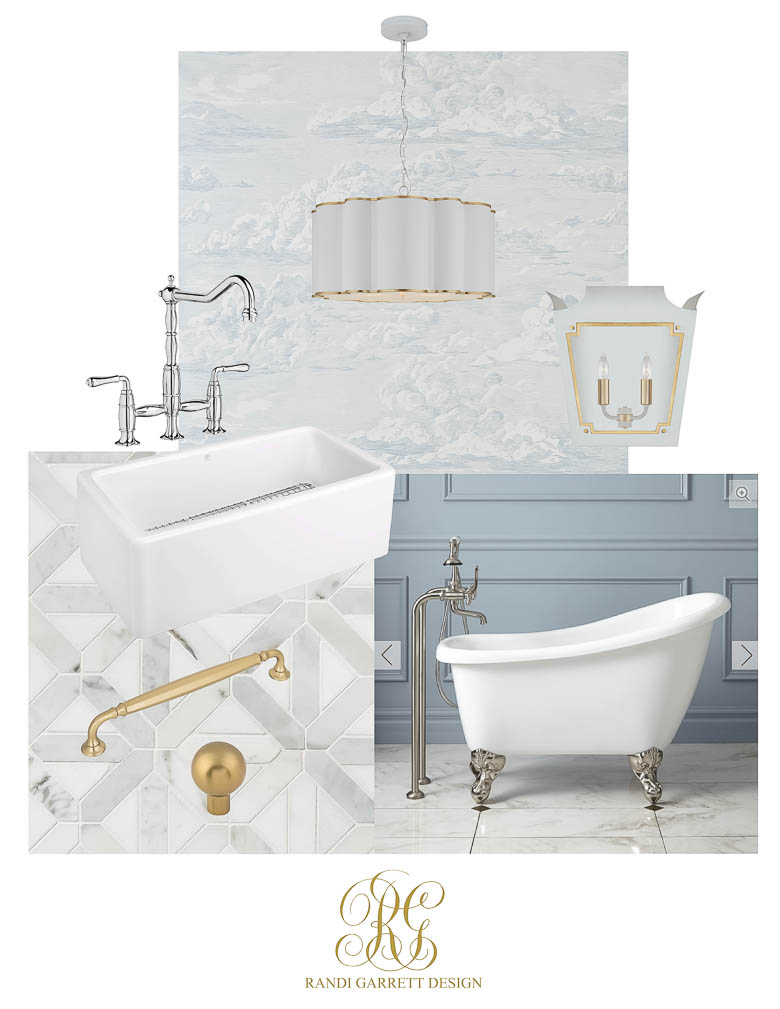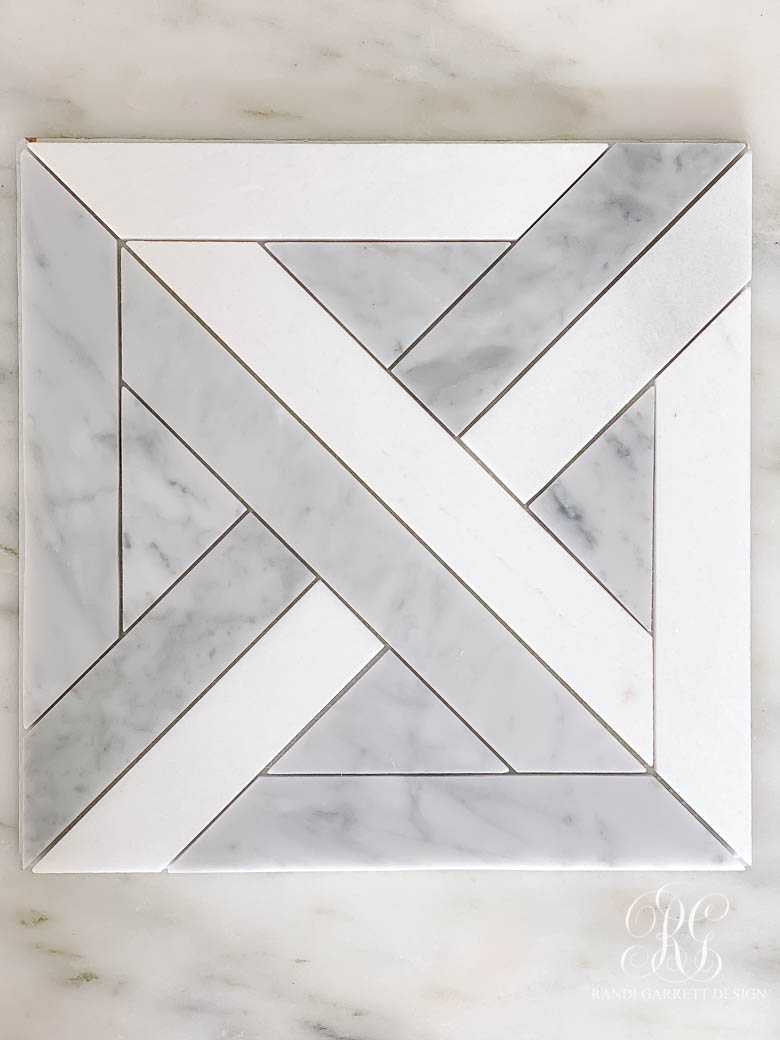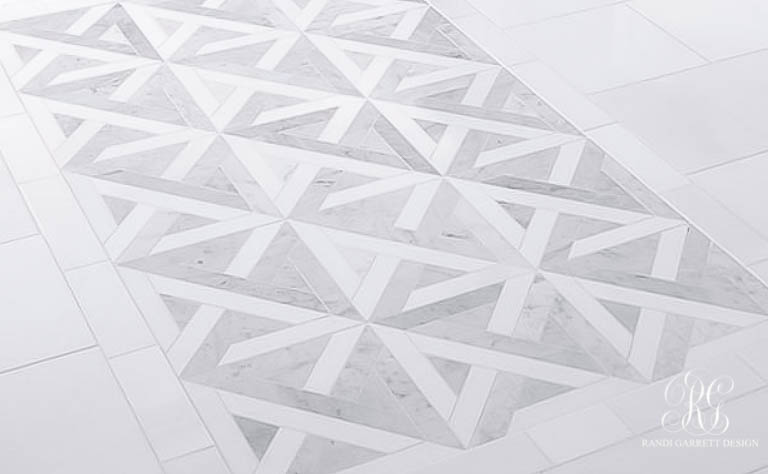 Other features I am super excited for… the mini clawfoot tub for a doggie wash, the cloud toile wallpaper, blue cabinets, wainscoting, lantern sconces, a cloud like chandelier and beautiful old fashioned tub faucet and bridge sink faucet.



Here is a look at the tile we selected for the kid's bathrooms…
Ellie's Bathroom – sources here.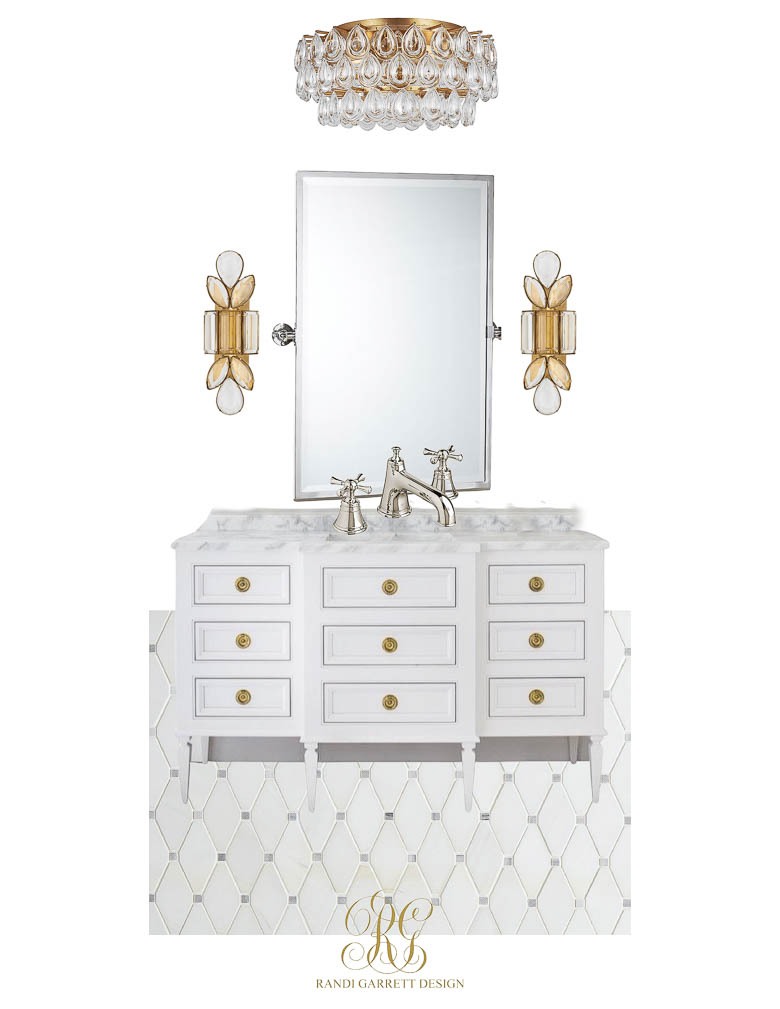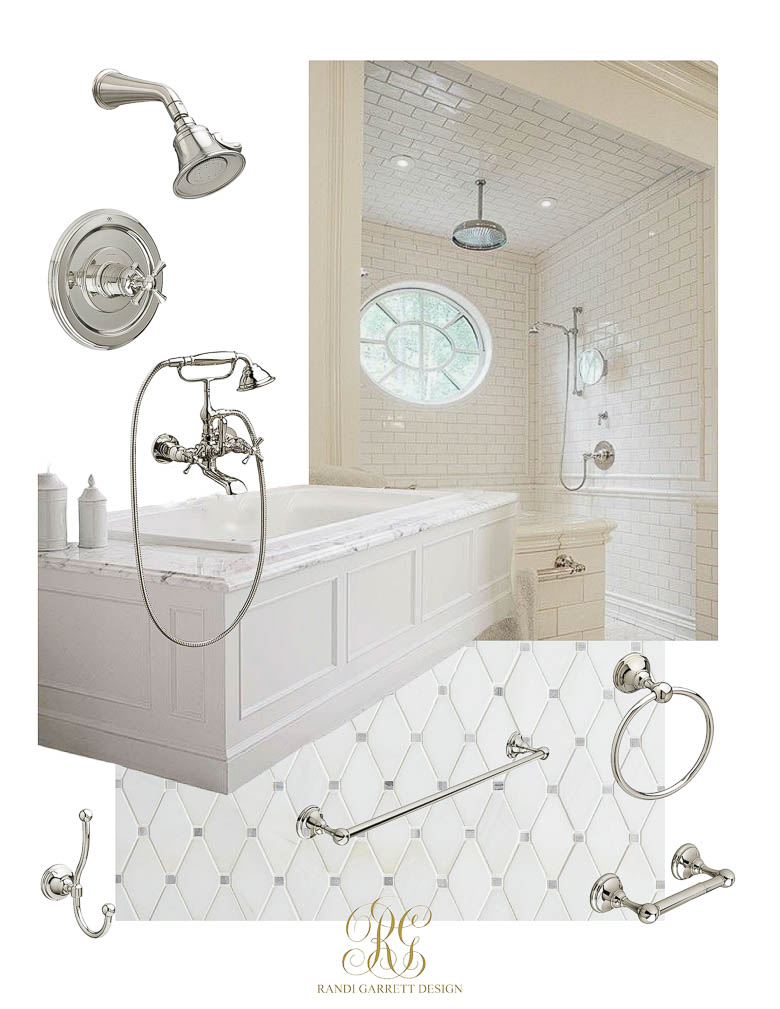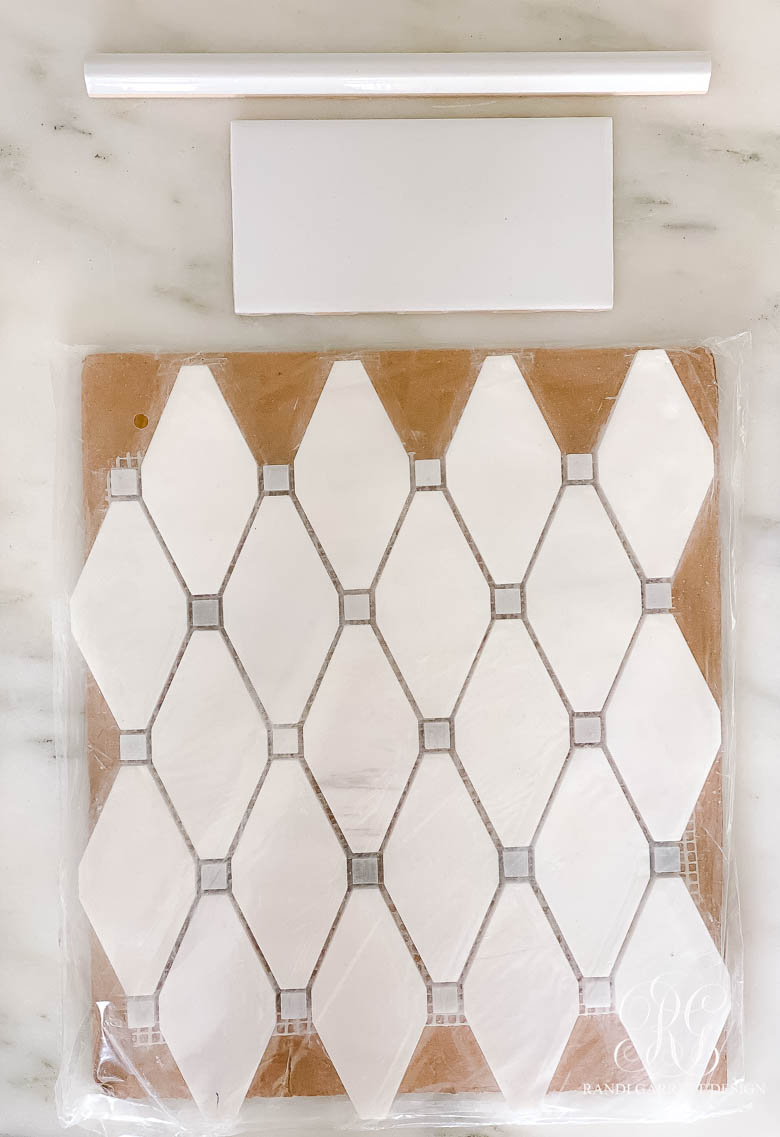 For Ellie's flooring, we are using this timeless diamond pattern – Viviano Marmo Dolomite Skyfall Clipped Diamond Marble Mosaic. I splurged on the flooring and saved in the shower by using classic subway tiles – Bright White Ice Subway Ceramic tile. We are using Canvas Maoilica White Ceramic Pencil pieces to create a wainscoting with tile! I am so excited for the character this will add to her bathroom!
Cole and Jack's Bathroom – sources here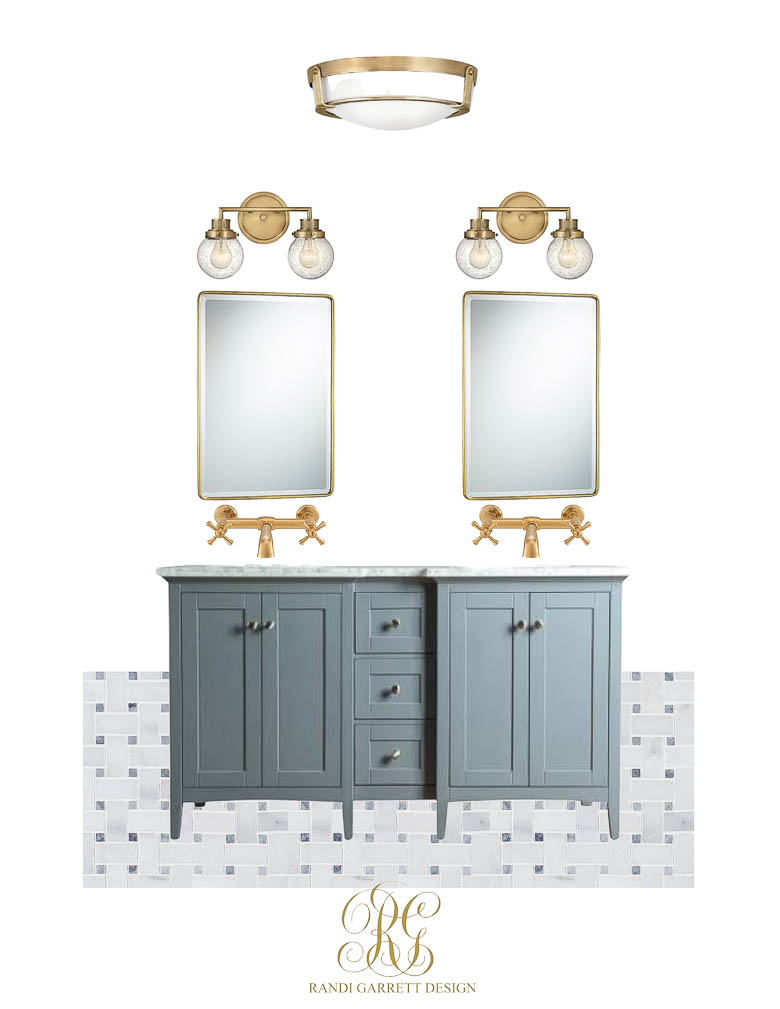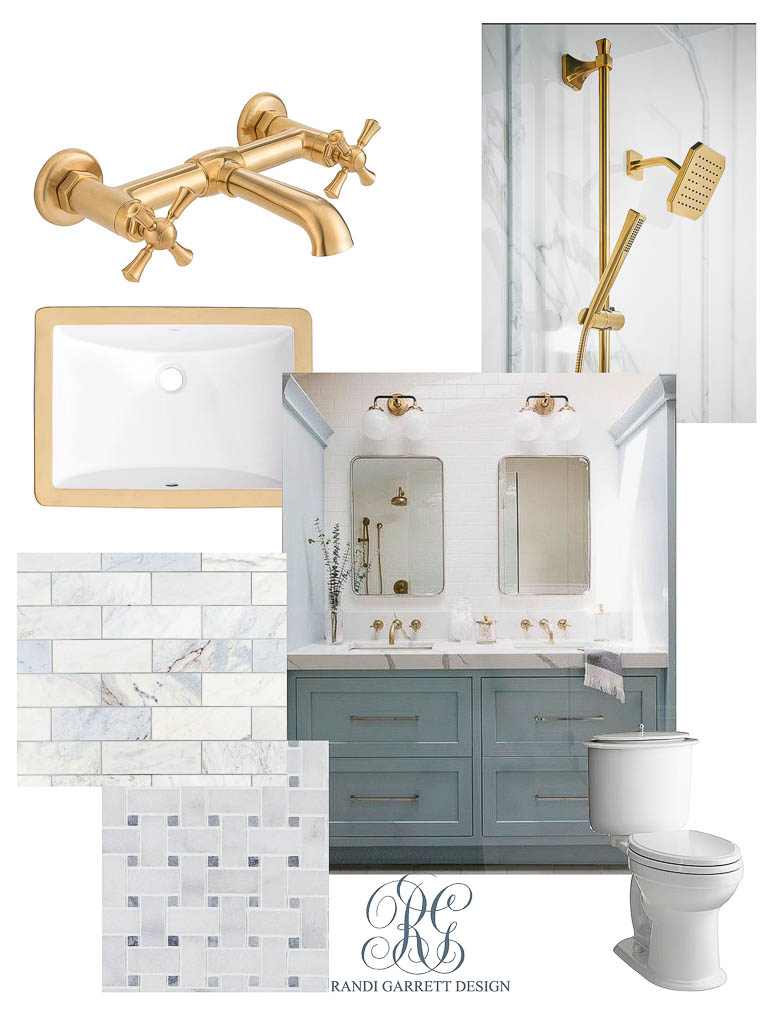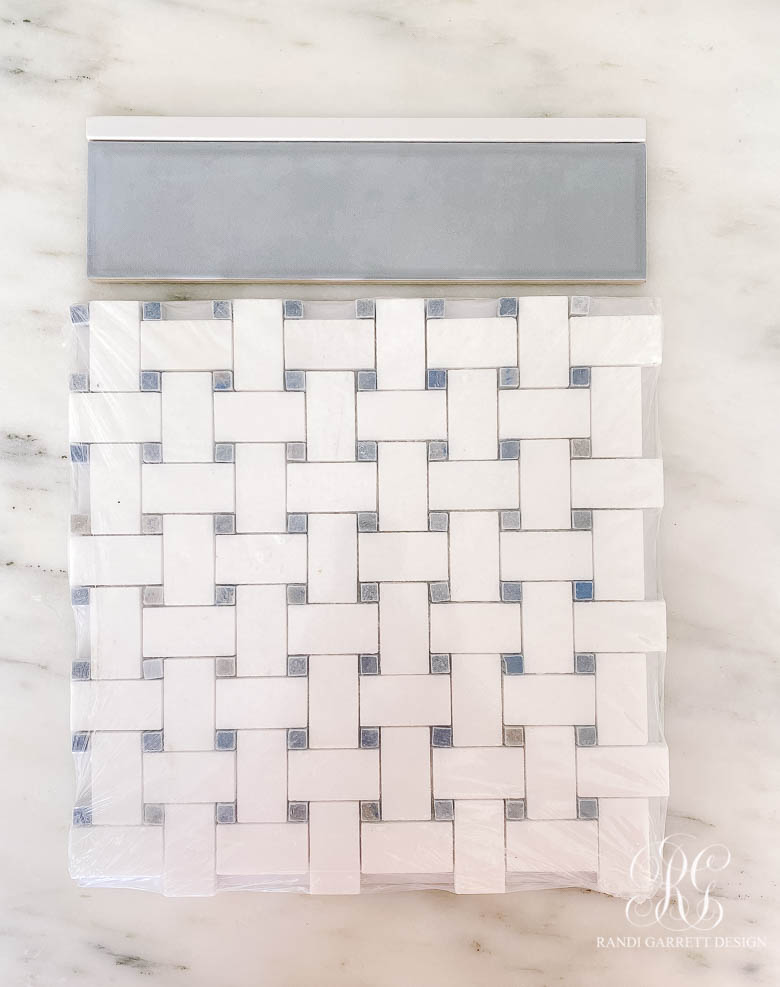 The little boy's bathroom will feature lots of blue and white! On the bathroom and shower floors, we are using this Viviano Marmo Thassos Azul Macaubas Basket Weave Marble Mosaic. See the little specks of varied blue and gray? It is such beautiful way to add color without going overboard.
In the shower, we are going to use Canvas La Belle Air Polished Ceramic Tile in a brick pattern with a Bright White Matte Liner as a stripe between every 3-5 rows. this will create a fun stripped pattern on the walls. The subway tile is the most gorgeous blue gray color.




Guest Bathroom(Seth and Tate's) – sources here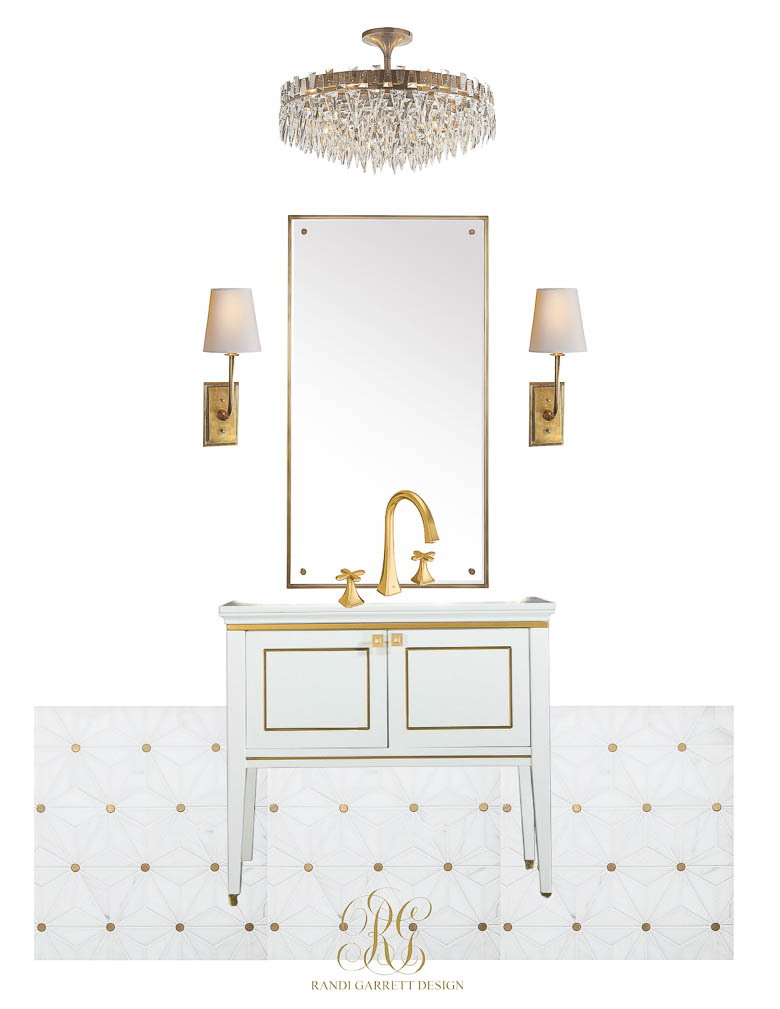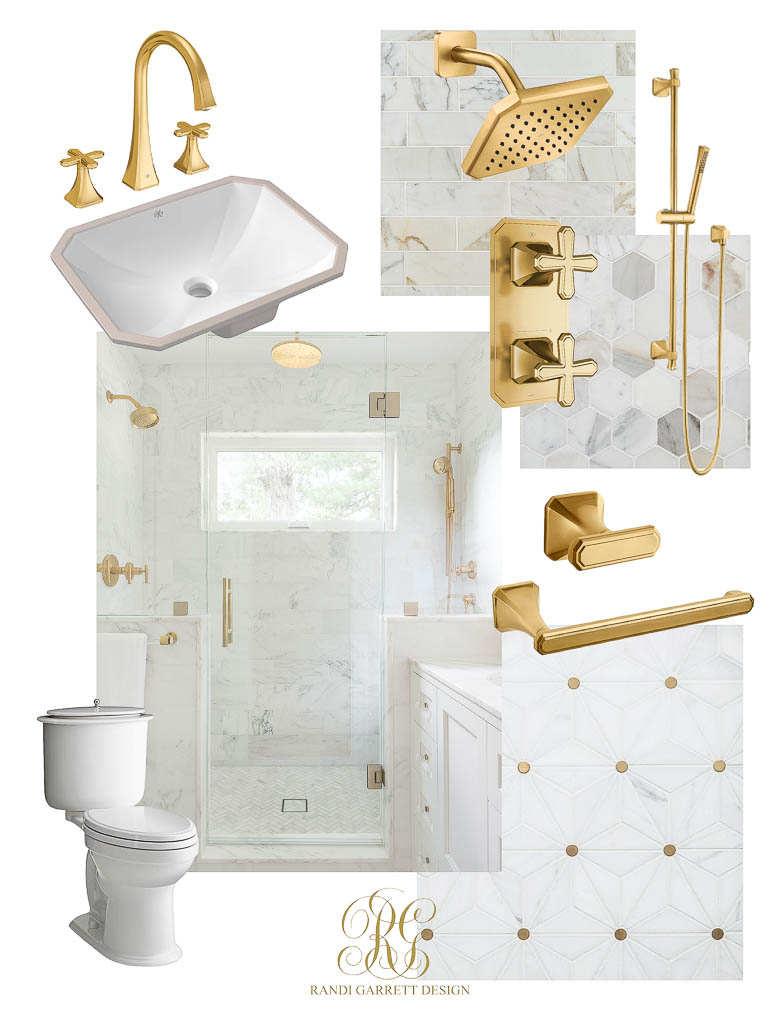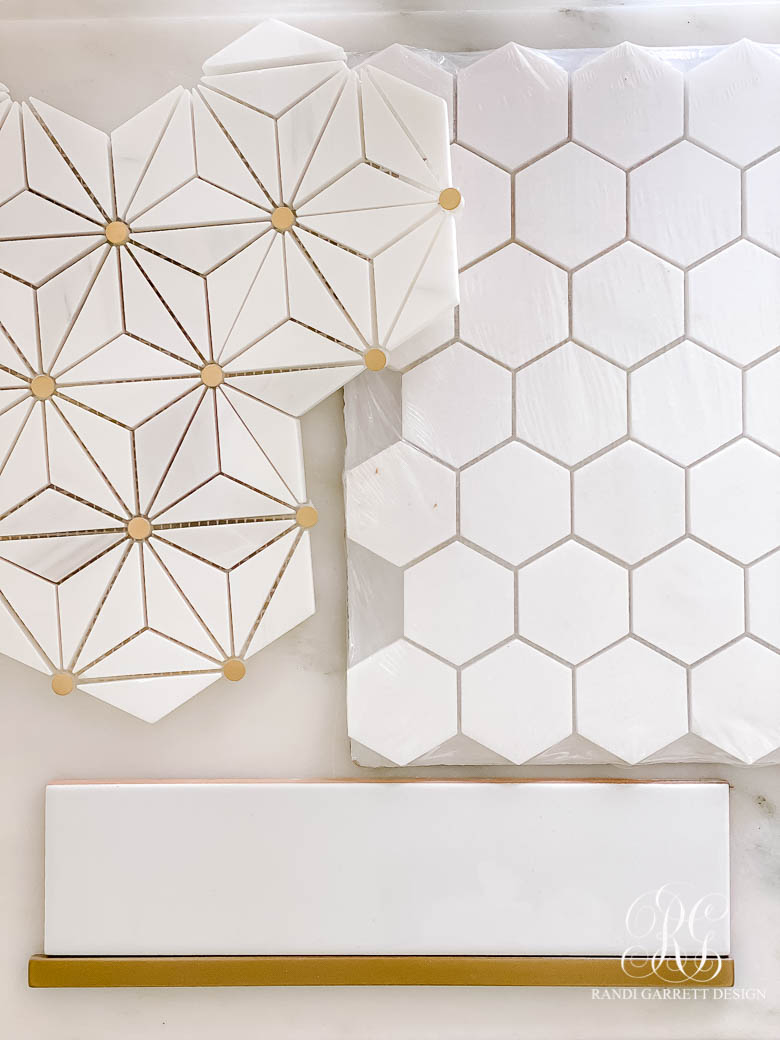 Each bathroom has it's own unique personality. They are each connected with clean, classic lines. This guest bathroom has a special glam feel. Did you notice how beautiful the Viviano Marmo Nova Dolomite Brass Polished Marble Mosaicfloors are?! They will truly be the "star"of this space! Since the floor is pretty wow, I wanted the shower to be a little more understated. It will feature Canvas Meringue II Polished Ceramic Tile laid in a brick pattern. I wanted to tie in some more gold into the shower to break up all the white. So, I am using the Champagne Gold Decorative Liner pieces to create a frame around the main shower wall. It is going to be so cool, I hope, haha! The shower floor is getting dressed up with this beautiful Viviano Marmo Thassos 2 in. Polished Marble Hexagon Tile.




Master Bathroom Sneak Peek – featuring Viviano Calacatta Gold Polished Marble Tile and Viviano Marmo Canterbury Calacatta Thassos Polished Marble Mosaic. Aren't they stunning?!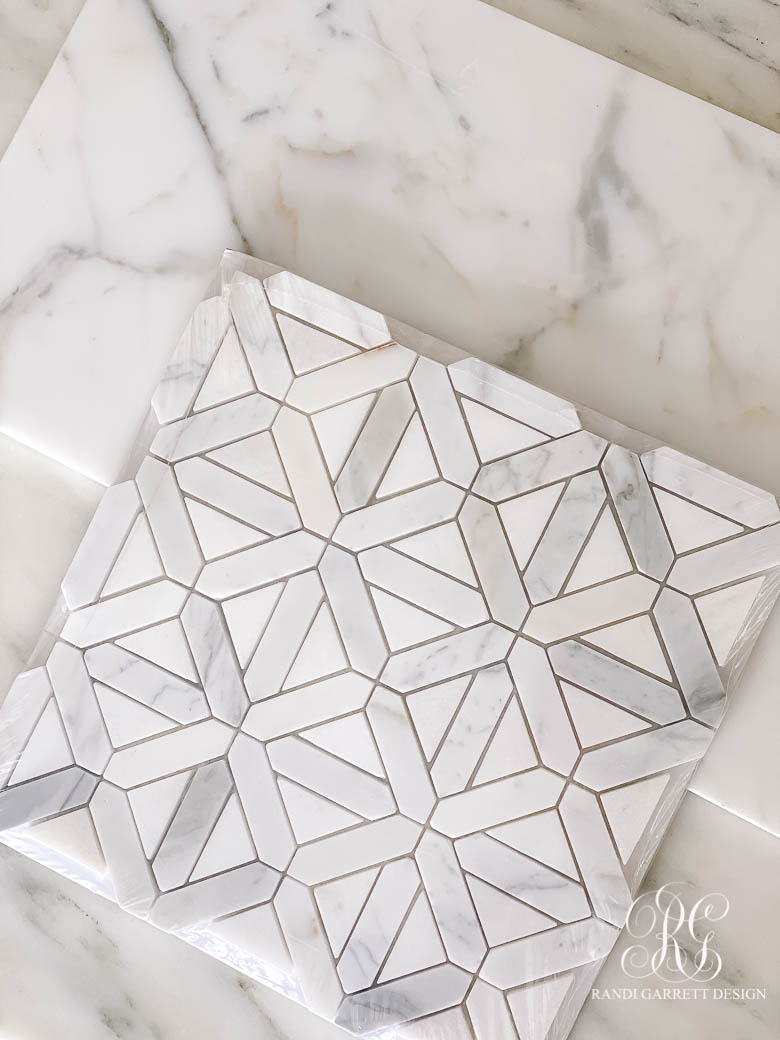 I am a marble lover, in case you couldn't tell! Since it has a higher price tag, use it as an accent in your space. Save money by using a ceramic or porcelain tile in other areas. Floor and Decor has a beautiful selection of marble, ceramic and porcelain for you. Head to your nearest Floor and Decor to check out their beautiful showroom or visit their online site to find the perfect tile for your project! I can't wait to see these spaces come to life!