It feels very bittersweet to be sharing Ellie's bedroom and bathroom reveal today. She leaves for college in 3 short weeks (I'm in denial)!!! Even though I am just now sharing it with you, she has been enjoying it since we moved in a year and a half ago. It was so much fun to design and style her room together. Every time she comes home (which I hope is often), she will have her special space waiting for her! This space is truly a reflection Ellie's sophisticated style and fun personality. Ellie's bedroom is warm and fun, just like her. Ellie was just 8 when I started blogging. She has grown up to be a beautiful, kind young women who is going to do amazing things! I hope you enjoy her bedroom and bathroom reveal!
This post contains affiliate links for your convenience. Read my disclosure policy here.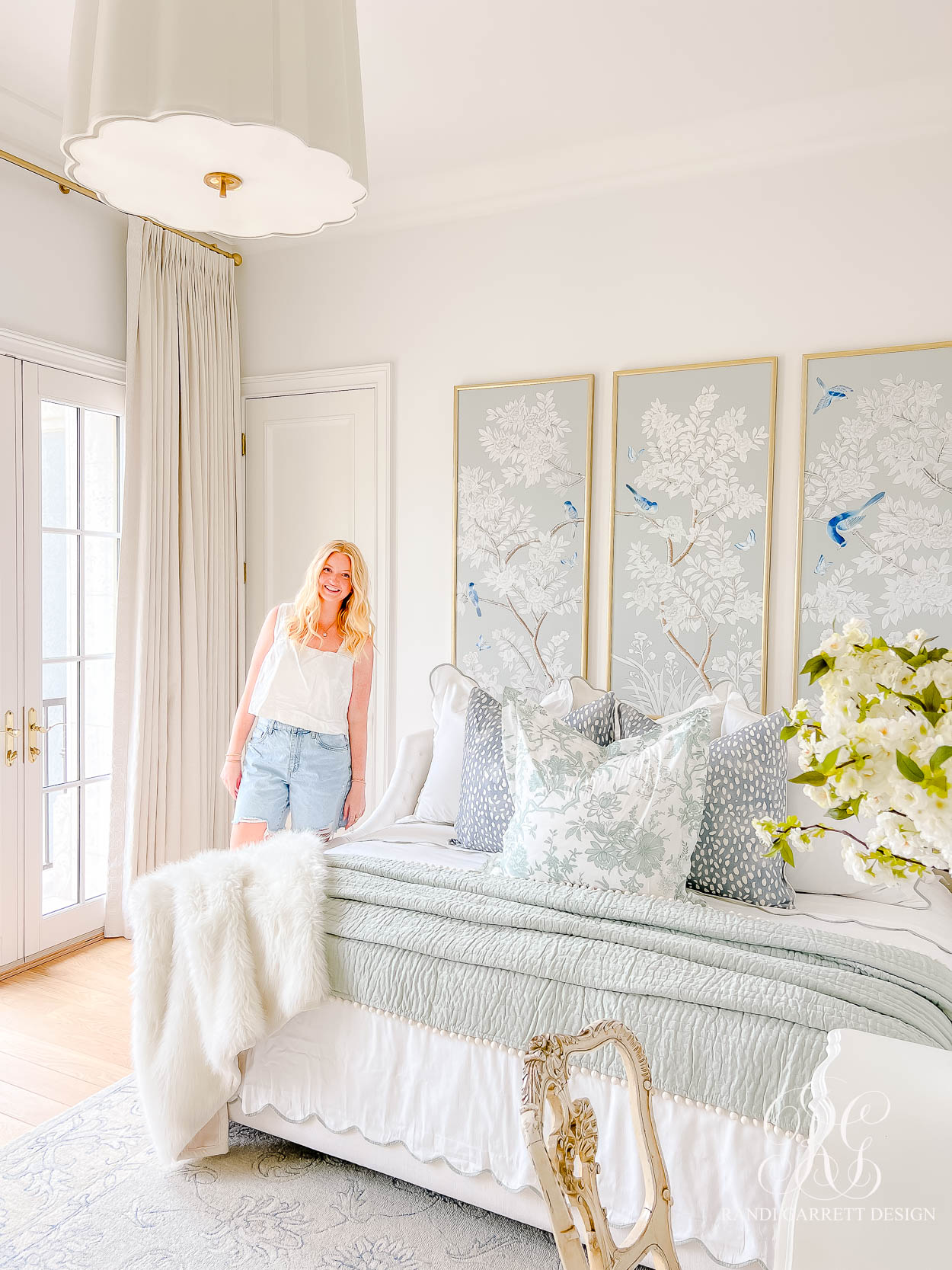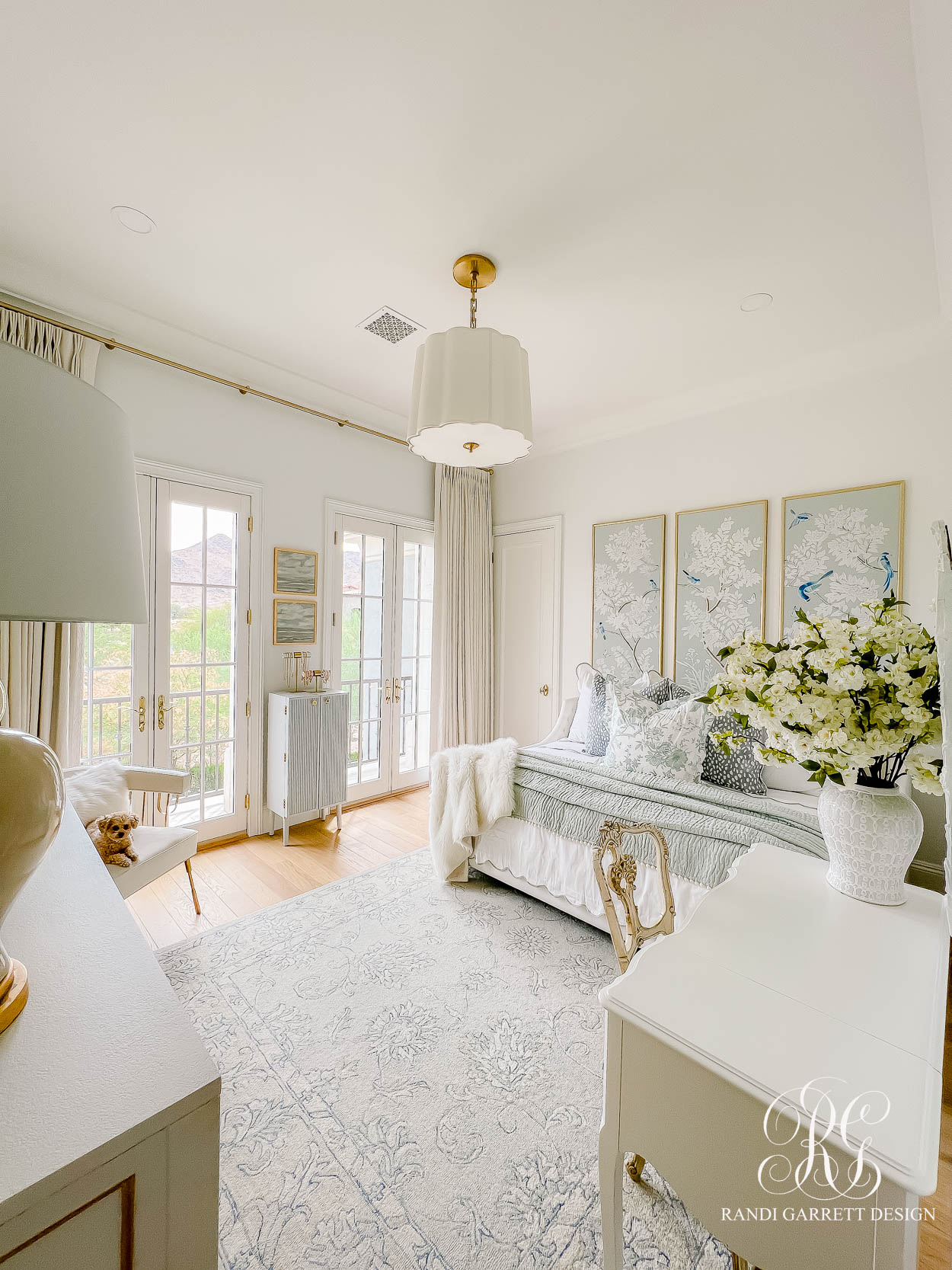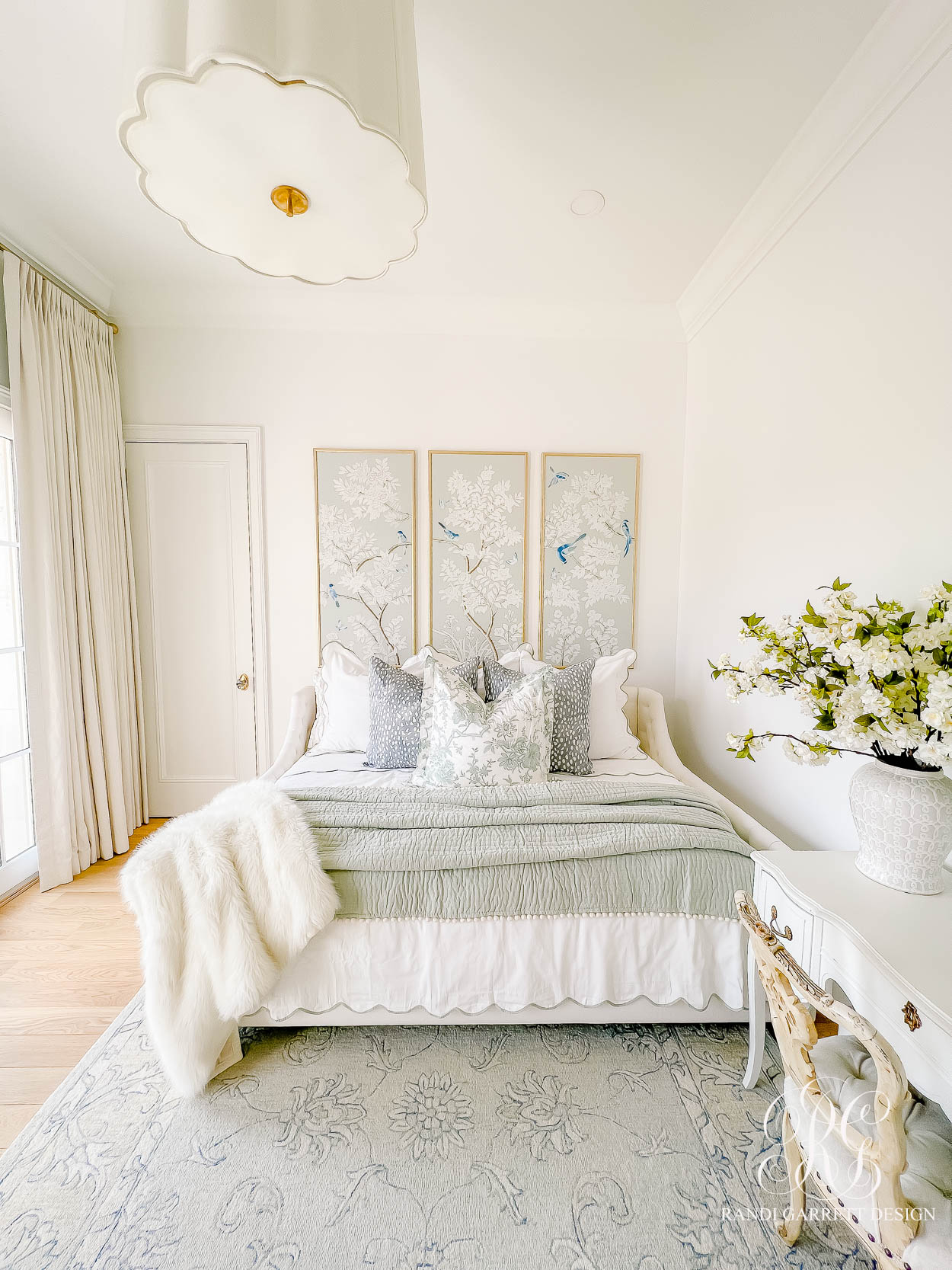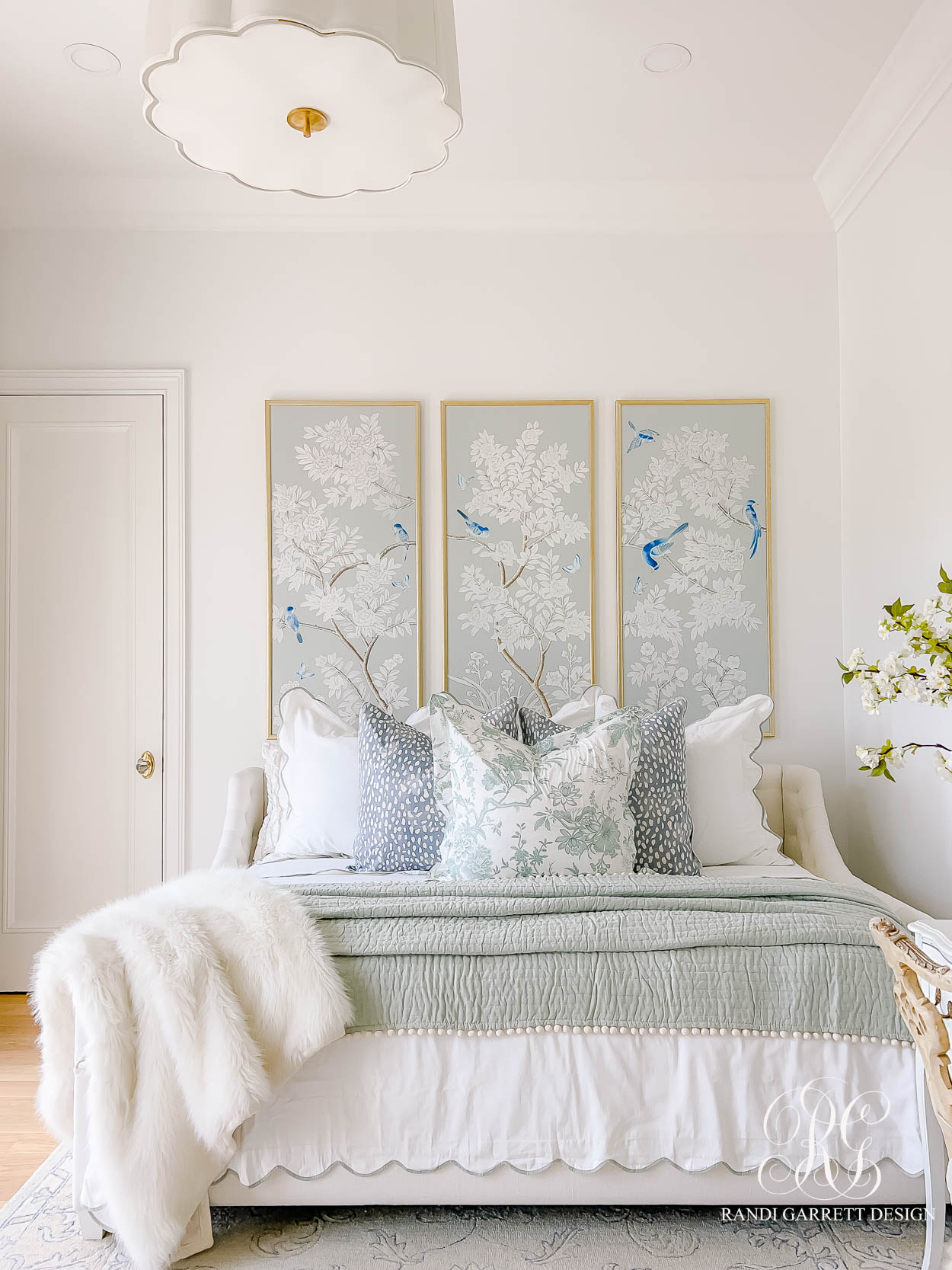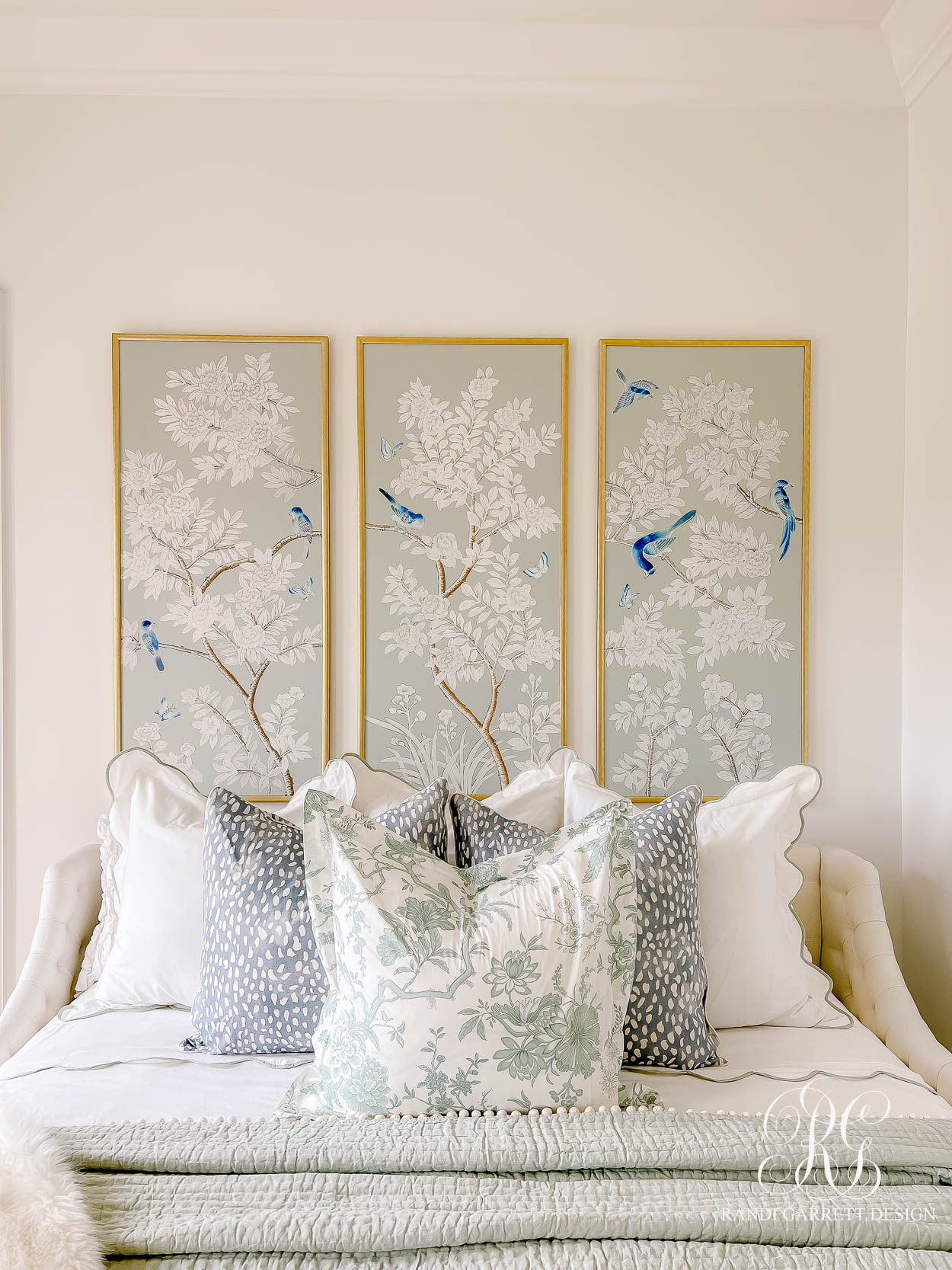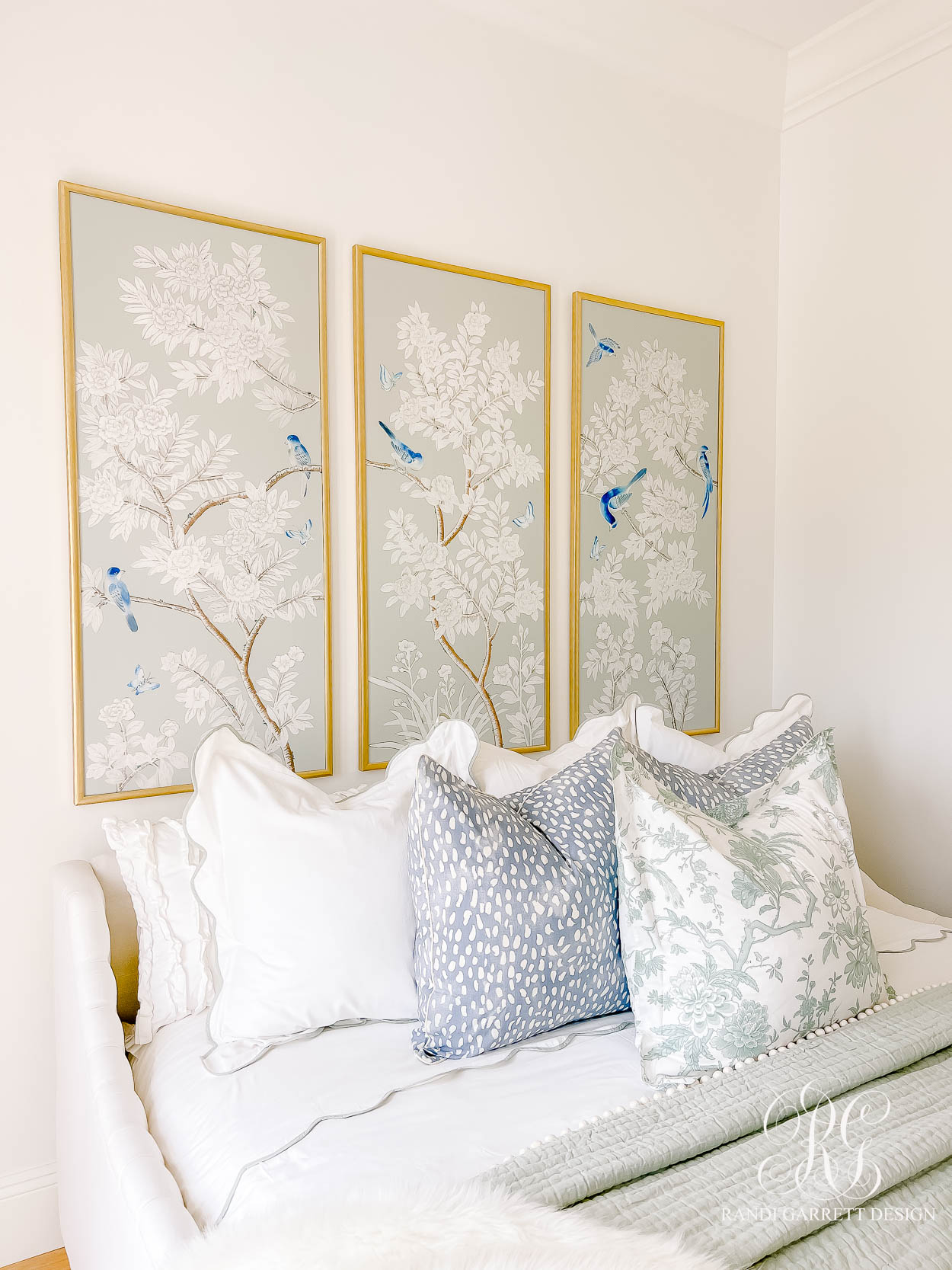 Ellie chose her bed long before we moved into The Wren! She fell head over heels in love with this tufted daybed (budget friendly daybed)! We ordered it long before we moved in. They held it for us in their warehouse until we were ready for delivery. It is a queen sized daybed. It uses the same bedding as any queen and can sleep 2 just like a queen. She loves it!
Bedding
You may have seen the sneak peek I shared of Ellie's bedroom a few weeks ago. If not here are all the links to the bedding we used in her bedroom. Most of her bedding is on sale too.
Accessories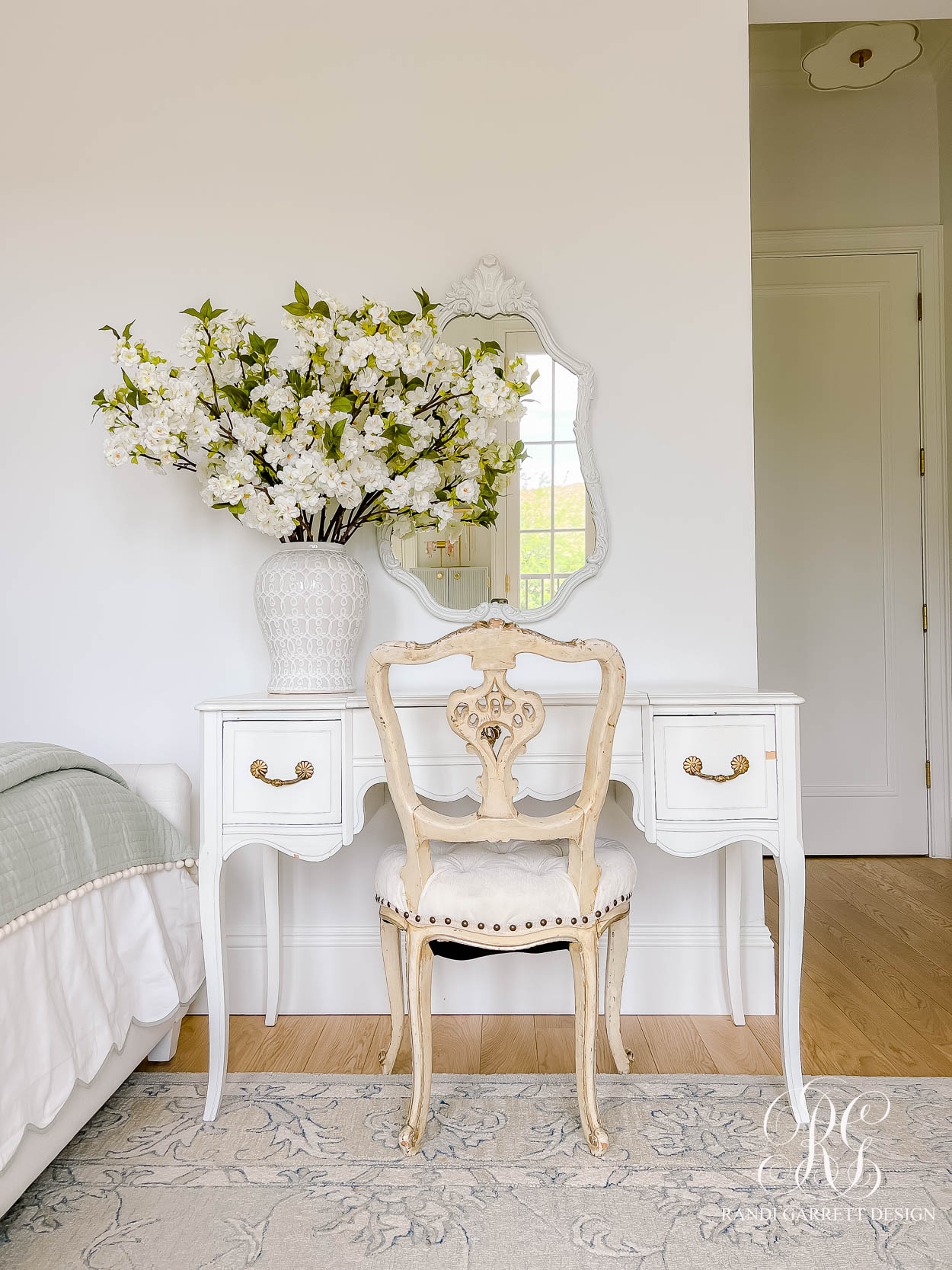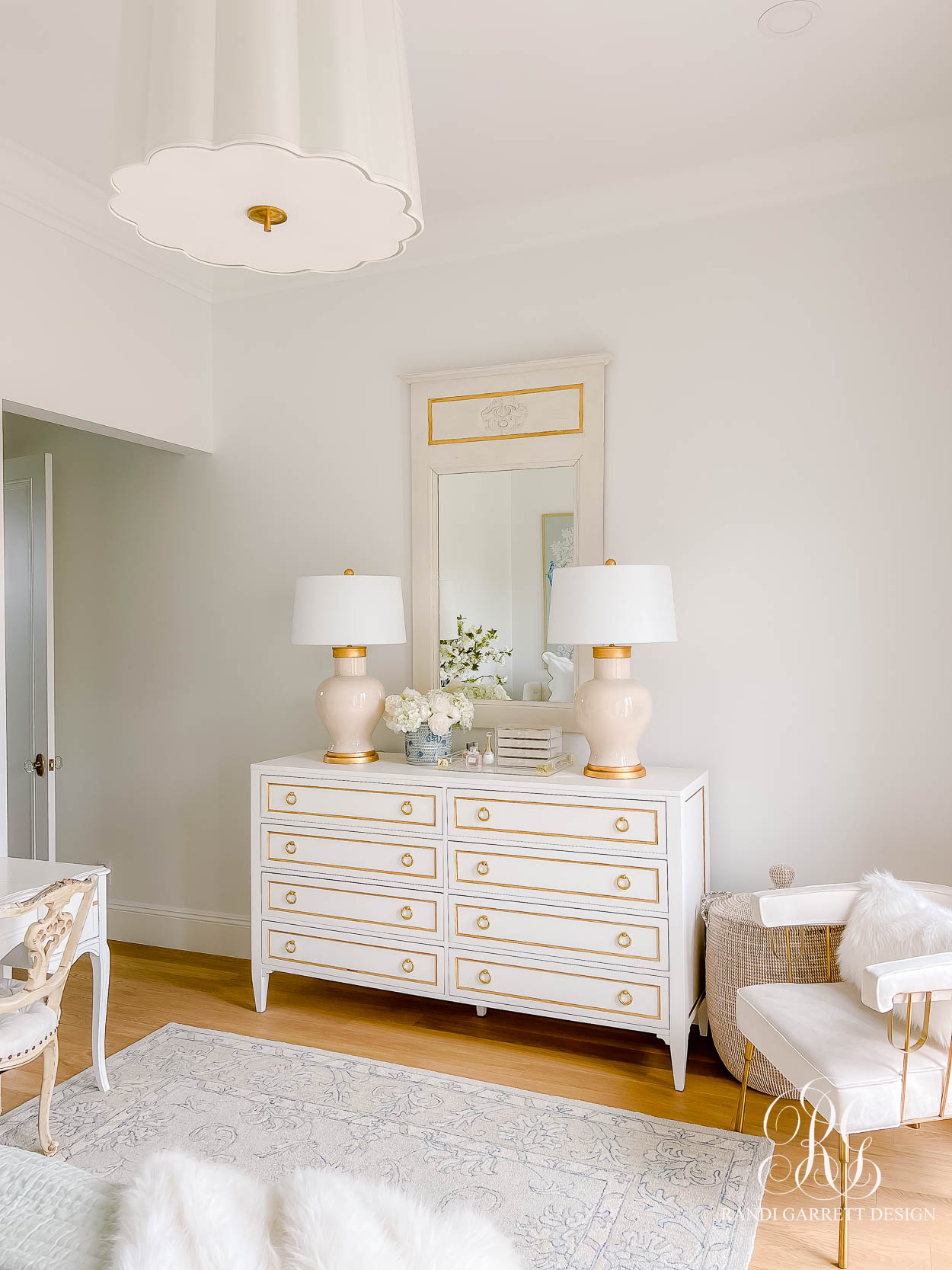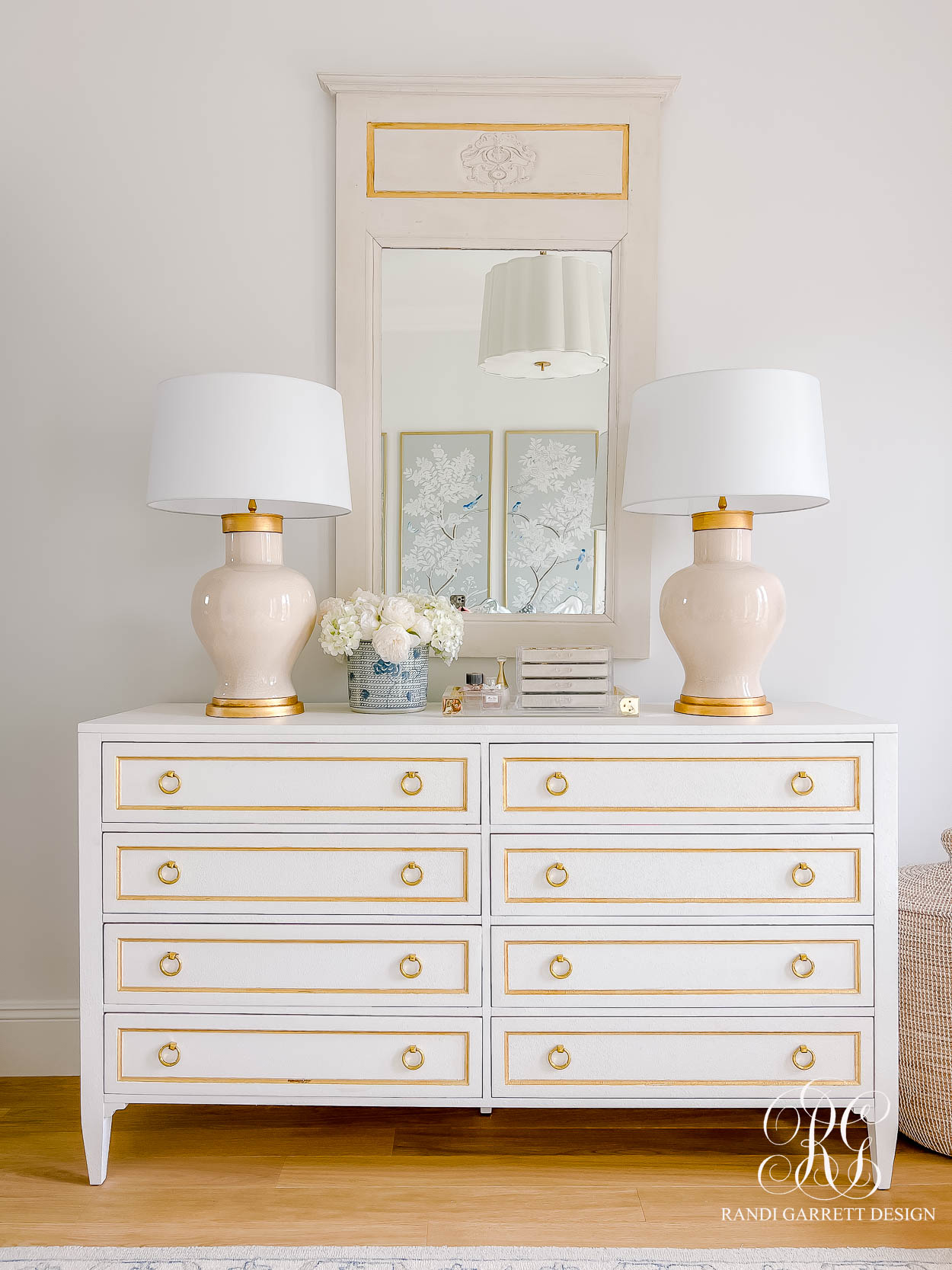 Furniture
Desk – Antique – similar here | Vanity Chair – Antique – similar here | Vanity Mirror – Antique – similar here | Dresser | Dresser Mirror | Velvet Chair – similar here
Accessoires
White Ginger Jar | White Cherry Blossoms – 12 stems are in the jar | Blue and White Planter | White Hydrangeas –budget option here | White Peonies | Gold Lucite Tray | Acrylic Jewelry Drawers
Lighting
Drum Shade Chandelier | White and Gold Lamps – budget friendly option | Small Drum Shade entry light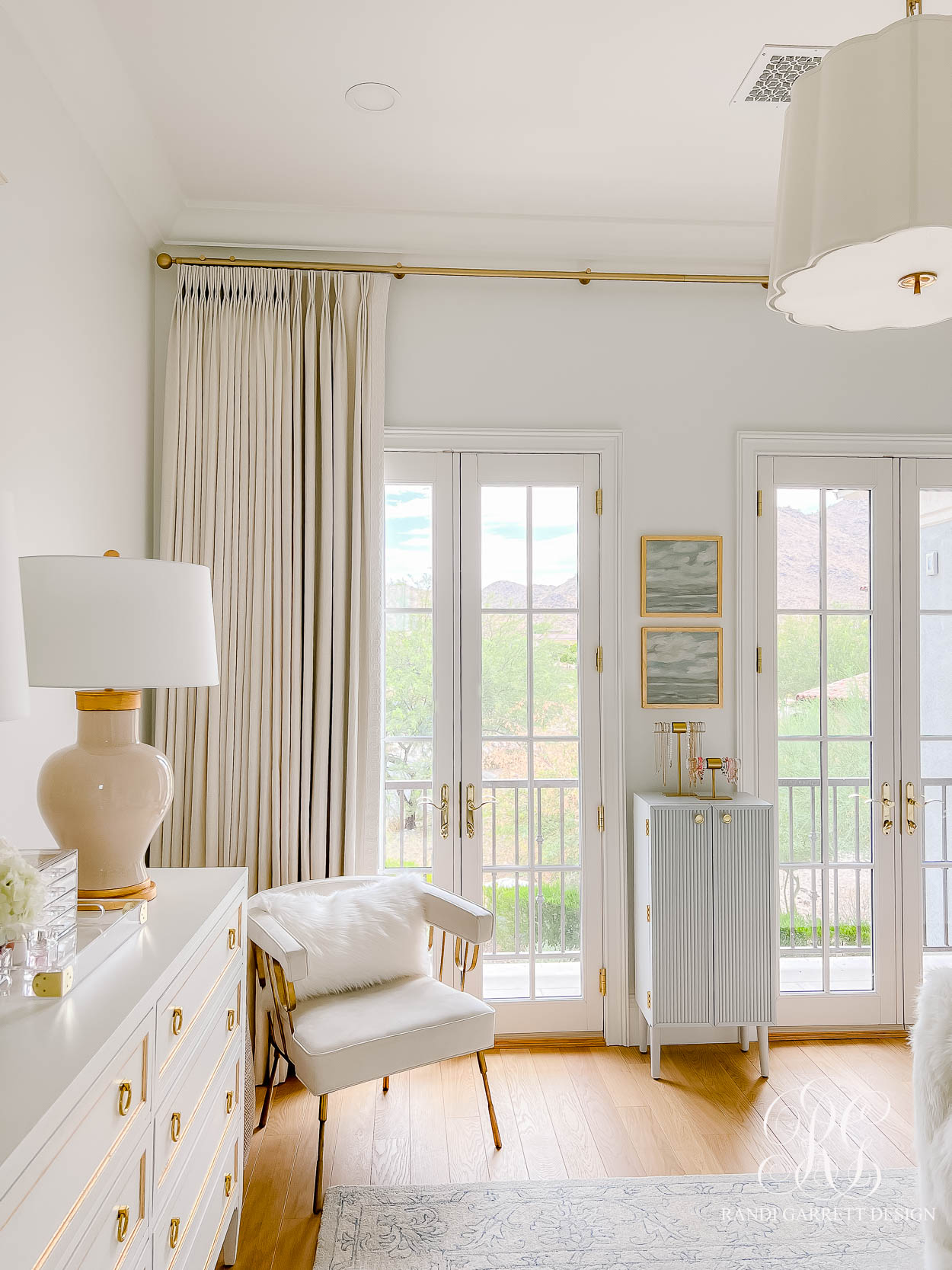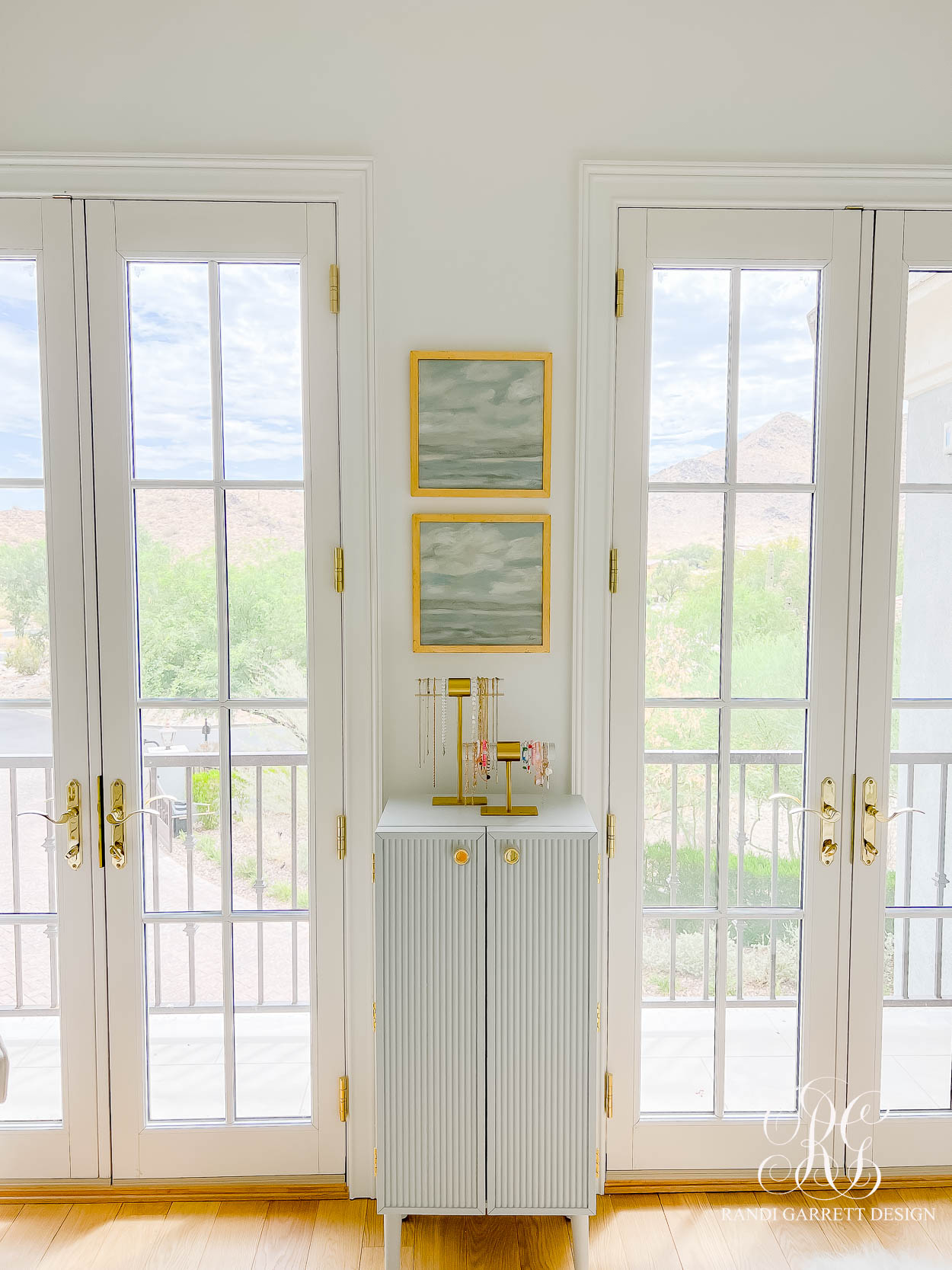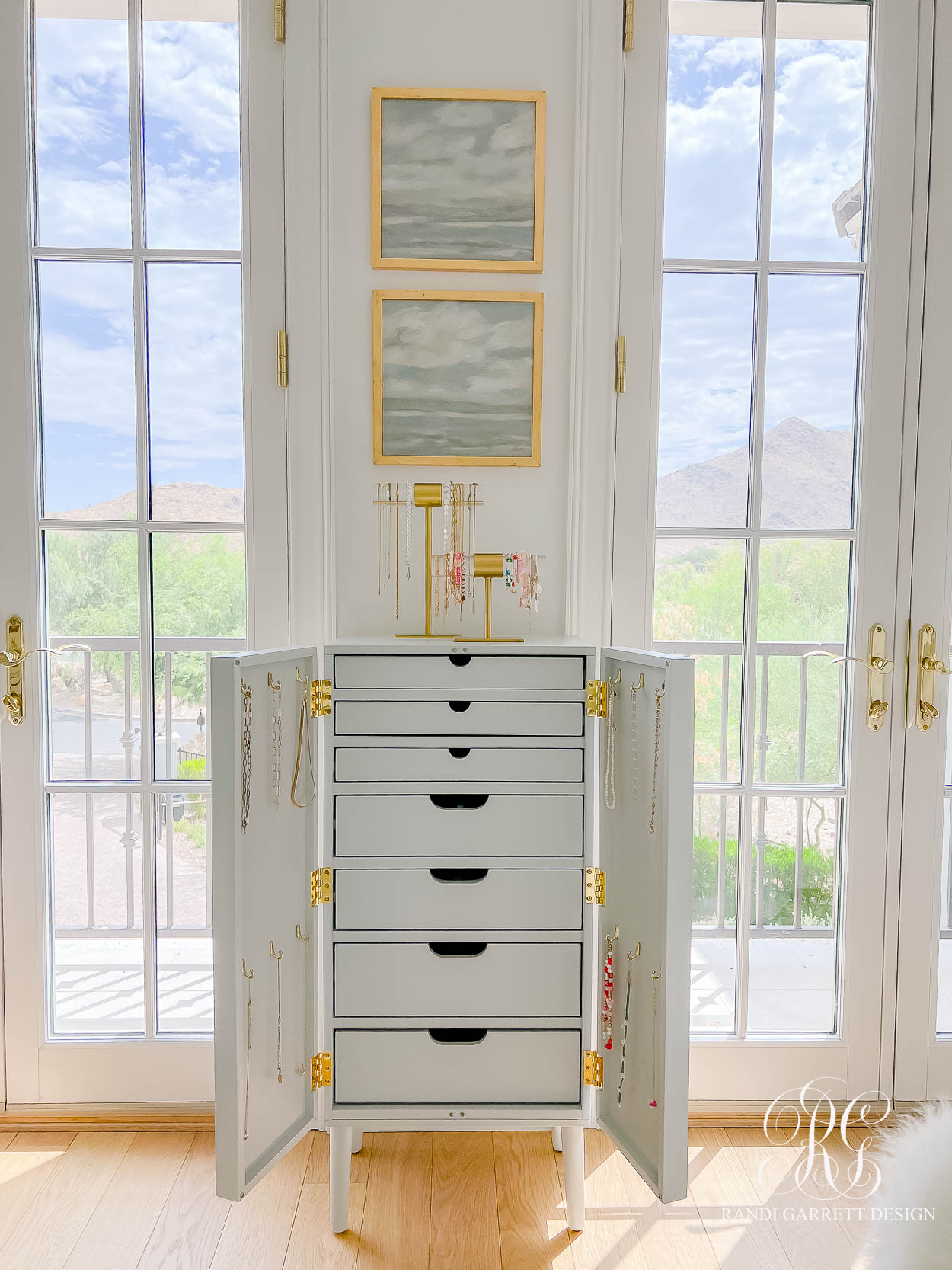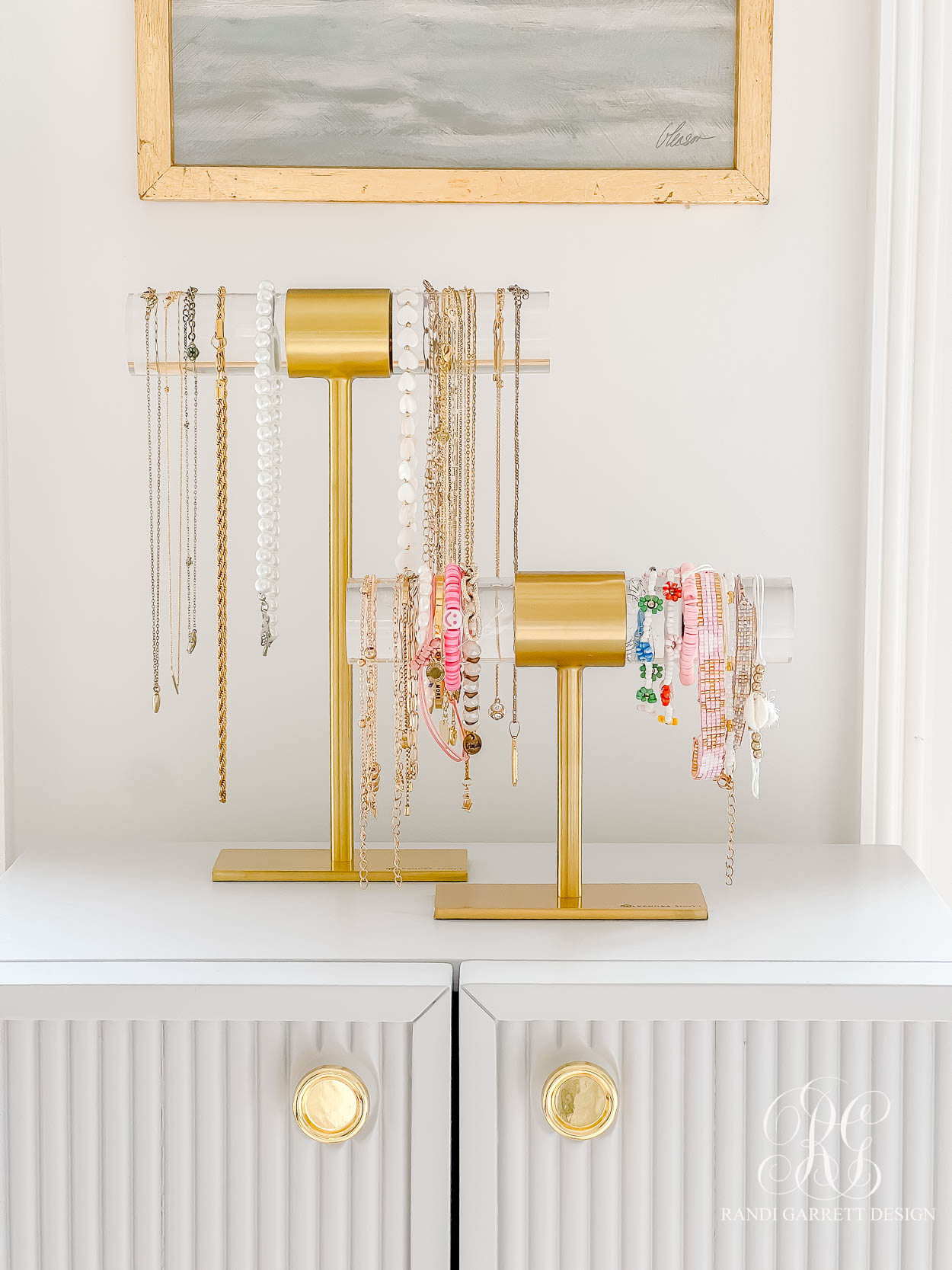 This cute jewelry cabinet holds all of Ellie's jewelry plus it looks darling in the room! These beautiful acrylic and brass jewelry holders hold her favorite jewelry she wants displayed. The beach art above her jewelry cabinet was purchased on our trip to Florida by a local artist.
Ellie's Bathroom Reveal
Here's a peek into Ellie's bathroom. It's a little hard to photograph since there is no window in here, but hopefully this gives you an idea of how charming her little bathroom is.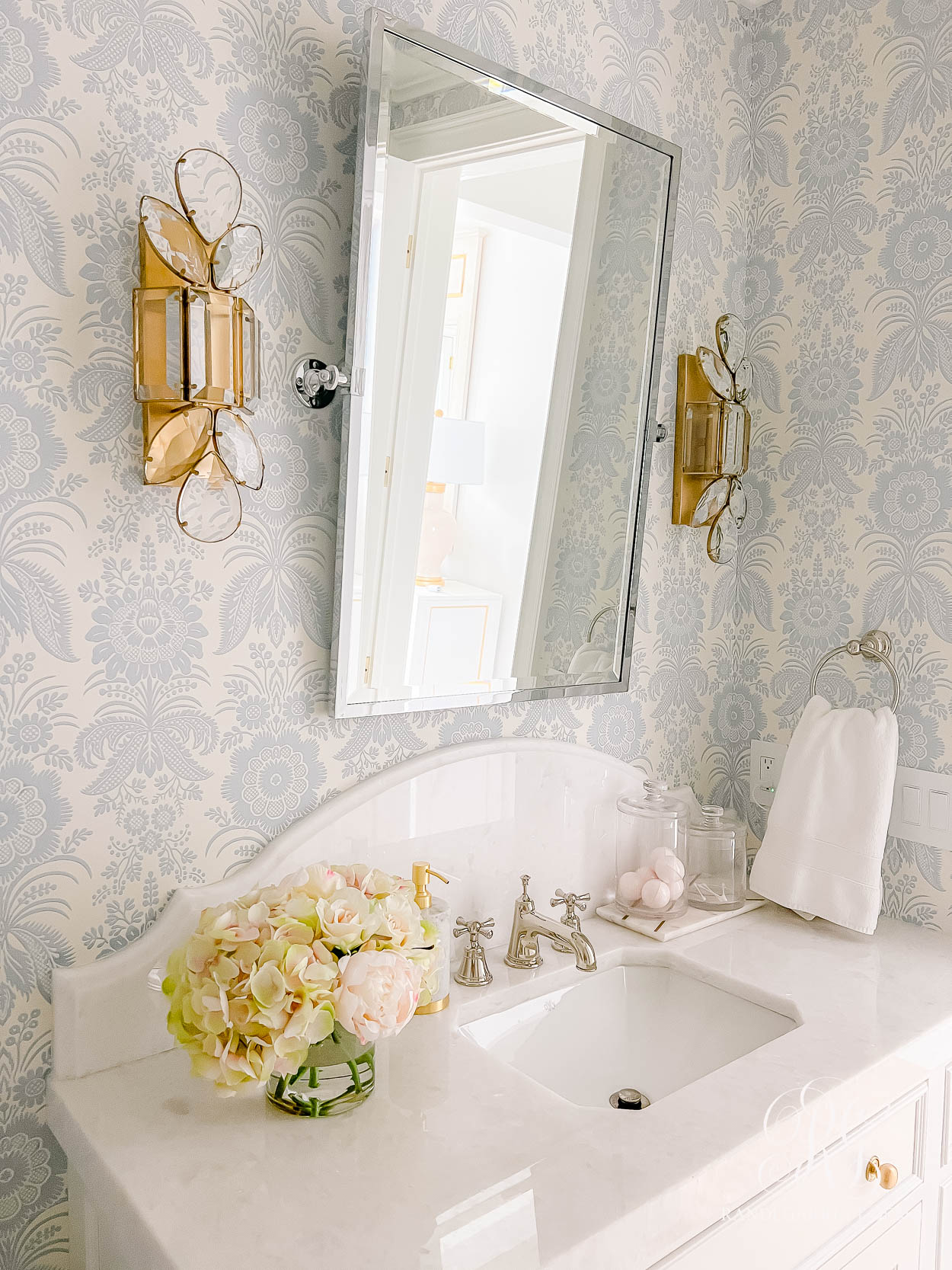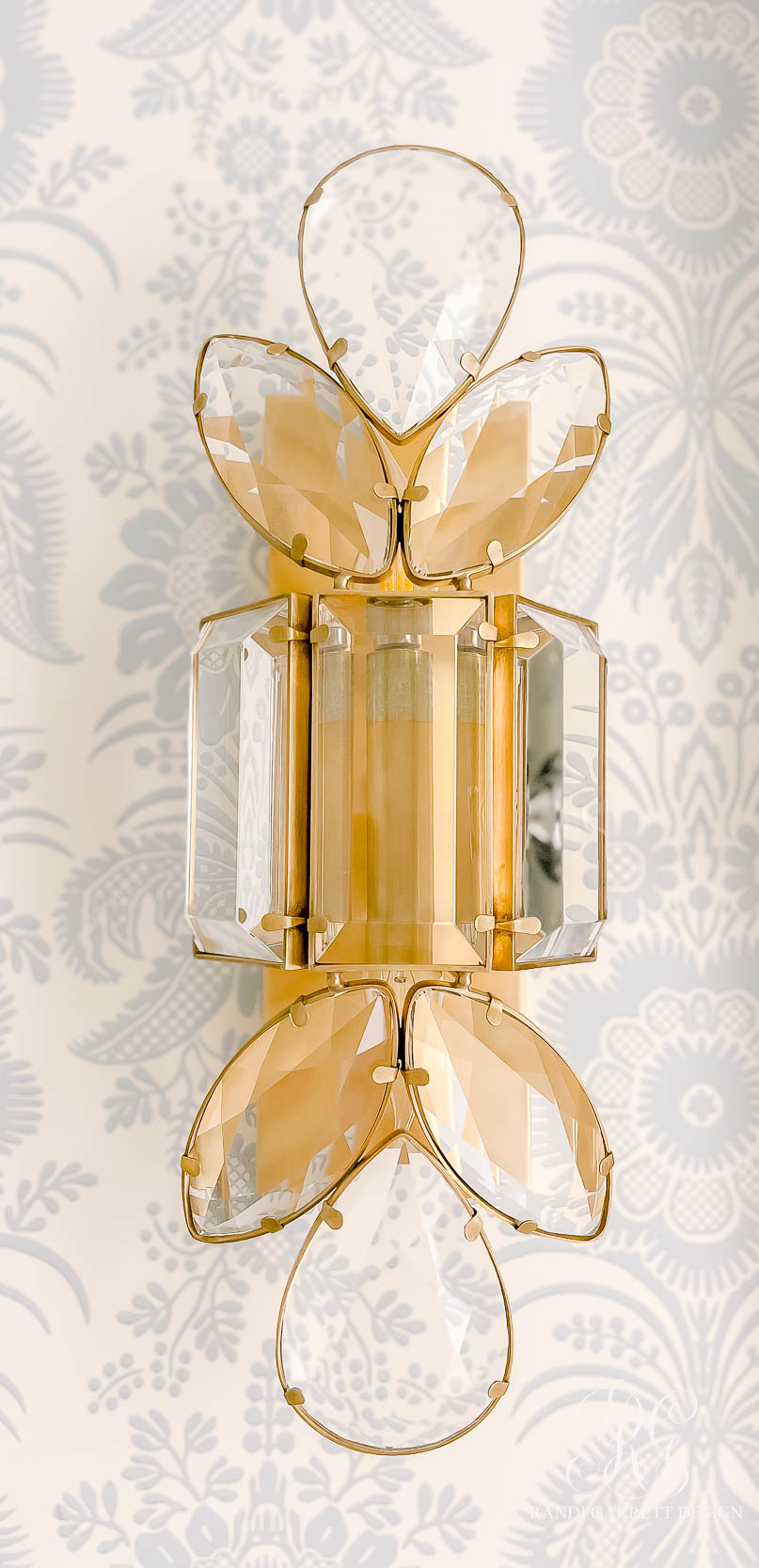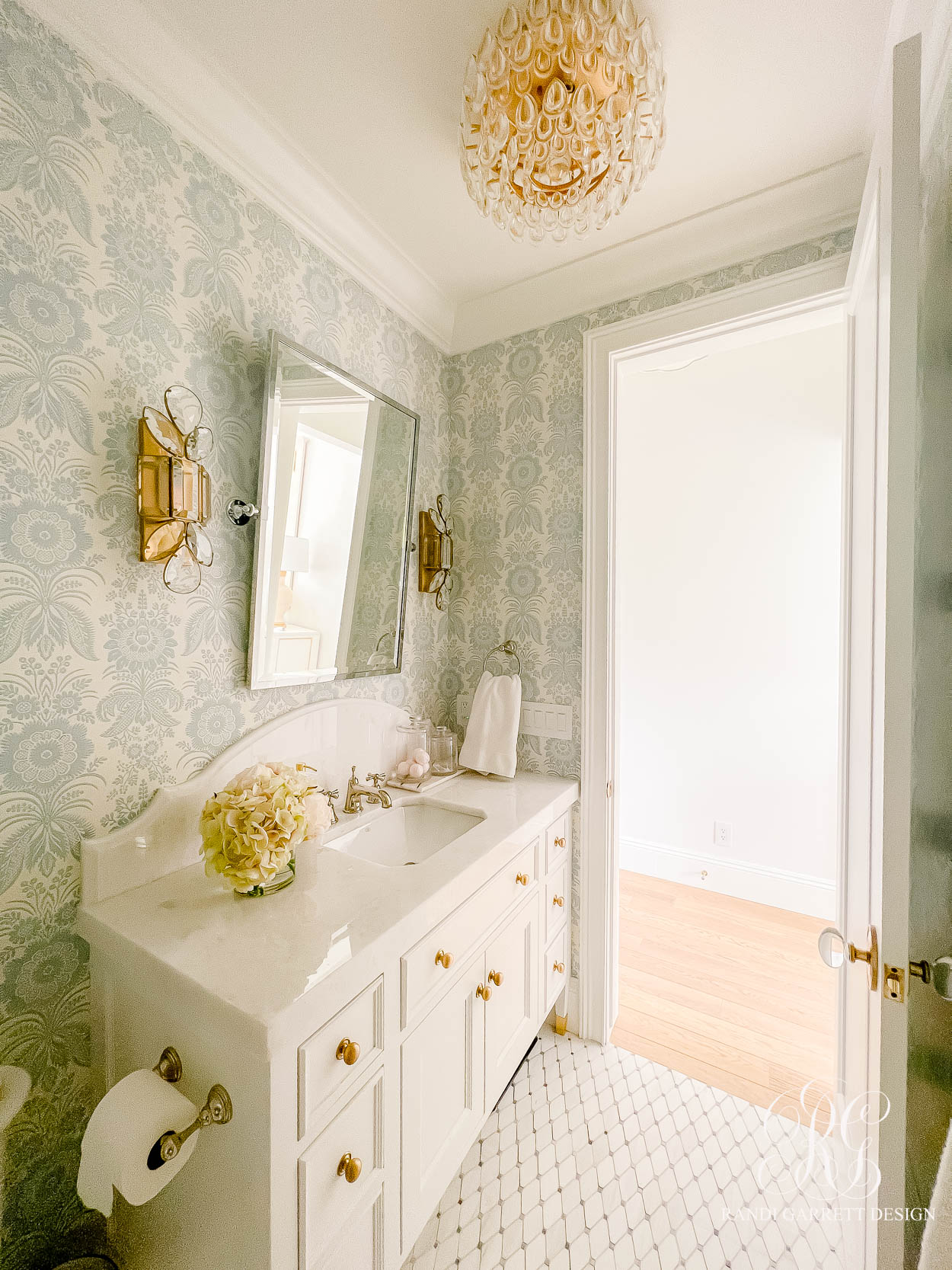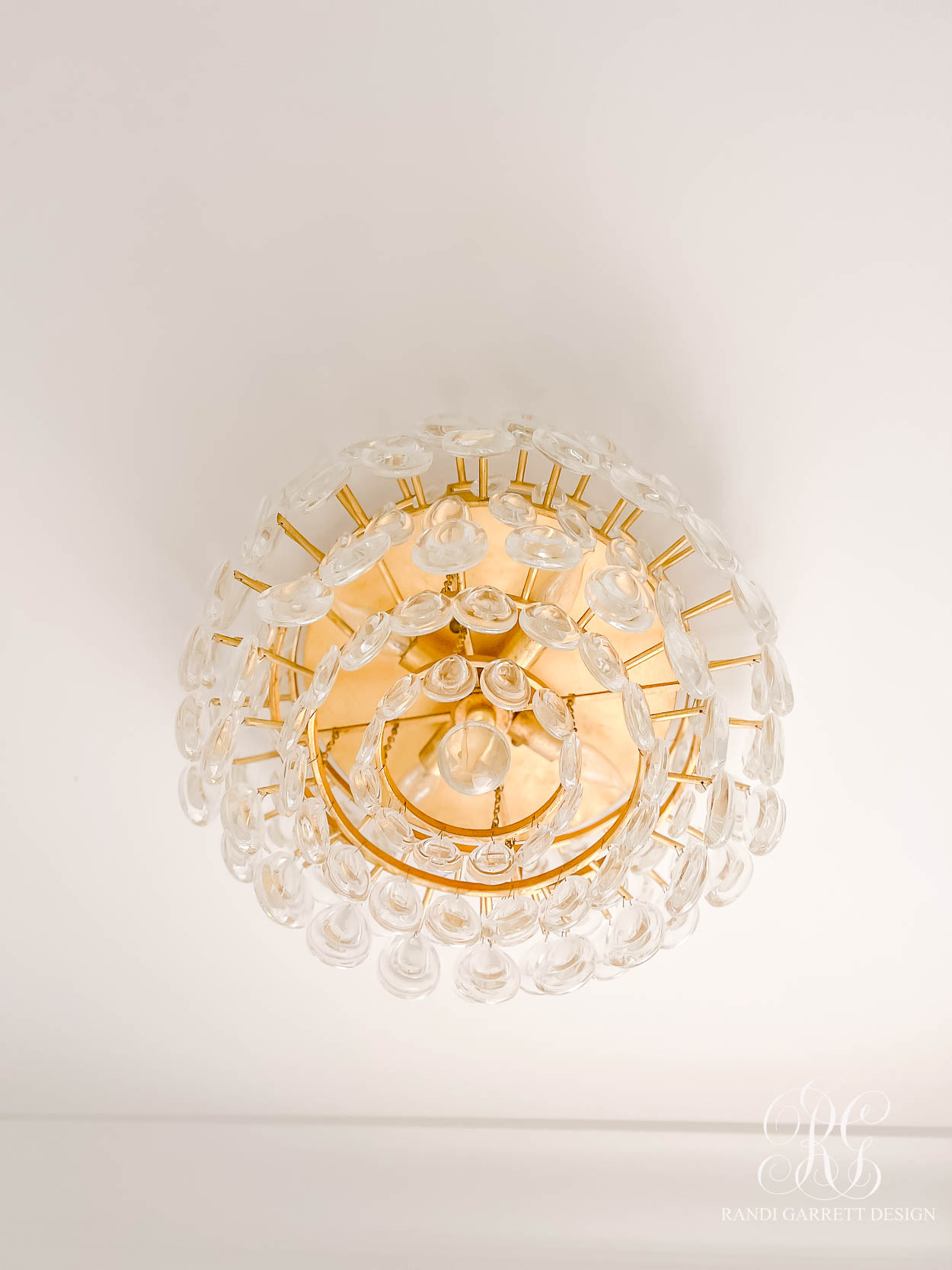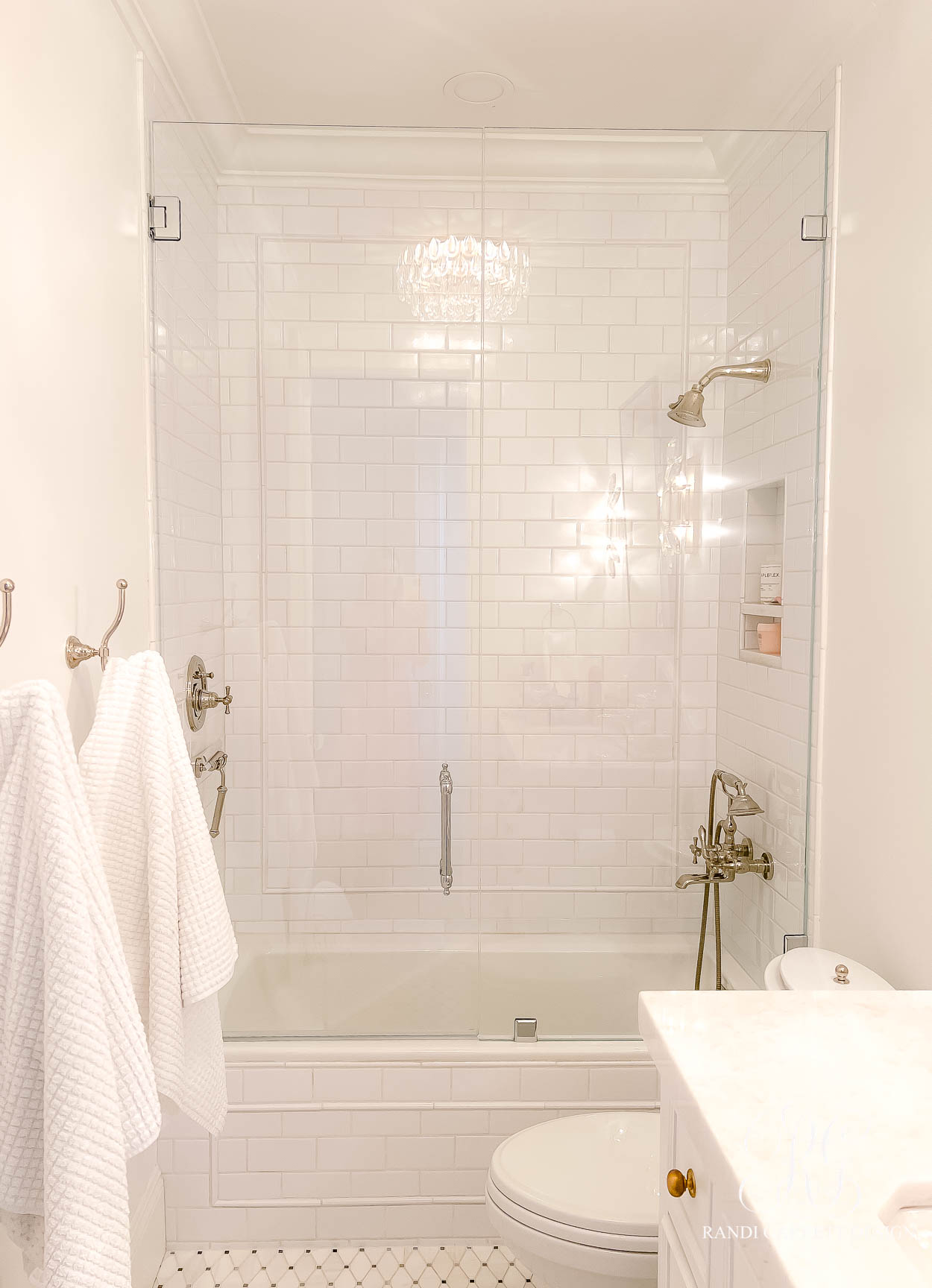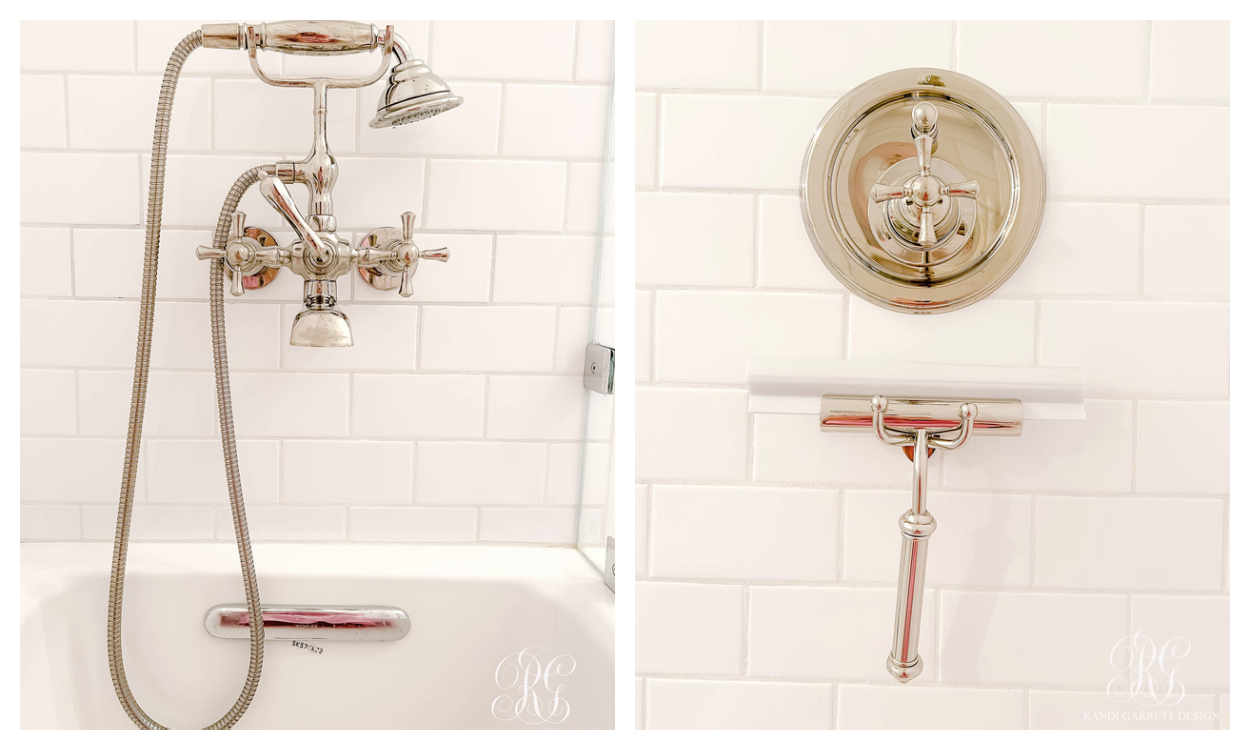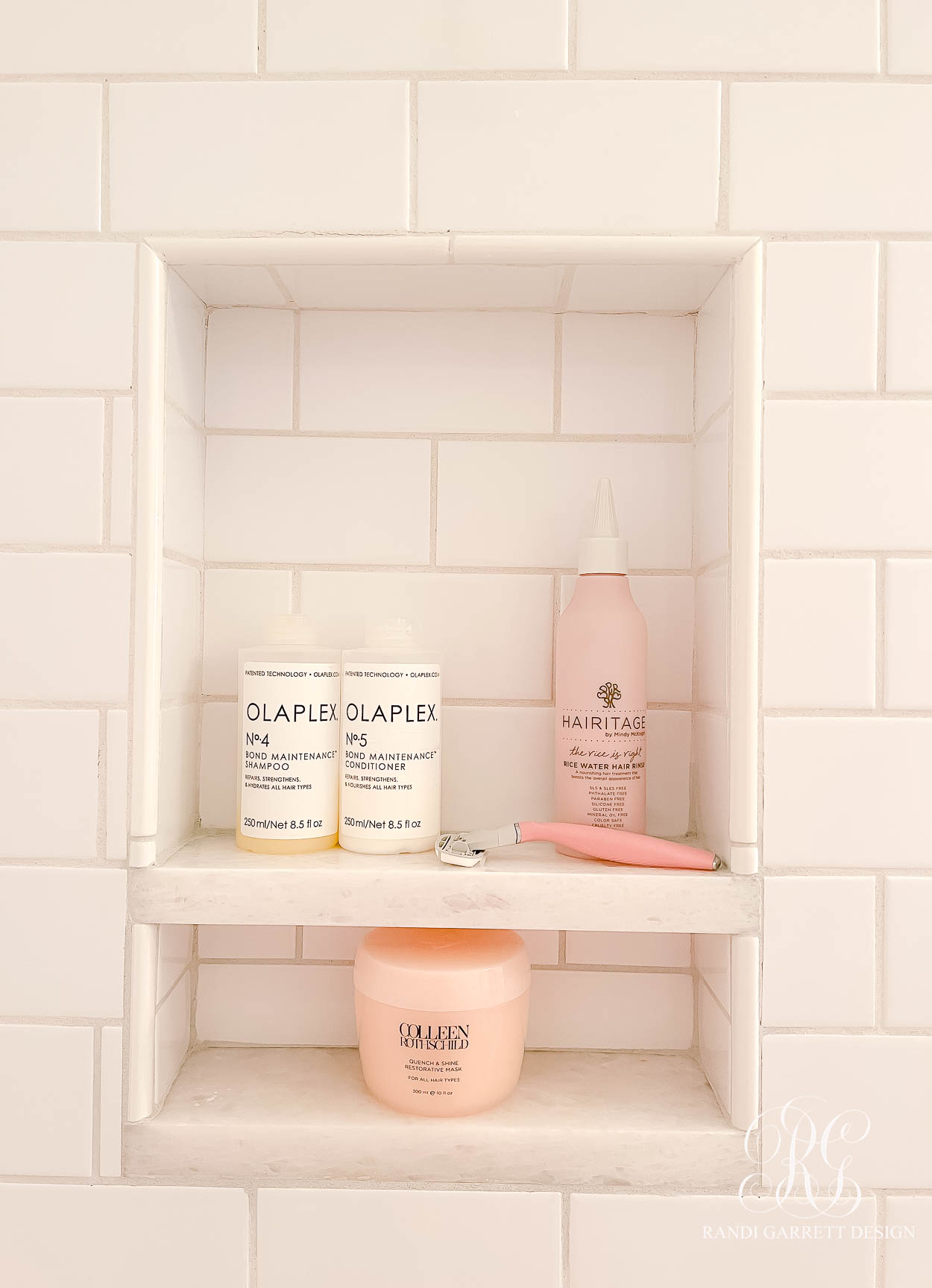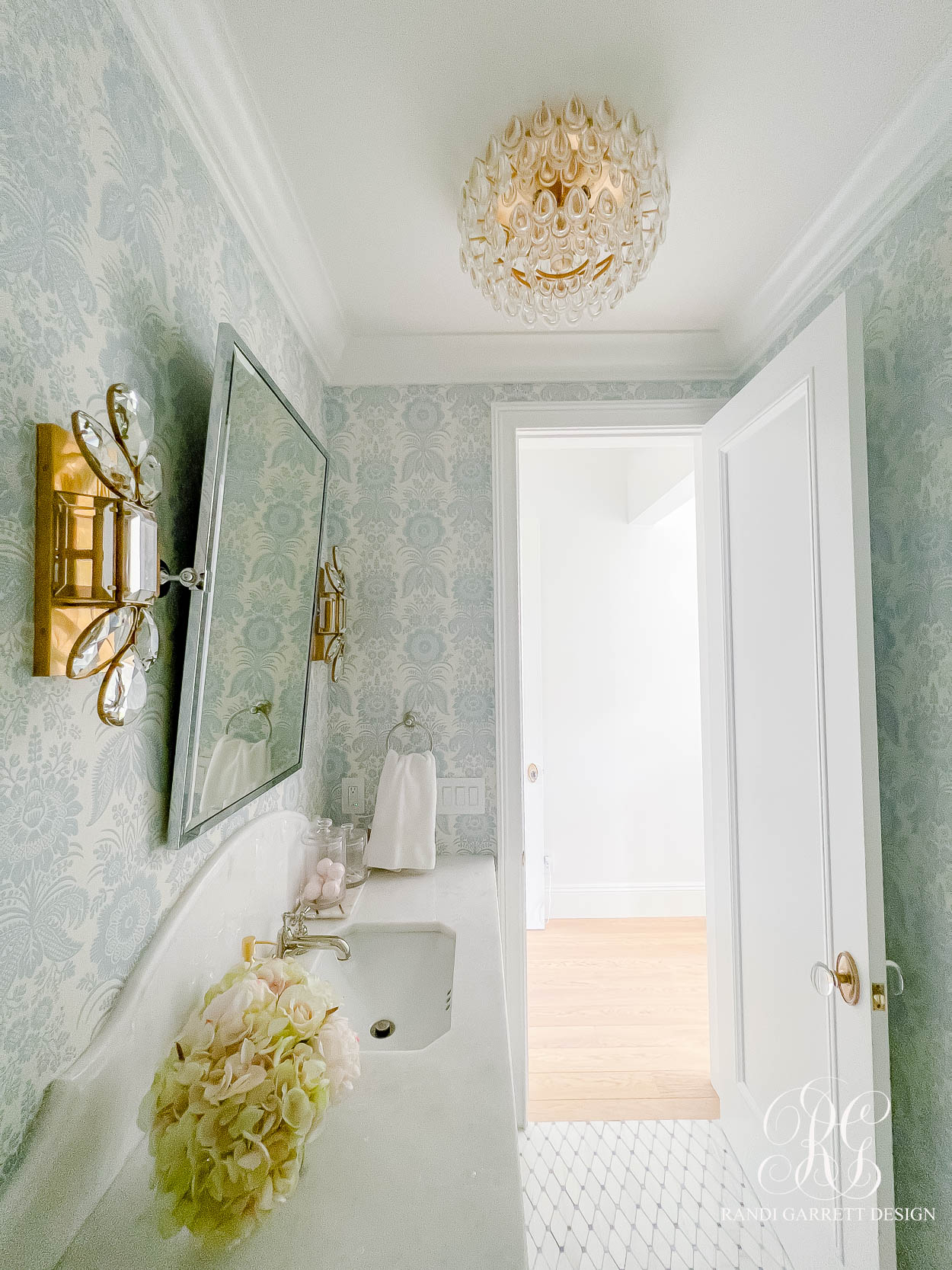 Lighting

Accessoires



Hardware

Plumbing Fixtures

For more details on the tile and shower visit this post.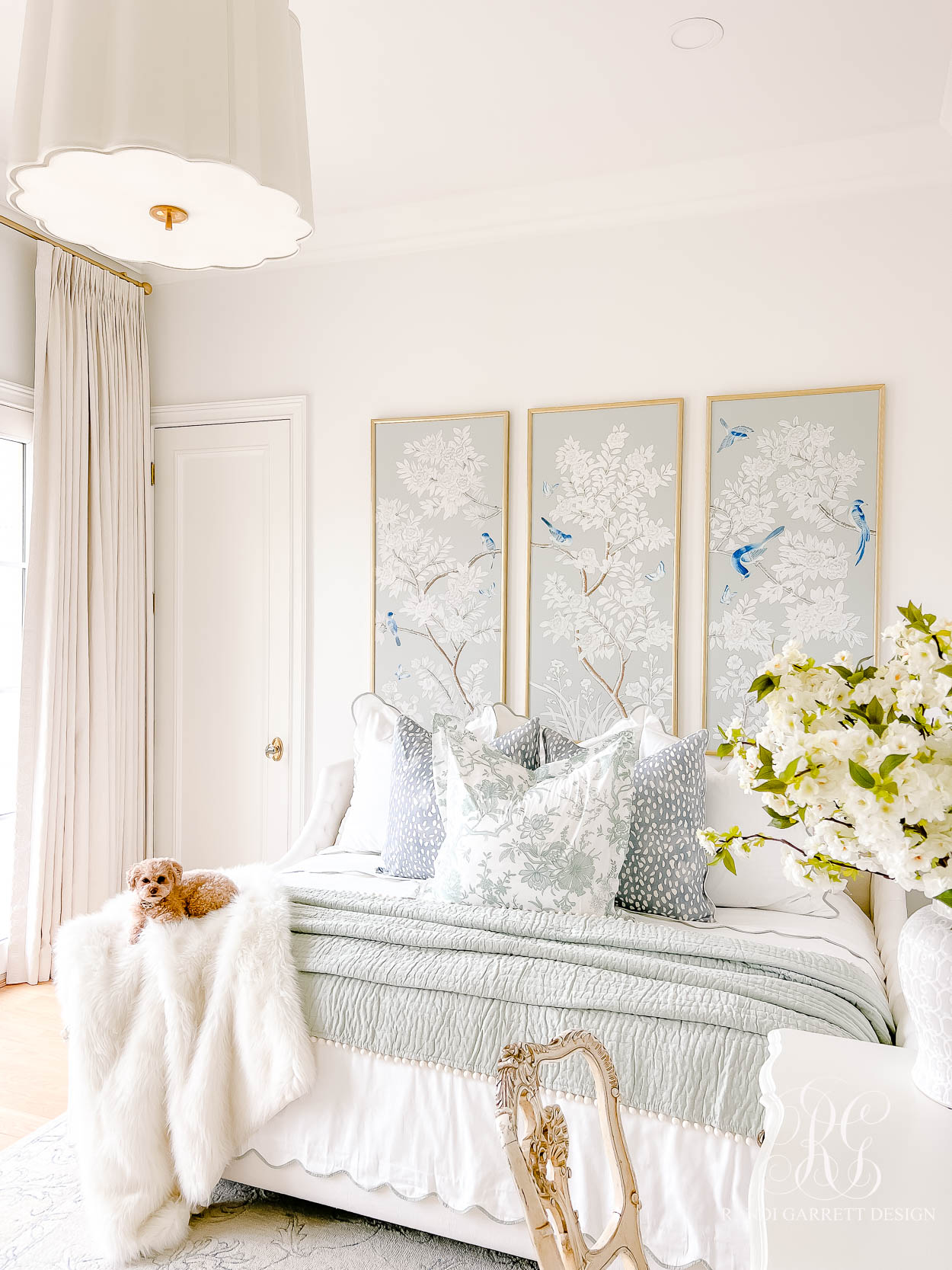 Furniture

Accessoires



Lighting