Since we spend almost half of our lifetime in our bedroom's, I feel like it should be a luxurious space that you love to be in! My bedroom furniture and accessories have been the same for about 8 years. I have been itching to make some changes to the room. Since we are moving in to our new home in about a year, a full makeover just didn't make sense. So, instead, I decided to do a glam bedroom mini makeover!
A few simple changes gave our bedroom a fresh new look! We kept all the furniture the same, only switched out the art, accessories, bedding and added some trim to the wall. The result is a glam fresh look that once again makes our bedroom my favorite room in the house!
Take a look back at our room a few years ago, a few months ago and now! Proof that when you invest in timeless furniture pieces, you can update your room with minor changes for years to come!
This post contains affiliate links (full disclosure here).
Before
Our room had a lot of French details a few years ago.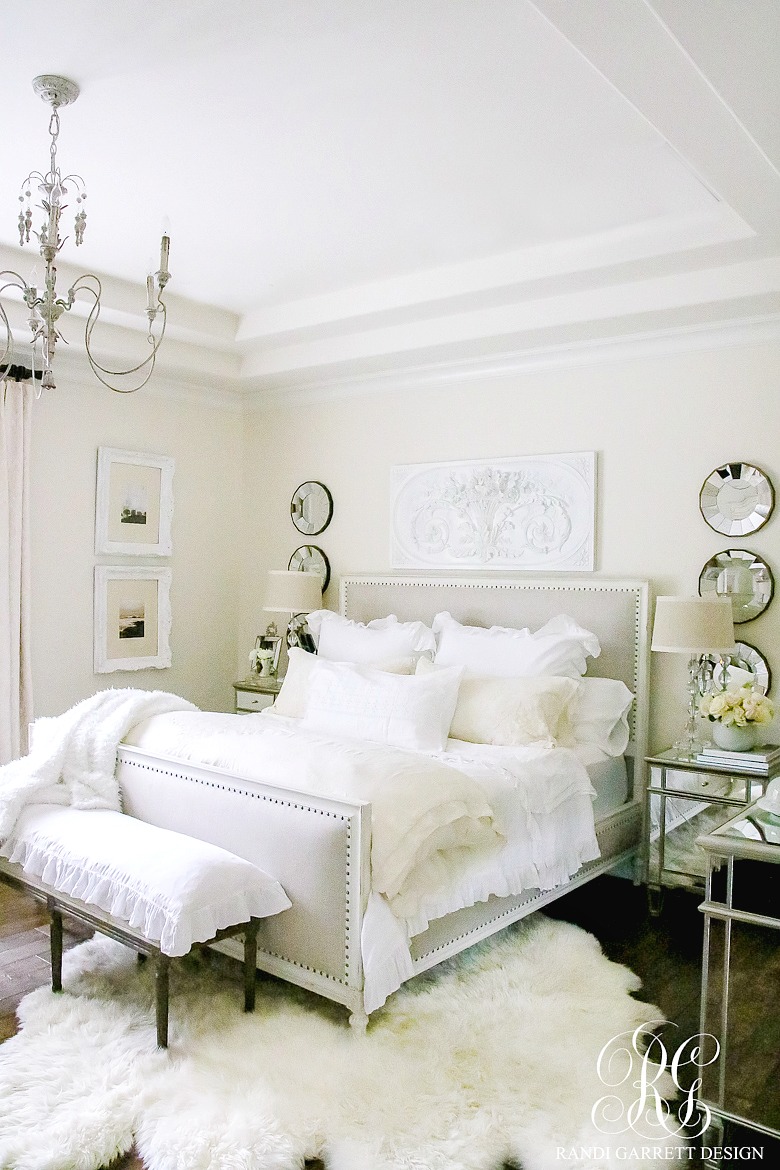 Before
I slowly started adding more transitional pieces.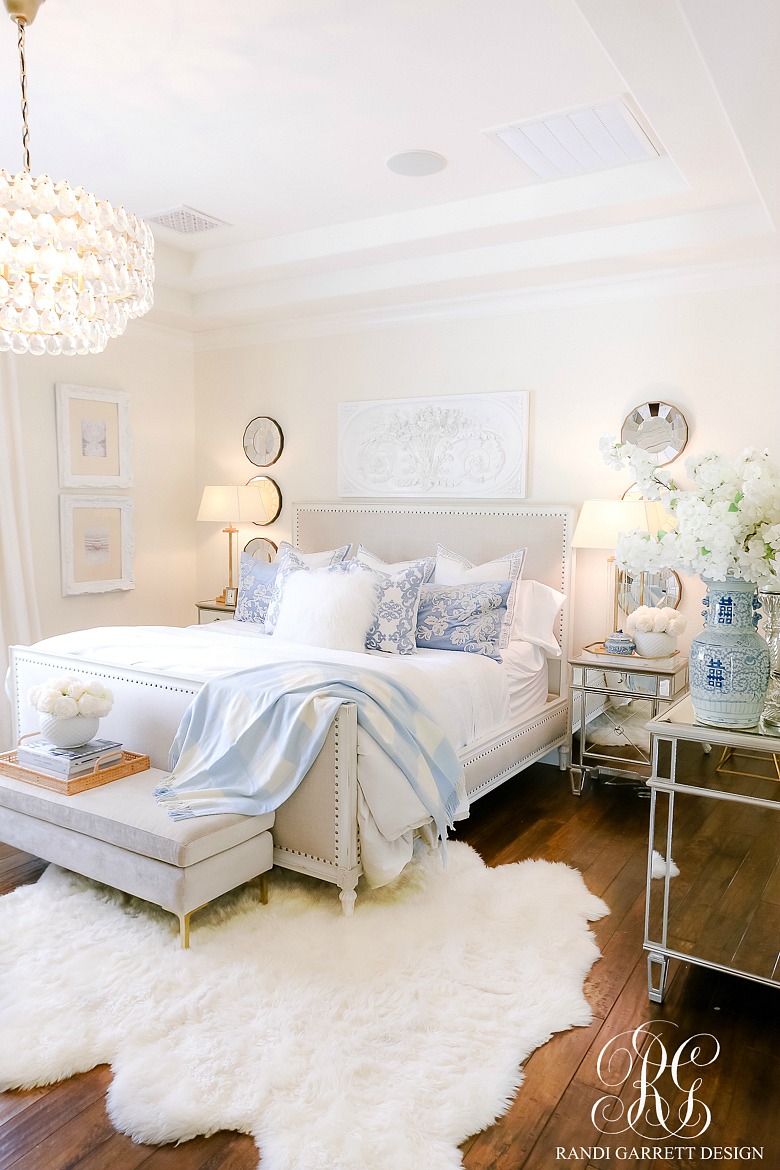 Glam Bedroom Mini Makeover
Now after our mini makeover, our room has more of a transitional glam feel with a touch of french. Here is the result of our glam mini bedroom makeover…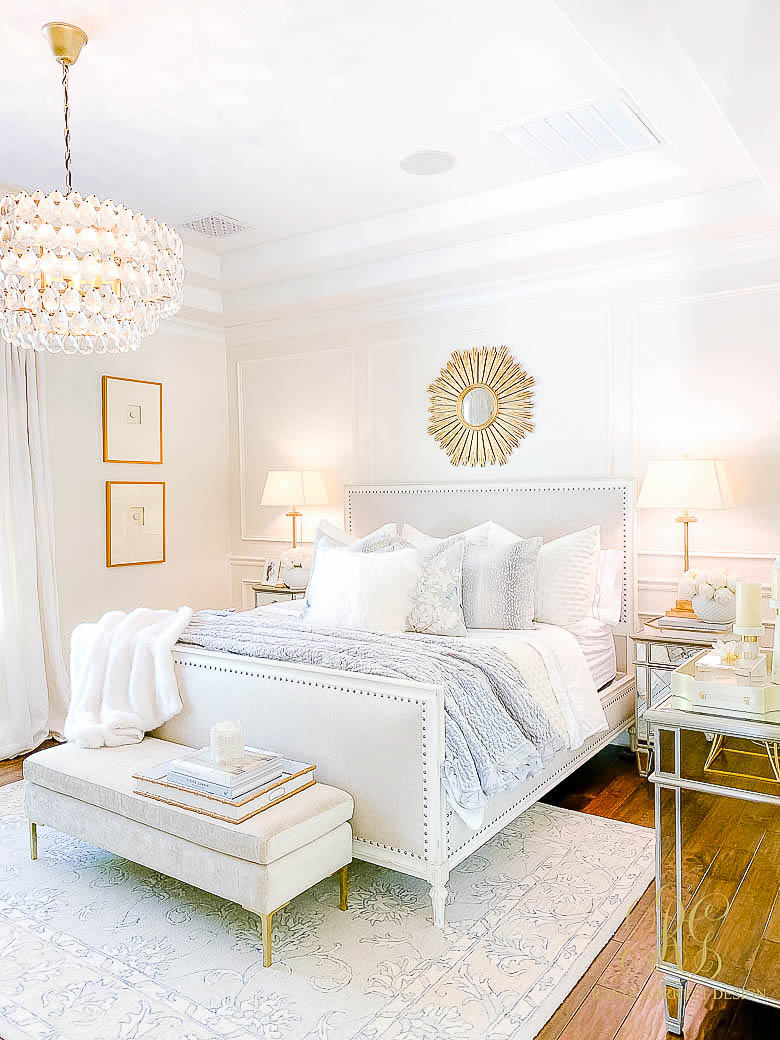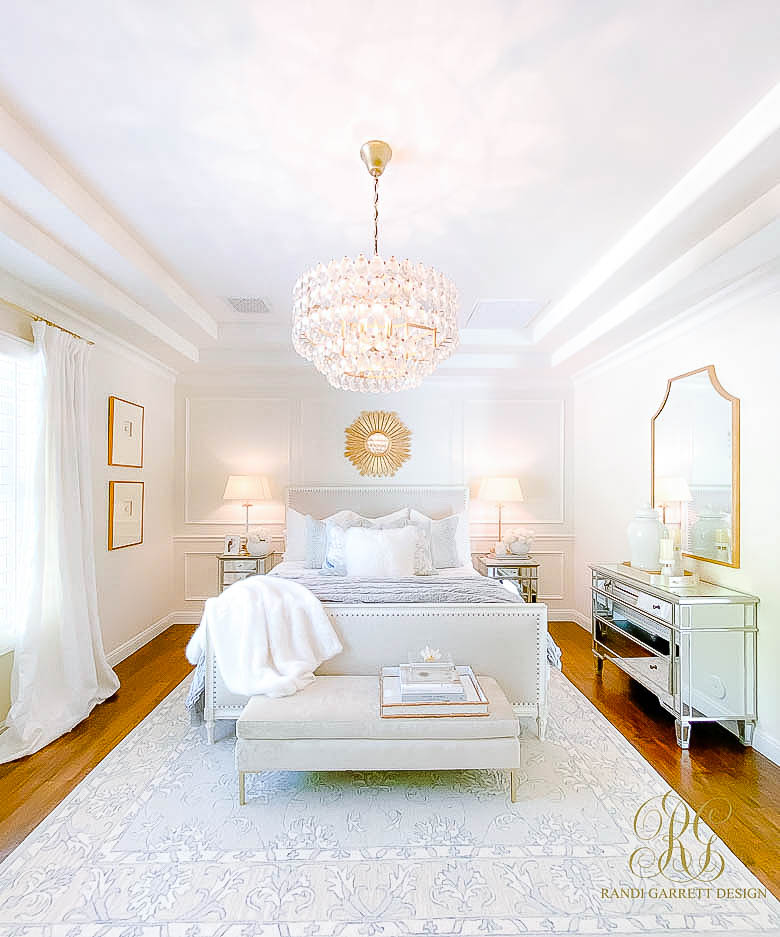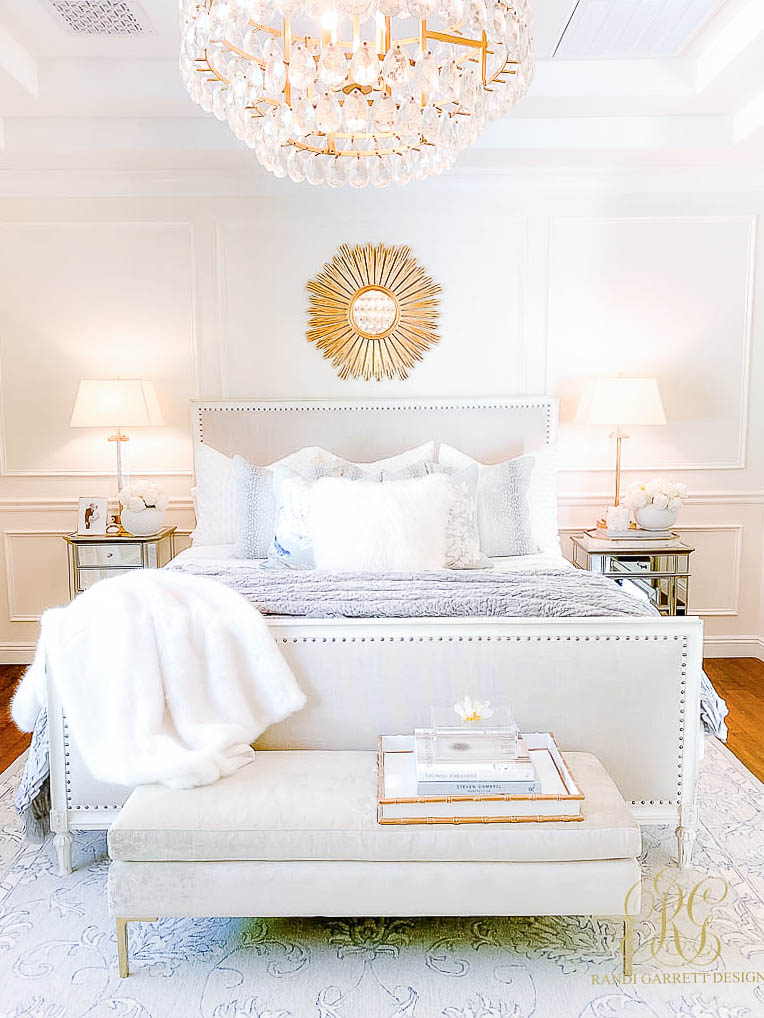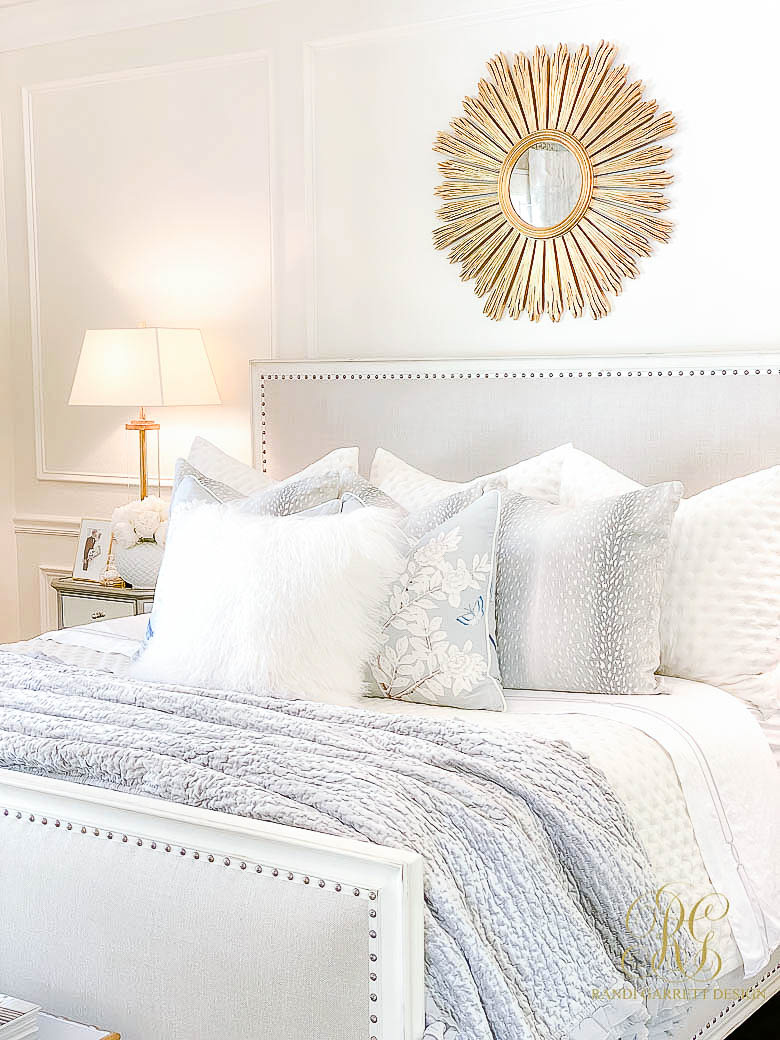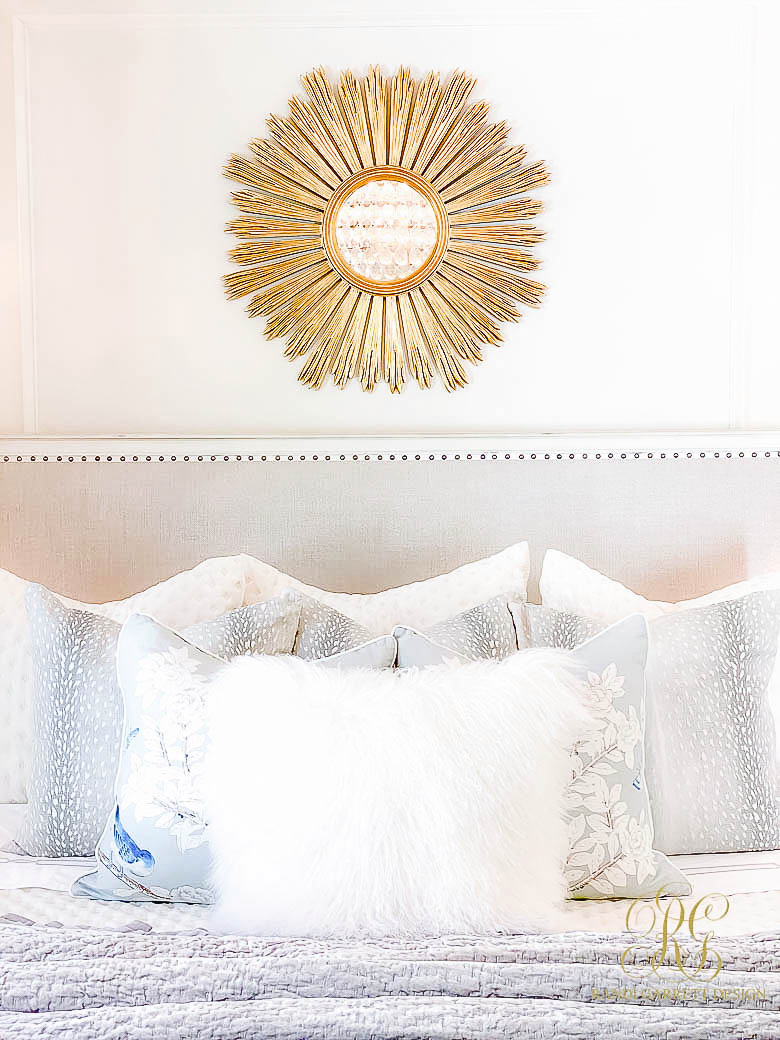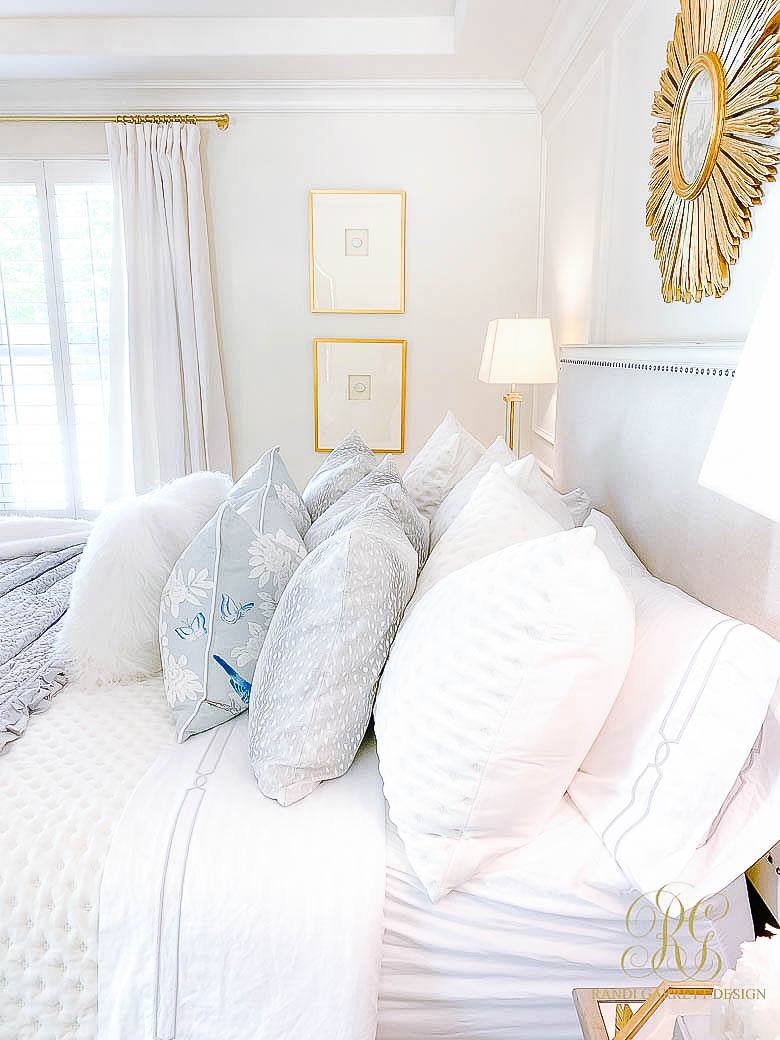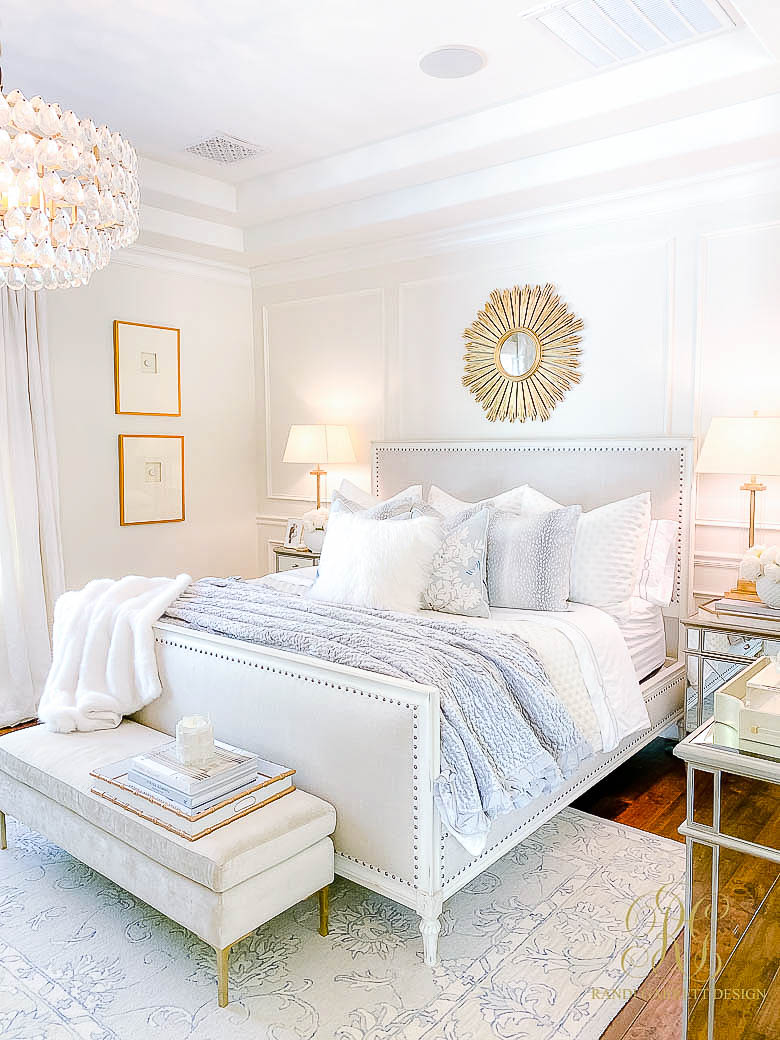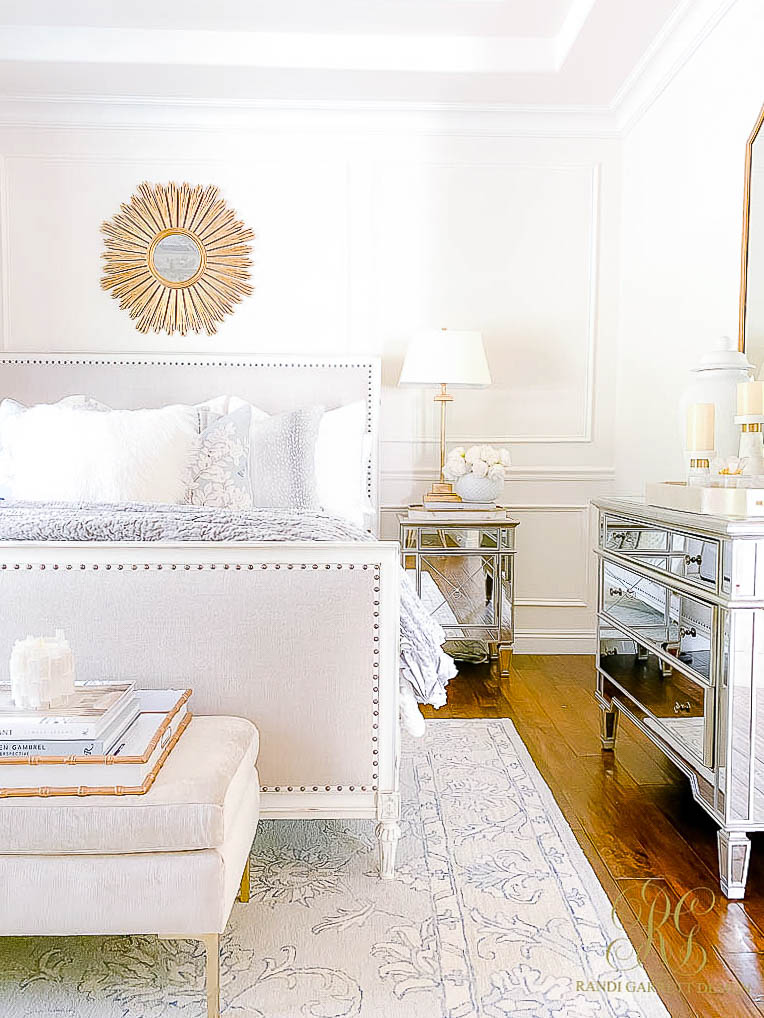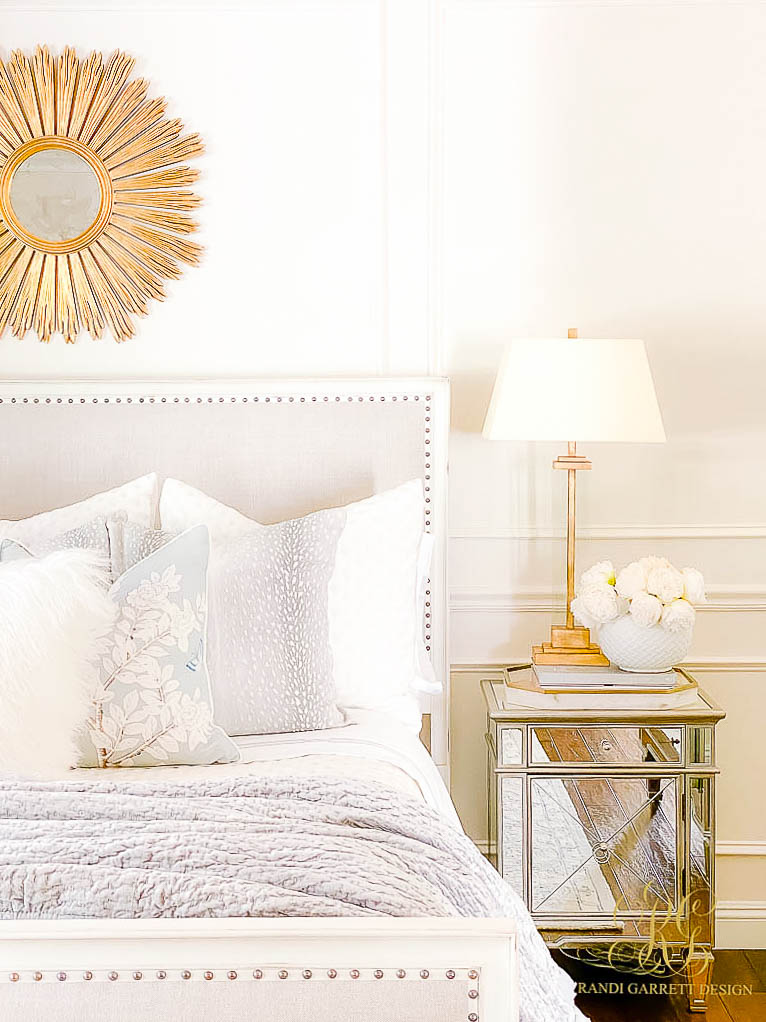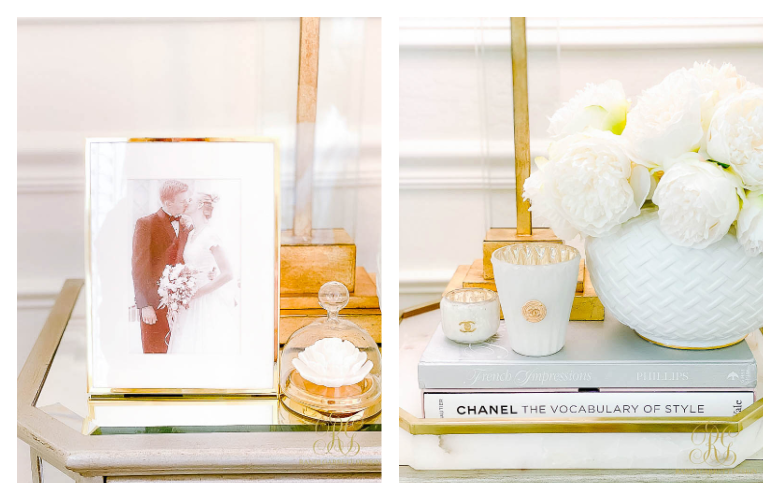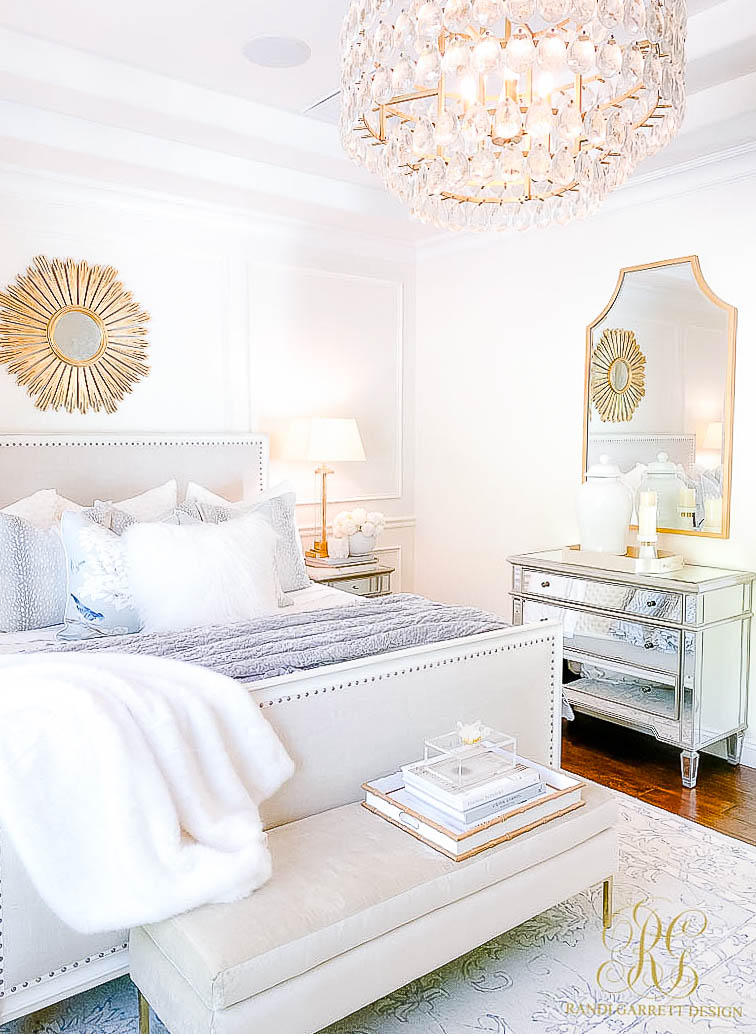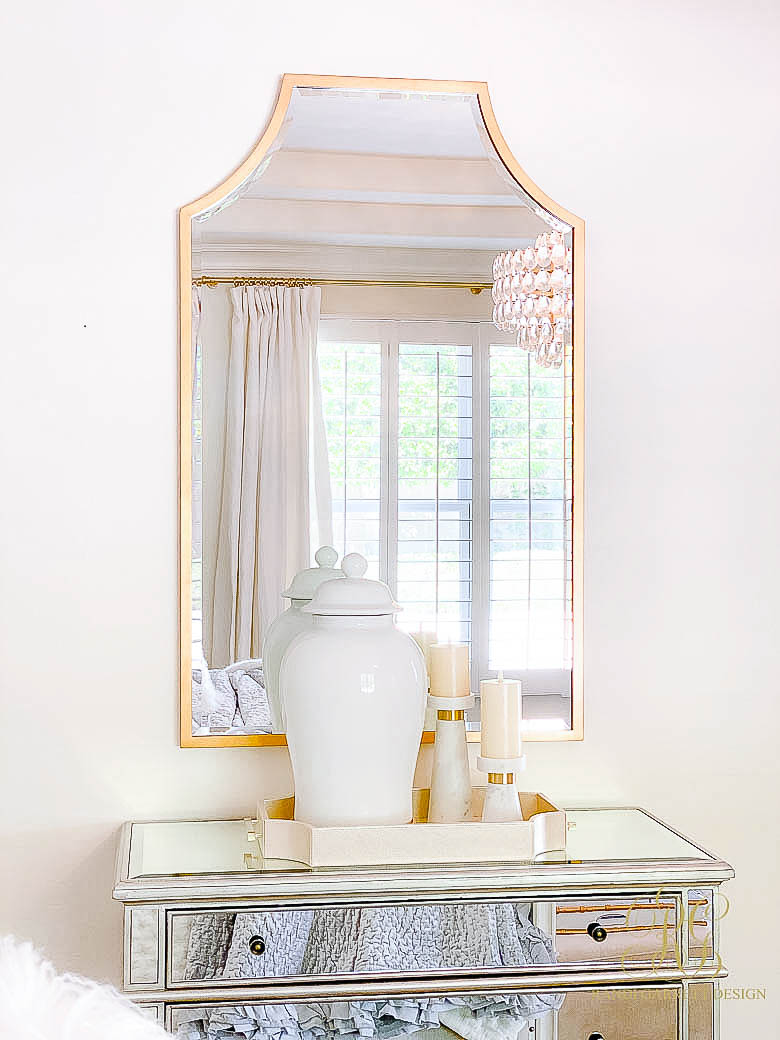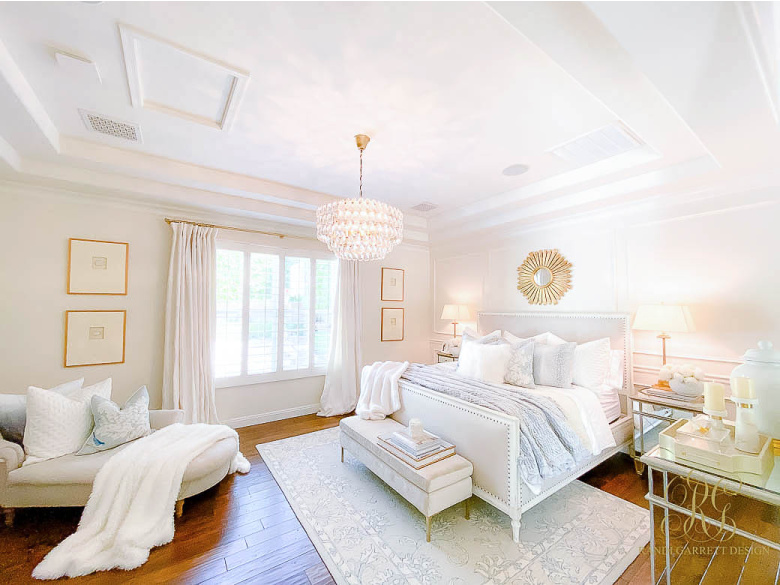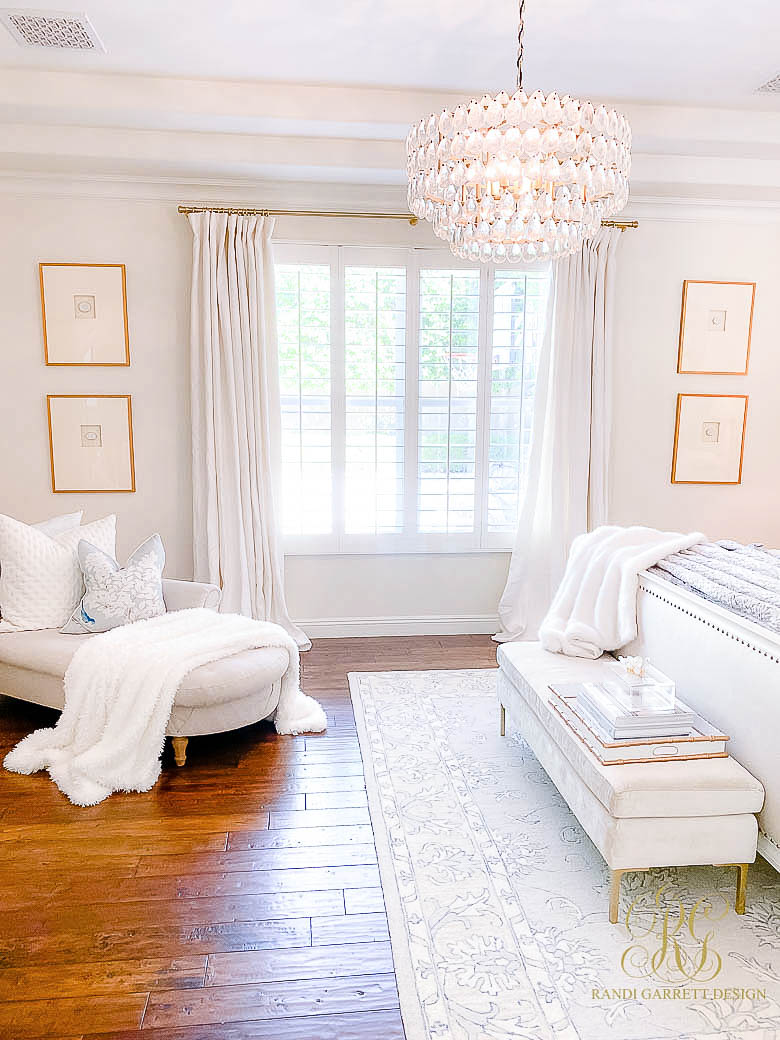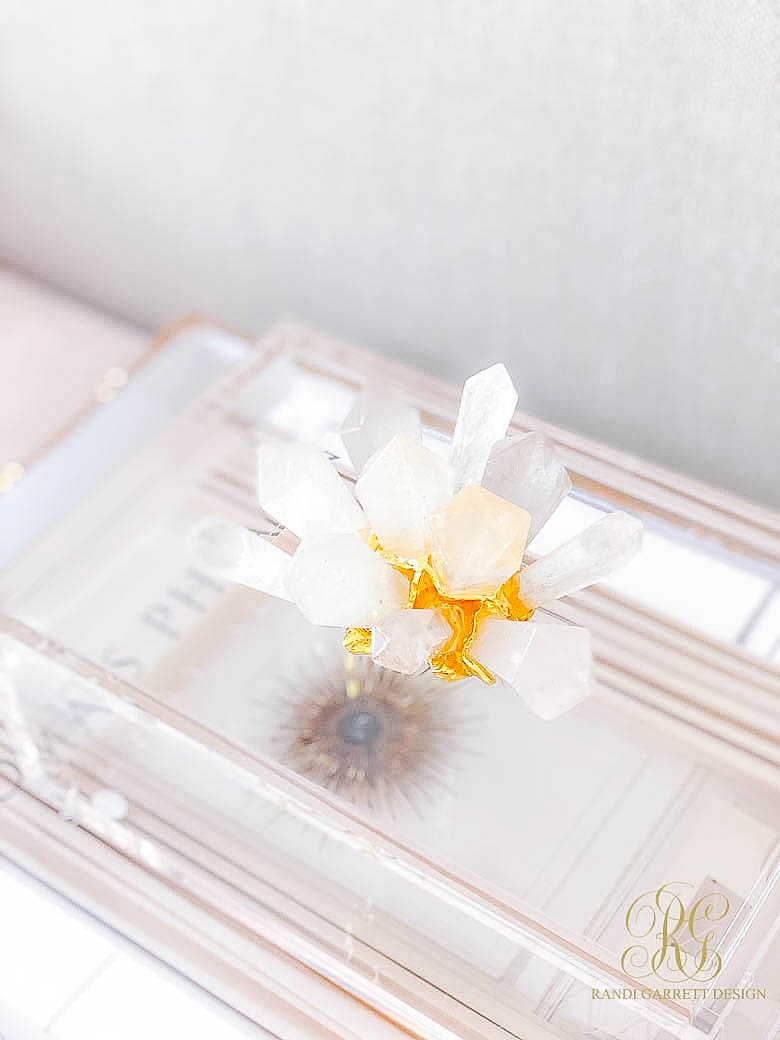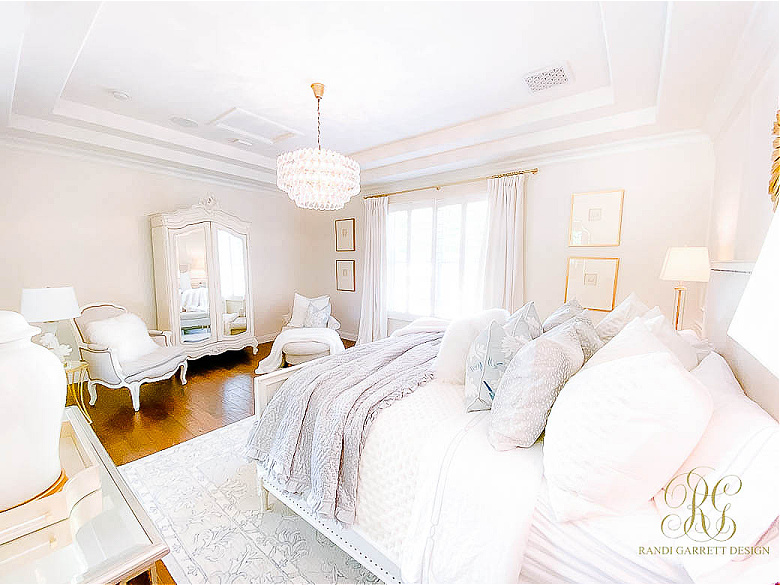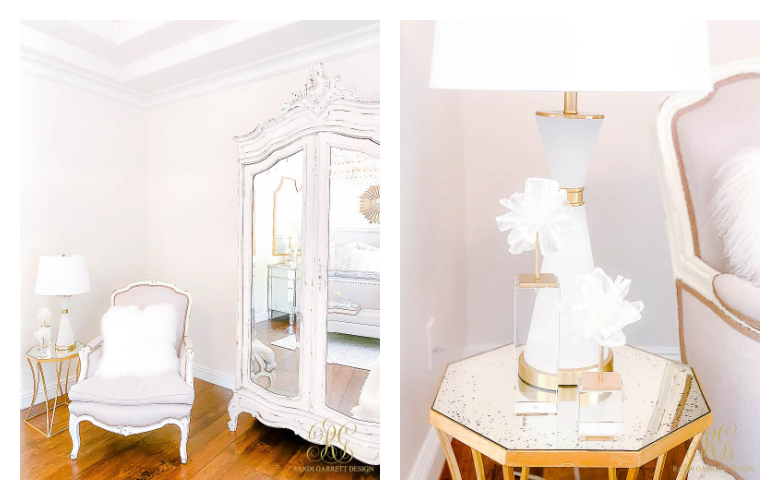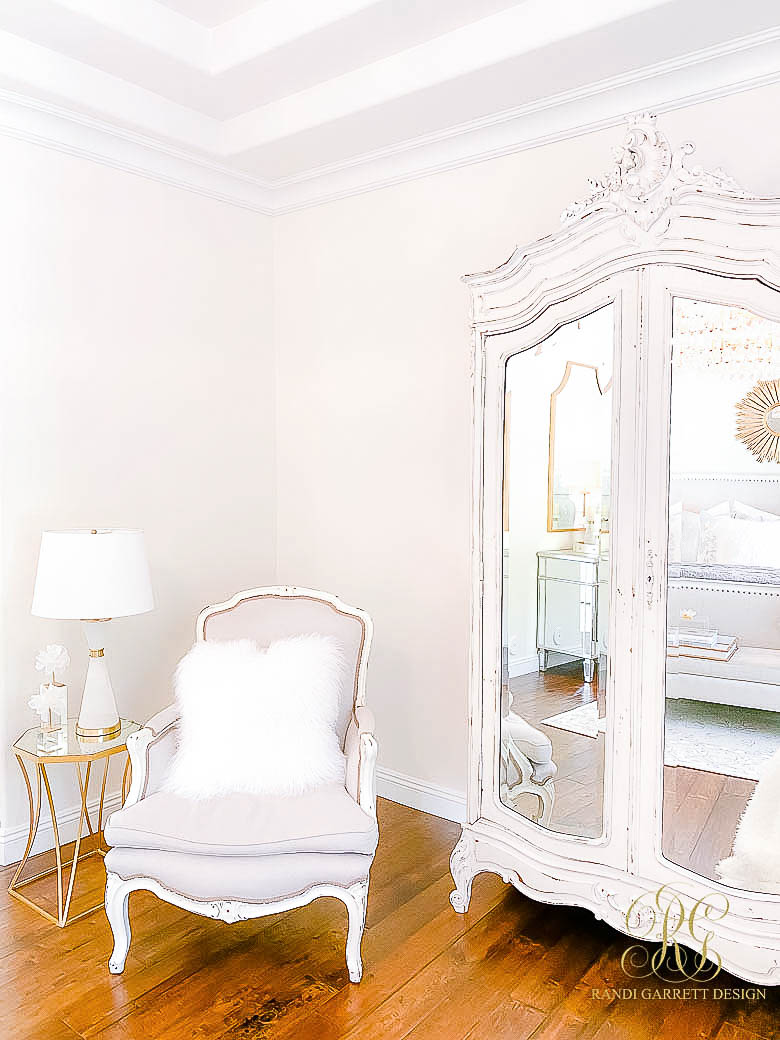 What We Did
My Dad and Mom help me add the picture frame molding to the wall for a major wow factor! We painted the trim the same color as the walls, Ralph Lauren's Edwardian Linen. The crown and baseboards are Dunn Edwards Swiss Coffee. The supplies for the wall cost less than $200. I purchased simple trim pieces from Home Depot and my Dad hung it for me. He is the best!!!
To give the room a more glam feel, I switched out some of the French accents. A beautiful starburst mirror, some gold framed Intaglios and a gold accent mirror, update the room.
My chandelier and rug (similar here) were swapped out awhile ago.
The bedding features a gorgeous, versatile velvet quilt and shams. It is seriously the most luxurious quilt ever! Luxe sateen sheets with embroidered details help us sleep like we would in a 5 star hotel! A few antelope pillows and chinoiserie pillows add texture and interest to the bed. Make sure you use high quality down alternative inserts to give your bed a designer look!


The posh fur throw pillow softens the whole look.
At the end of the bed I ruffled another velvet quilt and draped a soft fur throw for more luxury.
Glam Bedroom Styled for Fall
Since Fall is in full swing, I thought I'd share a few glimpses of how I welcomed Fall into our glam bedroom. Of course, I had to use my favorite luxe velvet pumpkins from Hot Skwash! Look at how beautiful these new Panne Velvet pumpkins in metallic shades, look against the soft ivories and grays!
I sprinkled some of my Chanel candles to warm up the room too. If you want some for your house, just follow my simple tutorial on how to make your own Chanel votives.