*This post contains affiliate links. Click here to read my full disclosure policy.
I am a firm believer that if you love the way a room makes you feel, you will want to be there! That was my whole theory behind our home gym makeover! I used to HATE – no LOATHE working out! Mainly because our home gym was a depressing place for me to be. My sweet husband works out faithfully everyday and I wanted to give him a space that would bring him more joy when he was in it! Now it's a space we both enjoy using and I actually don't mind working out!!! I still don't LOVE it, but the improvement is significant!
Before our home gym was a hodge – podge of styles and pieces. It was cluttered and uninspiring. We took everything out and focused on transforming the bones of the room. We started with the floors and the walls. Hardwood floors replaced carpet. Bright white, painted and trimmed mirrored walls transformed this bland, narrow room into a glam home gym!
This room was designed to be a mother in law suite. It has a grand entry that is plumbed for a kitchen. The long narrow room was meant for a sitting room and is attached to the guest bedroom and bath. We took advantage of the wide entry and created a glamorous storage area for workout essentials. Take a look at what the gym looked like before and how it was completely revitalized!
Glam Home Gym Reveal

CRAZY right?!!!! I even can't believe it's the same space! Adding the framed mirrors to the walls doubled the size of the room. I'll walk you through all the details in photos. At the end is a detailed source list for you.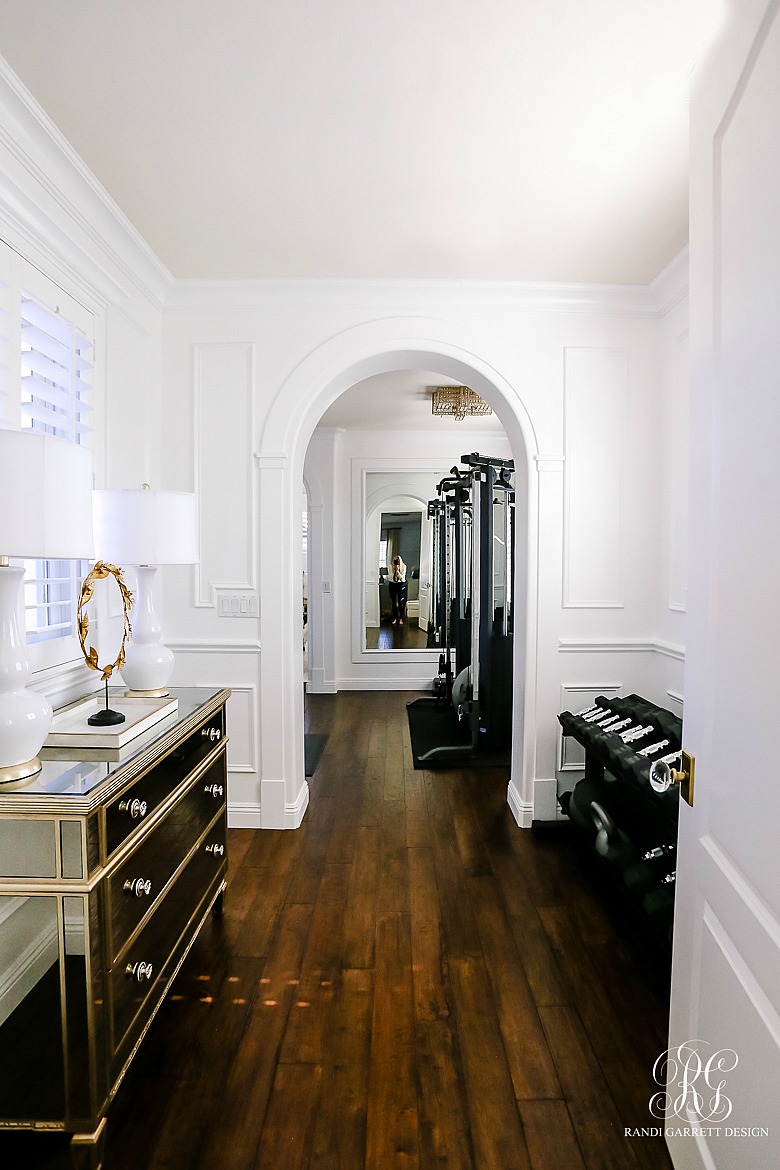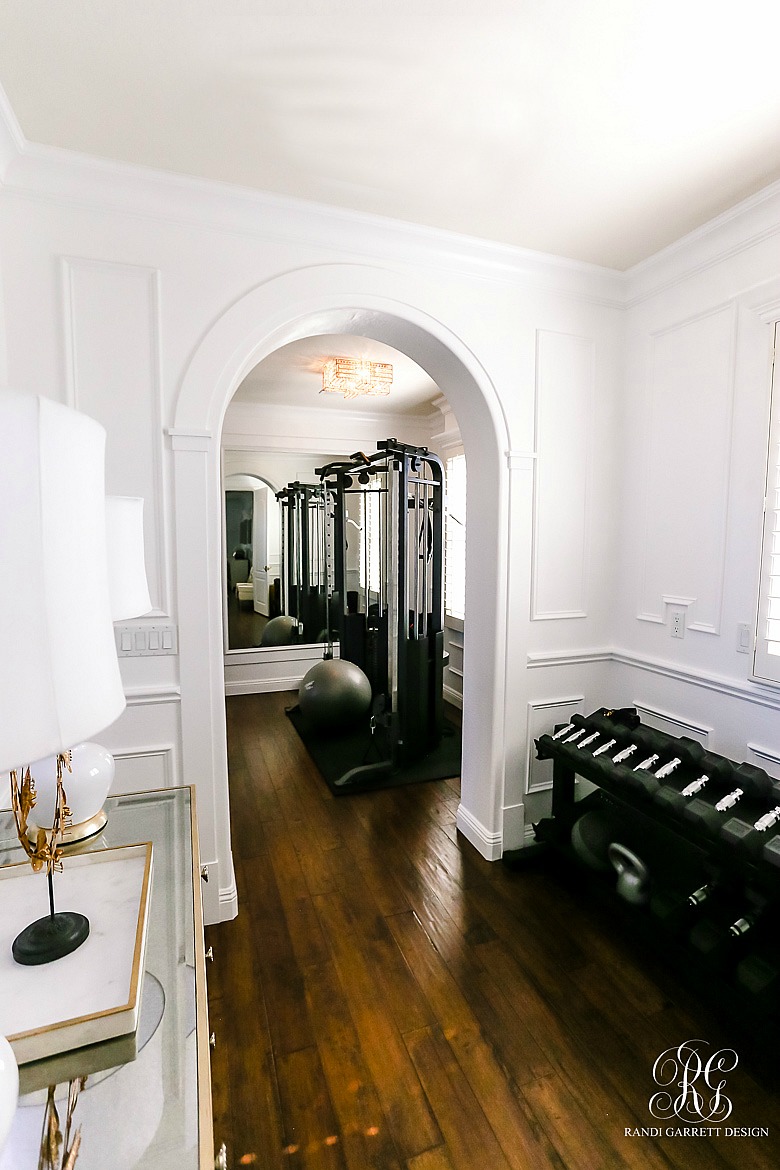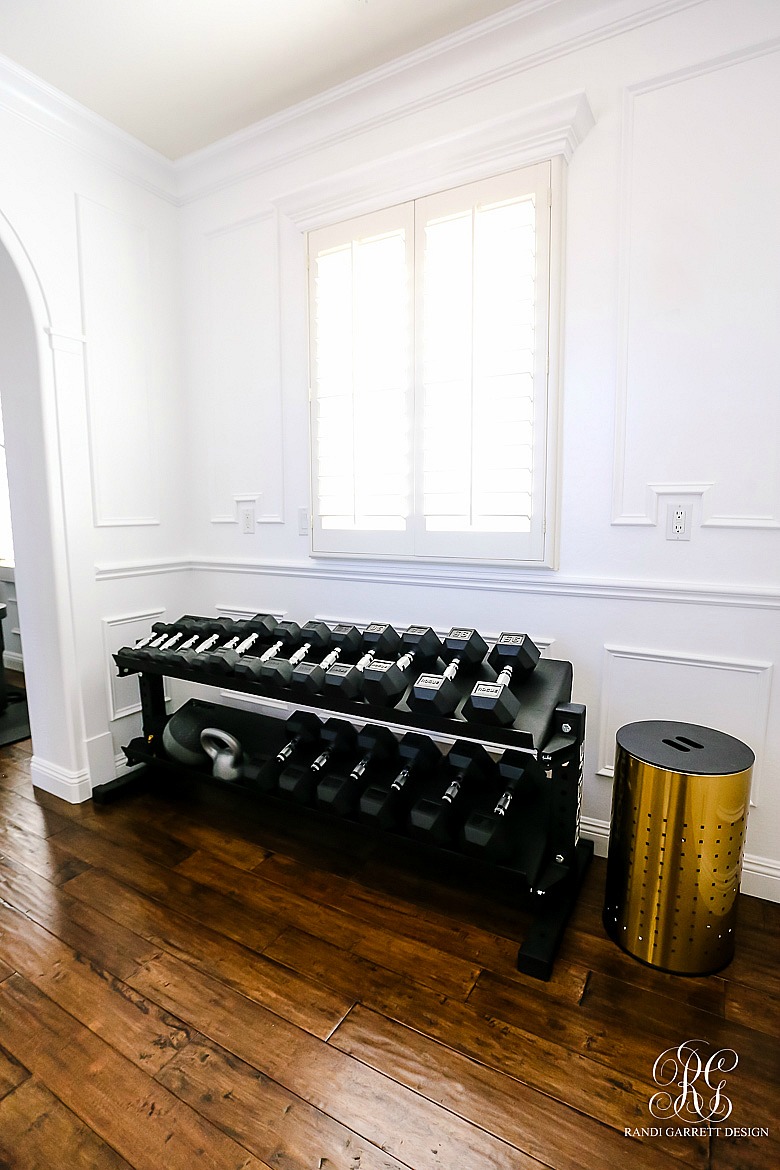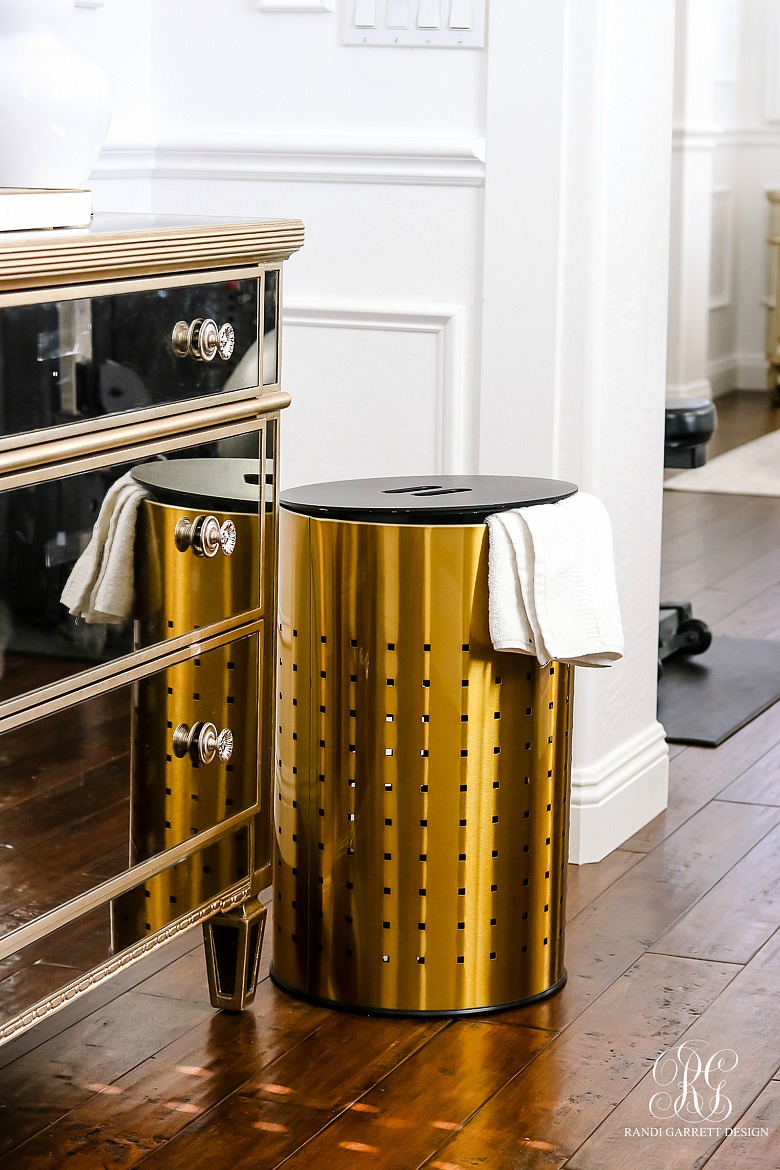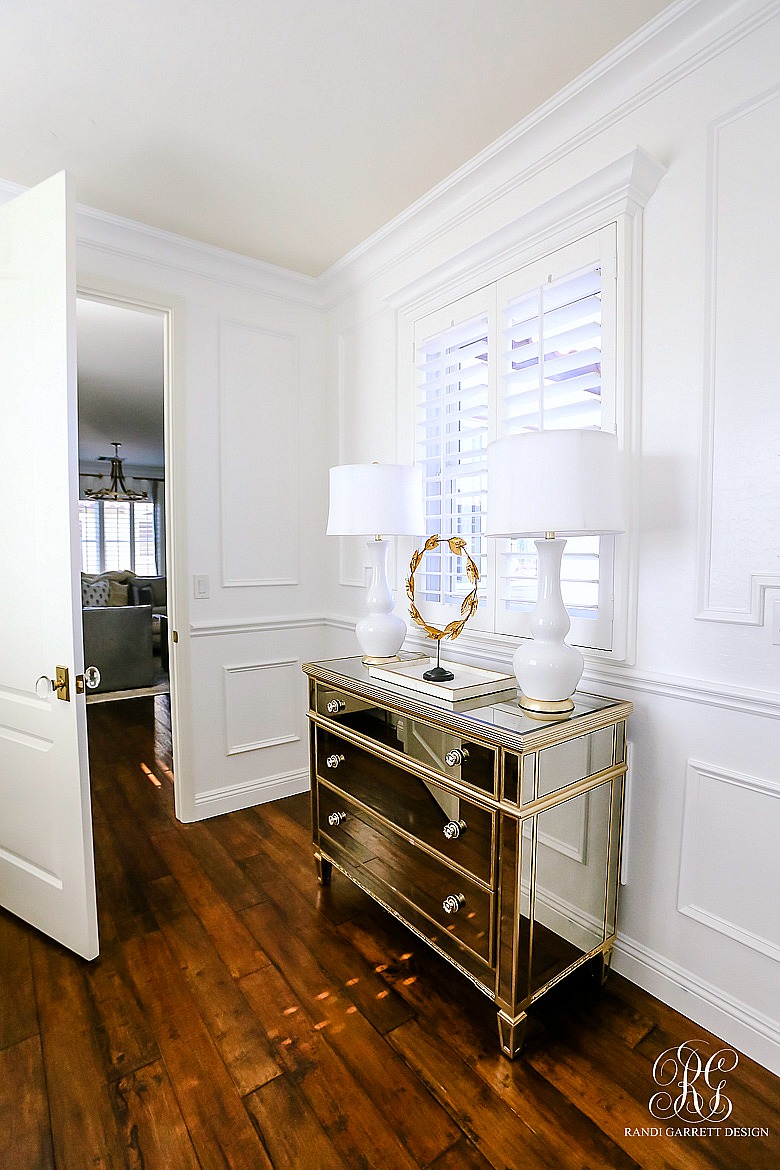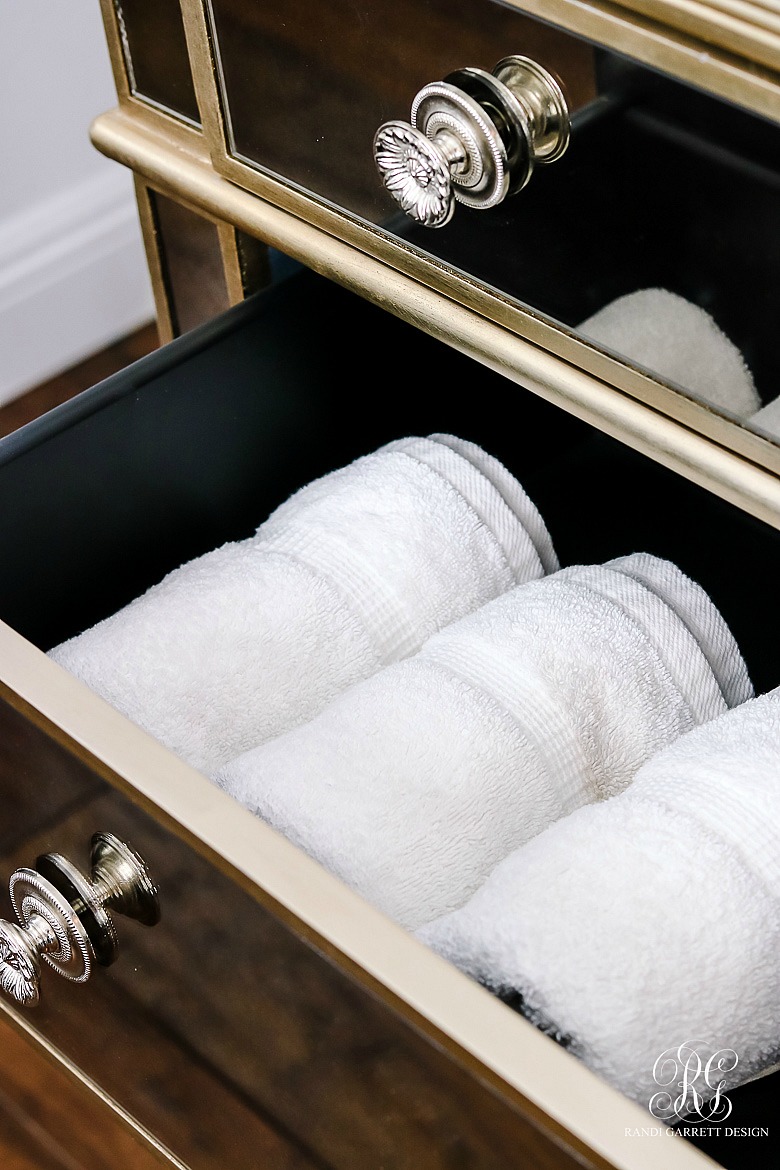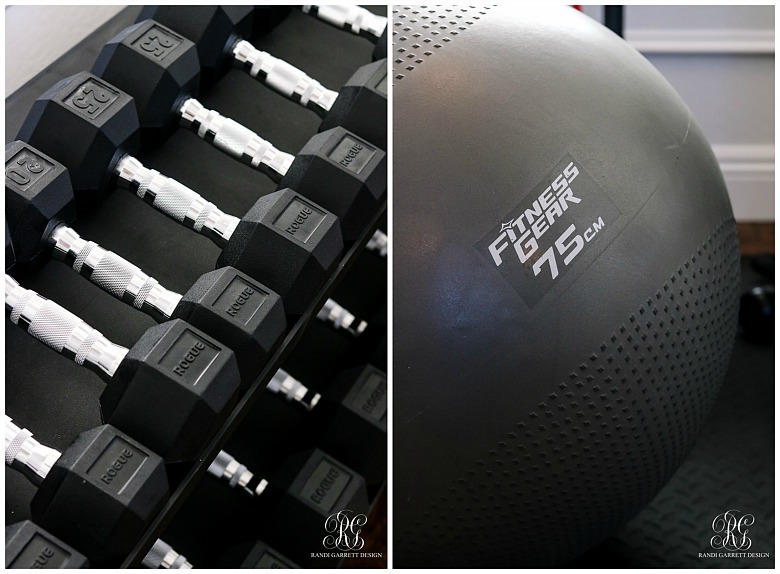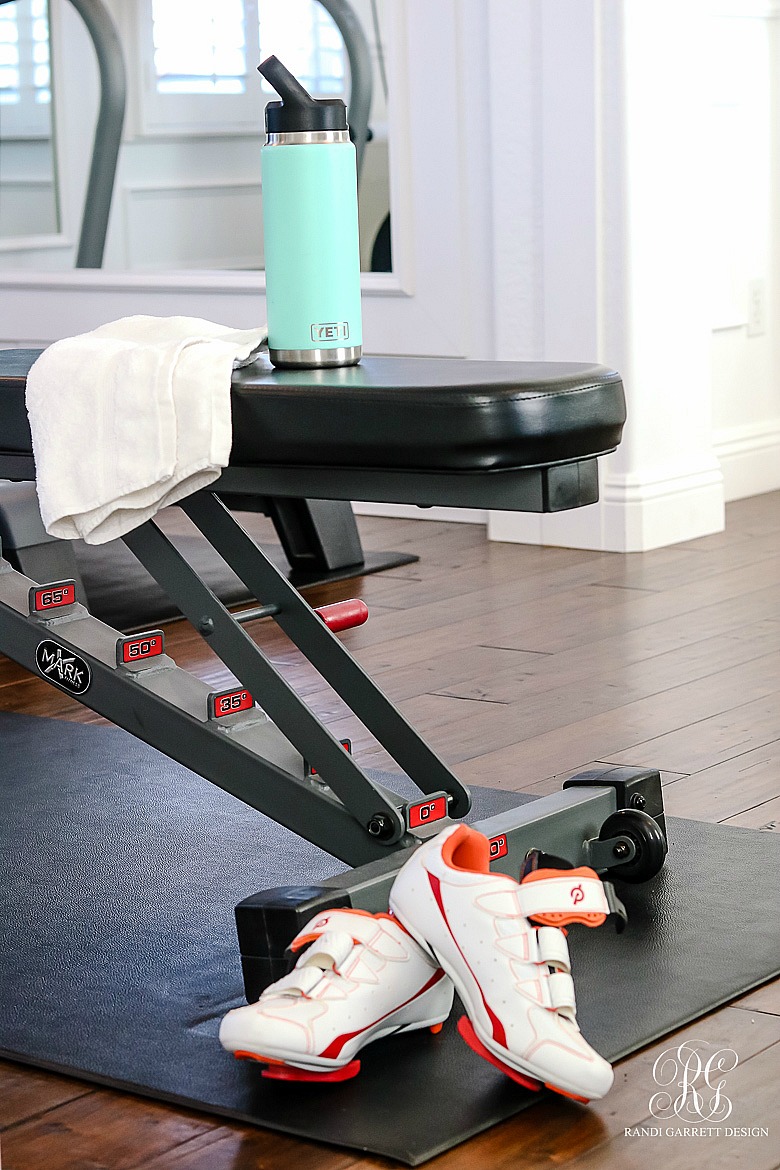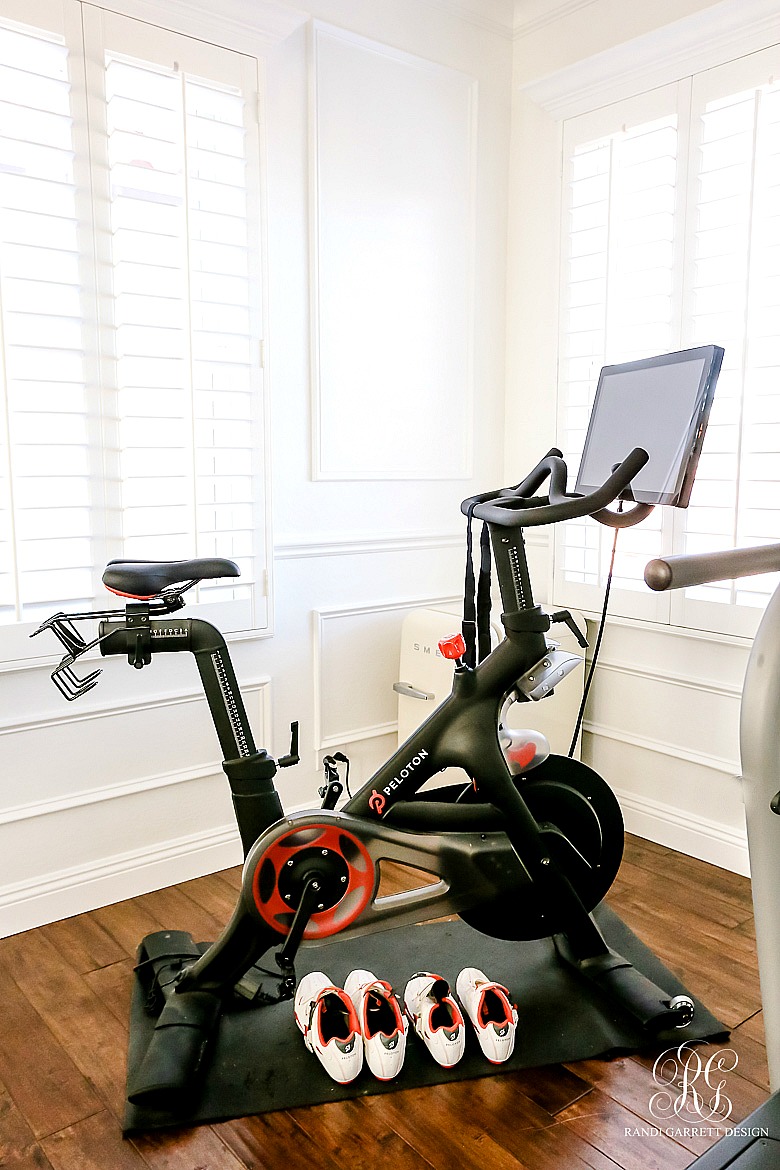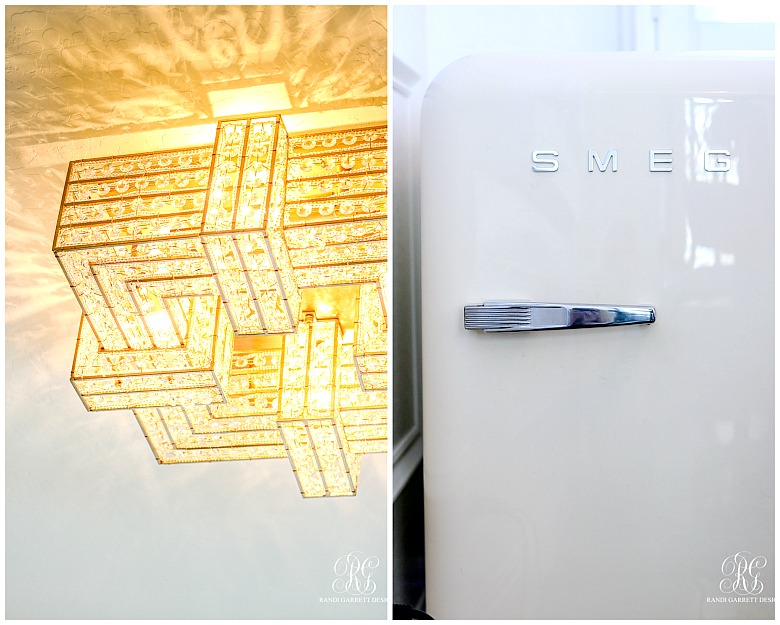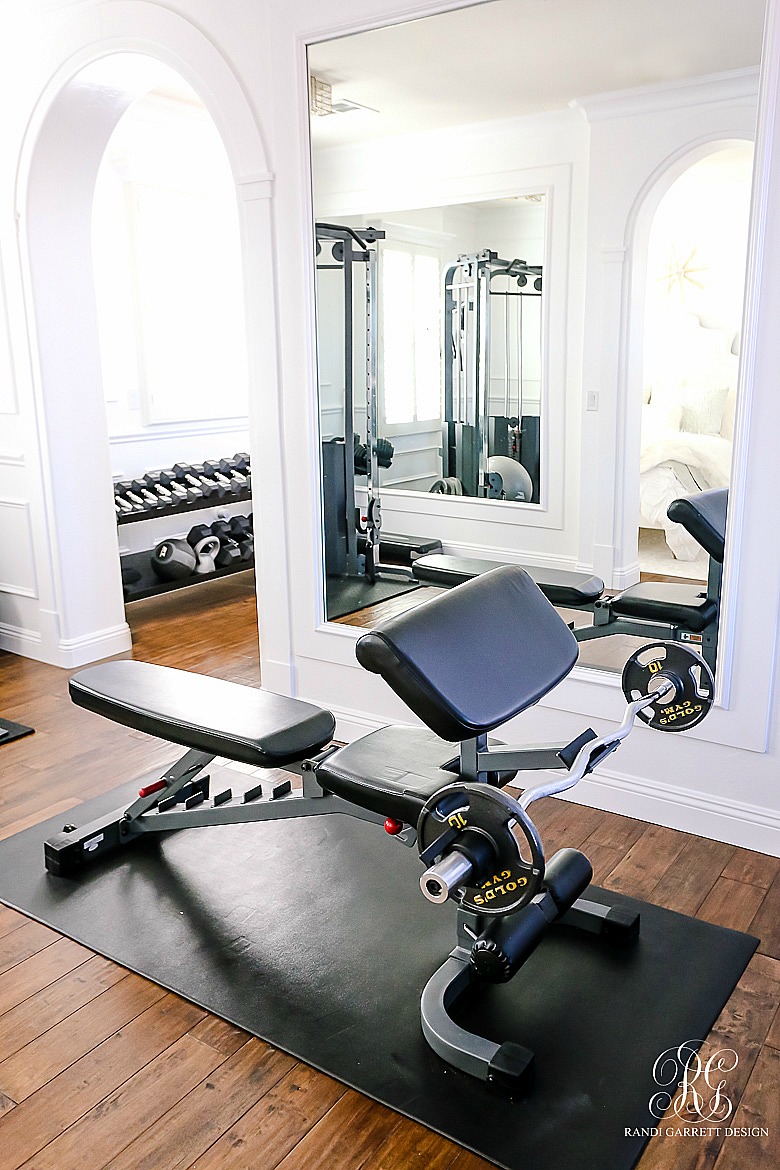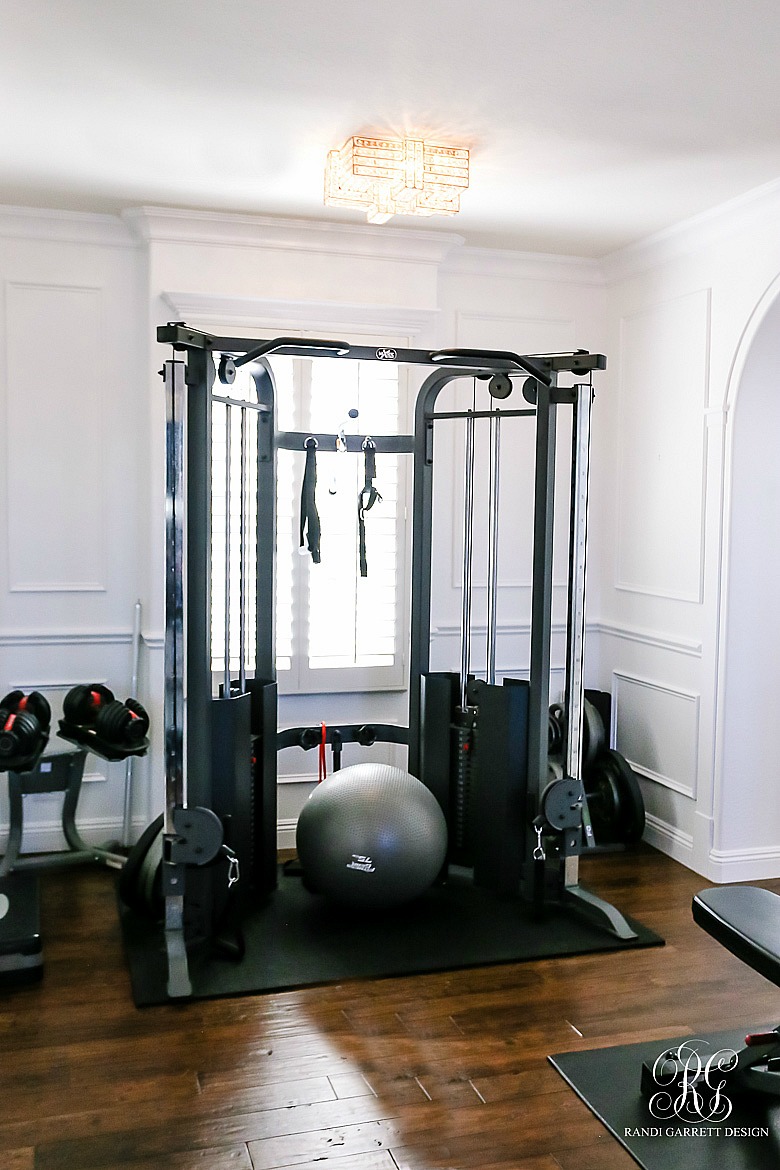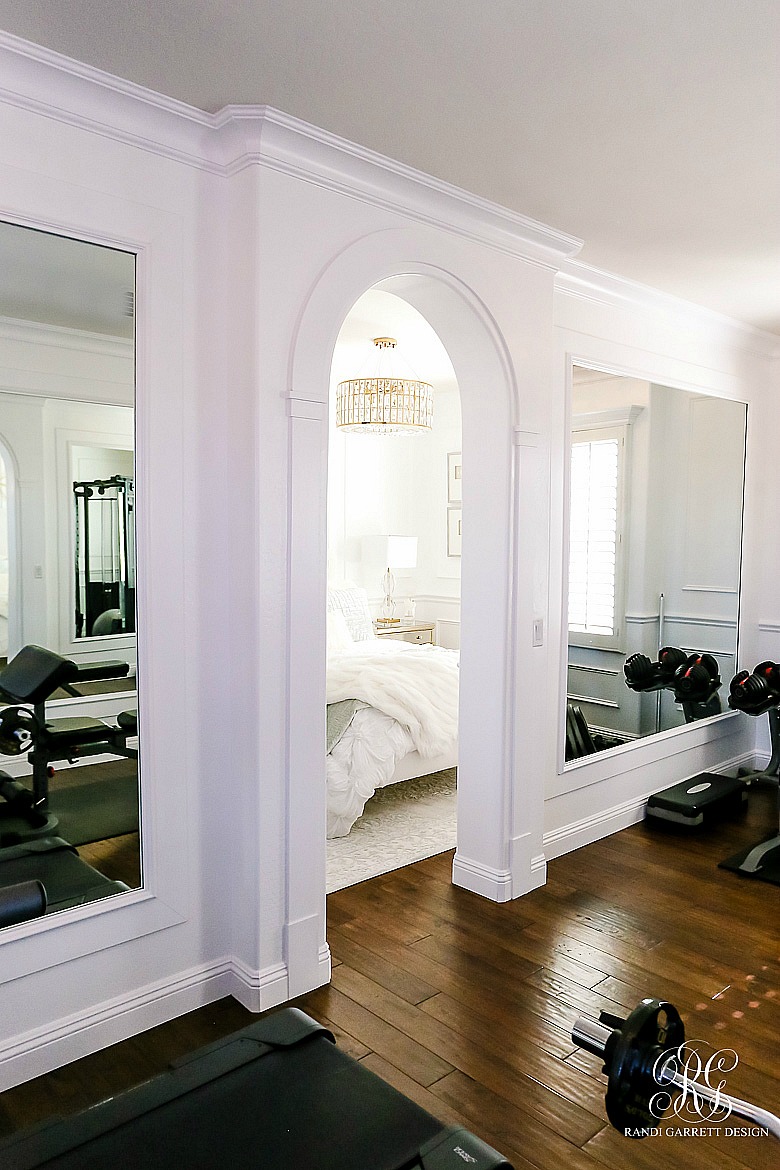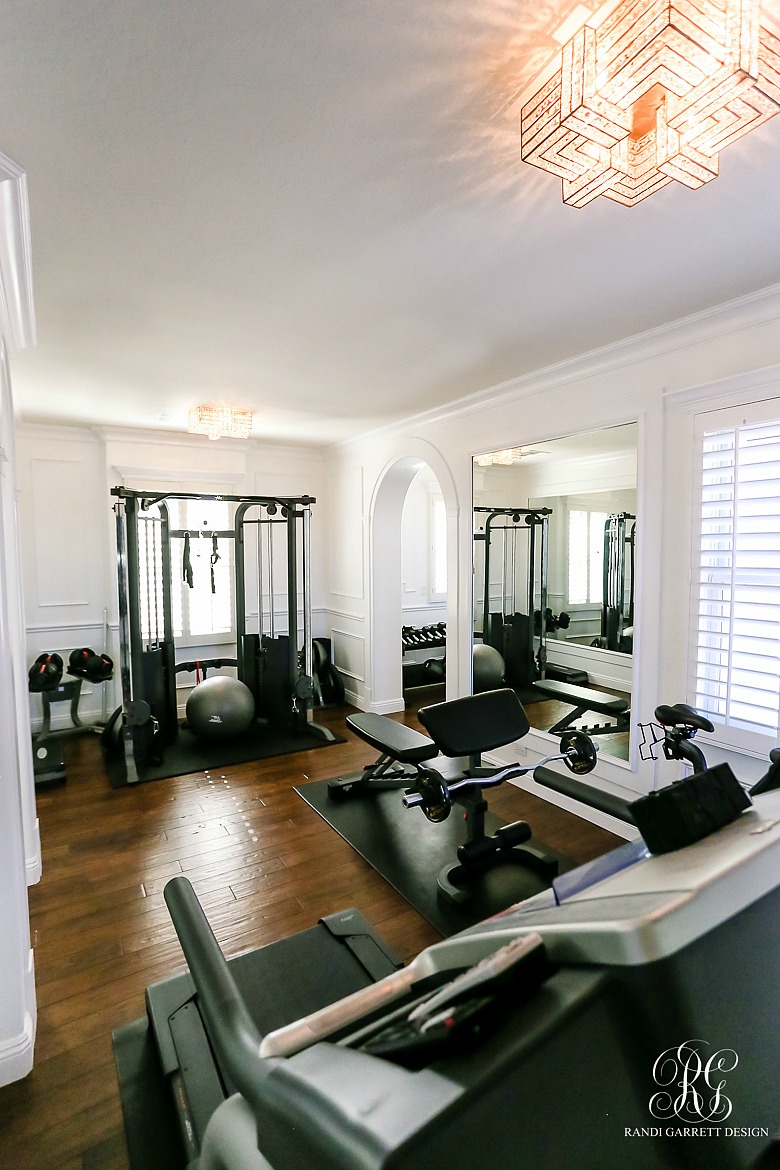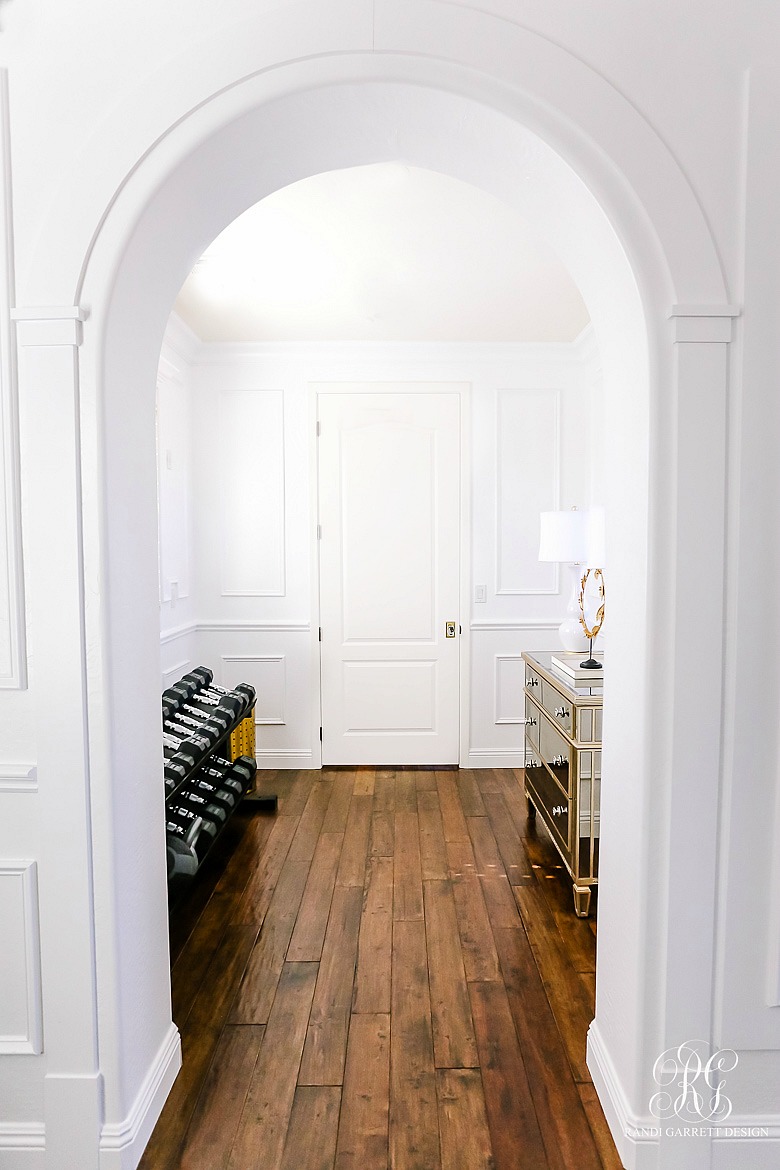 This room went from dark and depressing to light and inspiring!
Like I said, my husband uses the gym almost everyday. I wanted to create a space that he loved being in and one I might want to be in too!
We started by adding new wood flooring that matched the rest of the house. Then added trim work right on top of the drywall. We didn't smooth the textured walls, we just added the trim right on top! On the larger walls, we had giant mirrors installed then trimmed out with matching detail trim work. It was finished off with a fresh coat of bright white paint!
My husband  picked out all the equipment with the help of his trainer, Brad from Key Nutrition. He has worked with him for over 2 years because he is so amazing! He's a trainer / nutritionist and his company is in Utah, but he Facetimes weekly with workout and meal plans for my husband. I love his cookbook for healthy meal ideas for our family.
When I do workout, I love to use my body weight for strength training and light weights. I'm in love with the dumbbells we have and use them for toning. The grip on them feels so good in my hands. If you don't have that much room in your home gym, I would recommend these dumbbells. We have them too, they are great!
A good yoga ball is a must along with a few good yoga mats (and here). We didn't wire the room for speakers because we love using our portable speaker.
We loved having our mirrored dresser to store workout towels, protein bars, exercise books, jump ropes, resistance bands, etc. It also warms up the room and gives it more character.
Use this pretty gold hamper to toss your dirty towels into. little details like this make the gym feel more glam.
The jeweled ceiling lights are my favorite thing in the room!!!! They are glam and modern; almost masculine with sharp, crisp lines. They make the room!
Another must, if the budget and space allow, is a mini fridge. I wanted one with some personality. When I found this one, I knew it was the one. We fill it with protein shakes, water bottles and diet coke for my mother in law when she comes to stay!
You too can transform a small room in your home into a glam home gym! Just add some mirrors to the wall and look for a few glam pieces to add some character. I guarantee you will enjoy working out a whole lot more!!!




Room Details
Paint Color – Dunn Edwards base paint (no tint added) – sheen Satin
Wood Floor – African Plains – Sahara Sun
Gym Equipment
Peleton Bike – Similar 
Equipment Mats to protect the wood
Accessoires