I am convinced that when you have a place for everything, your house stays cleaner! When your house is clean, you are happier! It's a magical formula! I want to share some simple tips to help you get your kitchen drawers whipped into shape so you aren't crabby when you open them. Instead, you will smile every time you open a drawer. You may even open drawers just to stare at the beautiful organized space! So here are some of my best kitchen drawer organizing tips!
I also shared tips to organize your kitchen cupboards here and here.
This post contains affiliate links. Read my disclosure policy here.
Kitchen Drawer Organizing Tips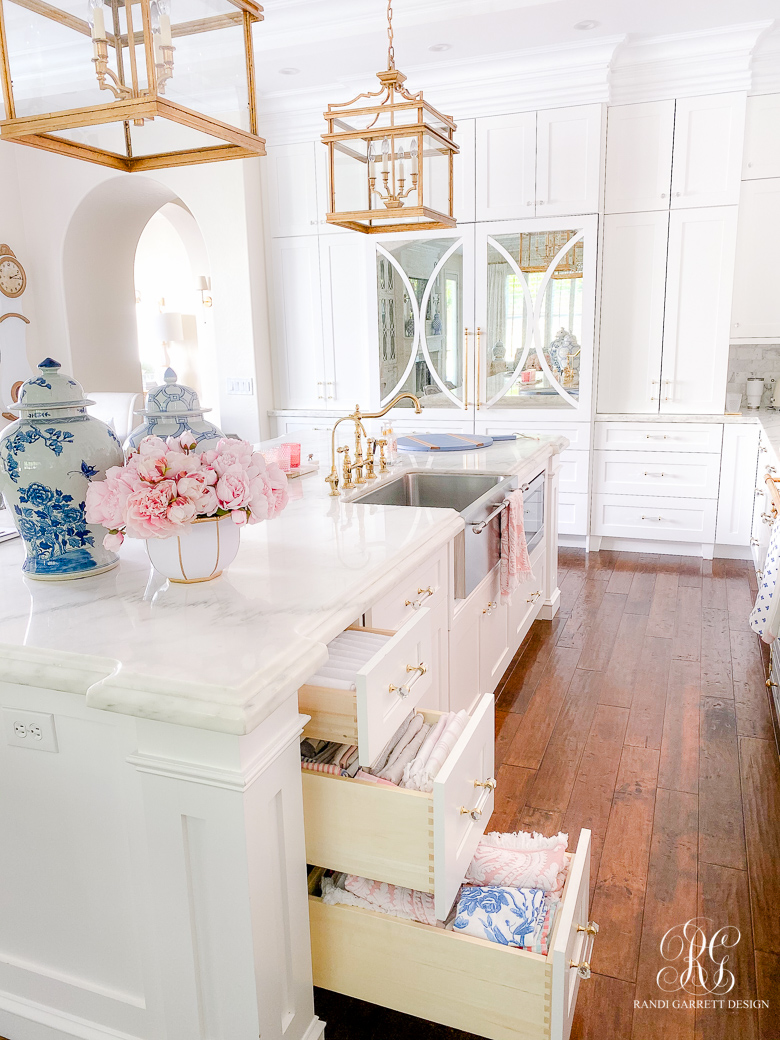 To get your kitchen drawers whipped into tip top shape, follow these simple steps…
Go through your drawers and get rid of everything that you don't need or want. Donate or toss unneeded pieces.
Wipe down each drawer and or vacuum it out getting rid of crumbs and dust.
Decide what organizing essentials you need for your drawers. I like to have my drawer organizers coordinate. This gives the kitchen a cohesive feel organized feeling.
Put back your kitchen pieces in an organized manner that makes sense for your family and kitchen.
Open drawers repeatedly to admire your work! When you're staring at your drawer, tidy any thing up that my be out of order. Staying on top of things will keep your drawers looking their best for a long time.
Repeat this process every 3 months. It will take you less and less time the more often you do it!
A Look Inside My Kitchen Drawers
Here's a look at my drawers for some inspiration. We have mostly drawers under our counters. I love this layout. It makes it so easy to see everything!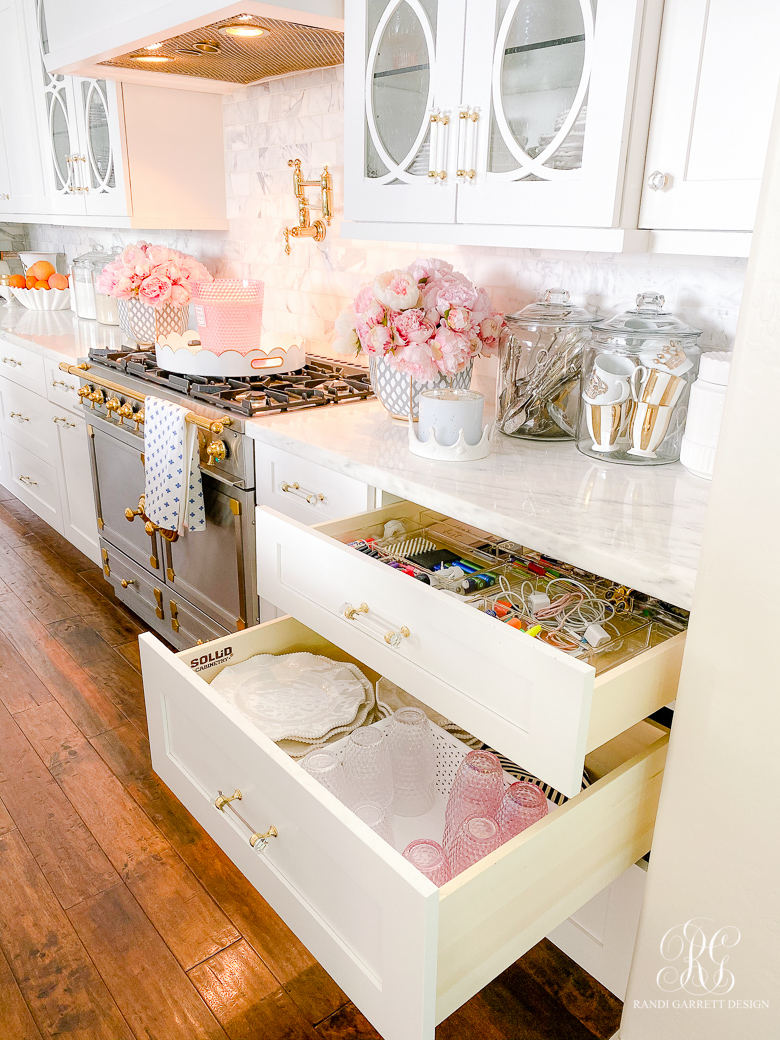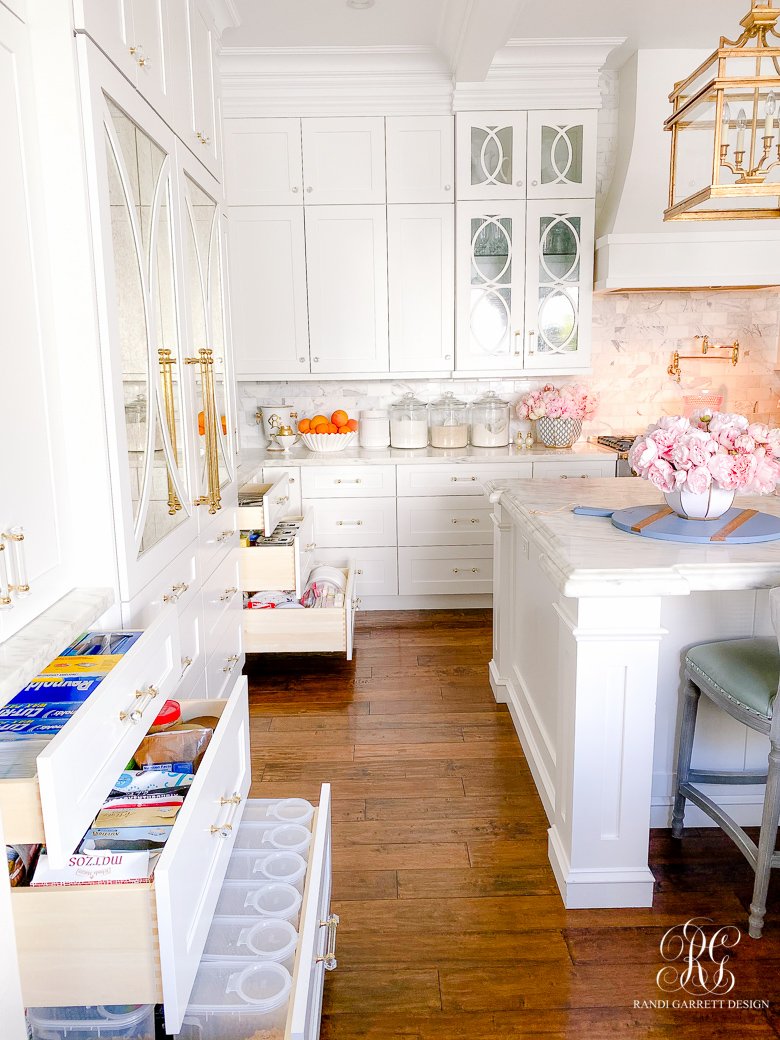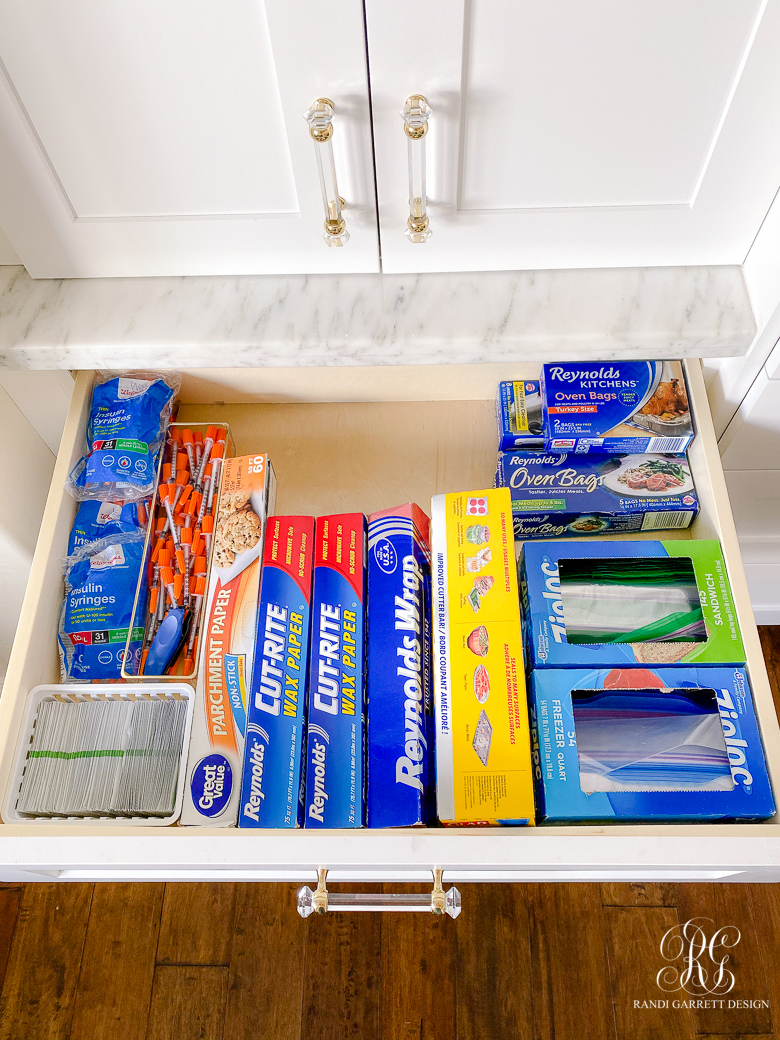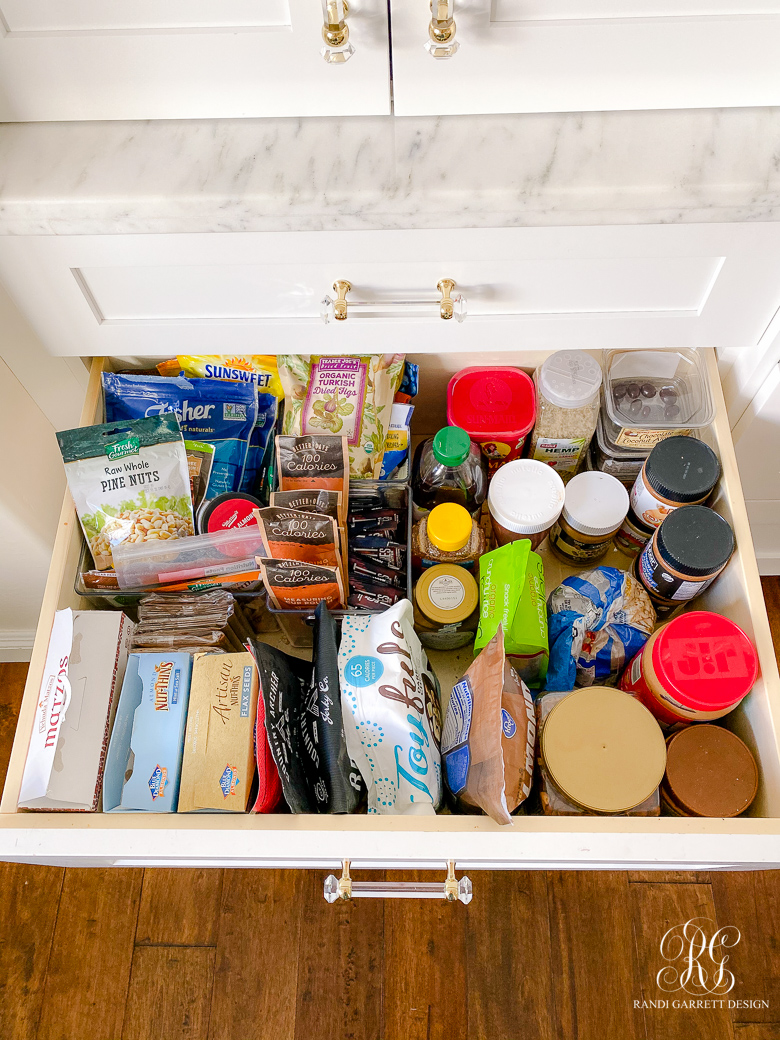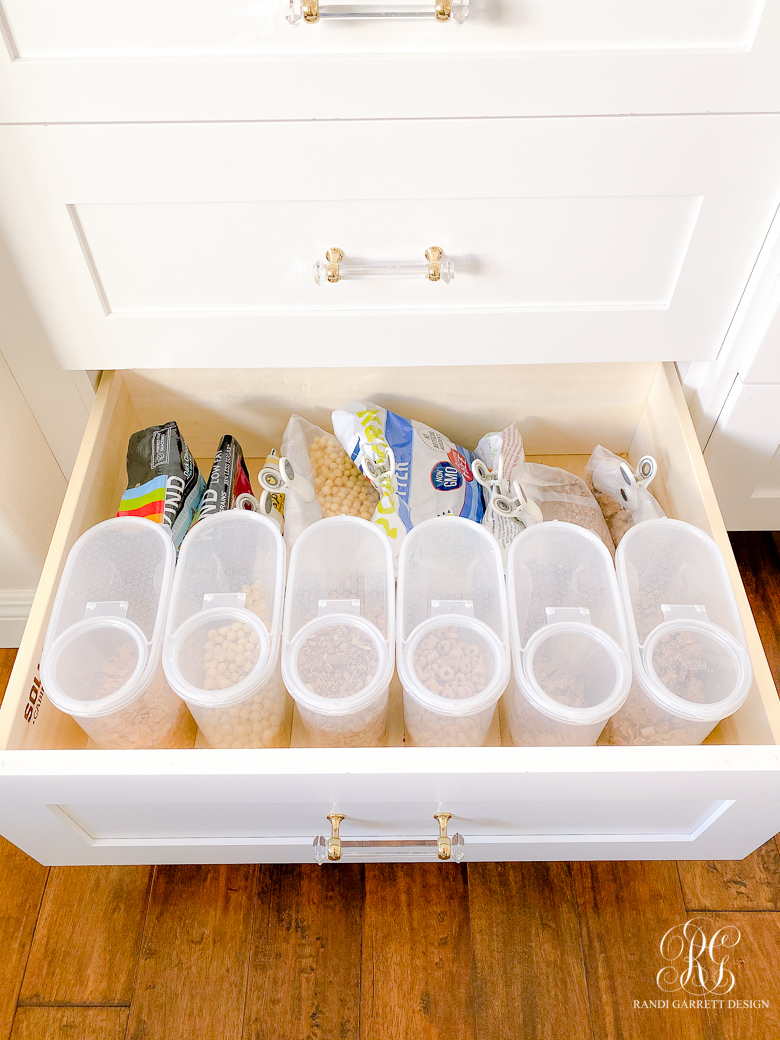 In our cereal drawer, I keep the extra cereal behind the cereal containers with a fresh clip tightly closing the bag. When a cereal is running low, I refill the pourable container. These cereal containers keep the cereal fresh longer and are so much easier for the kids to pour. I can also see instantly what we are running low on.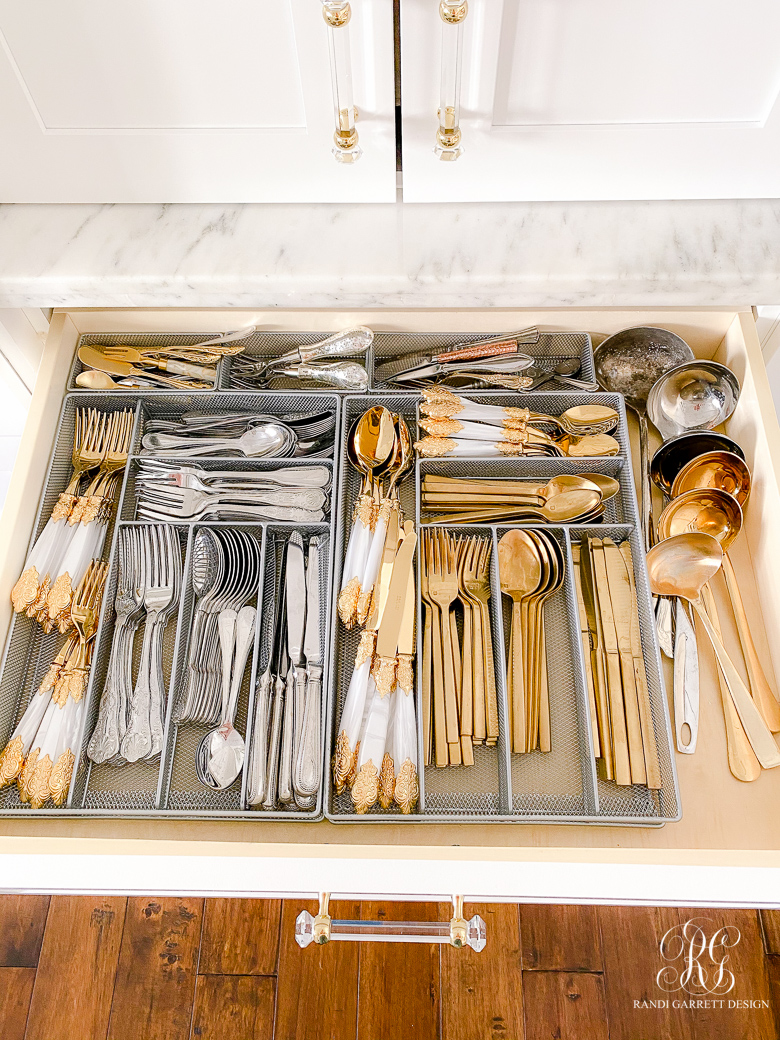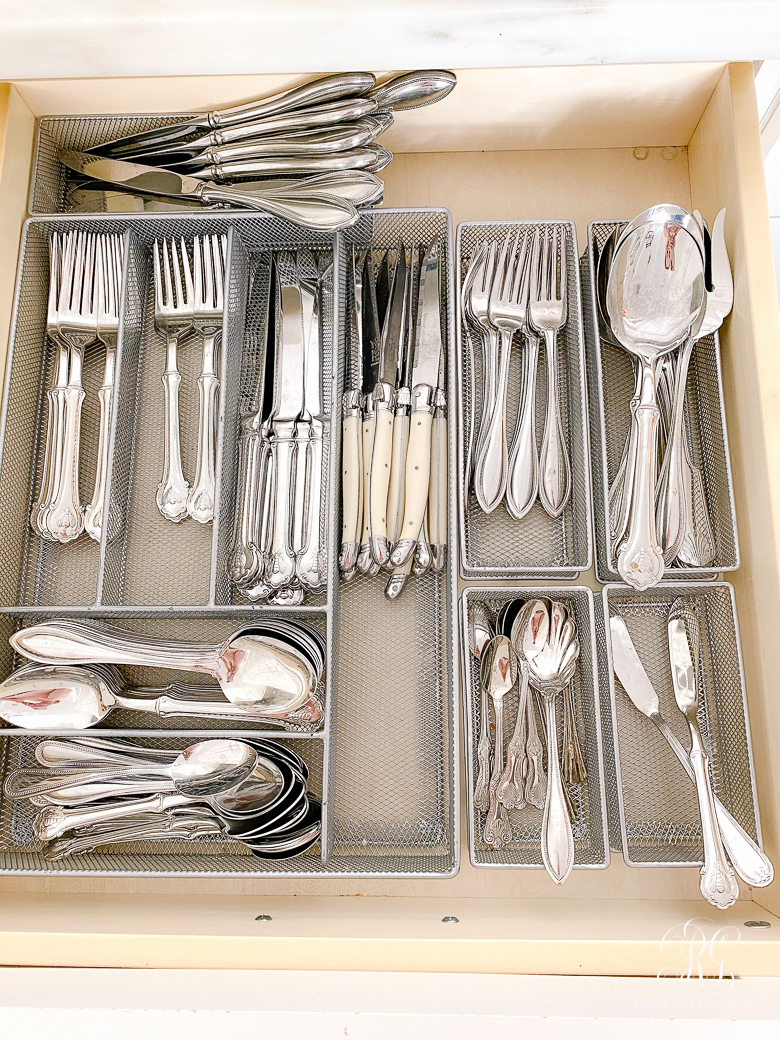 I love these mesh silverware organizers to keep my flatware organized!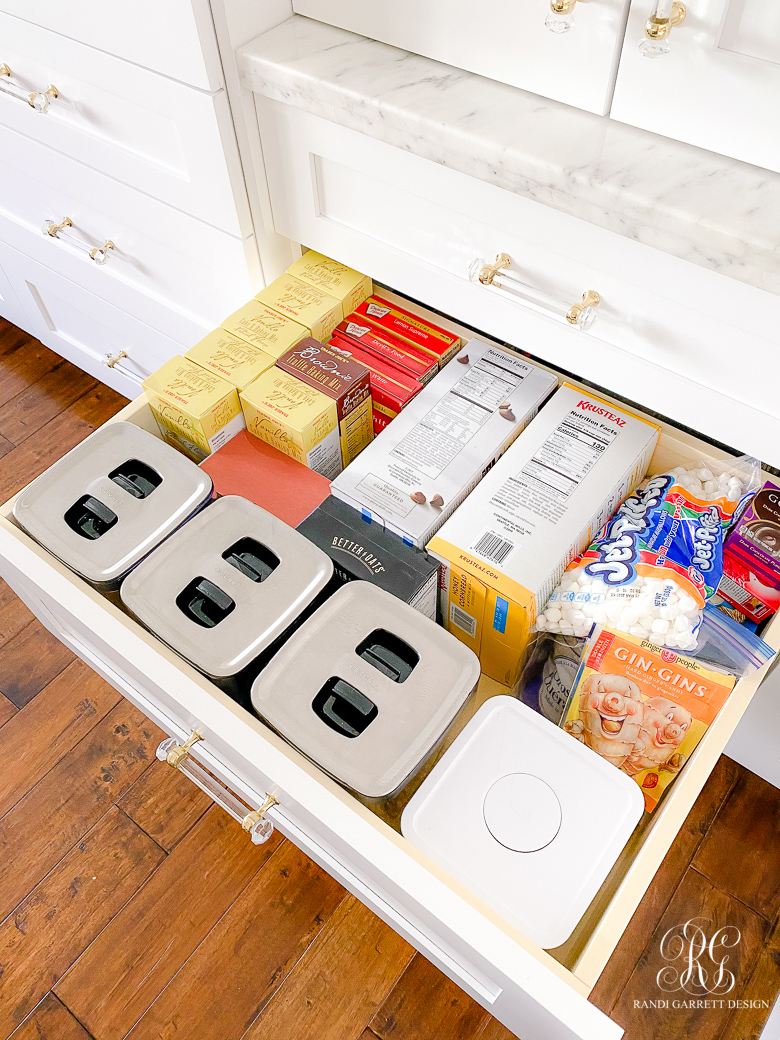 My baking drawer hold baking mixes and containers with coconut, popcorn, powdered and brown sugar. I love these airtight containers for the powdered sugar and coconut. I keep my brown sugar in this container with this brown sugar keeper.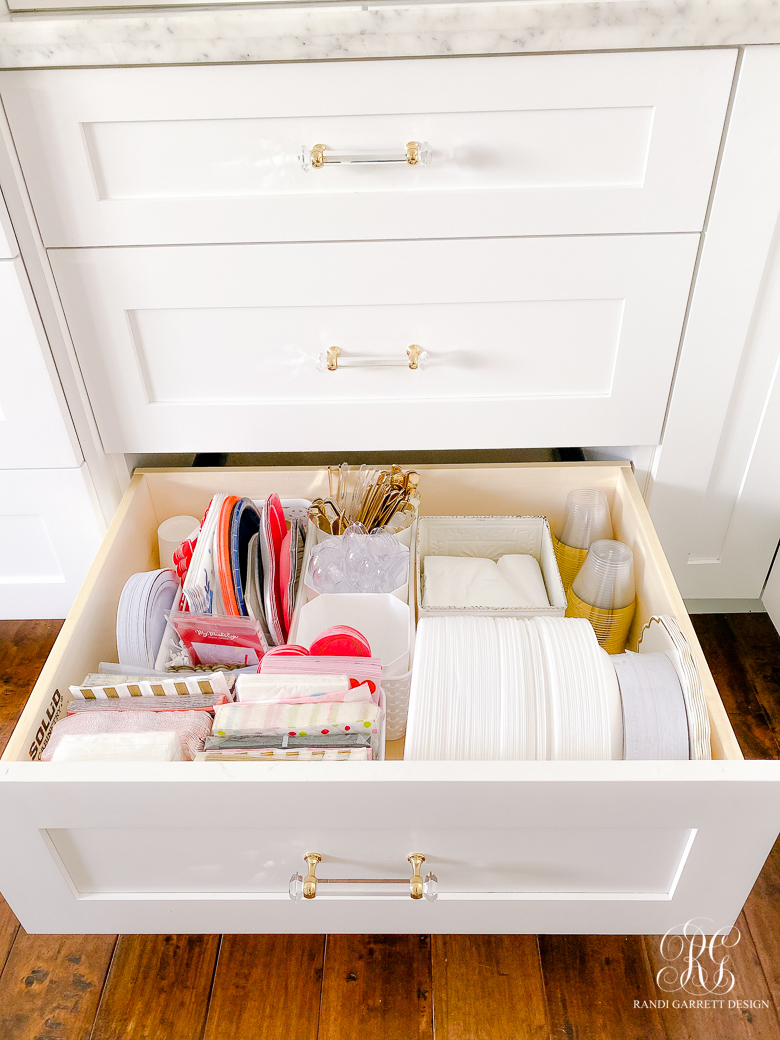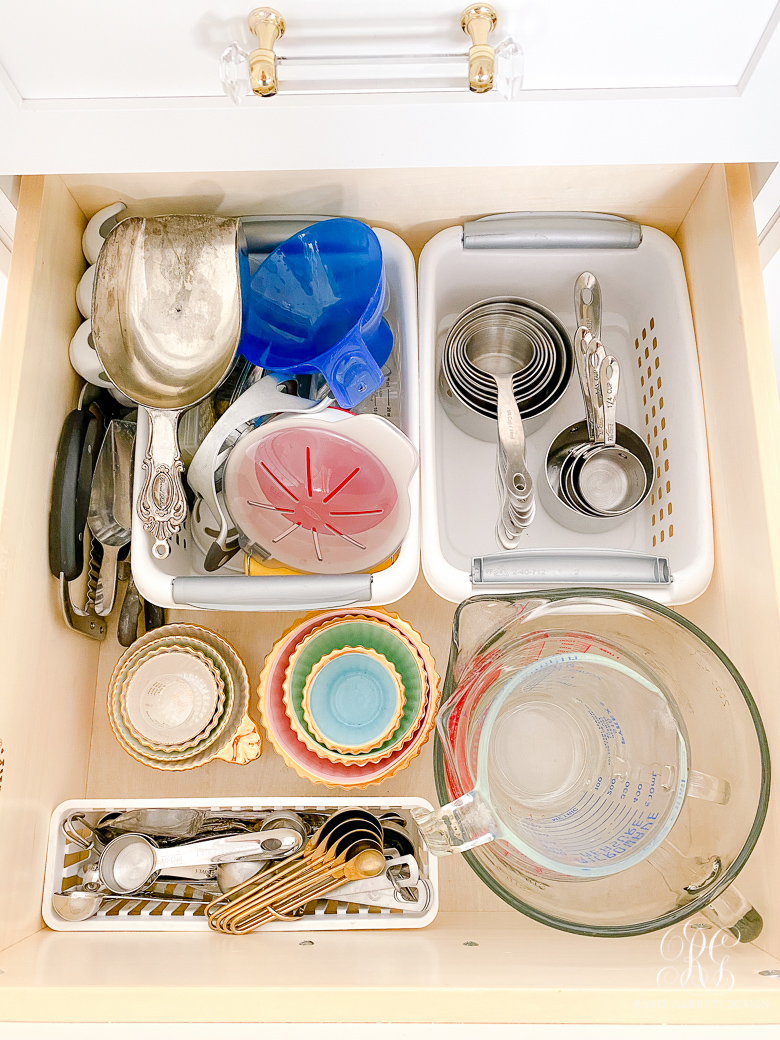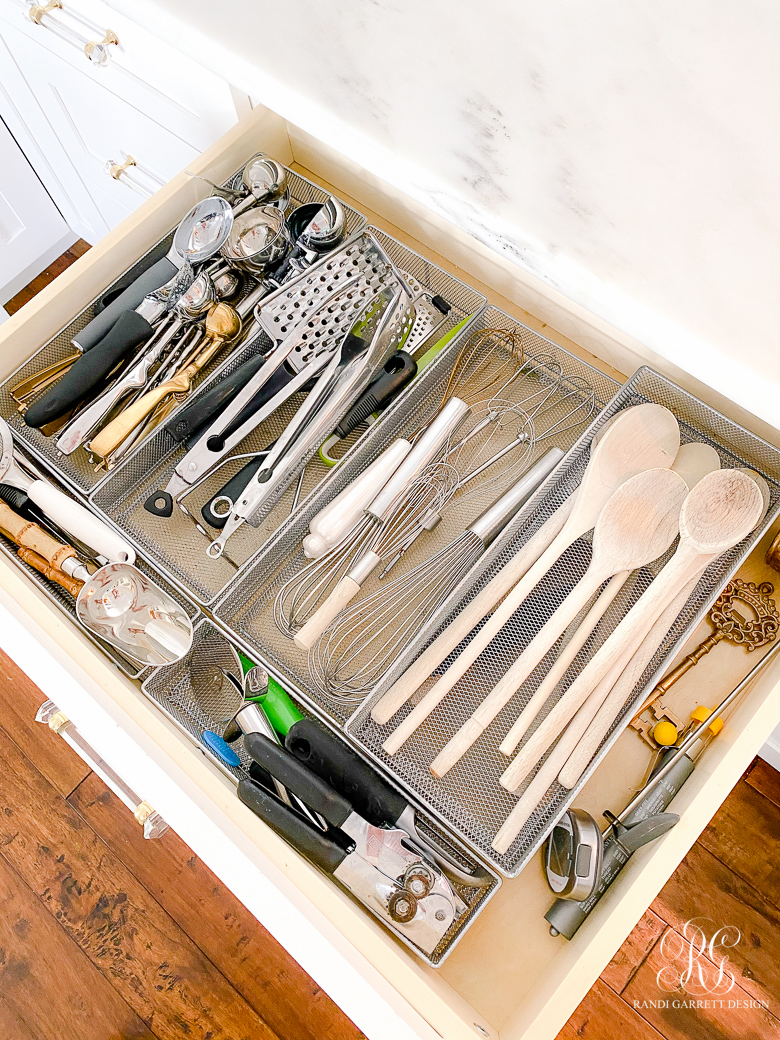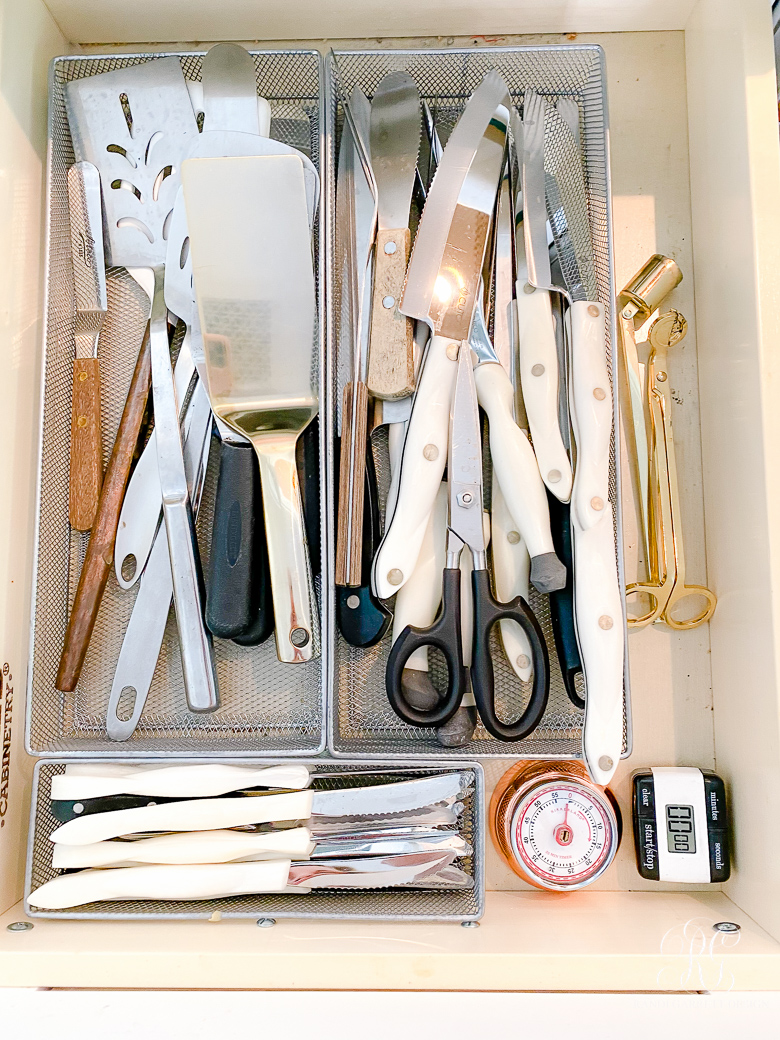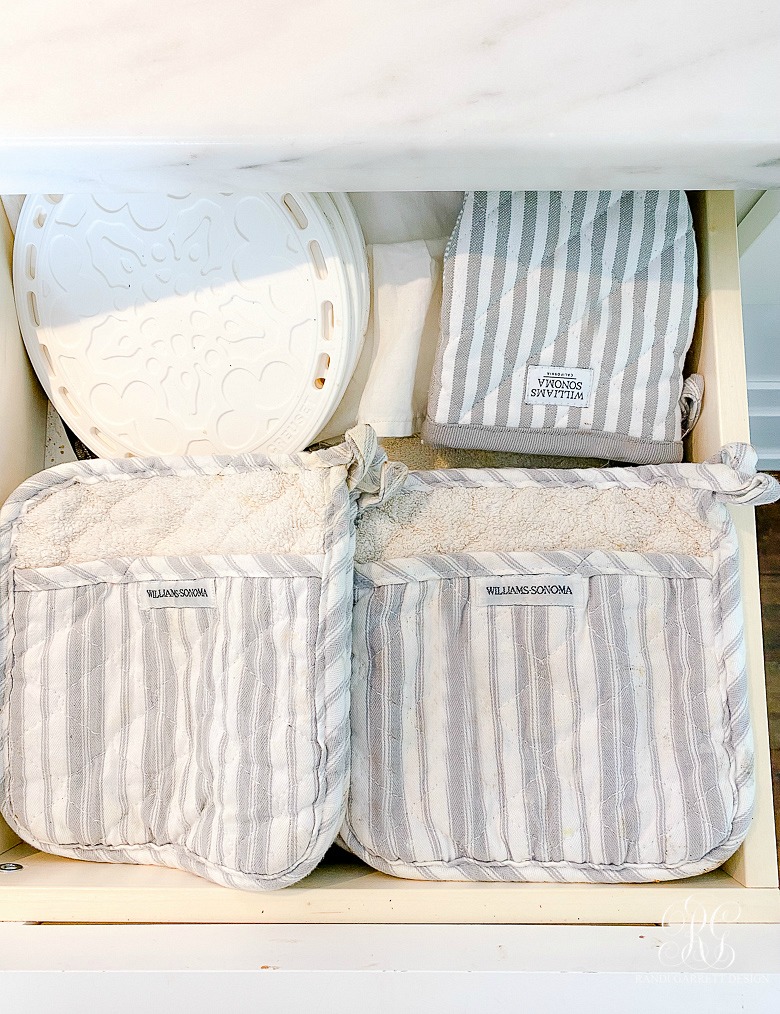 I love these hot pads and these trivets for serving dinner! Pretty hot pads and dish towels just make me happy! Little things like this really brighten up your kitchen.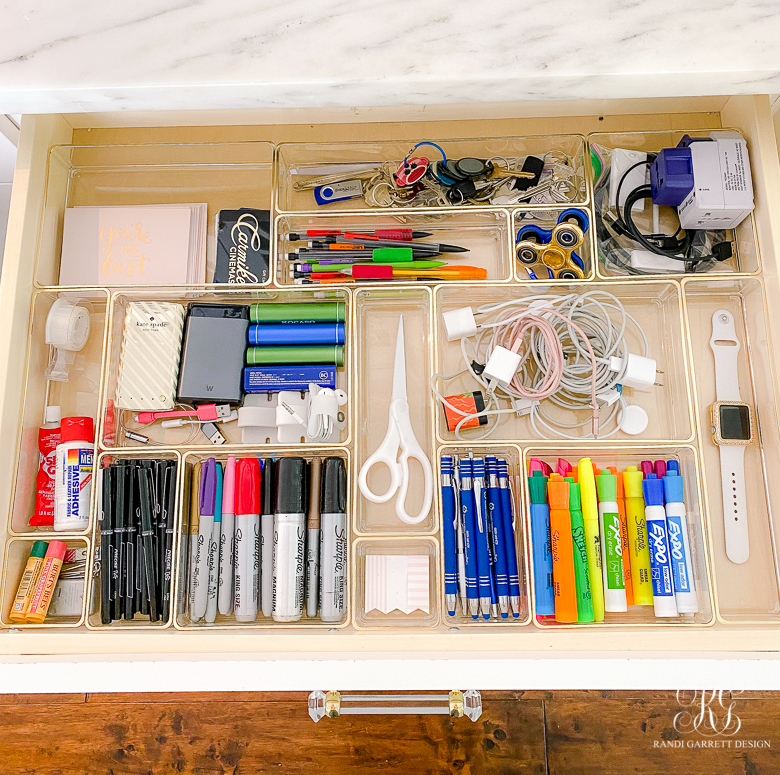 The junk drawer looks amazing thanks to these gold rimmed organizers! I used 3 in my drawer.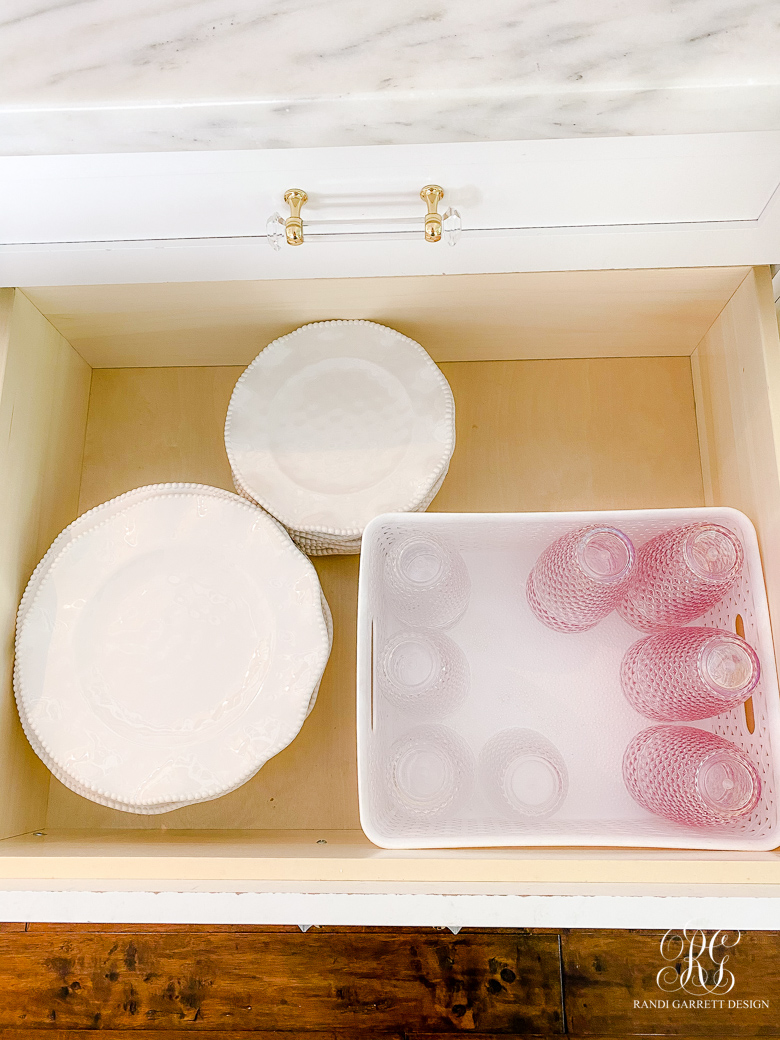 This is the kid friendly dish drawer! We love these melamine scalloped dishes and nice plastic glasses. I love the glasses so much I bought them in pink too!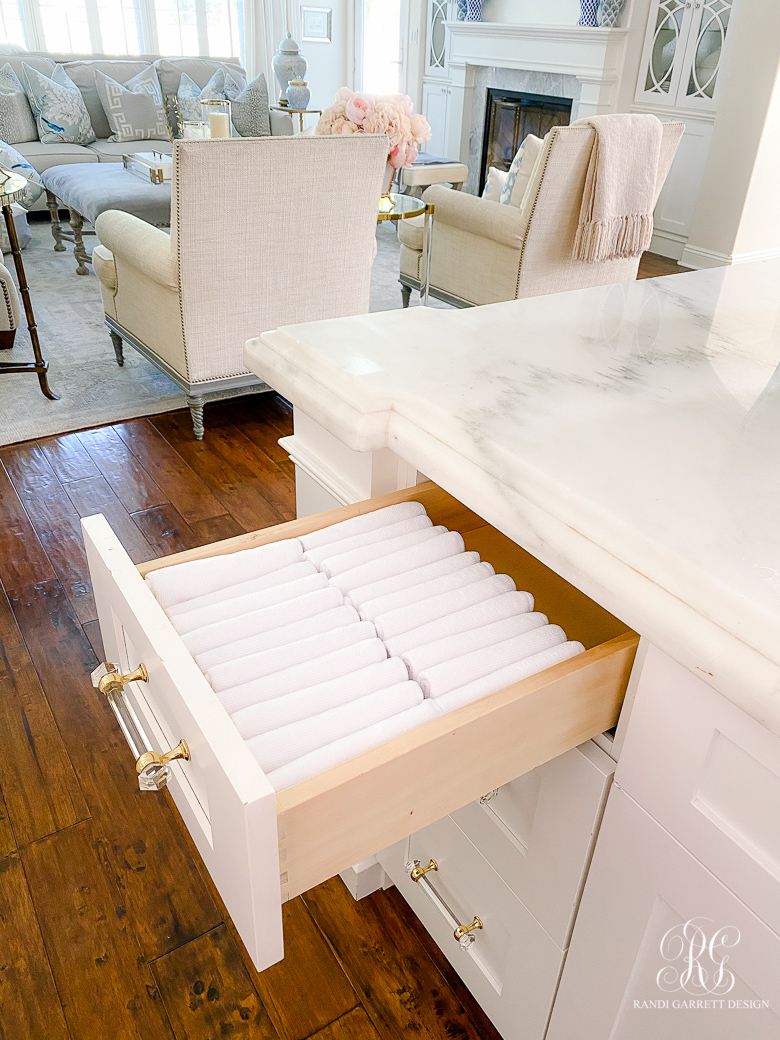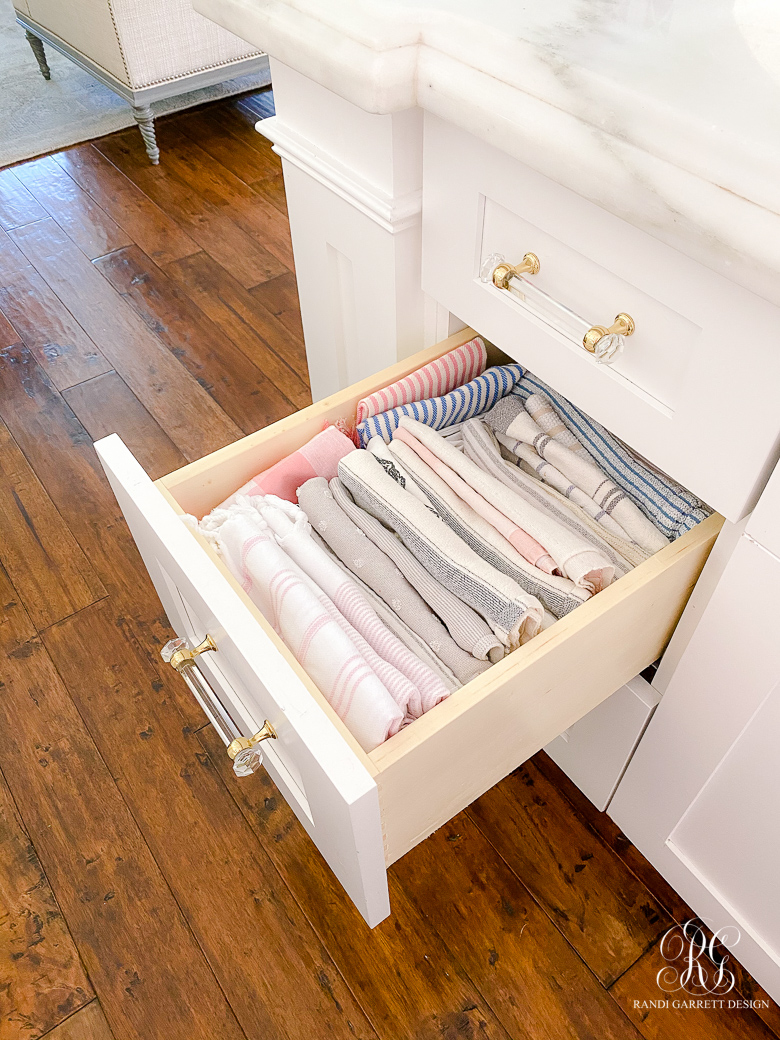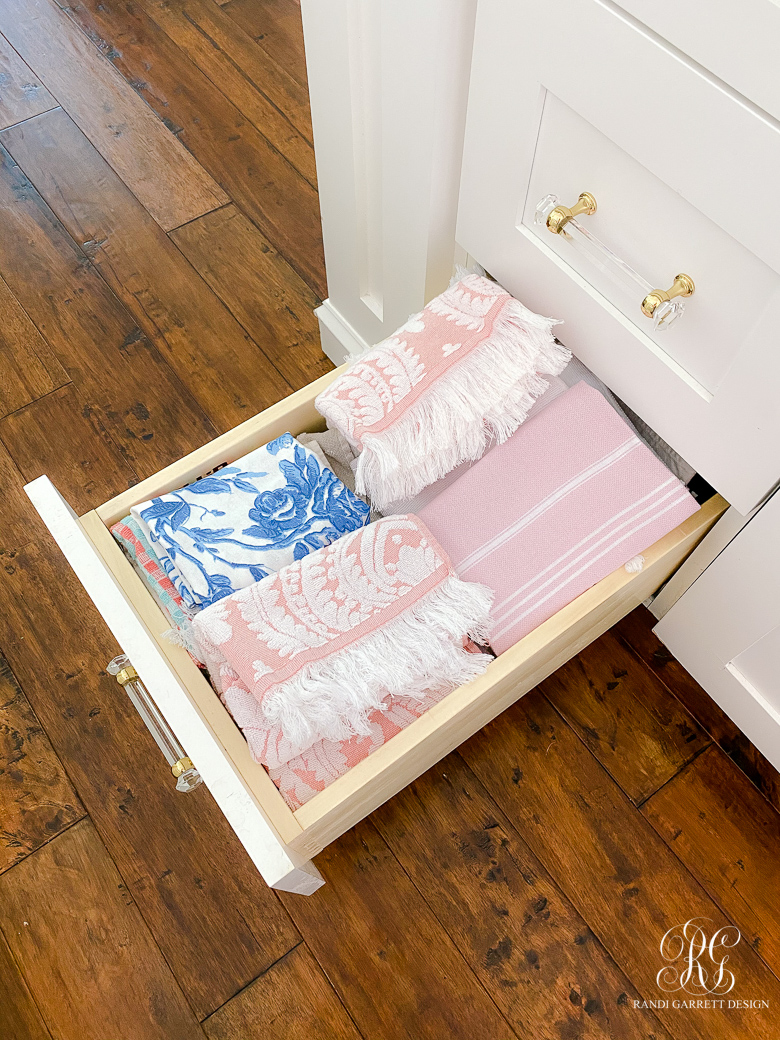 Our wash clothes and towels are all organized and folded in drawers right by each other. I recommend replacing your wash clothes at least twice a year. This is a minor thing that will make a huge difference! Use the old ones as cleaning rags.
Here are some of my favorite dishtowels. I use these for drying hands and dishes!



Kitchen Sources



My Favorite Kitchen Drawer Organizers