This post contains affiliate links for your convenience. Read my disclosure policy here.
A few weeks ago, I shared our laundry room reveal, you can see it here. Today, I want to share some laundry room organization ideas with you. It's one of my favorite spaces in the house not only because it makes me feel happy just being in there, but also because it's finally organized after months of planning.
Organizing a room is a process for me. I'd love to share the process with you in hopes it helps you organize your space too. First, I start with purging the space. Get rid of anything you don't need, use or want.
Second, I find a place for everything to land, then let it live there for a little while. Without a doubt, I find somethings feel right at home and other things need to be moved around to a better home. Once I feel like everything is where it makes sense, I start to create a list of organizing pieces I need.
Then, I measure and shop! Find pieces that will fit each space, providing function and beauty to each drawer and cabinet.
Remember when you are organizing your spaces, this doesn't happen over night. It's a process. Be patient and have fun! Take a look at how I organized our laundry room.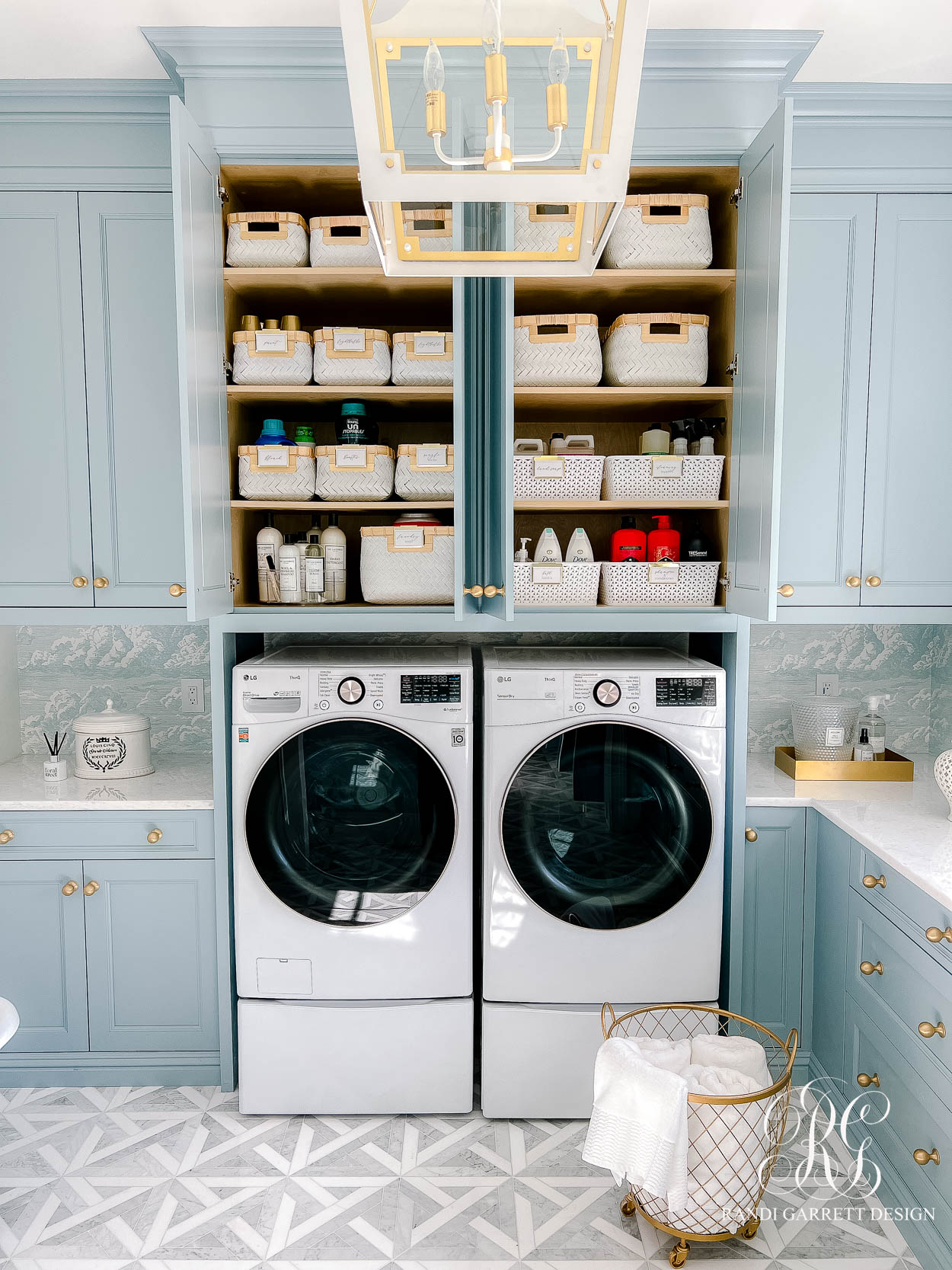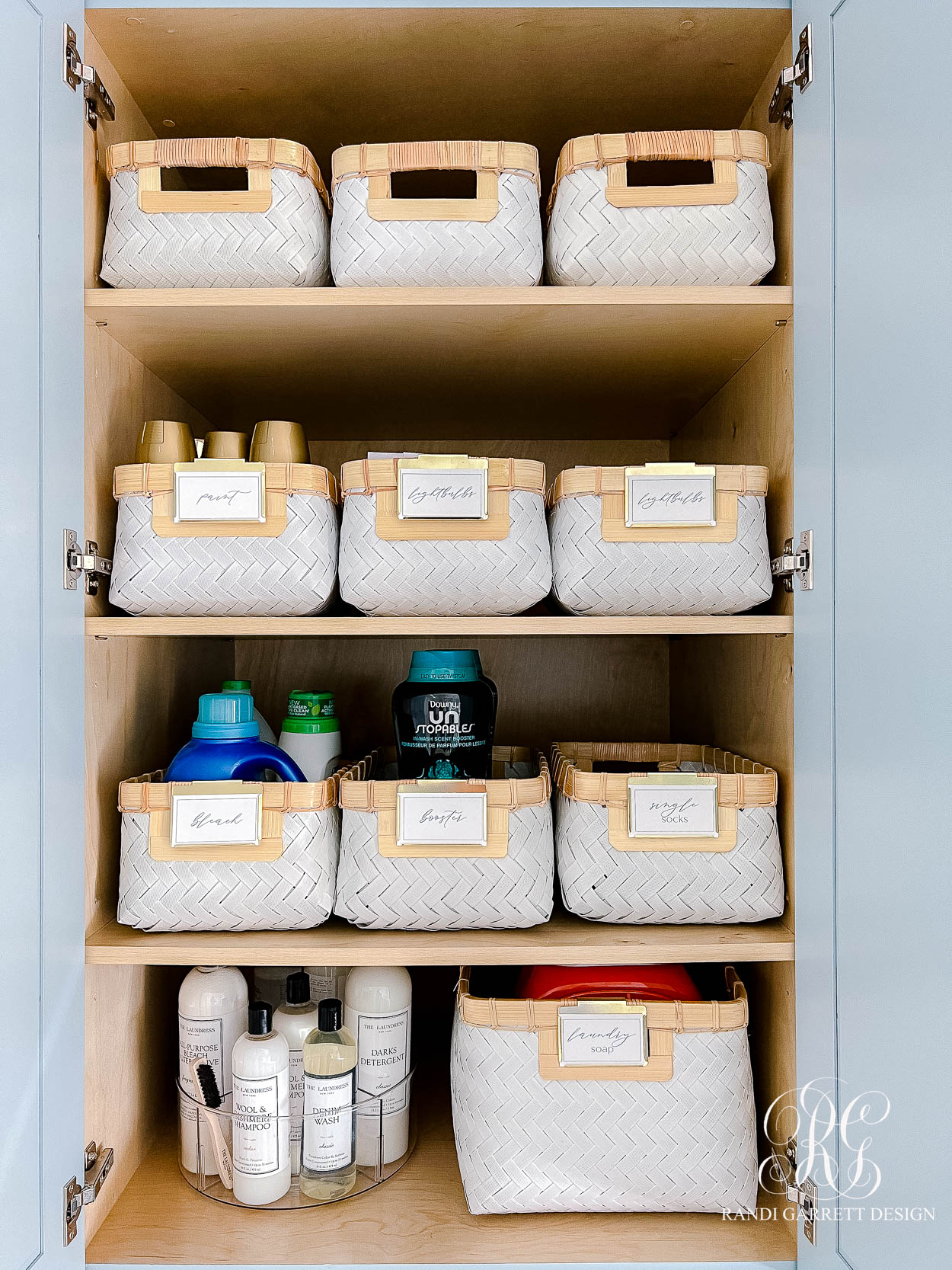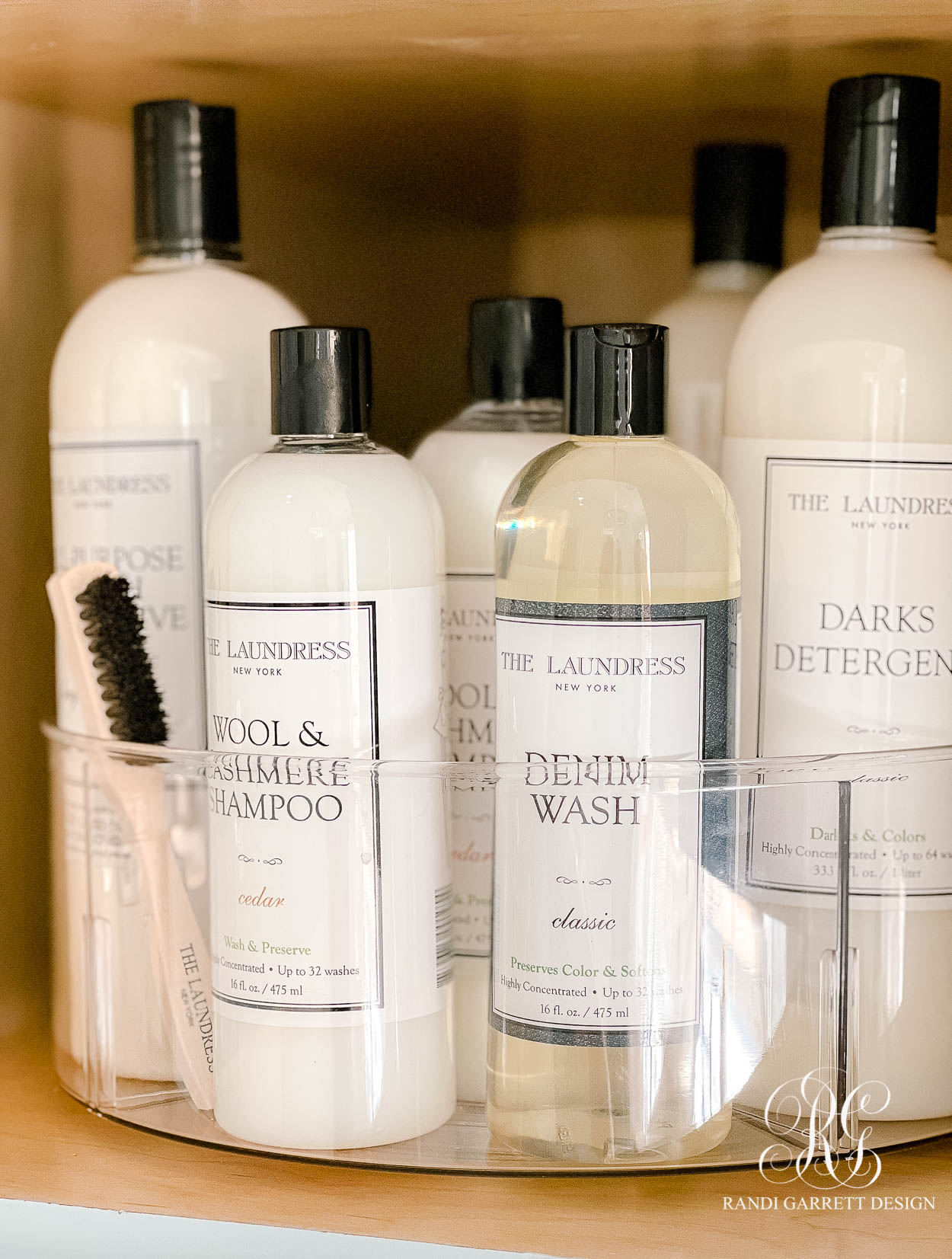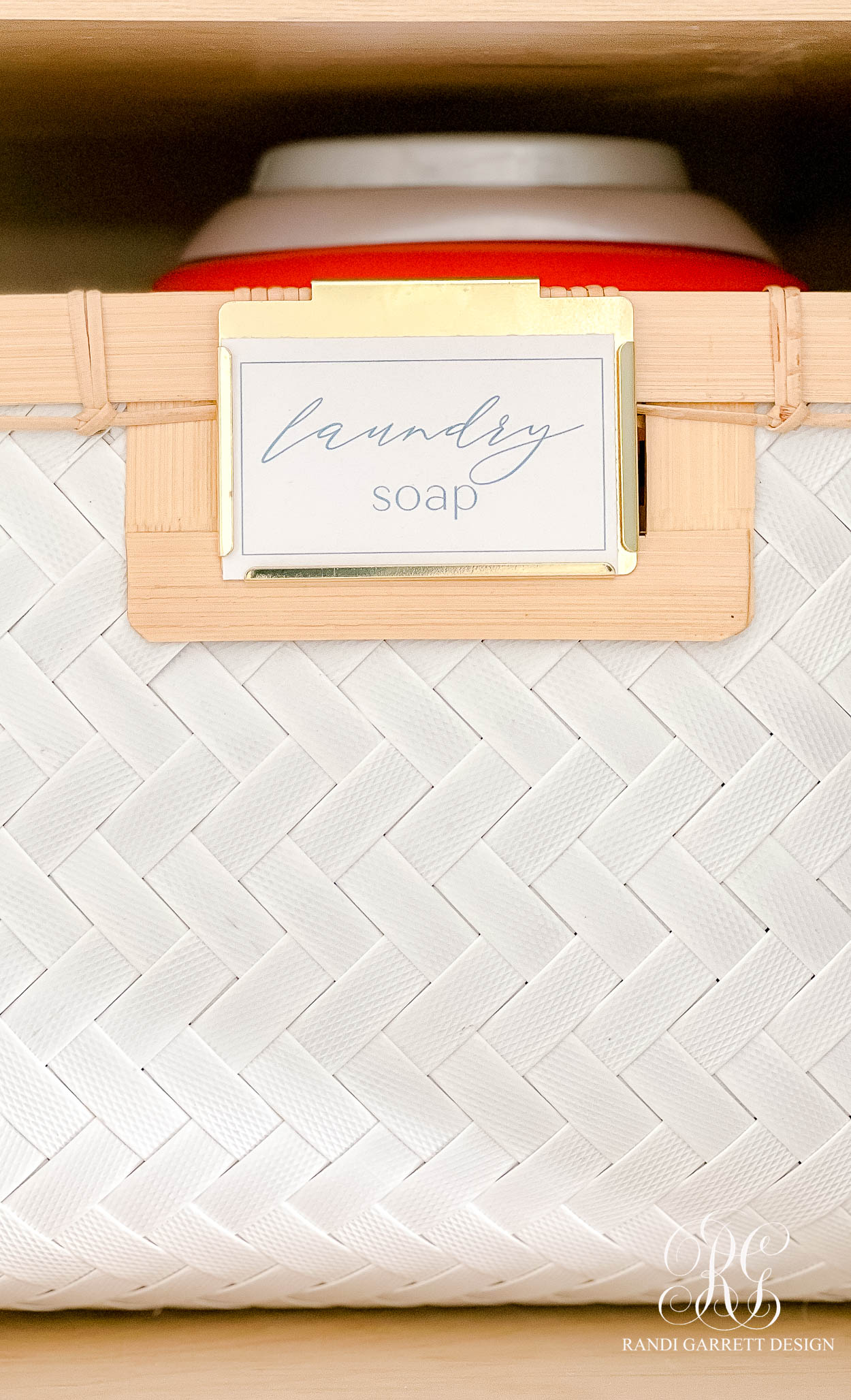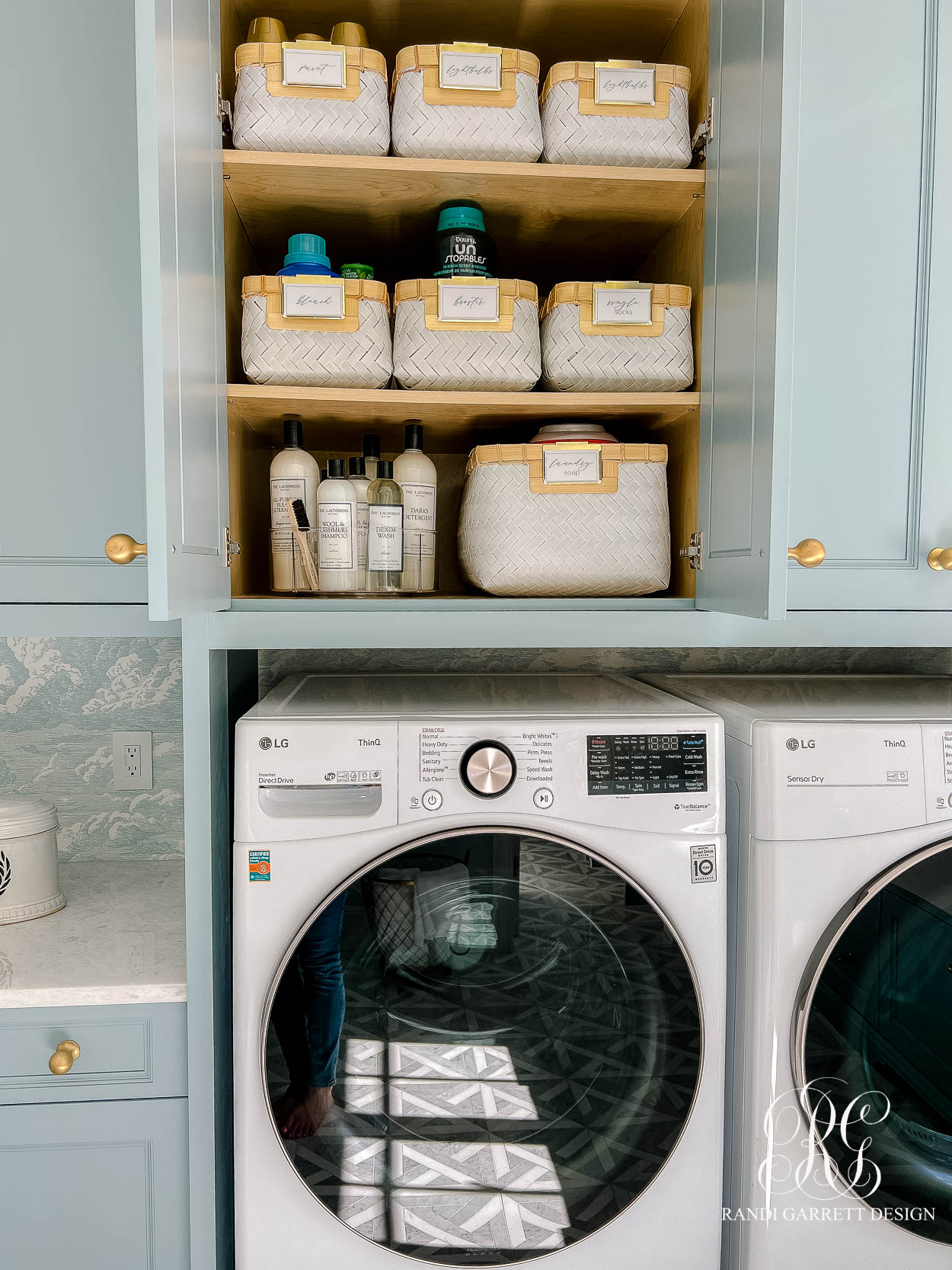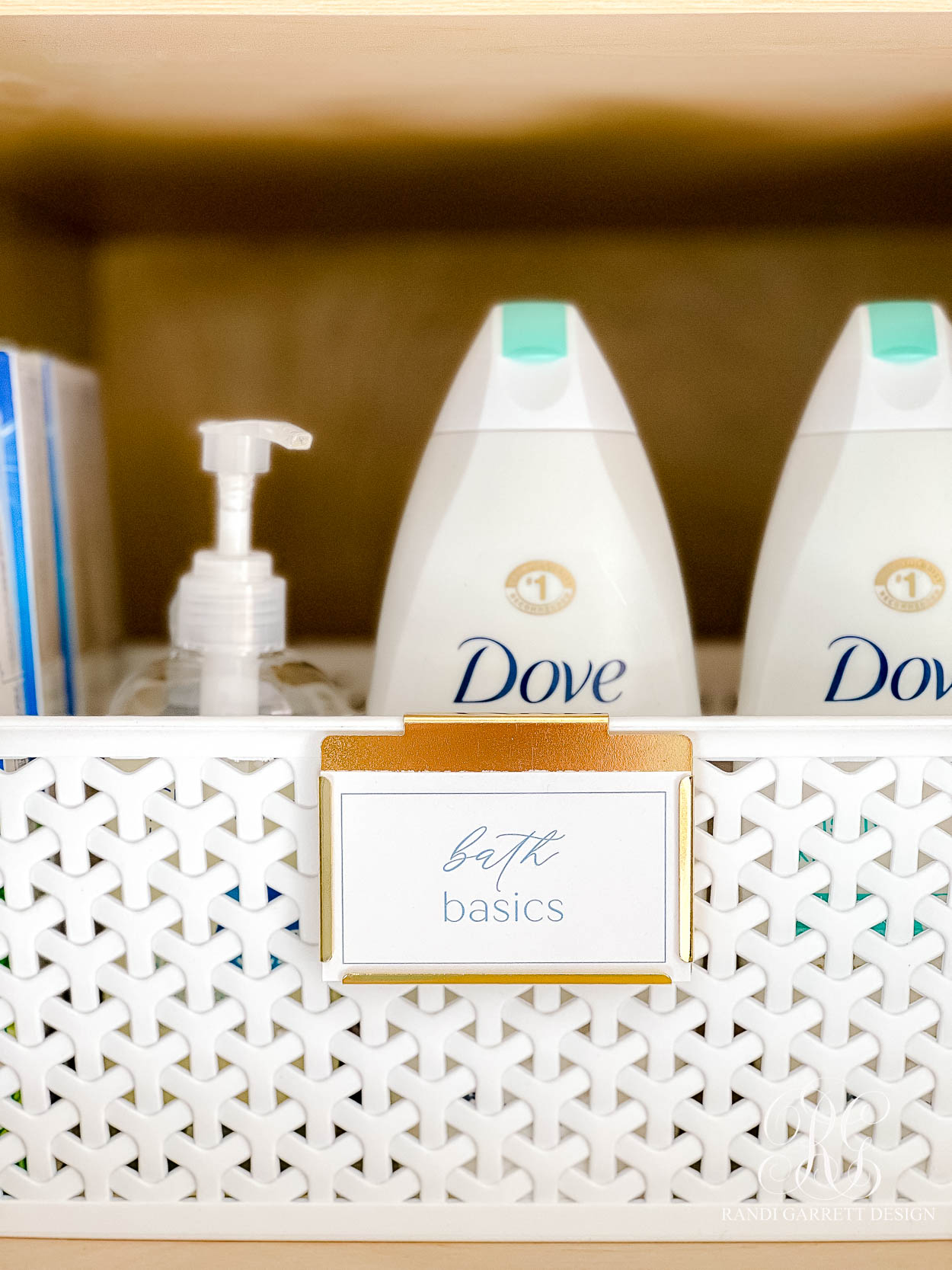 Cleaners, soaps, detergents and other products that I grab constantly in our laundry room got organized in baskets with pretty gold labels and lazy Susans. They organize and pretty up the cupboards. I created labels for each basket on my computer. You could also use a dry erase marker to label your's.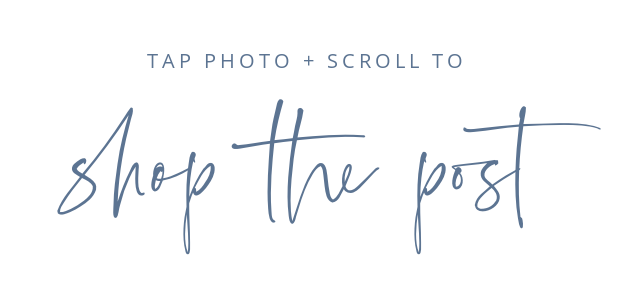 Put your laundry soap or pods in a pretty container you love. A room diffuser will make your laundry room smell even more fresh. I absolutely love this one!
Below our soap, I have our pool towels folded with baskets of sunscreen, goggles, outdoor speakers and bug spray. I used this super easy to use label maker withgold tape. A little super glue helped it adhere to the plastic.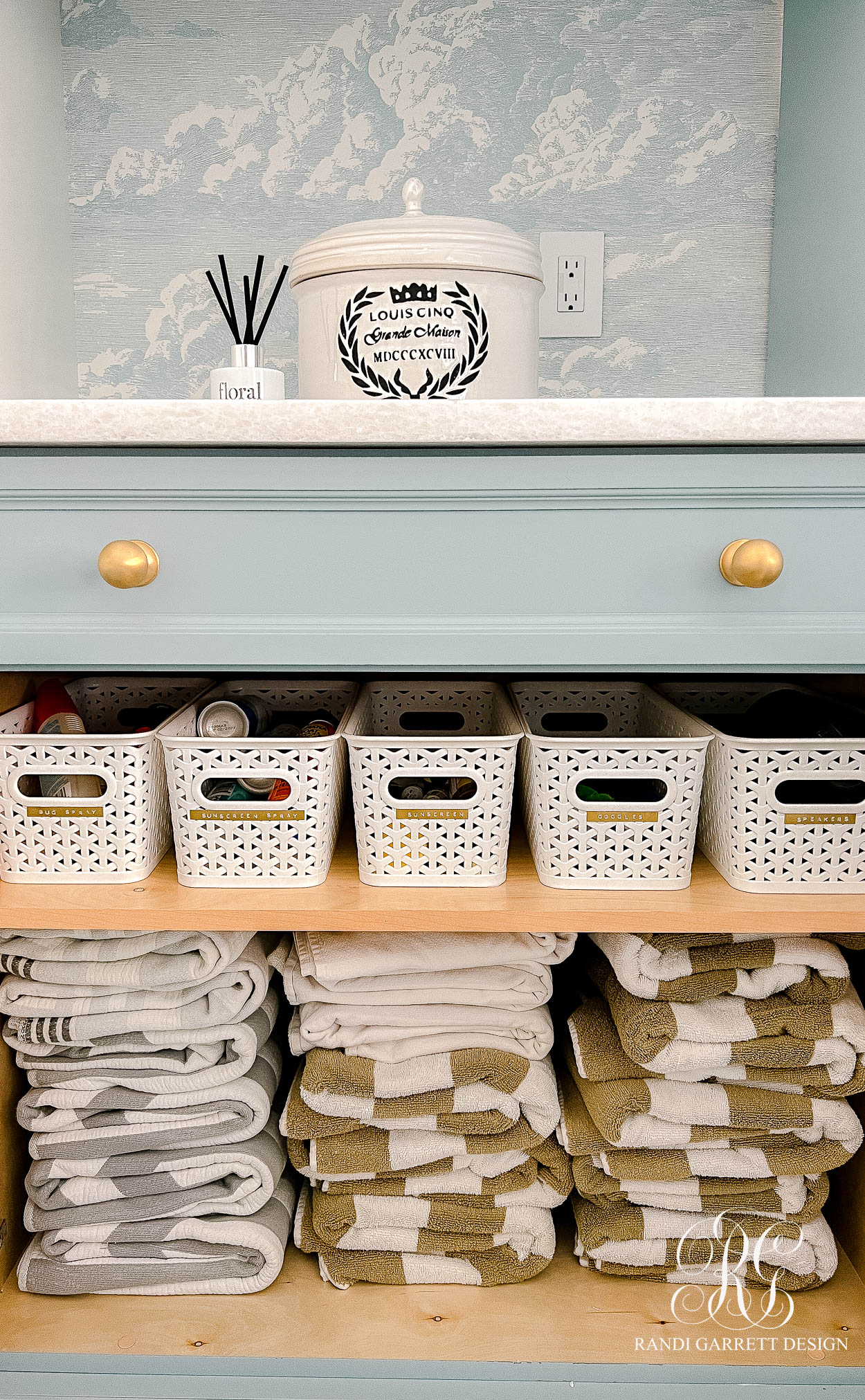 Y Weave Basket | Label Maker | Gold Label Tape | Gray Beach Towel | Tan Cabana Striped Beach Towel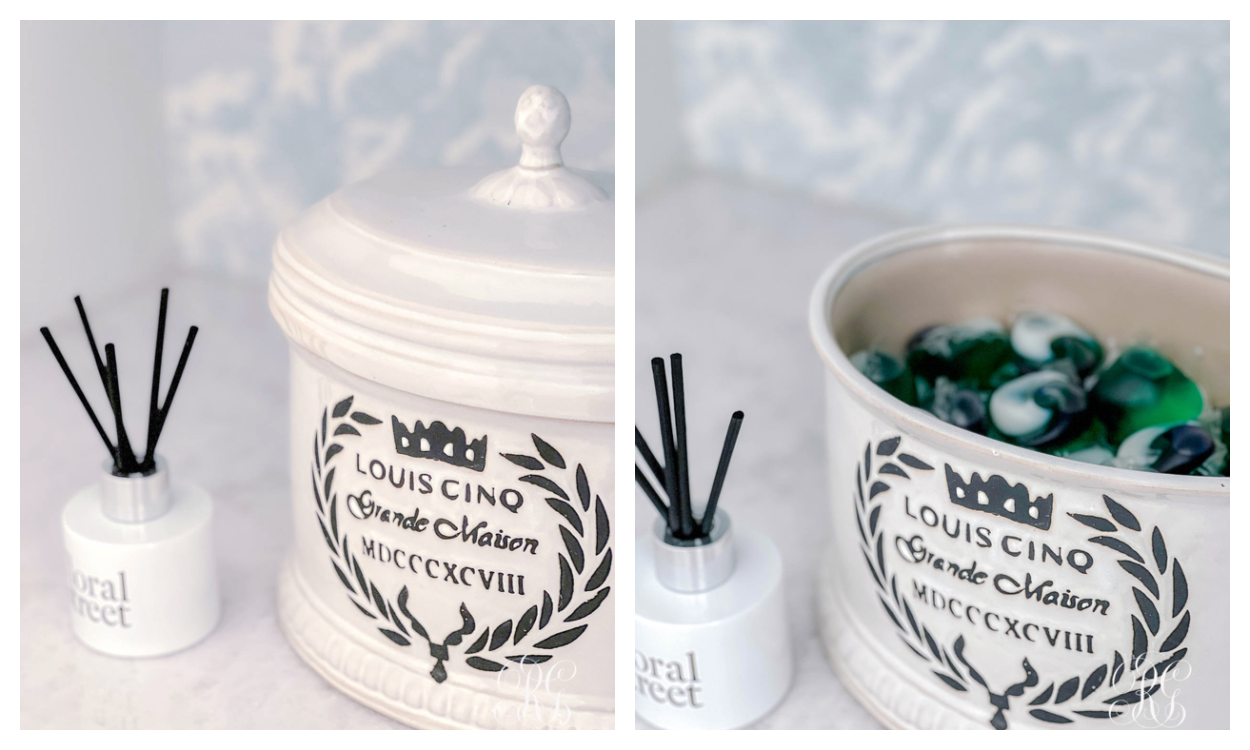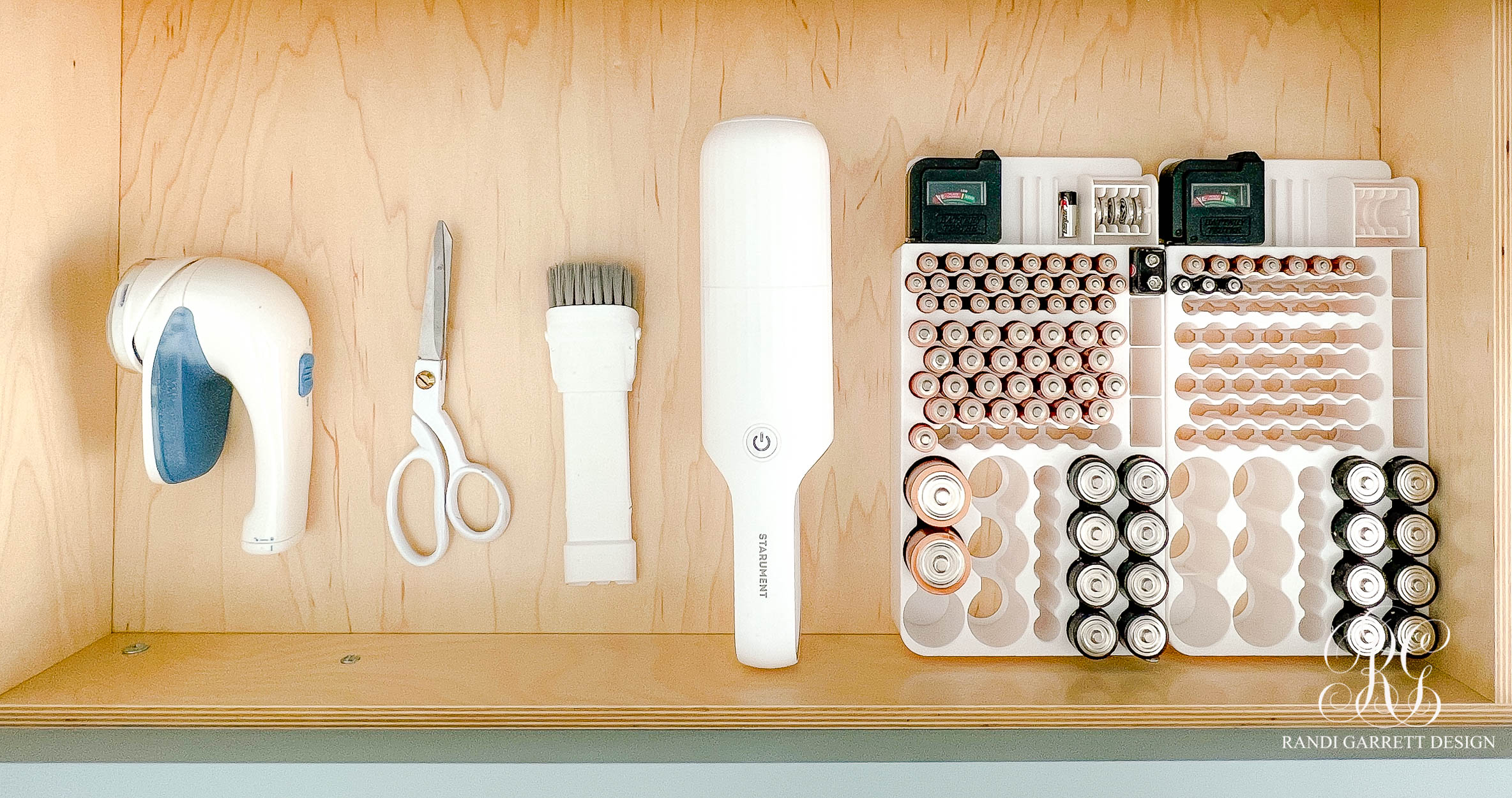 Keep your batteries organized in this awesome organizer. I also keep my mini vacuum, lint trimmer and a pair of scissors in this drawer. All sourced below.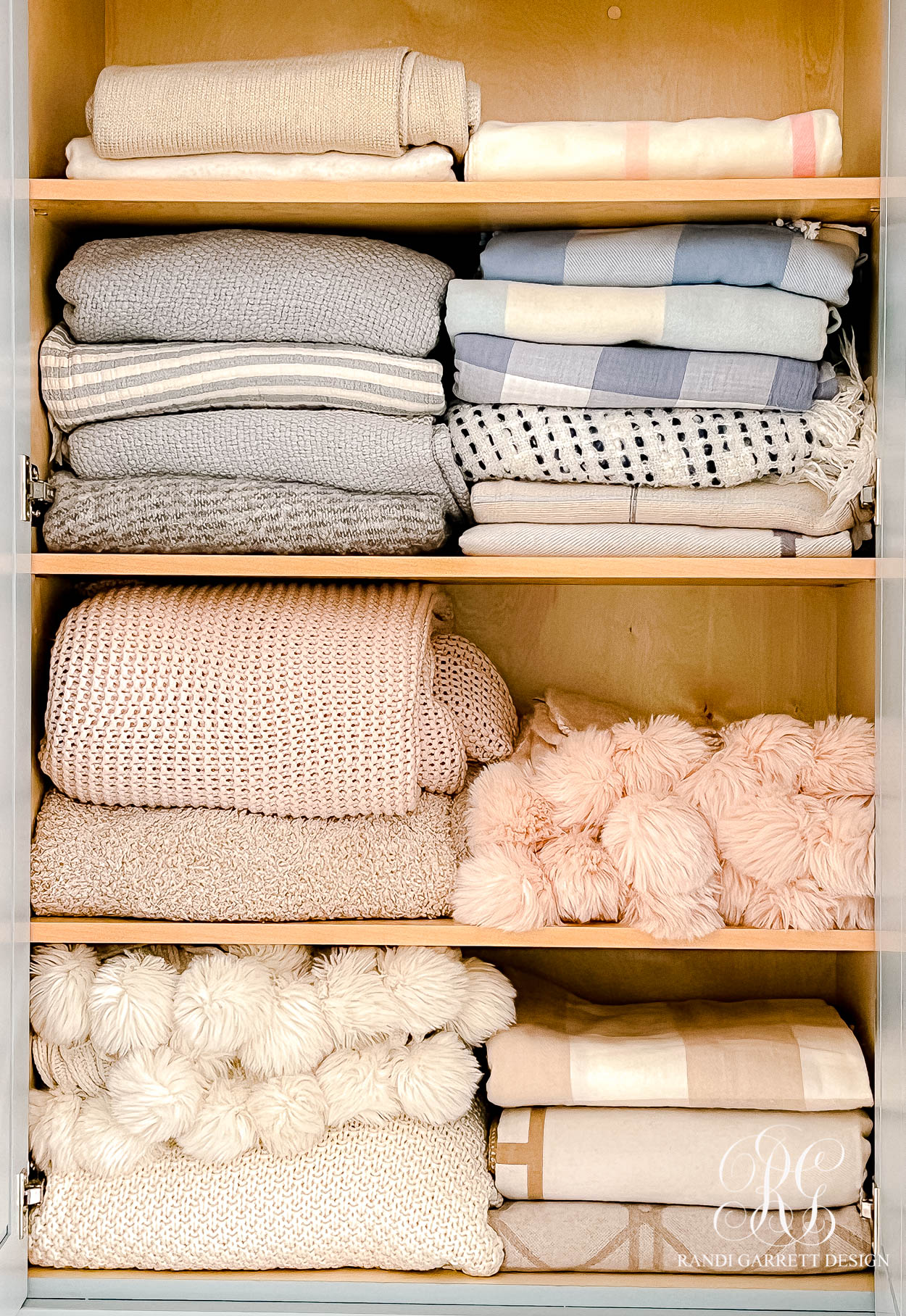 Keep all of your seasonal throws in one place. Fold uniformly and sort them by color.
Here's a tip to giving your paper goods a mini makeover… unwrap them! It makes everything look so much neater. Corral other supplies in pretty baskets with labels.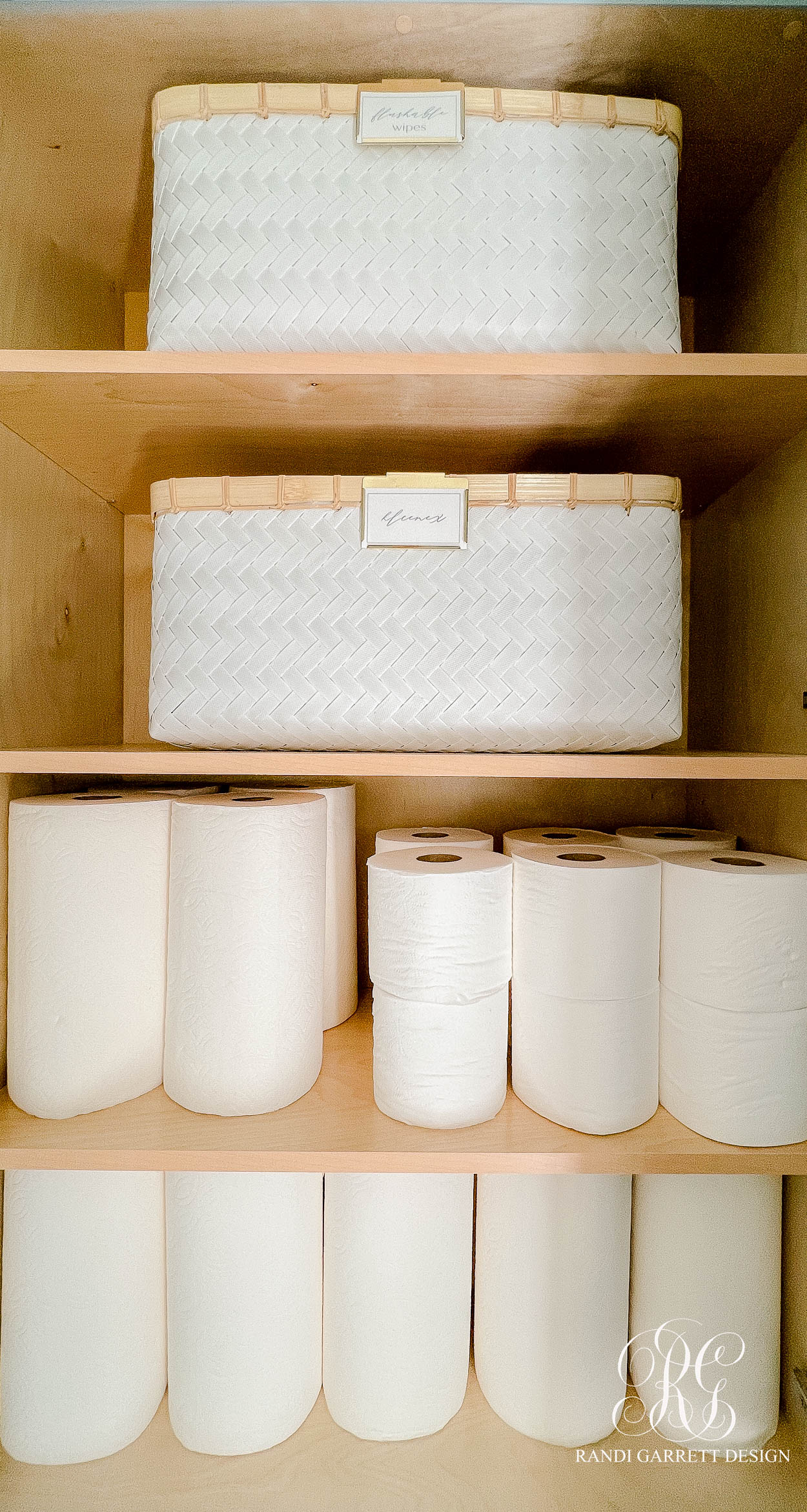 Crown Lidded Container (old) |Floral Street Room Defuser | Lint Trimmer | White Scissors | Mini Vacuum | Battery Organizer | Woven Storage Basket | Gold Label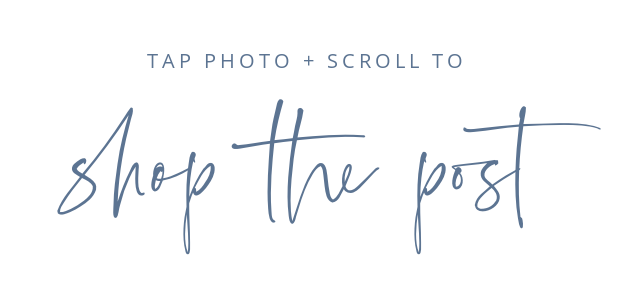 Under the sink is usually a tricky spot for me. I want to maximize the storage, but it can be tricky with pipes, etc. I love this skinny and tall lazy susan. It holds so much without taking up a ton of space. A cute, customizable first aid kit also fits perfectly under the sink.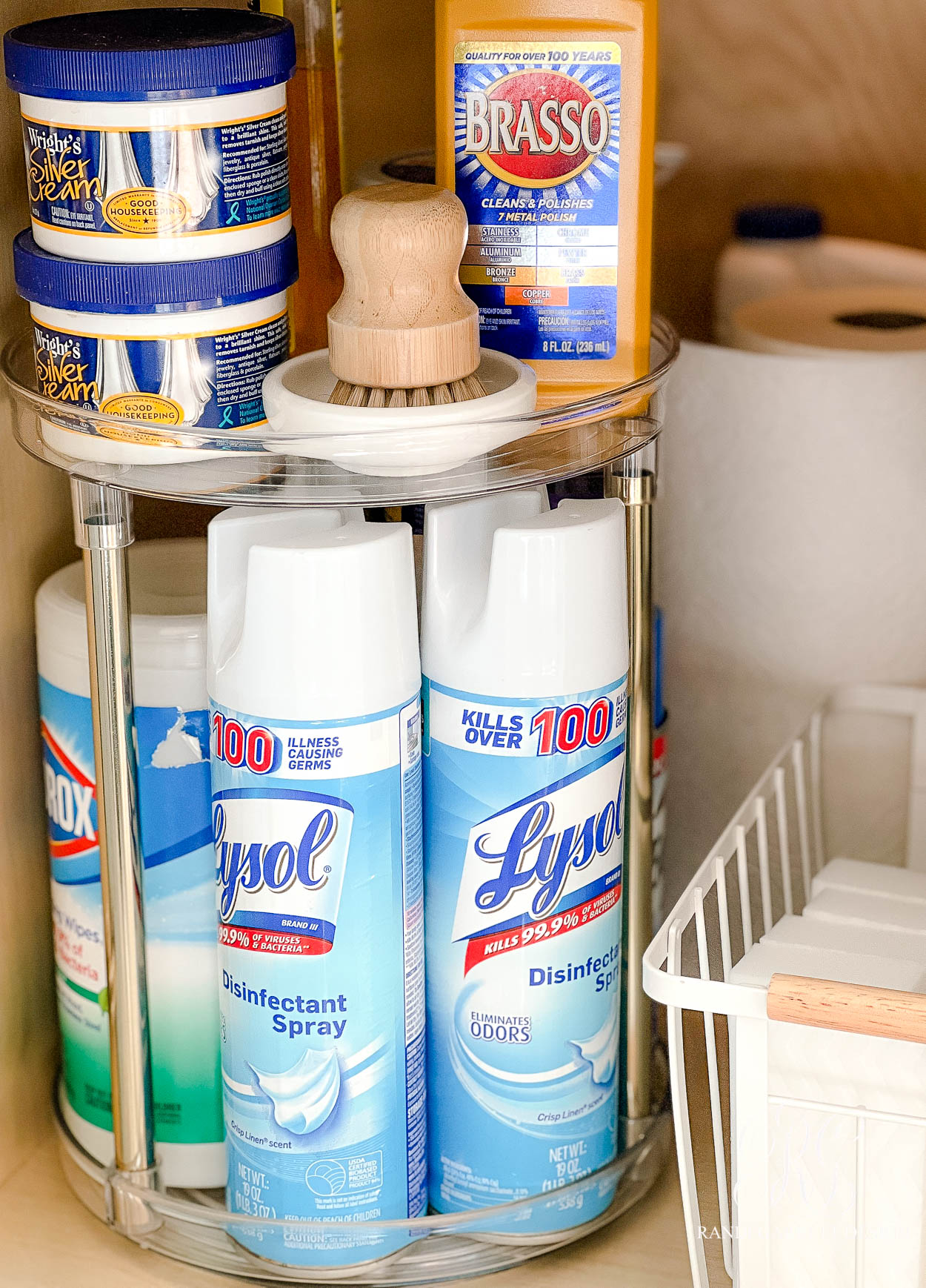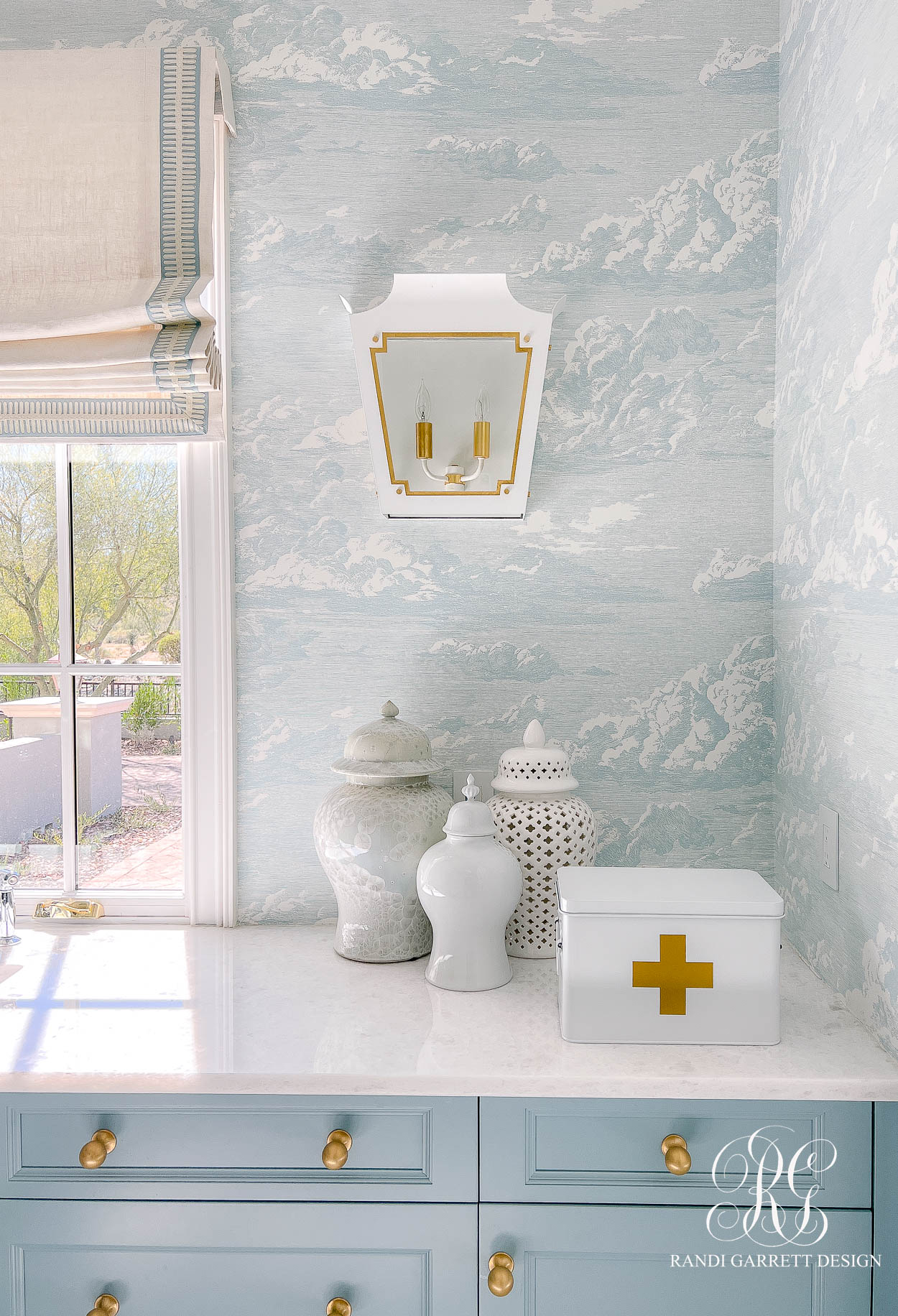 Gold Laundry Basket | FirstAid Kit | Two Tier Lazy Susan | White Wooden Handled Wire Basket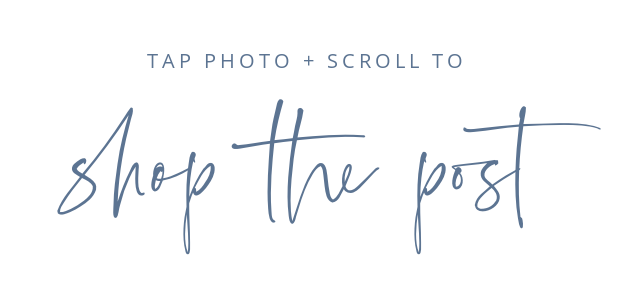 Here's a look at how I organized some of our tools, cleaning rags and puppy essentials.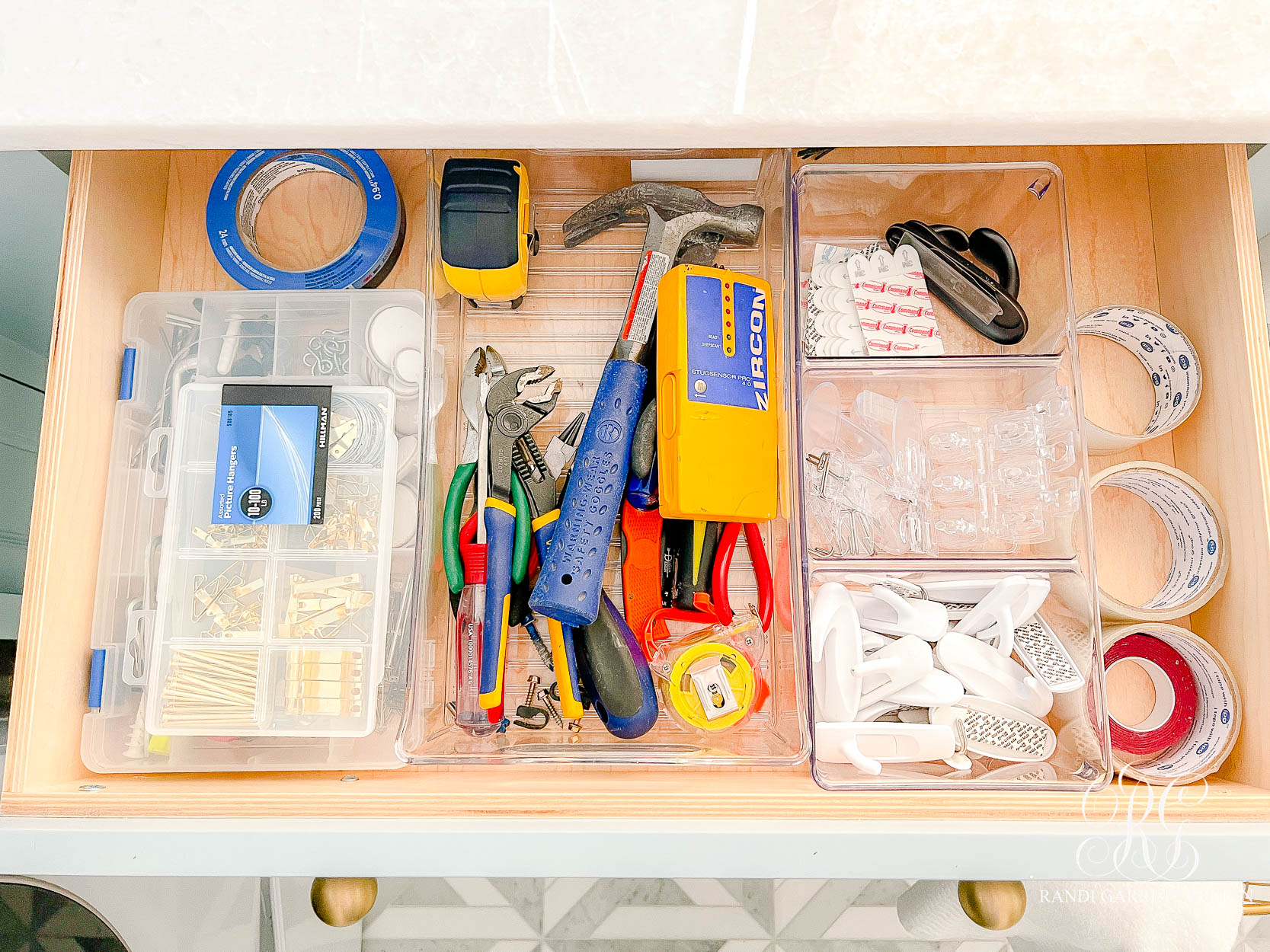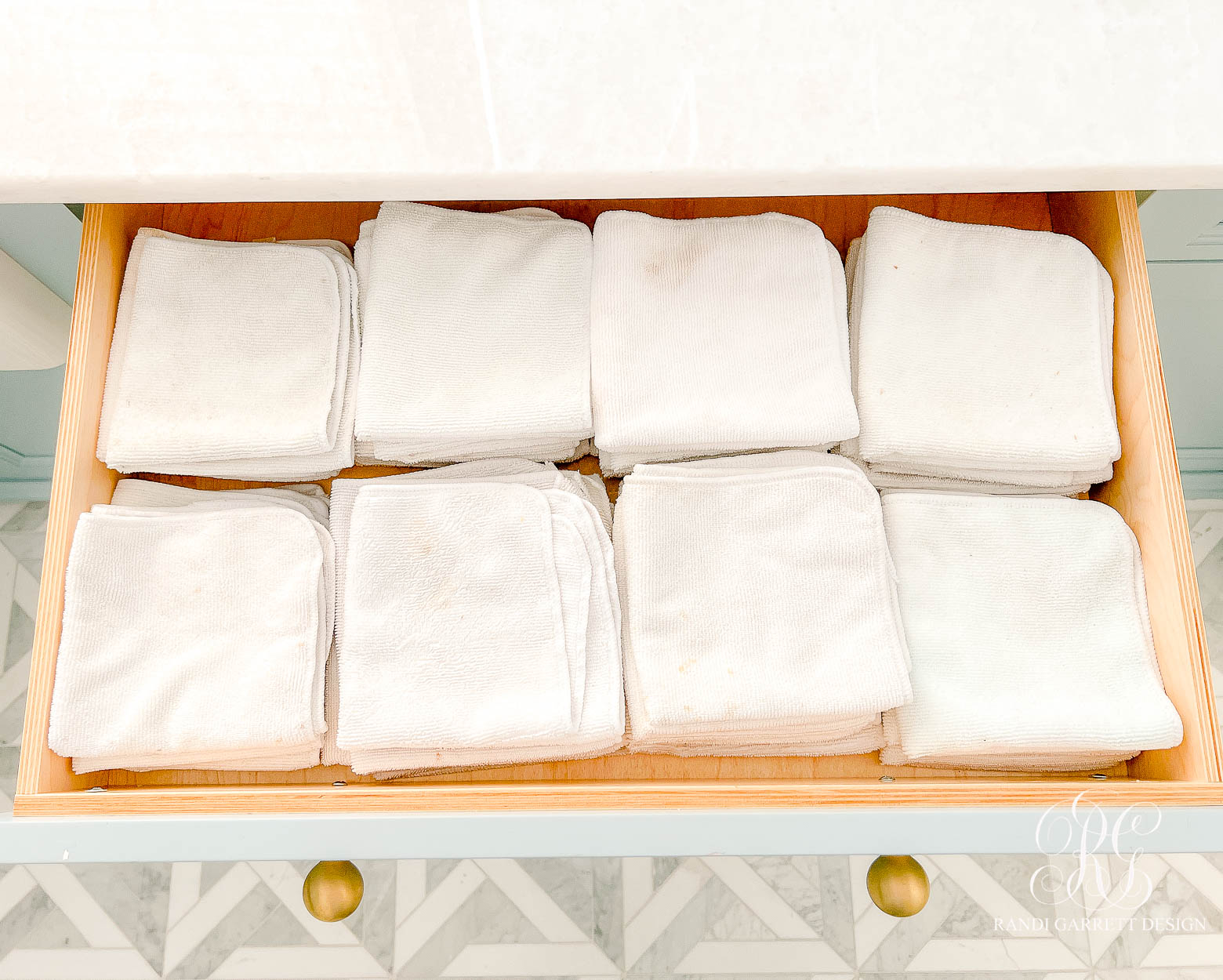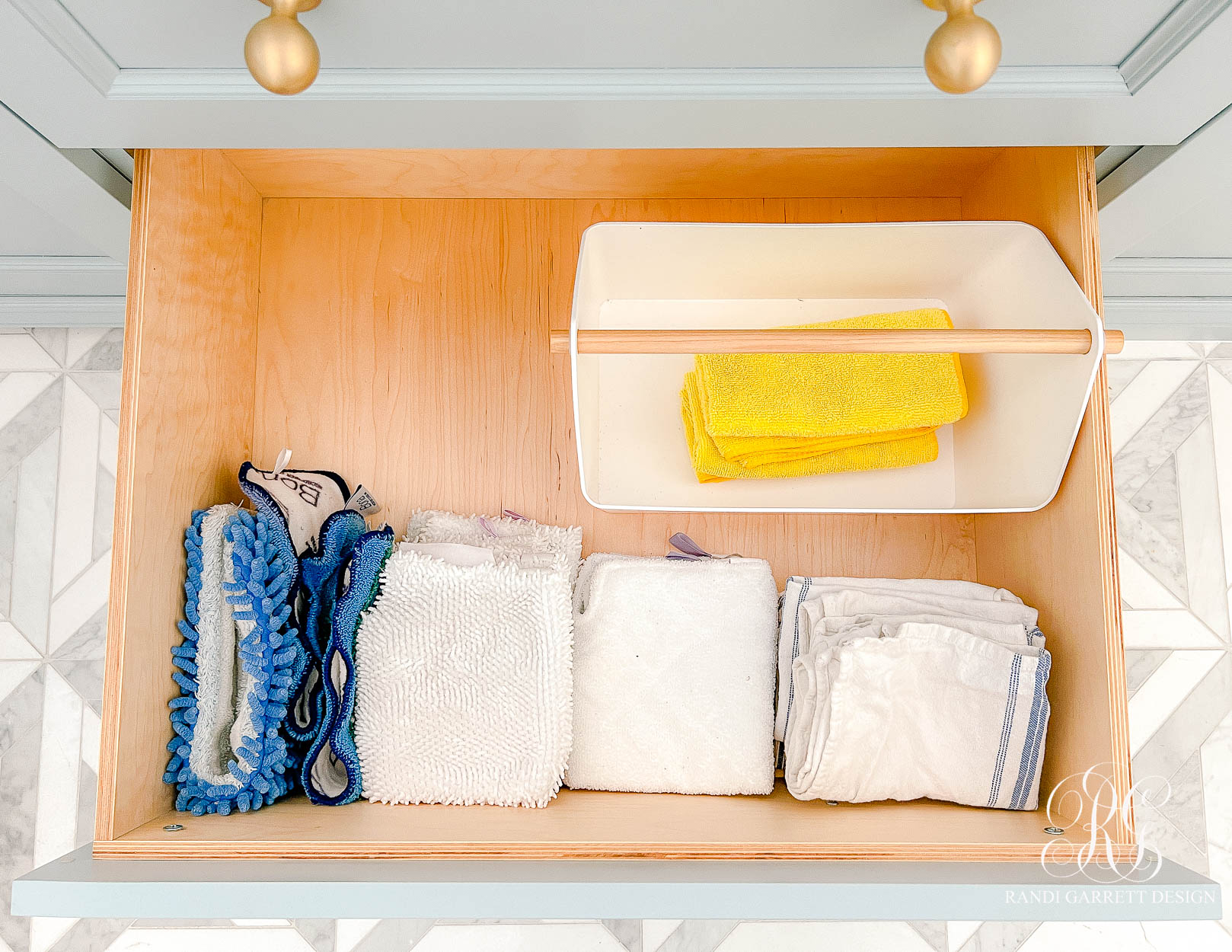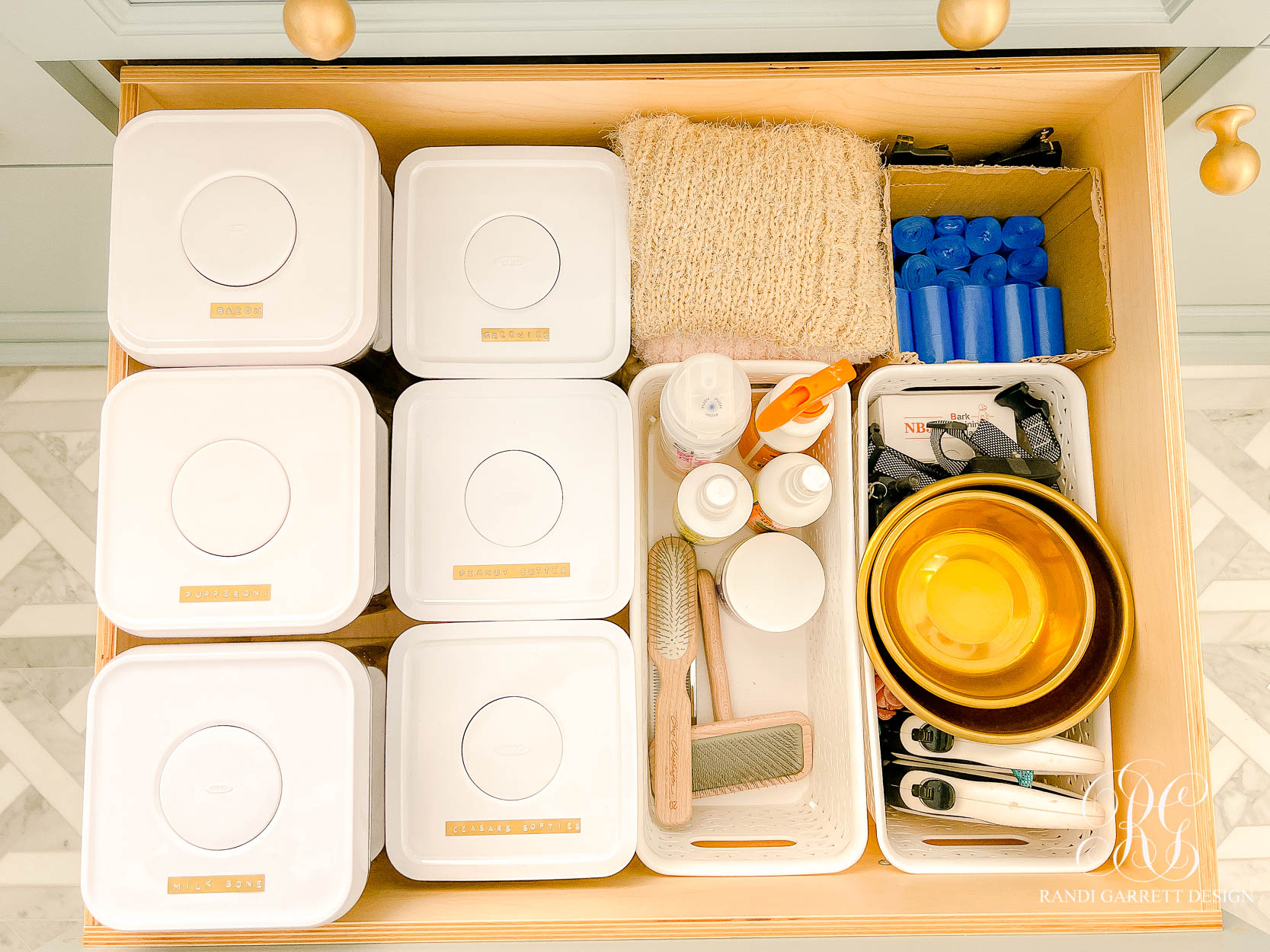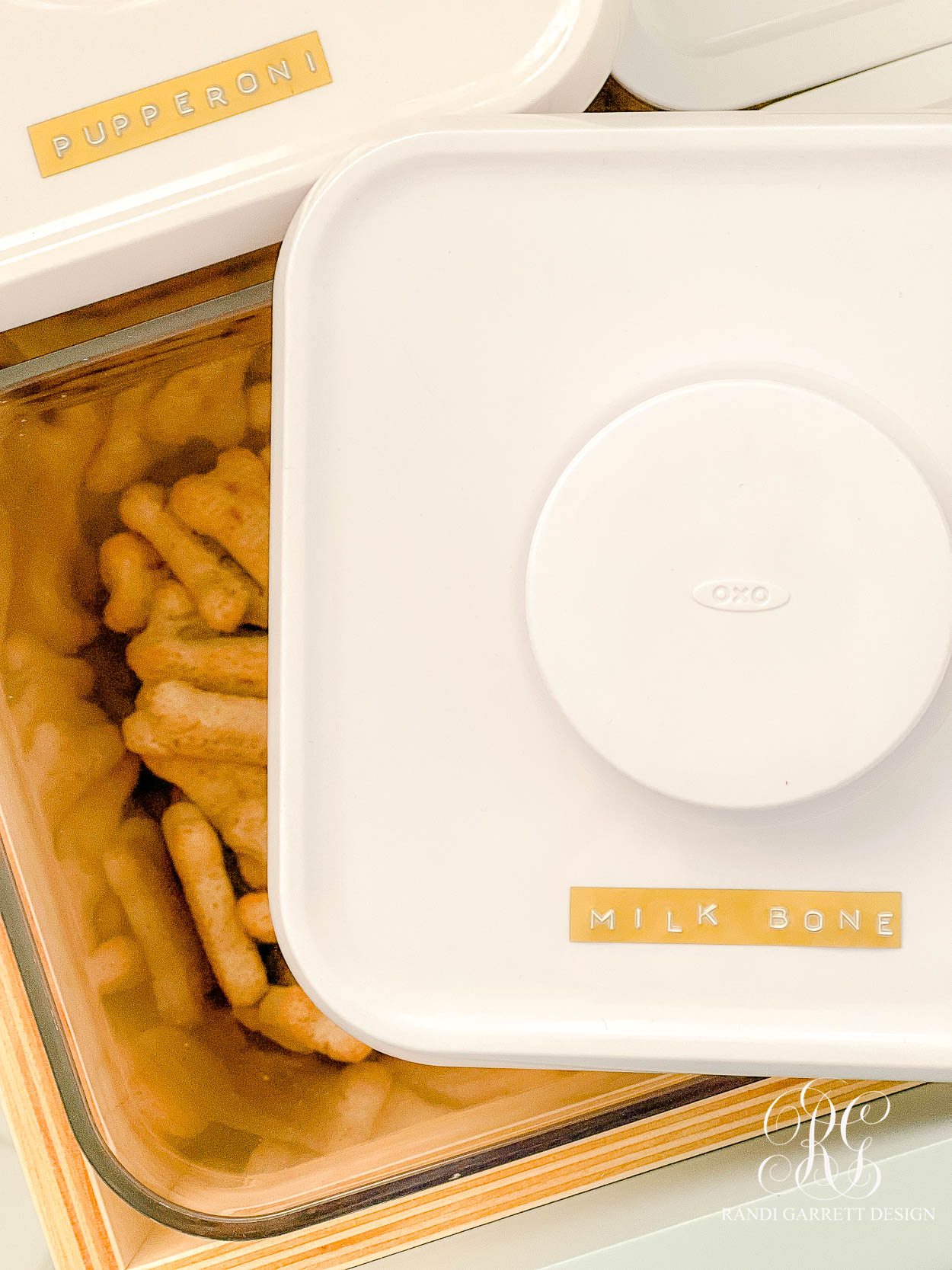 Mirco Fiber Cleaning Rags | Wood Handled Storage Box | OXO Storage Containers | Label Maker | Gold Label Tape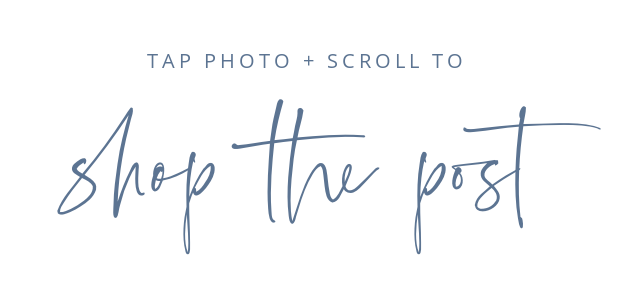 Our linen closet off the laundry room doesn't actually have any linens in it, haha! This room holds all of my candles, vacuums, mops and ironing supplies. I'm still trying to find the perfect organizer for my mops.
Here is a look at what I have come up with so far.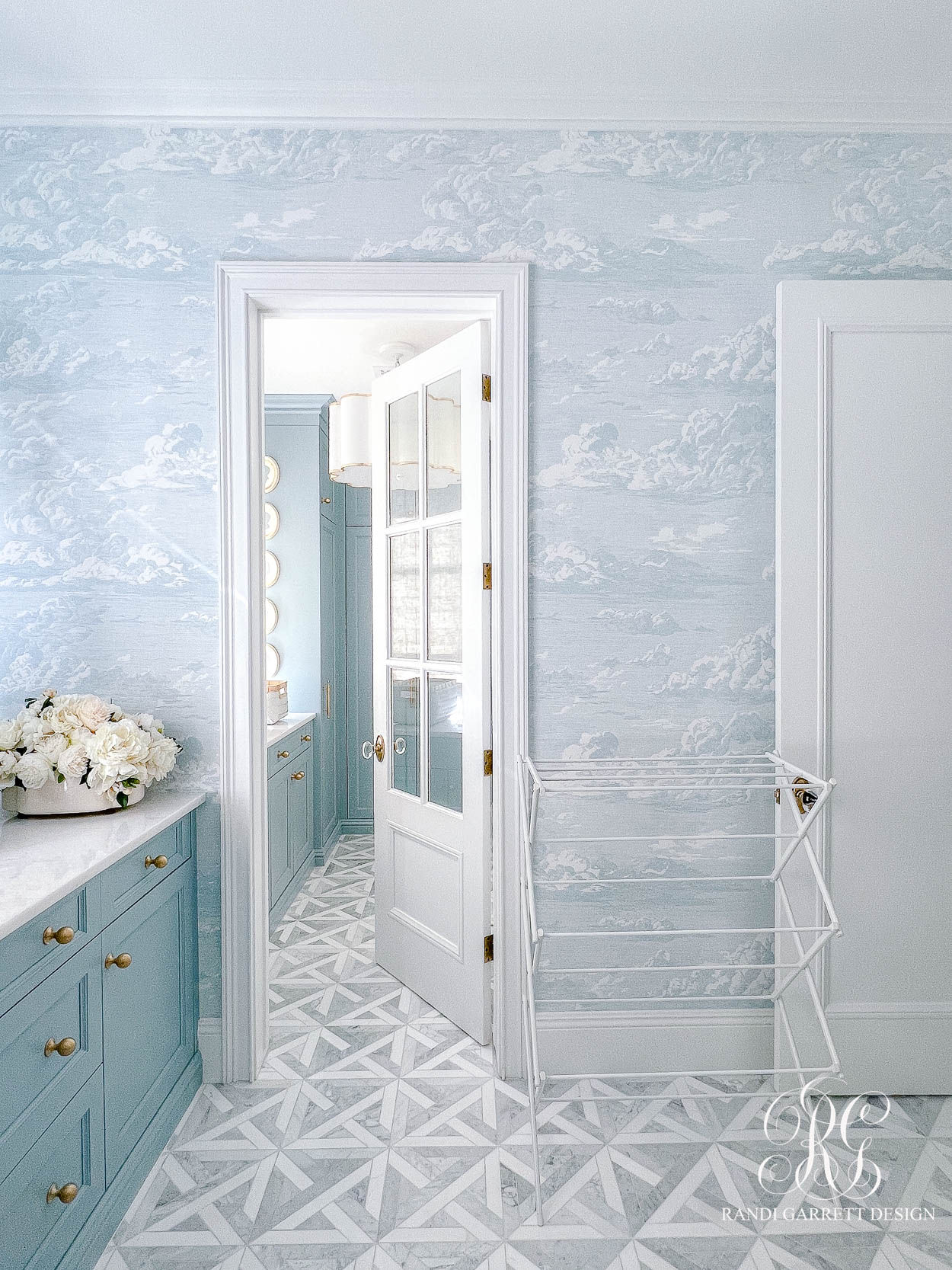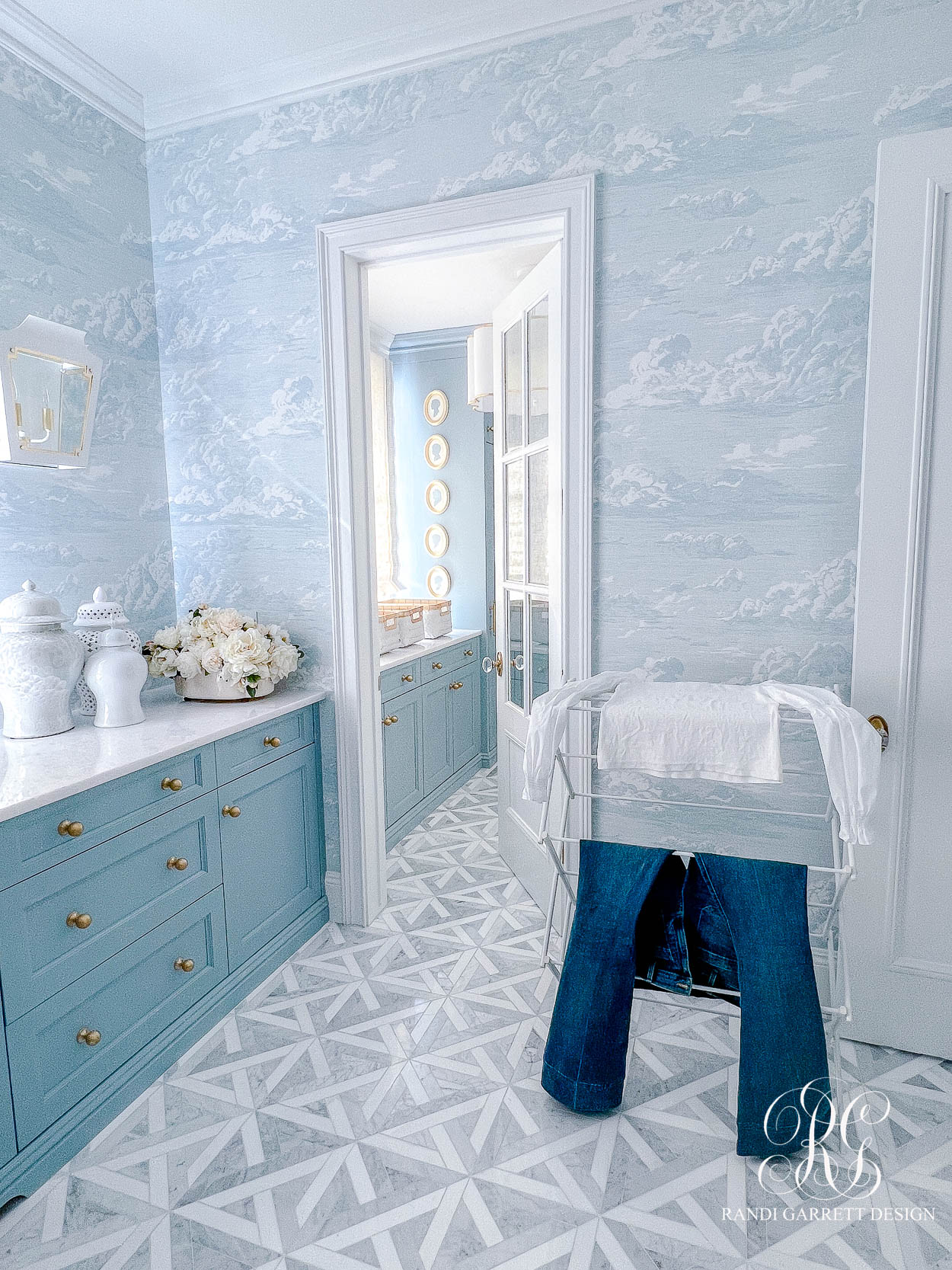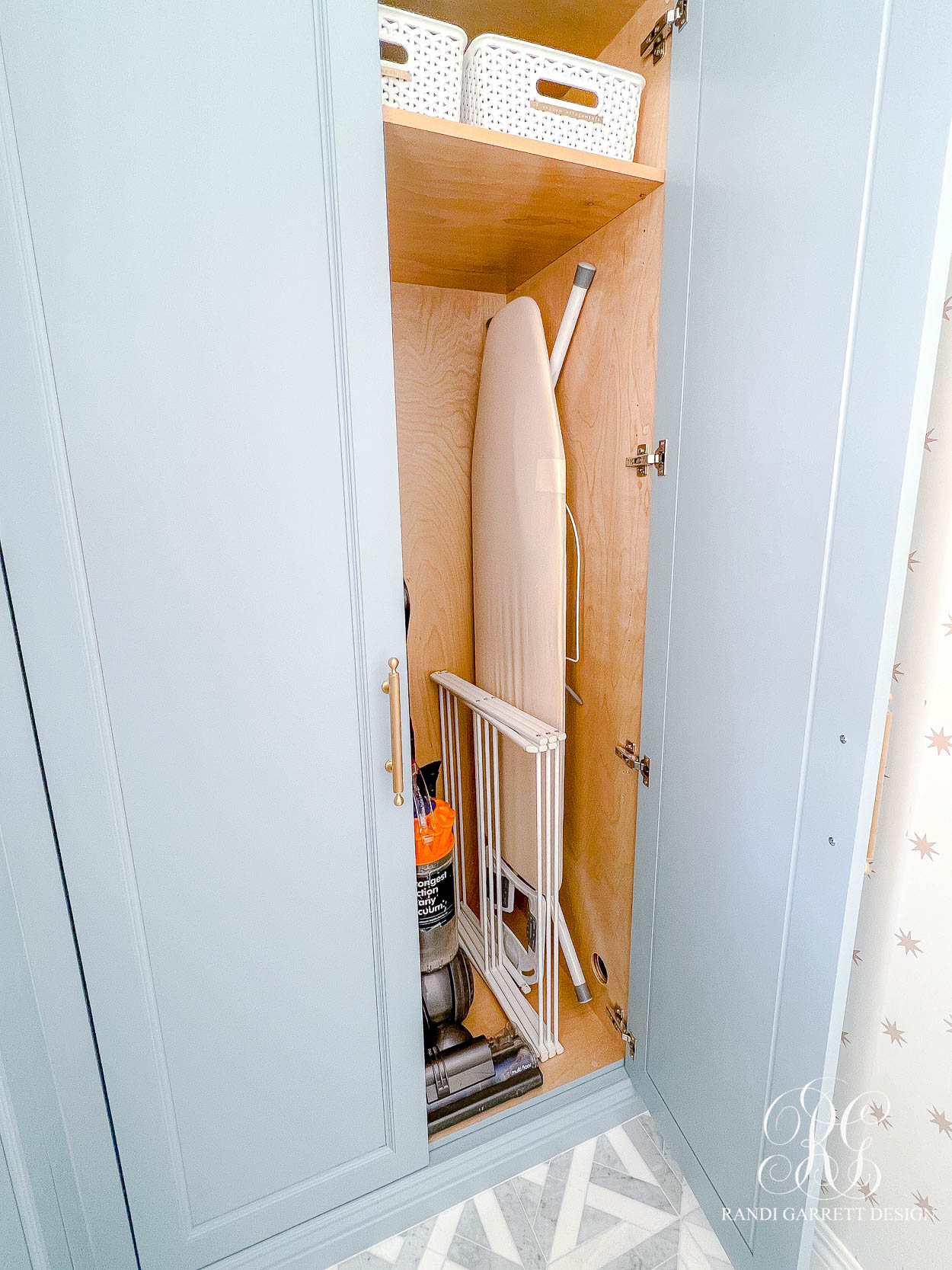 Drying Rack |Ironing Board |Y Weave Storage Basket | Label Maker | Gold Label Tape | Vacuum Mop |Cordless Dyson | Upright Dyson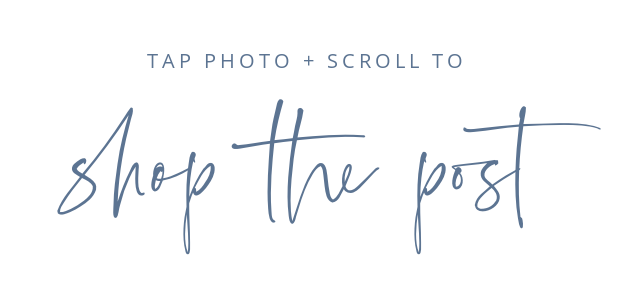 I saved my favorite cabinets and drawers for last! My candles now have a cozy little home all together and that makes me so happy! They are organized by season and scent.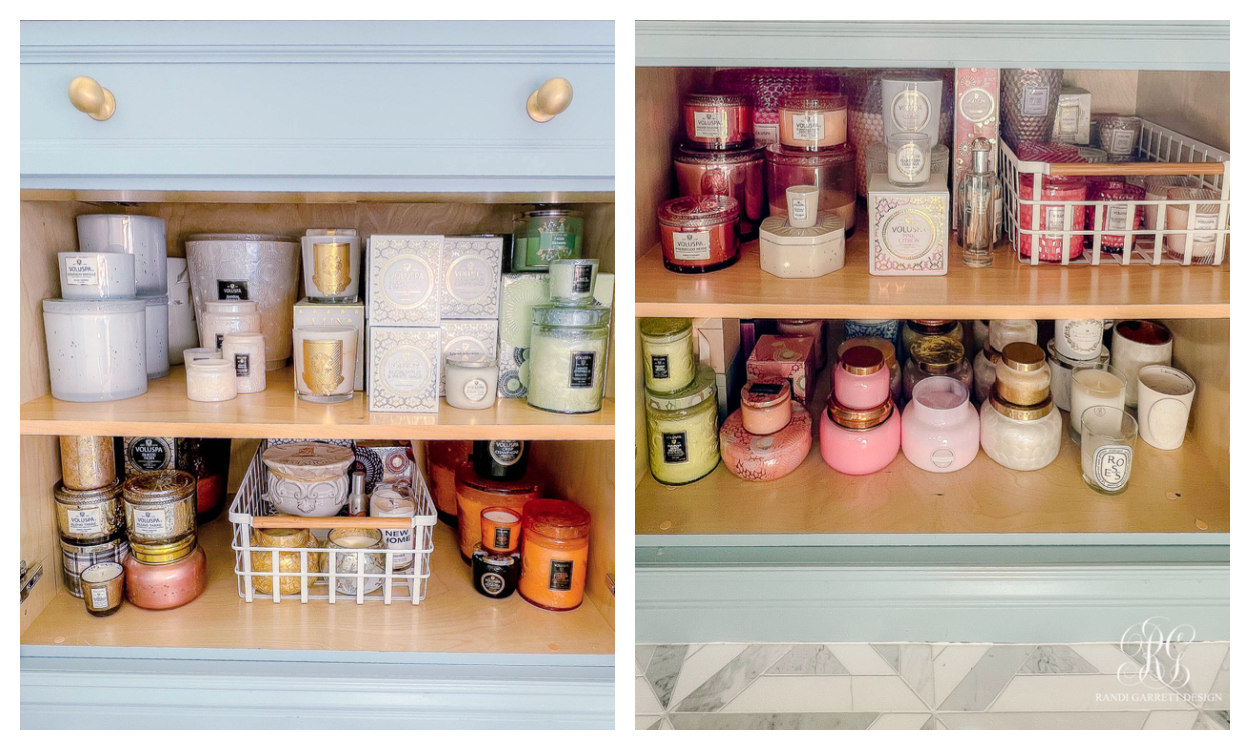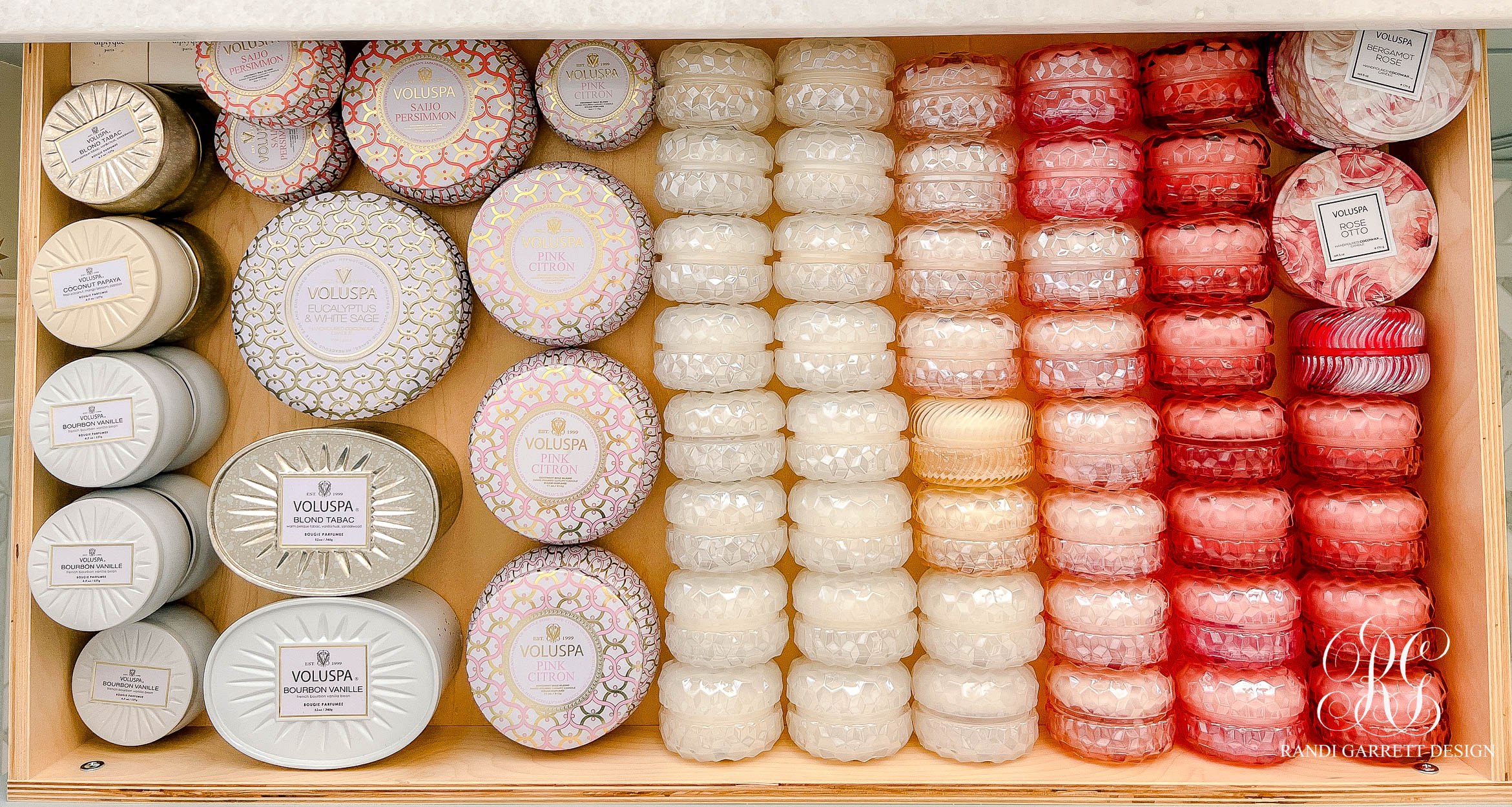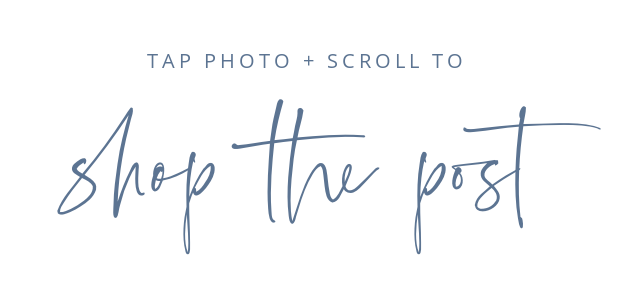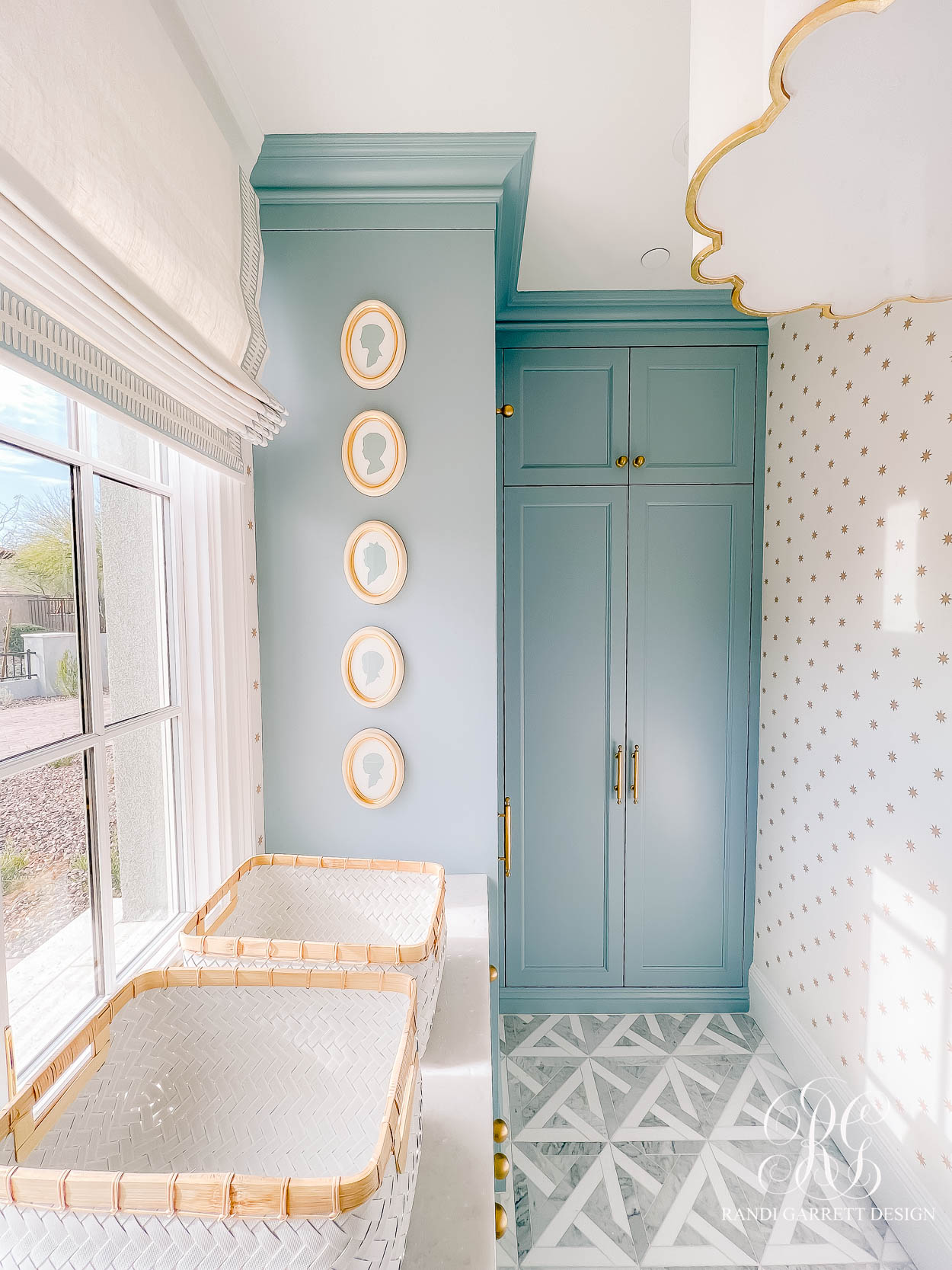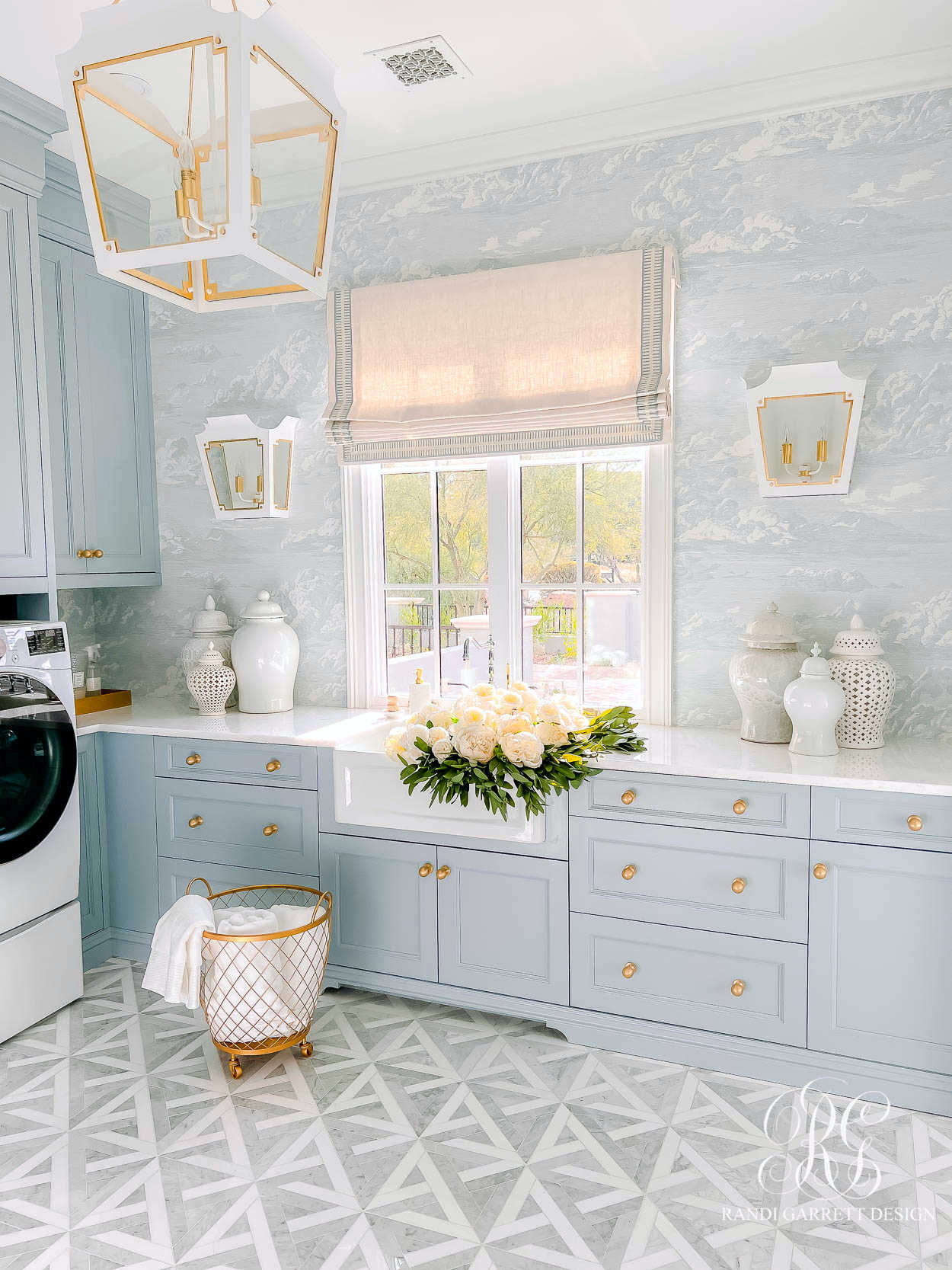 See my full laundry room reveal here with all the room sources and paint colors.