This is a sponsored post written by me on behalf of Floor & Decor, DXV and Armac Martin. All opinions are 100% mine. Read my disclosure policy here.
Today is the day! Our very first room reveal at The Wren – The Laundry Room!!! Laundry is a pesky, never ending task that everyone seems to dread, including myself. When designing The Wren, I wanted to create a laundry room that coaxed me inside and conjured up happy feelings. When we love the spaces we live in, the mundane tasks don't seem so mundane.
So, I set out to make our laundry room the happiest place in The Wren! To see my thought process and plan behind our laundry room, you can visit my mood board post on it here. It's taken some time, but the laundry room is finished and I have to say, I LOVE being in here doing laundry!!! Sometimes, I walk in here and just stare at the details.
Before I share those pretty details with you, I want to thank Floor & Decor for the exquisite parquet marble mosaic flooring, DXV for the gorgeous plumbing fixtures and Armac Martin for the luxurious brass hardware. These pieces are truly the jewels in this space!
The Laundry Room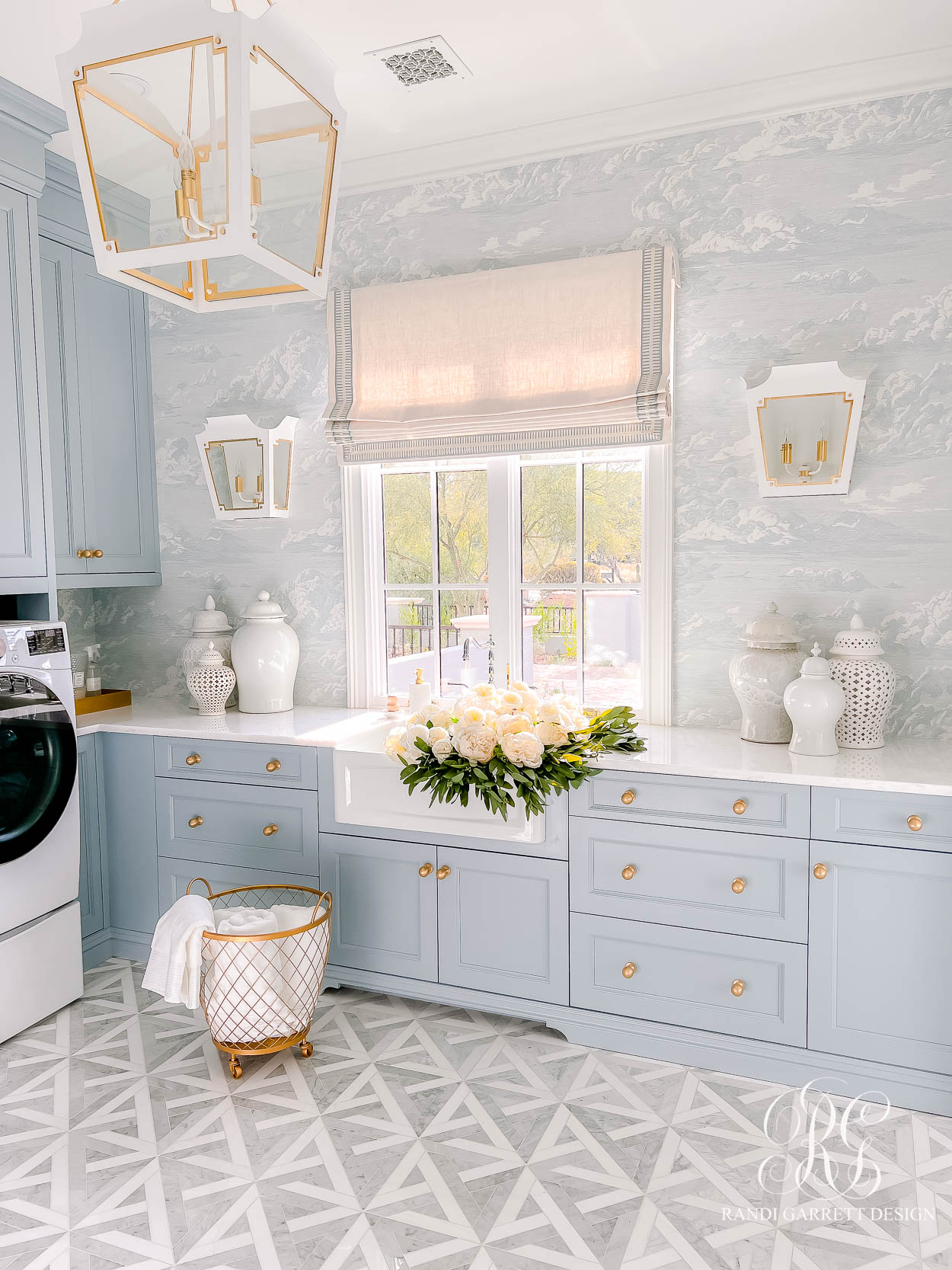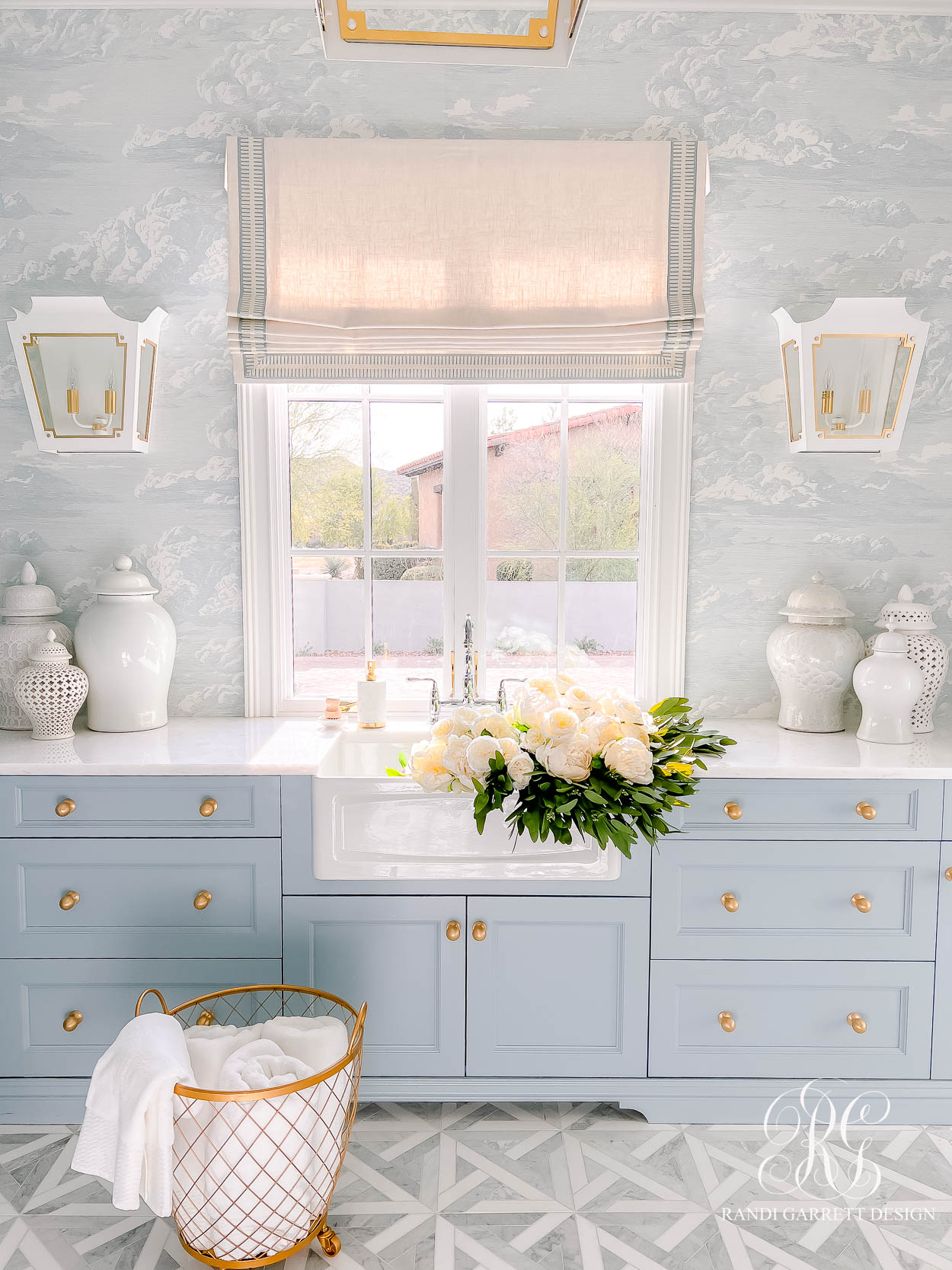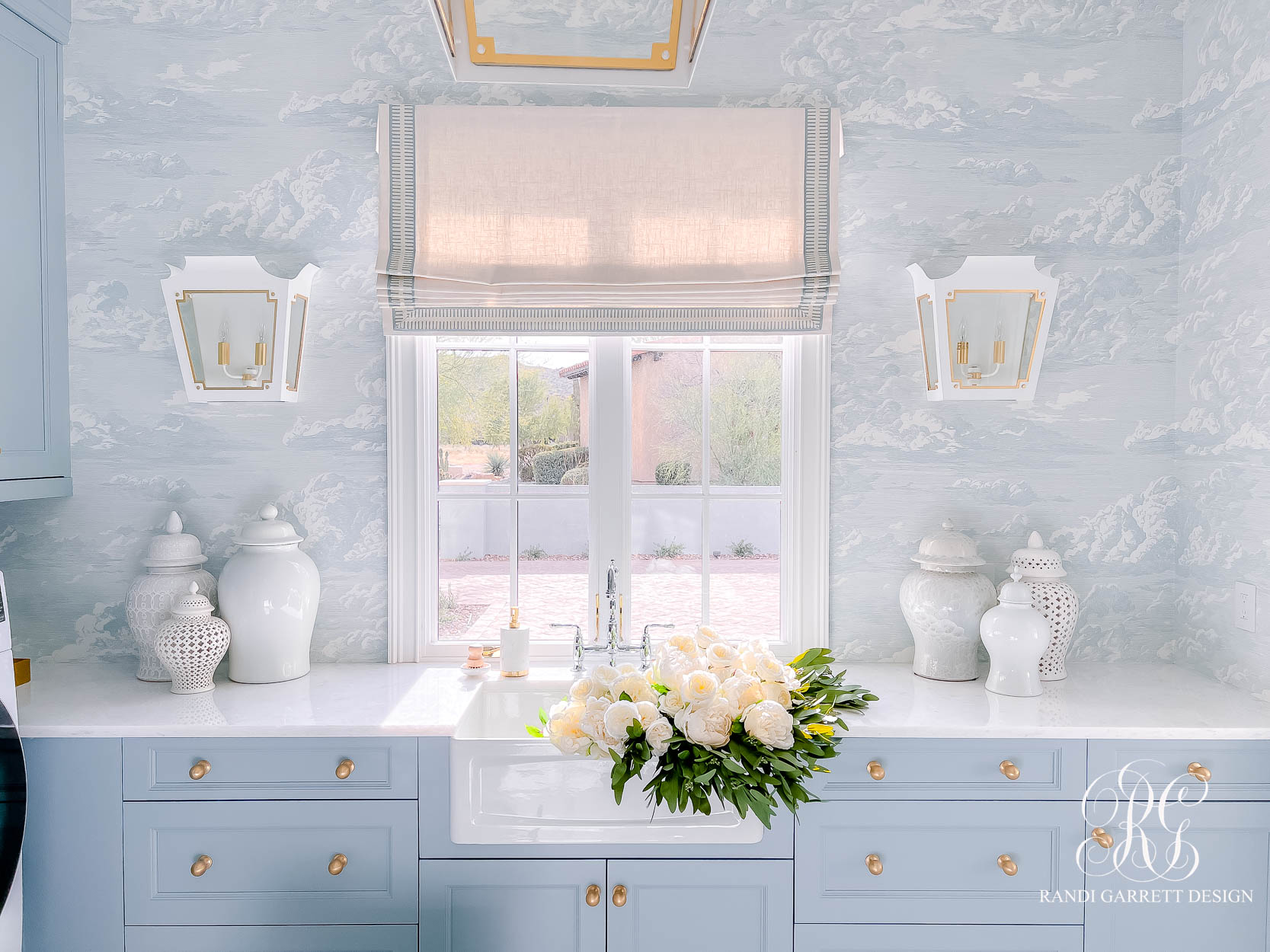 We selected Benjamin Moore's, Nantucket Fog for the cabinet color. It's a beautiful grayish blue paint that matches perfectly with the dreamy cloud toile wallpaper from Schumacher (budget friendly option here). Being in this room makes you feel like you are in a dream! Something you may not know about me, I love clouds! This wallpaper has been a dream of mine for several years. When it was installed, I felt like a little girl on Christmas morning!
The Bianco Carrara Thassos Parquet Marble Mosaic floors from Floor & Decor are the most stunning punctuation mark to the room! This parquet pattern is a timeless pattern with a modern twist. The detail is absolutely breathtaking! Floor & Decor is known for it's fabulous selection of high quality materials, for rock bottom prices. We were floored by their selection of gorgeous marble. I can't wait to show you the other marble pieces we used throughout The Wren! They also offer free design services! Click here to get started!
The Details





Details, details, details! Design is really about the details! I can't emphasize that enough! Details are what takes your space to the next level and gives it a personality all it's own! Here are the details we added to The Wren's laundry room to make her feel special and chic!
Lighting – I selected lighting with charm and character. These playful lantern wall sconces and matching hanging lantern bring a sense of whimsy to the room.
Roman Shades – These beautiful shades are from The Shade Store. They were fully customized with white linen fabric, Schumacher trim and a motorized mechanism that lifts and lowers with a touch of a button.
Plumbing Fixtures – Our plumbing fixtures are all from DXV. The attention to detail DXV puts int each of their pieces is mind blowing. I selected DXV's Victorian Bridge faucet in their luxurious polished chrome finish for our laundry room. We also used their gorgeous Hillside 30″ apron sink. It comes with a matching sink grate to protect it from scratches. I love that the sink in reversible! You can select if you want the front to be smooth or paneled. We chose to have the panel showing for a little more detail. Our mini clawfoot doggie tub wouldn't be complete without a charming faucet to match! DXV's Randall wall mount tub faucet is such a darling accent to complete this space! You will see much more of DXV throughout The Wren~ eek, can't wait to show you!
Hardware – Armac Martin is a luxury brass hardware company that originated in Birmingham, England over 90 years ago. Their hardware is solid brass and oozing with out world charm. In fact all their hardware is designed with detail in mind. The warmth and character their pieces bring to a space is remarkable. We selected their beautiful Latchford Knob (35mm in Satin Brass Unlaquered) and their Latchford Handle (128mm in Satin Brass Unlaquered). I have never seen or felt more beautiful hardware! They look stunning paired with Emtek's Hampton doorknob with oval brass rosette (French Antique finish) and the brass door hinges with the ball tips. The golds don't match exactly, but something I have learned during this building process – close is good enough! You will drive yourself crazy trying to match every finish perfectly! It adds to your home's story to have different patinas and finishes that blend well together.
Countertops – Our countertops are Aethos marble. They don't have veining, rather marbling instead. The marble is mostly white with large sparkling flicks throughout. I think it is some of the most beautiful marble ever. Since the floor and walls have so much pattern going on, I wanted the pattern on the countertops to be more calm. This marble balances the room without sacrificing charm.
Paint – The wall behind the doggie tub and the trim is painted Benjamin Moore's Chantilly Lace in a semi gloss finish.
Accessories – I kept the accessories to a minimum in here. A few white ginger jars (surprise, surprise), a beautiful gold wire laundry basket, a gold tray (that holds laundry essentials, a crown jar (old) and a yummy room diffuser is all I used to dress the space.
Towels – These are the most cozy. luxurious towels ever, they feel like butter!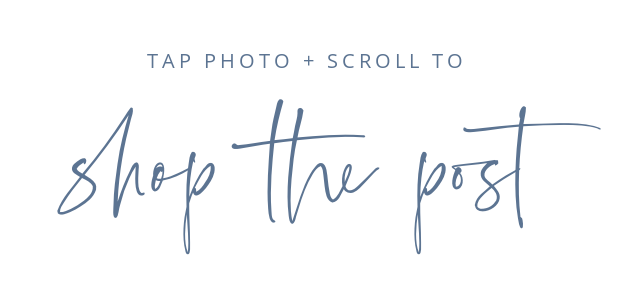 The Linen Closet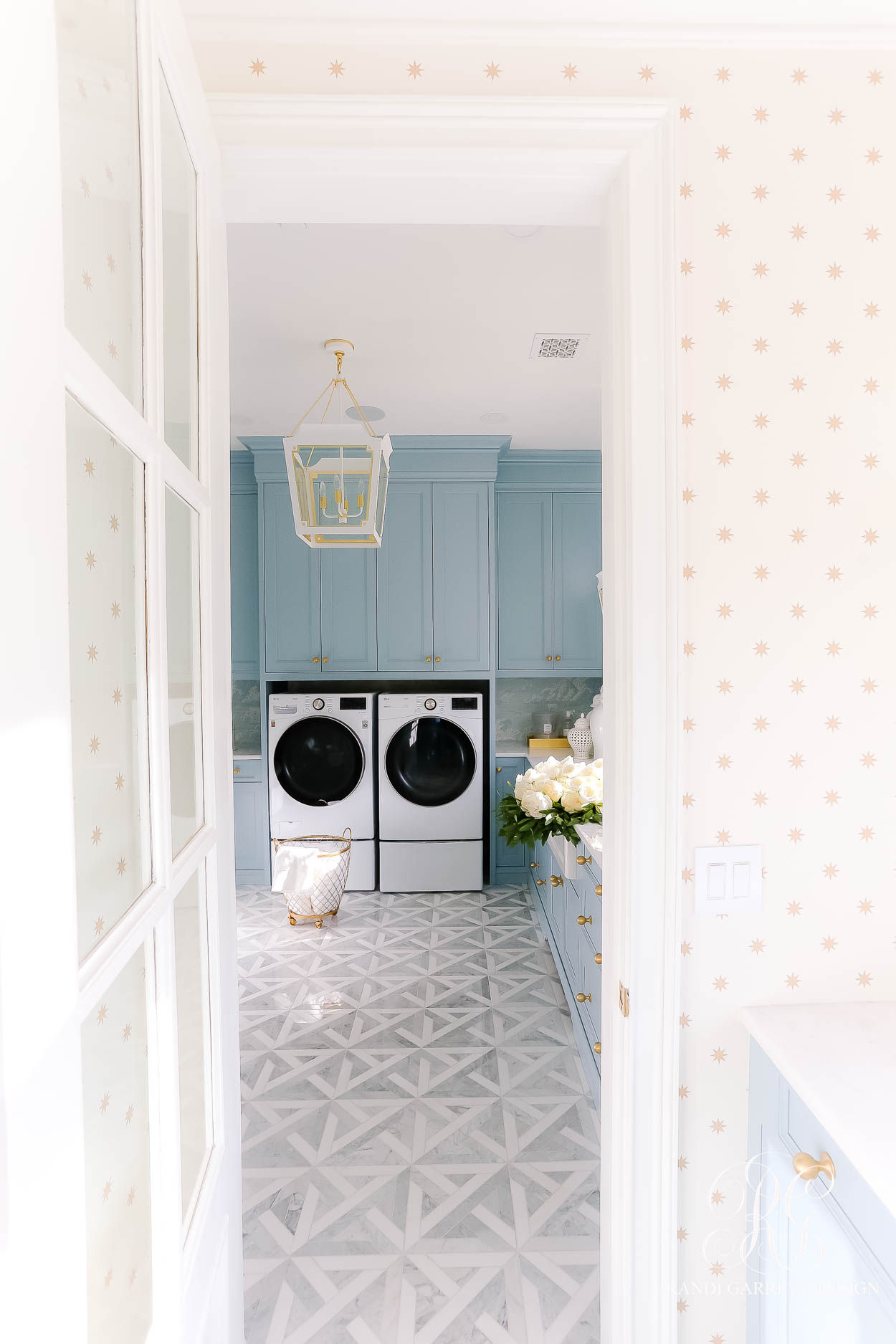 Our linen closet was a happy addition that came about when trying to get the windows on the front of the house to be uniform. We didn't want the powder bathroom to have a window, so we needed to fill the space with something that could use a window. Our linen closet idea was born! This quaint little room holds all of my cleaning supplies, vacuums, mops, brooms, ironing board and candles. I show you inside all the cupboards soon! I guess we should call it the broom closet instead of the linen closet! Here are her details…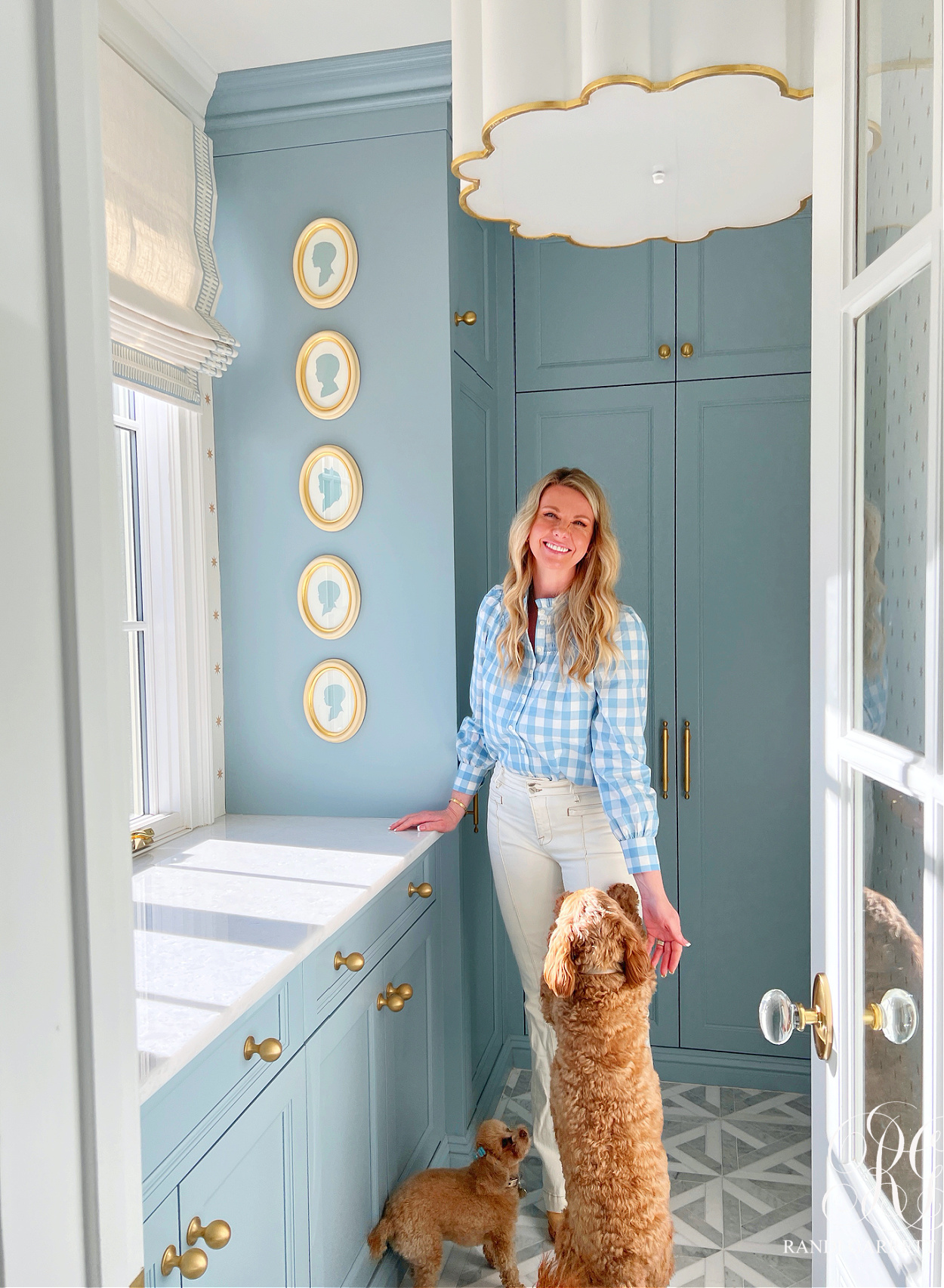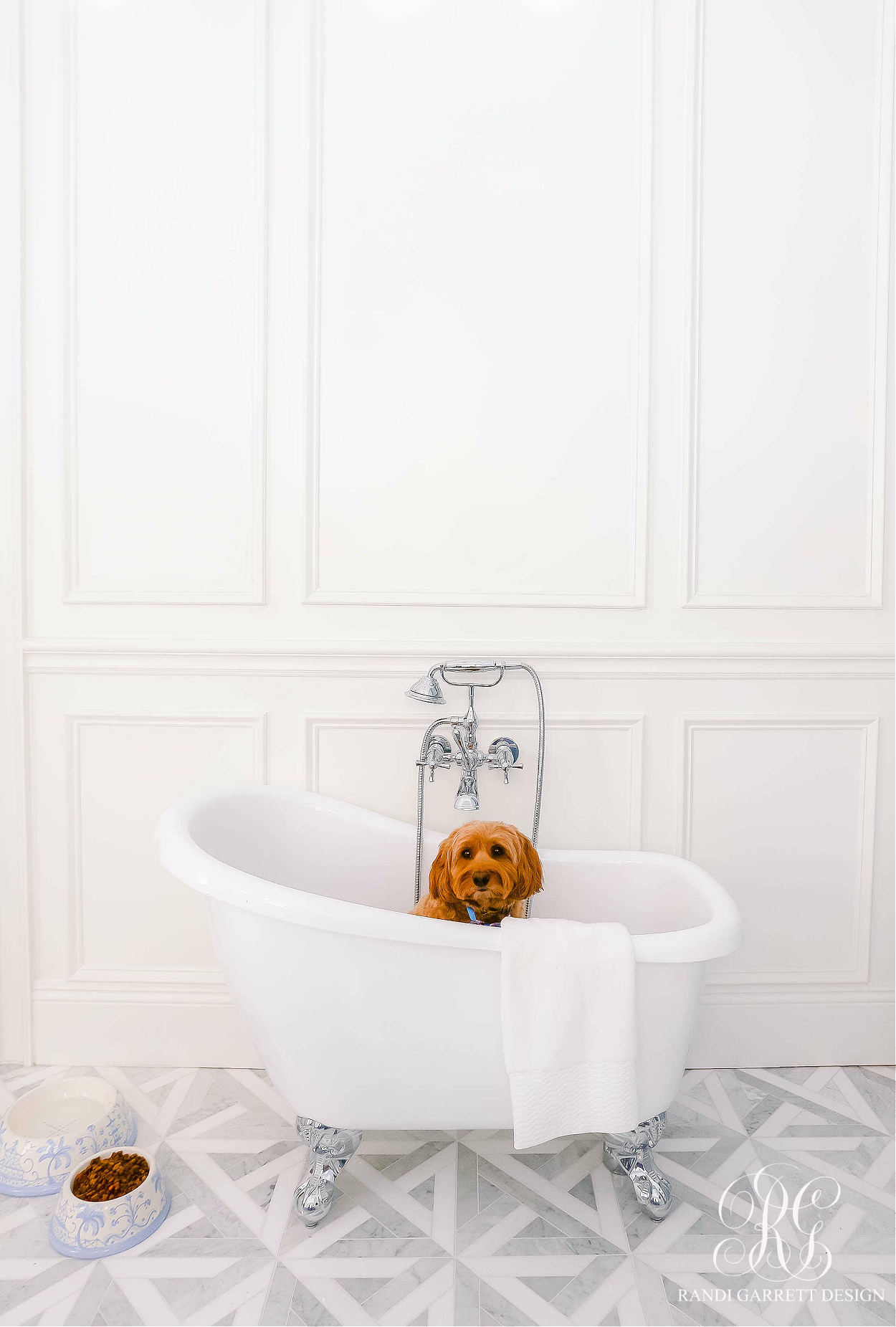 Our family loves the laundry room, even sweet Chloe! I hope you love it too and find something inspiring for your home!