Valentine's Day is one of my favorite days of the year! I love showing those special people in my life just how special they are with some extra special touches!
I've gathered some of my favorite Valentine's pieces for your home and for gifts, plus tons of decor and entertaining ideas! Happy love day!
*This post contains affiliate links. Read my disclosure policy here.
Simple Arrangments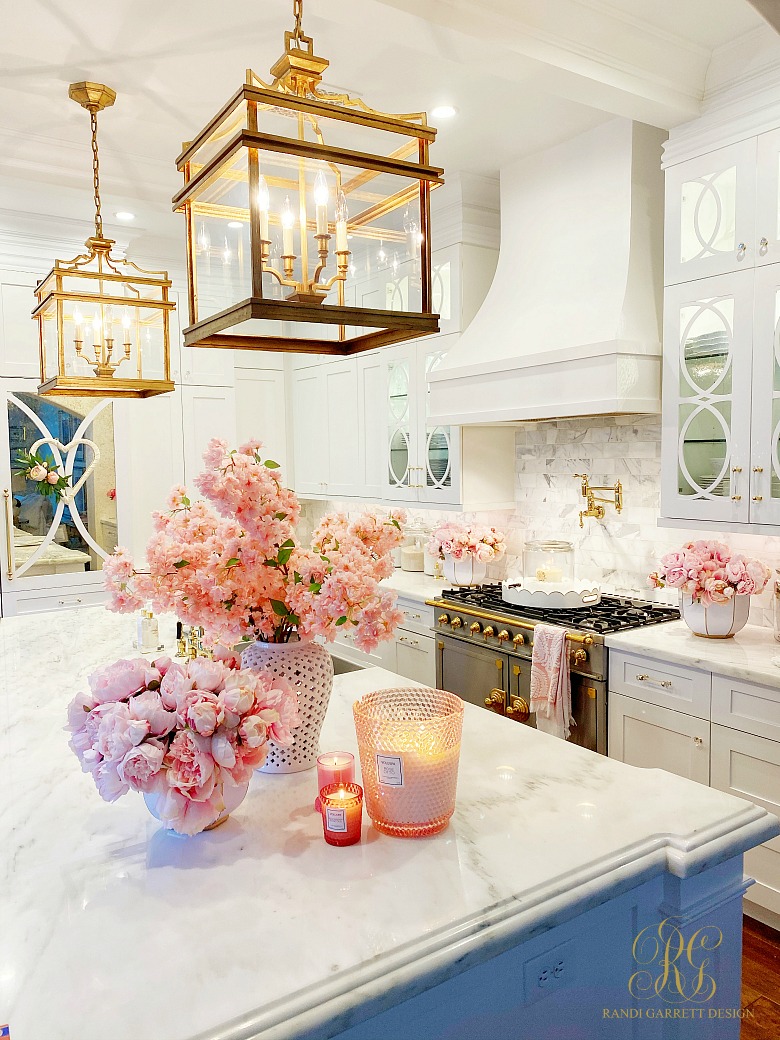 For the cherry blossom arrangement, use 8 cherry blossoms stems and this ginger jar. Here are some more of my favorite white ginger jars.
For the peony arrangement use 6-7 peony bunches. I like to use these 2 different types here and here. Tuck them into this white and gold vase. Here is a white and gold vase that is more of a budget friendly option.
Use this large pink rose candle, these smaller hot pink rose candles to create a fabulous vignette!


Fabulous Valentine's Day Pieces for the Home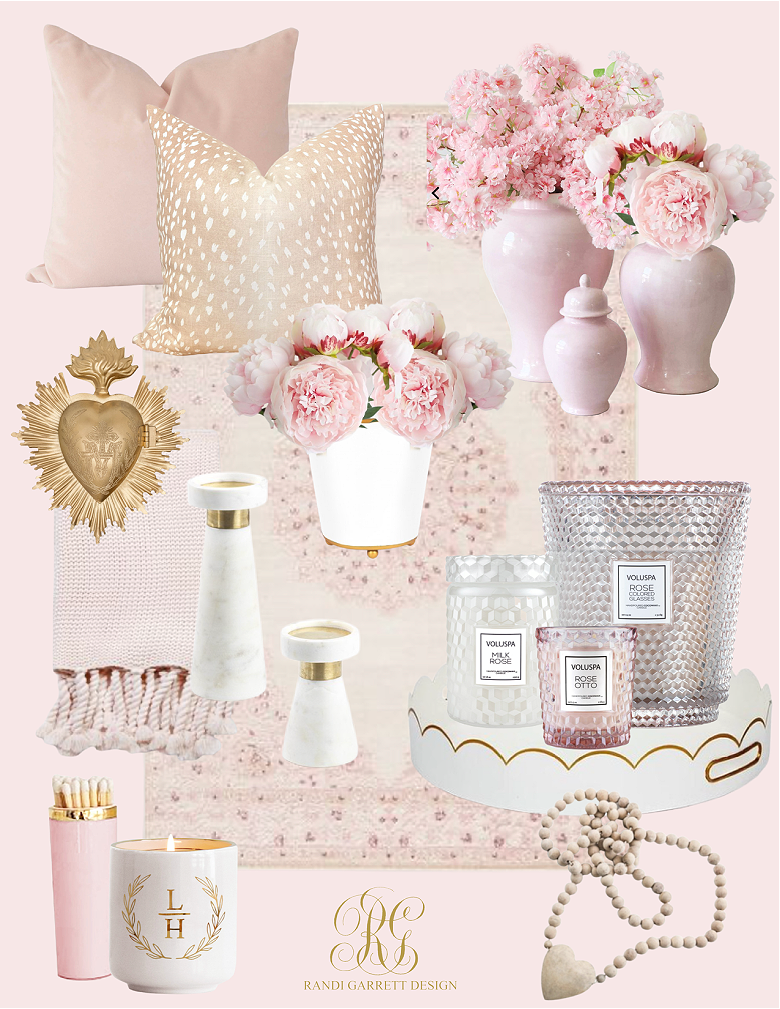 Blush Velvet Pillow | Blush Antelope Pillow | Faux Cherry Blossoms | Faux Pink Peonies (here and here) | Pink Ginger Jars | Sacred Heart | Faux Peonies | White Cache Pot | Pink Rug | Pink Throw | Marble Candlesticks (large and small) | Large Pink Rose Candle | White Rose Candle | Small Pink Rose Candle | White Gold Scalloped Tray |Pink Match Holder | Monogrammed Candle | Heart Beads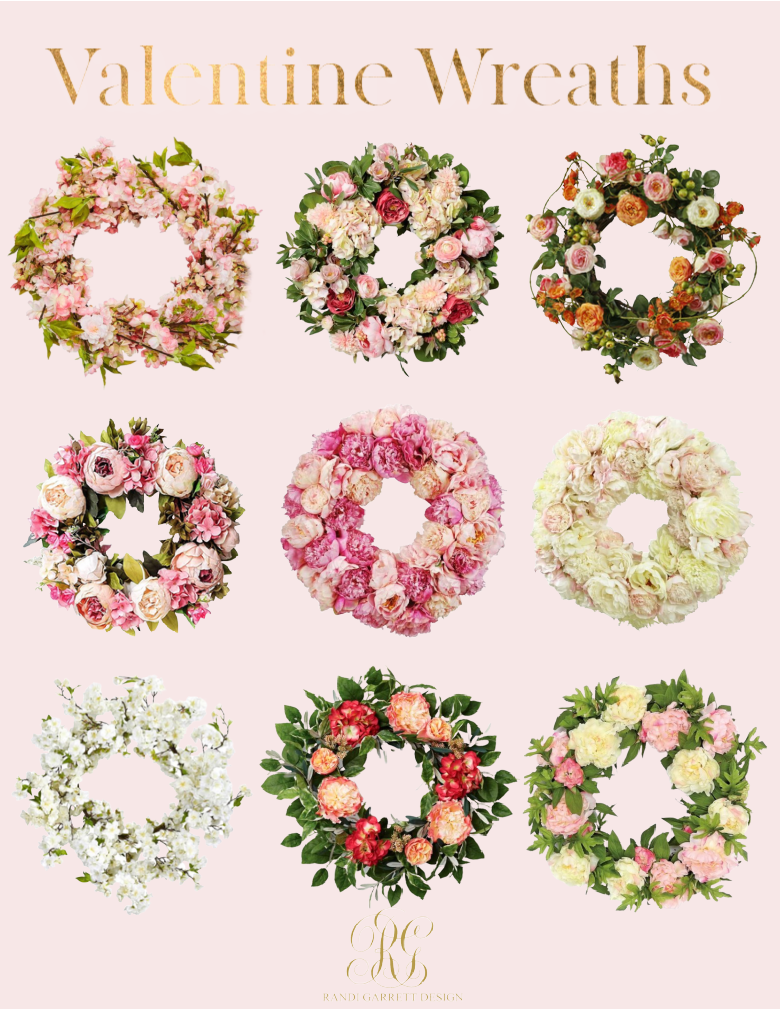 Pink Cherry Blossom Wreath | Peony Hydrangea Wreath | Pink and Orange Wreath | Peony Wreath | Hot Pink Peony Wreath | Light Pink Peony Wreath | White Cherry Blossom Wreath | Coral Peony Wreath | Peony Hydrangea Green Wreath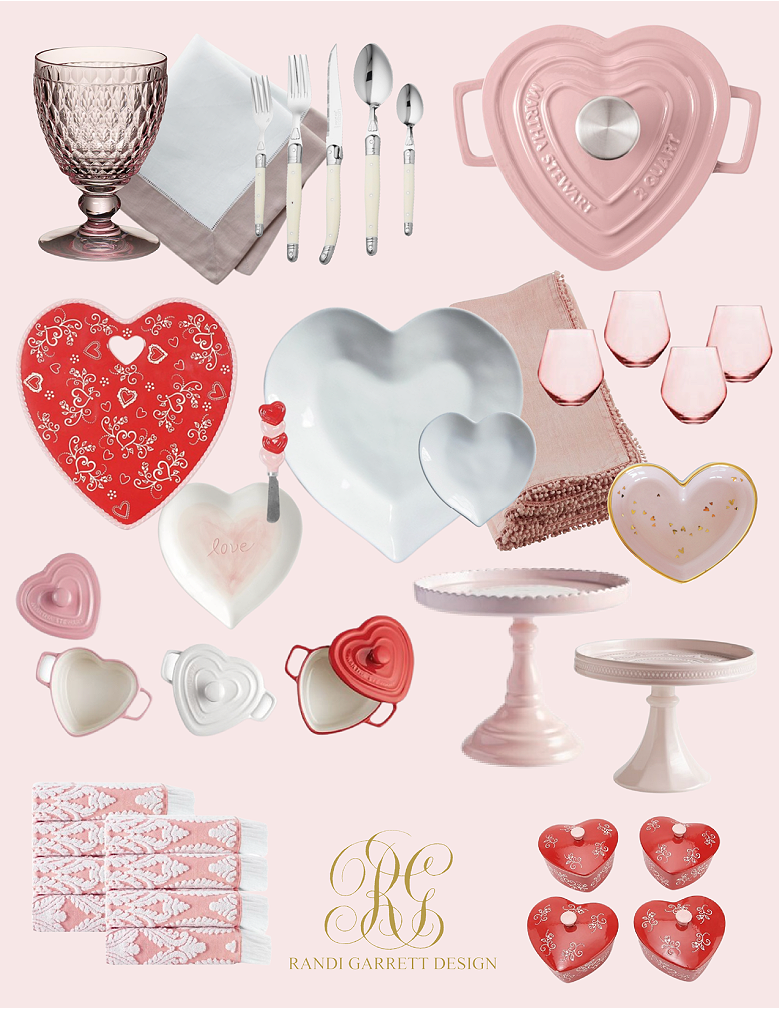 Pink Goblets| Pink Hem Napkins | White Flatware | Heart Pot | Heart Cheese Board | White Heart Dinner Plate | White Heart Dessert Plate | Pink Pom Pom Napkins | Pink Stemless Wine Glasses | Pink Heart Plates | Love Heart Plate | Heart Bakers| Pink Cake Stand | Small Pink Cake Stand | Pink Hand Towels | Pink and Red Lidded Heart Bakers
Valentine's Pieces for your Closet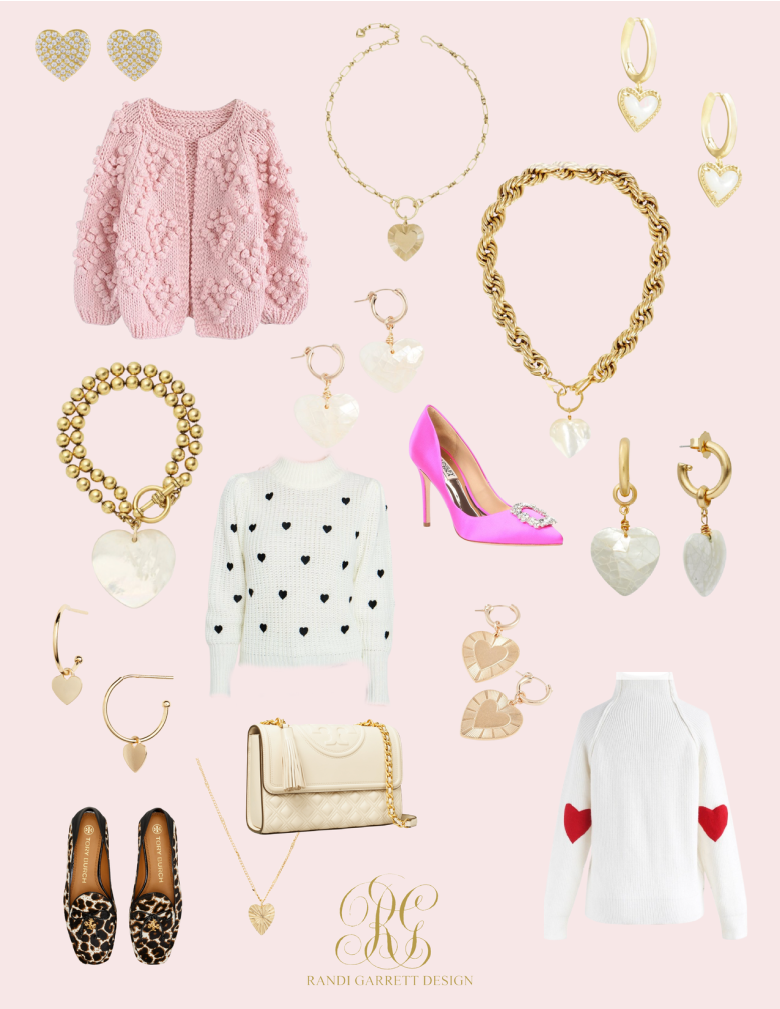 Heart Stud Earrings | Pink Heart Cardigan | Heart Necklace | White Heart Necklace | White Heart Huggy Earrings | White Heart Earrings | Heart Mother of Pearl Bracelet | Black Heart Sweater | Hot Pink Pumps | White Mother of Pearl Heart Earrings | Gold Heart Earrings | White Gold Tassel Purse | Heart Burst Earrings | Heart Patches Sweater | Leopard Bow Flats| Heart Pendant Necklace
Click here to tour my home styled for Valentine's Day and for tons of decor ideas.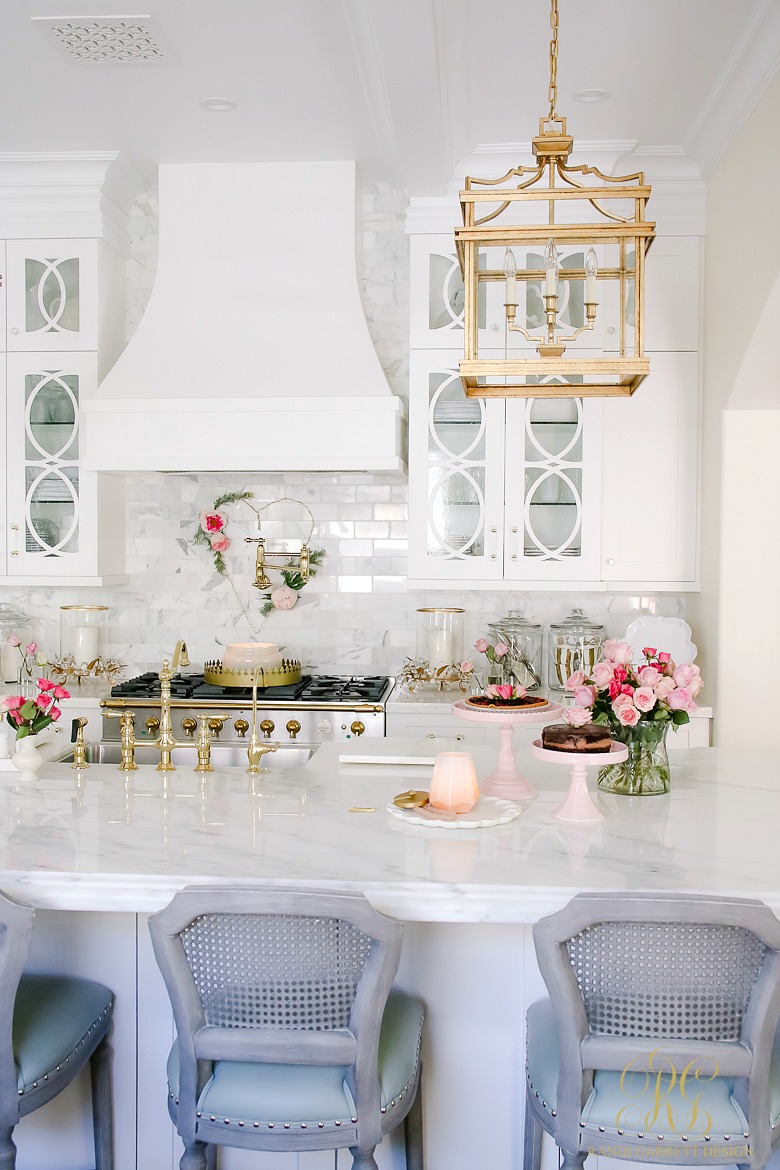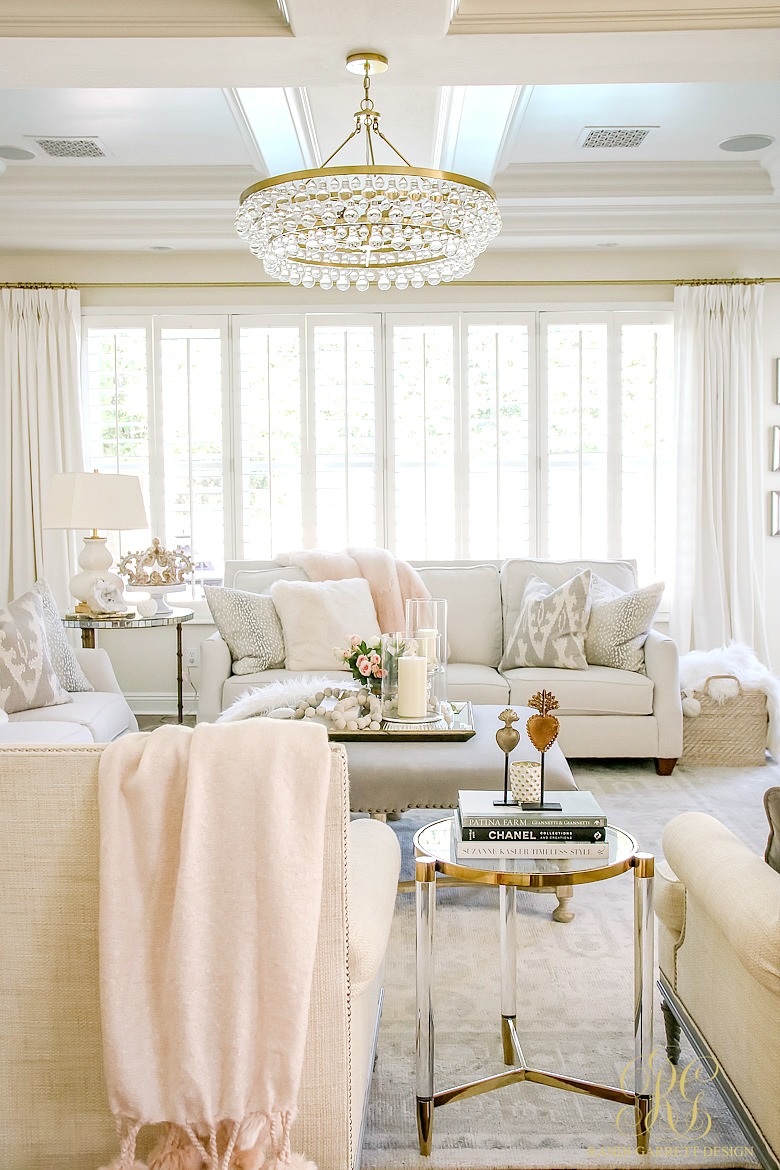 Valentines Day Floral Arrangement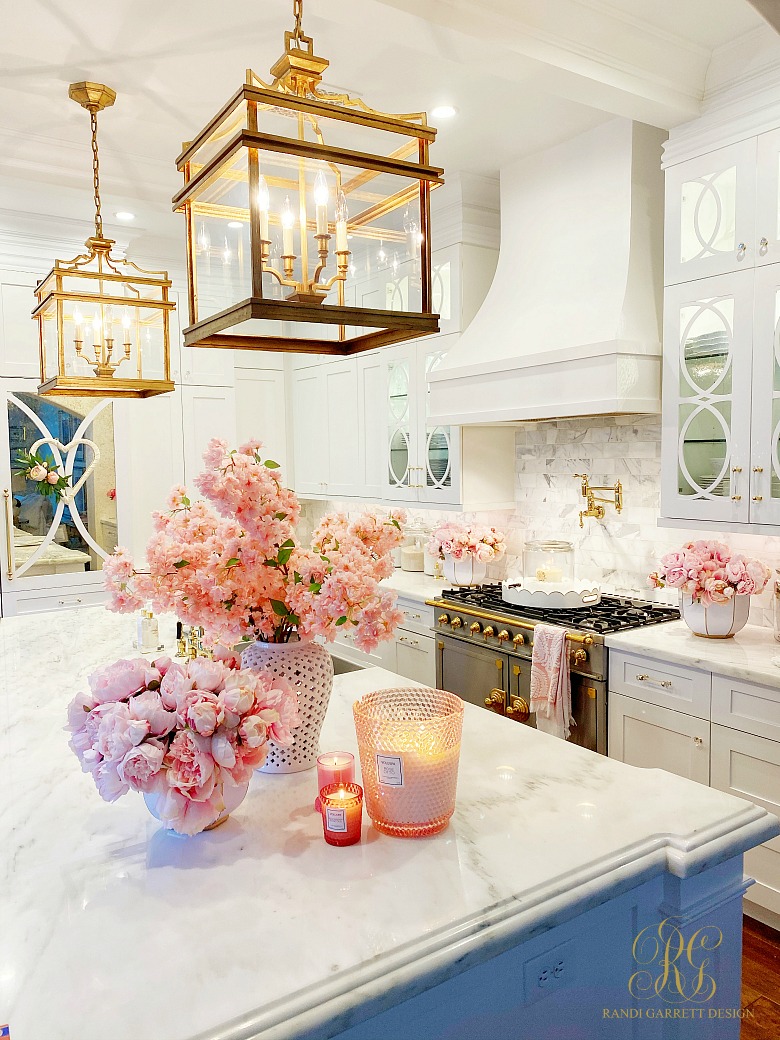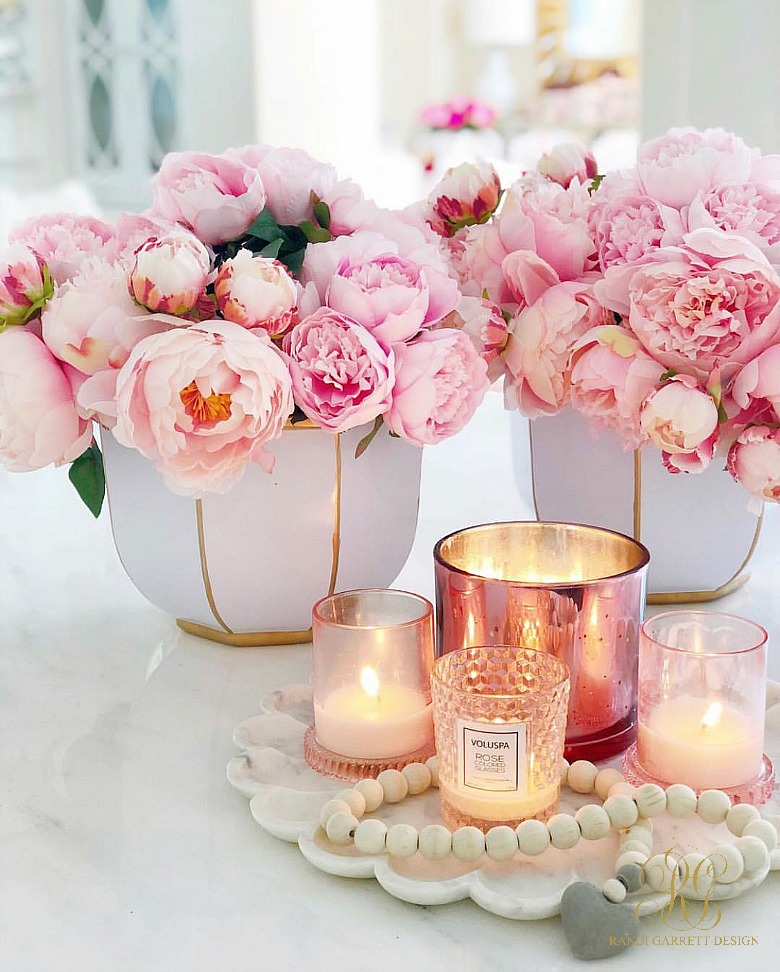 Use 3 bunches of these peonies and 3 bunches of 3 peonies to create this arrangement. Bend the tall stems back and place in a white and gold vase. Add the shorter peonies to complete the look.
Pink candles and heart beads finish off the vignette. These are some of my favorite pink candles that also smell amazing. I love to mix the scents. It makes my house smell like a rose garden!



Valentine's Day DIY Wreaths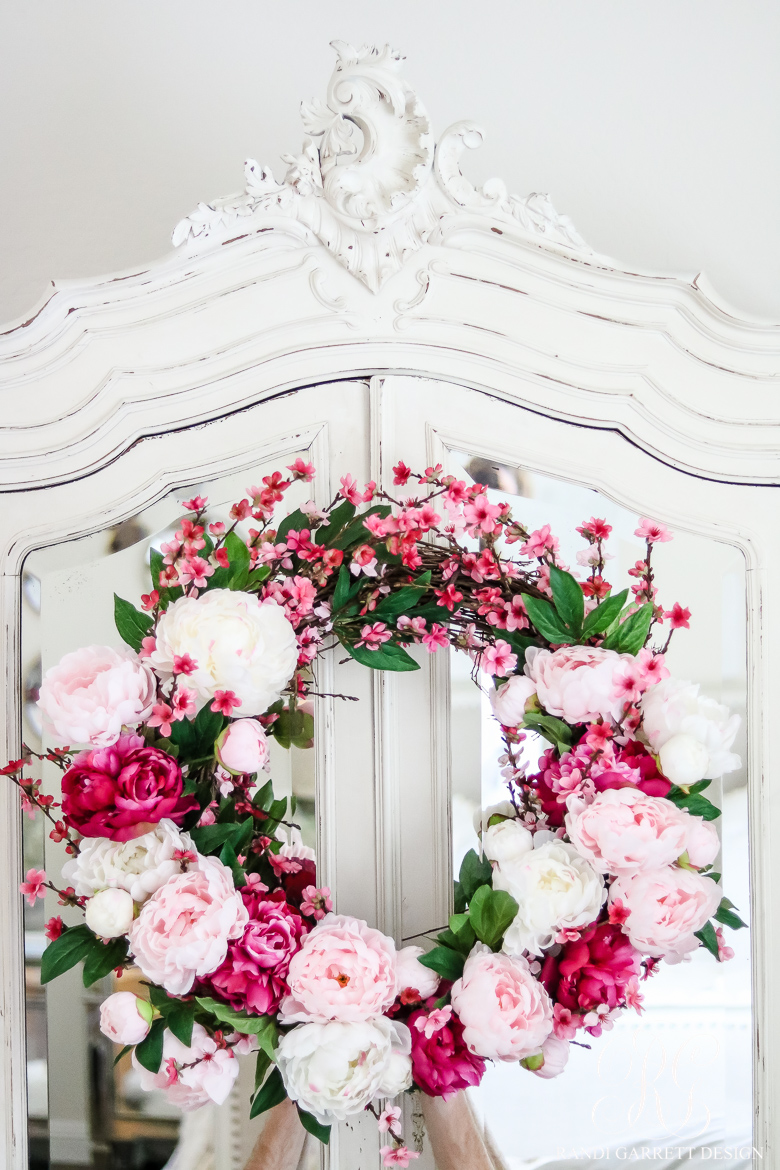 How to make a pink peony wreath click here.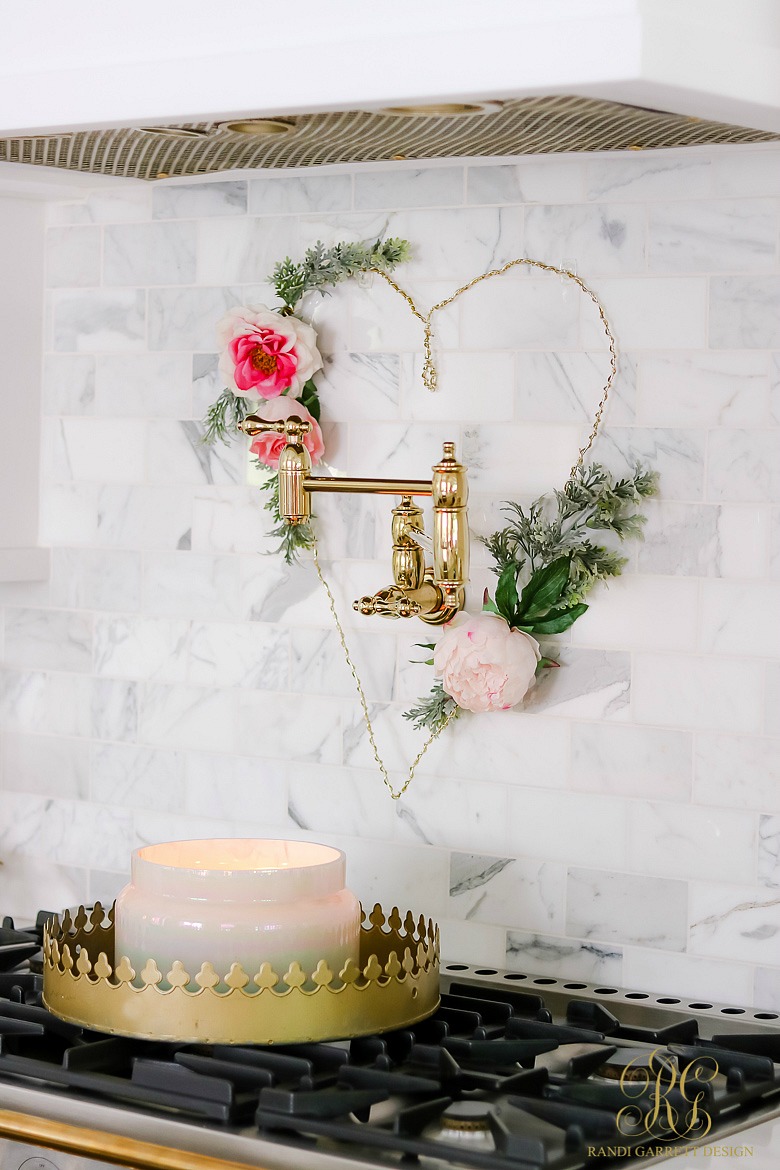 How to make this Valentine's Day Heart Wreath, click here.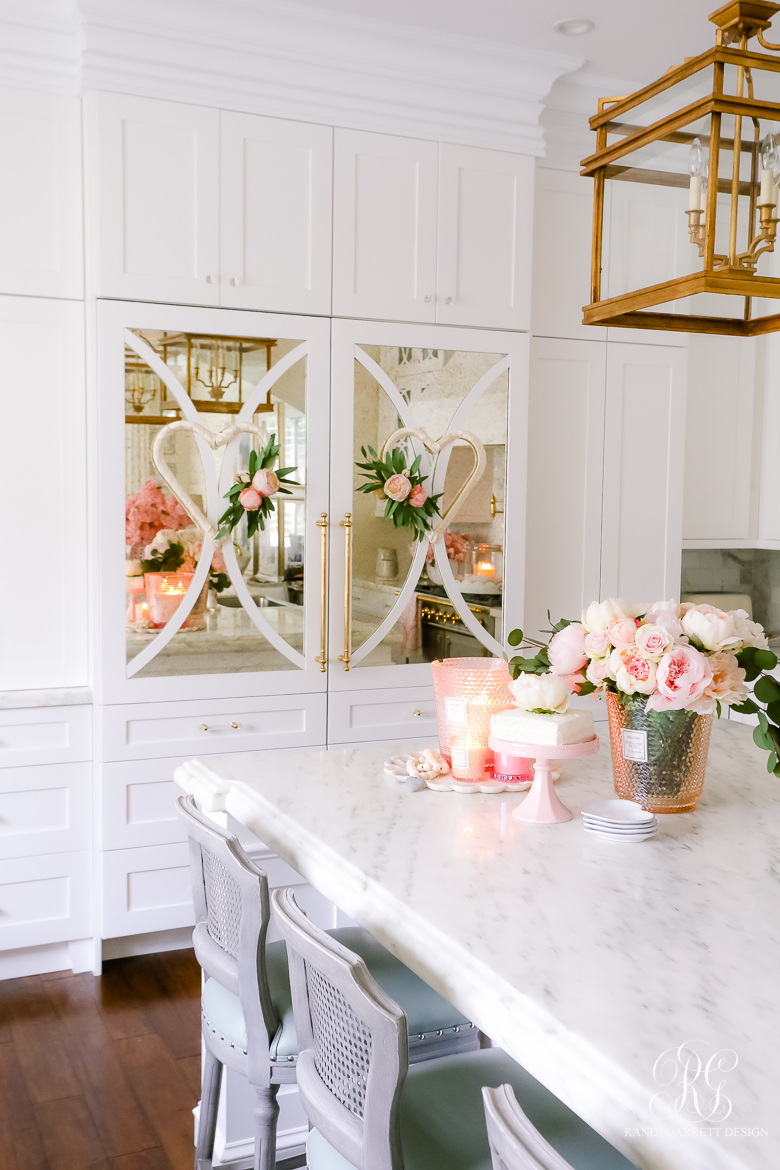 Heart Wreath Tutorial here.
Valentine's Day Entertaining Ideas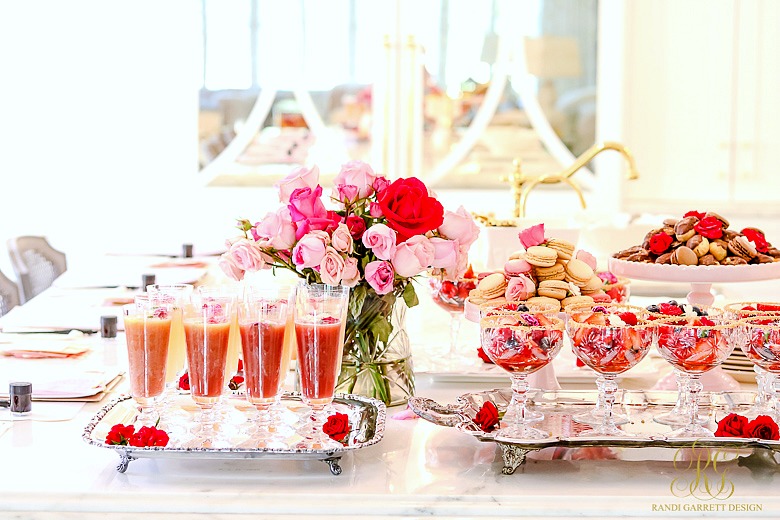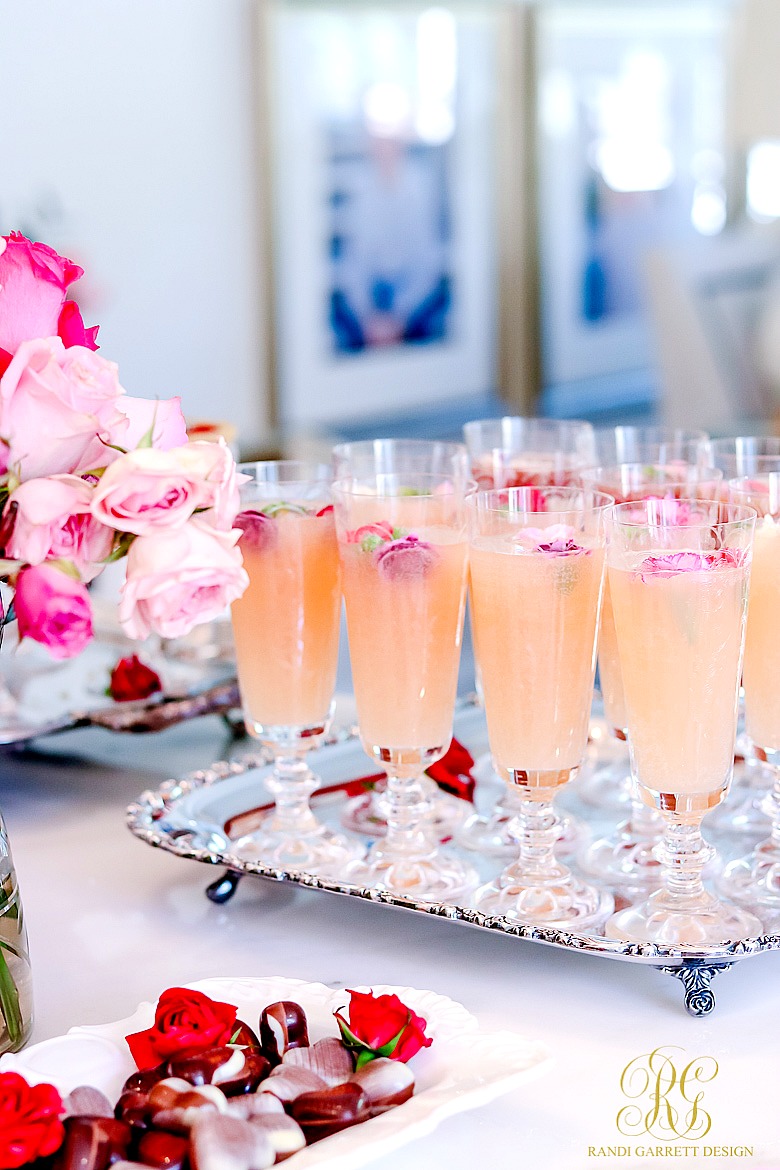 For all the recipes and details click here.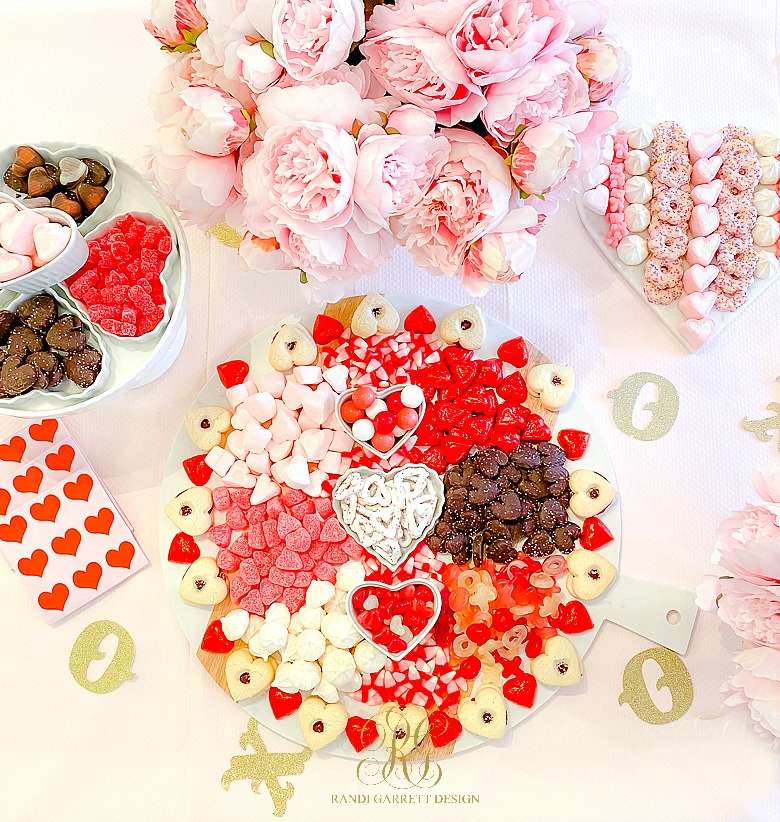 Valentine's Day Charcuterie Boards here
Valentine's Tables
Click on the photos for details.
Valentine's Day Decor

Valentine's Day Fashion