*This post is done in partnership with Afloral and contains affiliate links for your convenience. Read my disclosure policy here.
"Flowers always make people better, happier and more helpful; they are sunshine, food and medicine for the soul." – Luther Burbank Surround yourself with flowers and try not to have a good day! Here we are in the heart of winter. Outside may seem kind of dead and dreary, but you can brighten up the inside of your home with flowers! With Valentine's Day right around the corner, I thought I'd share some of my favorite simple Valentine's Day faux floral arrangements to help you welcome love day and also cheer your home up!
Fresh flowers are my favorite! I will always splurge on a small bunch for the house, but to make my money stretch farther and longer, I love to use faux florals. You may have noticed that I love them and have shared some of my favorites over the past few years! Today, I am so thrilled to introduce you to one of my very favorite places to buy the best faux flowers for my home – Afloral. Afloral carries a huge selection of gorgeous faux and dried florals and greenery for your home, wedding or event. Their flowers look so real and are such nice quality you can use them to fool anyone for any occasion! I am a huge fan of their soft touch florals too. Not only do they look real, they feel real!
I also love how you can search their florals by color or flower type. For Valentine's Day, I wanted to create some special pink arrangements. It was so quick and easy to just shop through their pink florals to find exactly what I was looking for.
Today, I am so tickled to share 3 simple to make, yet oh so gorgeous Valentine's Day faux floral arrangements. All of the florals are from Afloral and will knock your socks off!
 Simple Valentine's Day Faux Floral Arrangements
I'll walk you through how to make each of these faux floral arrangements! Take a look at these beauties!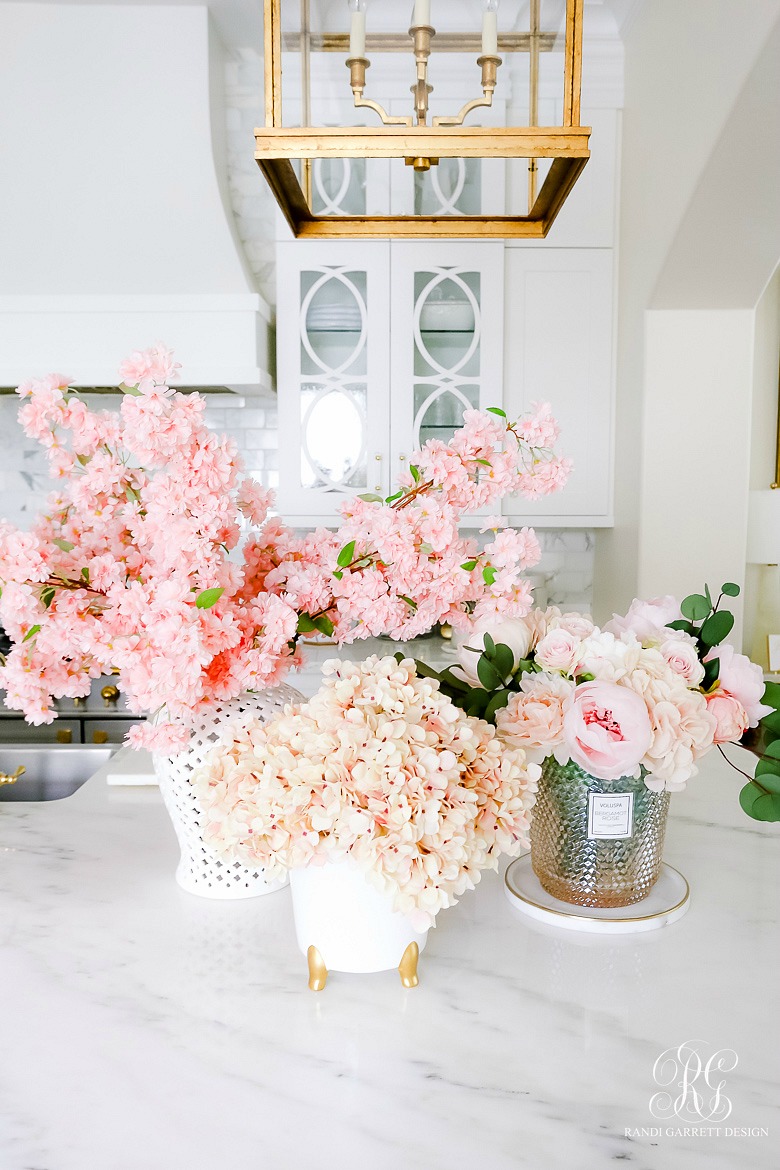 Pink Peony Arrangement
First let's talk about how you can make this stunning pink peony, hydrangea and rose arrangement! This is the most difficult arrangement of the 3 I am showing you, and it's not that difficult – trust me! It is my absolute favorite!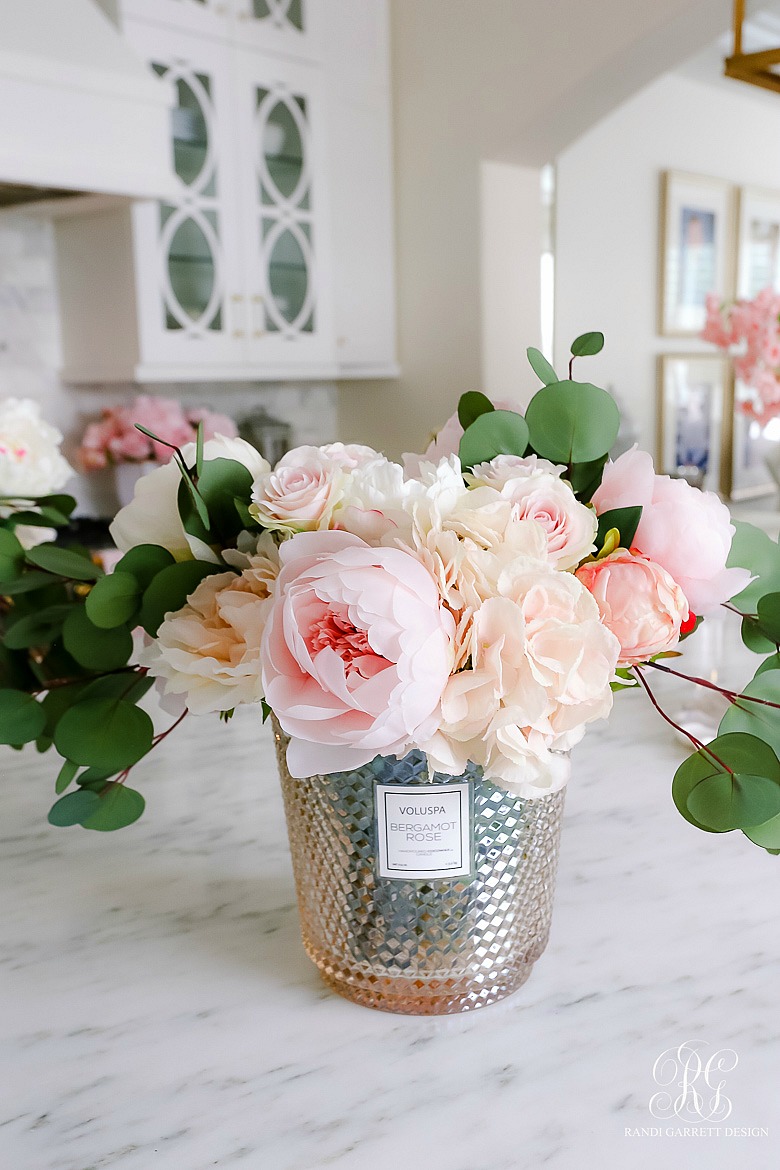 Supplies
2 Silver Dollar Eucalyptus Stems
Vase – I used an empty candle vessel. This white and gold vase would look amazing with this arrangement!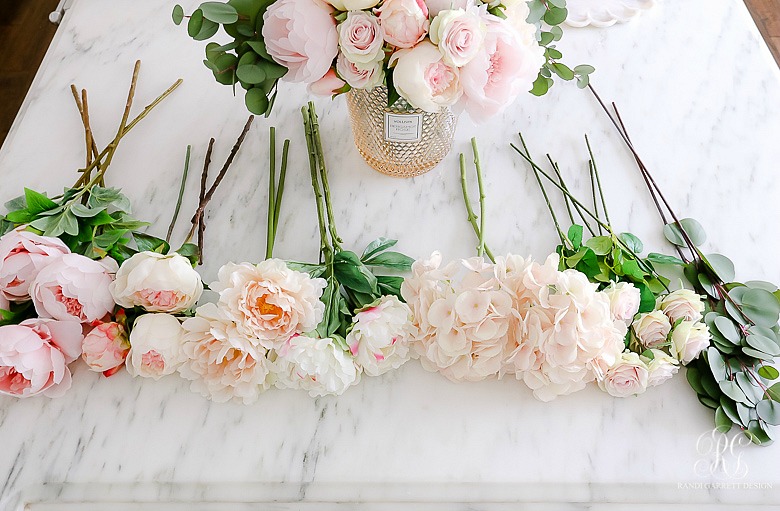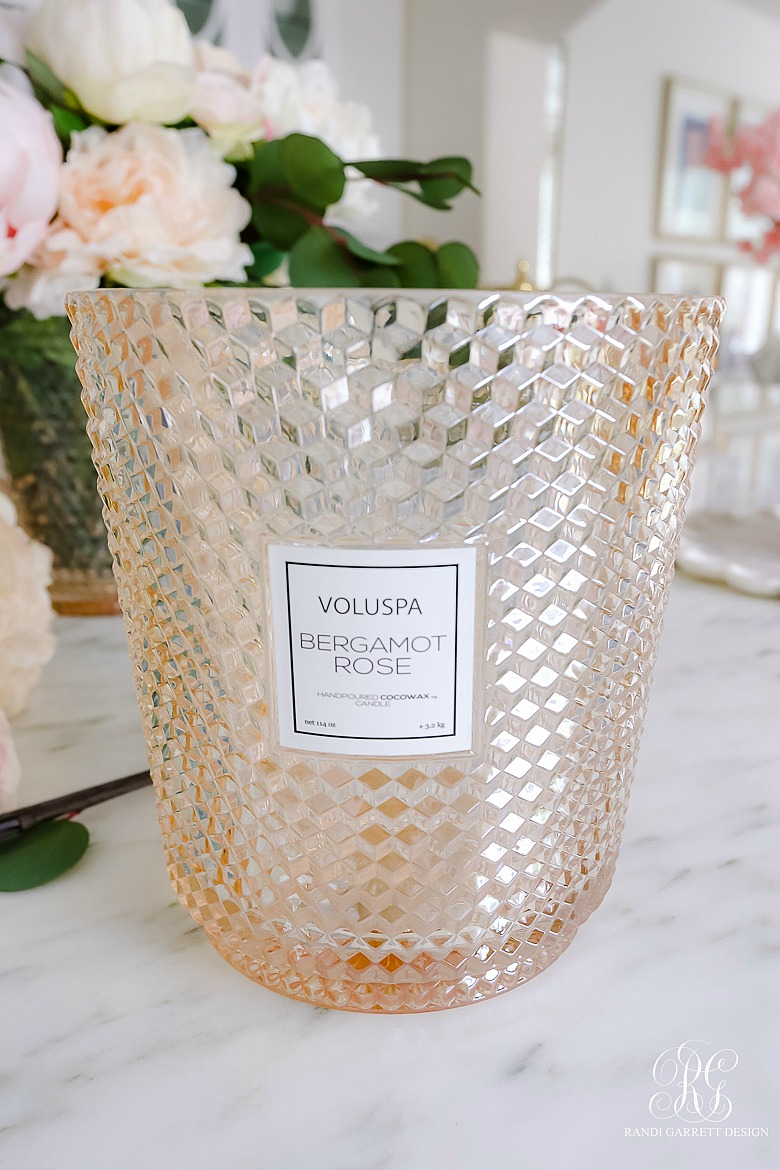 Steps
Remove tags and bend each floral stem to fit your vase. You want your flower head to sit about 2 inches above the vase.
Next start placing your largest flower heads into your vase randomly. You don't want 2 of the same type of flower next to each other.
Then add the smaller flowers like the peony buds and roses to the arrangement. I like to cluster my roses in groups of 2 or 3.  Space these around the arrangement.
Add the eucalyptus stems. I placed mine on either side of the arrangement. Fan the leaves through the flowers to make it look more full. You're done, step back and admire your beautiful arrangement!
Give yourself a pat on the back!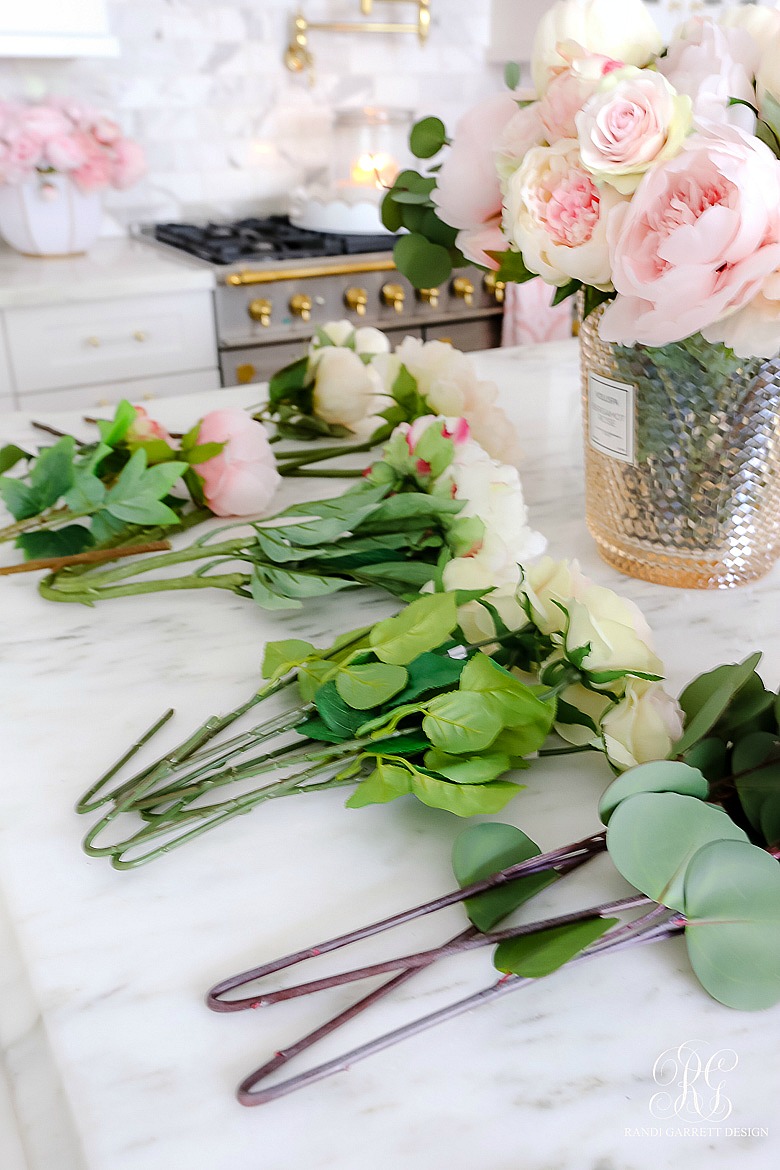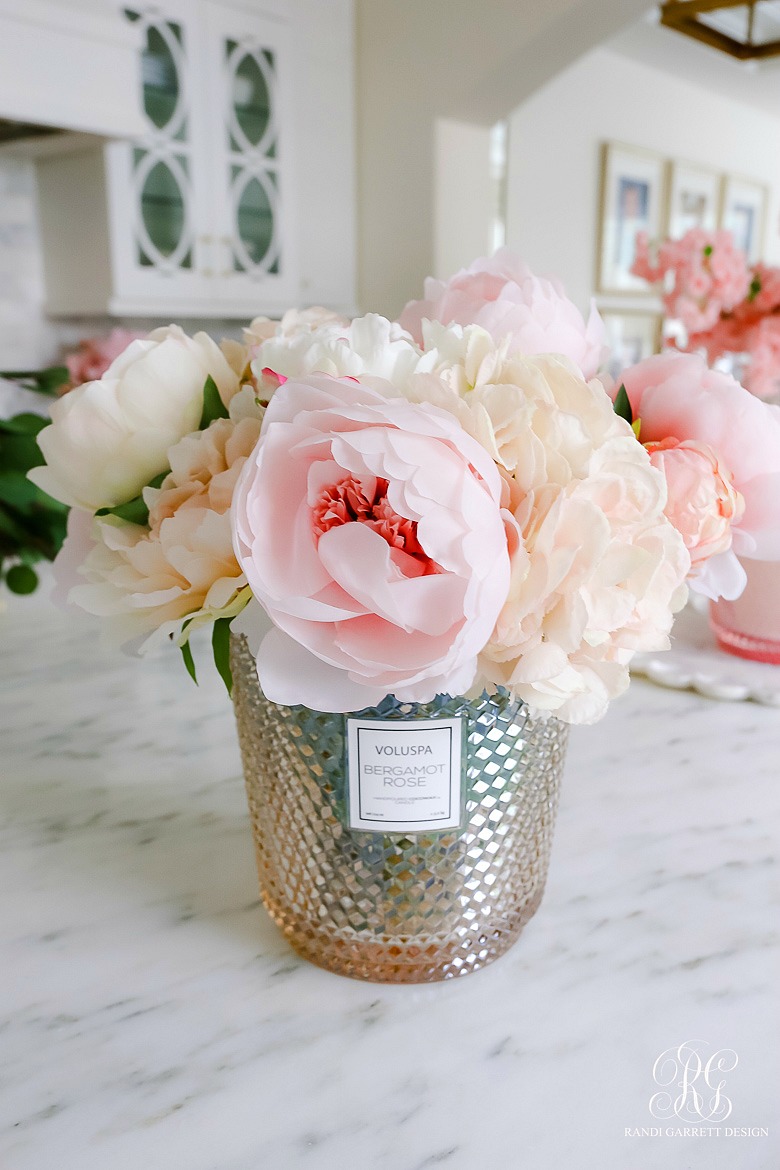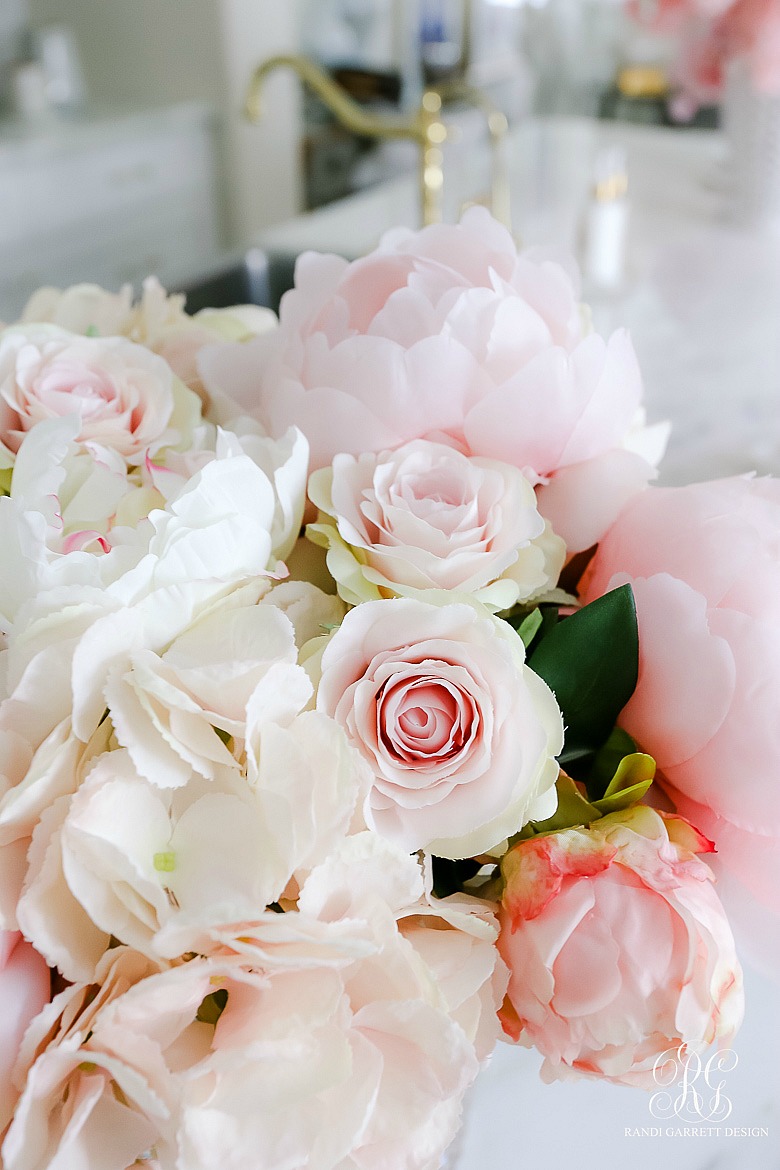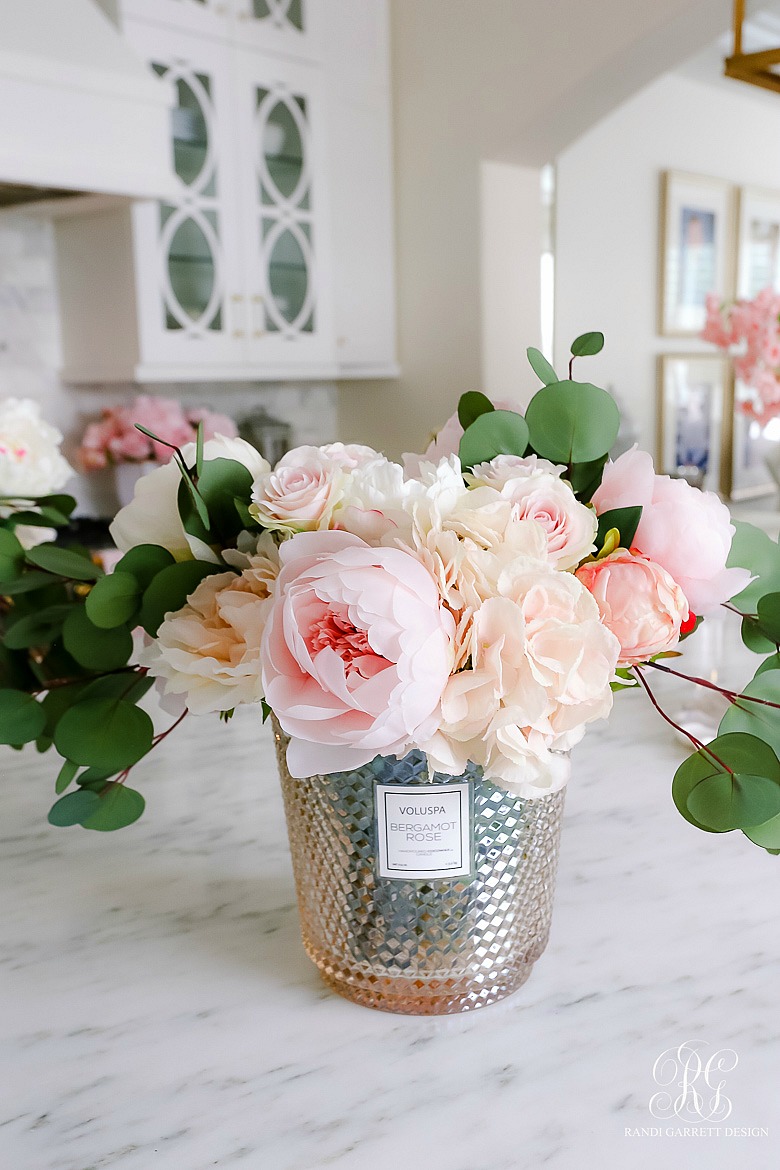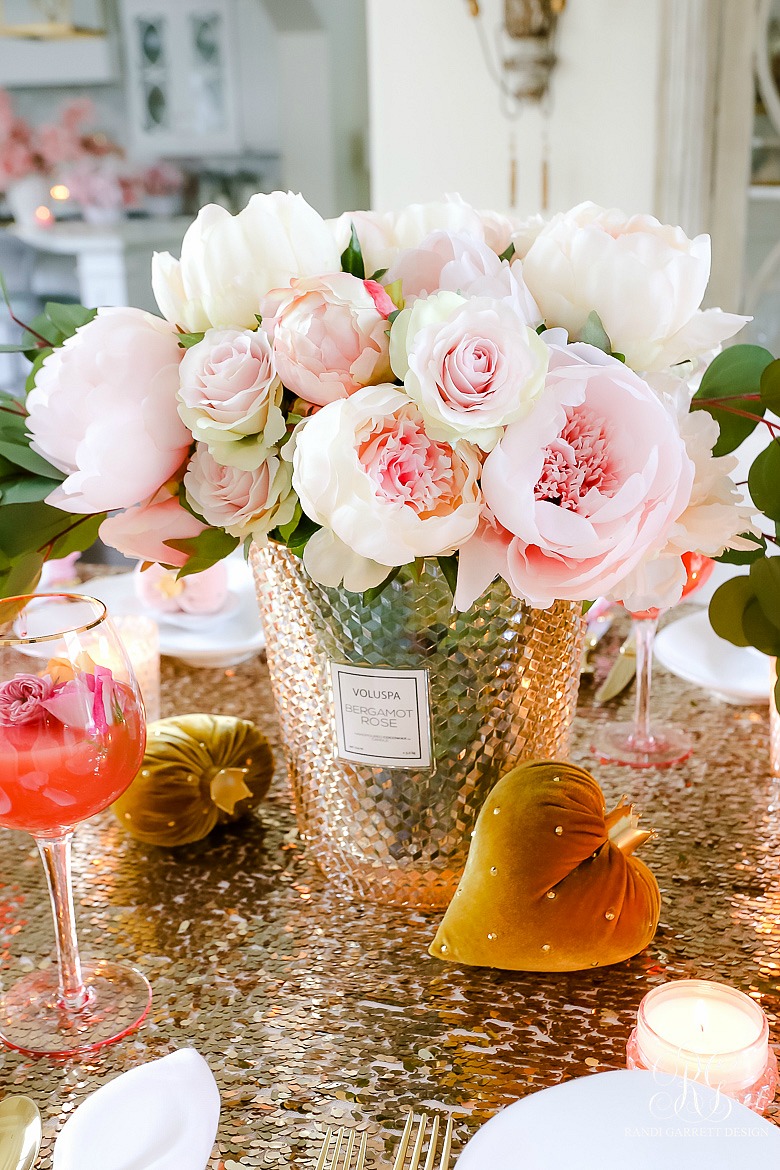 I am using my peony arrangement on my Valentine's Day table. The post will be live tomorrow! Come back to see it!
Cherry Blossom Arrangement
This cherry blossom arrangement packs a punch and is SO simple to put together!
Supplies
8 Cherry Blossom Stems (they will be back in stock tomorrow!)
Steps
Bend each cherry stem about 3 inches (depending on the height of your jar). My jar is 12″ tall.
Place each stem into the ginger jar. I like to put mine into the jar in a circular pattern. Placing all the stems around the neck of the vase, then placing a few in the center.
This arrangement is a show stopper! The cherry blossoms are so full and look amazing grouped together. Use this arrangement on your island, or as a table centerpiece. Wherever you use it, it will be amazing! I also love to pair my faux arrangements with fresh arrangements. This tricks the eye into believing they are all real!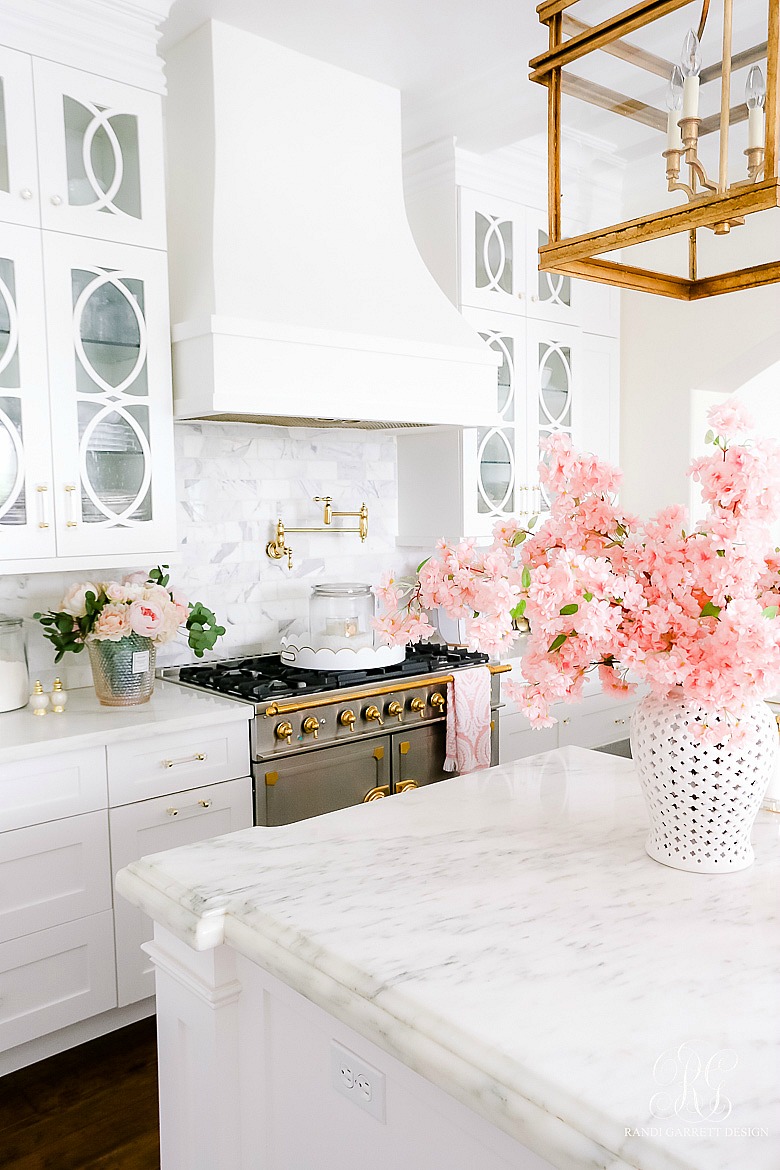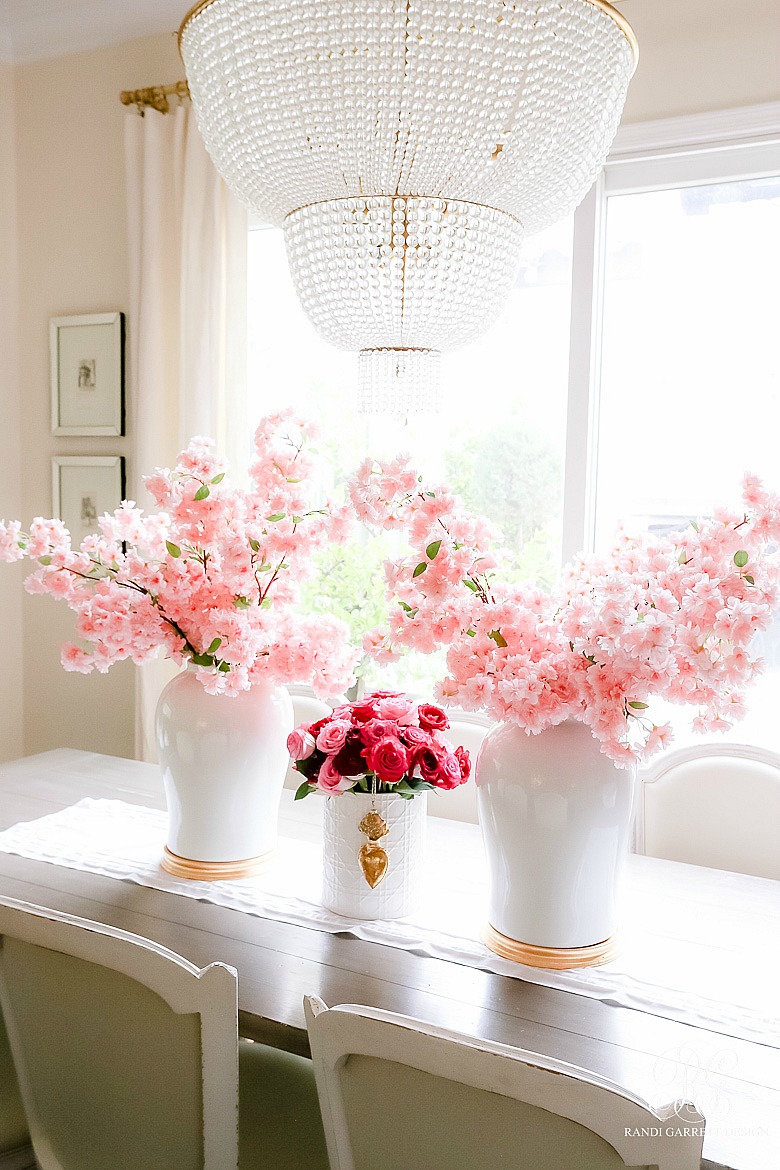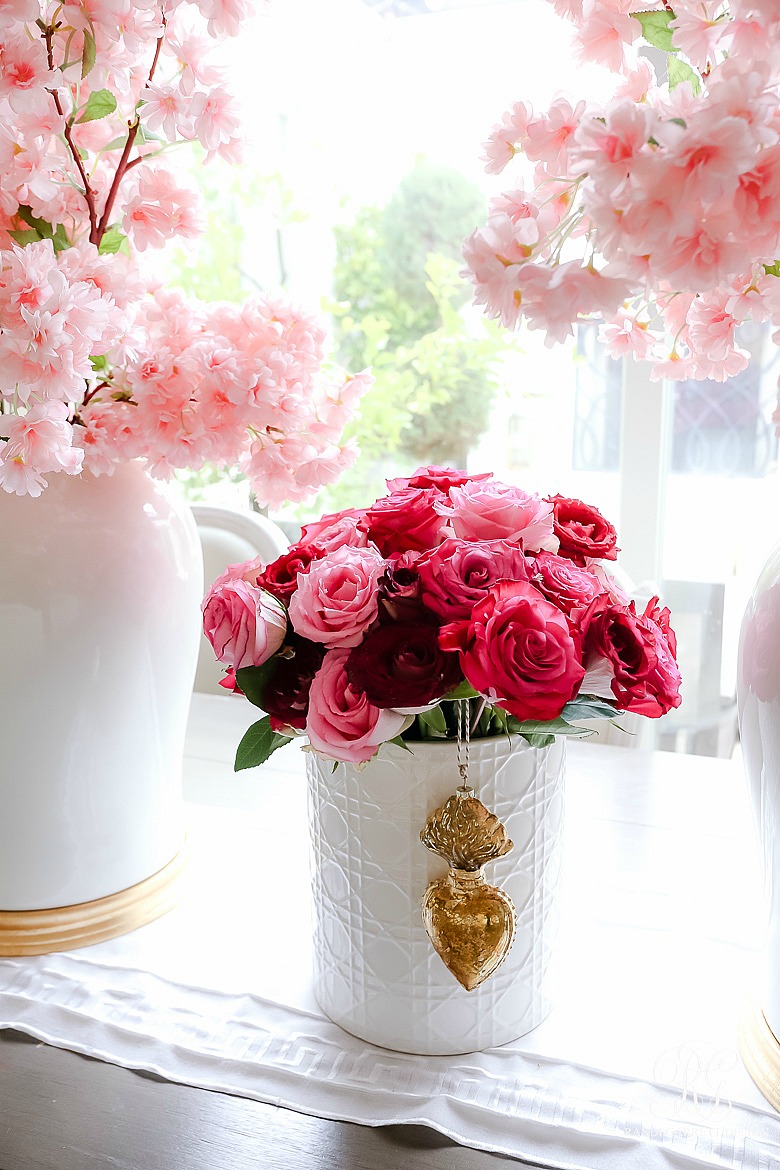 Pink Hydrangea Arrangement
Pink hydrangeas are like tufts of cotton candy for the eyes! This arrangement is great to tuck in anywhere you need a little softness. Maybe on your coffee table or nightstand or grouped with the other arrangements from above. It's so quick and easy to put together too!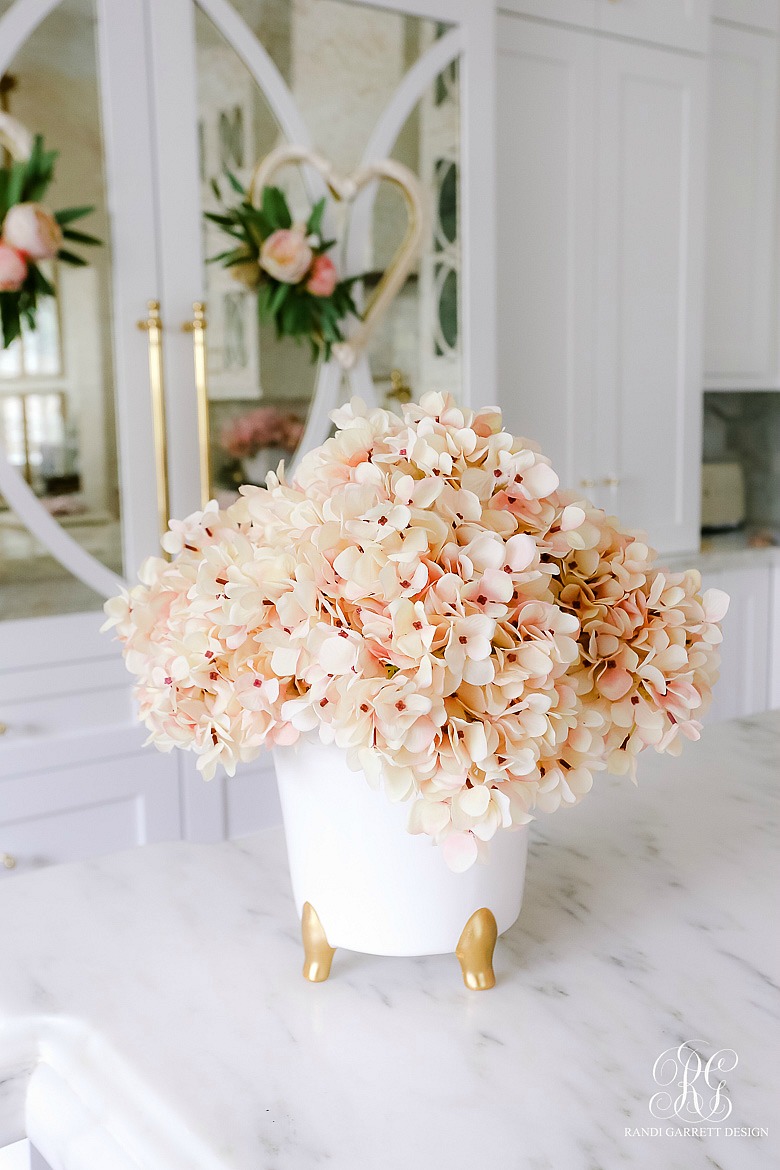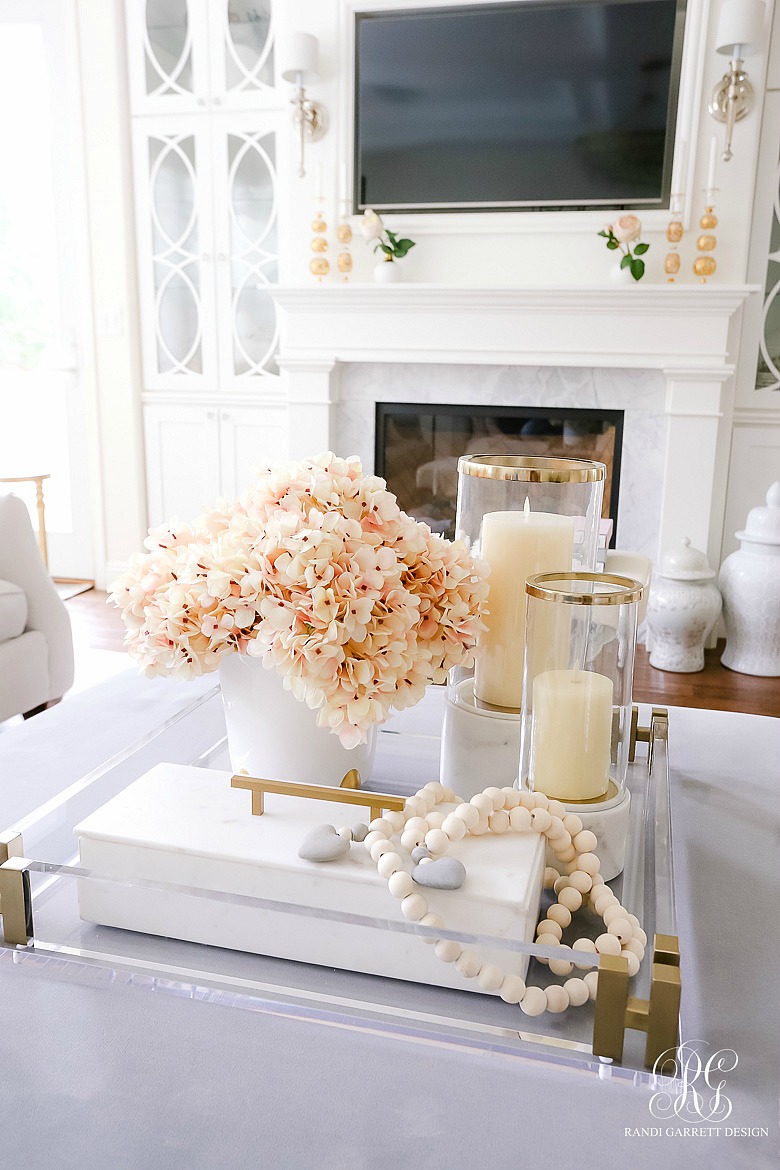 Supplies
Steps
Bend each hydrangea stem about to fit inside the vase.
Place each stem into the vase. I like to put mine into the jar in a circular pattern. Placing all the stems around the neck of the vase, then placing a few in the center.
That's it! You're done!



How to Store and Clean your Faux Florals
When you are done using your florals, just take them outside, give them a good shake to remove the dust. You can also use a blow dryer to get into the cracks and crevices.
Then tuck them into a large, clear storage tote until you are ready to use them again. Keeping them in clear bins makes it easy for you to grab the bin you are looking for. Store longer florals laying down and shorter stems standing upright to protect the blooms from crushing.
I hope you love these arrangements and try to create one or all of them to cheer your soul this Valentine's Day!
You may also like to make my Valentine's Day heart wreath!