The smell of warm pumpkin spice filling the entire house is quite possibly the most delicious, cozy smell on earth! Today, I'm sharing The Best Pumpkin Spice Chocolate Chip Bundt Cake recipe with you, so you can have this heavenly smell wafting through your home the Fall! I'm also sharing how you can style this cake for your gathering!
I love to bake year round, but there is something magical that happens when I bake during the holiday months. Treasured memories from holidays past come flooding back. Fond thoughts of loved ones who are no longer with me, warm my heart. Hope of recapturing that childhood magic fills my soul. So I bake to share the magic and give the gift of tradition to my family and loved ones.
Over the next few weeks, I will be sharing some of our family's treasured holiday recipes. I hope that you try them and create many magical memories with your family and friends.
To make this recipe I used some of my favorite baking essentials, all found at Wal Mart. Good recipes are executed with good baking tools. There is nothing worse than spending lots of time, energy and money on a recipe only to have it not turn out well! The key is to have the proper essentials on hand. Wal Mart has everything you need to bake with ease for the holidays and beyond! No only do they have all of your baking essentials, they also have all the "pretty" details to help you serve your yummy creations!
First, here are some of my favorite baking essentials to help you bake like a pro!
This post contains affiliate links and is done in partnership with Wal Mart. Read my disclosure policy here.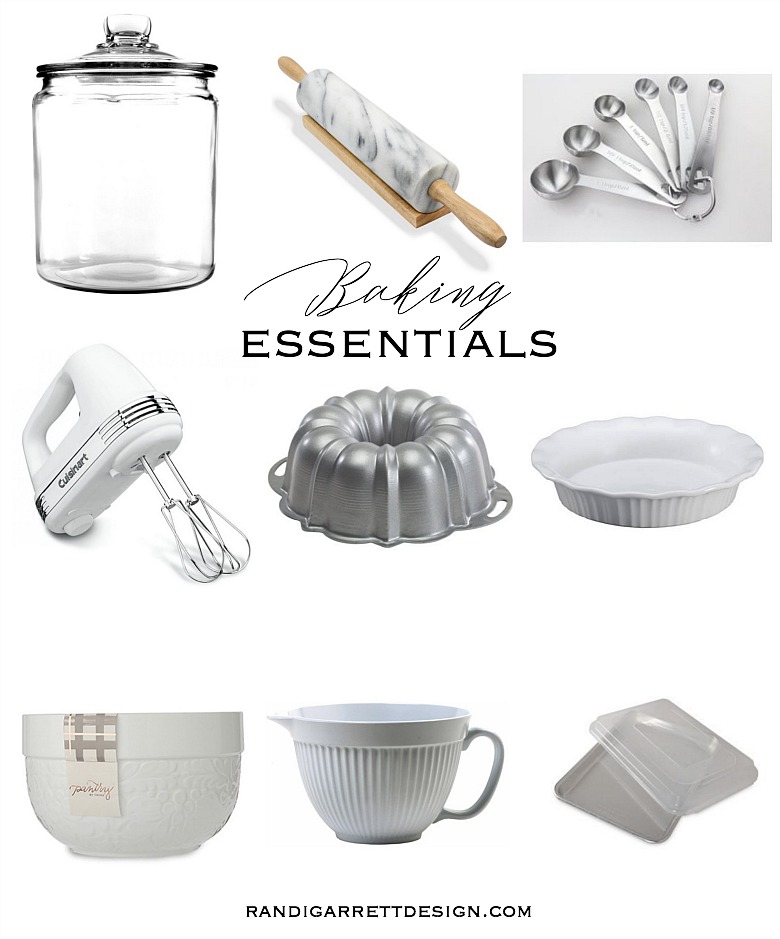 This bundt pan works so well with this recipe! My cake slid right out of the pan and baked so evenly. The glass mixing bowl is gorgeous to use as a serving bowl as well as a mixing bowl. I love to use this grip mixing bowl for making frosting. You can keep one hand on the handle and the other on the mixer making it a breeze to whip it up!
This Cuisinart hand mixer is fabulous! I love the white color in my white kitchen. It also has several speeds making it so easy to control. These quarter baking sheets with lids are amazing!!! I have several. Instead of pouring your sheet cakes and bar cookies into a cookie sheet, use these. Your food stays fresh longer and it is so much easier to transport.
A marble rolling pin is a must! They also look gorgeous sitting out on your countertop.
I'm not a huge pie baker, but I love to use white pie dishes for crisps and appetizers.
I love, love, love using this 2 gallon canisters for my flour, sugar and rice. Since we bake a lot, it is nice to have our ingredients so accessible. These also make fabulous punch and water bowls for entertaining!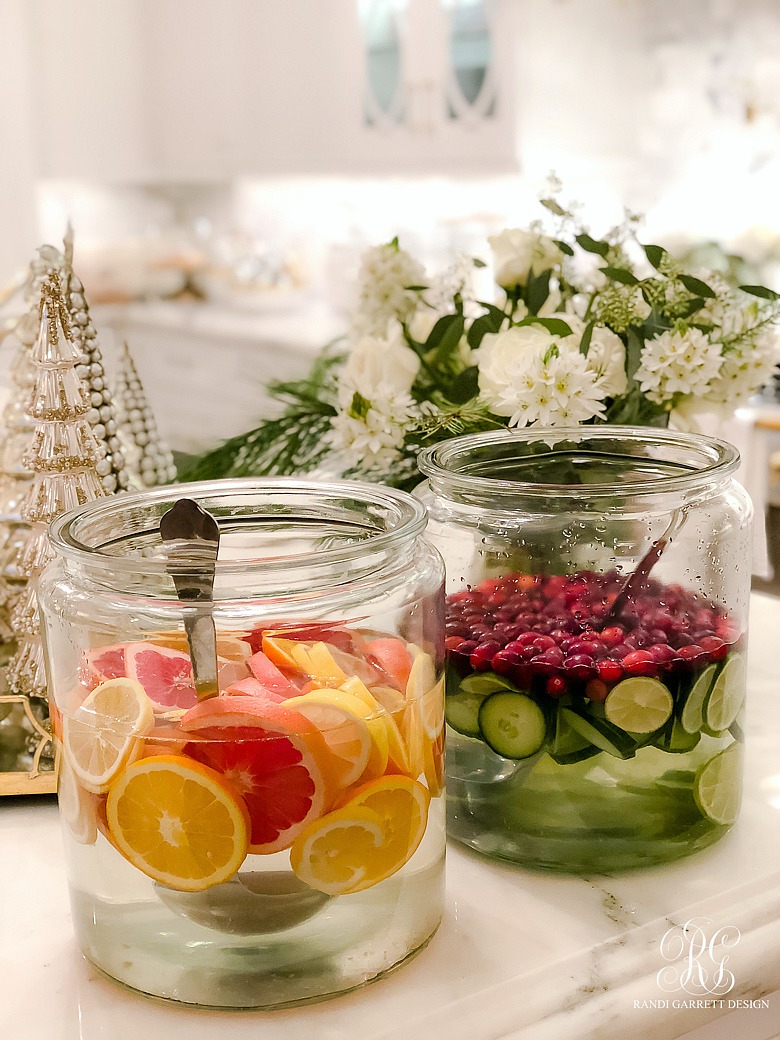 Now for the cake!
The Best Pumpkin Spice Chocolate Chip Bundt Cake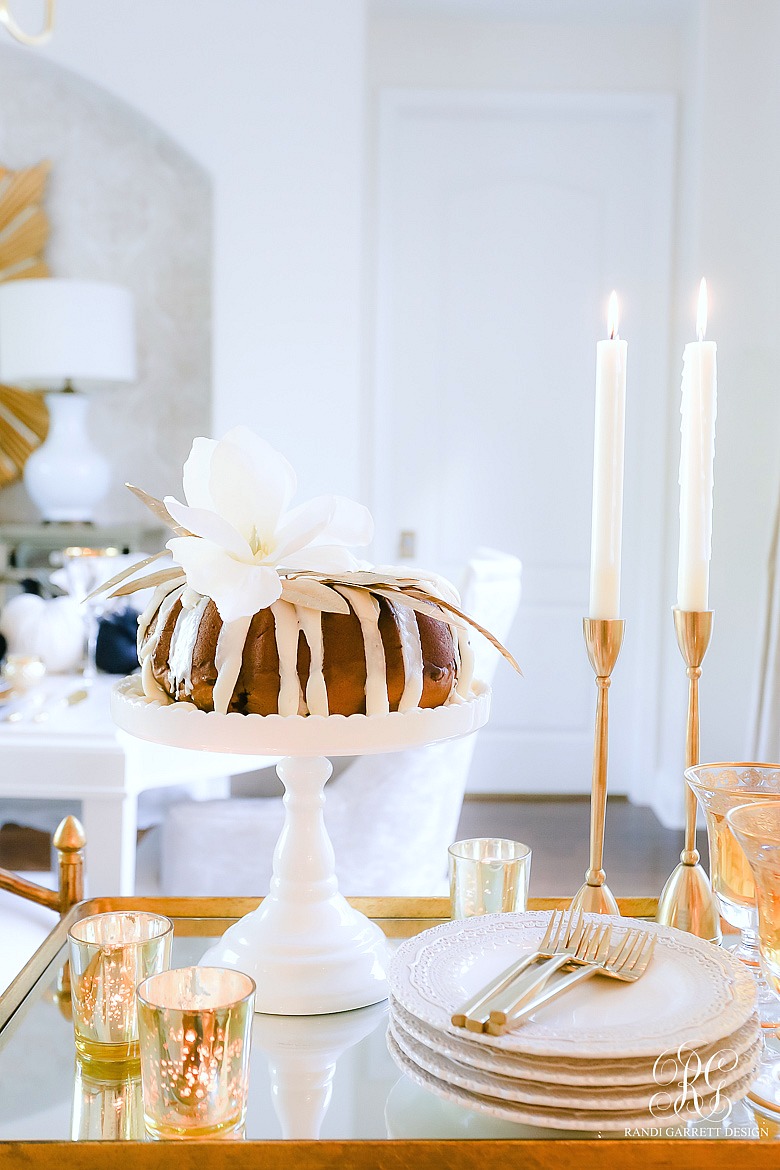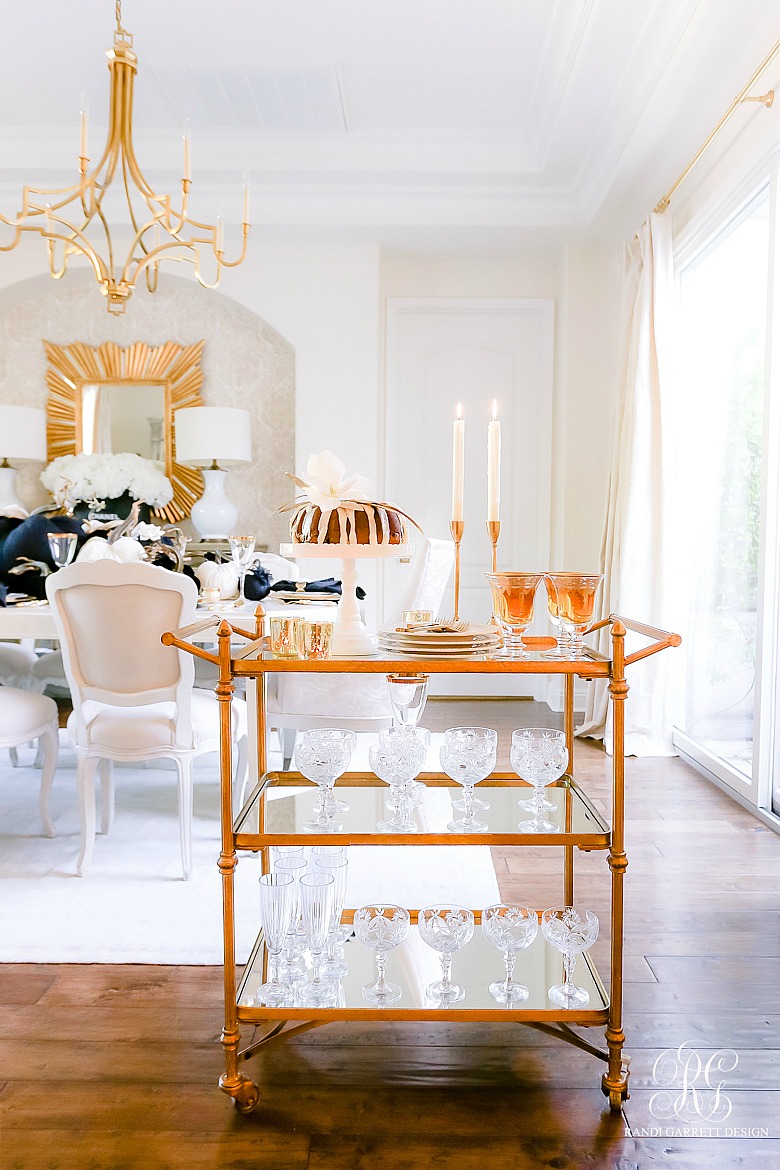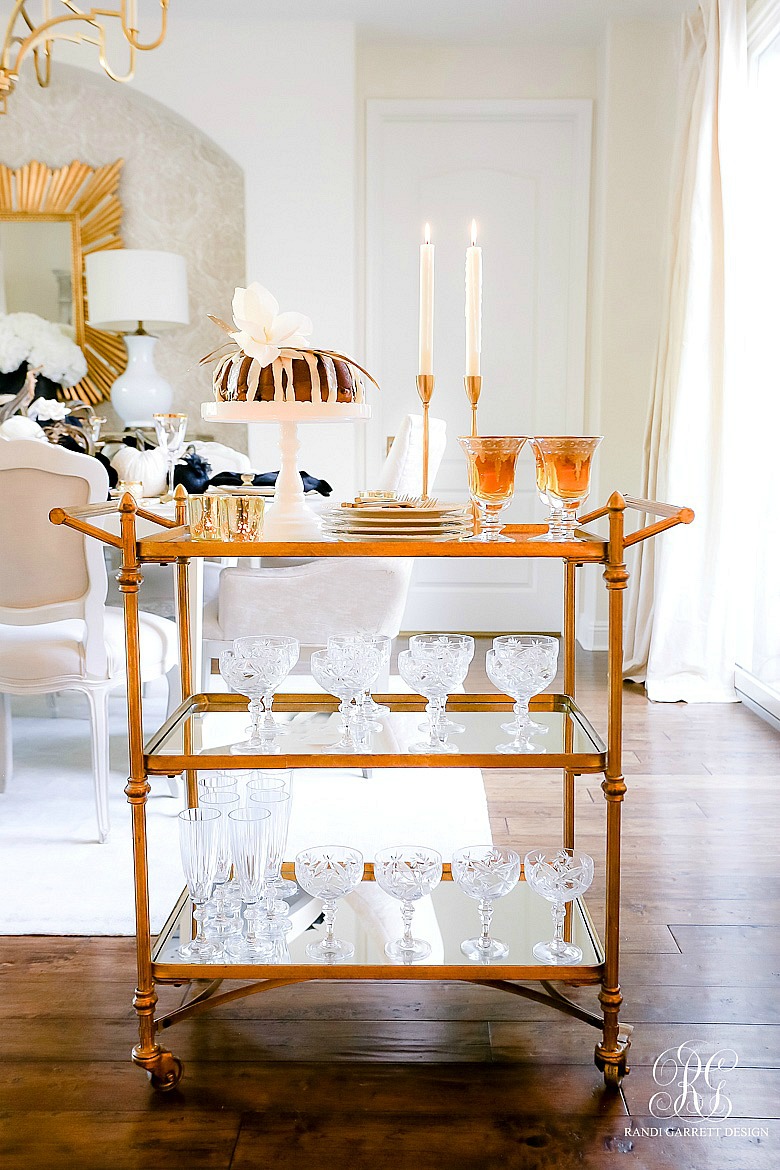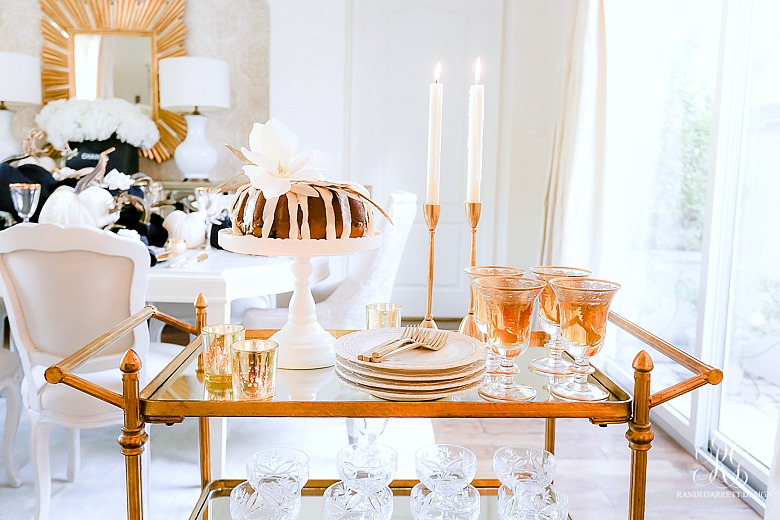 Ingredients
Bundt Cake Ingredients:
3 Cups All Purpose Flour
1/2 tsp Salt
1 1/2 tsp Baking Soda
1 tsp Cinnamon
1/2 tsp Cloves
1/2 tsp Nutmeg
1/2 tsp Ginger
1 cup Oil
1 1/2 cup Sugar
2 Eggs
1 1/2 cup Canned Pumpkin Puree
2 cups Chocolate Chips
Cream Cheese Frosting Ingredients:
8 oz Cream Cheese (softened)
1/2 cup Salted Butter (room temperature)
5 cups Powdered Sugar
2 tsp Vanilla
2 T Milk or Heavy Cream
Instructions
Preheat oven to 350 degrees.
Grease a 10 inch bundt pan.
Stir together flour, salt baking soda, cinnamon, cloves, nutmeg and ginger.
Add oil, sugar, eggs and pumpkin.
Stir in chocolate chips.
Pour batter into greased bundt pan and bake for 50-60 minutes or until toothpick comes out clean.
Do not over bake!
Cool on wire rack then invert on wire rack.
While cake is cooling, make the frosting by adding all ingredients to a mixing bowl. Beat until smooth.
Pipe onto cake by scooping into a large ziplock bag with the corner clipped off.
Decorate with fresh or faux flowers.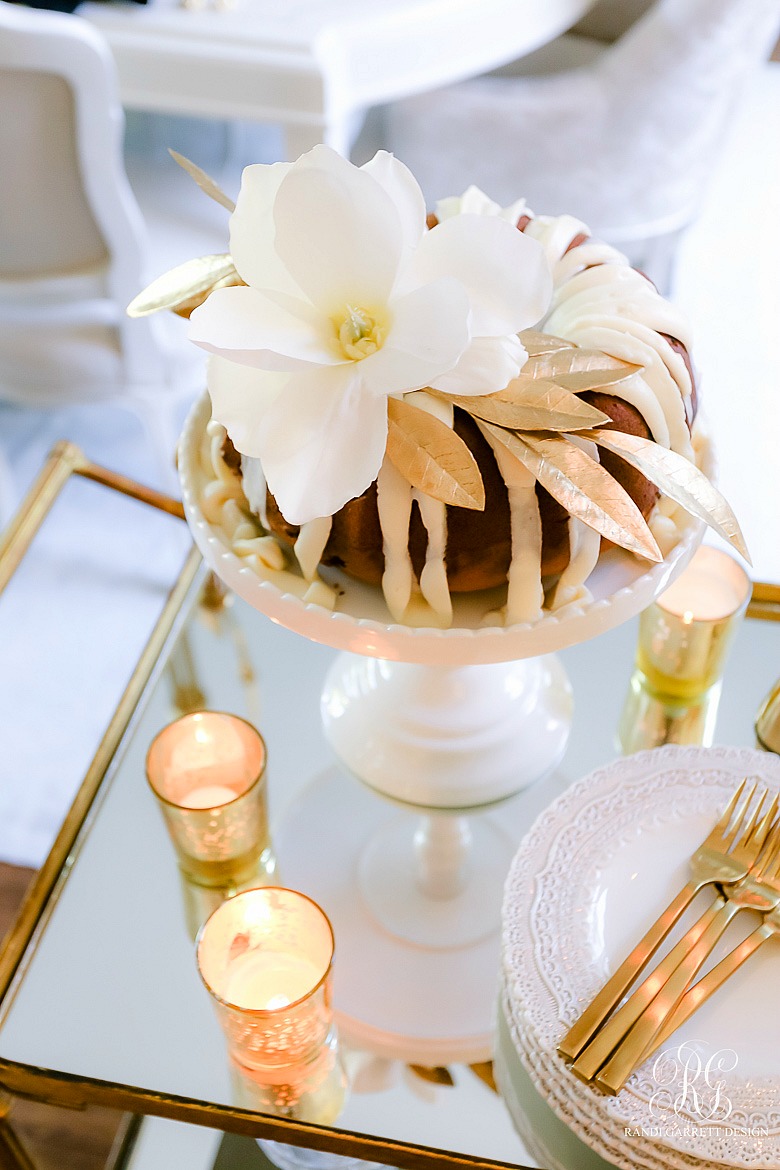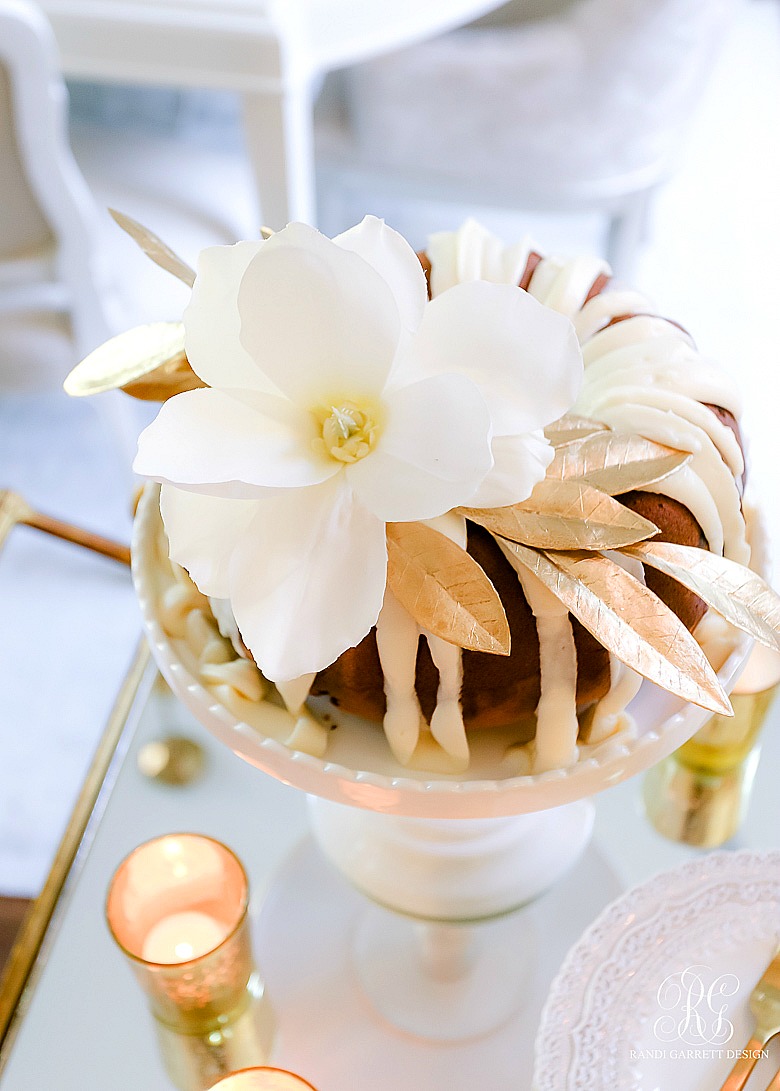 To dress up this cake, I used some faux gold leaves and a faux magnolia blossom. Simply clip a few leaves off your stem and place on top of the frosting. Next, add the flower in the center of the gold leaves. So simple, yet so elegant! These are the same Fall leaves I used in my Fall Home Tour and Halloween Home Tour. I'll also be using them for Christmas! I love to purchase pieces that are versatile and can be used throughout the year.
Place the cake on a white cake stand to really show her off! If you are serving this to children, use plastic spiders to decorate your cake. They will LOVE it!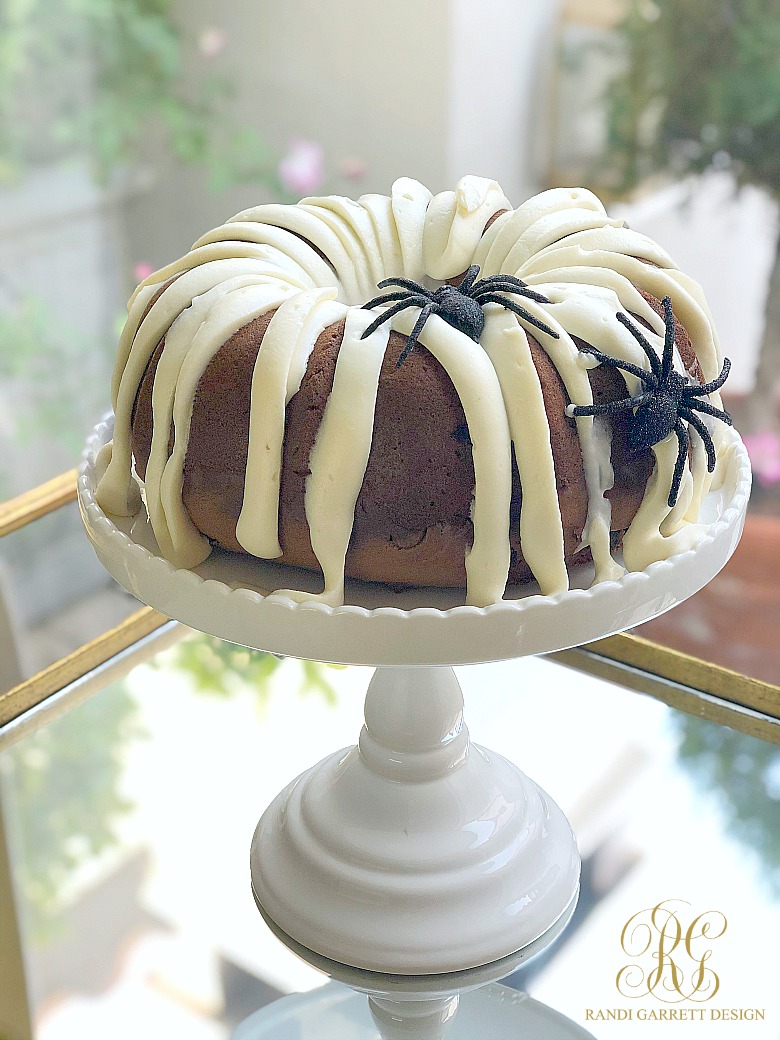 Make your guests feel extra special by serving your pumpkin cake on a fancy gold bar cart! I love to serve my dessert like this for a couple of reasons. One, you can wheel it anywhere you would like to serve guests, making any room your dining room. Two, it makes the dessert even more the star! Three, your dish feels even more opulent instantly making it taste better!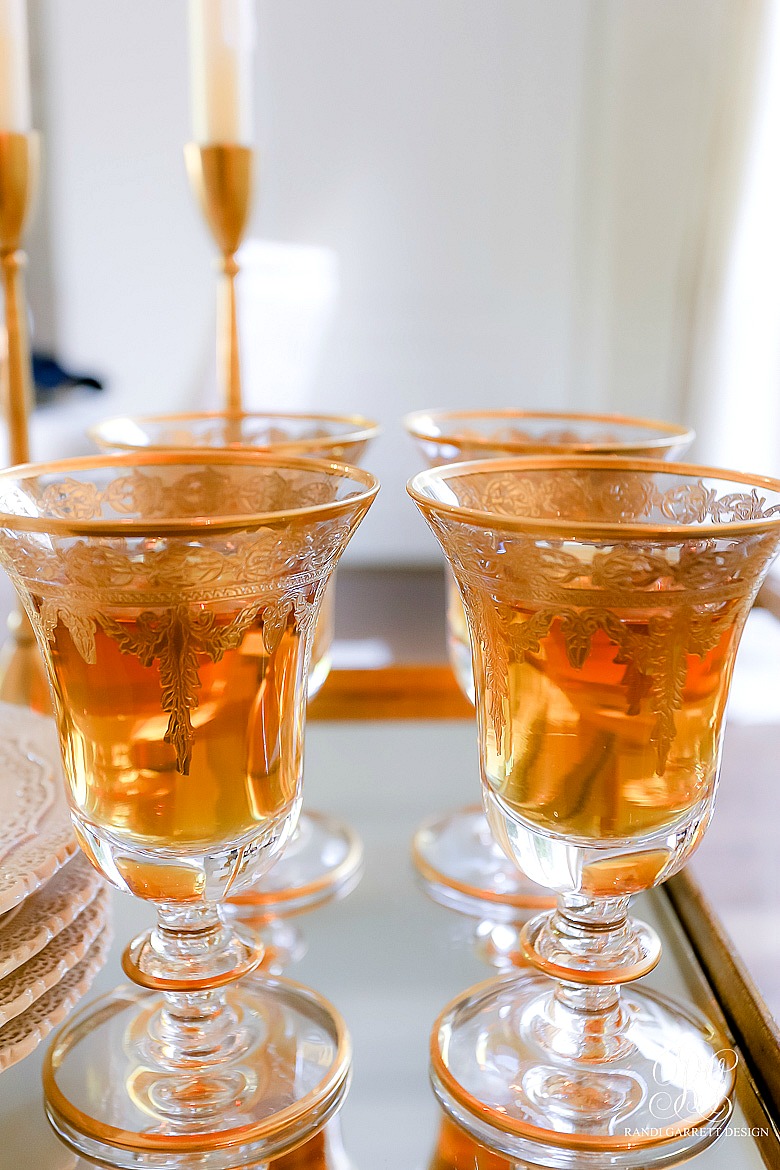 Style your bar cart with some pretty goblets filled with fresh apple cider.  Light a few candles to give the whole look a magical glow (just don't wheel the cart once you've lit the candles)! Serve the pumpkin cake on some pretty lace plates and some gold flatware.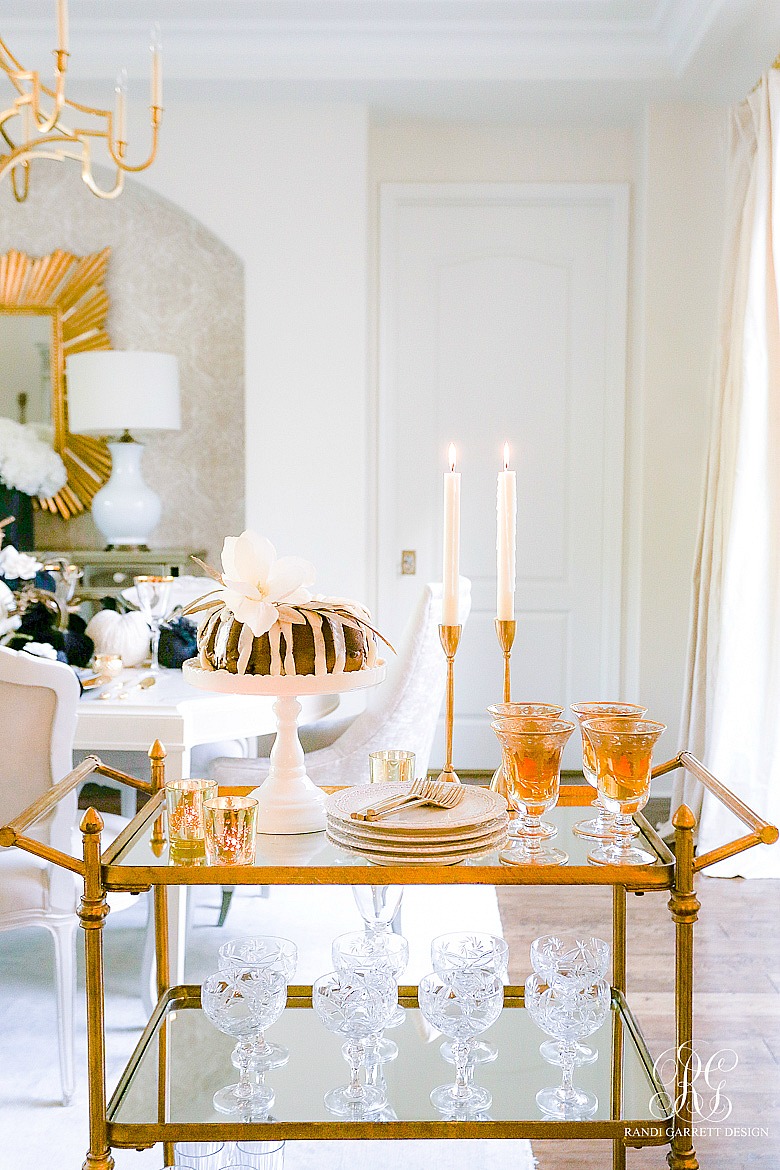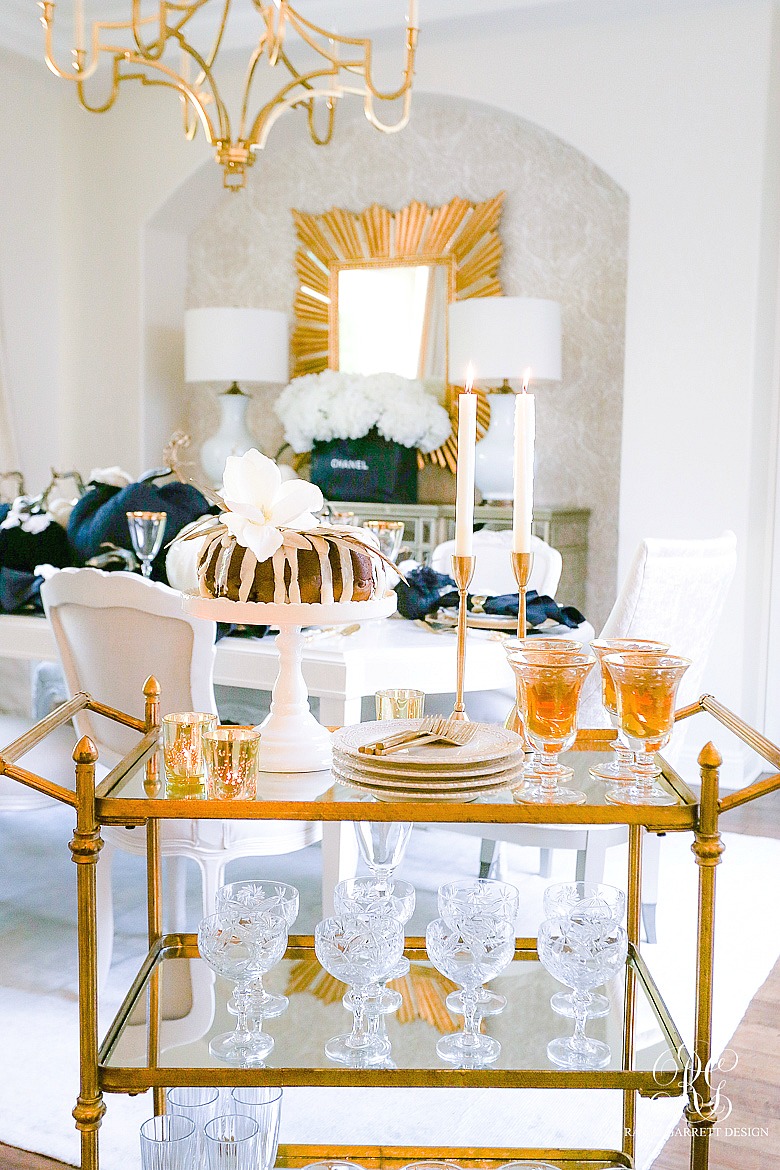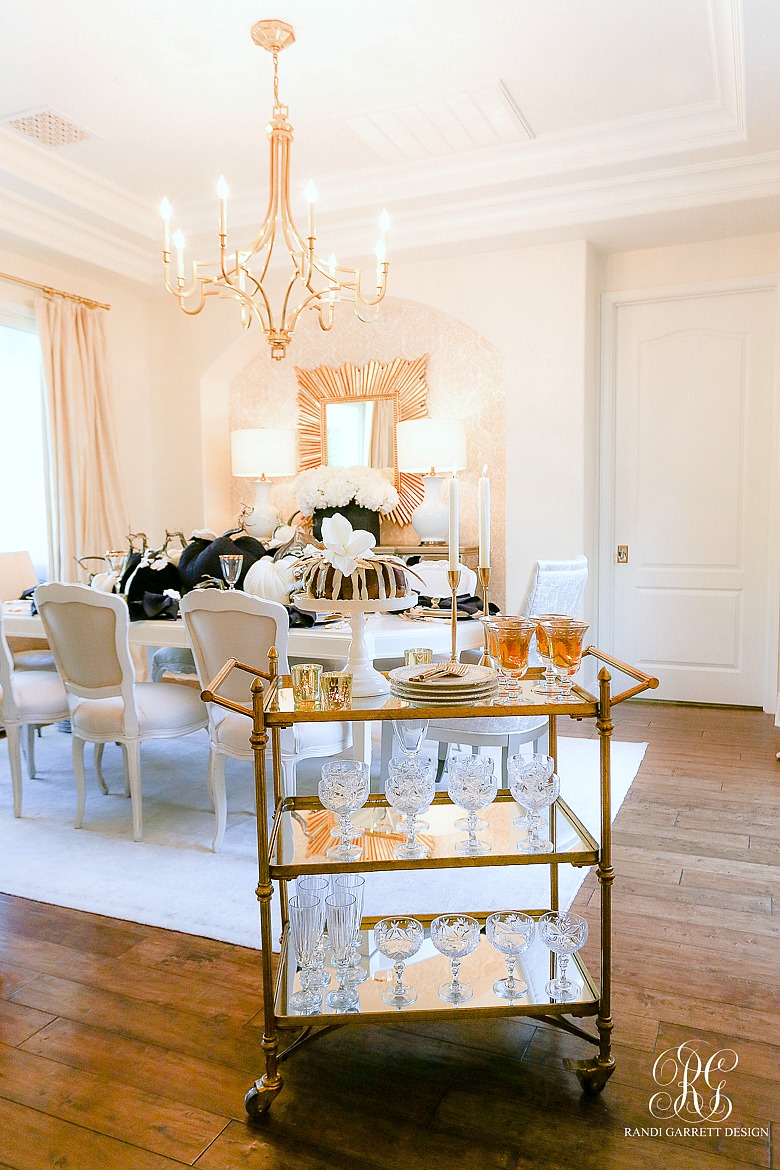 Go make this pumpkin chocolate chip cake and let me know what you think! It's a crowd pleaser at our house! Happy baking my friends!